We traveled to Galapagos Islands in 2023 and it is indeed one of a kind place. I can say that the place has definitely exceeded my expectations!
The well-kept natural beauty of the Galápagos Islands is located around 600 miles off the coast of Ecuador. It became Ecuador's first national park in 1959 and was designated a UNESCO World Heritage site in 1978.
Galapagos Islands are remote and extremely protected which makes wildlife the host of the island and not the people. We encountered abundant wildlife creatures such as sea turtles, sea lions, giant tortoises, hammerhead sharks, and blue-footed boobies.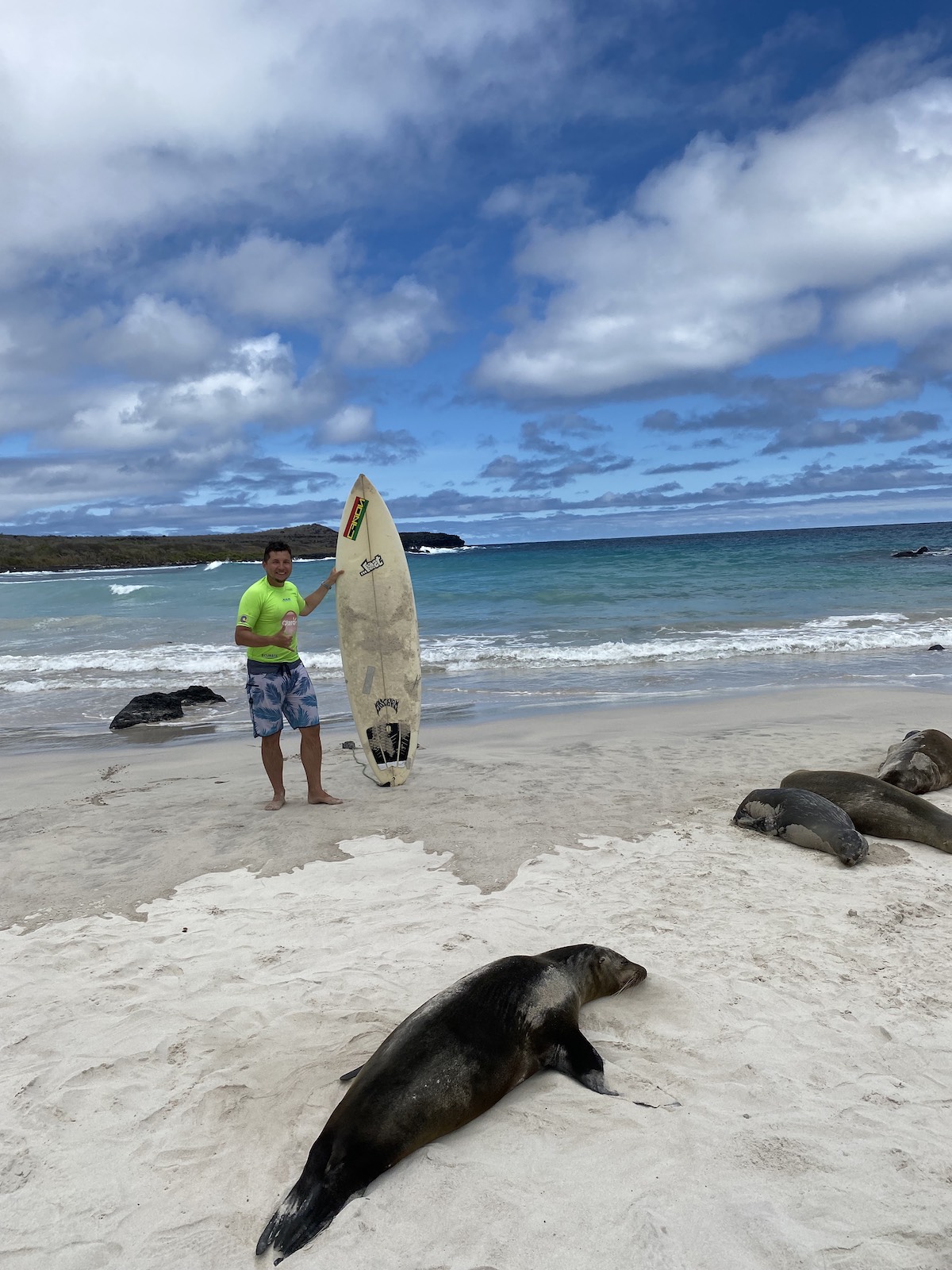 Since Galapagos Islands are remote and protected for the sake of the wildlife living there, I am sharing with you some important things that you need to know before you travel. I will also share our route and the place and activities that you shouldn't miss! This post will cover every possible thing you need to know before traveling to Galapagos.
IMPORTANT: Check here the latest COVID restrictions to travel to Galapagos Islands. As of 6 February 2023,  you must be fully-vaccinated and provide a proof of vaccination to skip PCR test OR provide a proof of a negative COVID-19 RT-PCR test taken no more than 72 hours prior to boarding the flight to Galapagos.
How to Get to Galapagos Islands
By Sea
You can get to Galapagos Islands aboard a cruise ship. There are several cruise lines that include Galapagos Islands in their itineraries. If you have the budget, prefer a luxurious trip, and do not have to worry about getting seasick, then, you wouldn't mind taking a cruise to Galapagos Islands.
By Air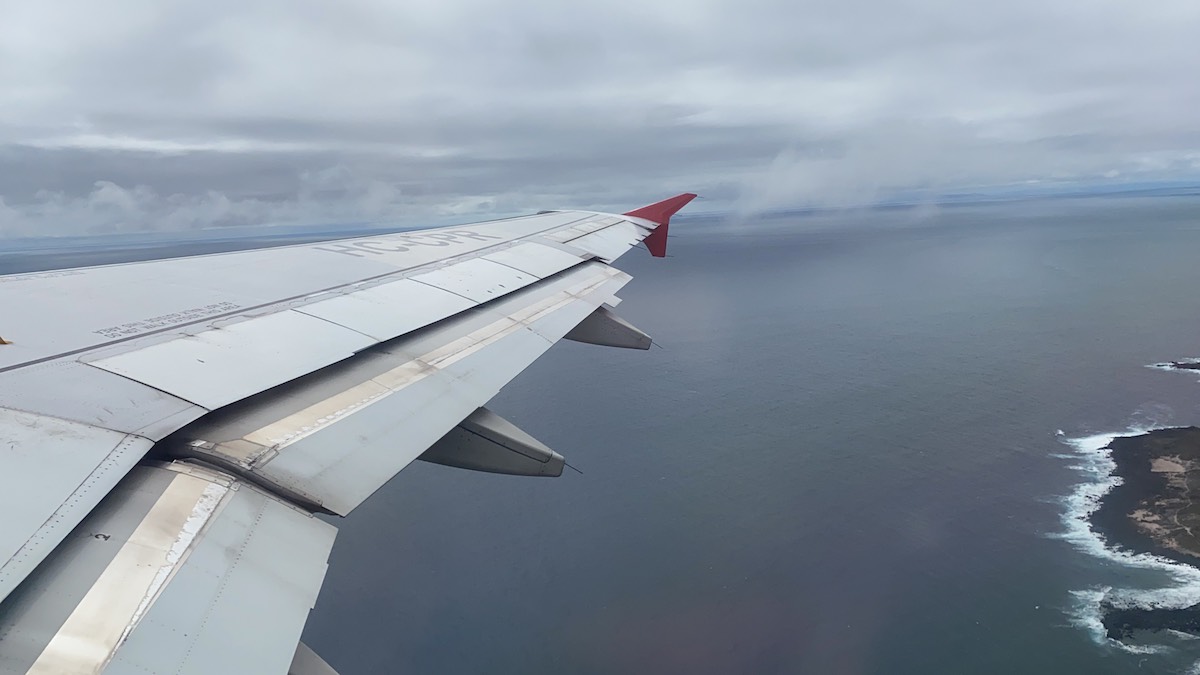 Since the islands are remote, there are no direct flights to the Galapagos Islands. You must take a flight to Ecuador's mainland first via Quito (UIO) or Guayaquil (GYE) airport. Then, take a flight to Galapagos Islands via Seymour (GPS) or Santa Cruz (SCY) airport.
It is highly advised to stay overnight in Quito or Guayaquil before flying out to Galapagos Islands. Flights going to the Galapagos usually depart in the morning so it is better to allow time for possible delays and cancellations of your flight/s to Quito or Guayaquil.
We chose a flight via Guayaquil because it is closer to Galapagos. Staying a night or two in Quito or Guayaquil will also let you enjoy a brief tour of these cities. And I say it is definitely worth seeing. You can also enjoy more adventures by adding other destinations to your itinerary and seeing more of Ecuador.
Personally, taking an airplane is still the best choice to get to Galapagos Islands.
What Airlines Fly to Galapagos Islands and What are the Airports in Galapagos?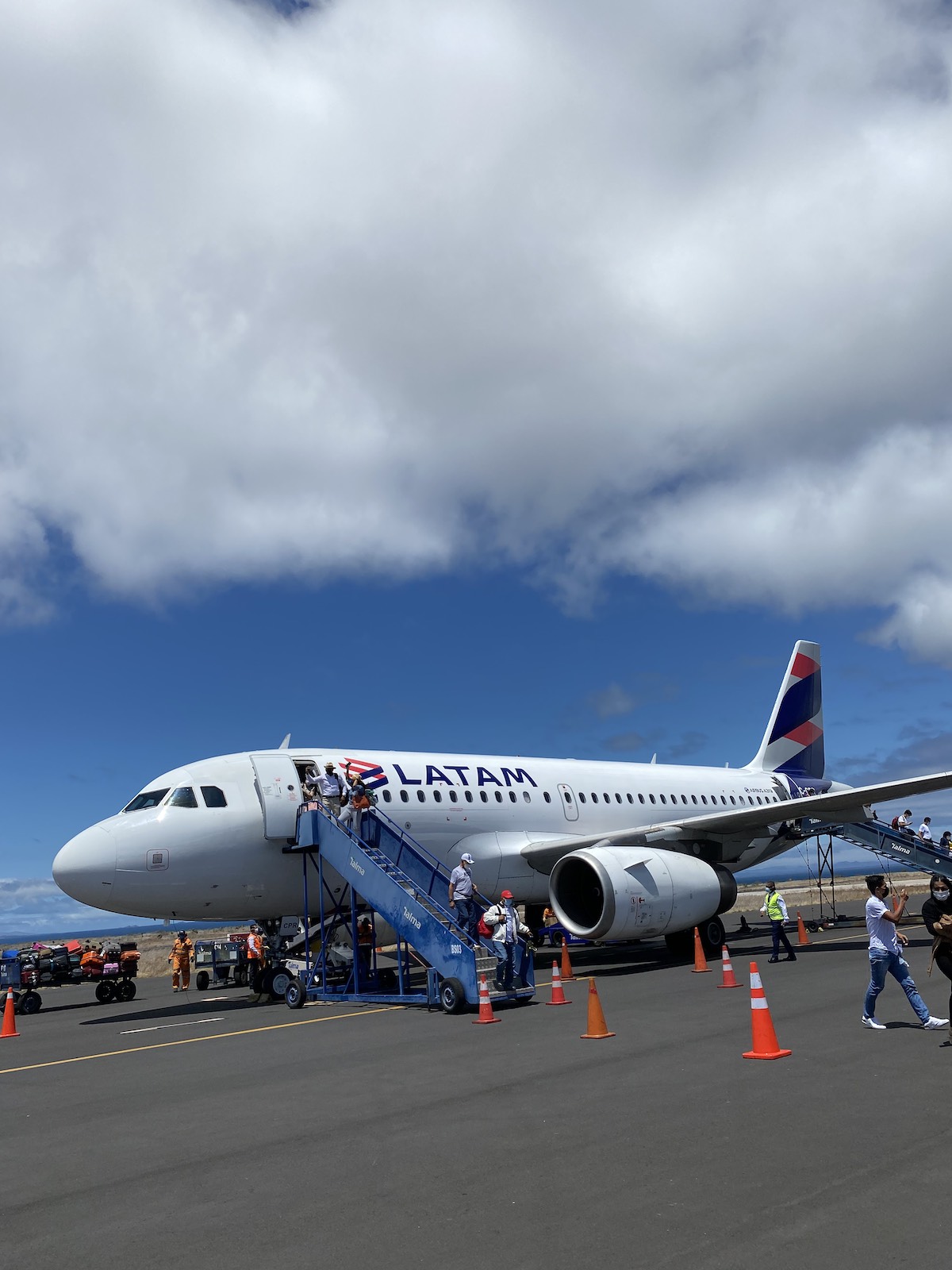 LATAM and Avianca airlines operate flights to the two airports in Galapagos: Seymour airport, which is in Baltra Island servicing Santa Cruz Island, and San Cristobal airport in San Cristobal Island. Most of their flights arrive on the Islands before noon. We picked LATAM for better time options and slightly cheaper prices.
How Many Islands Are There and Where I am Allowed to Stay?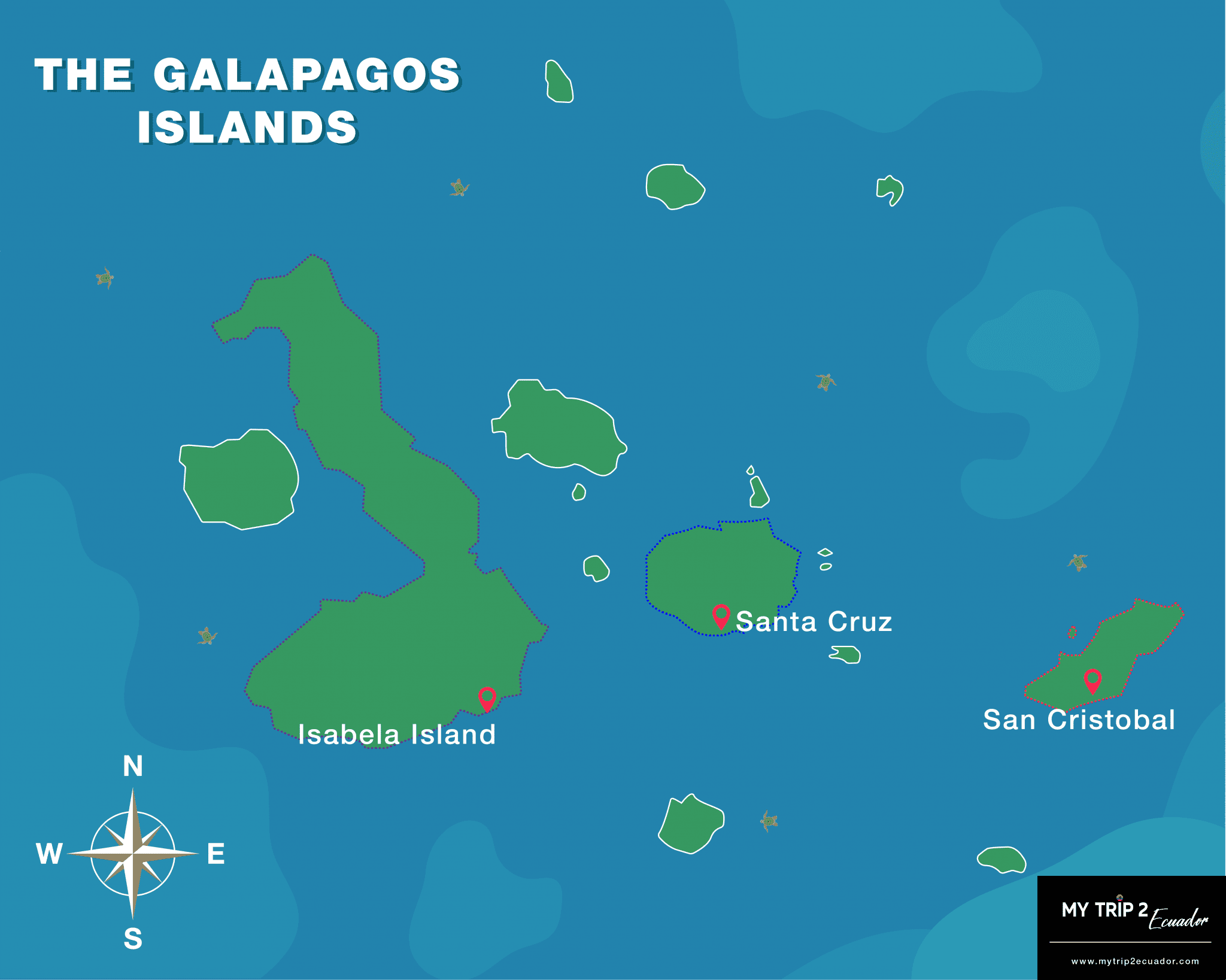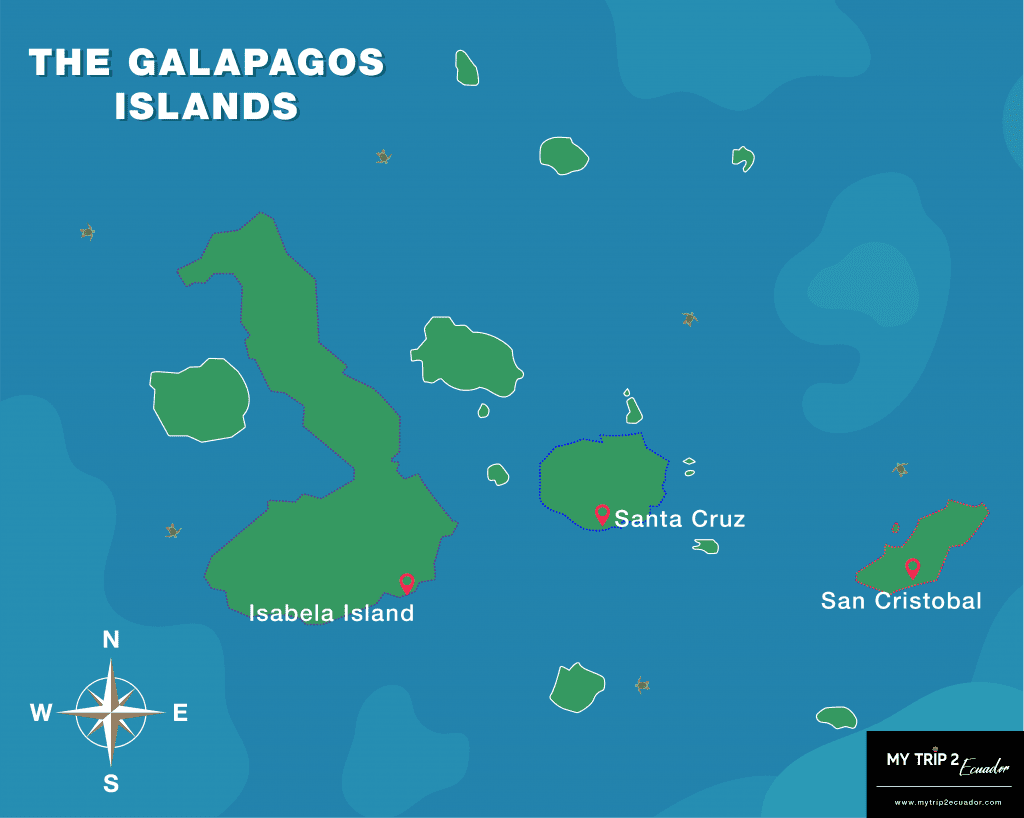 There are three islands where you can stay namely Santa Cruz, San Cristobal, and Isabella Islands. Most of the places to visit are in San Cristobal and Baltra (near Santa Cruz) Islands, so it is essential to plan your route ahead of time.
A Cruise or an Island Hopping Trip?

If you are coming to Galapagos by air, you can stay in a hotel on one of the three inhabited islands and make day trips by boat to other islands and areas. Make sure to check our list of the best hotels on the Galapagos Islands, If you take a Galapagos cruise, then you have the luxury to be stationed onboard a ship that provides lodging and transportation from island to island.
Taking a cruise is actually more efficient and it is a better way to see more places but extremely costly. That's why we decided to do island hopping over cruising and we were happy with the trip.
IMPORTANT: There were tons of  "Last Minute" cruise deals available on the Galapagos Islands with prices lower by 70% compared to online bookings. If we hadn't planned our itinerary and booked hotels, we would have bought one of the cruise tours. 
Land-Based Logistics in Galapagos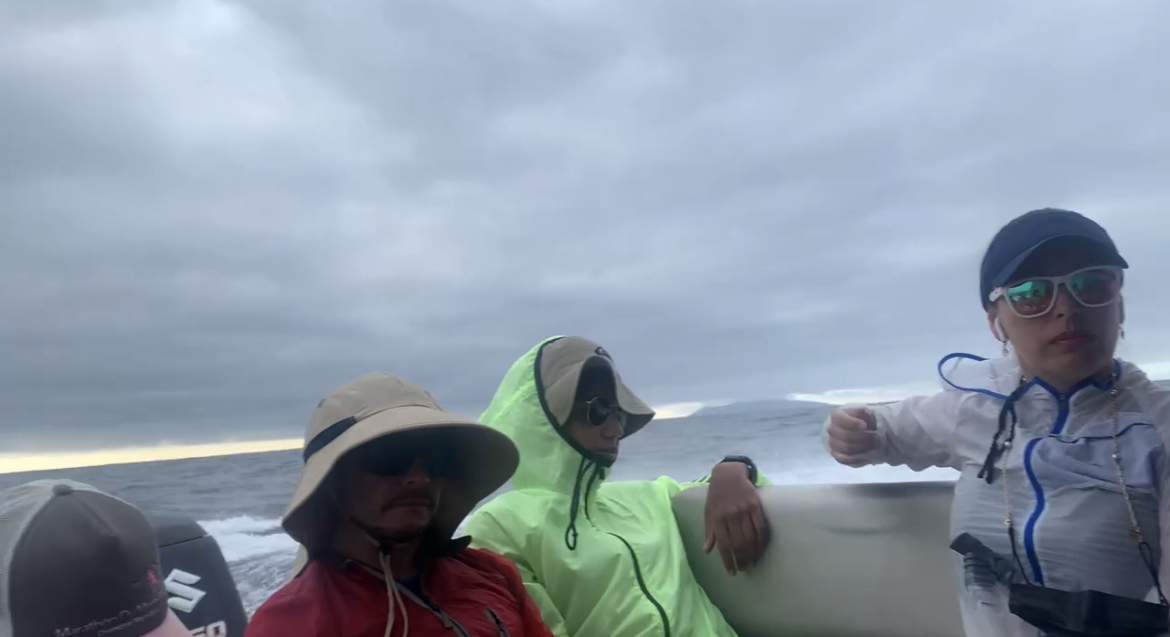 If you are going to do your Galapagos tours in the island hopping way, you can either take motorboats or chartered planes. Most tourists prefer to take motorboats as it is cheaper to travel from one island to another.
We opted to take the motorboats, but if you are prone to motion sickness, this might be a struggle for you. The ride takes about 2.5 hours + it's the best to arrive 1 hour prior to arrival so keep in mind such travels cost you time. You may take a chartered flight instead for a higher cost.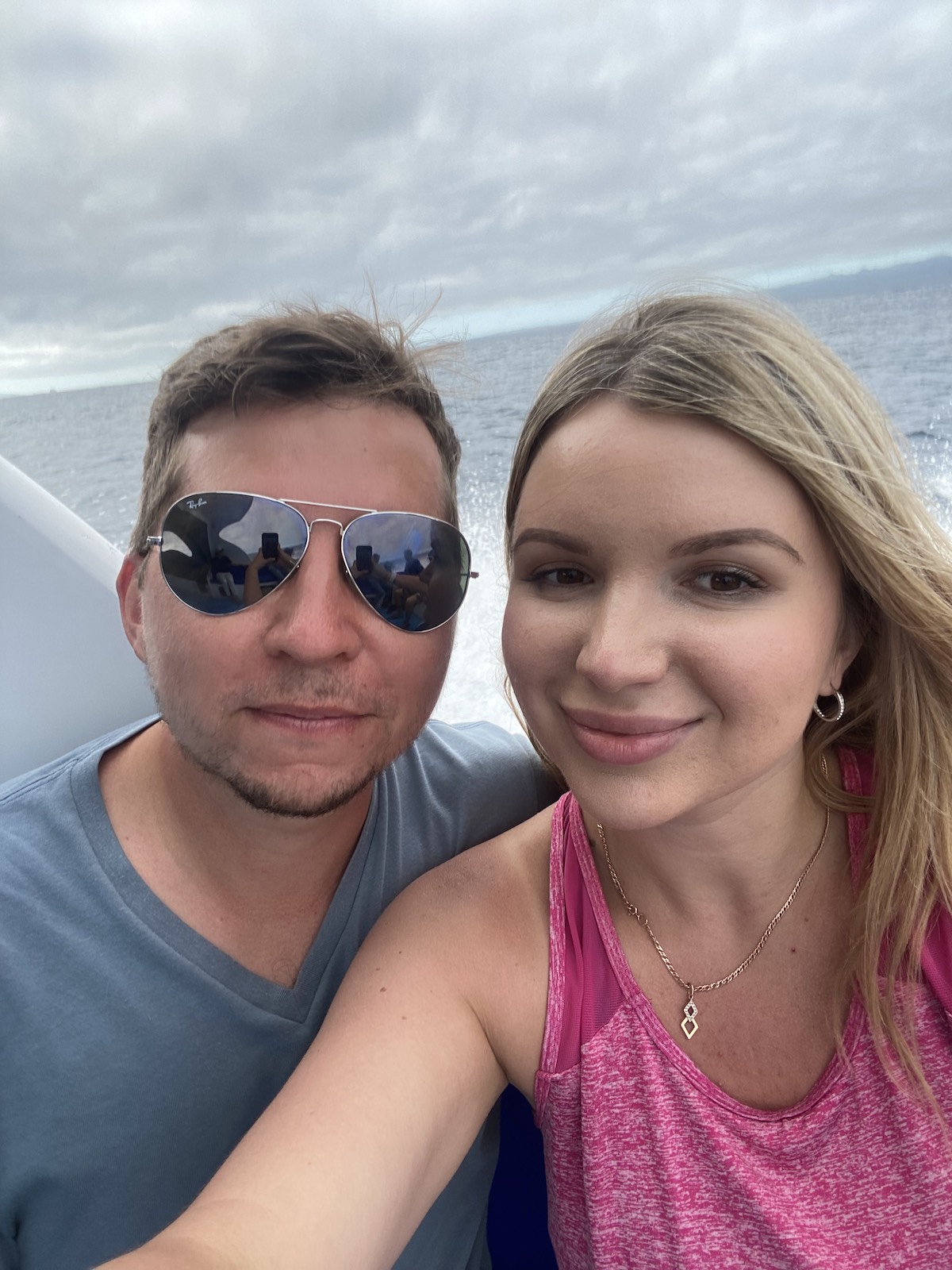 I have listed the timetables and prices of boats and flights between islands in the Galapagos below for your reference.
Should I Bought Tours in advance for a land-based trip?
I would not recommend buying tours online in advance because you will overpay 20-30% compared to buying tours on the Galapagos. The only exception I'd do is buying tours in advance to Bartolome Island and Tour 360. These two are the most popular among travelers and the number of visitors per day is limited. We were lucky to get a tour to Bartolome Island due to a last-minute cancellation. You will slightly overpay if you buy it with Viator, however, you would not want to miss these tours.
Boats Between Islands in Galapagos: Timetables and Prices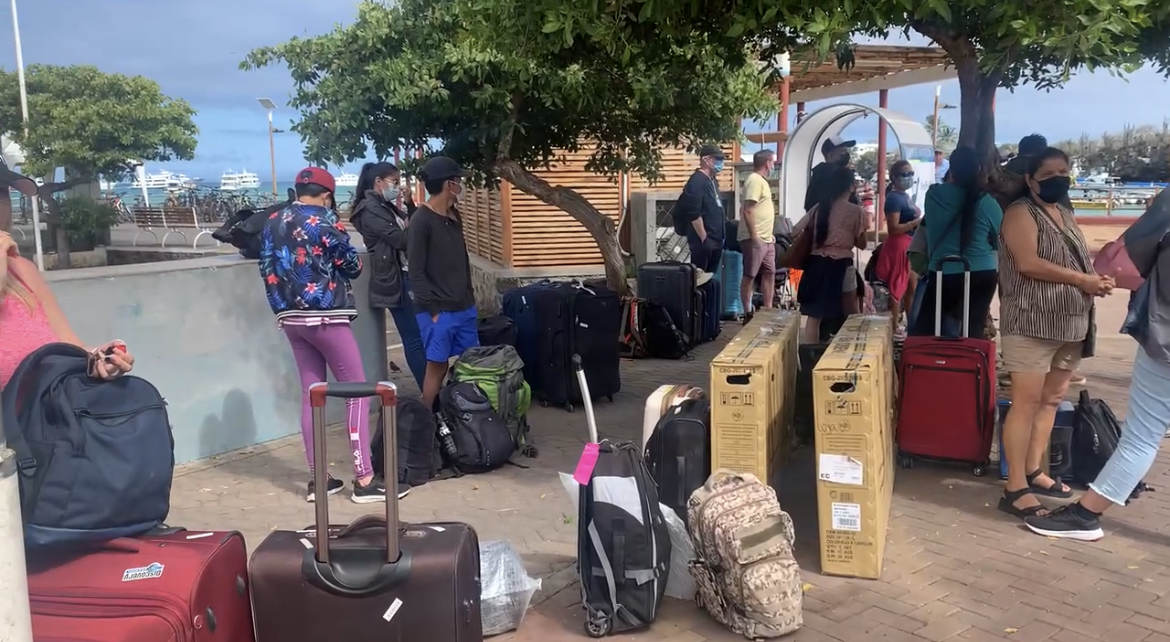 Ferries in the Galapagos are actually just basic speedboats, powered with two or three 150-200hp, sometimes more, engines.
Public ferries are only available between Santa Cruz Island (Puerto Ayora) and Isabela Island (Puerto Villamil) or between Santa Cruz Island (Puerto Ayora) and San Cristobal Island (Puerto Baquerizo Moreno).
Tickets usually cost around USD25-35.
Public Ferry Schedule
Between Santa Cruz and Isabela: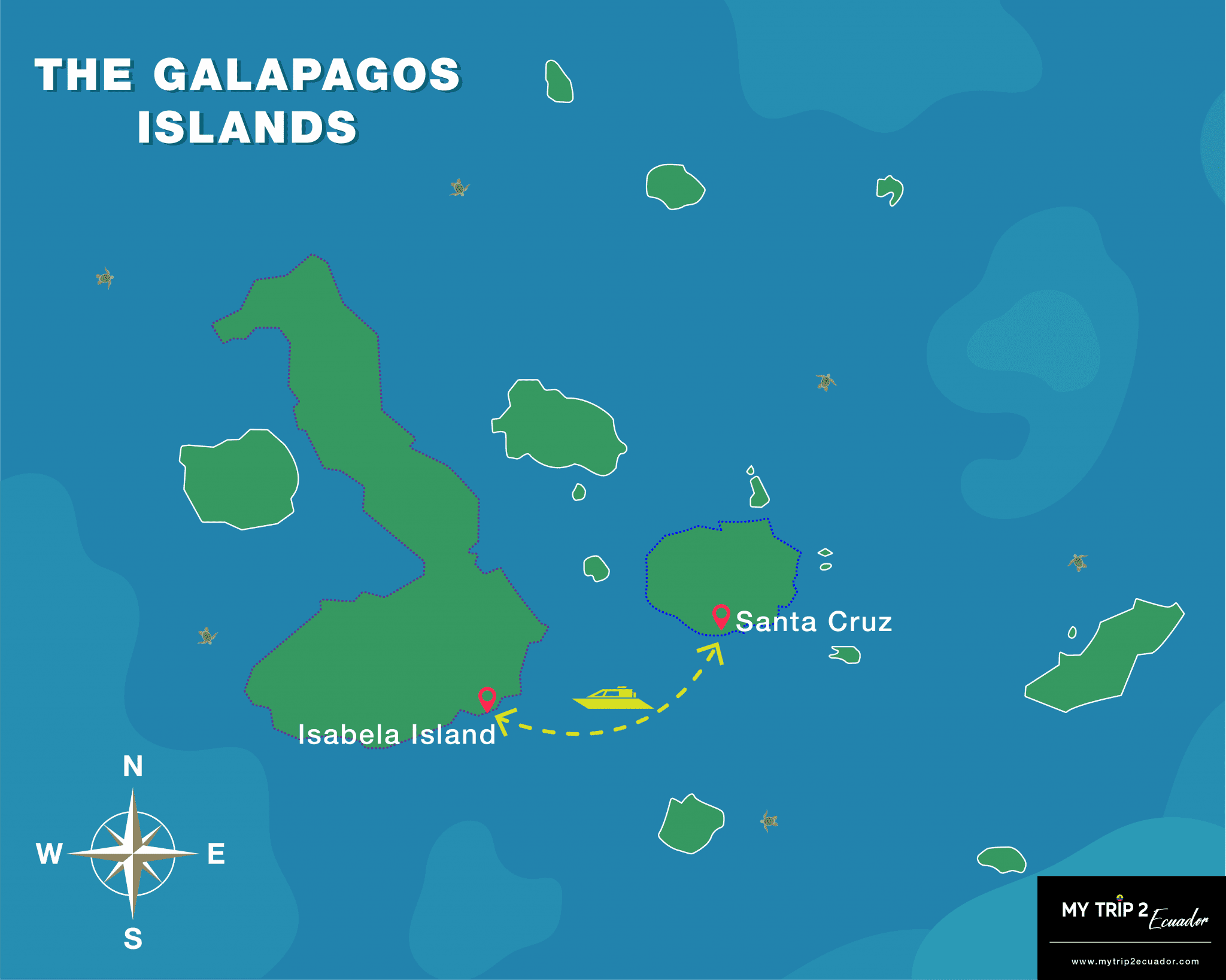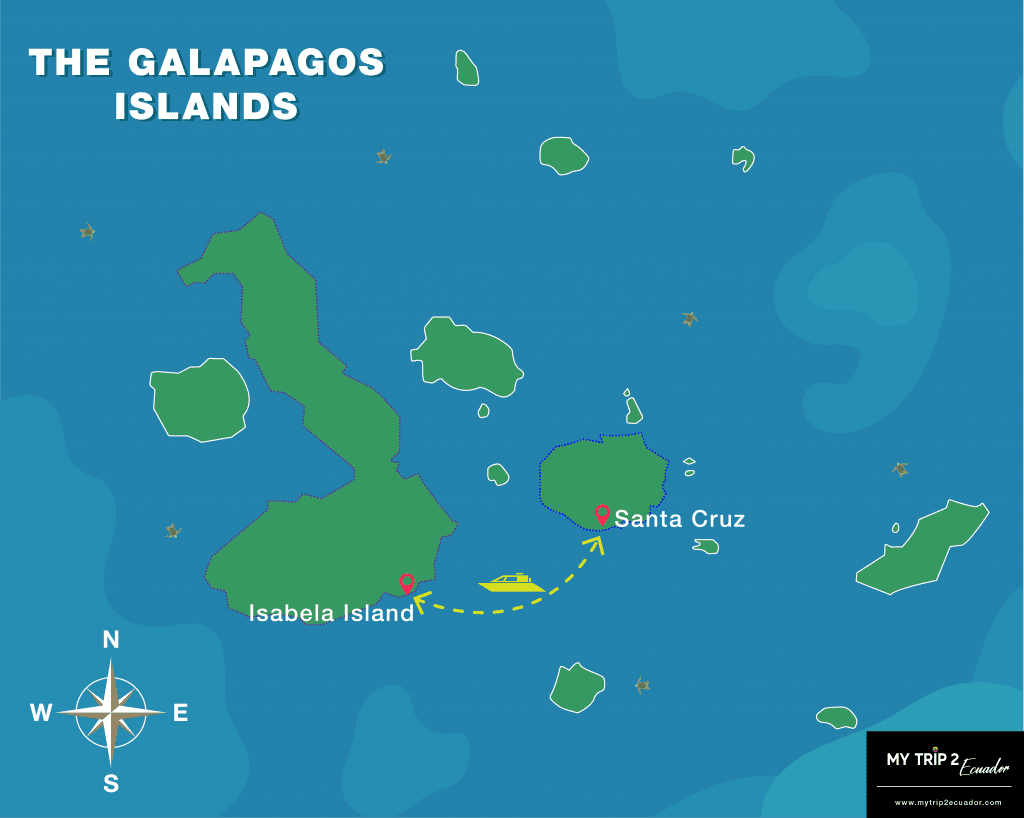 Between Santa Cruz and San Cristobal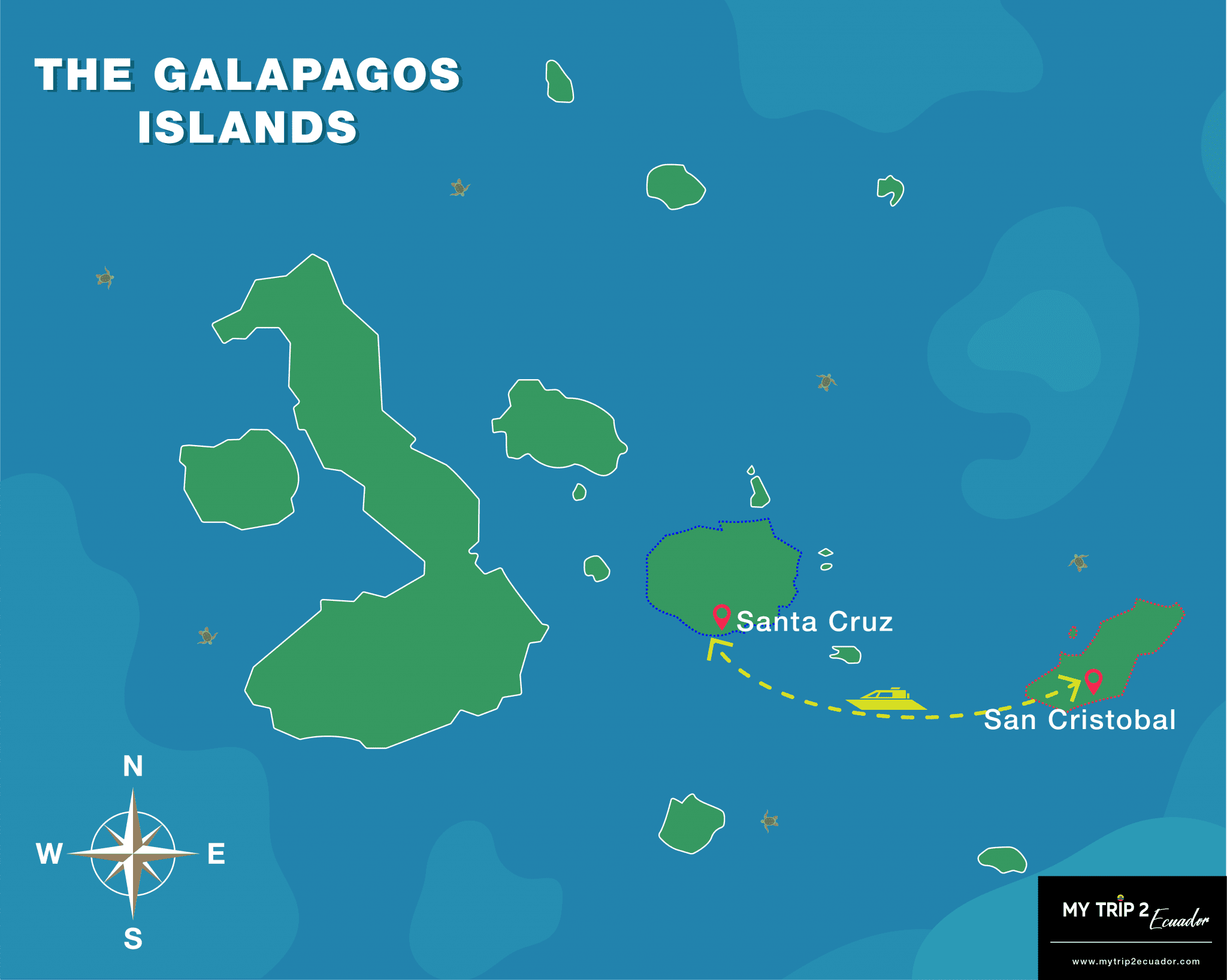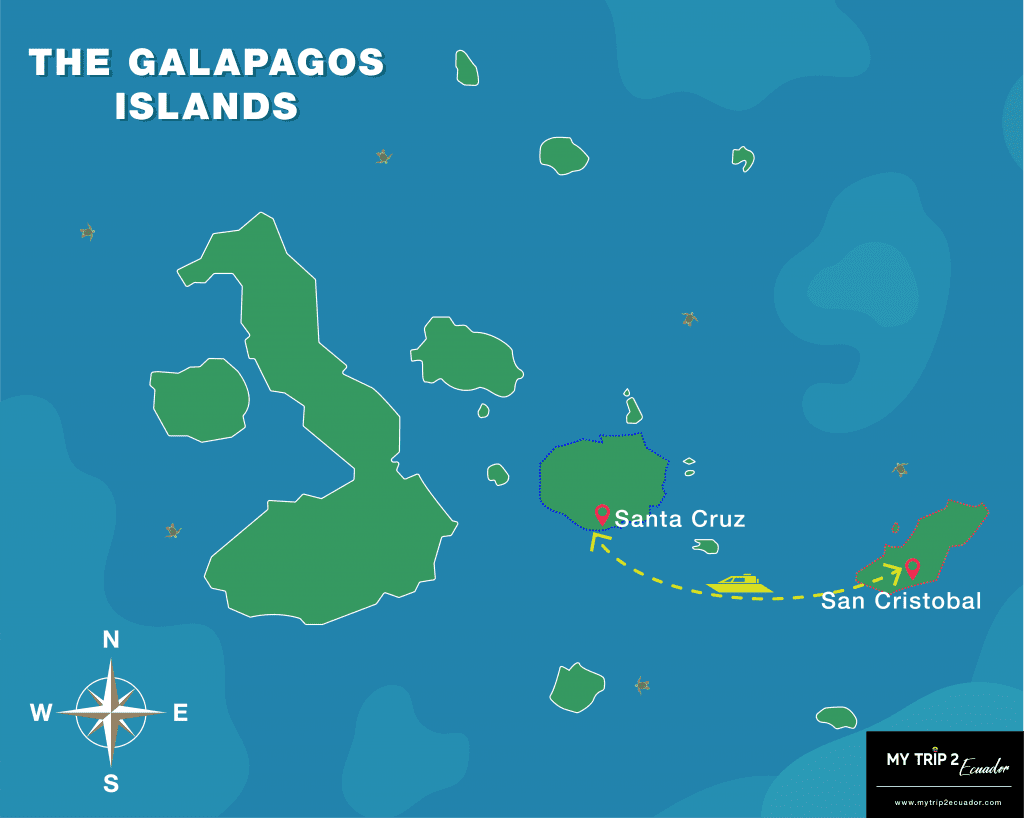 This schedule may change without prior notice so better contact your tour operator. Also, note that sometimes there is only one inbound and outbound trip schedule so make sure to plan ahead.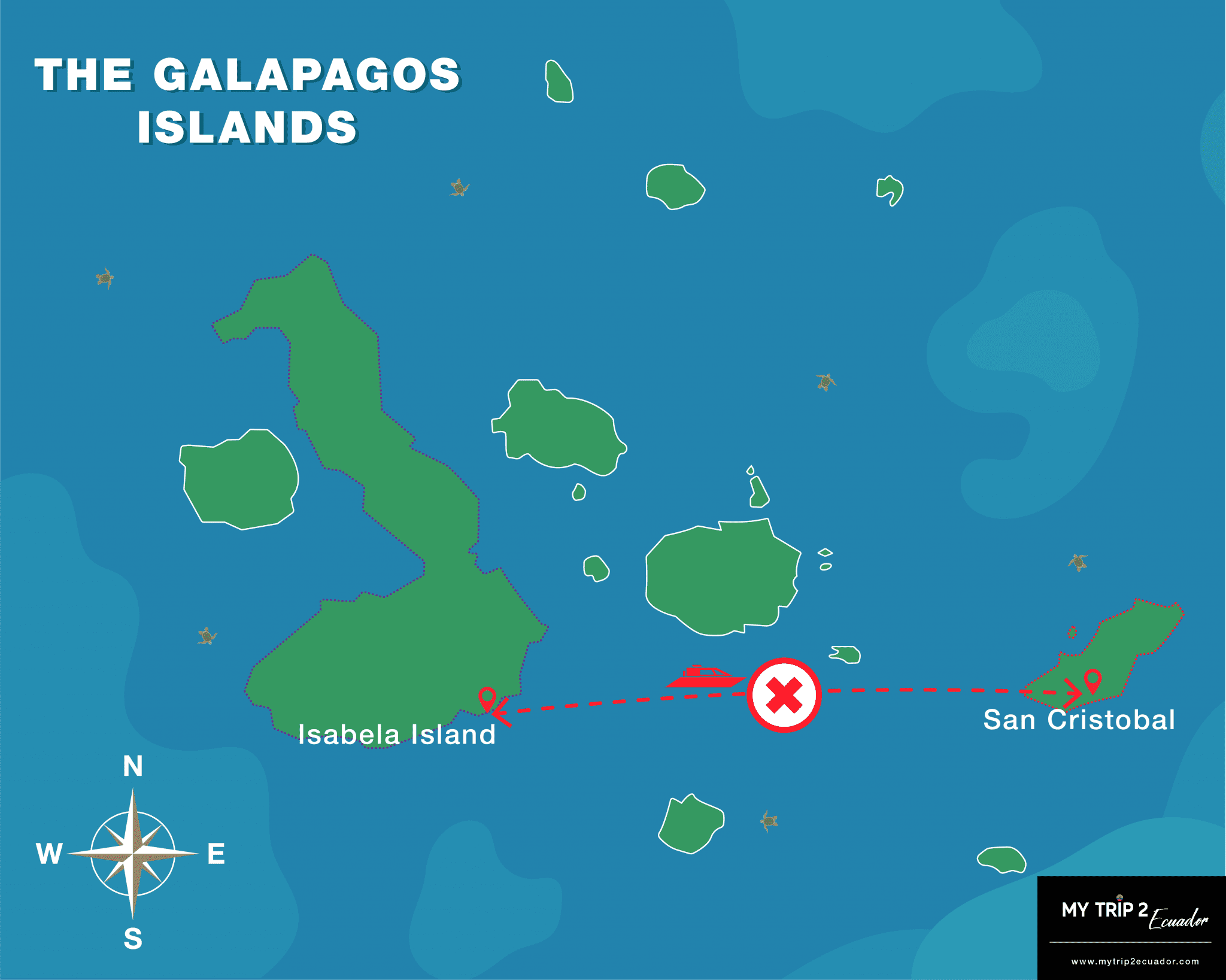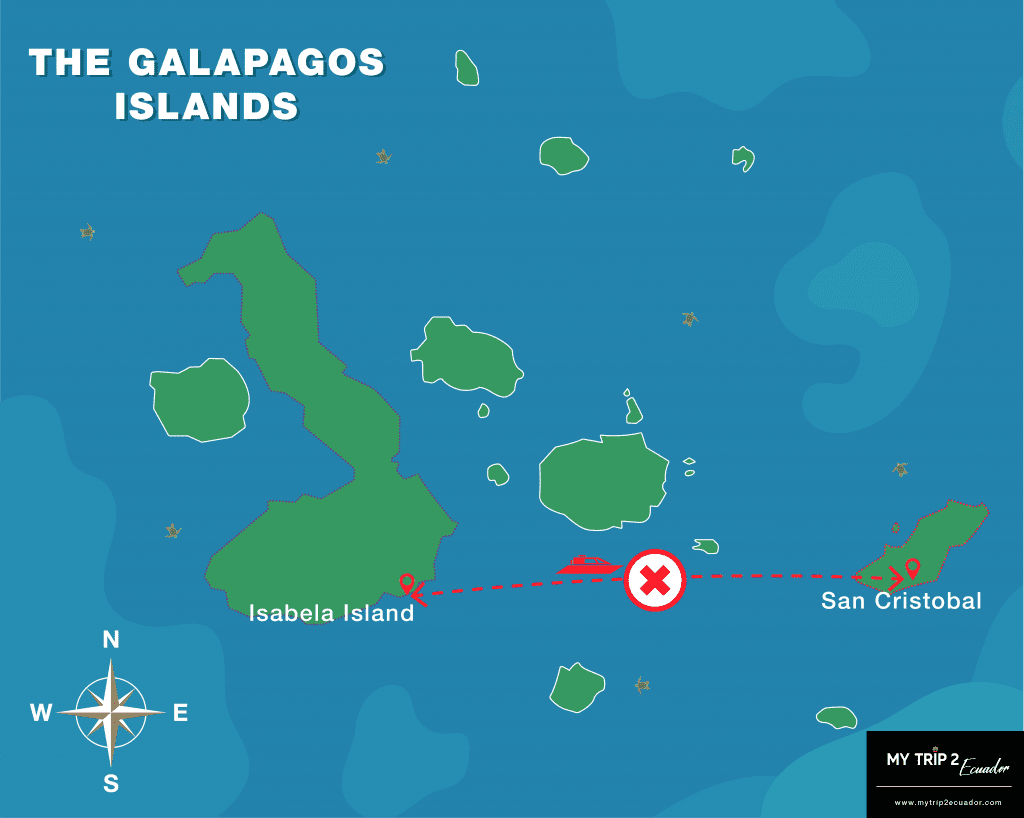 IMPORTANT: There are no public ferries between San Cristobal Island (Puerto Baquerizo Moreno) and Isabela Island (Puerto Villamil). I saw some people staying at Isabela Island and they had a flight back the next day from San Cristobal. You can still make such a trip and board "Isabela to Santa Cruz" at 6 AM and then  "Santa Cruz to San Cristobal" at 2 PM but you spent the whole day for such a ride. It is extremely important to properly plan your trip.
Flights Between Islands in Galapagos: Timetables and Prices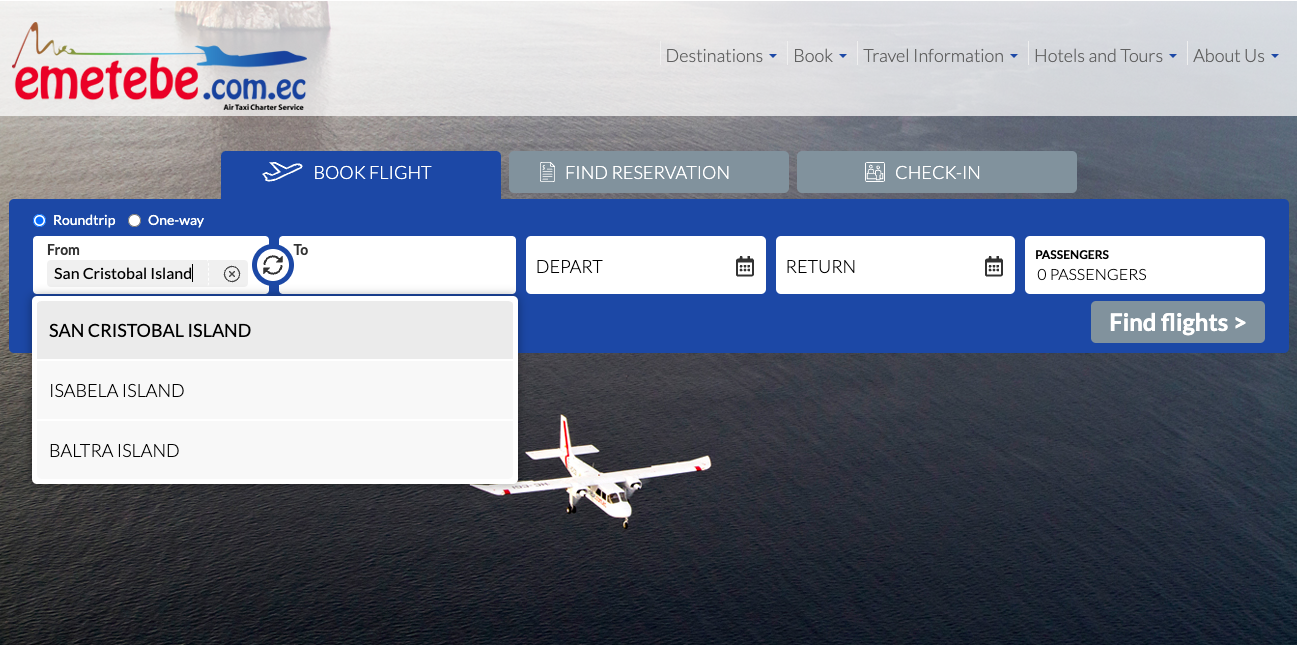 A scenic alternative to the cheaper speed boats and ferries are the inter-island flights. Emetebe is the Galapagos' airline and your sole option for traveling between islands.
Emetebe operates 'puddle hoppers,' which have tight weight limitations of 20 pounds per person. They have a fleet of Britten Norman Islanders with seating for eight people in the main cabin. Because of their limited carrying capacity, it is best to plan your flights ahead of time.
The main advantage is that the aircraft arrive in around 30 minutes. The cons are that a foreigner must pay $175+ each way, and flight schedules are unpredictable.
You must arrive at the airport at least 30 minutes before your flight. It is much better to arrange a taxi to pick you up, especially in Isabela Island.
Emetebe Flight Schedule
You can fly from Baltra Island, Isabela Island, and San Cristobal.
Baltra to San Cristobal departs at 9:30 am
Baltra to Isabela departs at 12:30 pm
San Cristobal to Baltra departs at 10:30 am
San Cristobal to Isabela departs at 7:30 am
Isabela to Baltra departs at 8:30 am
Isabela to San Cristobal departs at 1:30 pm
Once again, there are no direct speed boats between San Cristobal and Isabela Islands. If you travel by speedboat, you will lose most of the day. It is better to fly between the islands of San Cristobal and Isabela.
How To Get Around Galapagos Islands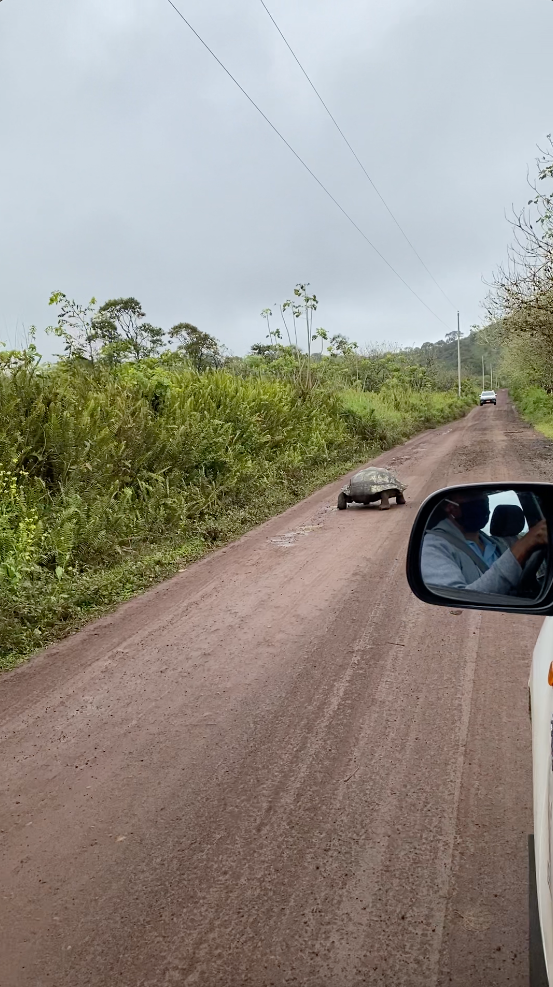 Unlike other places, where taxis are identified as yellow cabs, taxis in Galapagos are pickup trucks. There are taxis available around Puerto Ayora, Puerto Baquerizo Moreno, and Puerto Villamil; there are no roads further in the Galapagos. Taxis are frequently waiting at the most common pick-up and drop-off sites, making it relatively easy to find one.
Rates are normally fixed, although they are extremely affordable. Make sure you have adequate cash for cabs. Rides inside town typically cost $1-$2/person. If you wish to travel outside of town, you will have to pay a higher amount.
Cruise Logistics
Most visitors choose to go from island to island on an all-inclusive boat to see as many National Park tourist attractions as possible and to explore secluded islands. All cruises begin or conclude near one of the Galapagos' two airports, and some cruise itineraries begin at one airport and end at another, so be sure you book flights and lodgings near the correct airport.
Things To Do in Galapagos Islands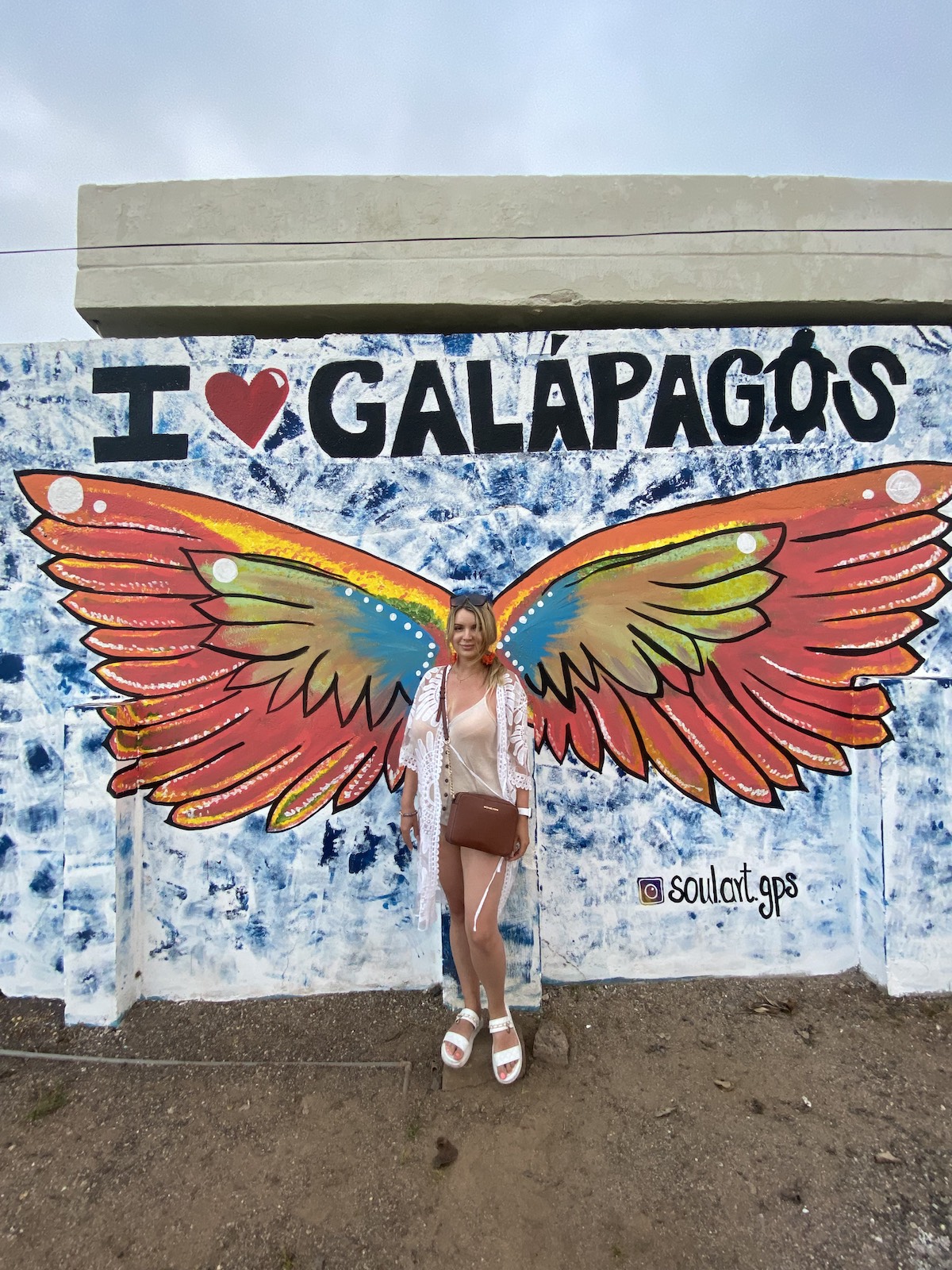 There are many activities you can do in Galapagos. Water activities such as snorkeling, swimming, and diving. You will love all these water activities particularly when you get a chance to encounter some of the wildlife species in the Galapagos. You can check more in our Galapagos Islands bucket list.
Species and Wildlife to See in the Galapagos Islands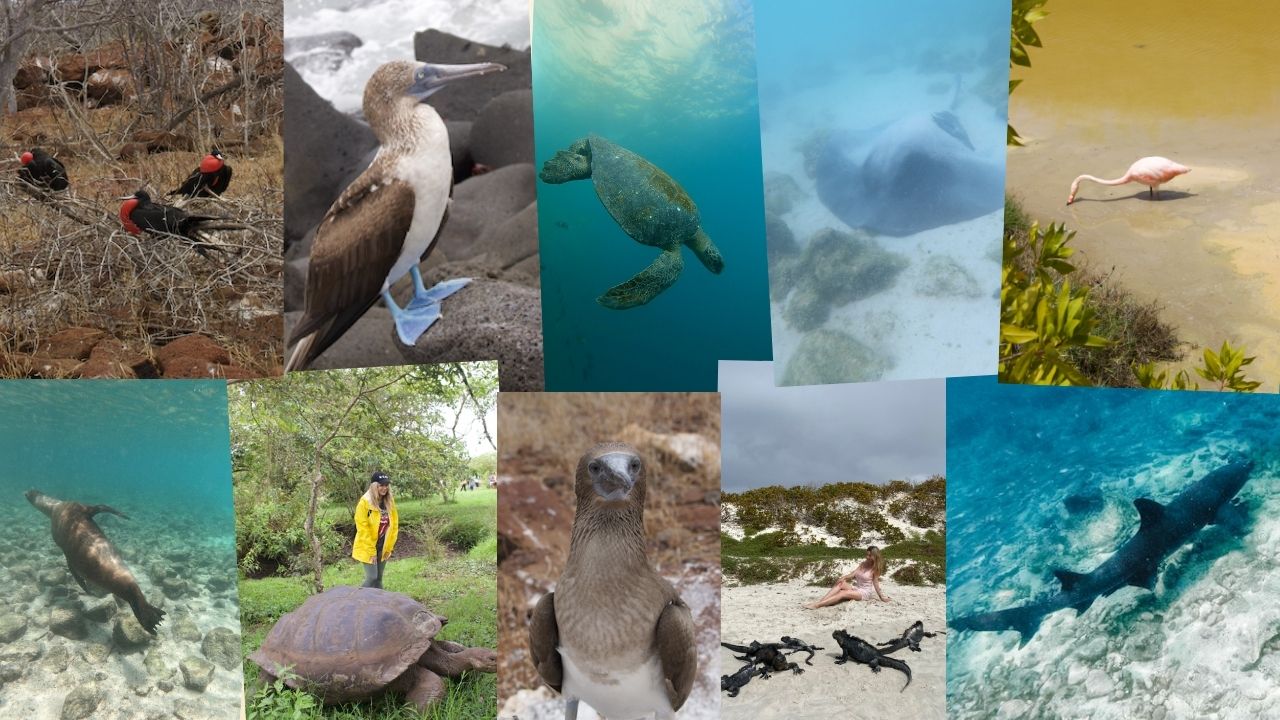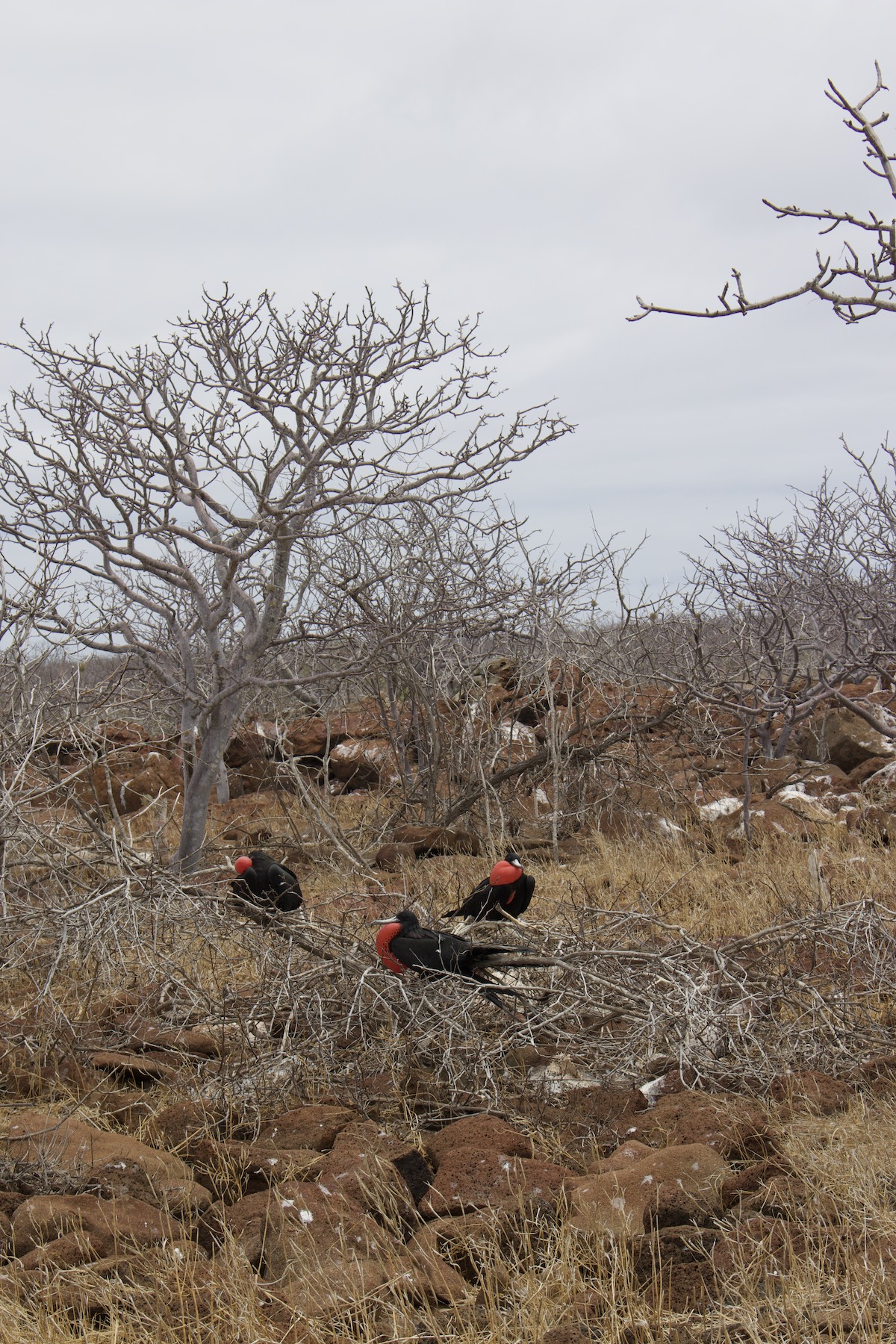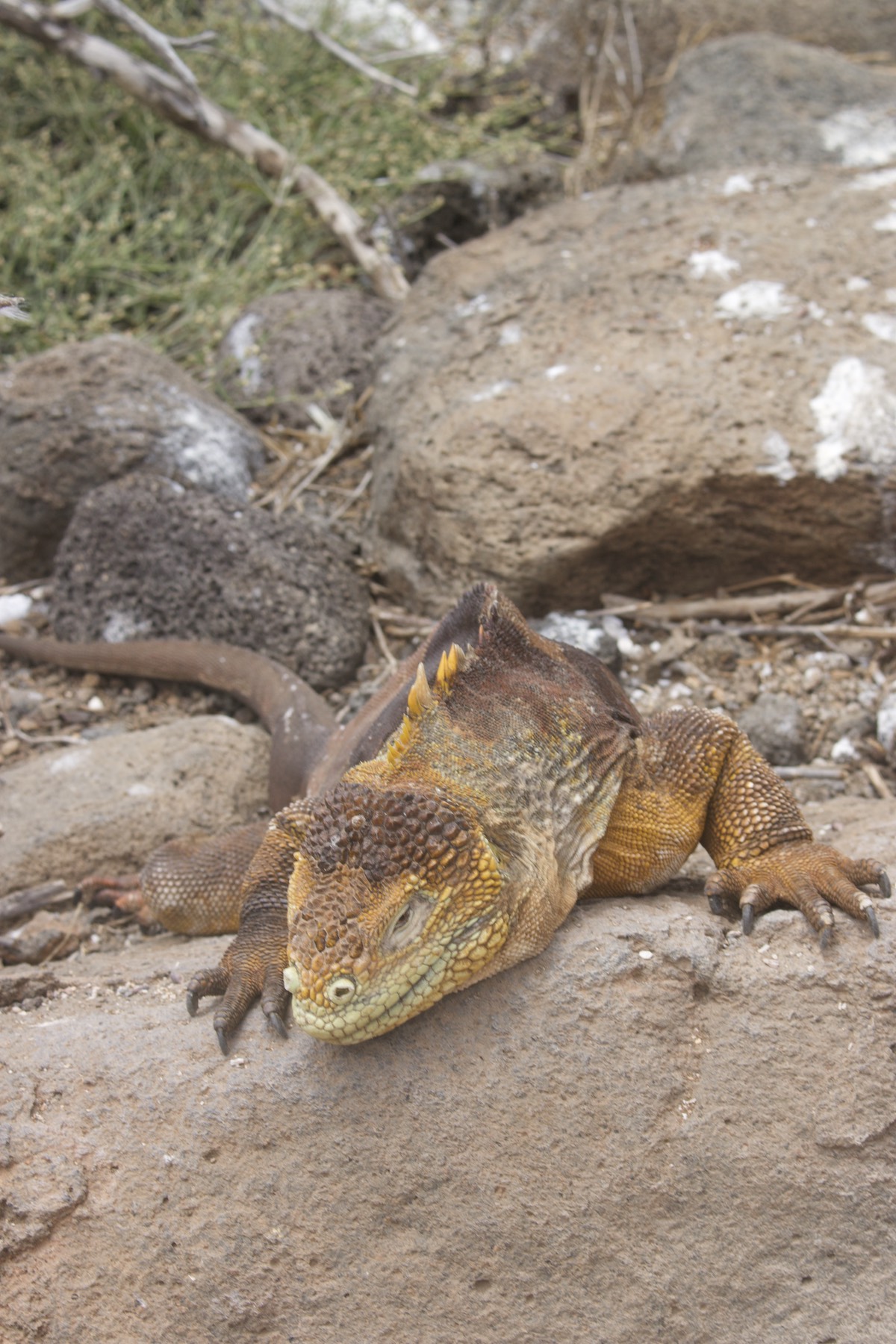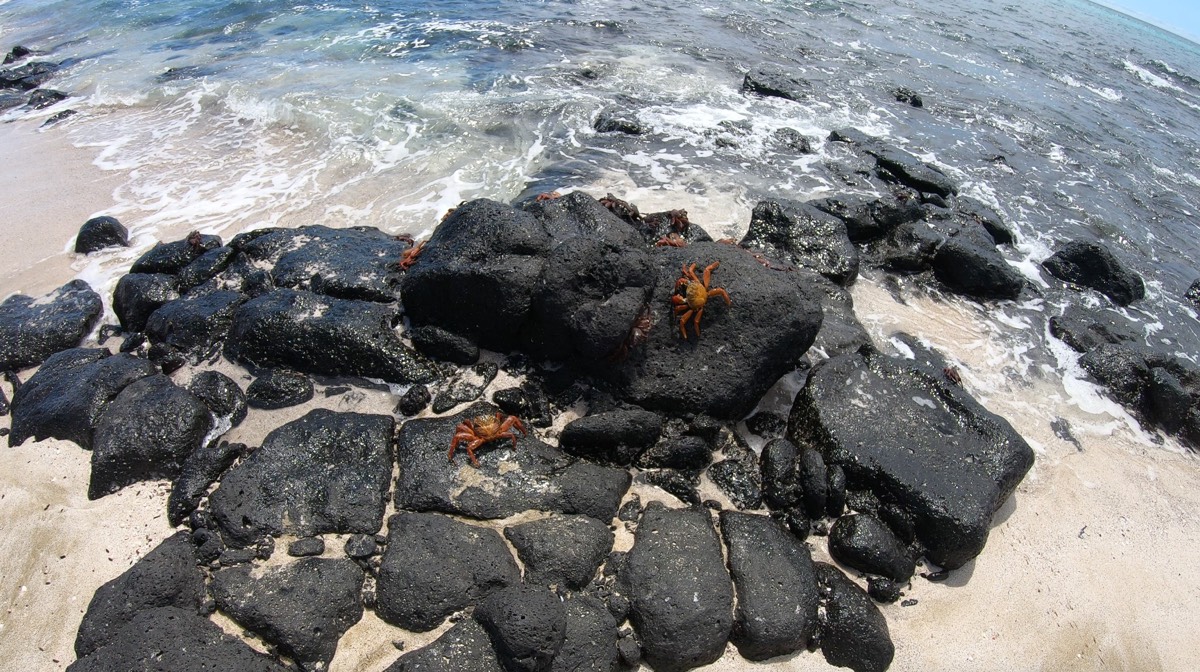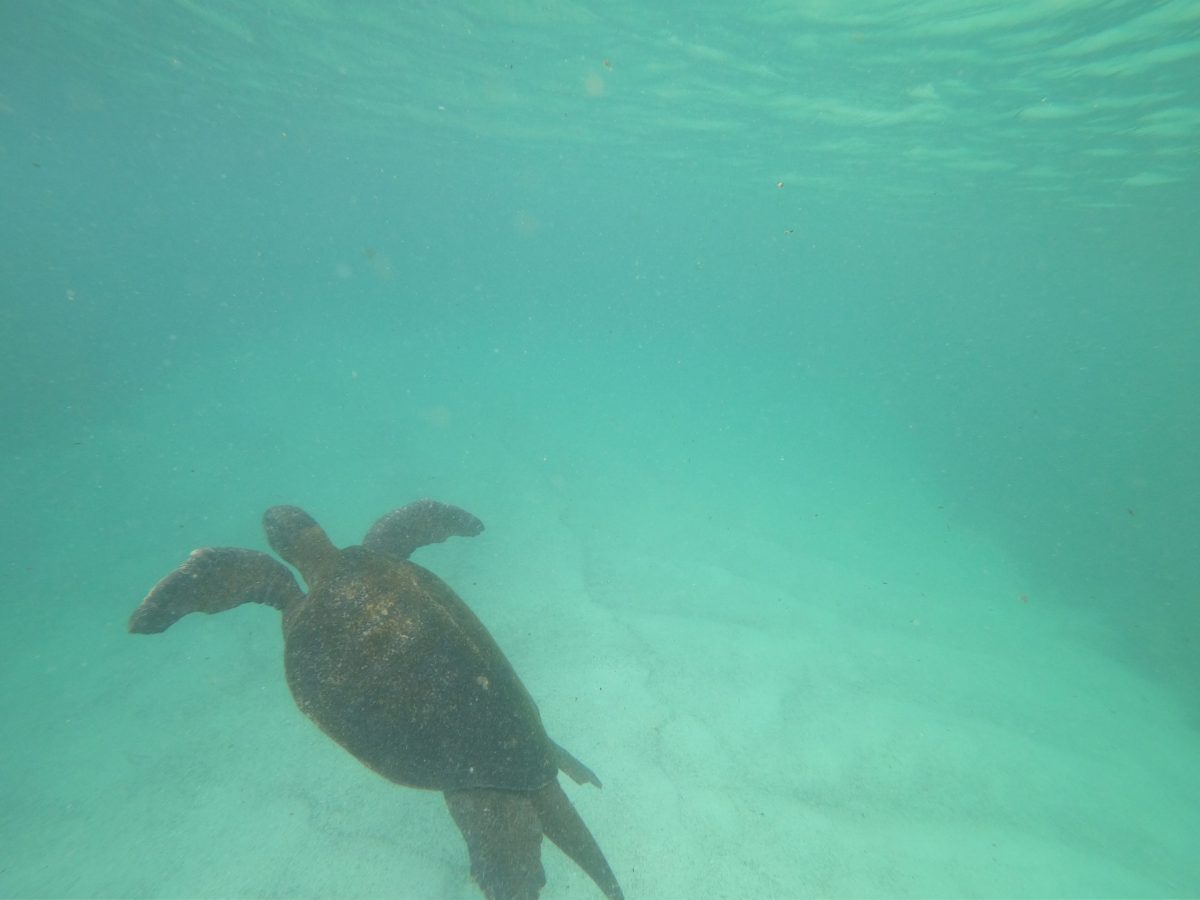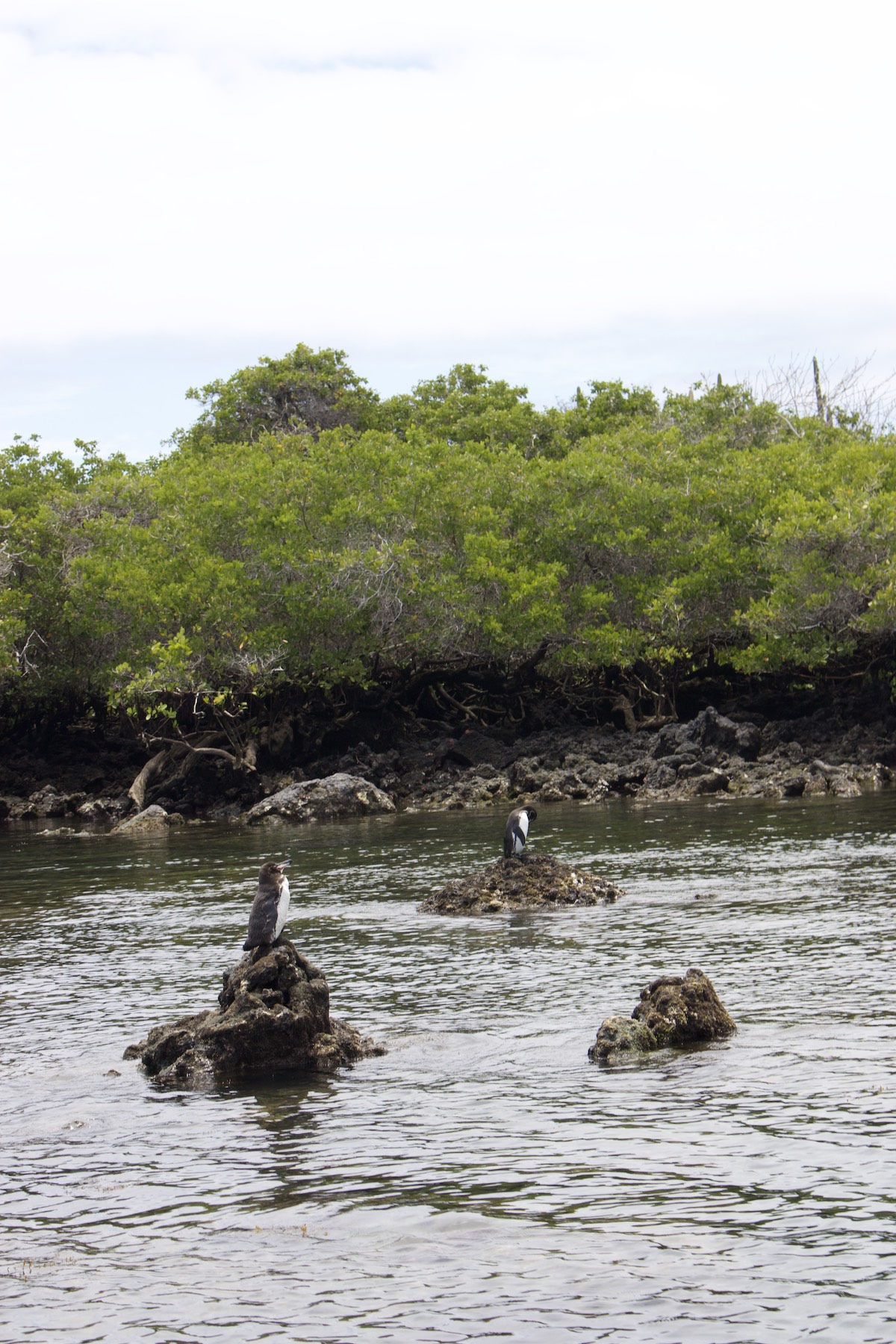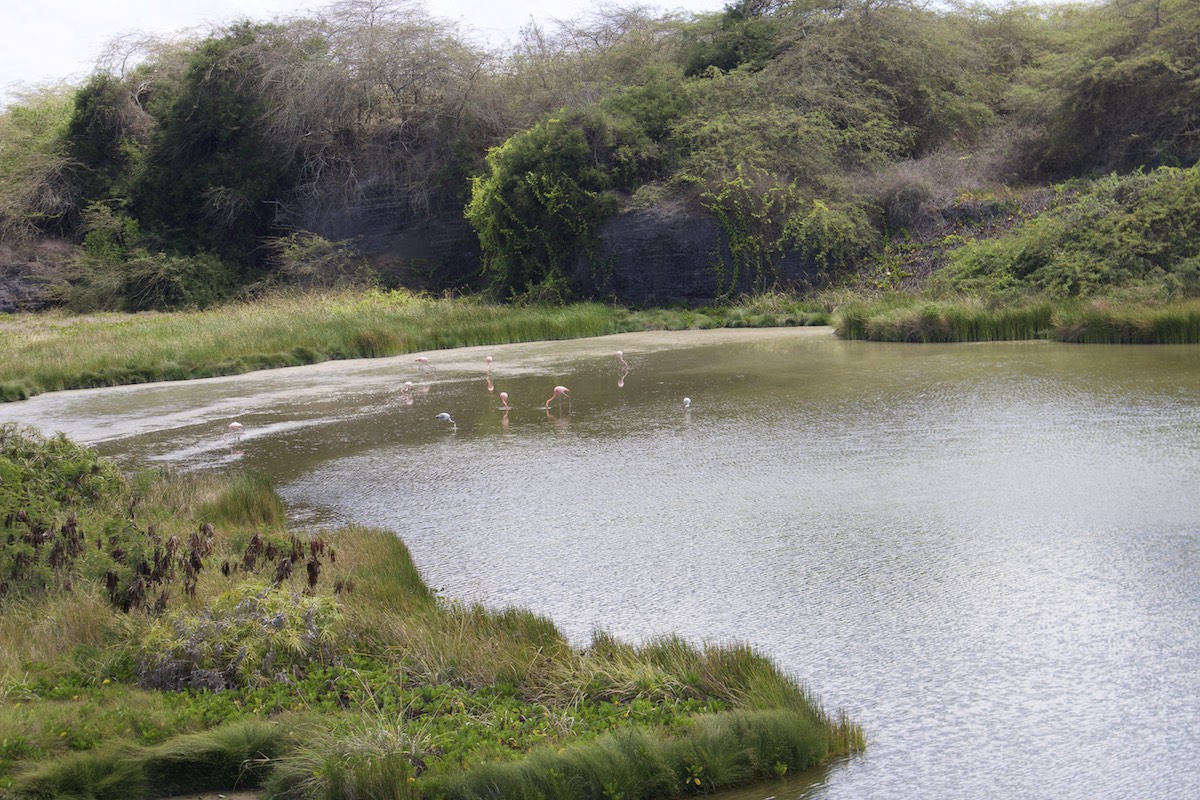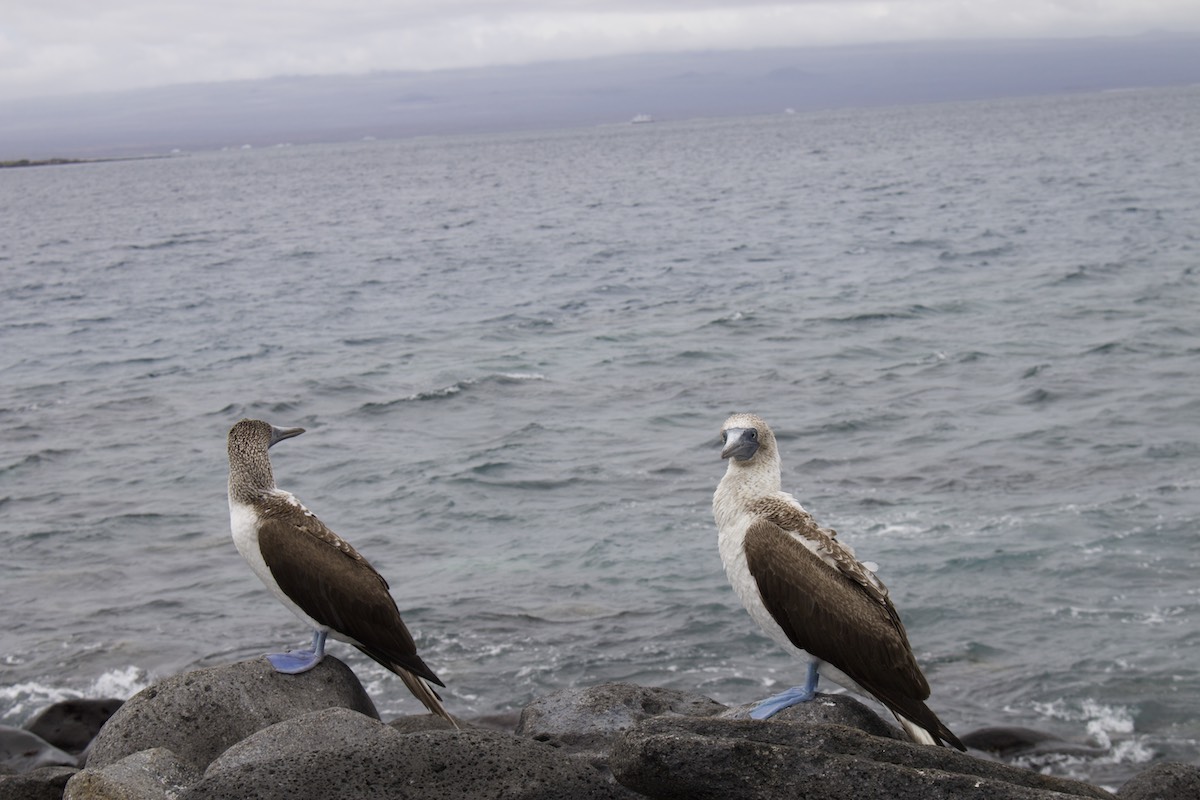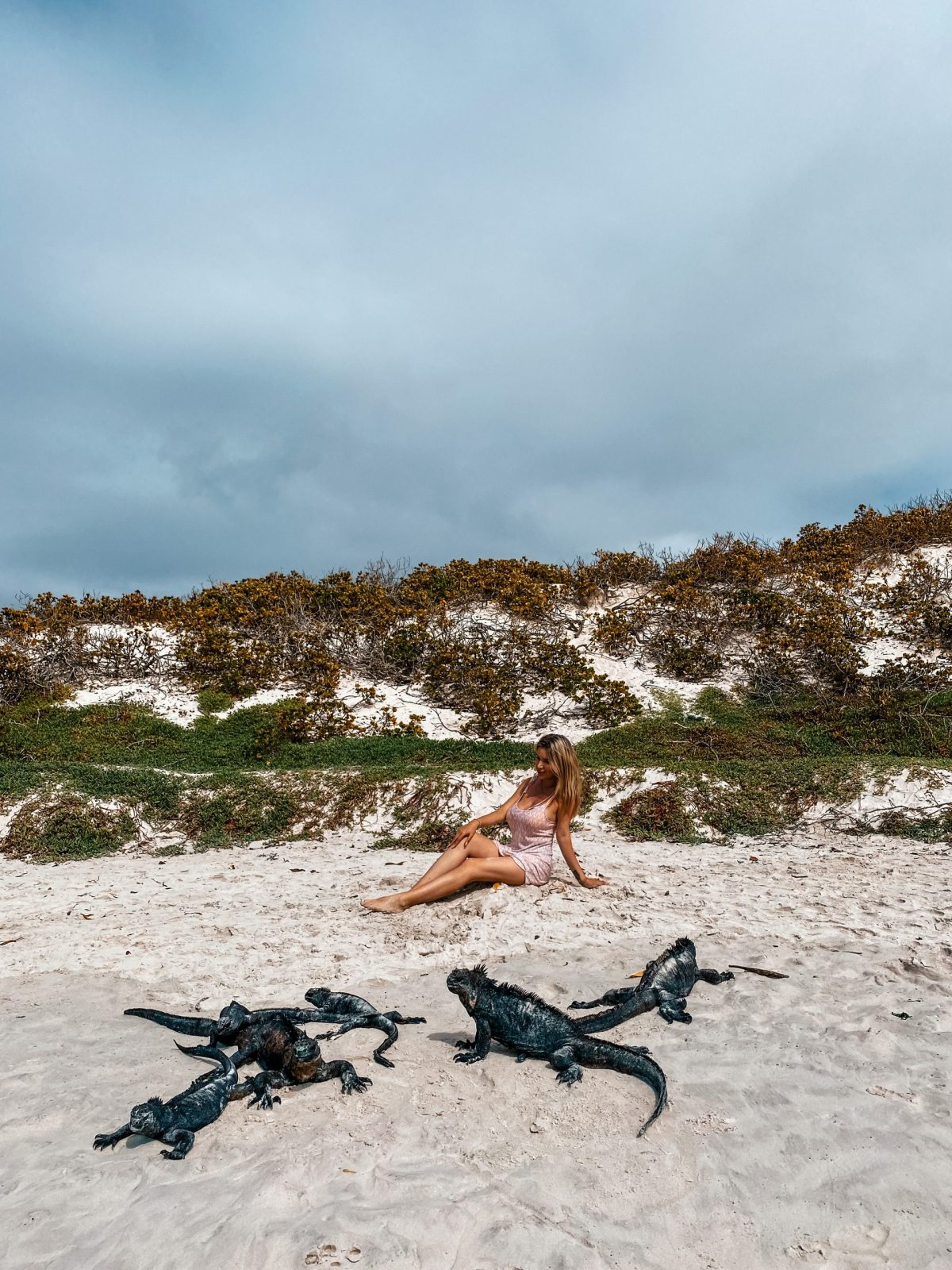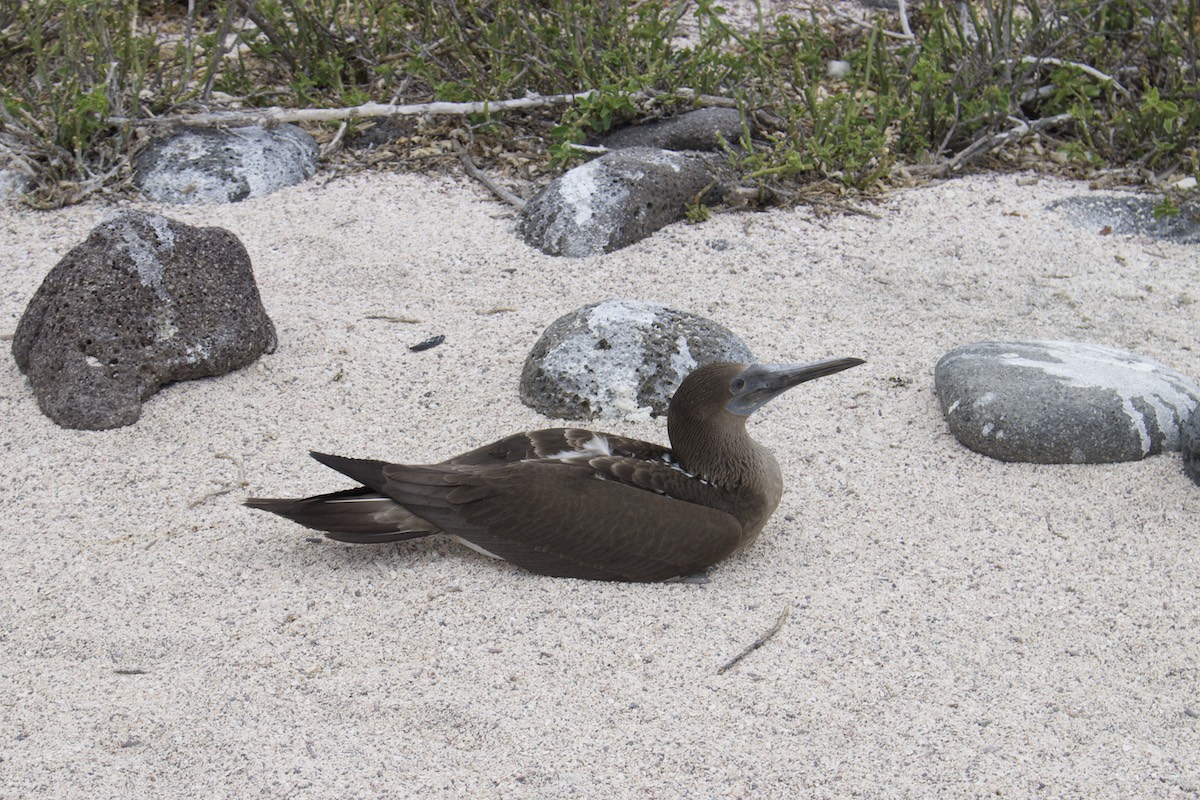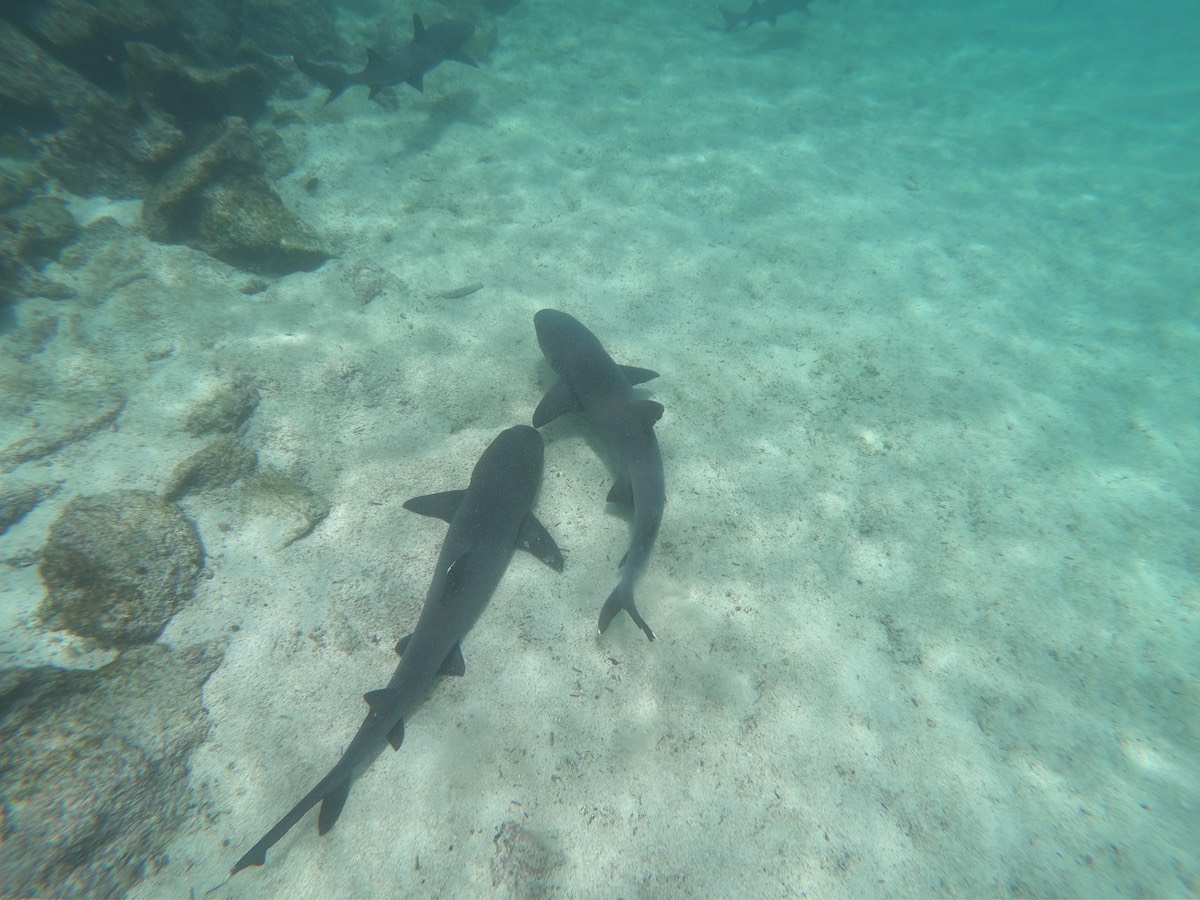 Galapagos Mockingbird
Darwin's Finches
Waved Albatross
Galapagos Hawk
and more…
You will most likely encounter most, if not all of these wildlife creatures during your Galapagos Island travel. At least we did!
We will further discuss what activities you can do on each island in Galapagos.
Things to do in San Cristobal Island (Galapagos)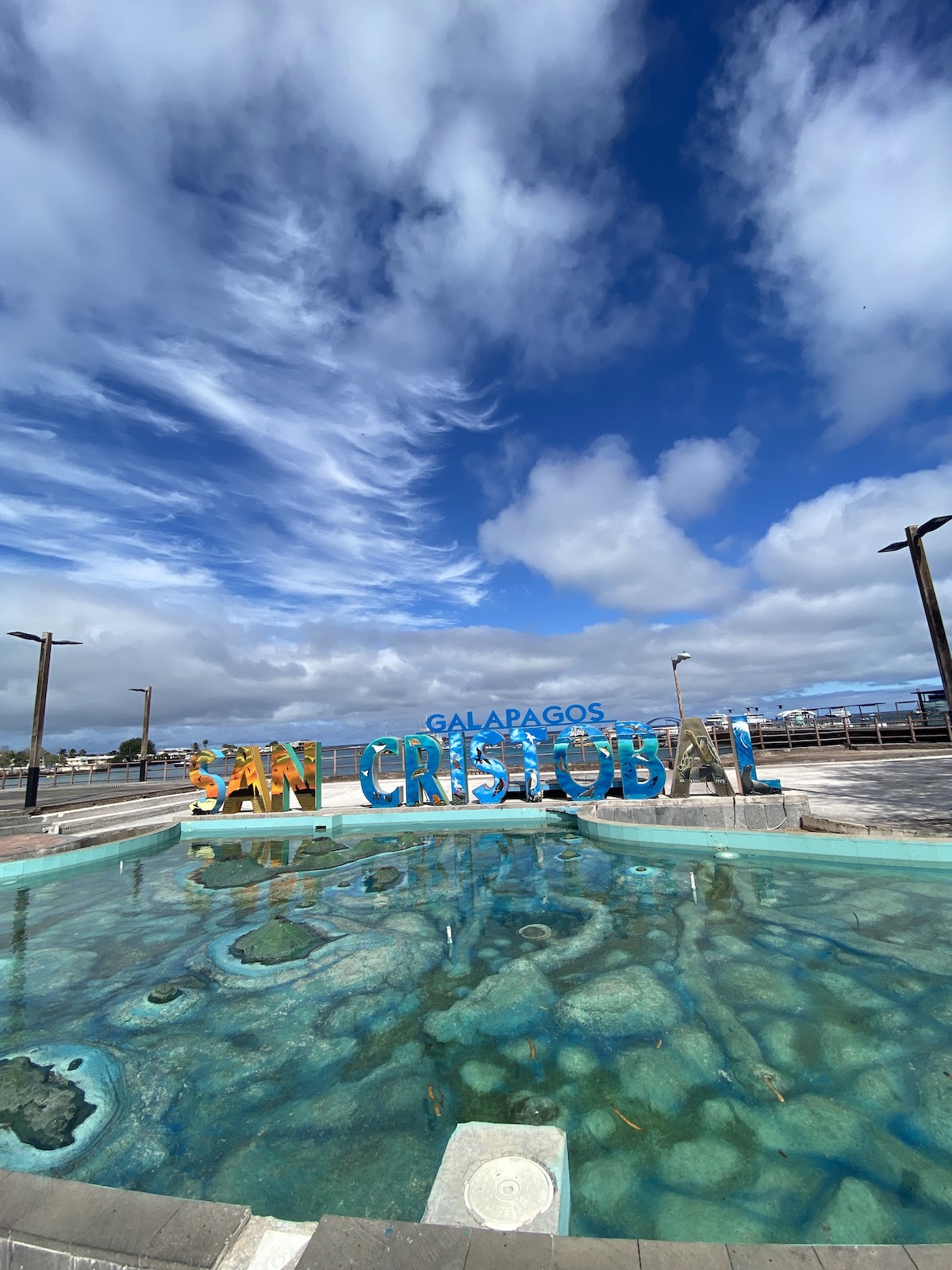 San Cristobal Island has a lot to offer visitors, with a diverse range of sites to see and activities to participate in. It is an excellent island to include on your land trip itineraries, and it is also often included in cruise itineraries.
Visitors can stay overnight, dine, and enjoy the nightlife in San Cristobal. The island's laid-back ambiance and kind residents will entice you to stay longer.
Things to do in San Cristóbal on your own
Visit City's Downtown and walk Malecon of Puerto Baquerizo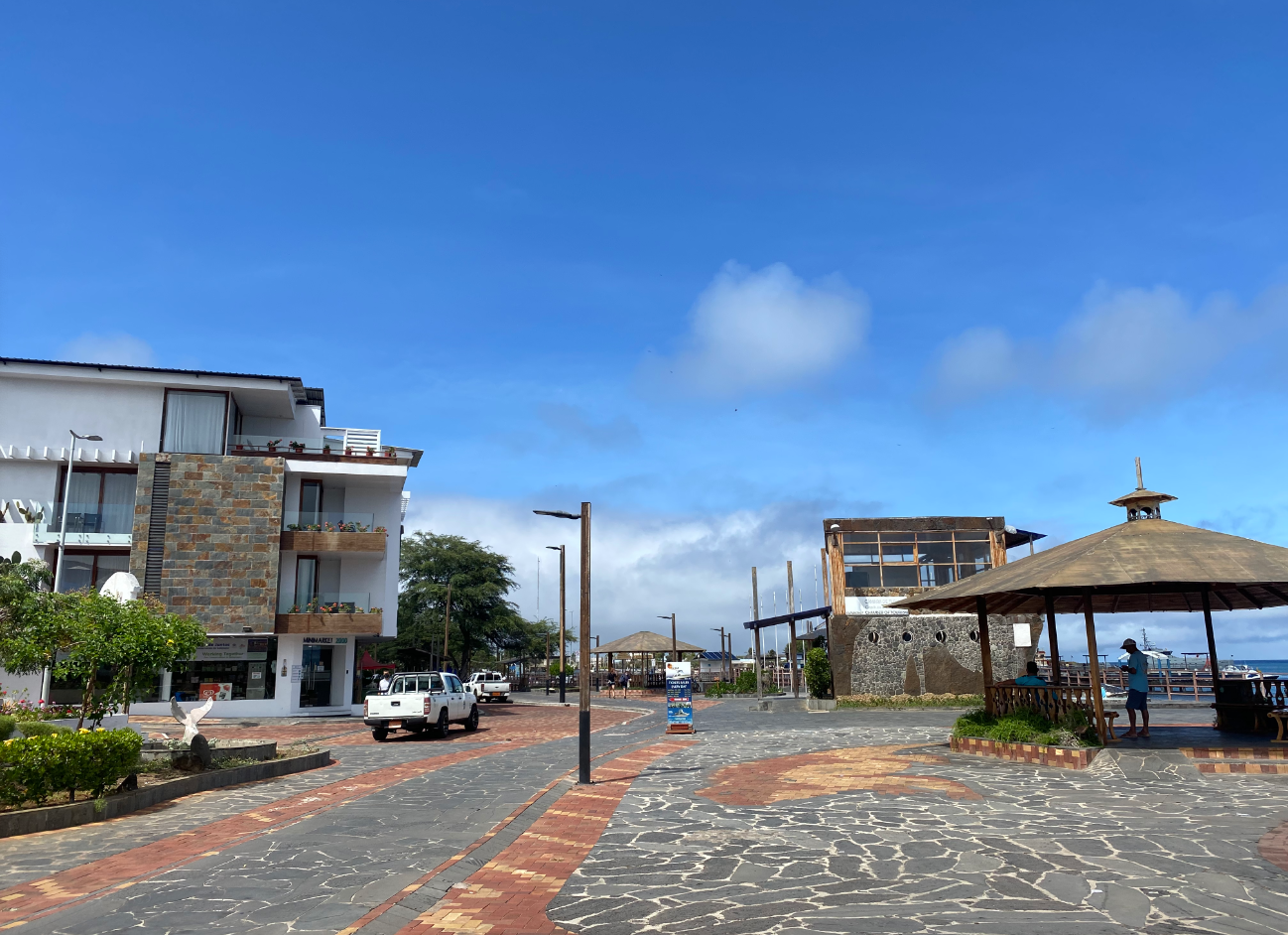 This will be your first view of the Galapagos Islands if you arrive at the San Cristóbal airport. Sea lions, iguanas, sea turtles, crabs, pelicans, finches, and other wildlife can be seen on the pier. There are numerous restaurants, stores, and gift shops nearby.
Playa Oro (Gold Beach)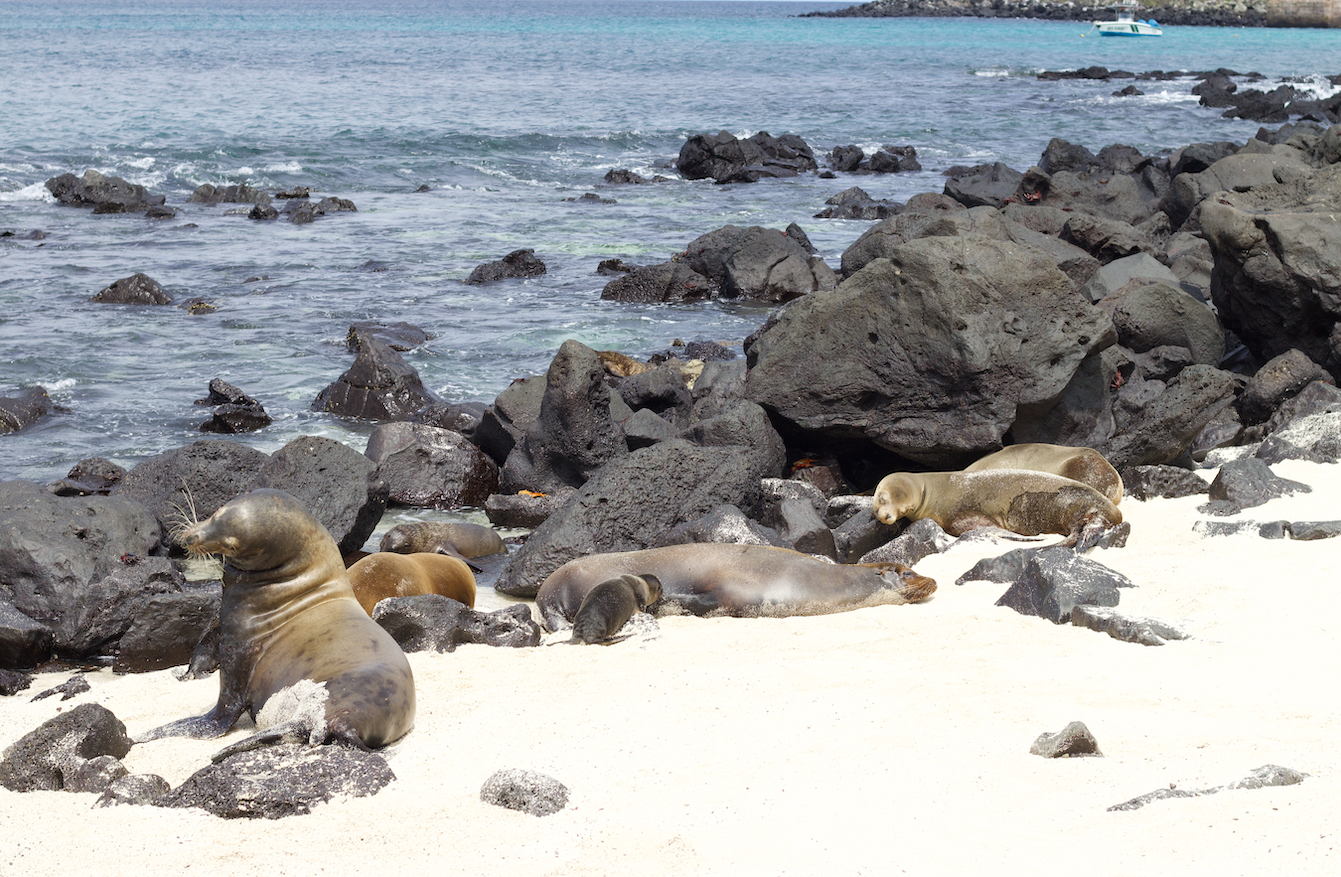 Go to Playa Oro at sunset to see the beautiful view of the setting suns and the silhouettes of sea lions moving amid the orange lights. Unfortunately, Galapagos sea lions are considered endangered owing to oil leaks and deep-sea fishing. Although we observed a lot of infants when we went, researchers estimate that in 50 years, this species will only be found in San Cristóbal and smaller numbers.
Playa Mann (Mann Beach)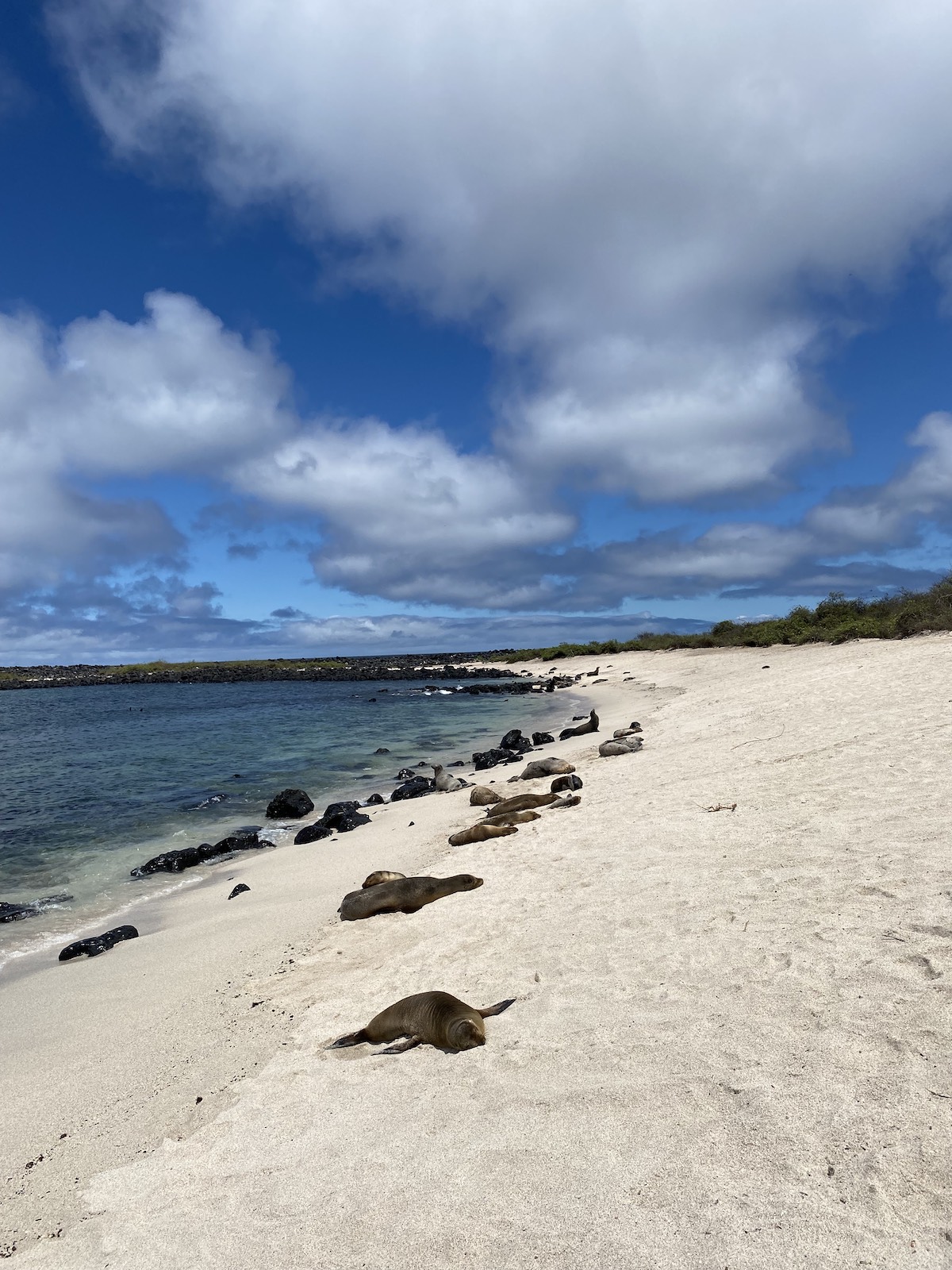 Playa Mann beach has flour-like sand and crystal-clear oceans and is only a short easy walk from town. It's incredible to get so near to sea lions and relax with them. There are many turtles on this beach because it is where they lay their eggs so keep an eye on what's going on around you! The location is perfect for snorkeling because the aquatic life is numerous.
Cerro Tijeretas and Punta Carola Viewpoints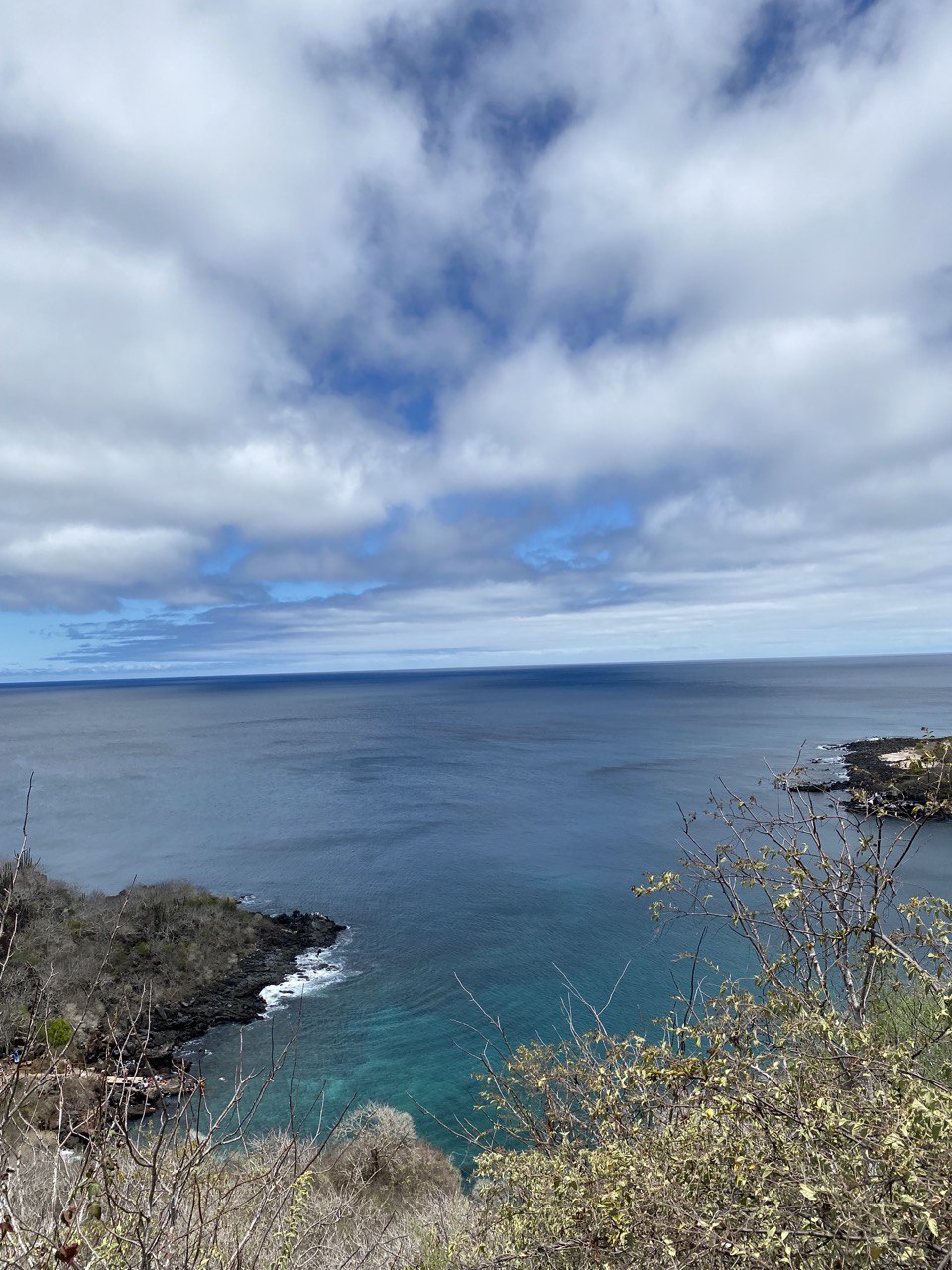 Punta Carola is a lovely horseshoe-shaped bay sheltered by lava rock that allows visitors to interact with many of the local fauna. The iconic red and white lighthouse is located at the far end of the sandy Playa Carola beach. Punta Carola, we believe, is the ideal place to end your hike to Cerro Tijeretas and Darwin's Cove.
Snorkle at Playa Tijeretas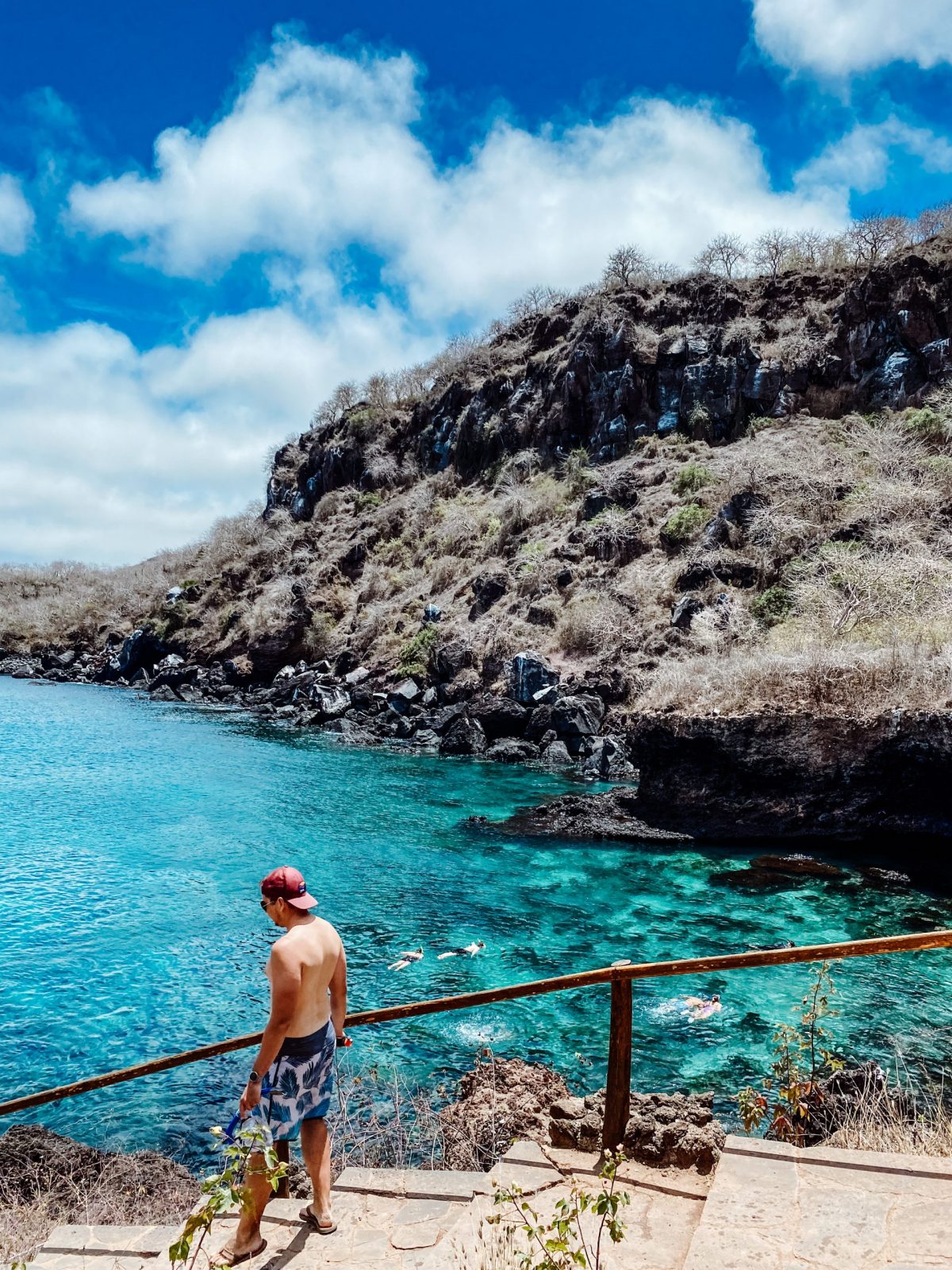 We loved our walk on the trail to the Tijeretas viewpoint was called for the abundance of "tijeretas" or frigatebirds that can be seen here. It will take you around 20 minutes to reach the viewpoint and snorkel area along a well-marked and in excellent condition walk through trees, cactus, birds, and some spiders (beware of spider webs on the trail). Because there is no place to rent snorkel gear, you need to bring your own or rent it at Puerto Ayora.
Sunset at Playa Lobería (Lobería Beach)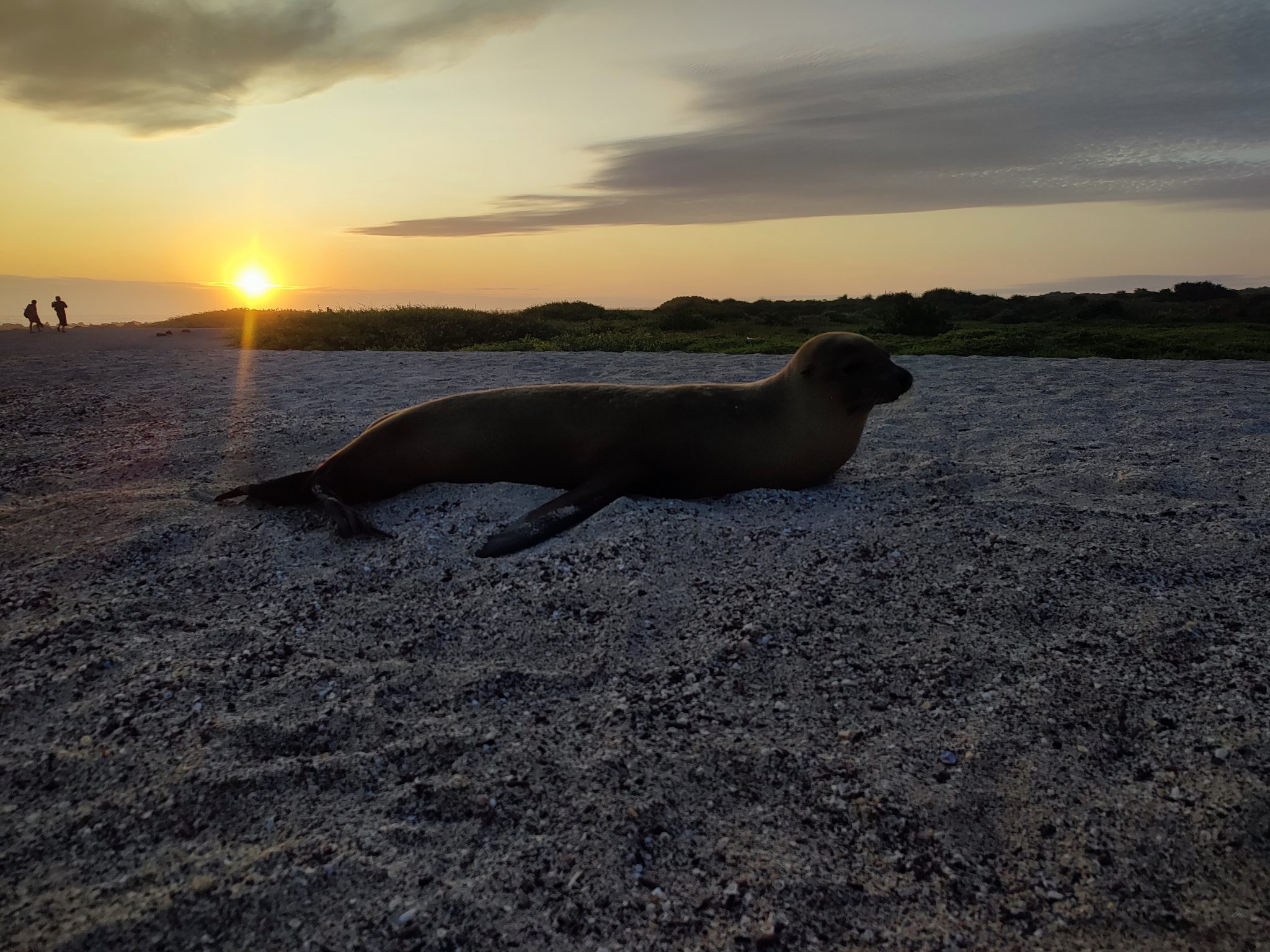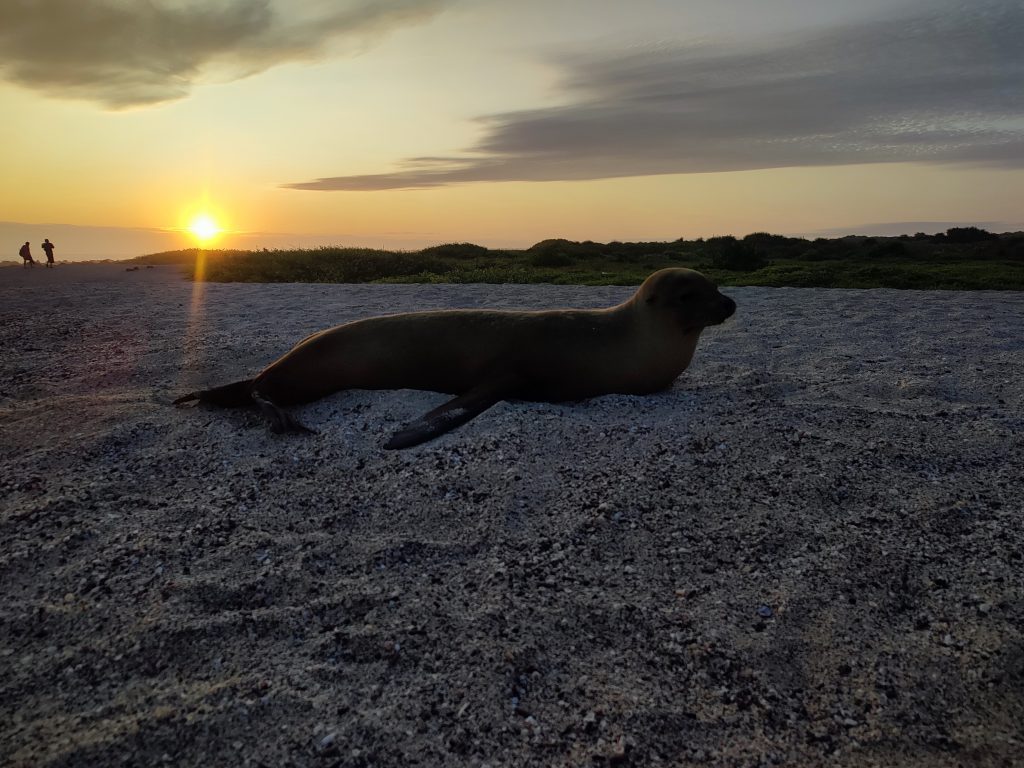 Playa La Loberia is a partly sandy, partially rocky beach famed for its big sea lion population. It is also a perfect site for watching the sunset. Loberia is a particularly lovely beach, but what sets it apart is its incredible underwater habitat, which is teeming with life.
Surf at Tongo Reef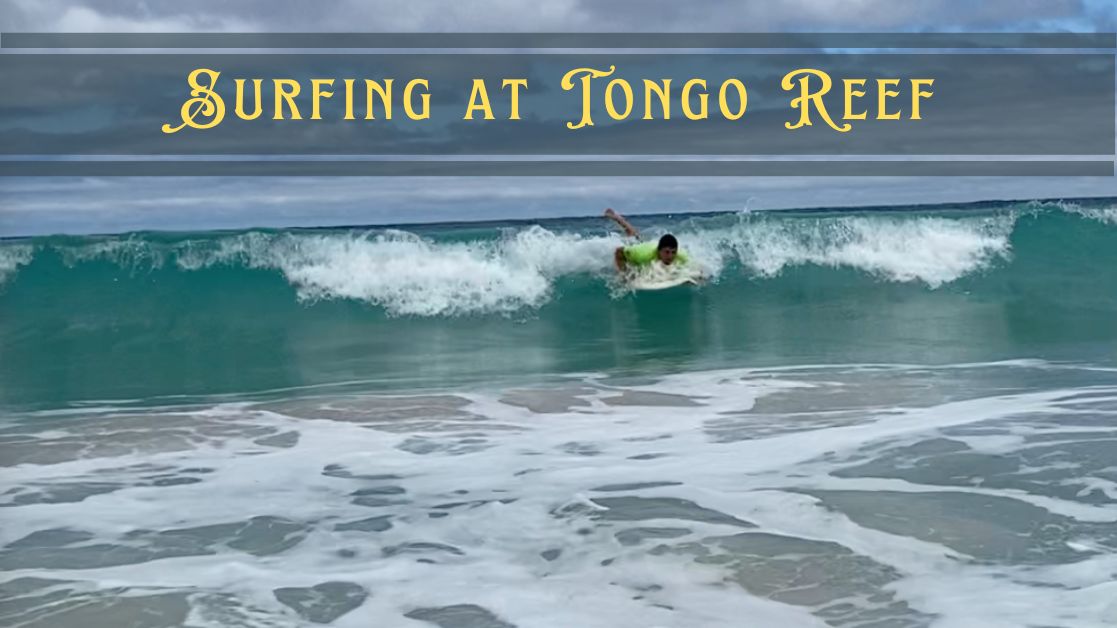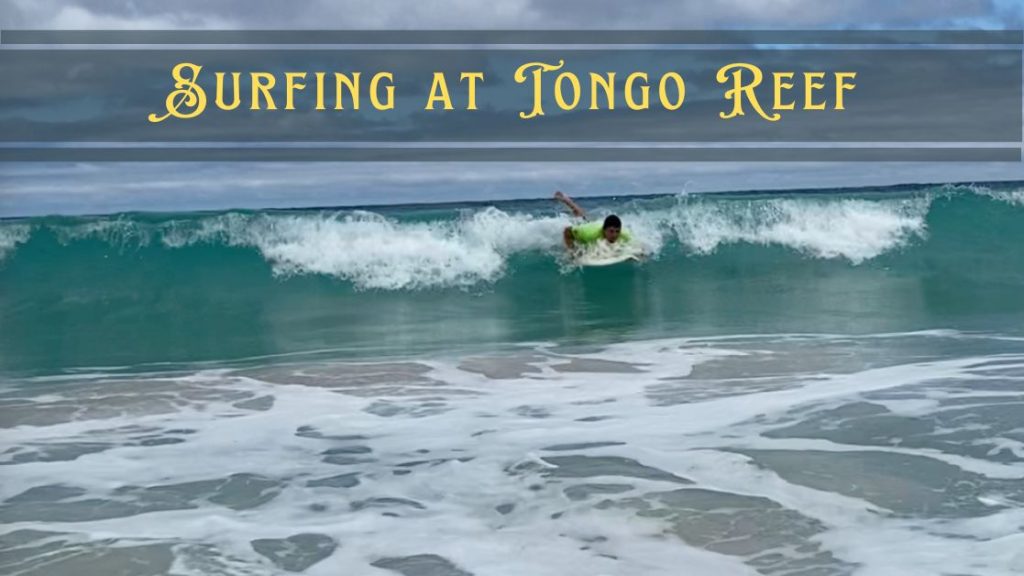 If you are a pro surfer looking for an exhilarating experience, Tongo Reef is the place to go. This spot is located in the south of the San Cristobal Island and can only be reached by boat.
Day tours from San Cristóbal
Kicker Rock Tour (León Dormido)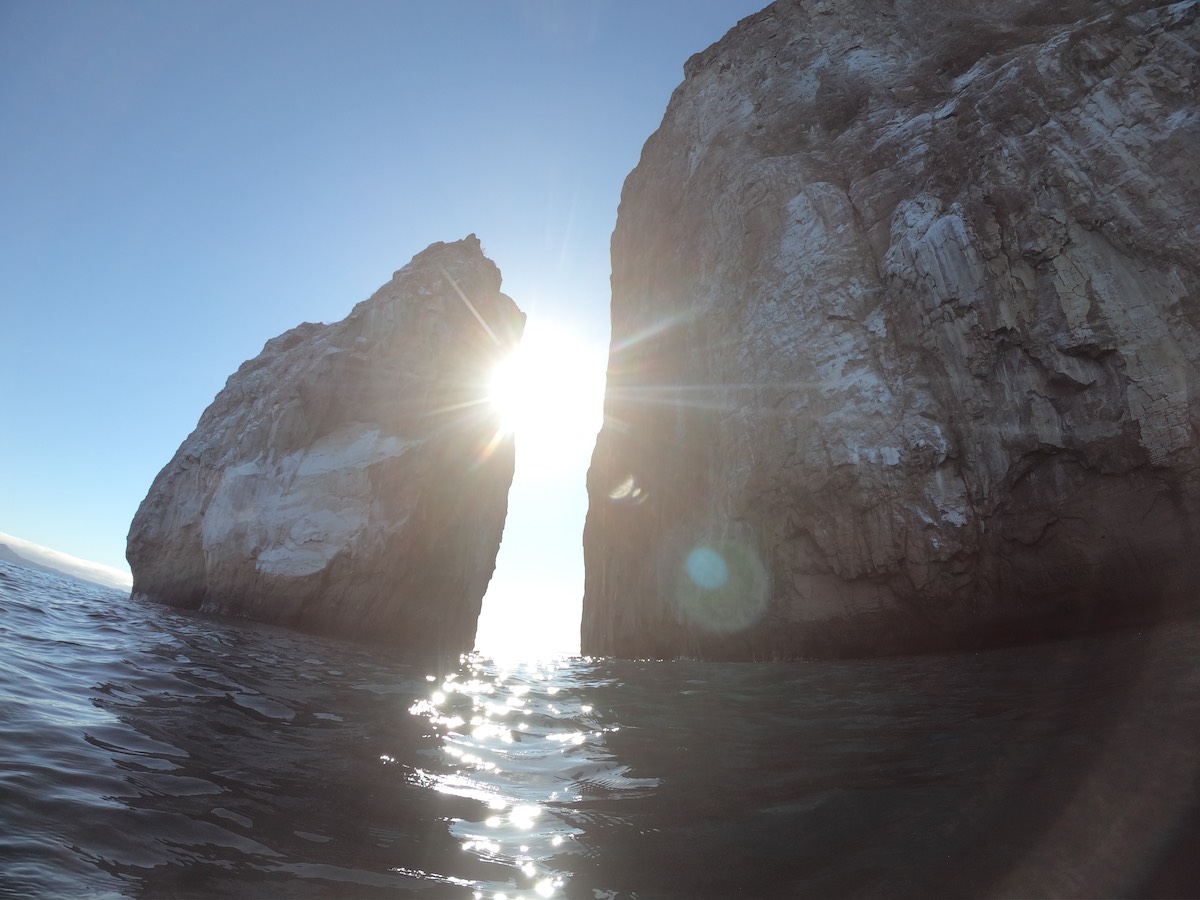 Kicker Rock or Leon Dormido is a portion of a vertical tuff cone formation that rises over 153 meters above the water. It is located about an hour and a half northeast of Puerto Baquerizo Moreno.
The rock's distinctive shape, which some people mistake for a shoe, earned it the name Kicker Rock. Some people mistake it for a sleeping sea lion or Leon Dormido in Spanish.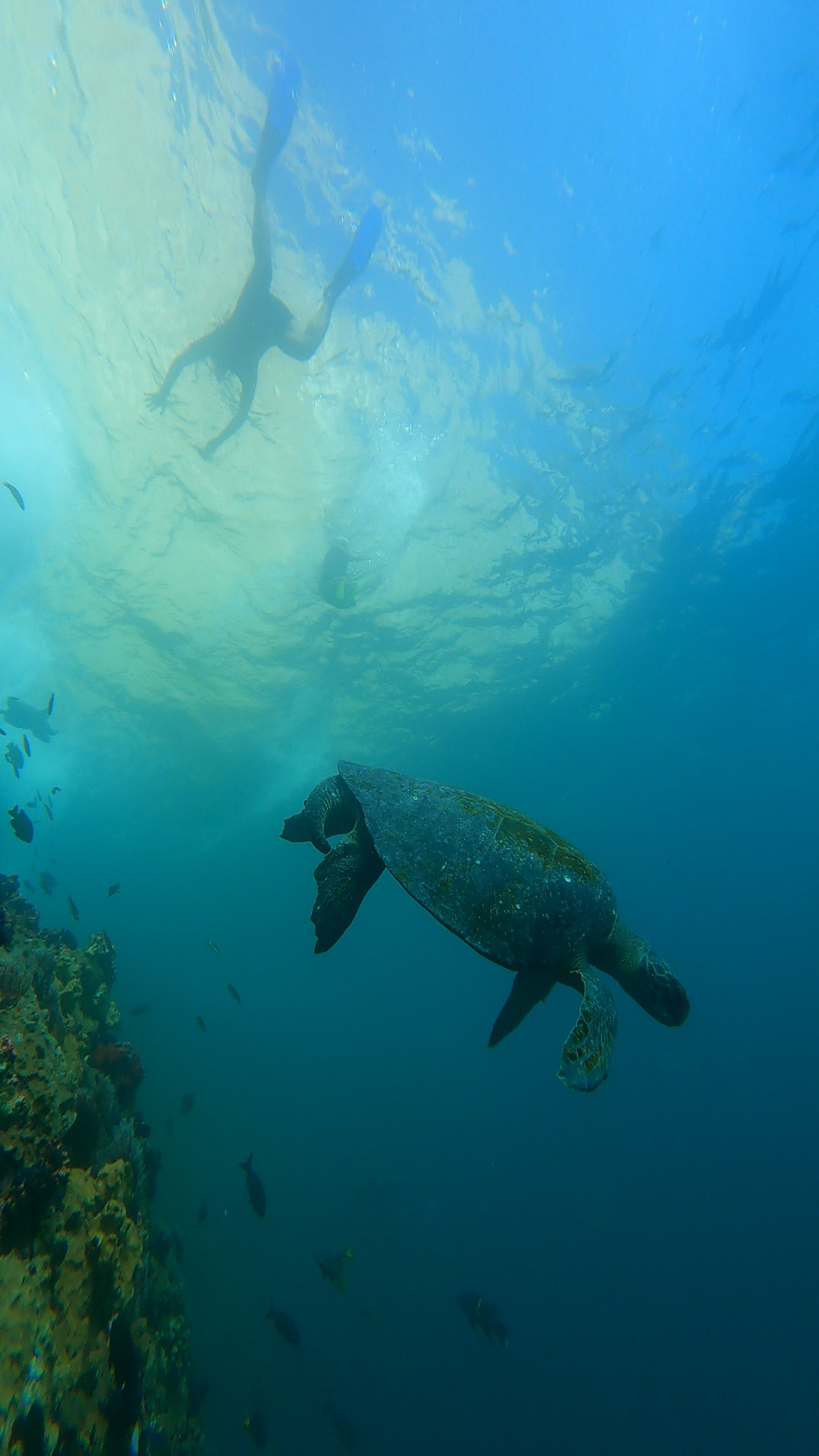 Sea turtles, marine iguanas, rays, Galapagos sharks, tropical fish, and, with luck, hammerhead sharks can all be seen while snorkeling around Kicker Rock. We often see blue-footed boobies, masked boobies, and frigatebirds on the cliffs, as well as sea lions along the shore, in addition to the underwater view.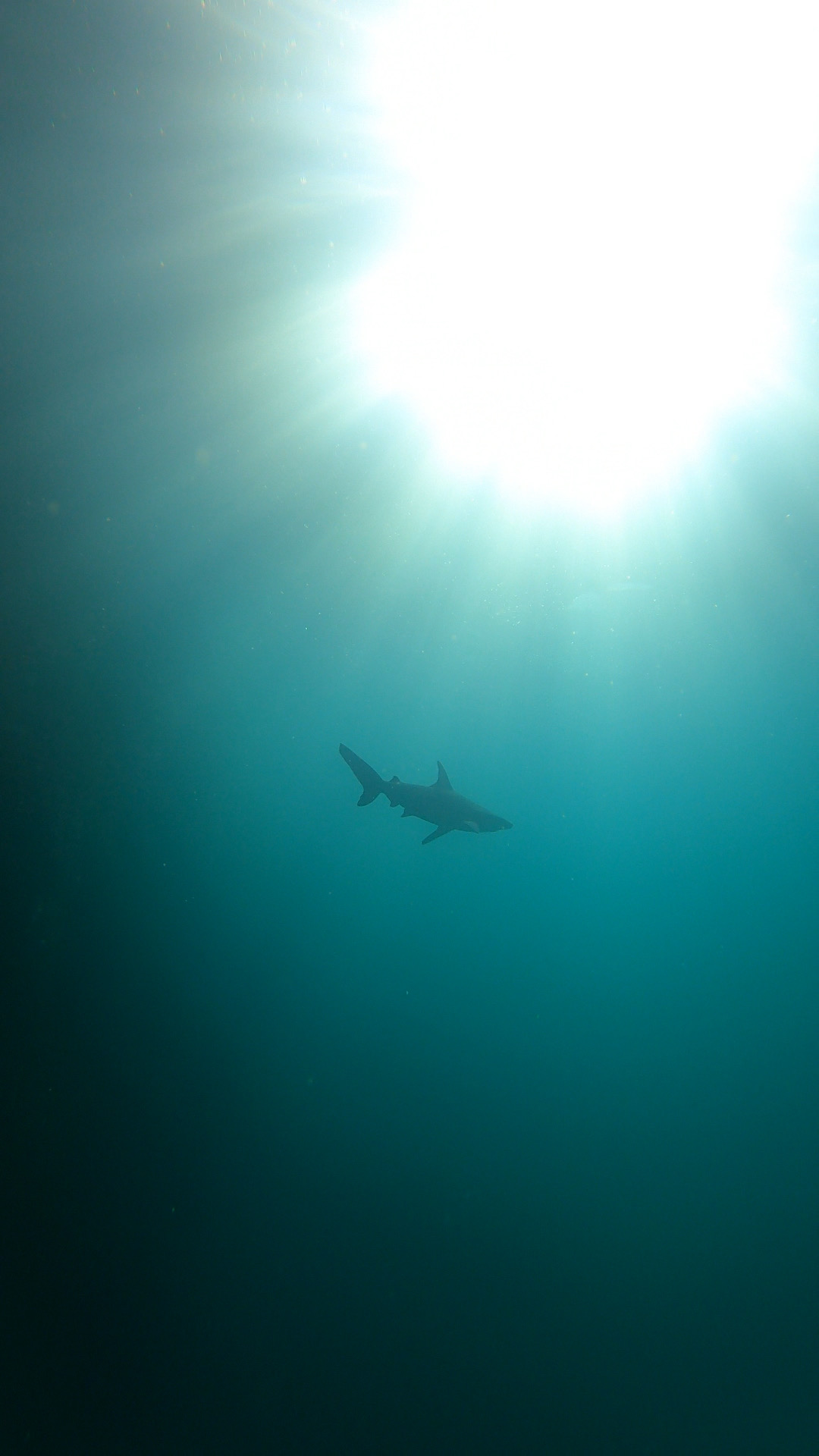 This well-known snorkeling excursion also includes a visit to a beach, which could be Puerto Grande, Cerro Brujo, or Manglecito. These options change depending on the Galapagos tour's departure date.
Tour 360º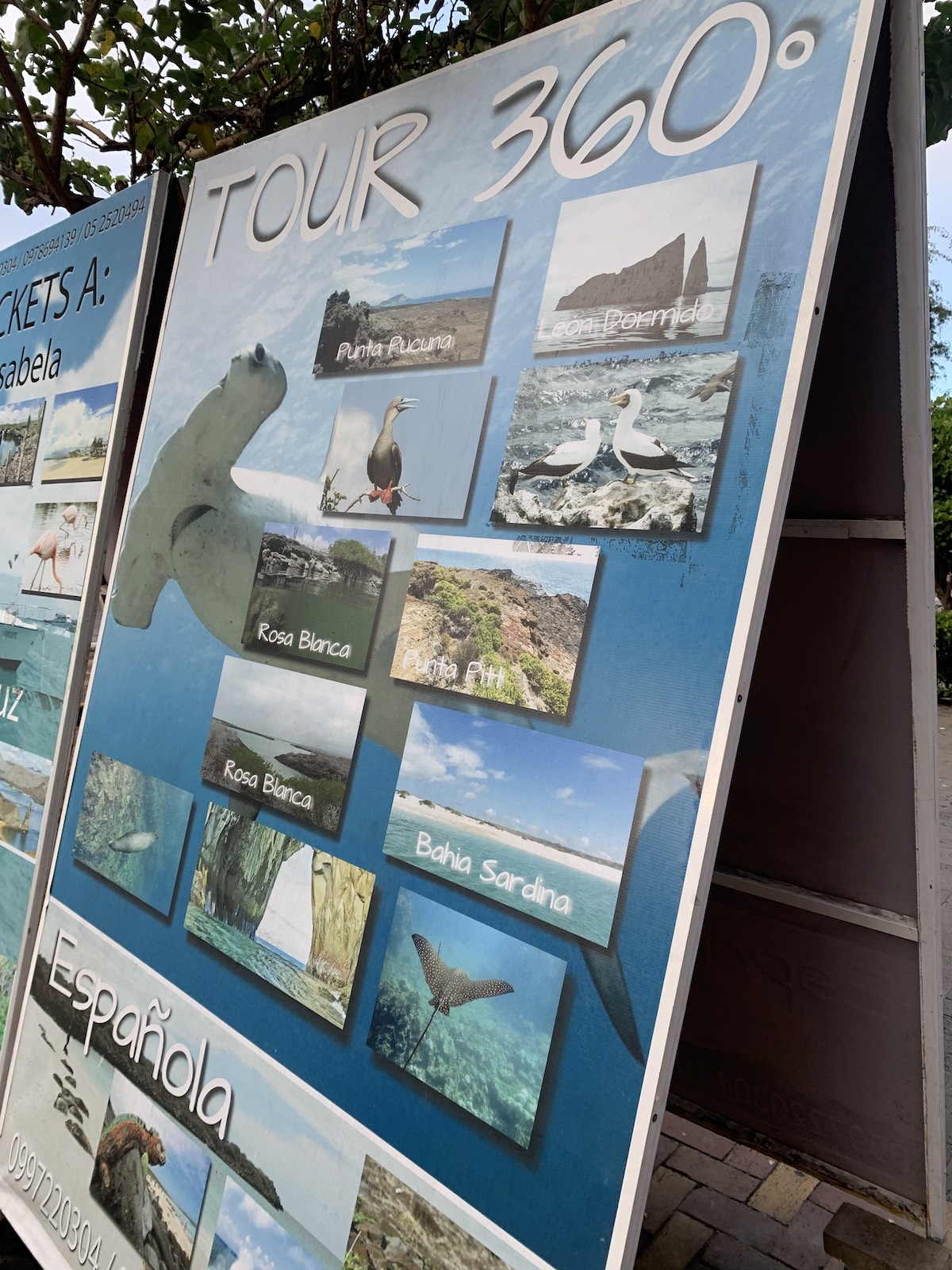 Tour 360º is one of my favorite parts of our trip. It is the newest tourist attraction on San Cristobal Island. The excursion conducts a complete round of San Cristobal Island, as the name implies. I'd recommend skipping Kicker Rock and getting this one instead because Kicker Rock is included!
Permits and particular times have been issued to a small, select number of boat operators with fishing licenses to operate this excursion. These are sometimes termed Tour de Pesca Vivencial, Old Fisherman Tours, or similar terms since they are organized by fishing boat operators.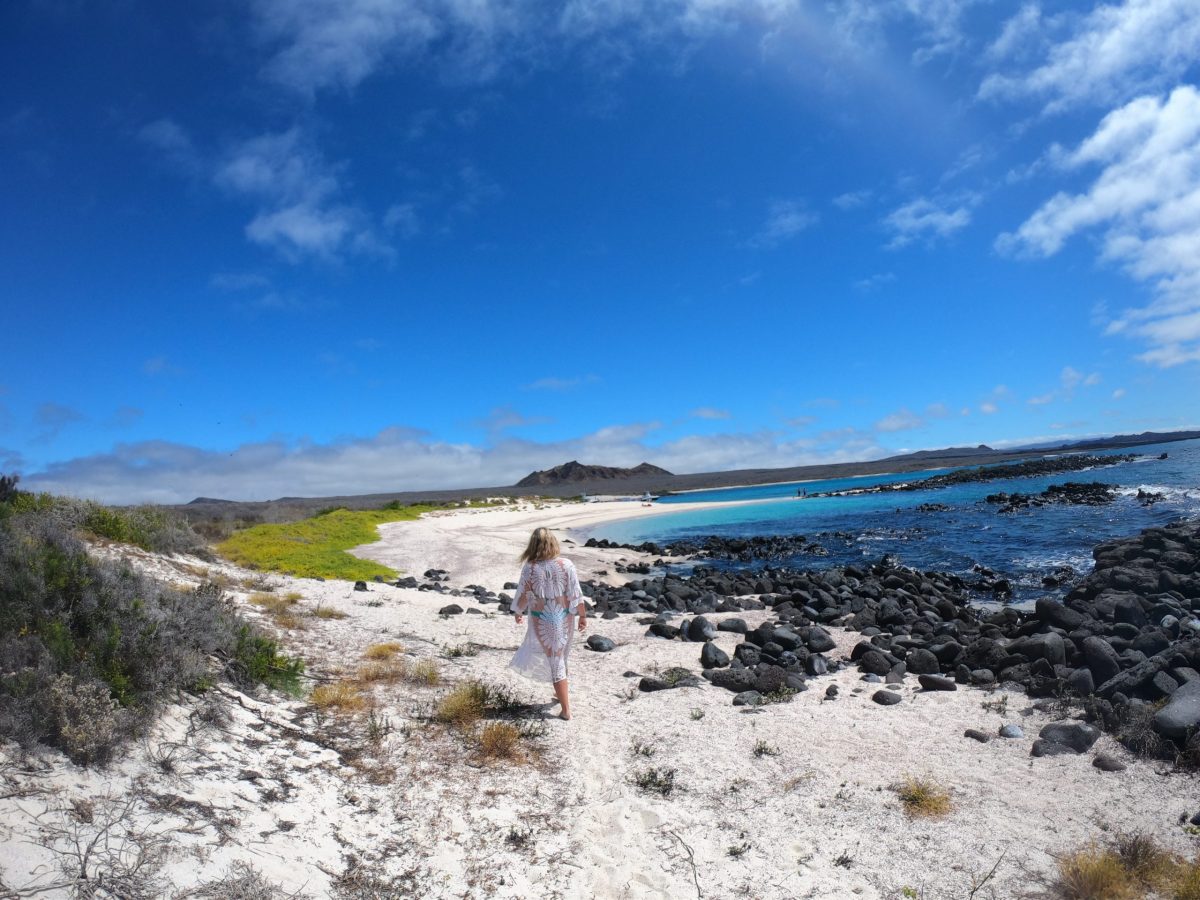 The Tour 360 cruises begin early in the morning, with permission to visit the Kicker Rock region before the other day tour boats arrive. Being the first there has a lot of advantages! The cruises also include stops for fishing and visits to beaches that are not accessible to other tour vessels.
Because many of the spots visited were previously only accessible to fishermen and not tourists, these new fishing boat "tours" can take you to some very interesting locations. The journey can provide an excellent insight into where inhabitants traveled and how they lived before cruise ships and tourists arrived on the islands.
Tour to Española Island
This cruise to Espanola Island is fantastic for bird watching and discovering one of Galapagos' most iconic beaches. Keep an eye out for the stunning Albatross, the world's largest seabird.
Discover a fantastic spot where you may see Galapagos Hawks, blue-footed boobies, Nazca boobies, and vast colonies of marine iguanas, among other birds.
Enjoy the beautiful sand beach and turquoise waters of Gardner Bay, as well as swim with the bay's hundreds of sea lions.
You can also practice your snorkeling skills here with the sea lions or sea turtles.
Punta Pitt Tour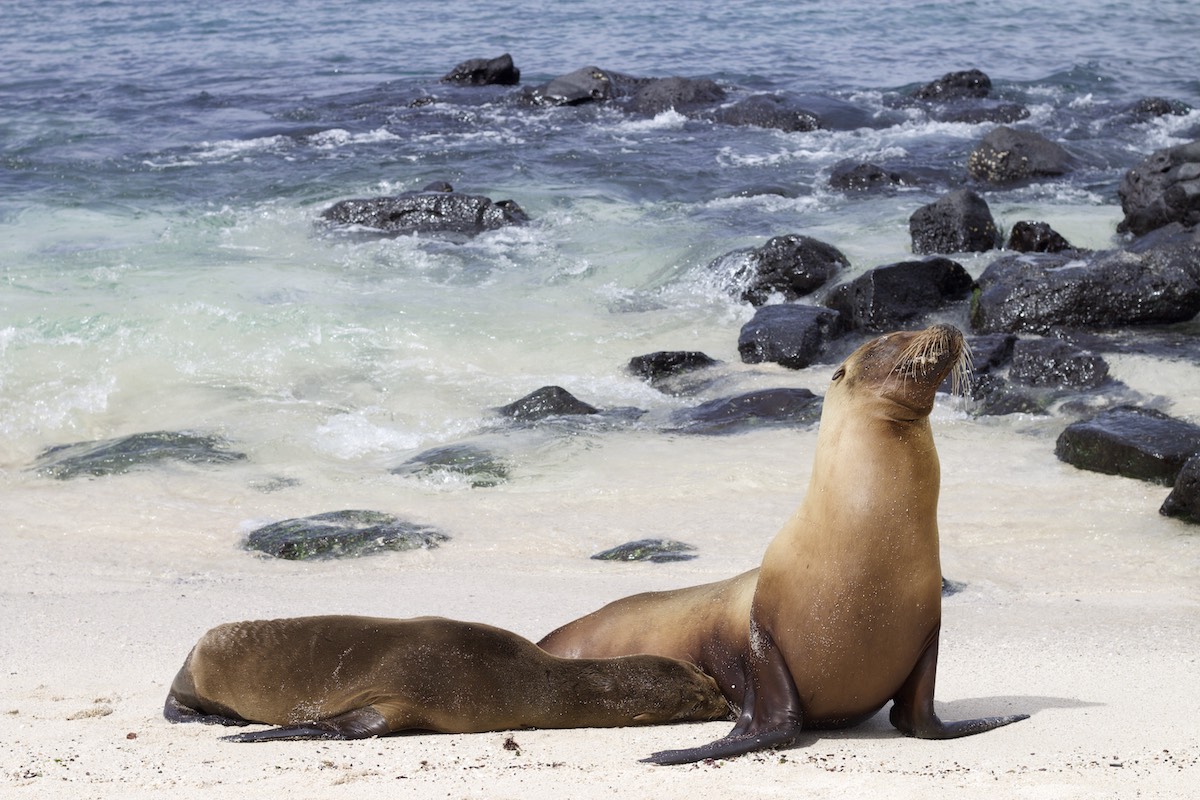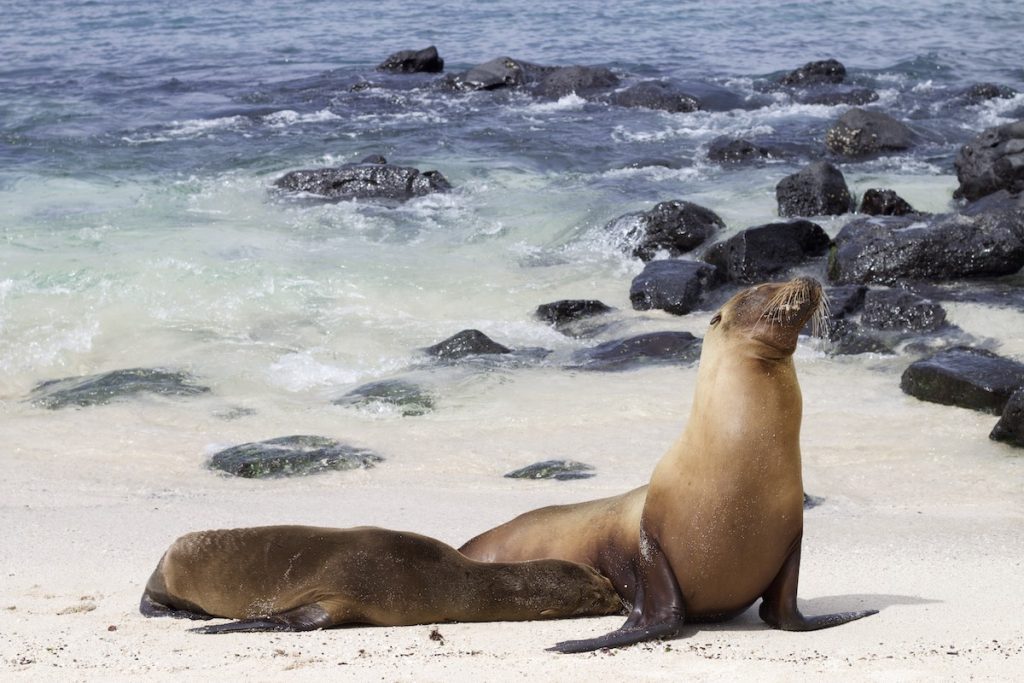 Punta Pitt is one of the only areas in the Galapagos Islands where all three booby species and two frigate species can be found due to its geographical location.
Red-footed boobies build their nests in the bushes, blue-footed boobies in the interior, and Nazca boobies in the cliffs.
Tour to Isla Lobos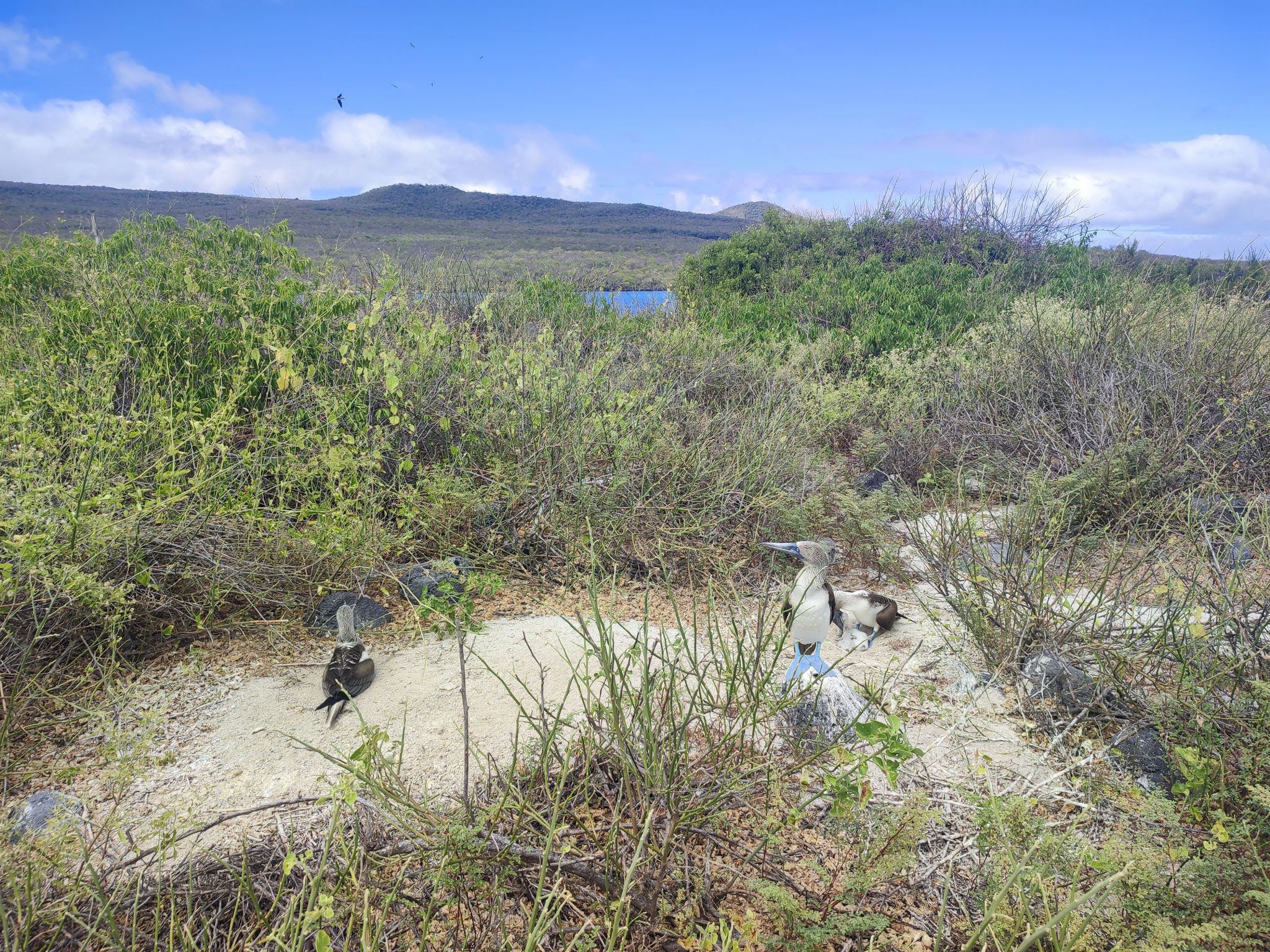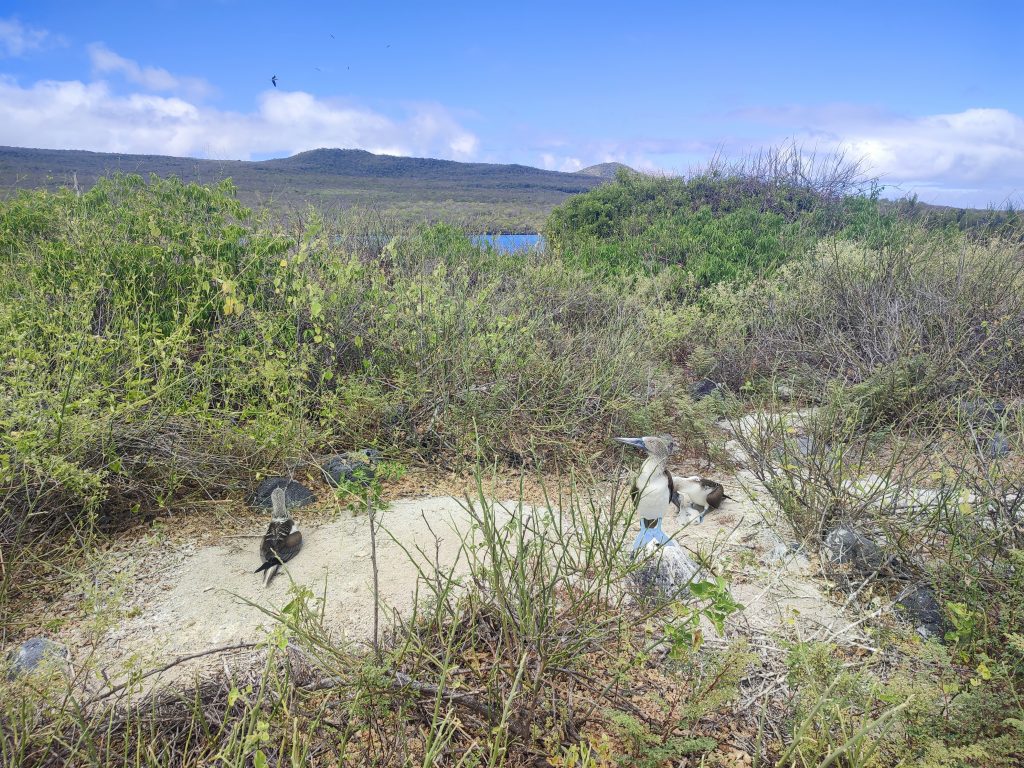 Isla Lobos is a small and calm island separated from San Cristóbal Island by a channel. It features coastal vegetation of salt-tolerant plants, as well as a small colony of frigates, sea lions, nesting blue-footed boobies, and a lovely natural breakwater.
It features an 850-meter path with a one-hour projected travel duration. During the journey, you will pass through arid vegetation, volcanic rock substrates, and a sandy area.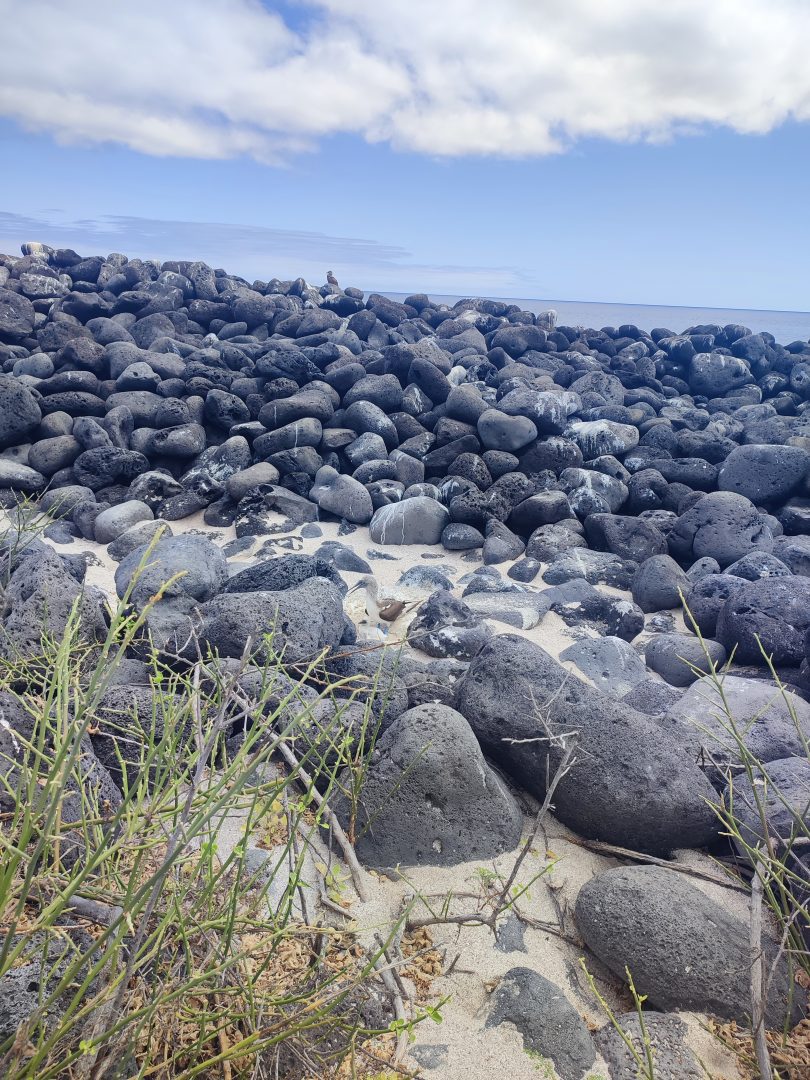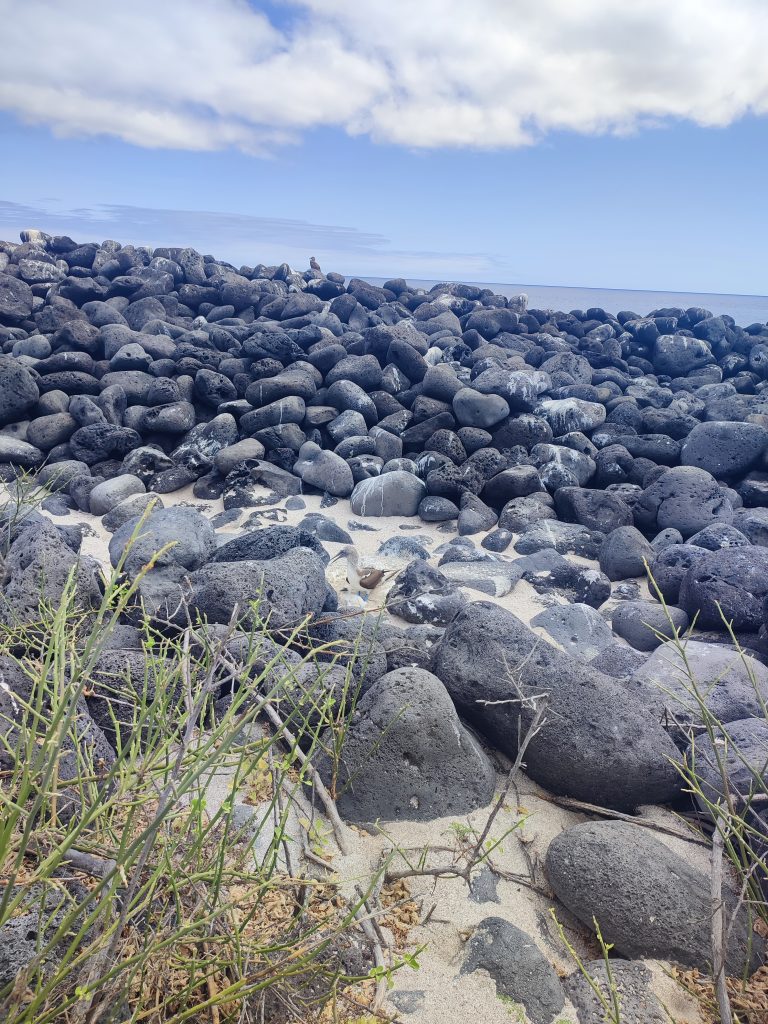 Furthermore, marine iguanas, lava lizards, and snakes from the east of the Galapagos can be seen on Isla Lobos, while young sea lions, rays, and sea turtles are prevalent during snorkeling. You may also visit Playa Ochoa, where you can relax in this magnificent location.
Tours by Taxi on San Cristobal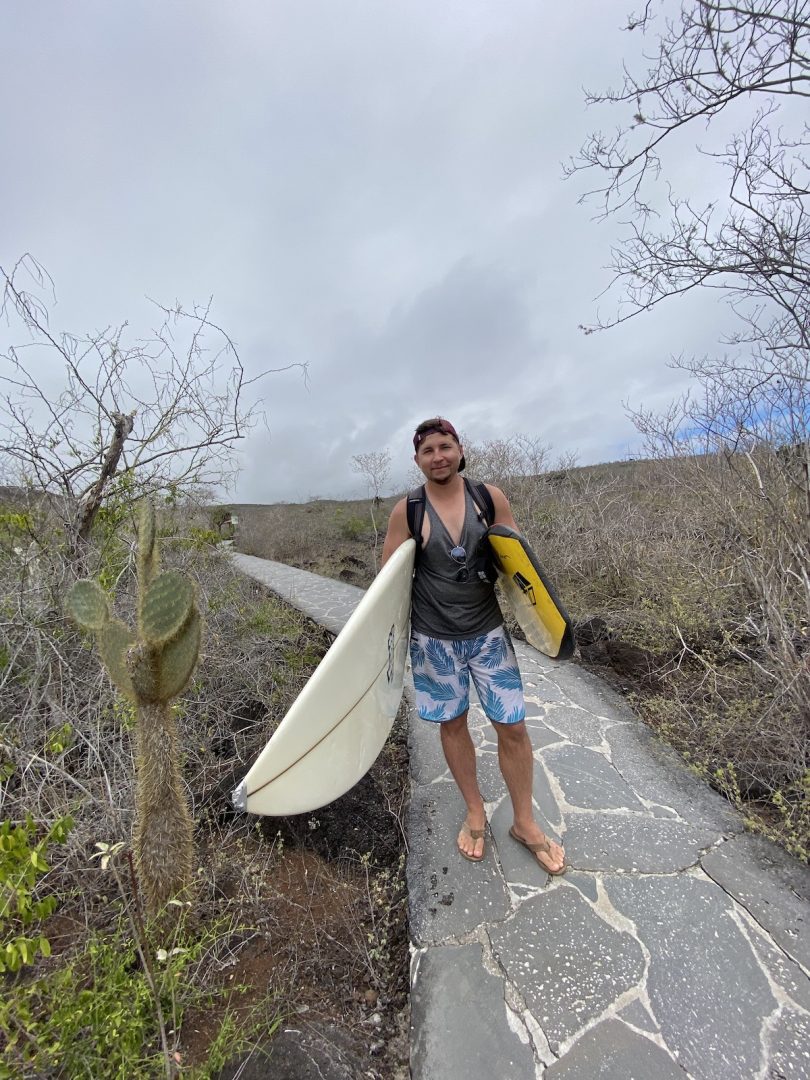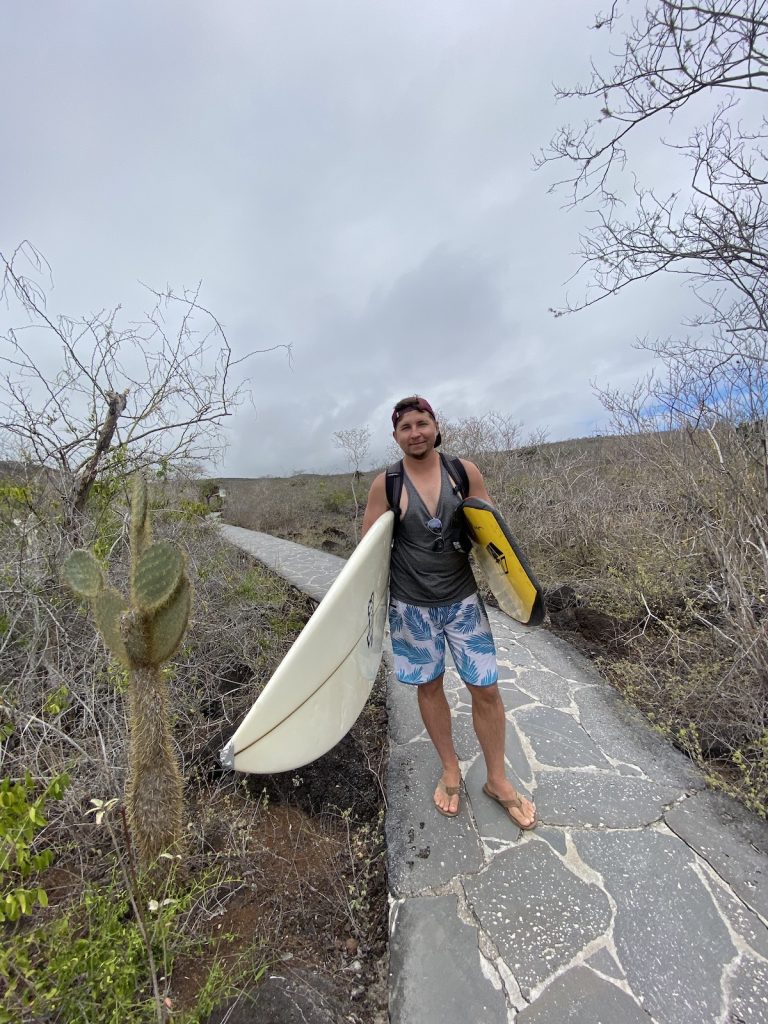 Most taxis in Puerto Baquerizo Moreno on San Cristobal island will take you on a half-day excursion to a park where you can hike to a green crater lake with beautiful views, then to the San Cristobal Galapaguera where you can see tortoises roaming around and the breeding center where they have the tiny ones. Finally, the journey takes you to a lovely beach where you may swim or simply observe nature.
Puerto Chino Beach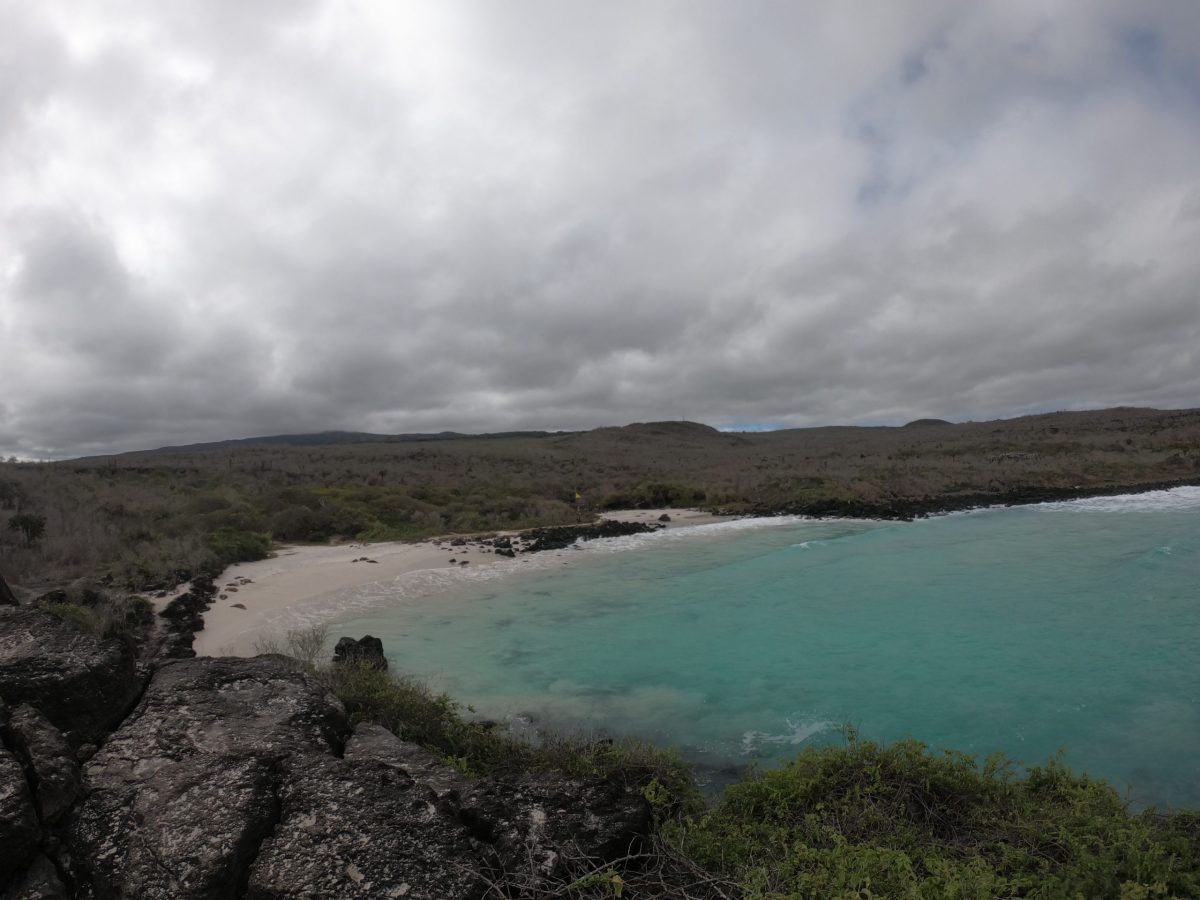 This small beach is located on the opposite side of the island from Puerto Baquerizo Moreno, and it may be reached through a walking trail from the road that passes past La Galapaguera at Cerro Colorado. We spent the whole day on the beach completely alone, it was such an amazing feeling to spend the day alone in such paradise… Well, not alone: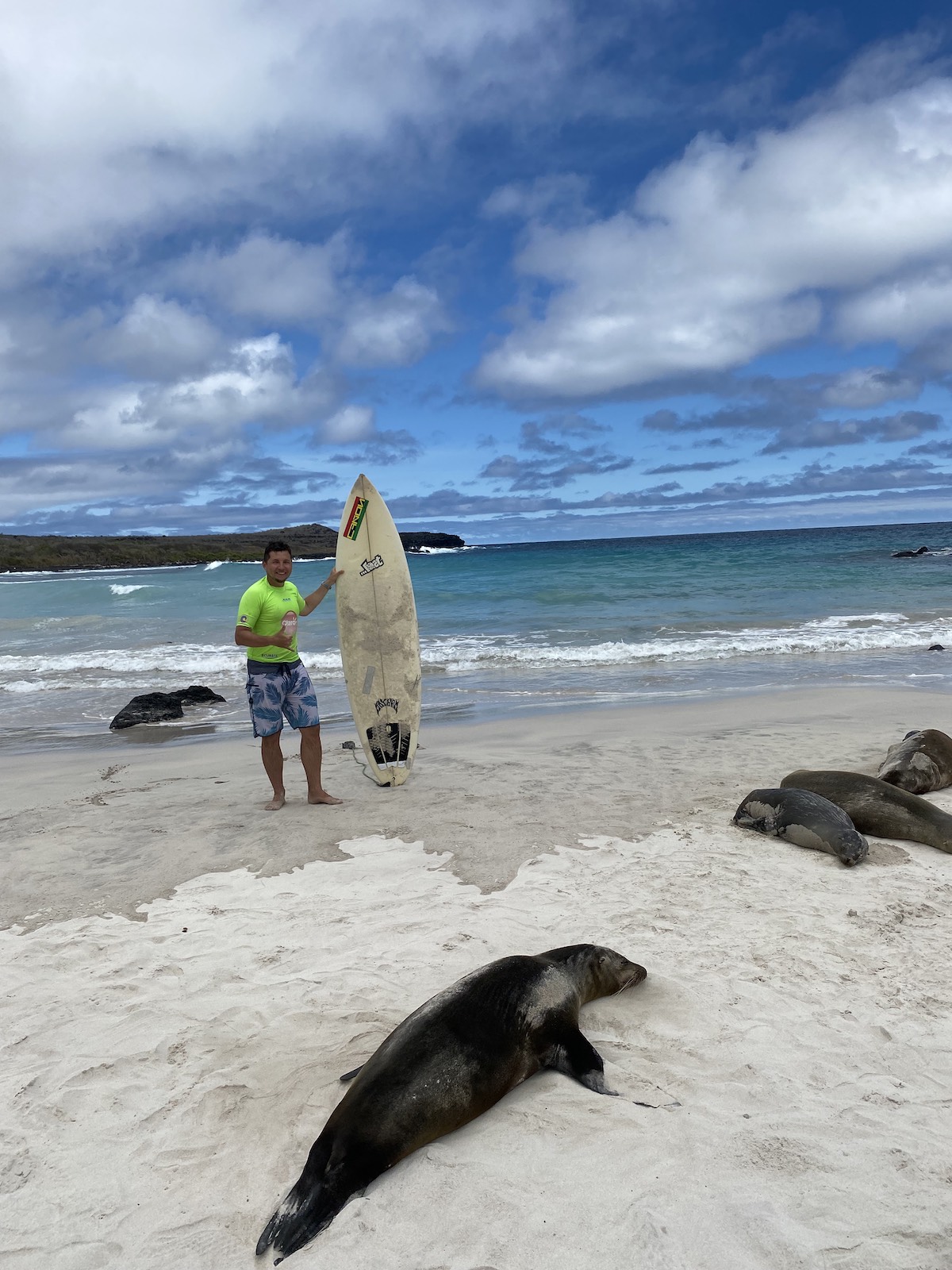 Puerto Chino is a beautiful place to relax and enjoy the sights and sounds of the Pacific Ocean, with its white sand and turquoise ocean. Swimming and snorkeling are recommended here, and you may observe Galápagos green turtles and stingrays. Sea Lions and Blue-Footed Boobies can often be seen basking on the rocks beside the beach. I decided to surf as it's safe for beginners.
As you head to the beaches for amazing surfing instruction, you'll be having a blast in the sun. Because there are fewer rocks in the water, the beach is safer in case you fall.
Galapaguera of Cerro Colorado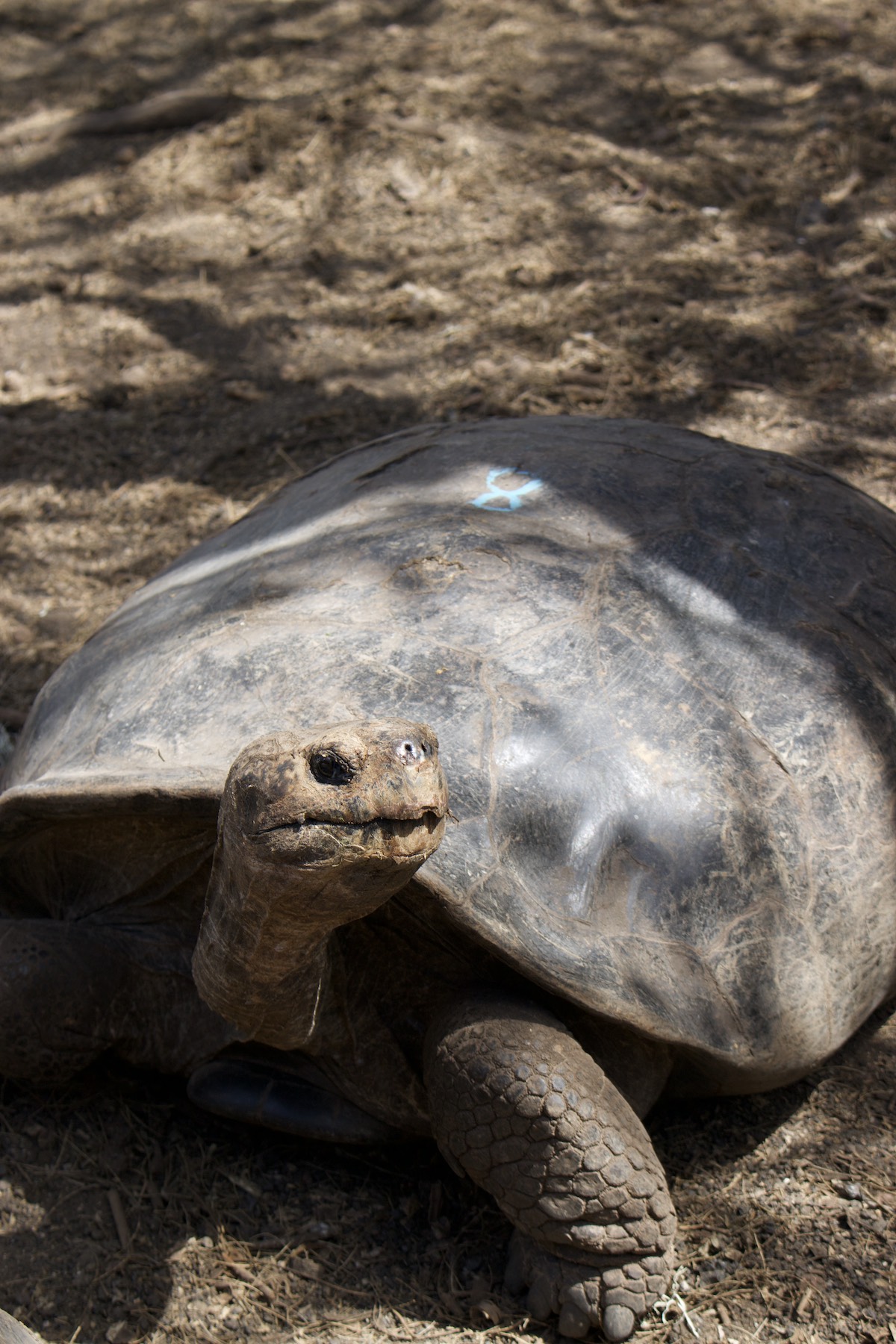 The Galapaguera is a gigantic turtle breeding center. In 2003, the Galápagos National Park opened the La Galapaguera de Cerro Colorado on San Cristóbal Island, and the human-run breeding program for Galápagos giant tortoises has shown to be a success. The reserve preserves a semi-natural habitat, protects the animals and their helpless hatchlings from predators, and educates visitors about the giant tortoises' natural history, biology, and conservation efforts.
Laguna del Junco (Junco Lagoon)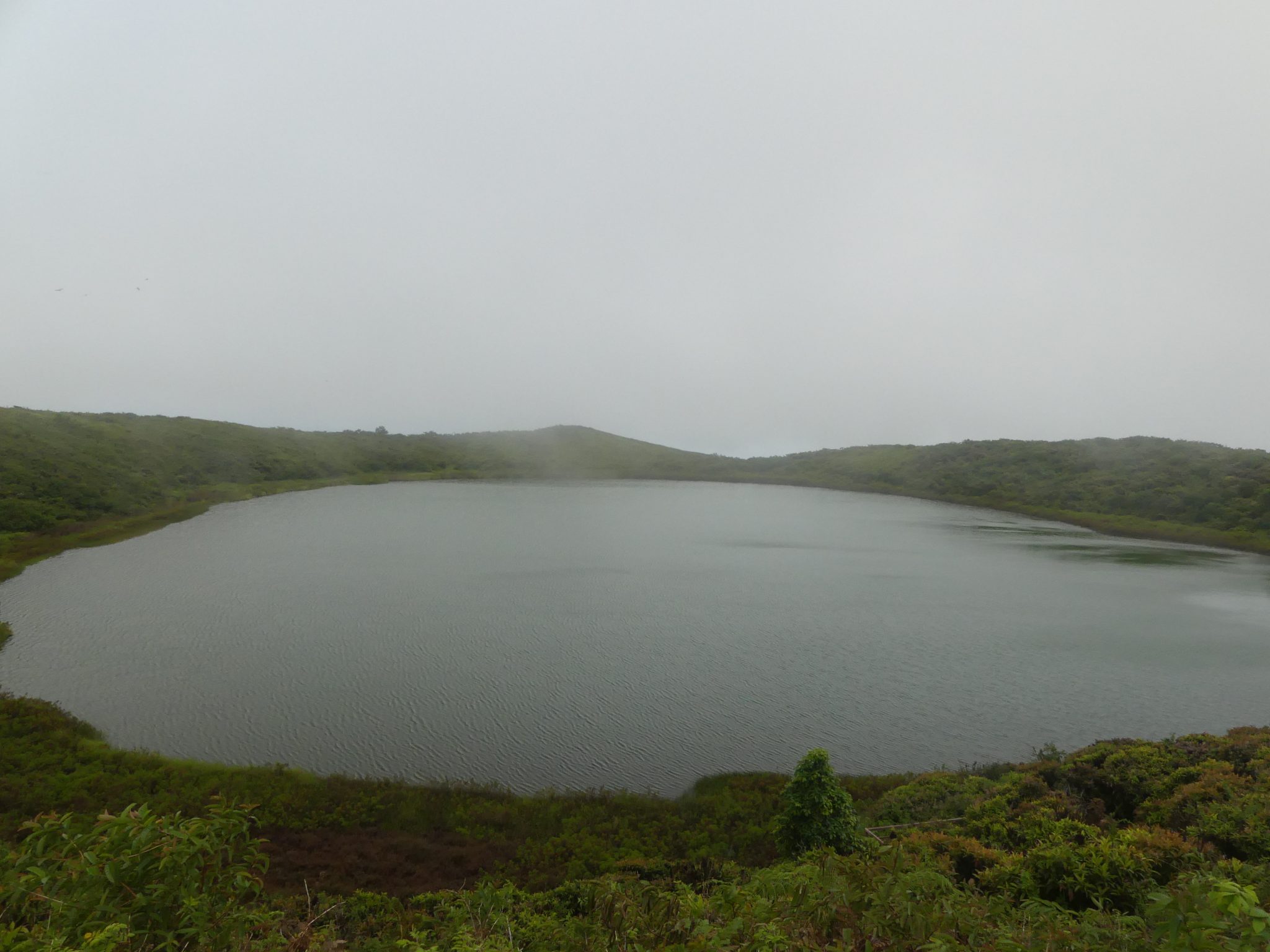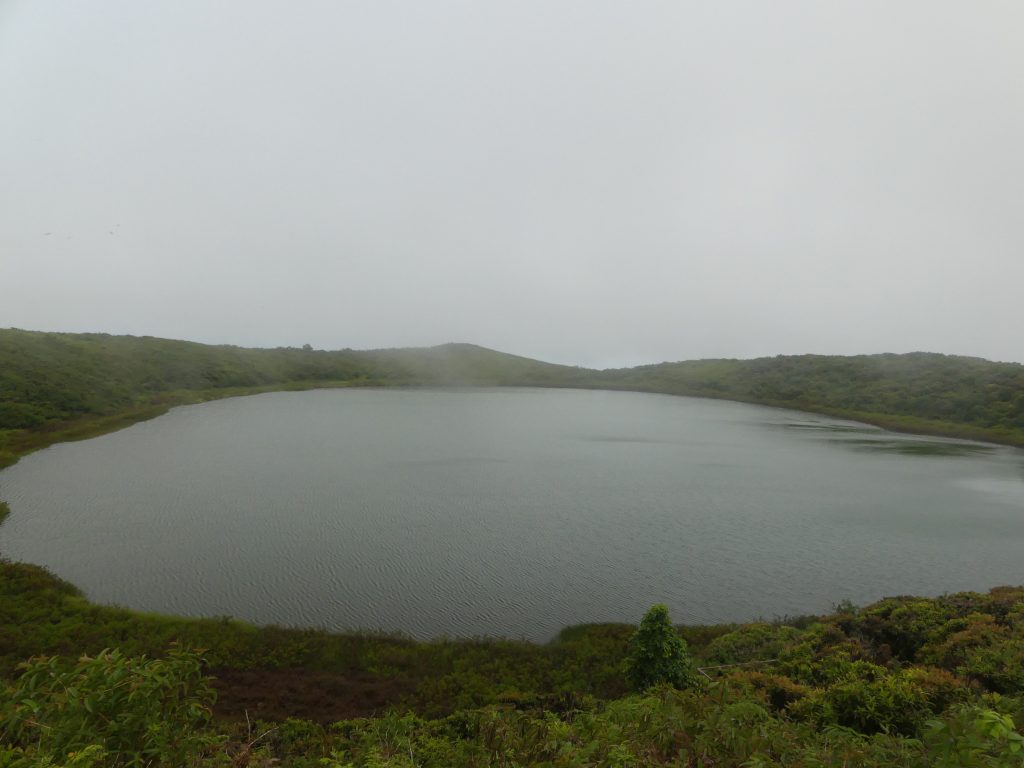 El Junco Lagoon is the Galapagos Islands' sole freshwater lagoon, located in the highlands of San Cristobal Island. This lagoon is known for its visual splendor as well as the panoramic view of practically the entire island that can be enjoyed on clear days.
Puerto Chino Beach is located after El Junco Lagoon, along the same road. This lovely white sand beach is perfect for relaxing and enjoying the sun and surf. I recommend that you check the weather forecast before going.
Things to do on Santa Cruz Island (Galapagos)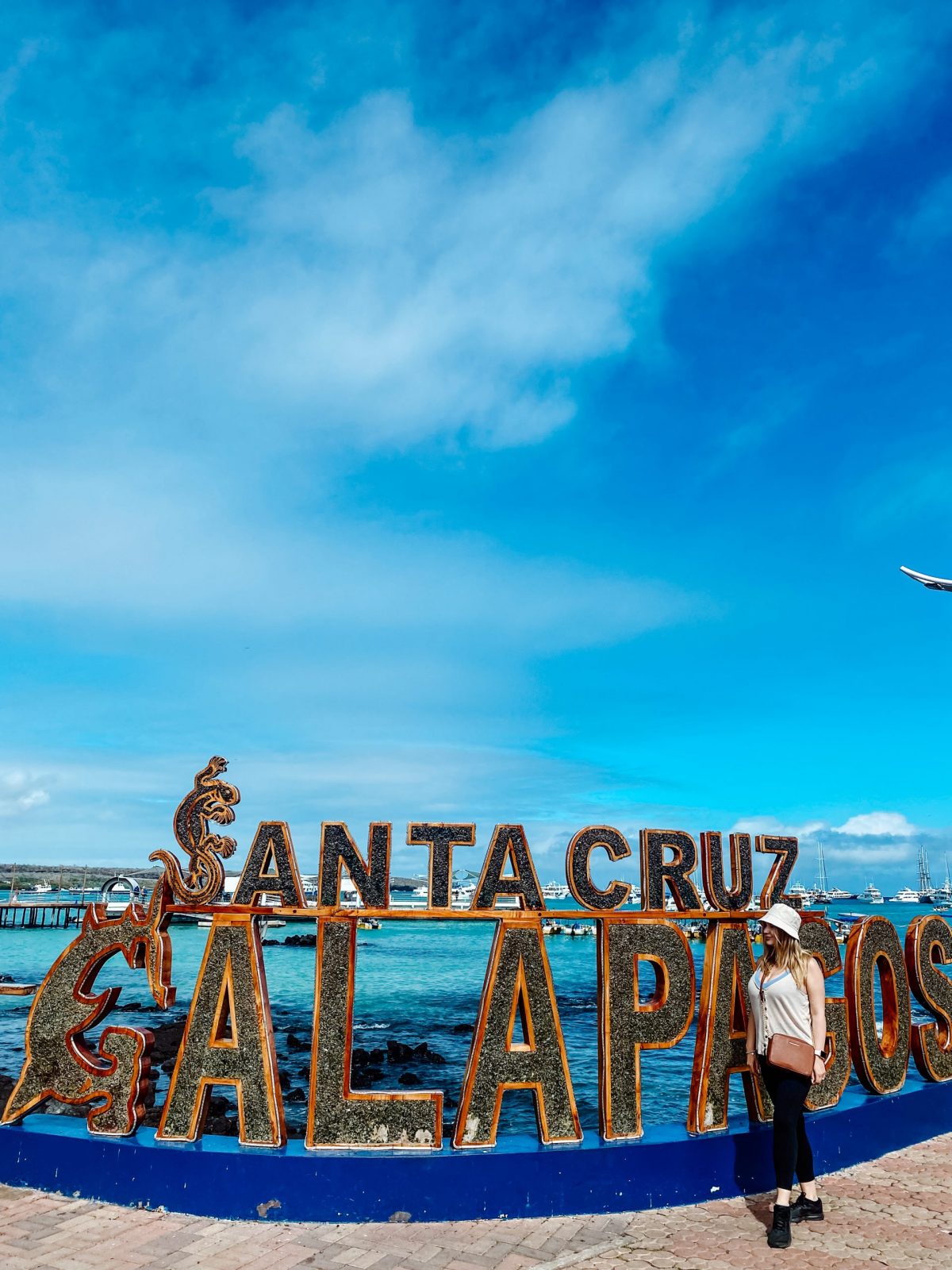 Santa Cruz Island serves as a hub for most Galapagos visitors as well as a worthwhile tourist destination in its own right. The majority of travelers visit for cruises and tours, but it's also a terrific area to spend a few days exploring.
Santa Cruz Gapalagos offers a diverse range of activities. Trekking, biking, kayaking, paddleboarding, snorkeling, and, of course, animal watching are all popular activities. Puerto Ayora, Santa Cruz Galapagos' principal port town, is full of appealing stores, great eating, a thriving social scene, and coastal views across Academy Bay.
Things to do in Santa Cruz on your own
Tortuga Bay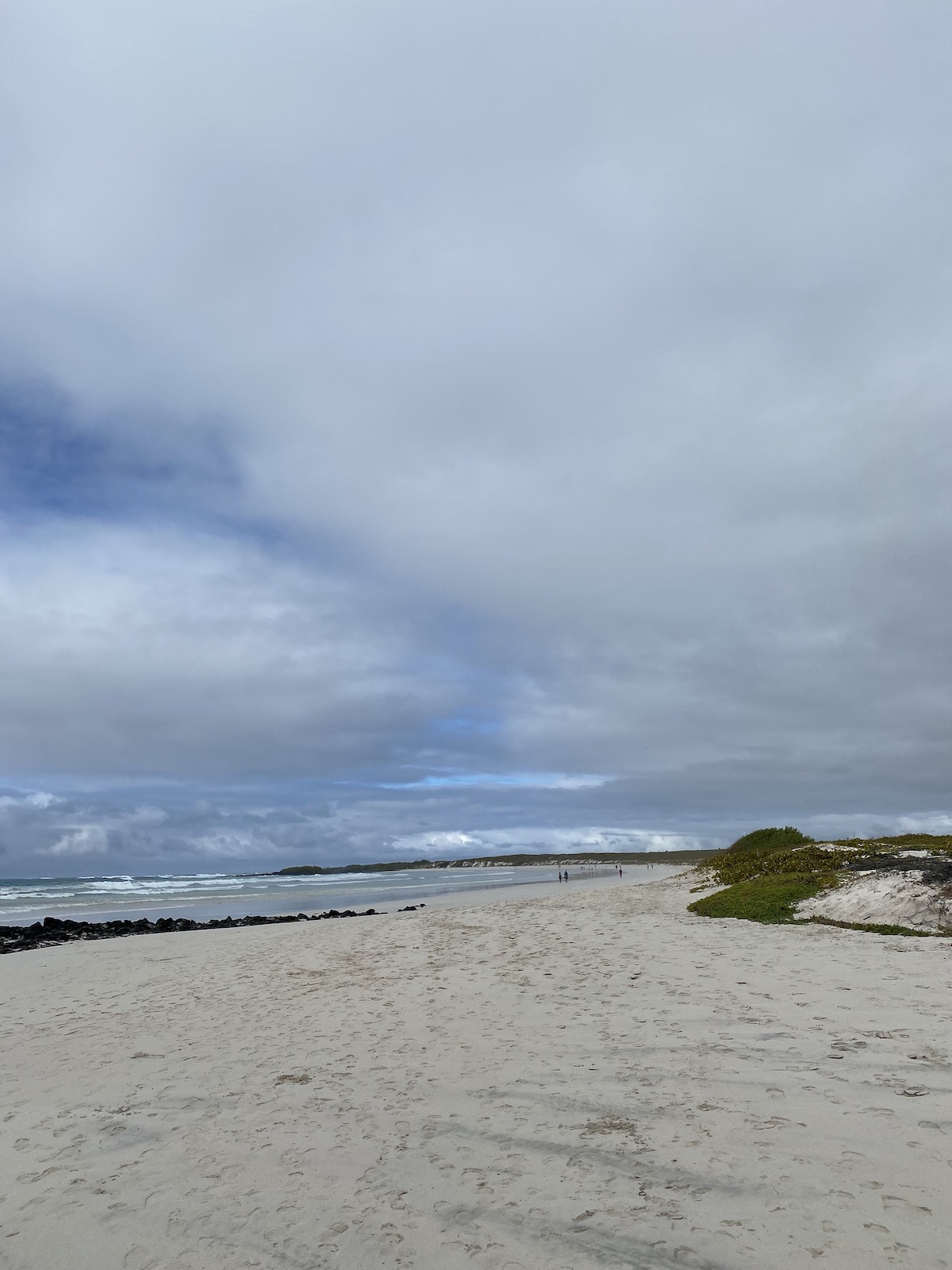 Take your time to relax on Tortuga Bay's white sand beach and observe the marine iguanas lounging in the shade.
Walking the length of Tortuga Bay will lead you to Playa Mansa, a tranquil lagoon ideal for swimming while taking in the breathtaking views.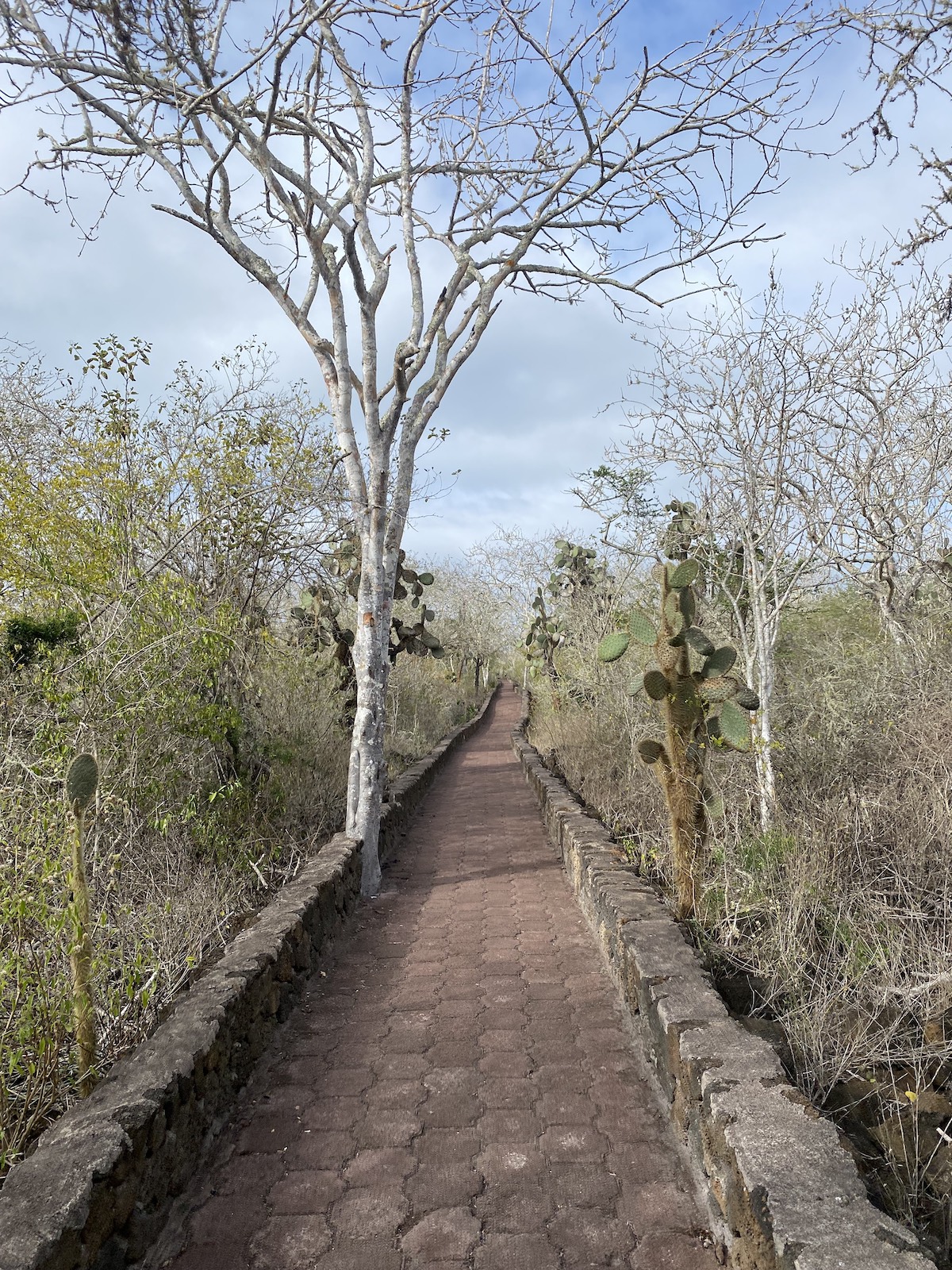 It's one of the best beaches I have ever visited and this is a must-have visit on Santa Cruz Island.
Las Grietas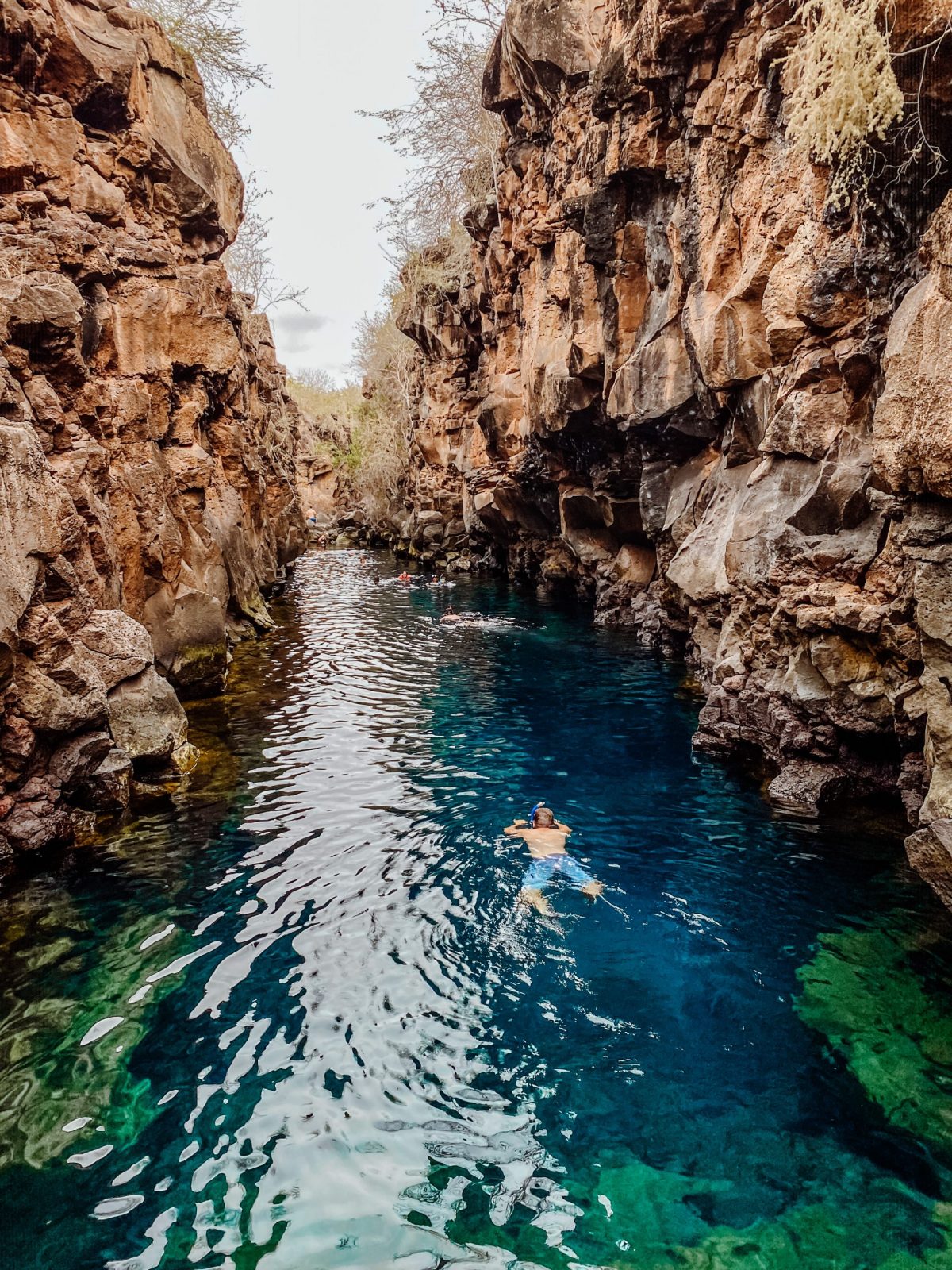 The nicest swimming hole on Santa Cruz Island is Las Grietas Galapagos, which is located near the town of Puerto Ayora.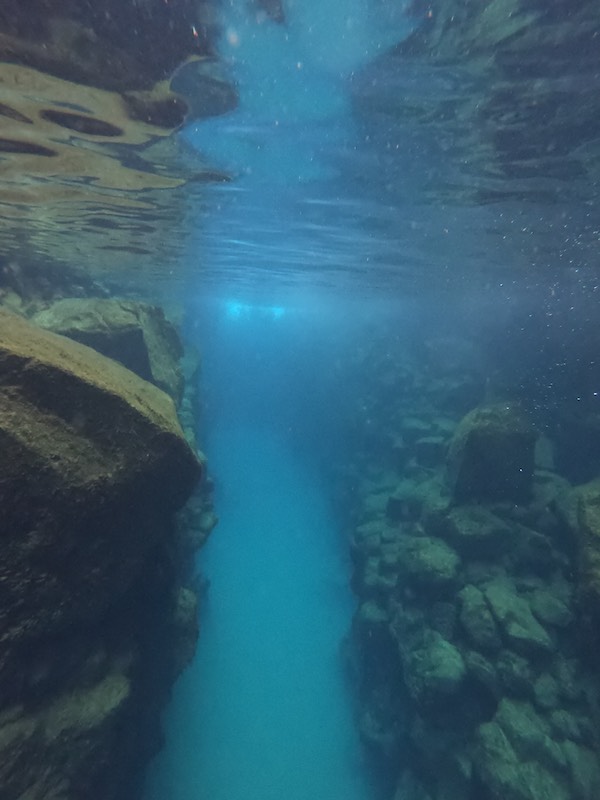 Three crystal blue lakes are nestled in a crevice between steep volcanic walls in a gorgeous landscape. Locals and visitors alike come here to cool down while taking in the breathtaking sights. Las Grietas is a great place to spend a few pleasant hours swimming, snorkeling, or cliff diving.
Darwin Research Station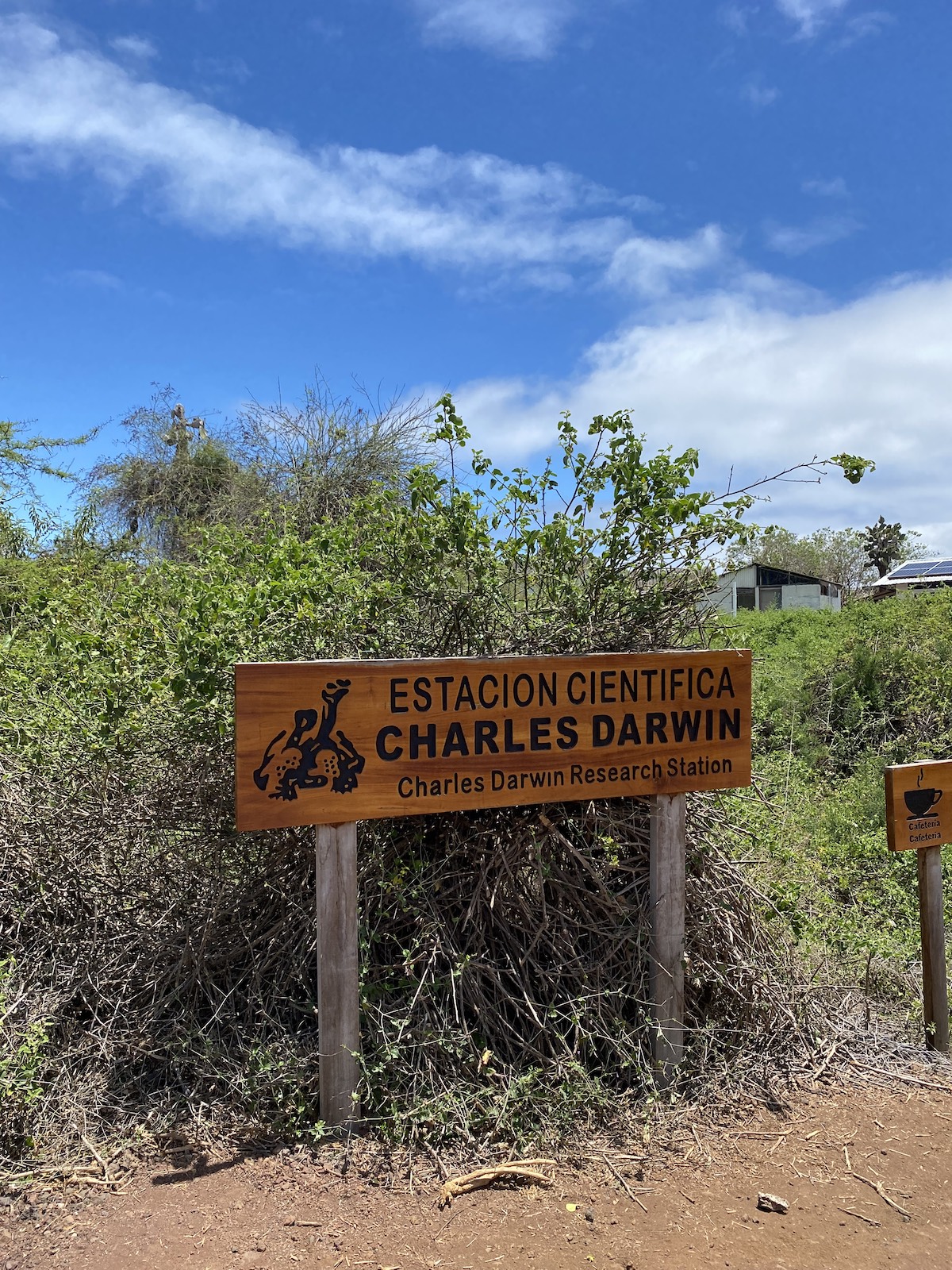 This popular attraction includes an active breeding center and educational displays on the ecology and history of the Galapagos archipelago. Along the walkways, you can see countless Galapagos giant tortoises. I would recommend skipping it though since there are better places to visit you must pay $20 per person because a guide is required.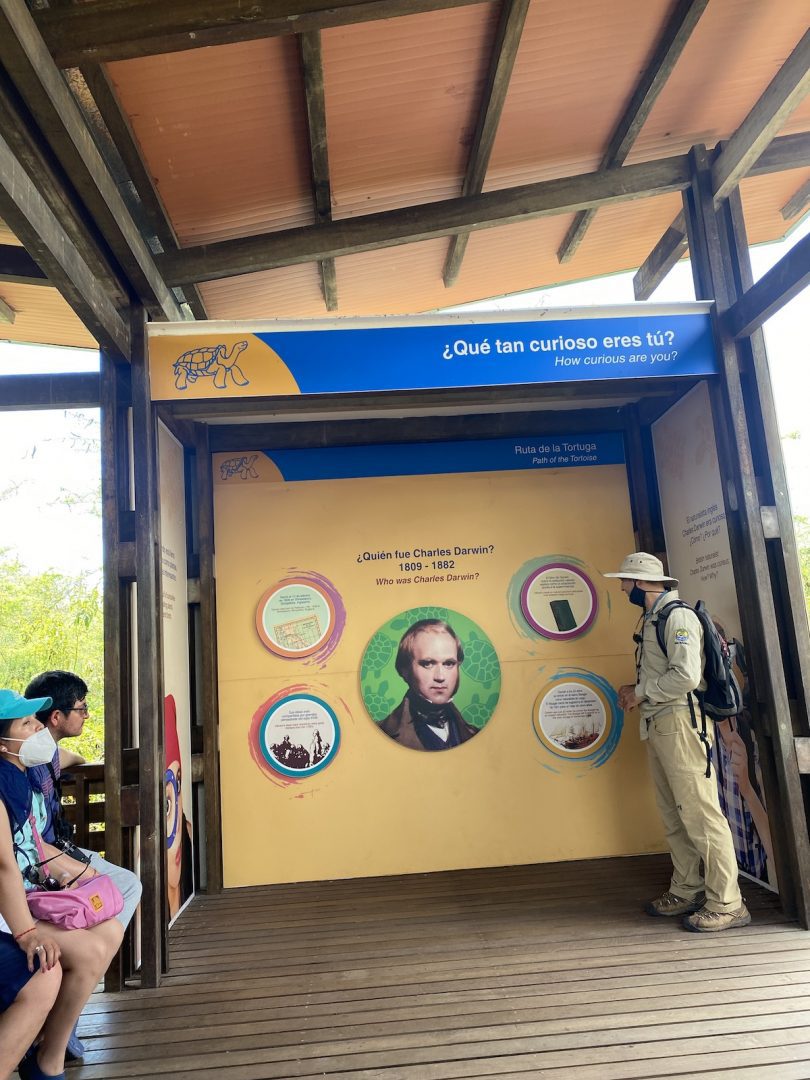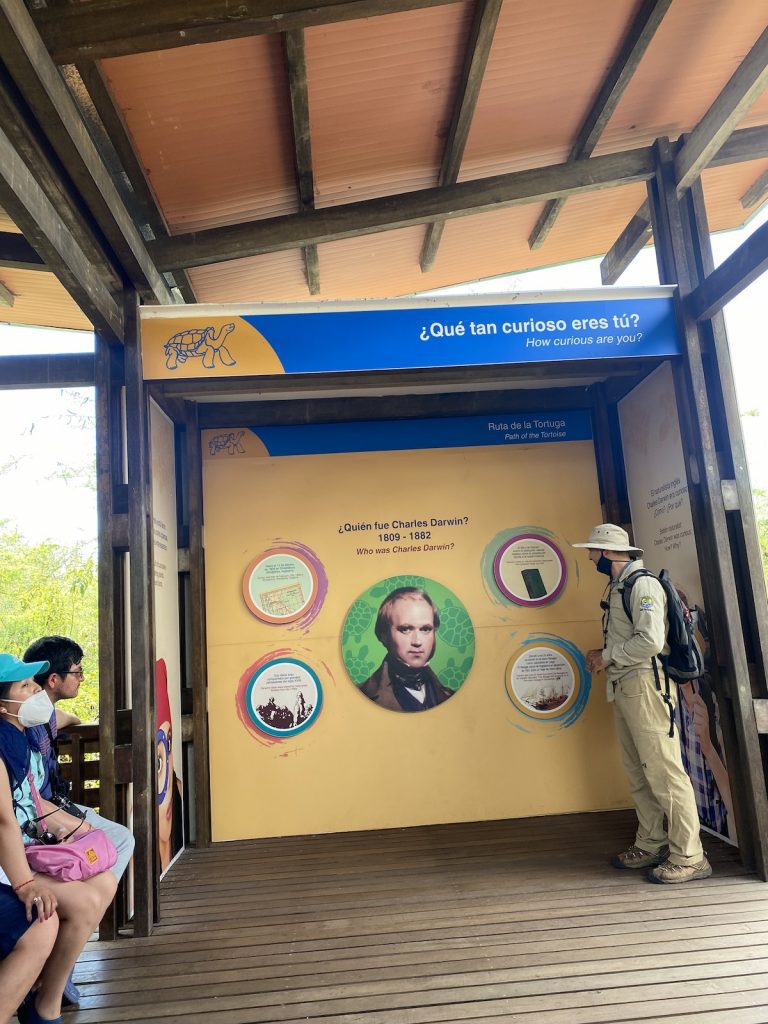 Head inside the museum to watch an educational video about the center's mission and conservation efforts.
Travelers laud the newly restored site, stating that visiting the exhibitions, installations, and tortoise areas should be a must for any first-time visitor. However, if you want to see the region's enormous tortoises, there are a few other options.
Walk on Malecon of Puerto Ayora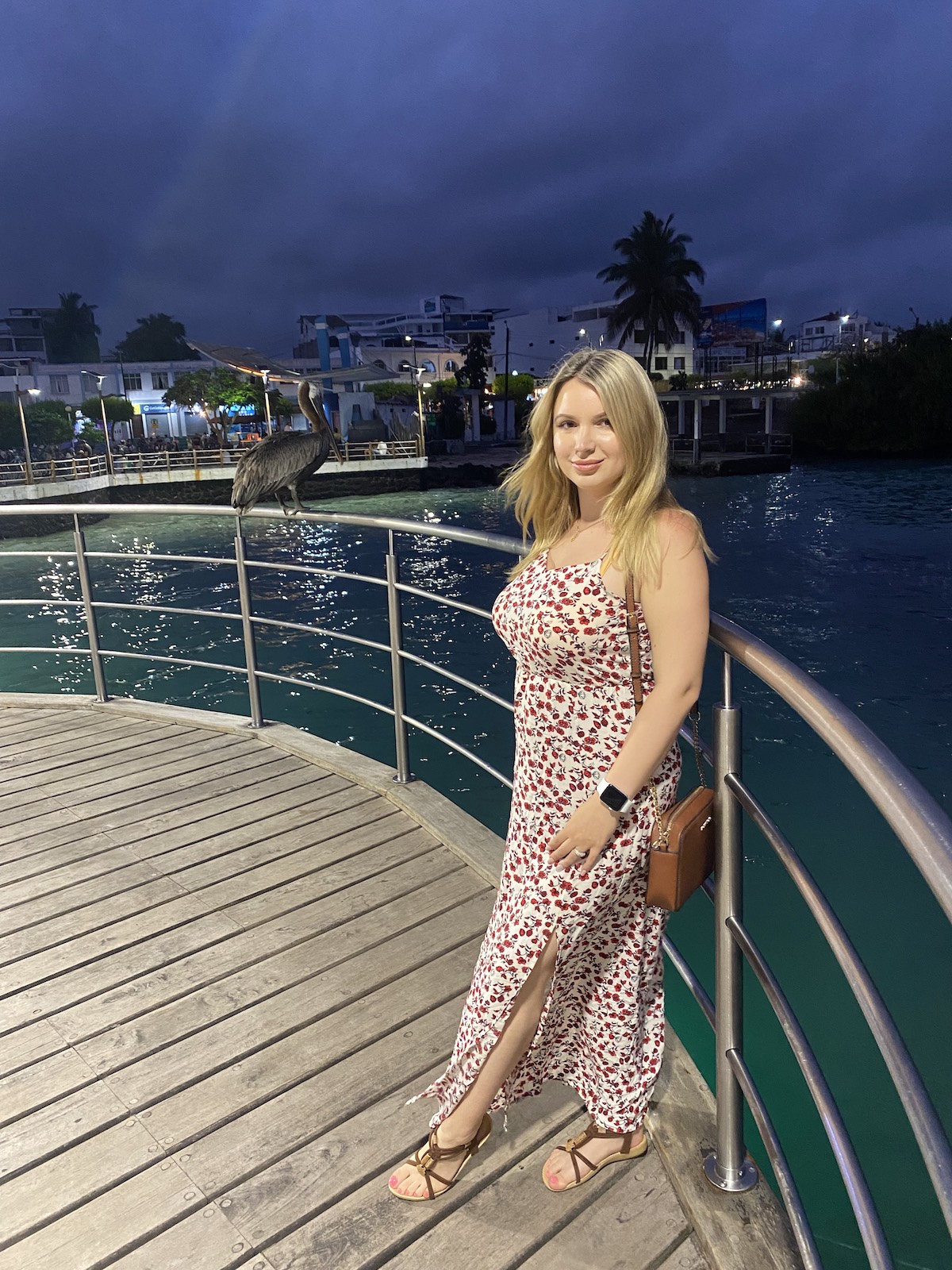 A stroll along the 'Malecon' is a walk along the main boulevard adjacent to the sea lined with different shops, vacation lodging, tour agencies, and other businesses… and wildlife.
Water taxis provide a key link between the bigger speed boats and the beach and hotel area to the east of the bay, where inter-island boats receive and offload passengers.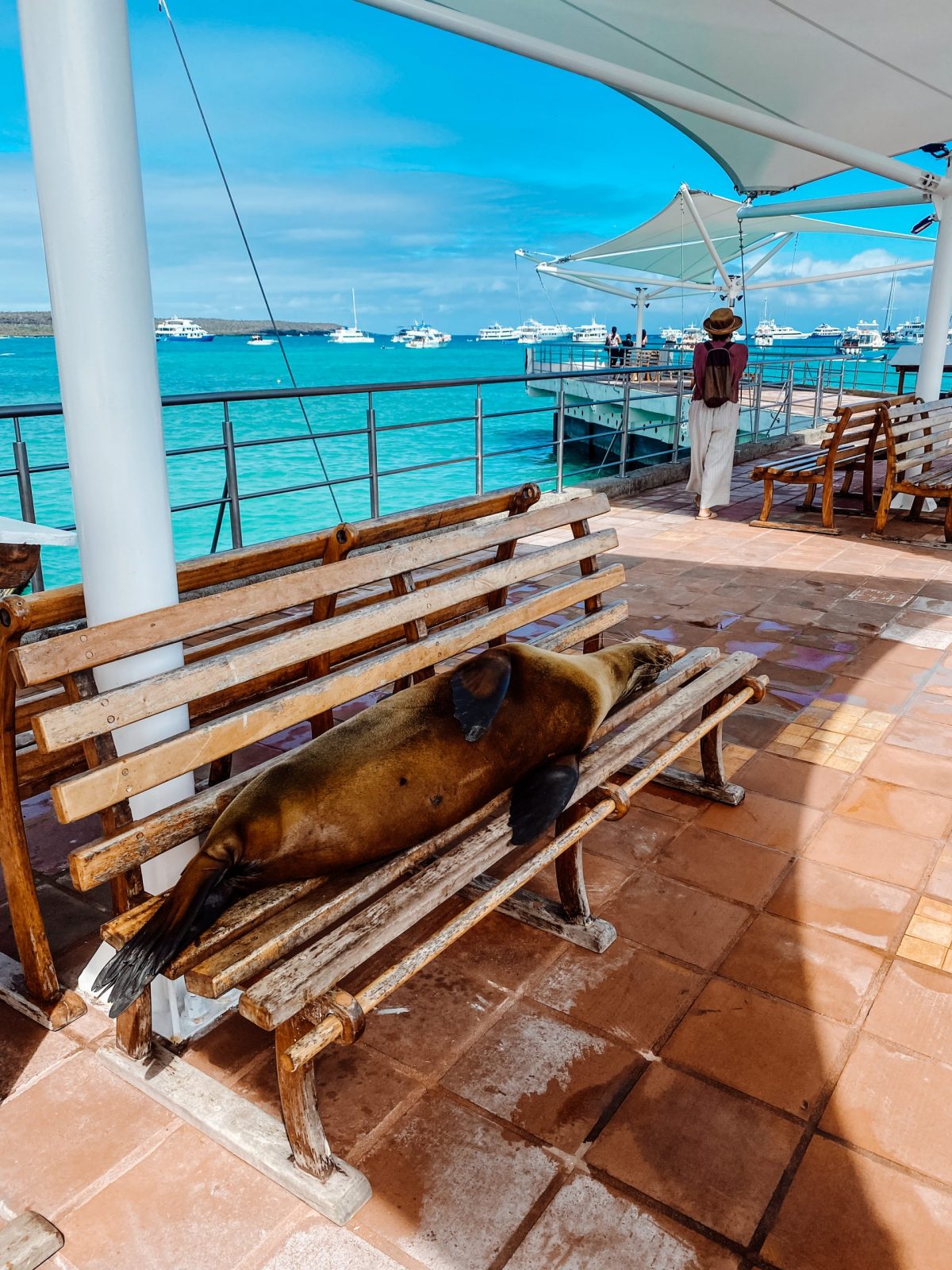 The 'sea lion' picture attraction takes precedence over bench seats because of the local sea life. Iguanas sun themselves apart from the daily grind elsewhere.
Local sports activities, such as volleyball and evening music, are available at the skateboard park, allowing for social meetings.
Laguna de las Ninfas (Nymphs Lagoon)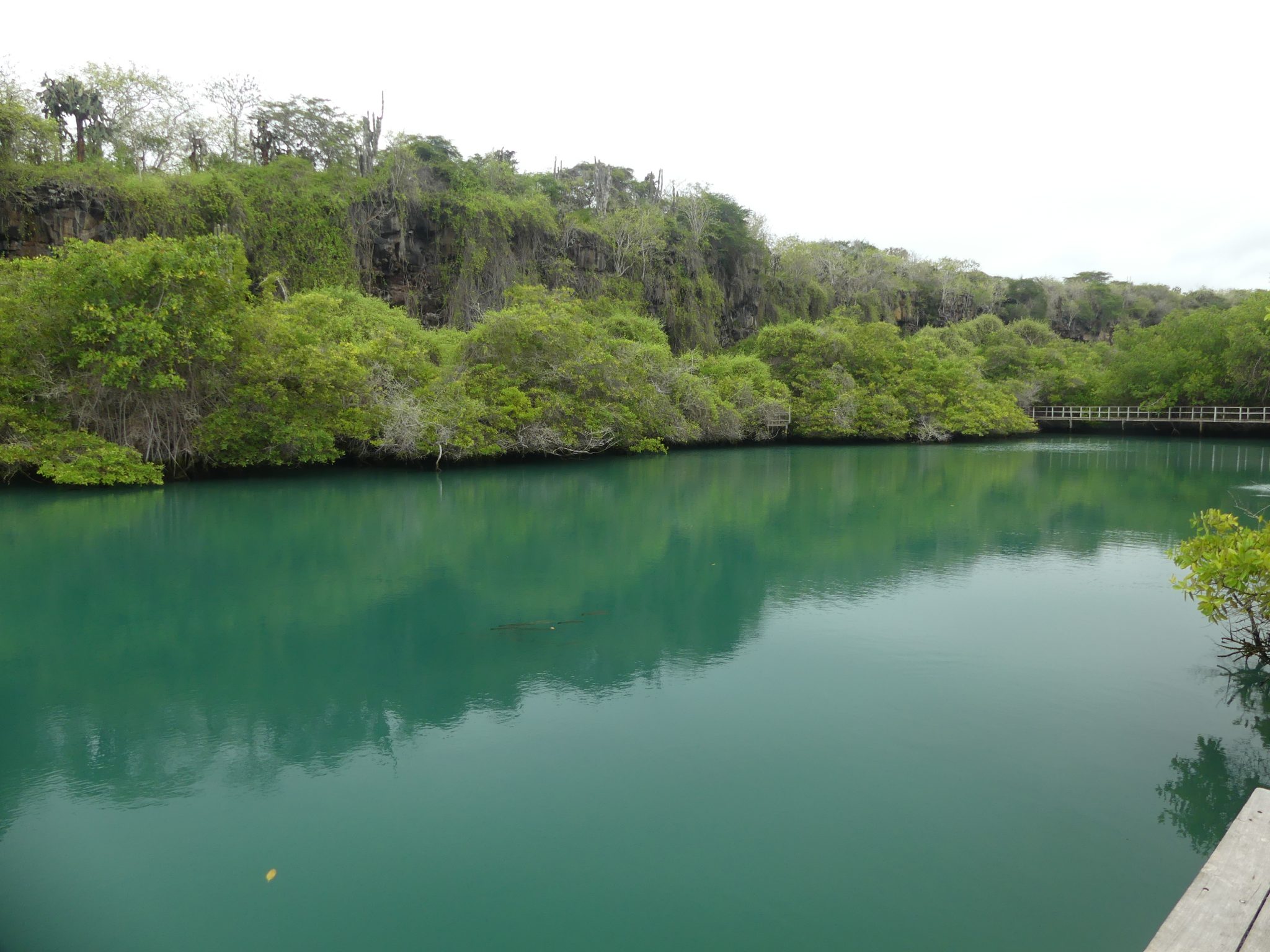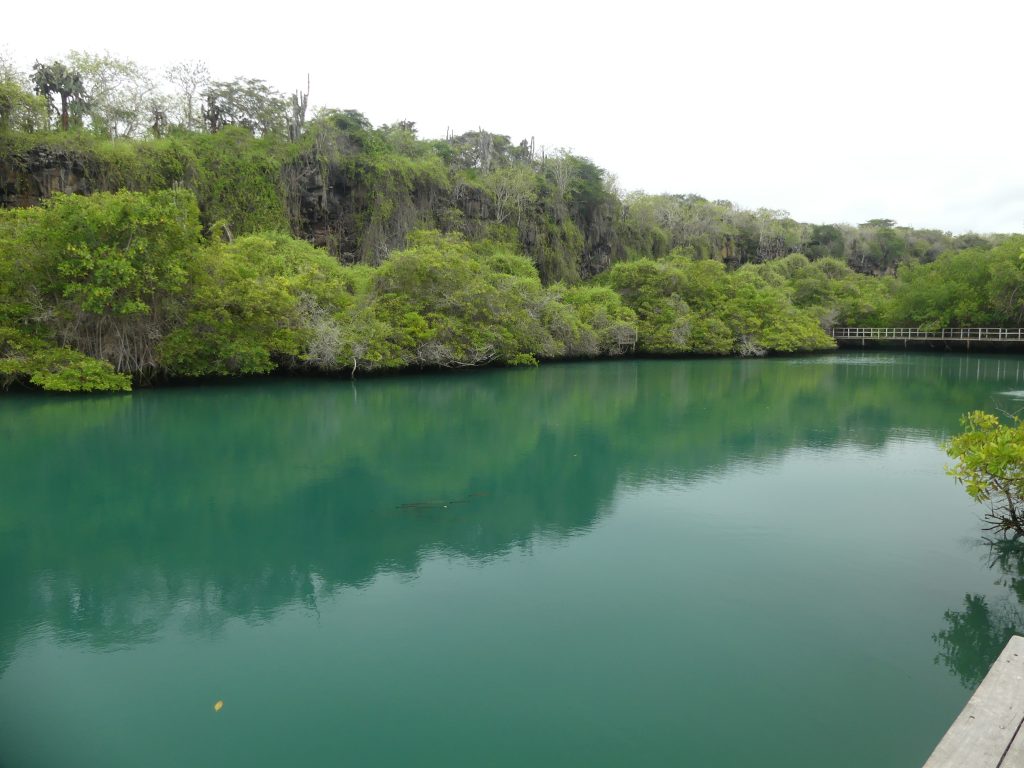 On a free day, take a walk around the lagoon. The Laguna de las Ninfas is a seawater lagoon funneled inland by a short passage of rocks and plants near Puerto Ayora. This lagoon is ringed by mangroves, and visitors may witness numerous types of fish that utilize it as a nursery before venturing out into deeper seas.
Best Day Tours From Santa Cruz
Bartolomé Island Tour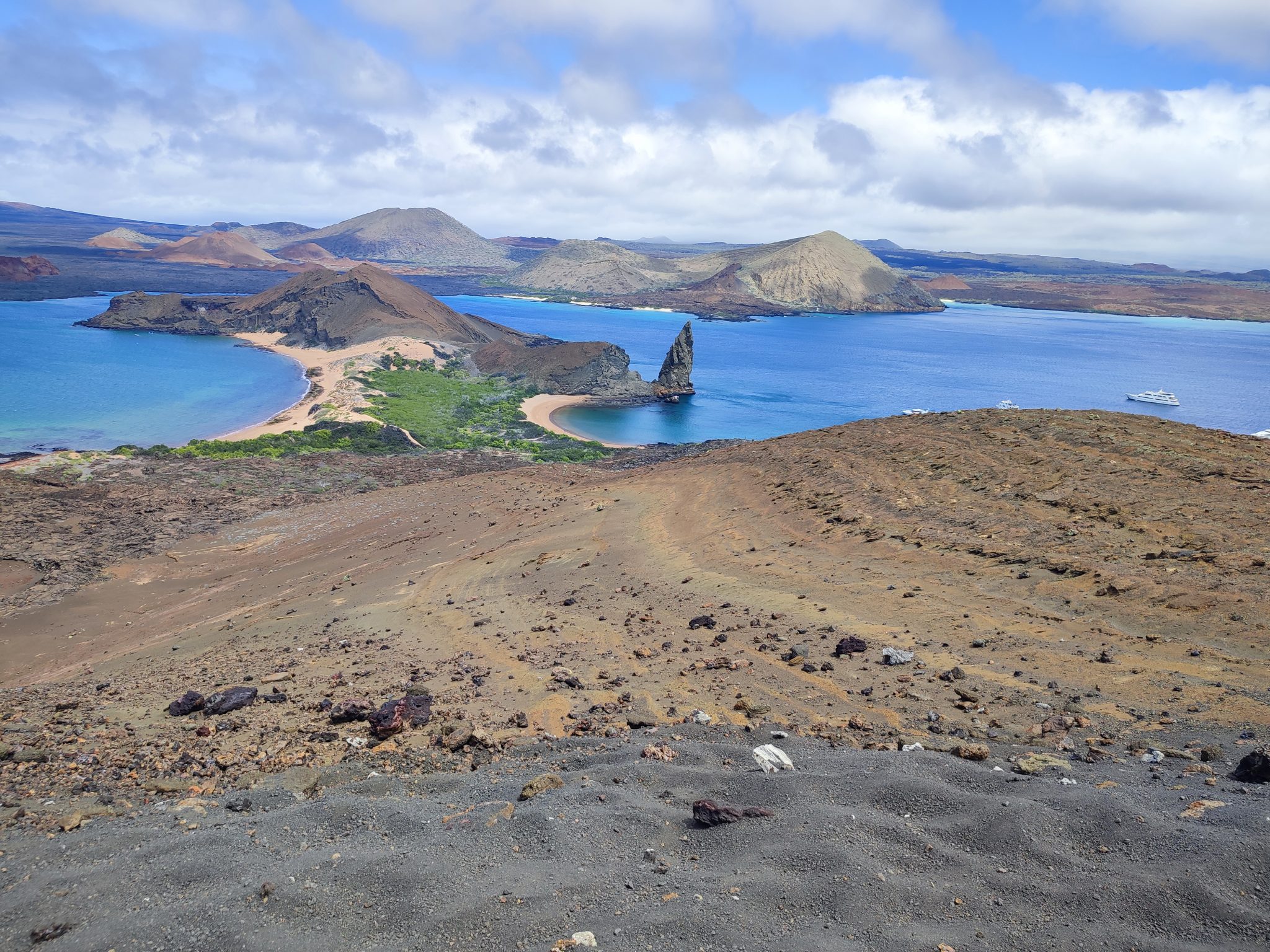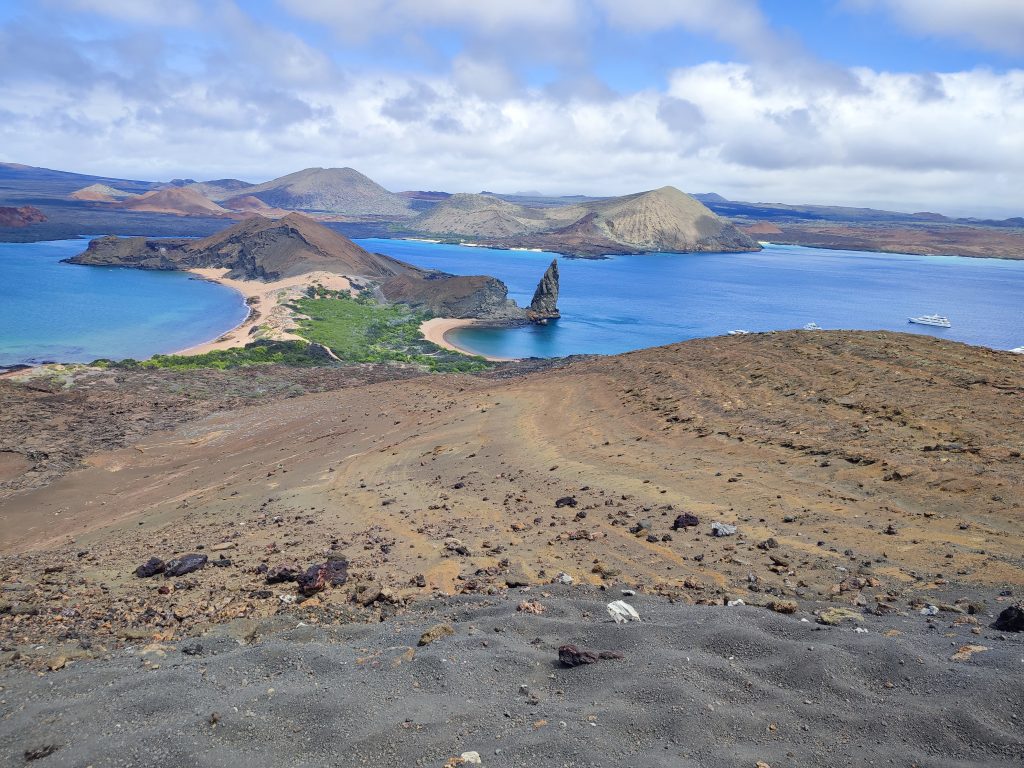 Adding Bartolome Island to your Galapagos itinerary is a must. This is one of the highly suggested places to see by travelers who had been to the Galapagos.
It is known for its jaw-dropping volcanic landscapes and panoramic view of the Galapagos. Bartolome is also popular for scuba diving and underwater biodiversity.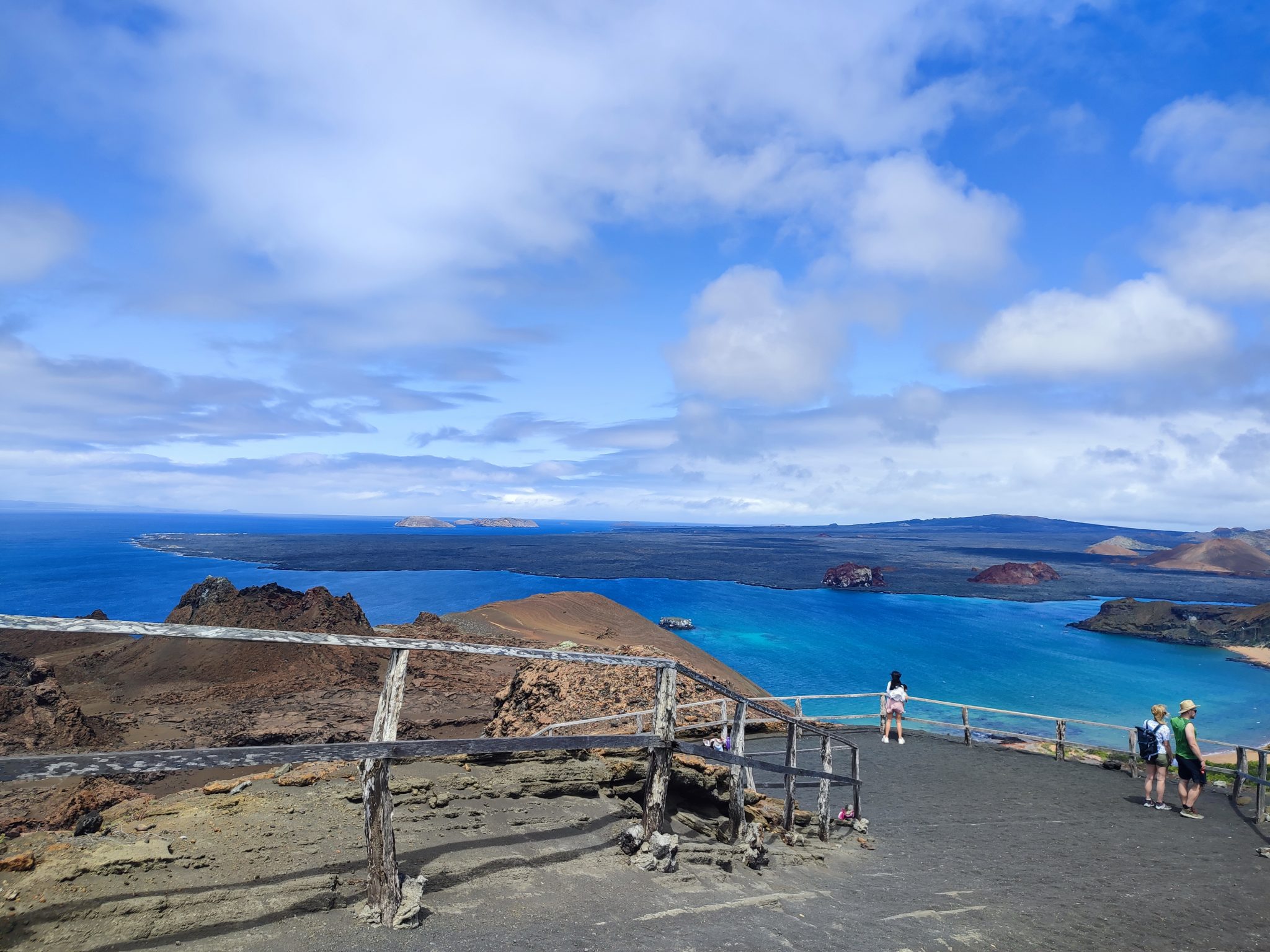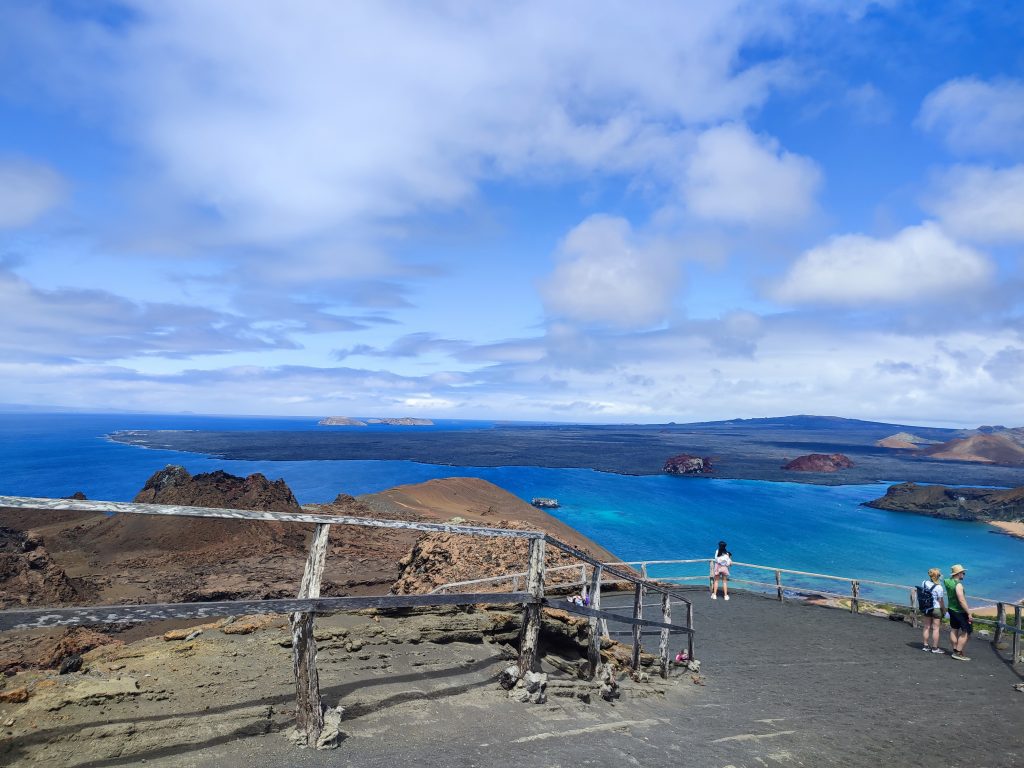 However, we're unlucky to not see this because our Bartolome island tour was canceled at the last minute. Our boat sank a day before the trip and there were no tours available for the next four days. It was bad luck and I was so disappointed because I'd been waiting for this since the very beginning when we planned our trip. Luckily, we were on the Galapagos Islands which offer tons of alternatives. We went to Pinzon Island instead.
Pinzón Island Tour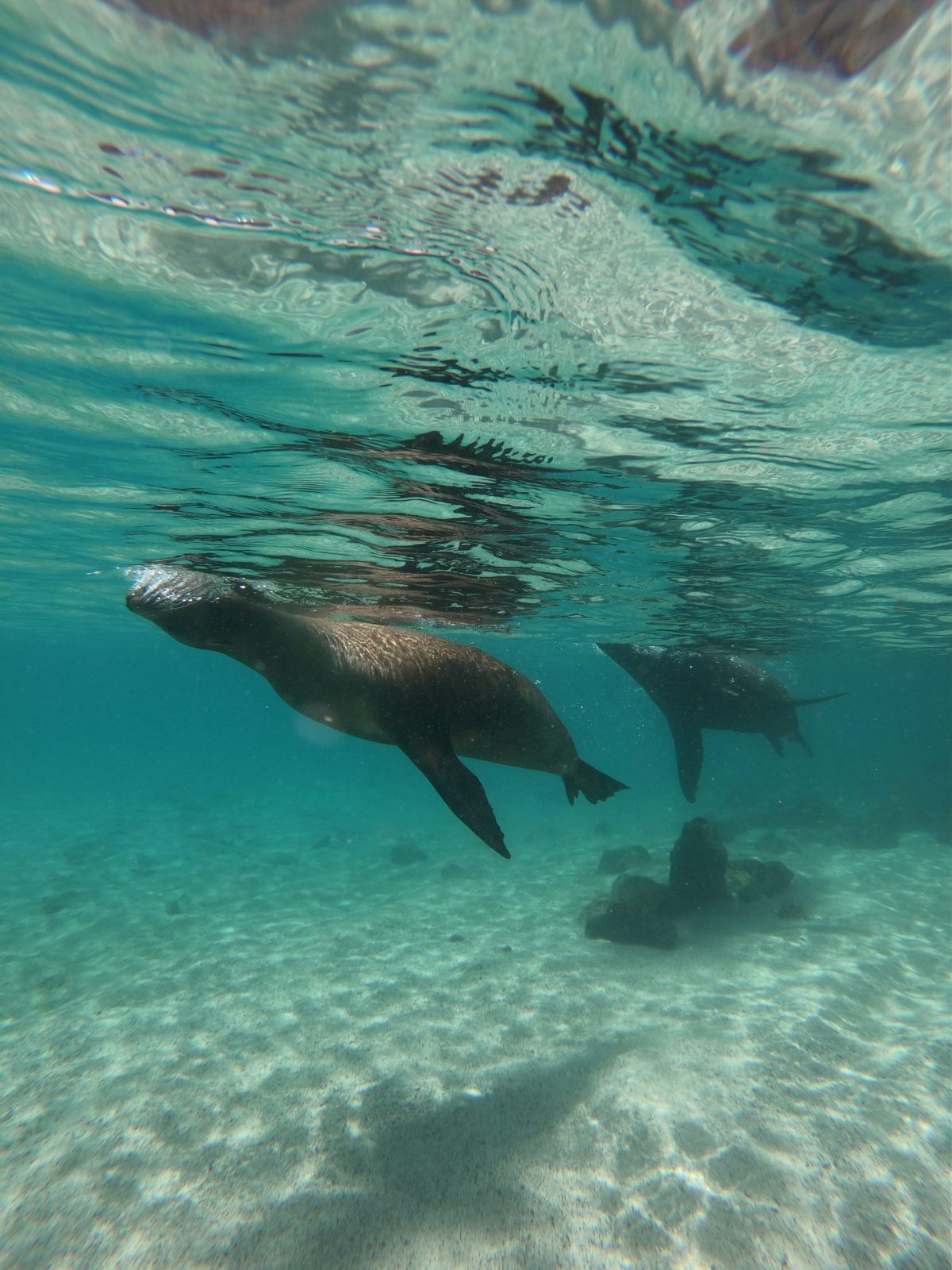 Pinzon Island is what I love most during our trip.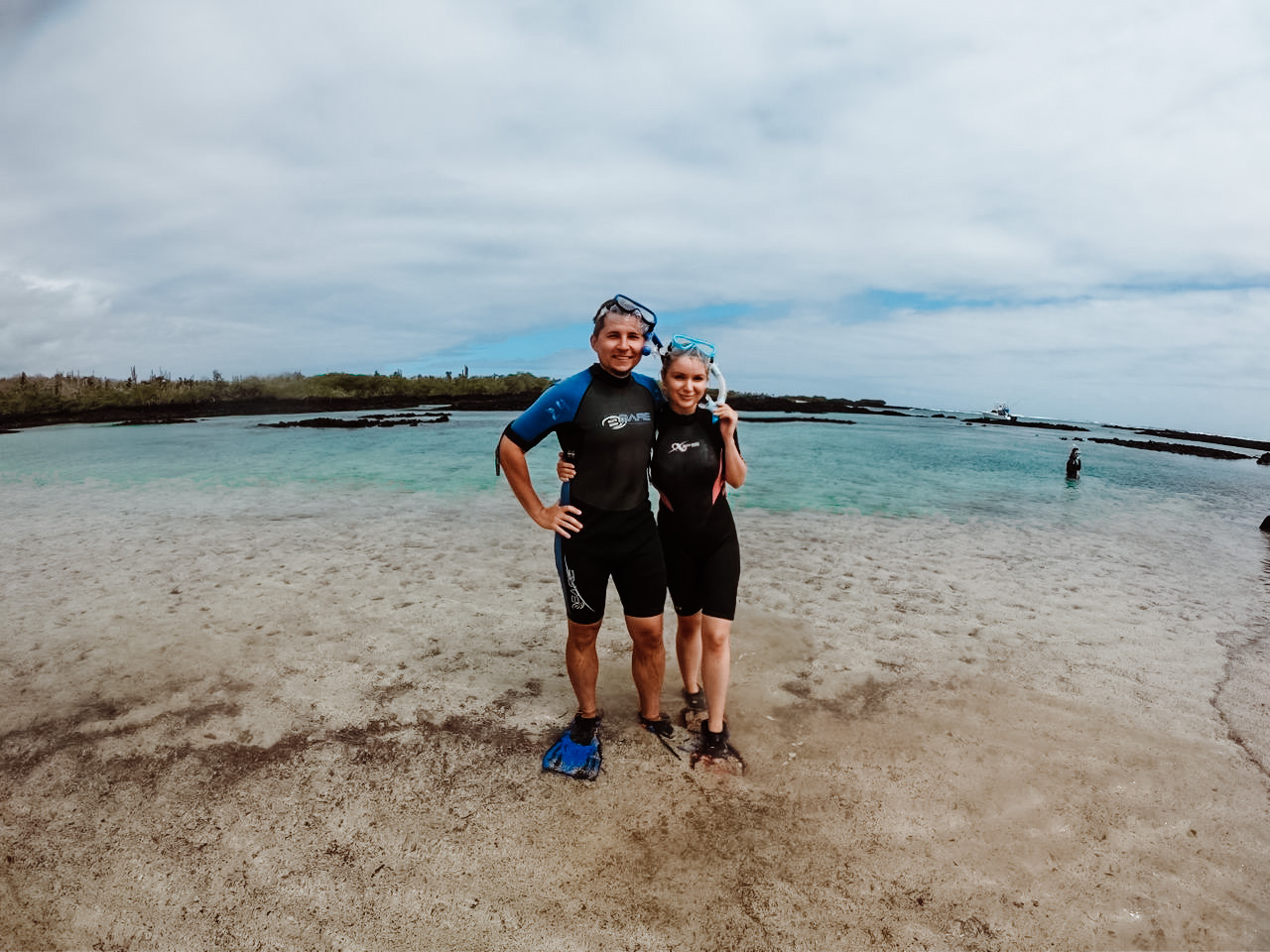 I have the best snorkeling experience of my life here.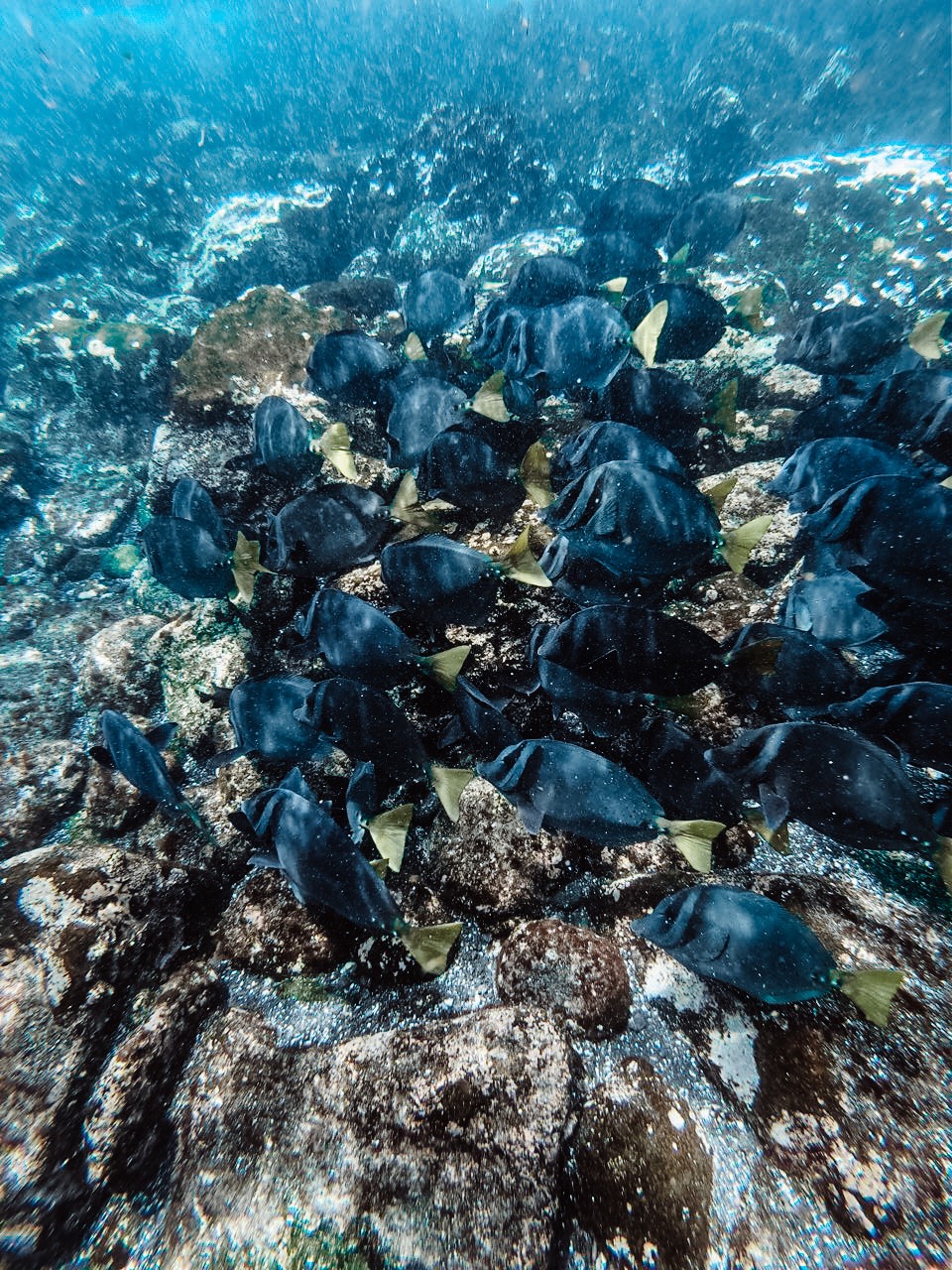 On the Pinzon Island Tour, you may snorkel alongside sharks, penguins, sea turtles, and sea lions while taking in the gorgeous turquoise waters around the island.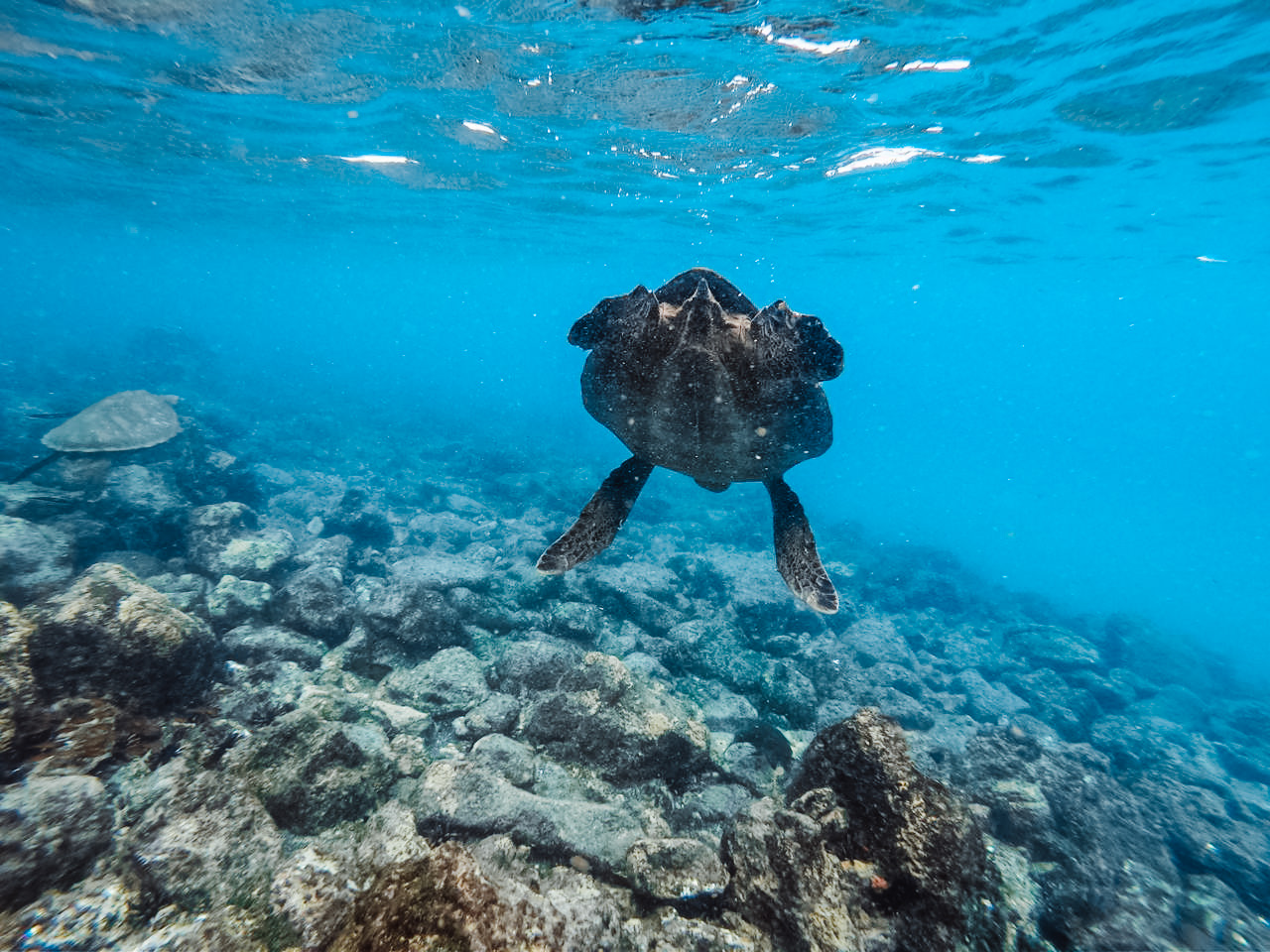 The trip begins with a land trek to the Itabaca Channel in the direction of Baltra Island.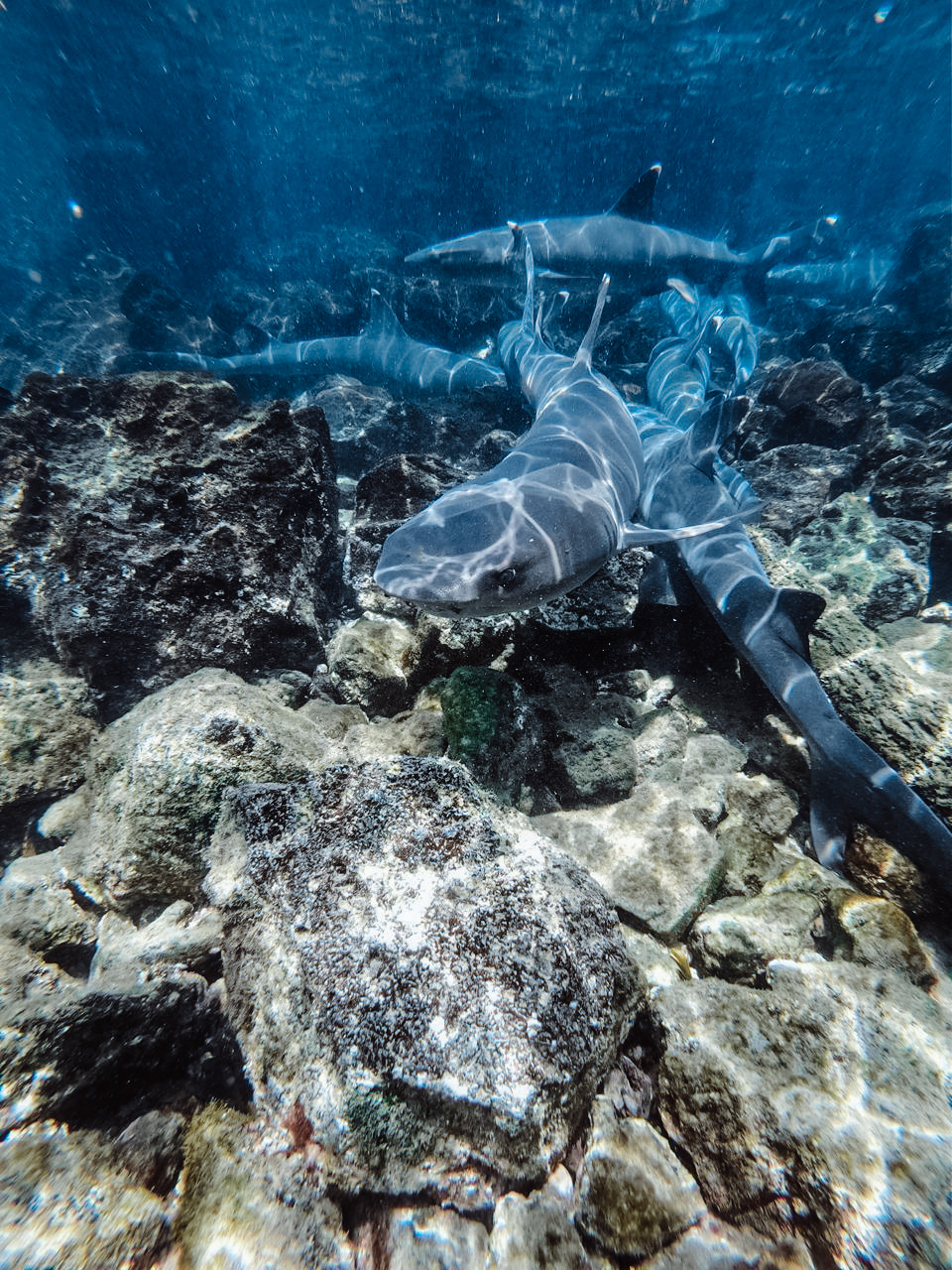 We didn't disembark on land when we arrived at Pinzon Island. Well, technically we stopped at the iguana area.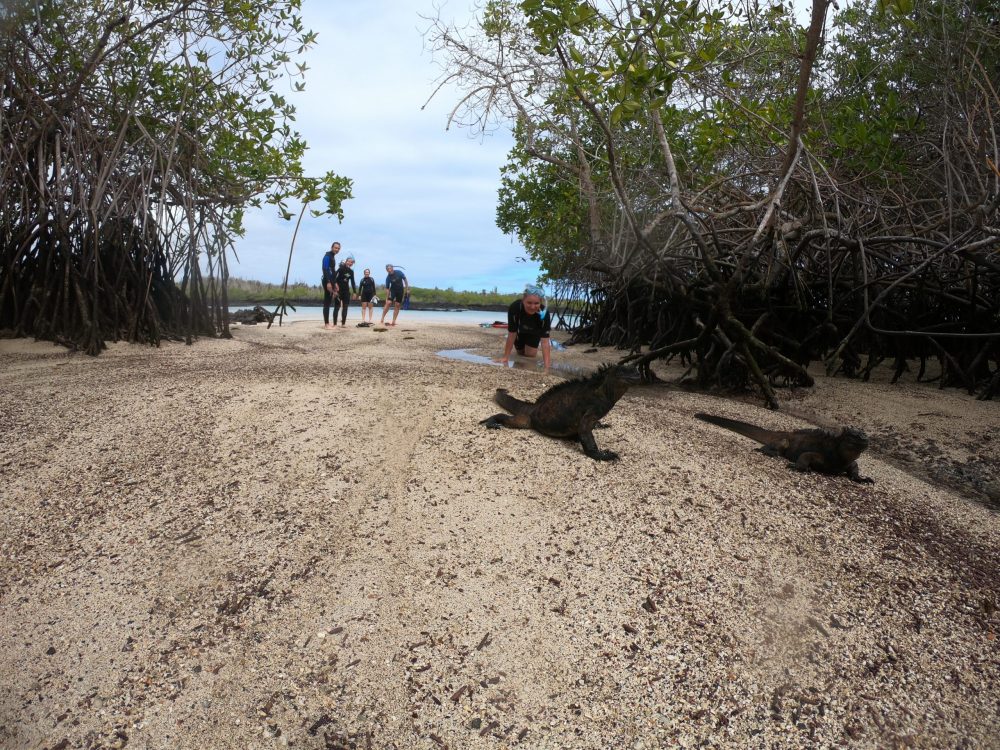 Instead, we went straight from our boat to snorkel with sharks, penguins, sea turtles, and sea lions while enjoying the stunning turquoise waters before returning to the boat for lunch.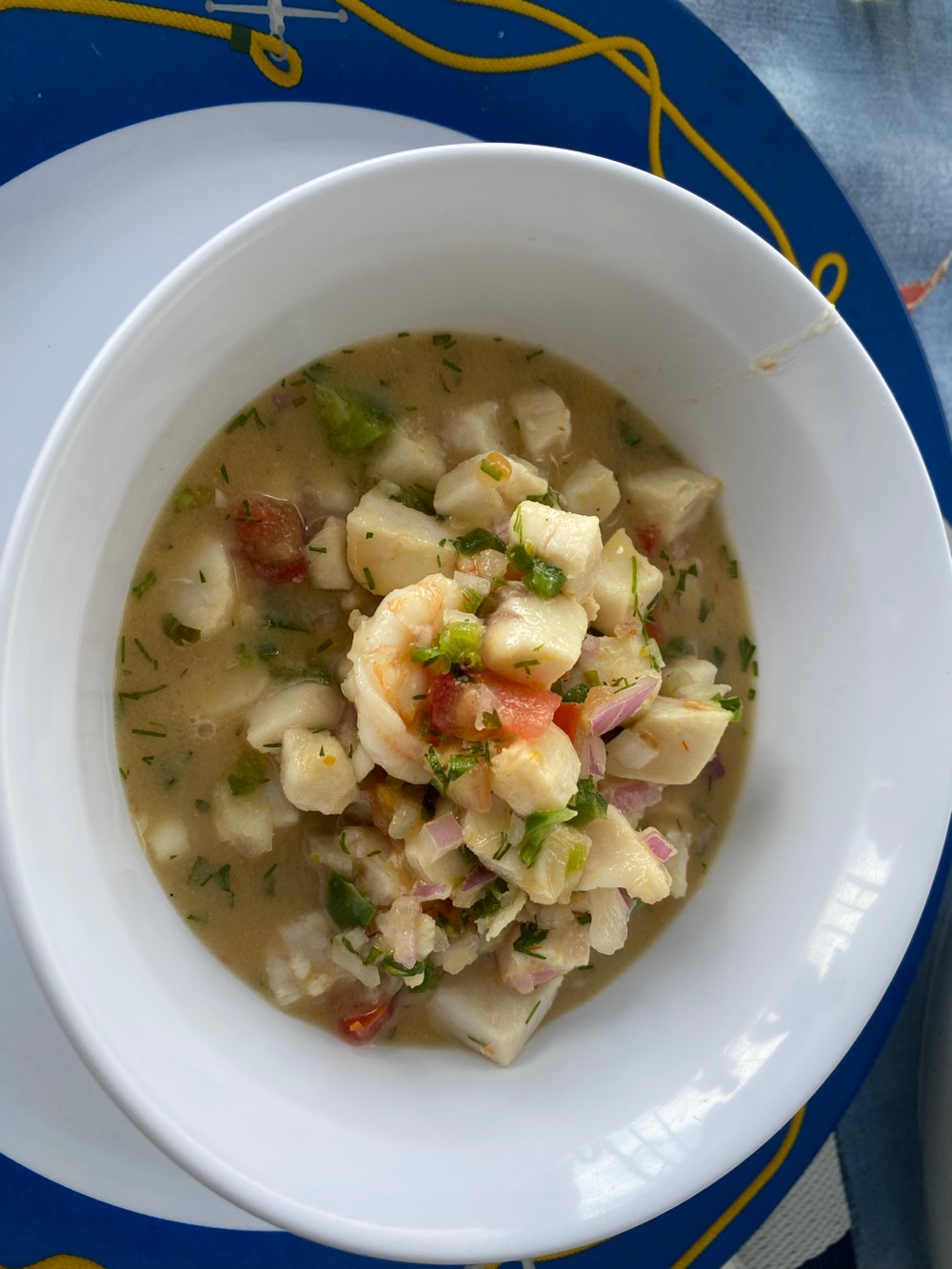 It was one of the best lunches too, the captain caught a fish on the way to Pinzon Island and made fish ceviche. The best ceviche I had in my life.
North Seymour Island Tour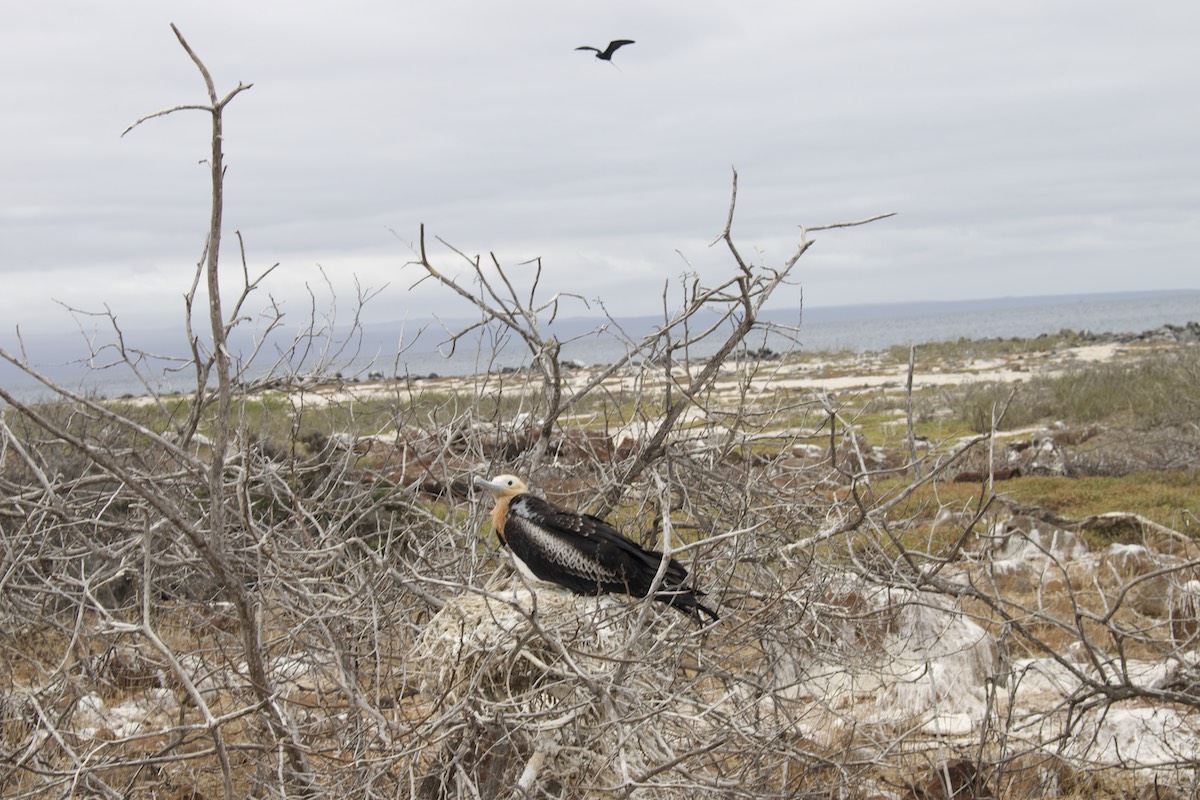 North Seymour is one of the Galapagos' most gorgeous deserted islands.
The island is home to colonies of Blue Footed Boobies and Frigate Species, making it a perfect site to see native Galapagos birds.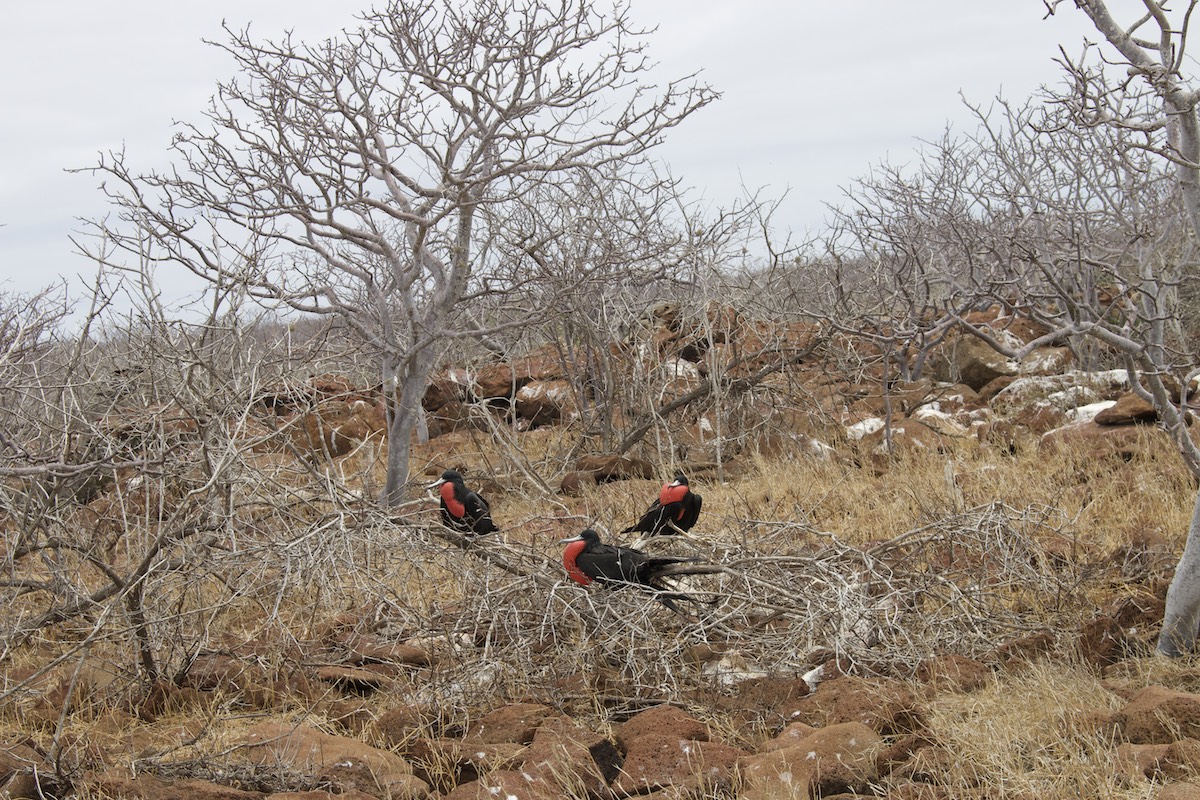 Depending on the time of year, this is the preferred location for bird mating rituals and nesting. A sea lion colony can also be found here. Hiking, wildlife viewing, and snorkeling in Bachas Beach are among the usual day's activities.
Santa Fe Island Tour
Santa Fe Island is a favorite among Galapagos visitors since it has a little bit of everything for everyone. The scenery at Santa Fe is stunning, with a gorgeous turquoise lake bay and massive prickly pear cactus woods.
Santa Fe Island is home to the most indigenous wildlife species of any Galapagos island. There is only one visitor center, although there are two hiking trails. Barrington Bay's tranquil waters are ideal for snorkeling and kayaking, and there are three dive spots.
Floreana Island Tour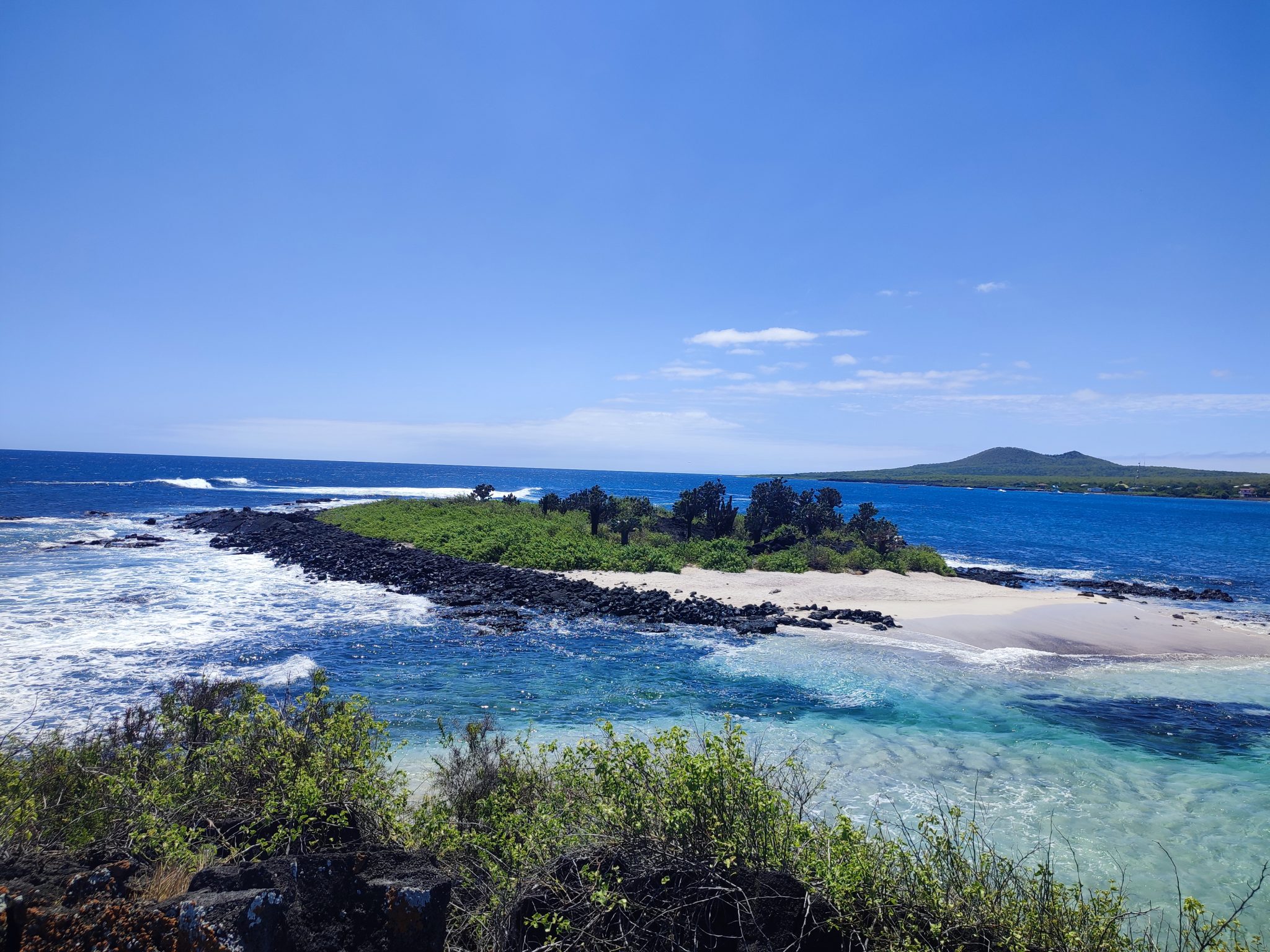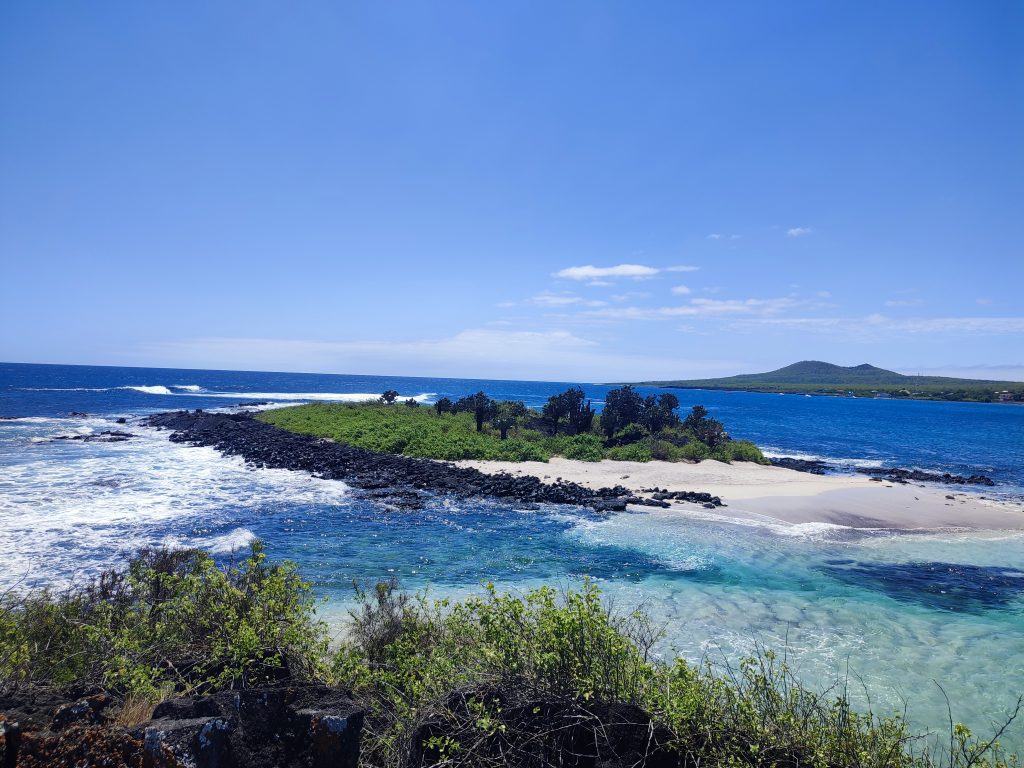 Floreana Island is a unique Galapagos destination and probably the best walking tour. Pirates, whalers, and intrepid early inhabitants have all left their mark on Floreana. Floreana, of course, has plenty of wildlife and scenery to see. here is where you can find the Devils crown which is one of the best-known snorkeling spots.
Plazas Sur Tour
Plaza Sur Island not only boasts incredible animals and excellent snorkeling but also offers lush flora that brings the island to life with vibrant colors.
You will be wowed by a dense carpet of brilliant scarlet and purple Sesuvium, as well as peculiar prickly pear cacti. A colony of rare hybrid iguanas, as well as many breeding marine birds, live on Plaza Sur Island.
Sombrero Chino Island Tour
Sombrero Chino Island may be one of the tiniest islands, but it knows how to punch well above its weight.
From the sea, the views of Sombrero Chino Island are breathtaking. The beach, volcanic scenery, and crystal clear waters provide a stunning contrast. The snorkeling site on this island is also a good spot.
Highlands of Santa Cruz
You can tour the highlands of Santa Cruz Island Galapagos by hiring a taxi. The highlands is a place where enormous tortoises live and where we can see them up close and snap wonderful photographs. Numerous lava tunnels may be entered from various locations on the island; the tunnels' entrances are dark and require stairs, and there are lights placed throughout. Because of the mud, the walkways can be slick.
Things To Do on Isabela Island (Galapagos)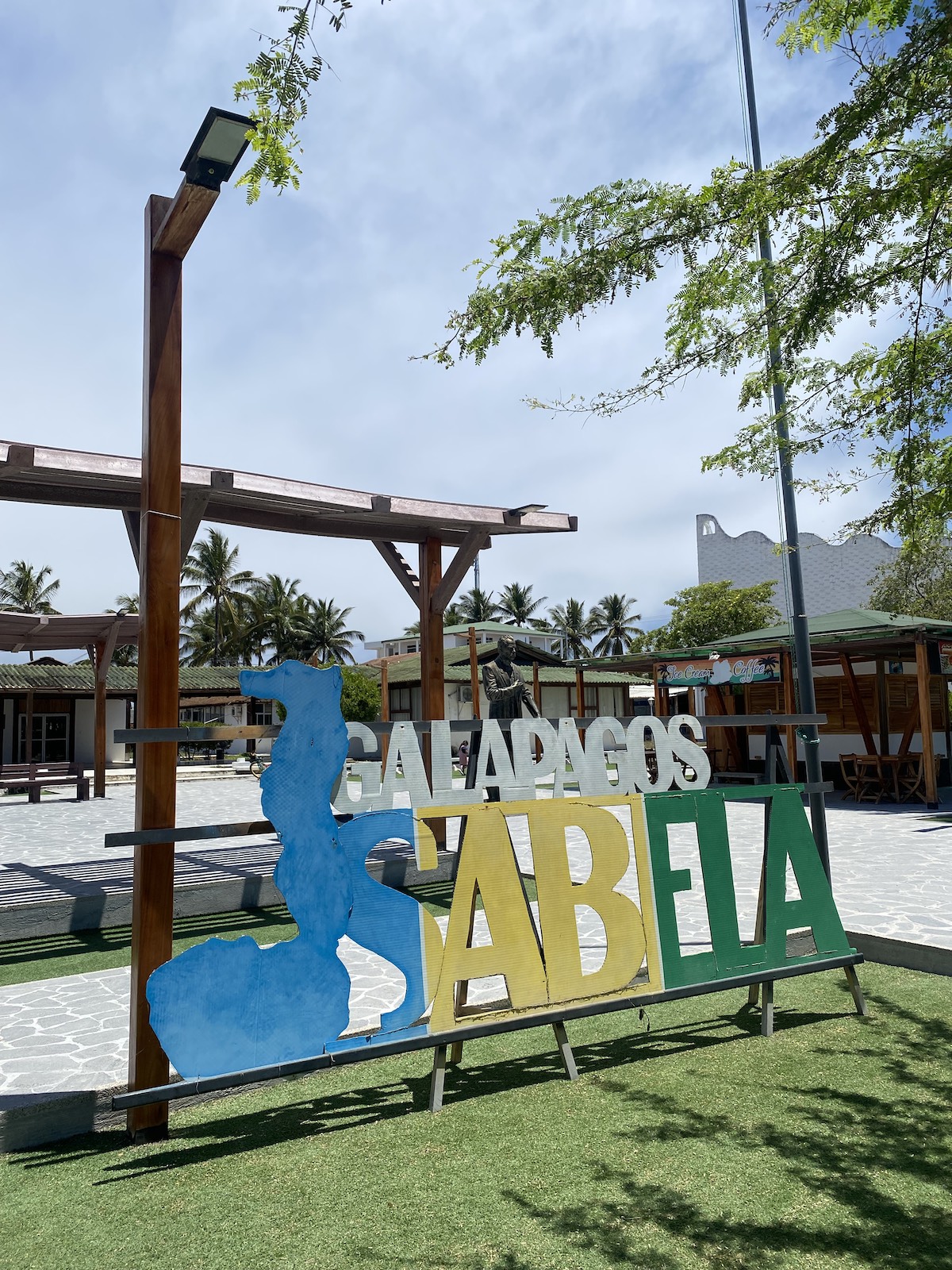 Isabela's tranquil town and beautiful beach are popular hangout locations. Snorkeling, trekking, and diving are the activities you can do on the island.
I nearly regretted my decision when I first arrived on Isabela Island. This island has no airport, so getting here wasn't easy, but it was well worth the effort. There is only one ATM so better bring extra cash. This island has less development than others. However, it is huge and offers a diverse range of attractions. I wish I had been able to stay longer than two nights to see more of this underrated island. It has a unique relaxed and wild vibe.
Things To Do in Isabela on Your Own
Puerto Villamil's Main Beach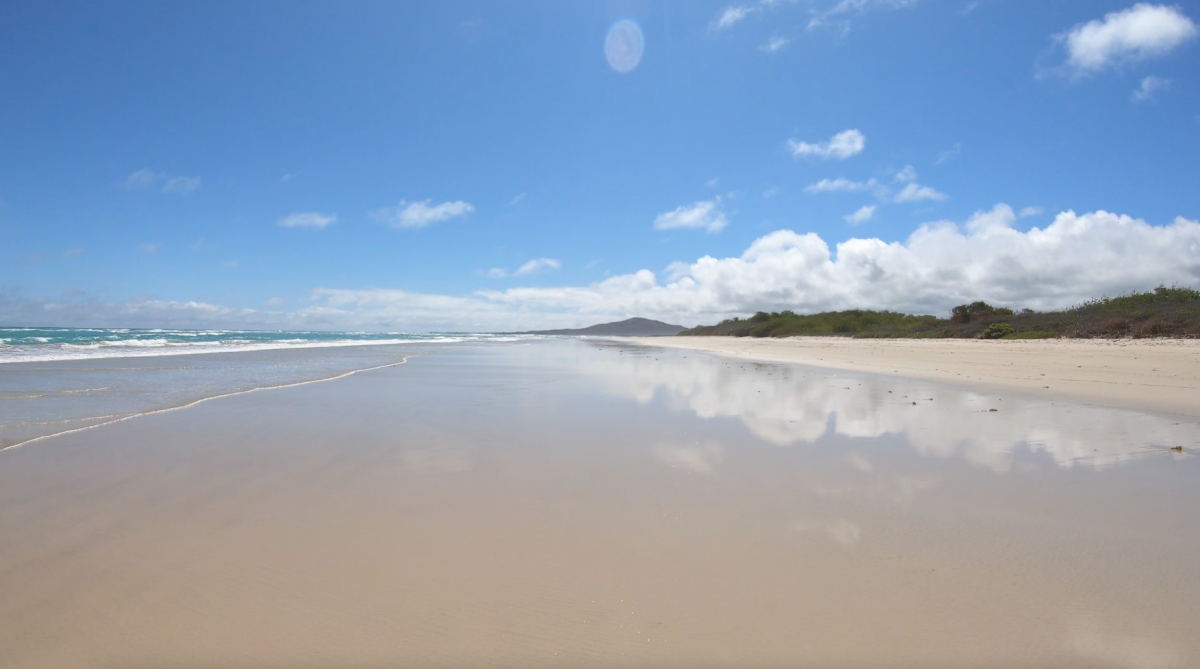 Puerto Villamil, which retains its typical fishing port charm, is home to the vast bulk of Isabela's human population. Many visitors tell us that it is the most beautiful village in the archipelago.
Villamil has a lovely long beach that looks like it belongs in a picture book, with palm trees lining the bright white coral sand. Pink flamingos, pintail ducks, and other species can be found in the saltwater lagoons behind the beach. Various visiting destinations may be visited on foot, by minibus, or by panga from town.
Main square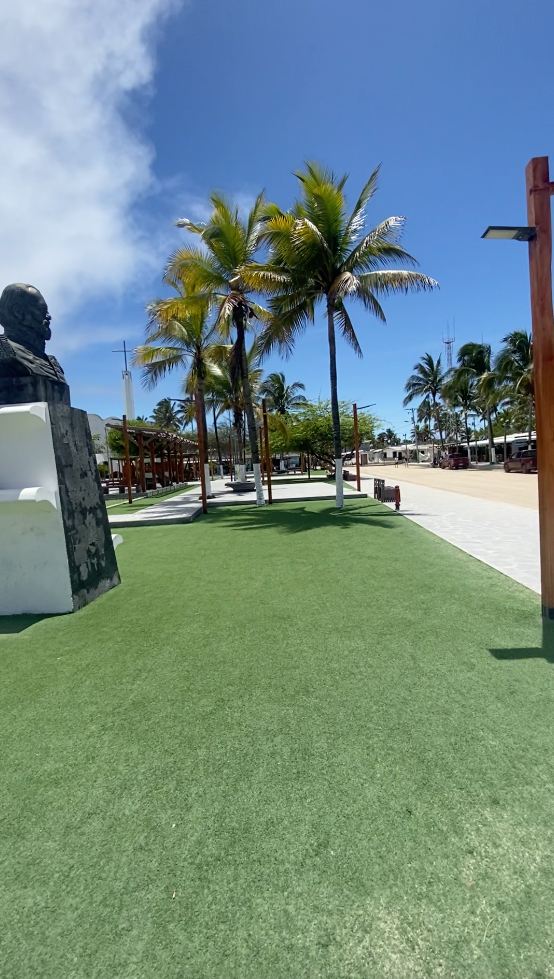 Take a walk at the charming main square in Puerto Villamil. It is surrounded by palm trees, and lines with different local restaurants and shops.
Visit and Snorkle at Concha Perla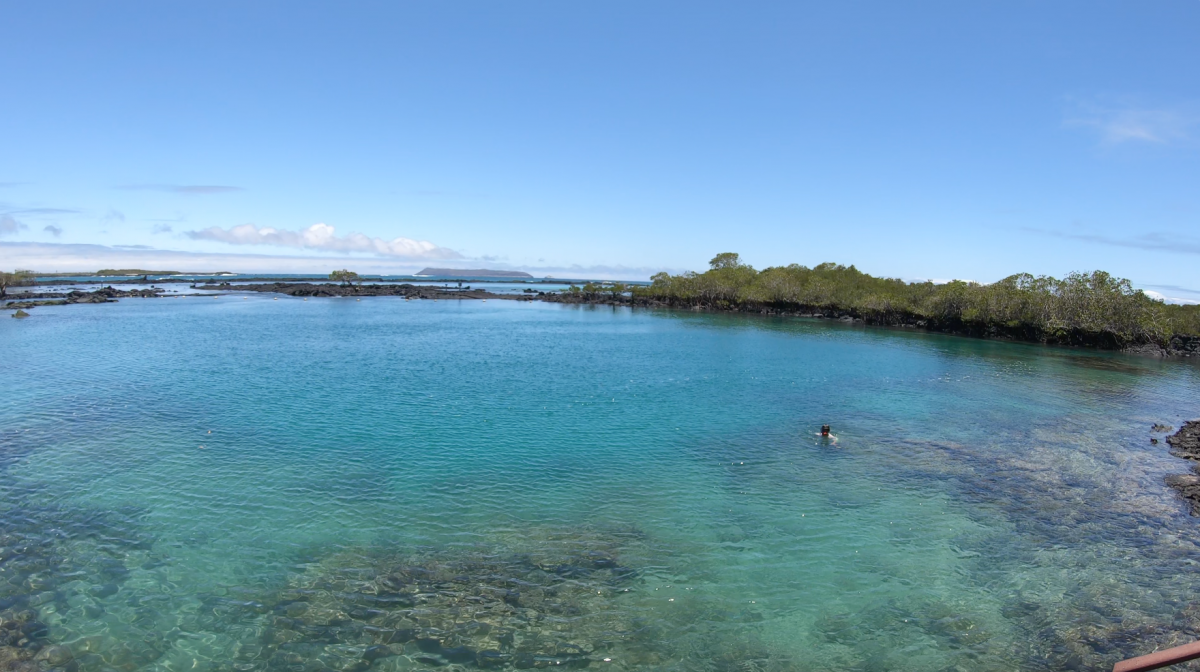 Concha Perla Bay is one of Isabela Island's best spots for viewing the Galapagos' incredible array of species and natural scenery.
Outside the National Park on Isabela, Concha de Perla (Pearl Shell) is a unique snorkeling location. It is open to any interested tourist to explore without the need for a guide.
Swimming with Green Pacific Turtles (Galapagos turtles), Marble Stingrays, Galapagos Penguins, Tropical Fish, Sea Lions, and even young sharks is possible if you're lucky. We recommend visiting this magnificent spot at low tide because the vision underwater is improved.
You can walk and you can swim and snorkel in its crystal clear waters. Some of the beautiful marine animals you can view here include sea lions, sea turtles, penguins, and iguanas.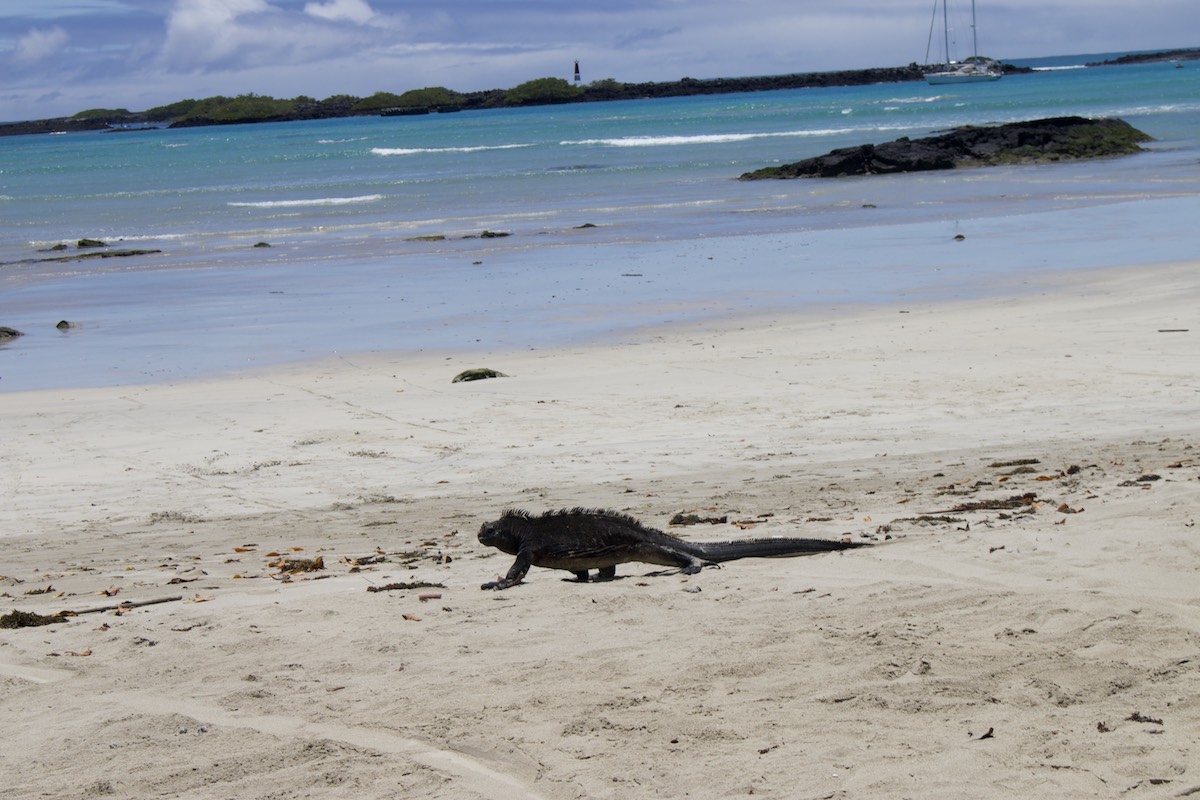 You may also take a 300-meter trek through mangroves while seeing sea lions and iguanas sunbathe.
Walk Around Laguna de Los Flamencos (Flamingos Lagoon)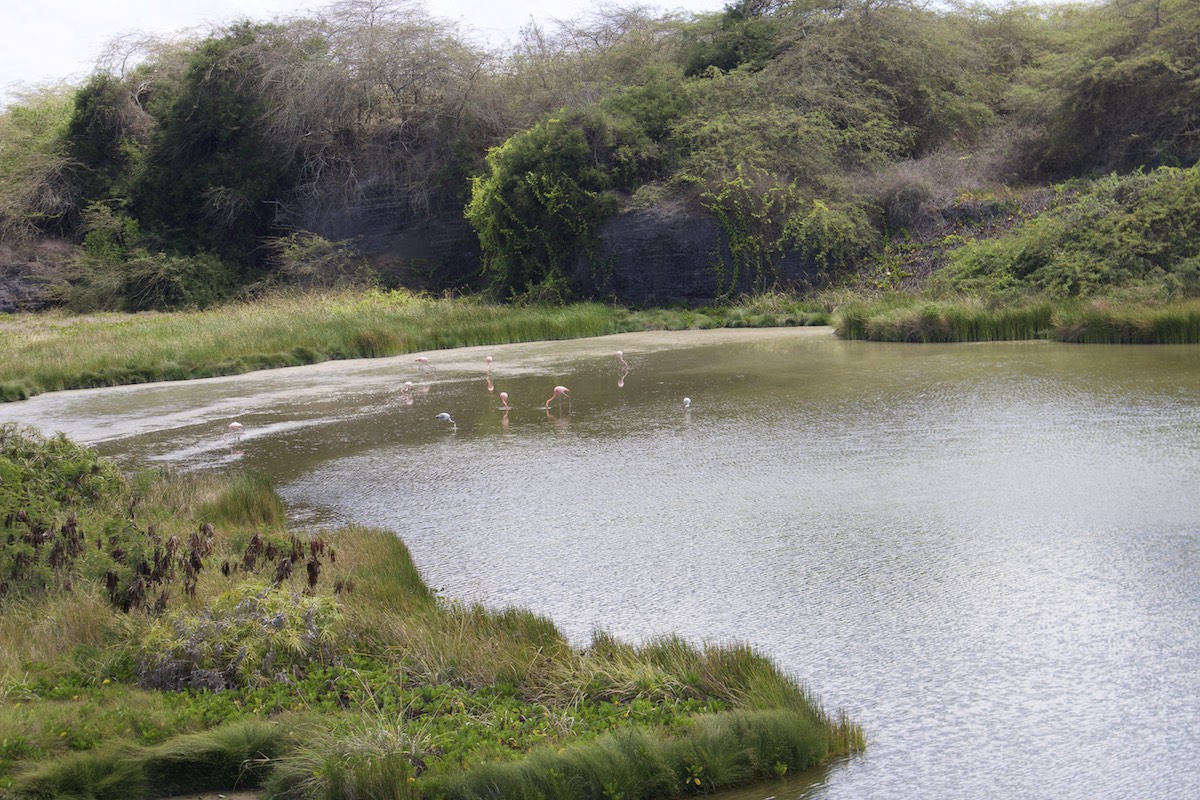 This Galapagos Flamingos Lagoon is a haven of peace. You will be able to appreciate the silence upon entering, which is only broken by the wings of a flamingo or the indigenous seabirds that may be seen nearby. The view in this lagoon is a picture worth a thousand words.
Route to the Wall of Tears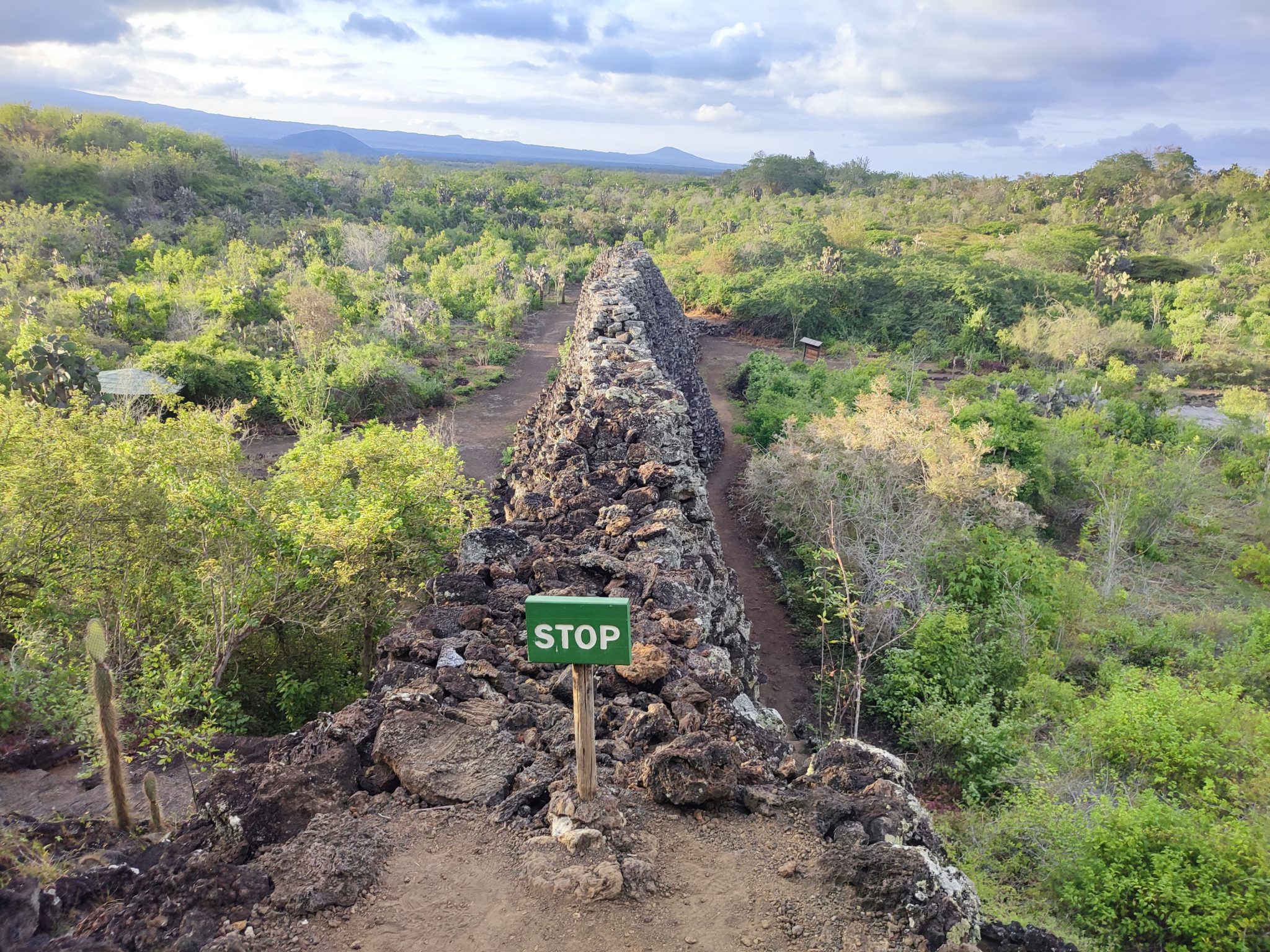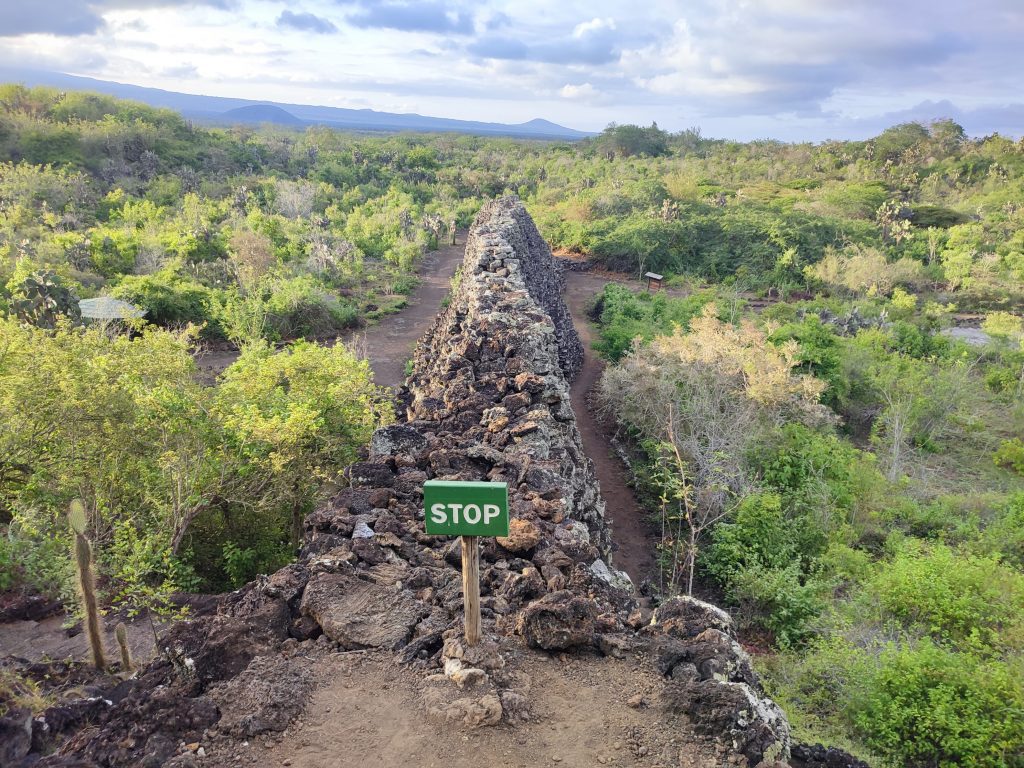 The Wall of Tears is located on Isabela Island and may be reached by a sandy walk that transitions to hard gravel.
Renting a bicycle from one of Puerto Villamil's numerous shops is the best method to go to the Wall of Tears. You could walk there, but it's a bit out of town, and it'll take you more time to walk. Also, it's the only place where you can spot big turtles in wildlife!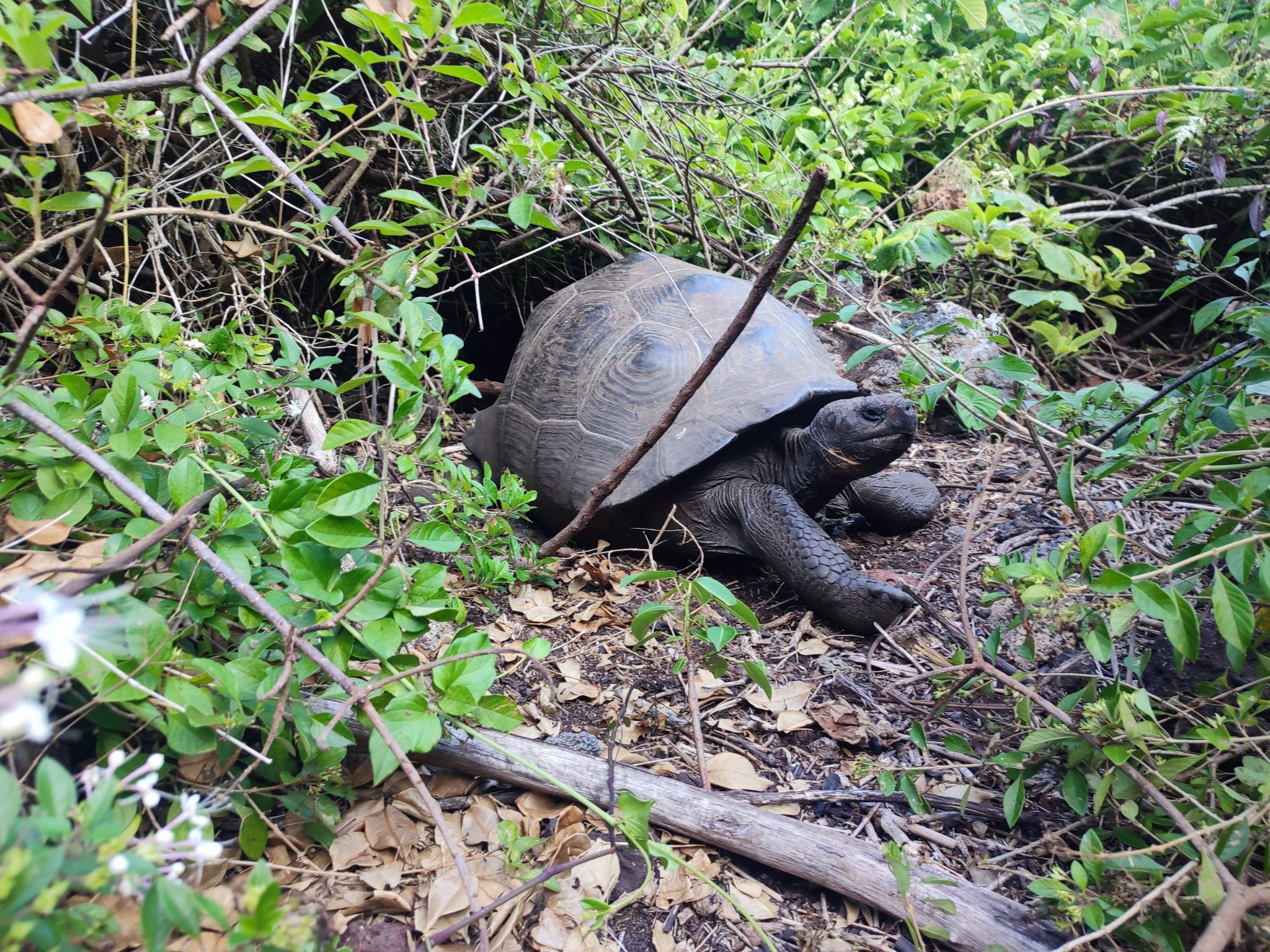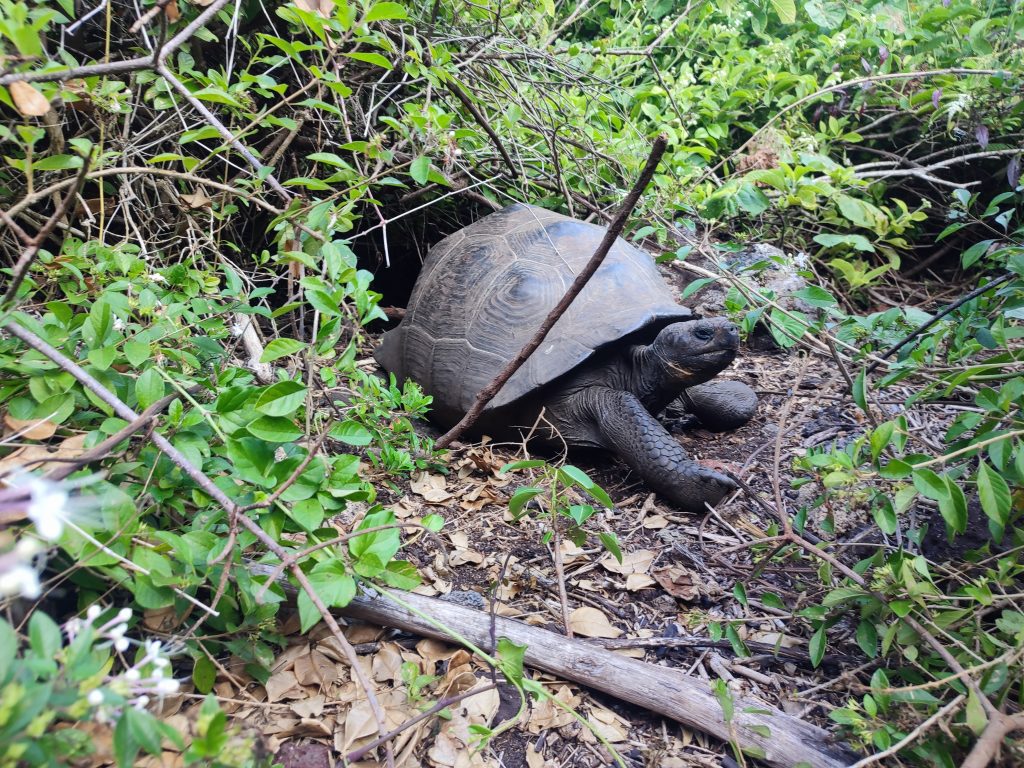 Along the trip, there are numerous viewpoint points, beaches, mangroves, and other sights to see. Because the road/path is a little rocky in sections and sensitive animals like tortoises may be sighted along the way, taxis are normally no longer permitted.
Visit Centro de Crianza Tortugas Gigantes Arnaldo Tupiza Chamaidan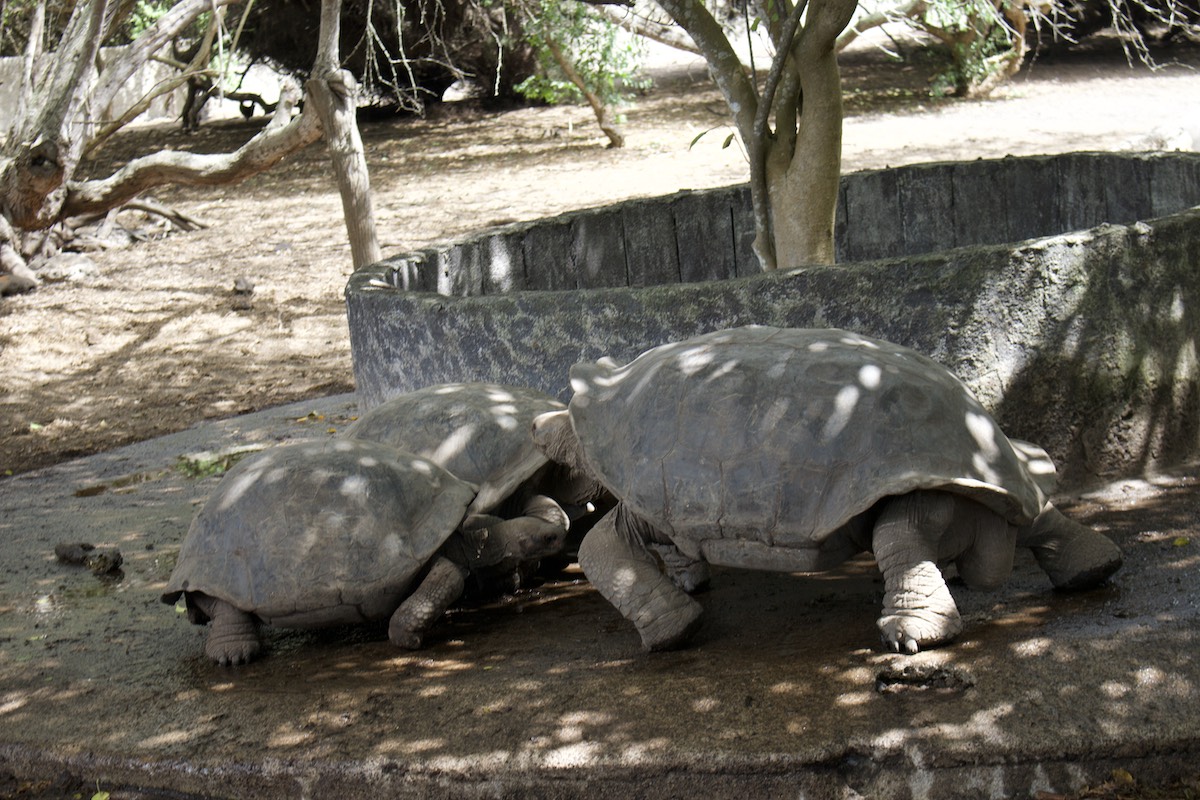 You can get up up and personal with the magnificent Galápagos giant tortoises At Centro de Crianza Tortugas Gigantes Arnaldo Tupiza Chamaidan. The breeding center is dedicated to raising and sustaining the population of the endangered Cerro Palomo tortoises, which include four male and two female tortoises. More than 300 more gigantic tortoises are cared for at the center, which you can see during your tour.
Explore the Island on Bike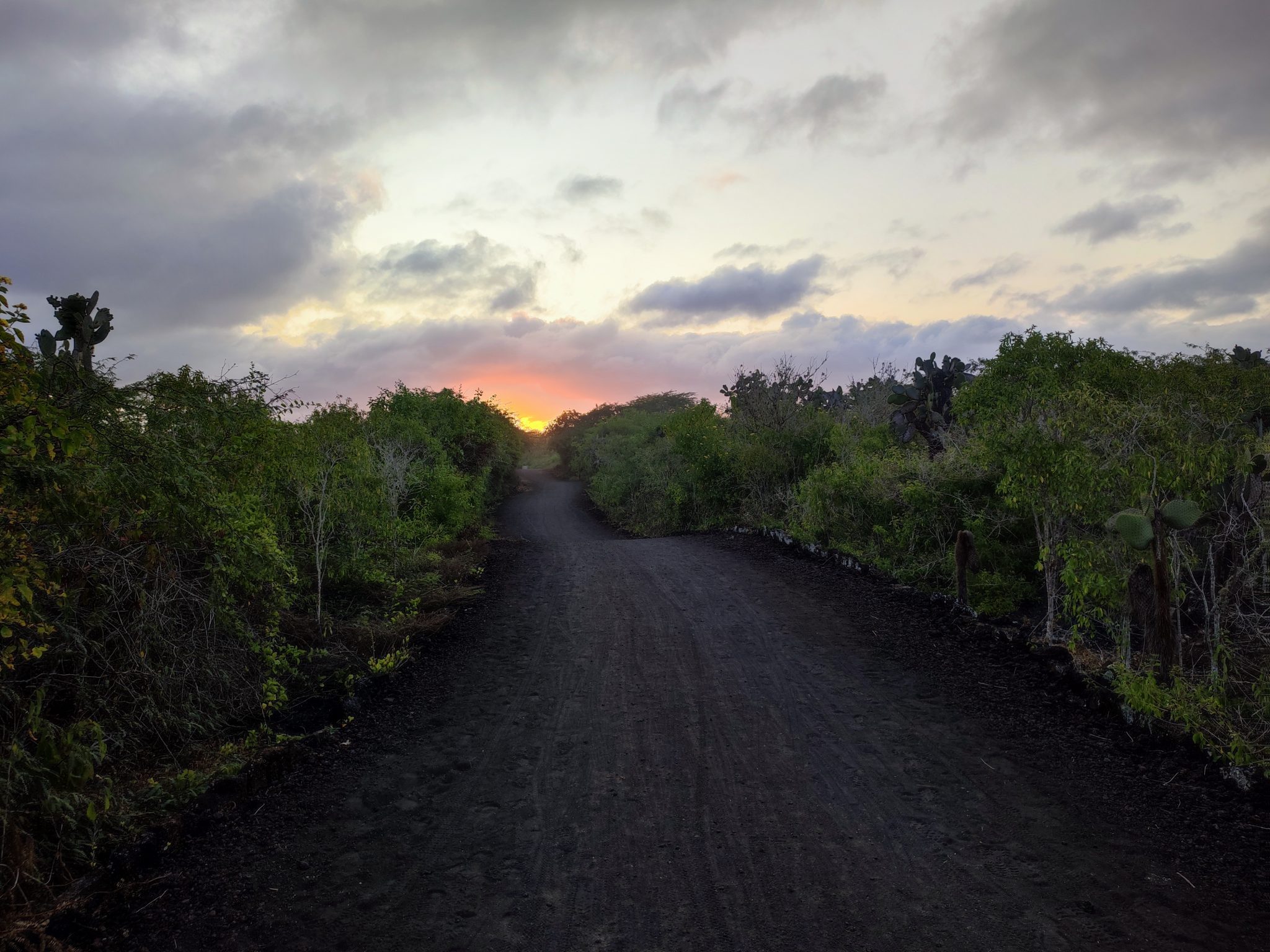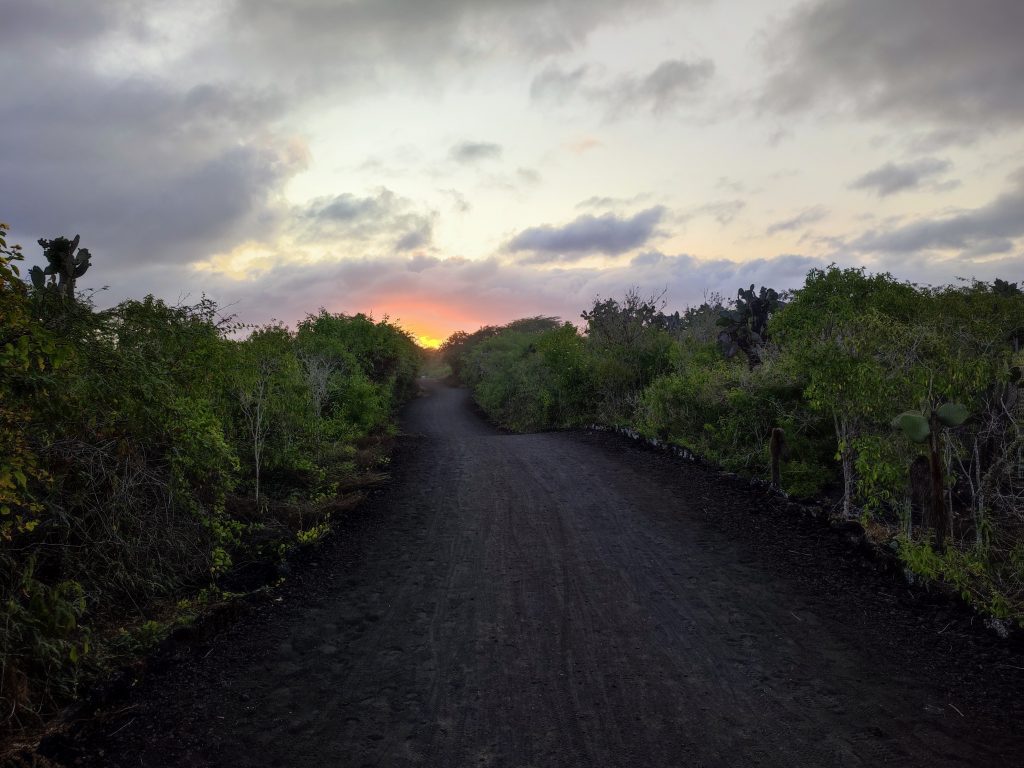 Isla Isabela, like Santa Cruz, offers good riding options. Bikes may be hired for approximately USD15 per day from a variety of locations, and cycling to the Wall of Tears is a terrific way to see the Island.
The primary cycle route on the island is the 5km journey to the Wall of Tears, which entails cycling along the beach to a dirt road with vegetation on both sides where wild juvenile giant tortoises roam. Along the trip, there are various ponds, mangroves, and little beaches where you can stop.
Best Day Tours From Isabela
Los Tuneles (Cabo Rosa) Tour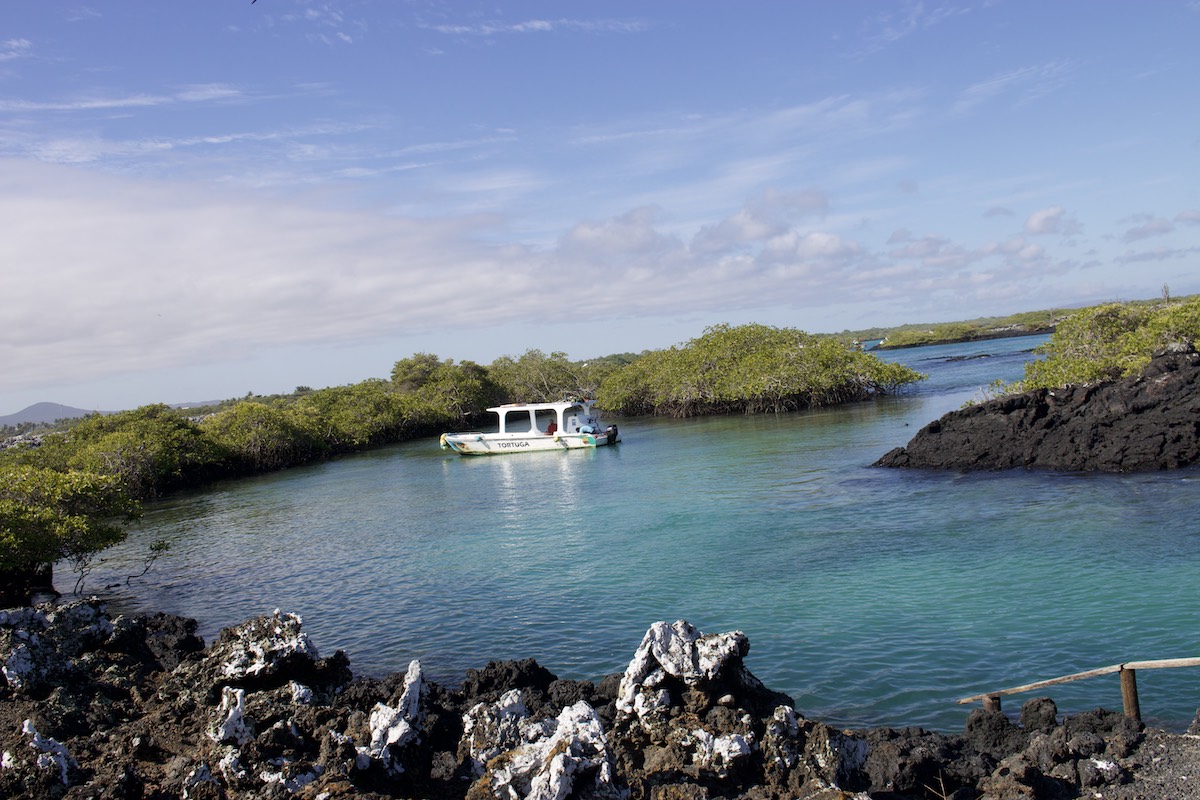 Los Tuneles Cabo Rosa was formed by lava platforms that crashed into the sea, resulting in hundreds of lava tunnels and bridges above and below the ocean.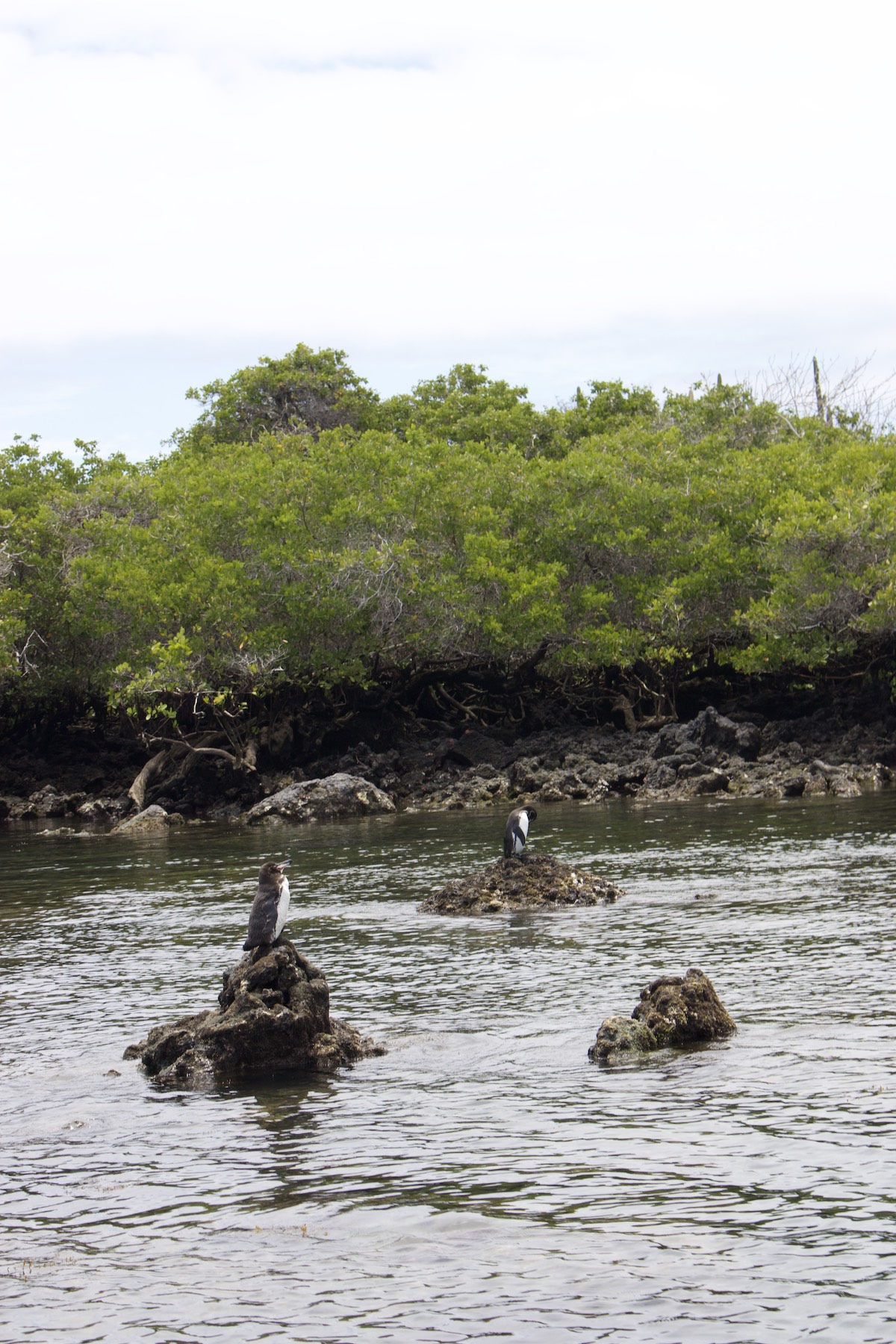 The tunnels are a marine wonderland where you may see marine life while snorkeling in pristine waters.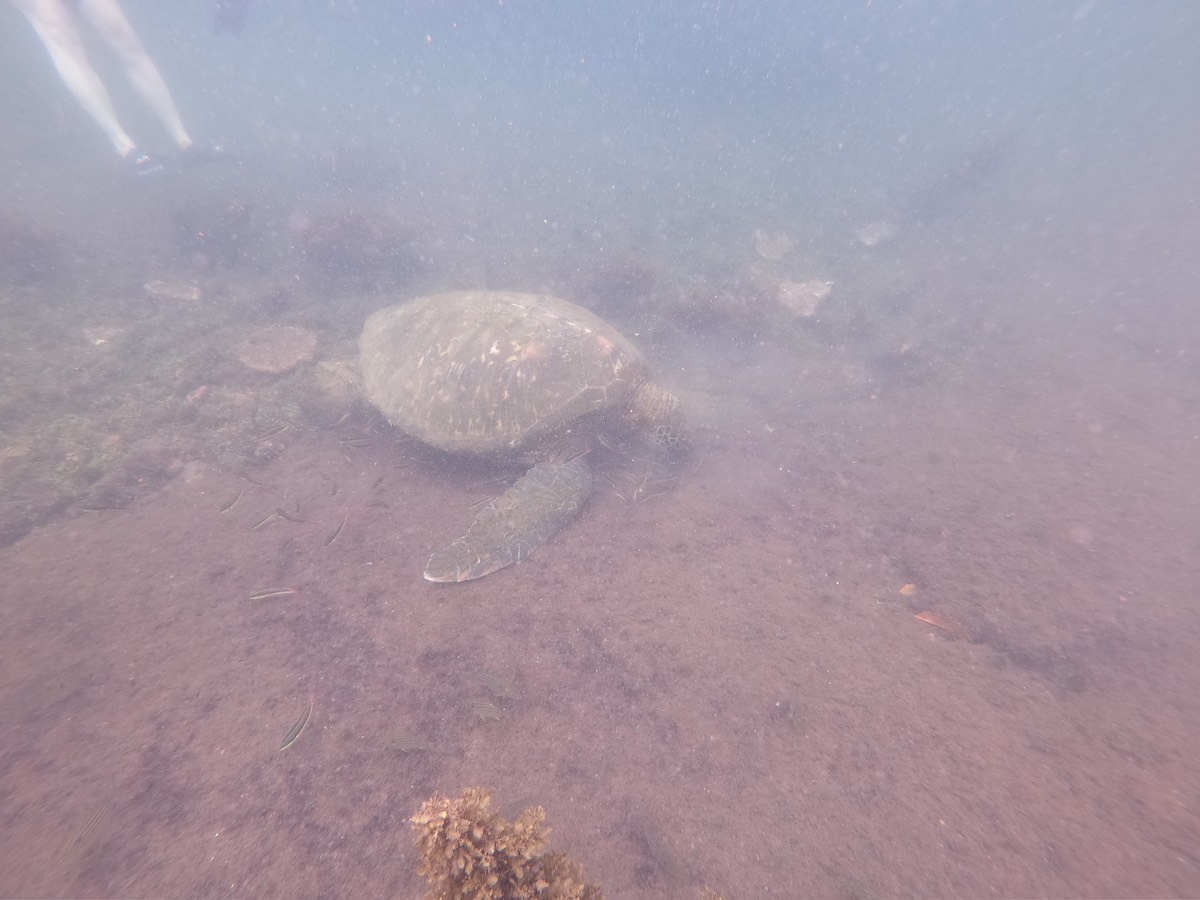 Many species live in the lava tunnels, including white tip reef sharks, manta rays, seahorses, penguins, sea turtles, sea lions, enormous mantas, colorful fish, and blue-footed boobies.
Tintoreras Islet Tour (best tour to swim with sharks)
Las Tintoreras is one of Isabela Island's most popular destinations. It offers an amazing walking tour: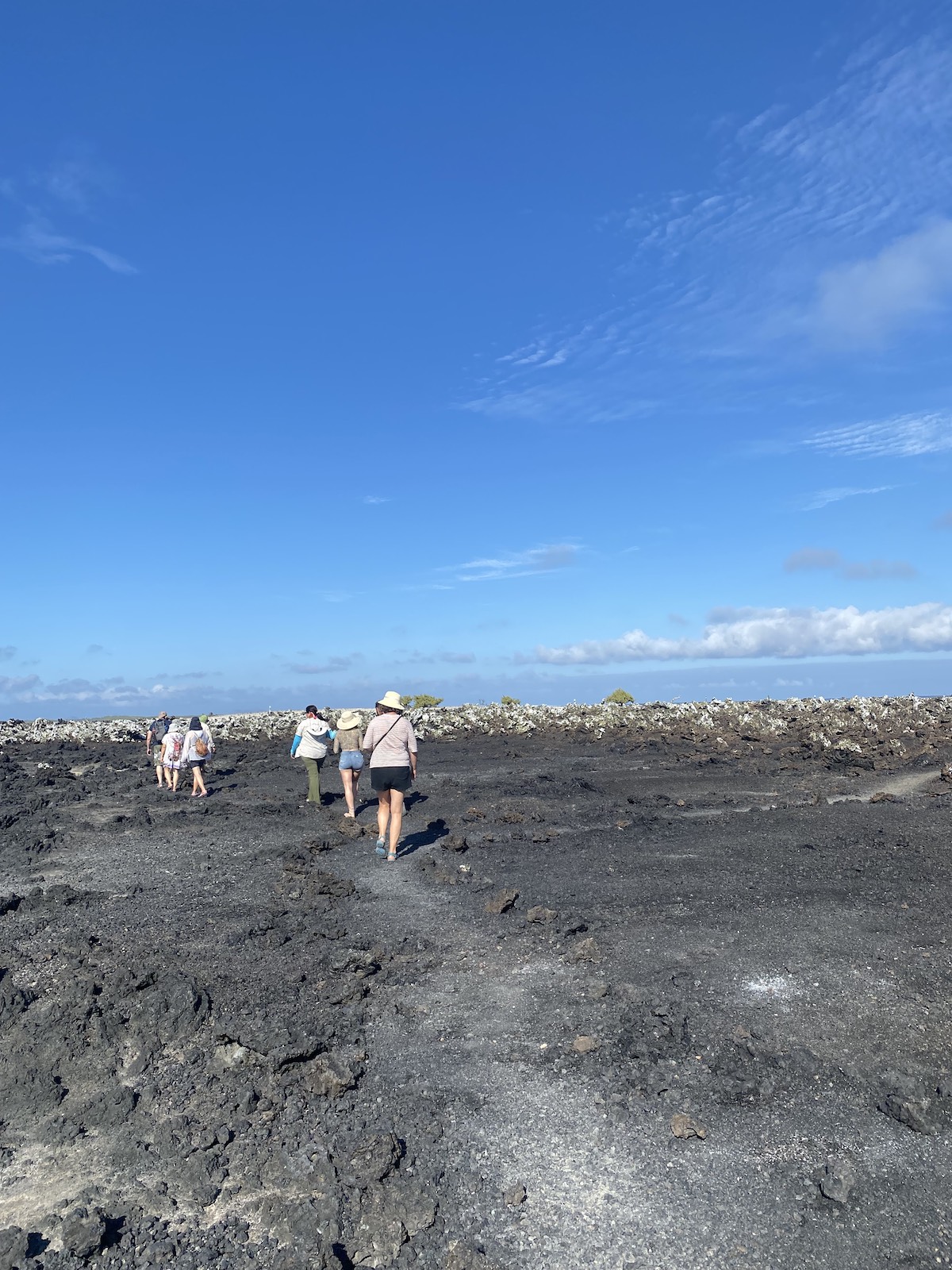 And snorkeling! The white tip shark, known locally as Tintoreras, inspired the name of this little islet.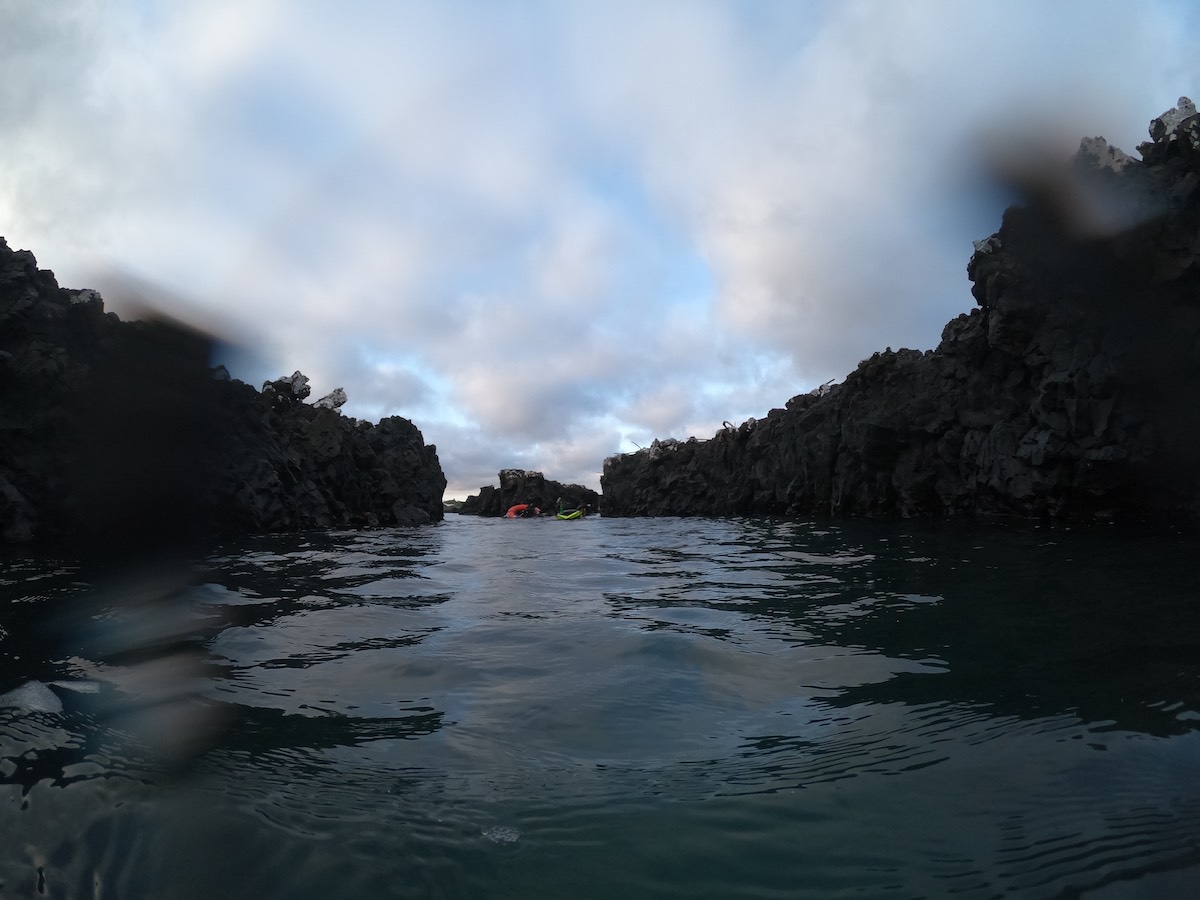 This is a great place to see Galapagos penguins, which nest in this location depending on the season. Sea turtles, rays, sea lions, and white tip sharks are frequently seen in the tintoreras seas.
Sierra Negra Volcano Tour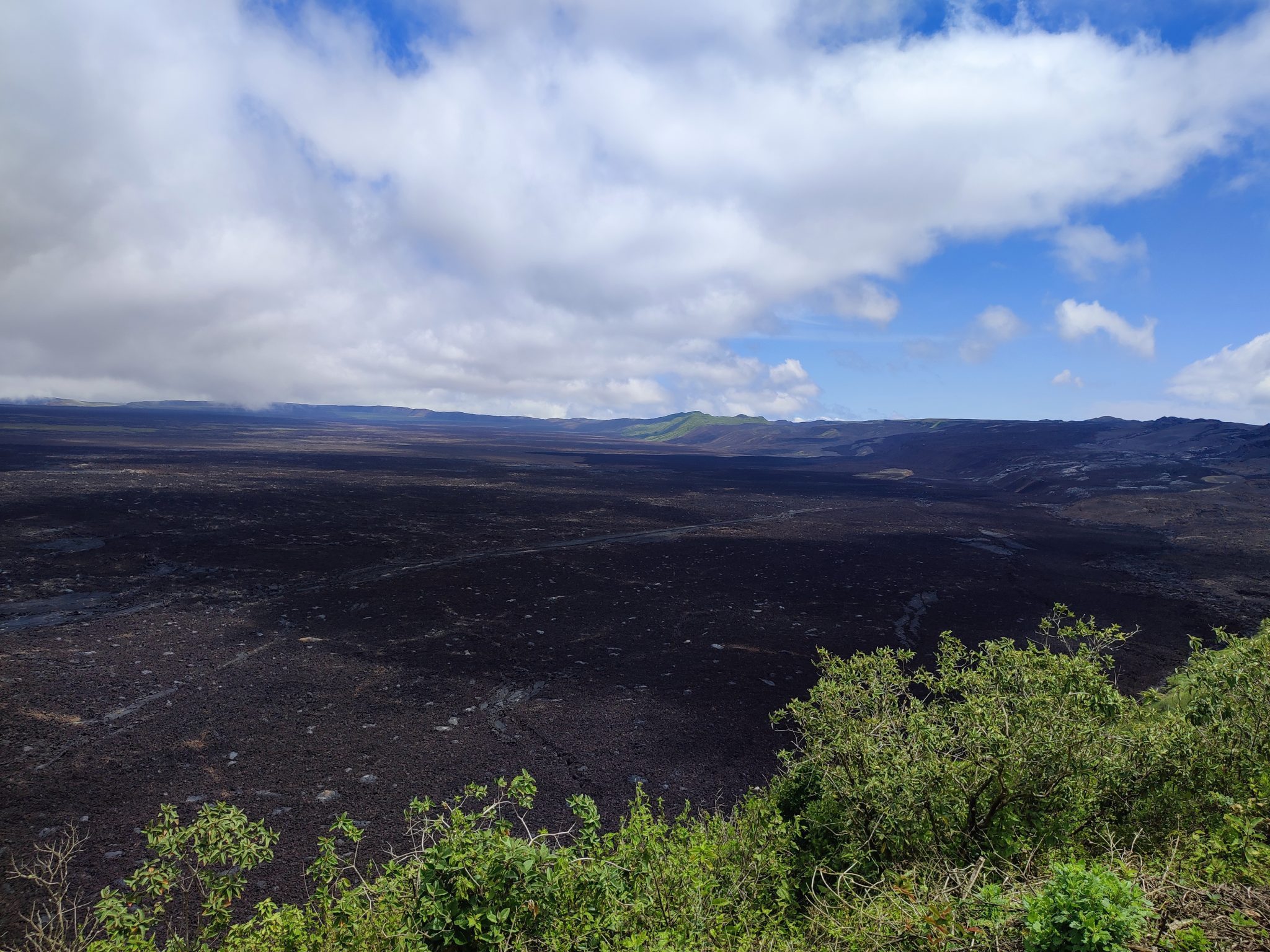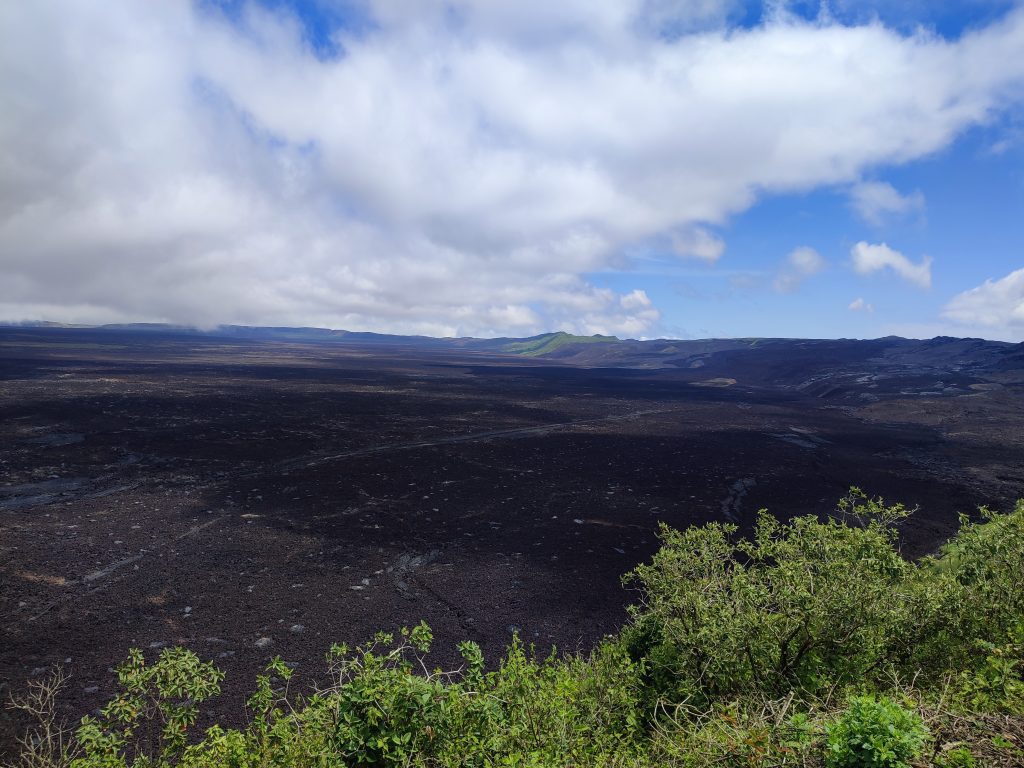 Sierra Negro Volcano is the world's second-biggest volcano crater, which is 6 miles in diameter and 300 meters deep. We skipped this tour since we've visited volcanoes at 5000m altitude during our trip on Ecuador's mainland.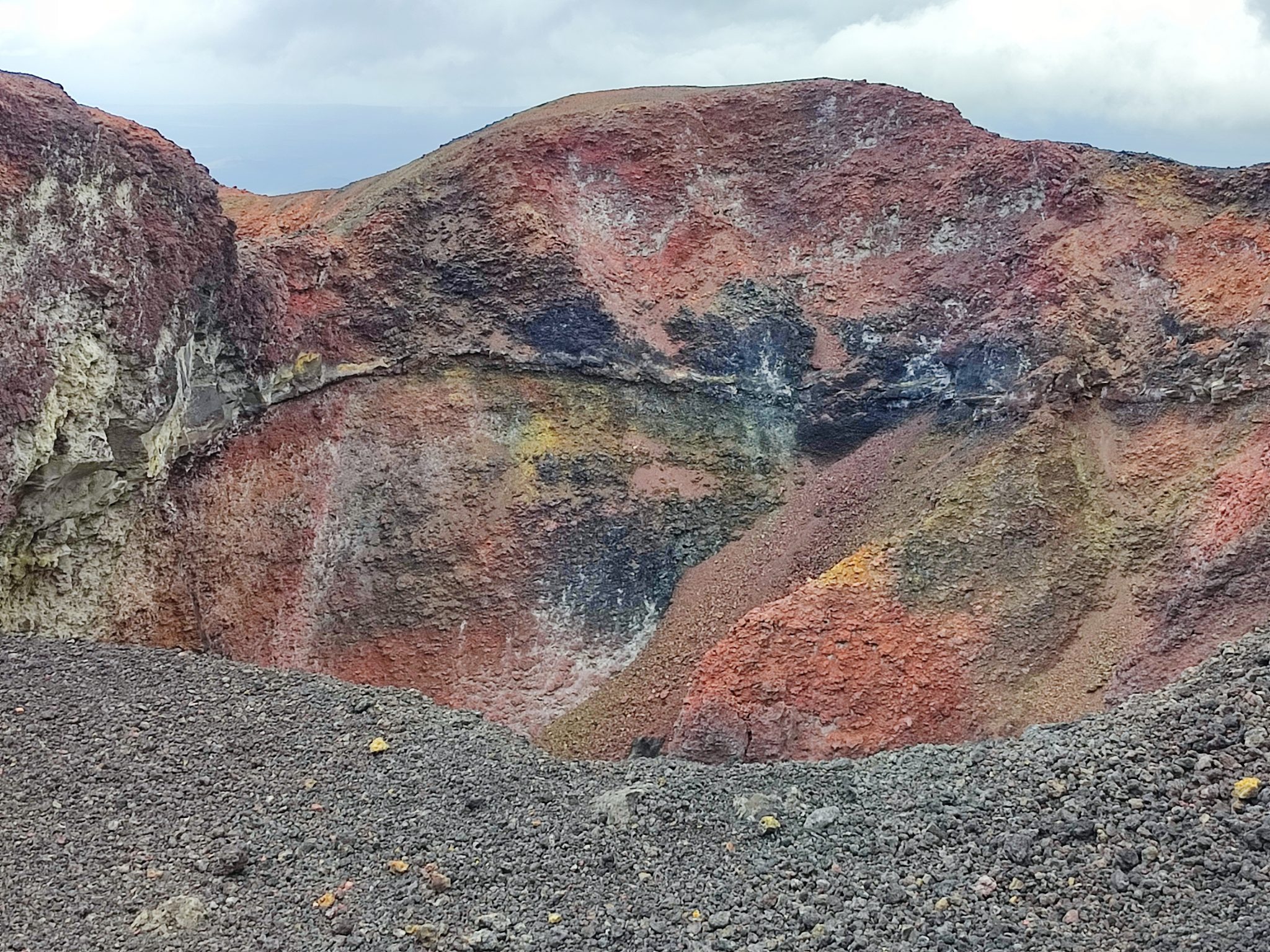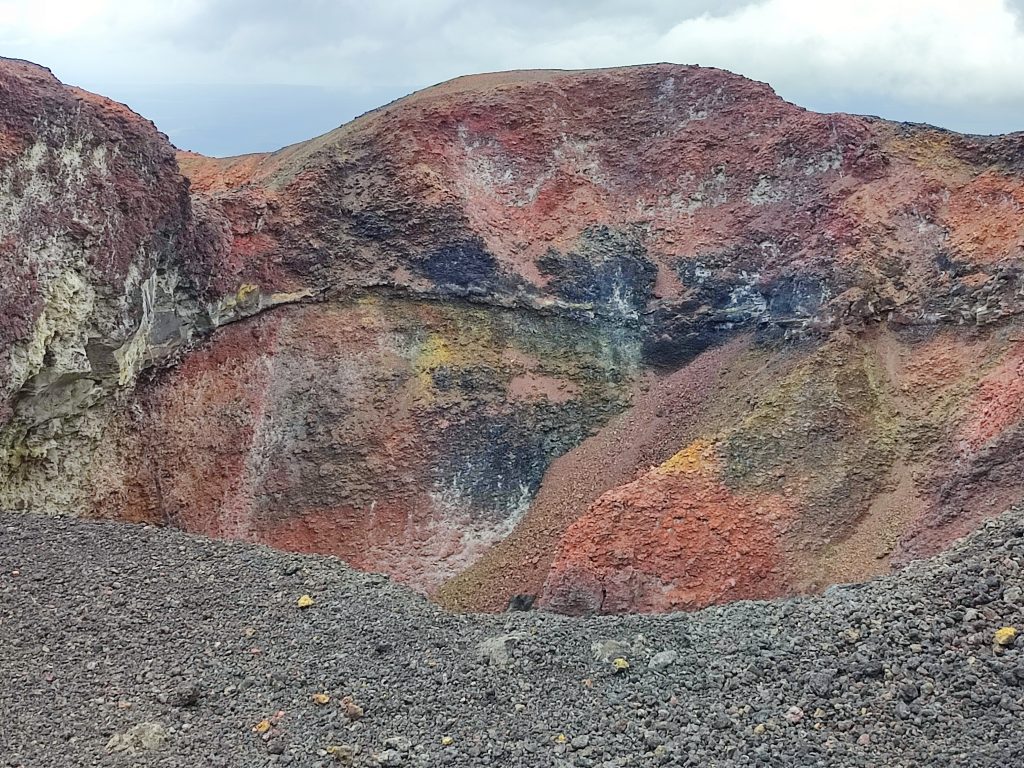 These volcanic islands provide breathtaking vistas as well as the possibility to see up to seven different kinds of finches and a diverse array of plants. The caldera's north side shows signs of its most recent volcanic activity in 2005.
Isla Tortuga (Turtle Island) Tour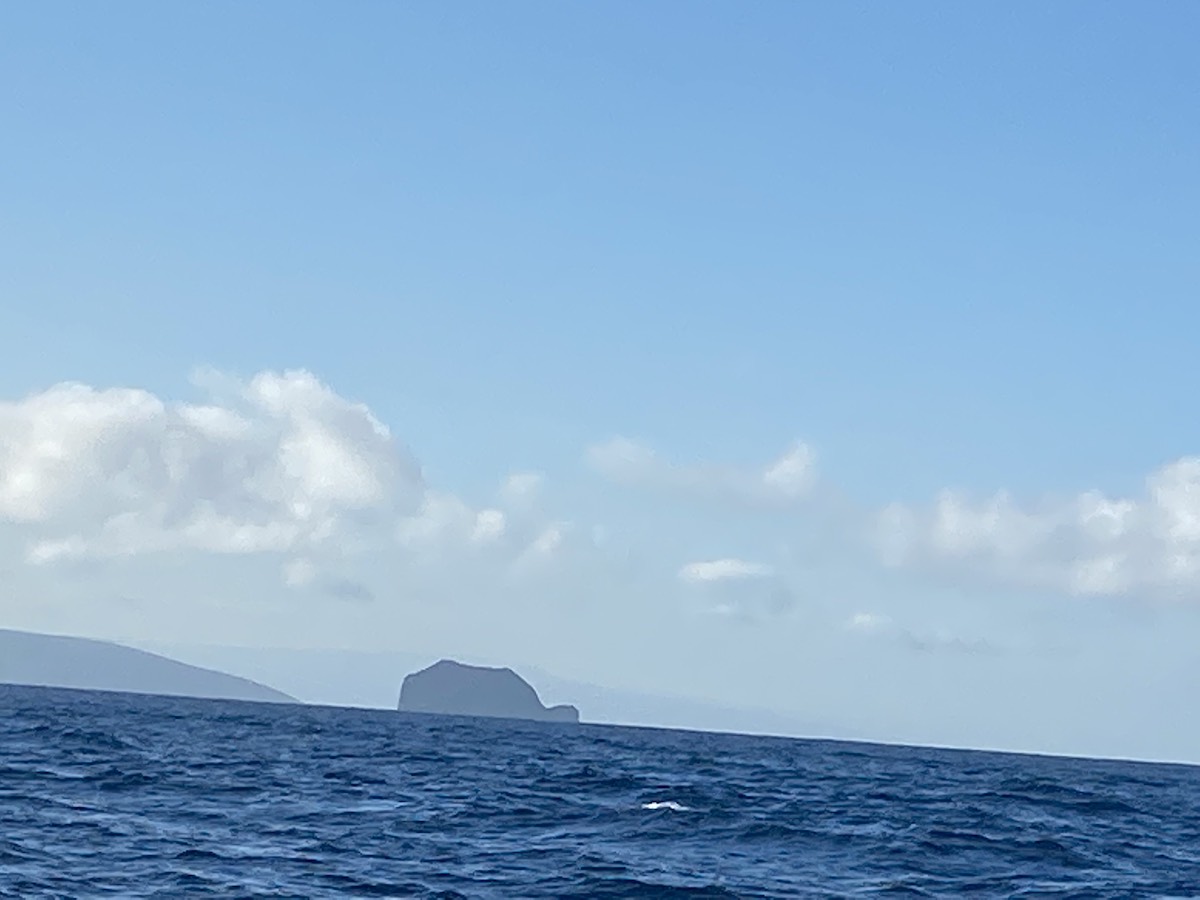 Isla Tortuga got its name from the island's shape, which is like a turtle. The island is a collapsed volcano that serves as a breeding site for a variety of sea birds, including the elusive Red-Billed Tropicbird.
You will not be allowed to set foot on the island since it is an entirely protected territory. From the boat or the ocean, you can photograph and see the flocks of seagulls, Sea Lions, and Marine Iguanas that make this island home.
What is the Best Season to go to the Galápagos Islands?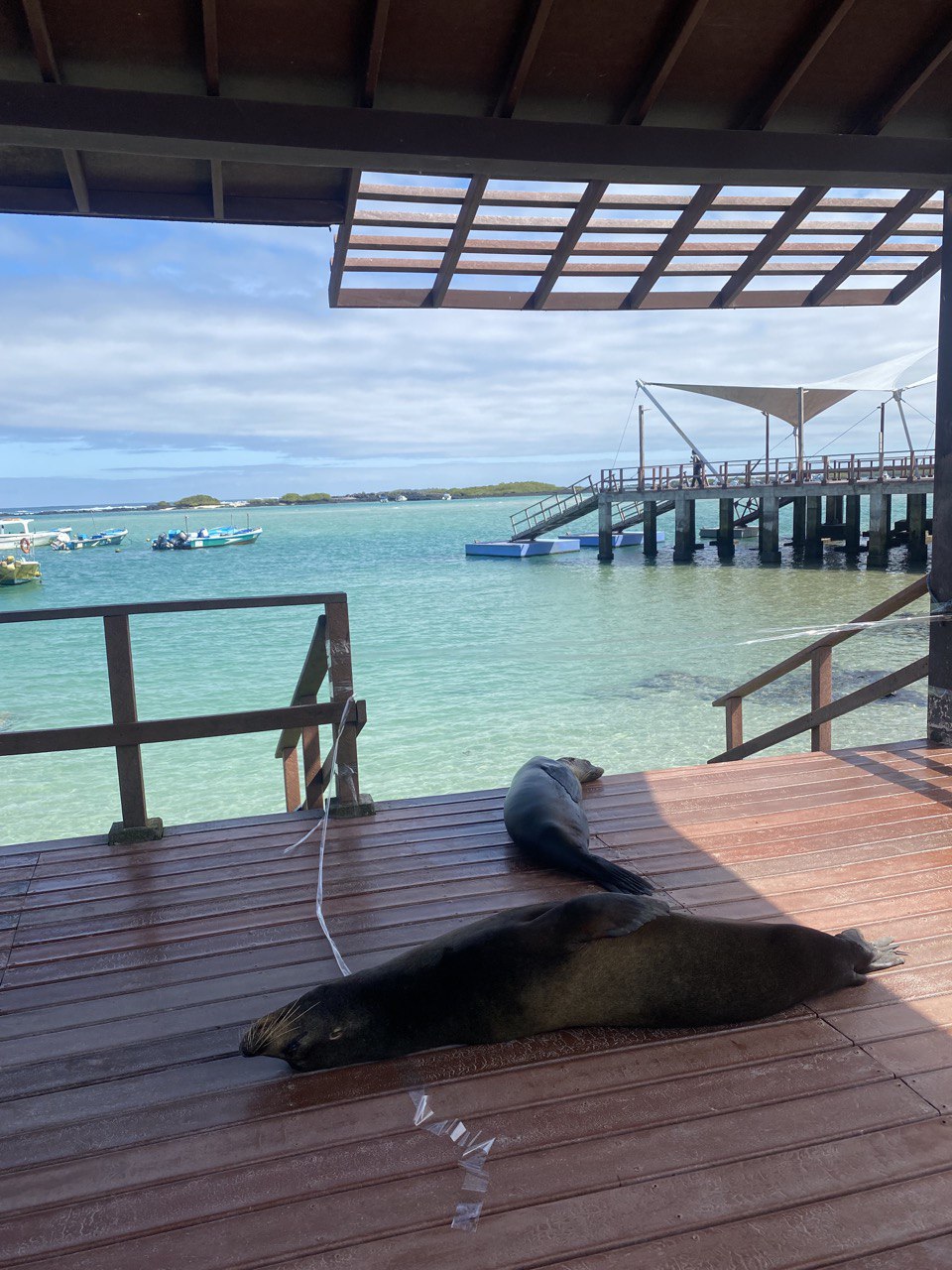 Whatever month you visit, you will discover amazing animals and flora as well as an unpredictable temperature in Galapagos.
Each month offers advantages and disadvantages, but there is no worst month to visit the islands. In our instance, we traveled in September and had a great time.
Currency and money
US Dollars (USD) is Ecuador's official currency and this includes the Galapagos Islands. If you are using a different currency make sure to exchange your money before leaving Ecuador mainland since few ATMs are only available in San Cristóbal and Santa Cruz.
Cash is also mainly used in Galapagos. They rarely accept credit cards, and even if you find an establishment that accepts them, they charge expensive fees.
What is The Best Time To Travel To Galapagos Islands?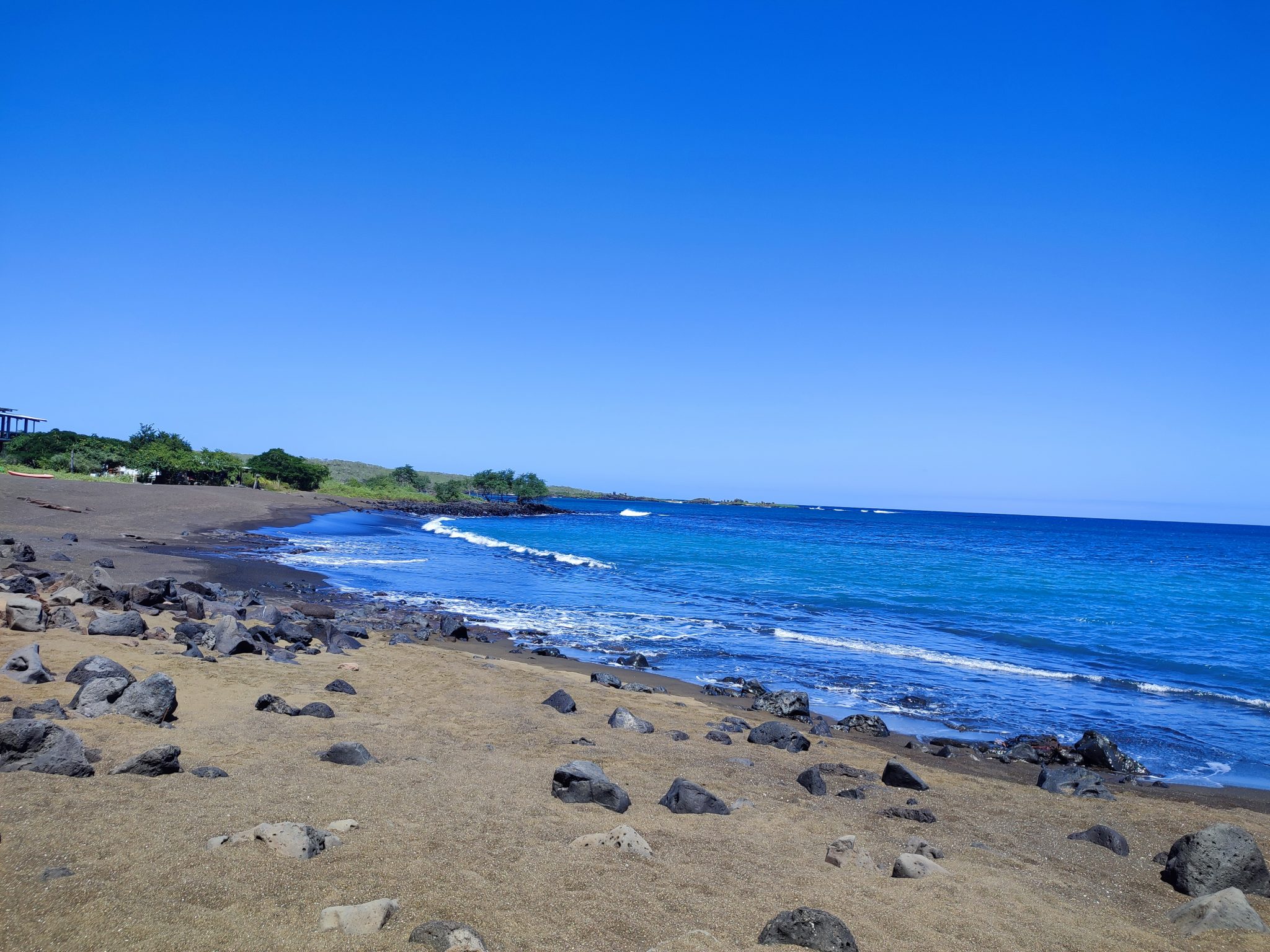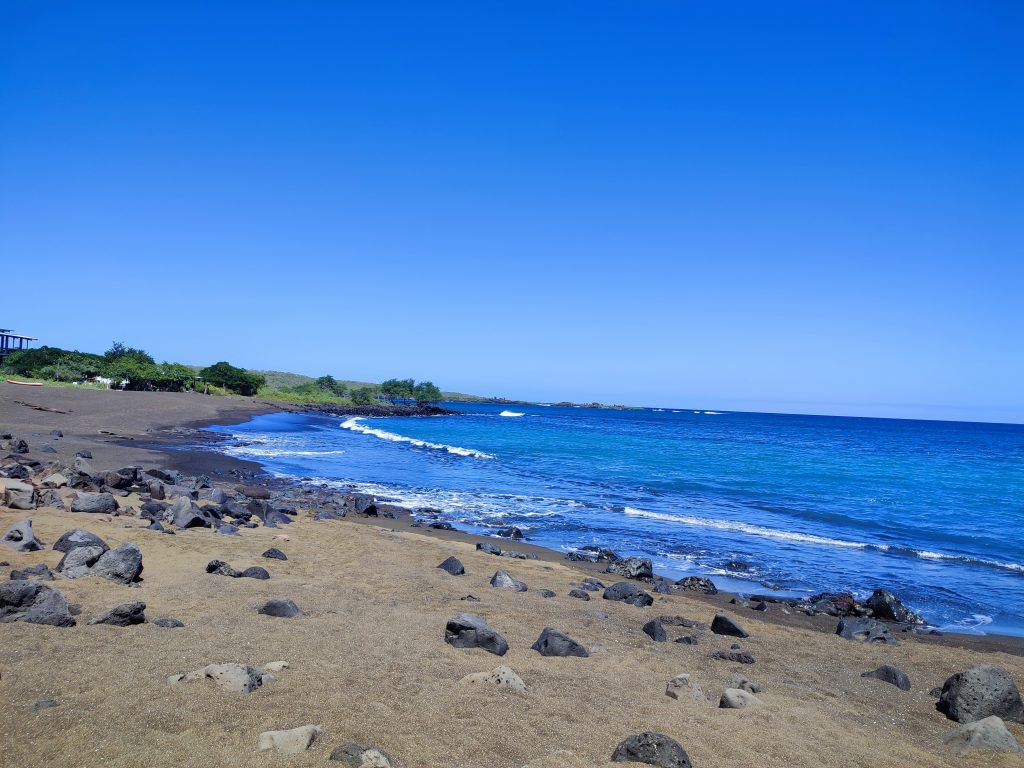 Galapagos Islands are a year-round destination so you can visit them at any time. Each season has unique things so you will never miss out on anything.
The Galapagos hot season lasts from January to June. The temperature of the water rises during this period, and creatures become more active on land.
The dry season in the Galapagos Islands lasts from June to December, during which time the water temperature drops somewhat.
We have guides for each month:
What Budget Do I Need to Go to The Galápagos Islands?
Visiting the Galapagos Islands is substantially more expensive than traveling throughout Ecuador and South America.
Budget estimate for one week of independent travel (without a cruise or scheduled trip):
A round-trip flight from Quito or Guayaquil to Galapagos is around $300
Entrance fee to Galapagos Islands National Park and taxes: $ 120
$ 30 per night for lodging: $ 210
Meals: $20 per day: $140
Excursions: $ 400-500 for 3-4 tours
Transportation: $60 (each boat ride between islands costs about $30).
Total: around $1,200-1300 per person
In our case, we spent $6,000 for 9 nights, including tickets from Ecuador Mainland. The airfare estimation may vary depending on the location where you are coming from and when you plan to go to Galapagos.
What to Pack for the Galápagos Islands
Small shops on both San Cristóbal and Santa Cruz islands sell basic necessities, but the prices are steep and the choices are also limited. It's wise to bring all your essentials such as:
Durable closed-toe walking shoes to wear on walking tours
Sandals or flip-flops that you can wear in town and on boats
Water-resistant and high-SPF sunscreens
A wide-brimmed hat
Rashguards
Repellent for insects (I was never really bothered by insects, although it can happen so better be prepared).
First aid kit and medications, particularly if you are prone to motion sickness
If you have your own fins, mask, wet suit, and snorkeling equipment with you. Snorkeling equipment is available on the islands, however, the quality and cleanliness varies
A reusable water bottle, which you can fill up for day-long adventures while reducing your plastic waste
Rain gear and camera weather protection are essential
Cash, cash, cash!
Check more on our Galapagos packing list.
What Not to Bring to the Galápagos Islands
Non-native plant species are considered a major environmental hazard to the Galápagos Islands. Therefore do not bring any fruits, vegetables, or plants with you.
Anything with seeds or spores on it, such as the soles of your shoes and any outdoor gear or camping equipment, should be carefully cleaned and examined before being carried to the islands.
Visitors arriving in the Galápagos must sign an affidavit saying that they are not bringing any food, animals, seeds, or soiled camping gear.
Usage of plastic is also restricted in the islands to protect the environment. This is to maintain cleanliness and prevent additional waste in the islands.
Rules on Galapagos Islands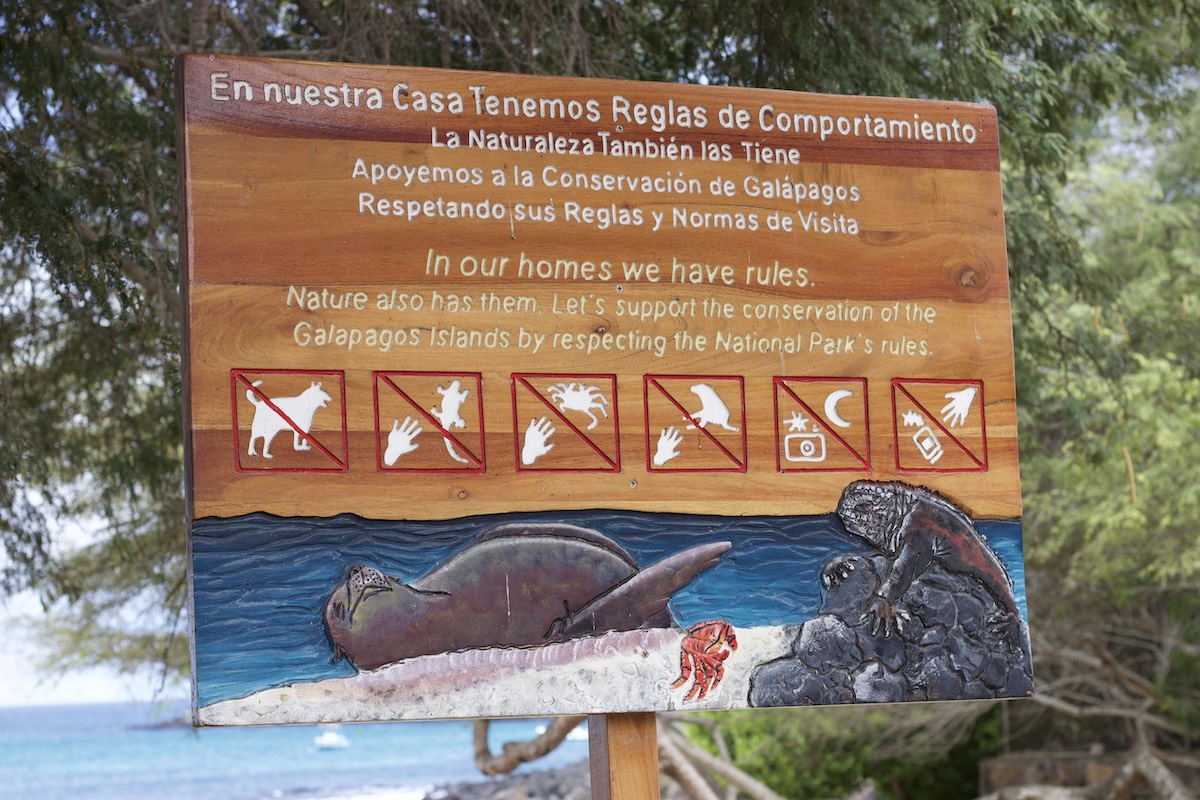 There are rules in the Galapagos National Park that all visitors must abide by. Failure to follow may result in penalties imposed by the Ecuadorian government.
Keep at least 2 meters away from wildlife, especially your cameras.
Do not approach or feed the animals.
Remove no items from the ecosystem.
Do not smoke, consume alcohol, or build a fire.
Only walk on designated pathways.
Take photographs without using a flash. Professional photography and drone use require permission.
Camping is only permitted in certain places.
Use only licensed sport fishing vessels.
Do not bring any external elements into the park's ecosystem.
Is it Worth Going to the Galapagos?
Our Galapagos Islands travel was totally worth it! It was a once-in-a-lifetime experience that I highly recommend to everyone.
You will definitely see a different side of the world in the enchanted islands of the Galapagos. The unique wildlife, pristine beaches, and the classic beauty of the islands will connect you back to nature and make you appreciate life more. You should definitely experience Galapagos Islands!
If you are planning a wild marine getaway soon, Galapagos is the place to be!