A journey to the Galapagos Islands is unquestionably on the wish list of any traveler and there are so many things to do! This archipelago, located 620 miles offshore of Ecuador's Mainland in the Pacific Ocean, is made up of around 19 islands and countless smaller islets.
Due to the absence of predators, it is possible to get up close and personal with the animals, including playful sea lions and enormous sea tortoises which don't mind when tourists approach them and coo over them. This charming hideaway is also a dual-designated World Heritage site because of the well-preserved and protected surrounding land and marine areas. 
So here you go, I short listed 25 things to do in the Galapagos Islands based on my travel experience!
1. Visit and Check Out the Stunning Landscapes of Bartolome Island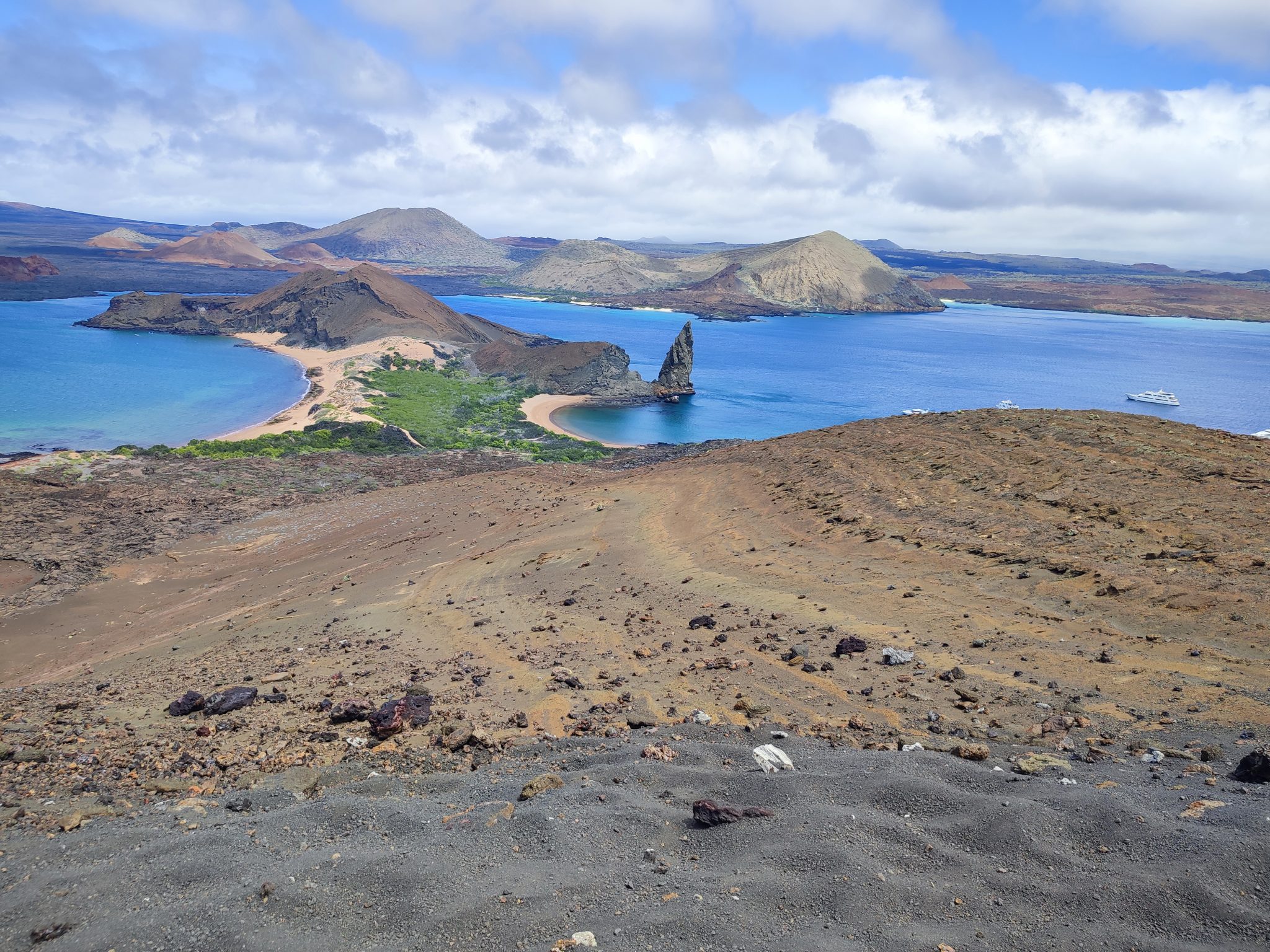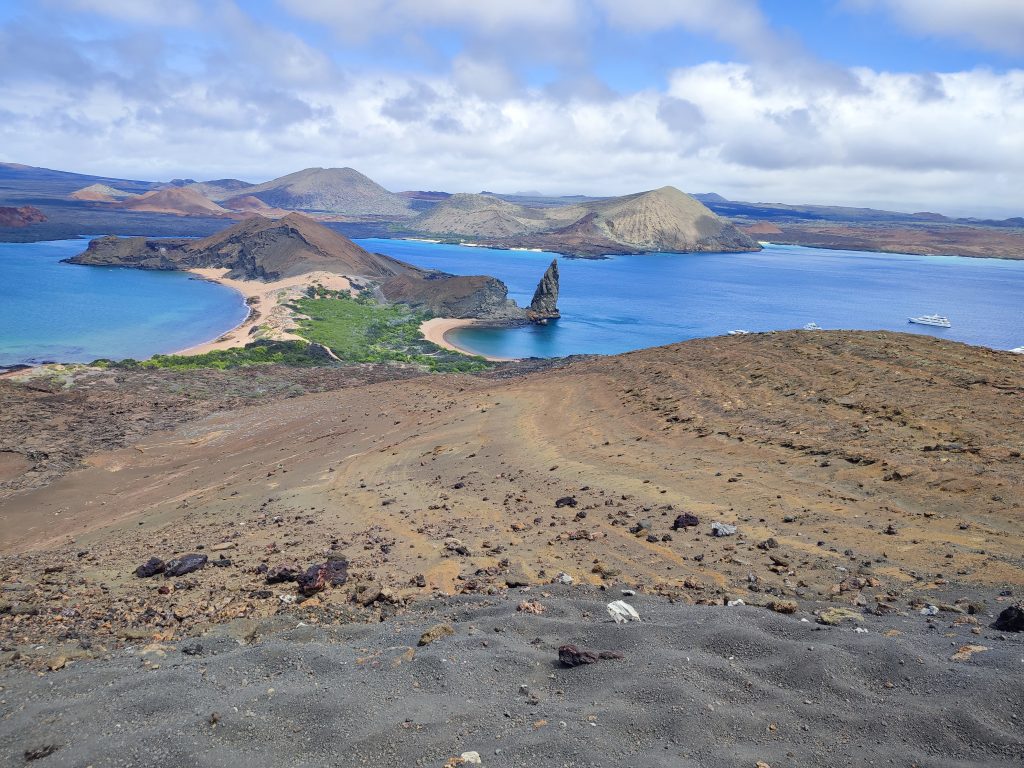 The island of Bartolome is a tourist favorite and a must-visit location and thing to do while in the Galapagos. It is well known for the iconic image of the jaw-dropping volcanic scenery of the Galapagos Islands.
Bartolome Island is a fantastic place to go scuba diving and see underwater animals. Not to mention the incredible chance to go snorkeling with playful sea lions and penguins. Bartolome is one of the nicest Galapagos islands to visit, and we highly suggest it!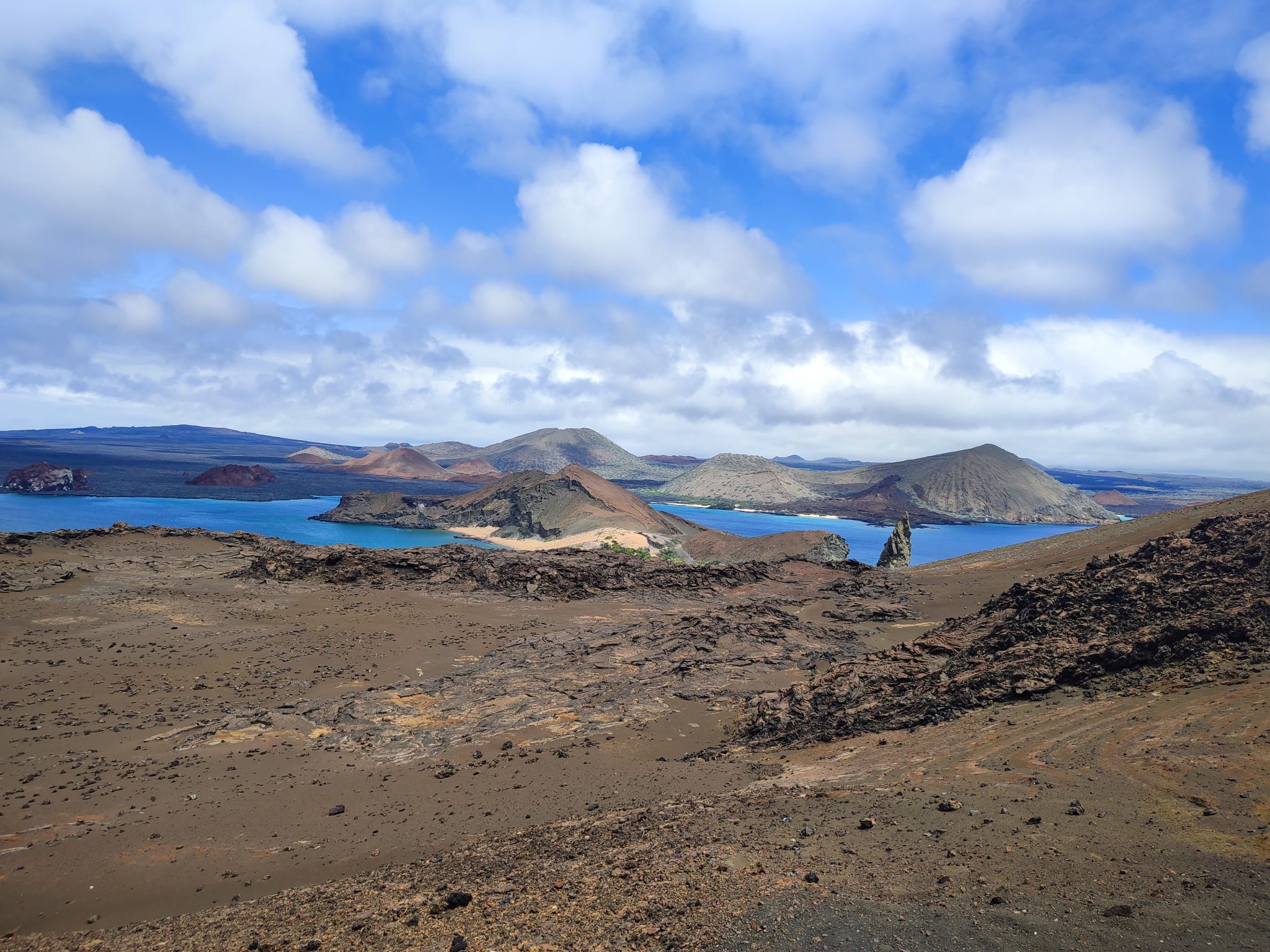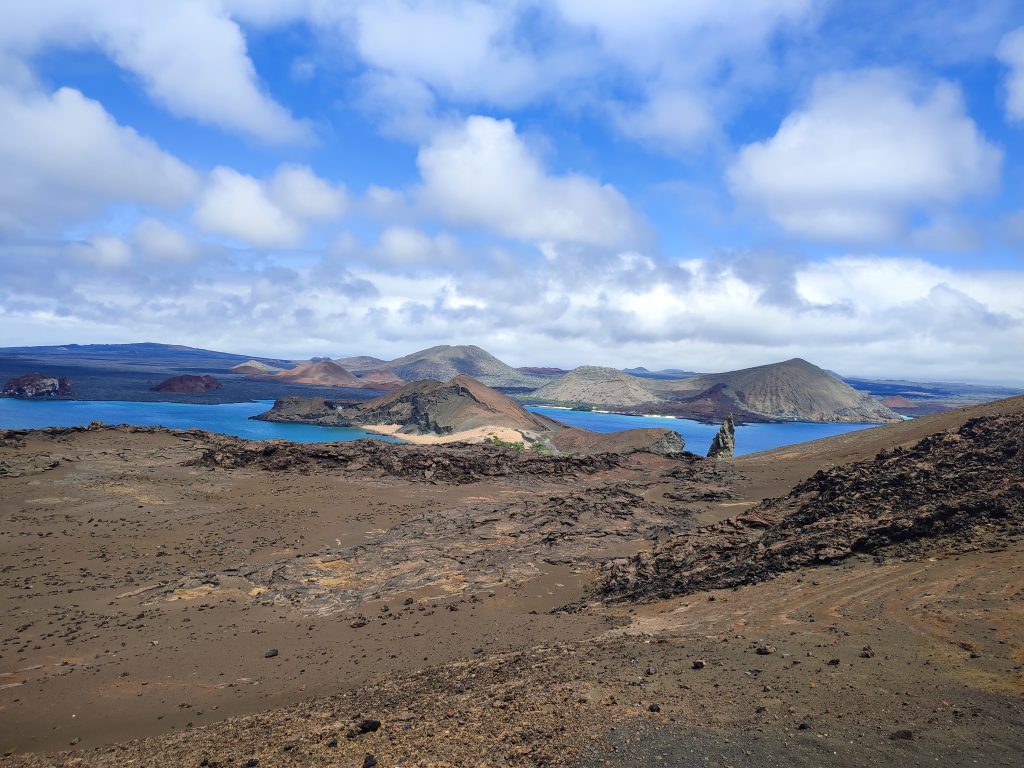 The most recognizable feature in Bartolome is Pinnacle Rock, an odd-looking rock formation that appears to be erupting from the landscape like an arrowhead. This natural landmark was created by the erosion of a volcanic cone.
2. Take a Picture at Rancho Primicias – Giant Tortoise Reserve with Giant Turtle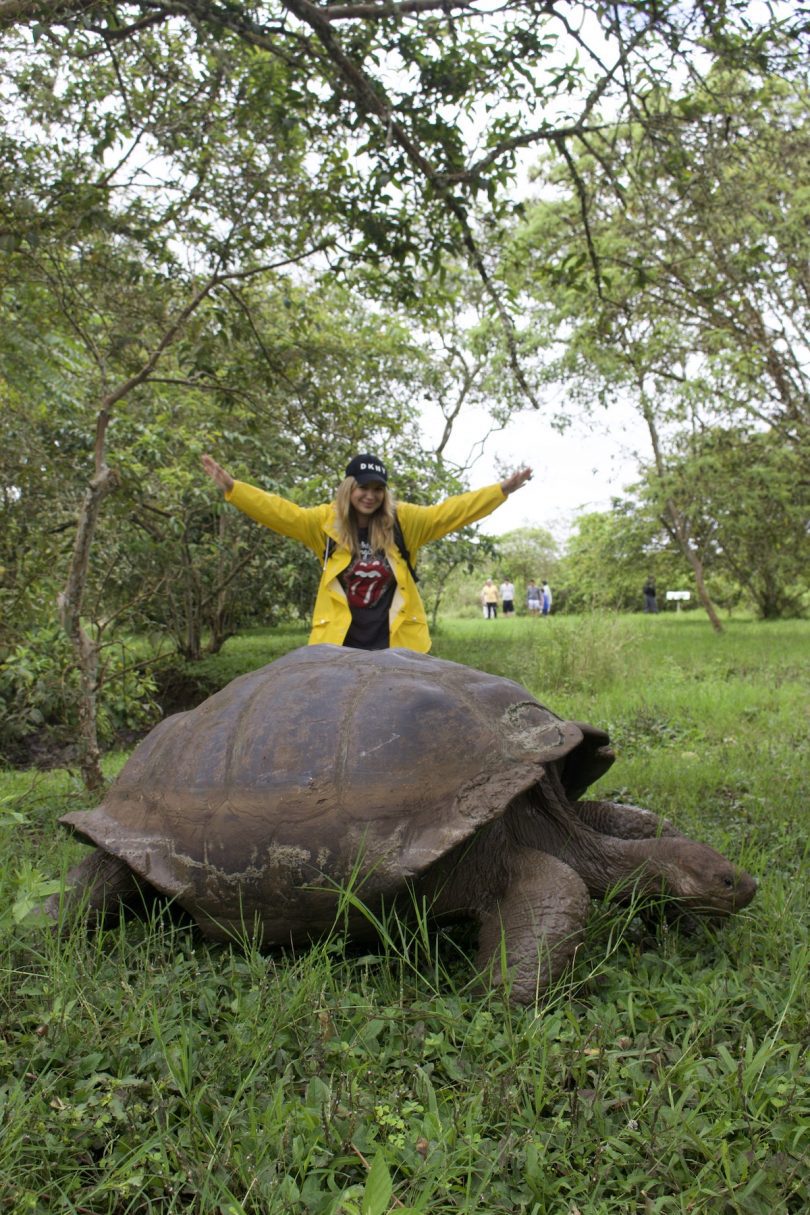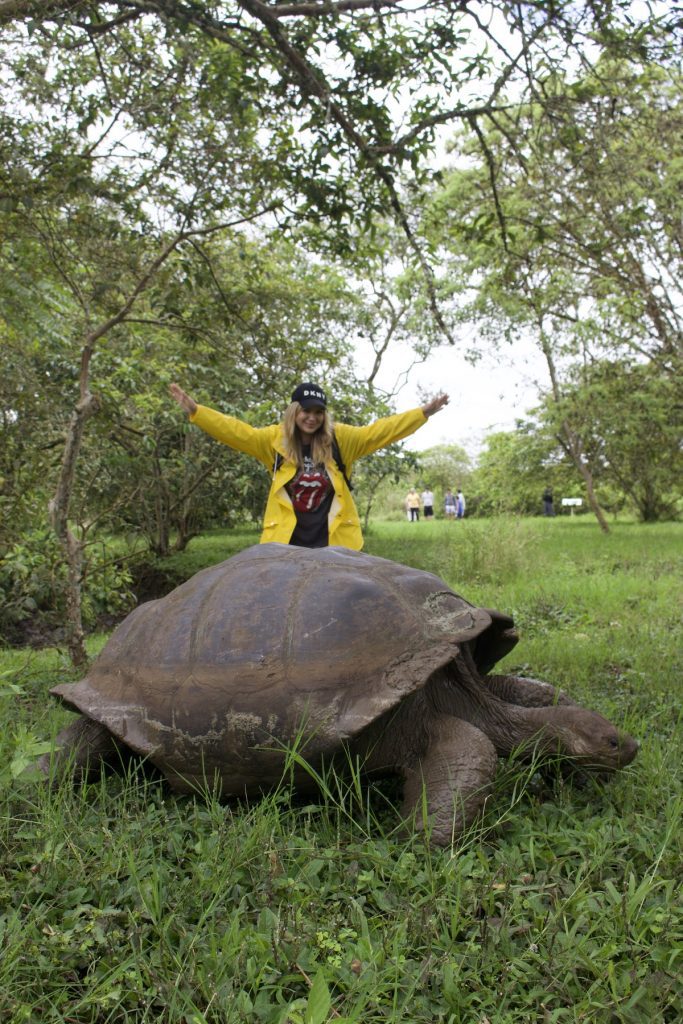 This privately-owned animal sanctuary lies on Santa Cruz Island, about 13 miles from Puerto Ayora, and is home to many giant tortoises. The location also has lava tunnels constructed of hardened, cooled lava that may be walked through as well as services like a café and restrooms.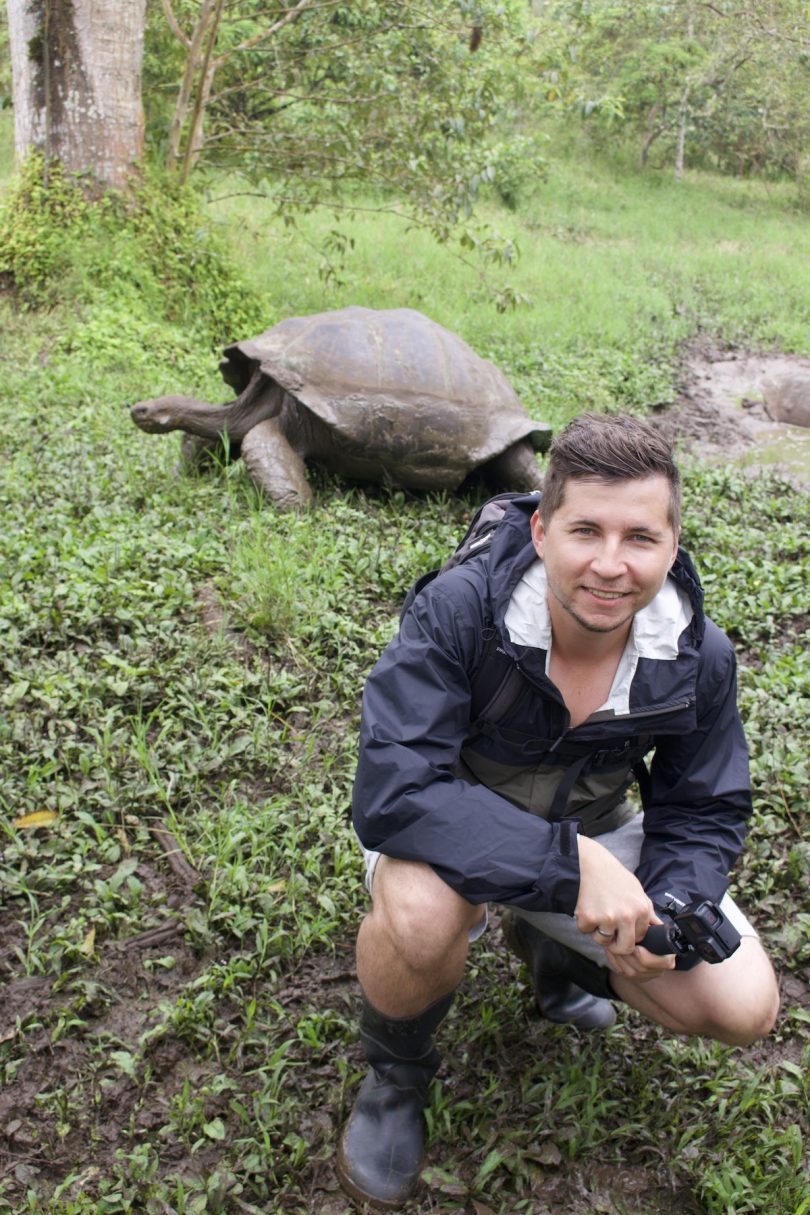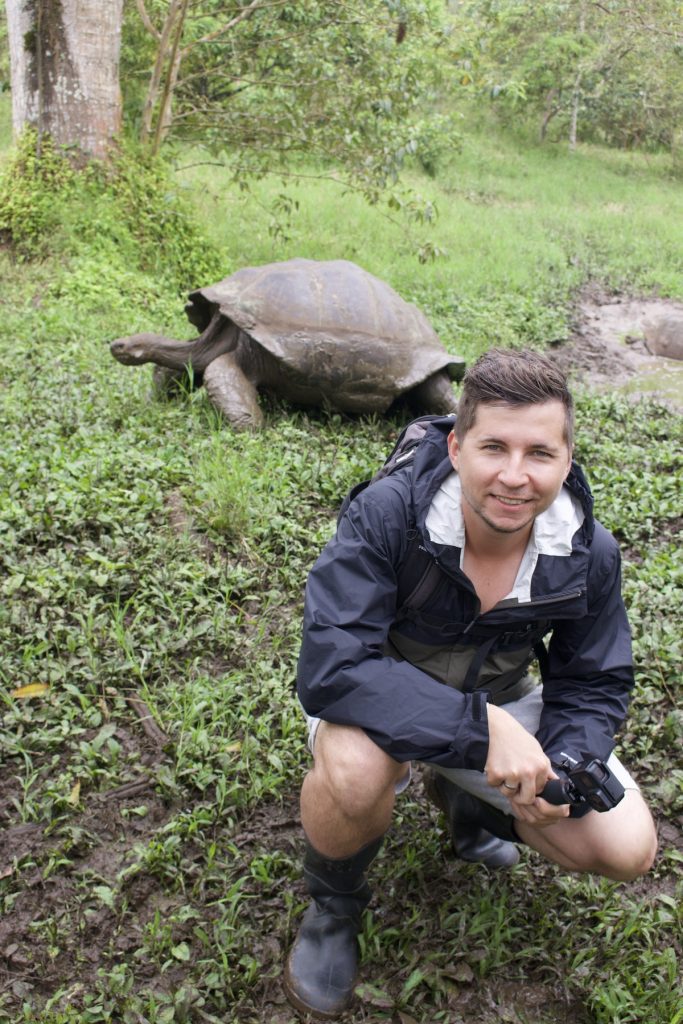 Although the island's more well-known El Chato Tortoise Reserve is right next door, previous visitors were happy they chose Rancho Primicias instead, praising its less crowded environment and abundance of photo opportunities as highlights.
We had a great time walking around the ranch's open-air lava tunnels. We advise taking a taxi to and from Rancho Primicias because getting there can be a little difficult. 
3. Spot Blue-Footed Boobies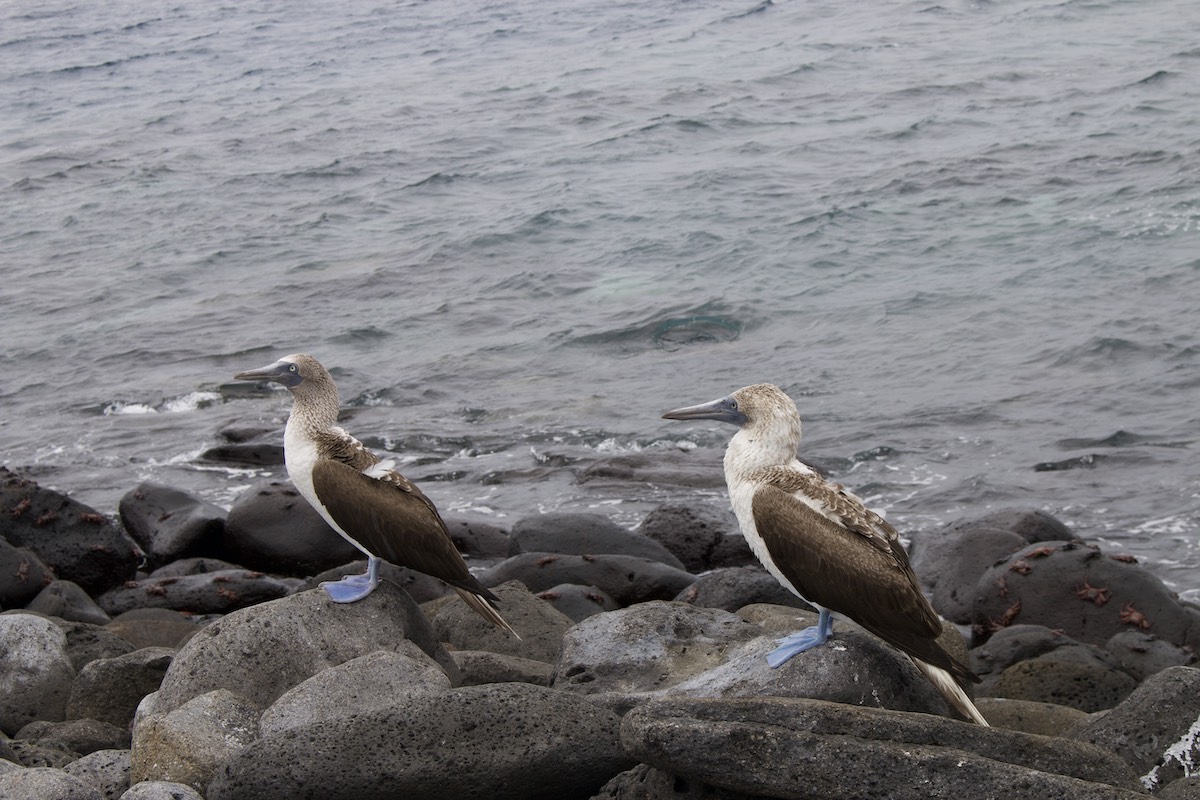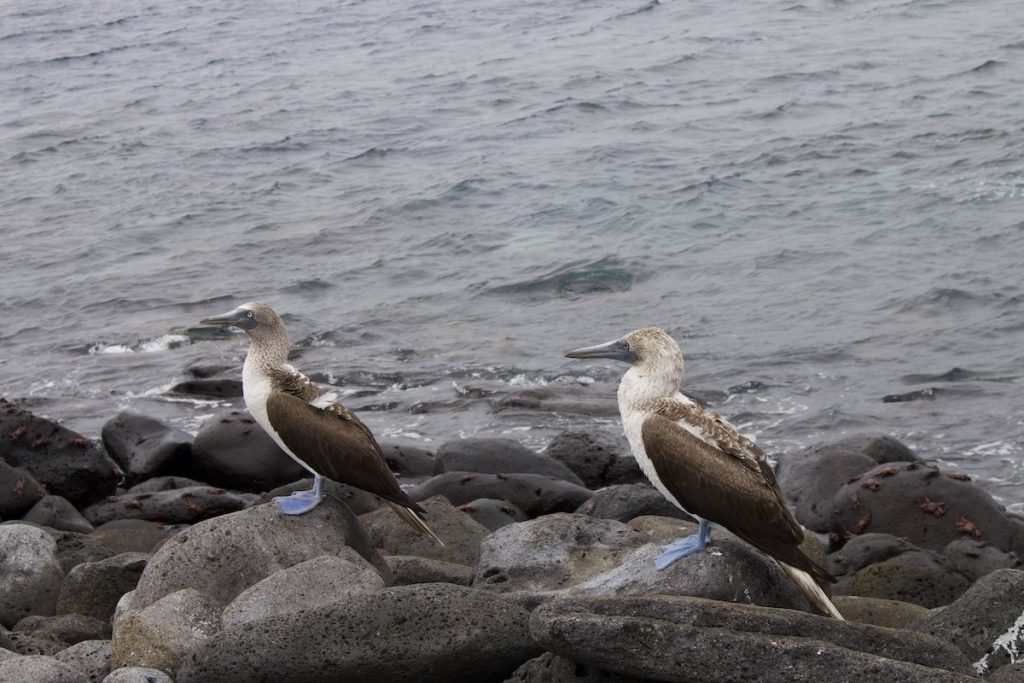 The name "Blue-footed Booby" comes from the Spanish word "bobo," which denotes foolish or comical. This description refers to their land-based habits. It has also been observed that they do not fear when approached by humans.
The Galapagos Islands are a must-see destination since they are home to 50% of breeding blue-footed boobie pairs.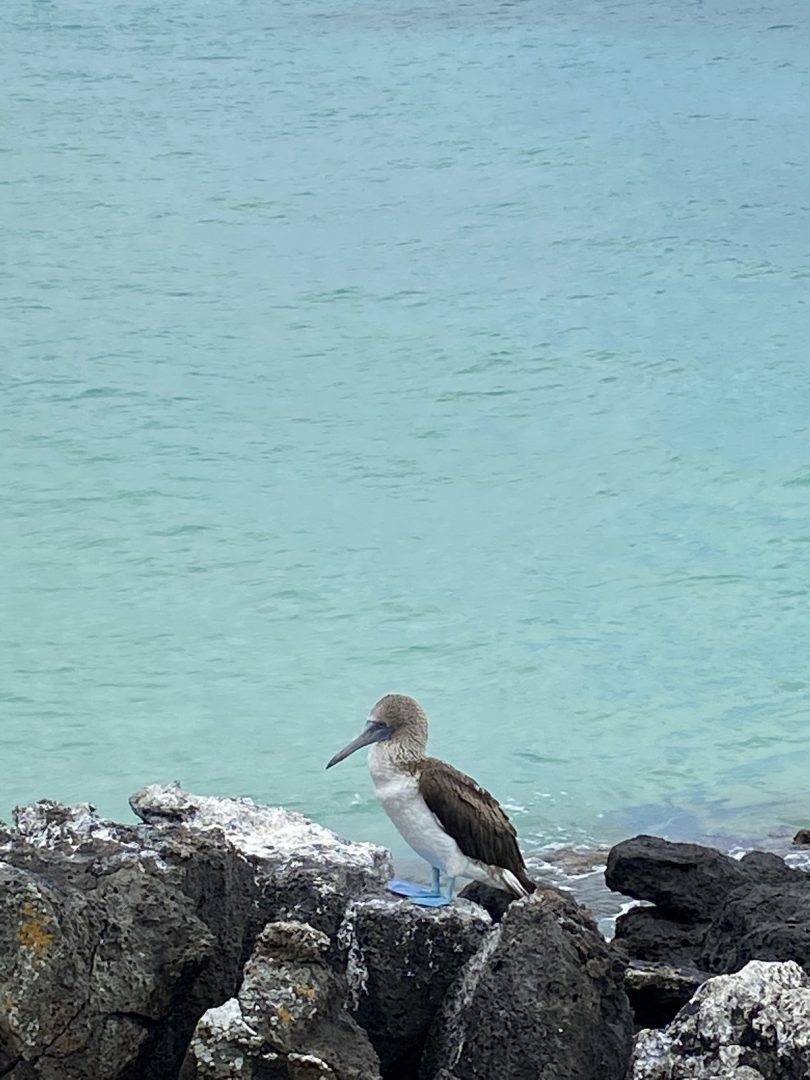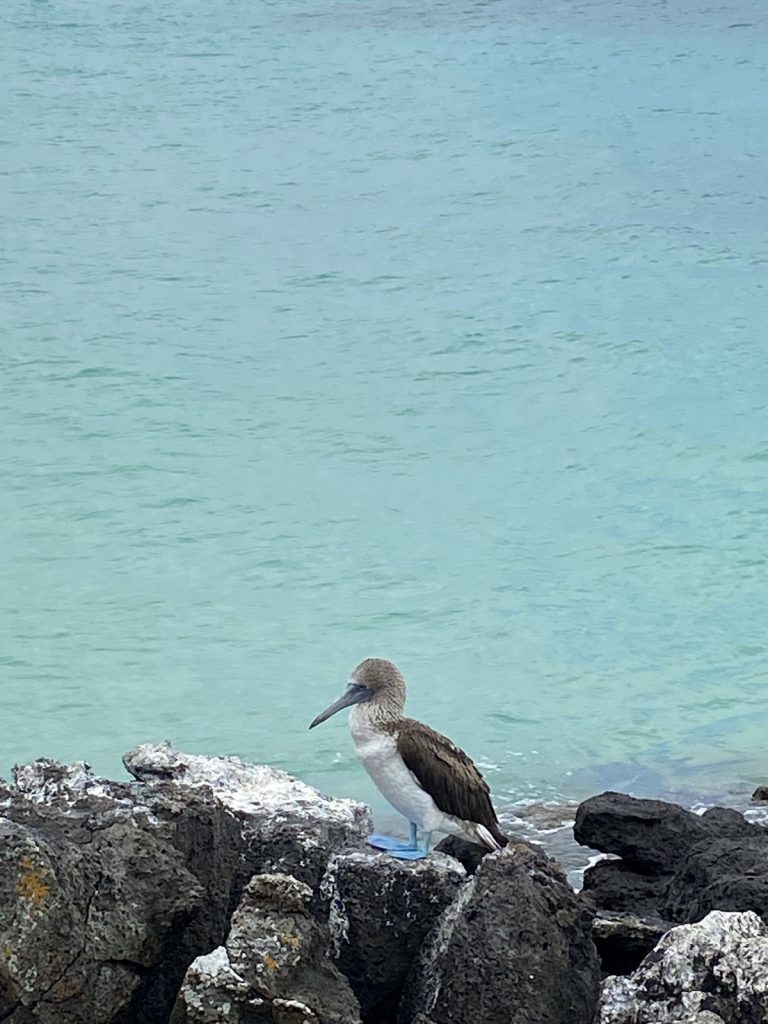 One of the best seabird breeding locations in the Galapagos is North Seymour, where blue-footed boobies are frequently seen.
Numerous other islands south of the equator are home to sizable breeding populations of blue-footed boobies, such as:
Espanola

Fernandina

Floreana

Isabela

Pinzon

Santa Cruz
4. Visit Tortuga Bay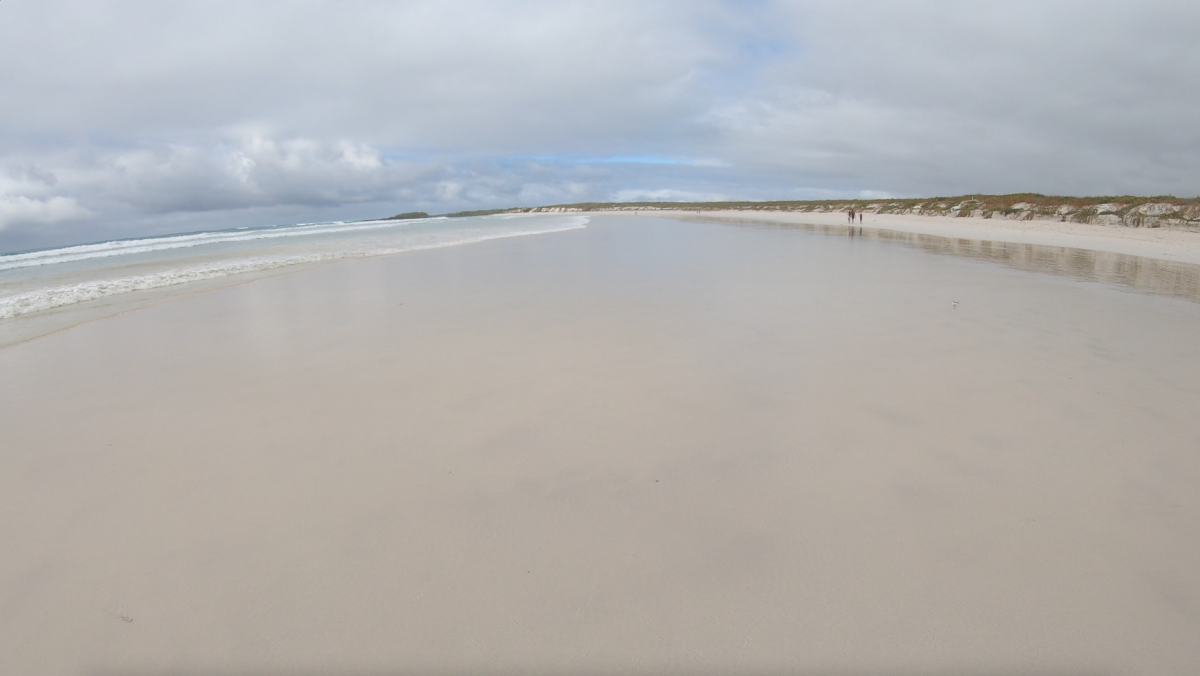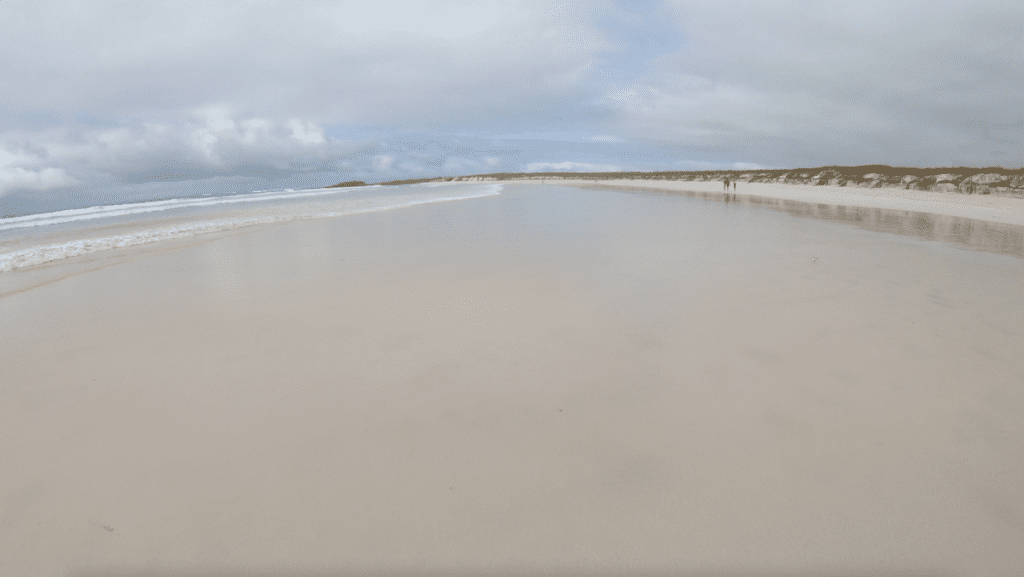 Tortuga Bay is a great place to relax and take part in typical beach activities while being surrounded by the amazing Galapagos wildlife. It's a great place to unwind and sunbathe, or you may swim, snorkel, or go for a walk.
It is important to remember that swimming from Tortuga Bay's main beach is not permitted due to the strong currents; however, you are welcome to swim from the nearby cove, which is more protected. We rented kayaks in the location and had fun exploring the surroundings of the island.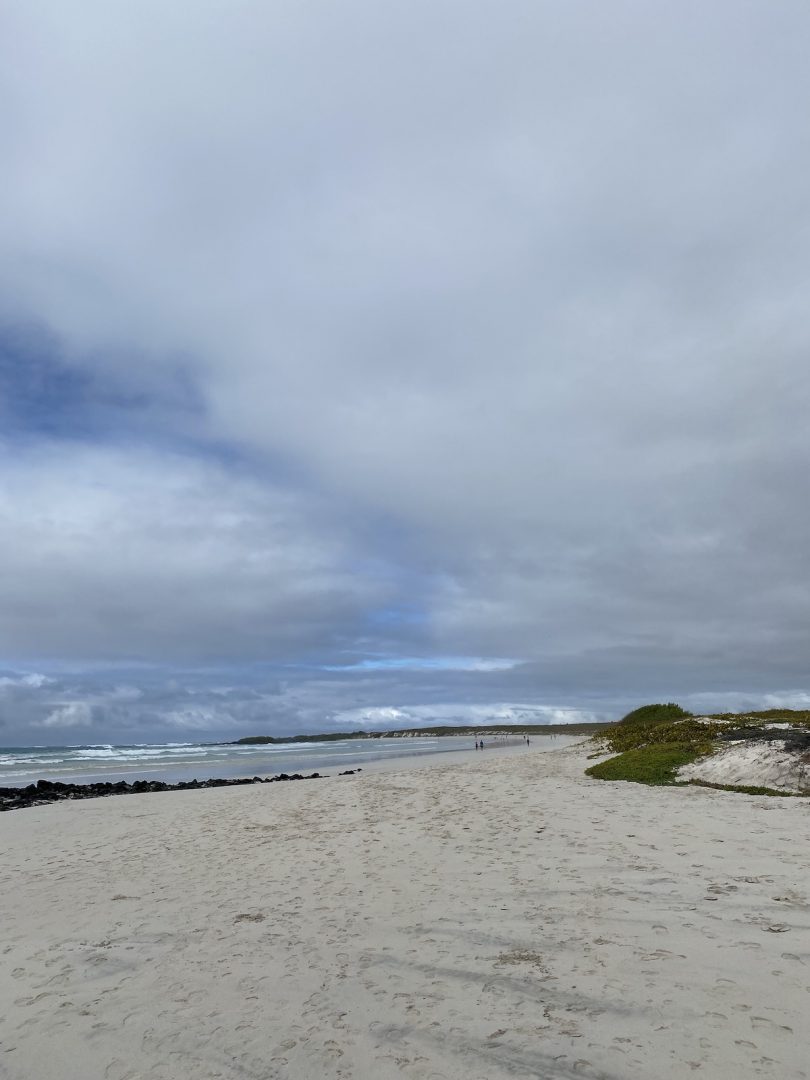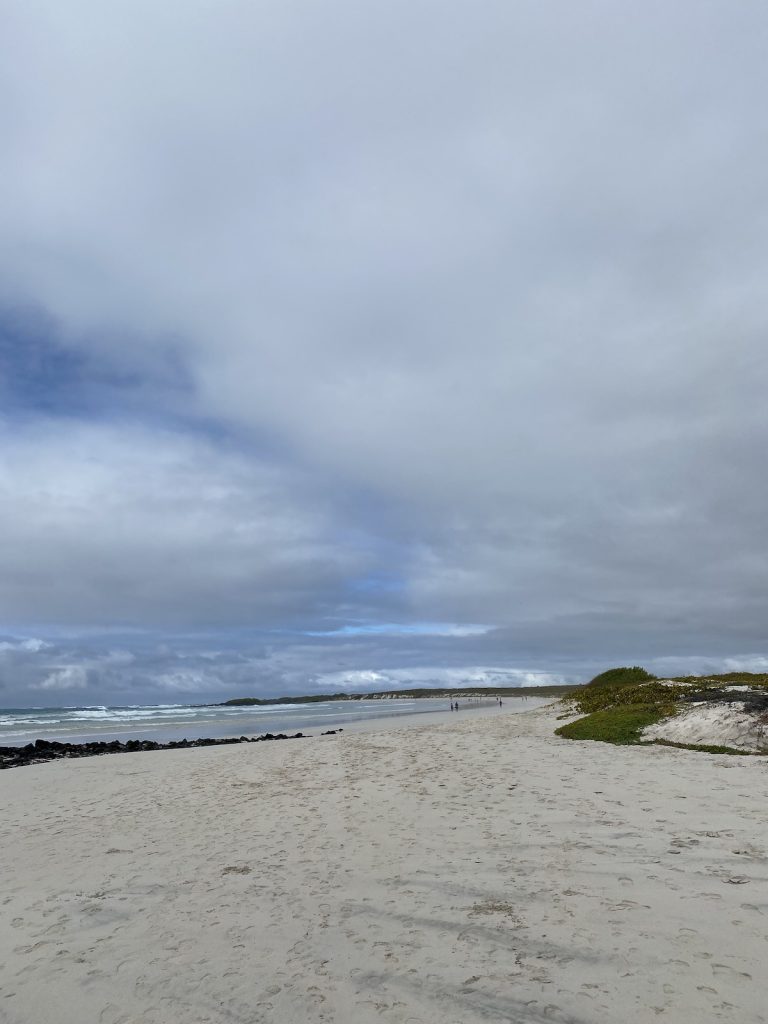 Another popular activity that we tried in Tortuga Bay is birdwatching. Due to the interesting variety of birds that live here, birdwatchers will surely enjoy spending their time here. Pelicans, finches, and occasionally flamingos can also be found in the salt lagoon that borders the mangroves. Visiting Tortuga Bay and a favorite thing to do in the Galapagos for many travelers. 
5. Walk Around the Towns and See How the Wildlife Owns the Island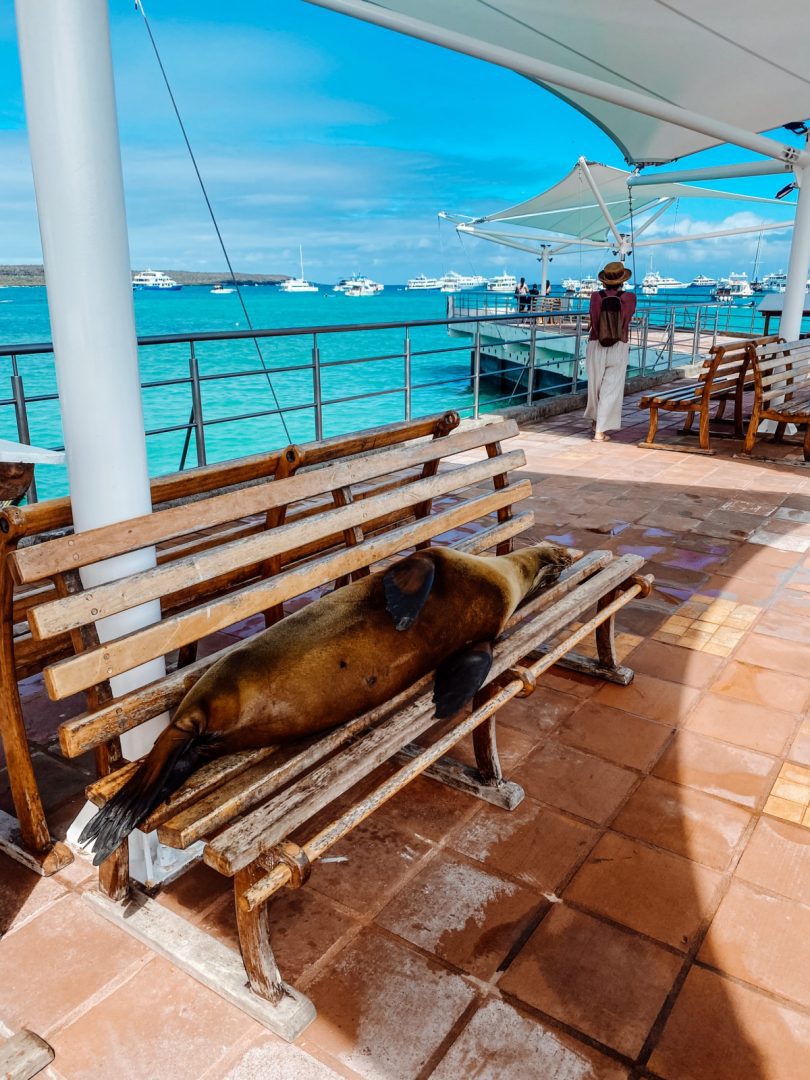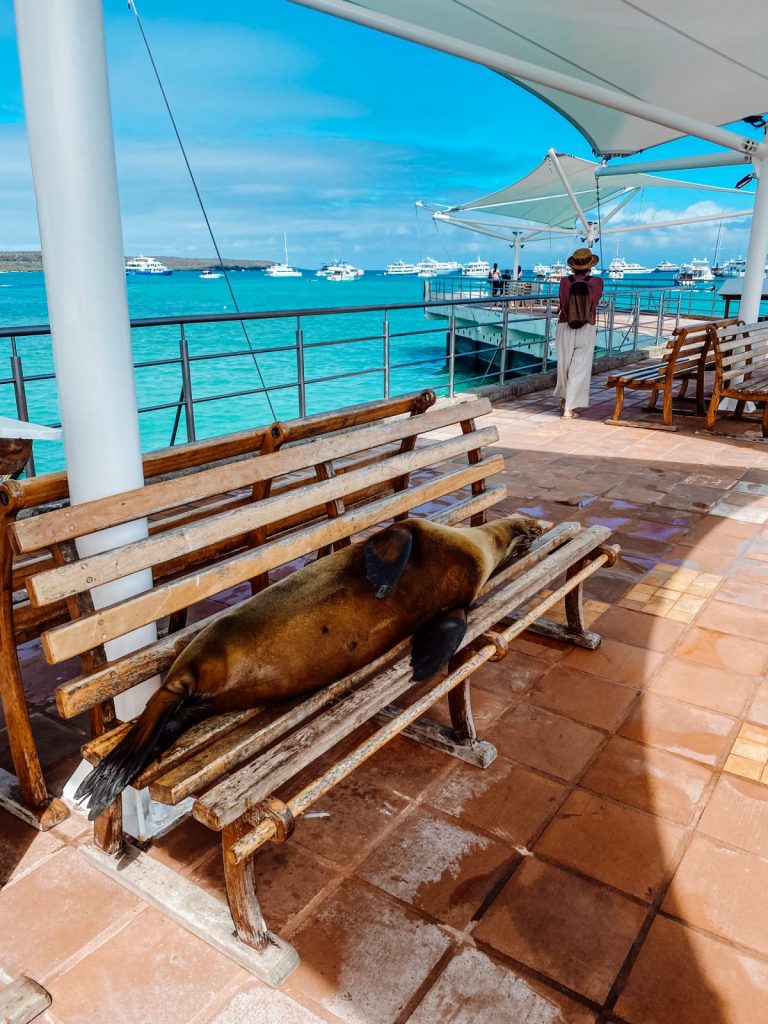 Simply walking around the town will show you how the wildlife in Galapagos owns the islands. Sea lions are the most common view you will see. Most of them flock to the beaches as if they are sunbathing, while some can be also seen on benches in the middle of the town! 
Everywhere you go in Galapagos, you will find an interesting species that is something that you will only see in these exquisite islands.
6. Snorkle with Sea Lions, Turtles, Rays, and Sharks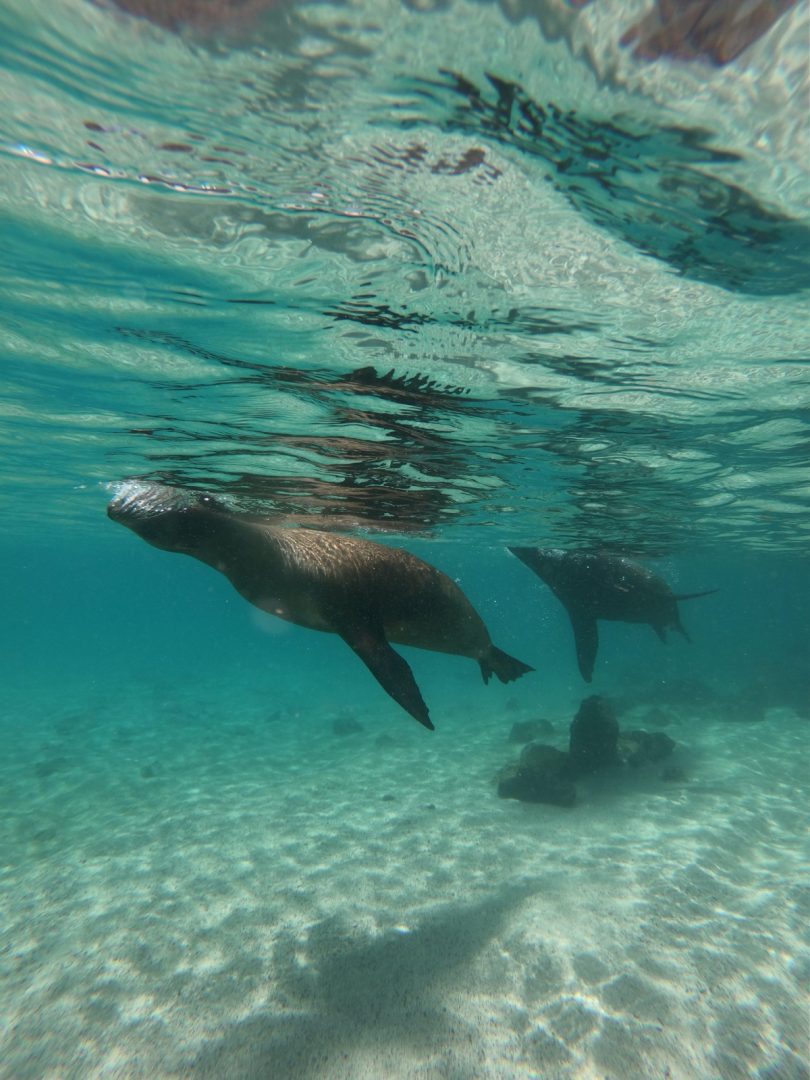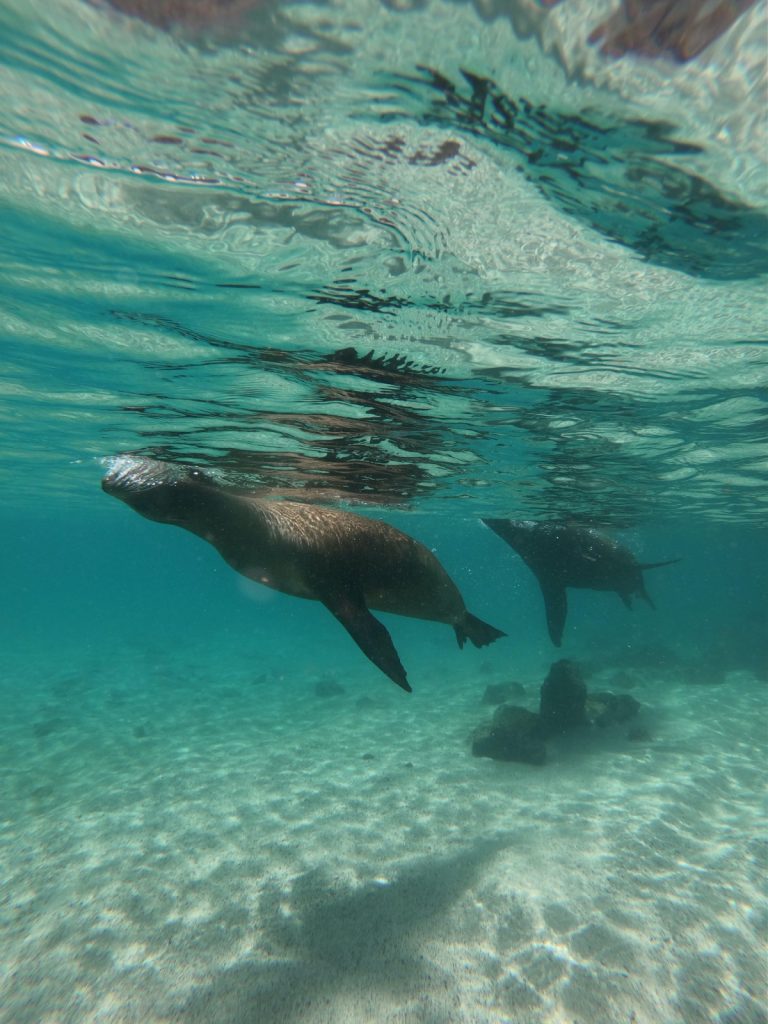 One of the most popular activities and things to do in the Galapagos is snorkeling. What's more fun here is that you can get to interact with the wildlife inhabiting the islands.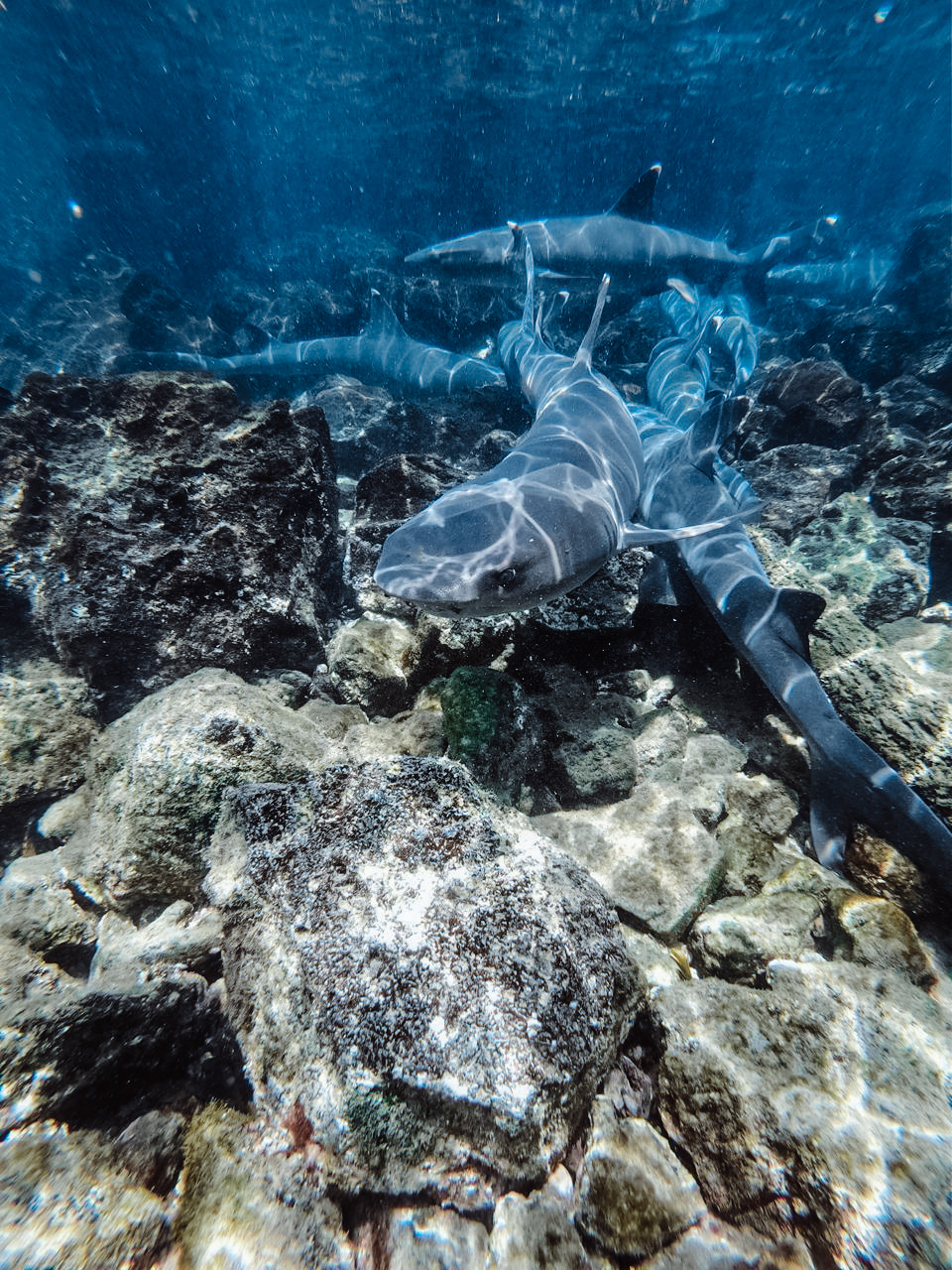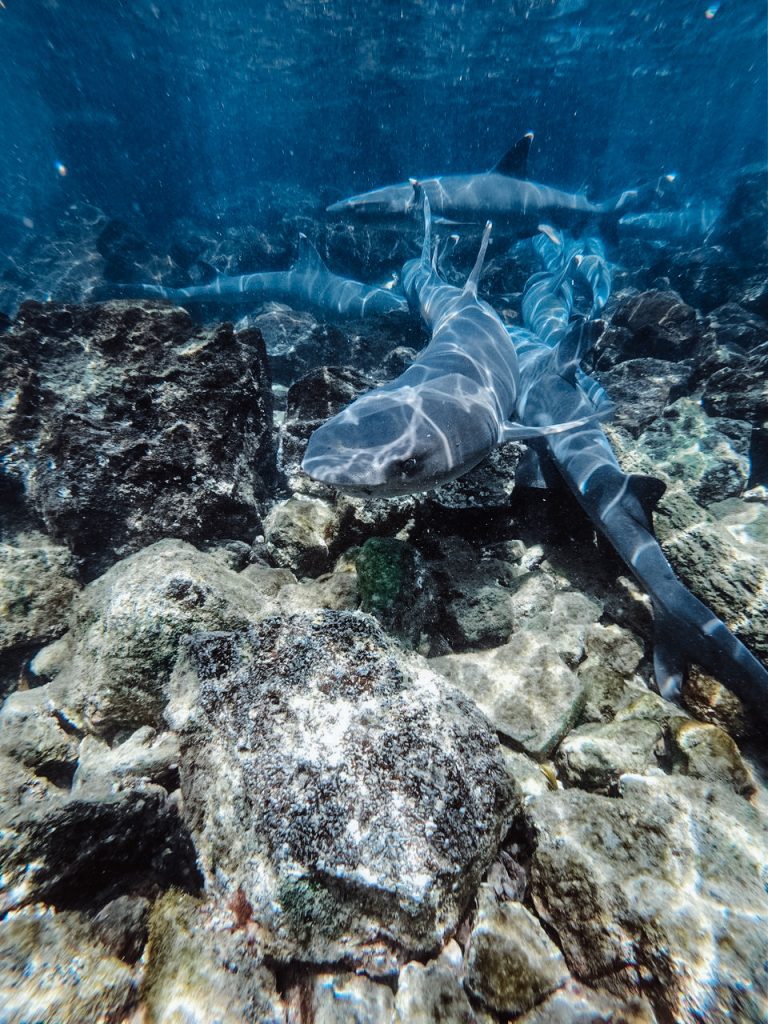 At first, it was so exciting to mingle with the sea lions on the beach and while snorkeling. But after a few days, you'll get a feeling like they are a common sight in the islands and the excitement dies out soon.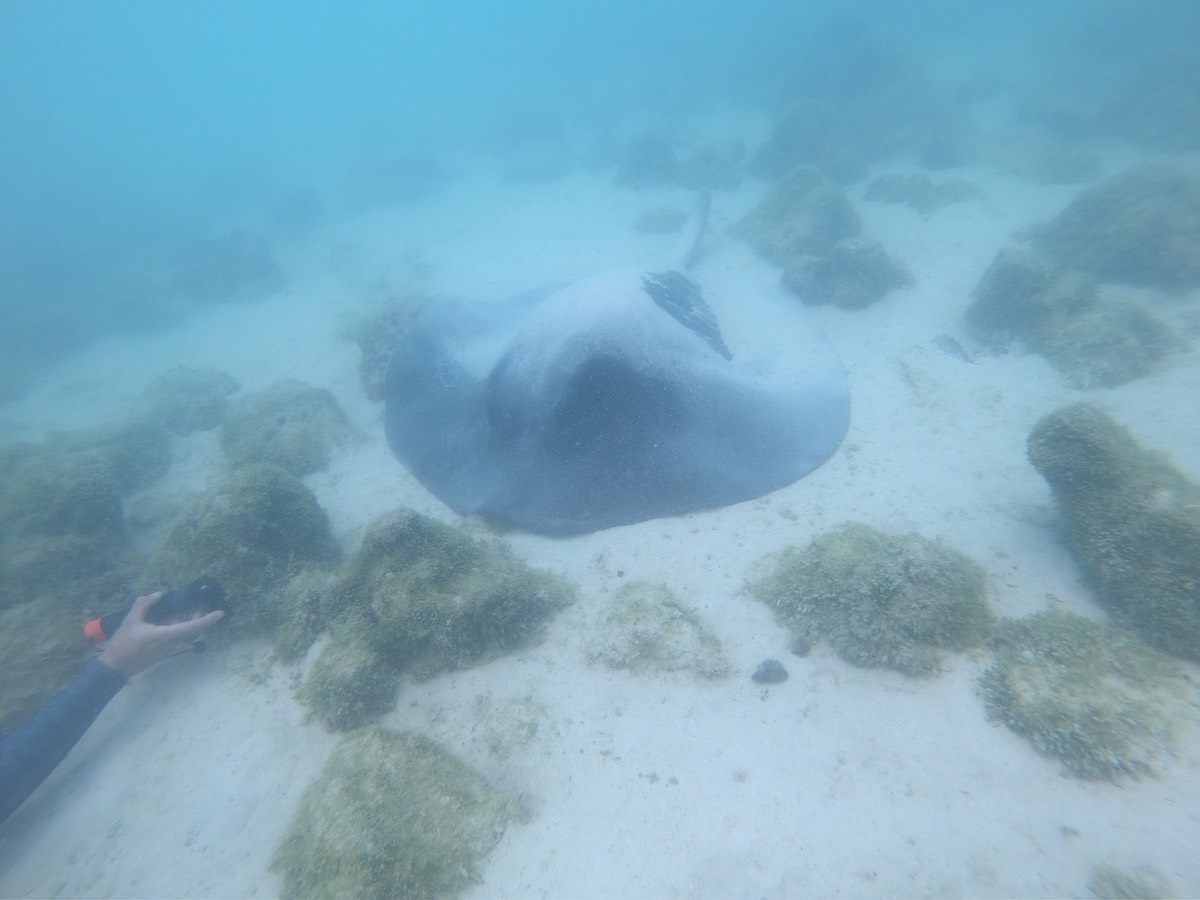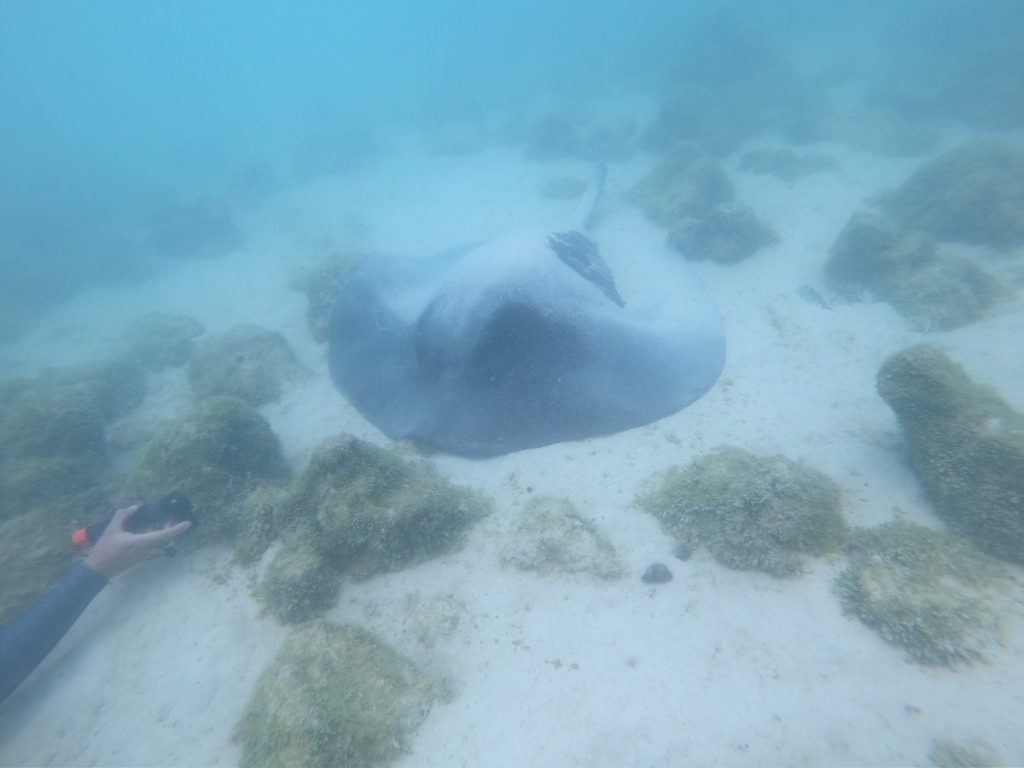 Snorkeling is also a chance to swim with and encounter turtles, rays, and even sharks! An experience like this really makes me feel like Galapagos is in another dimension
6. Climb to the Top of Sierra Negra Volcano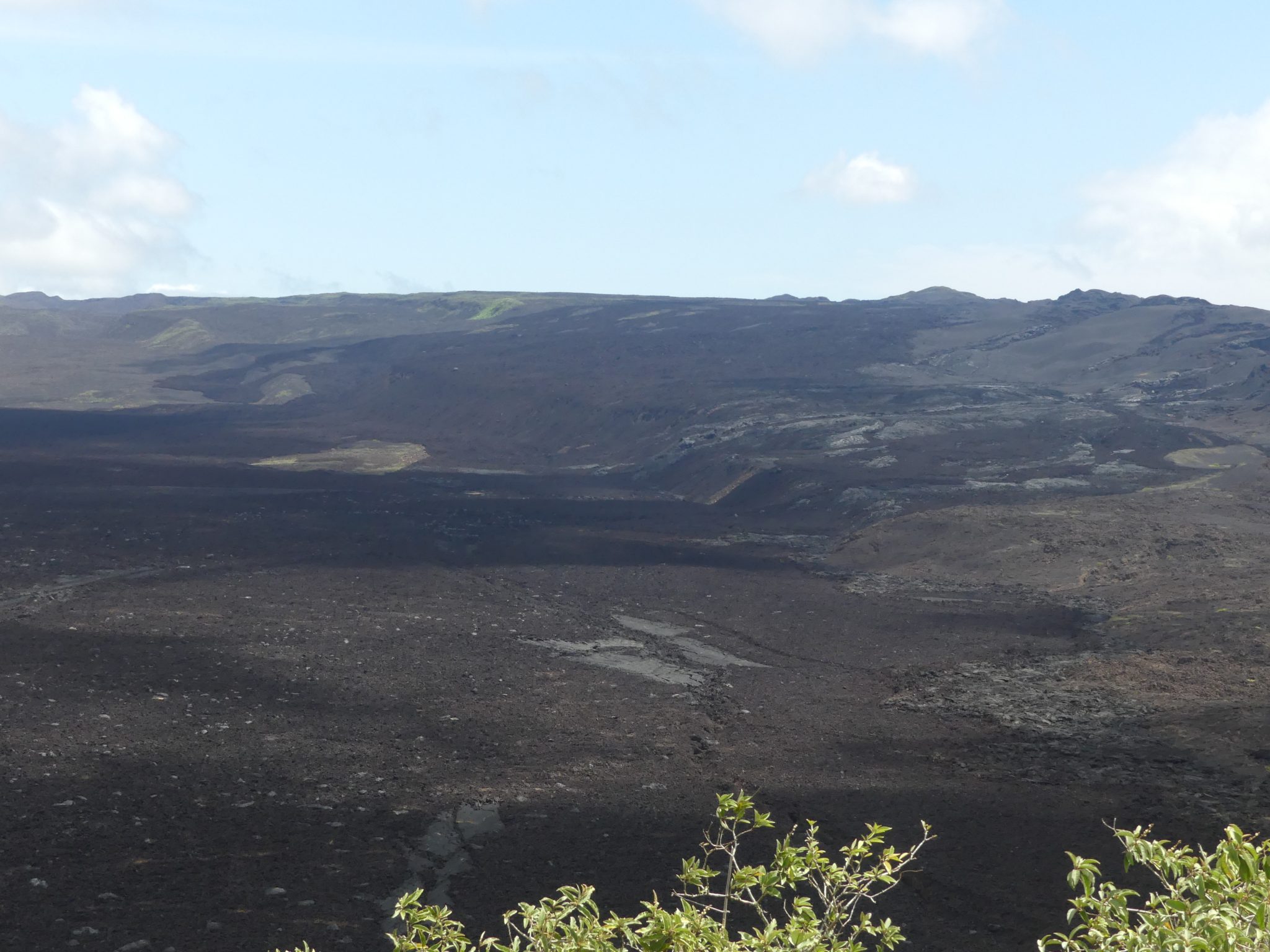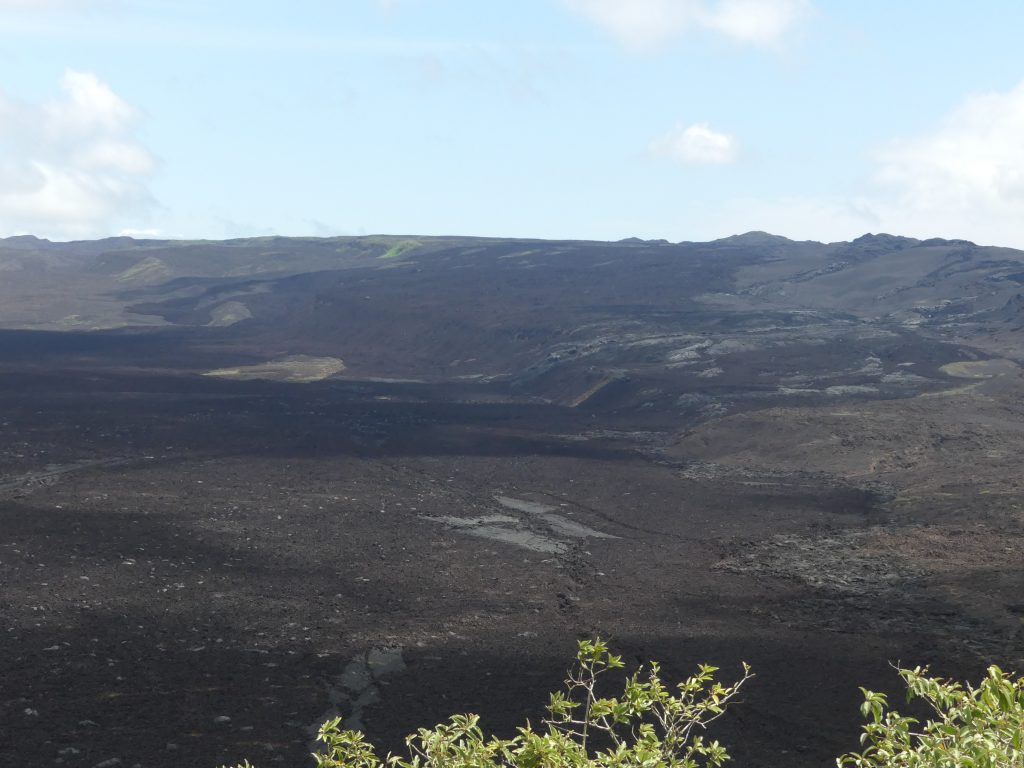 On Isabela Island in the Galapagos Islands, there are five active volcanoes, including the Sierra Negra Volcano. It is the only volcano that guests are permitted to hike and it is only reachable with a guide. If you are into volcanic landscape, than this hike is an absolute thing to do in the Galapagos Islands.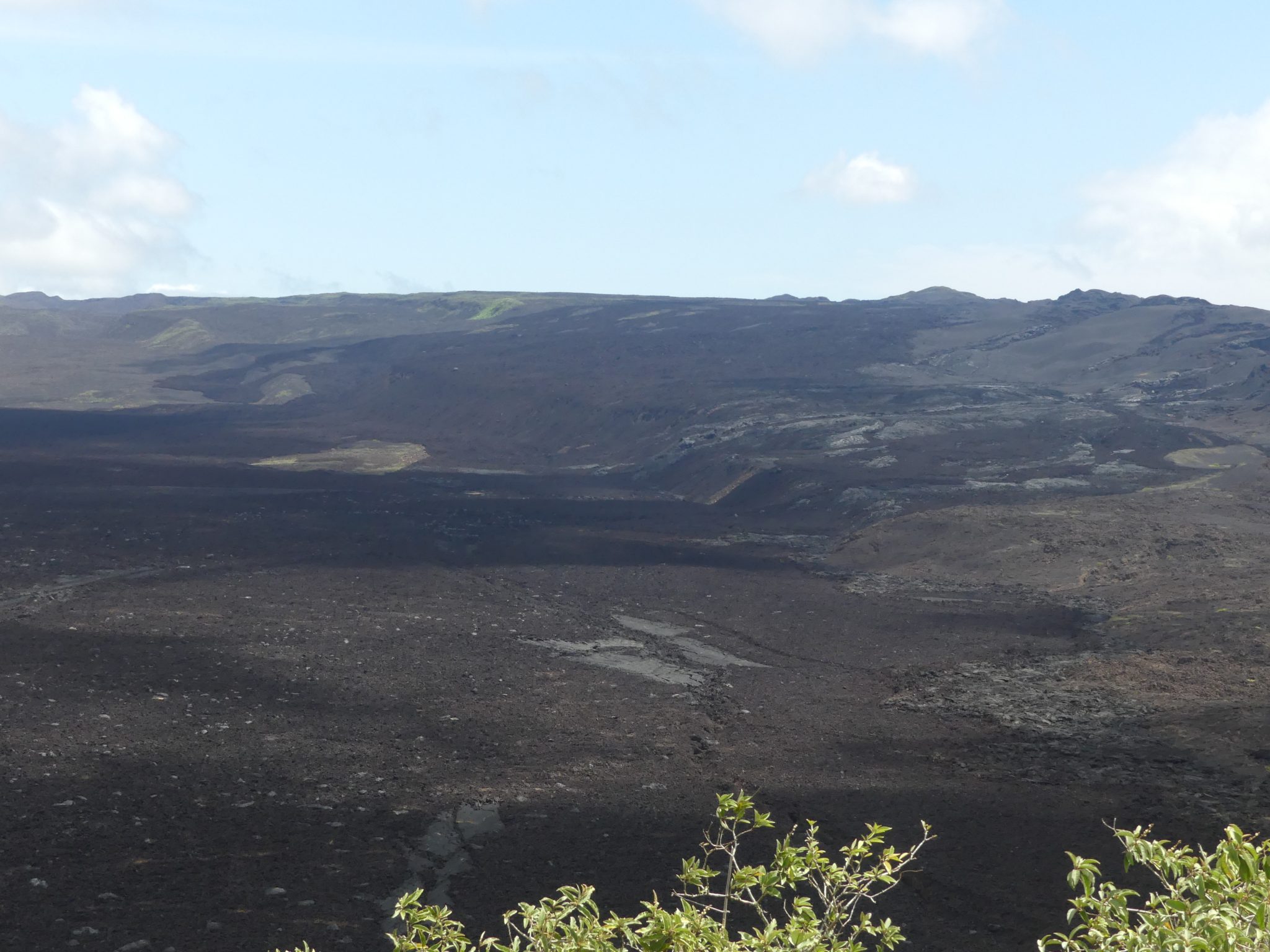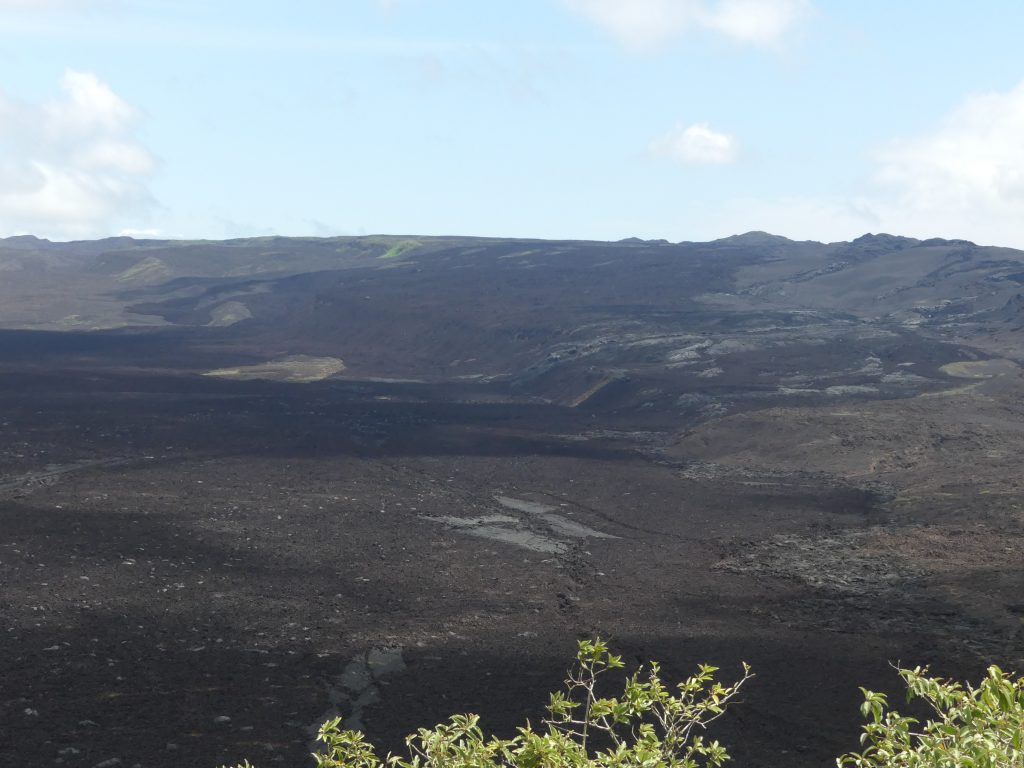 Our entire hike up the volcano took around 6 hours. The distance and intensity of the equatorial sun made our trip a bit challenging even if the trail's elevation is only gradual.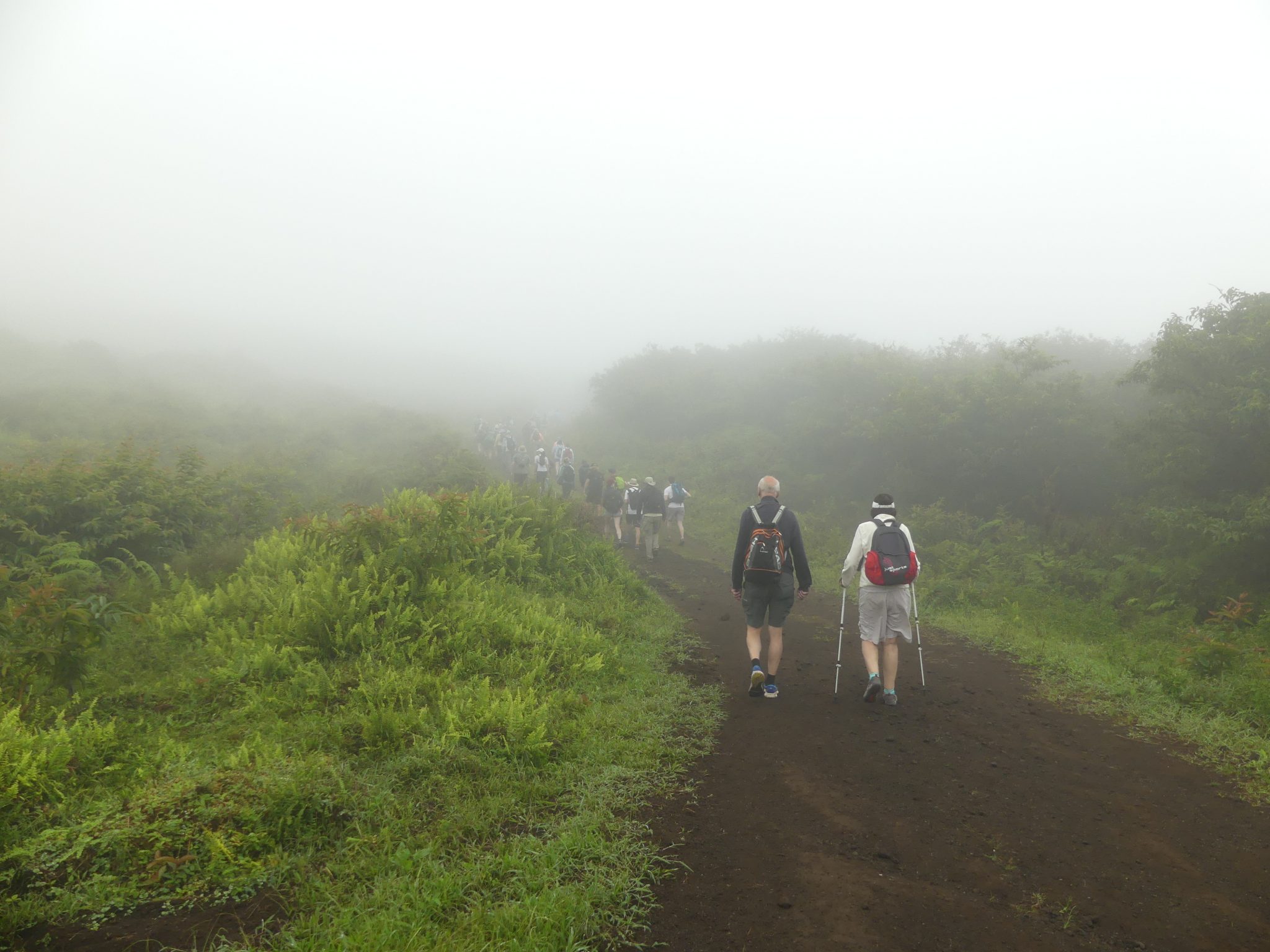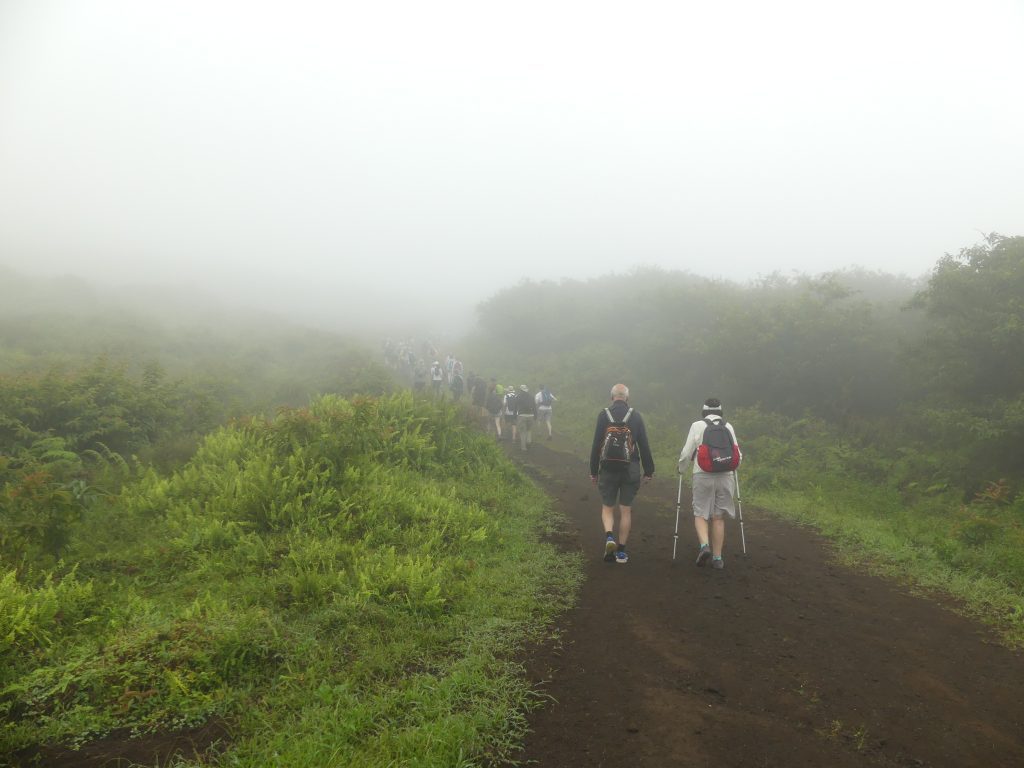 On top of the volcano, there were breathtaking views over the island and the caldera. On one side, we could see the vast volcanic crater, while on the other, we could enjoy views of the lush island landscape and the ocean.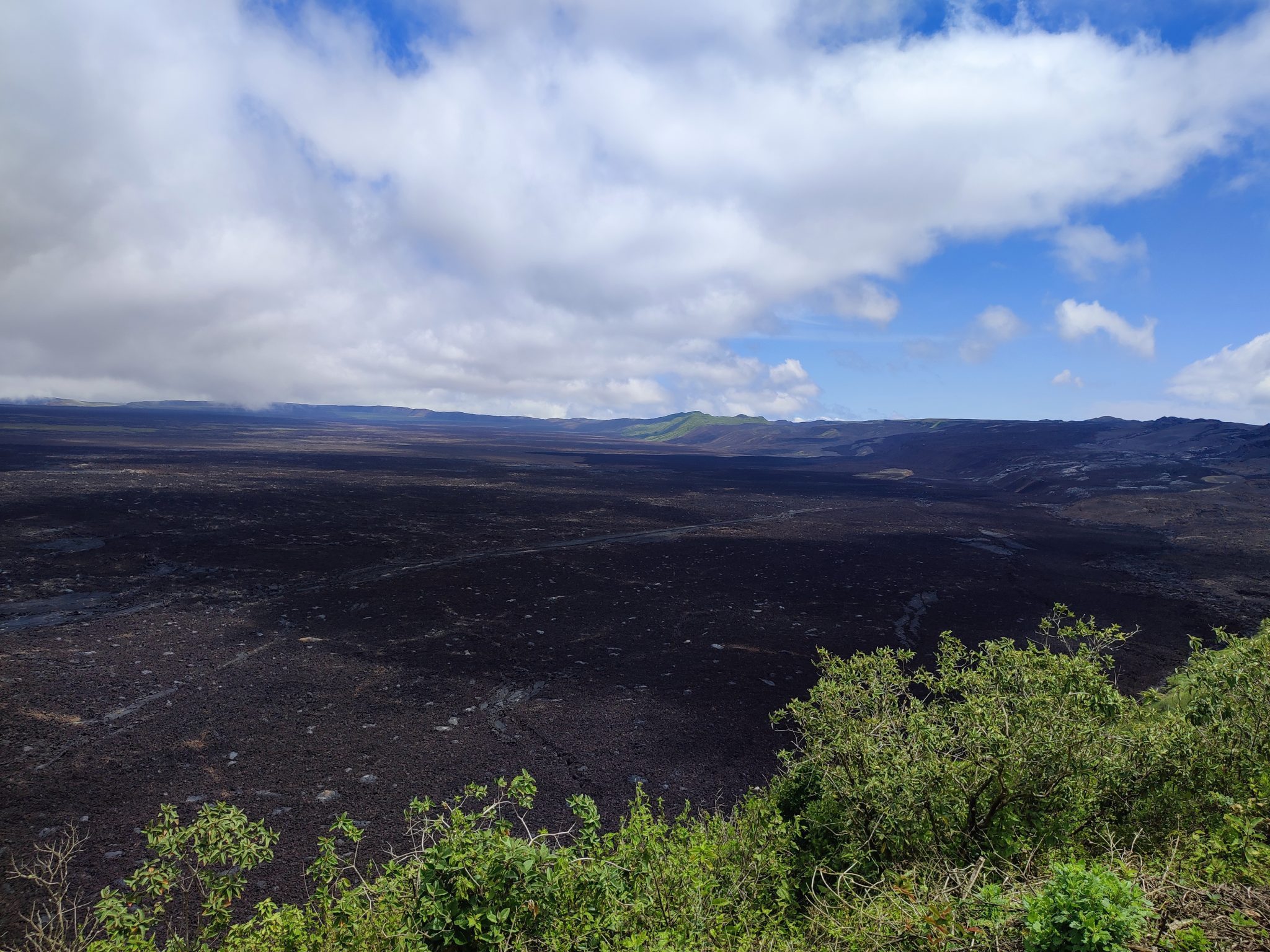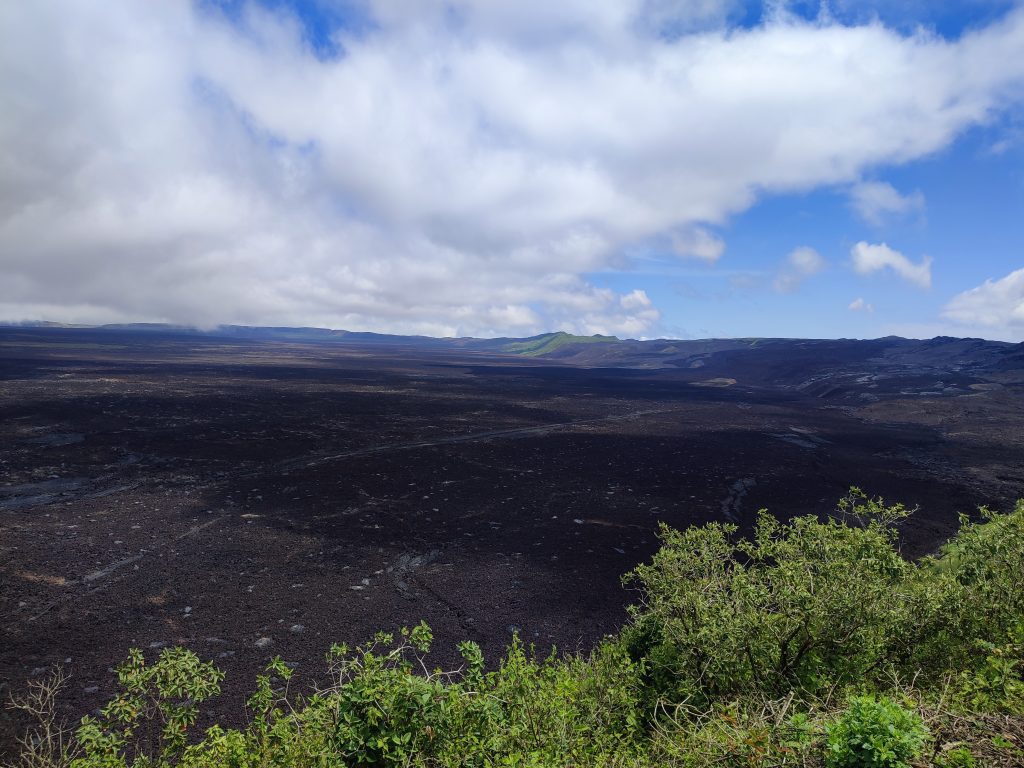 As we walked on the rocky terrain, we discovered thermal vents that were spewing steam and indications of life that were slowly emerging from the rocks.
7. Recharge at Puerto Chino Beach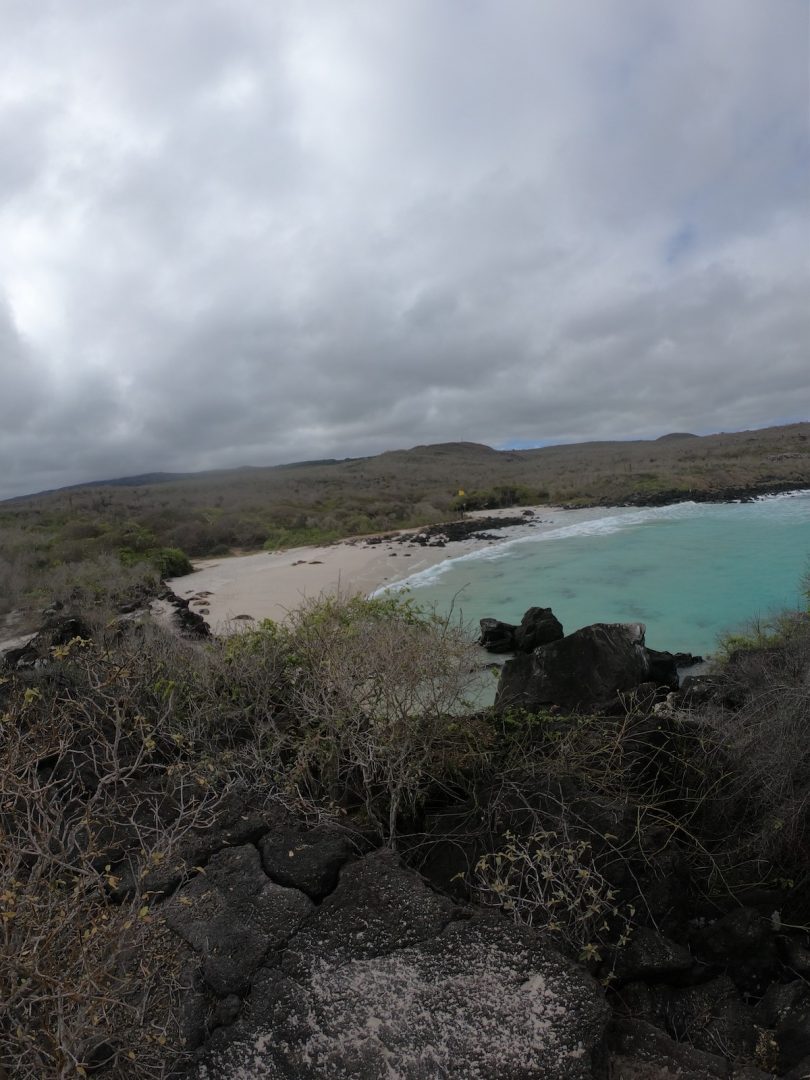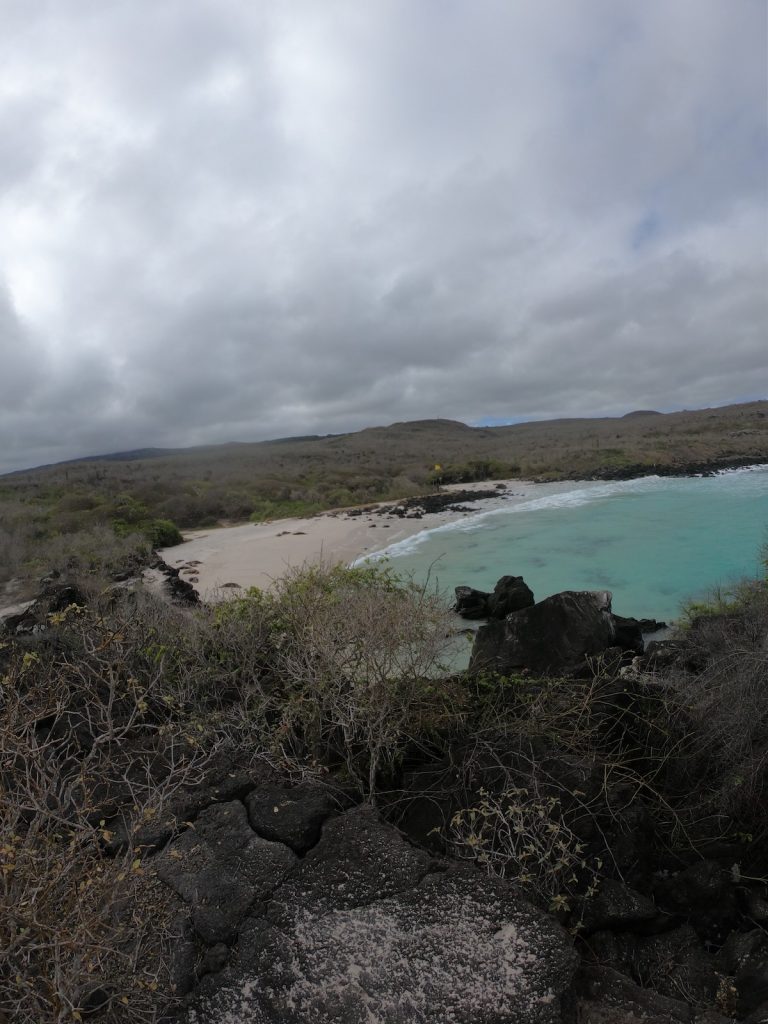 A lovely and empty beach called Puerto Chino is 24 kilometers away from Puerto Baquerizo Moreno. We find this location to be a great place for recharging after a few days of busy activities. It is a perfect spot for swimming with its calm sea and unwinding on the white sand beach.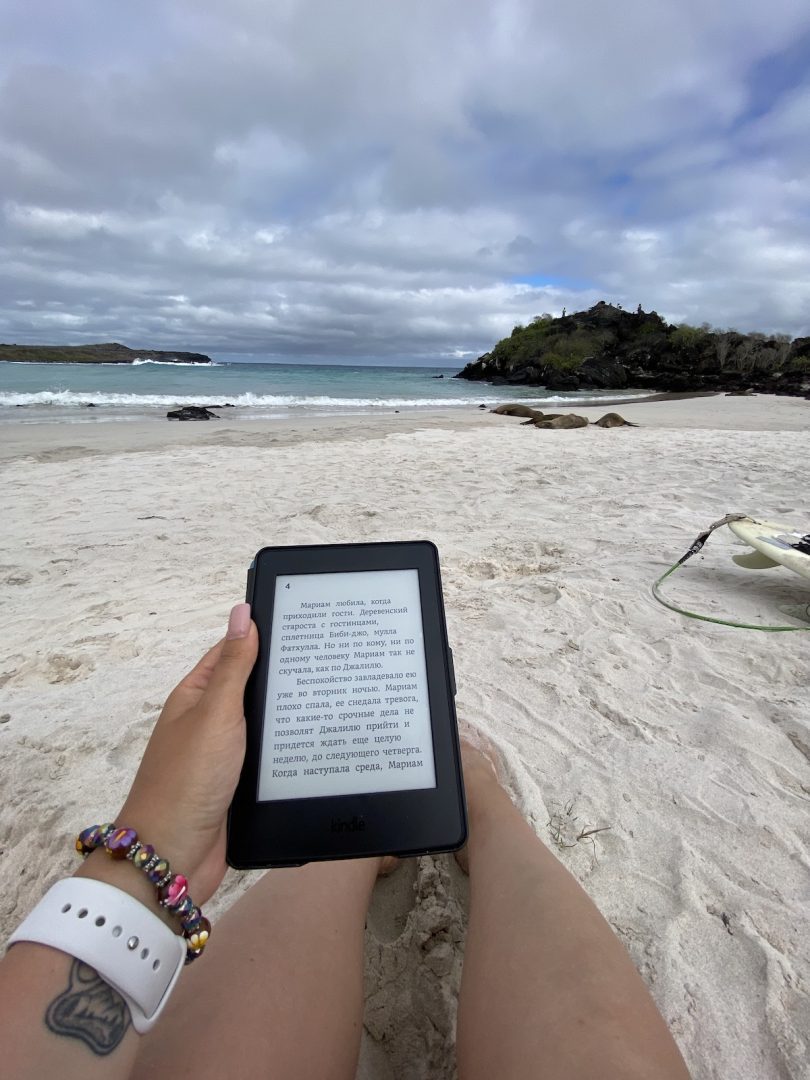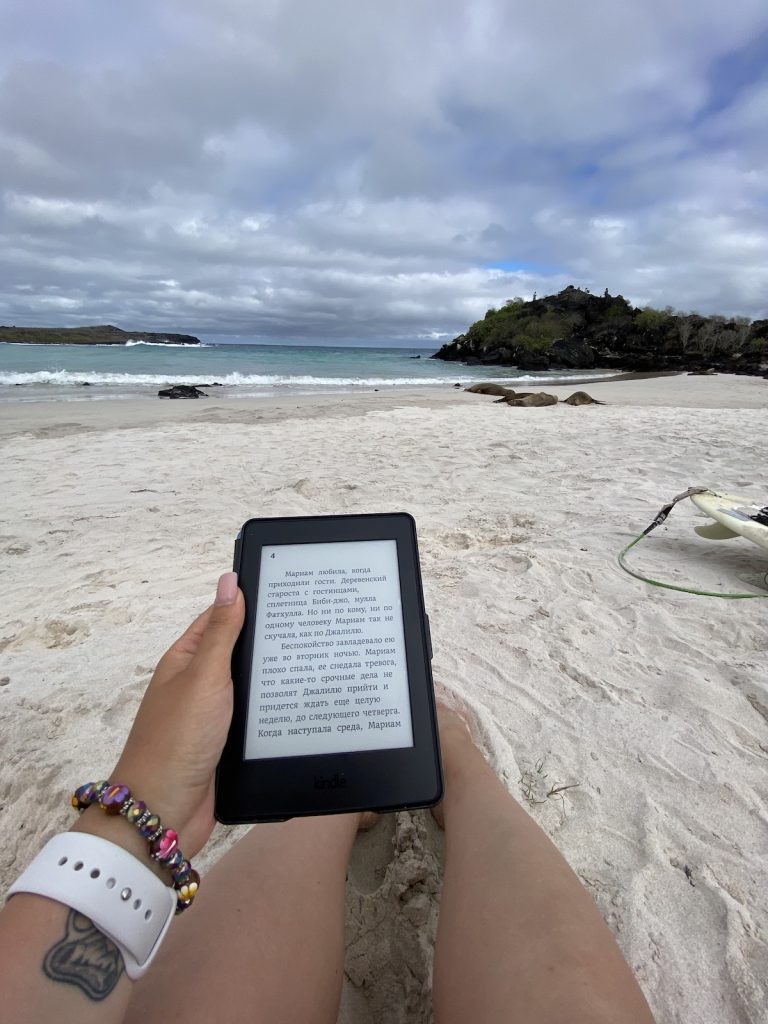 In the mangroves behind the shore, we were able to spot several Galapagos finches, such as Darwin finches and ground finches.
8. Surf with the Wildlife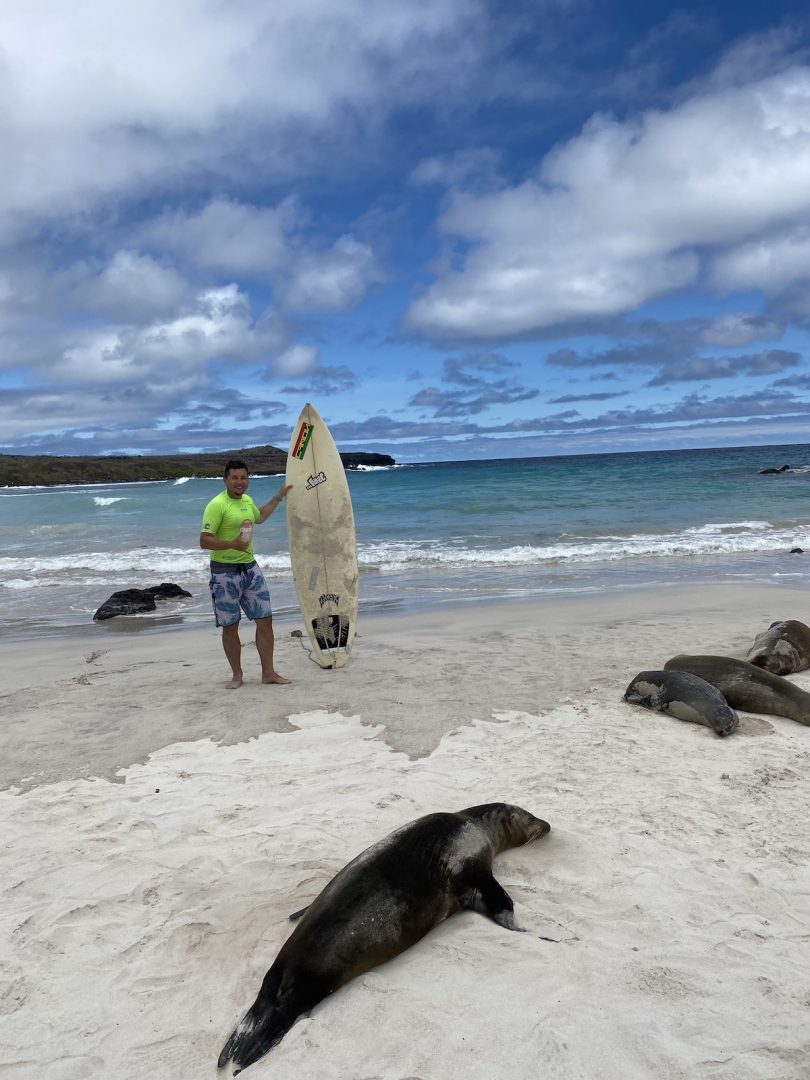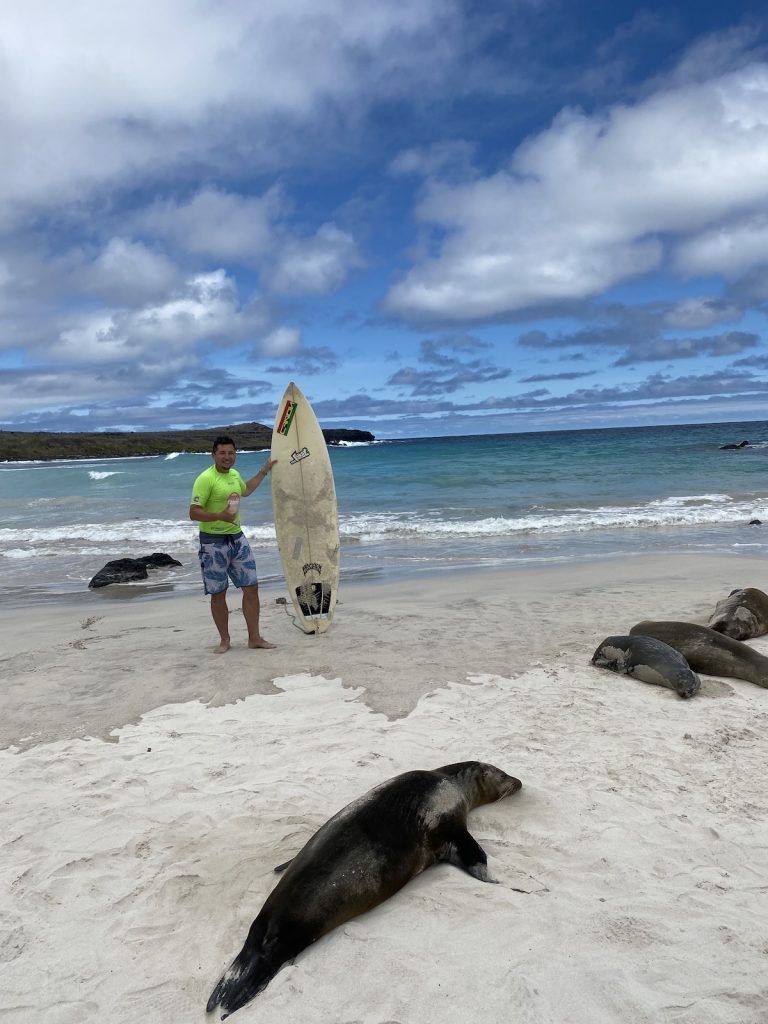 Surfing is also a popular activity in the Galapagos Islands. The Galapagos Islands' exposure to long-distance Pacific north and south swells, as well as the hard volcanic granite boulders and reef that create its ideal surf, make surfing there possible. Like other activities, you may anticipate surfing with wildlife such as sea lions, turtles, and sometimes, even sharks. One of the most popular places for surfing in the Galapagos is Tongo Reef.
9. Explore the Wall of Tears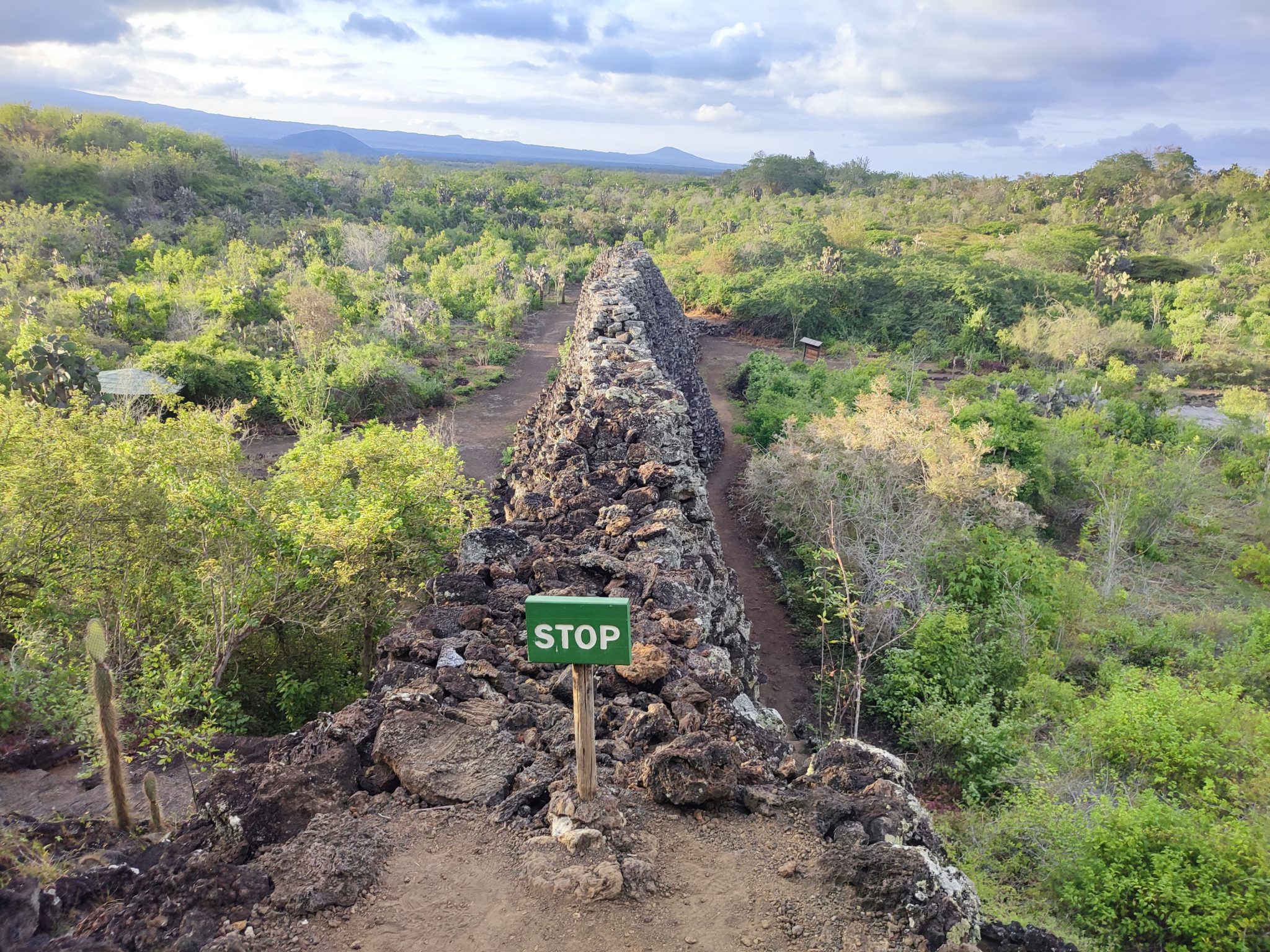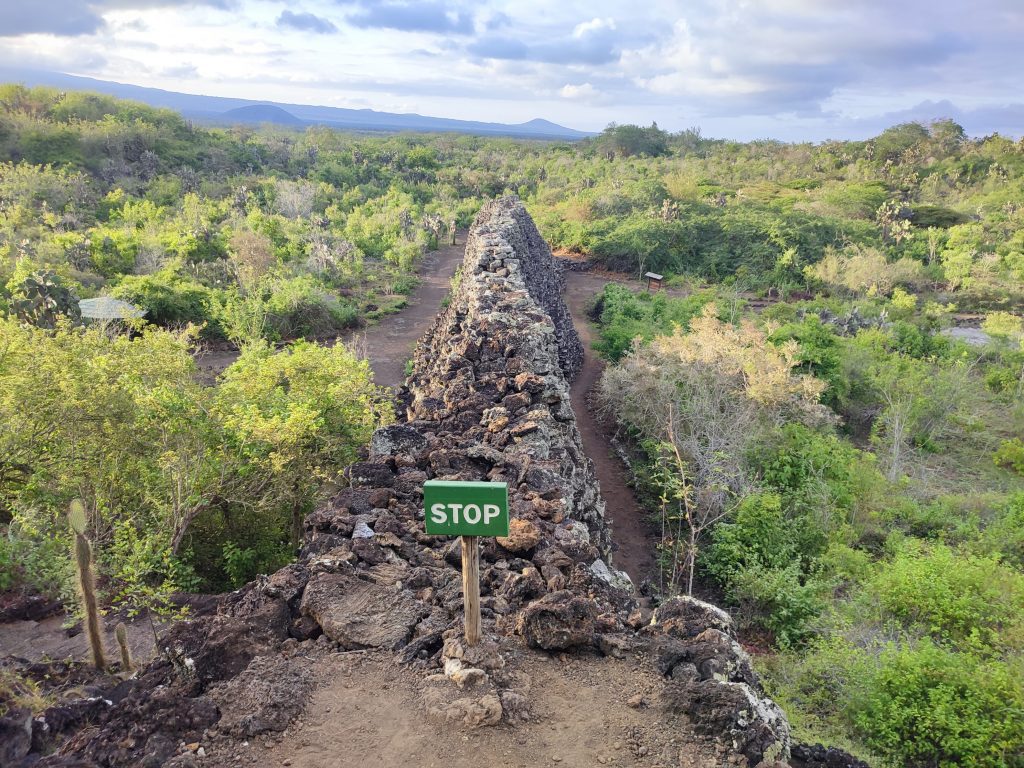 The Wall of Tears or El Muro de las Lágrimas in Spanish is one of the most significant historical sites to visit in the Galapagos Islands.
We rented bicycles in Puerto Villamil as it is the most effective way to go to the Wall of Tears. Taxis are no longer permitted to transport visitors to the Wall of Tears due to the road's uneven path terrain and the possibility of seeing delicate species like tortoises along the way.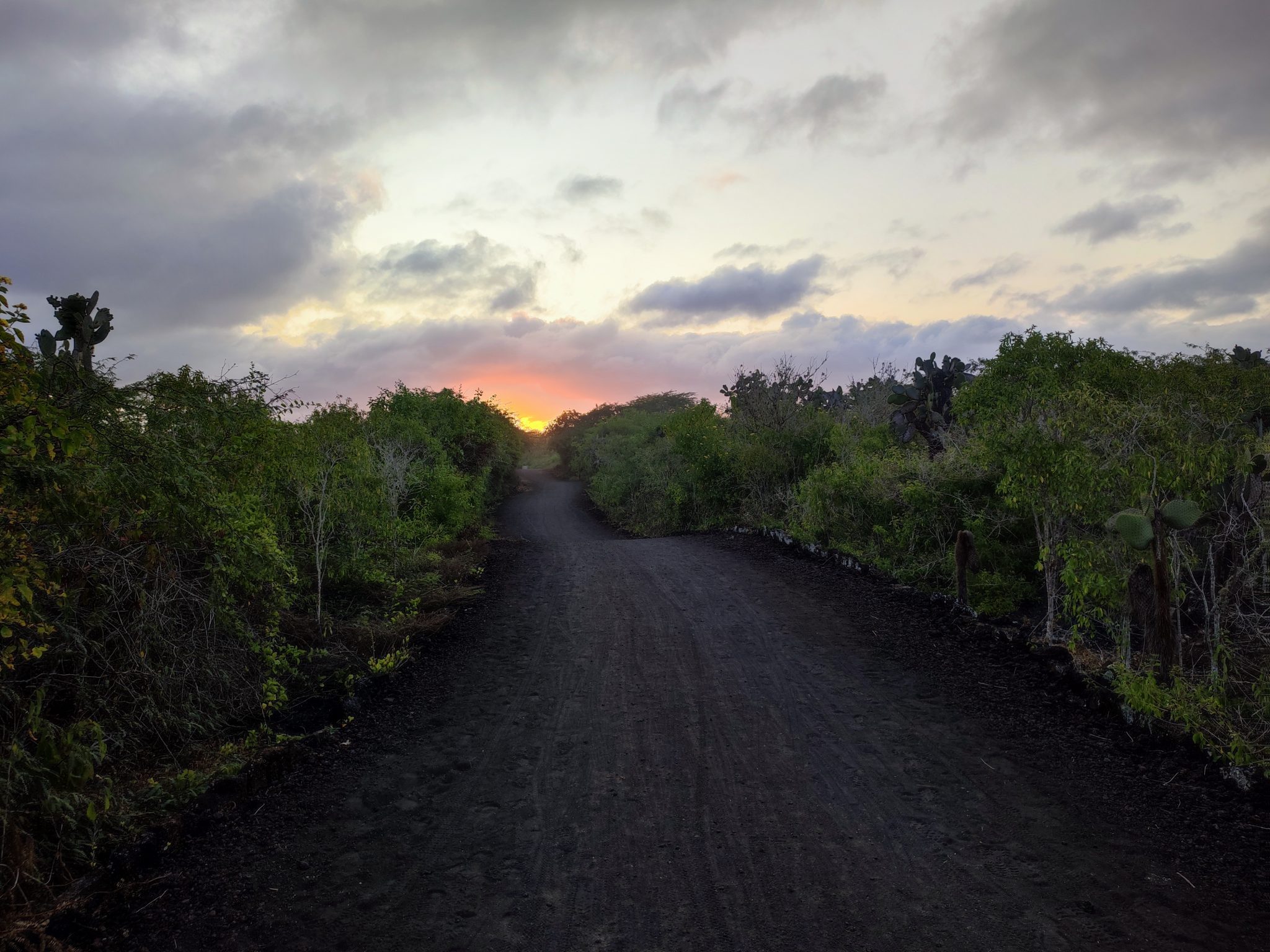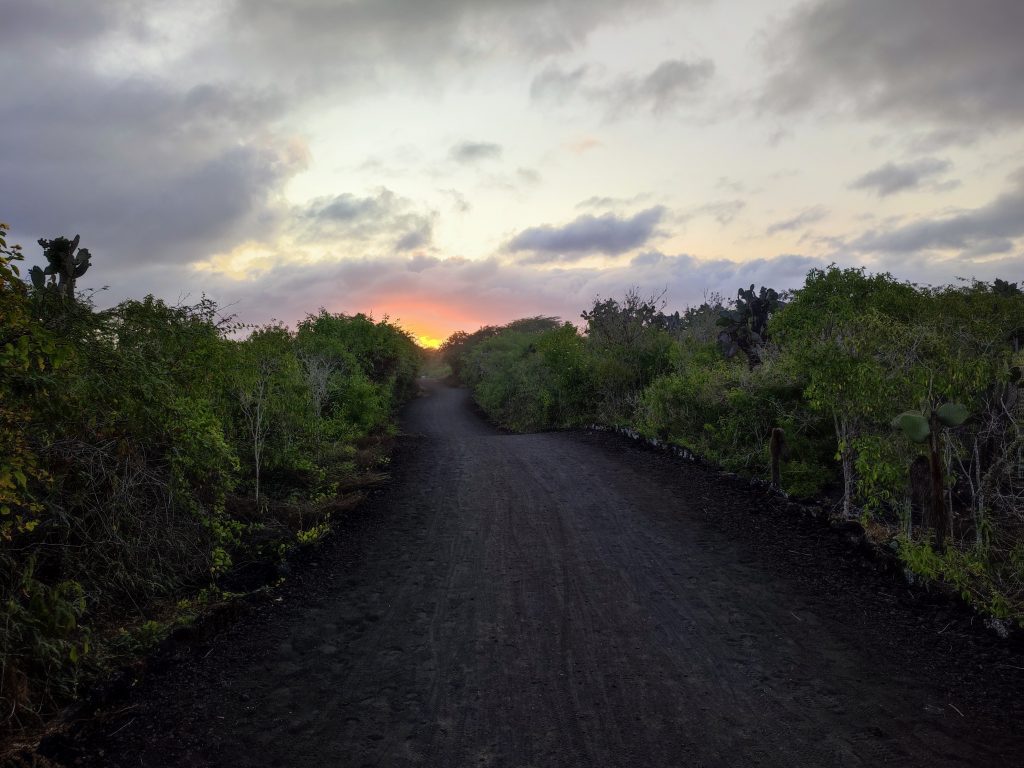 Prisoners exiled in Isabela Island in the 1940s and 1950s worked on the wall for 14 years. Because authorities believed it would be practically difficult for anyone to flee the secluded island, establishing a prison colony here was a simple decision. The wall was built entirely by hand by the convicts. 
The Wall of Tears is said to have killed a large number of inmates. Many people perished in this location as a consequence of accidents, injuries, exposure, and poor care.
10. Check Out How Albatross Steal Fish at the Fish Market in Puerto Ayora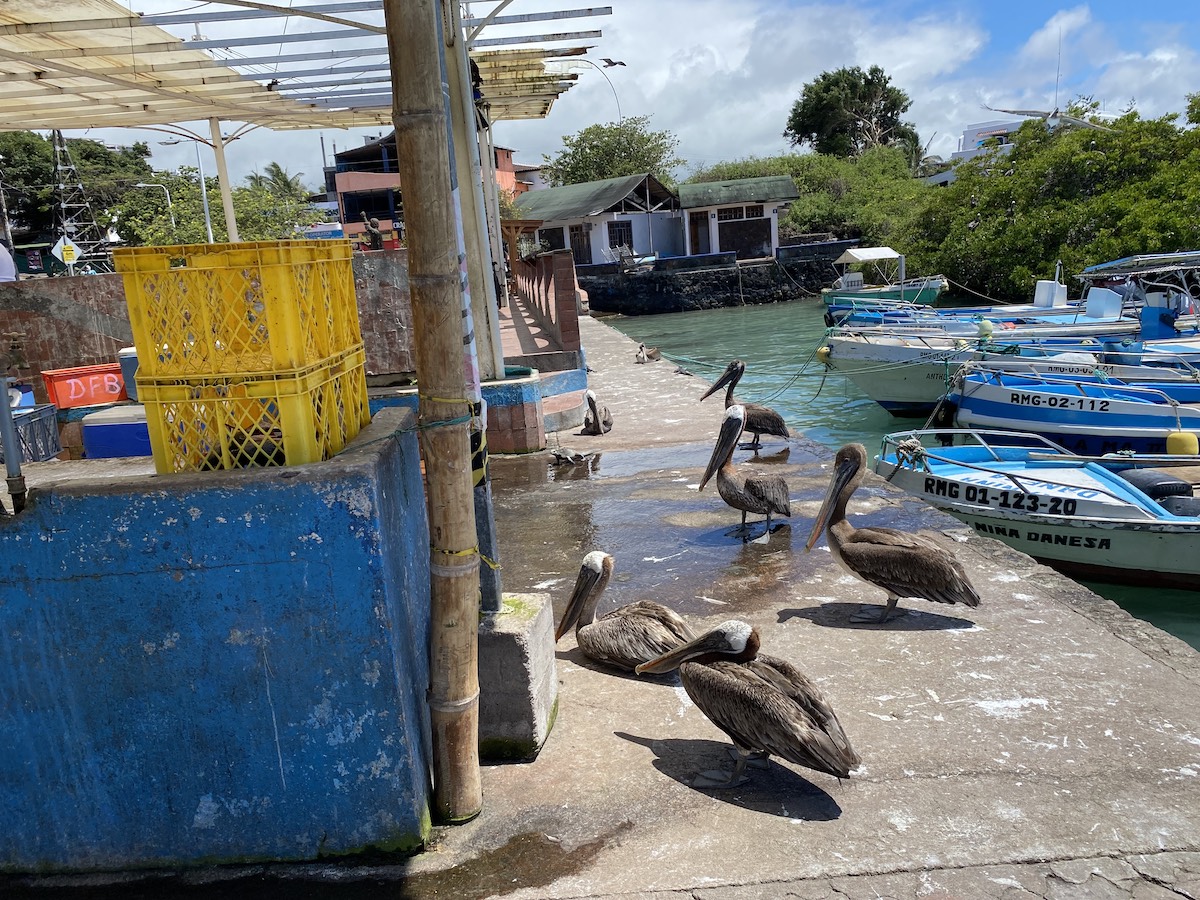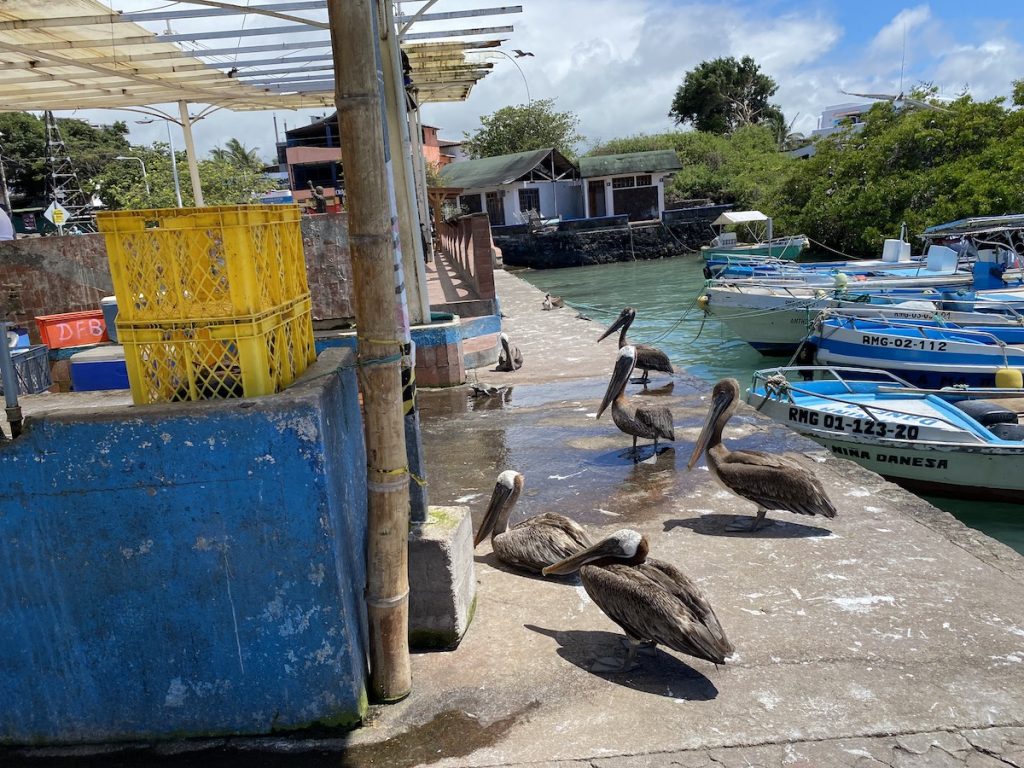 Because it is normal to have a close encounter with wildlife in Galapagos, watching them do strange and uncanny things is like entertainment to tourists. For instance, we spotted an albatross stealing a fish at the fish market in Puerto Ayora. Seeing a sea lion do the same thing is also a regular sighting in the Galapagos.
11. Cool Down and Enjoy a Crystal Clear Swim at Las Grietas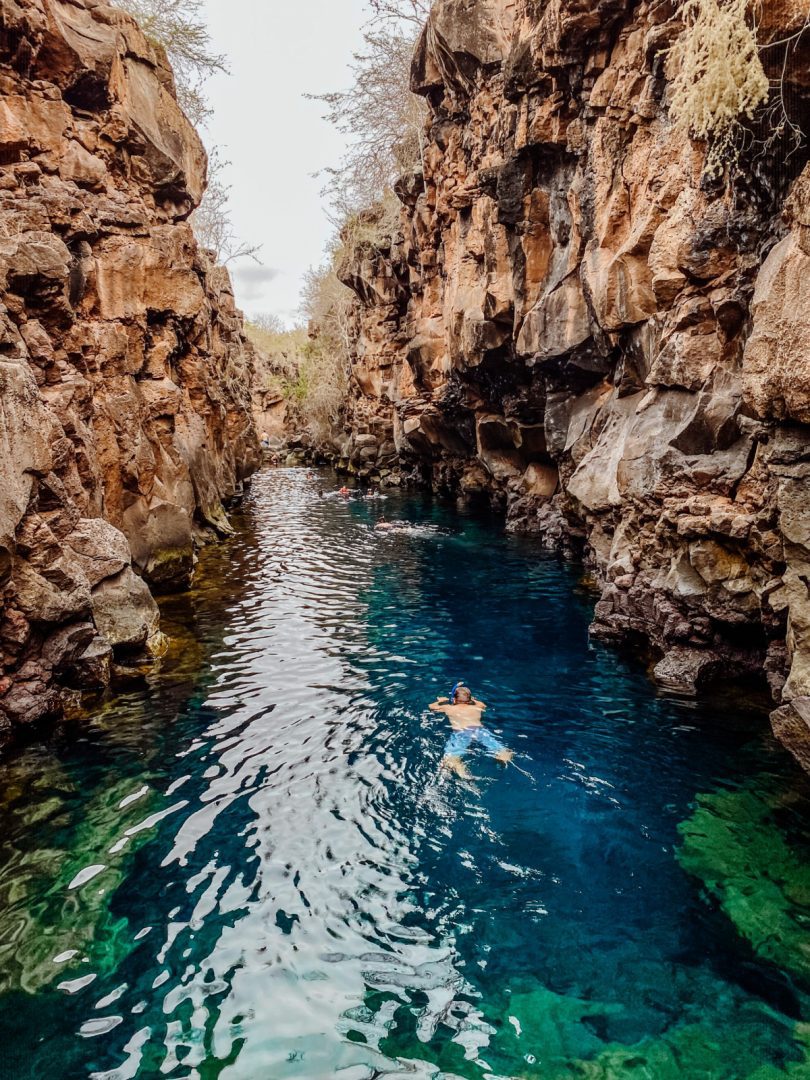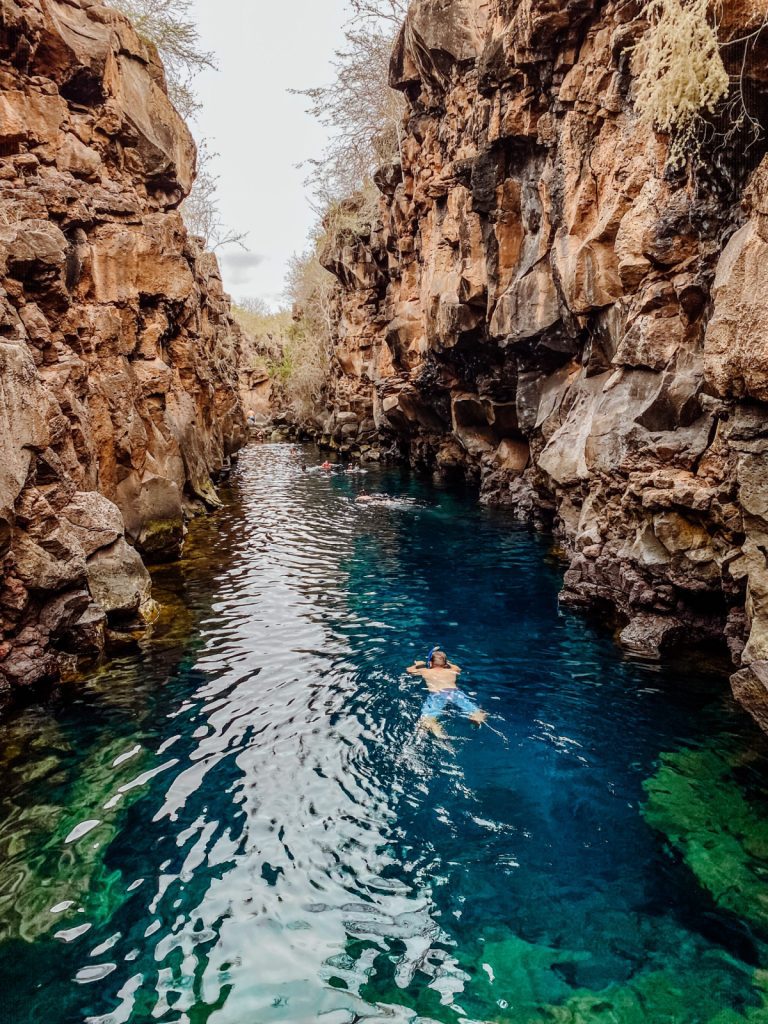 In my opinion, Santa Cruz island's best swimming spot is Las Grietas which you should totally visit. It is situated in a gorgeous location where three sparkling pools are nestled in a crevice between two tall volcanic walls.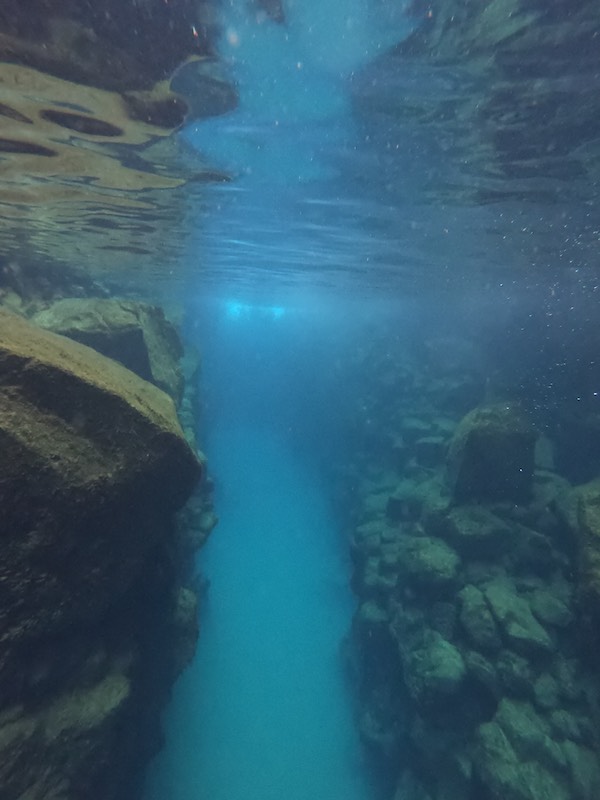 Las Grietas' water is a mixture of freshwater that filters in from one end and seawater that arrives from the other. Because of the protected walls, the water is exceedingly tranquil and transparent, with no current making it ideal for a peaceful swim.
12. Walk on the Lava Flow of Las Tintoreras and Swim with the Sharks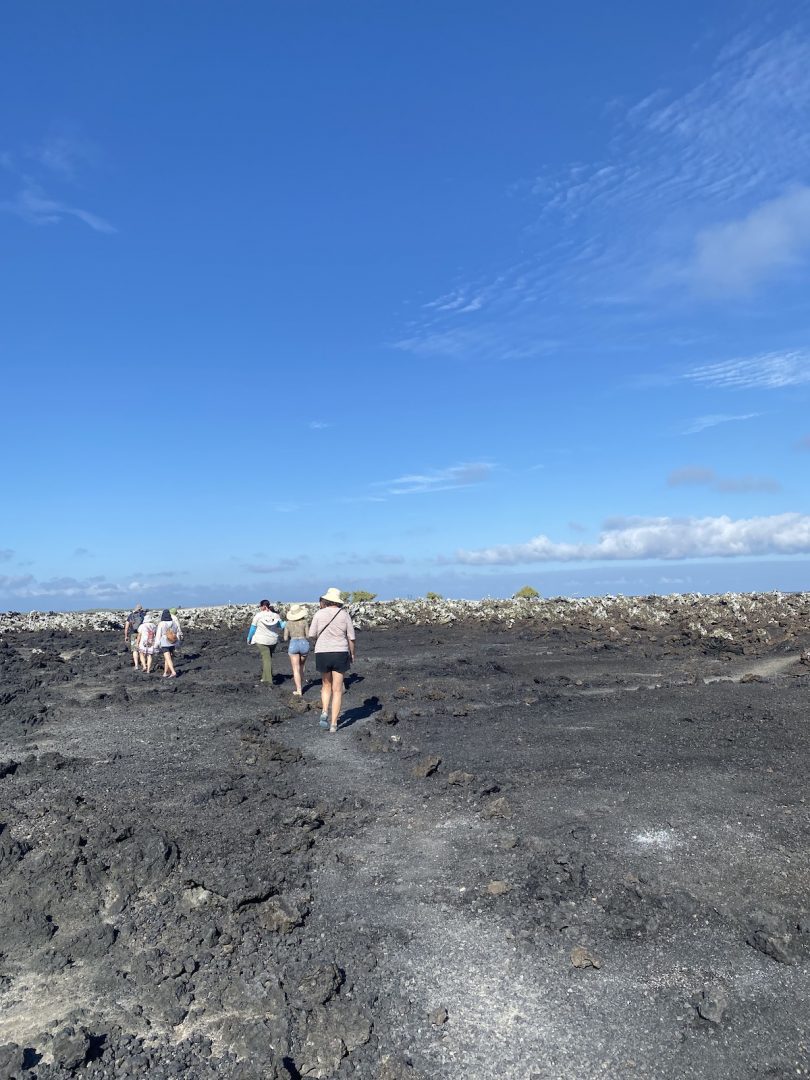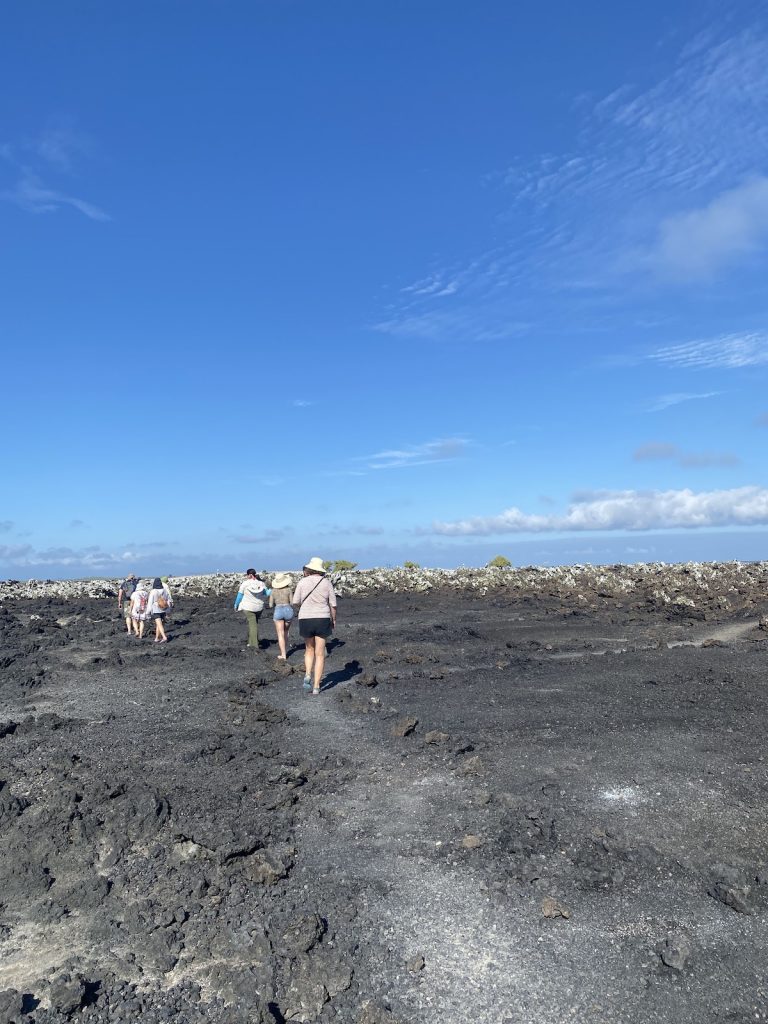 One of Isabela Island's most well-known locations is Las Tintoreras. The reef sharks, also known as white-tip sharks, which may be seen swimming in the channels with fish and sea lions during low tide, gave this tiny islet its name.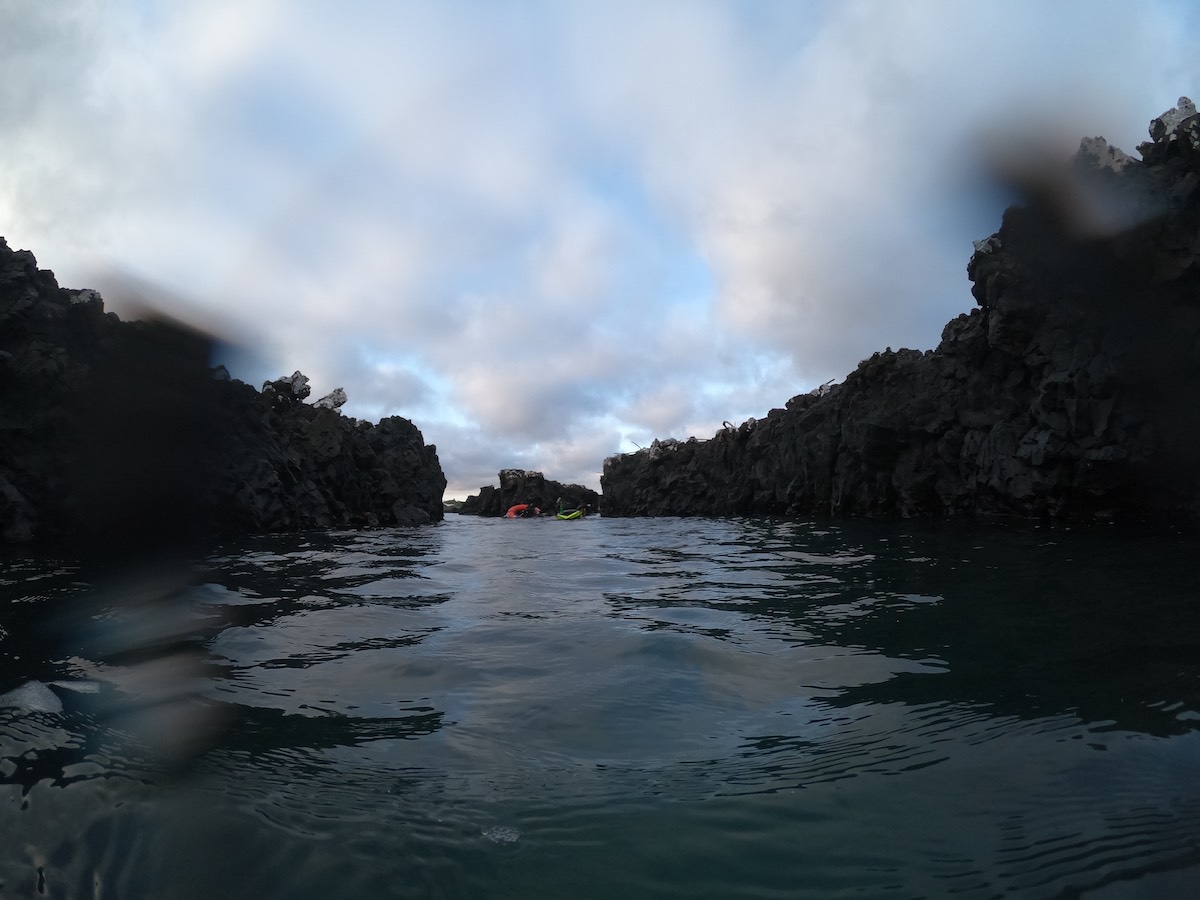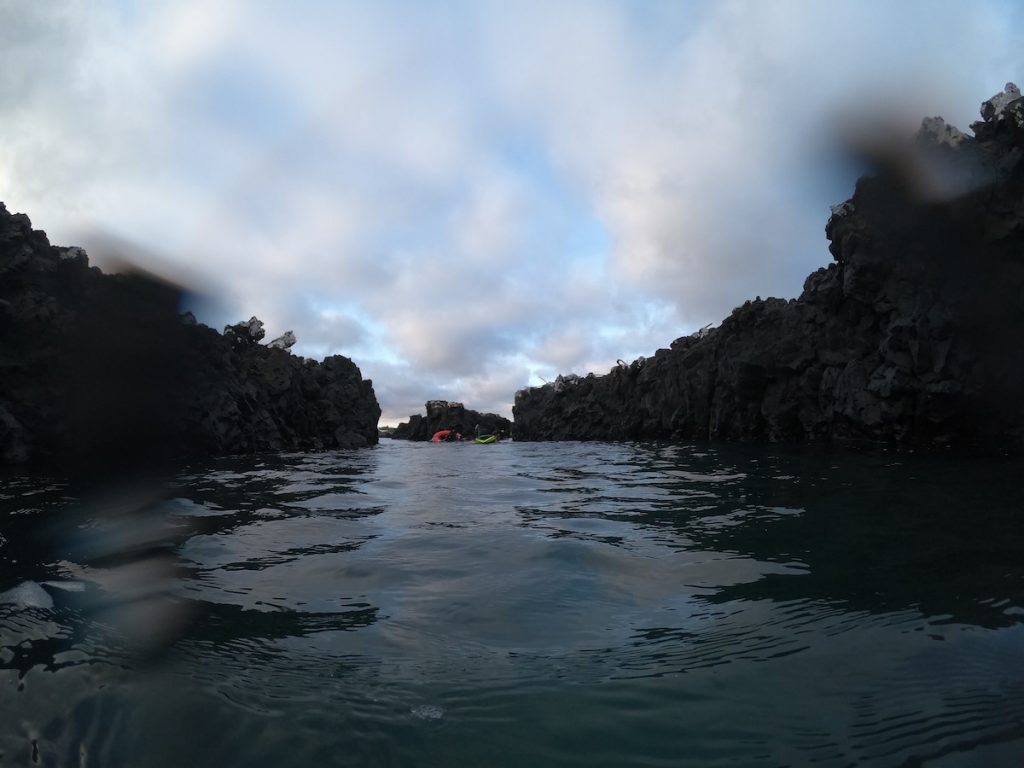 Walking on the islet, which was primarily made of lava rocks, should surely be on your bucket list. The Galapagos penguins that nest here depending on the season are a great sight to see.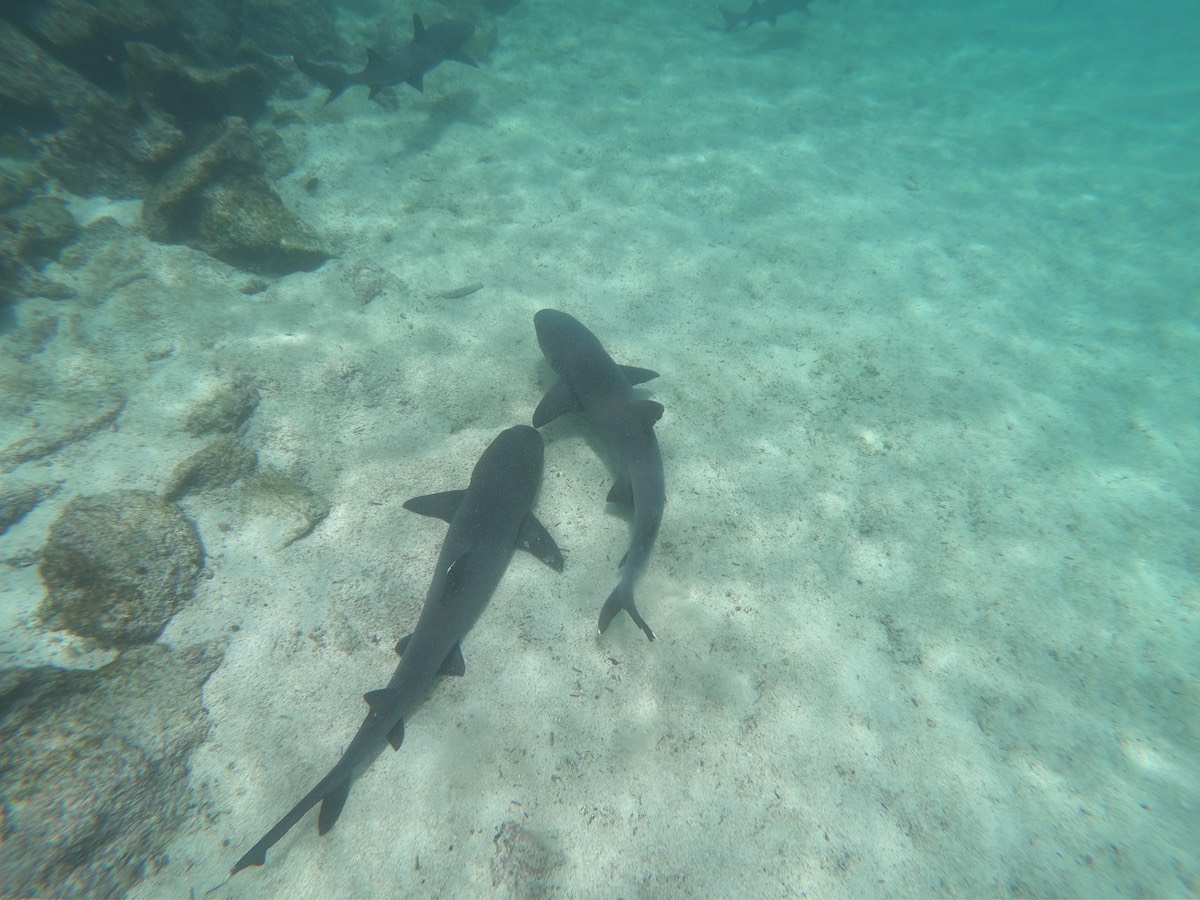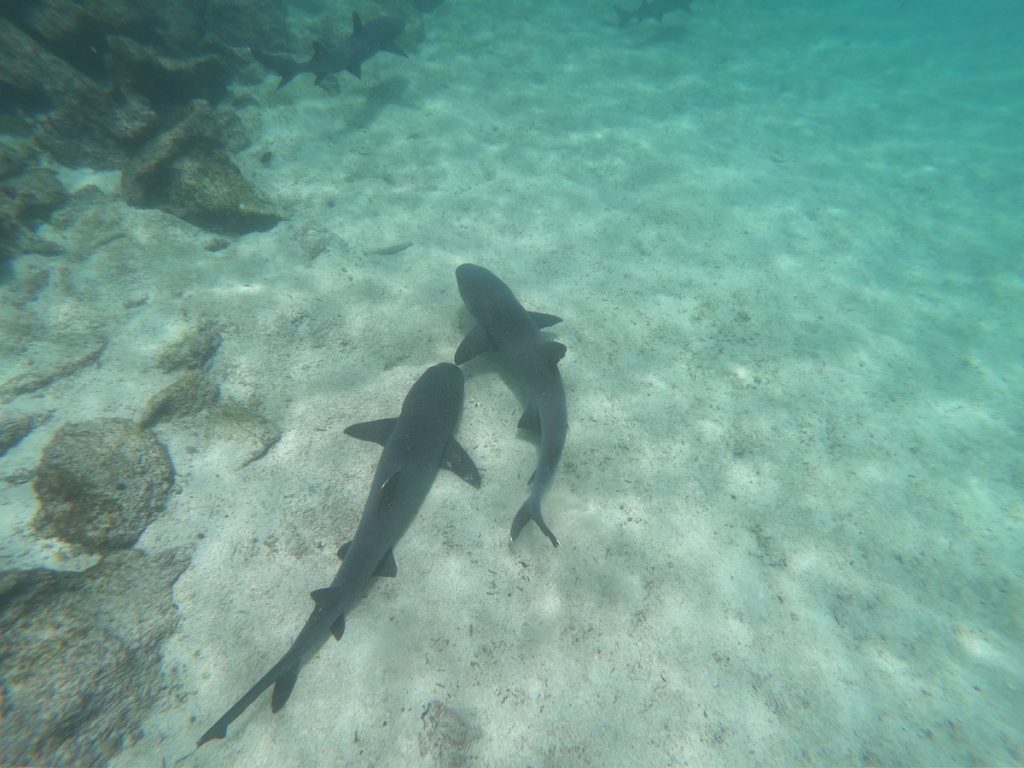 Swimming here gave us an opportunity to encounter white-tip sharks, rays, sea lions, and sea turtles.
13. Explore a Plethora of Bird Species at North Seymour Island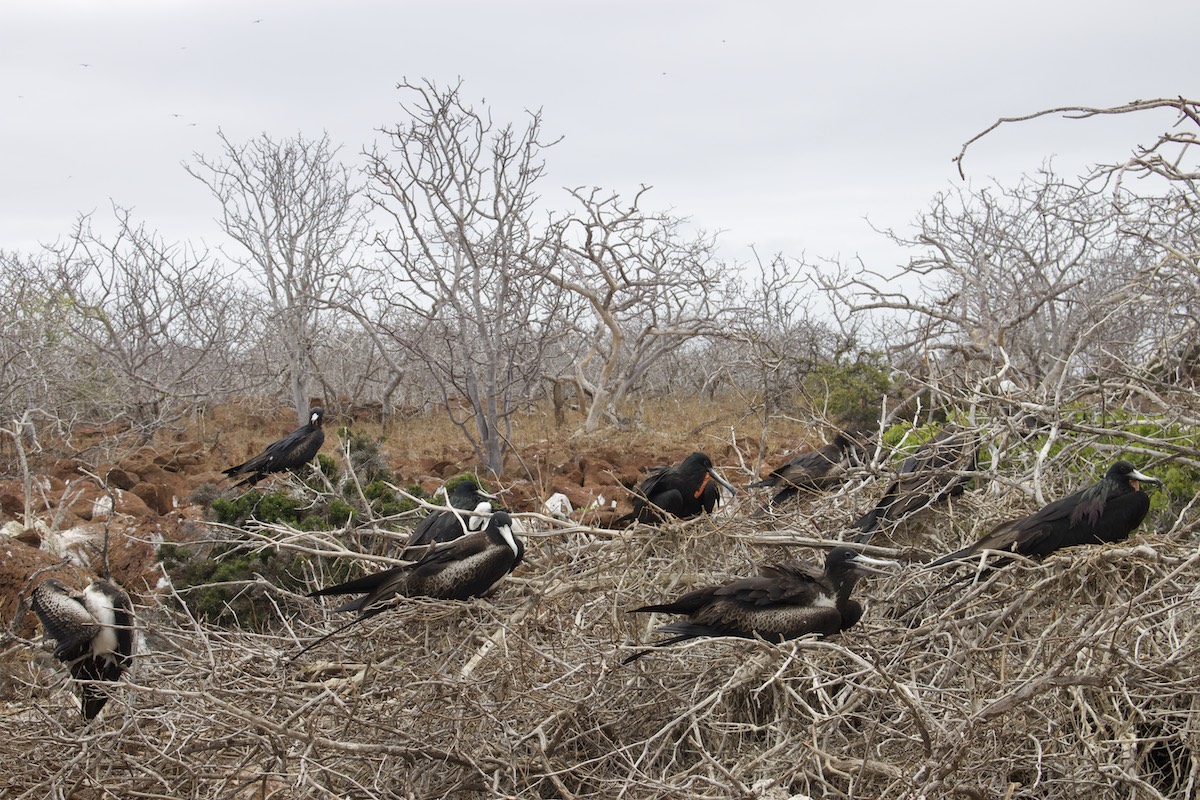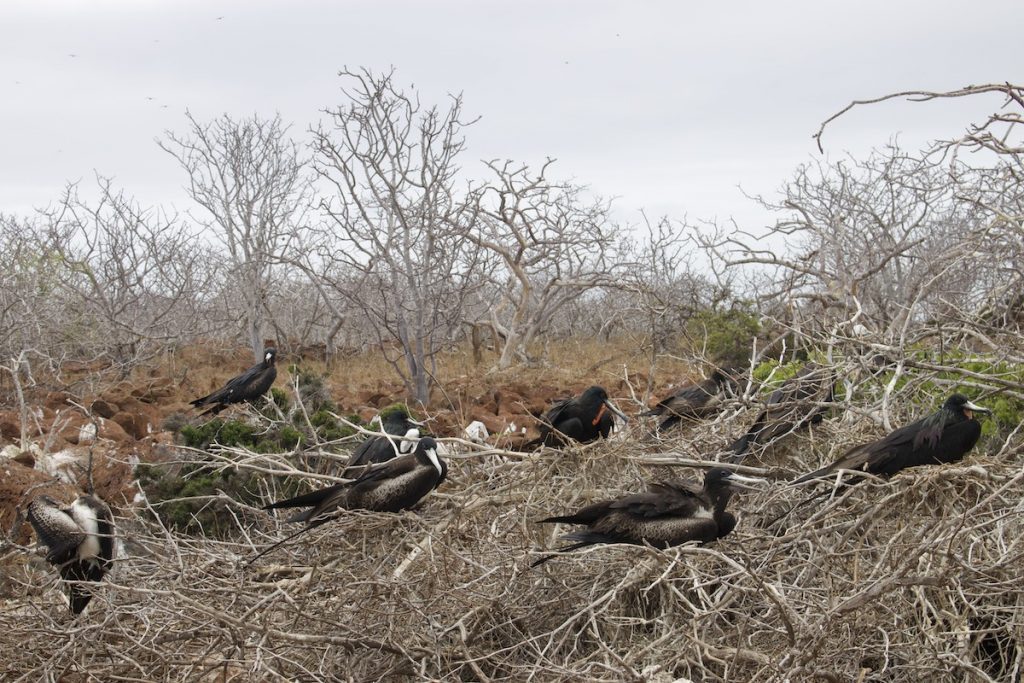 Along with blue-footed boobies, North Seymour is famous for its sizable Magnificent Frigatebird colony. The Great Frigatebird and Magnificent Frigatebird are the two frigate species found in the Galapagos Islands.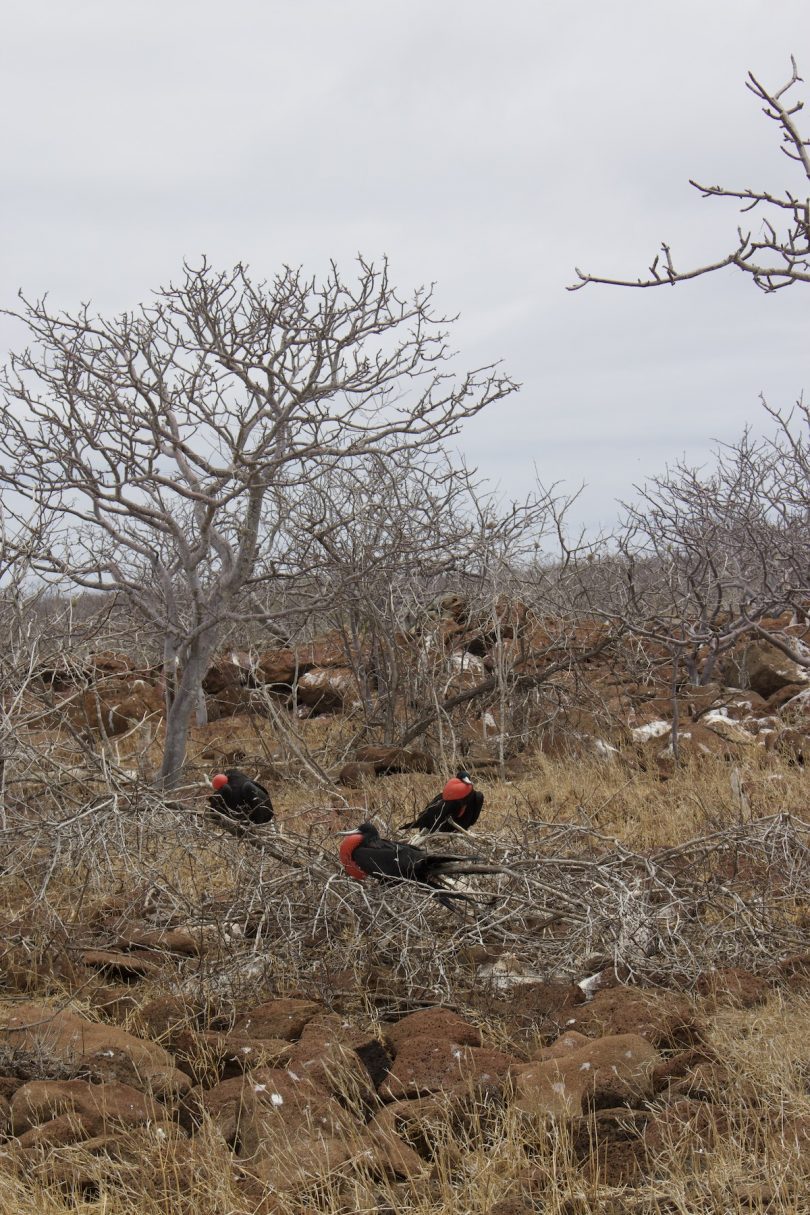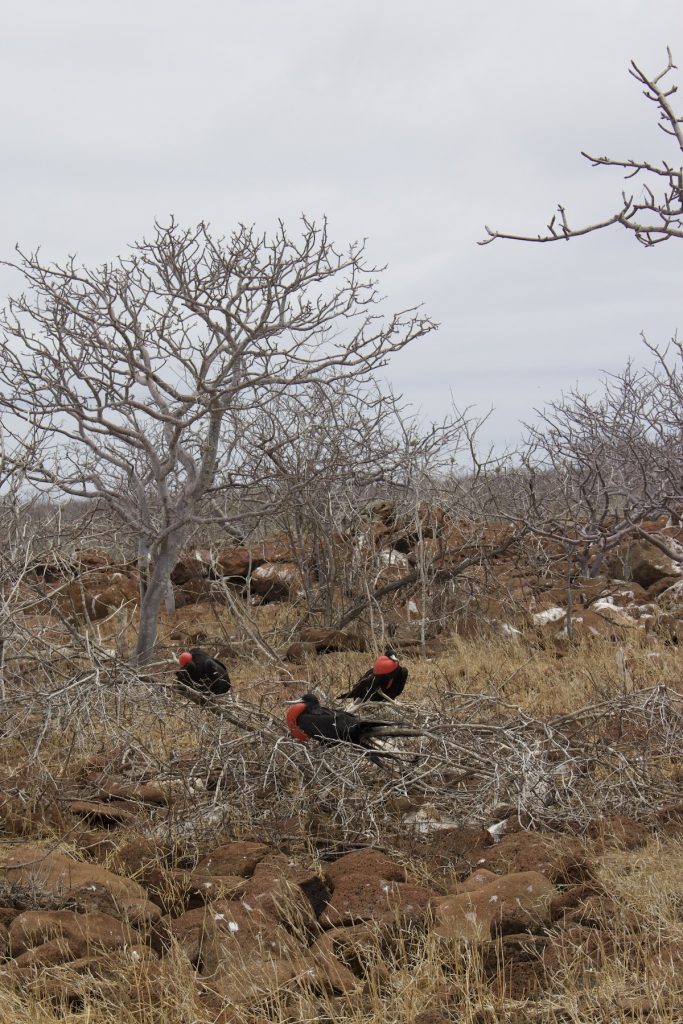 The North Seymour trail provides tourists with numerous opportunities to watch the Galapagos' largest colony of spectacular frigatebirds, blue-footed boobies, and land iguanas, as well as sea lions and marine iguanas along the shore. On this island, there are also large colonies of swallow-tailed gulls and common noddy.
14. Enjoy a Hike at Cerro Tijeretas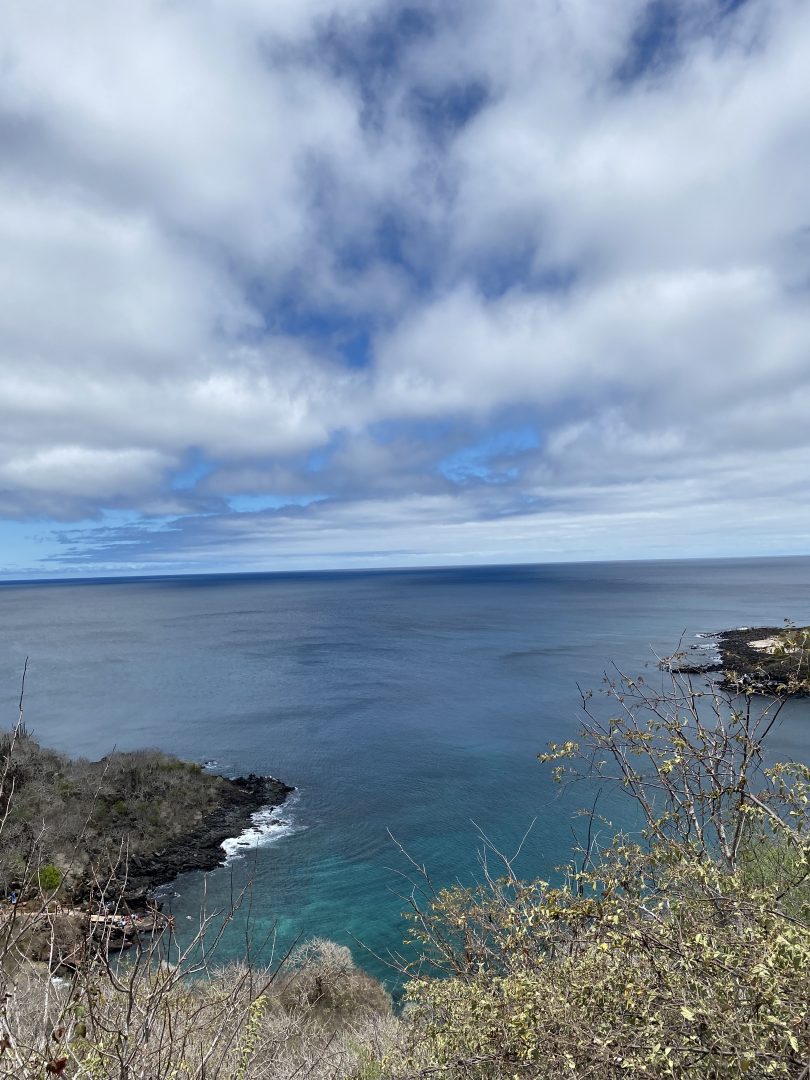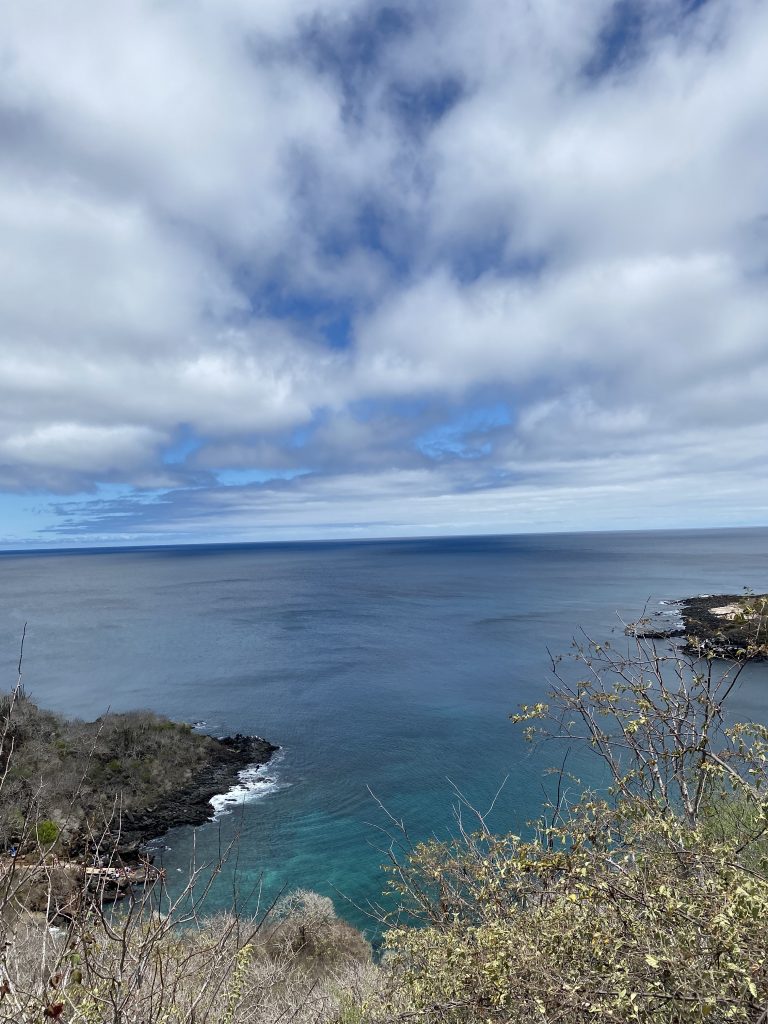 Tijeretas is the name of the location because this is the moniker by which frigates are typically referred to. It is close enough to Port Baquerizo Moreno to stroll there. The Interpretation Center serves as the starting point of the Cerro Tijeretas and Playa Baquerizo Hike, an out-and-back path that leads to the lovely Playa Baquerizo beach.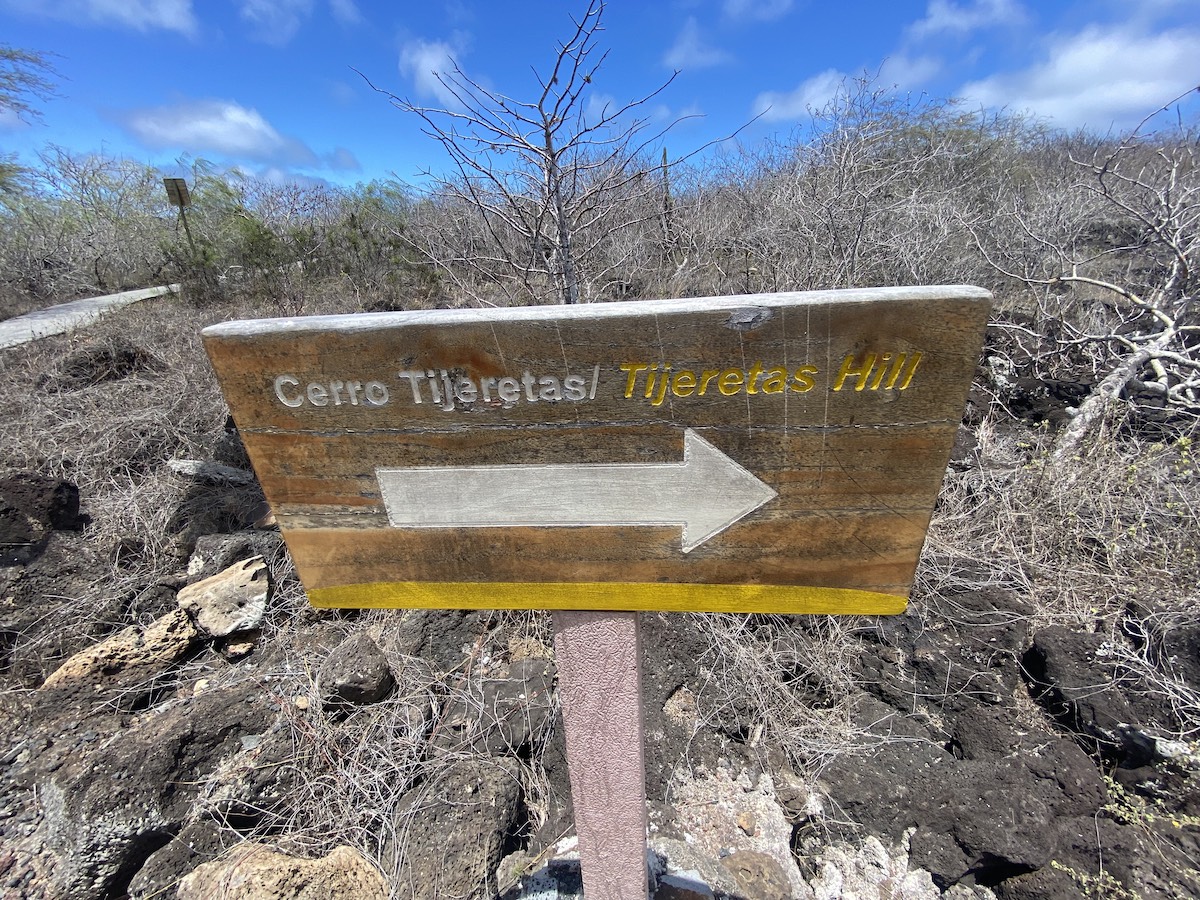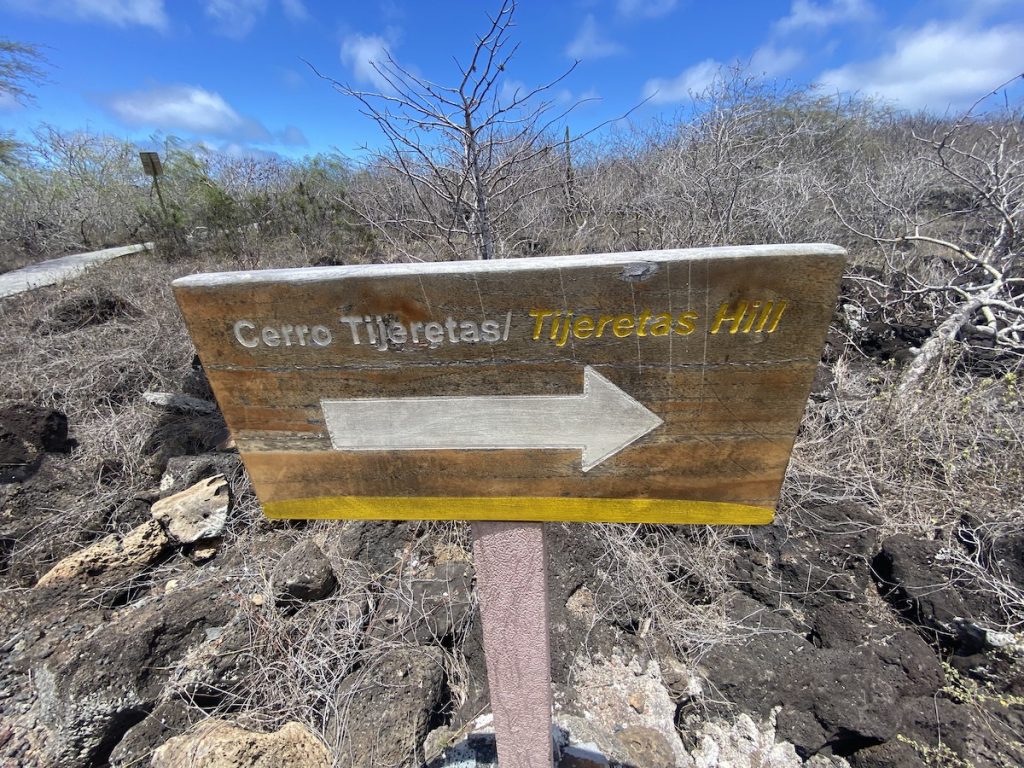 The hike is roughly 6 kilometers long and takes two hours to complete. It would take 3–4 hours if you factor in a lunch break or some time to snorkel and take pictures.
The hike is light too easy. The terrain after Cerro Tijeretas and the heat of the day make this hike the most challenging. Up until you arrive at the Cerro Tijeretas viewpoint, the trip is primarily a pretty straightforward paved walking trail.
15. Snorkel at Playa Tijeretas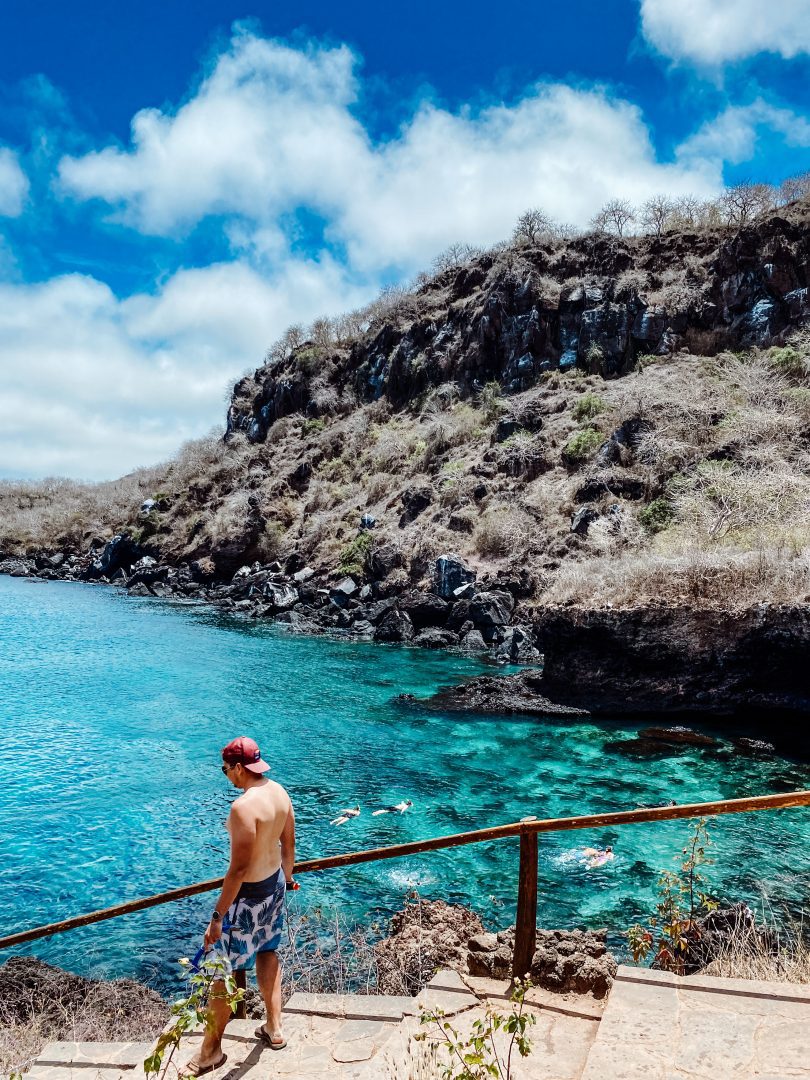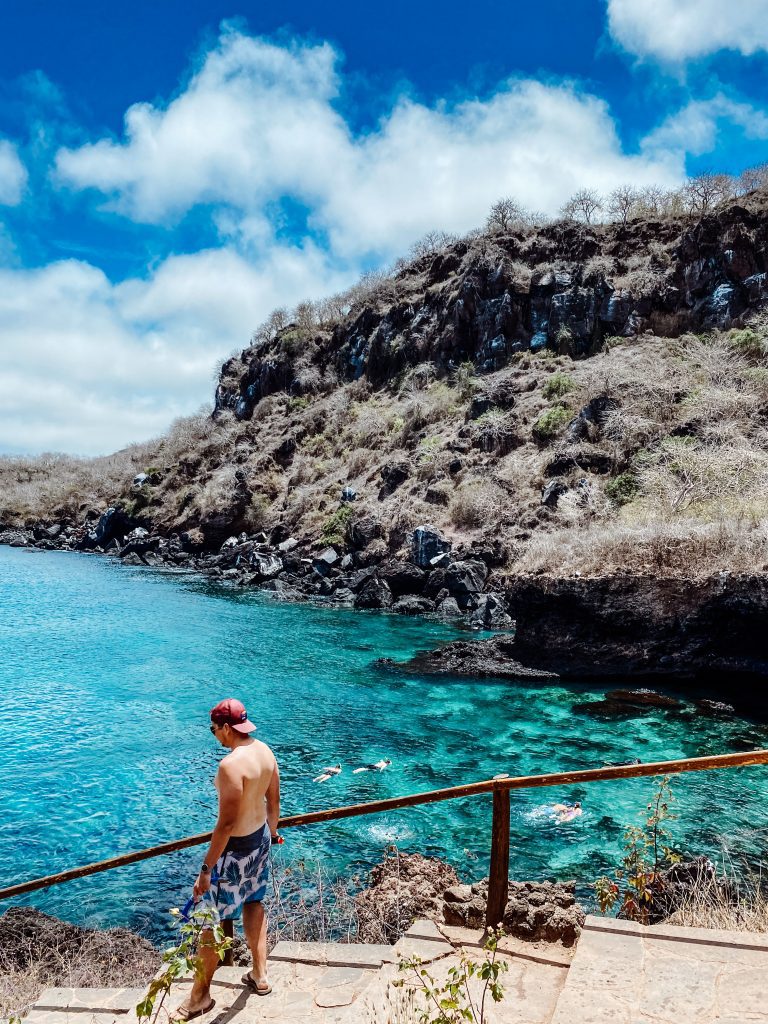 As mentioned, you may stop for some snorkeling time at Playa Tijeretas on your hike to Cerro Tijeretas. In this fantastic snorkeling location, we spotted some sea lions, turtles, rays, and all kinds of fish enjoying swimming around. Flying right above our heads is blue-footed boobies.
16. Watch Sunset with Sea Lions at Sunset at Playa Lobería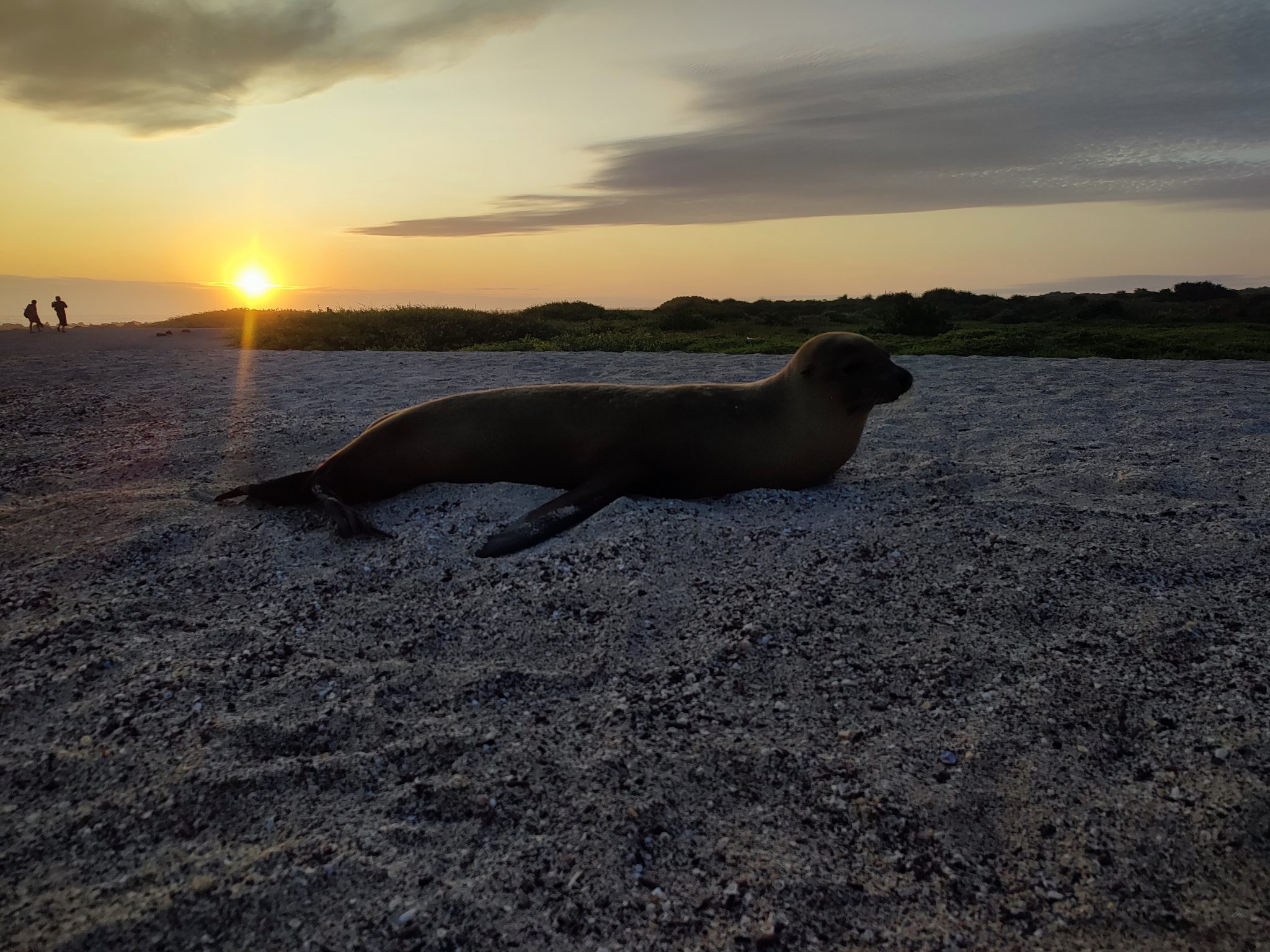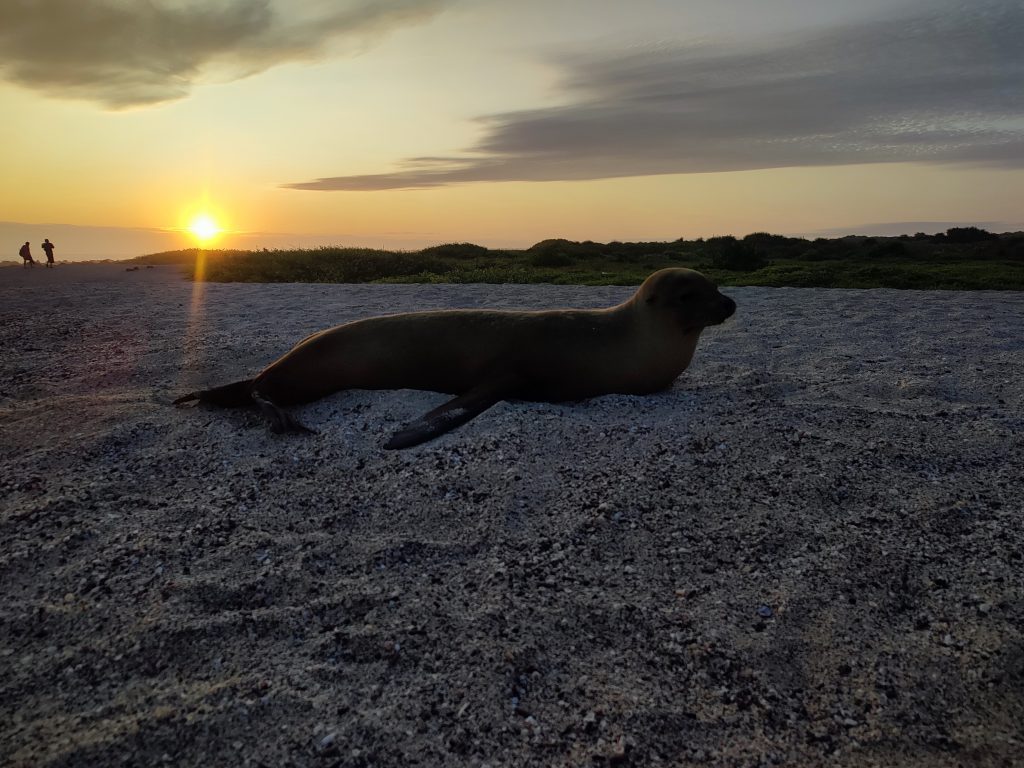 Sea lions are a common sight in Galapagos Islands and the most dramatic way of viewing them is the sunset at Playa Loberia. It is a wonderful sight and a perfect photo opportunity. Scenes like this will make your Galapagos experience feel surreal.
17. Get a Kicker Rock Tour (León Dormido)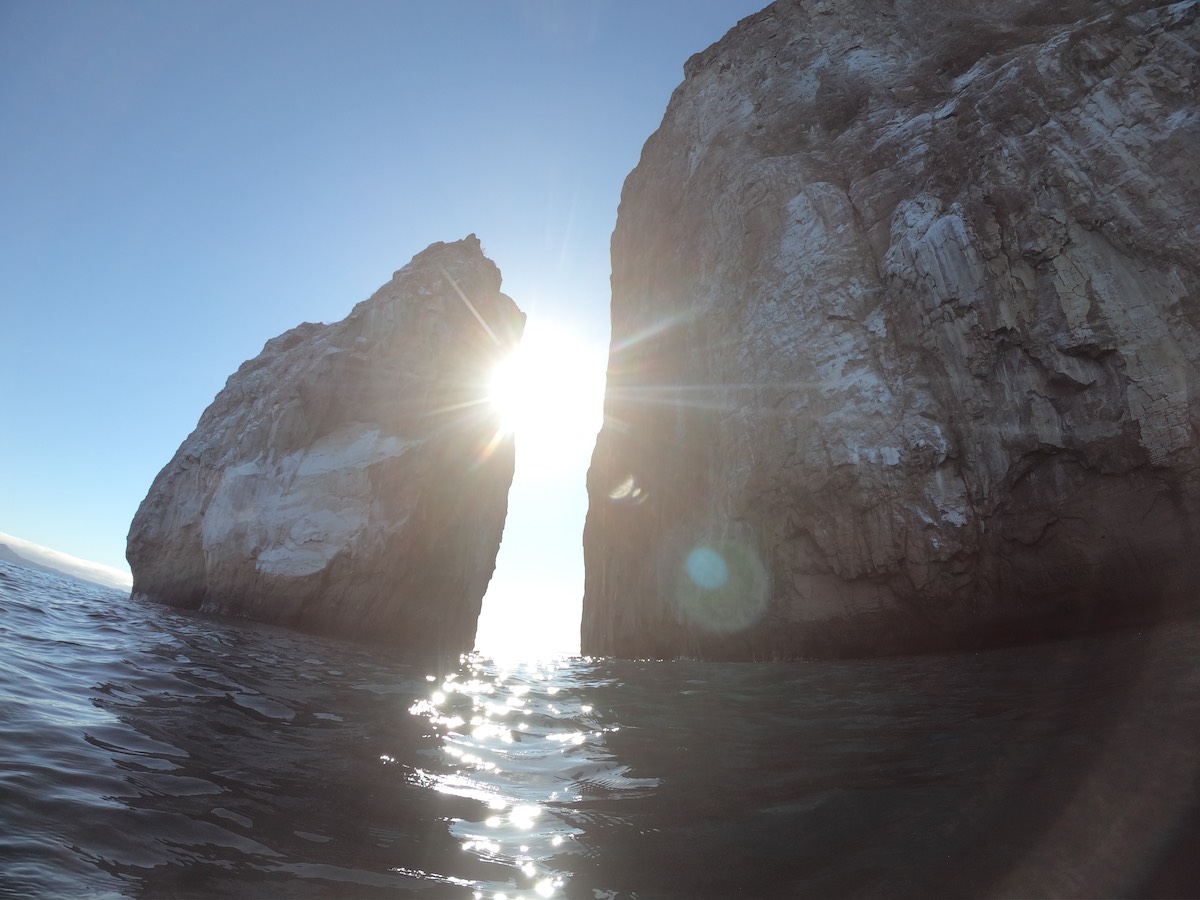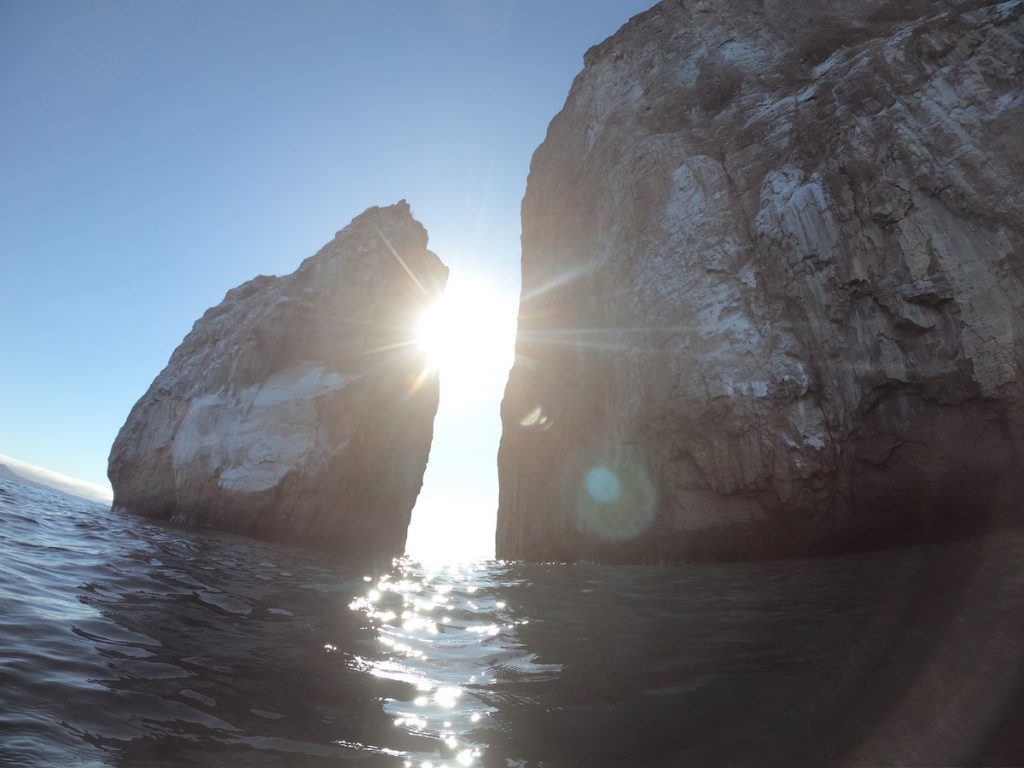 The jagged Kicker Rock, also known as León Dormido, or "the sleeping lion," stands over San Cristóbal Island's northern coast.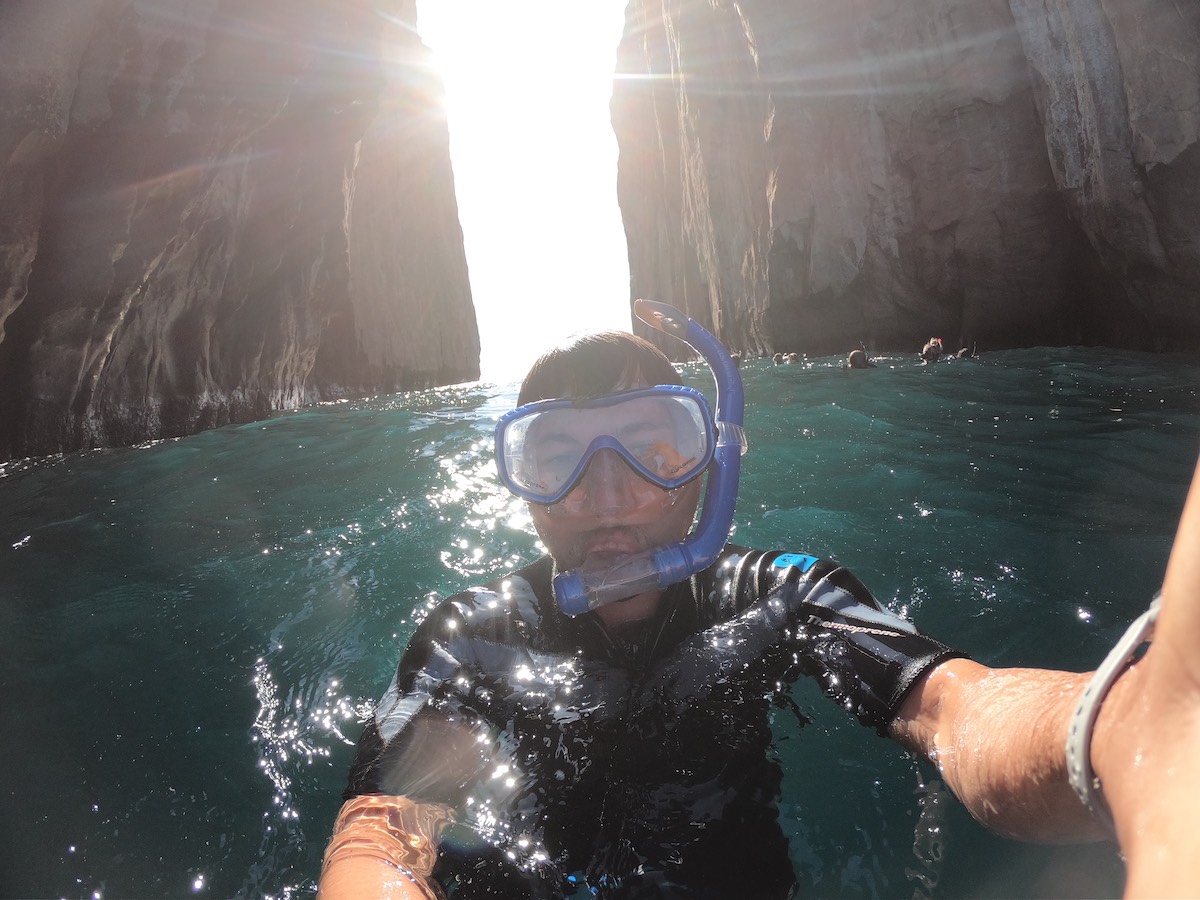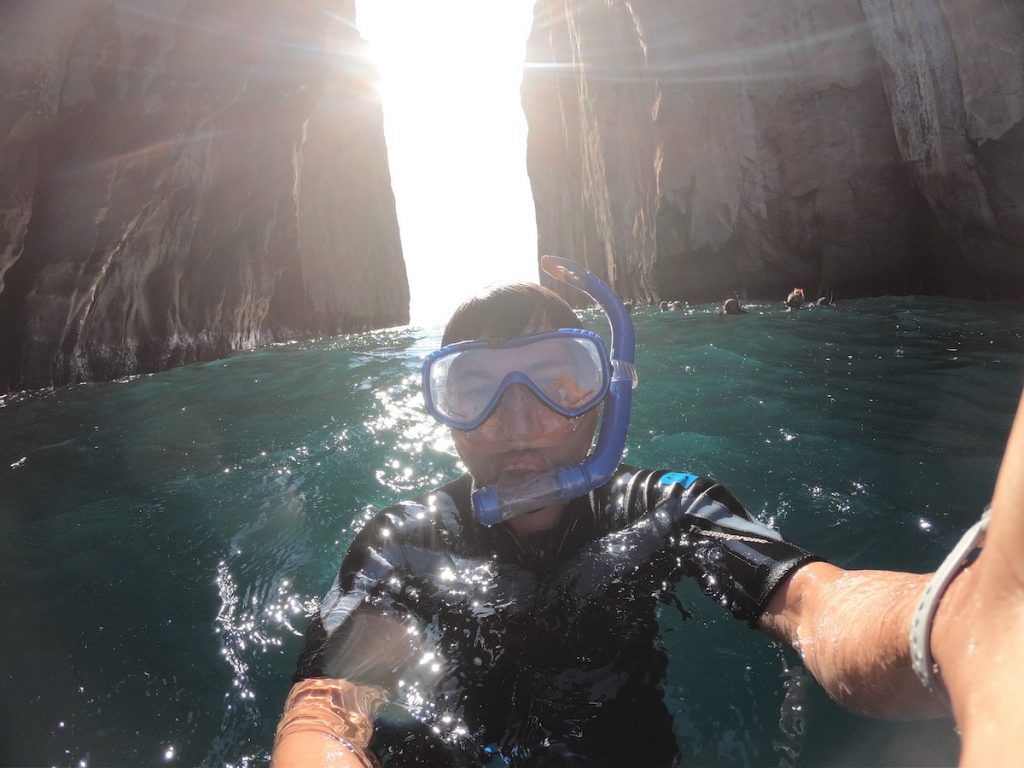 It is among the Galápagos archipelago's most recognizable landscapes.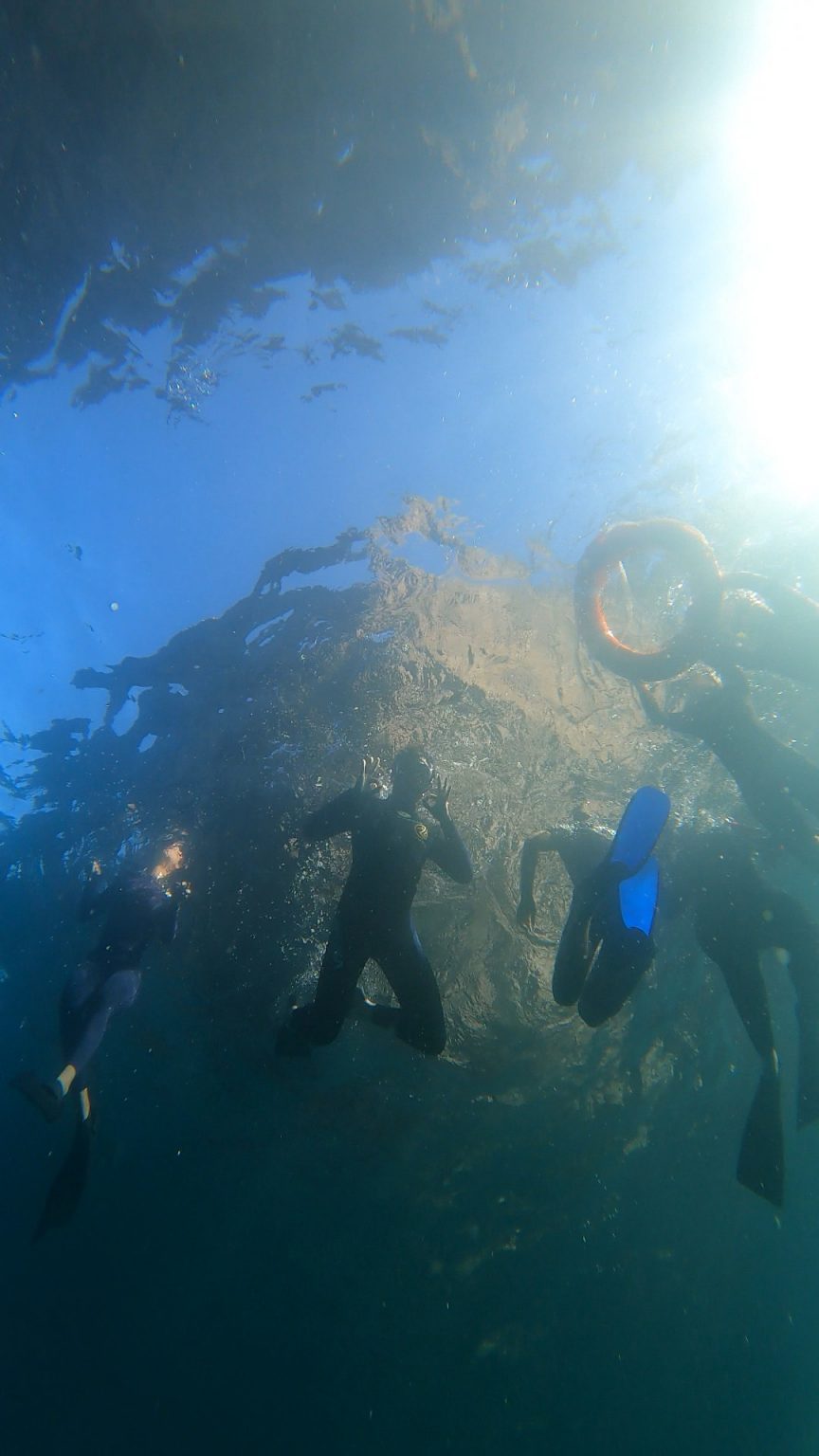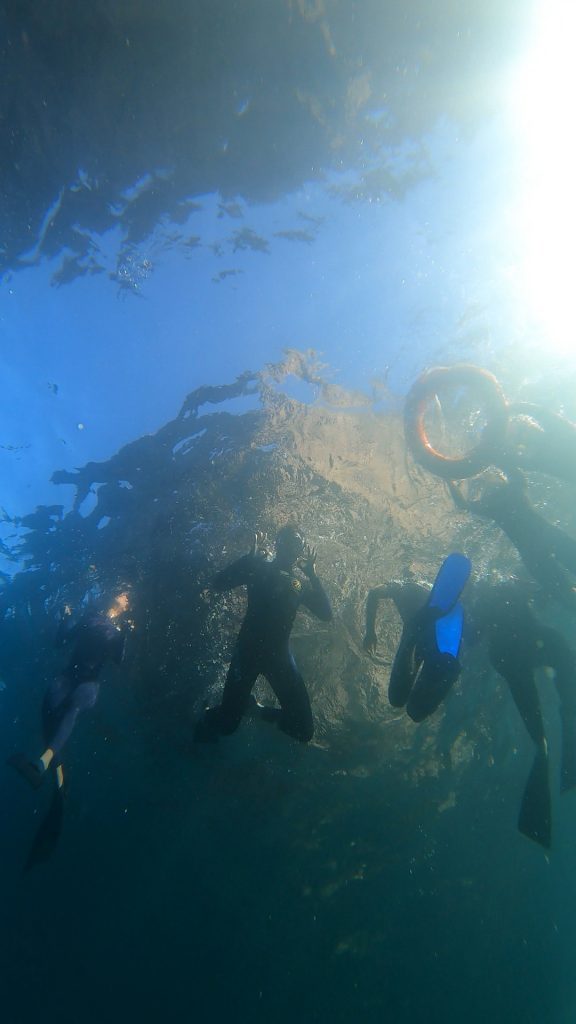 We were able to reach Kicker Rock by booking a San Cristobal 360 Tour which includes a stop at this amazing location.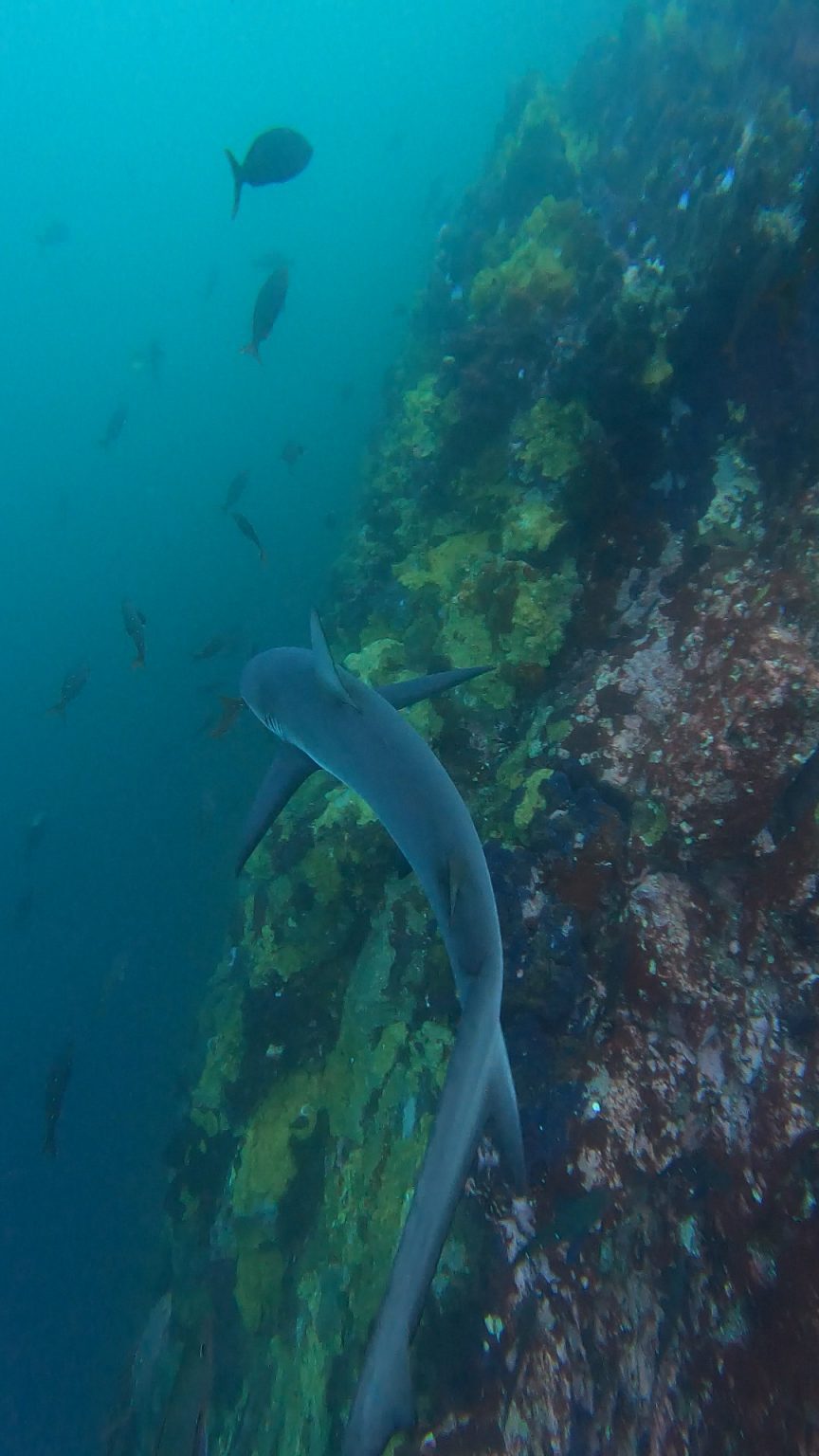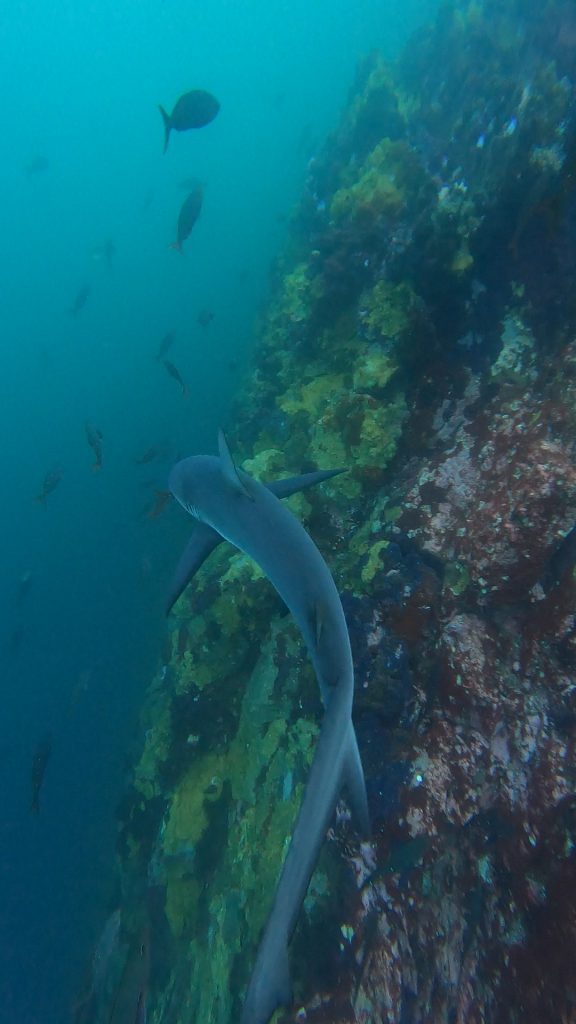 We snorkeled at this fabled diving spot, which is well-known for its hammerhead shark schools.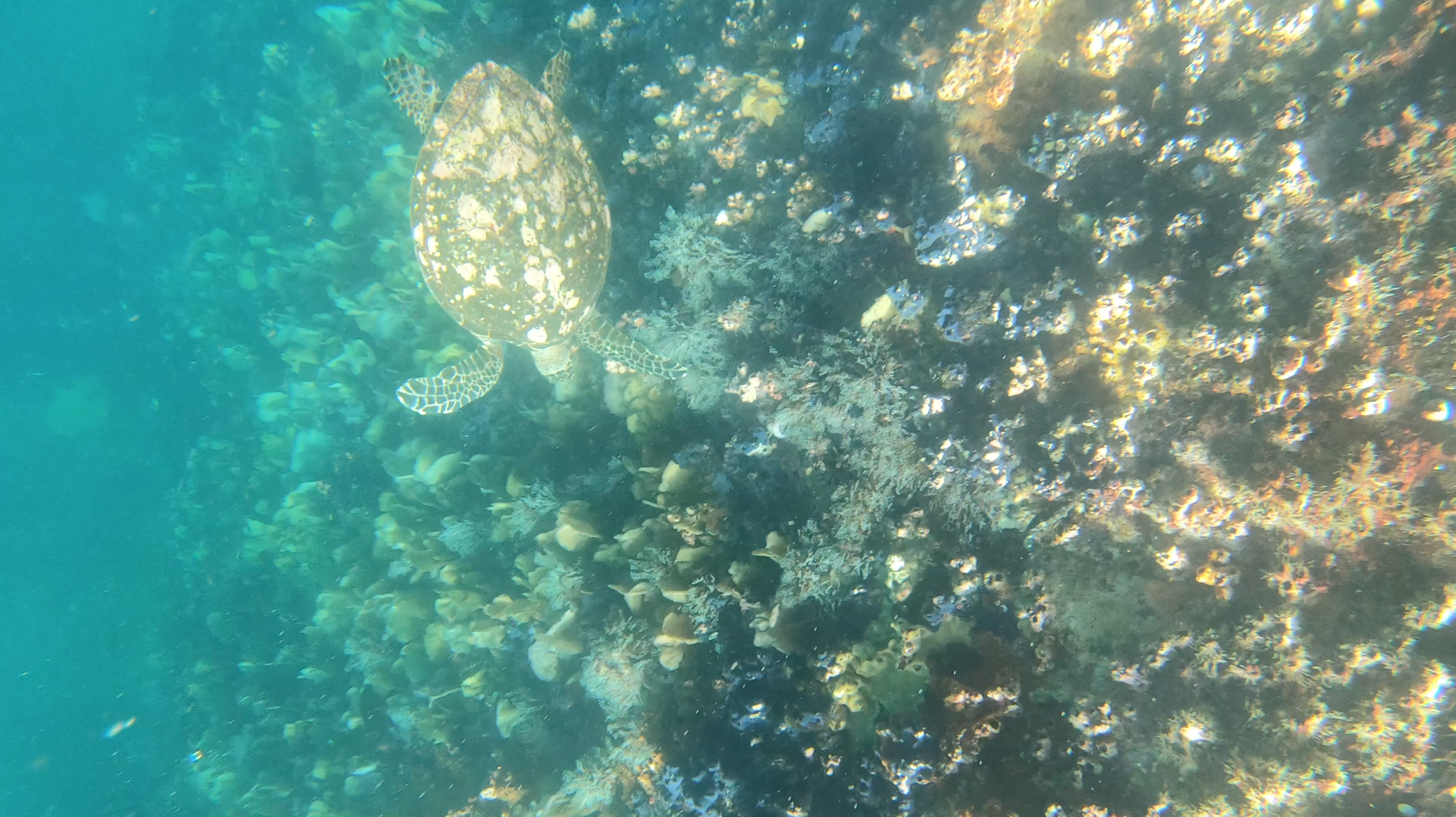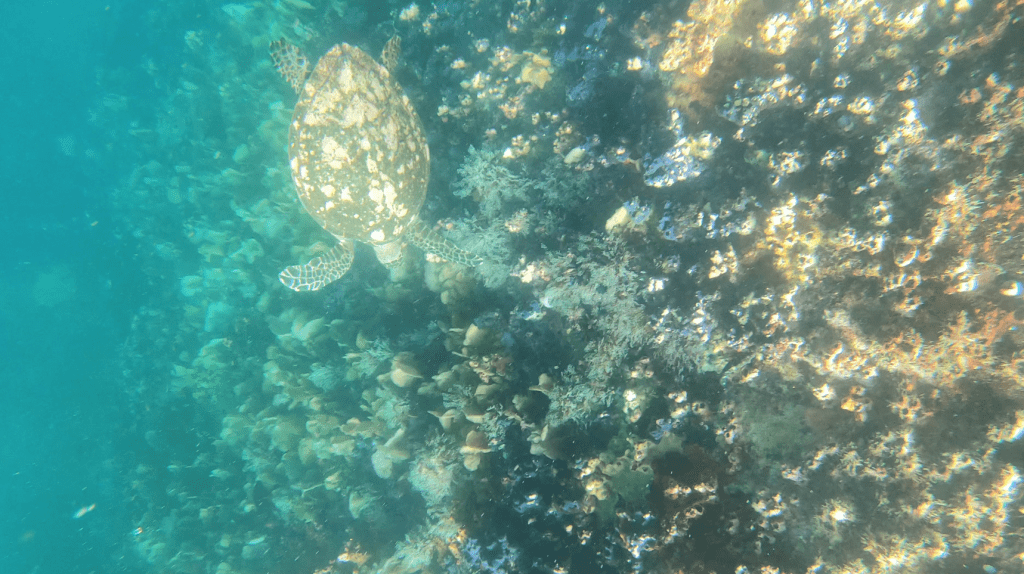 We come across some green turtles, schools of angelfish, and other shark species along the cliffs.
18. Get the Best Pinzon Island Snorkeling Tour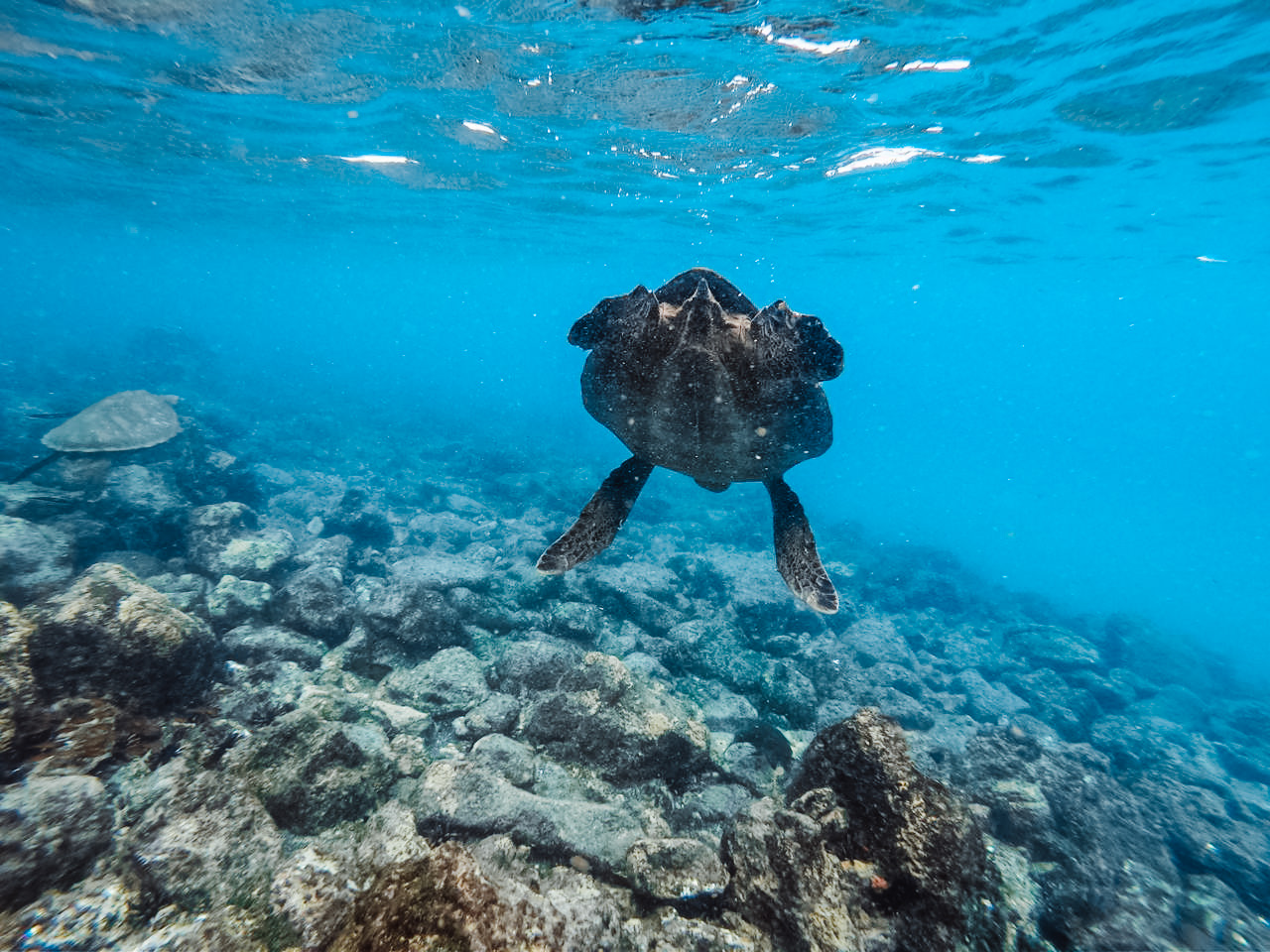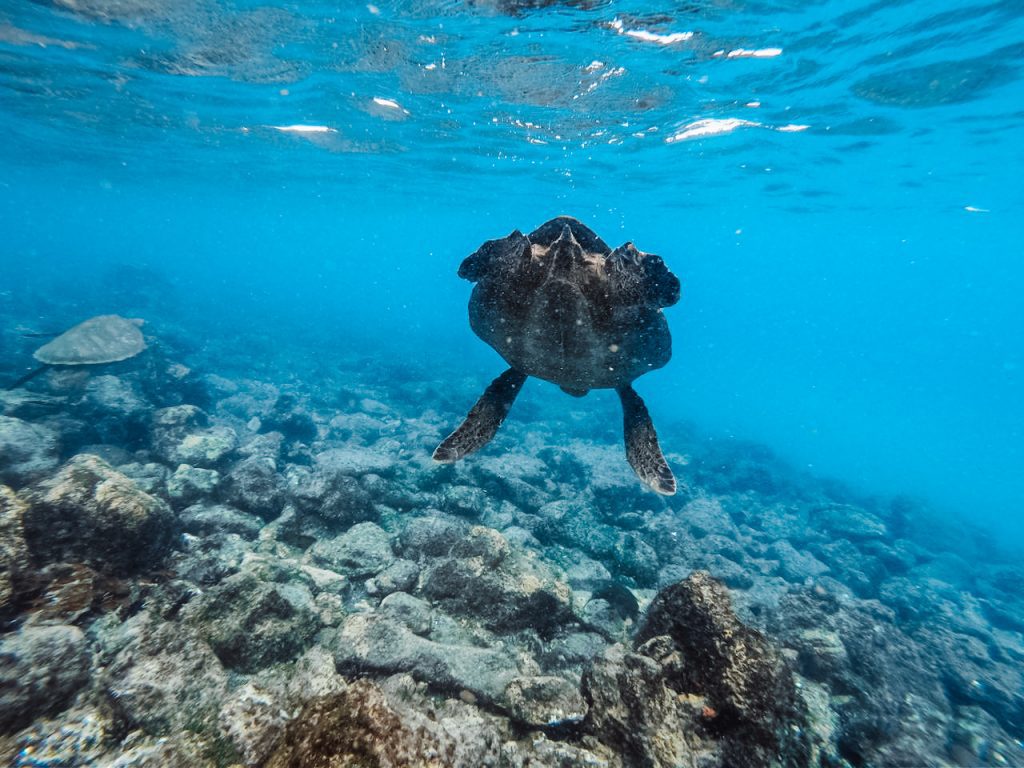 One of my favorite moments of my Galapagos adventure was snorkeling at Pinzon Island.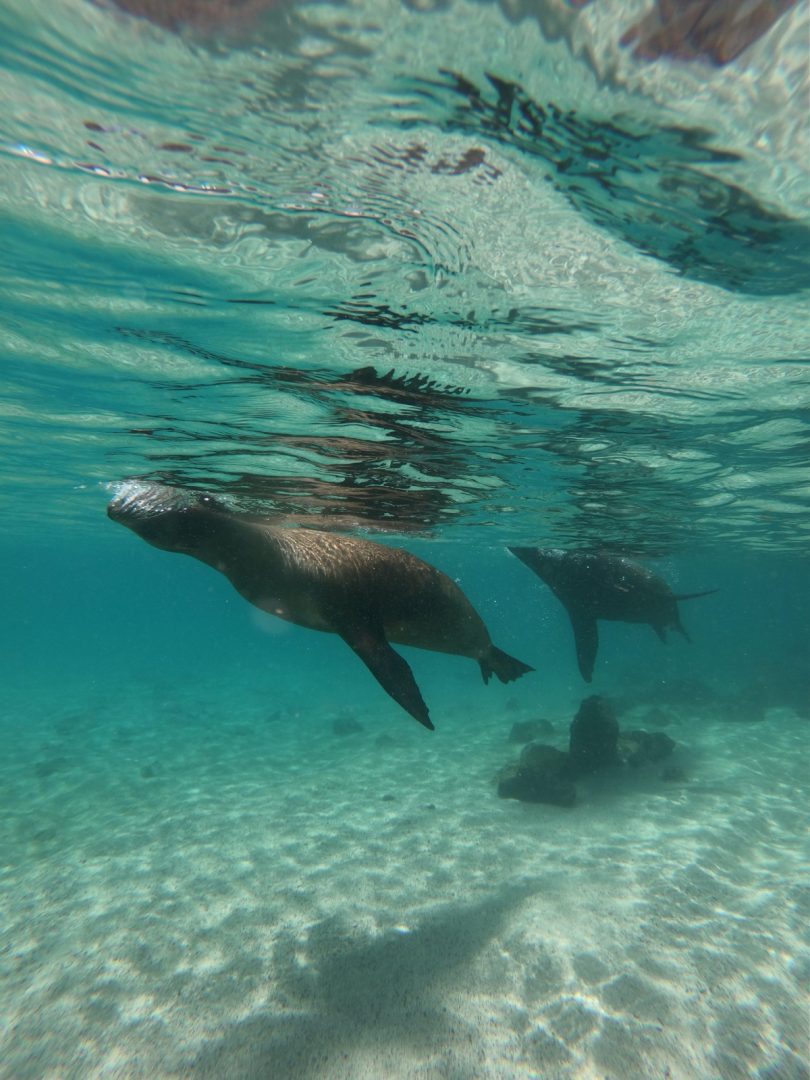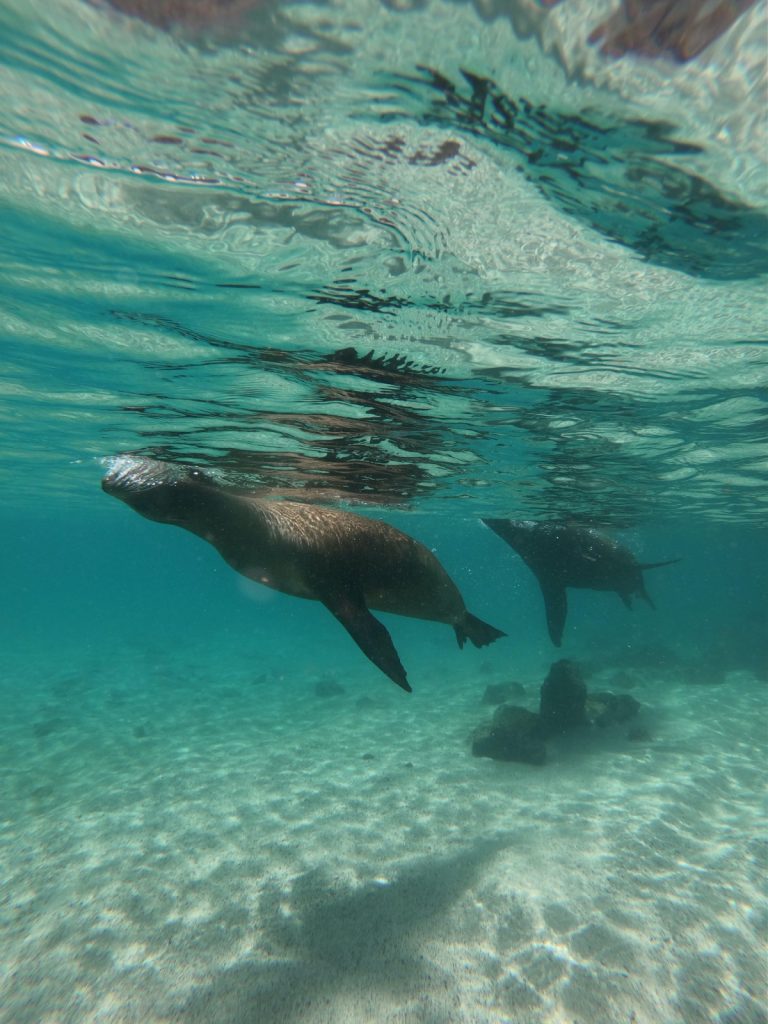 Pinzón Island is located around 10 kilometers west of Santa Cruz Island. Pinzón is desolate and can only be reached by day boat voyages from Baltra or Puerto Ayora. Pinzón Island has no tourist attractions, and landing there requires a special permit. When organizing your vacation or cruise, make sure to include snorkeling at Pinzón.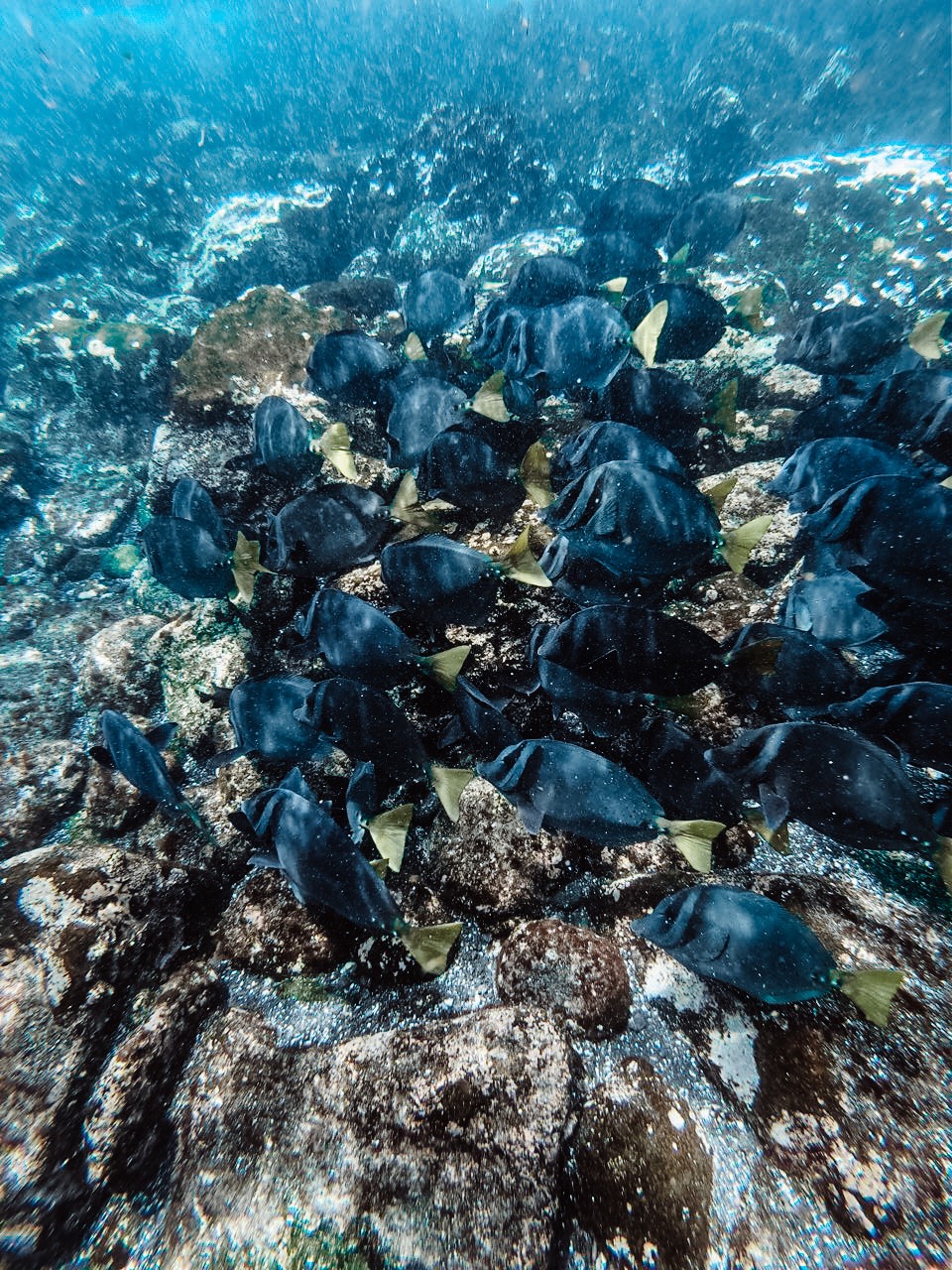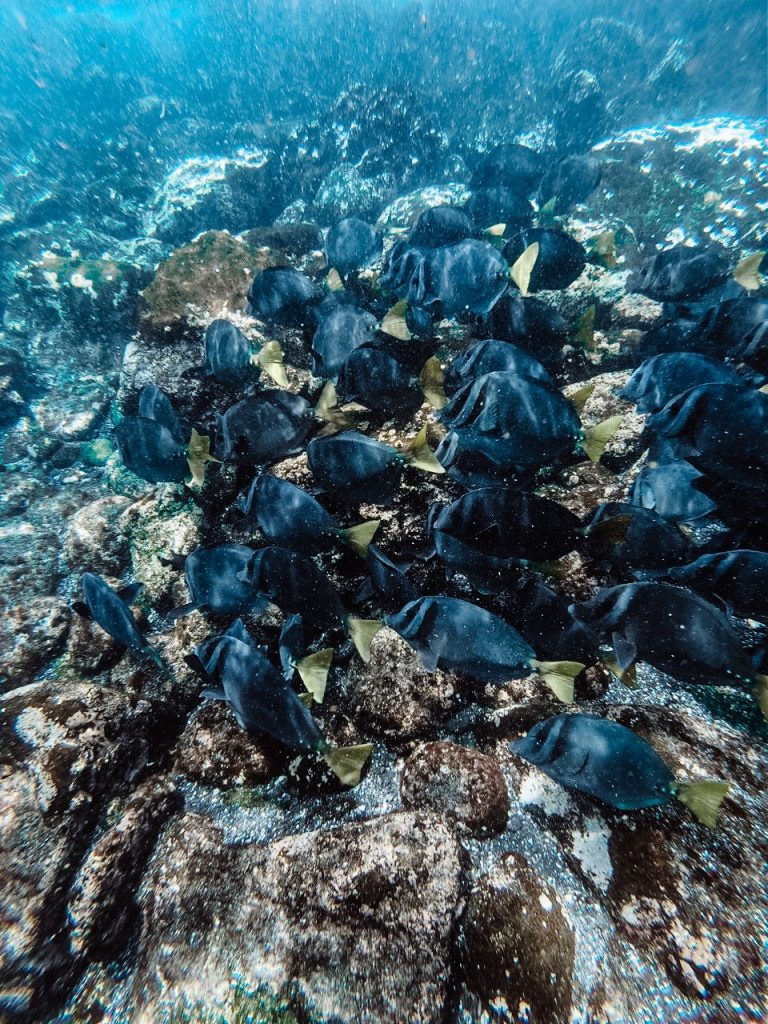 We saw a lot of sea turtles along the coastline eating seaweed, but we also saw whitetip shark groups relaxing in the shadows, surrounded by thousands of small blacktip cardinalfish. We were also joined by some playful sea lions while snorkeling.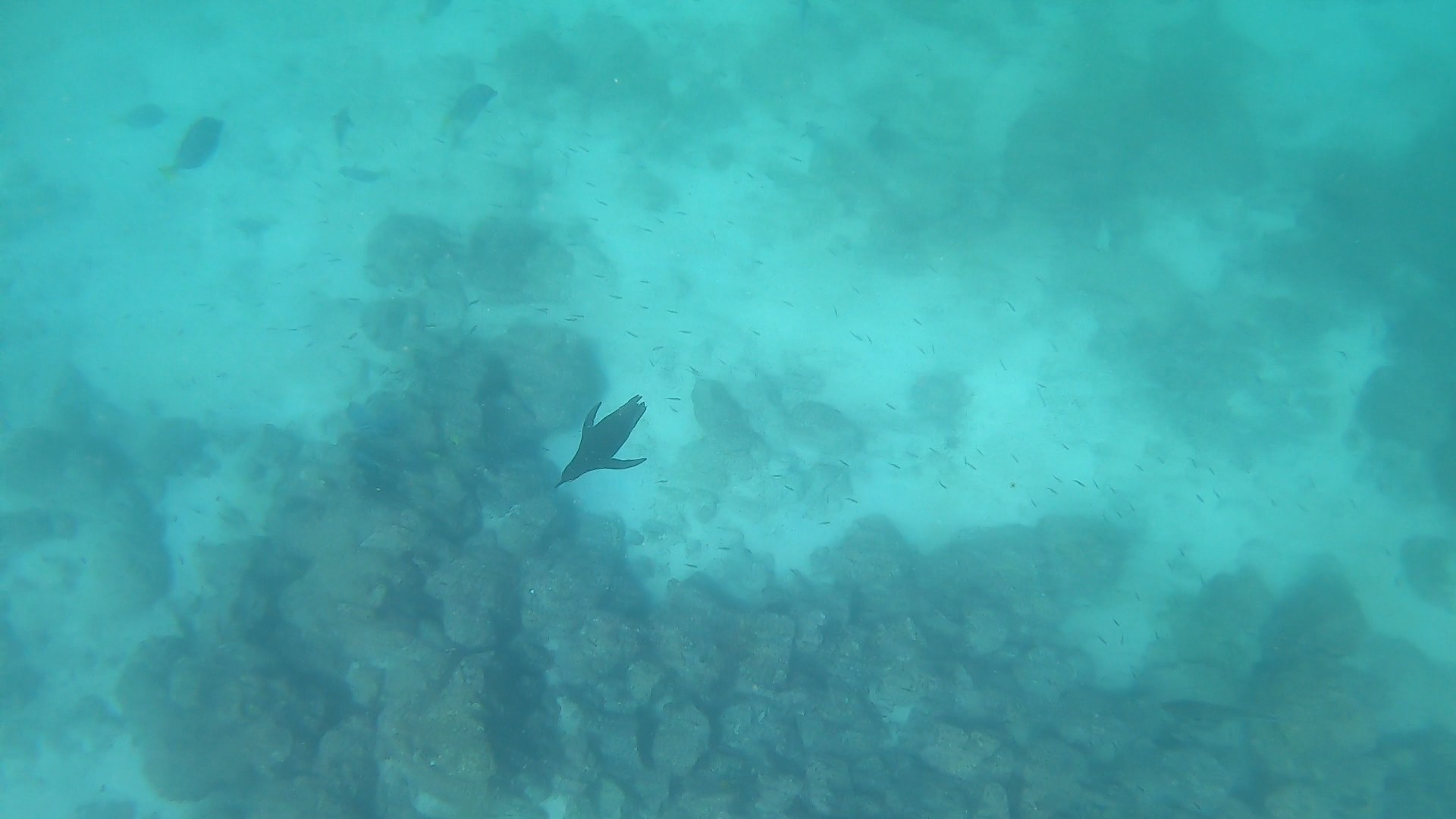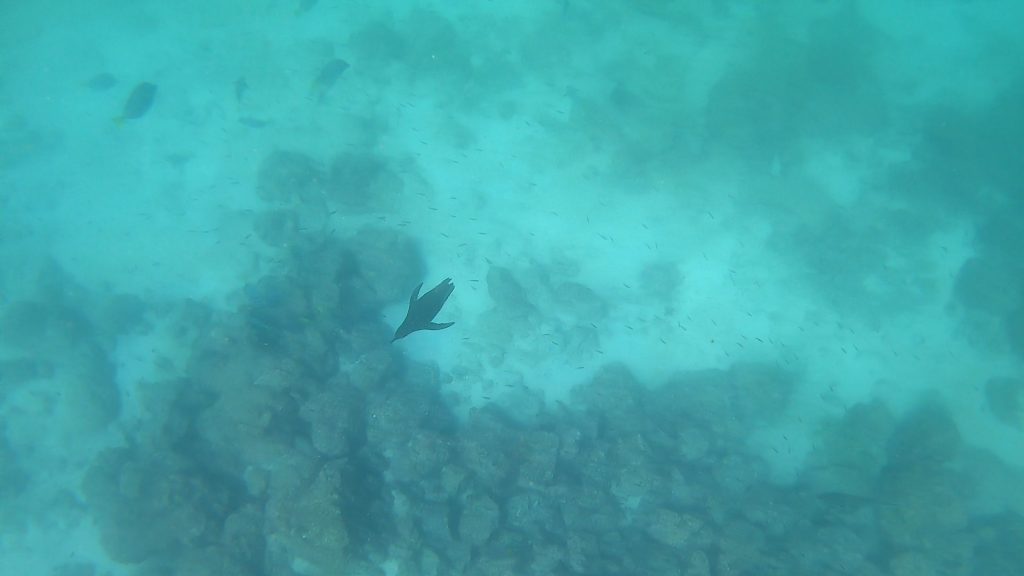 Galápagos penguin sightings are also possible in Pinzon Island, particularly in the winter.
19. Enjoy Walking on the Empty Puerto Villamil's Main Beach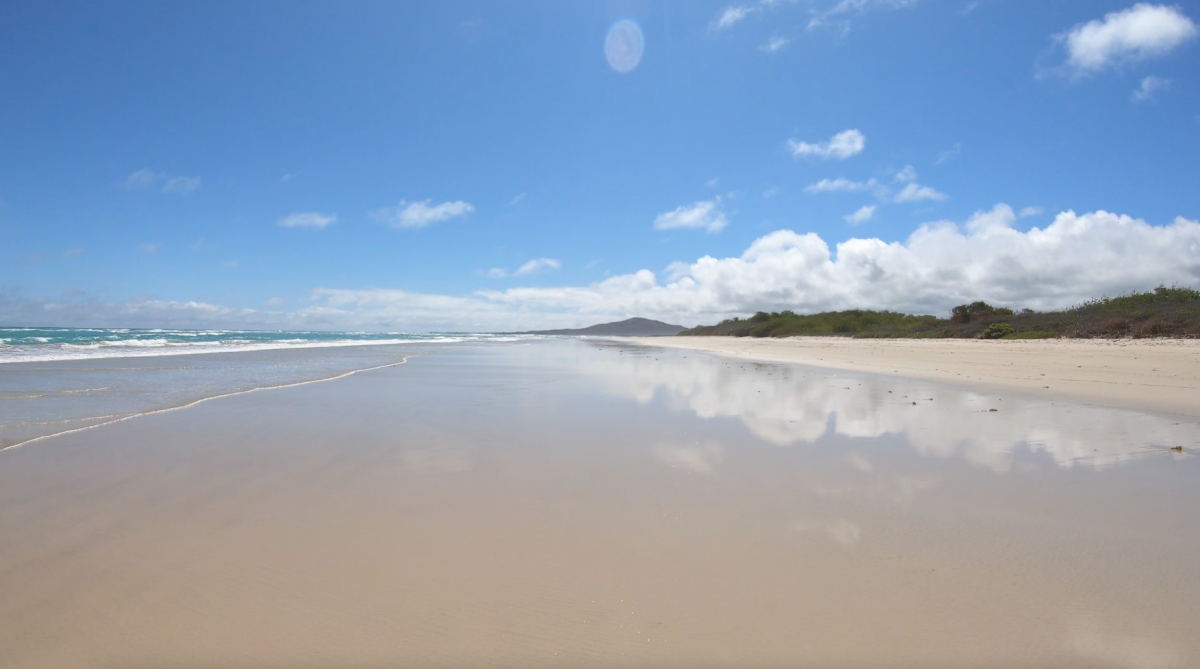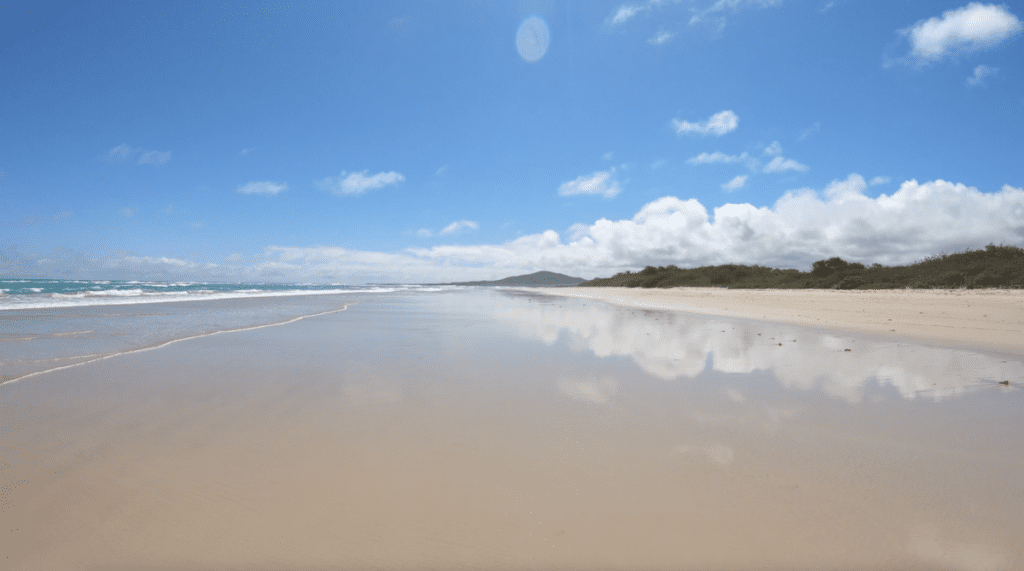 On your free day, walking on Puerto Villamil beach is a good way to unwind. There are four kilometers of smooth, white sand on the beach. There are a number of lagoons with various birds located off the beach.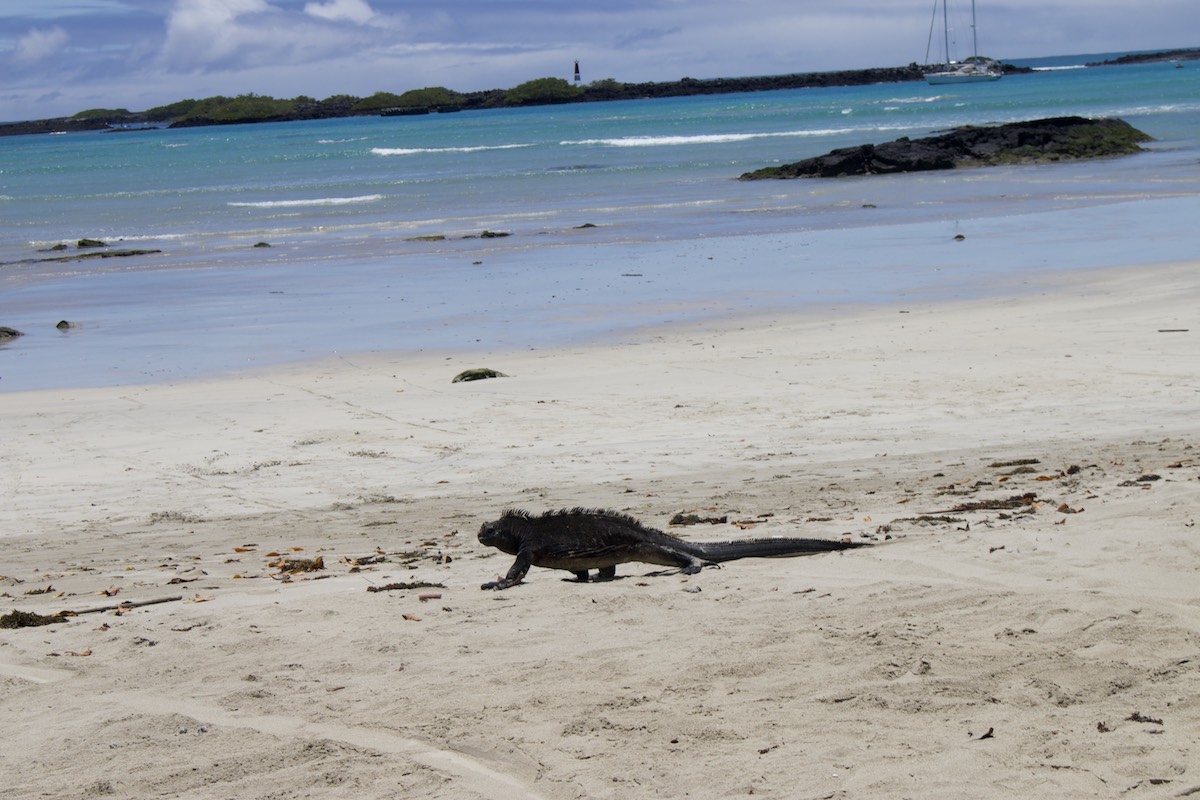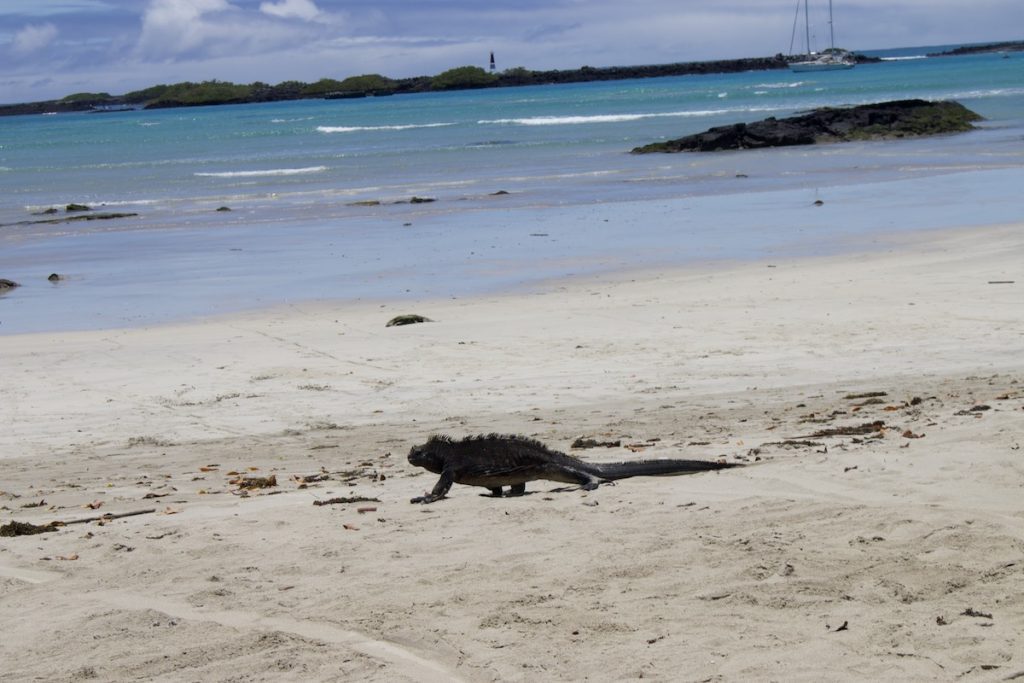 I enjoyed a slow day watching marine iguanas scurrying or swimming nearby. Ending a busy day is perfect to spend at the eateries in the city where you can enjoy the waves or the sunset.
20. Walk Around Laguna de Los Flamencos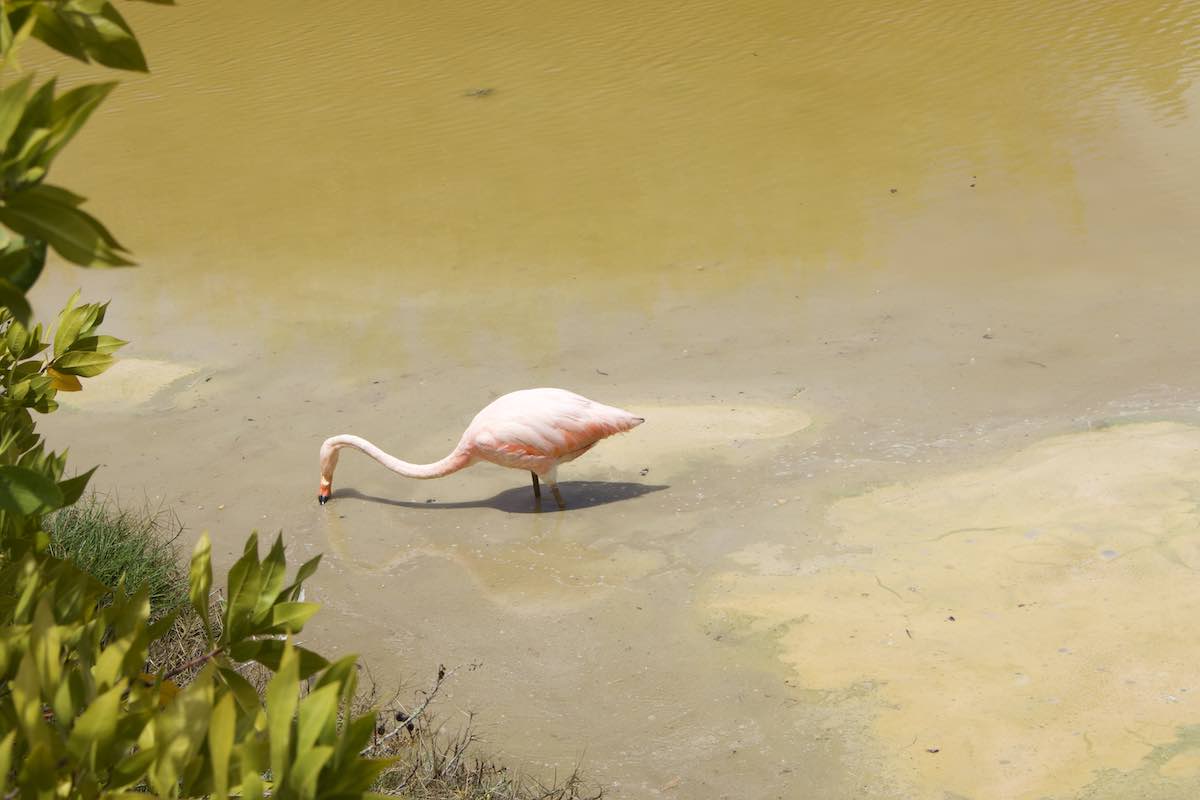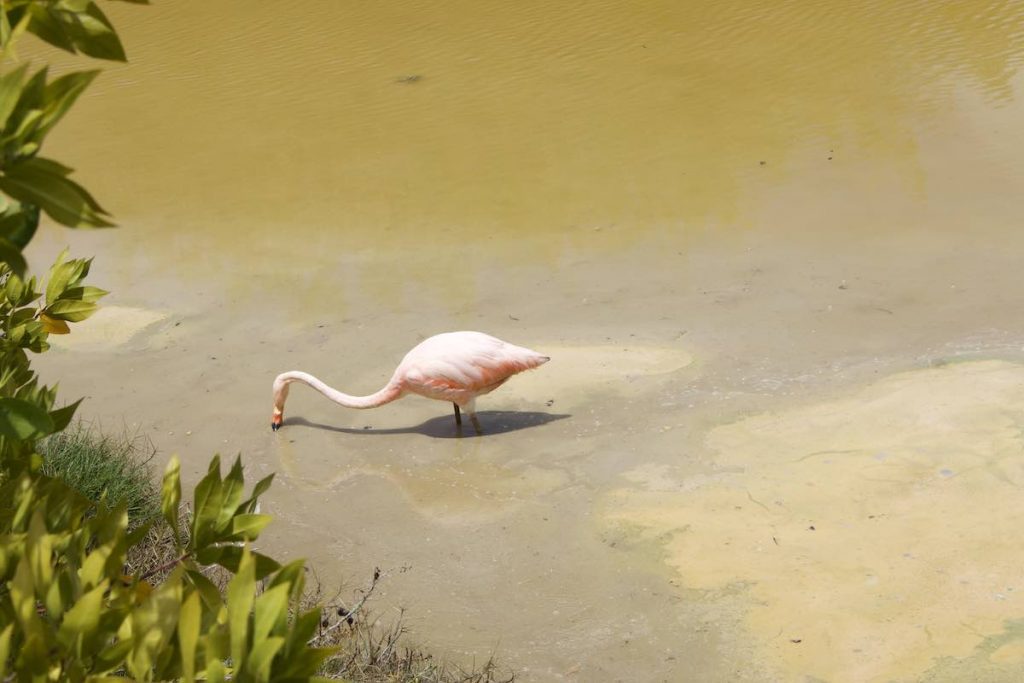 Numerous salt and brackish lagoons, particularly those to the west of Puerto Villamil, are home to a wide variety of coastal and marine birds, including flamingos. In the Laguna de Los Flamencos, flamingos can be observed all year long.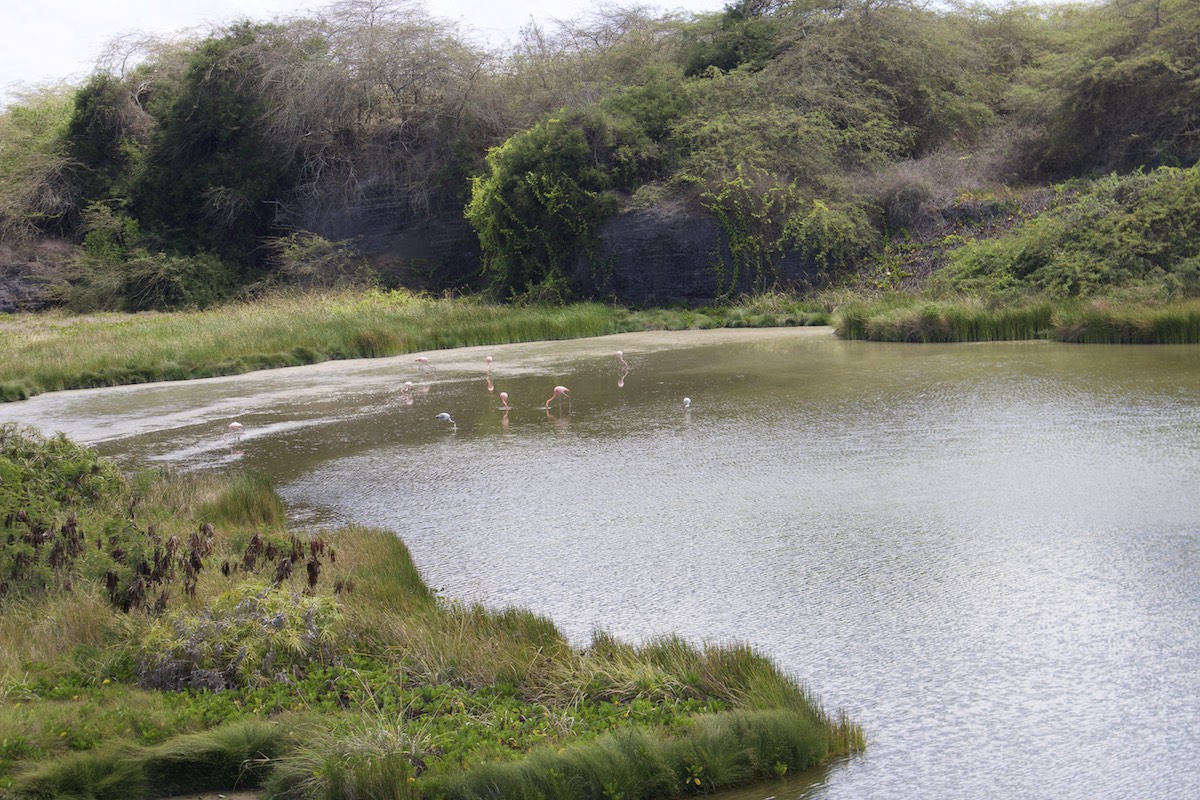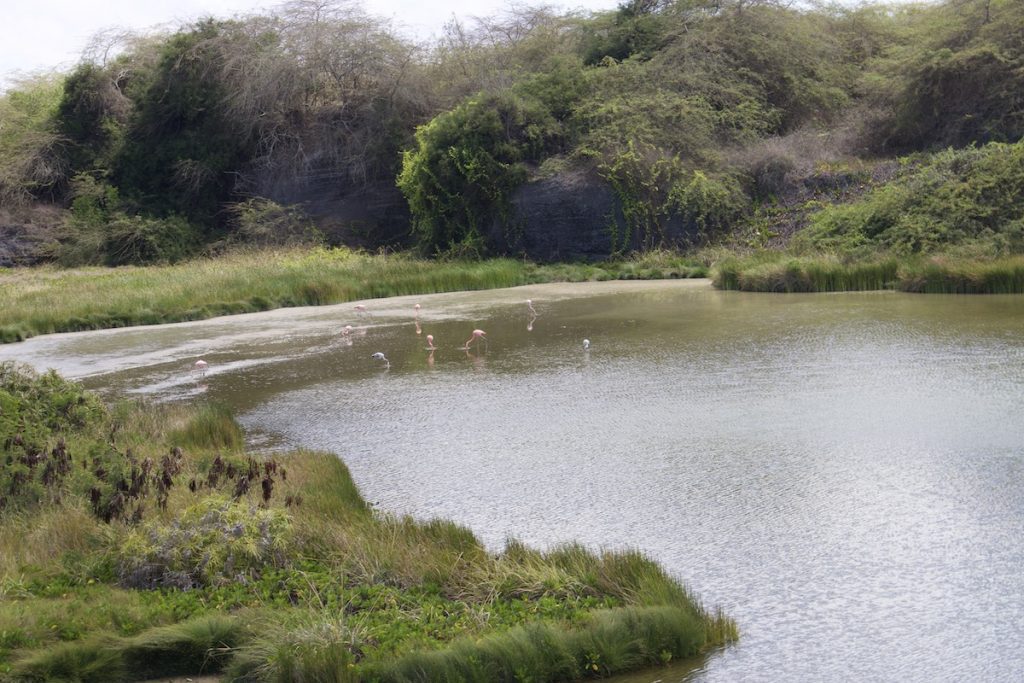 We are glad to discover this spot as it is where we found the best photo op with flamingos.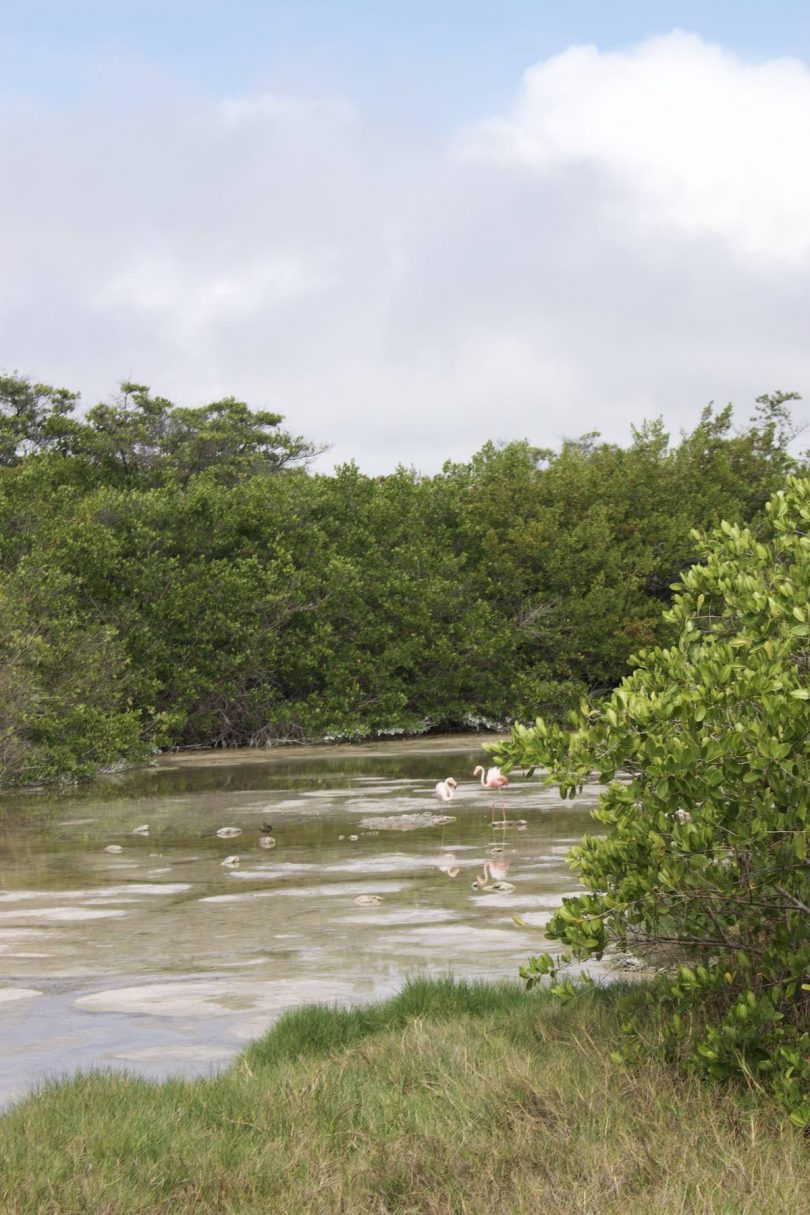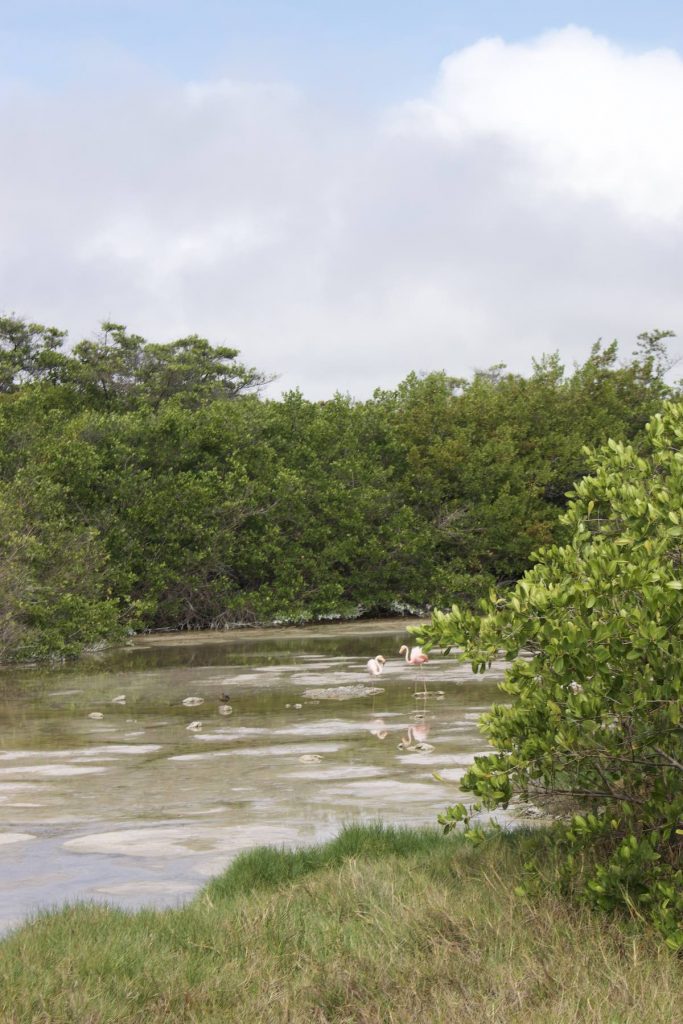 The nesting season, which lasts from March to July, is the best time to see flamingo courtship dances and chicks.
Also, the hiking pathway is so stunning!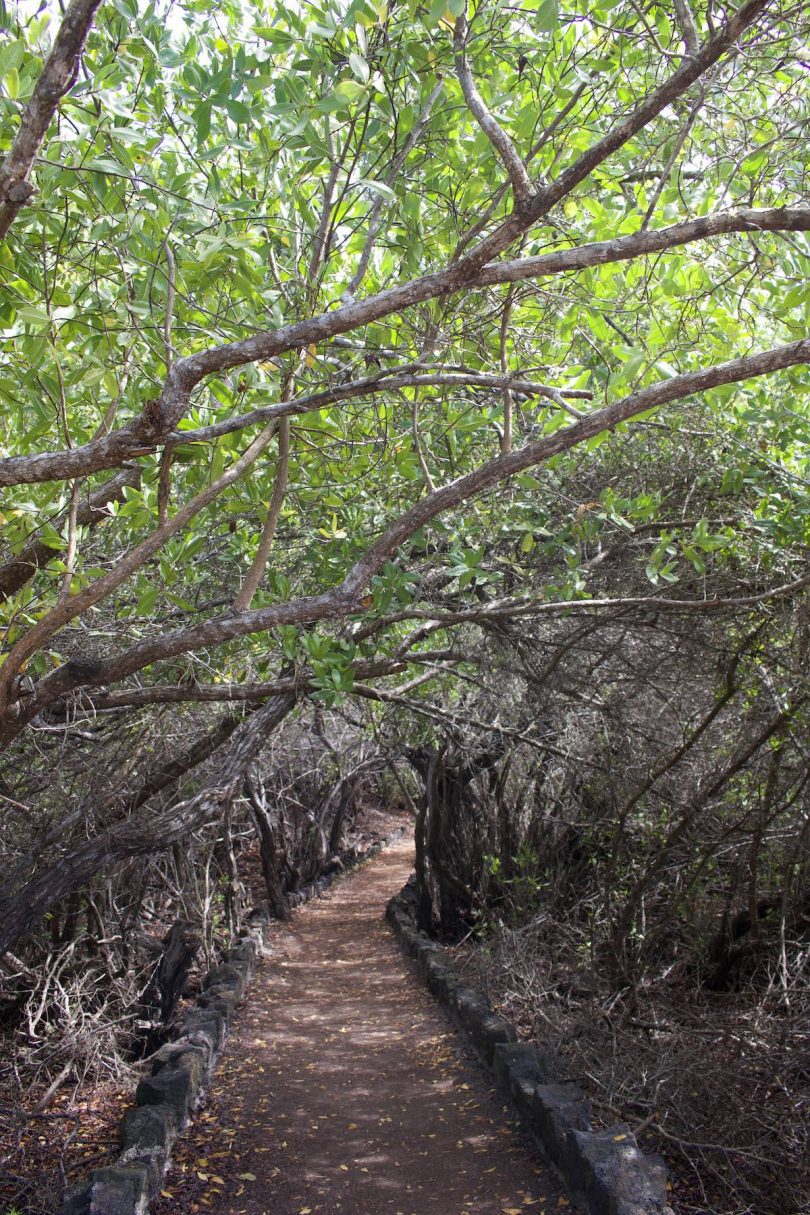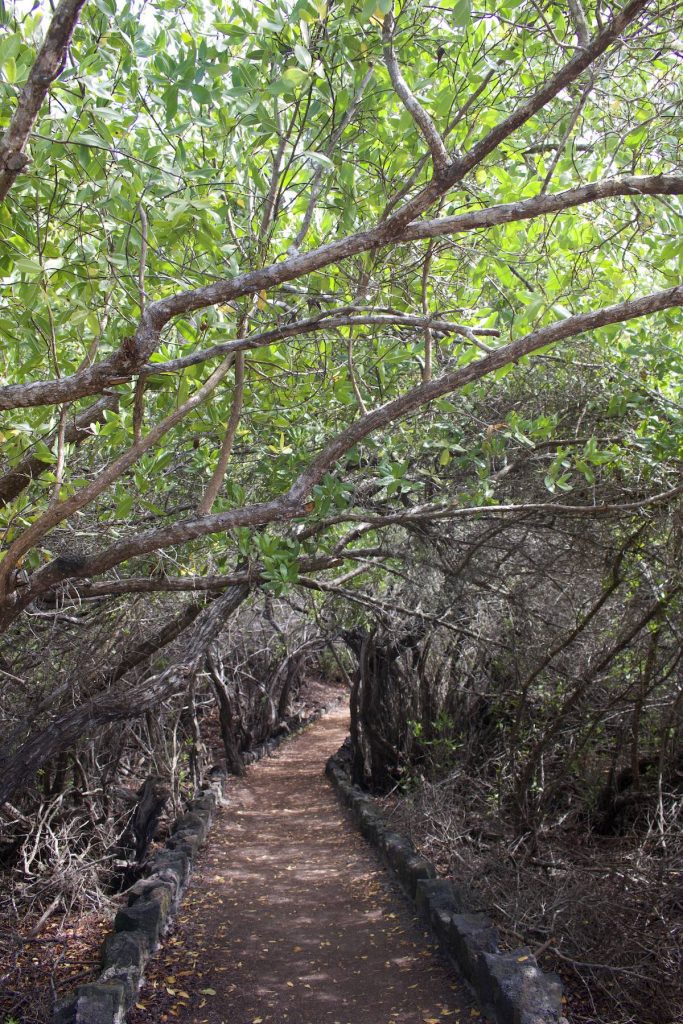 The Galapagos flamingo is one of the pinkest flamingos in the entire globe. In order to live, they have also adapted in innovative ways to the Galapagos environment.
21. Try Fresh Caught Brujo Fish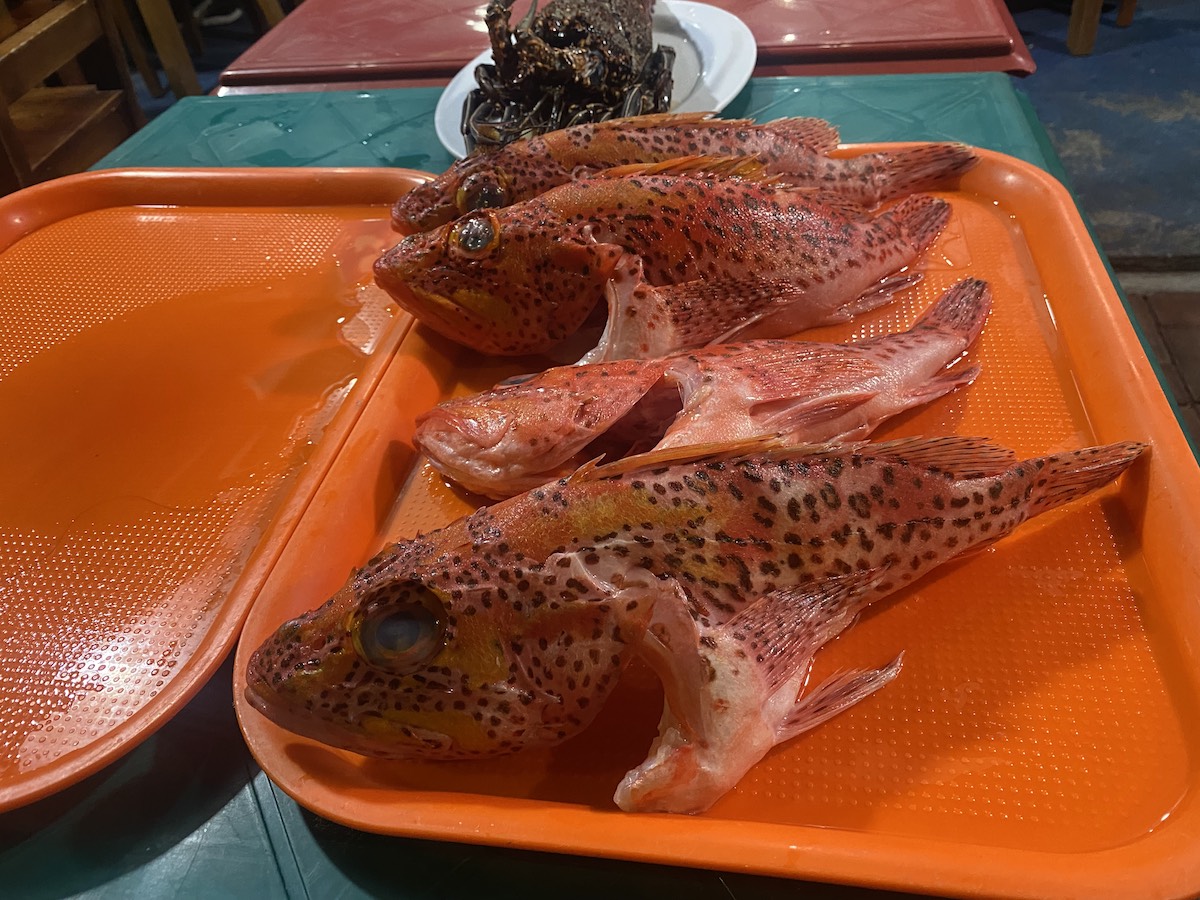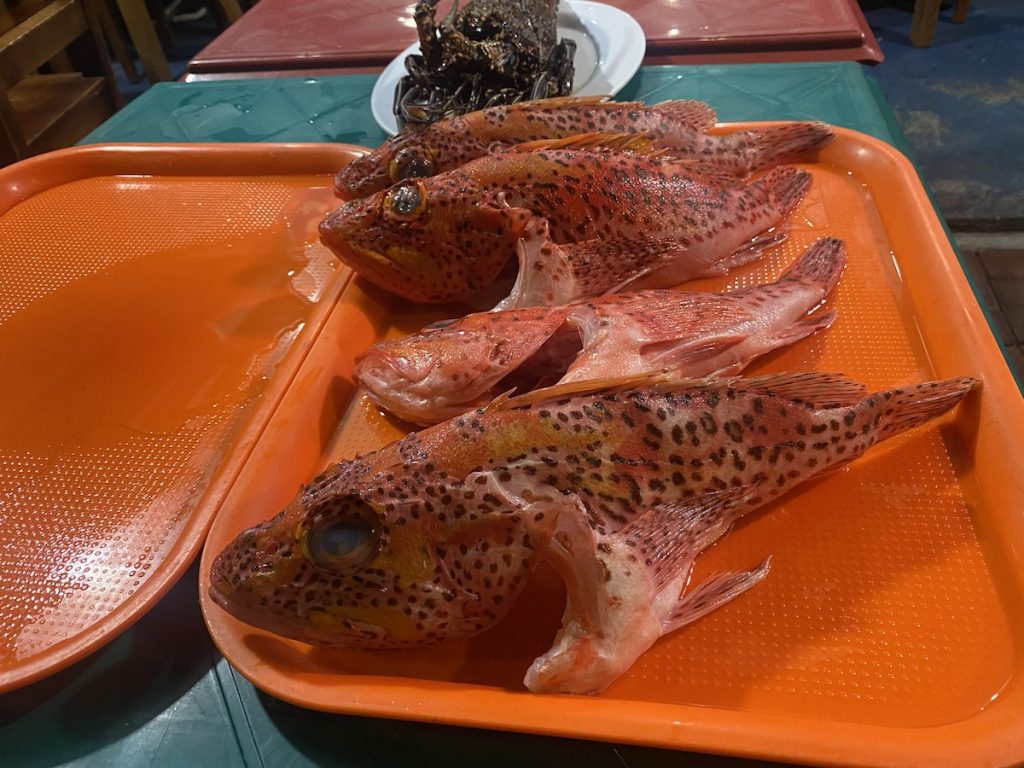 We heard from locals that we must sample brujo fish, often known as scorpion fish. Several bars and kiosks offer Brujo fish out on the grill. Depending on the fish's size, prices change.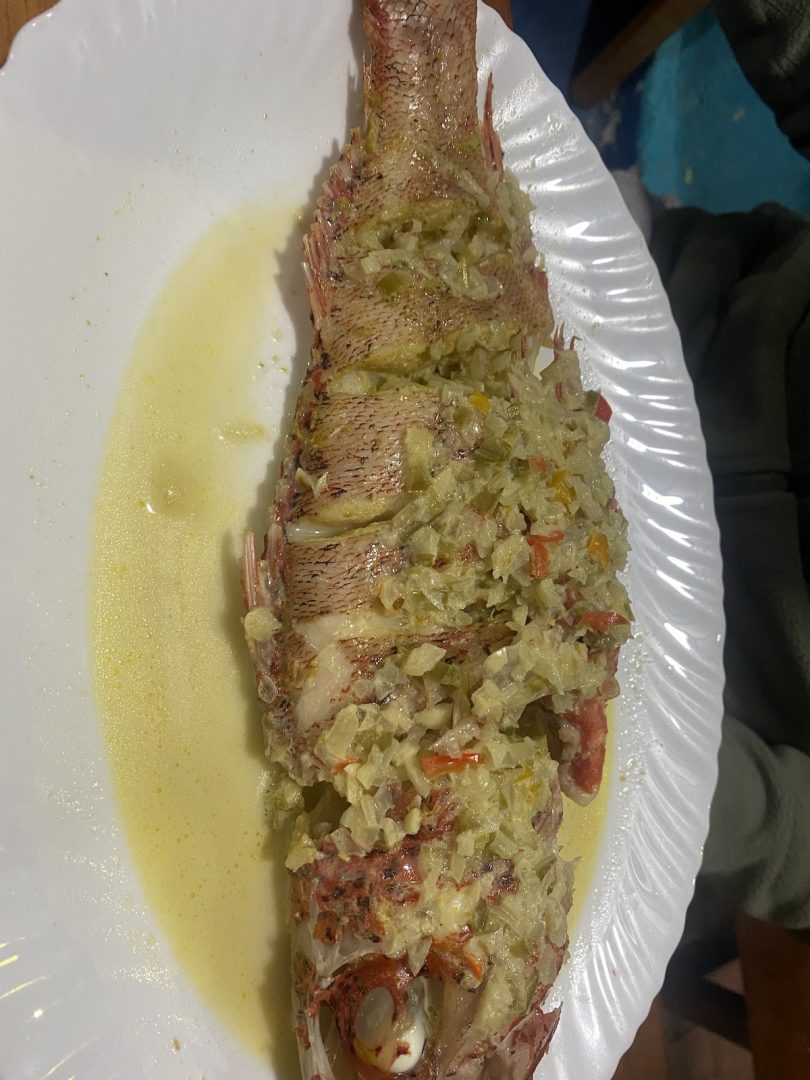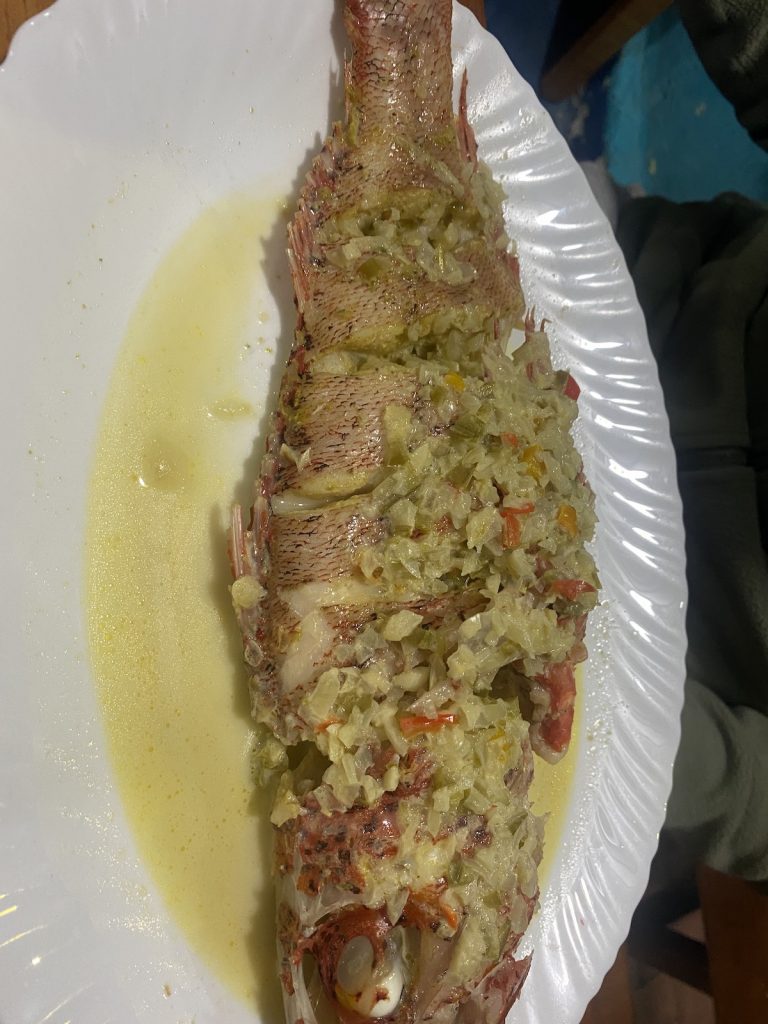 Even though brujos have protruding eyes and orange skin with black markings, they are delicious. When we were on the island, we had it made in a variety of ways, and each time it was excellent.
22. Swim Through the Caves of Los Tuneles (Cabo Rosa) Tour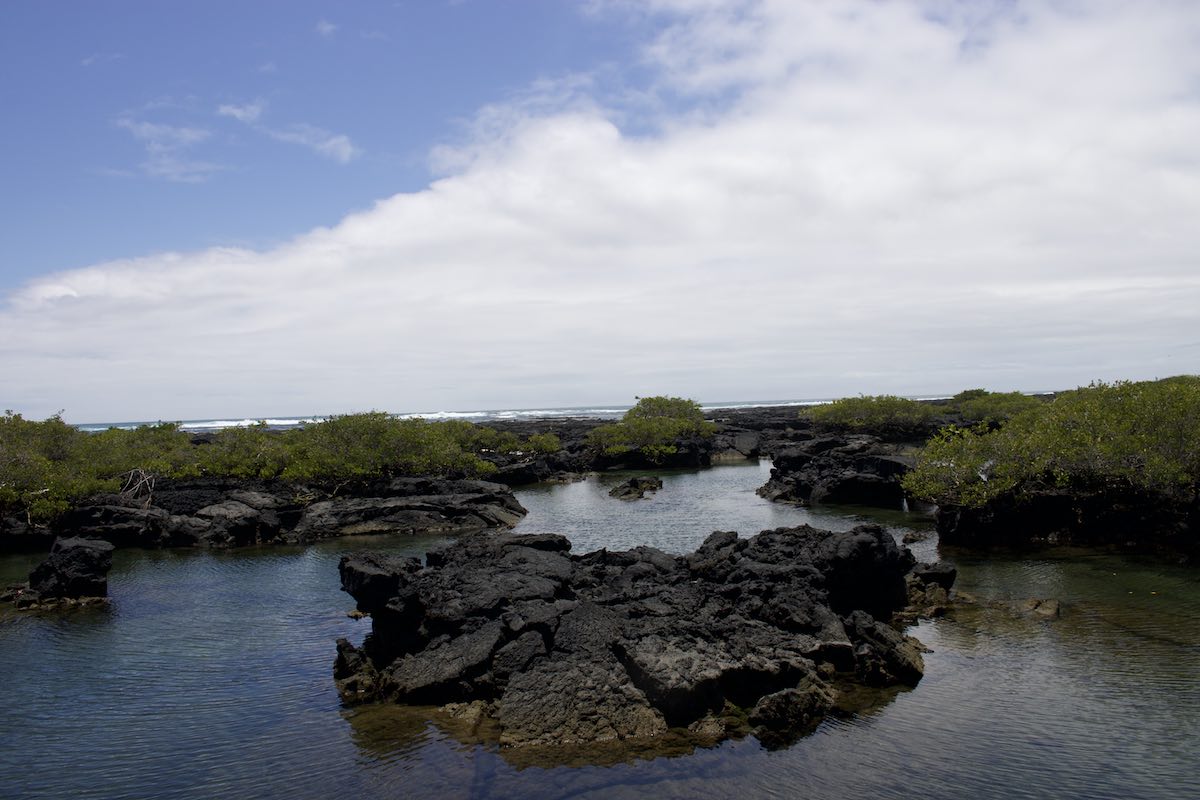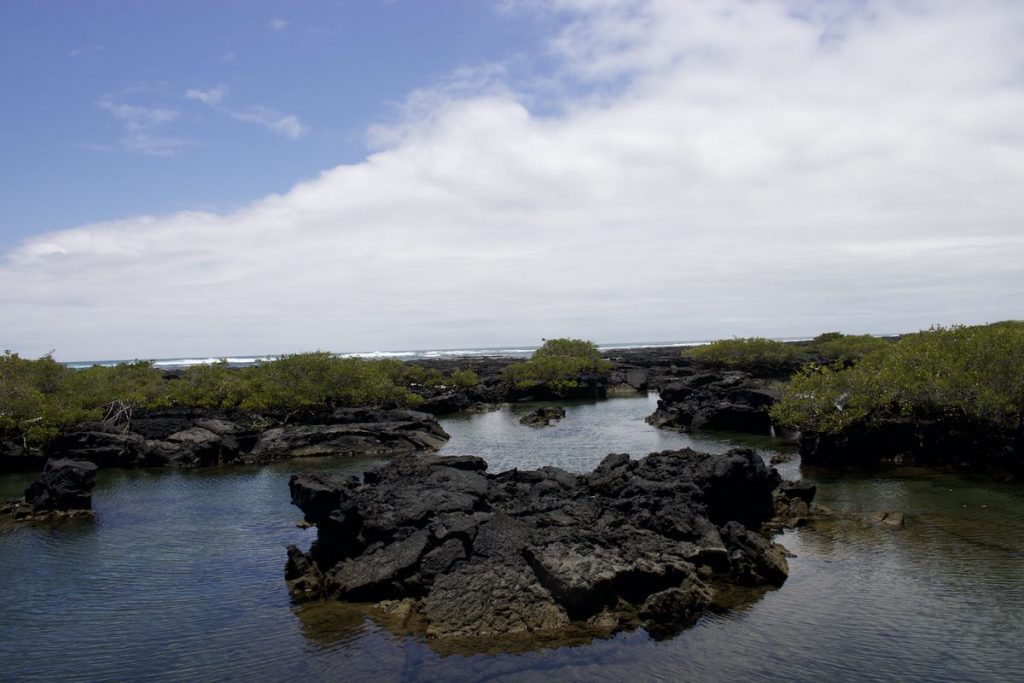 Near Isabela Island is a special location called Los Tuneles, where volcanic lava has carved out tunnels and arches both inside and outside the water.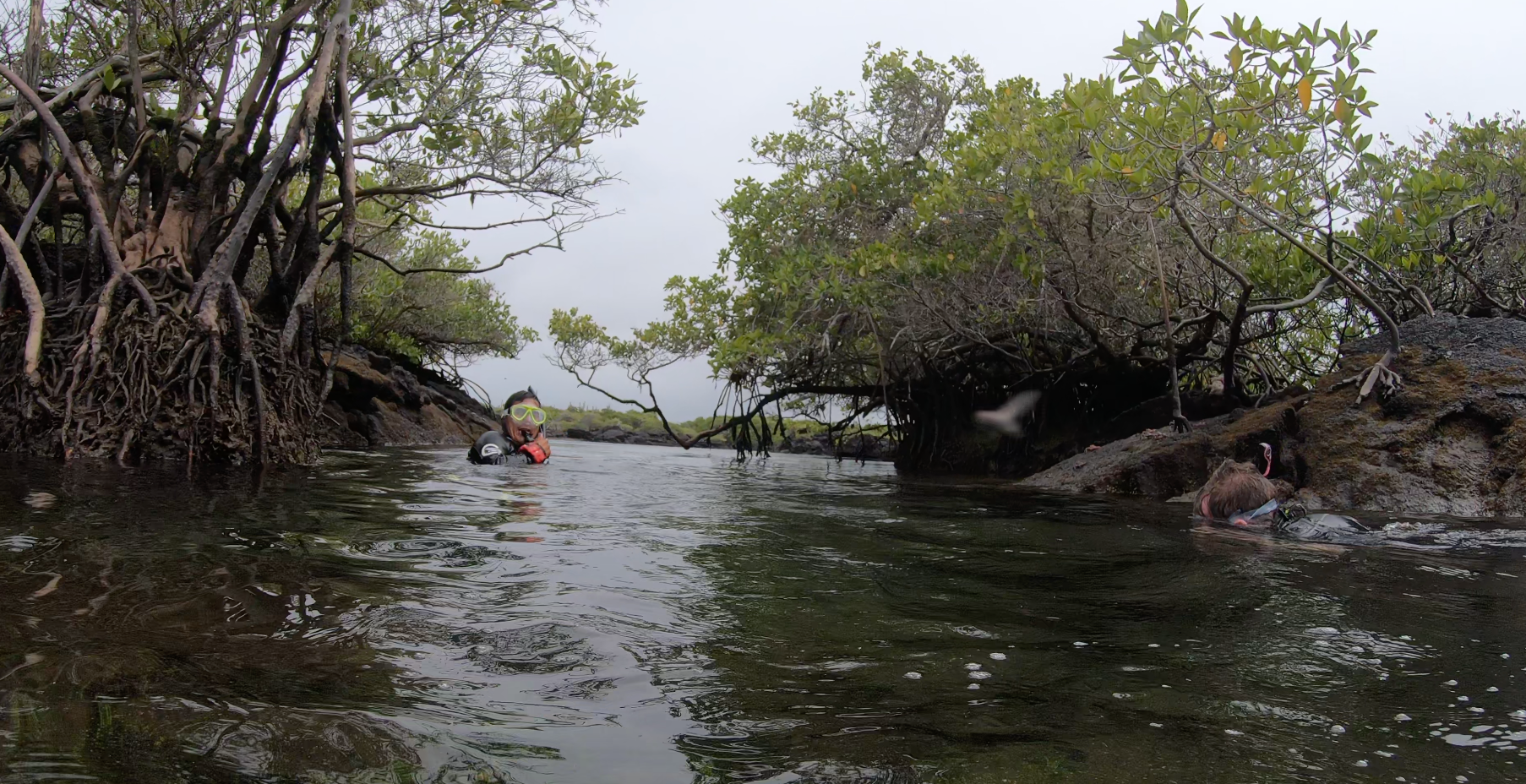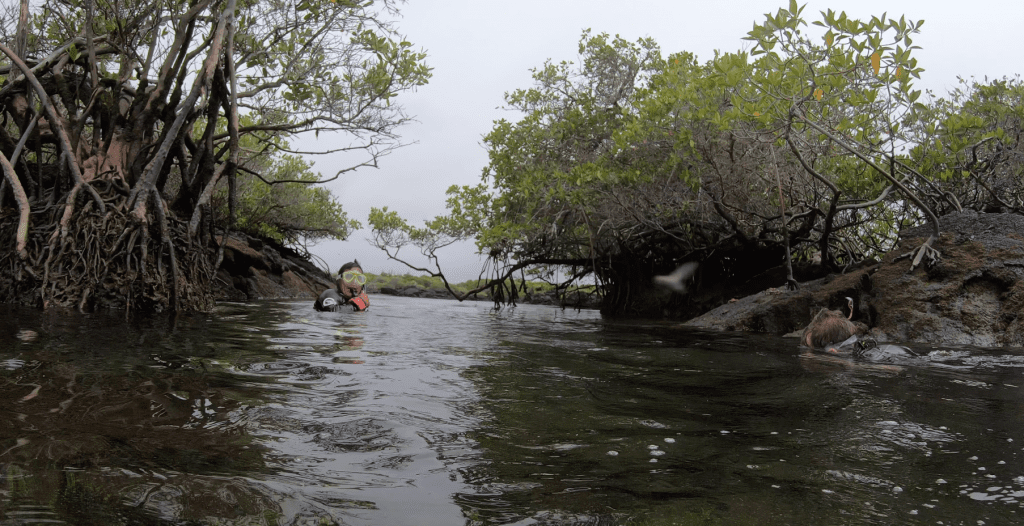 In this breathtaking environment, we delighted in snorkeling and saw rays and sea turtles. We couldn't get enough of marine life in the Galapagos and snorkeling just gets better as days pass by.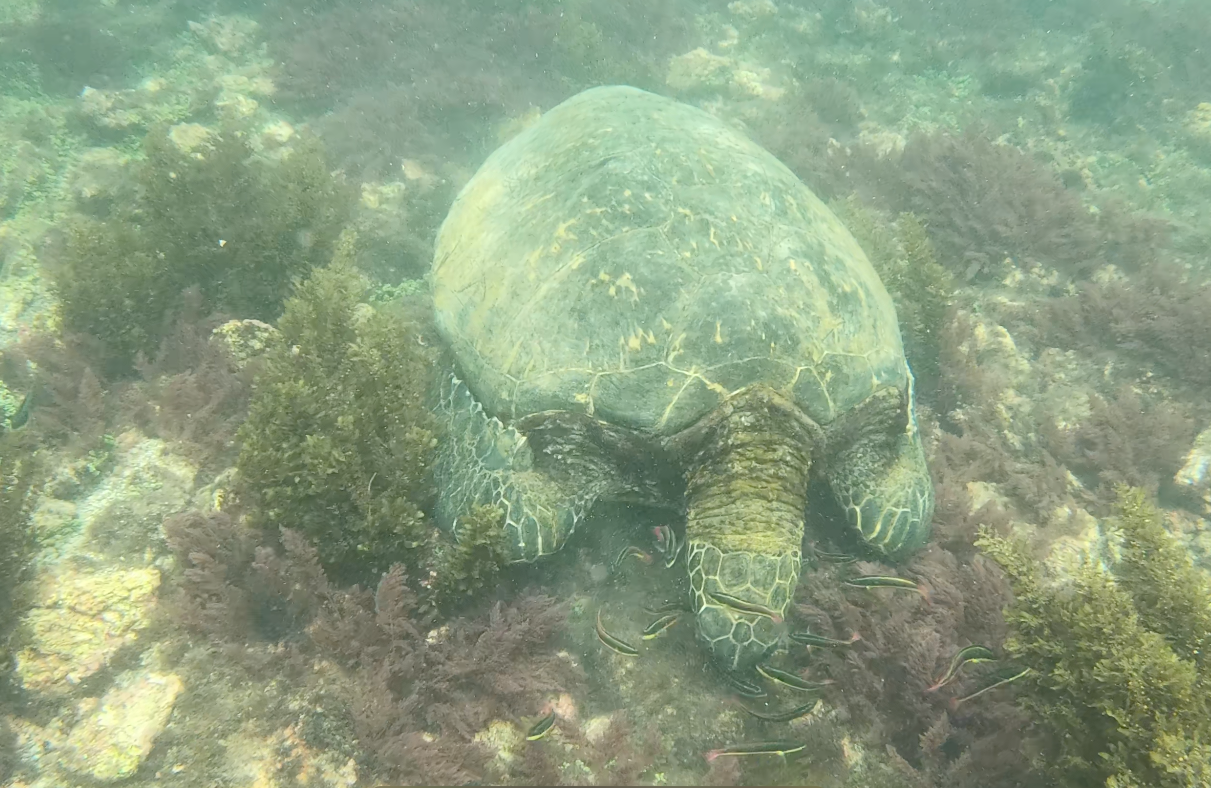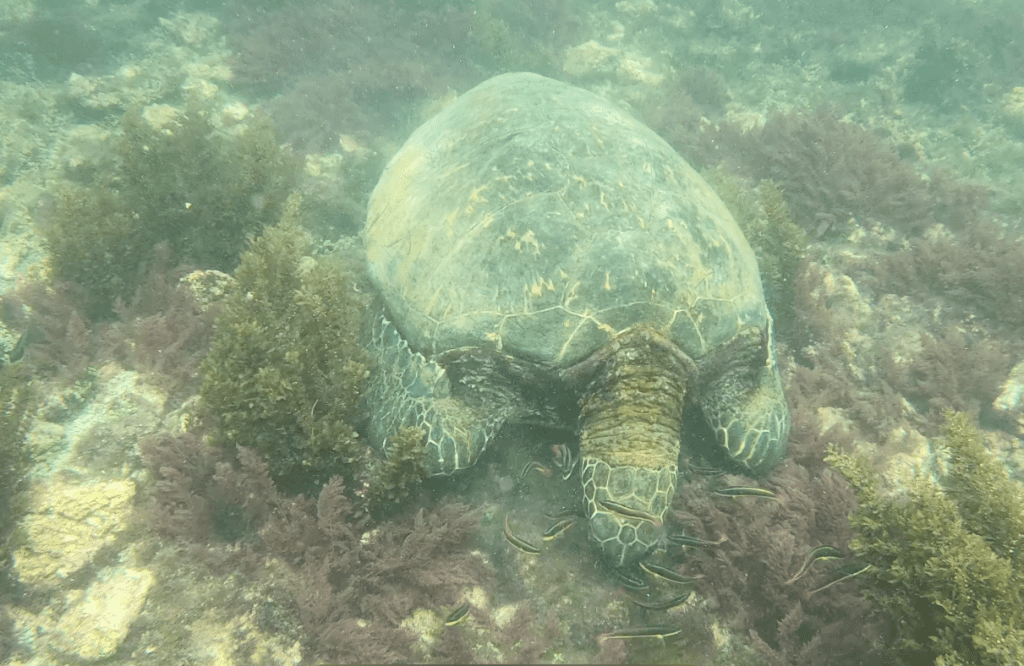 Los Tuneles is mostly a snorkel excursion, but we get off the boat to take a quick stroll among the amazing lava formations and spot local wildlife. I even spotted a seahorse first time in my life!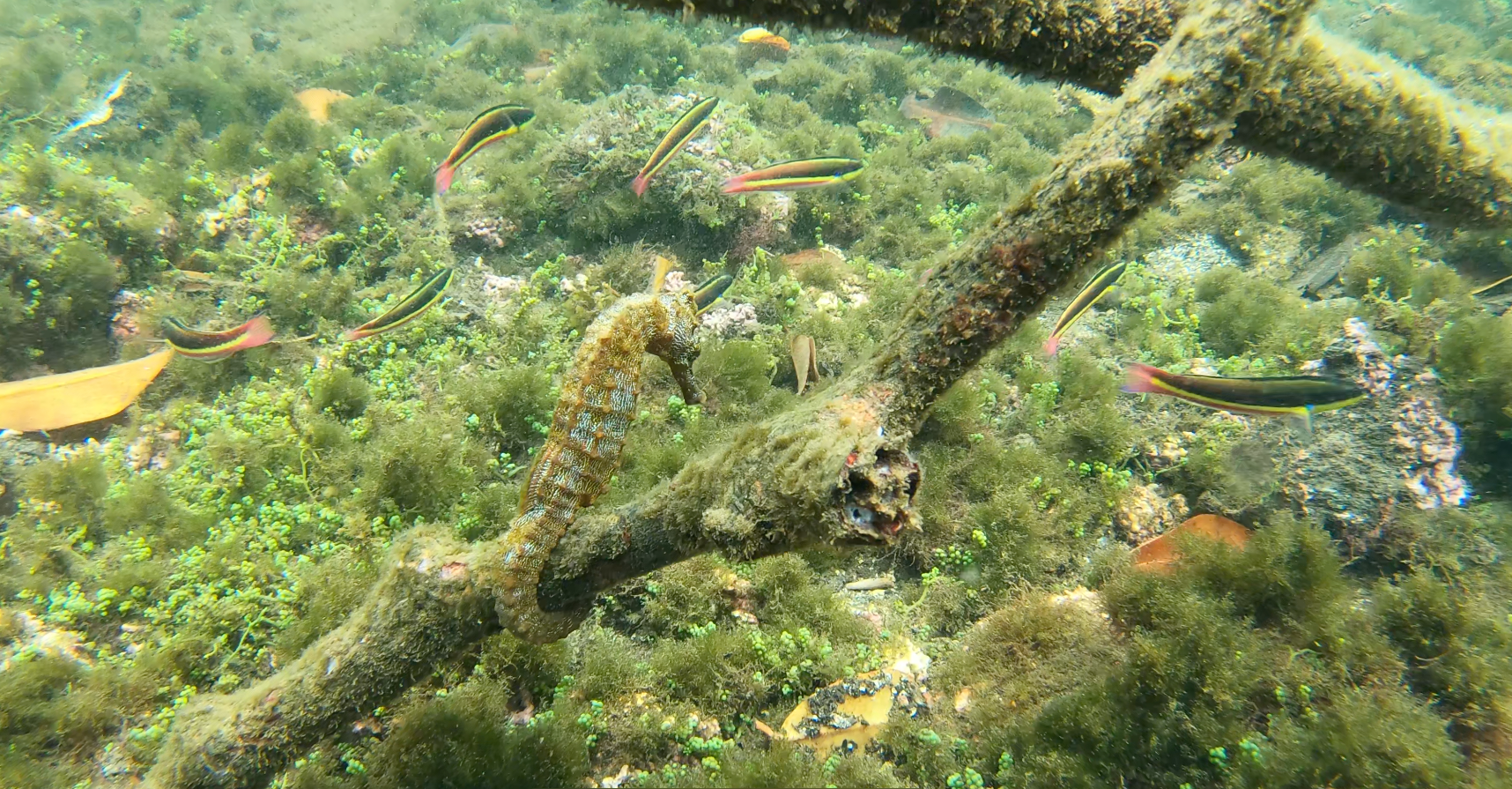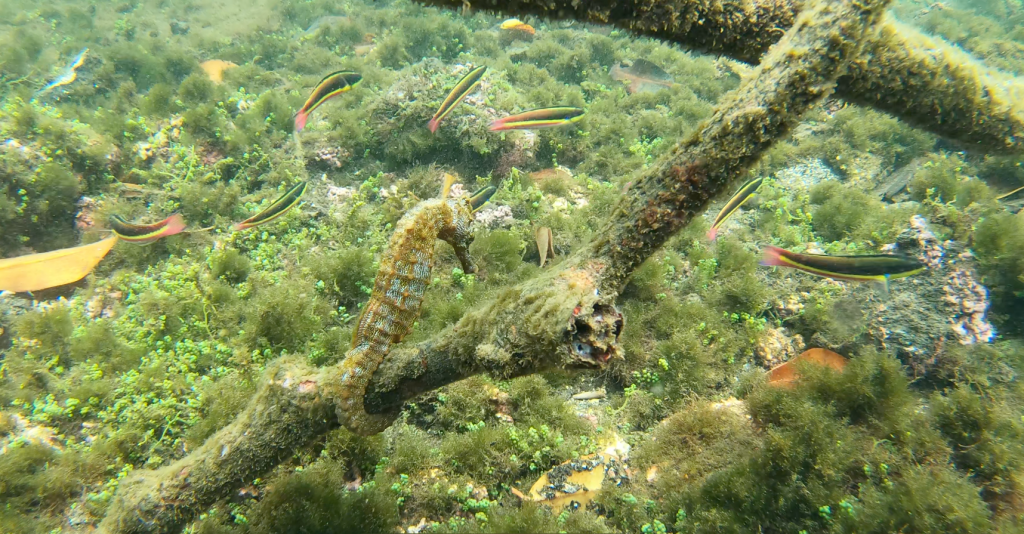 Intense waves pounding onto the rock carved out and collapsed the majority of the settled lava to construct bridges and caverns, giving Los Tuneles its name from the tunnels that wind through the solidified lava.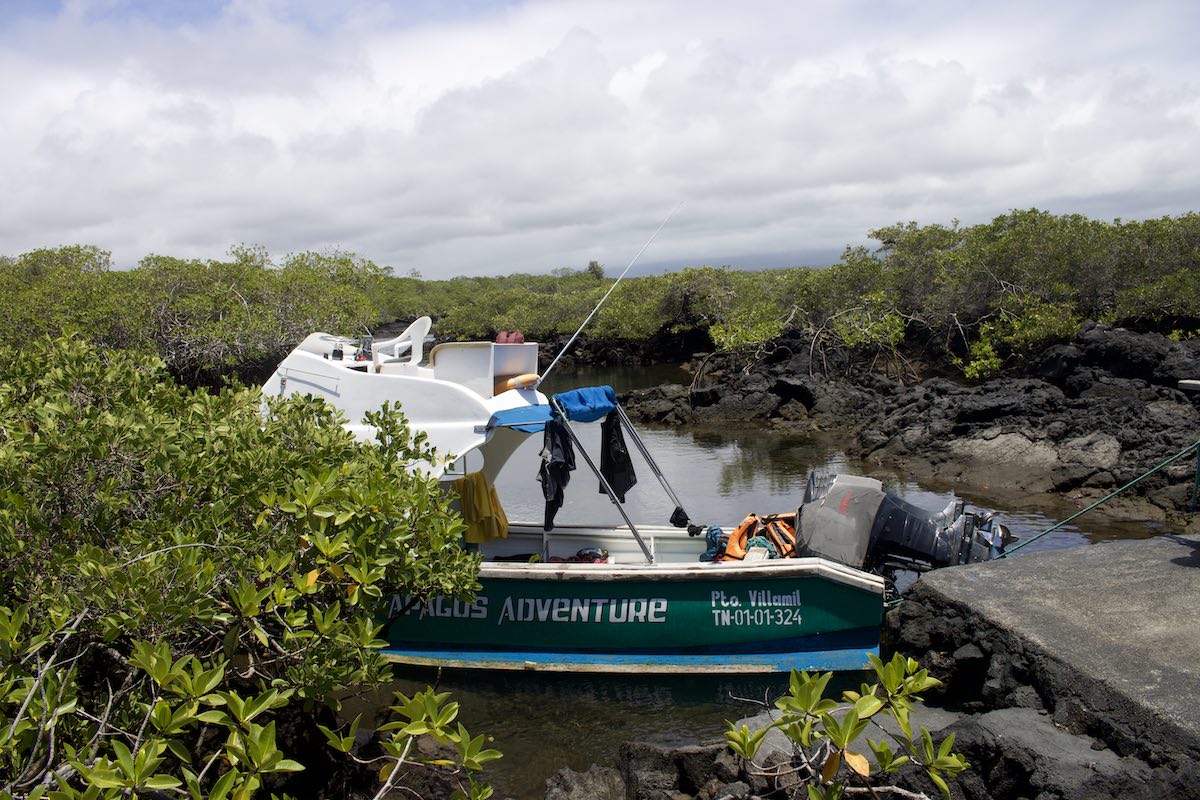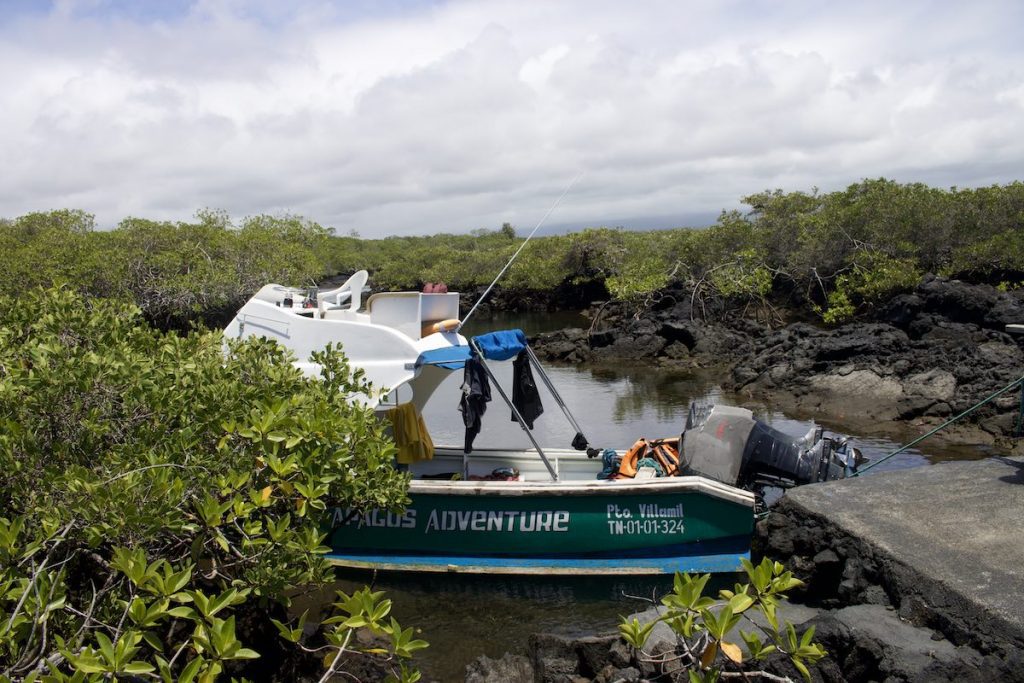 As a result, a calm, cobalt sea is bordered by craggy, lava platforms covered with cacti, producing an almost bizarre scene.
23. Explore Lava Tunnels in Santa Cruz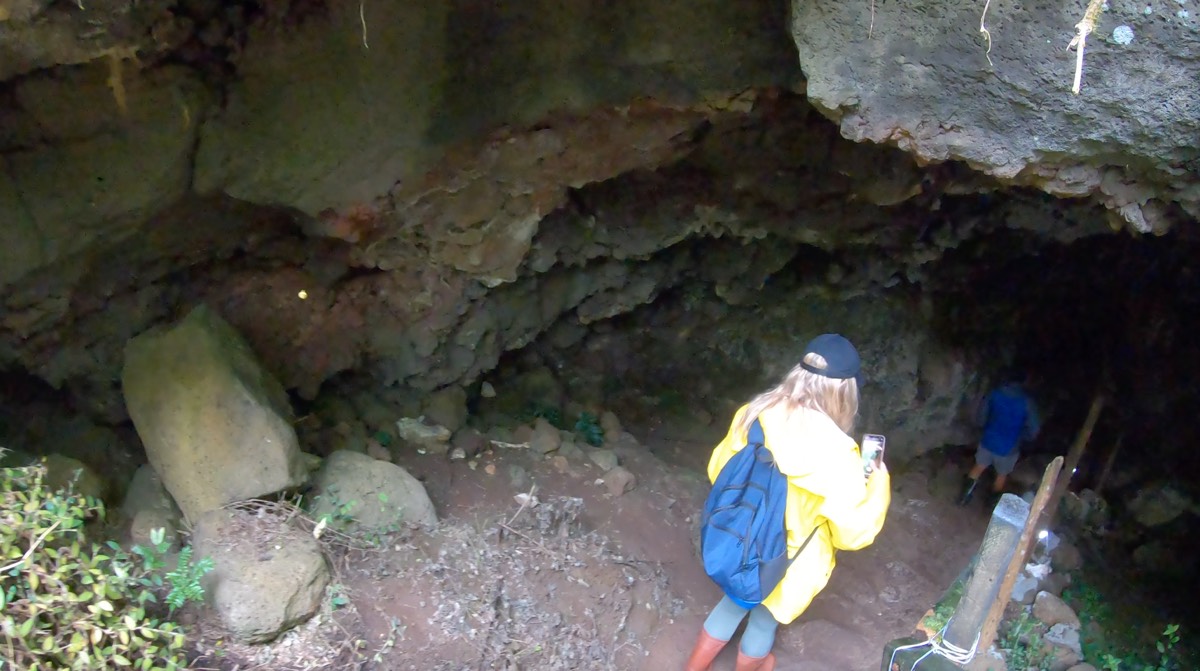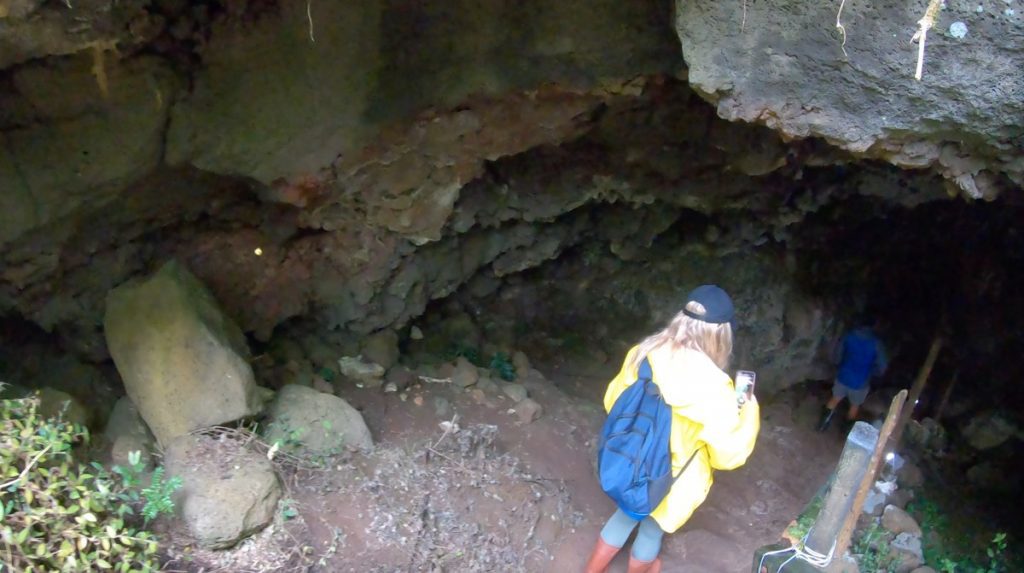 You can stroll through lava tunnels or lava tubes at the hamlet of Bellavista on Santa Cruz Island's Highlands. It is only 7 kilometers (4.3 miles) inland from Puerto Ayora, where we were staying.
These remarkable underground tunnels are more than 1km in length and were constructed when the exterior skin of a molten lava flow solidified.
For the most part, the journey was through incredibly vast areas of the tunnel with high ceilings, but there is a section in the middle where you had to crawl on your hand and knees to get to the other side. It's just for around 8-10 feet, so be ready to get a little dirty. Generally, the hike is easy even for non-adventurous.
Get a Last Minute Cruise Deal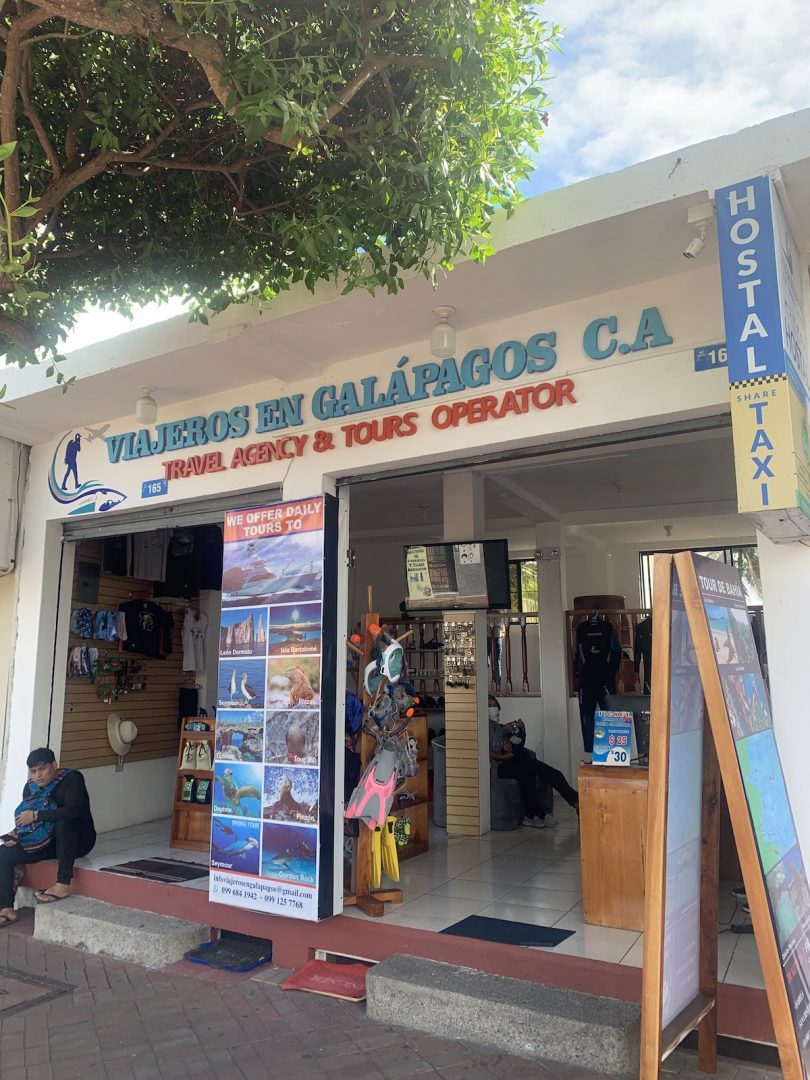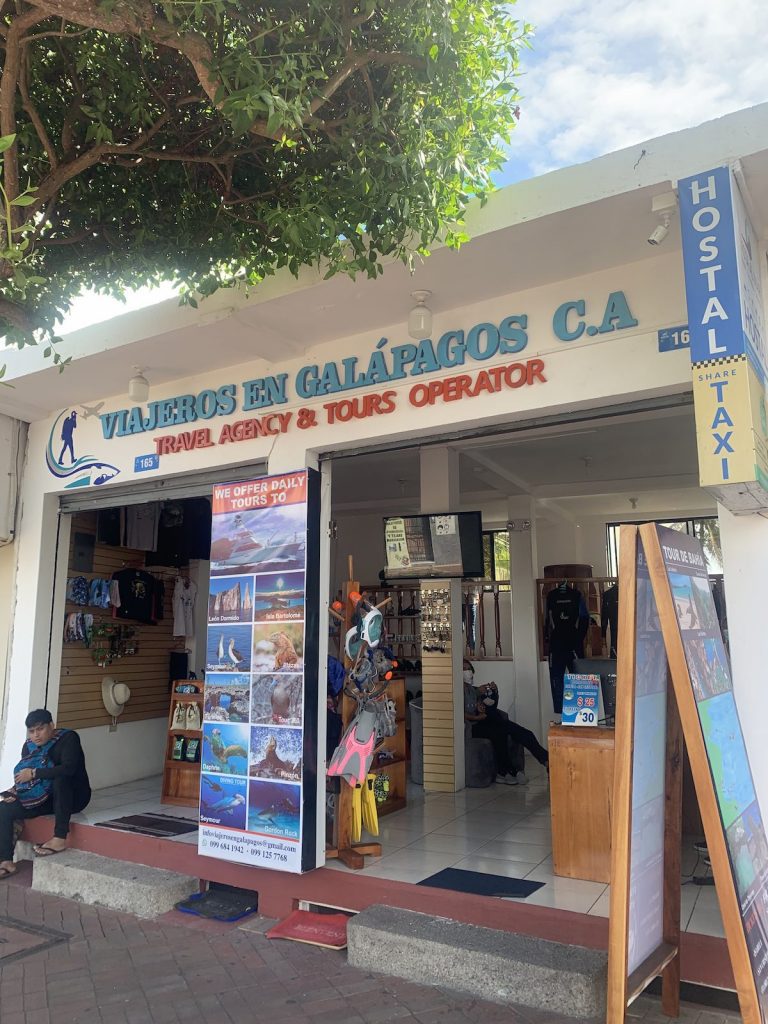 Getting a last-minute cruise deal in the Galapagos is not only something nice to add to your Galapagos bucket list but also good for your wallet.
If you want to take chances when traveling, you might be curious to find out how to book a last-minute Galapagos cruise. We were astounded by the number of possibilities available for purchase at 75% off the original cost! However, since we had fully booked our land-based trip and were unable to cancel the hotels; otherwise, we would definitely book a Last-Minute Galapagos Cruise.
Galapagos Destinations I Would Not Recommend Visiting Despite its Popularity
Charles Darwin Station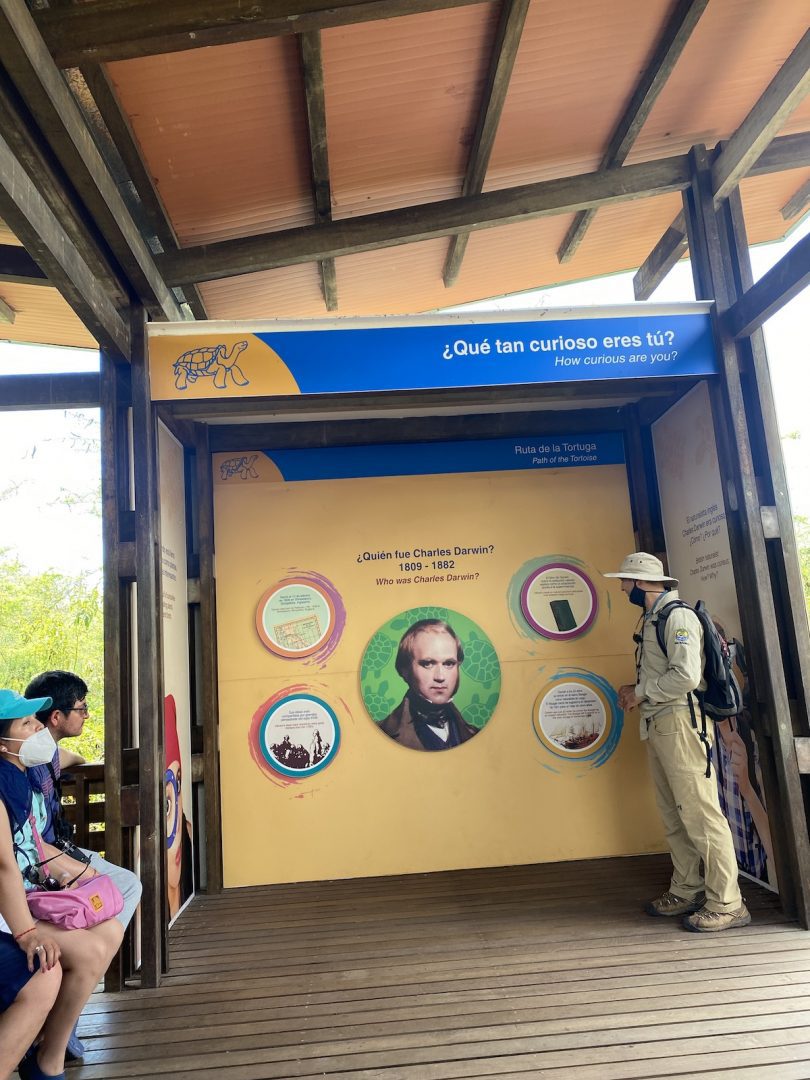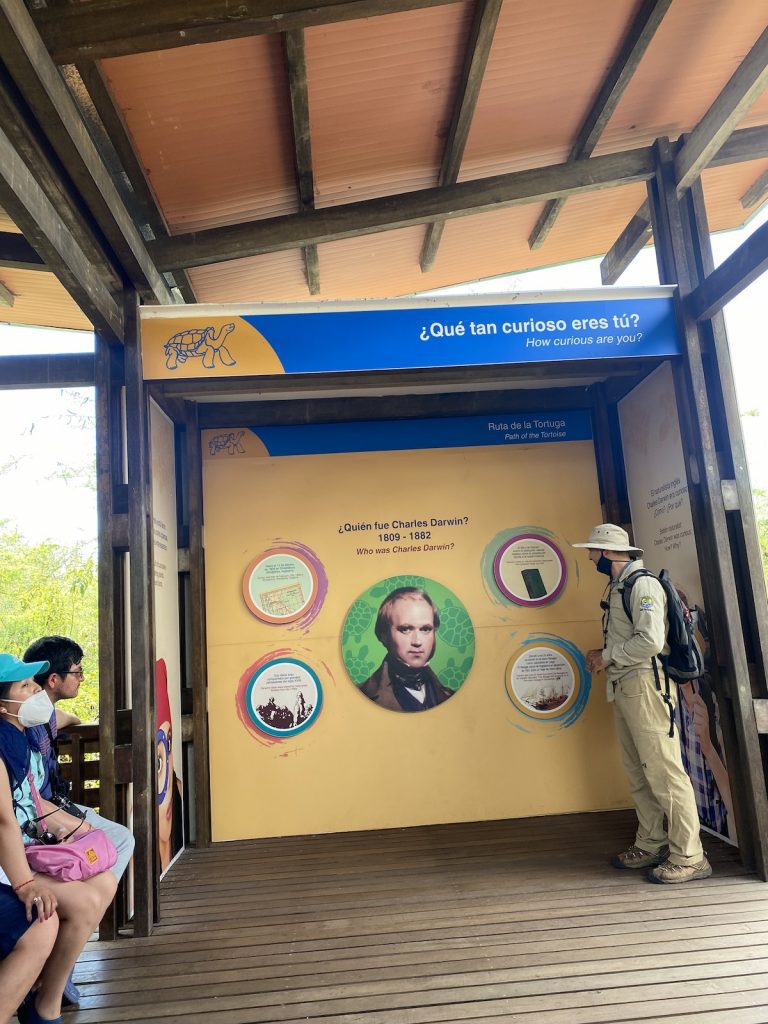 While Charles Darwin station is popular with tourists, I personally find it boring. Unless you are interested in research, and the preservation and sustainable projects in Galapagos, you might find visiting this site not worthwhile. Also, there are way better places to see turtles.
Sombrero Chino Island
The trip to Sombrero Chino Island is a bit pricey as you can only visit this site through a Galapagos cruise that follows the northern itinerary circle. The activities and wildlife here are also the same as on the other islands.
Laguna del Junco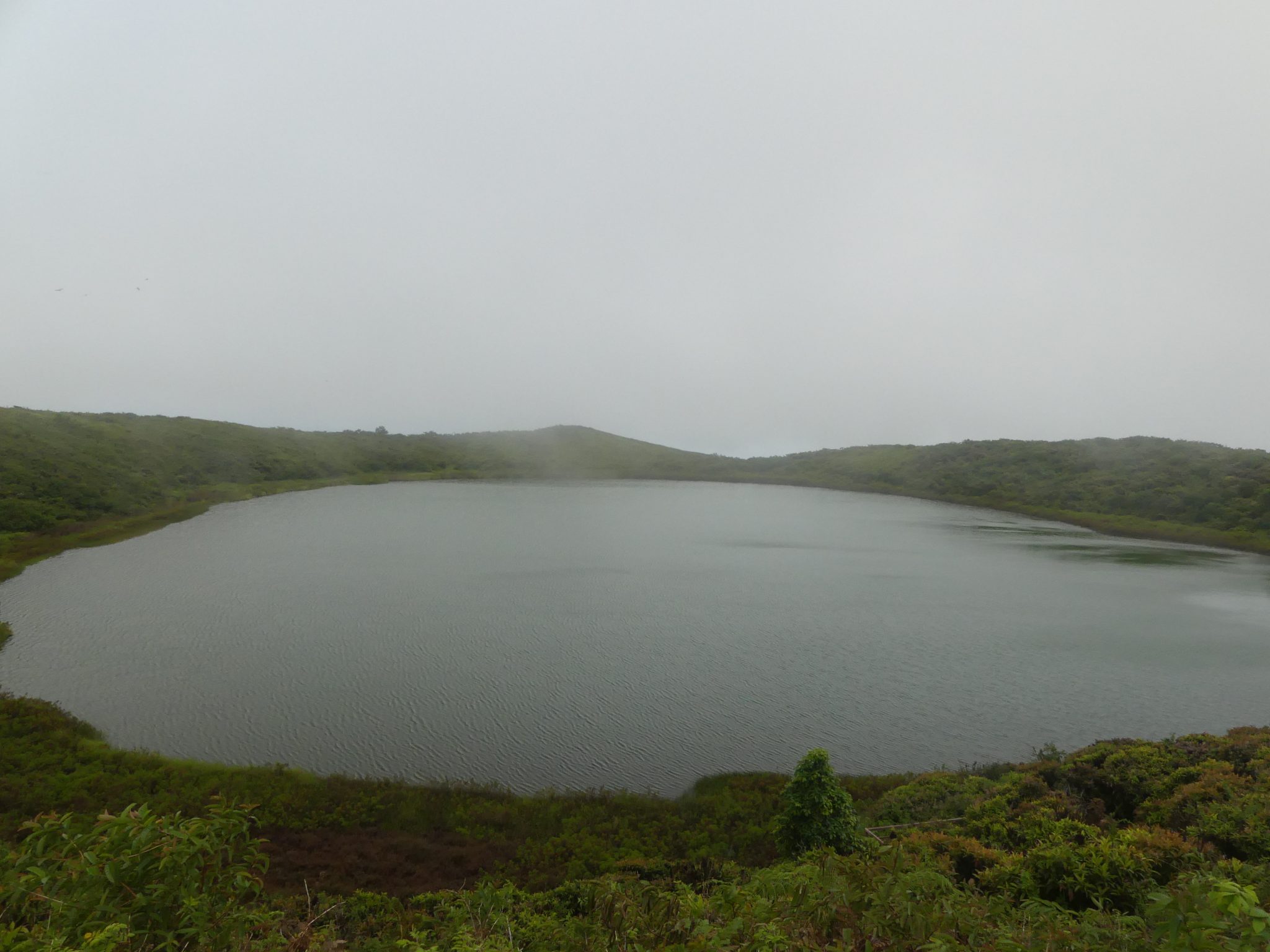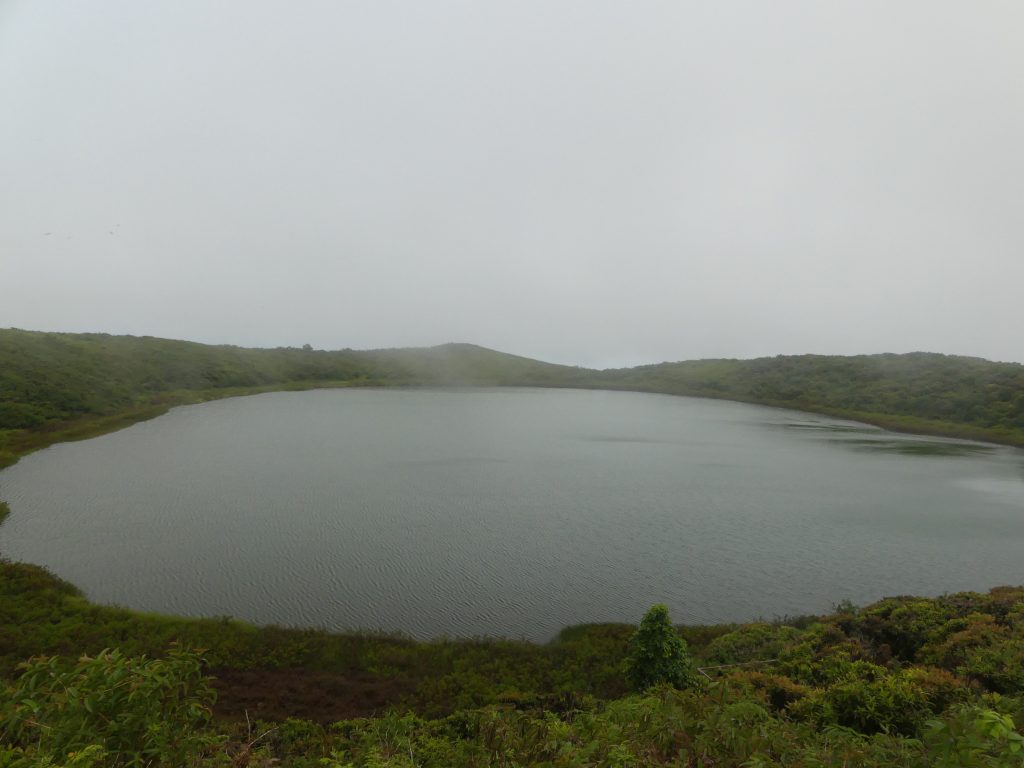 Getting to Laguna del Junco will take a day in your itinerary. Also, it is always foggy in the area so it is not as scenic as what other Galapagos destination offers.
Conclusion
There is a wide range of activities you can do in the Galapagos Islands. The archipelago has a lot of things to offer that tourists will surely love.
Traveling in Galapagos is like transporting to a different world so visiting this place is definitely bucket list worthy! Whether you follow this bucket list we made or you create your own, there is no doubt that you will have a great time on the islands!