Cascada Rocío Machay, also known as Cascada del Rocío or simply Cascada Machay on some maps, is the beautiful place to go to in Baños, Ecuador for a scenic swim.
Cascada Machay is situated about 15 minutes away from the famed Paílón del Diablo and around 25 kilometers east of Baños. A visit to the Machay waterfalls may easily be added to your day of riding the Cascadas Route. You can also go to the site by yourself like we did.
How to Get to Cascada Rocío Machay
The most common way to get to Machay waterfalls is by cycling the Ruta de las Cascadas trail. The Waterfall Route, also known as the Ruta de las Cascadas, is a 25-kilometer bike path that runs from Baños to Puyo, passing through several waterfalls, ziplines, cable cars, swings, and a bungee jump.
Although the path actually covers the whole 61km roadway, only the first half can be cycled in a day and includes stops at Cascada de Agoyán, Cascada Manto de la Novia, Paílón del Diablo, and Cascada Rocío Machay.
You can rent a bike for $10/day from tour companies in town and embark on your own Waterfall Route trip without a guide.
If you are not fond of cycling and want to visit the waterfalls, you can either take a taxi or a bus. Just tell the driver your destination and off you go!
Cascada Machay Experience
Most tourists who cycle the Ruta de las Cascadas prefer to end their day at El Paílón del Diablo. However, Cascada Roco Machay, less than 15 minutes down the road, is one of the only locations to swim along the journey and perhaps my favorite stop because there were almost no other people.
From the side of the highway, it takes about 20 minutes to descend to the waterfall via wooden stairs and swing bridges, a lovely trek through the dense foliage and humid jungle air.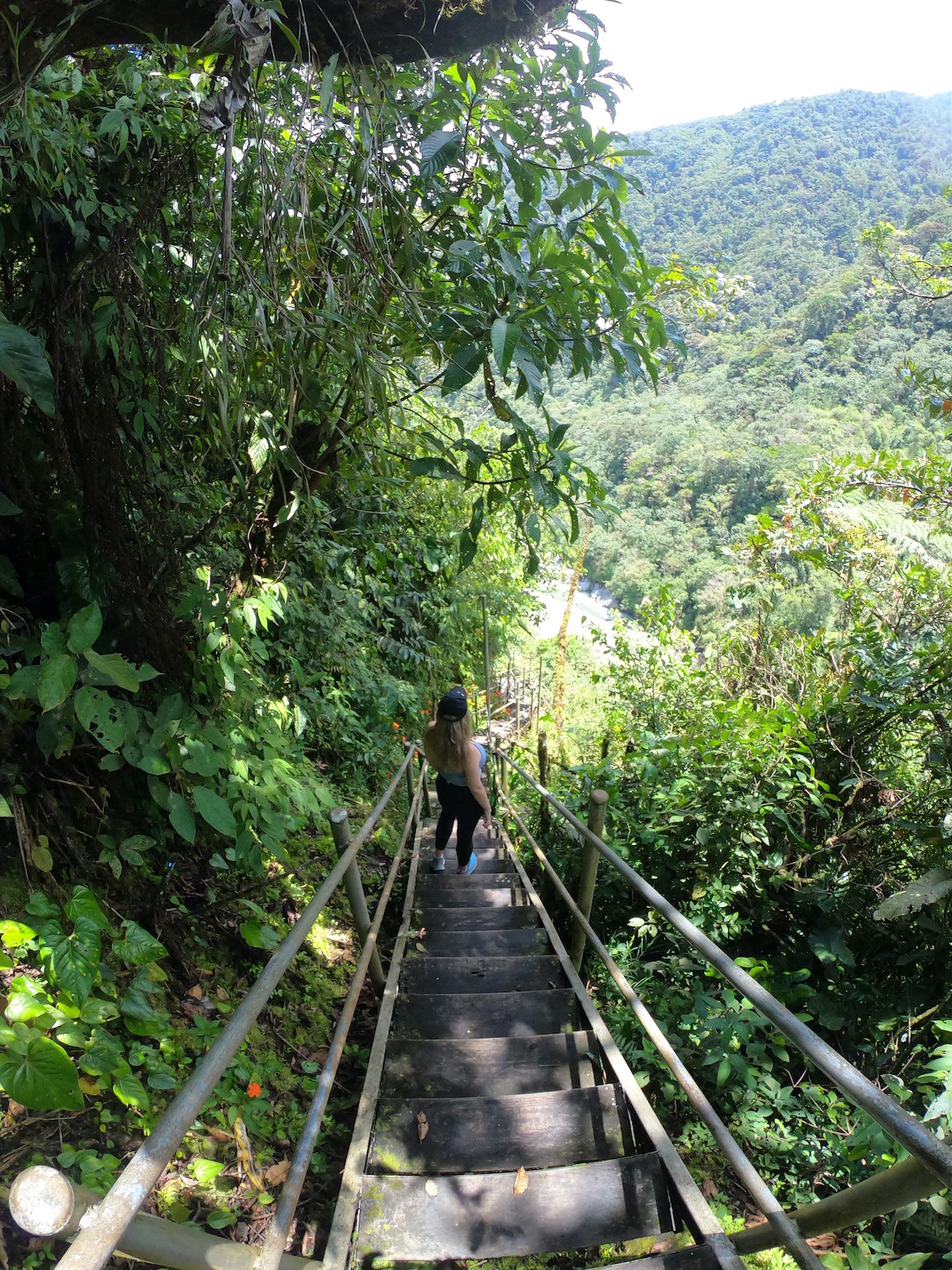 The waterfall is beautiful, but to discover the finest swimming locations, stroll out towards the river and you'll find some deeper pools where you won't get sucked over the edge by the strong current.
Unfortunately, we did not bring our swimming suits but I am sure we would've enjoyed swimming here and it is definitely a great way to wrap up your Ruta de Cascadas cycling trip.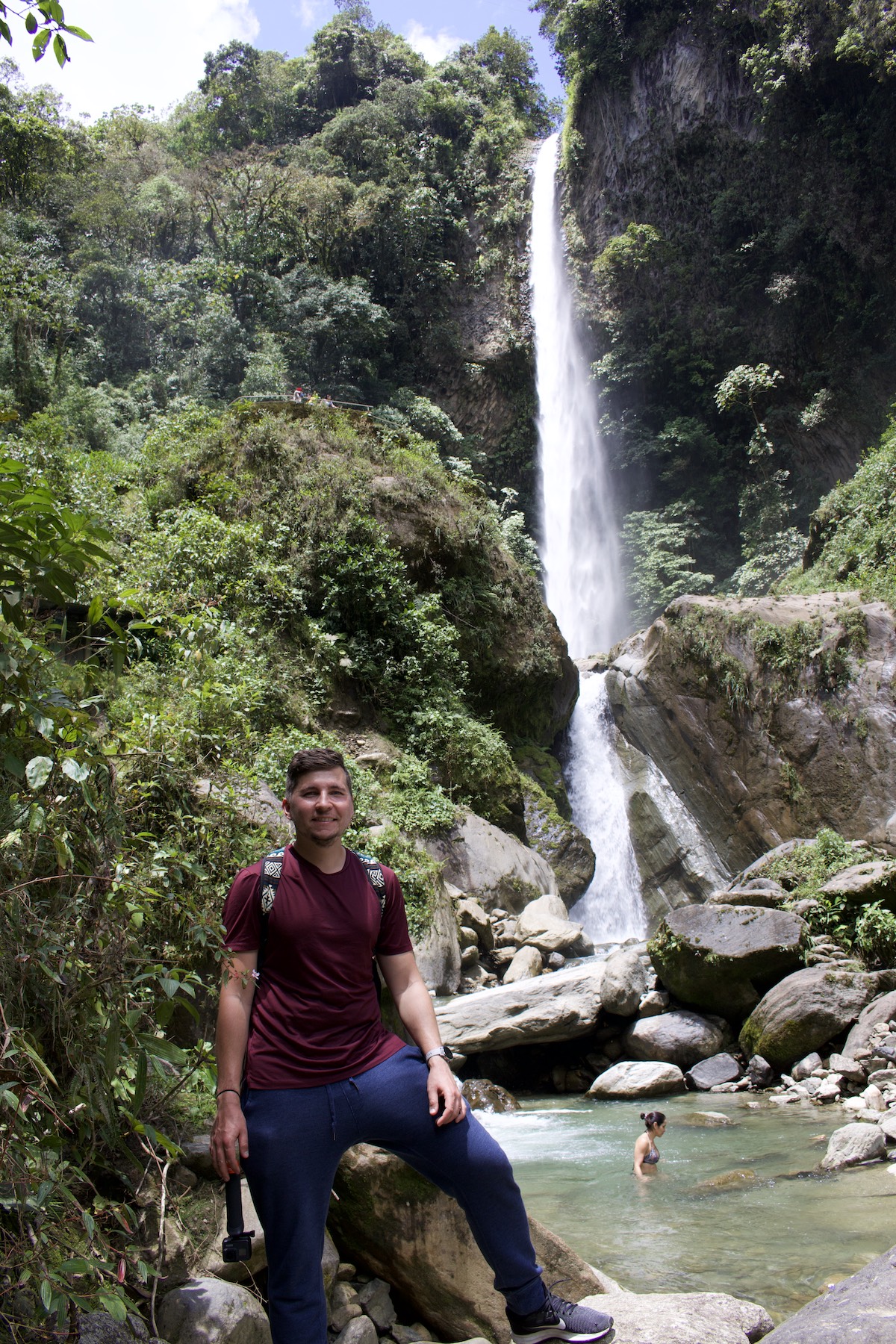 Best Time to Visit Machay Waterfalls
You can visit Cascada Machay all year round, however, you should note that there is more rain from January to March. The driest months are June through August, which we think is the most ideal time to visit.
What to Pack
A half-day journey along Ruta de las Cascadas does not require much equipment. Of course, it depends on the weather, but remember that sitting on a bike with a hefty backpack is not particularly comfortable. Here are some of our recommended things to bring:
A durable and lightweight day backpack with a waist strap

A comfortable pair of sturdy footwear

Rain poncho or a waterproof jacket

Sunscreen

Refillable water bottle

Travel camera
Bottom Line
If you are planning to do the Ruta de las Cascadas trip, we highly recommend visiting the Machay waterfalls. There is less crowd here so you can be at peace and enjoy the views better. 
We know that Paílón del Diablo is the main attraction on the waterfalls route but you will not regret seeing and swimming at the Machay waterfalls. Don't forget to include this amazing waterfall in your Baños, Ecuador itinerary!