Tortuga Bay, also known as Bahia Tortuga, is a beautiful white sand beach surrounded by crystal blue seas. It is situated on Santa Cruz island in Ecuador's Galapagos archipelago.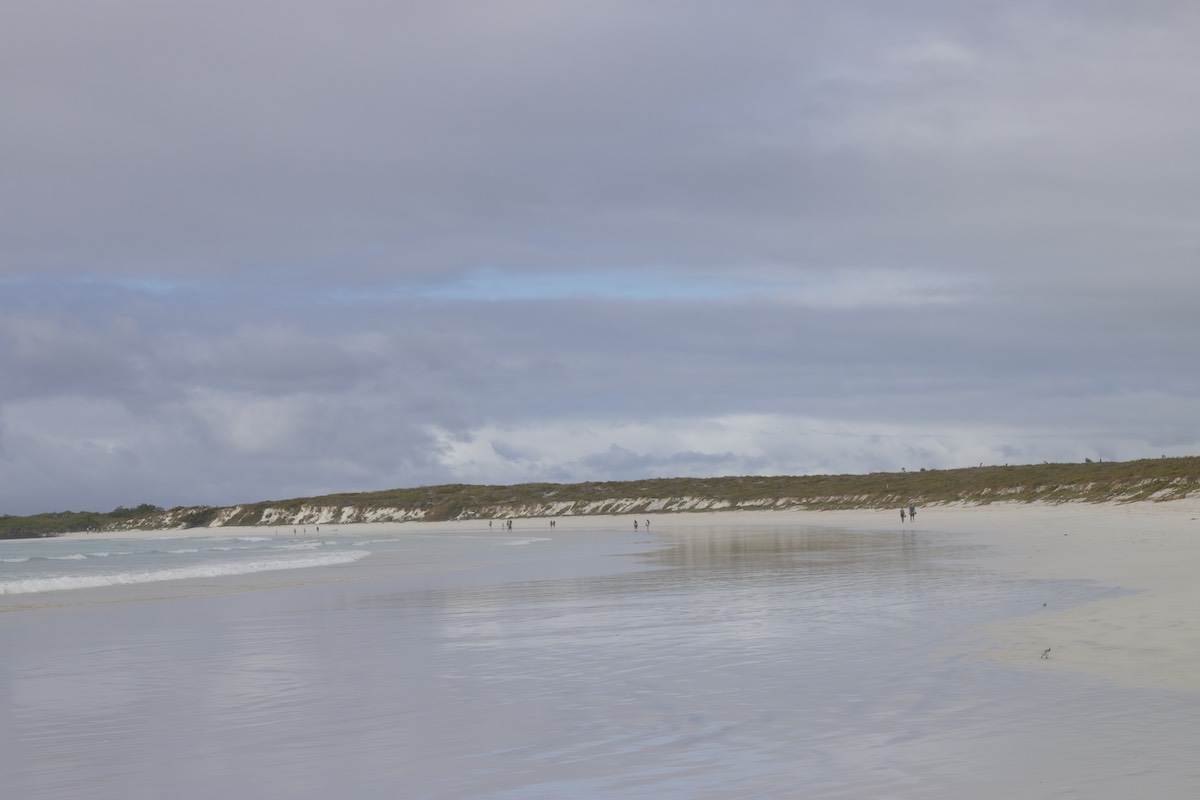 Historically, fishermen looking for a fresh catch frequented the region. Ecotourism has grown in economic importance in the region in recent years.
The tortoises that frequent the long beach as a suitable nesting place gave the bay its name. These Galapagos tortoises are indigenous to the area. Despite its moniker, the beach is also an excellent site to see sea lions, flamingos, iguanas, and other wildlife.
How to Get to Tortuga Bay
Tortuga Bay beach is located on Santa Cruz Island's south shore, just a few kilometers from the town of Puerto Ayora Galapagos. We just grabbed a cab for $1 from our hotel to get to the entry point.
The Tortuga Bay trailhead is located at the end of Charles Binford Avenue, a few streets behind the major tourist port area at Las Ninfas and the Fiesta Hotel. Simply follow the path for approximately a mile and a half to arrive, which takes around 30 to 45 minutes from the trailhead.
The path is paved, level, and simple, and it takes you through an ancient lava field populated by Palo Santo trees and the Opuntia cactus.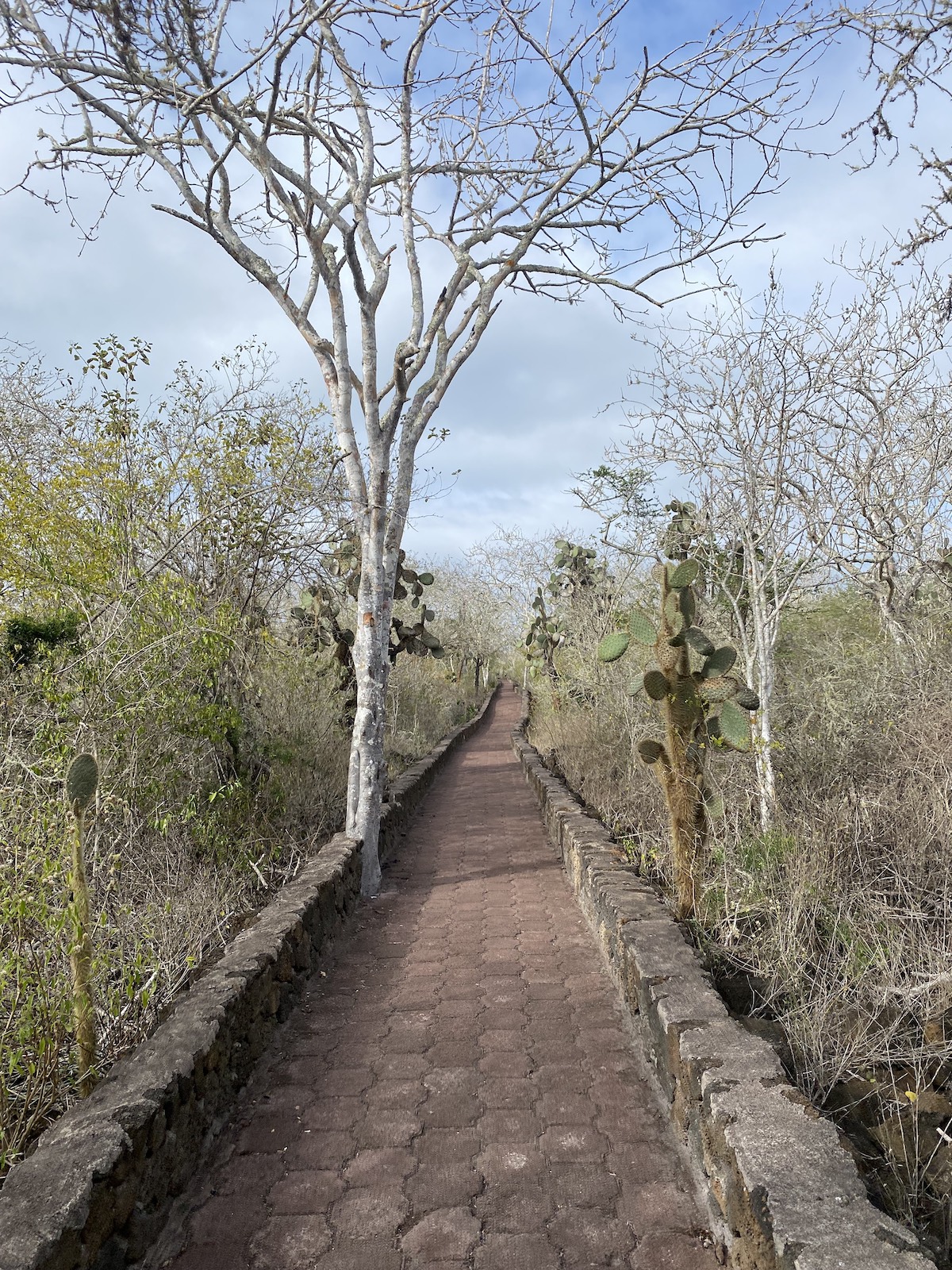 From the Puerto Ayora docks, you may also take a boat to Tortuga Bay beach. The trip takes around 20 minutes. For details on daily departure times, inquire at the dock.
Playa Brava and Playa Mansa
Tortuga Bay is actually two bays that form two separate beaches: Playa Brava and Playa Mansa. Both of these beaches have a distinct allure and charm. It provides a sense of calm far apart from the clamor and stress of ordinary life.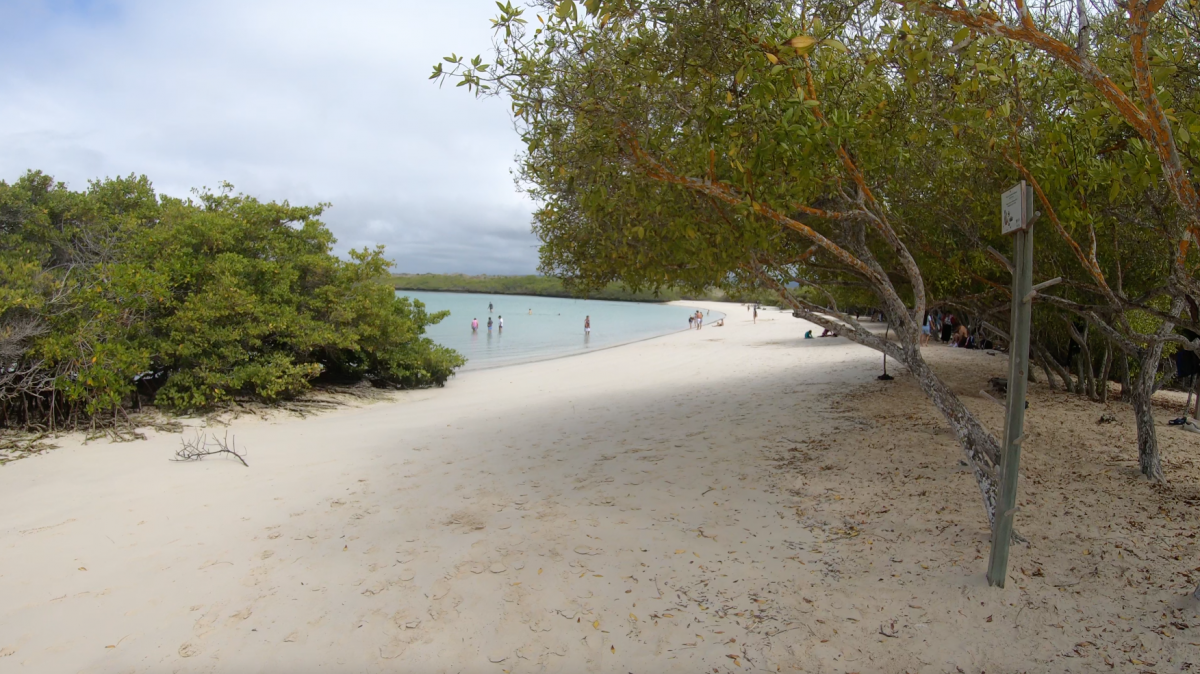 Playa Brava will be your first sight of white sand when you approach the end of the trek and arrive in Tortuga Bay. The water currents here are quite powerful and ideal for surfing. Swimming is definitely prohibited since it is unsafe.
So we suggest continuing on to Playa Mansa, a more sheltered beach that is great for swimming or sunbathing. To reach Playa Mansa, use a trail to the right through the mangroves for about 20 minutes, or simply follow the beach.
Playa Mansa begins with a tranquil tidal lagoon at the bay's far end; these quiet and sheltered waters are frequently a fantastic site for snorkeling with tiny reef sharks and marine iguanas.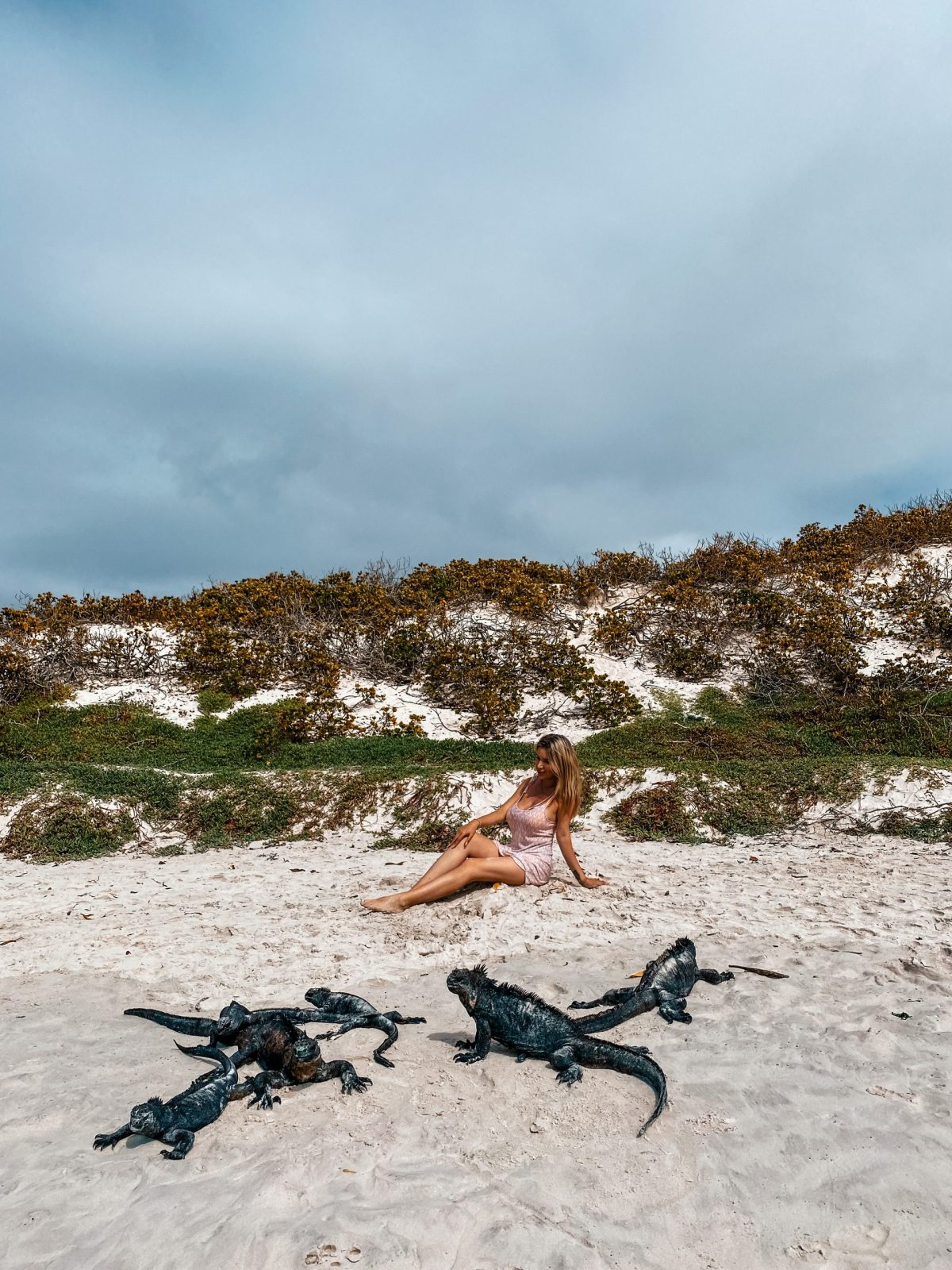 The main Mansa beach lies a little further to the right of this lagoon. Snorkeling and swimming are additional popular activities in Playa Mansa, and kayaks may be hired by the hour.
When to Visit Tortuga Bay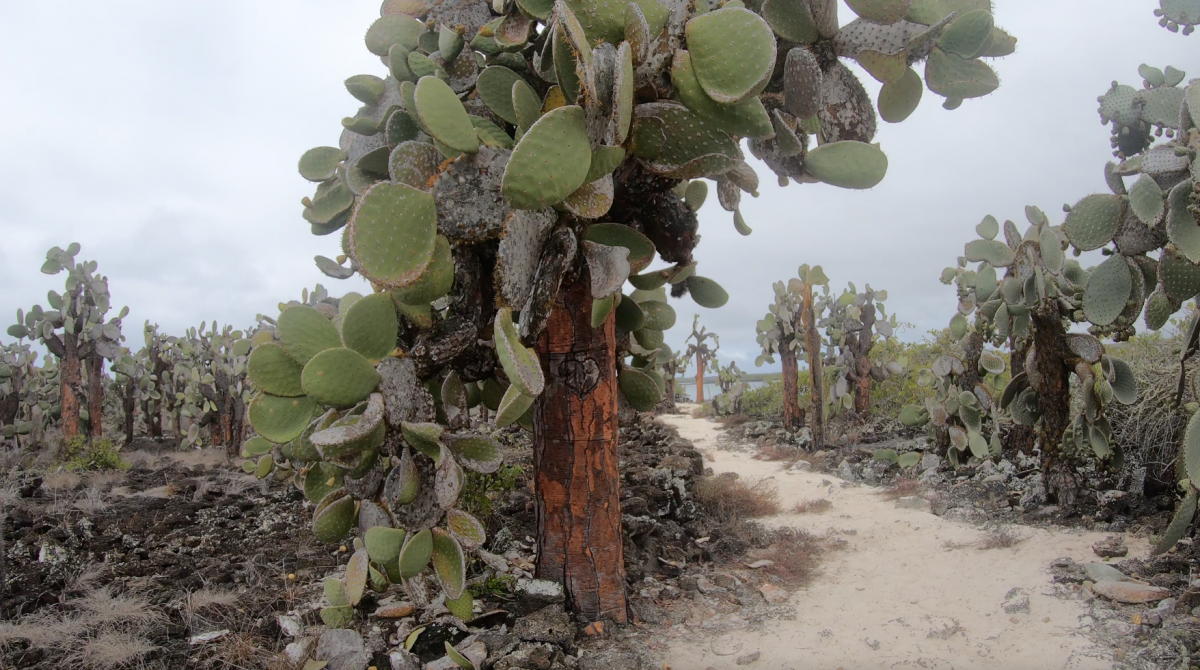 The best time to visit Tortuga Bay is based on the weather. Between December and May, the weather is hotter, but there may be afternoon rain showers.
From June through November, temperatures are cooler and cloudier; yet, temperatures may be more tolerable. Tortuga Bay, on the other hand, may be visited at any time of year because of its warm climate.
The beach is not open twenty-four hours a day. When you arrive, you must sign in, and the tourist center is open from 6 a.m. to 6 p.m.
Things to Do in Tortuga Bay
Many people opt to simply rest under the sun, with gorgeous surroundings, warm waves, and white dunes! There is, however, plenty of opportunities for the daring to explore.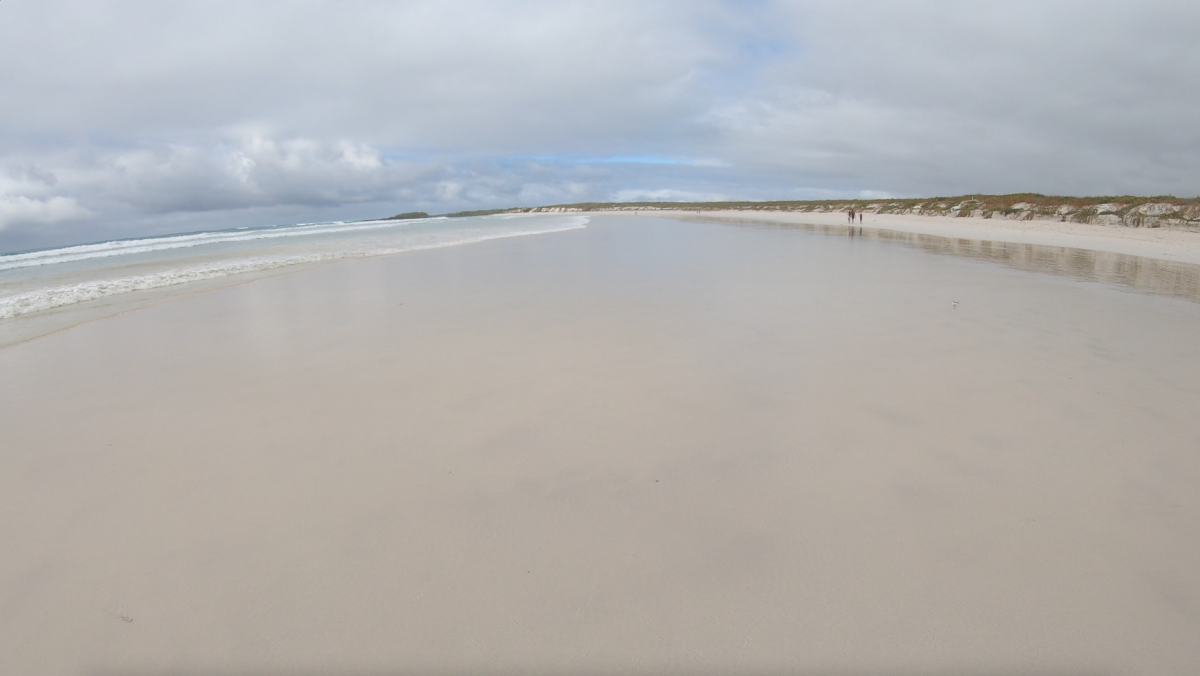 We suggest beginning with a visit to both beaches. As their names suggest, Playa Brava has significantly stronger currents than Playa Mansa, which is dominated by mangroves. The walkways leading up to these beaches are lush, with plenty of native plants and cactus.
If walking alone isn't enough, there are a variety of other things to do. For example, you can surf and snorkel in the sea. Kayaks may also be rented for a reasonable price.
Snorkeling in Tortuga Bay
Snorkeling in Tortuga Bay is enjoyable, with little fish all around. Plant growth will also be seen, which creatures like blue-footed boobies, little white-tipped reef sharks, marine iguanas, and sea turtles feed on.
Because of the fine white sand, the water is clean yet readily disturbed up along the beach. Visibility can also be affected by the weather, especially if it has been raining. However, as you swim deeper, the visibility should be better. To be completely honest, not the best place for snorkeling because Galapagos Islands can offer much much better.
Kayaking at Tortuga Bay
Kayaks may be rented in Tortuga Bay. You must go beyond Playa Brava to the sheltered bay to find the kayaks.
Because the water is calm, paddling is rather easy. The water is so clear that it's typically easy to view the wildlife.
To make renting easier, we recommend carrying enough money and change.
Wildlife in Tortuga Bay
Tortuga Bay is a famous tourist destination not only because it has a beautiful beach, but also because it is home to many Galapagos Islands' biological species.
There are marine iguanas and the vividly colored Sally Lightfoot crab here. There are also brown pelicans and sea turtles nesting on the white sand on the beach. Among the various species are nesting tortoises, sea lions, whitetip reef sharks, manta rays, Darwin's finches, and frigates.
Flamingos can be also observed in the lagoon behind the beach at times. You could also see some blue-footed boobies. 
The flora is also noteworthy. Among the plants are Palo Santo trees, cactus, and salt shrubs.
Throughout your walk, you'll have the opportunity to admire luxuriant greenery that flourishes even in arid conditions. The cactus get a lot of attention, but there are also many more local and endemic species.
The Galapagos Opunta is a cactus species unique to the Galapagos Islands. Surprisingly, it serves a crucial role in the islands' delicate environment, since its seeds are an essential element of the diet of iguanas and giant tortoises.
Travel and Safety Tips
We recommend carrying enough food and drink for the journey because there are no businesses around once you start walking the trail. Tortuga Bay Beach lacks bathrooms and other visitor services as well. In addition, there are no rental beach umbrellas, chairs, or loungers in the area.

Bring snorkeling equipment if you love snorkeling. Most tourism businesses in Puerto Ayora rent snorkels, masks, and fins for a reasonable price. But I can't say that Tortuga Bay is a good snorkeling location.

Tortuga Bay Beach is open to tourists daily from 6 a.m. to 6 p.m. We recommend leaving early because it might get hot there without much shade.

Money, food, drinking water, sun protection, bug repellent, swim gear, a beach towel, good walking shoes or sandals, and a camera are all the recommended things that you should pack for your trip to Tortuga Bay.
Bottom Line
Tortuga Bay Galapagos is a must-see destination in the Galapagos. There is no need for reservations, tour guides, or advance planning. Simply include some spare time in your Galapagos holiday plan and follow the tips outlined in this article.
Tortuga Bay is more than simply a beautiful beach; it also provides an excellent opportunity to witness Galapagos animals and enjoy exciting activities.