One of Ecuador's best-kept secrets is Quilotoa crater lake located at 3900m altitude. Views that will absolutely take your breath away await those who are ready to go just a bit off the usual tourist route.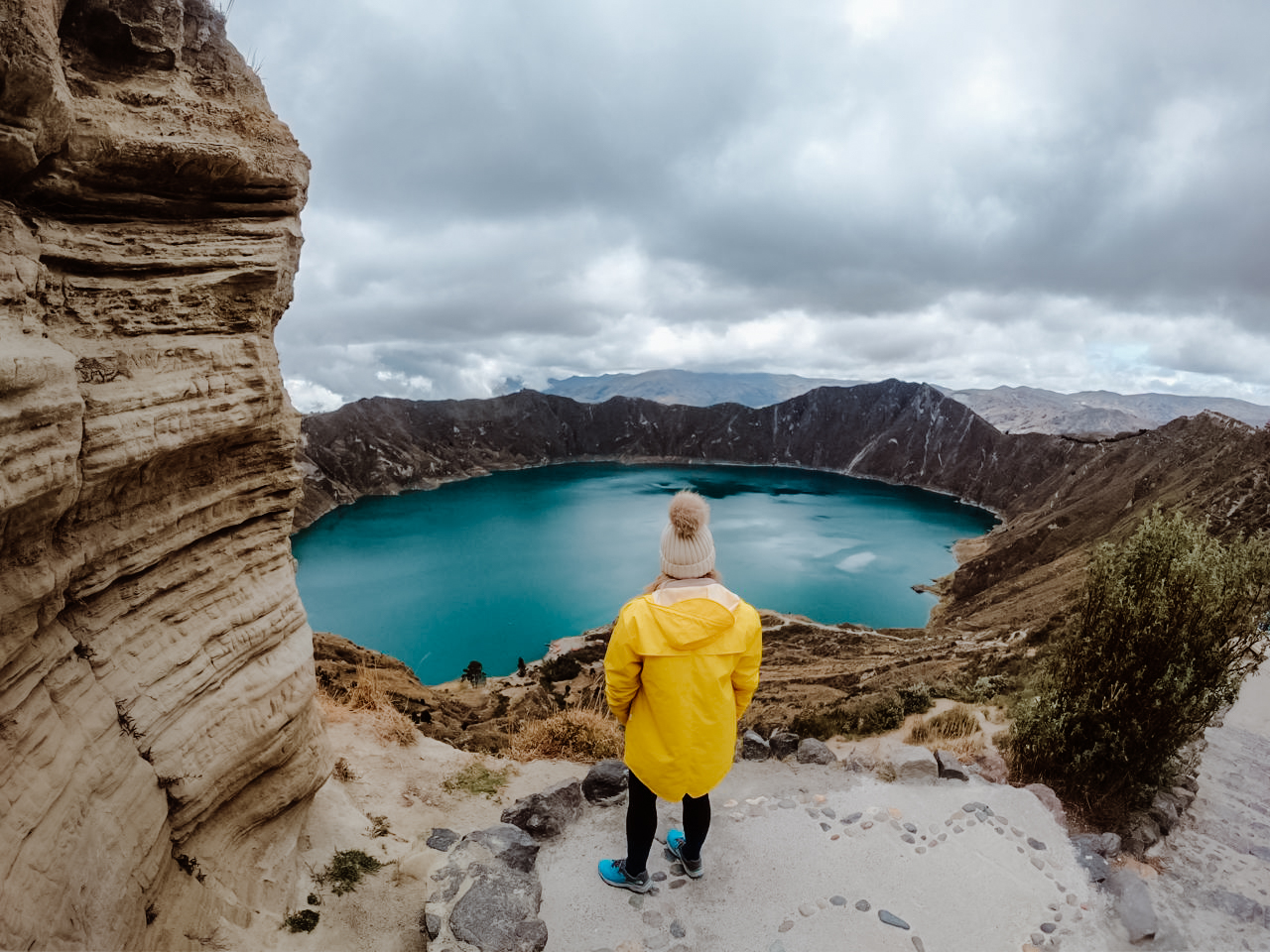 Laguna Quilotoa is a volcano that has collapsed in the western Ecuadorian Andes. The caldera lake offers breathtaking panoramic views and ethereal electric-blue water. This serene paradise offers travelers an opportunity to hike, kayak, or simply stare down at the water from the viewpoint. Even though it's beautiful, be prepared for high altitudes! I would recommend taking ChlorOxygen 1-2 weeks ahead of the trip.
If you're searching for a stunning photo opportunity to wow your friends on social media, Quilotoa is the perfect spot! We've visited Quilotoa lake during our Ecuador's mainland journey. You can also check it in my video about the trip:
How to Get to Quilotoa, Ecuador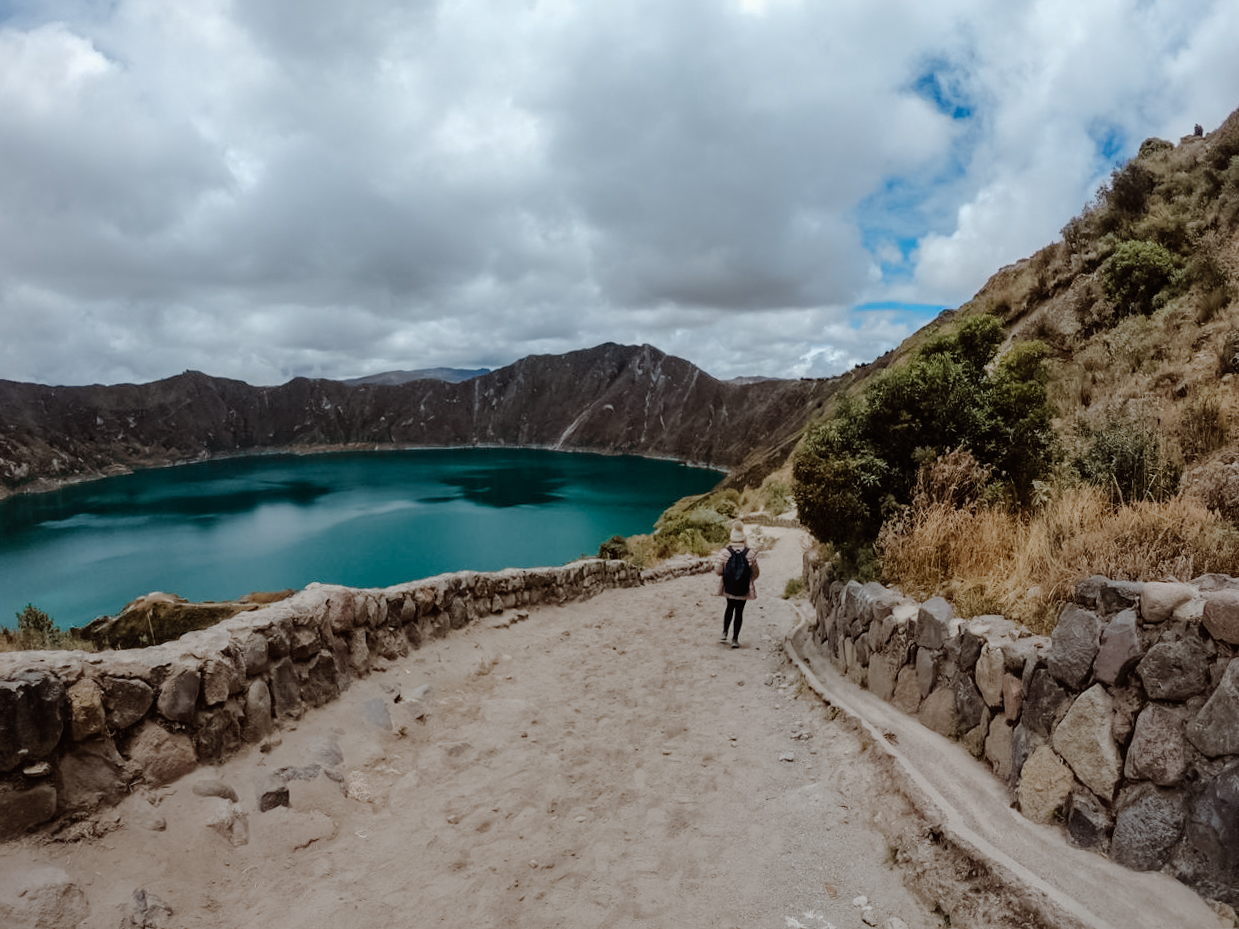 Getting to Quilotoa By Bus
From Lacatunga
Most Quilotoa transit choices connect at Latacunga, and it's a simple bus transfer. You may take a bus from Latacunga to Zumbahua, the nearest town to the lake. The bus costs $2 USD and takes around 2 hours, after which you must take a local bus or a pickup vehicle to the entrance.
Remember that the bus lines do not run often and that their schedule is subject to change. If you don't want to risk having to spend the night, find out when the last bus leaves.
If your itinerary is flexible and you prefer to go by public transportation, consider spending the night in Quilotoa or Zumbahua.
From Quito
There are no direct buses from Quito, thus most public transportation alternatives need you to stop or transfer to Latacunga. Buses leave from Quito's Quitumbe station and are quite pleasant and simple to navigate.
Buses go frequently from Quito to Latacunga, usually every 10 minutes. The ride costs less than $3 USD and lasts around an hour. When you arrive at Latacunga, simply follow the directions above to get to the lake.
Getting to Quilotoa 
By Car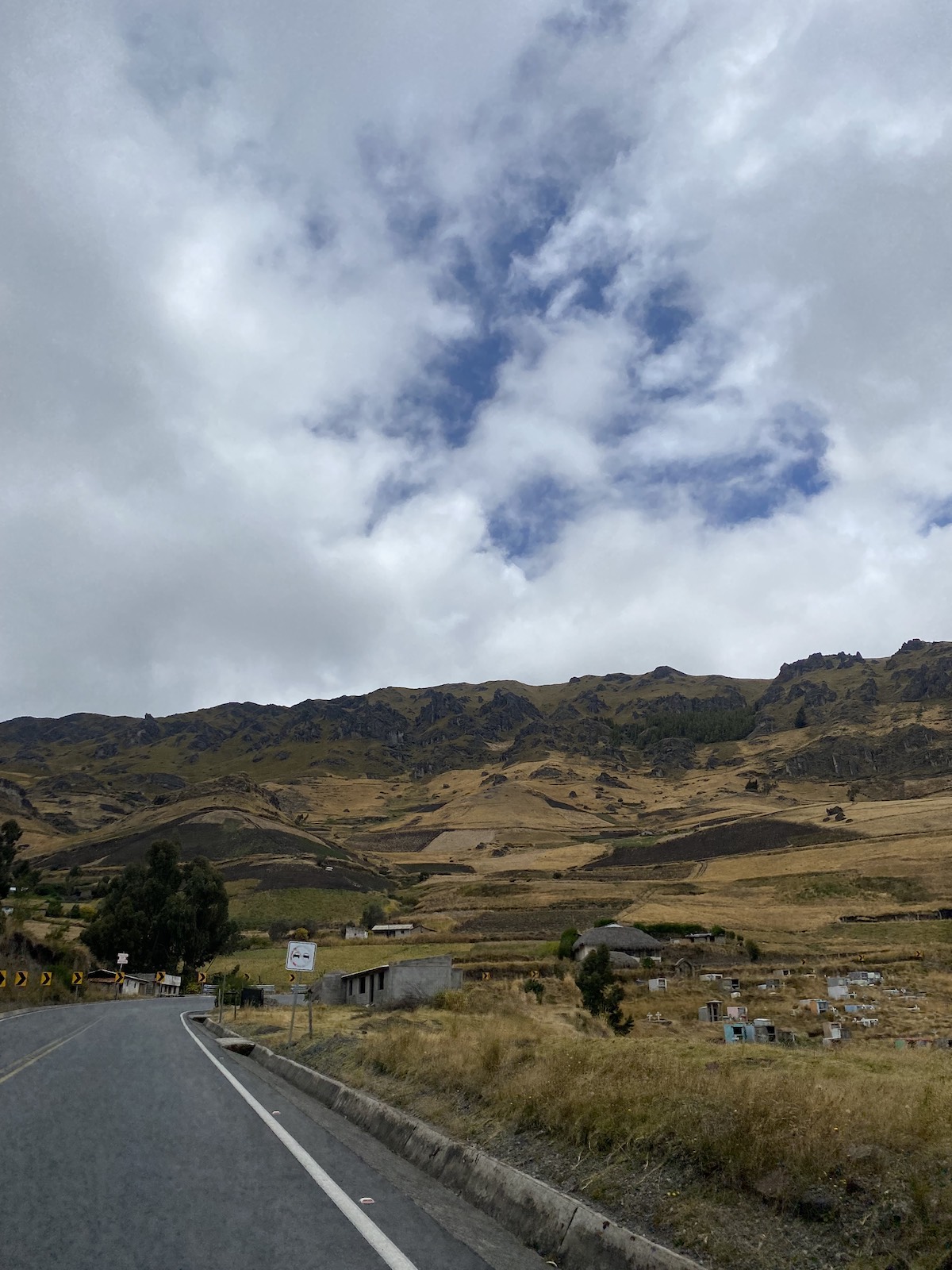 Many travelers rent a car to get to Quilotoa from Quito, Baños, or other Ecuadorian cities. The trip from Quito is just around 178 kilometers long, with much of it on the Pan-American Highway. The trip takes around 3 hours and there is plenty of parking near the attraction. This is how we got there, you can check the road in my video.
By Day Tours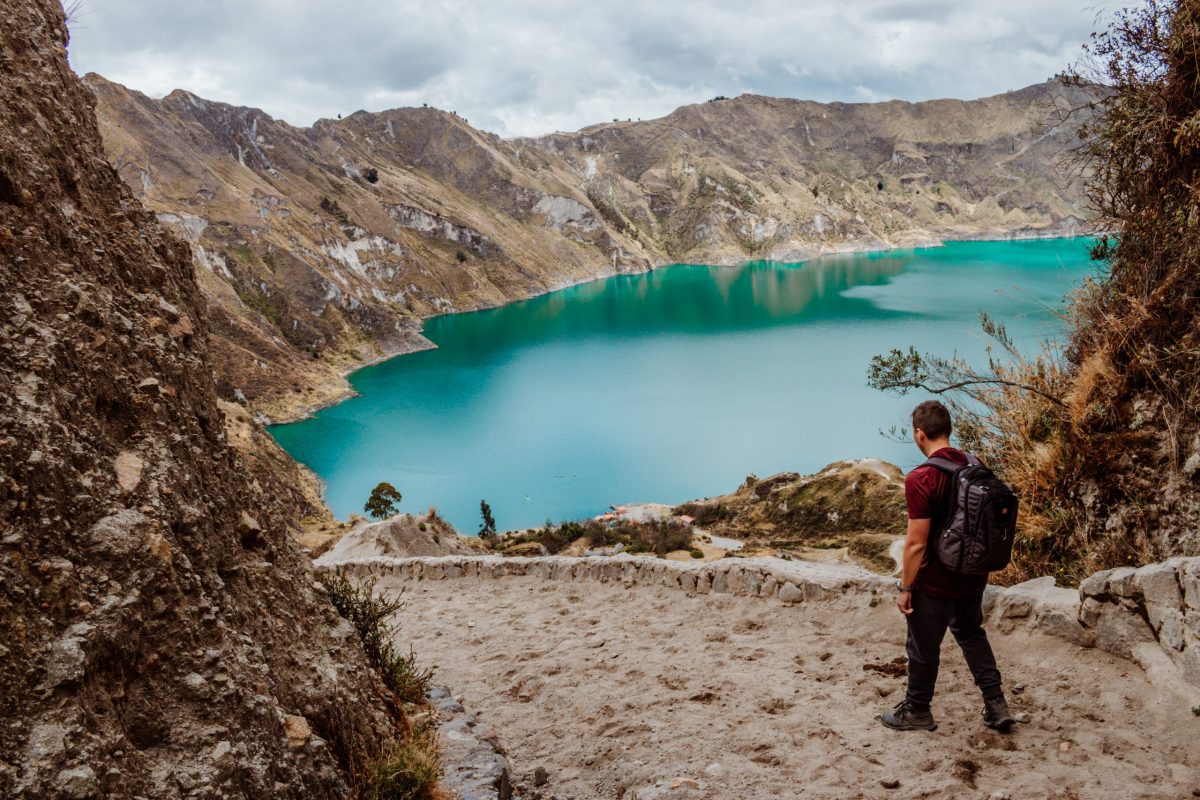 Most foreign travelers book a Quilotoa day trip. This is suggested to prevent difficult travel logistics and to make flexible stops along the way. The road up to Quilotoa goes through some of the most stunning Andean landscapes in the nation, including Tigua and Zumbahua, so picture breaks are essential. Most of the English-speaking tourists get this tour from Viator.
There are various day trips available from Quito with prices starting at $100-200 USD per person for the whole day. They frequently include hotel pickup and drop-off, as well as a nutritious breakfast and a full-day tour. Depending on the day of the week, the trip may also include a brief stop at a local market.
Take note that the tours frequently start around 6:30 a.m. and return around 7:00 p.m., so bring a lunch, snacks, and water because it may be a long day.
Things to Do in Quilotoa
Quilotoa Loop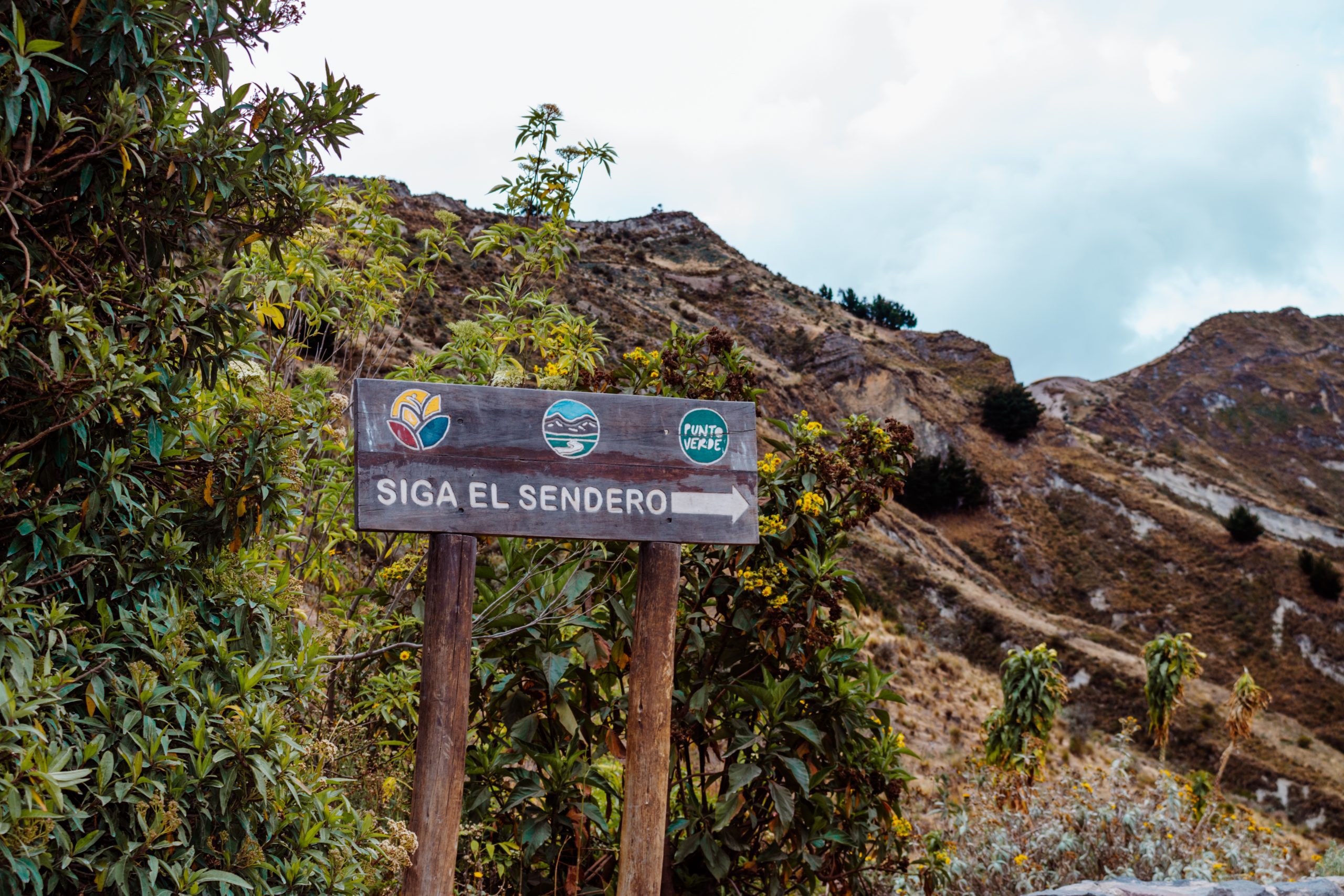 Crater Lake in Quilotoa has popularized an experience known as the Quilotoa Loop. The loop takes visitors into the heart of Ecuador's Quichua-speaking indigenous peoples and their everyday rituals, customs, and beliefs. The loop travels through various tiny Andean communities as well as the more well-known settlements of Quilotoa and Latacunga.
The crater lake's turquoise waters are the most well-known site on the loop, but it also includes the Ilinizas Reserve (which features the Ilinizas Twin Peaks volcanos), stretches of cloud forest, and an up-close look at local artisans and indigenous markets that maintain the centuries-old culture. 
The Quilotoa Loop is a once-in-a-lifetime opportunity to stroll through ancient routes capped by glacier volcanoes, where many stories were created and much history was lost.
Hiking in Quilotoa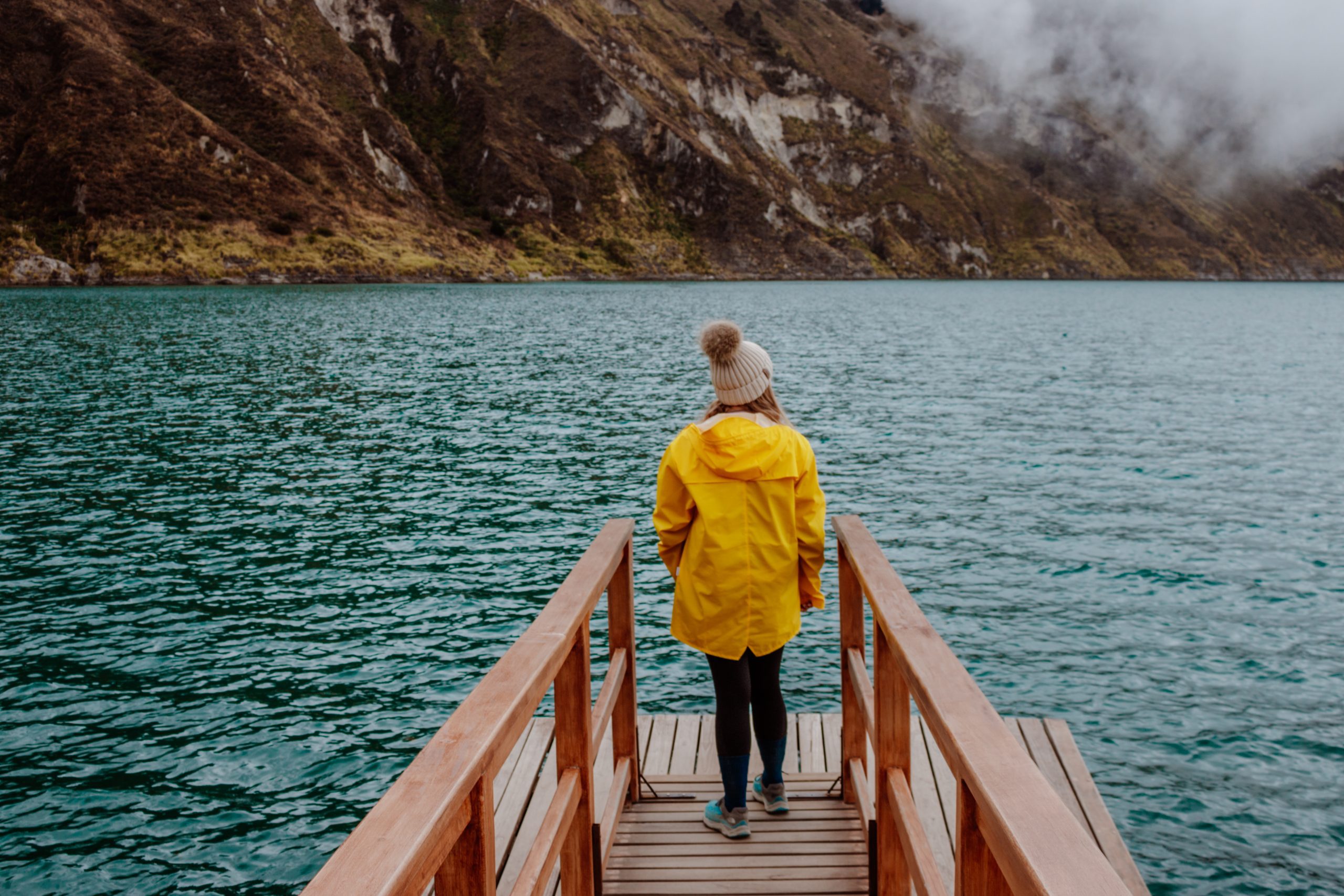 Hiking into Quilotoa crater is a rewarding experience. Visitors may trek all the way down to the lakeshore, stopping for several picture opportunities along the way. The descent takes only 20-30 minutes over steep, sandy terrain.
Remember that the ascent is significantly more difficult, especially at high altitudes! Most visitors leave in just an hour, but it's not a race, so take your time.
For those who can't tolerate the arduous upwards climb, locals rent mules for around $10.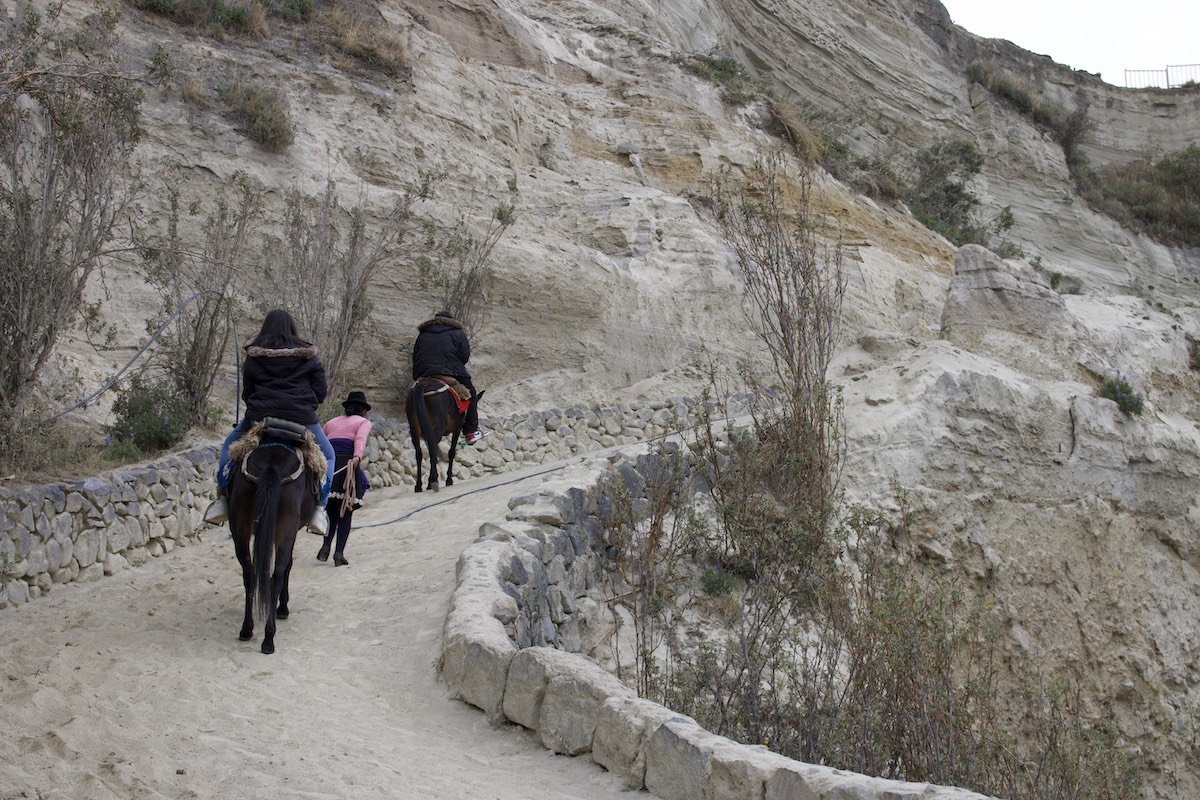 You can also hike all the way around the Quilotoa rim, however, this is not for the faint-hearted. The 7.5-mile loop winds up and down a narrow trail with difficult terrain. Hikers are exposed to the elements and near-vertical drops. The views are spectacular but don't try it on a windy day.
Quilotoa Crater Lookout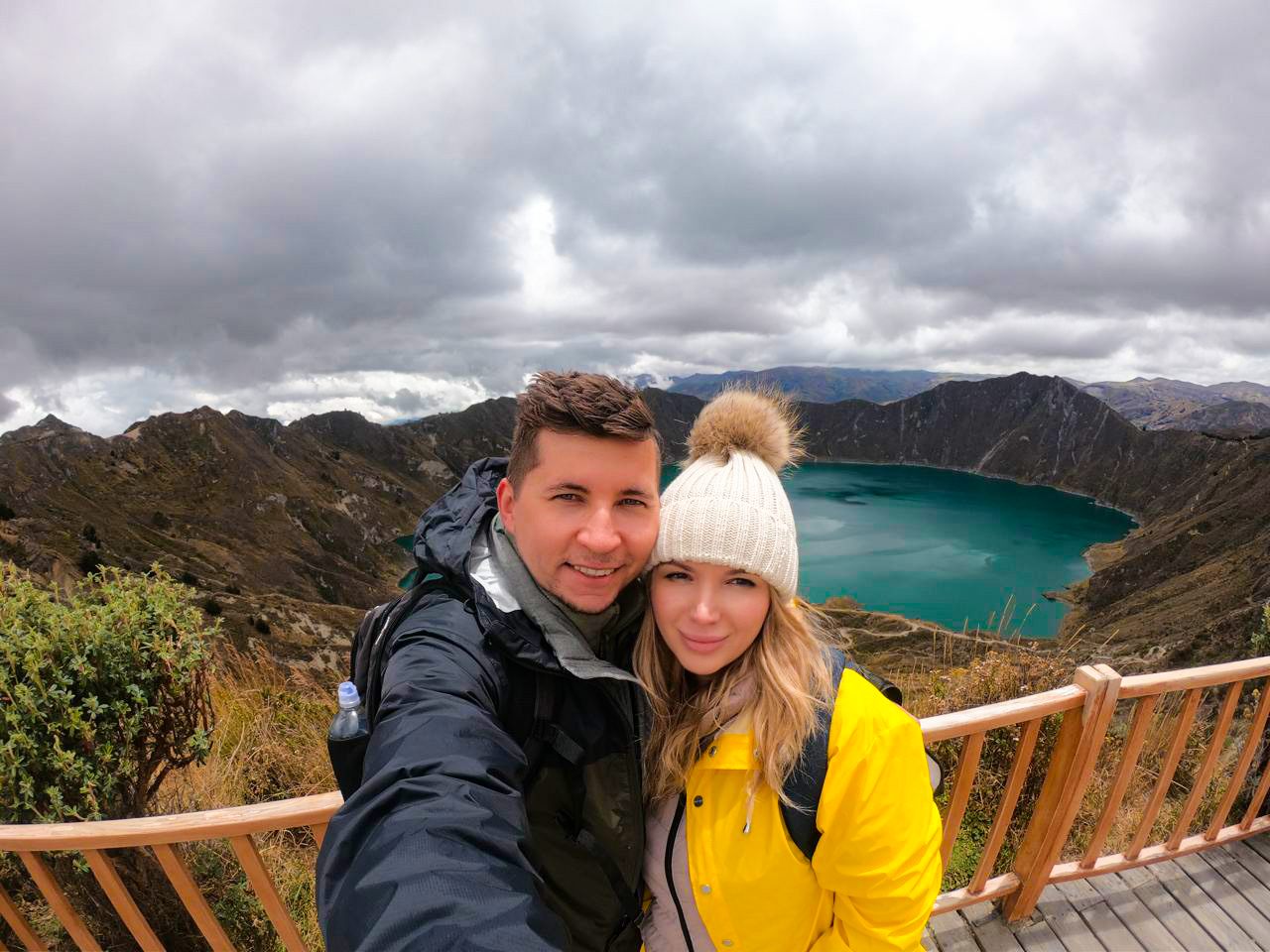 Most visitors begin their journey at the crater overlook (mirador), and for good reason: the first glimpse of the lake will have you grabbing for your camera. There are several wooden viewing platforms offering breathtaking views of the crater and lagoon.
There is a beautiful overlook just near the parking lot, so you don't have to trek to enjoy the magnificent views of the lake. Even if you intend to do one of the treks, make time for the viewpoint, which provides simply stunning views of the entire caldera that you won't see anywhere else.
Plantlife & Bird Watching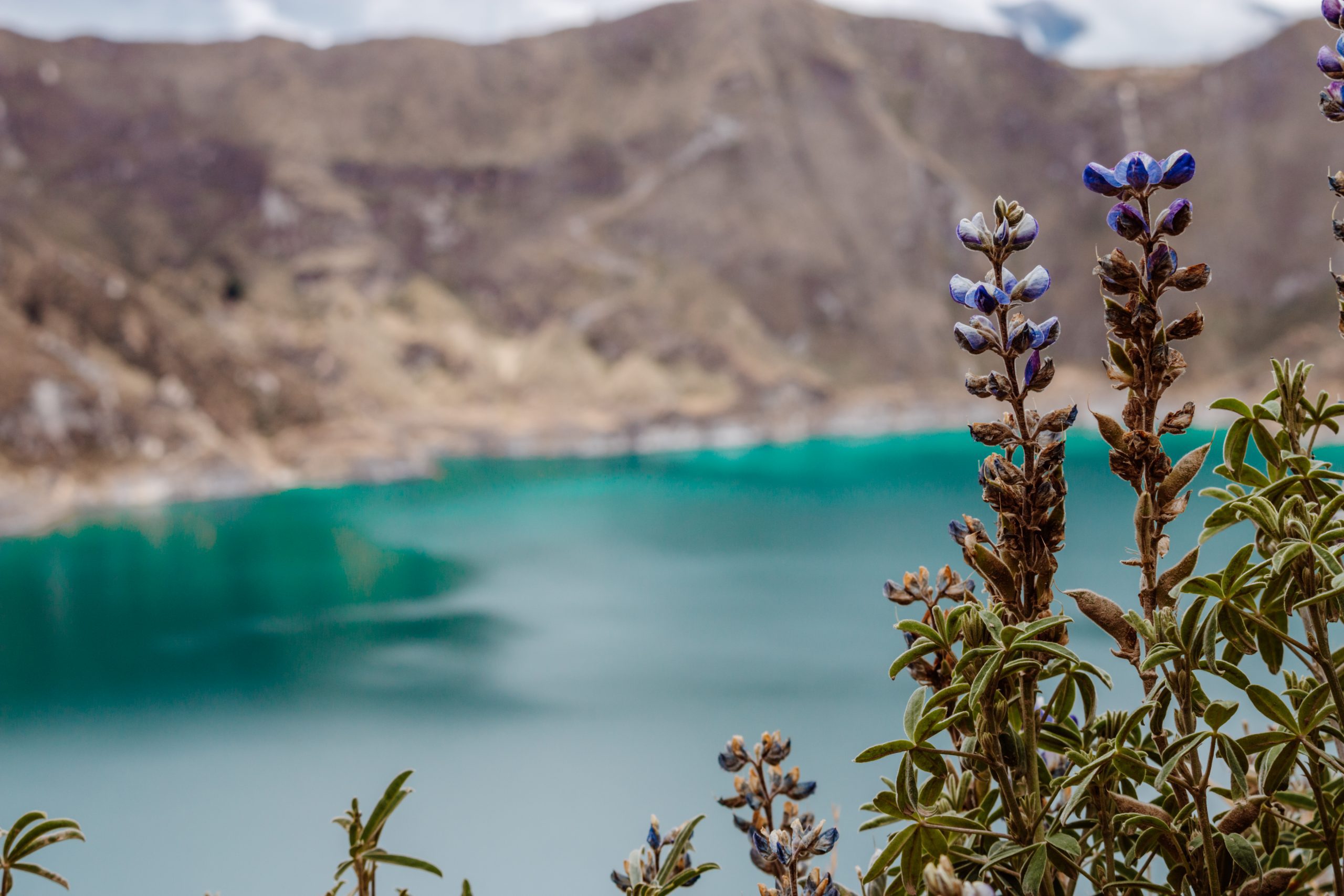 Quilotoa is an excellent example of a high paramo grassland landscape. Look for bright blooms such as purple Andean Lupins and orange Chuquirawa thistles, which are emblematic of the region.
Camping and Kayaking
Visitors may take boat rides out on the lake, and kayaks can be hired from the same little port.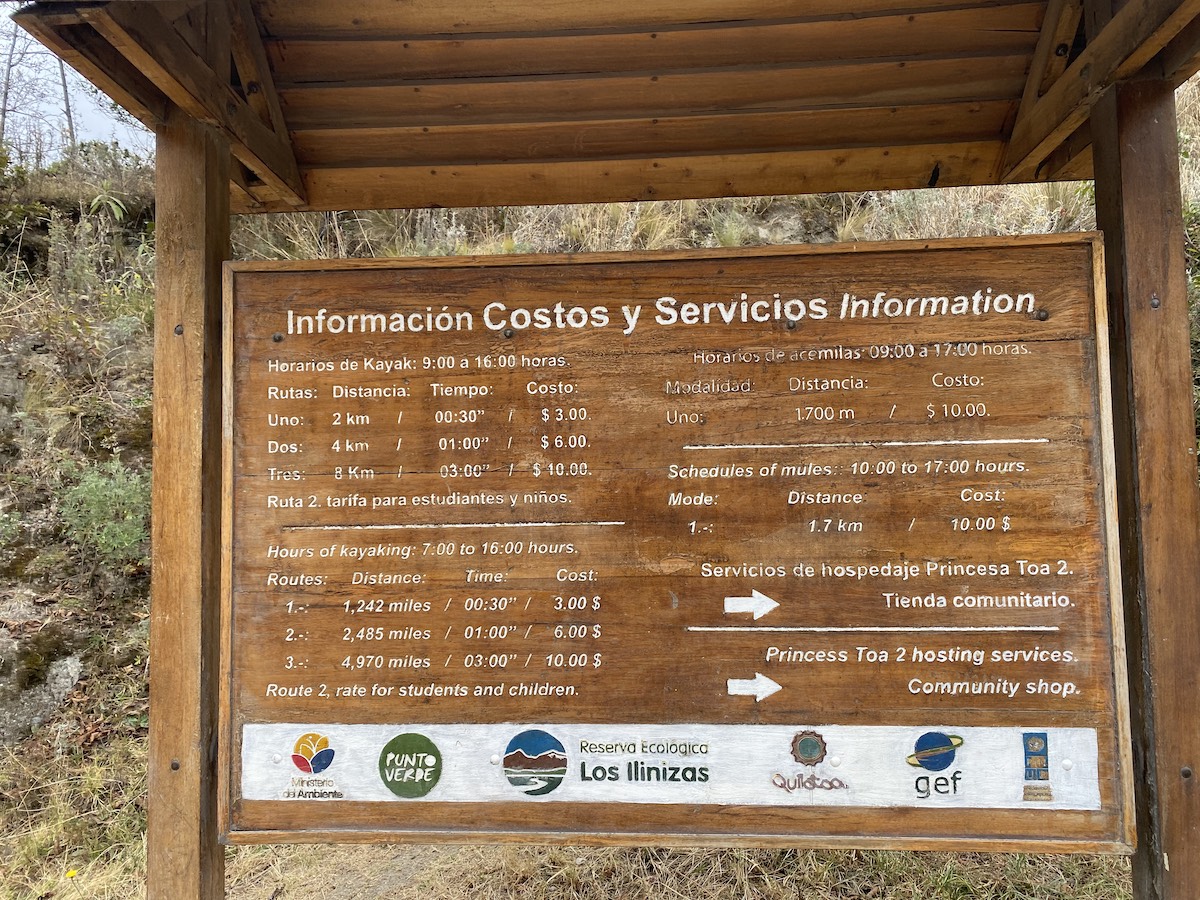 A campground is also available in the little forested area inside the crater. It's difficult to top the seclusion and breathtaking landscape but be prepared for cold evenings. We kayaked, the cost if $3 USD per 30 minutes and it was incredible experience.
Local Handicraft Shopping
Visitors will observe a lot of bird sounds inside the crater. Try to spot hummingbirds, doves, flower-piercers, ground tyrants, and finches, among other things.
Quilotoa features its own indoor crafts market, as well as other small stores along the street.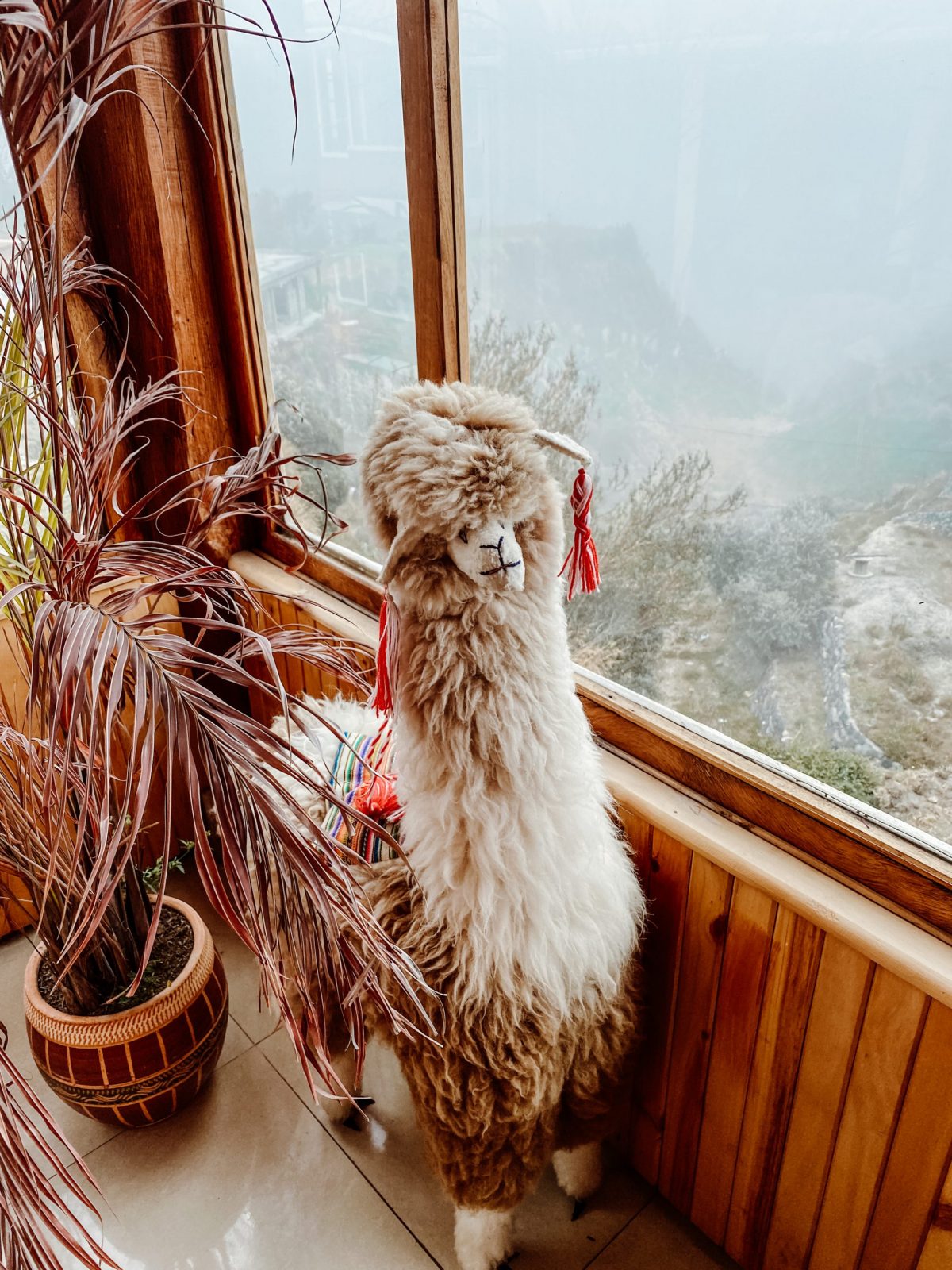 Woolen knitwear is highly popular, particularly among travelers who have not prepared for the cold. There are also charming painted masks and fluffy guinea pig toys which are common in the area.
You will definitely enjoy shopping here since you can also bargain for lower prices.
Best Time to Visit Quilotoa
Many travelers come to the Quilotoa between June and September when the weather is drier and slightly warmer. The rainy season lasts from October to May, making your vacation more uncertain.
Despite the fact that it can be rainier, the off-season offers the advantage of much fewer tourists. Given the crowds on the path during peak season, this is something that you can consider. Since it frequently rains in the afternoon, early morning hikes are still feasible.
Remember that the weather in the Andes may change considerably throughout the year, so bring layers! The location is quite mild in terms of temperature, although the winds may be severe even in the summer.
Travel Tips When Visiting Quilotoa
Going to Quilotoa needs preparation so here are a few tips that I will share based on my experience:
Acclimatize before going to Quilotoa and trying out strenuous activities.

Be sure to pack proper clothing. Bring layers, scarves, wooly hats, and gloves. 

Because the terrain in Quilotoa is sandy and uneven, it is advisable to bring reliable hiking shoes.

Quilotoa lodgings are basic, with little to no running water and modest food. Other settlements around the Quilotoa loop have more cozy and pleasant hostels such as Chugchilan and Isinlivi.

To capture the entire crater lake in one frame, photographers will need a wide-angle lens.

Bring snacks and drinking water with you. Although, there are also small shops in the area that sells basic food supplies.
The Quilotoa Crater Lake is one of South America's most stunning natural wonders, and it's only a short drive from Quito or Latacunga. There are several locations to explore, all of which may be adjusted depending on your budget and time.
The fact that it is off the main road adds to the adventure and allows you to enjoy it without crowds. We strongly recommend spending more than one day in this magnificent Ecuadorian region, especially if you love trekking.