This post will cover the vital topic of safety in Quito and any potential risks that a visitor or citizen may encounter in the city, as well as our top Quito safety suggestions. We spent 3 days in Quito and followed precautious measures so we did not encounter any issues. 
How Safe is Quito?
Quito is considered as safe as any South American capital city that draws a considerable number of visitors; yet, travelers should always remain careful and exercise common sense in public areas, as pickpocketing is rampant in this region. Quito, like every city, has less welcoming sections that should be avoided if at all feasible. But be cautious.
Quito's historic center is full of tourists and police but always be cautious. Also, we would not recommend visiting this area at night time. We lived in this area in Airbnb and somebody tried to break in at about 3 am and it was quite a scary experience.
It features a well-developed tourism infrastructure as well as a network of dependable public transportation connecting locations. However, pickpockets, con artists, violent crime, and natural calamities do happen and can spoil an otherwise wonderful vacation.
When reserving lodging, do your homework and read reviews to see how safe the neighborhood is to stroll around at night. Online forums or Reddit are also great places to ask residents and individuals who know the area well for tips and relevant information.
If you are concerned about safety and exploring city on your own without Spanish language just simply get one of these cheap guides to fully see the city:
Is Quito Safe at Night?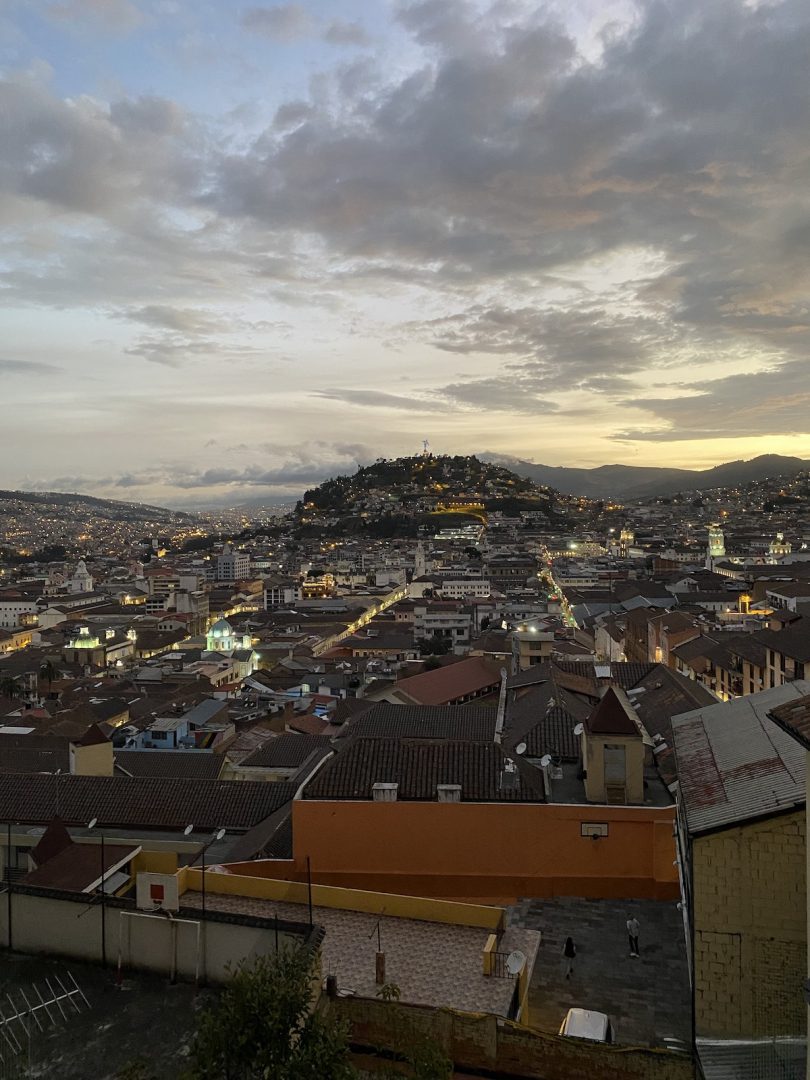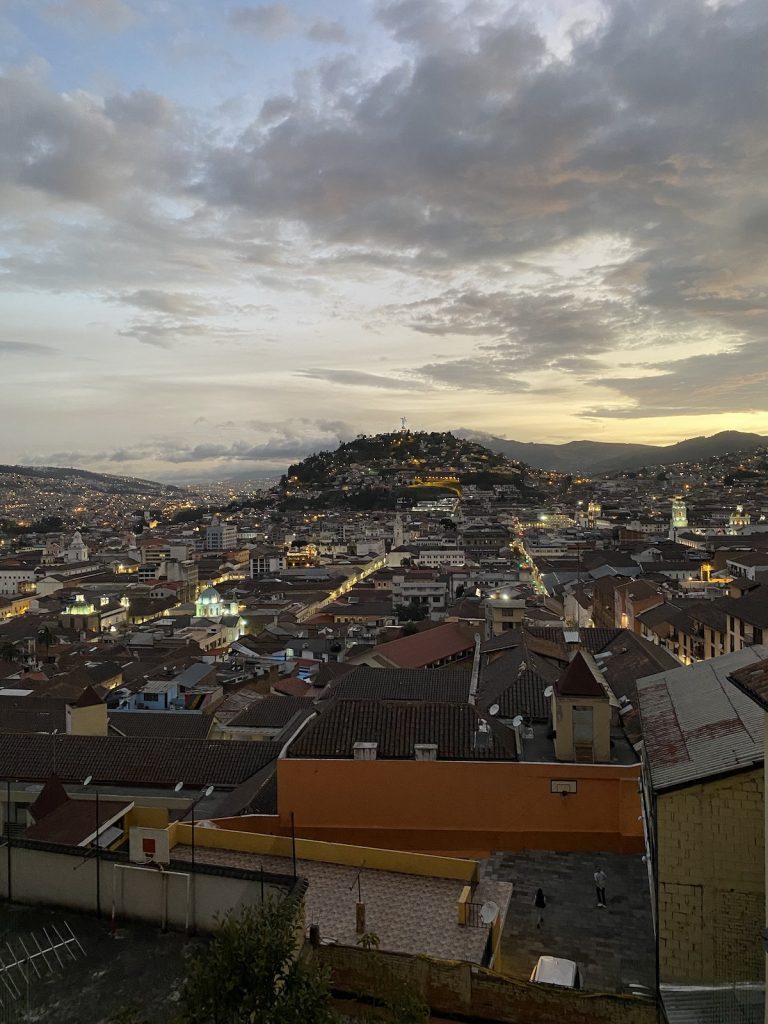 Quito, like any other city, becomes more hazardous at night, when criminals are more inclined to operate under the cover of darkness. Walking through quiet neighborhoods at night is dangerous, and taking certified taxis is the easiest way to avoid dangerous circumstances and jeopardize your safety.
If you intend to have a wild night, try not to go too far from your hotel or hostel. La Ronda, Republica de El Salvador, and Plaza Foch are all safe places to walk at night. We had our accommodation in Quito's old town and we would not recommend staying there. 
Always keep an eye on your money and cell phone, and avoid using them while strolling down the street.
Ecuador Transportation Safety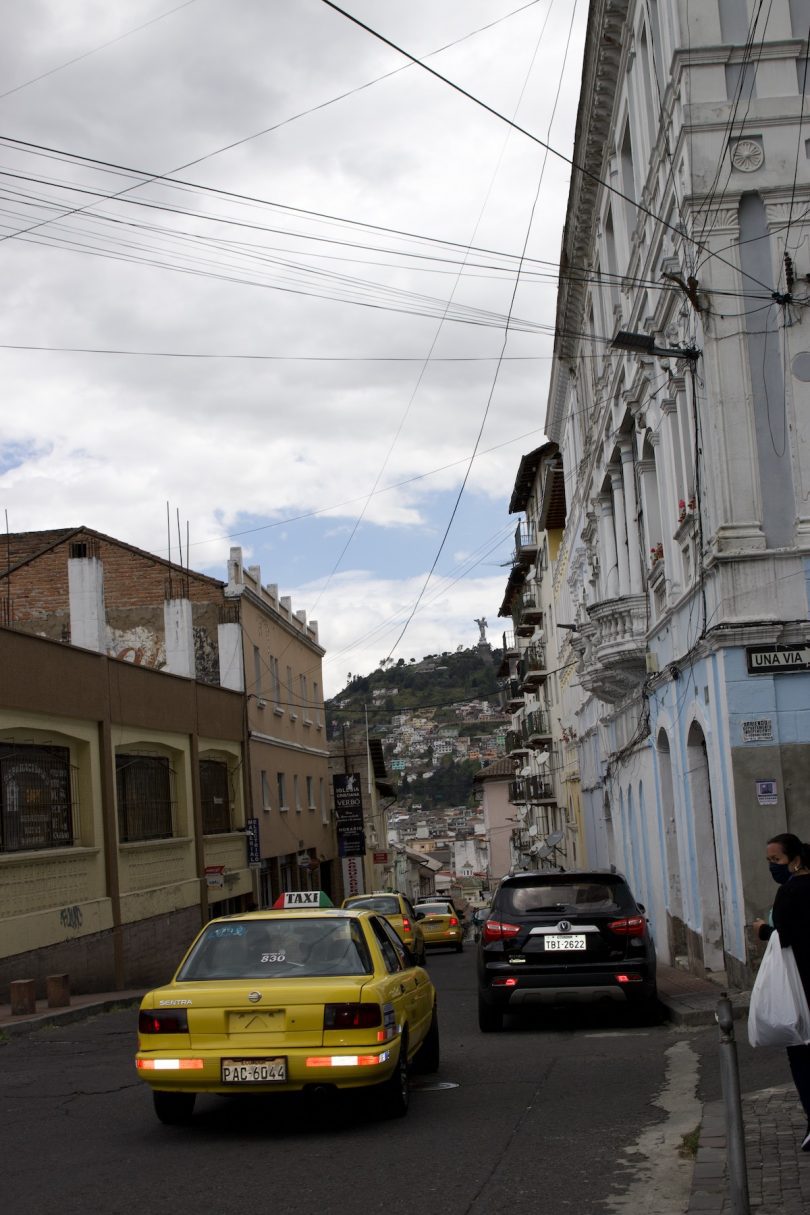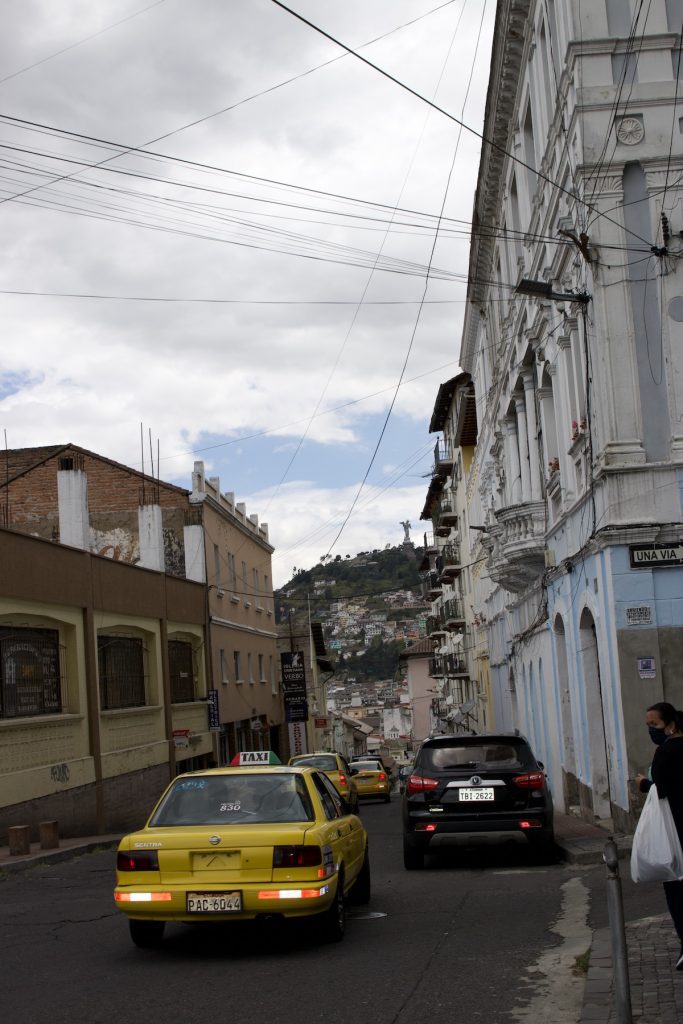 Ecuador has an excellent public transportation infrastructure, with buses going dozens of times every day between its major cities.
Are Buses in Quito Safe?
Buses are also an ideal mode of transportation for seeing natural treasures like Baños, Laguna Quilotoa, and others. They are generally clean, roomy, and reasonably priced.
However, buses can serve as hotspots for small crimes. Keep an eye on your possessions and try not to fall asleep if they aren't fastened someplace on your person. Avoid utilizing the overhead racks since it might be difficult to respond if someone snatches your belongings as they exit the bus.
Similarly, putting your baggage beneath the seat in front of you might result in them being slashed open with a knife. While it may be unpleasant, keeping your bag on your lap allows you to keep a firm grip on it at all times.
It's worth it to travel during the day and seat near the driver. You'll be less inclined to fall asleep, and it may make you feel safer. You'll also be able to see vistas from the window that you wouldn't be able to see in the dark!
Finally, think about paying a little more for a direct bus to your destination so you don't have to change buses and risk having your baggage stolen in the process.
Are Taxis in Quito Safe?
Cabs in Quito are typically safe, however, the danger lies in hiring an illegal taxi, which is strongly discouraged in Ecuador. Legitimate taxis have orange license plates, or a white plate with an orange stripe on top – official taxis are frequently equipped with video monitoring, which immediately puts you at rest.
If you don't want to take the chance with regular taxis, you're in luck: app-based providers such as Uber, Easy Taxi, and Cabify cover Quito and most cities on Ecuador Mainland, minimizing the danger of illegal drivers and scammers by pre-paying on your phone. We used Uber for the most part. 
Is it Safe to Drink Tap Water in Quito?
Although tap water is theoretically safe to drink in Quito, it is not recommended for travelers. The city's water supply is declared potable (fit for drinking and cooking), however, due to many old pipes and outdated infrastructure, this water may become polluted on its route to the tap.
Tourists should consume bottled water in Ecuador to avoid harmful bugs, however, tap water should be adequate for things like brushing your teeth and cooking. Even locals routinely boil tap water to assure its safety and to minimize stomach distress.
Travel tip: Plastic waste has engulfed the earth and poses a serious threat to marine life. Travel with a filter water bottle to contribute to the cause.
Is Quito Safe For Women and Solo Travelers?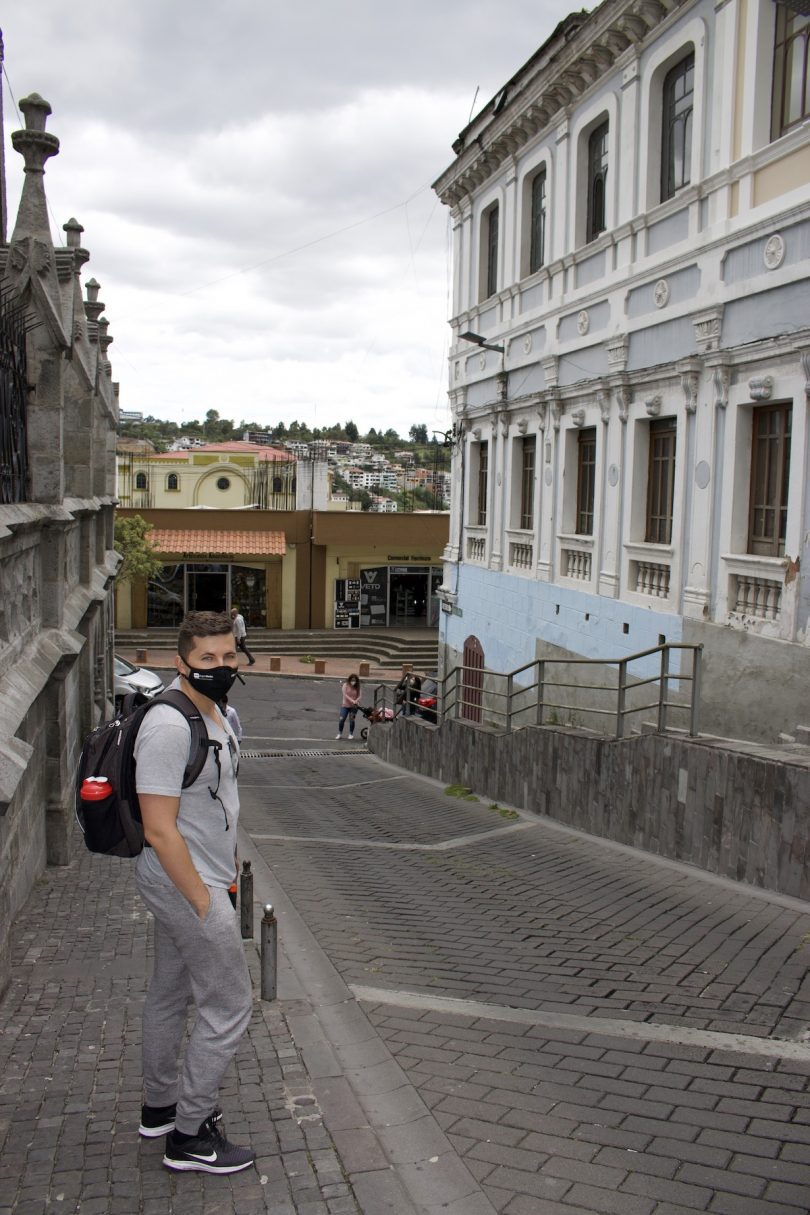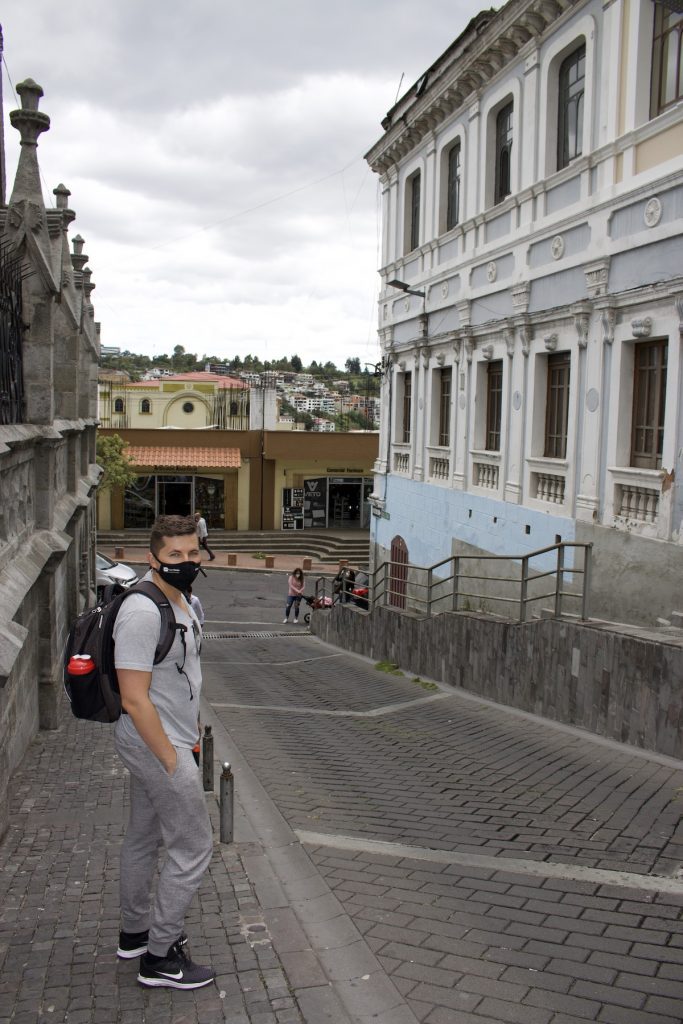 Although there have been few instances of assaults on women in Quito, this does not indicate that they are unheard of.
Females traveling alone in Ecuador should be cautious and aware of their surroundings when out and about, since they may attract unwelcome attention. If you feel intimidated, go to a busy place and look for a police officer.
As the number of visitors to Quito has increased, so has the frequency of attacks and brutal sexual assaults on female tourists; in some cases, victims have been given drugs.
Whether you are male or female, it is not good to detour from major roadways, especially at night or in non-touristy areas.
Travel Safety Tips in Quito
In Quito, look out for the parks 'La Carolina' and 'El Ejido,' the neighborhoods of 'La Mariscal,' 'La Floresta,' and 'La Marin,' the bus terminals, and the old town, which includes the main plaza and 'El Panecillo' hill. If you want to go to El Panecillo hill, you need to take a tour or use a trustworthy mode of transportation.
Pickpockets and bag snatchers are known to operate in prominent tourist places, therefore adhere to the standard precautions of:
Keep no valuables in your bag.

Things should not be kept in your back pocket.

Zip your luggage closed.

Purchase a money belt.

When on public transportation, keep your possessions in front of you.

Wear no pricey jewelry or watches.

Never take anything from a stranger, and be suspicious of too pleasant strangers.

Avoid being overly sidetracked when taking photographs or enjoying the sights, especially in busy locations.

Avoid wandering in dark locations, especially if you're alone.

Always request that the taxi driver use the meter! This is the regulation in Ecuador, and the majority of drivers will follow it. Uber accepts payments straight through the app, which is also a viable alternative.
The Verdict
Ecuador is a safe travel destination for everyone. It is one of the most biodiverse countries in South America, and its incredible natural features alone make it a must-see.
Following basic personal safety guidelines is always a good rule of thumb. Always remember that awareness is everything. Being alert to petty crime, natural calamities, and your surroundings should be enough to keep you safe and secure during your trip. Once again, if you are concerned about safety, just get one of these reasonably priced tours:
If you are considering a vacation to Ecuador to see the history and culture of Quito or the natural marvels of the Galapagos Islands, we hope this article has been of use in organizing your trip.