The Swing at The End of the World or also known as La Casa del Arbol is a lovely swing on top of a mountain next to the Tungurahua volcano In Baños, Ecuador.
This swing was said to be initially installed by a local in charge of monitoring Tungurahua volcano seismic activity for probable eruptions. He built this swing for himself, but it quickly became quite popular due to its picturesque position.
This swing is well-known and easily recognized since it swings from a beautiful tree alongside a lovely wooden treehouse.
La Casa Del Arbol was dubbed "The Swing At The End Of The World" because, from the correct perspective, it appears that you're swinging into nowhere with a massive drop-off underneath you.
How to Get There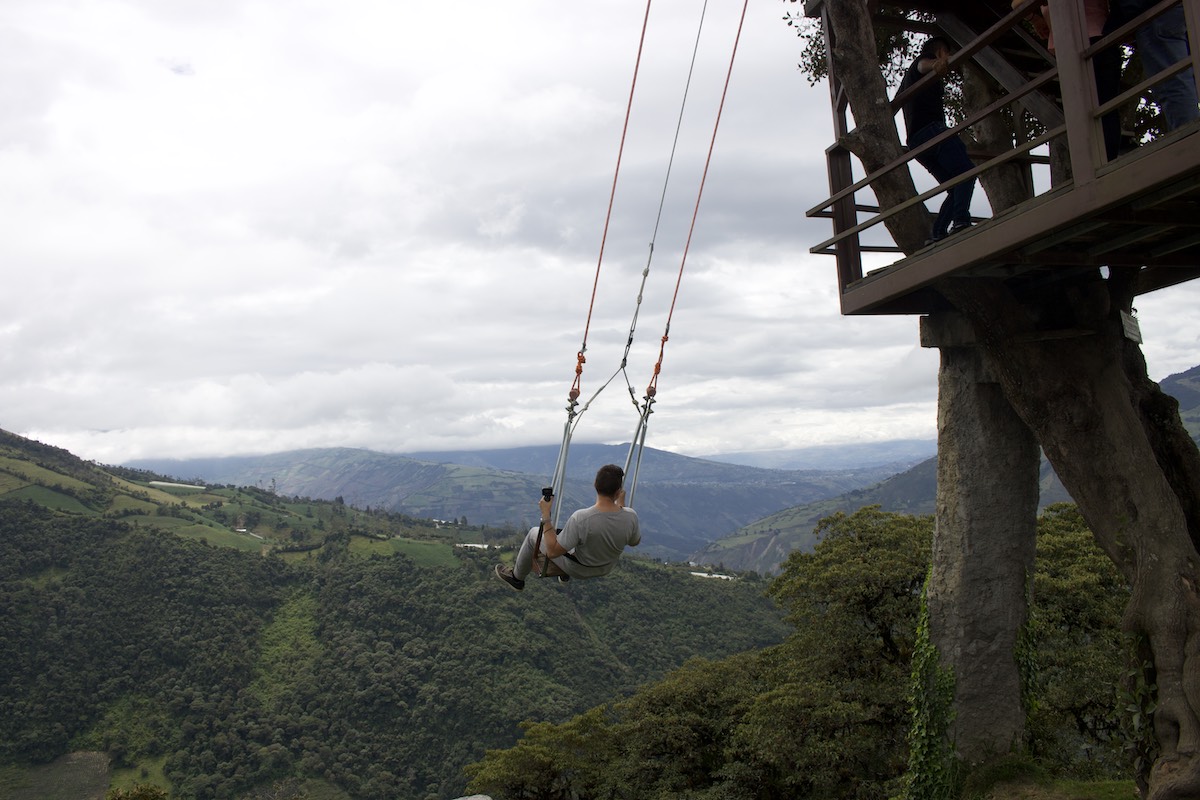 Baños is the nearest town to La Casa del Arbol. This swing is located on top of a mountain approximately a 30-45 minute drive from Baños.
There are several methods from Baños to The Swing At The End Of The World.
By Car
To get to La Casa de Arbol from Baños, follow E30/Via a Baños and then turn right onto Via a Runtun. It is approximately a 30-minute drive from downtown Baños.
There are several approved parking areas where you may park and stroll up to the swing. The swing is only a 5-minute walk uphill from the parking lot, but the path is steep and slippery, so wear strong shoes.
By Bus
Regular public buses go to La Casa de Arbol from the Bus Hacia la Casa del Arbol bus terminal in downtown Banos.
This bus terminal is on Pastaza Street, directly across from Panaderia La Delicia Don Gato bakery. 
By Private Tour or Taxi
You may always take a cab or book a private tour with one of the local tour companies in Banos if you want to escape the crowds that come with public transit.
By going about downtown Baños, you may uncover a plethora of local tour providers and bargains.
By Hike
If you're feeling adventurous, you may also hike from Banos to the Swing At The End Of The World.
Although we did not do this, there is a route from Banos that leads up to La Casa Del Arbol and takes around 3 hours to trek (one way).
It is important to note that you will be walking straight uphill the entire time, gaining quite a bit of elevation, so this trip is not for the faint of heart. If you plan to trek there, pack lots of water, food, a rain jacket in case it begins raining, a flashlight in case it becomes dark, and slip-resistant hiking shoes.
Best Time to Visit
The ideal time to visit The Swing At The End Of The World is on a clear bright day. Sunny, clear days are perfect weather conditions for visiting the Swing at the End of the World.
Due to the swing's elevation of 2,600m (8,500ft), gloomy or overcast days will conceal the Tungurahua volcano in the backdrop. Arrive early to avoid crowds, and bring a sweater or jacket since it may be cool at this height.
How Much Time to Spend in the Swing at the End of the World?
You should allow at least 1-2 hours to see The Swing At The End Of The World.
It takes around 30-45 minutes to travel up to La Casa del Arbol. On top of this, add the time to wait in line, take photographs, buy some beverages or snacks, then drive back to Baños. We went during a week day so there were no lines but if it's Friday, Saturday or Sunday, keep in mind that crowds are huge. Also, it is best to go there early so you do not have to worry about the crowd and the long wait in line.
We arrived at 12 p.m., and it was quite empty, but it was Monday. We enjoyed the views, and the swings and made nice pictures.
What Else to Do Nearby?
If you have additional time and prefer daring excursions, you can check out the Torre Al Cielo swing, which is directly next door to The Swing At The End Of The World.
The Torre Al Cielo swing is a bit extreme. In this adventure, a guide will push you out into a steep drop-off on a swing that rotates 360 degrees upside down.
If you are staying in Baños, you can try to check out other things to do within the town like hiking. Check our Banos Ecuador guide.
Hiking is a popular activity in Baños. The trek to the Bellavista viewpoint is a popular route; it takes around 45 minutes to reach the viewpoint, although the elevation needs some athleticism. Alternatively, rent a bike and ride down the waterfall-dotted Ruta de las Cascadas to Puyo.
Bottom Line
The Swing at the End Of the World is a picturesque and IG-worthy destination. If you are looking for some place where you can get a jaw-dropping photo to share on your social media, visiting the Swing at The End of the World is the place to be!