Your trip to Quito will not be complete if you will not visit the first UNESCO World Heritage Site in Ecuador, the Quito Historic Center. It is one of Latin America's largest and best-preserved historic centers. 
More than 300 blocks of colonial residences in Quito's Historic Center span 200 or 400 years of history. — Quito's Old Town, dubbed "Centro Histórico" by locals, was built on the site of the Inca Empire's capital.
Despite many earthquakes since its colonial establishment, Quito's historic core has remained impressively true to the past while becoming a vibrant and dynamic modern neighborhood. 
There are many interesting and lovely attractions to see in this charming place. You'll find magnificent evidence of Quito's past in the old town of Quito, including colonial churches, intriguing museums, marketplaces, and stunning vistas.
In this article, I will share what are the places to see, things to do, and how to get to Quito Historic Center. Plus, I will be also sharing some travel safety tips for my fellow travelers. You can also check it in my video about the whole trip on Ecuador's mainland. Quito's historic center part starts at 2:01:
How To Get To Quito Historic Center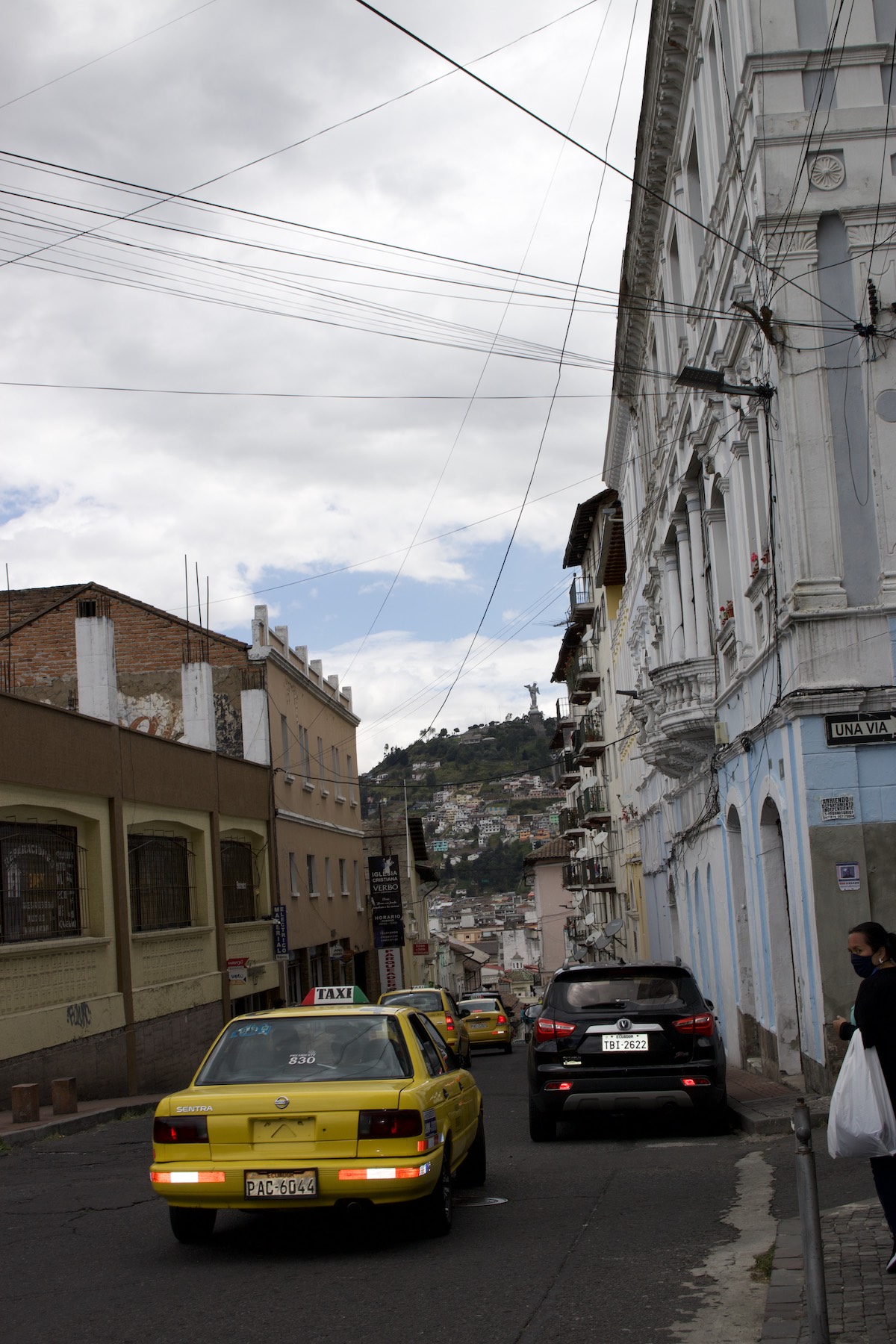 Quito's Old Town sits between El Panecillo in the south and Parque La Alameda in the north. 
The Historical Center of Quito is accessible to tourists. You can do a do-it-yourself tour, like what I did. To get there, you may take the Trolleybus or a taxi to Plaza de la Independencia and simply start wandering around. You can also book a day tour in Quito which includes a trip to the Historic Center.
Day tours in Quito are great since they are more interesting than merely reading a guidebook at various locations, and you receive local morsels of knowledge as well as insider information on the finest coffee and lunch venues. It's also easy to travel about because most tours will already include transportation.
I'd recommend using taxis or Uber because they are extremely cheap.
What To See and Do in Quito Historic Center
There are many interesting places to see in the Quito Historic Center. Here are some of the places that you must see when you visit there:
Stroll Along the Plaza de la Independencia
The main plaza of Quito, also known as La Plaza Grande, has been the social hub of the town since the 16th century. It also served as a bullfighting arena and a central market.
The square's former fountain has been replaced by a tall obelisk commemorating Ecuador's first cry for independence.
In this plaza, you will find the Government Palace, City Hall, Archbishop's Palace, and the Metropolitan Cathedral.
Visit the Government Palace and Watch the Changing of the Guards
The Government Palace is the plaza's most interesting landmark in this area. It is the government's seat and the president's official home. Although there is a chain-link fence in front of the palace, anybody is permitted to enter the main area as long as they inform the guard that they are tourists.
The Spanish/Moorish architecture is immediately apparent as soon as you enter the main entrance area. The Yellow or Presidents' Room is the highlight of the Palace. It is an iconic area filled with paintings of prior Ecuadorian leaders and where many important decisions about the country's future have been taken.
The Granaderos de Tarqui, a well-respected military squadron, guards the palace in magnificent blue dress coats with golden chords, red epaulettes, white pants, black boots, and tall blue morriones.
Watch the Changing of the Guards that takes place every Monday at exactly 11 a.m. with great pomp and ceremony in Plaza Grande. It is a centuries-old custom including horses decorated with pompoms, beating drums, marching troops, and the national anthem. If you are in luck, you can catch a glimpse of the president on the government palace's balcony.
Be Amazed at the Catedral Metropolitana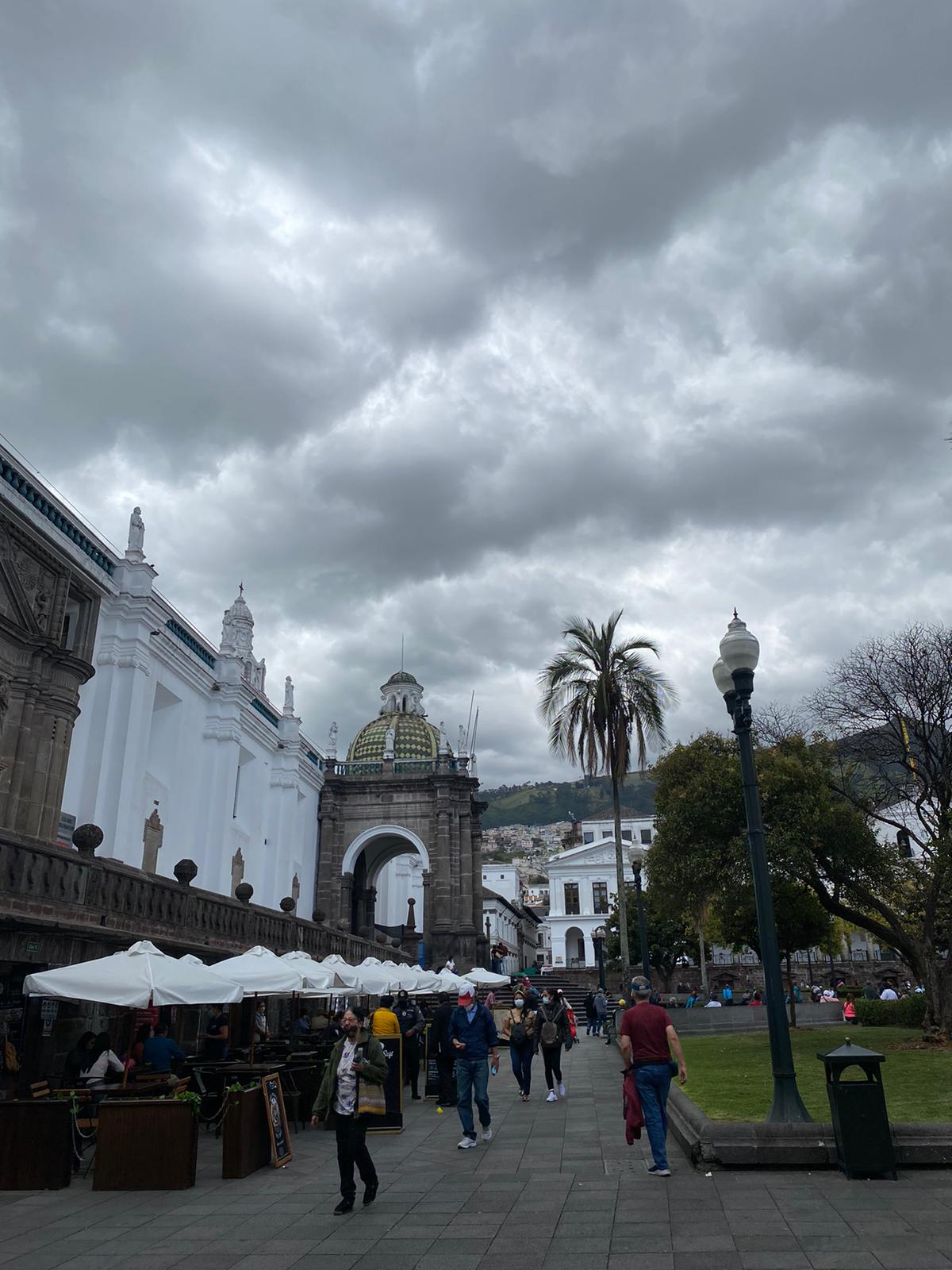 The Metropolitan Cathedral, or Catedral Metropolitana, stands gracefully along the Plaza Grande's southern border. It is the city's highest-ranking Catholic structure.
With its majestic pillars, arches, and naves, this cathedral which was built in the 16th century stands out among the many religious structures in Quito's Old Town. Inside, you will see a visual feast of the high altar, which is entirely composed of gold.
Shop at the Archbishop's Palace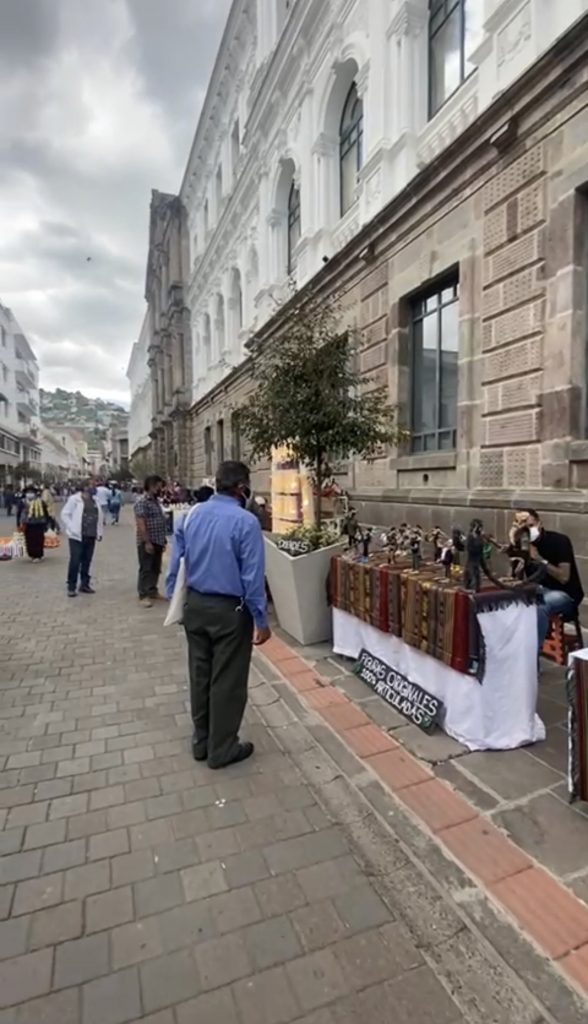 The Palacio Arzobispal is a former bishop's palace that stands directly across from the cathedral. It has outgrown its religious heritage and is now home to food courts and artisan stores.
Within its lovely inner patios and creaking balconies, we found a lot of things here — from quick food to expensive national cuisine, as well as kiosks selling artisan clothes from the Andes, Amazon, and Pacific Coast.
Get a 360° Bird's Eye View of Quito at the Basilica de Voto Nacional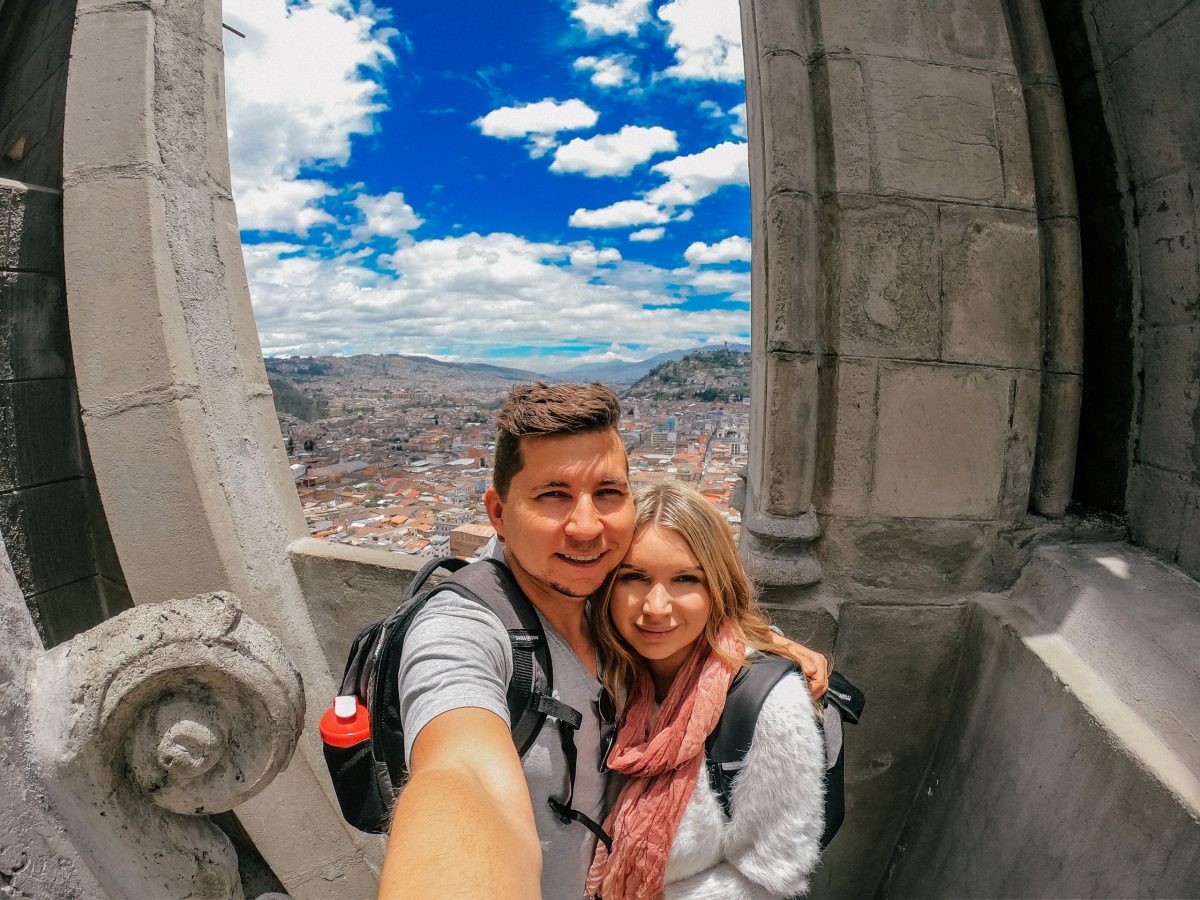 The Basilica del Voto Nacional is famed as the Americas' largest neo-gothic church. Its distinctive façade is sculpted with indigenous creatures from Ecuador, such as armadillos, tortoises, and birds, among others, in place of gargoyles, goblins, and standard religious characters.
Visiting the basilica is actually one of my favorite parts of the trip. It is not simply the Basilica's magnificence that makes it worth visiting. You may also get a 360-degree bird's eye view of the city by visiting the Basilica's twin bell towers. The ascent to the tower is undoubtedly an exciting journey that I actually enjoyed!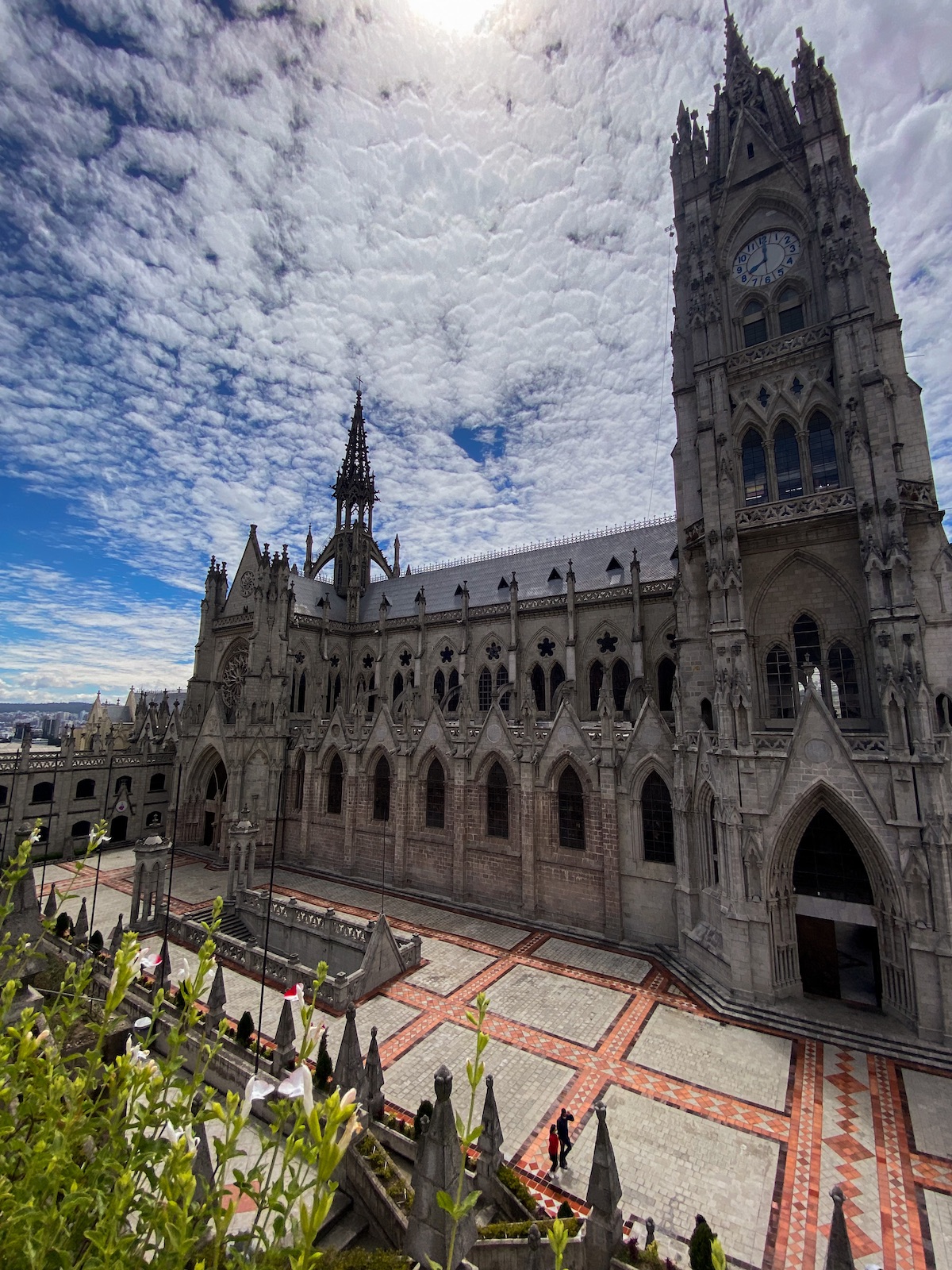 Another interesting feature that I like here is the café on the top deck which sells beer and traditional alcoholic drinks:
Yes, you read that right, alcohol is served at this church! I love the spectacular view from the café. It is a relaxing vista worth seeing after the arduous and nerve-racking climb.
Head to San Francisco Plaza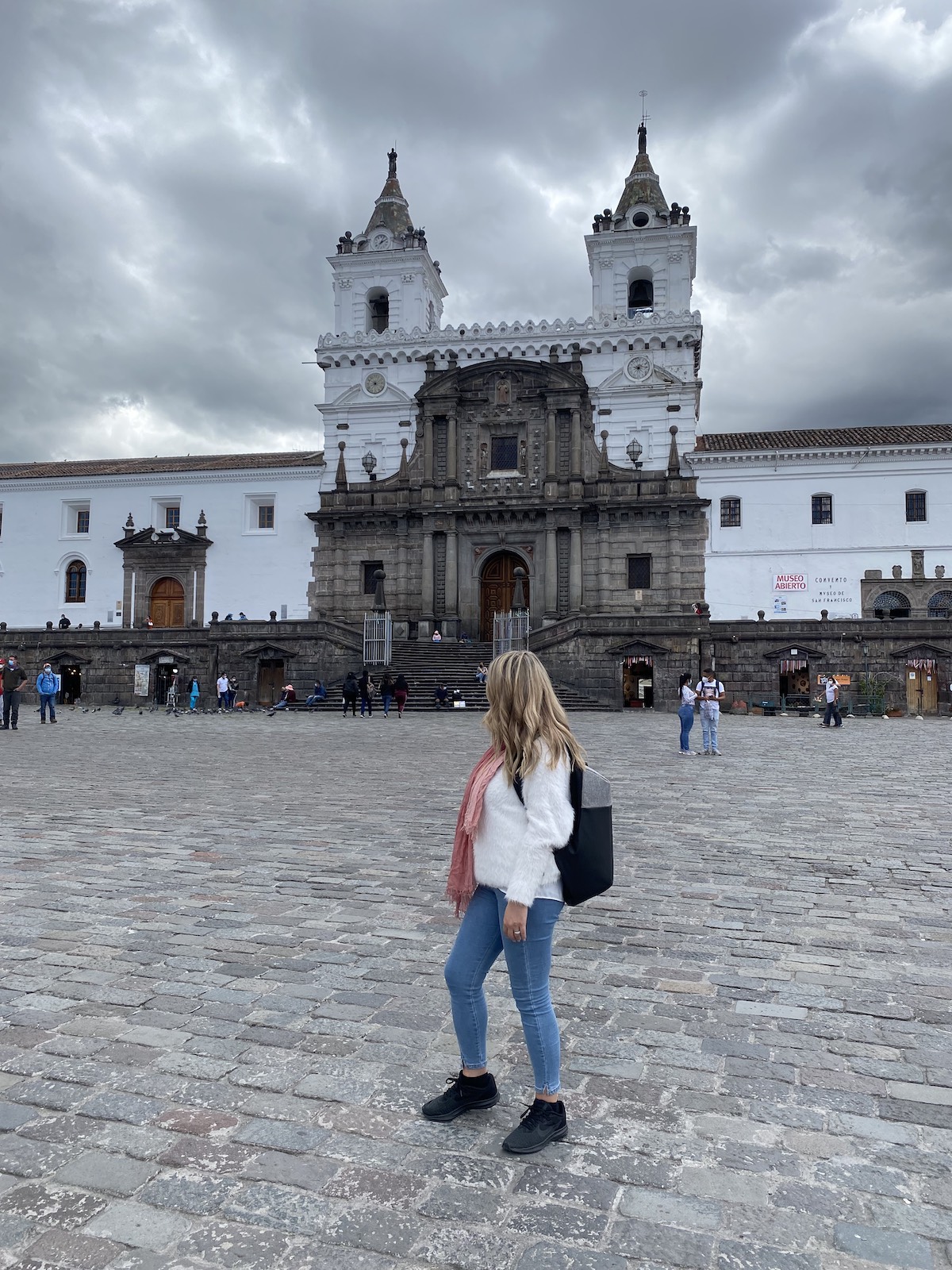 San Francisco Plaza is where you will find the San Francisco Church and Convent. The San Francisco church is frequently featured in Quito tourism brochures. It is Quito's first church and is also known as the largest religious complex in South America. 
The church takes up one entire side of the plaza and is definitely worth a visit. Once you go inside, you will find its magnificent interiors and the thousands of works of colonial art it houses.
Have a Glimpse of the City Hall
Standing at the east portion of Plaza de la Independencia is Quito's municipal or city hall. It may be the least impressive structure that you will find in this area but it is indeed a part of the city's history. It is the headquarters of the mayor and their fifteen-member city council.
Visit Iglesia de la Compania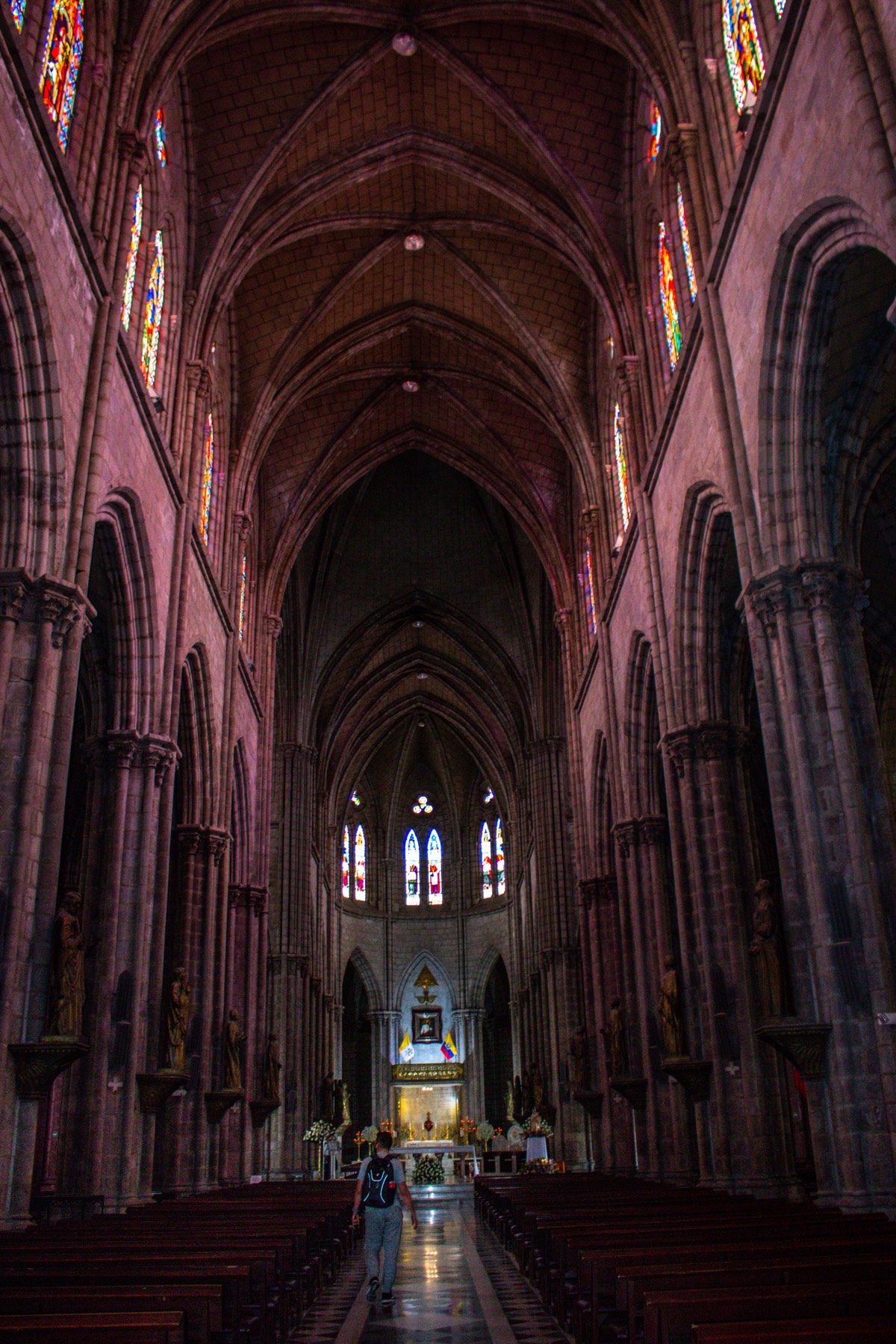 The Iglesia de la Compana is widely recognized as one of Quito's finest and most elaborate religious structure. It is regarded as one of Latin America's most notable masterpieces of Spanish Baroque architecture.
This is another cathedral in Quito worth seeing because the interiors are truly stunning. There is a lot of intricate gold leaf inside, and it has an enormous nave that will leave you in awe.
See the Santo Domingo Church
The Santo Domingo Church is another must-see historic church in Old Town. This chapel, which towers over Santo Domingo Plaza, is likewise highly commanding. It is one of Quito's most prominent religious sites. It was built by Dominicans, and its architecture and interior are both beautiful.
Learn More About Quito's History at the Museo de la Ciudad
If you enjoy learning about history and culture, you must see the Quito City Museum.  They feature a chronological display of the town's rich history.
This amazing museum is set within a former 16th-century hospital. There are various display halls, and the museum traces the city's history back to pre-Columbian times.
Divulge into Quito's Culture at the Centro Cultural Metropolitano
Another fascinating structure to see in Quito is the Centro Cultural Metropolitano or Metropolitan Cultural Center.  This building displays anthropological and cultural things of interest that enthusiasts would love to see. The building showcases several exhibition halls that will surely keep you busy peeking around.
Spend a Fabulous Night at La Ronda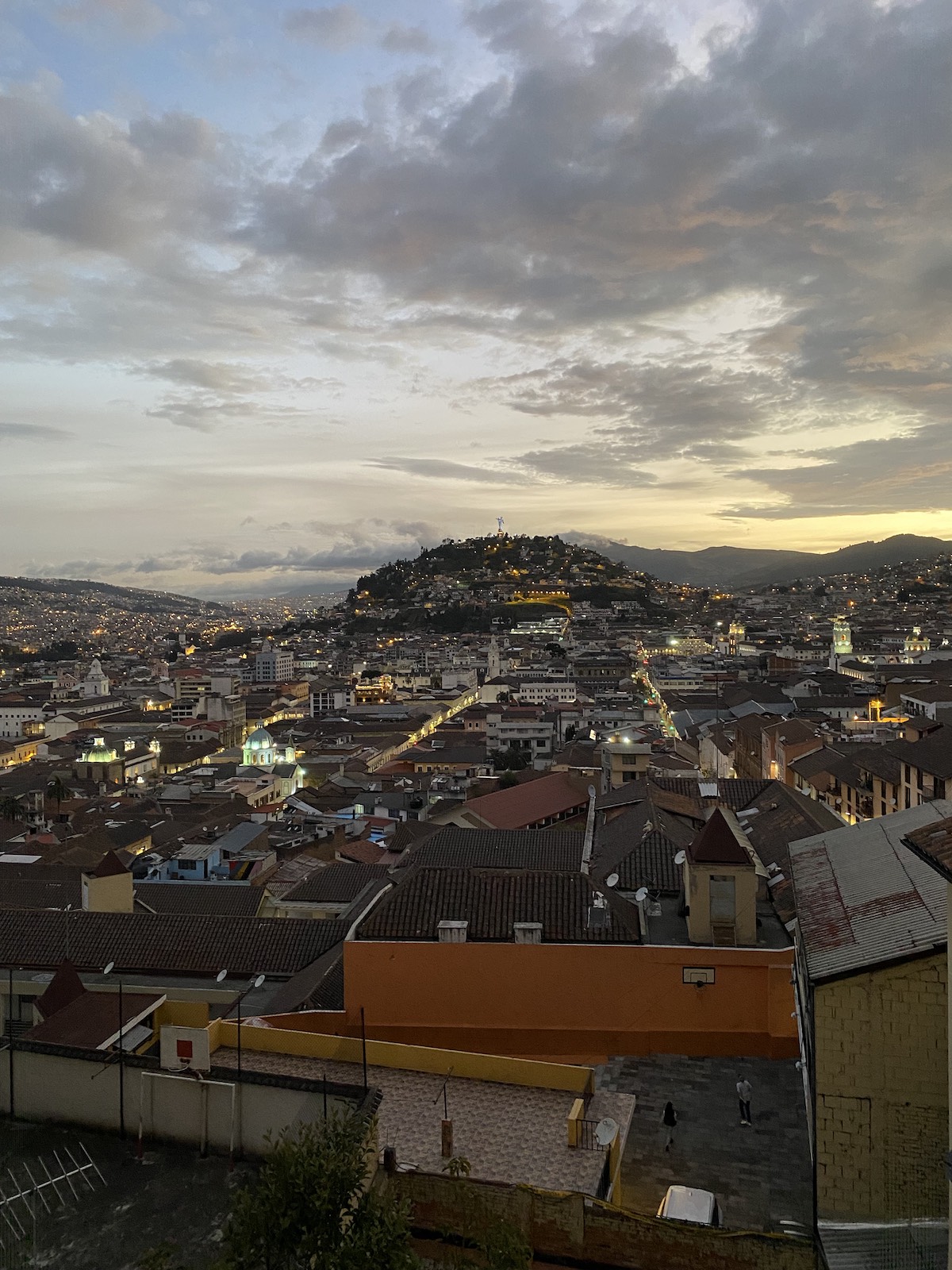 Calle La Ronda or La Ronda Street is a downhill pedestrian street in Quito's Historic Center. The street is home to lovely colonial architecture. It is a particularly beautiful portion of Old Town Quito, with houses along the street and a variety of small eateries serving Ecuadorian cuisine.  If you are looking for various options where to eat local foods, Calle La Ronda is the place to be.
Travel tip: Try visiting La Ronda at night to watch spectacular street performers while sipping canelazo, a popular Ecuadorian sugar cane alcoholic drink.
Safety Tips in Quito Historic Center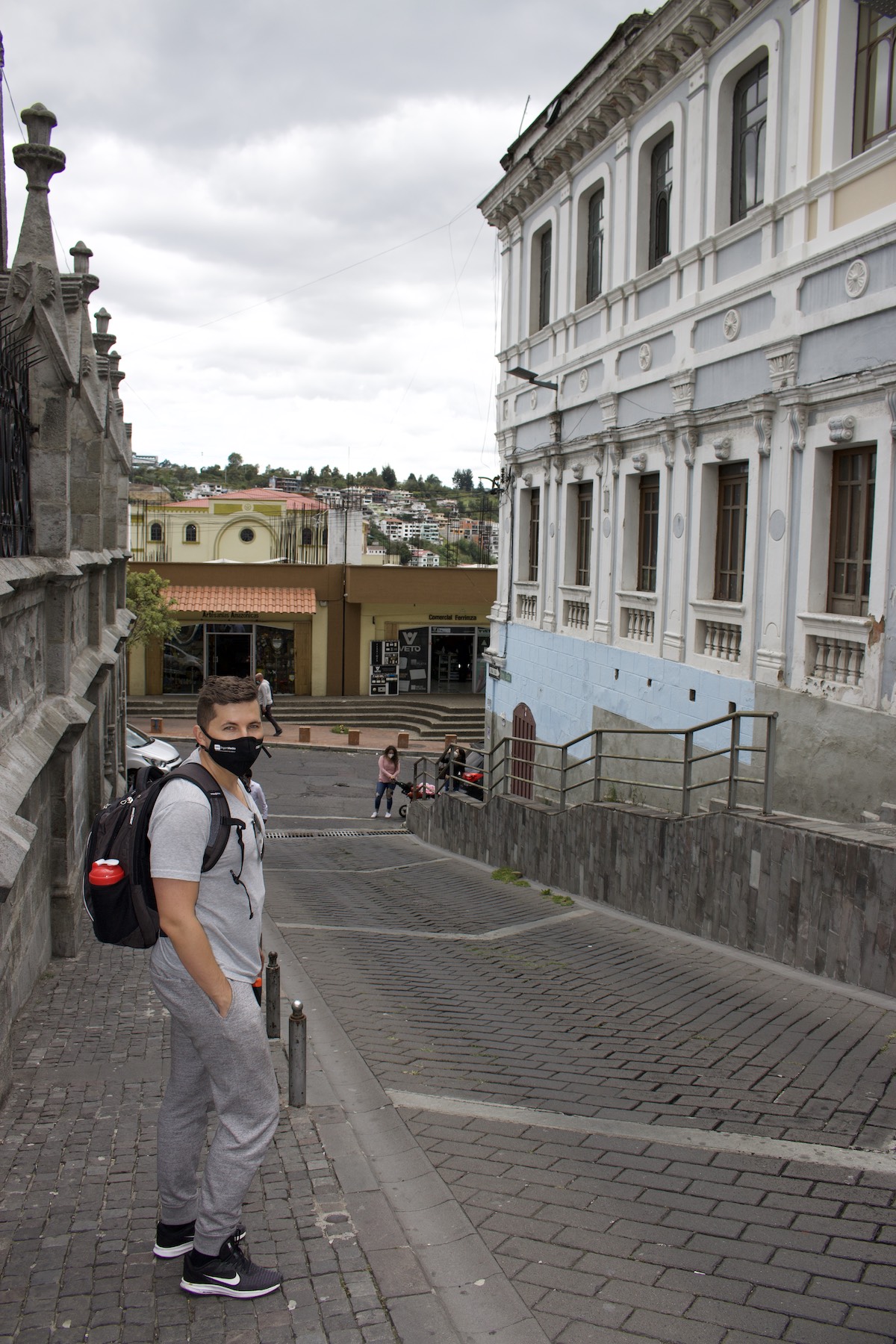 Because Quito's Historic Center draws so many tourists, the place may also be a hotspot for pickpockets and criminals.
You may simply protect yourself from being a target by not bringing or wearing valuables. Only carry the cash you need for your tour. Always be mindful of your belongings, and be aware that flaunting fancy phones or cameras and failing to take proper care of them may draw attention. We did not face any issues, I was making videos on my GoPro all the time, while my wife photographic on her Canon camera. Just be cautious. I shared more about safety in Quito in this article.
It is also best to not walk alone at night. Follow your instincts and take simple safety precautions whenever you are outside.