Guayaquil is home to the second busiest airport in Ecuador. It is the only gateway to the Galapagos Islands thus, many travelers are transiting thru this city. It has always been a question if Guayaquil is worth the visit and we say, yes! Guayaquil has its own charm that you should definitely see if you are on a trip to Ecuador.
The city was established in 1538 which makes it one of the oldest cities in Ecuador. Despite the city's modernization, some of the historical architectures can still be found in the city showcasing the rich and beautiful Ecuadorian history.
At the same time, Guayaquil is the most dangerous city in Ecuador and tourists need to be very careful and cautious. That's why we did not feel comfortable exploring it on our own and decided to take this city tour and never regretted it! We also heard a great feed about these free walking tours but we did not book in advance so there was no availability.
Guayaquil was one of the cities we visited during our 15-day self-drive trip on Ecuador Mainland.
Things to do in Guayaquil
We have curated the top things to do while you are in Guayaquil so ready your notepads if you are trying to create your itineraries. If you want to see specific parts of the city be extra cautious. In fact, hire a city guide on Viator or get a free walking tour, it's cheap and it will be way safer to explore Guayaquil.
Stroll in Malecón 2000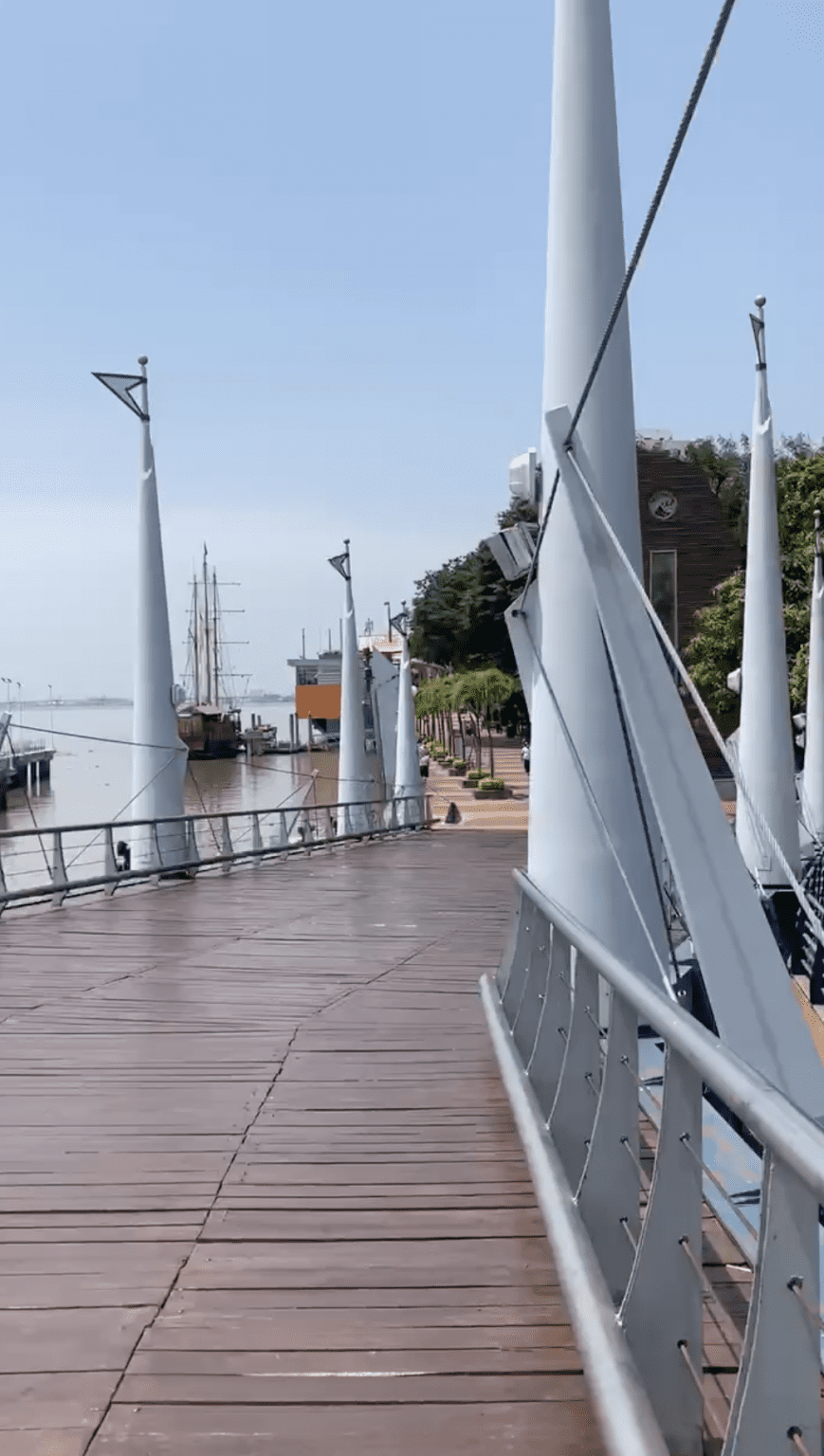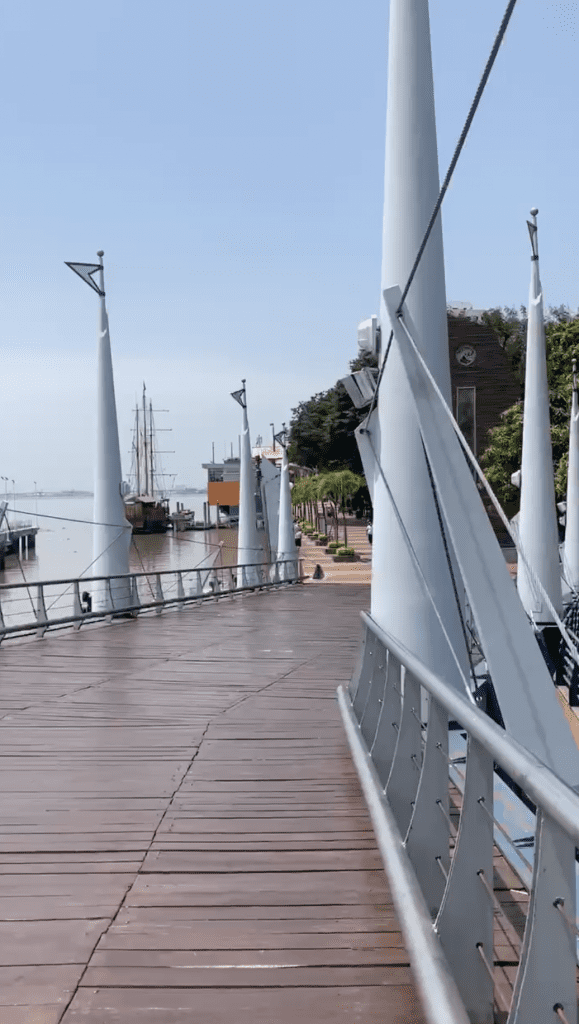 Referred to as Malecón dos mil by locals, this is a riverfront promenade that was built in the year 2000 as its name suggests. You can stroll in this 2.5 kilometers promenade and enjoy the views of River Guayas or visit the shops, museums, gardens, and restaurants in the area.
Climb the 465 Steps in Santa Ana Hill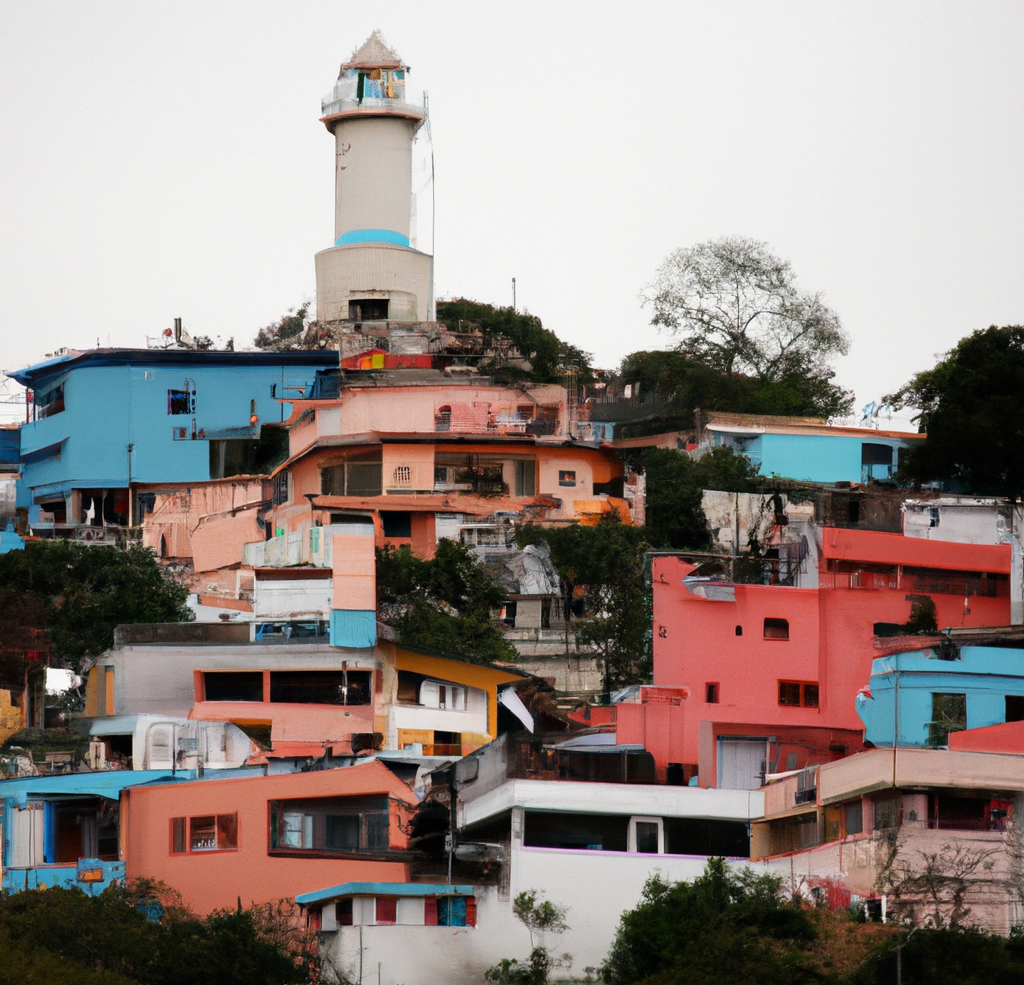 You should not miss the colorful hillside neighborhood of Santa Ana. You should see the neighborhood's unique small-town charm vibe and enjoy exploring its old but appealing vibe.
The neighborhood is vibrant as the houses are painted with bright colors. There are many shops, cafes, restaurants, and galleries on the way to the top. Despite the steps being numbered, you will get lost in counting as each shop is interesting to get into. The El Faro lighthouse can be found on the top of the hill beside a small church. From here, the view is spectacular which will make you think it is worth the climb.
At the base of the hill, you will find the famous cobblestone street, Numa Pompilio Llona. The picturesque street is sprawling with small shops which look like something taken out of a book.
Explore Downtown Guayaquil
Downtown Guayaquil is also worth visiting as you can explore churches, parks, and other grand architectures here. Aside from Parque Bolivar, you can also visit these places in Downtown Guayaquil:
Metropolitan Cathedral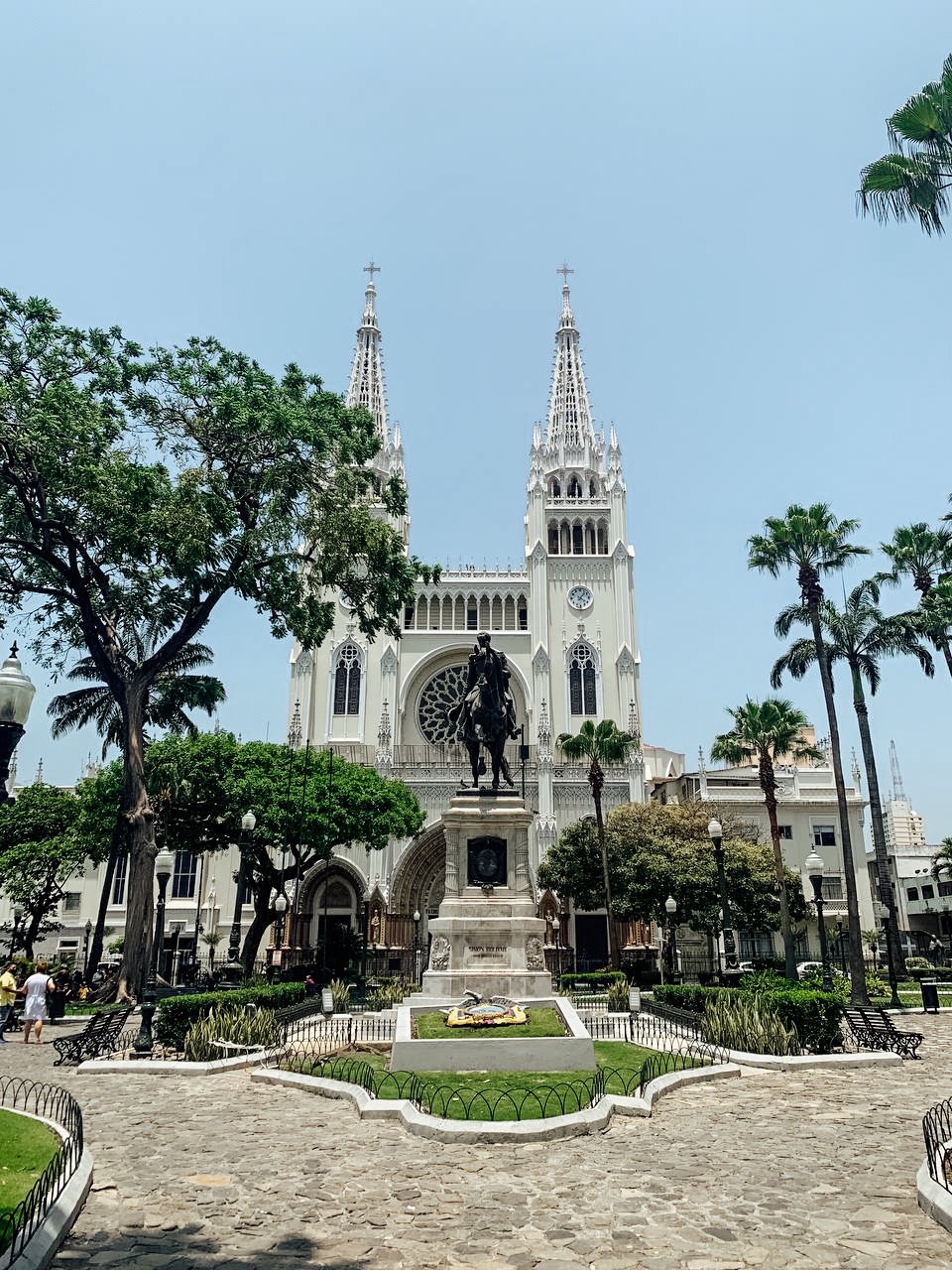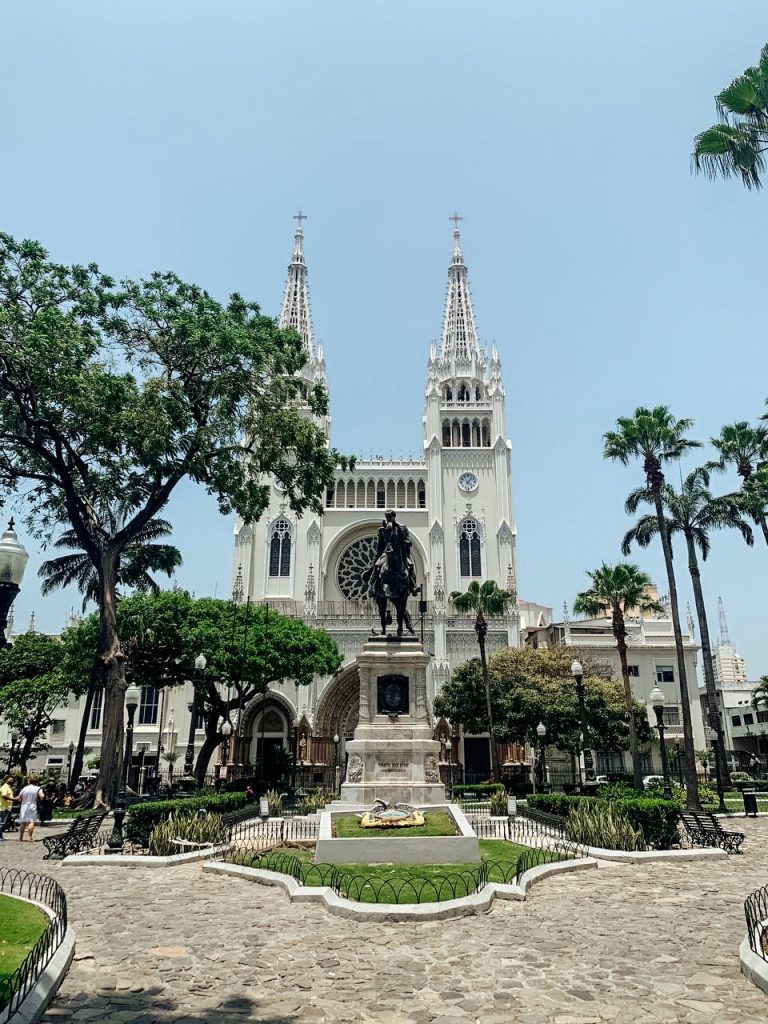 The Metropolitan Cathedral is considered to be the main cathedral of Guayaquil. It is located in the center of the city and just in front of Parque Bolivar.
Iglesia de San Francisco
Iglesia de San Francisco is a simple yet beautiful church. You can find trees, benches, and  a nice fountain in front of the church.
Municipal Palace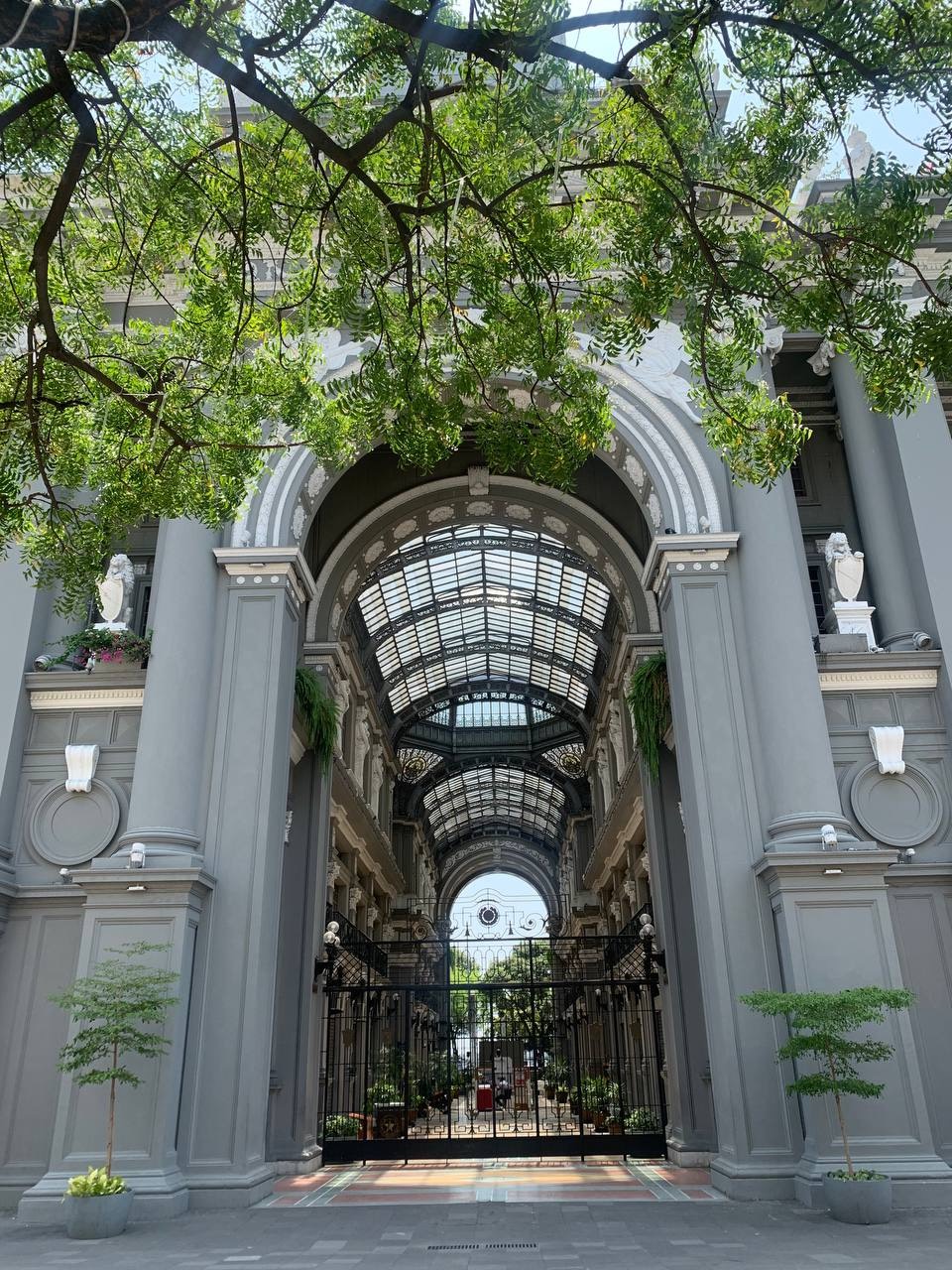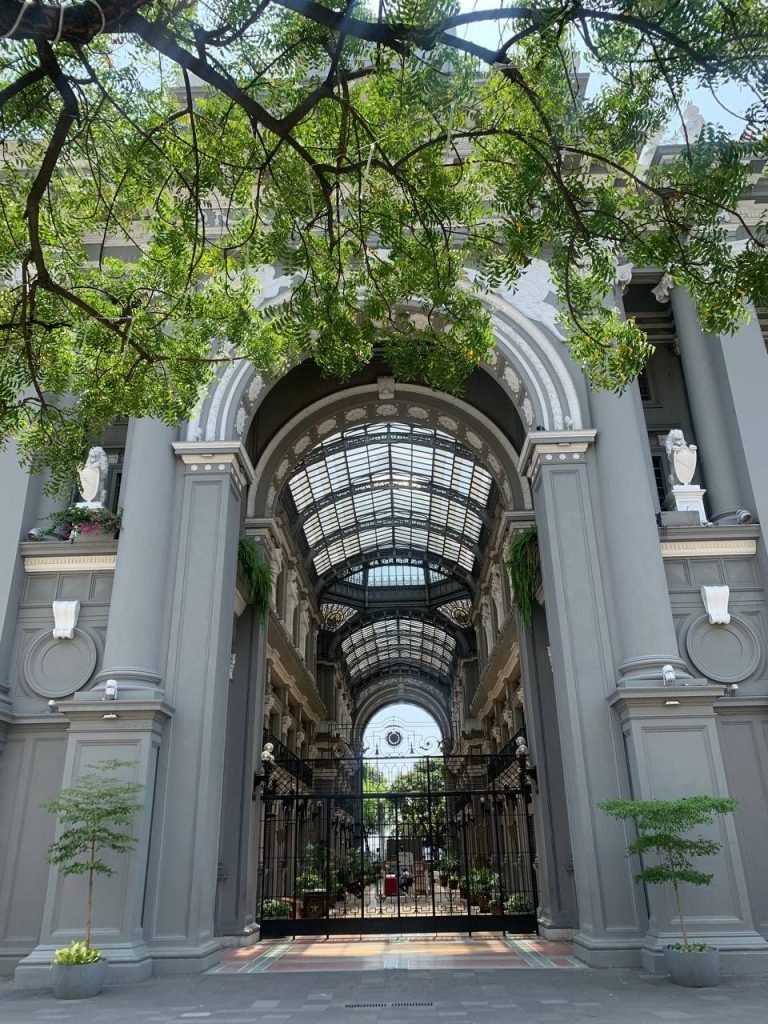 The Municipal Palace is where the political and economic administration of the city is focused. Its architecture is immaculate and commemorates the city's independence.
Avenida 9 de Octubre
Avenida 9 de Octubre is the main road of the commercial district of Guayaquil.
You can find most of the tallest buildings in the city here such as shopping centers, financial institutions, hotels, and foreign embassies.
Learn More About Guayaquil's History in Parque Histórico de Guayaquil
Parque Histórico de Guayaquil is divided into three zones: wildlife, traditions, and urban. The wildlife zone exhibits the different animals, flora, and fauna of Guayaquil. The traditions zone features the restored and rebuilt casas which show the traditional life of Ecuadorian agriculture workers. The urban zone is where the heritage houses are preserved.
Parque del Centenario
 Parque del Centenario is one of the biggest park in Guayaquil. It houses Columna a los Próceres, a monument commemorating the heroes of the independence of the city.
See The Iguanas in Parque Seminario or also known as Parque Bolivar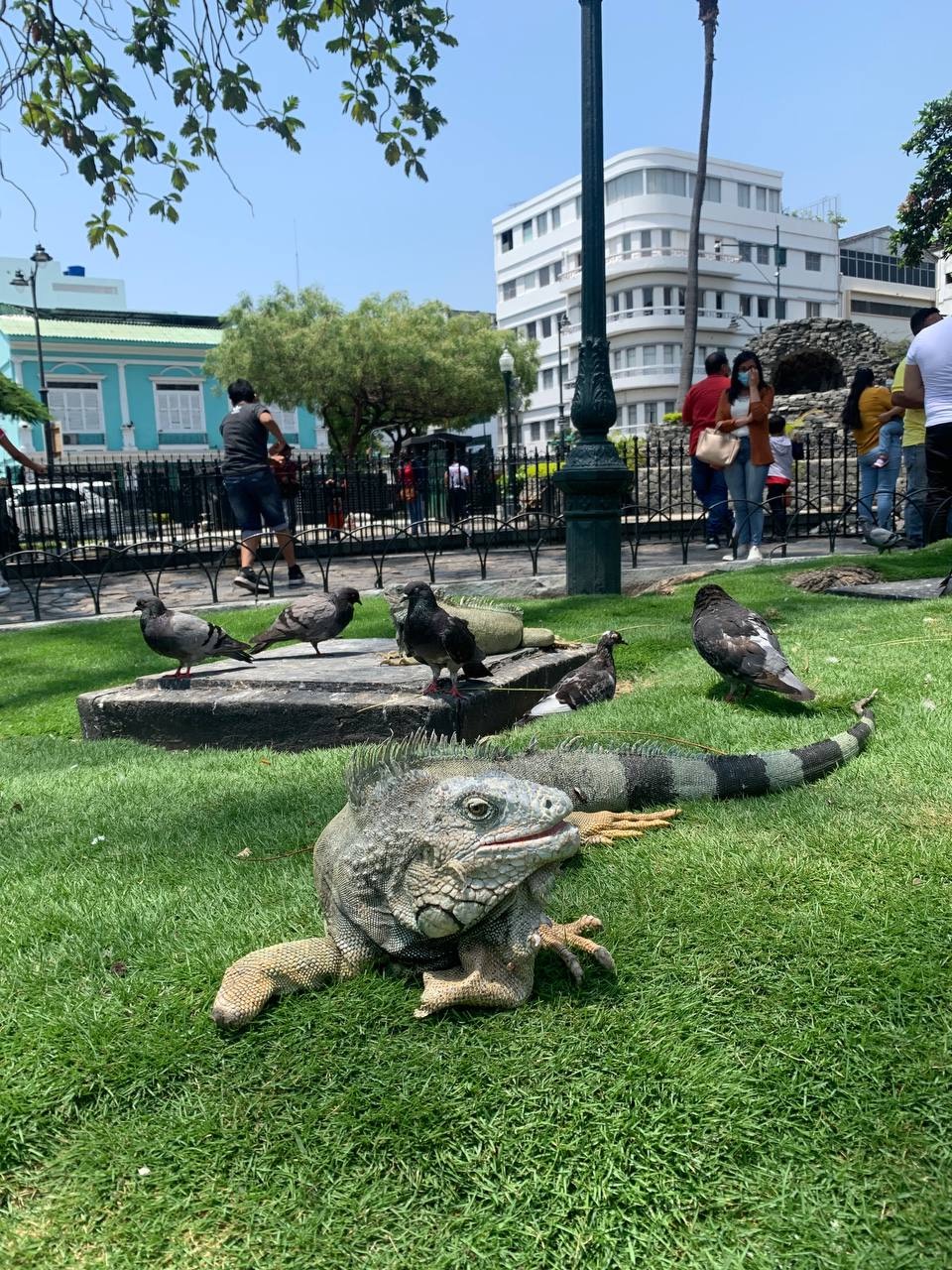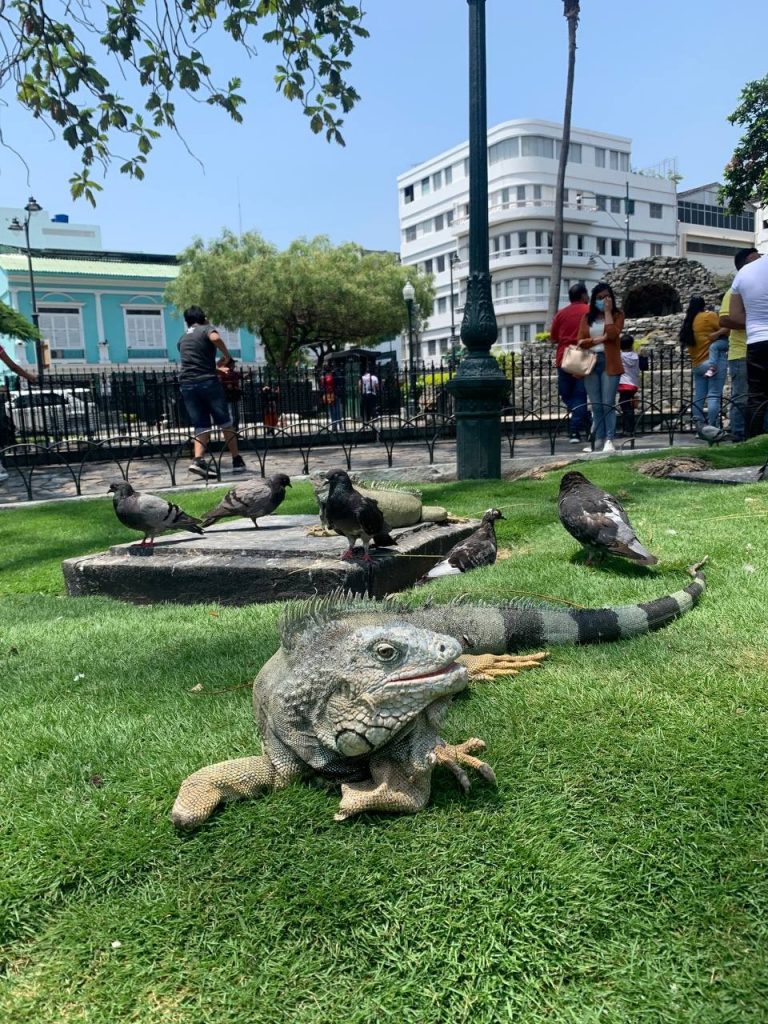 Parque Seminario or Parque Bolivar is also known as Parque de las Iguanas as you can find here the Guayaquil's resident iguanas lounging lazily at the center of the park. The iguanas are tame and locals even feed them occasionally. You can find Parque Bolivar located three blocks away from Malecón 2000 and just in front of the Metropolitan Cathedral.
Museum of Anthropology and Contemporary Art
Museum of Anthropology and Contemporary Art or MAAC is conveniently located at Malecón 2000. The museum exhibits Ecuadorian archeology and interesting modern artworks. Also, the admission is free so you definitely should not miss dropping by this museum.
How to Get to Guayaquil
Jose Joaquin de Olmedo International Airport is the second busiest airport in Ecuador. Flights to this airport are available from most major cities in the US. If you are coming to/from Quito or Cuenca, you can easily find a ride as there are buses that depart hourly.
How to get around Guayaquil
By Uber
We highly suggest using Uber when going around Guayaquil as we find it safer especially for foreigners and non-Spanish speakers.
By Taxi
You can also take taxis which is relatively cheaper than taking Uber. However, taxis in Guayaquil are not metered so it is easy for tourists to get ripped off or scammed. Should you opt to ride a taxi, better get a private service and also ask for assistance from your accommodation.
By Bus
You can also take Metrovia, Guayaquil's modern bus line which can get you around the city. This is the cheapest option to wander around the city but we prefer taking Uber as we find it safer especially if Spanish is not your native language.
Hire a guide
Hire a Guayaquil city guide on Viator, if you do not want to handle transportation since they have a vehicle. In addition, it's pretty cheap and it will be way safer to explore Guayaquil. You can also get a free walking tour with a guide, where you decide whether to tip or not at the end.
Best time to visit Guayaquil
It is ideal to visit Guayaquil in the dry season preferably between the months of July to October. It is still hot during these months, but the humidity is less compared to the other months. The rain is also less frequent during these months but bringing an umbrella is always a must when you are in Ecuador.
Is Guayaquil safe to visit?
Some tourists worry about safety in traveling around Guayaquil. After all, it has a reputation to be the most dangerous city in Ecuador. Nonetheless, we can say that it is generally safe to tour around the city. But just like in any other city, tourists should always take precautions and be vigilant with pickpockets. If possible stick with using Uber when traveling around the city or if you are going to use a cab, ask for the hostel or hotel's help to call one for you to avoid scammers. Police and security guards are also visible and present in tourist attractions to ensure safety. You can read more in our article "Is Guayaquil Safe for Tourists?".

Where to stay in Guayaquil
We recommend staying around the area of Malecón 2000 as we find the area safer for tourists. It is also great to stay around Las Peñas or the City Center. For solo or couple travelers on a budget, you can find hostels in Guayaquil with prices ranging from USD10 to USD30 a night. If you prefer more comfortable hotels, there are plenty of hotels in Guayaquil with rates ranging from USD25 to USD100 above.
Recommended Hotels
Wyndham Guayaquil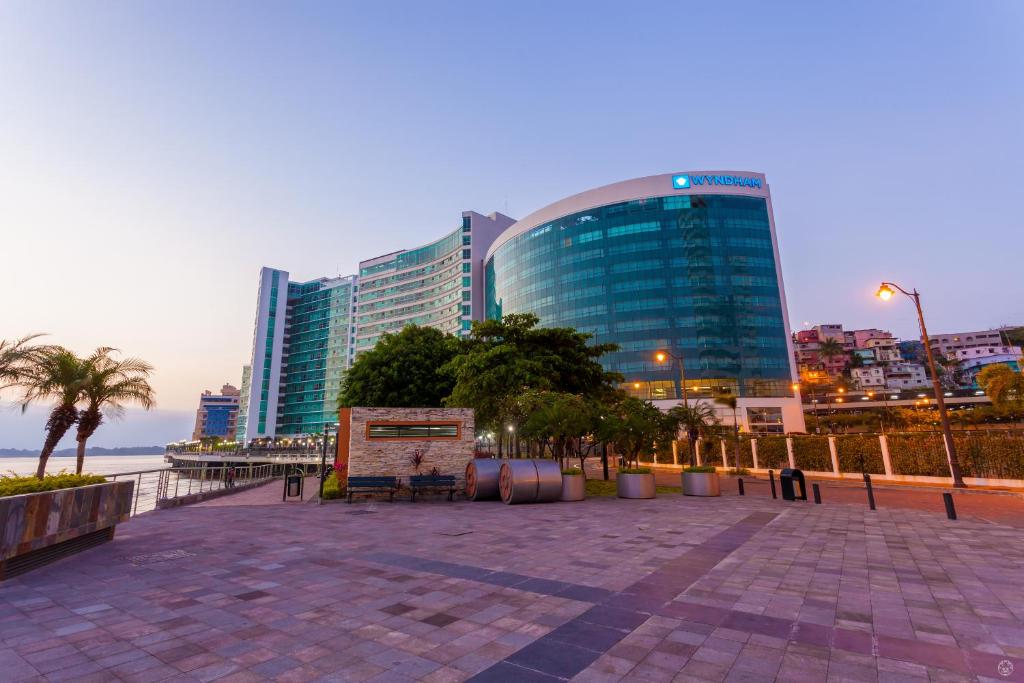 This is the hotel we stayed in and can't recommend it enough. Everything was top-notch for such an affordable price (only $150/night but check the current price here). The hotel's security was amazing and they are also located in Malecon 2000 area which is safe for tourists. They also provide a free shuttle from and to the airport so keep it in mind.
Hotel Ramada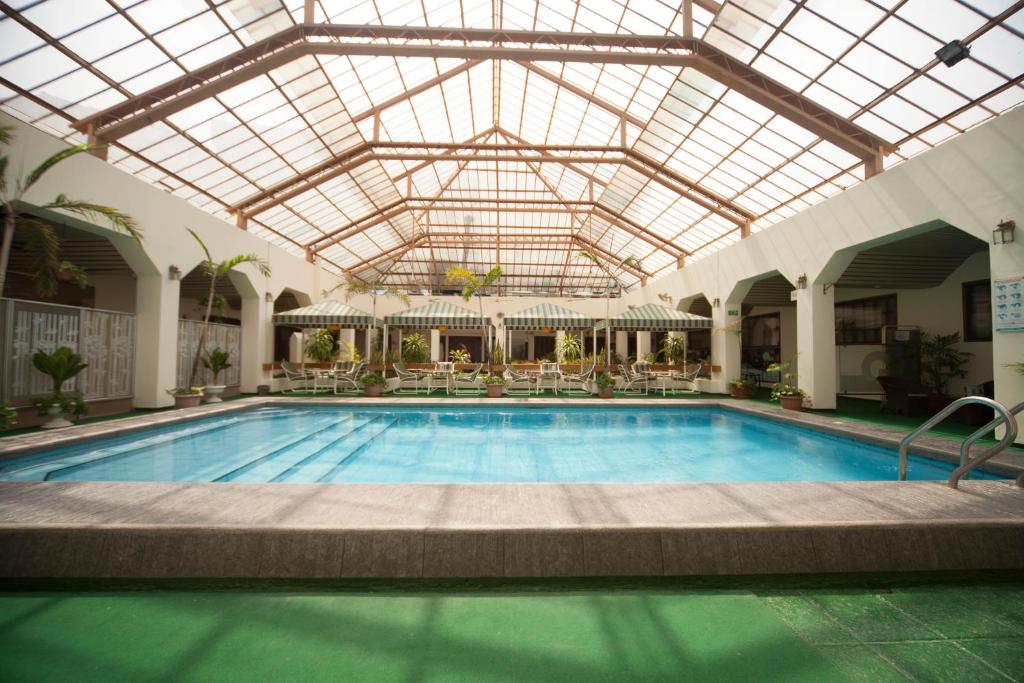 This hotel is located in Malecón 2000 area. It has a sauna, indoor pool, solarium, and fitness center. They also offer free wi-fi. Check the current price here.
Hotel Del Centro
Hotel Del Centro is located in the commercial district of Guayaquil. They offer free parking and wi-fi. Check the current price here.
Hotel Palace Guayaquil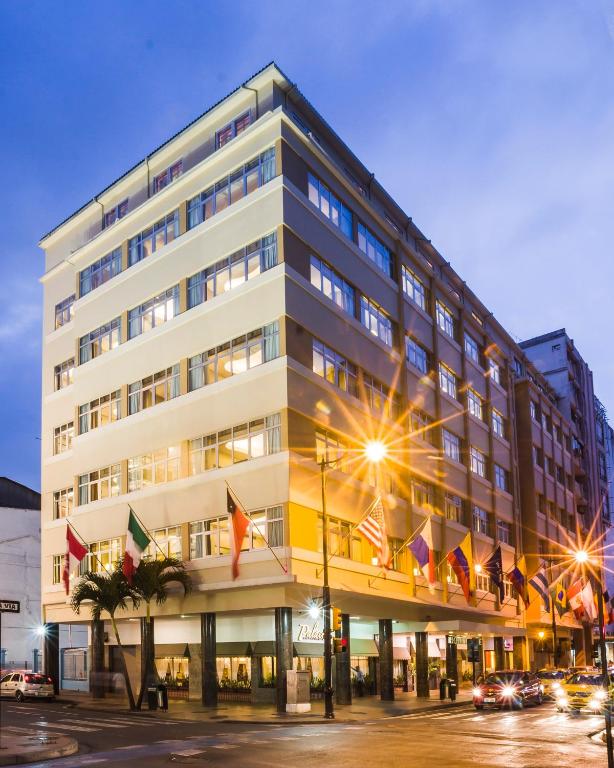 This top choice hotel is only a 10-minute drive away from the airport. The hotel rooms are modern and they also offer free wi-fi. Check the current price here.
Hotel Boutique Mansion Del Rio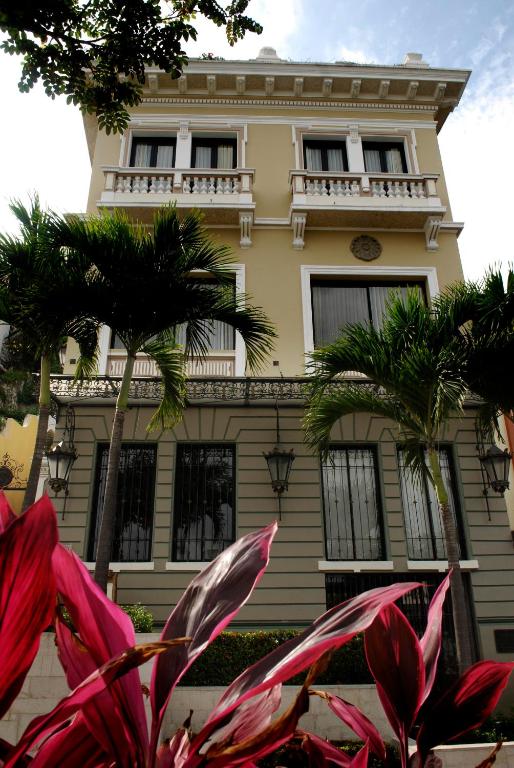 Hotel Boutique Mansion Del Rio is a luxurious and elegant boutique mansion that was originally part of the Ecuadorian architectural patrimony. They offer free parking and wi-fi. Check the current price here.
AirBnBs
Booking an AirBnB is a better accommodation option if you will be staying in Guayaquil for a long period. There are many choices of Air Bnbs in Guayaquil — from a minimalist studio type in the city center to a luxurious suite with river views, you name it. Prices of Air BnBs usually start at USD25 per night depending on the type of accommodation you will rent, the number of people staying, and the length of your stay. We would recommend staying in the hotels though because Guayaquil is quite unsafe and we heard many bad stories of people renting Airbnbs.
Guayaquil Climate, and Weather
Just like in any other city in Ecuador, the weather in Guayaquil is hot. The months of January to April are rainy season but whether you are traveling within these months or not, be sure to bring a compact foldable umbrella and a rain jacket. Do not forget to pack your sunscreens, too.
What to eat in Guayaquil?
Here are some of the local grub bites worth trying in Guayaquil:
Cangrejo Criolle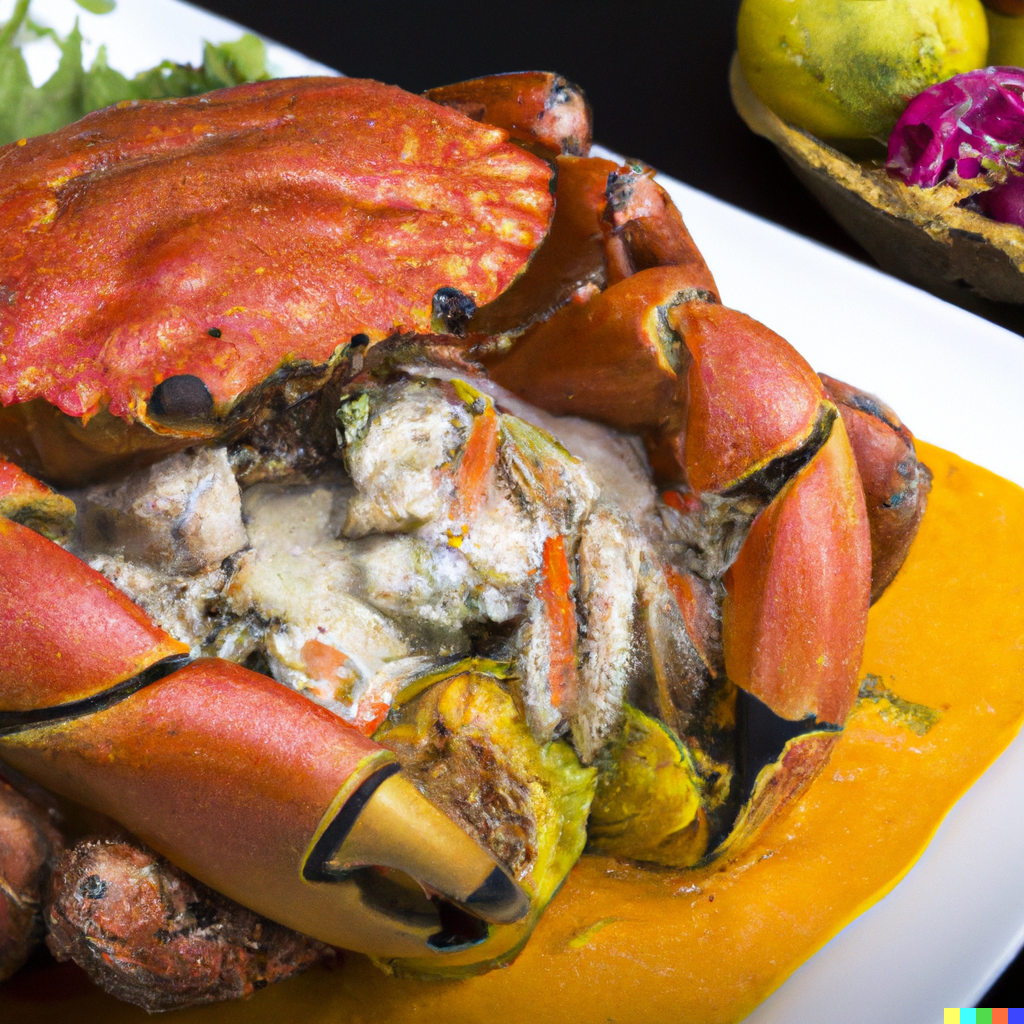 Whether you are staying for a few days or just one night in Guayaquil, you definitely should not miss eating the favorite local dish in the city, Cangrejo Criolle! The crab meat is oozing with flavors, as it was boiled in a pot of beer together with different spices. One of the best Ecuadorian dishes we tried!
Pan De Yuca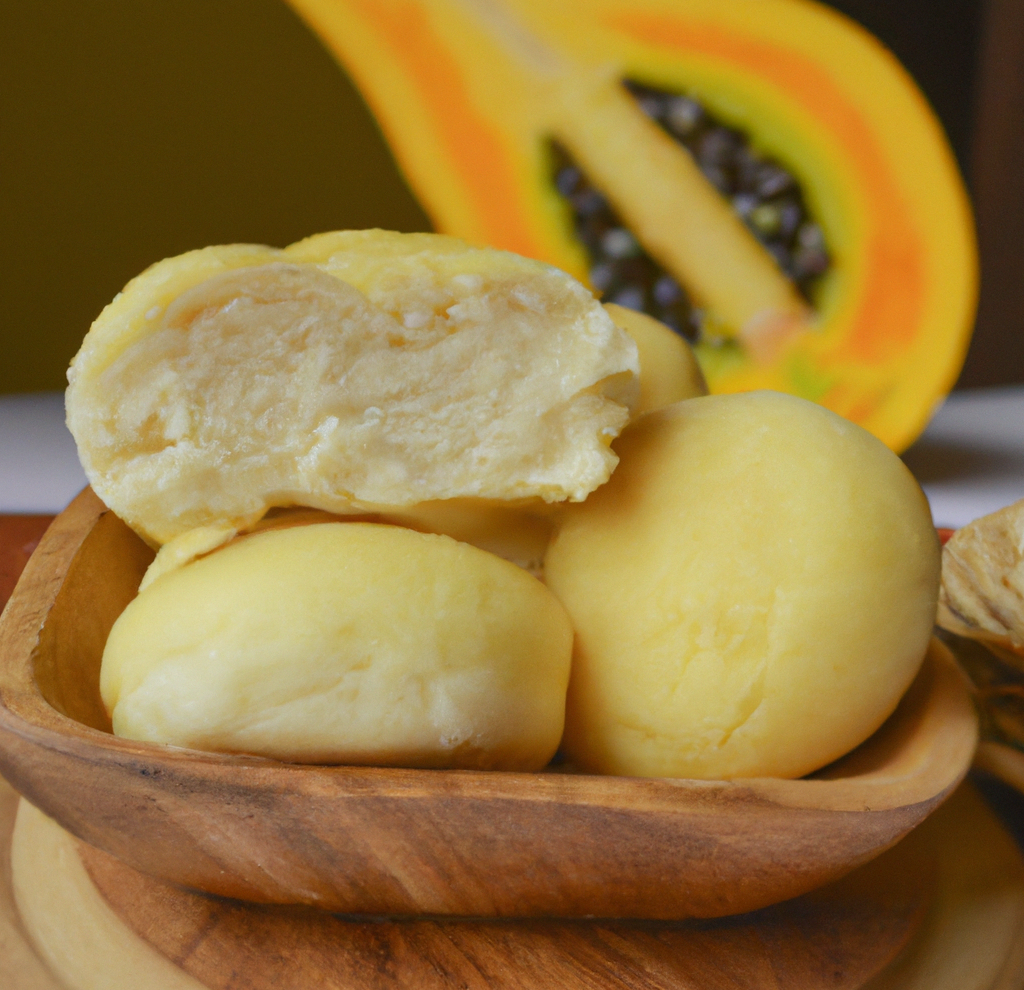 Pan de Yuca is a  small round bread made of cassava starch and cheese. It is one of the popular appetizers in Ecuador. Its crust is crunchy while the texture of the bread inside is a bit spongy. It is usually paired with coffee and eaten as breakfast or snack.
Pilsener
Pilsener originated in Guayaquil. It is Ecuador's national beer and is widely consumed in the whole country. You can easily find a Pilsener anywhere in Ecuador but if you are up for some history, you can try drinking at Casa Pilsener which is a Pilsener-themed restaurant built on the original site of the brewery. The restaurant has a good ambiance and you can enjoy either in their patio or indoor seating.
Conclusion
Just like Quito, Guayaquil is merely seen by travelers as a transiting city — a city you only have to pass thru to get to your destination usually to Galapagos Islands. Despite its not-so-good reputation, there are a lot of places to see in Guayaquil which deserves to be seen.
Guayaquil is also rich in culture and traditions just like its neighboring cities. The place is indeed worth visiting, so make sure you do not miss the chance to travel to this city and visit the attractions we have listed.
However, I would say that the city is a must-visit since there are better things to do and see in Ecuador.