Ecuador may be a small nation, but it is packed with incredible activities for tourists to enjoy. There are enough amazing things to do in Ecuador to keep you busy during your stay in the country. With so many options for entertainment and culture to discover, it might be tough to decide what to do in Ecuador.
To help you, we've compiled a list of the finest things to do in Ecuador based on my Ecuador travel guide. Check out some of our best travel experiences in this South American country below.
1. Experience High Altitude at One of the Volcanoes in Ecuador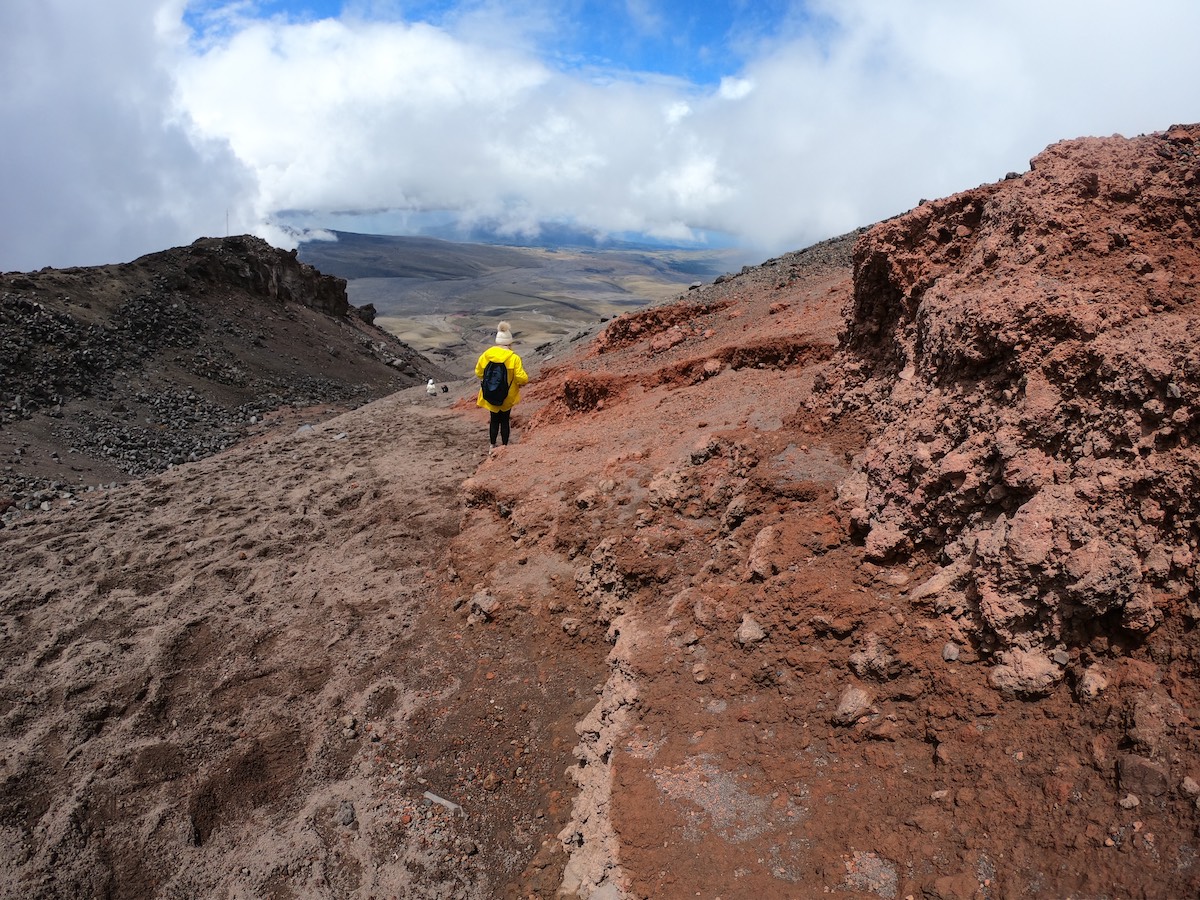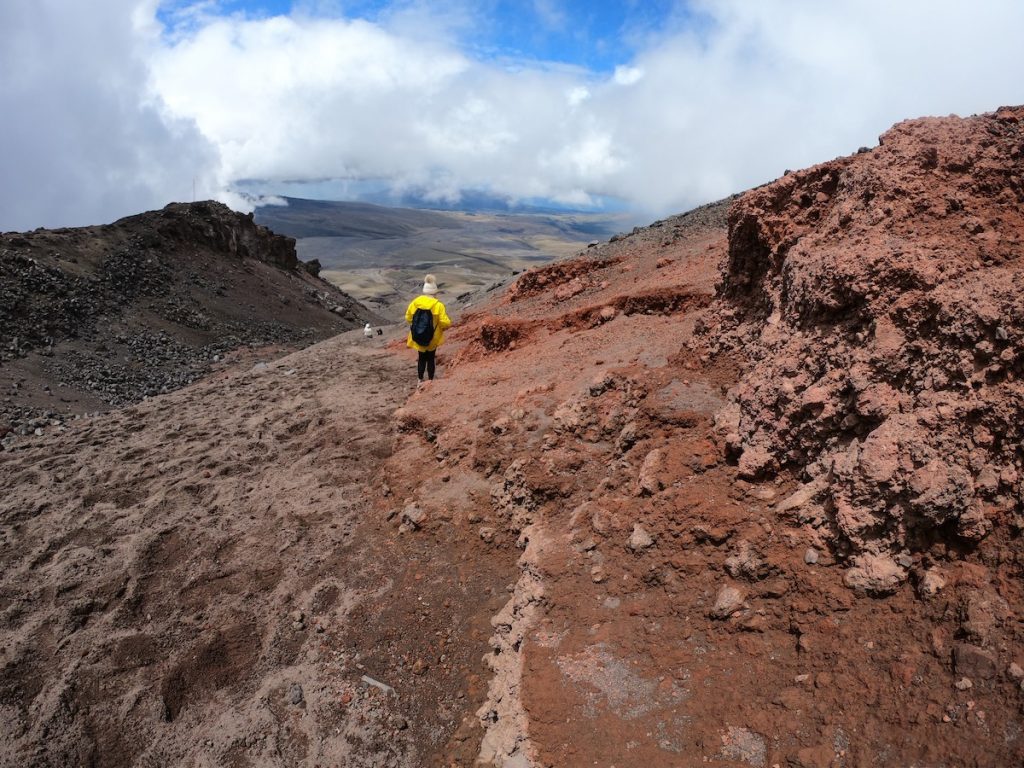 Ecuador is a country with a high elevation. The capital city, Quito is 2,850 meters above sea level. If you are up for a greater adventure, go hiking or climbing one of the volcanoes in the country. There are several volcanoes in Ecuador that are open to mountain climbers.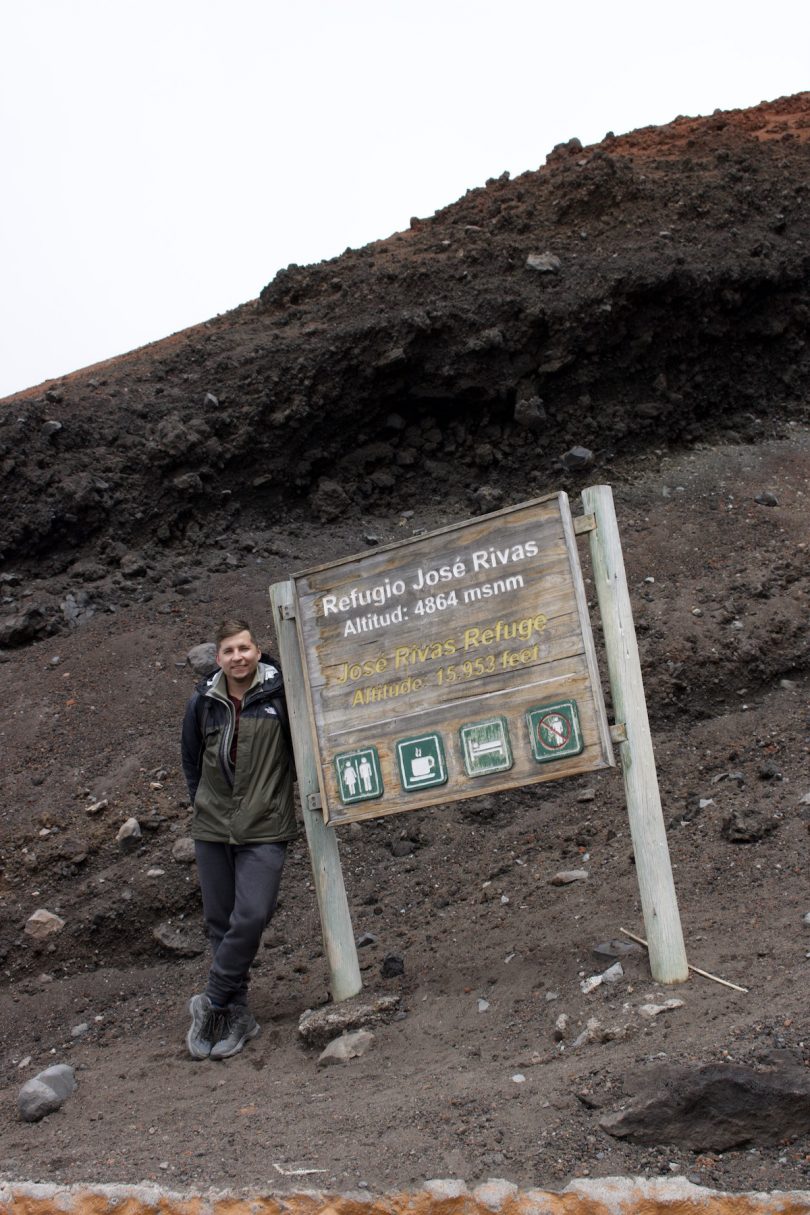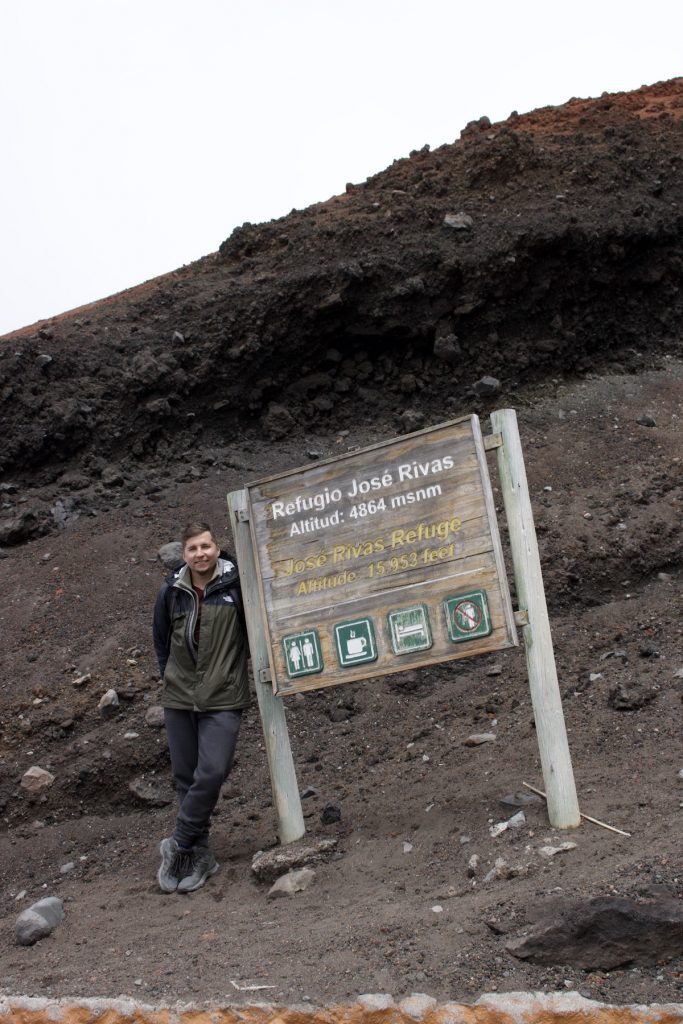 Our recommendation would be Chimborazo tour and Cotopaxi tour volcanoes. Be sure to book an expert guide before your trip. Additionally, remember to acclimatize first before doing any vigorous activities as it may result in elevation sickness. 
2. Explore UNESCO Historical Centers of Quito and Cuenca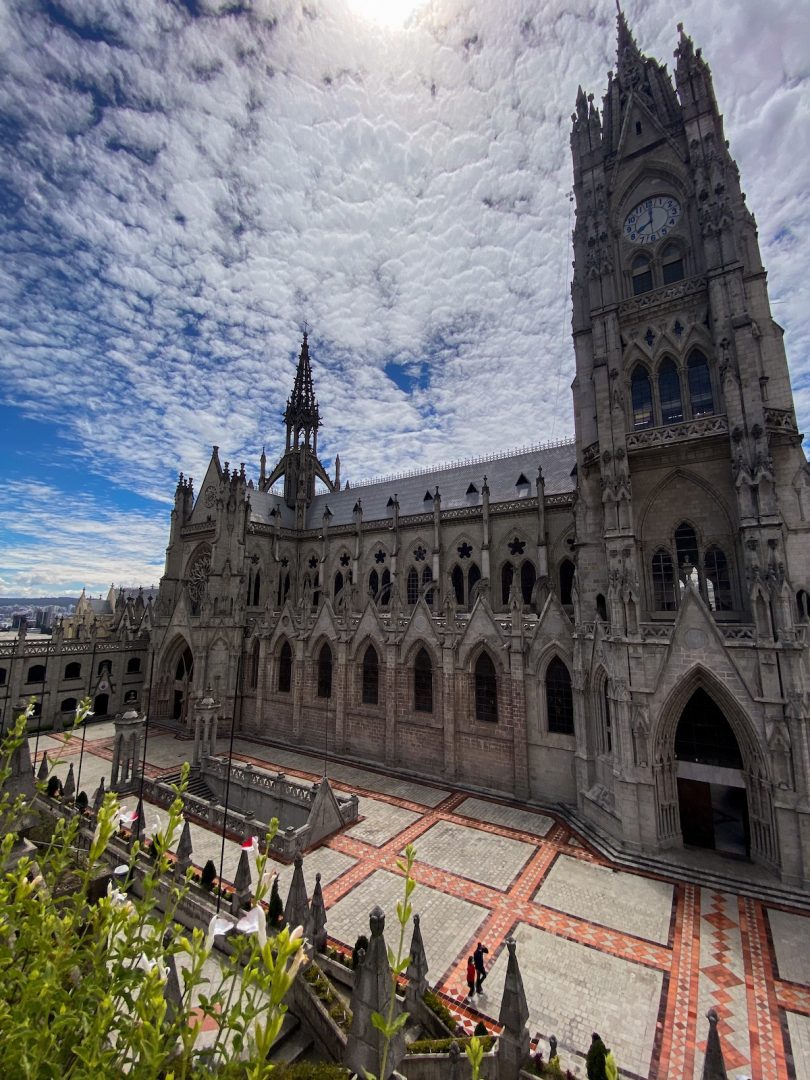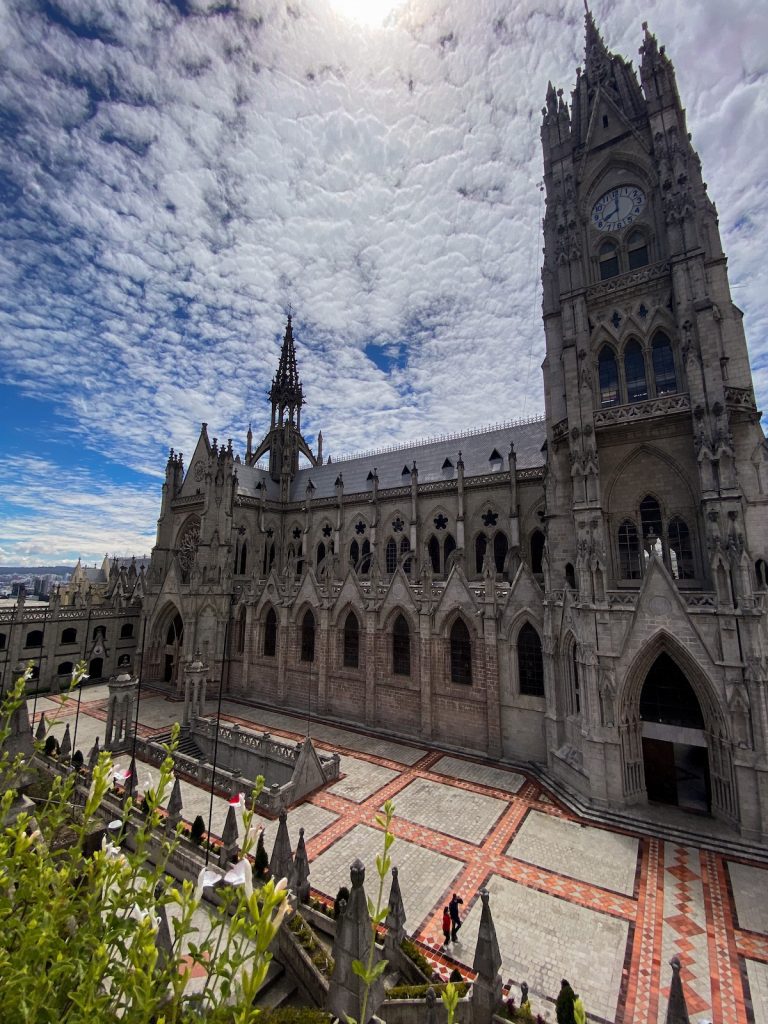 Quito is one of the world's most stunning historic centers. The city is unquestionably rich in history and culture, with 320 hectares containing 40 cathedrals, 16 convents and monasteries, and around 5,000 cultural buildings.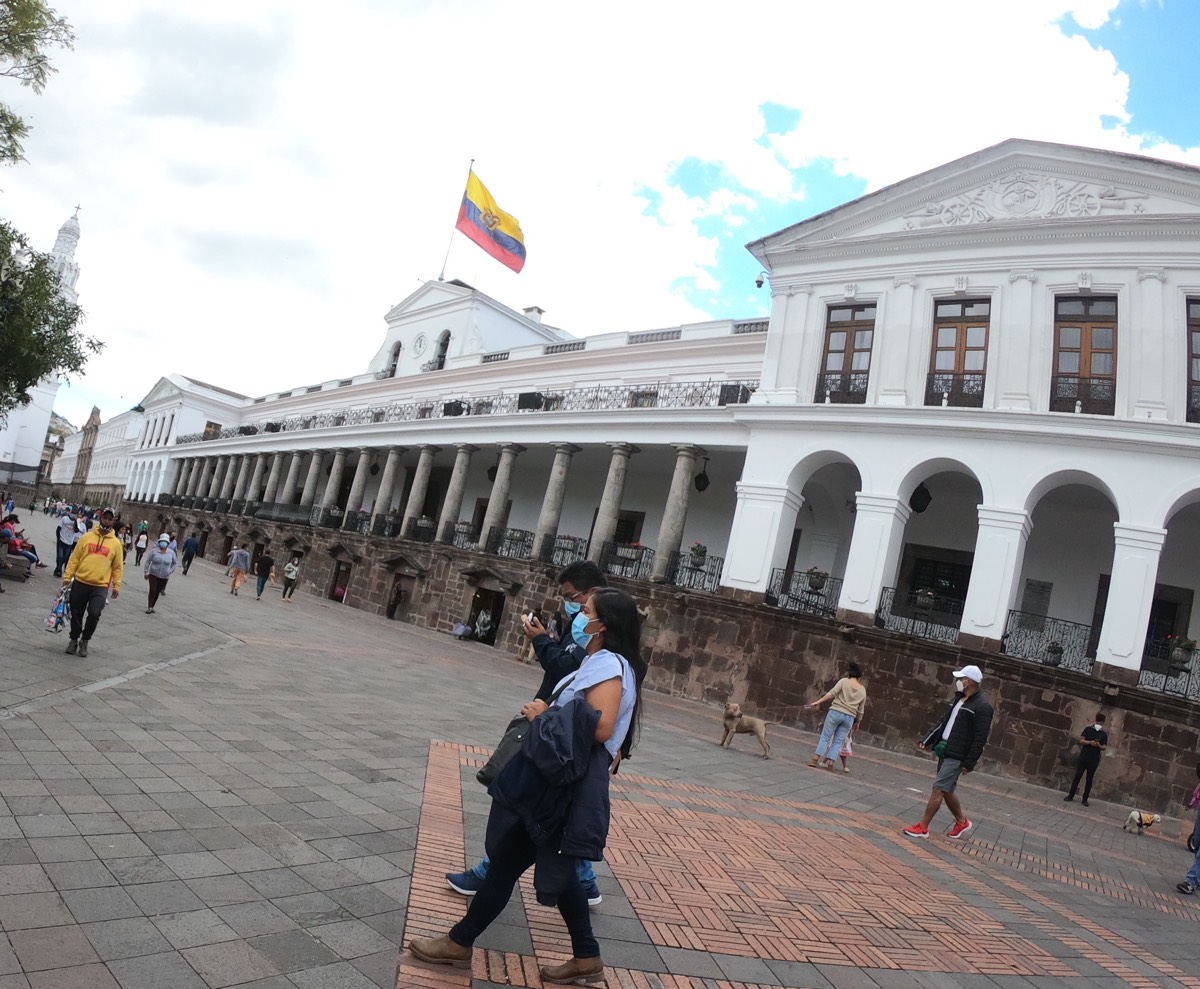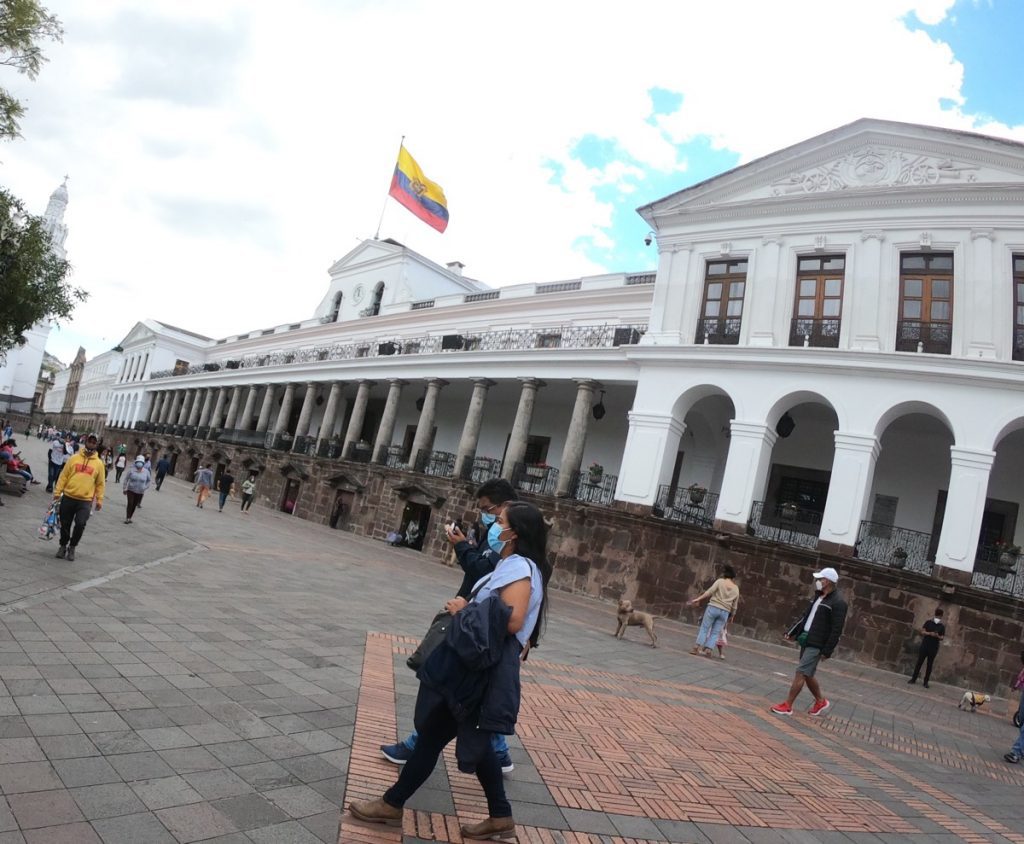 Together with the church of San Francisco, La Compania is a little but noteworthy example of the architectural beauty of the so-called "Carita de Dios" (God's little face).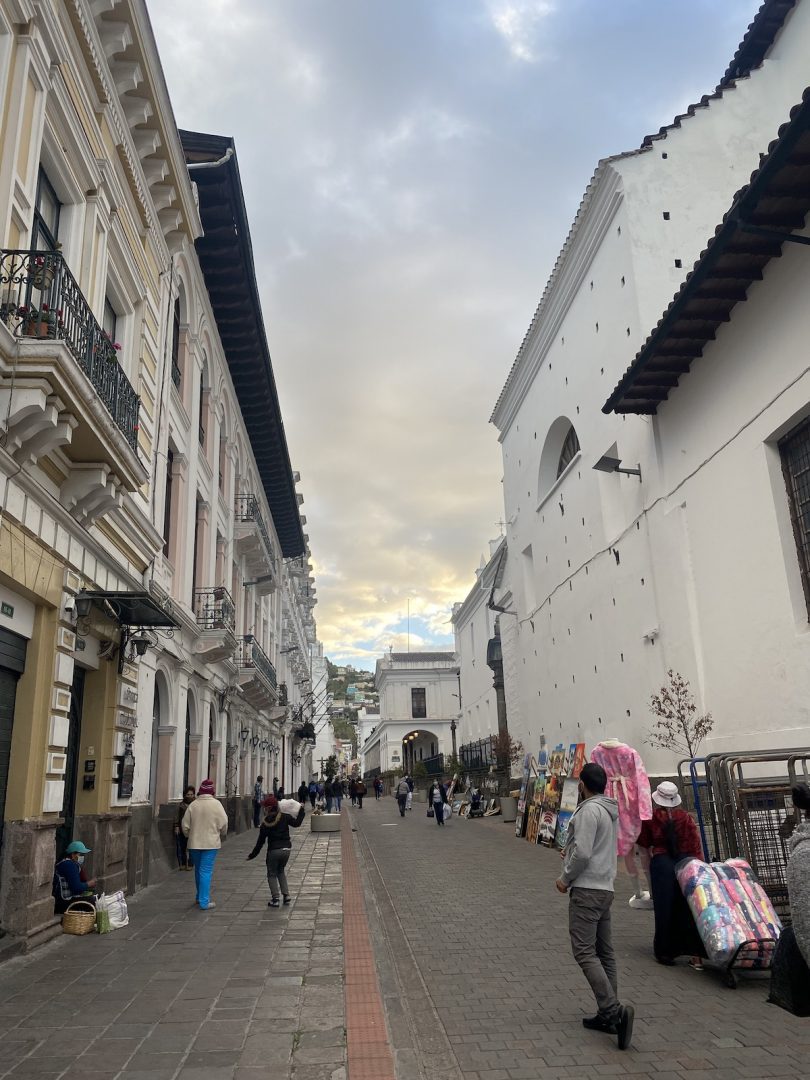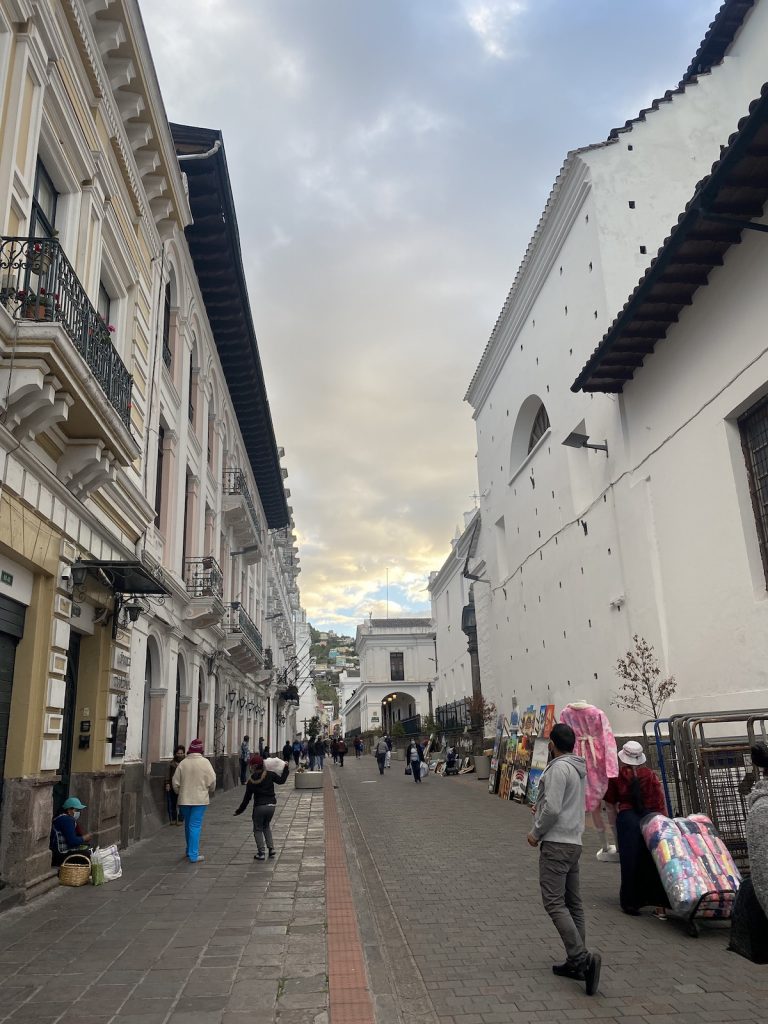 El Panecillo, one of my favorite sites, is a hill on which rises the Virgin of Legarda statue, which forms the recognizable profile of Quito's skyline.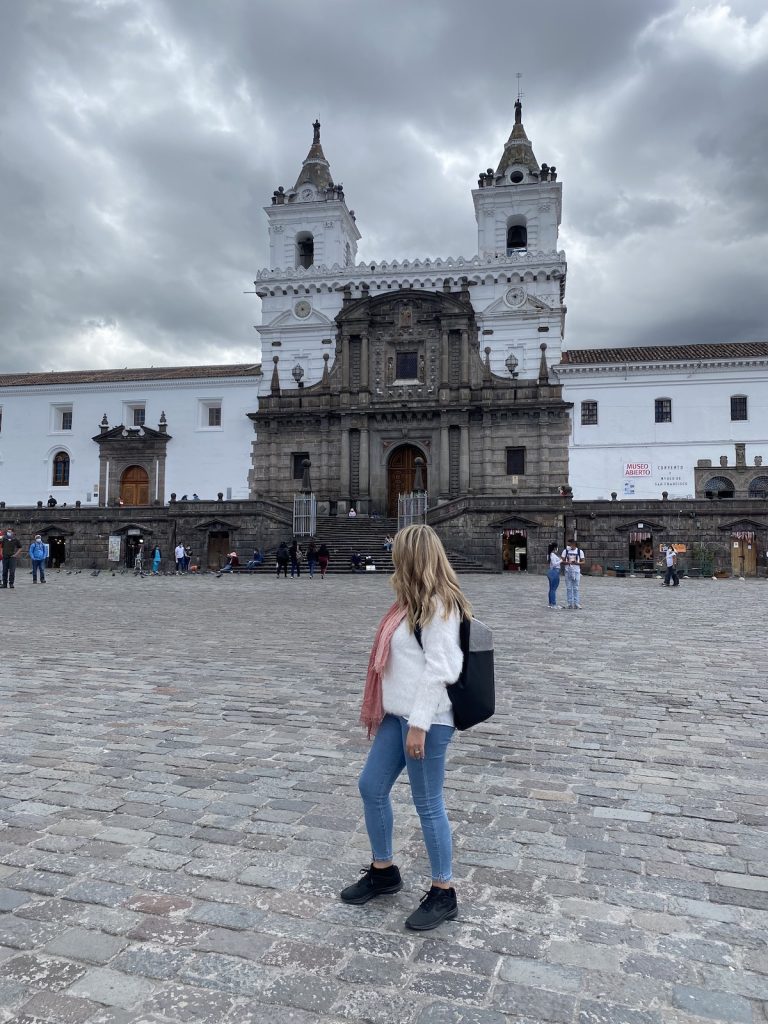 Cuenca is one of the most charming cities we've visited and it is also evidently historical. Santa Ana de Los Rios de Cuenca's historic town exemplifies the perfect application of Renaissance urban design concepts in the Americas.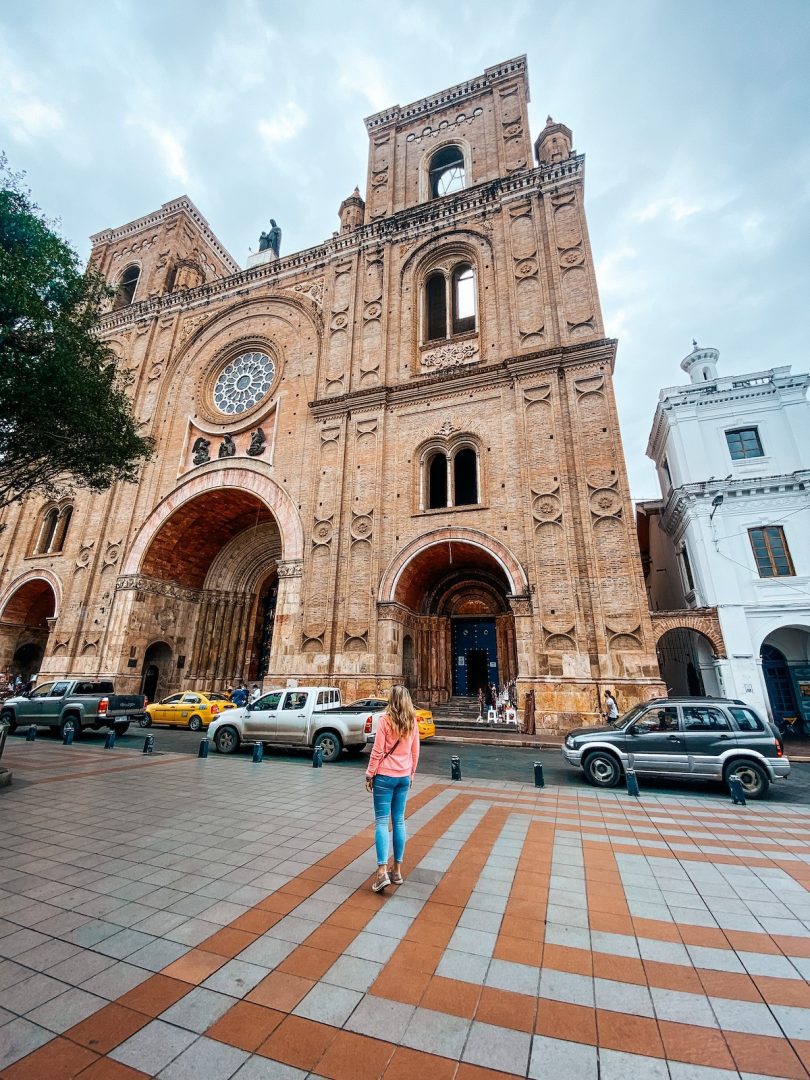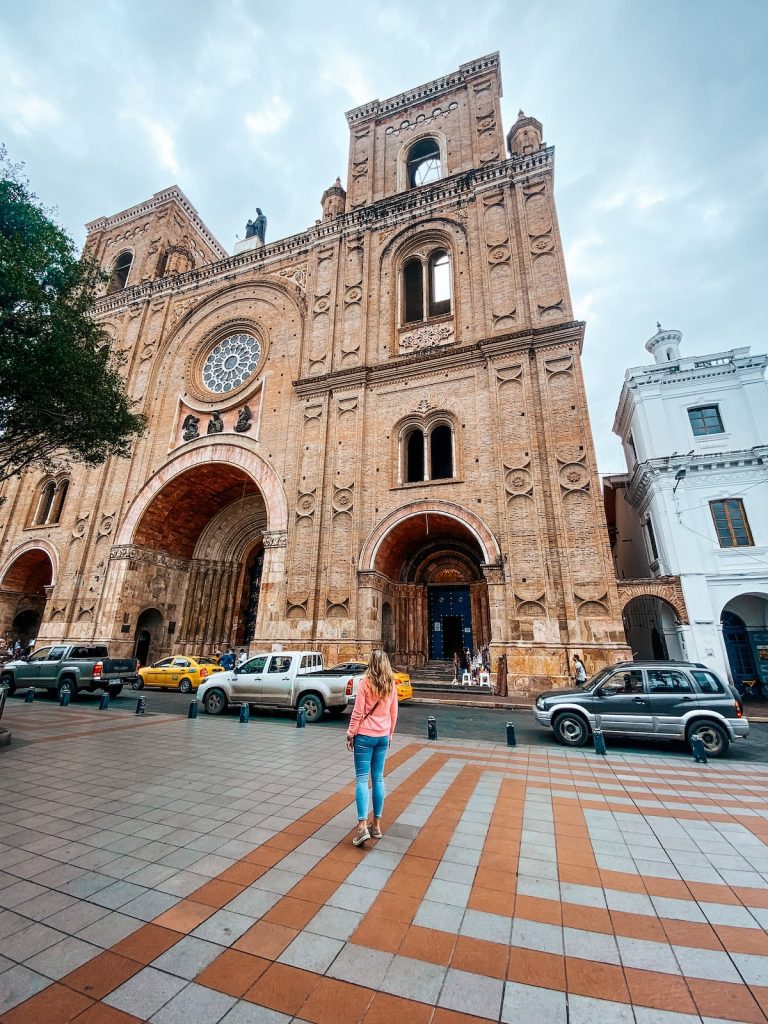 The layout and urban landscape of Cuenca, an outstanding example of a Spanish colonial city designed in the interior, exemplify the effective blending of Latin America's various societies and cultures.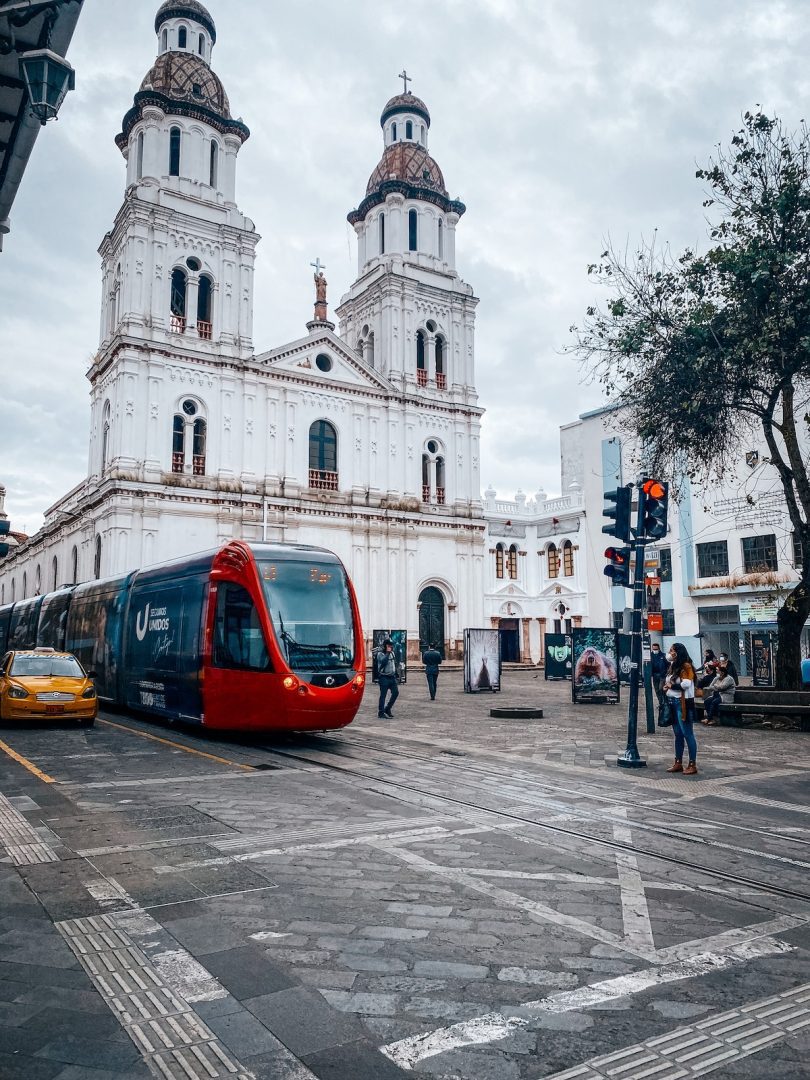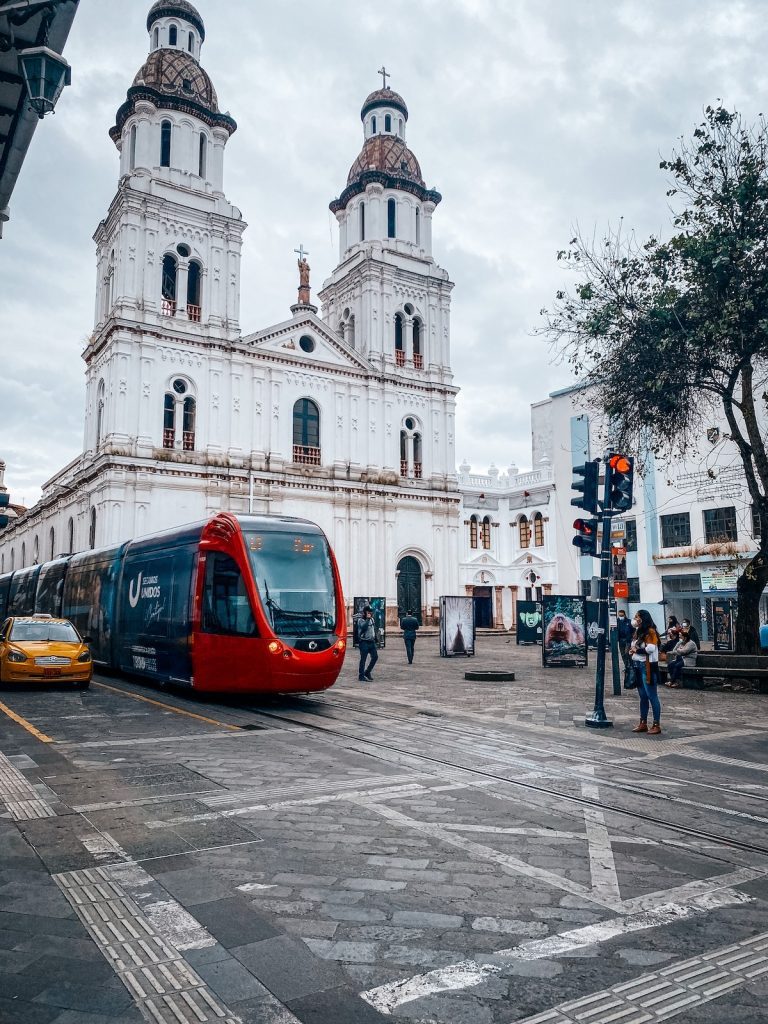 The declared cultural heritage area spans 224.14 hectares, with the Historic Center accounting for 178.23 hectares, special areas accounting for 30.12 hectares, and archeological sites accounting for 15.70 hectares.
3. Hike and Go through the Caves Behind Pavilion Diablo Waterfalls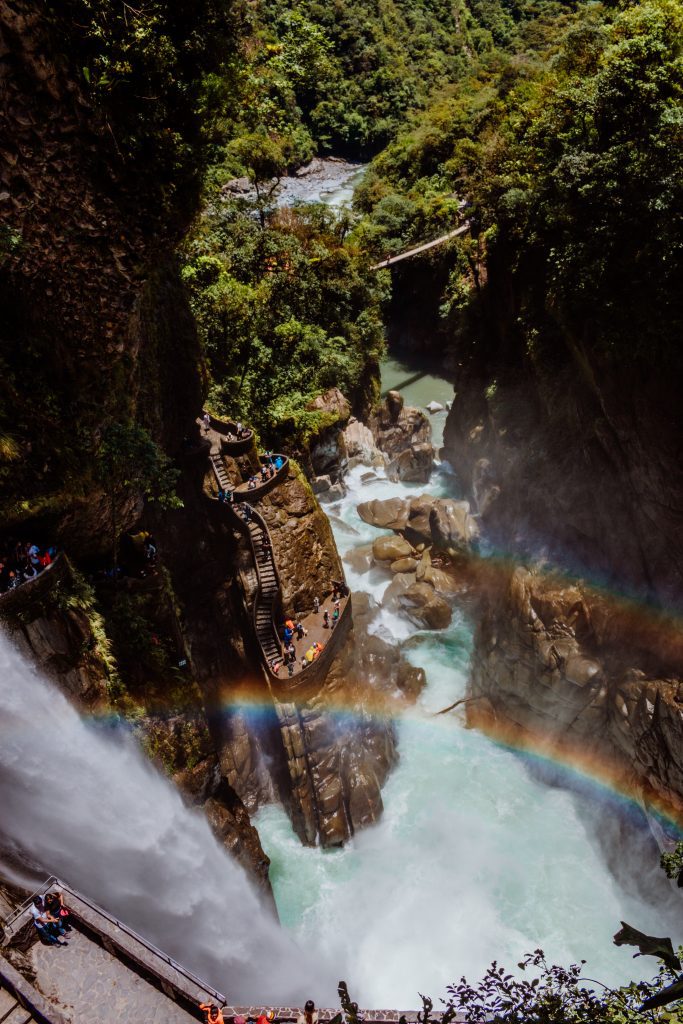 Pailon del Diablo waterfall, also nicknamed Devil's Cauldron waterfall, is a must-see when visiting the Banos area in Ecuador. This 80-meter waterfall is breathtaking, and its placement on Rio Pastaza ensures a steady flow of water.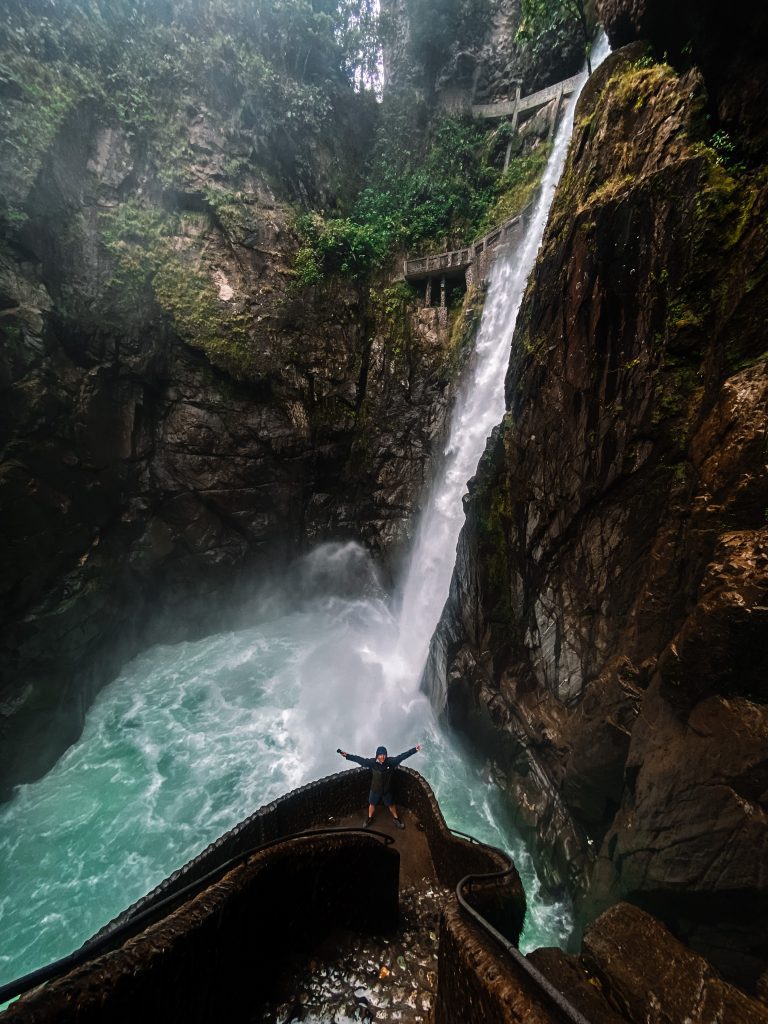 The well-kept trail winds through the woodland to the cascade. You can reach a viewpoint by crossing a suspension bridge or by turning right to get near the waterfall.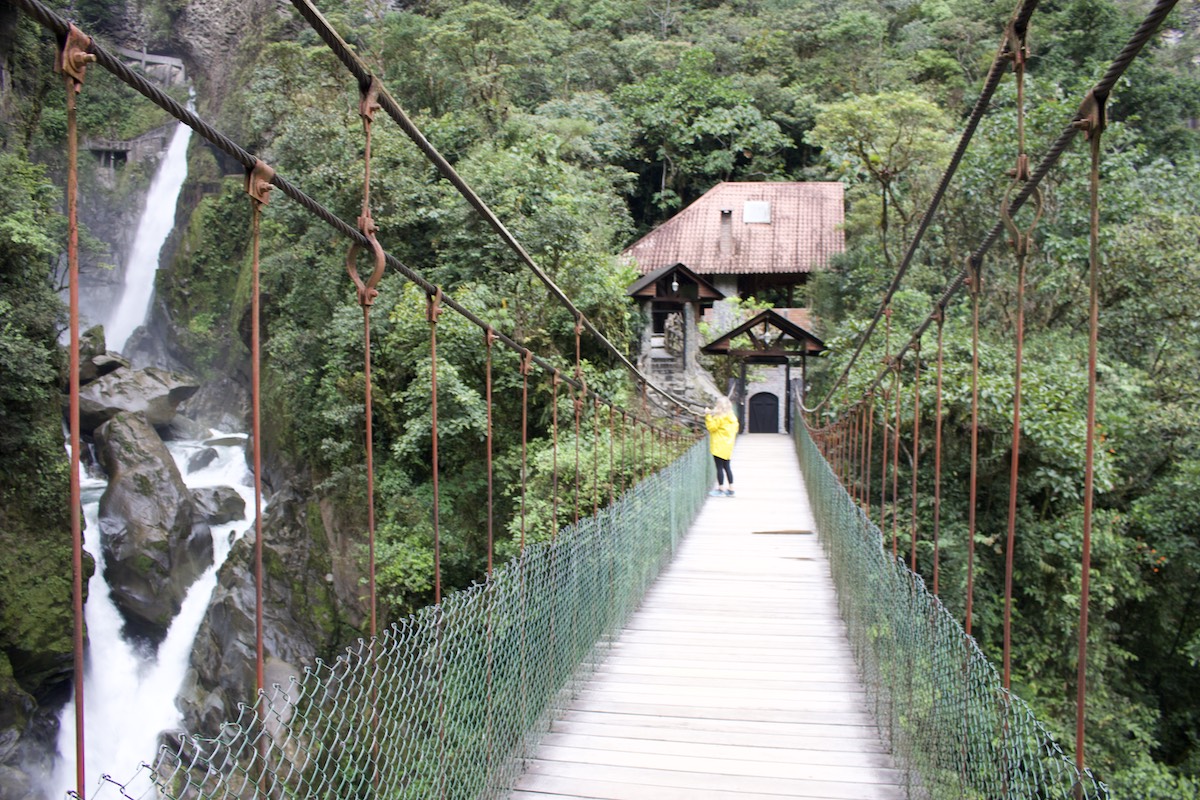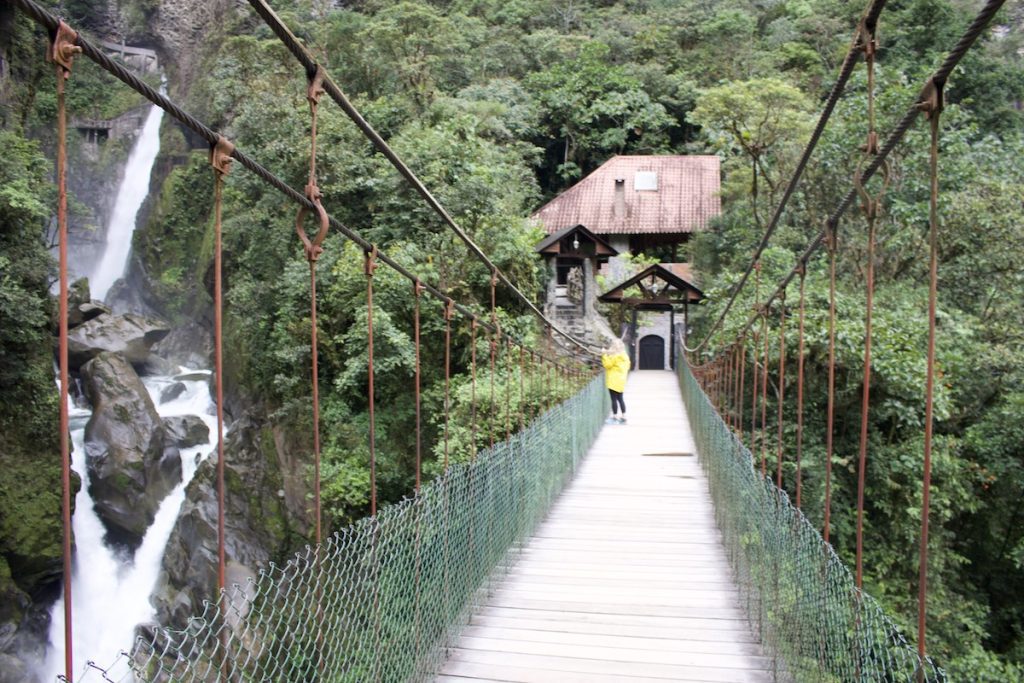 We visited the most famous spot during our vacation, which is a set of stairs constructed into the cliff from which you can get some of the best shots of the waterfall, particularly if you play with perspective.
After strolling a little further, we found La Grieta del Ciela. The path to La Grieta del Ciela is small and wet, so it is best to go quickly and wear a rain poncho if you are not ready to get drenched.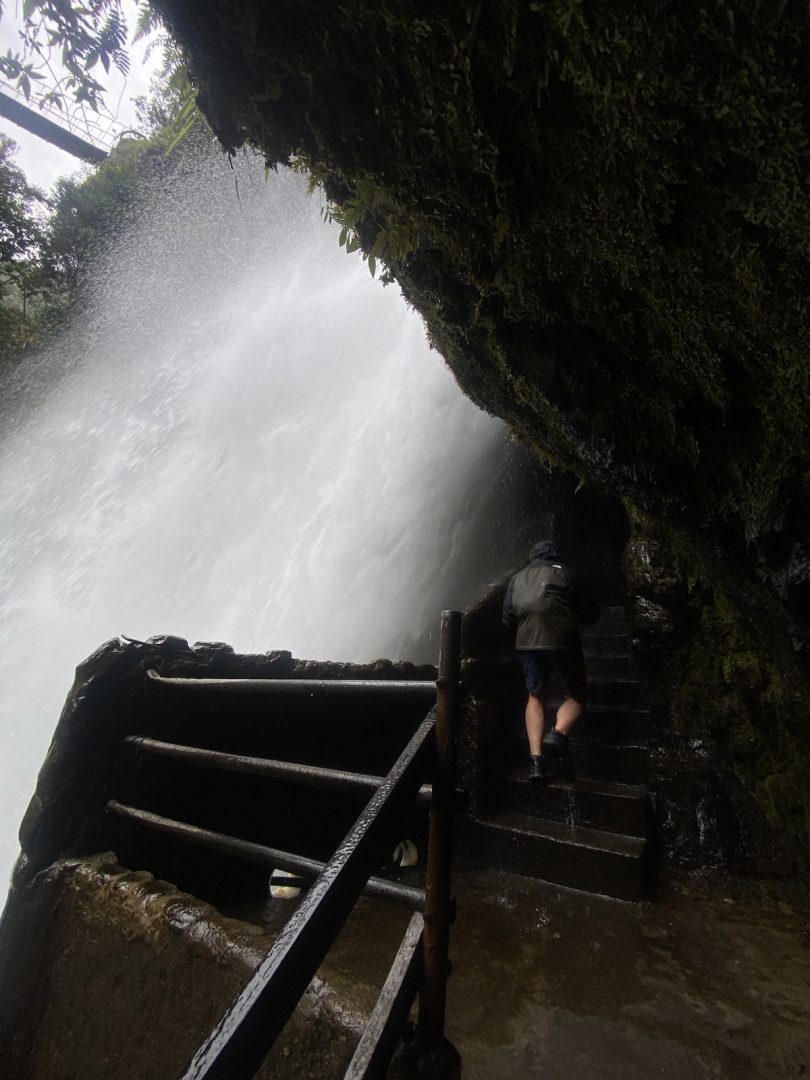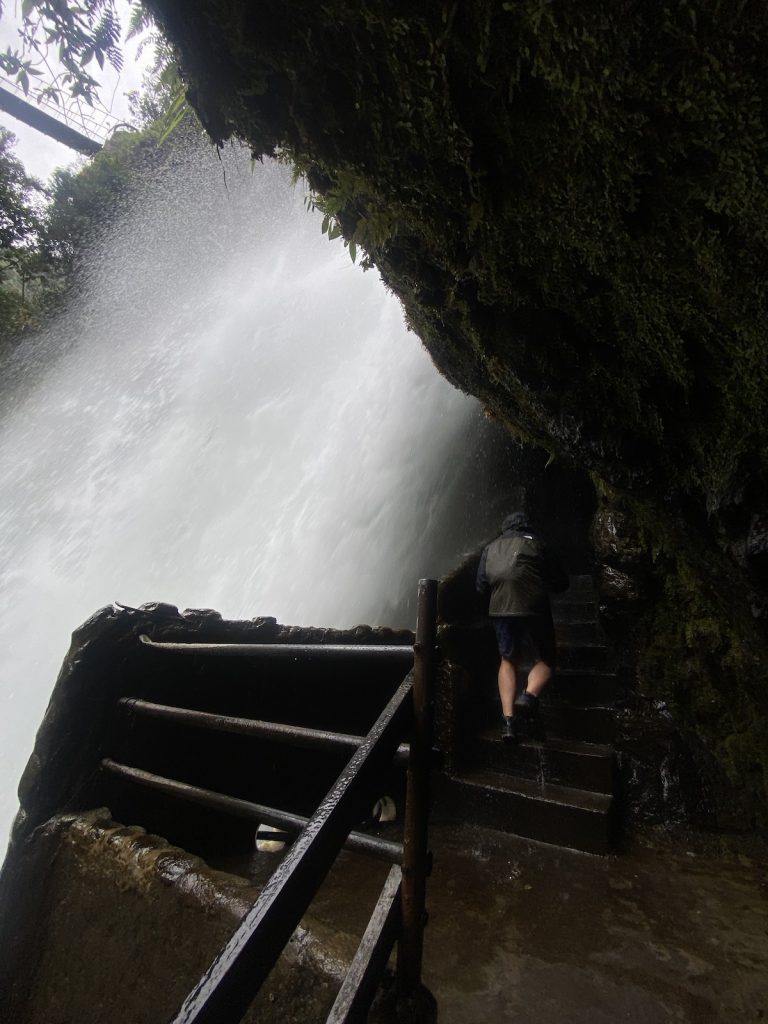 La Grieta is a cave, and crawling through it is difficult; we do not recommend it for individuals who dislike tight spaces or have bad knees. A modest viewpoint awaits you at the cave's finish, which was well worth the effort. You can check more in my video.
4. Discover the Inca Ruins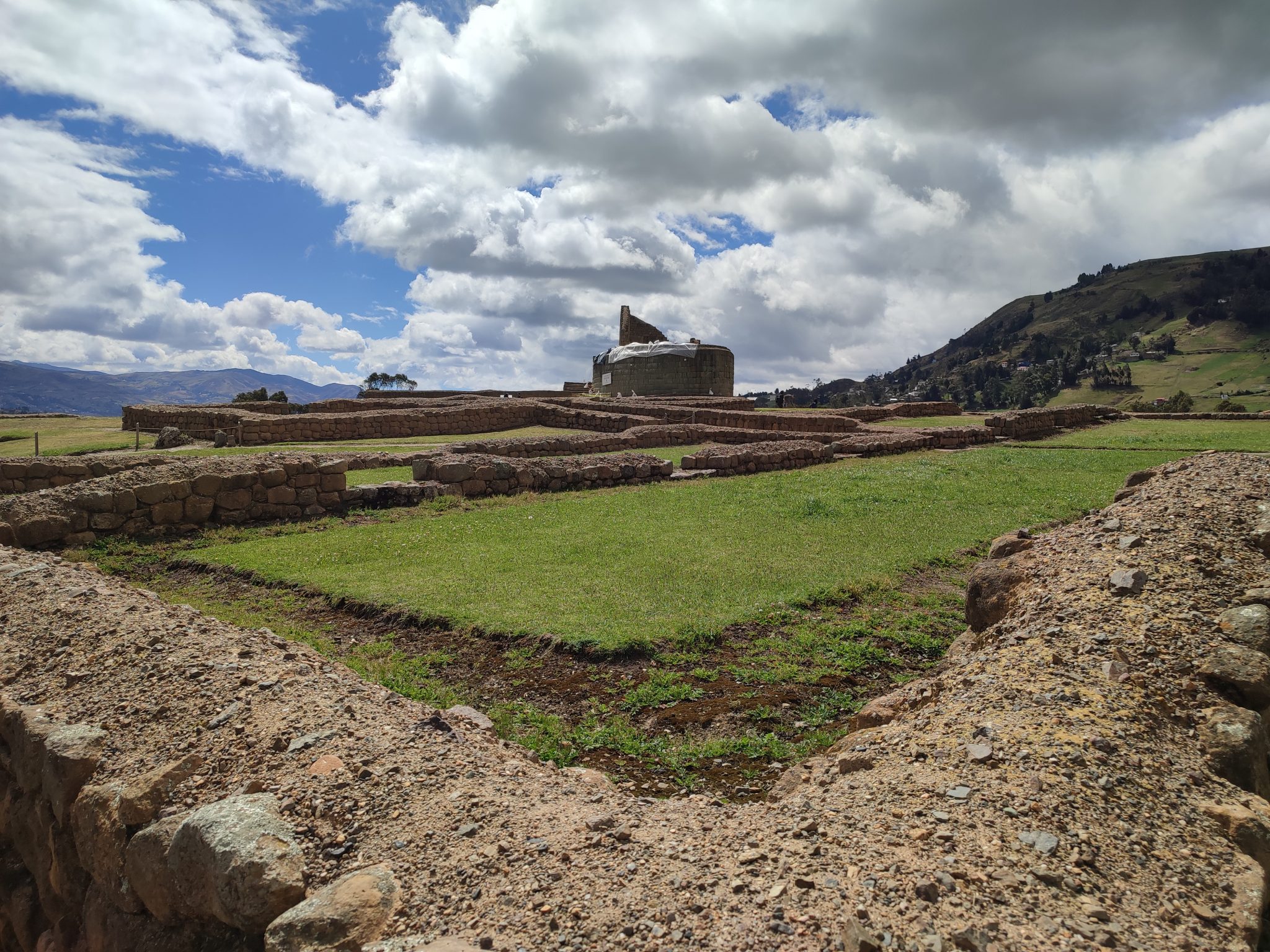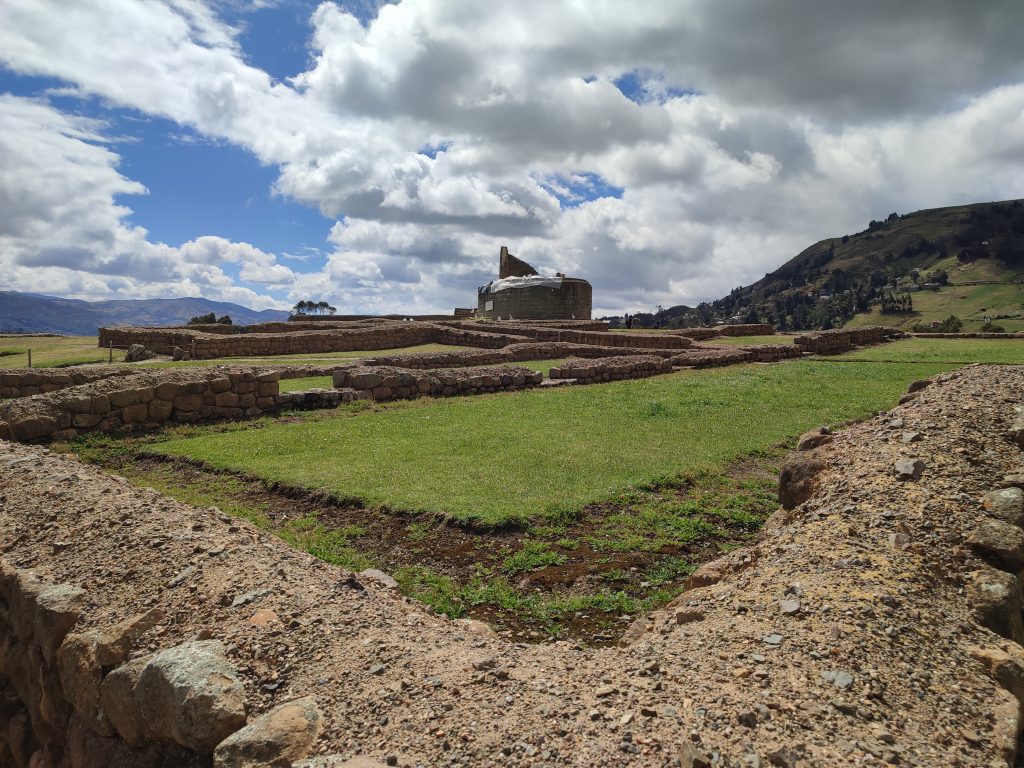 Ecuador has almost a dozen Inca ruins scattered around the country. Ingapirca is the most important and recognizable historical site. This archaeological treasure is located in the Cañar province, 90 kilometers from Cuenca. Ingapirca is made up of two Quichua words: Inga, which signifies Inca, and Pirca, which means wall.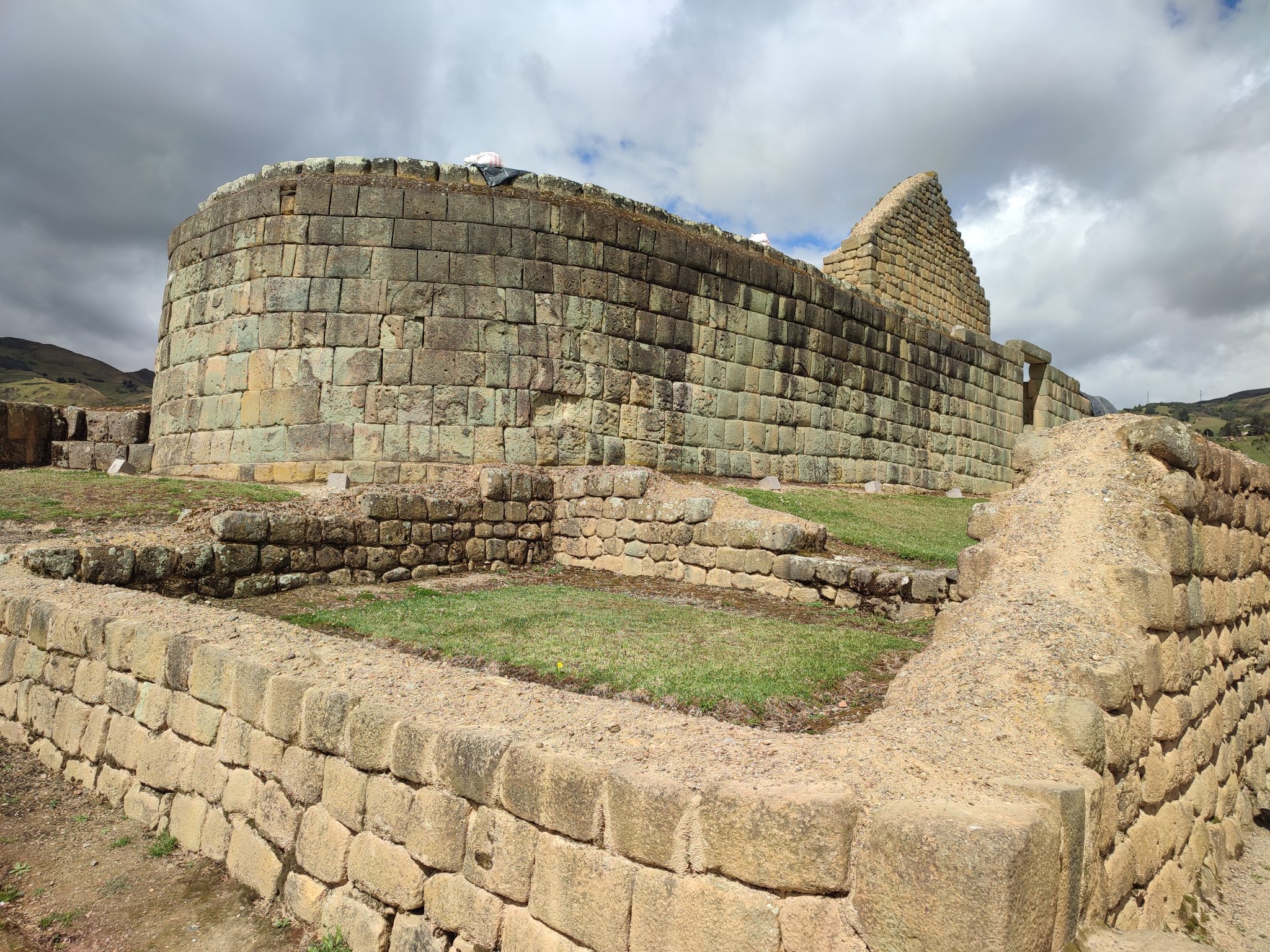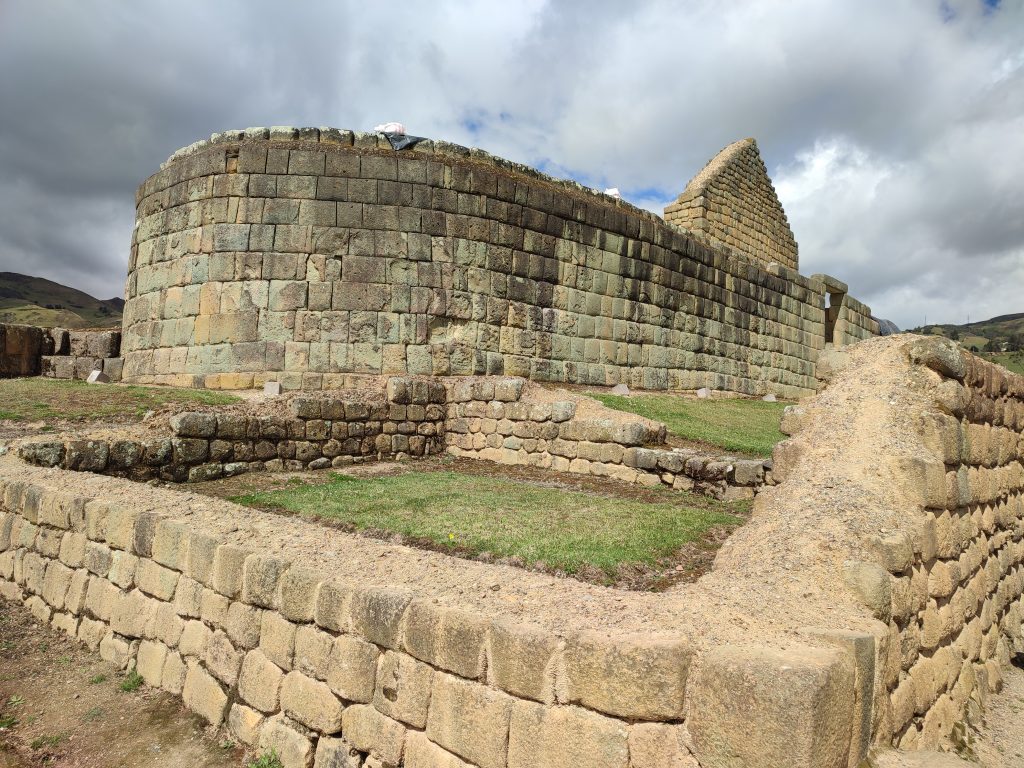 Other Inca ruins you can visit in Ecuador are Pumapungo, Coyoctor, Rumicucho, Agua Blanca, and Todos Los Santos.
5. Explore the Marine Protected World of the Galapagos Islands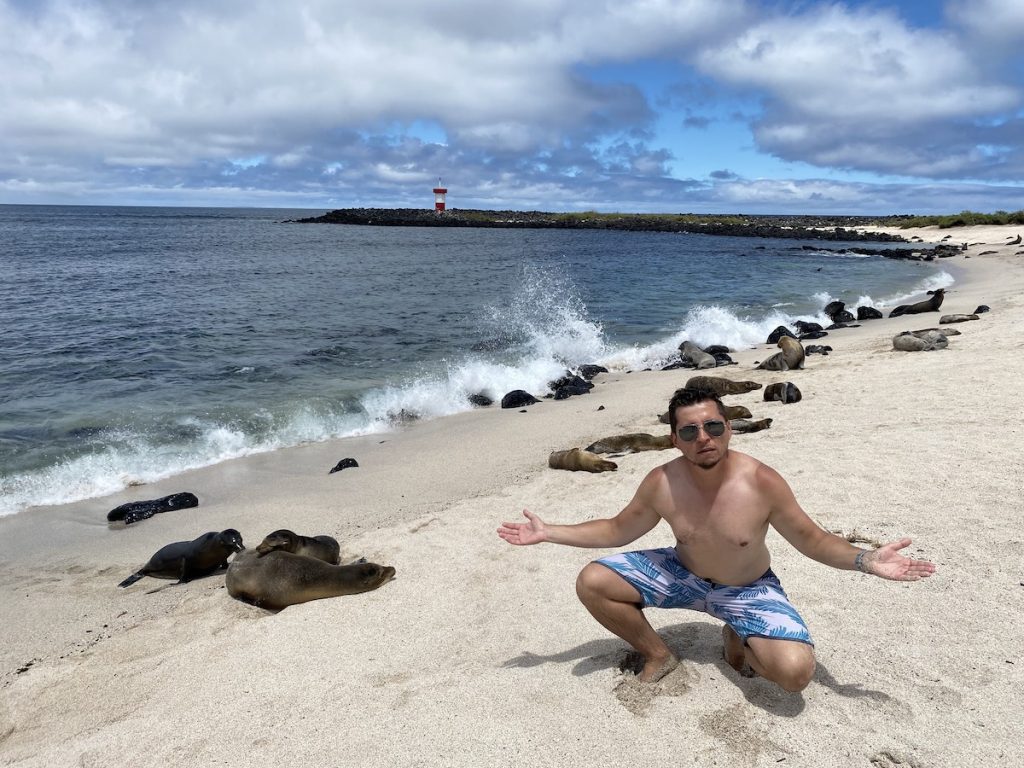 The Galapagos Islands are a world-class destination for those interested in underwater biodiversity. Snorkeling is an excellent method to learn about the marine life of the Galapagos Islands.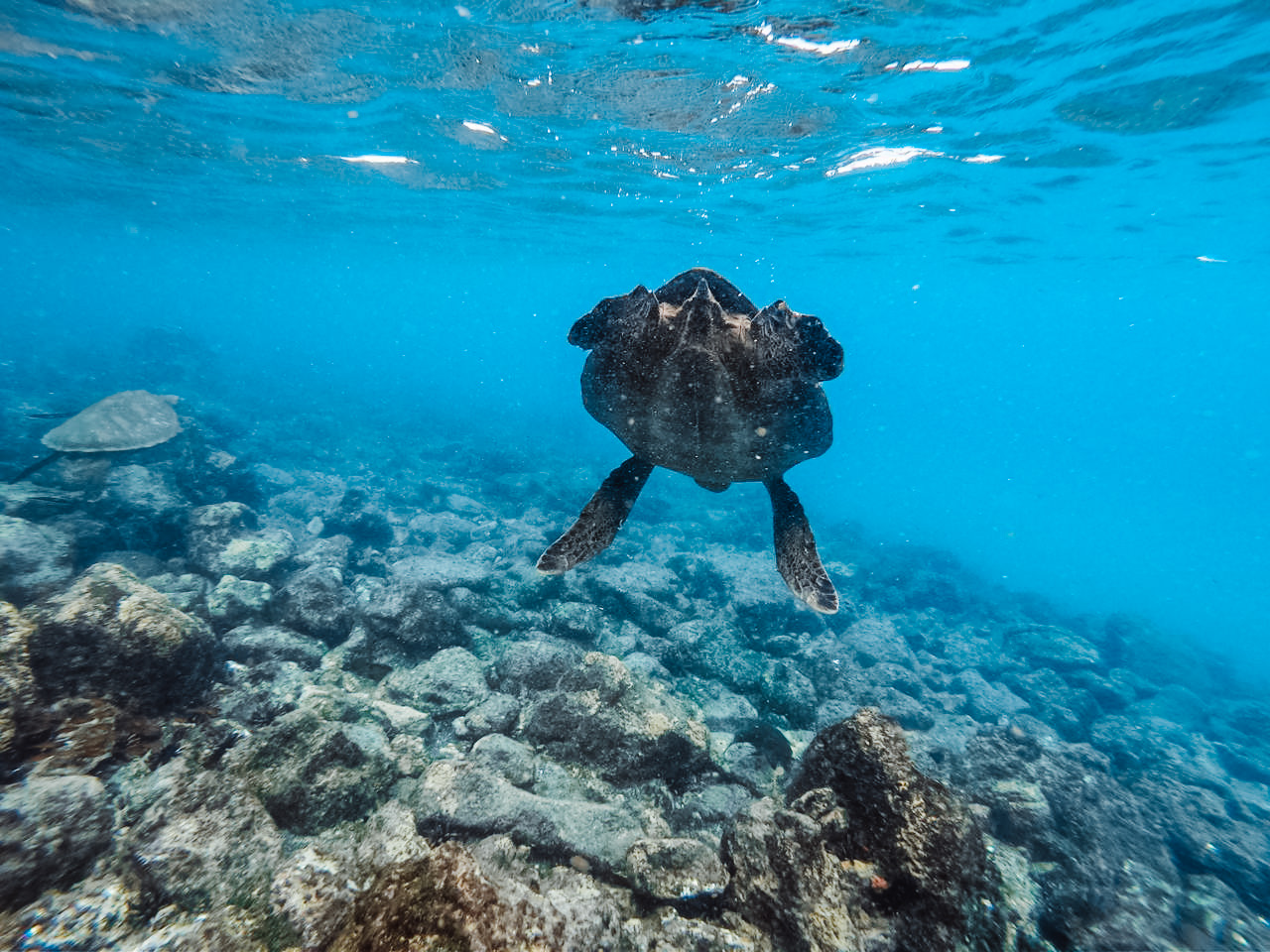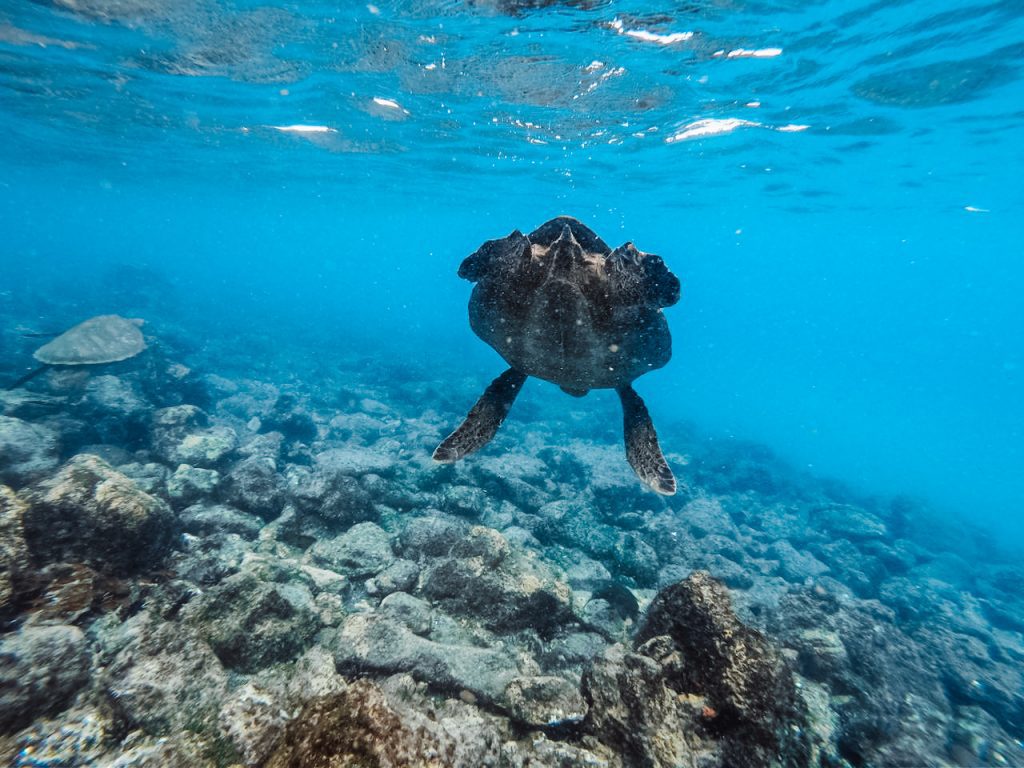 Snorkeling in the Galapagos Islands was one of the most remarkable experiences of my life. It puts you right in the thick of the action, up close and personal with everything. Snorkel in clean waters and spectacular volcanic calderas. Snorkeling with vibrant Galapagos sea lions, peaceful turtles, benign sharks, and even penguins is an unforgettable Ecuador experience!
6. Enjoy the Surreal Landscapes of Ecuadorian Crater Lakes
Ecuador has many breathtaking sceneries that keep tourists in awe. Since Ecuador is home to numerous volcanoes, the beautiful landscapes of crater lakes are views that you surely do not want to miss. 
Laguna Quilotoa is a volcano that has collapsed in the western Ecuadorian Andes near Latacunga. The caldera lake offers breathtaking panoramic views, ethereal electric-blue water, and the ability to walk, kayak, or simply gaze down at the water from the viewpoint.
Hiking is a popular activity in this area. The hike commences at the overlook and descends to the lake's surface. The round-trip distance is around 560 meters, however, you should note that certain points of the hike might slow you down.
Laguna Cuicocha is another crater lake that we highly recommend visiting. It's a fantastic one-day hike near the well-known market town of Otavalo.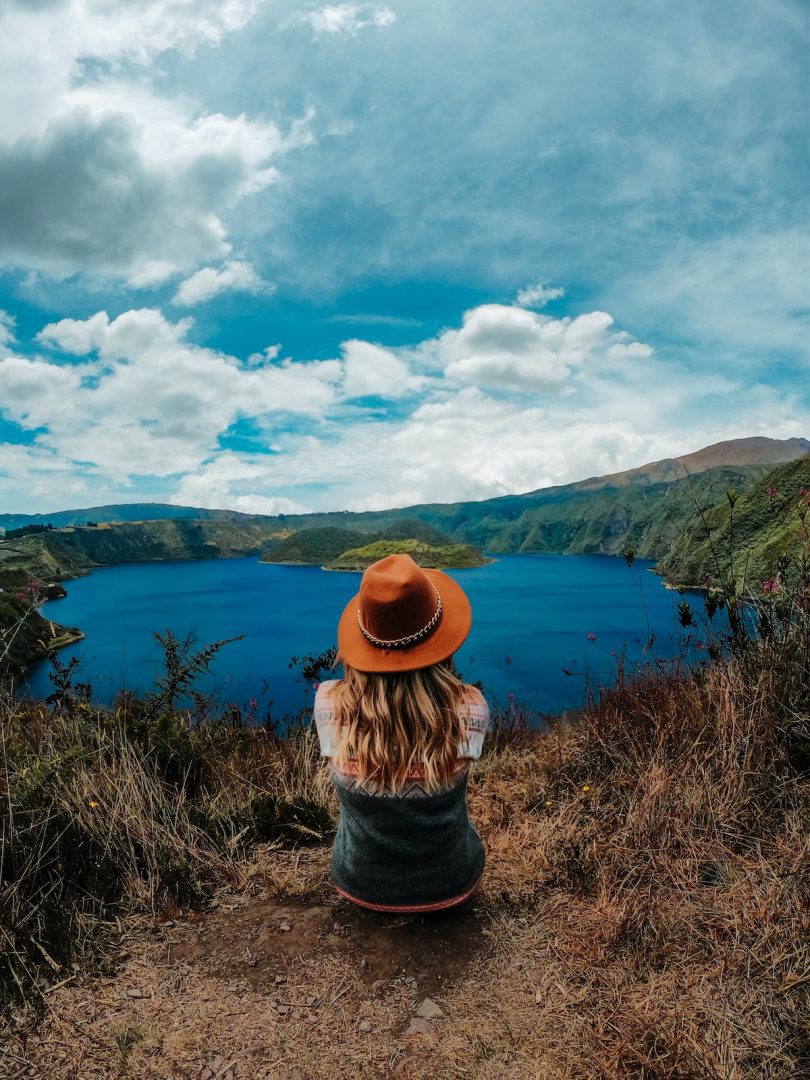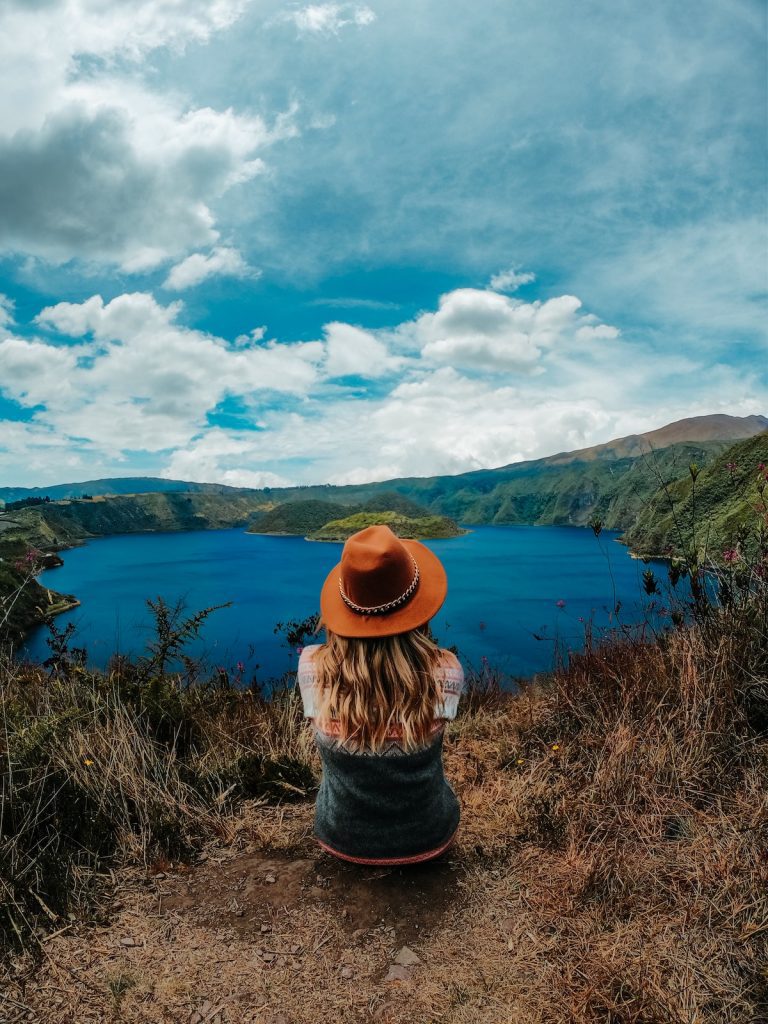 Despite its ideal position and the lake's beauty, Laguna Cuicocha remains an underrated destination, especially when compared to Ecuador's top attractions such as Quilotoa Lagoon.
In many aspects, Laguna Cuicocha has a lot to offer. The environment is beautiful and attractive, and we only saw around 10 other people on the route during our stay. Two forested islets in the lake's center are off-limits to visitors.
You can rent a boat to get closer, but we believe the views are better from the edge above than from the water's surface. However, this is an excellent option for anyone who cannot or does not want to walk the complete circuit. So make sure to check it out of you visit Otavalo.
7. Explore the Amazon Jungle and Dip in the Natural Waterfall Pool Near Puyo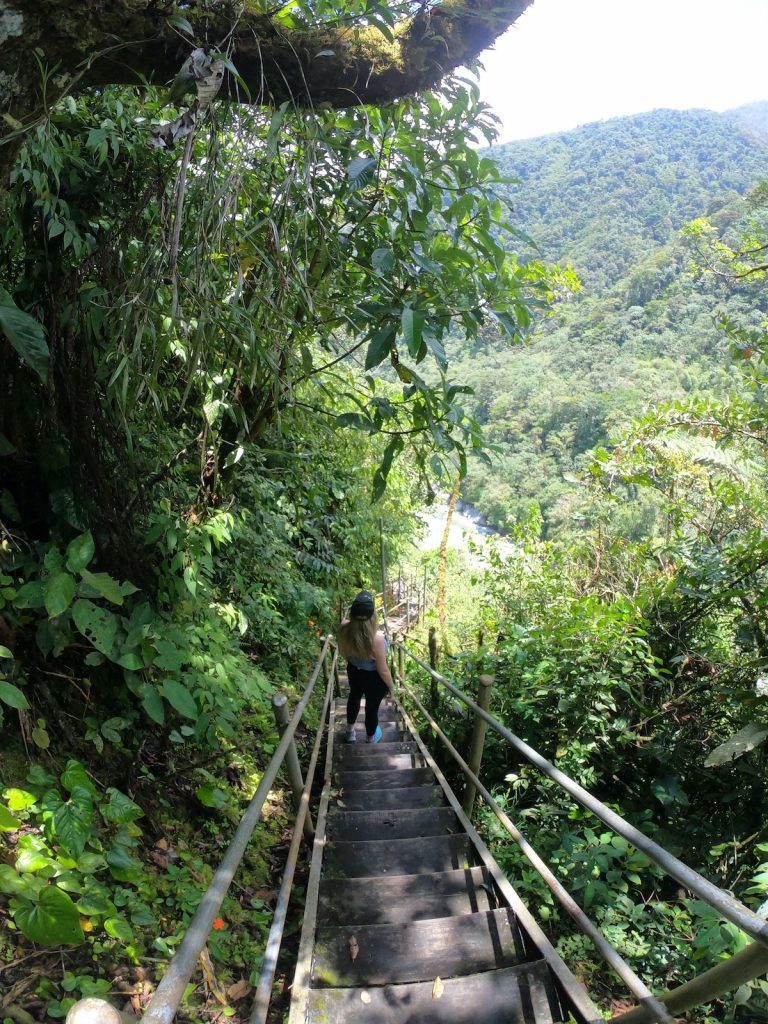 Exploring the Amazon jungle is possible particularly if you are in the Baños area. A local firm helped us arrange a full-day Amazon Jungle tour. The thrilling tour lasted 11 hours.
The Jungle Tour featured a visit to an indigenous family, a canoe excursion, lunch at a jungle hut, a rainforest hike, a wild tree-top swing, bird viewing, and swimming under a waterfall.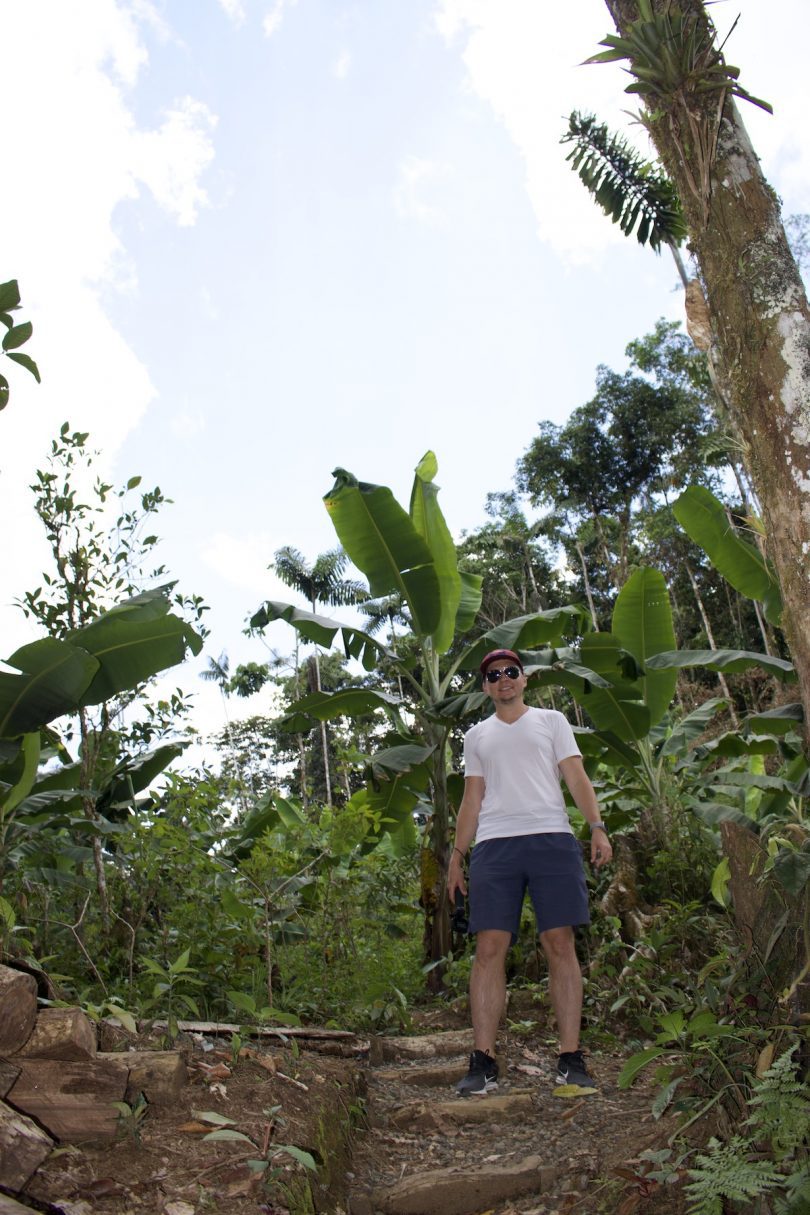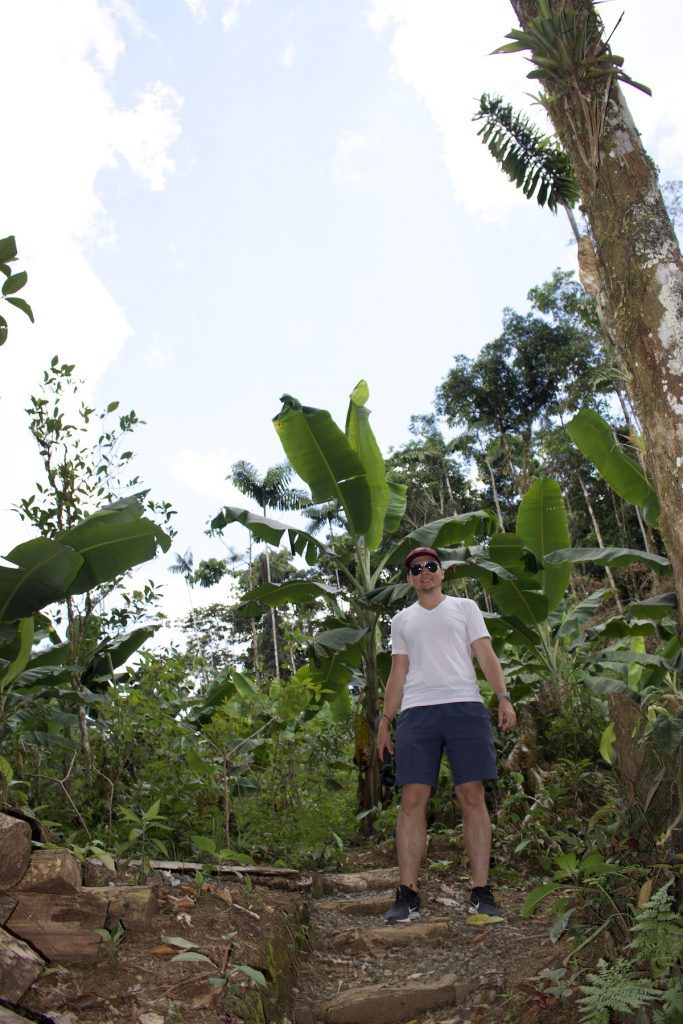 Before the canoe adventure activities, we paid a visit to an indigenous family. The indigenous family greeted us with traditional instruments and handed us the native drink – Chica. The villagers also painted our faces and taught us how to hunt with a blow dart, as well as how they produce their own clothing and jewelry.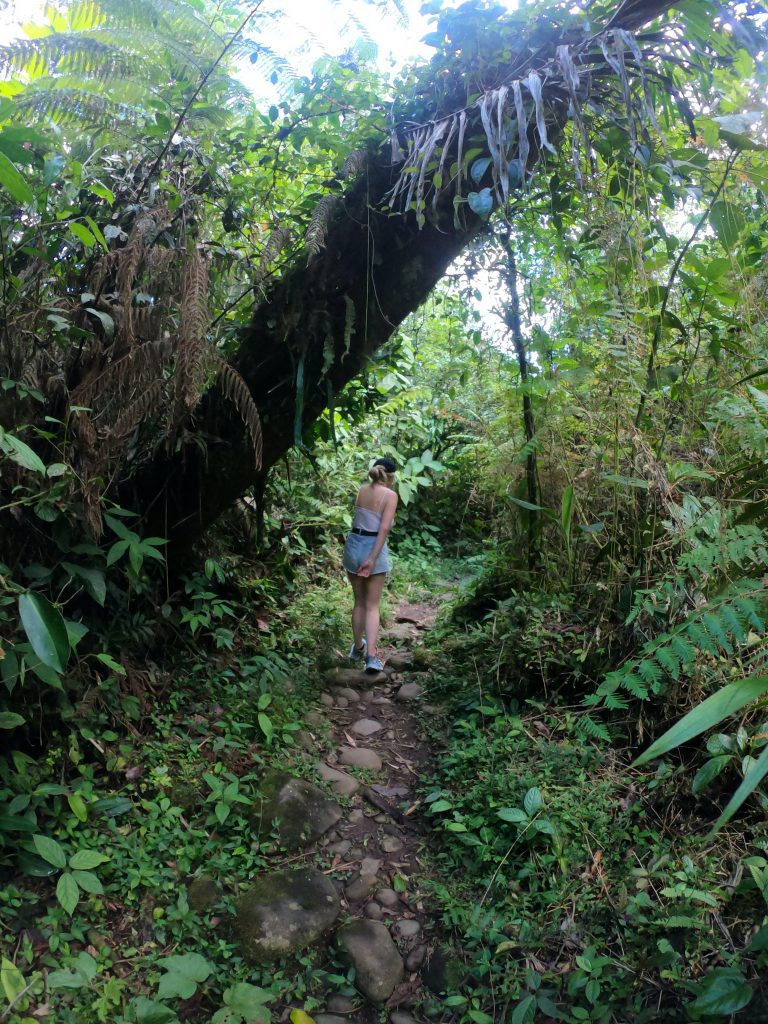 We went on the paddle canoe journey after spending time with the indigenous tribe. The journey down the Puyo River is quite difficult. The water was icy, and the canoe was shaky. Nonetheless, it was all worth the trip!
After the grueling canoe journey, we had lunch at a jungle lodge, followed by more hiking. The naturalist guide discussed the rainforest, flora, and creatures during the hike. The hike was difficult since this is a wild natural jungle.
The waterfalls were the tour's final stop. We had a great time swimming in the chilly Amazon waters. It's a fantastic time to relax in the cold water and the peace of the jungle.
8. Visit Traditional Indigenous Cities and Markets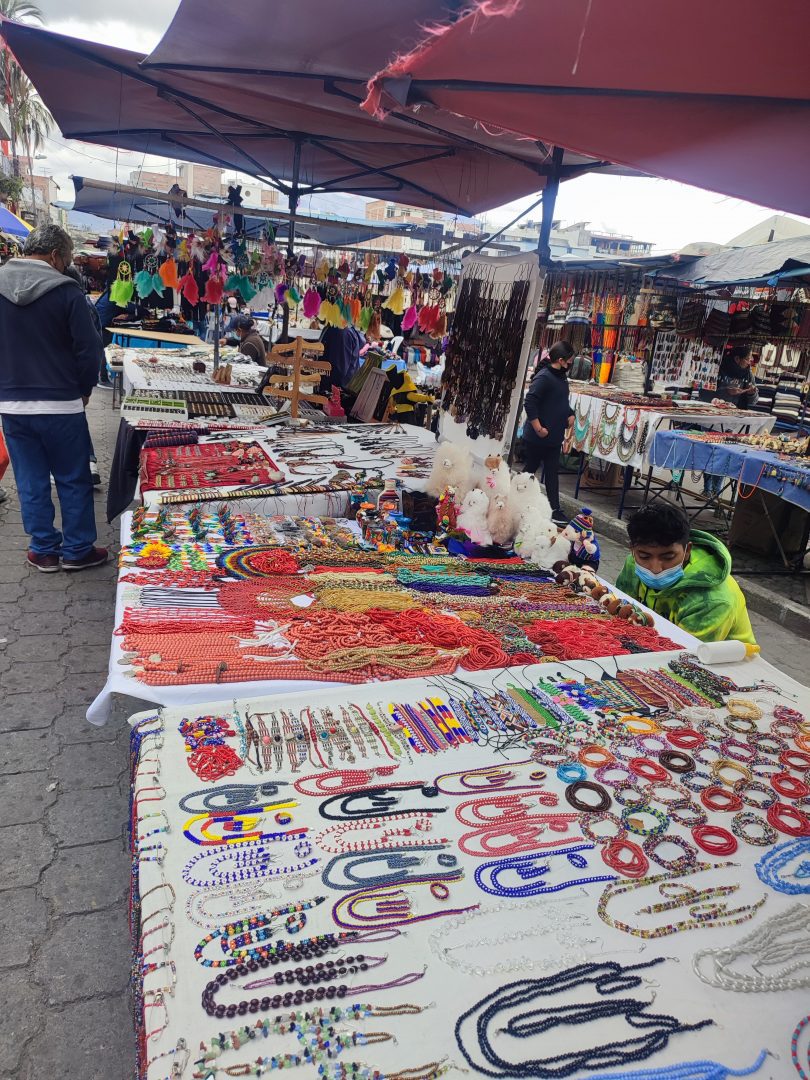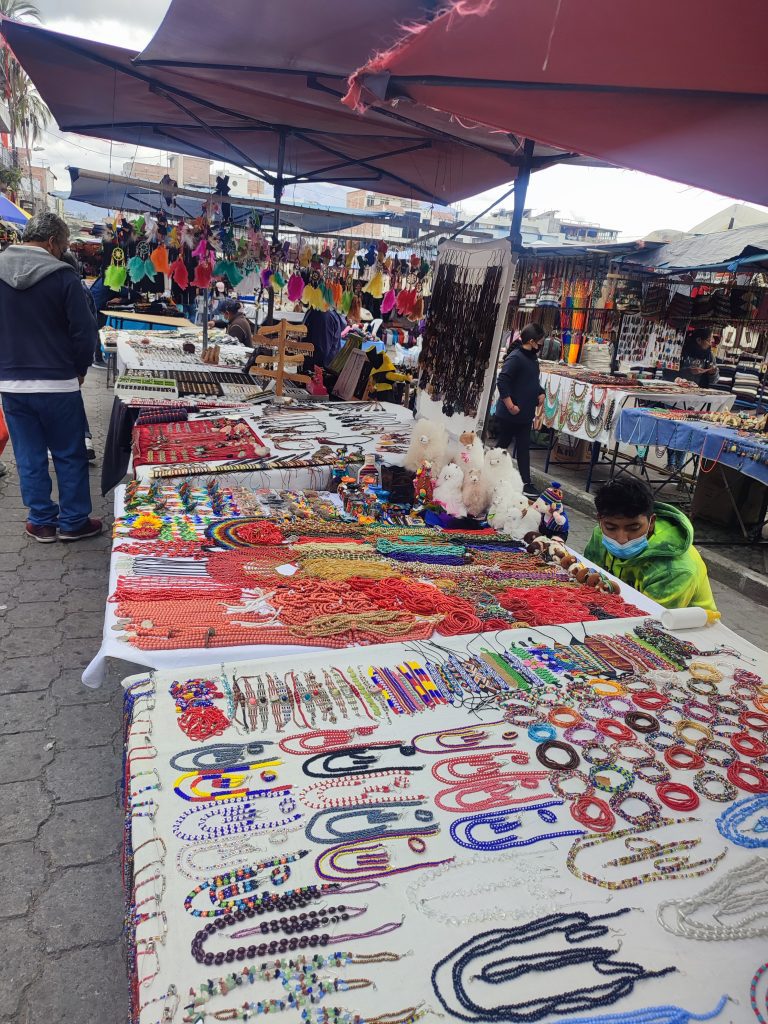 Indigenous communities are also common in Ecuador as the country has rich history and culture. Visiting indigenous cities and markets like Otavalo is also worth the journey.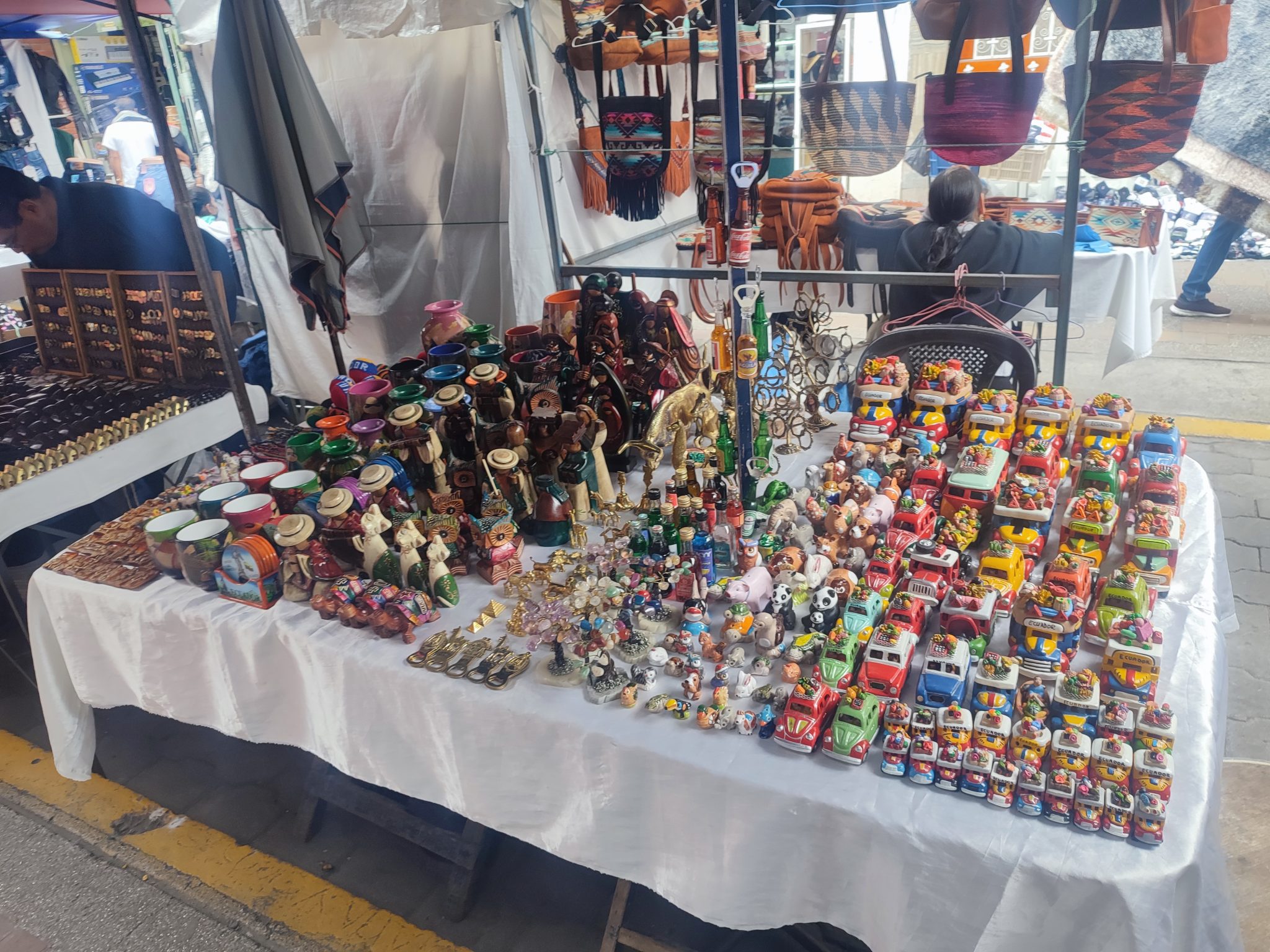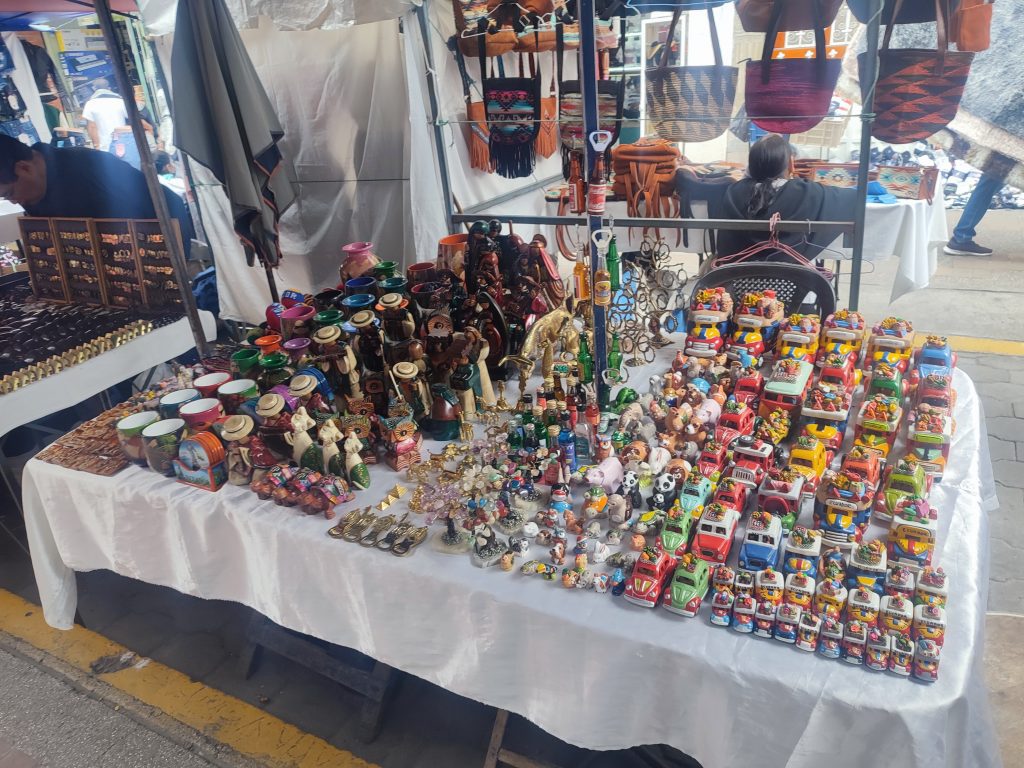 Otavalo is a well-known market town in northern Ecuador, about 2500 meters above sea level and surrounded by beautiful green hills. We heard stories about Otavalenos, an indigenous people who still follow their ancestors' customs and traditions. We could have roamed the streets of Otavalo all day just watching individuals and their traditional attire.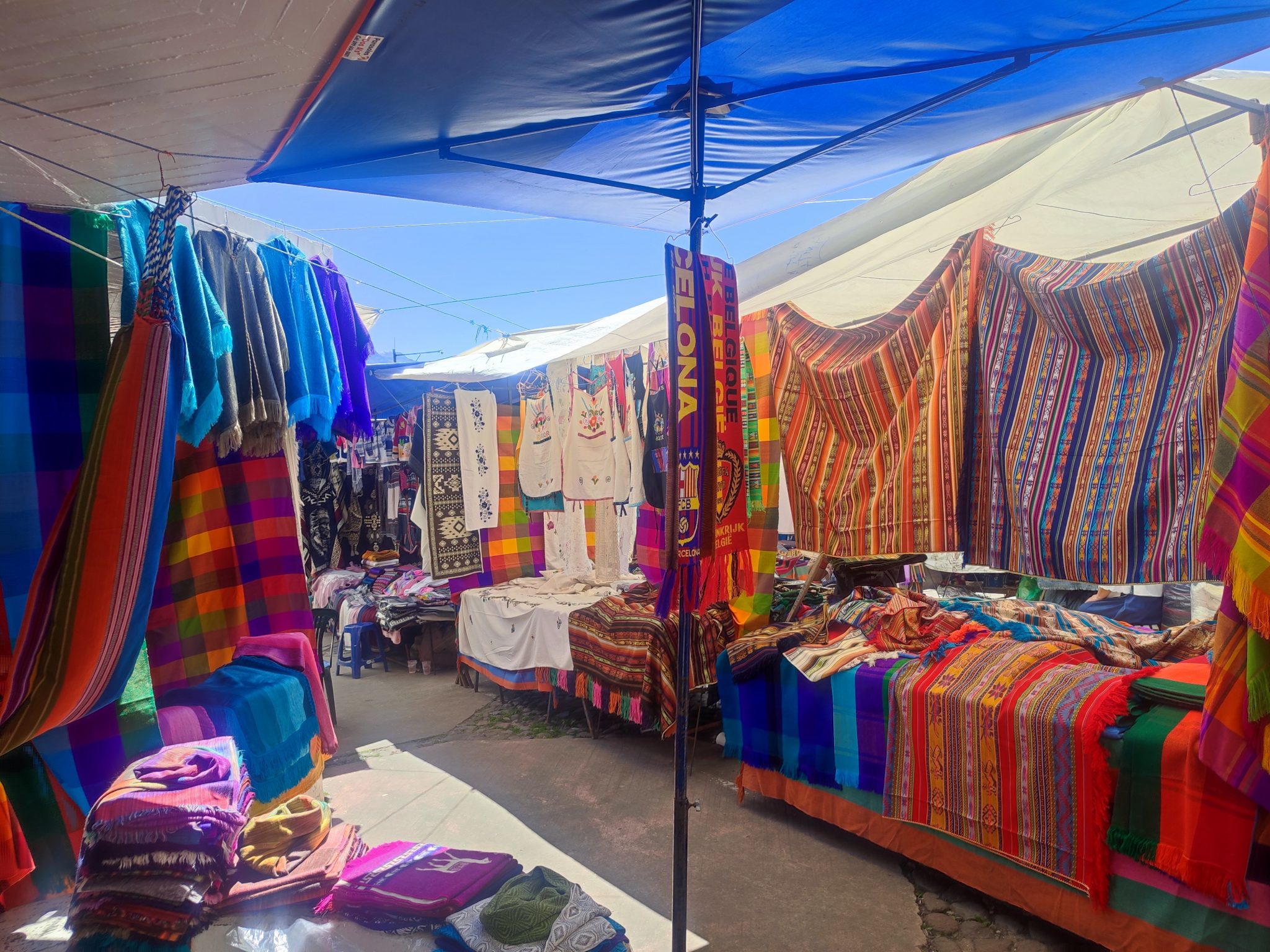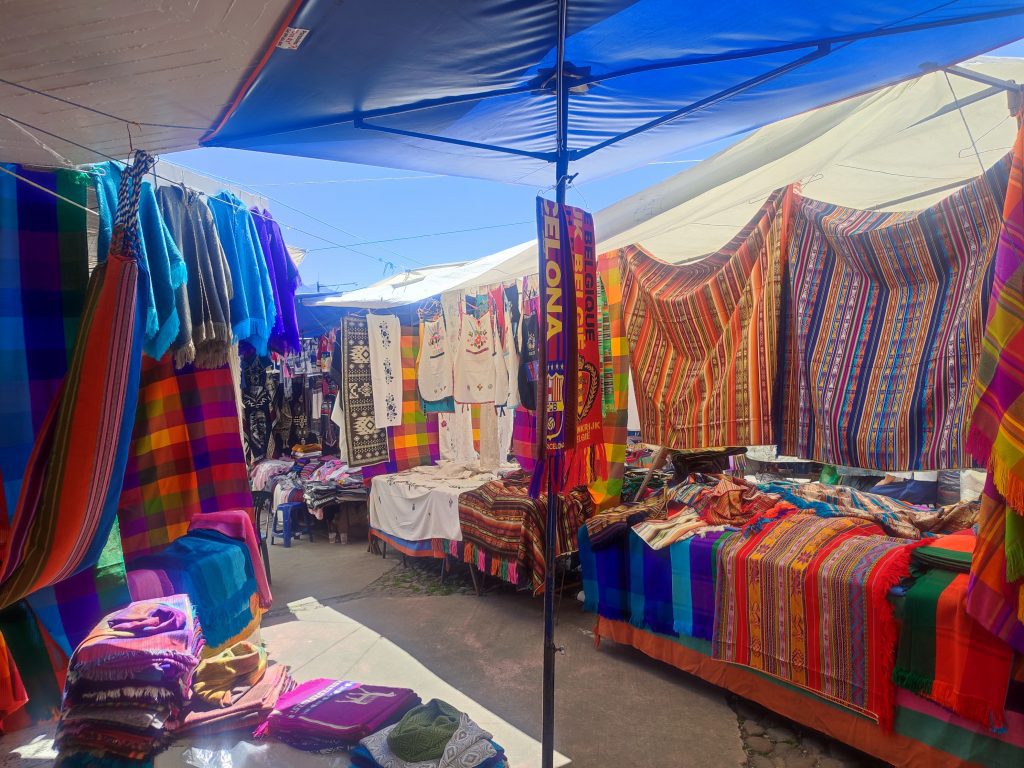 Exploring the Otavalo market and discovering their native handicrafts is another way of learning about their culture and traditions. This place is not to be missed so you better book a day tour to Otavalo from Quito.
9. Try out the Swing at the End of the World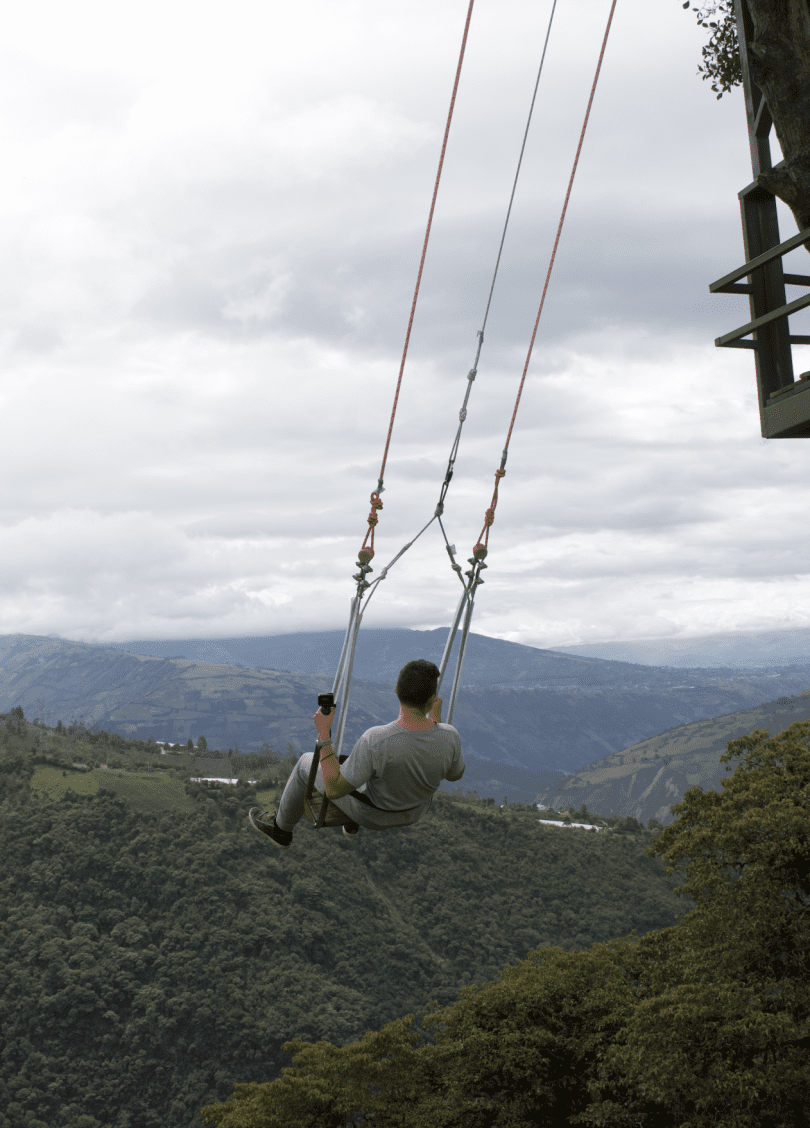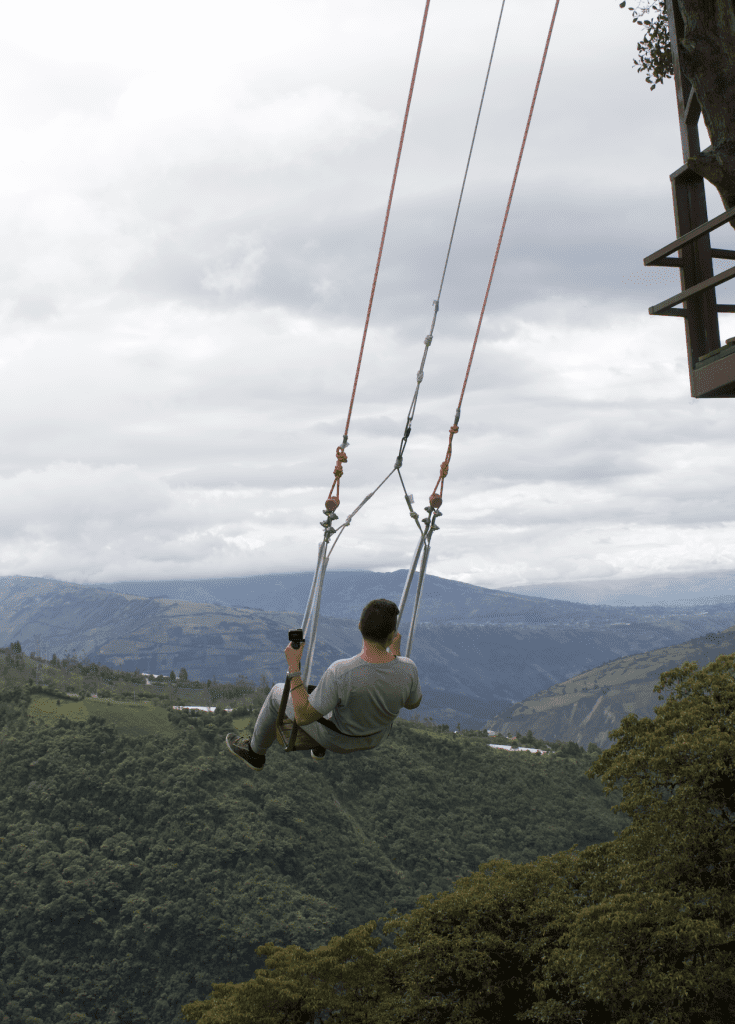 The Swing at the End of the World trended on social media websites. Thus, it became a well-known tourist site. It is a swing located at the base of a mountain in Casa del Arbol, with a spectacular vista of the Baños town.
Despite the fact that the swing is on a slope rather than a cliff, it may appear intimidating. Nonetheless, the swing has been improved in almost every way throughout the years.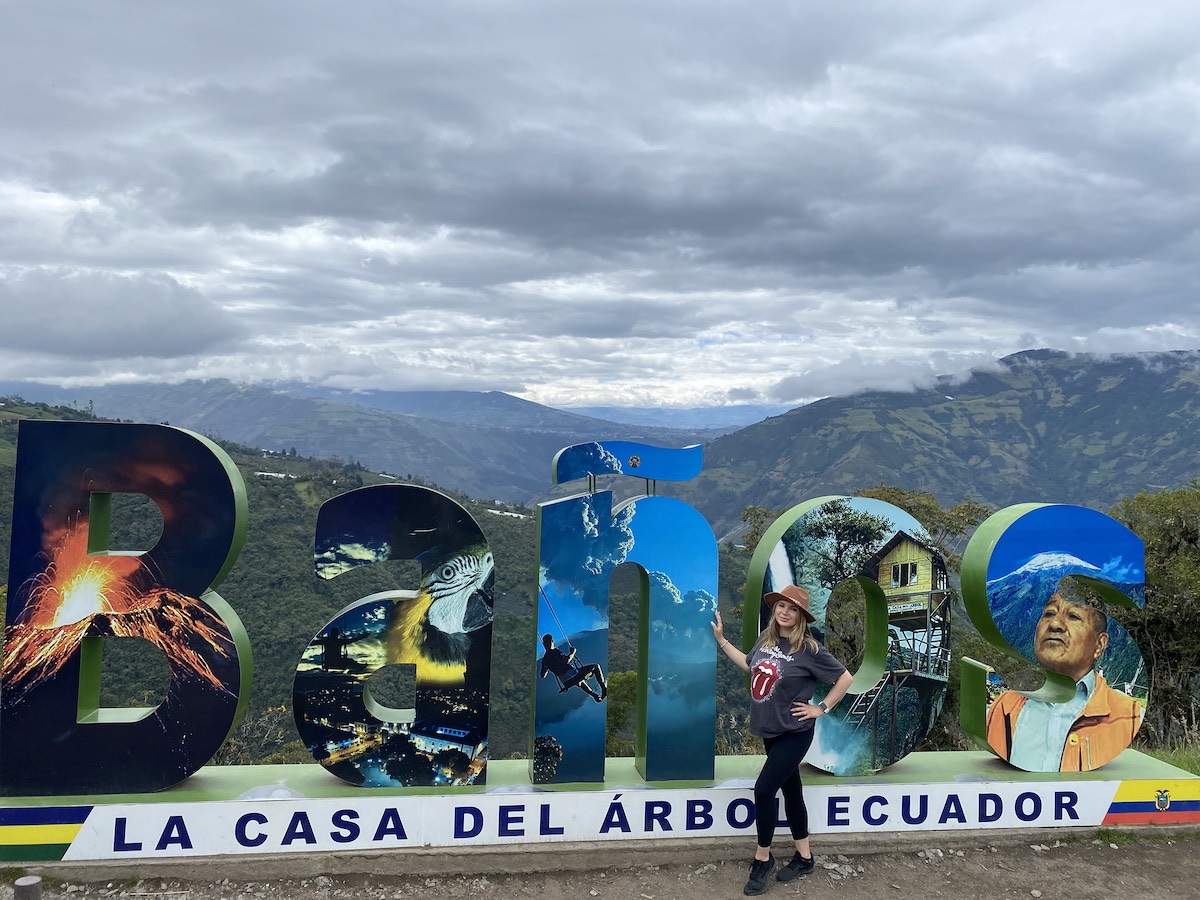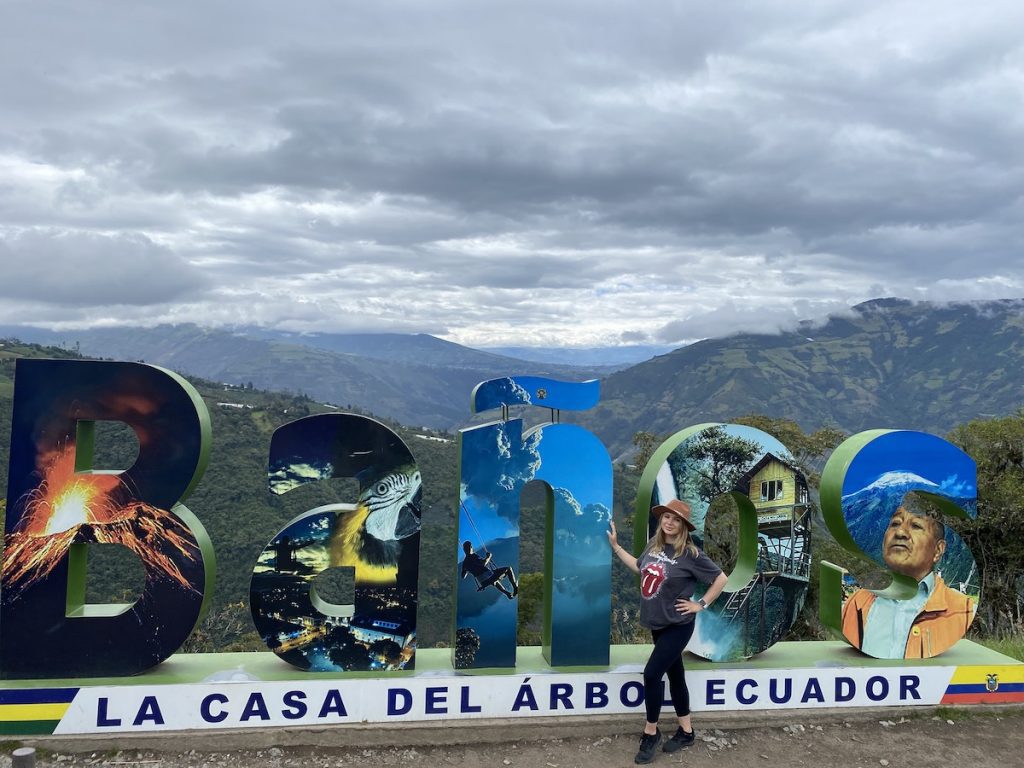 You can relax because the swing features a backrest and a seatbelt to keep you secure. The ropes are high-quality climbing ropes that are attached to a sturdy metal pole rather than the tree's limbs.
The ride on this swing is a once-in-a-lifetime experience and of course, a photo opportunity! When visiting Ecuador, be sure to put this on your itinerary.
10. Discover the Equator Line in the Middle of the World
If you travel to the north of Quito, Ecuador's capital, you will encounter territory that holds significant symbolic value for the country.
It is a vast park designed to show the entire globe the exact position of the equatorial line, which was discovered in the 18th century after a French-Spanish geodesic mission. It was named Ciudad Mitad del Mundo or Middle of the World.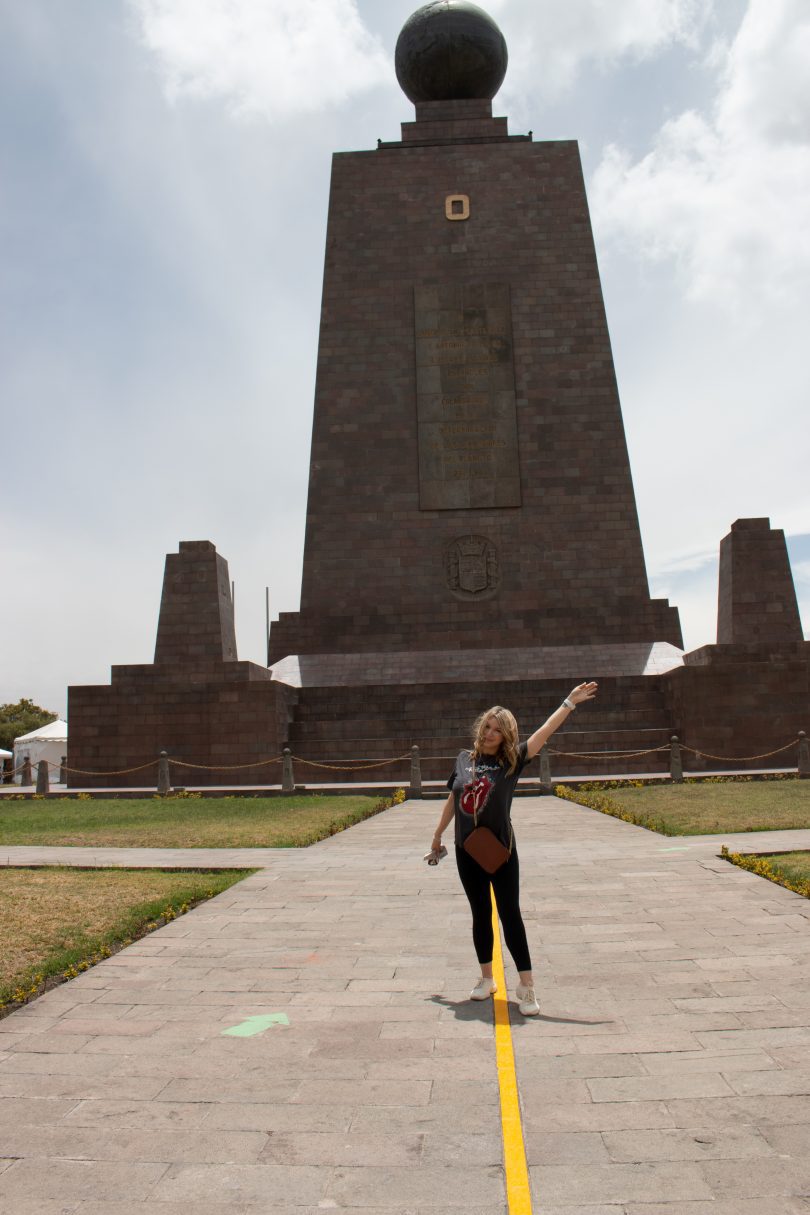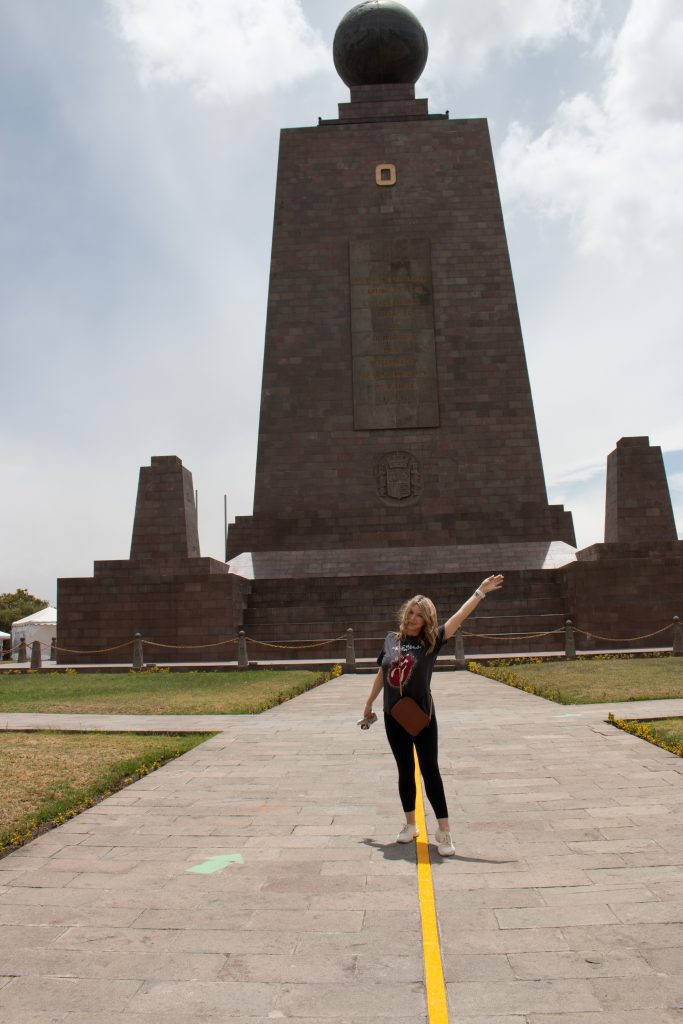 In 1936, it was decided to establish a memorial at the precise spot of the discovery. Within the monument itself, a small museum featuring parts of Ecuador's indigenous culture was erected.
To memorialize the equatorial line, a line was drawn eastward from this major monument.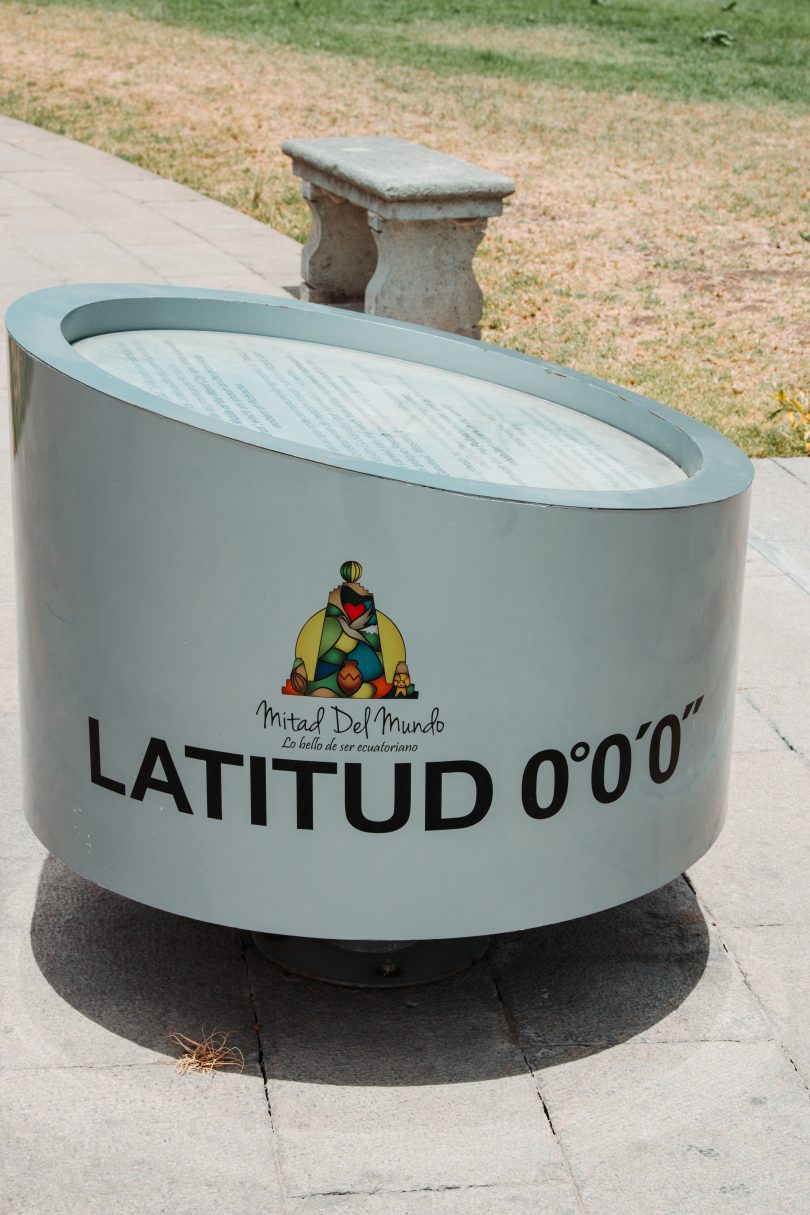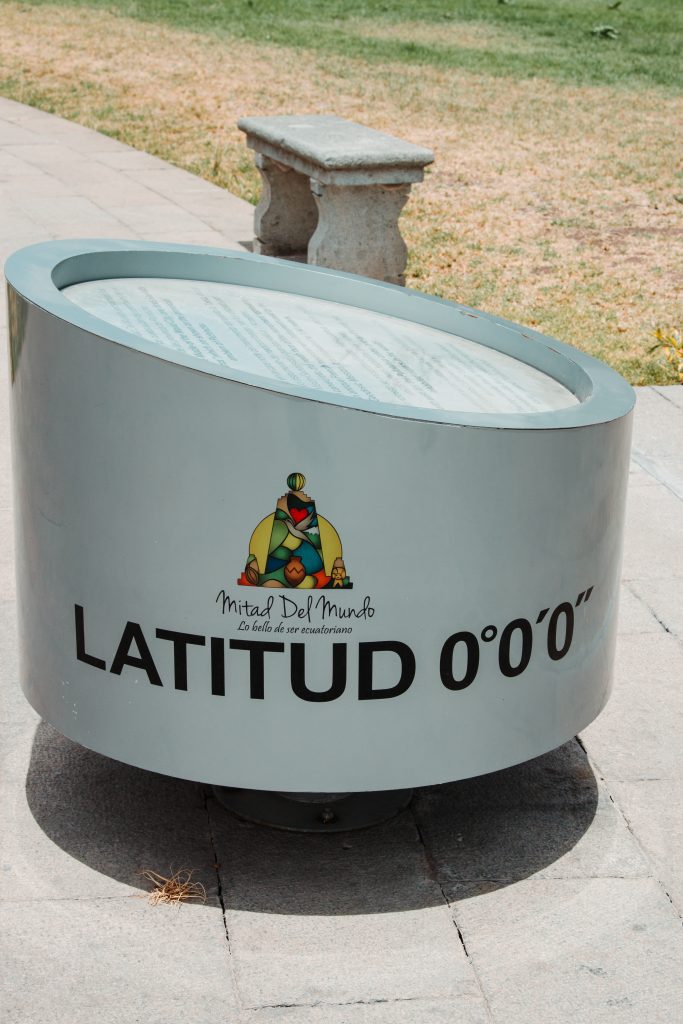 Since its inception, this line has been a tourist attraction. Visitors to this spot frequently take photos on both sides of the equator, symbolizing the hemisphere transition.
However, further investigation has proved that this site is not a genuine equator. The entire structure is around 240 meters south of the genuine equator, but it still represents half of the world.
Nonetheless, the location is interesting, and we enjoyed taking photos at the equatorial line. It's also a great place to play with gravity.
11. Recharge on Galapagos Tranquil Beaches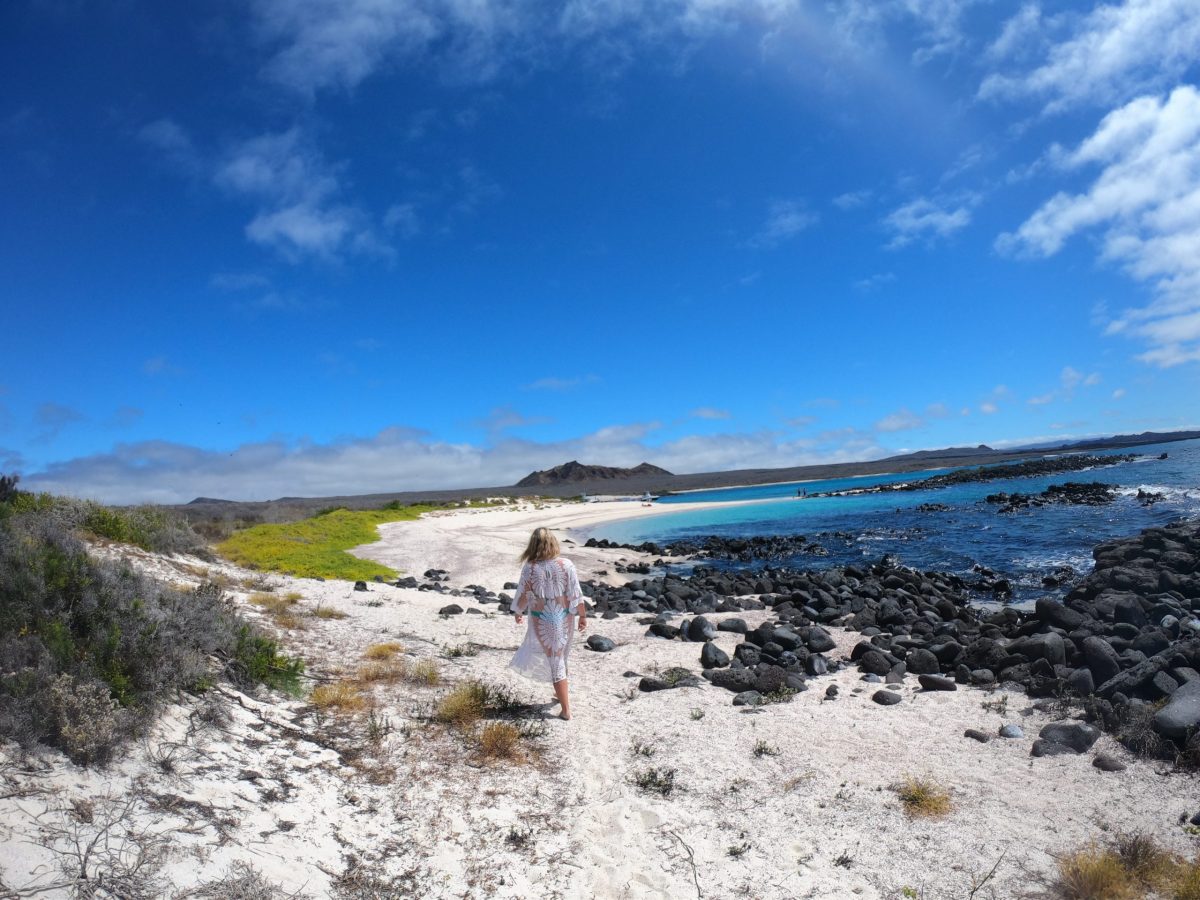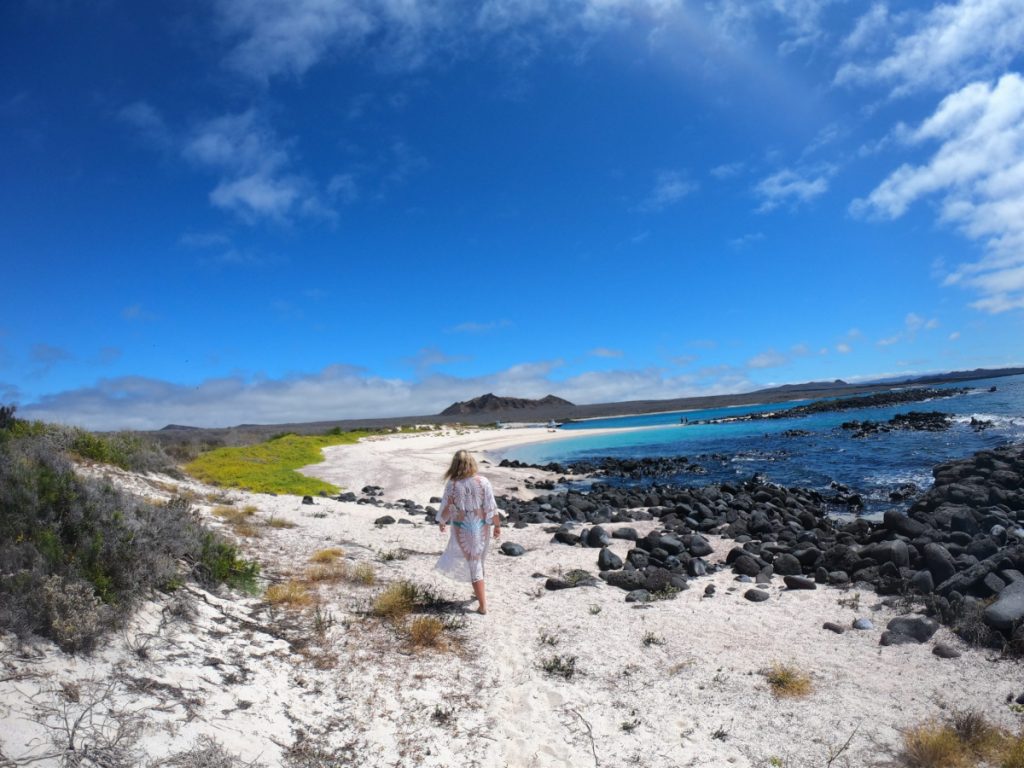 The Galápagos Islands not only boast some of the world's most unusual species, but they also offer some of the most gorgeous beaches.  We enjoyed spending our time at the pristine beaches and interacting with the wildlife.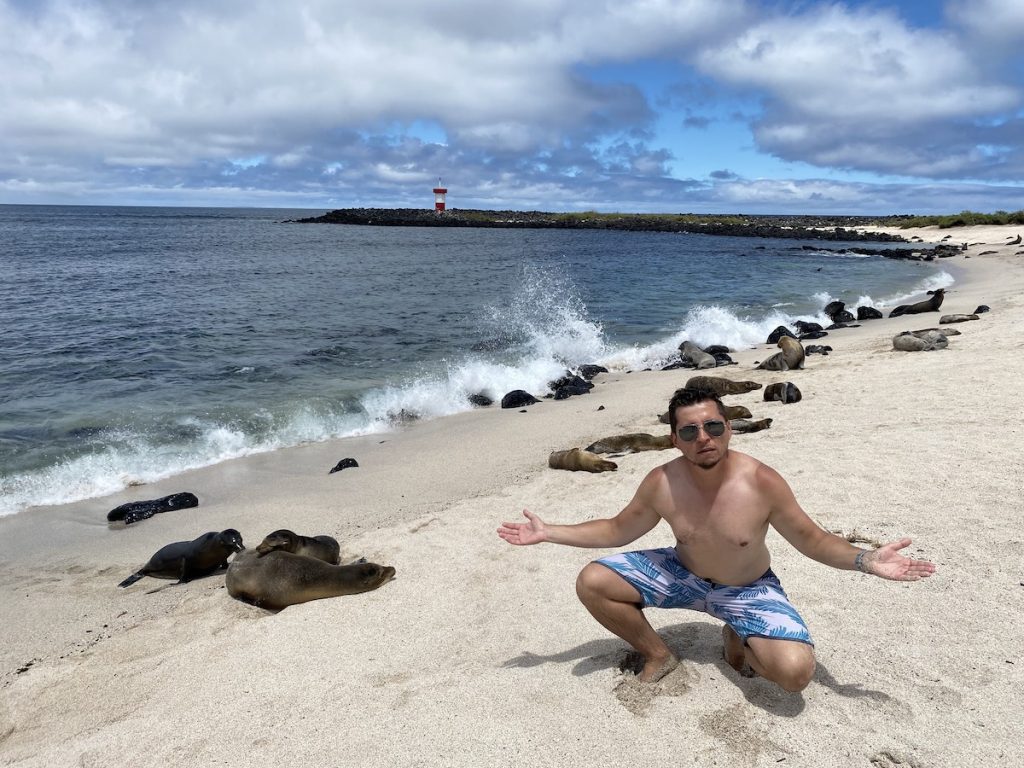 Some of the gorgeous and unique beaches we love in the Galapagos are:
Post Office Bay, Floreana Island

Red San Beach, Rabida Island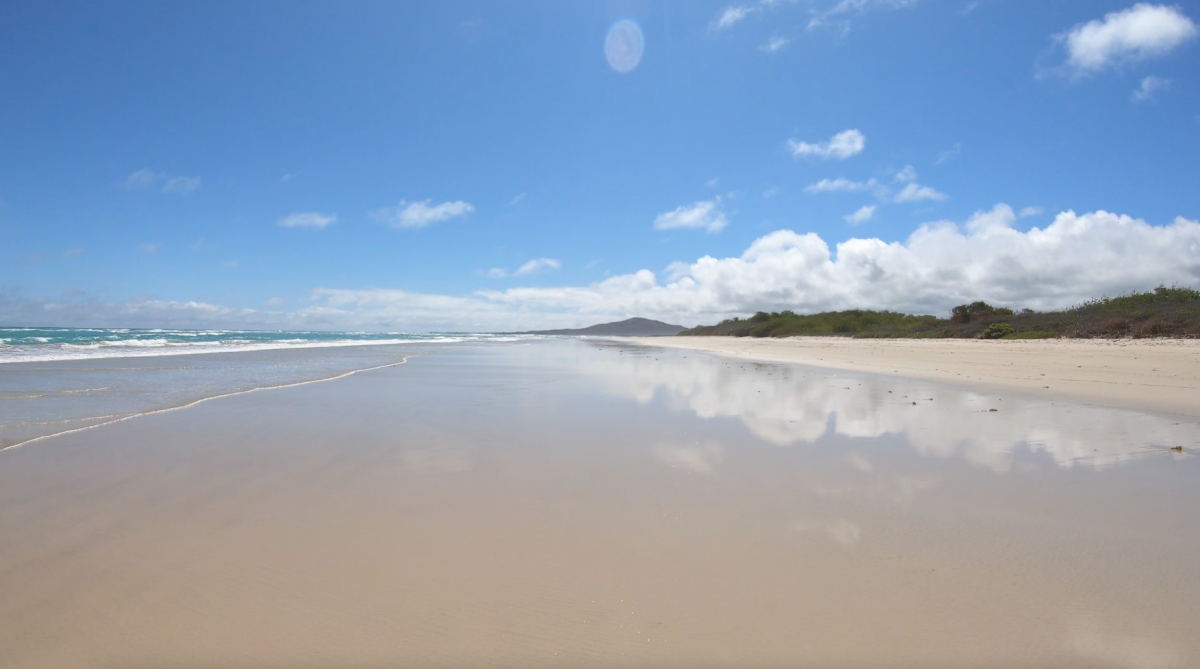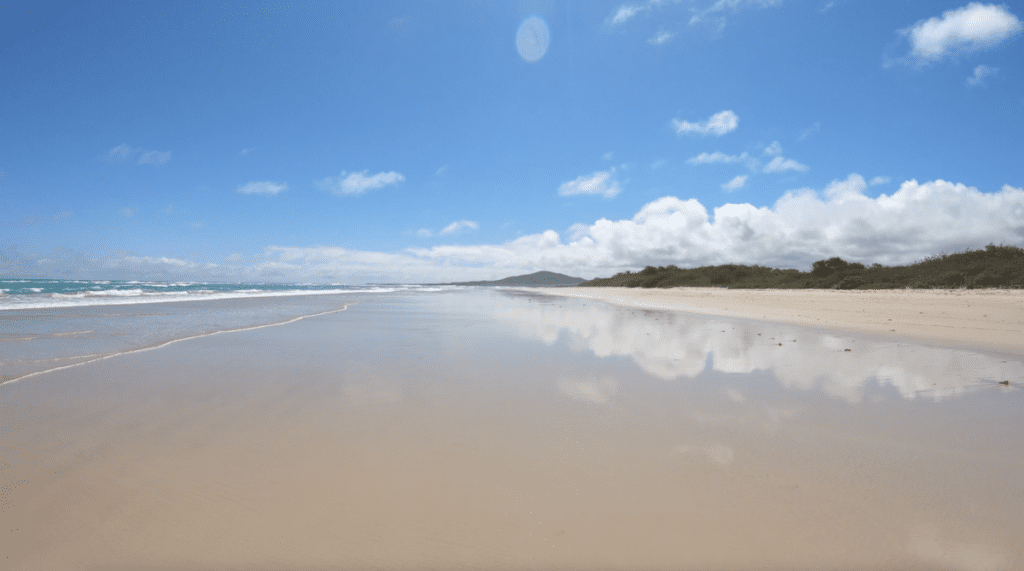 We highly recommend visiting the said beaches to maximize your wonderful time in Galapagos.
12. Bird Watching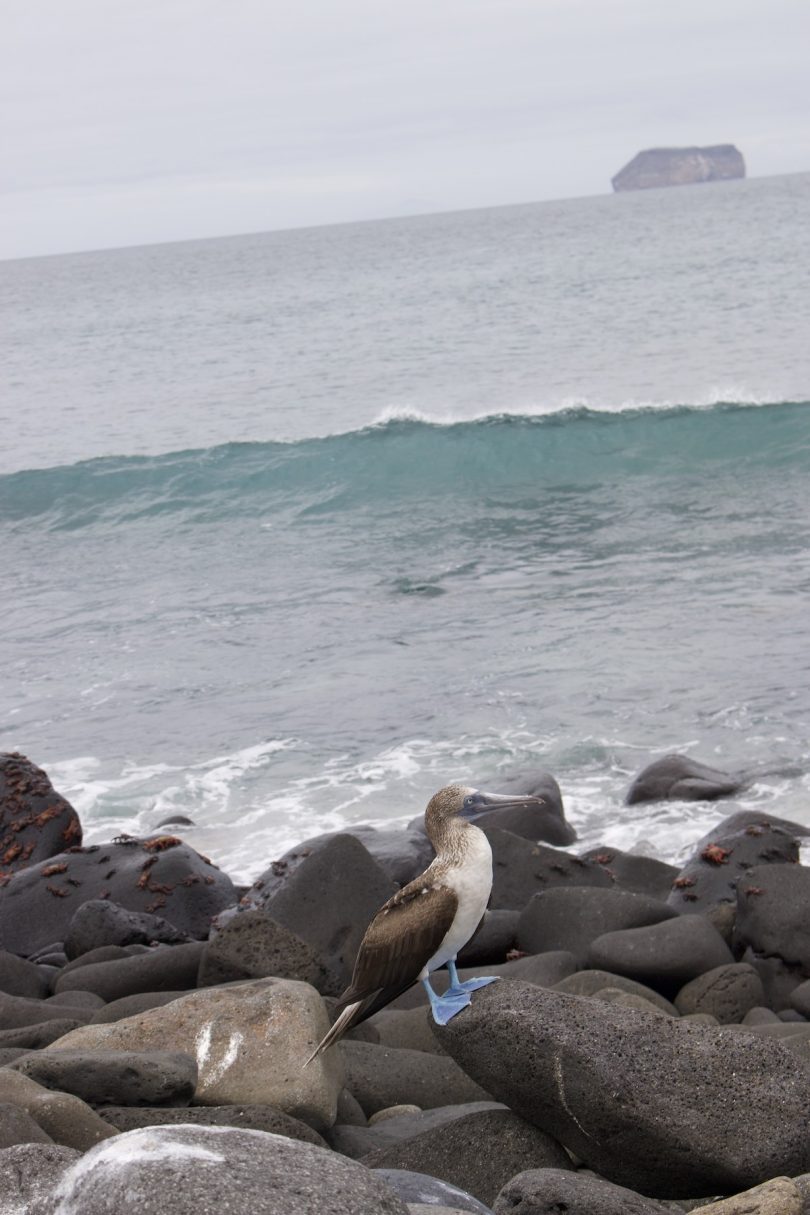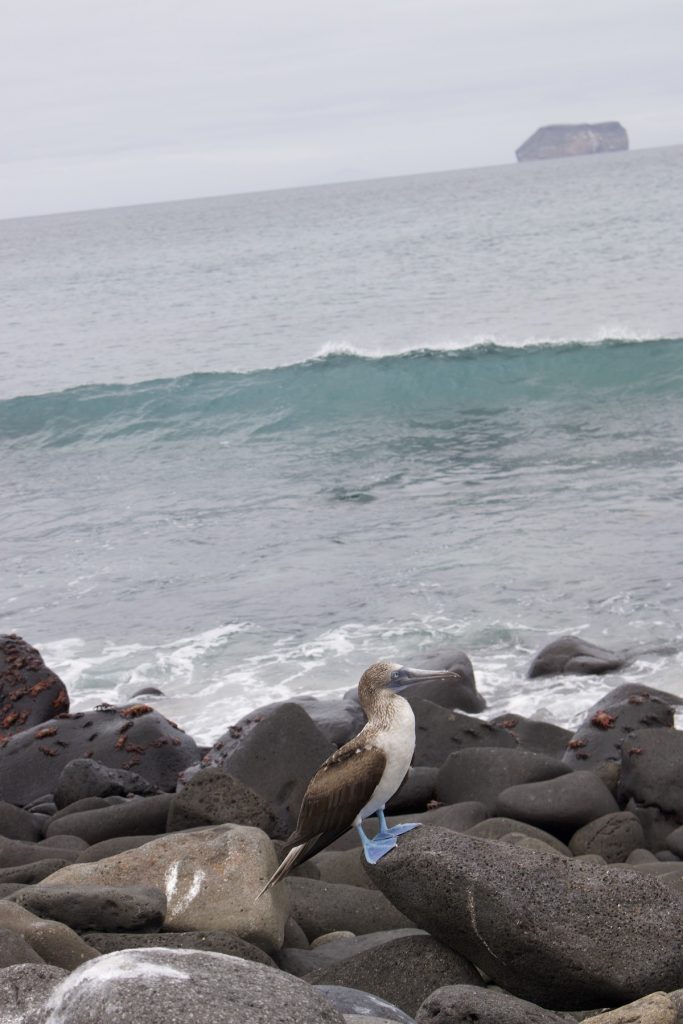 Ecuador is a birdwatcher's paradise as it boasts 1,600 bird species. Rare and endemic bird species can be found in the country's different geographic regions: the Amazon Basin, the Andes, the Pacific Coast, and the Galapagos.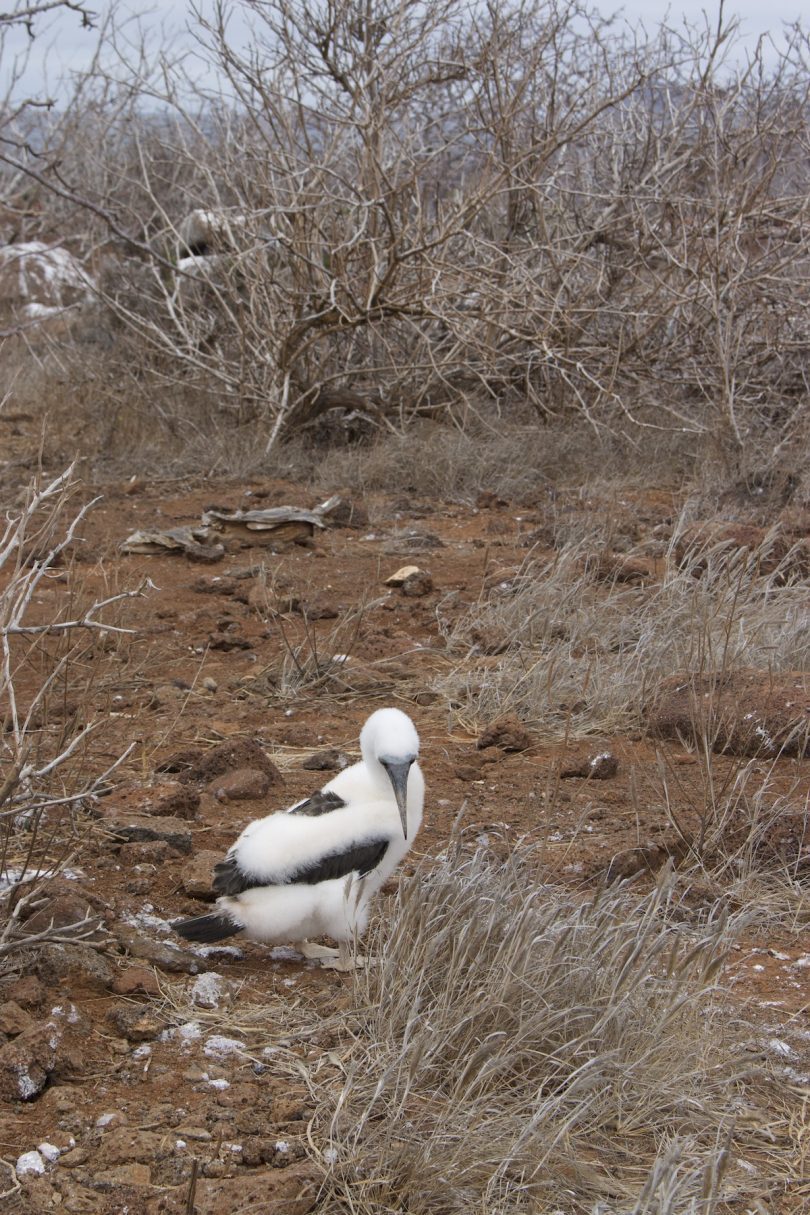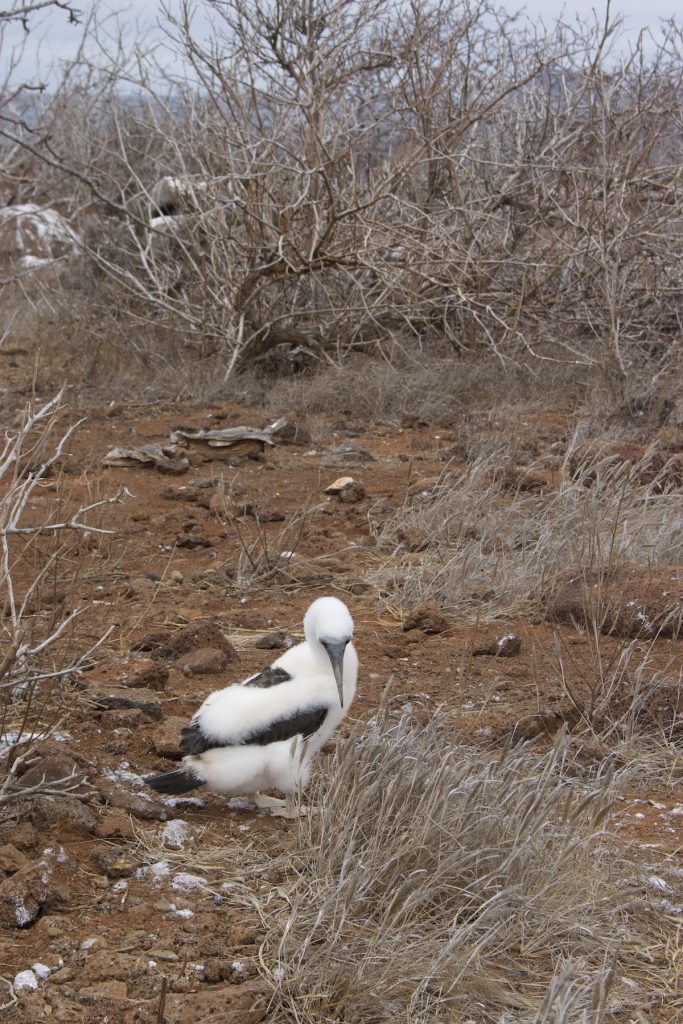 Galapagos Islands is a great destination not only for beachgoers but also for bird watchers. You can certainly tick off a lot of bird species on your list by simply traveling to Galapagos.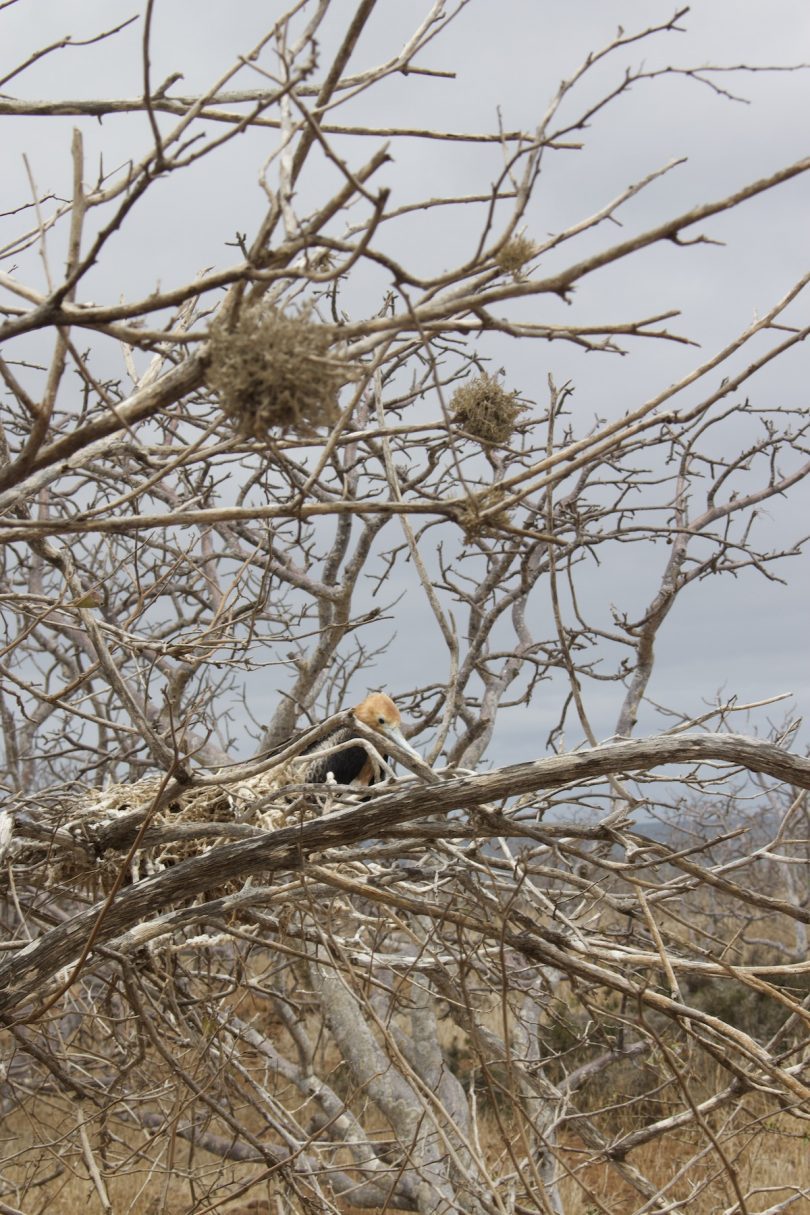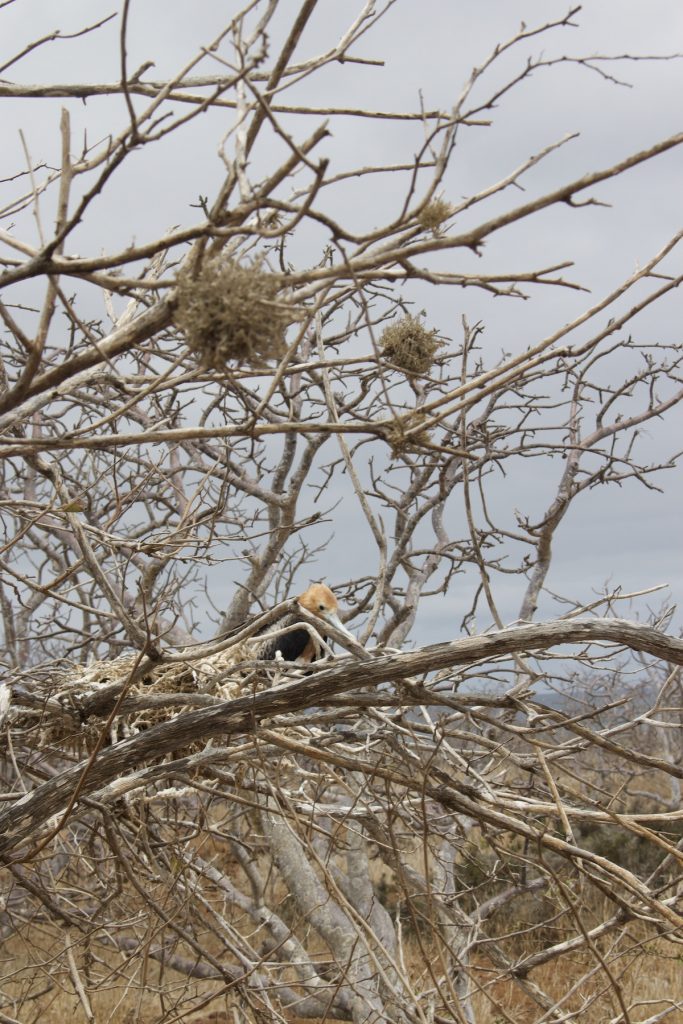 Another bird-watching site we recommend is Mindo. Mindo is part of Ecuador's Cloud Forest, which is an important site for birding in the country.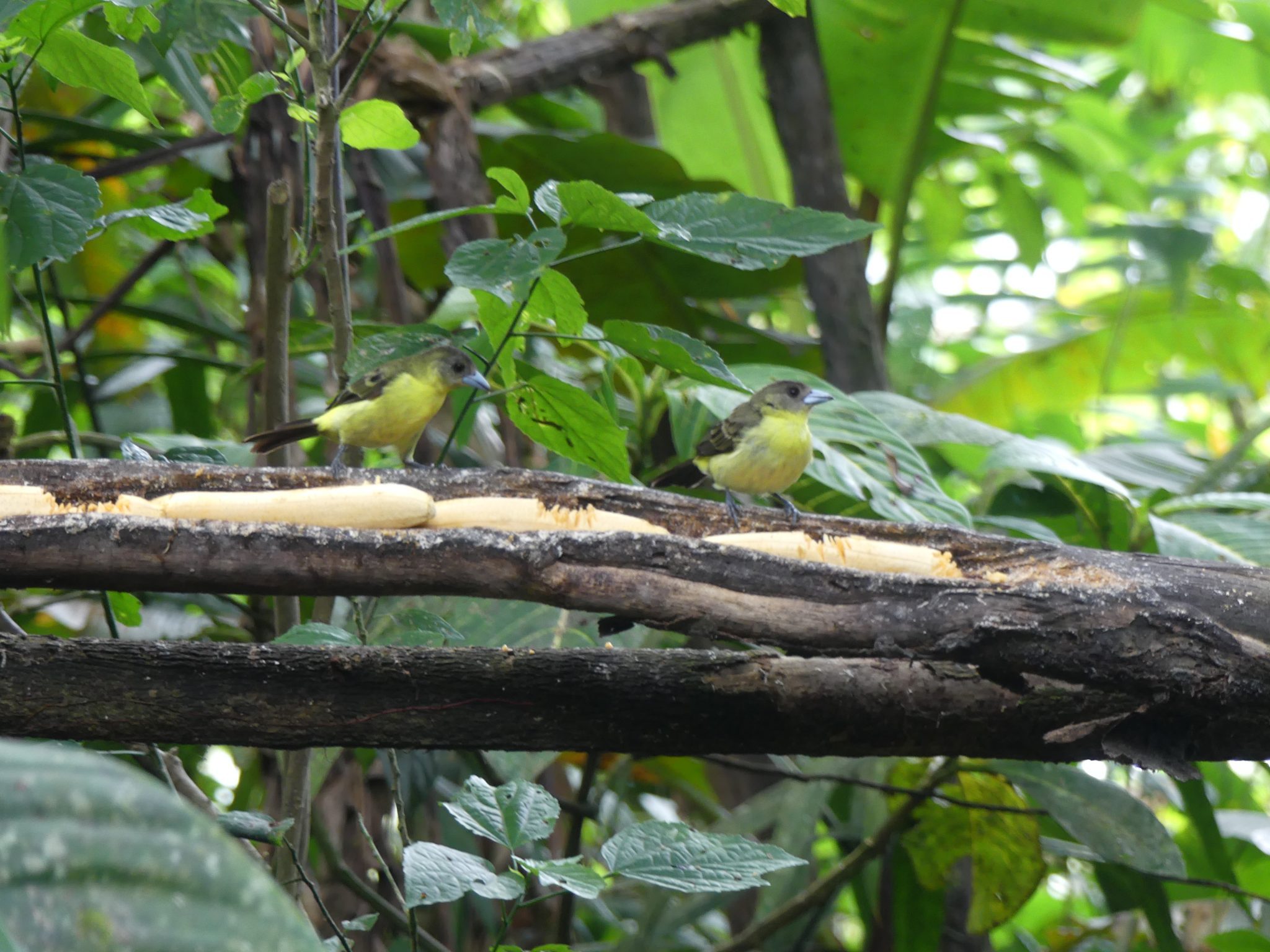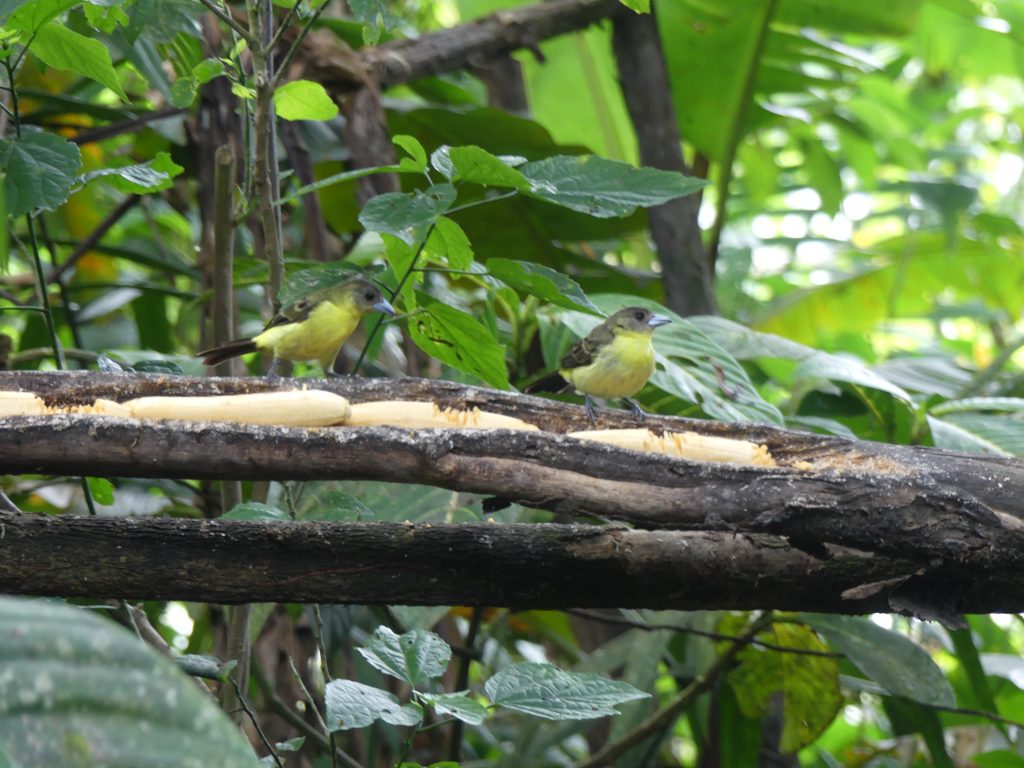 Because of the warm climate and rich natural terrain, this area is a suitable year-round home for birds. It is home to approximately 500 bird species and a diverse range of other fauna, including numerous butterfly species.
13. Spend a Whole Day Exploring Ecuador National Parks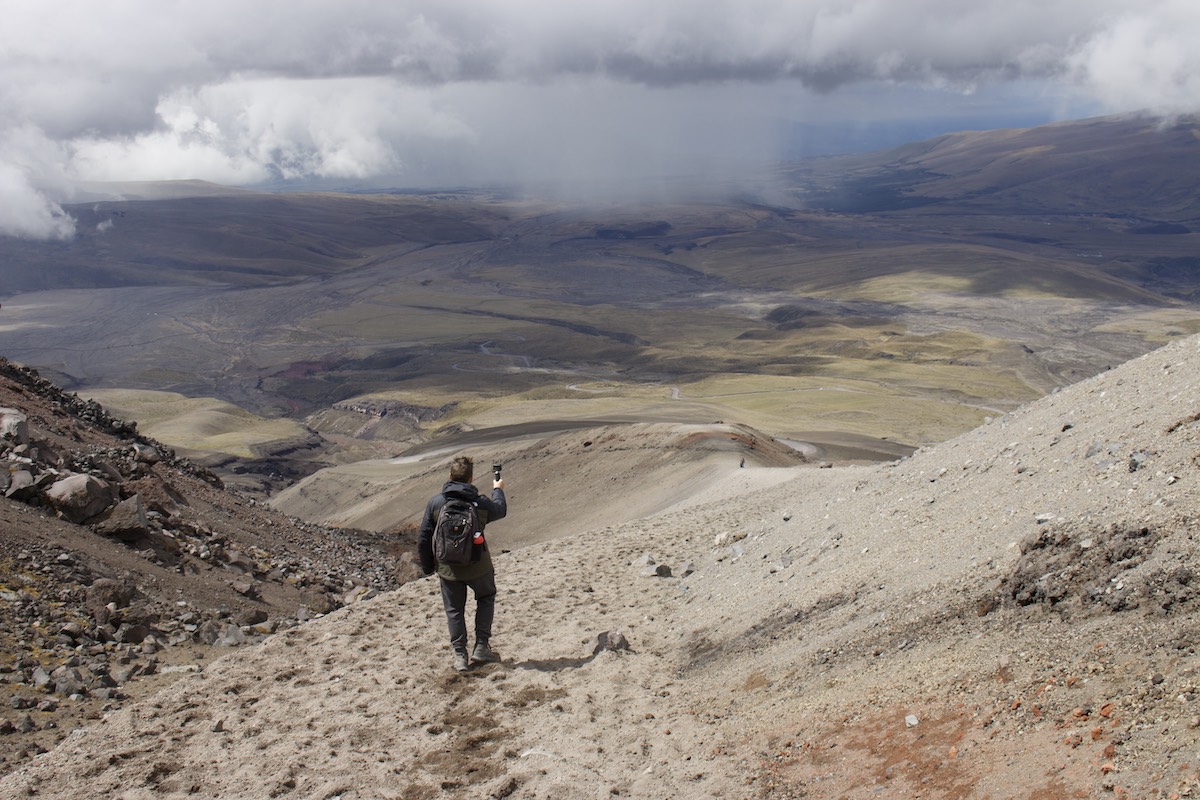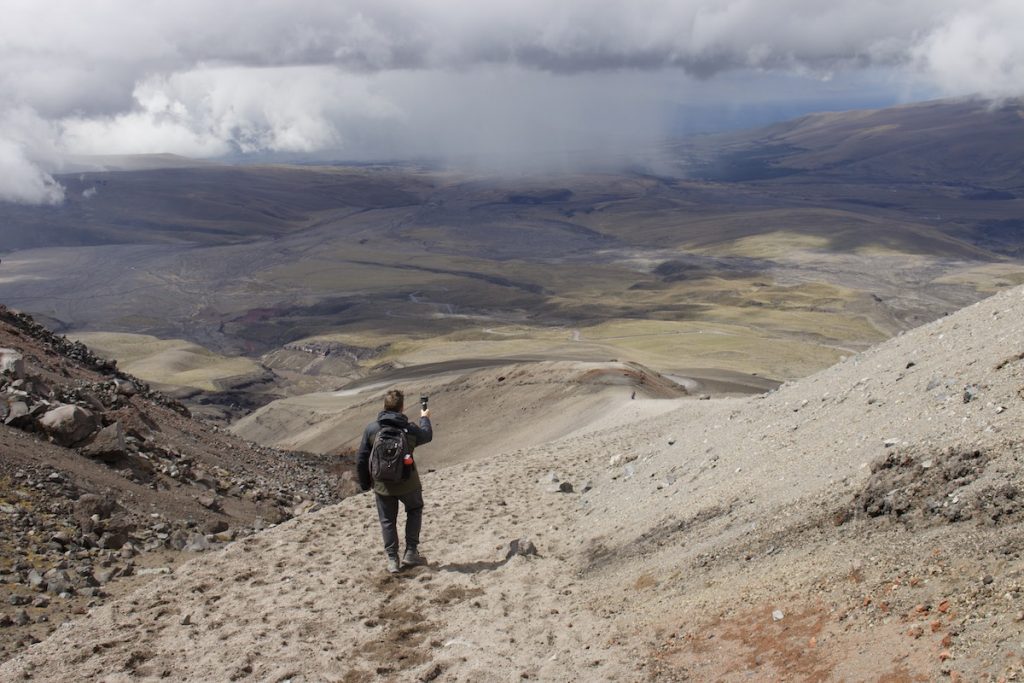 Ecuador has many national parks that are open to tourists in order to conserve the country's unique flora and fauna.
The Cotopaxi National Park was one of the most significant and unforgettable national parks we visited. We hiked up to the top of the Cotopaxi volcano and set up camp in the refuge. If you don't want to incur the risk of ascending the peak, you can still hike nearby trails or go biking.
Cajas National Park is also a must-see destination.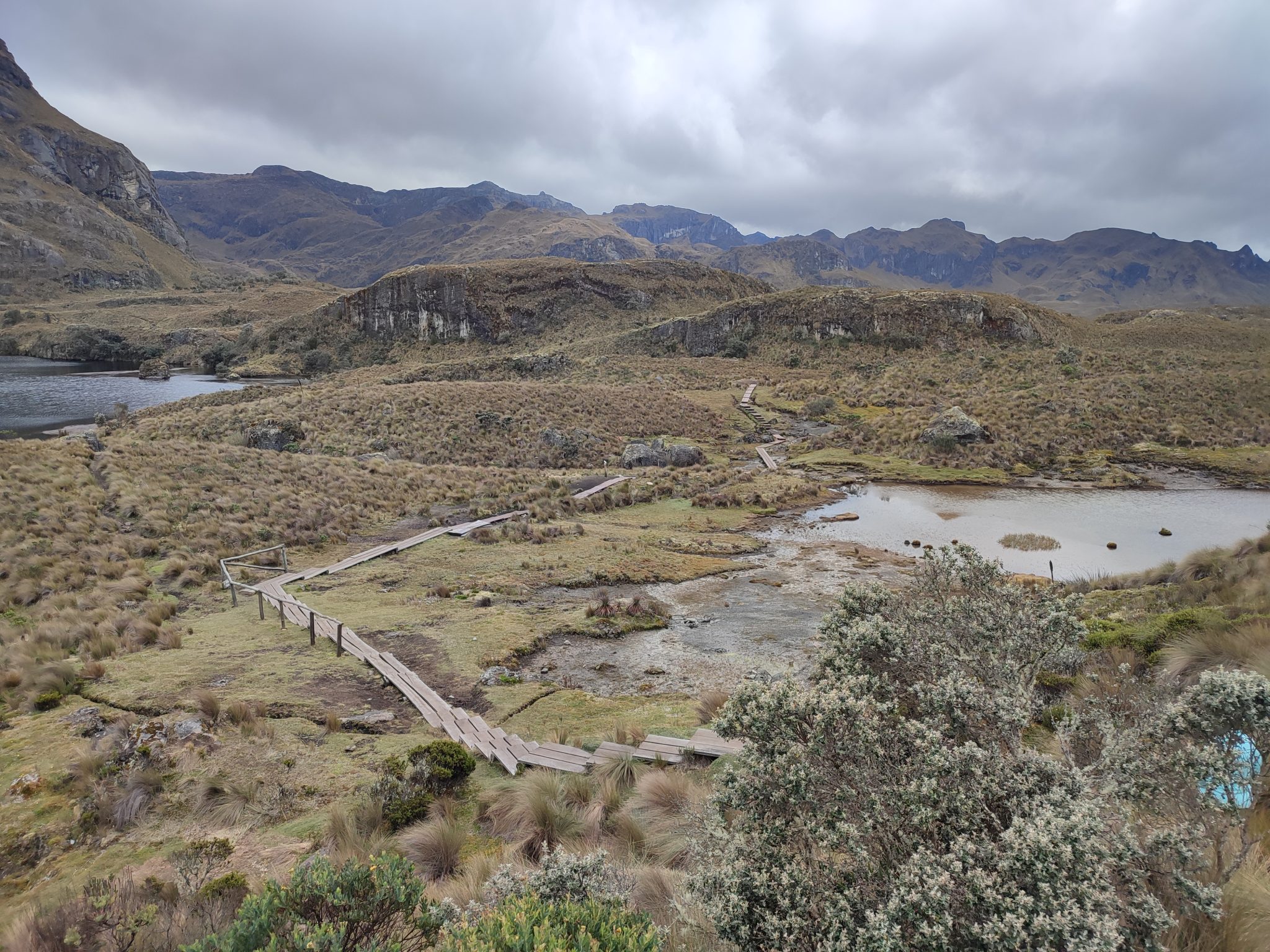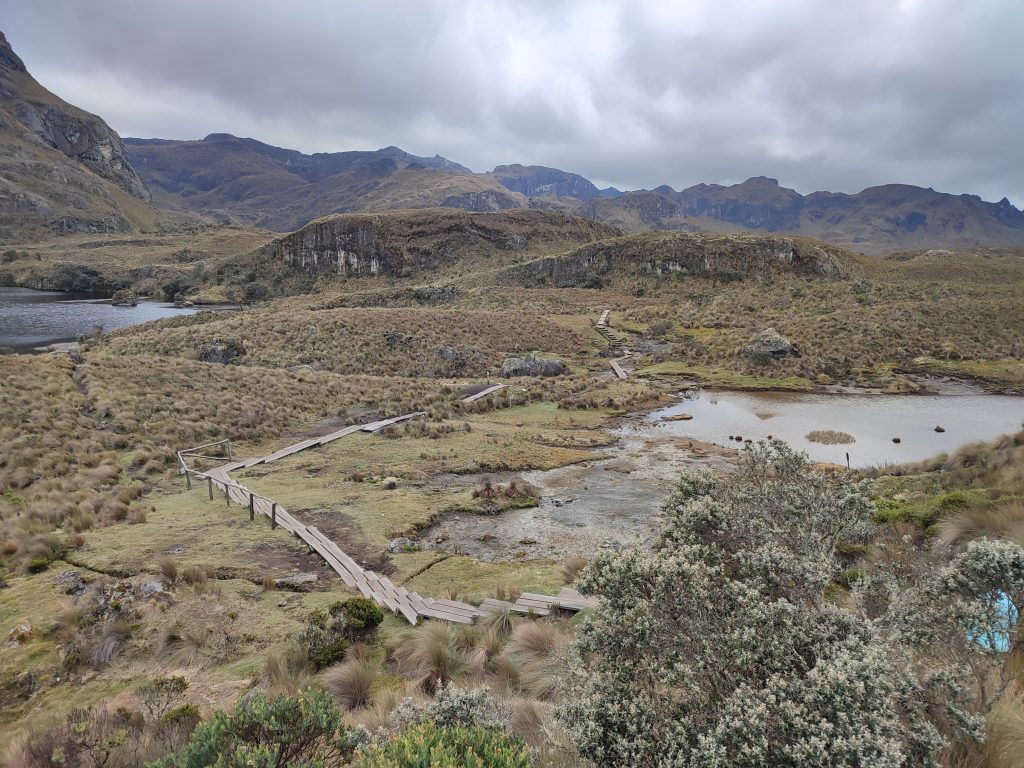 Cajas National Park is situated 30 kilometers west of Cuenca. It is simple to visit and may be done in a day tour for walking, but you can also camp overnight and fish.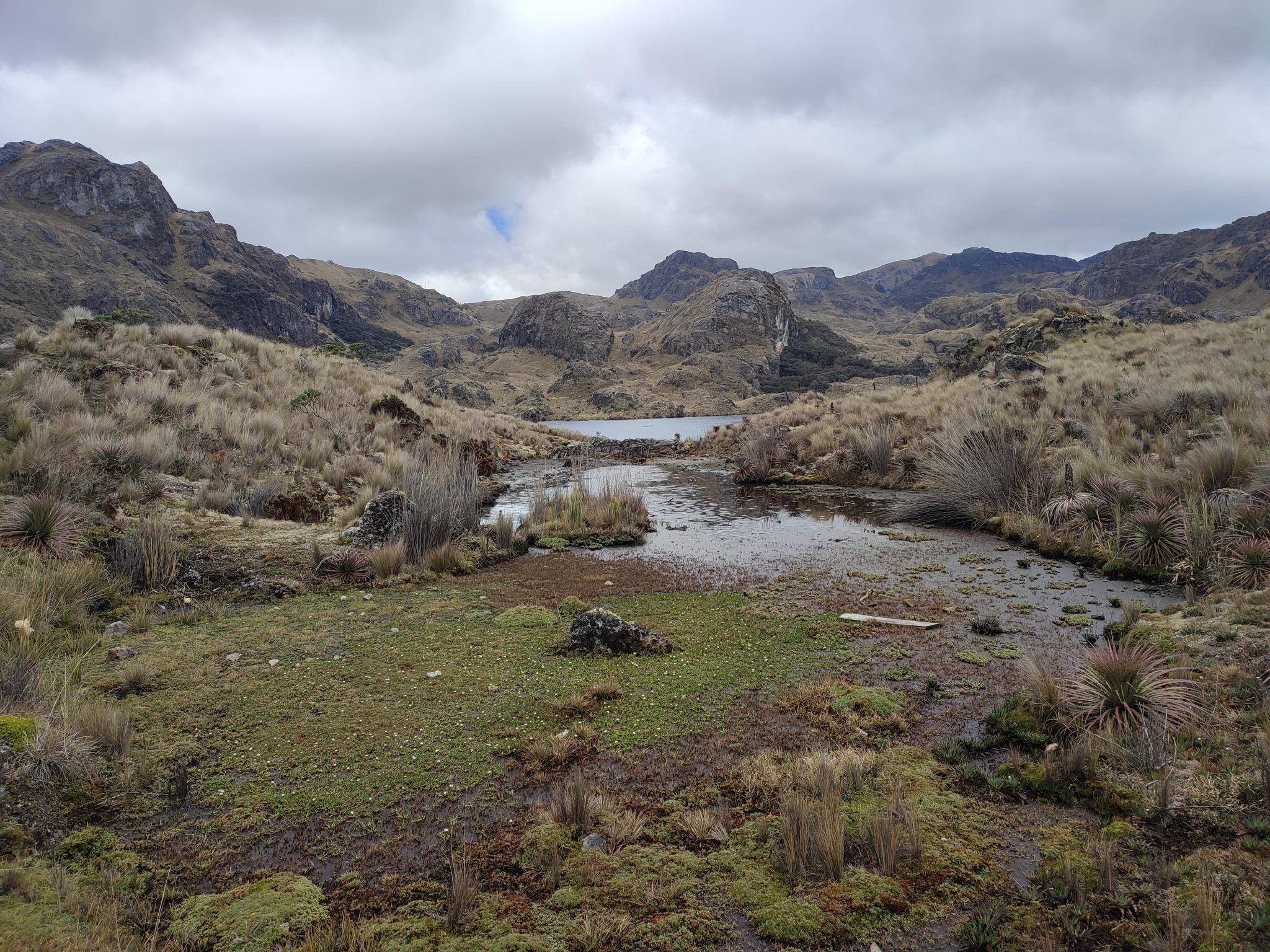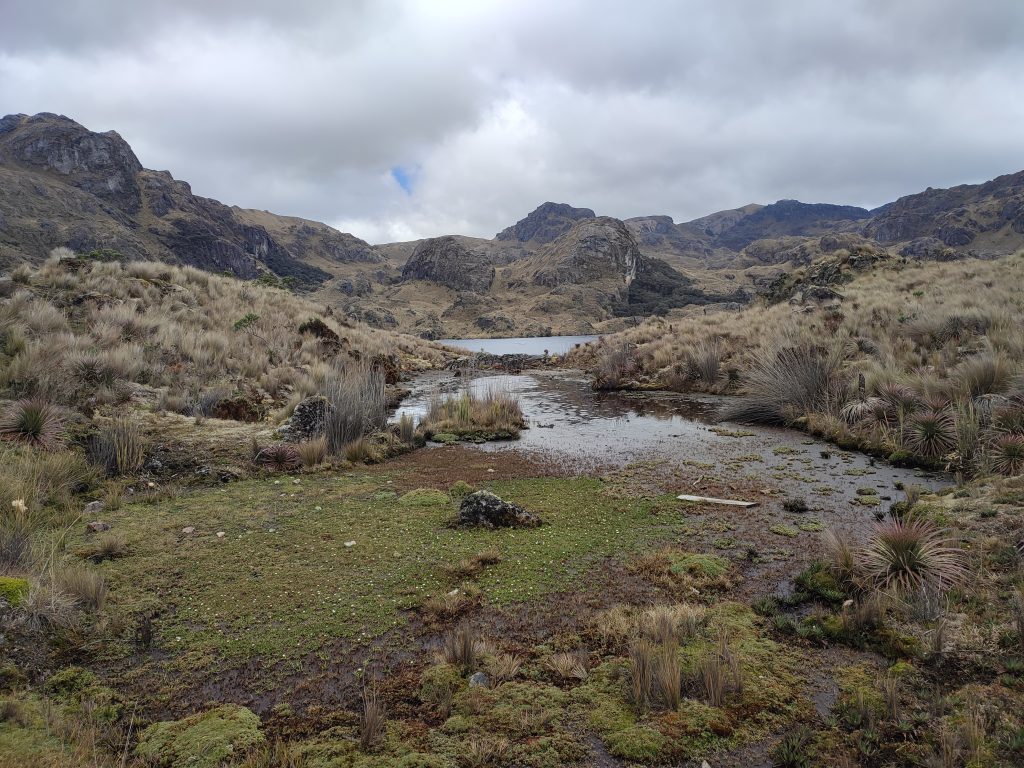 Cajas should be included in your Ecuador tour plans if you enjoy trekking and exploring the stunning high-altitude routes.
The Galapagos Islands are also designated as a National Park and World Heritage Site.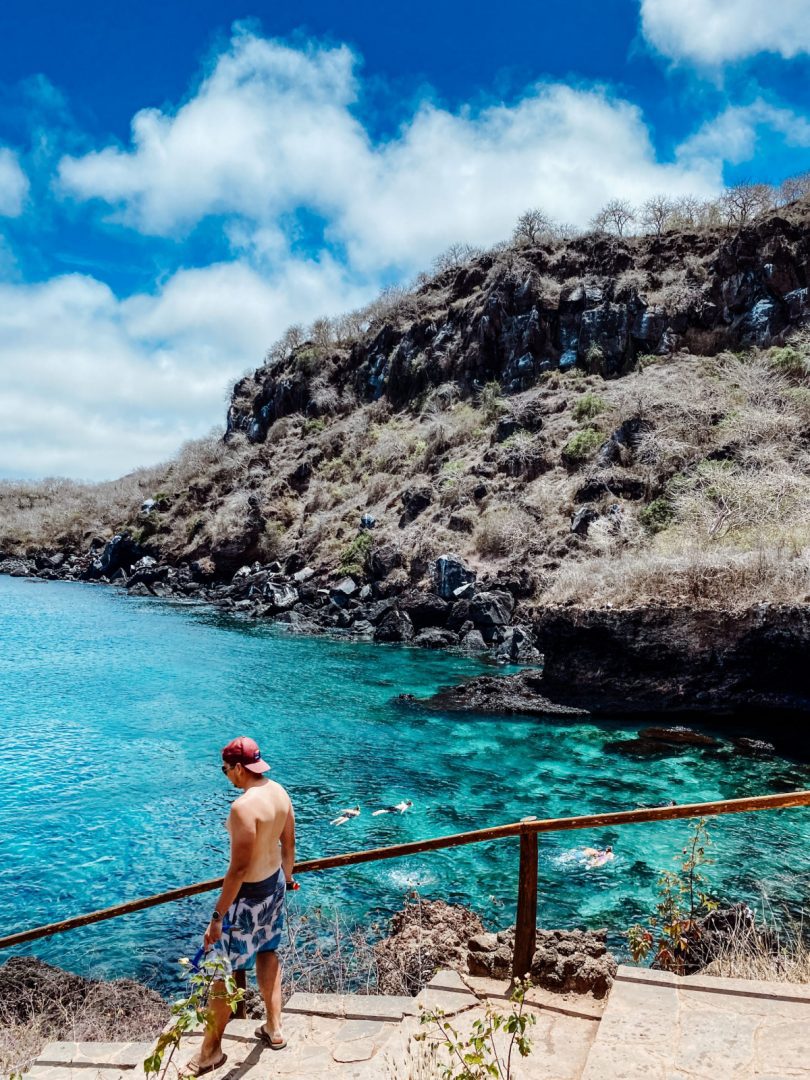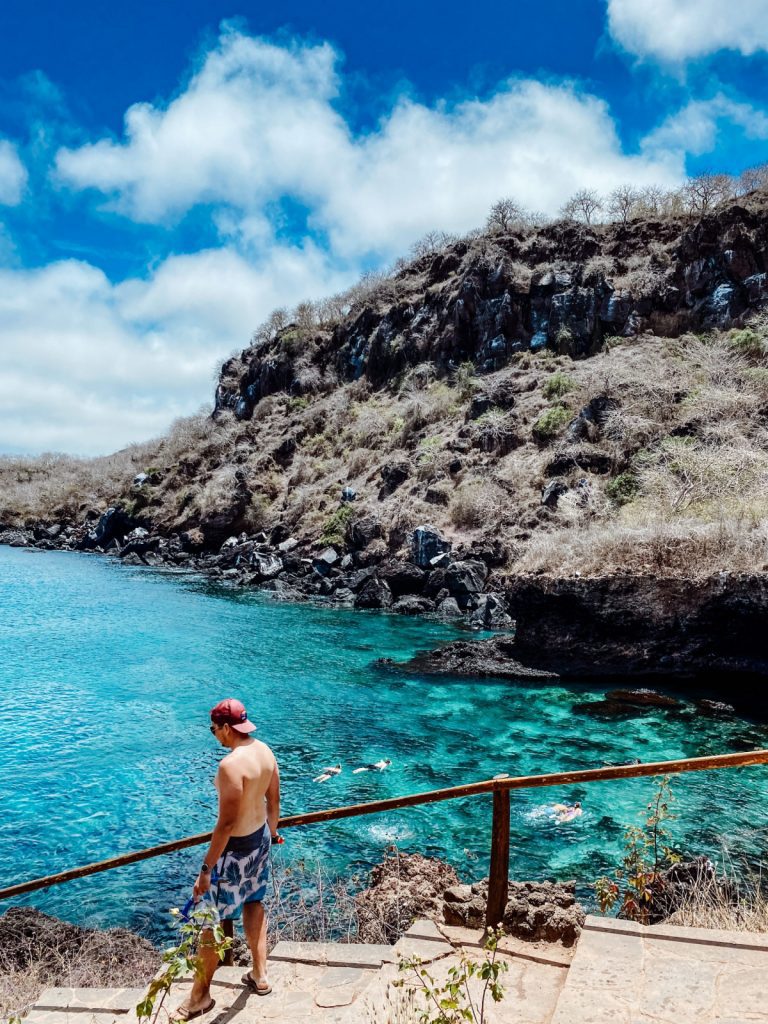 Because it is home to many unique and endangered flora and fauna, all tourists are undergoing rigorous monitoring and are also asked to cooperate in protecting the environment.
14. Indulge in the Panoramic Landscapes of the Galapagos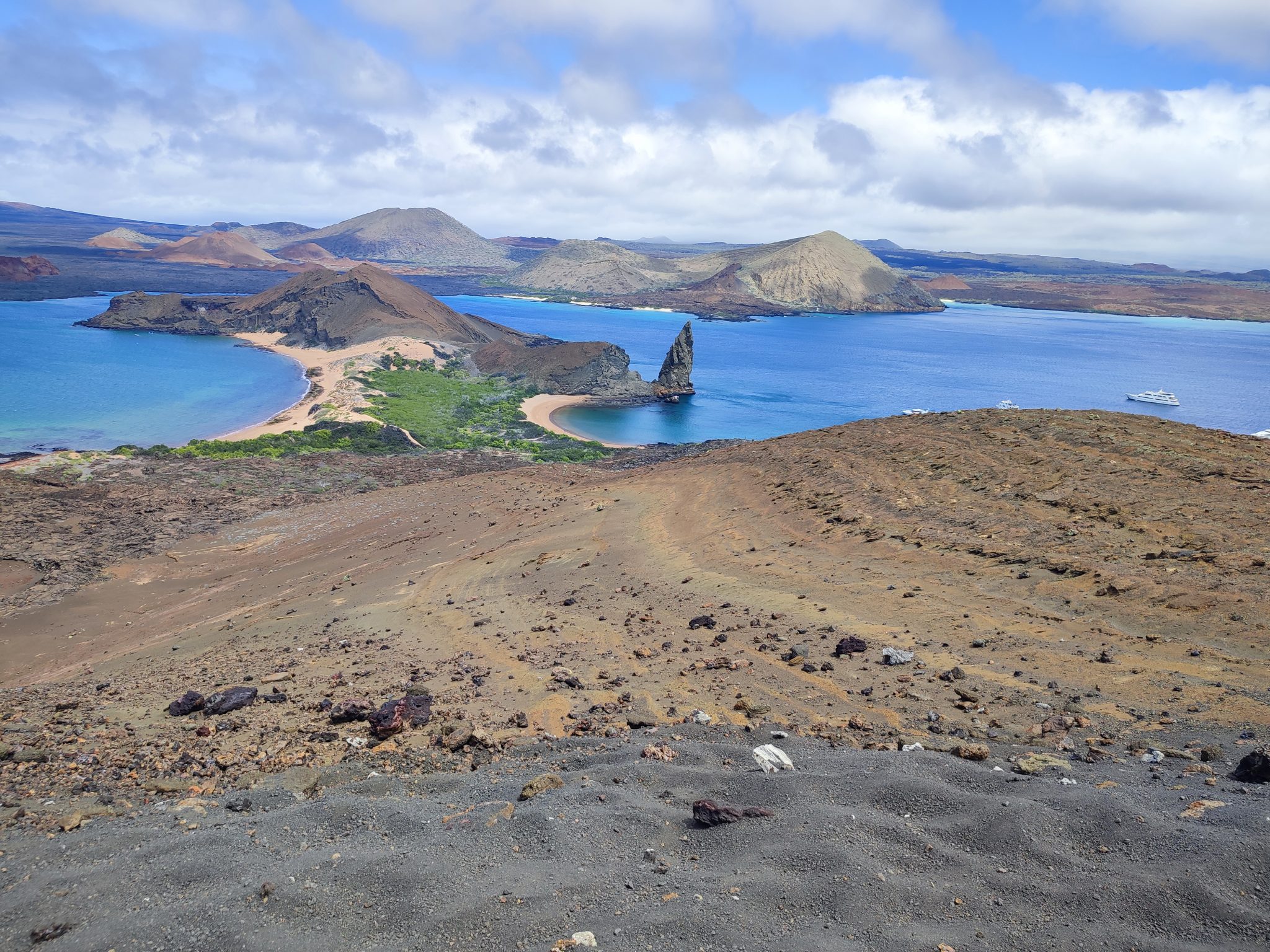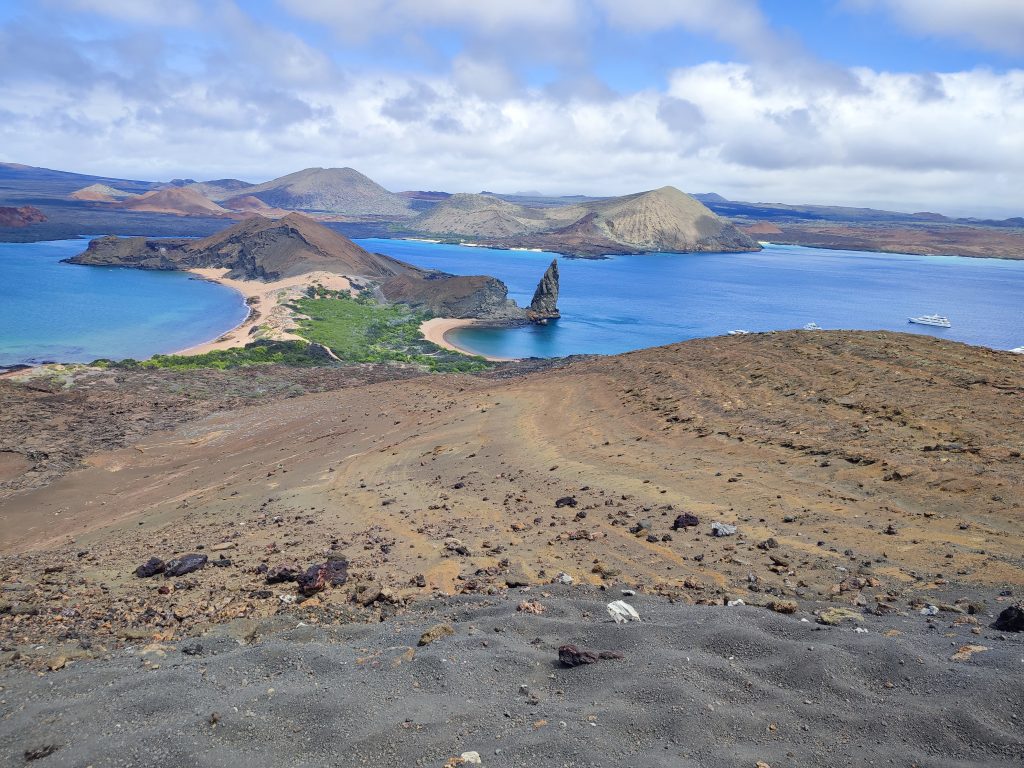 Another scenic landscape that any traveler should not miss is the panoramic views of Bartolome Island in the Galapagos.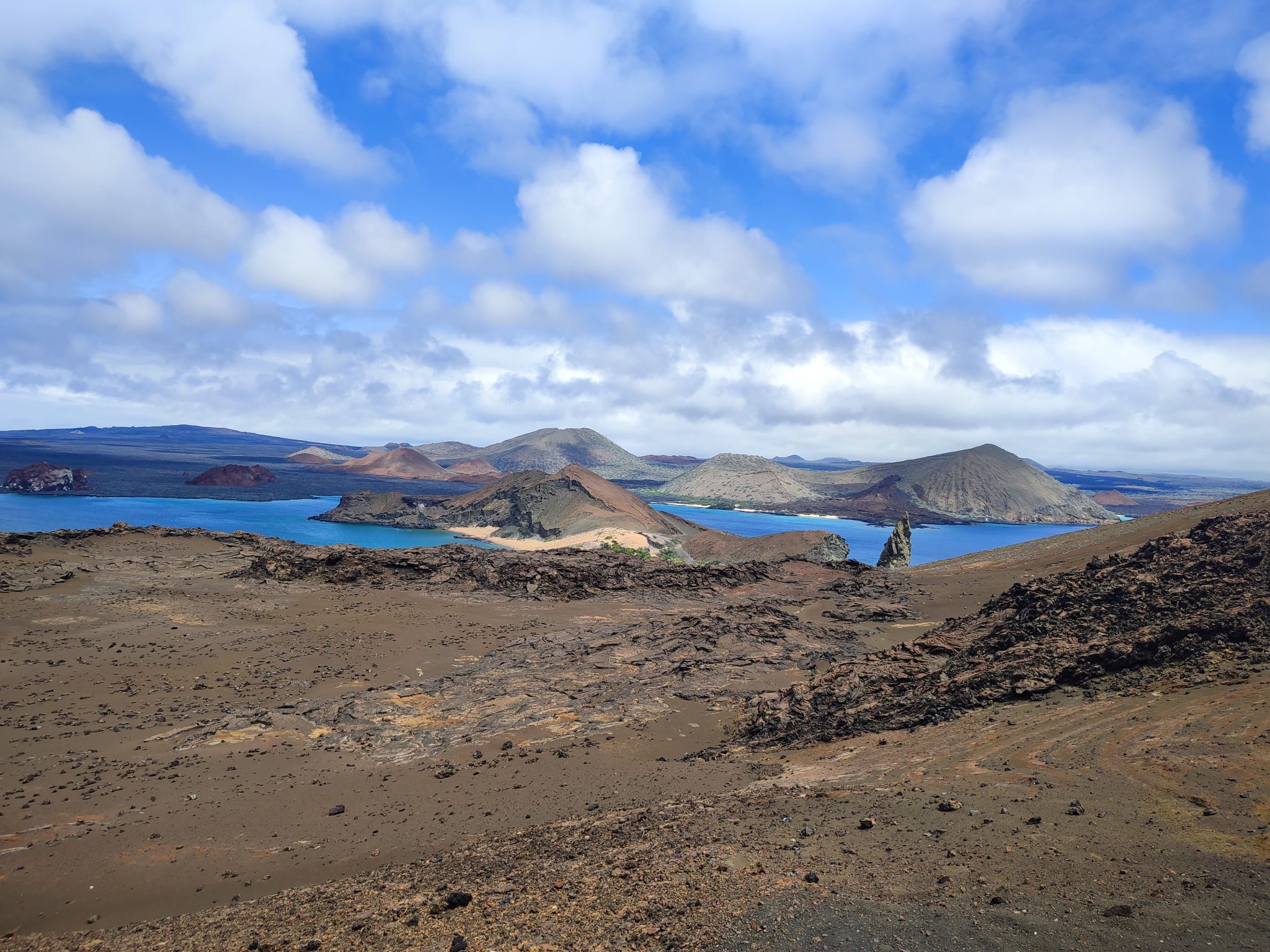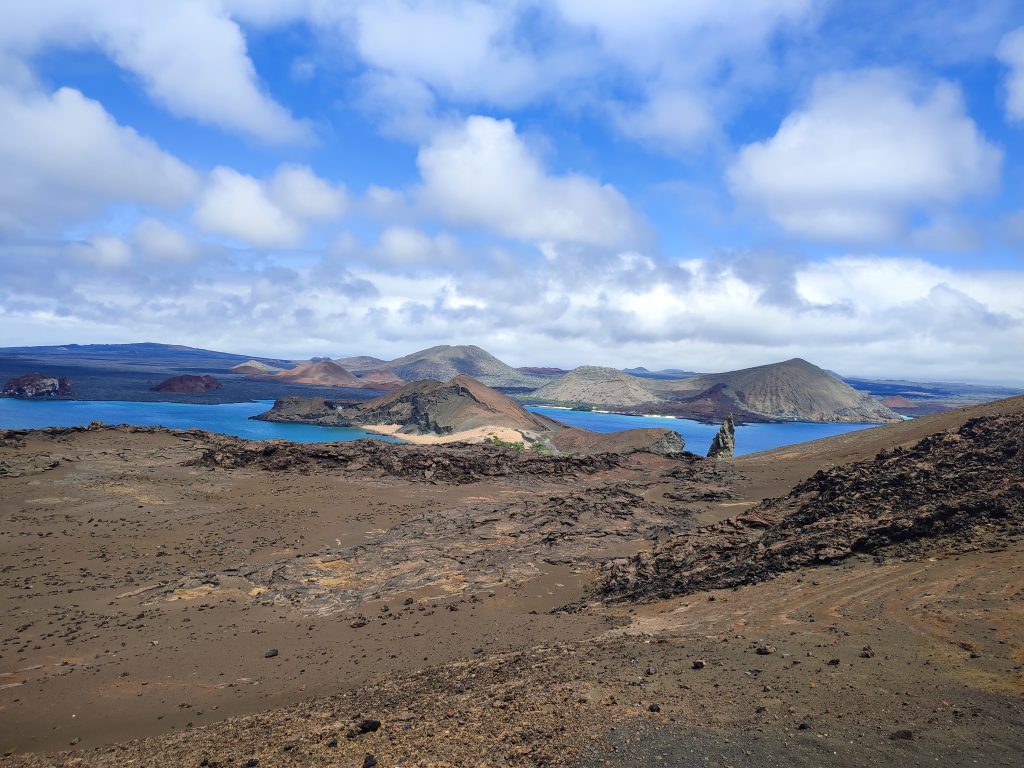 At the heart of the Galapagos archipelago is the unpopulated island of Bartolome. Due to the greatest panoramic views it provides, it is regarded as the most iconic location and thing to do in Galapagos.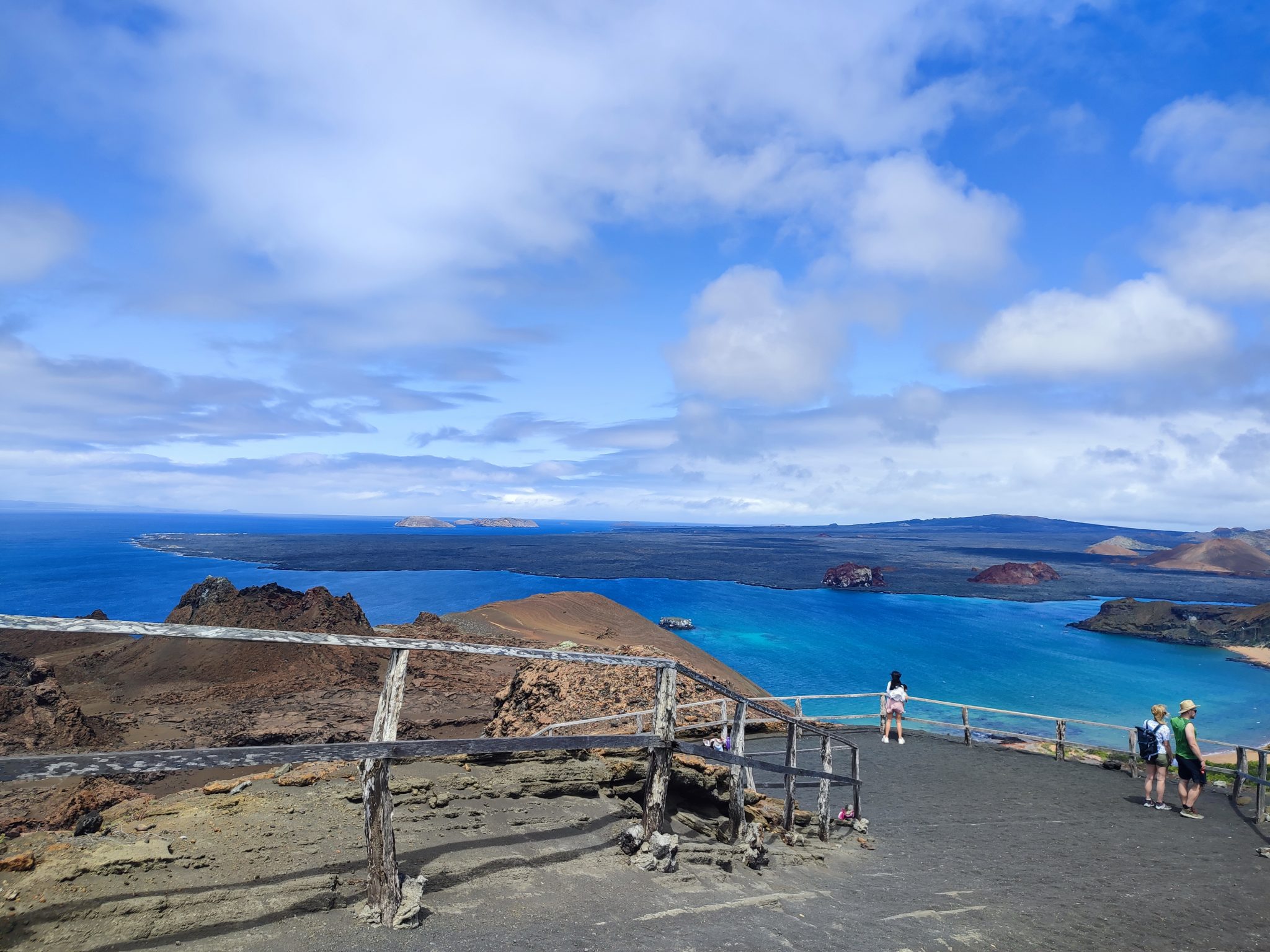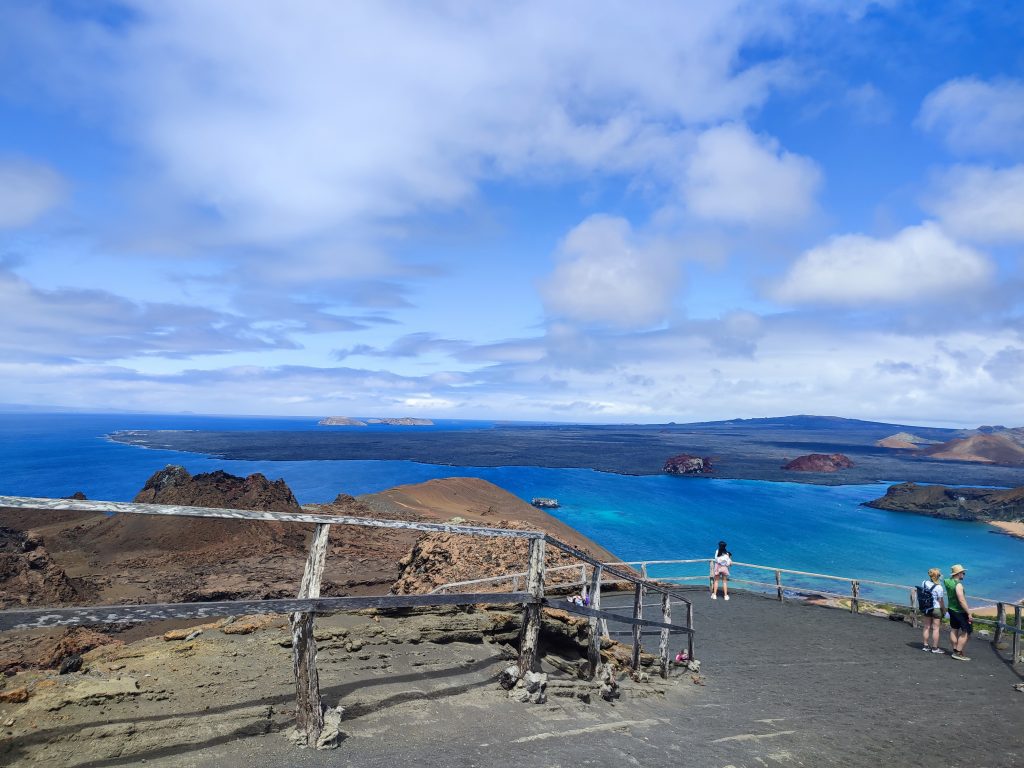 The Pinnacle Rock, which was created by an eroded Toba cone, is the archipelago's most famous structure. A tiny colony of penguins, sea lions, and marine birds live together on its base. When visiting the beach, one can see young sharks swimming near the shore, and occasionally a hawk will soar over the area.
15. Wander Around the City of Cuenca and Eat Cuy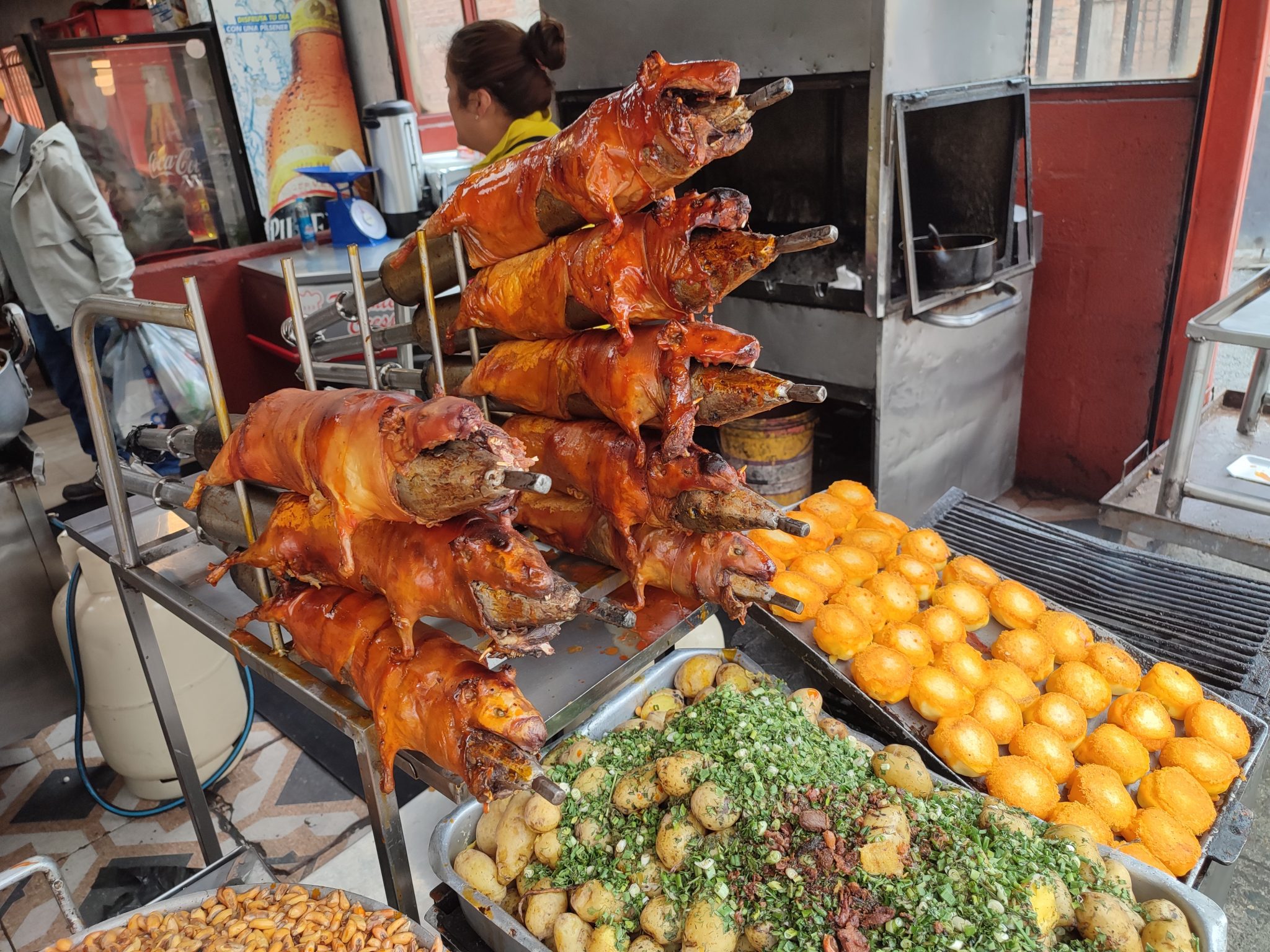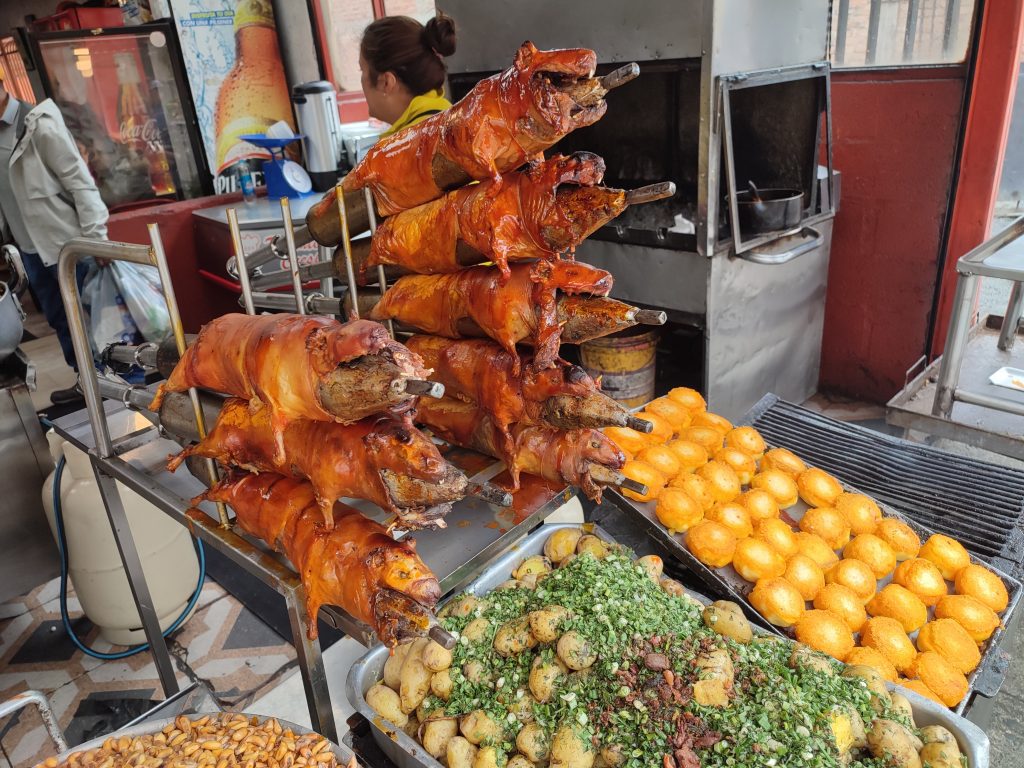 In keeping with its colonial architecture, Cuenca, Ecuador has a long-standing reputation for having a vibrant intellectual, artistic, and philosophical tradition.
The city is well-known for its vibrant festivals, unique cuisine, and stunning surroundings.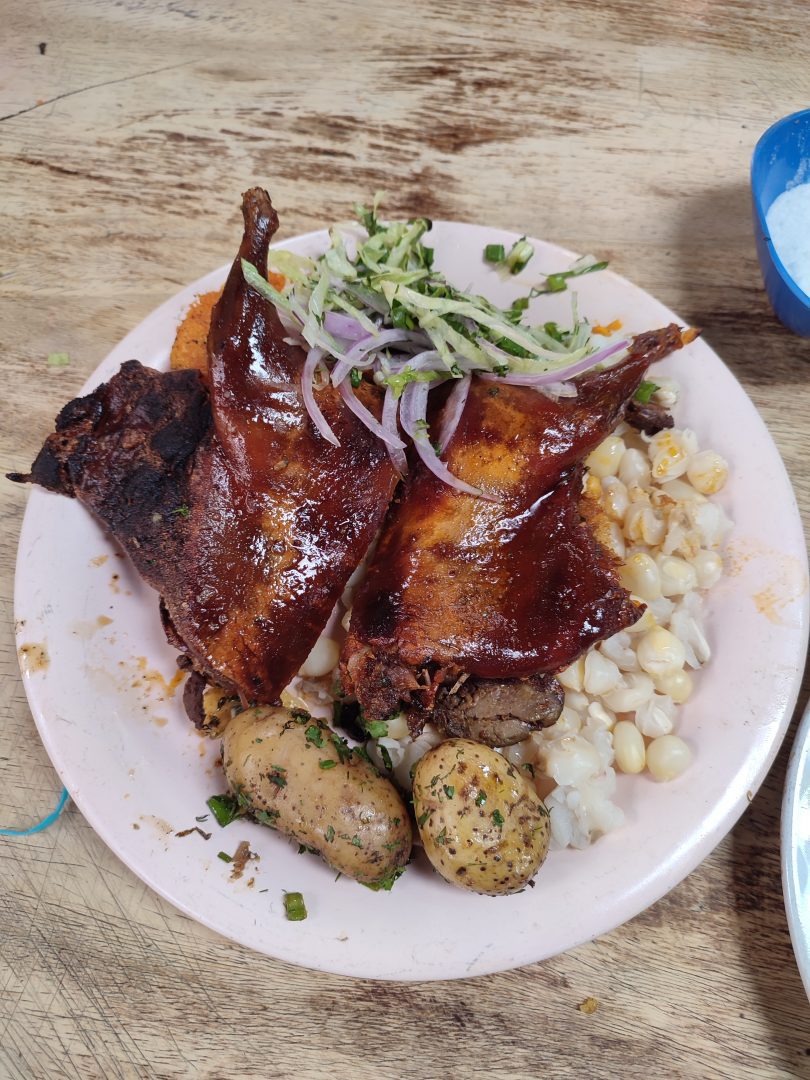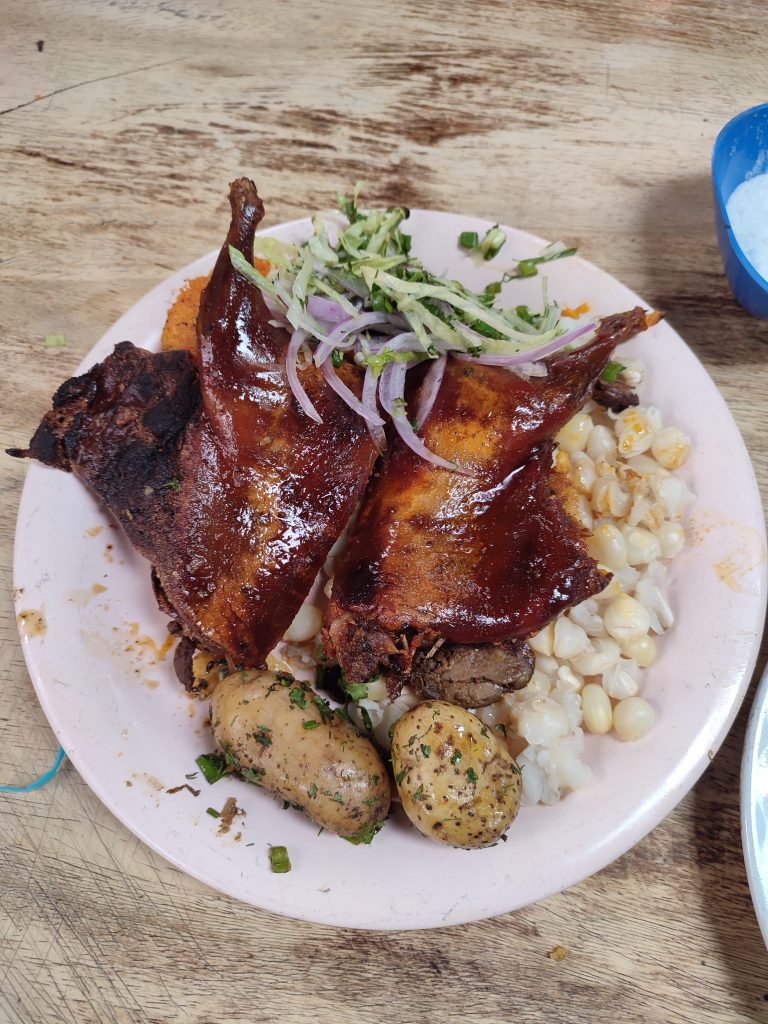 While walking around the city, you might be curious as to what the small, on-a-stick, roasted animal the size of a chicken is. Locally, it is referred to as "cuy". It is a regional delicacy and is commonly known as a guinea pig. It is a bit expensive and is typically consumed on exceptional occasions.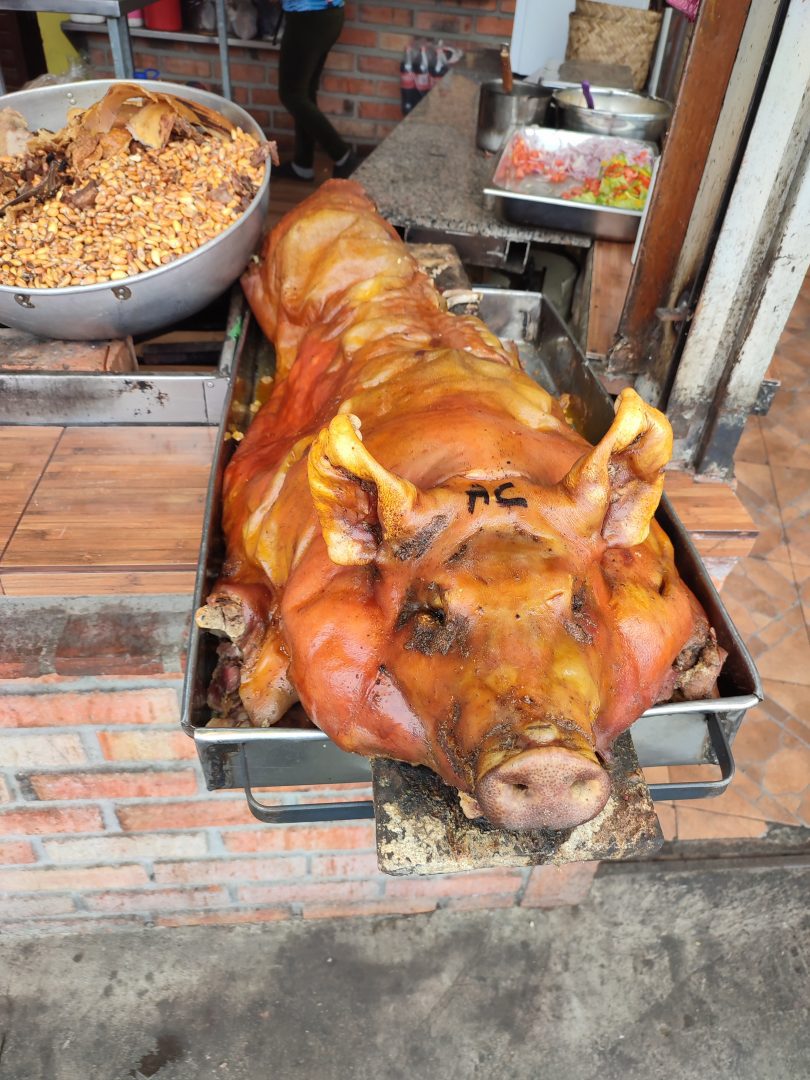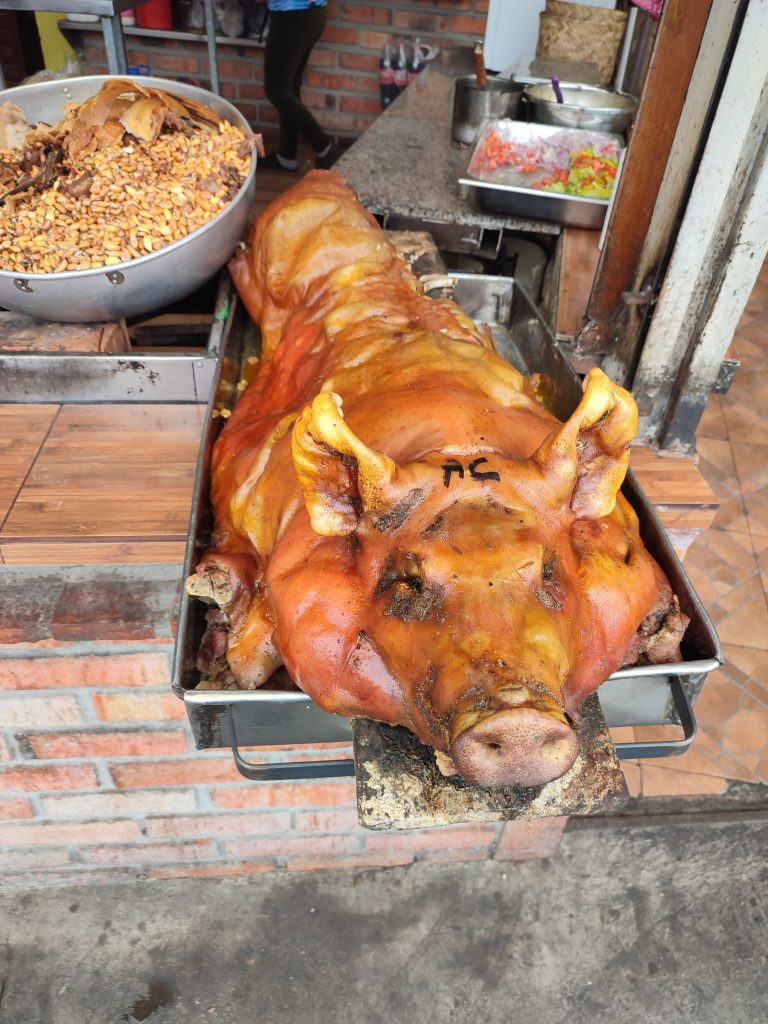 Cuy is cooked whole over an open grill. Some people love eating it, while others loathe it. Make sure to check our full guide on Ecuadorian food.
16. Be One with Nature at Cuyabeno Wildlife Reserve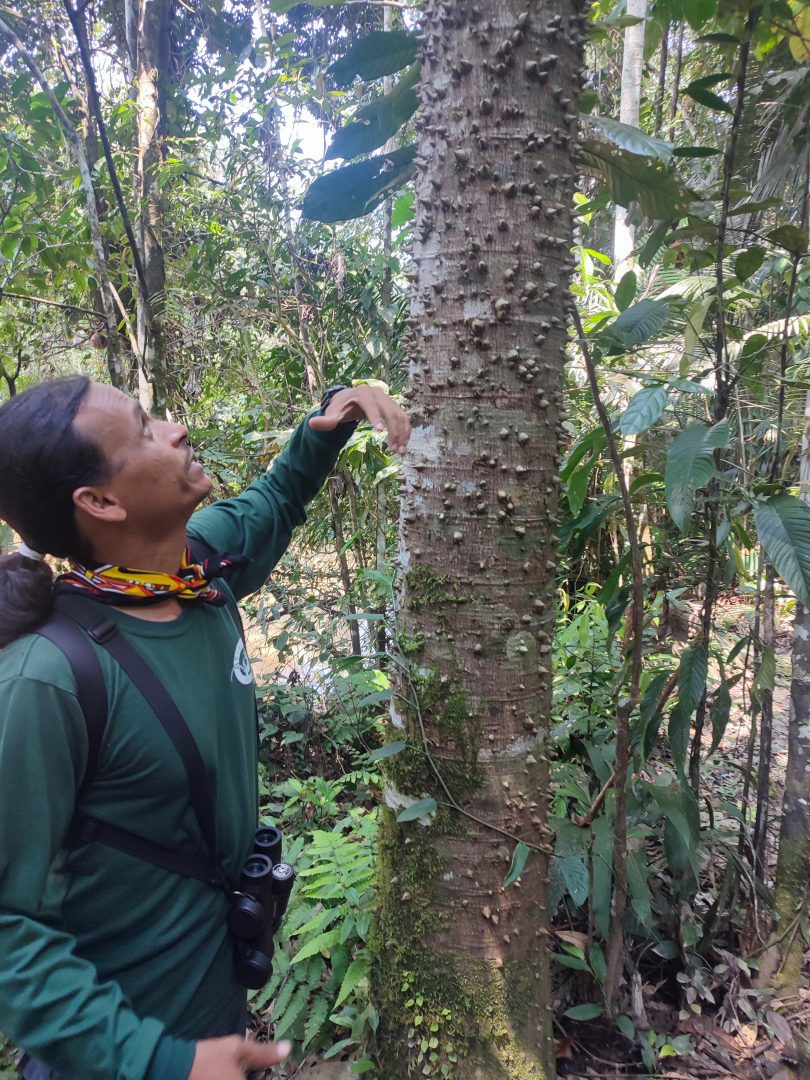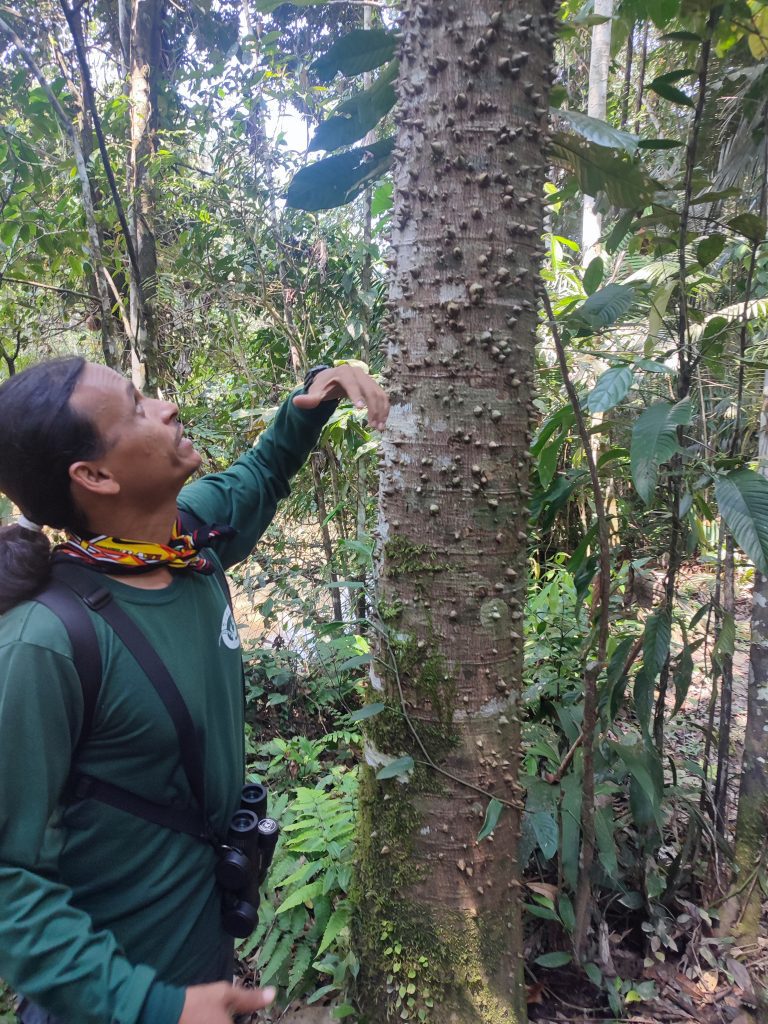 The second-largest reserve in Ecuador is the Cuyabeno wildlife reserve in the Amazon. three rivers, including Cuyabeno, Aguarico, and San Miguel, that flow through the reserve must be crossed to get here. Cuyabeno is unique in that it has tiny river forks, putting you closer to the onshore animals.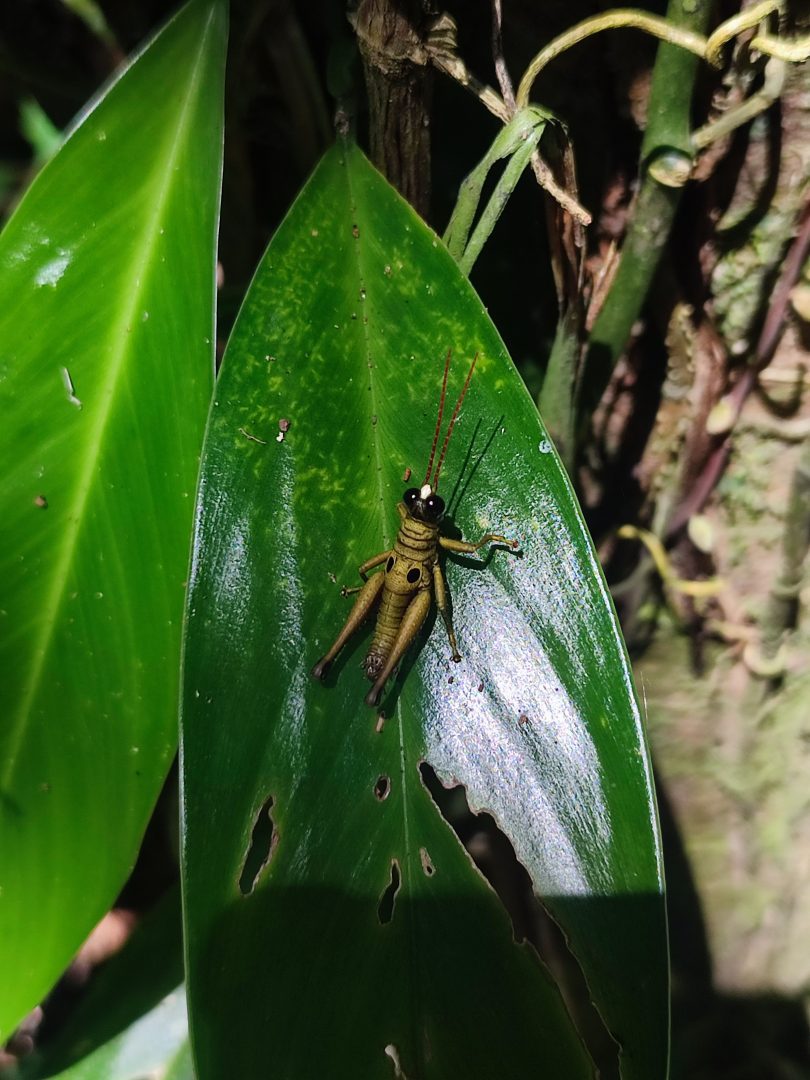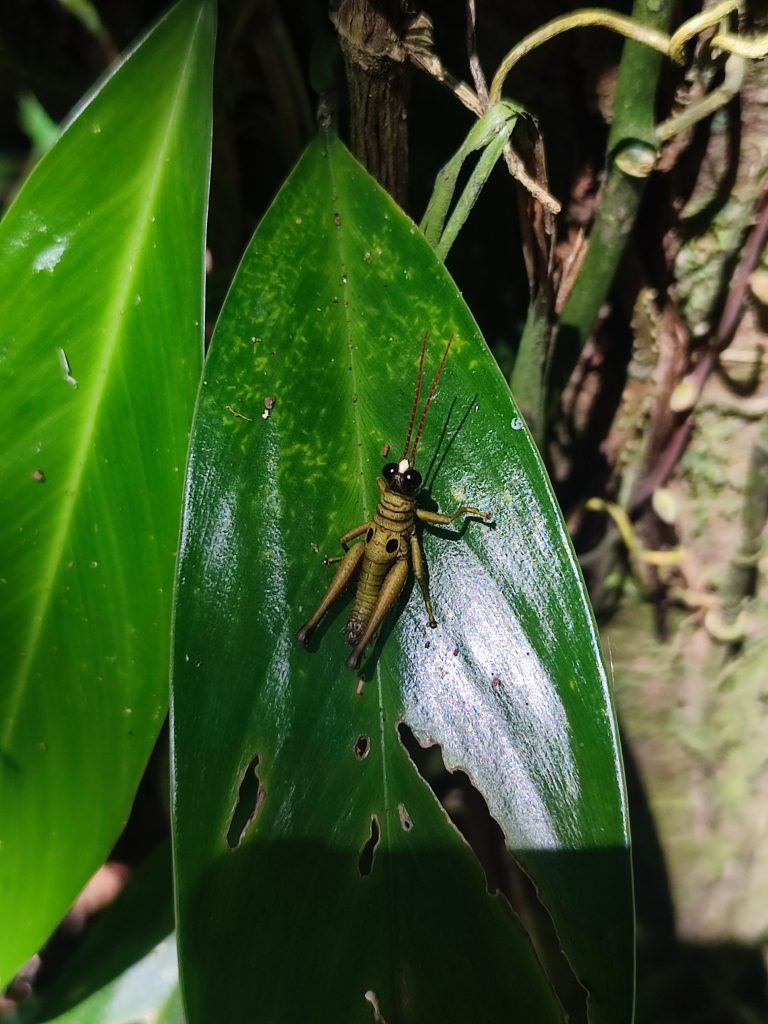 There are many wonderful things about this area, like resting in a lodge in the heart of a rainforest, hearing only the sounds of wild animals at night, and swimming in rivers where big animals live.
Along with the stunning surroundings and wildlife, the inhabitants are interesting to behold. The residents welcome guests into their homes and are exceedingly hospitable. I learned about how they live and provide for their family.
17. Bike Or Drive Throughout the Waterfall Route in Baños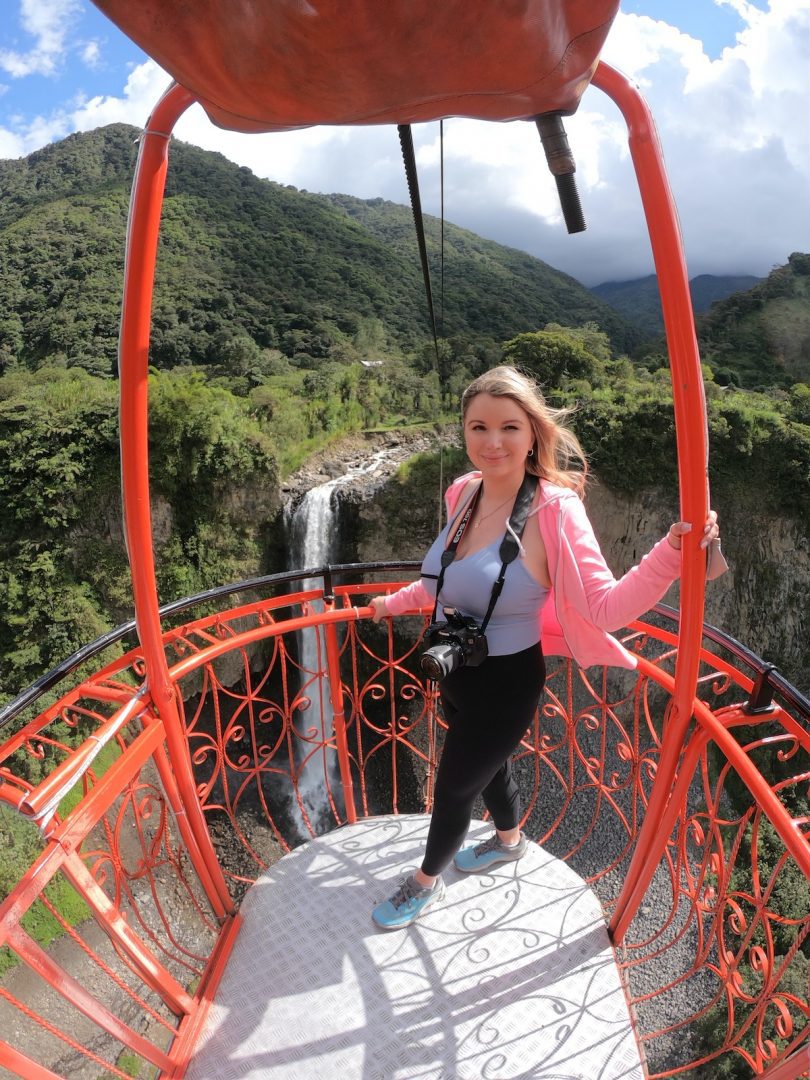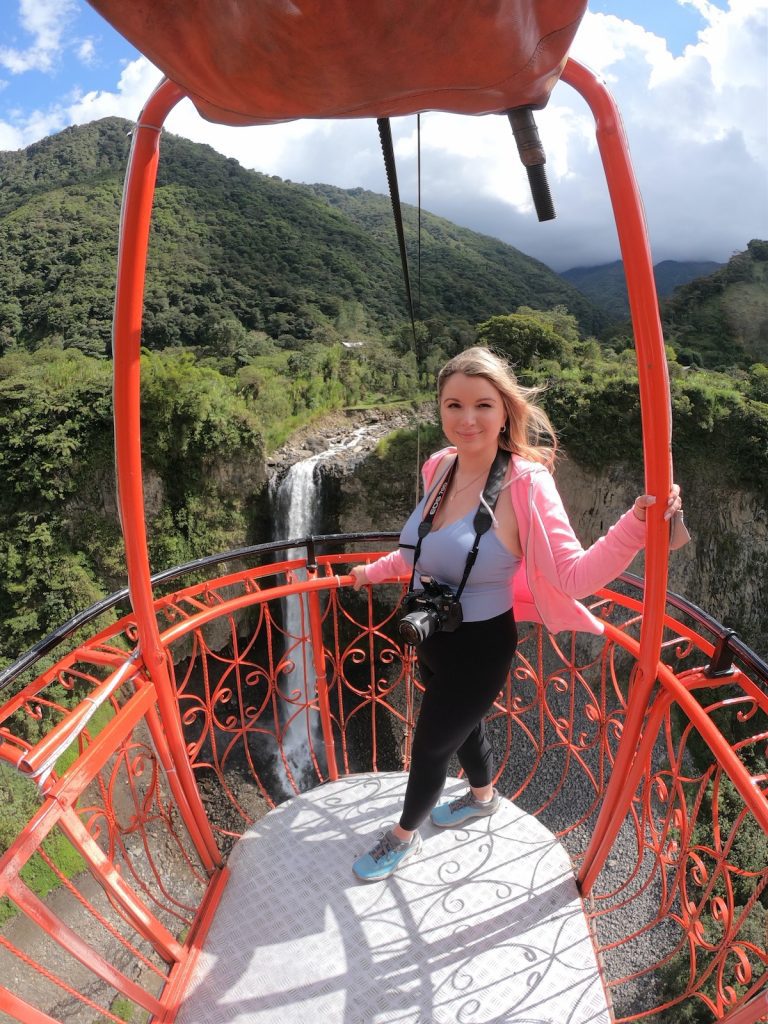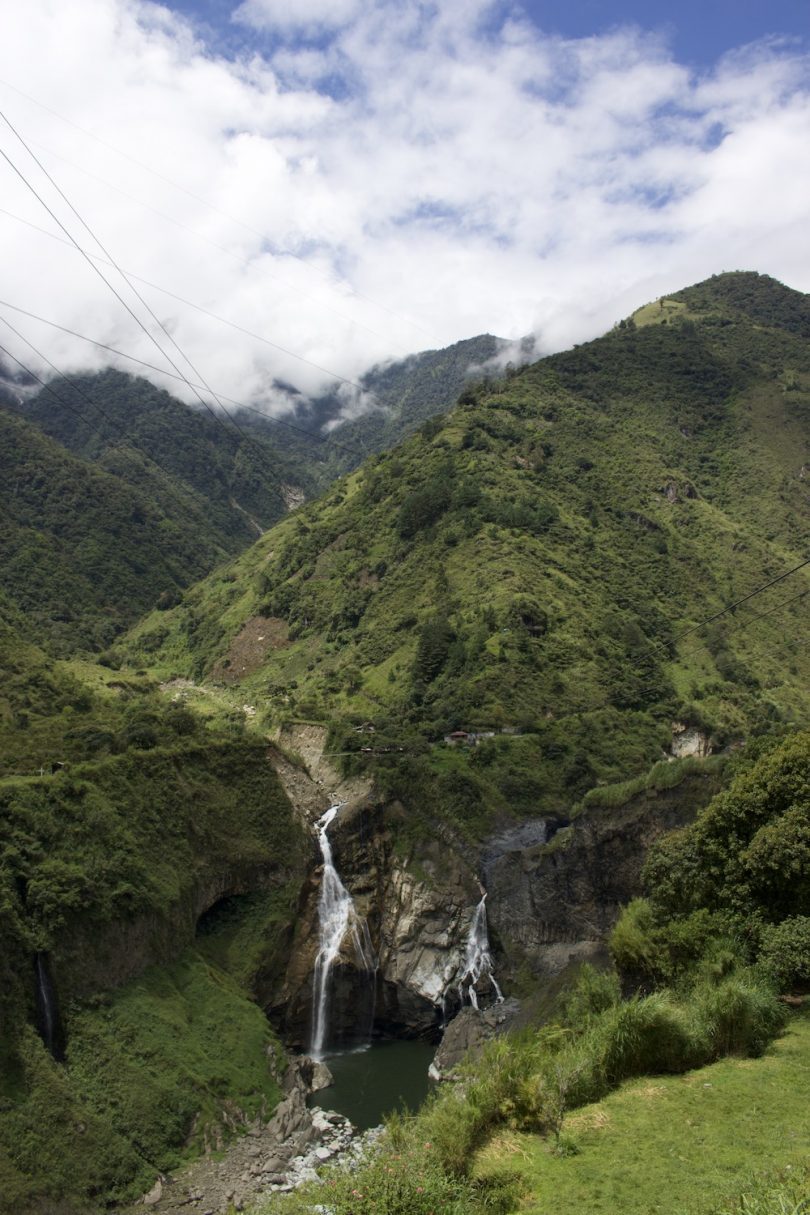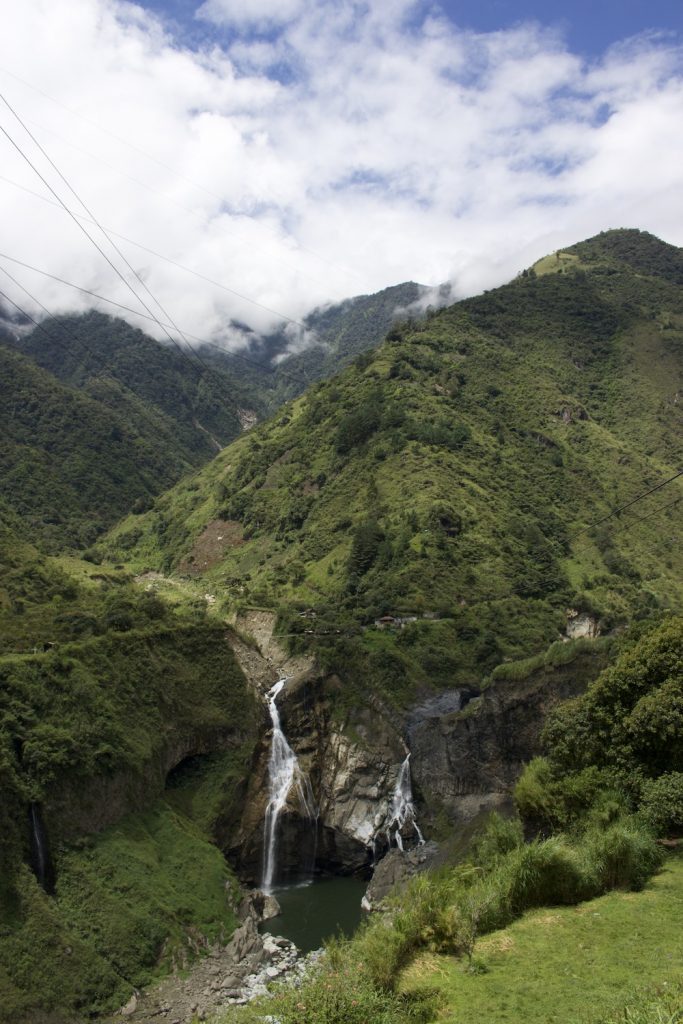 The "Waterfall Route," a winding road that is carved into a steep slope and follows the Pastaza River, connects Baos and Puyo. Along this path, you may visit a number of well-known waterfalls, and taking a tour of them is an exhilarating journey.
According to what was mentioned to us, there could be seven to twelve waterfalls visible along the route. The five waterfalls you are most likely to encounter are the double Manto de la Novia (also known as the Bride's Veil), Cascada Agoyan, Cascada Agollan, Cascada la Piedra, Machay Waterfall and Cascada Pailón del Diablo.
You can choose to take a tour of Ruta de las Cascadas if bike riding isn't your thing. These trips typically take the form of Chiva buses which are flamboyant party buses that usually play upbeat music.
18. Get a Real Amazon Experience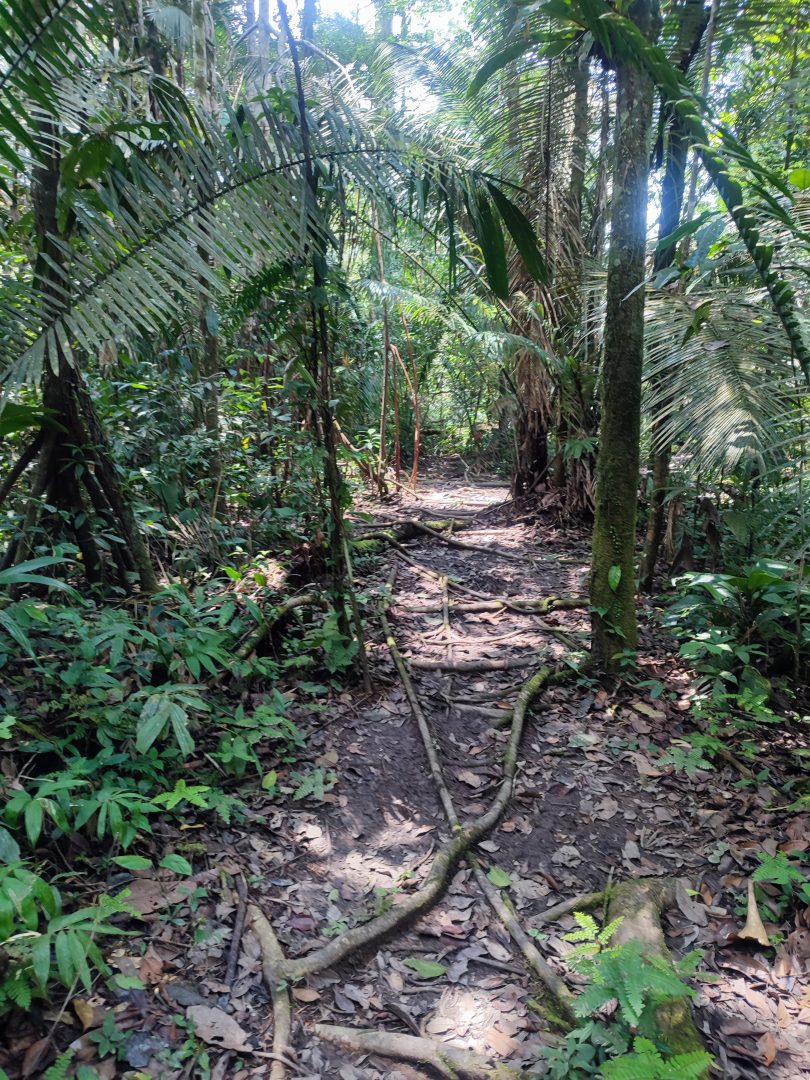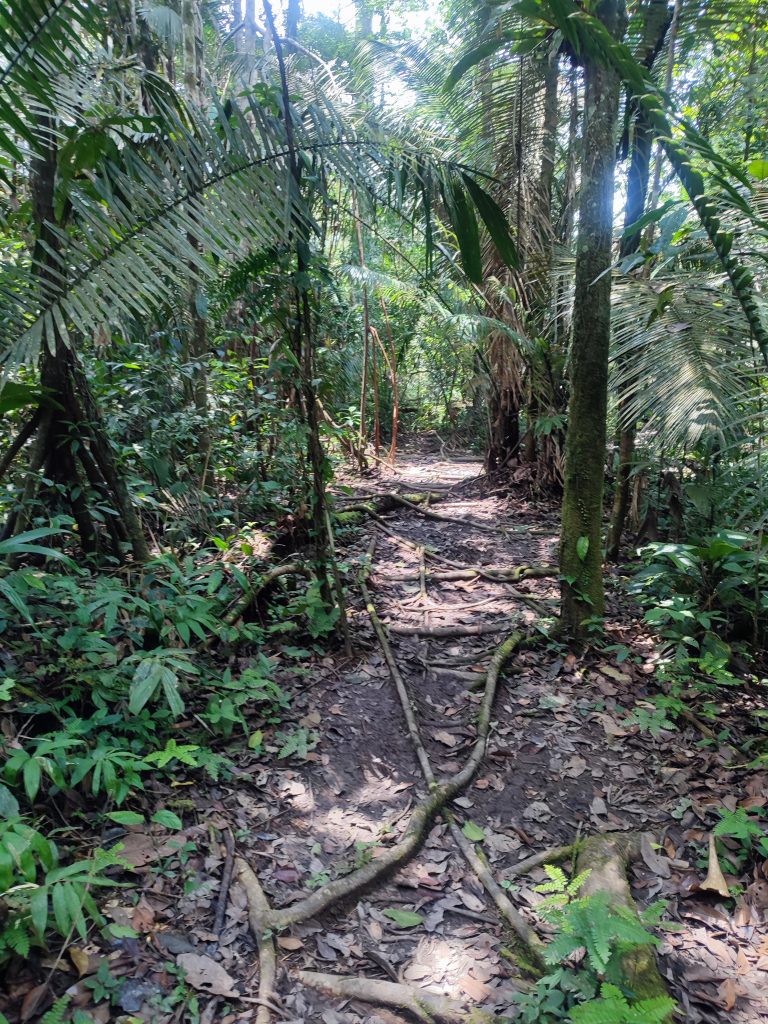 An Ecuador Amazon tour is a terrific way to learn about this area of the Amazon. Some of the world's most biodiverse places are found here. 
Ecuador's Yasuni National Park and Yasuni Biosphere Reserve are considered to be the most diversified areas on Earth. It is the area of the Ecuadorian Amazon that is best protected and has the greatest diversity of plant and animal species.
There are numerous possibilities for jungle trips in Ecuador's Amazon region, including those organized by independent tour operators and those reserved through Amazon lodges.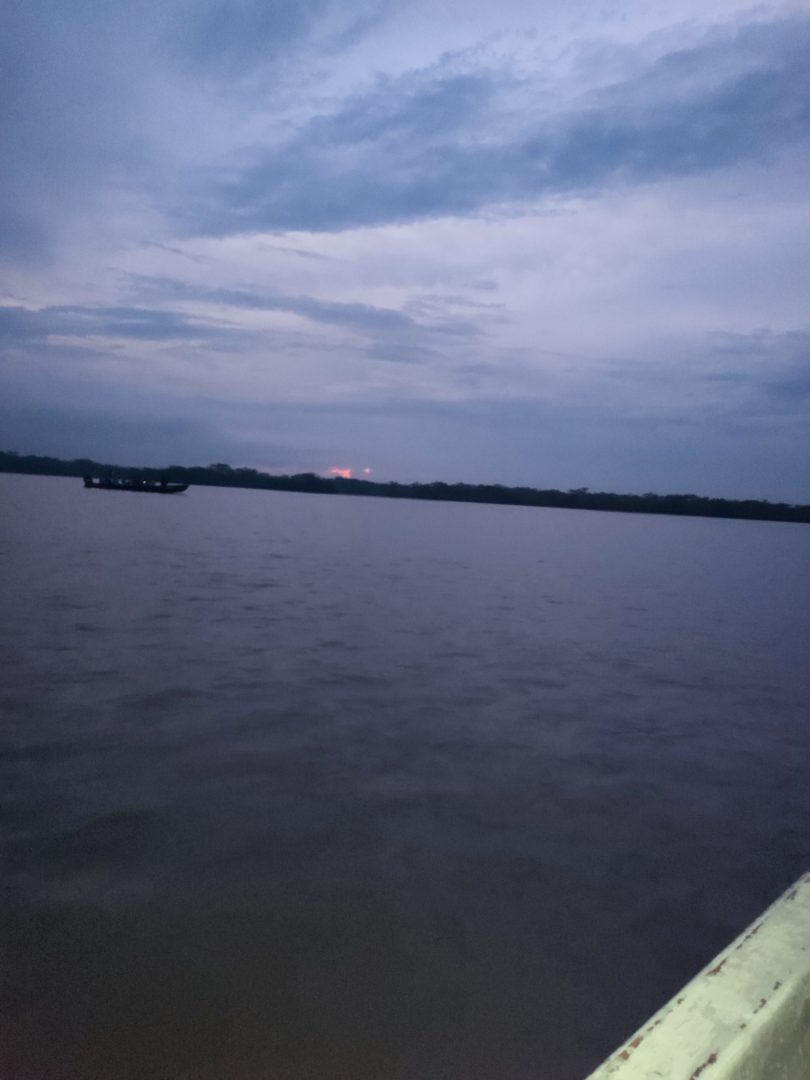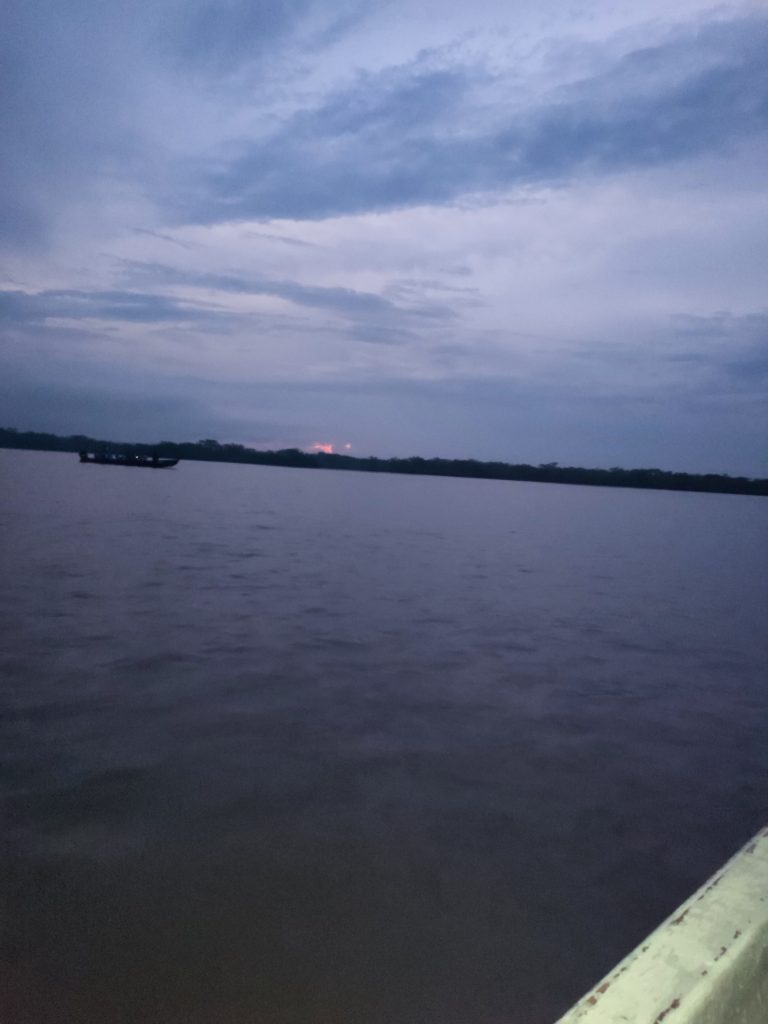 Tena's jungle excursions are typically the finest options for inexpensive travel in the Amazon because it is the most convenient starting place in Ecuador's rainforest and is located right on the edge of the forest.
One of the most memorable Amazon tours Ecuador has to offer is rafting through the Amazon, and Tena is a favorite site for this activity. It is a one-of-a-kind experience for me and I love every moment of it.
Numerous rafting excursions and tours also include basic lodge lodgings in the rainforest close to Tena and can be extended over a few days with additional jungle walks.
19. Visit the Neo-Gothic Basílica del Voto Nacional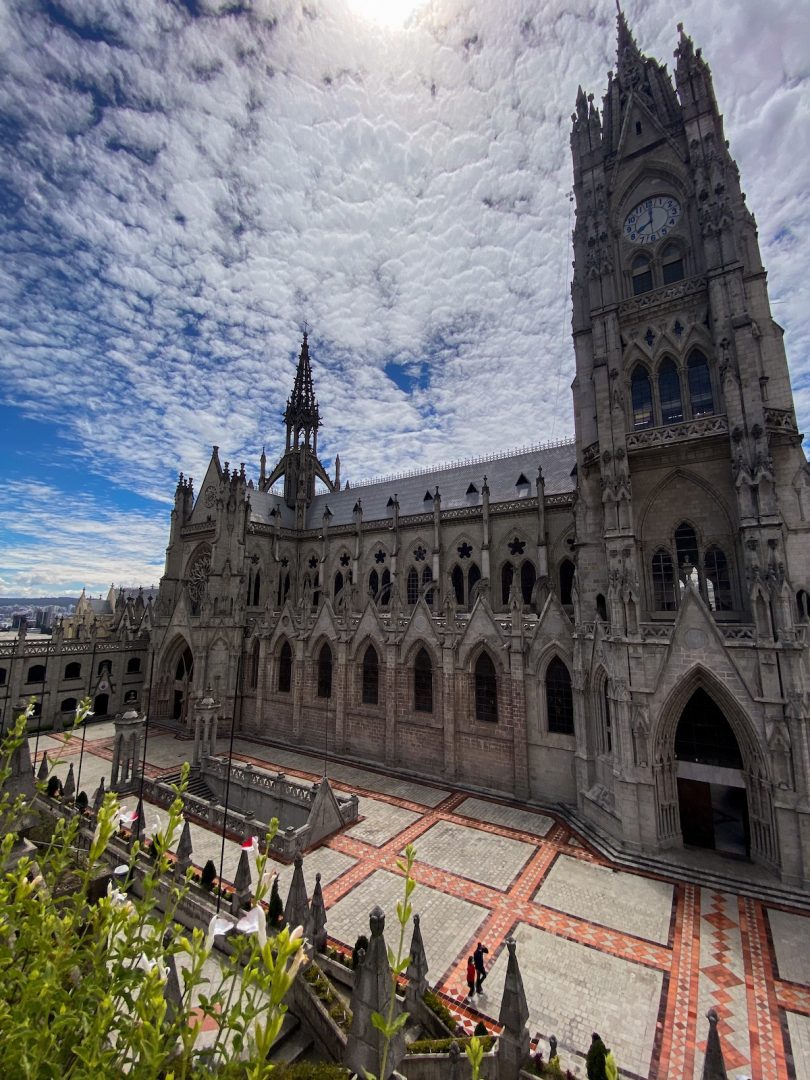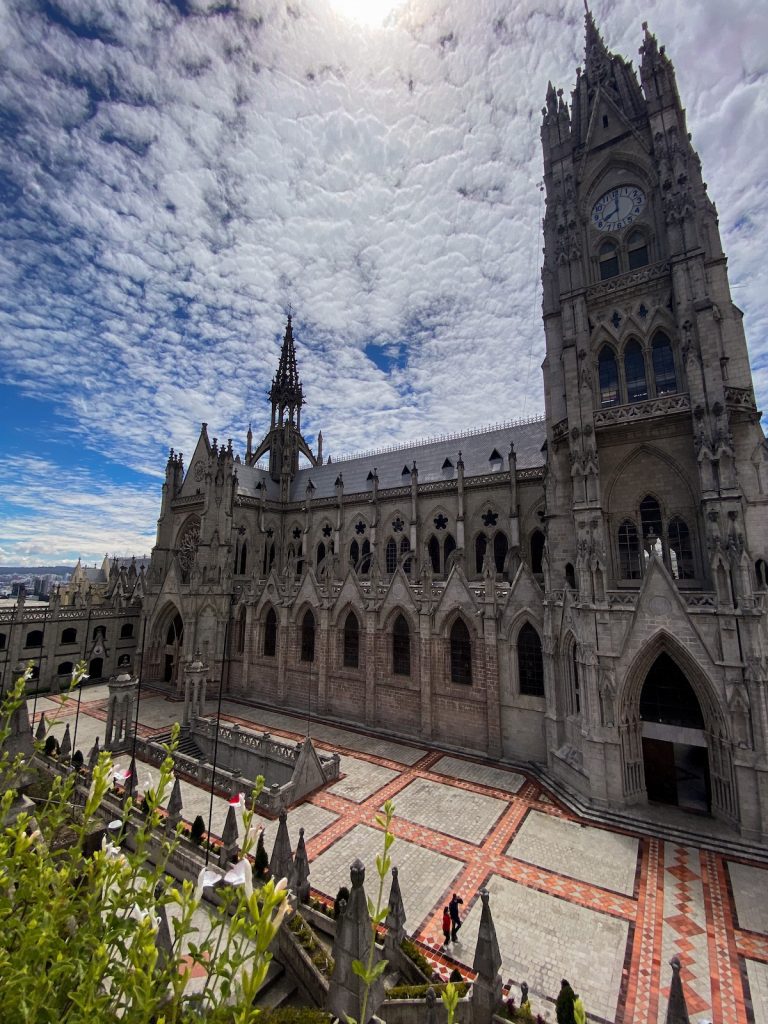 The Neo-Gothic Basilica del Voto Nacional is a religious structure that may be found in the heart of Quito, the nation's capital. The church can be seen from all across the city because it is situated over a hill that separates North Quito from the downtown area.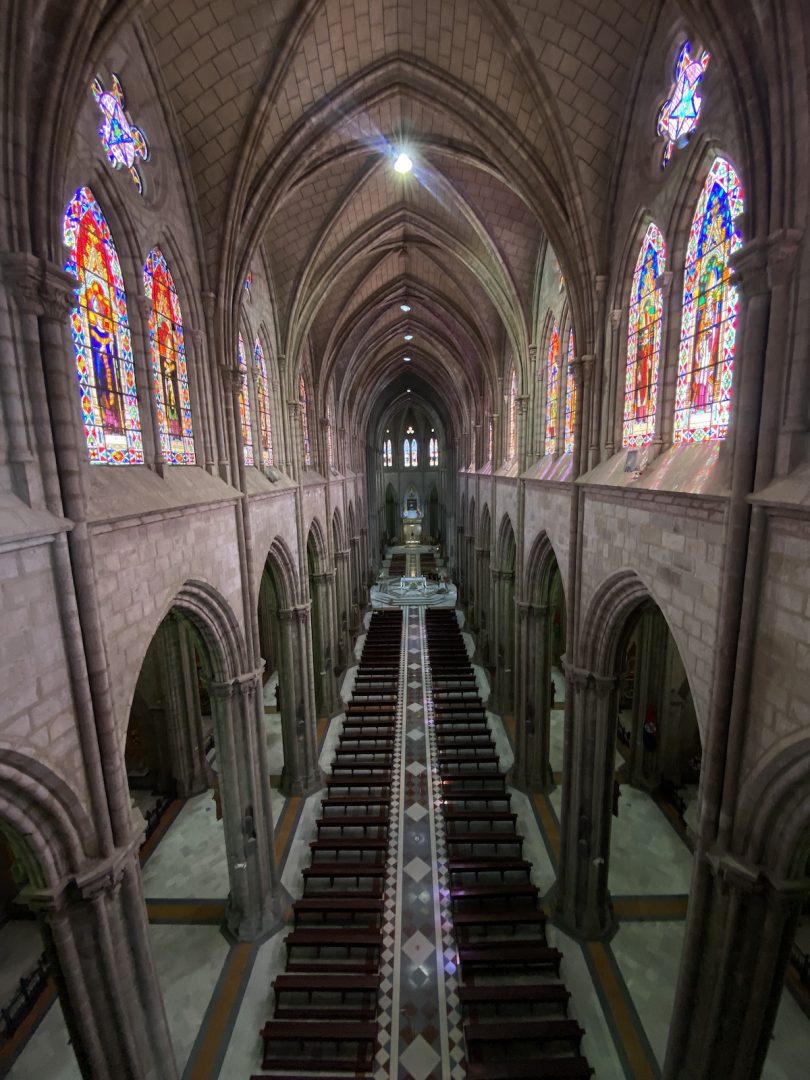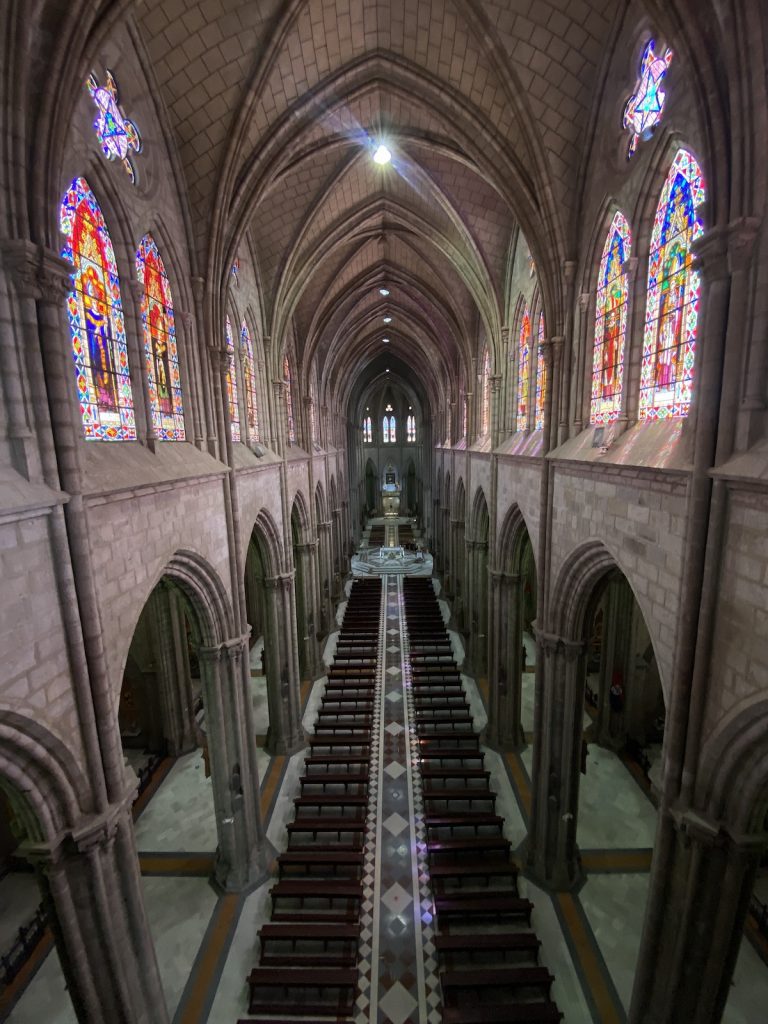 The structure is included on the UNESCO World Heritage List along with Quito's historic district. Because of its enormous proportions and exceptional architectural and aesthetic significance, it is regarded as the largest Neo-Gothic temple in South America.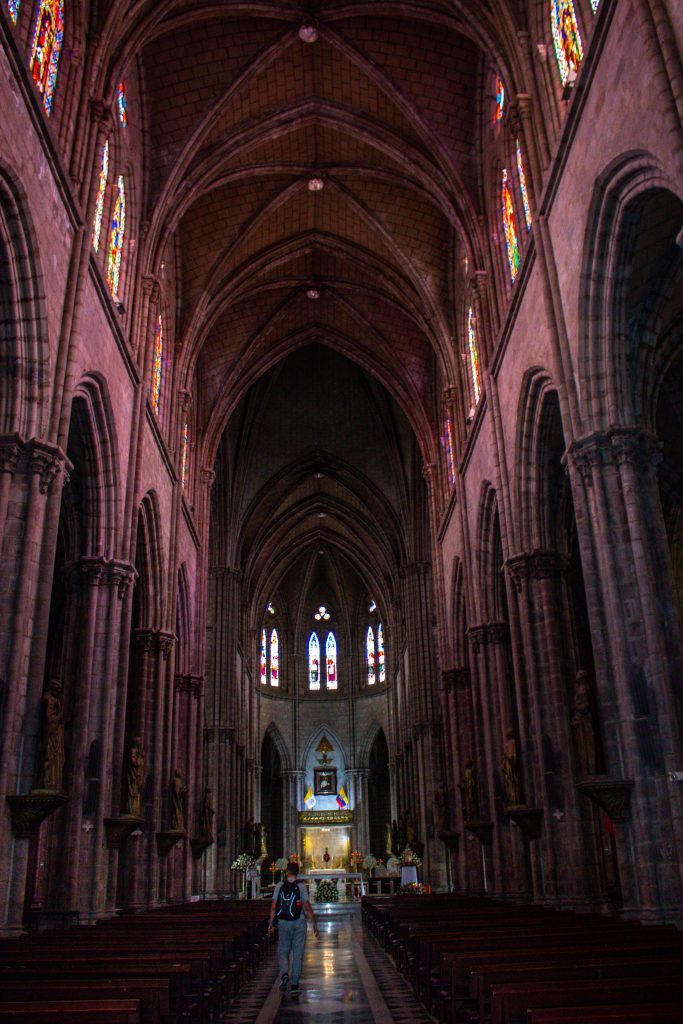 The gargoyles, stained-glass windows, and acroteria present throughout the architectural design are, in my opinion, the building's strangest and most beautiful elements. Instead of traditional mythological characters, they were carved to depict the indigenous endemic flora and animals of Ecuador.
I wouldn't suggest climbing onto the top of the Basilica if you are afraid of heights or have vertigo. The climb can be too much for you. Nonetheless, the view on top is worth the time and effort of going up.
20. Ride the TelerefiQo and Try to Climb the Pichincha Volcano
The finest way to see Quito is by riding the Quito Teleferico, one of the tallest aerial lifts in the entire world. Once you're up there, you can be proud of yourself for successfully completing the physical challenge of climbing Pichincha Volcano (4,784 meters), if you're up for it.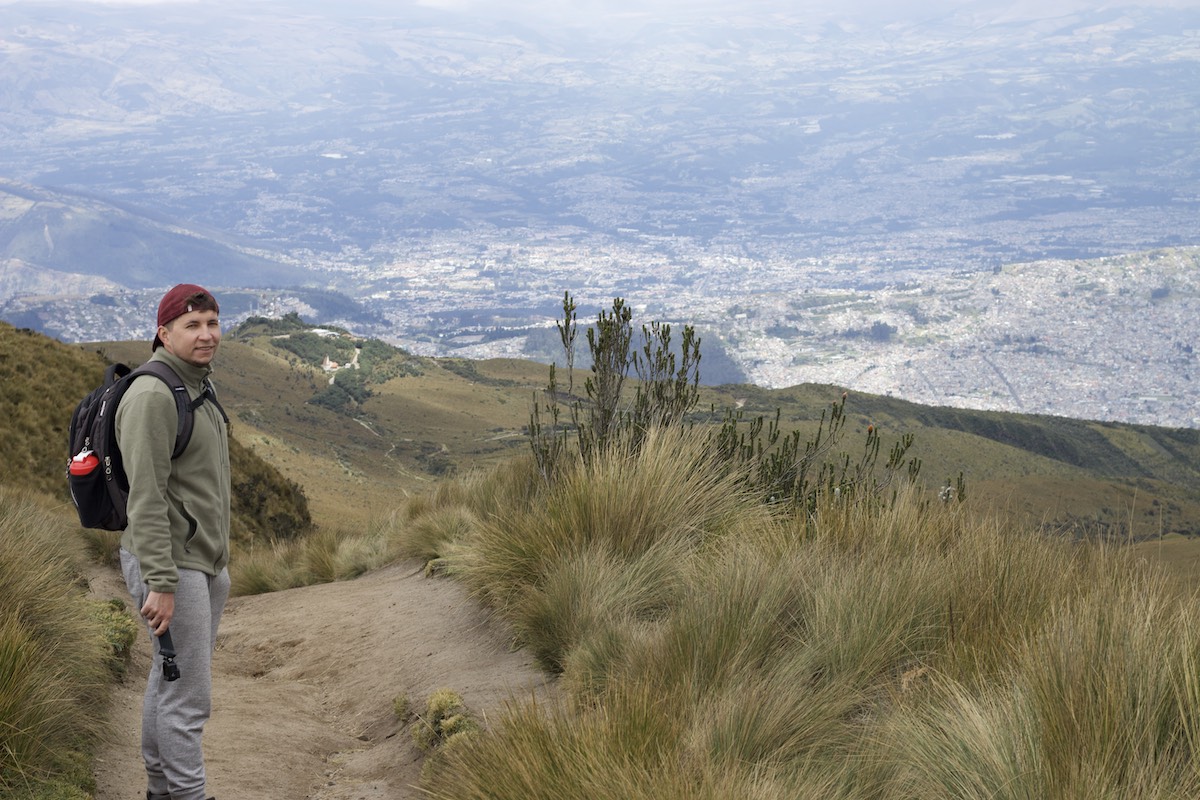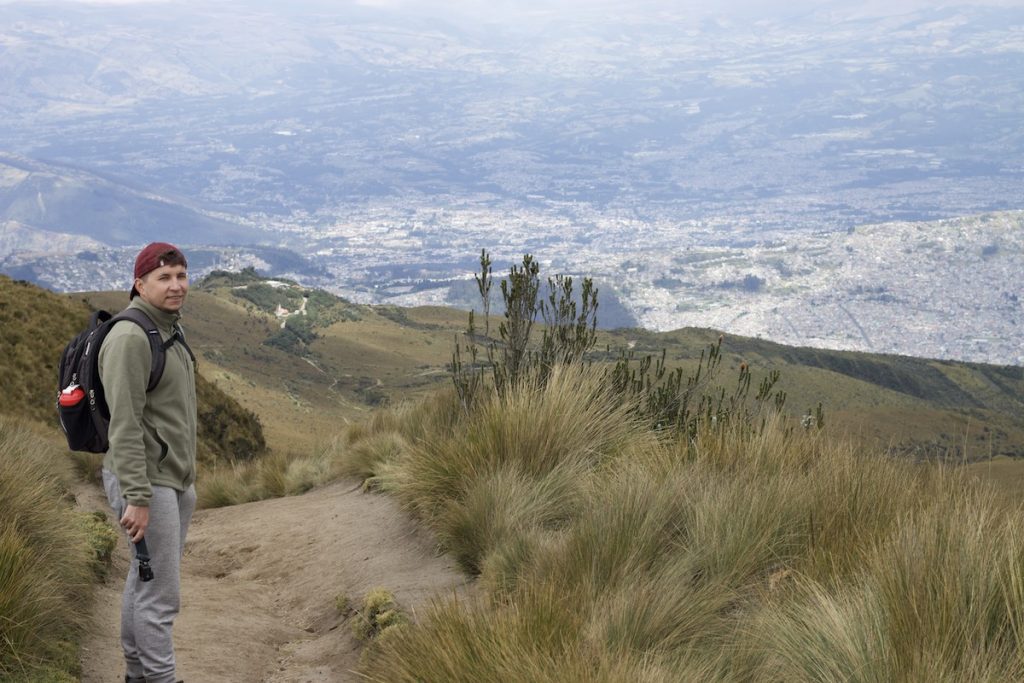 Our TeleferiQo ride was speedy and smooth, and we were at the top of the mountain before we knew it. Remember to stand carefully and take it easy before disembarking.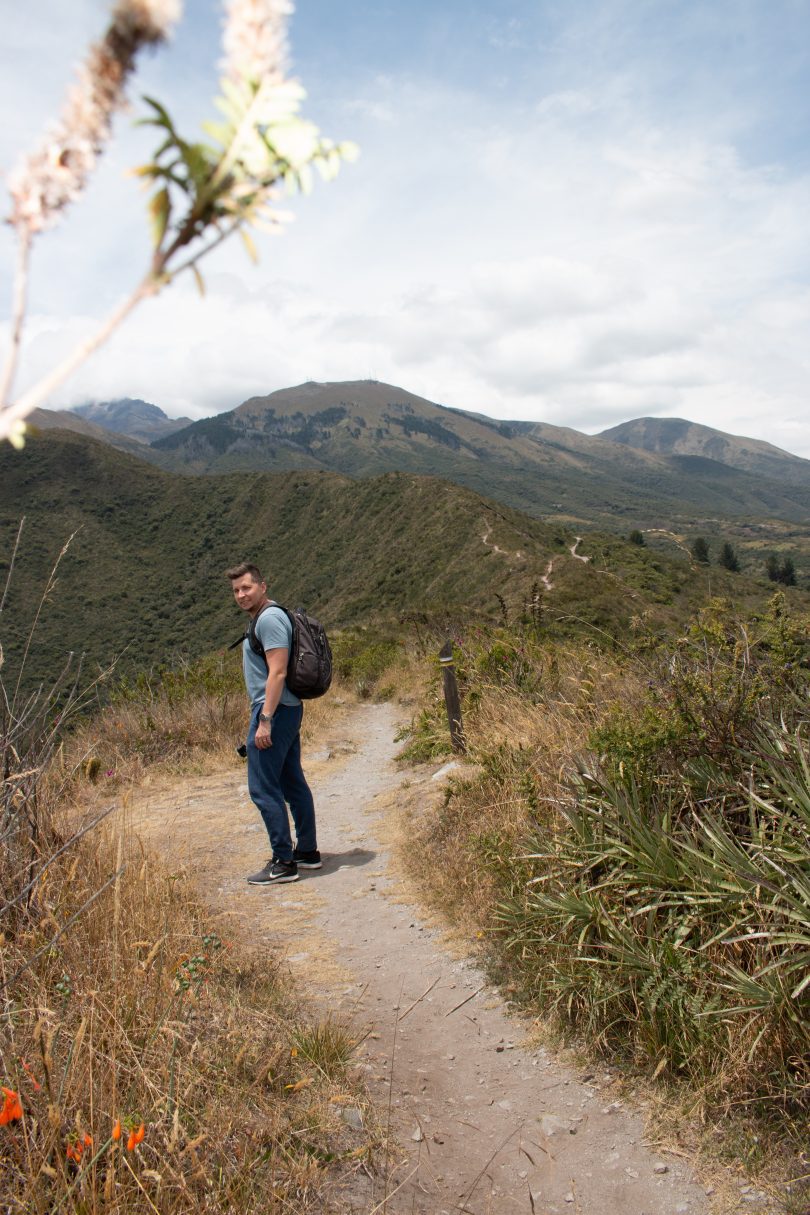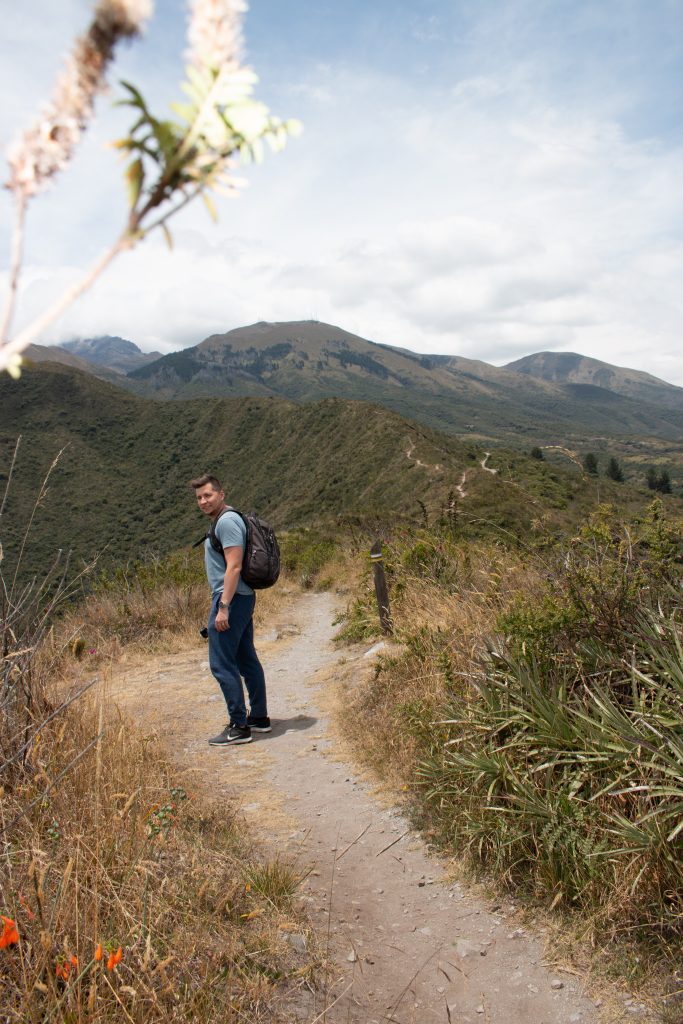 If you've never been to such a high altitude before, you might be startled at how quickly your heart begins to beat as you begin to stroll around.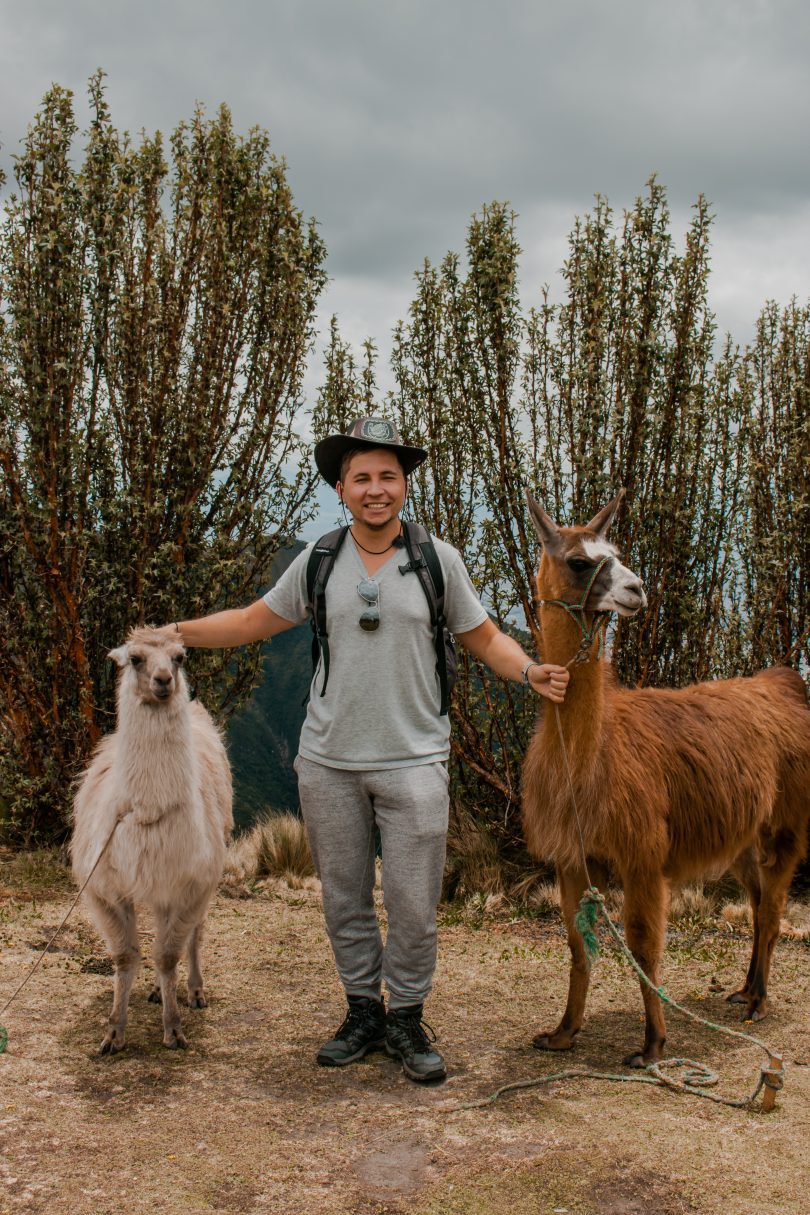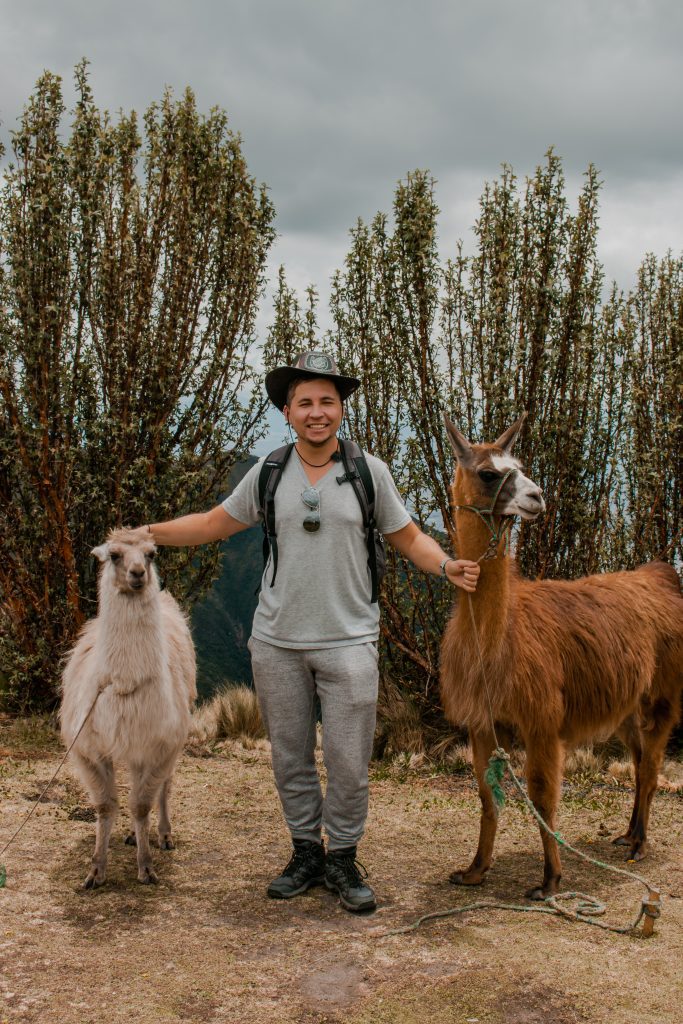 If riding the Teleferico isn't enough, you can gear up and try climbing Pichincha Volcano.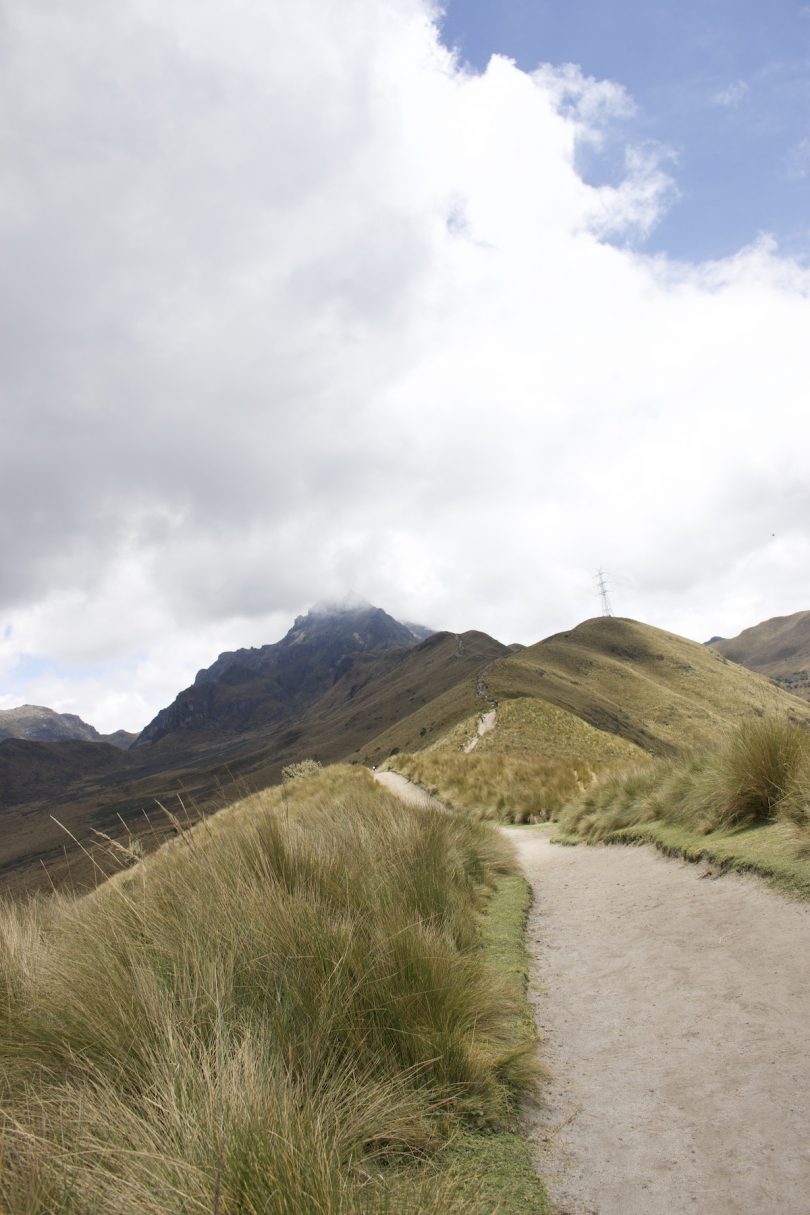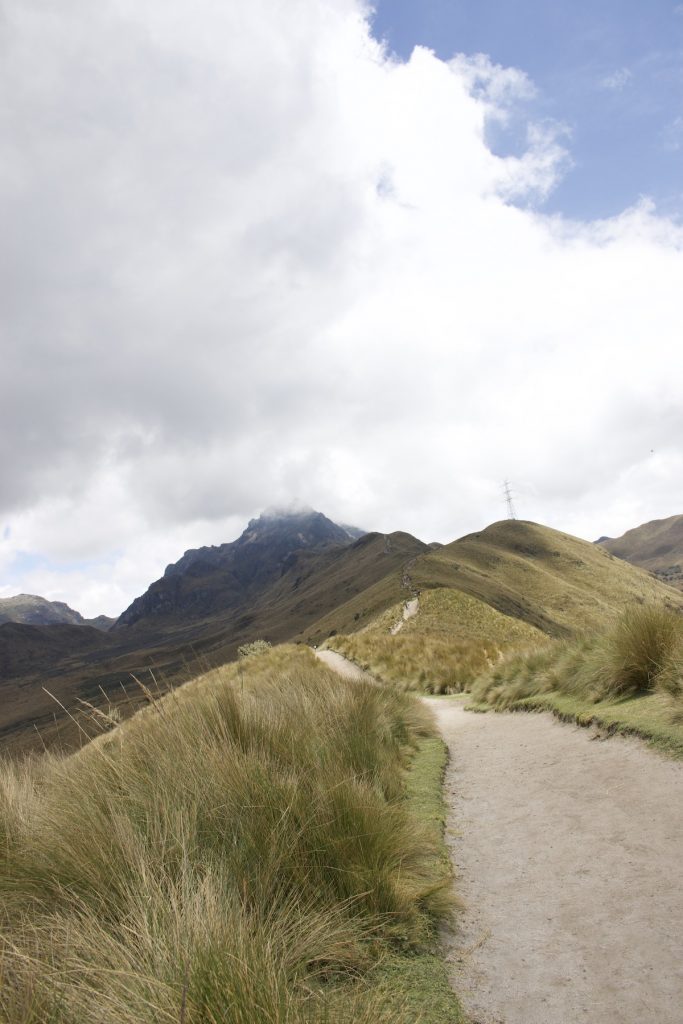 The Rucu Pichincha volcano is located just outside of Quito. Hiking Rucu Pichincha from the disembarkation point took us three to four hours.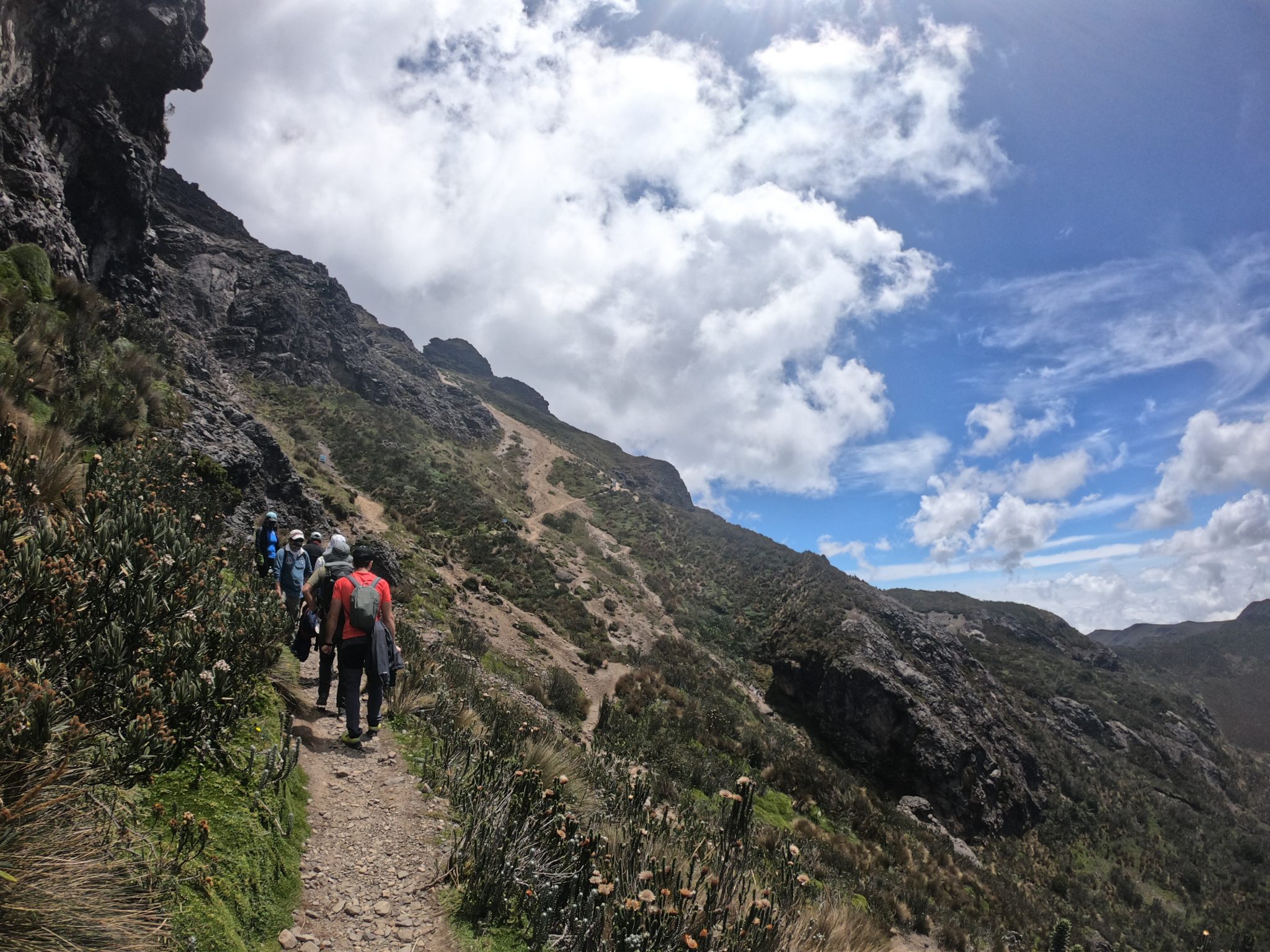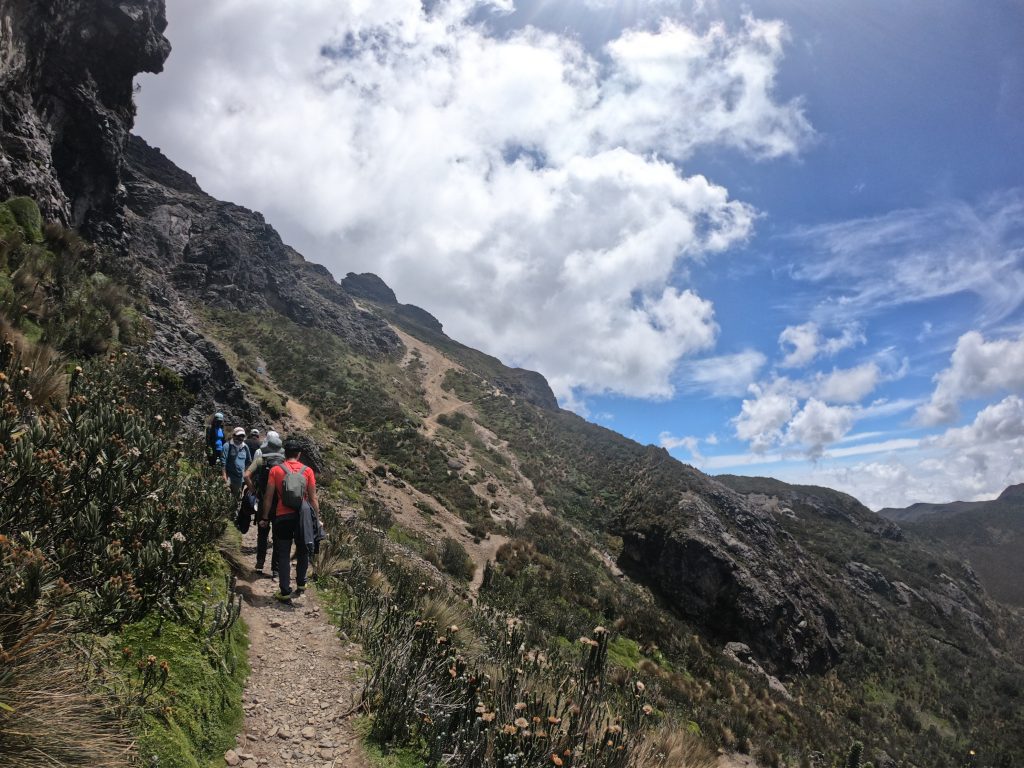 The walk to the top of Rucu Pichincha is around 10 kilometers (6 miles) long and will take 3-4 hours.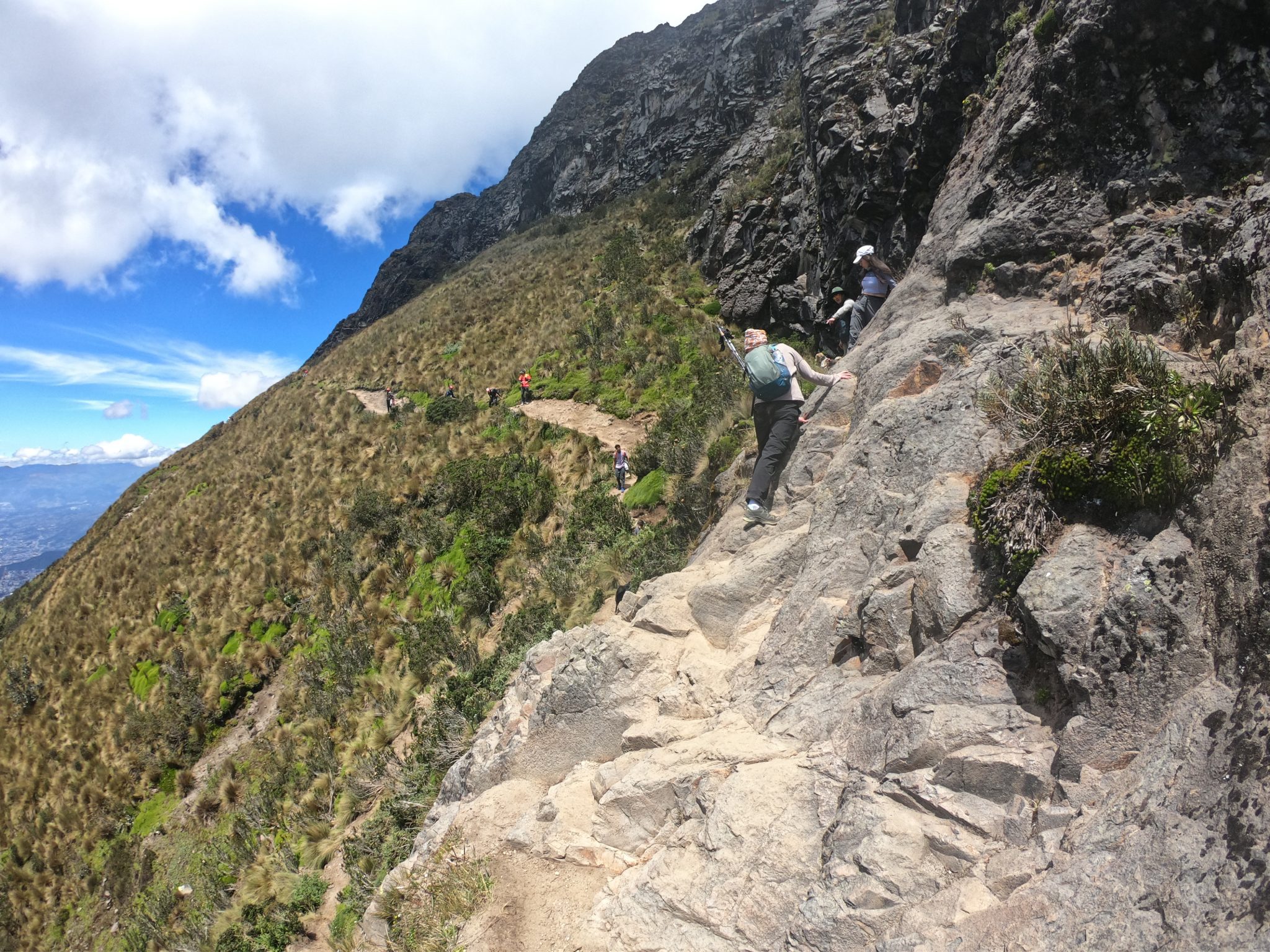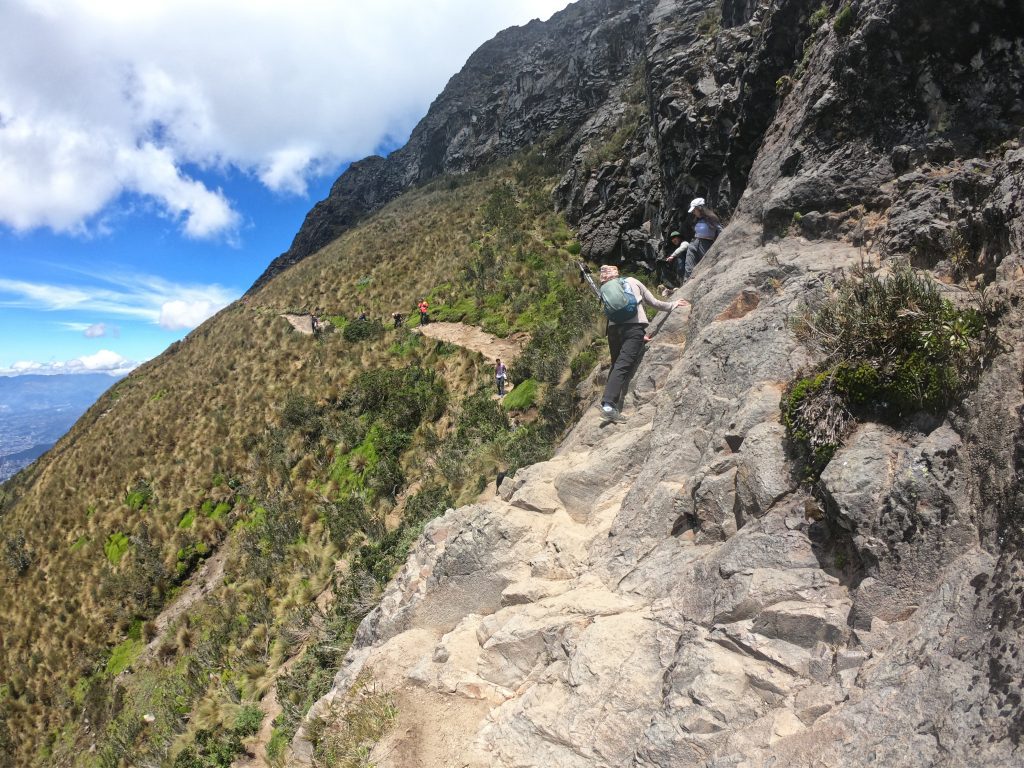 The trail isn't particularly well marked (with trail markers frequently facing backward), but there have been enough people to trample a trail.
21. Pose for a Photo at Finca Mirador Induchuris
Finca Mirador Indichuris, located approximately an hour outside of Puyo in the Amazon jungle, is one of the region's most magnificent vistas.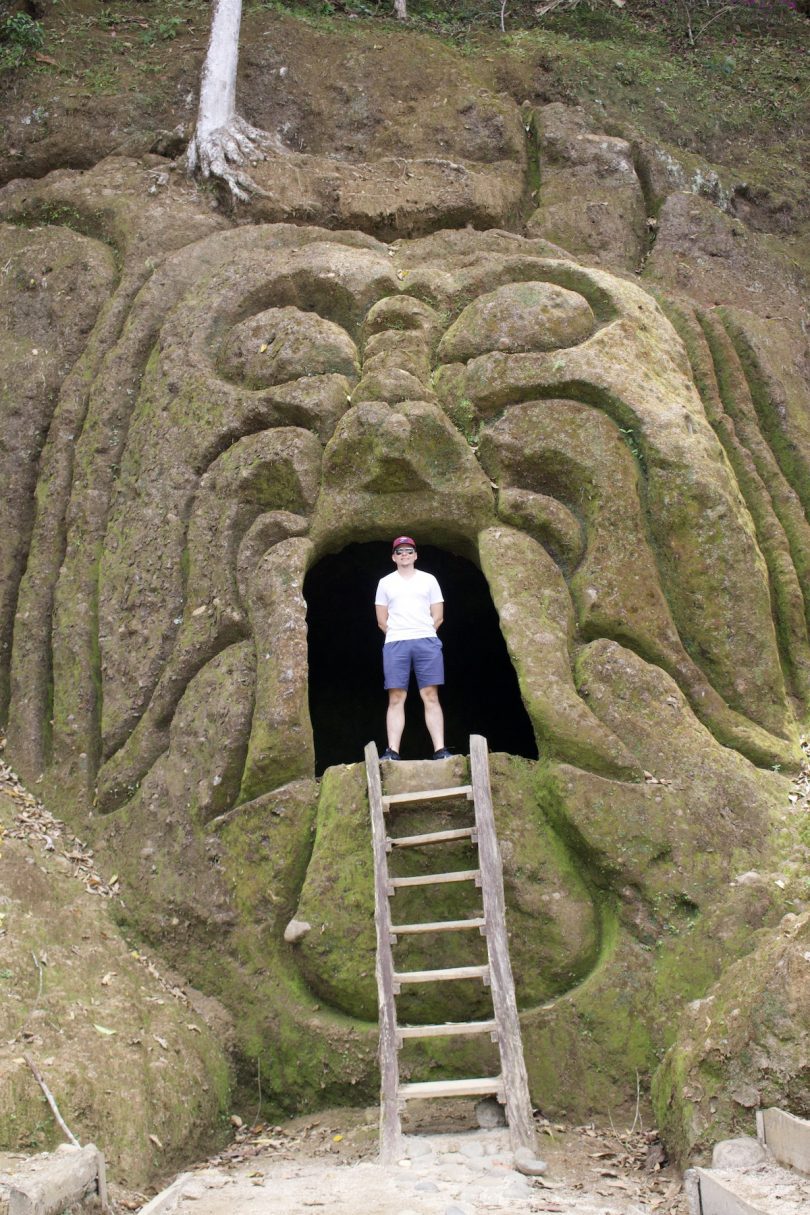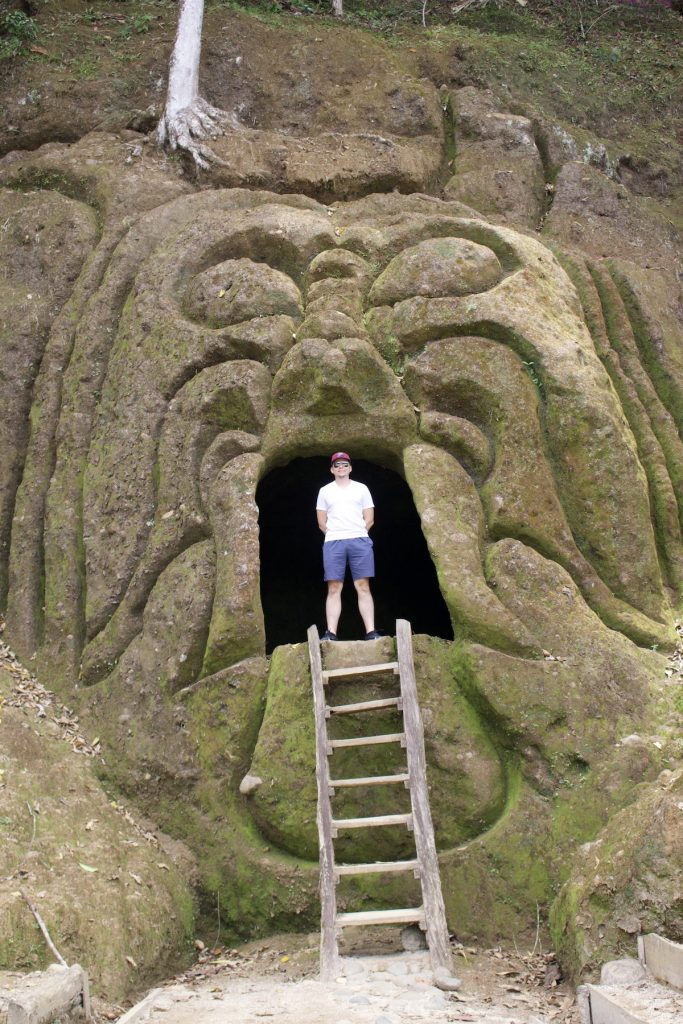 We investigated the little caves at Indichuris, climbed the mountain, and, like the other visitors who visit Indichuris from all over Ecuador and South America, we admired the view from the top. People are constantly lining up to capture beautiful photos of the landscape. We dutifully waited in line to walk the plank and obtain that big shot.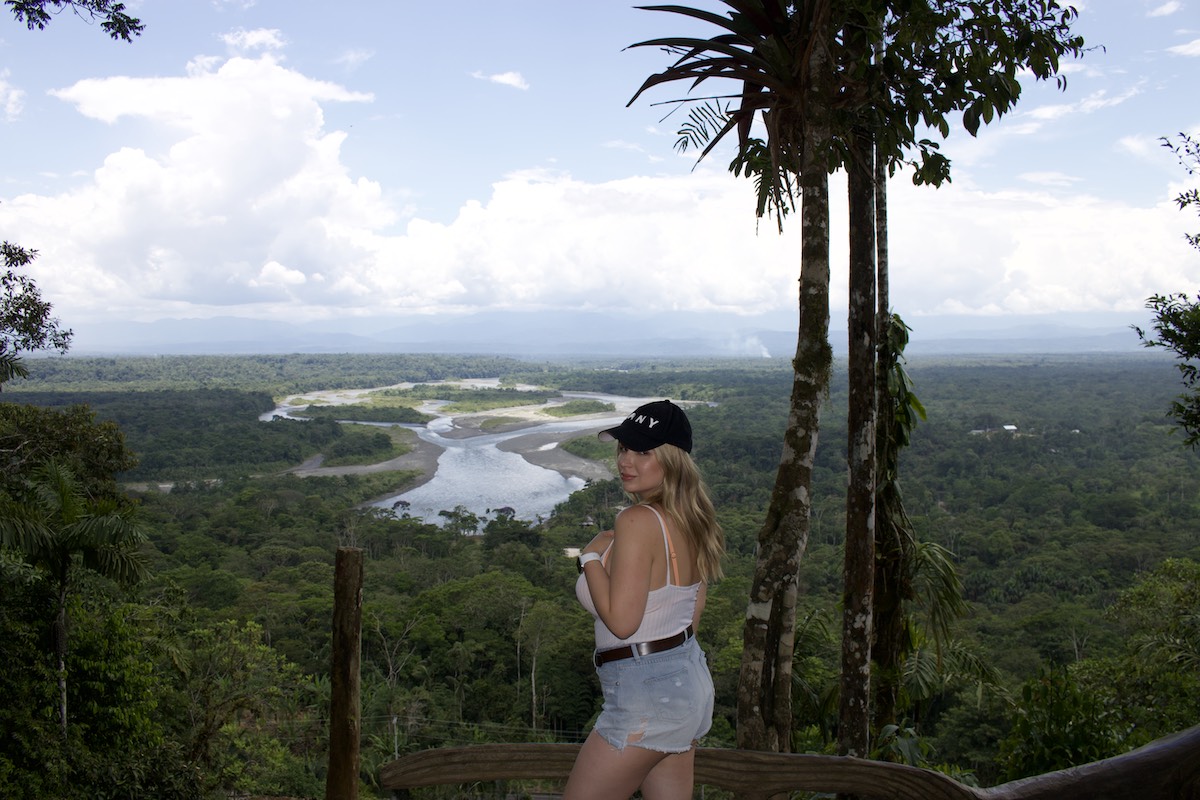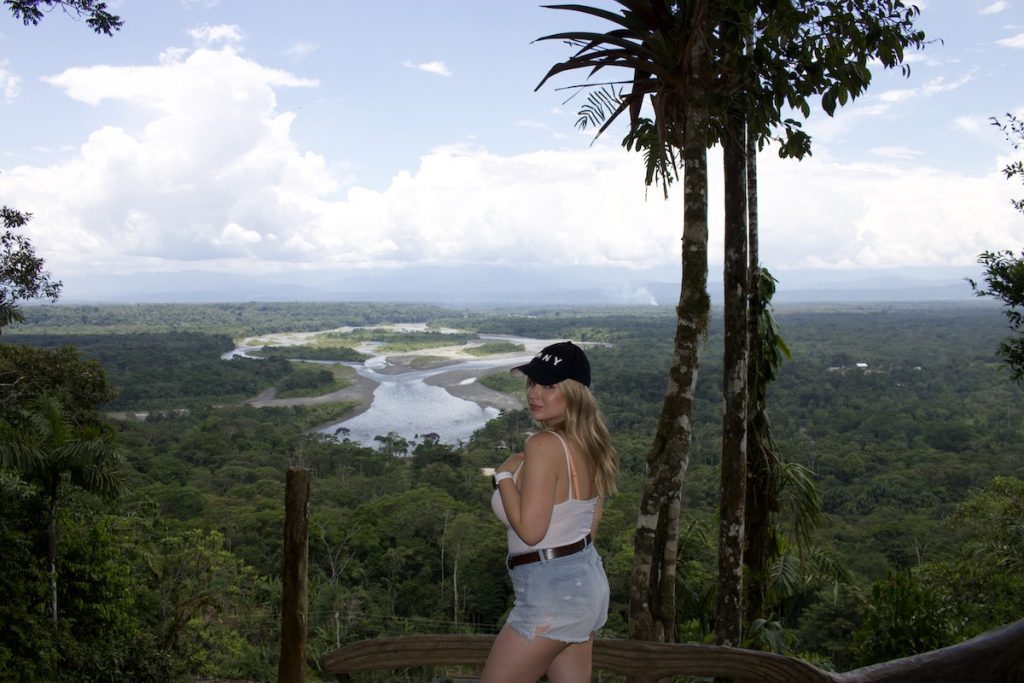 There are hammocks where you can relax while waiting for the photo opportunity. Also, there is a swing on top that you can ride on if you feel to take on a more adventurous trip.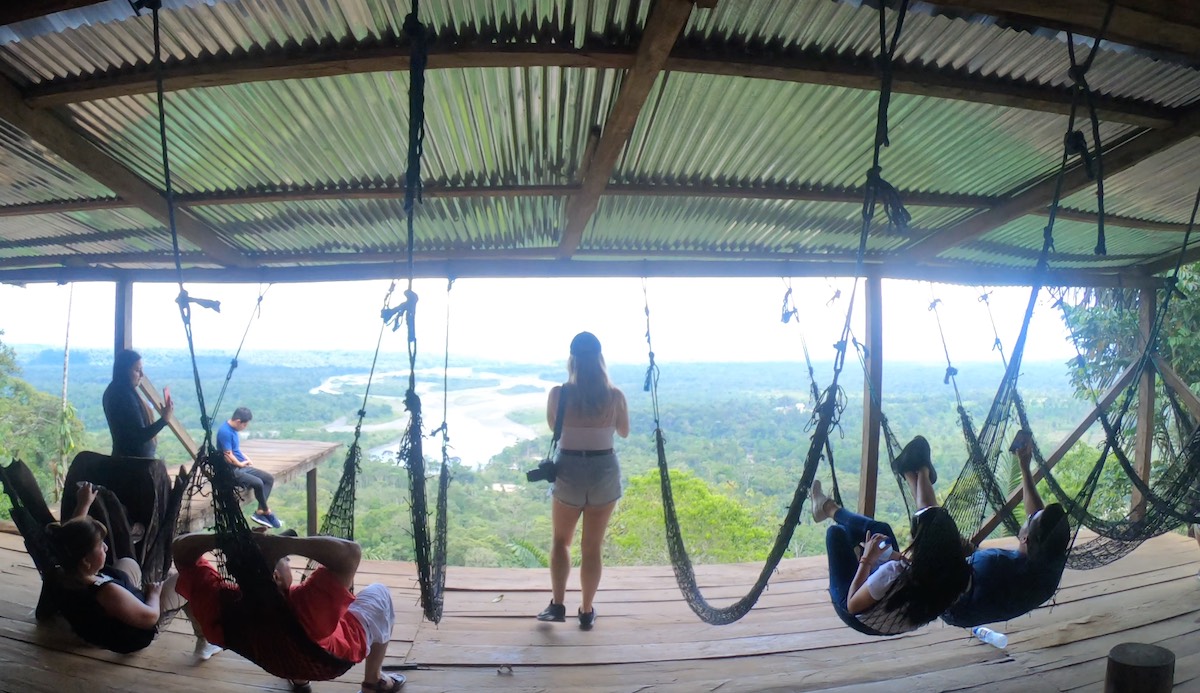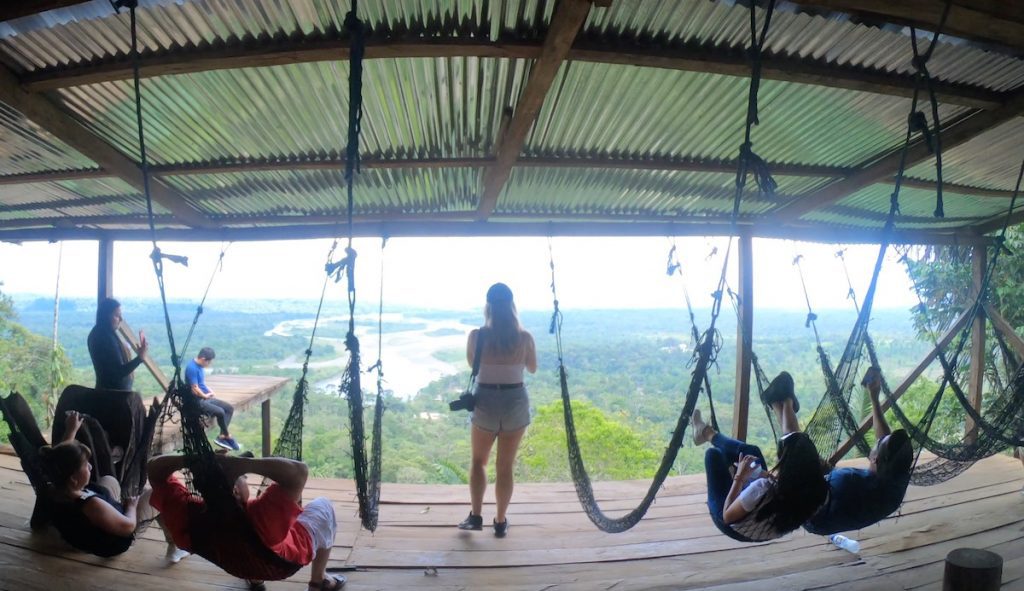 Conclusion
The activities mentioned above are only a gist of what you can do in Ecuador. There are plenty of other things you can enjoy doing in the country that wasn't mentioned on the list. 
Anyone who will surely enjoy visiting Ecuador with all the places and activities you can explore. It is undoubtedly a place worth spending your holiday at!
If you are visiting Galapagos Islands, the archipelago has a lot of things to offer which we discussed in a different article.