Ecuador is more than prepared to rise with some of the best eco-lodges in the world as sustainable tourism develops. Visiting the Amazon region is one of the must do things in Ecuador.
An eco-lodge is a kind of lodging that adheres to the following three principles:
The community must benefit from an eco-lodge.

It needs to be situated in a natural setting.

An eco-lodge must increase awareness and enlighten both staff and guests about how to preserve and protect a healthy ecosystem.
By staying at an eco-lodge, you can support the long-term conservation of regional habitats as well as the growth of the community's economy and welfare.
To help you plan your upcoming trip, we've put together a list of some of Ecuador's top jungle eco-lodges in this article.
Hamadryade Lodge
One hour from Tena, this French-owned eco-lodge option has a few upscale cabins with chic contemporary designs drawn from the local indigenous communities.
The waters of Ecuador's High Andes region meet the dense Amazonian rainforest at Hamadryade Lodge. It is an ideal location for activities like whitewater rafting, tubing, and canoeing.
The lodge is comprised of five spacious bungalows with wall-to-wall windows, overlooking the crystal-clear pool and river below. They are lavishly appointed with Italian linen, waterfall showers, and hand-woven hammocks. Check the current price here.
Cabañas San Isidro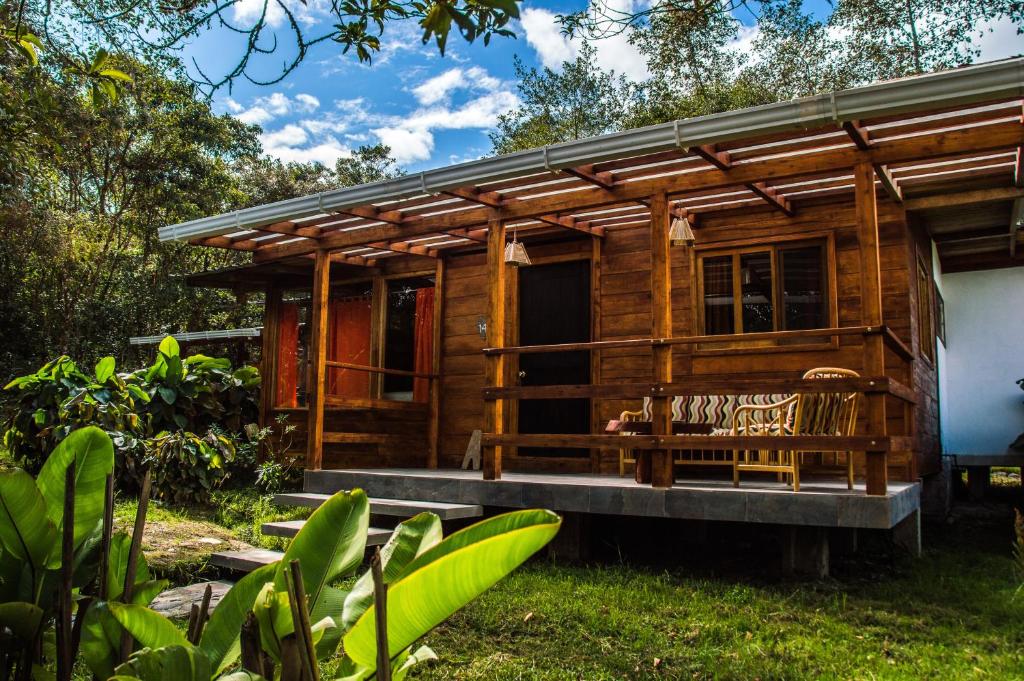 Cabañas San Isidro is only a three-hour drive from Quito and is located in a tranquil cloud forest.
This lodge has tastefully decorated private rooms, many of which have their own porches and hummingbird feeders. Private bathrooms and hot showers are provided in each room, which is comfortably furnished.
You can view the forest from your room's comfort thanks to the common areas' floor-to-ceiling windows. Birdwatchers frequently visit this location to observe the numerous species that can be found on the vast grounds that are divided by excellent trails. Check the current price here.
Mashpi Lodge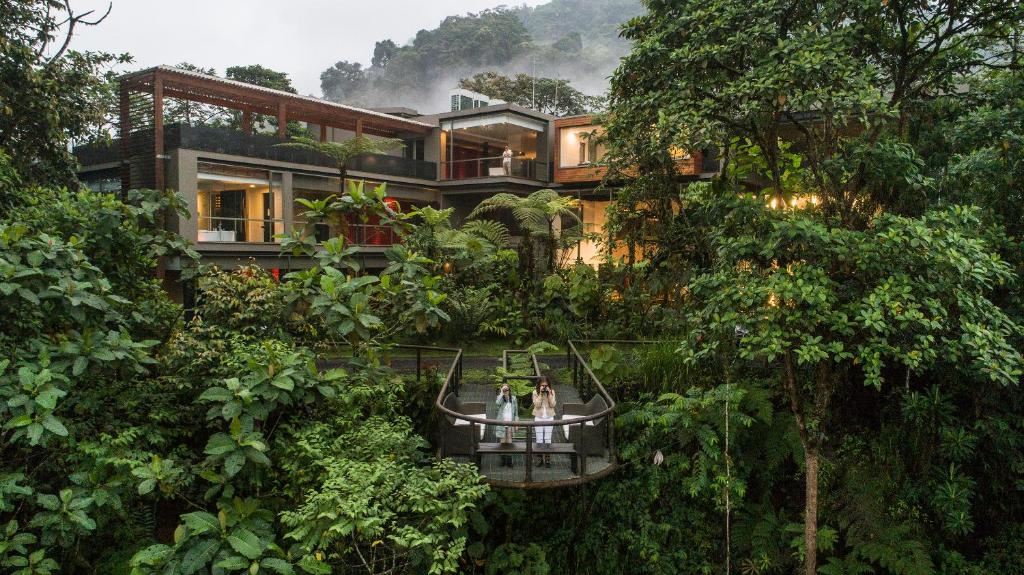 Given the dramatic change in scenery, it is surprisingly easy to travel from Quito to the Mashpi luxury eco-lodge in the Mashpi Reserve. One of the most biodiverse areas in the world, this all-inclusive luxury lodge is located deep within a private reserve that is made up of primary rainforest and cloud forests. 
The suites are spacious, light, and full of contemporary features like bamboo walls and free-standing tubs.
Every room's panoramic windows provide an up-close look at the homes of monkeys, peccaries, ocelots, pumas, and different bird species, which mostly are endemic to the Mashpi Reserve. Check the current price here.
Napo Wildlife Center
The Napo Wildlife Center enjoys an incredible location in the heart of Parque Nacional Yasuni, the largest and most biodiverse protected area on mainland Ecuador. Therefore, it is very popular with tourists.
The eco-lodge itself is built entirely of environmentally friendly materials and borders a bustling jungle lake. It is opulently appointed, with 16 thatched cabins arranged around a pyramid-like main hall. It features a bar, library, 24-hour electricity, and an observation tower.
This entire eco-project is owned by the local Kichwa community, which includes the majority of the lodge's employees.
Kapawi Ecolodge and Reserve
The Kapawi Ecolodge is located deep within the Amazon; the nearest road is a ten-day hike away. Because of the time involved, even river access is impractical, so travelers can only access it via small plane.
This lodge is unique because of its isolation and the pristine nature of the surrounding jungle, which is highlighted as you fly over it on the approach.
The Kapawi Ecolodge, located near the Ecuadorian-Peruvian border, is owned and operated by the Achuar indigenous people. You'll be staying in traditional Achuar bungalows, with other on-site huts serving as a meeting space, a dinner spot, and a wellness sanctuary.
As a remote lodge, you'll be away from modern technology, the internet, and the like, which is part of the appeal for people who want to disconnect and reconnect with nature.
La Selva Amazon Ecolodge & Spa
La Selva Jungle Lodge is another high-end eco-lodge option on the lower course of the Rio Napo, rivaling even the Napo Wildlife Center in terms of price. It is also the region's oldest lodge.
Located on Lake Garzacocha, La Selva features a one-of-a-kind spa and wellness center where you can book treatments to improve your connection with nature. The spa service, which includes massages and baths, adds to the opulence of the setting. You can also spot wildlife from a 43-meter-high observation platform.
Wildsumaco Lodge
This eco-lodge was built by birders at the southern edge of Parque Nacional Sumaco-Galeras.
More than 500 bird species have been spotted from the wildlife sanctuary, and the number is growing each year. Because of the surrounding low jungle, high jungle, and páramo (mountainous uplands), there is an incredible diversity of birds.
The Wildsumaco lodge is a basic location with lovely hilltop views. The rooms and common areas are all simple and no-frills. 
Sani Lodge
The Sani Isla, which is also part of the Yasuni National Bioreserve, is one of the Green Destination Committee's 2019 100 Best Sustainable Destinations, and the primary rainforest here is extremely protected, with low-impact trails.
Located just off the Napo River, Sani Lodge is the only eco-lodge entirely owned and operated by the indigenous Kichwa people.
The Sani Lodge also contributes to local education, healthcare, and cultural projects. Their collaboration with the Sani Warmi program is a prime example of their social involvement. Sani Warmi specifically empowers local women by providing equal opportunities for economic freedom and employment.
Caiman Lodge
Caiman Eco-Lodge is located in one of the best areas of the Cuyabeno Reserve, close to Laguna Grande. The location is accessible by canoe all year, regardless of the season. The Lodge can accommodate up to 40 people in three separate guest huts.
The Cuyabeno river and the rainforest canopy are both beautifully visible from the Caiman Eco-lodge viewing tower. There is also a relaxing area and hammocks where visitors can relax in serenity.
Sacha Lodge
Another excellent eco-lodge choice is Sacha Lodge, which has one of Ecuador's largest butterfly farms. A short boat ride up the Napo River will bring you to the 5,000-acre Sacha Lodge bio reserve.
In the 1970s, the Swiss founder of the lodge was captivated by the Napo River in all its glory and has been a pioneer in conserving this corner of the Ecuadorian Amazon.
The rooms have minimalist designs aiming to blend with the natural surroundings of the lodge. A covered stationary raft on Pilchicocha Lake, which is home to hundreds of birds, caiman, and enormous river otters, serves as the lodge's lounge area.
In Conclusion
In recent years, ecotourism has become incredibly popular in Ecuador. The number and variety of unique lodging options in Ecuador are expanding along with the trend toward a sustainable way of living and traveling.
Eco-lodges frequently offer cultural activities that give guests a glimpse into indigenous peoples' and local cultures' way of life. Eco-lodging choices in Ecuador are expanding in popularity as more tourists are looking for an enriching and memorable experience.