A high mountain lake hidden within an old crater of an extinct volcano is just a few kilometers outside the famed leather town of Cotacachi. Cuicocha, which means "Lake of the Cuy" in Quichua, is the name of the lake.
Cuy means guinea pig. The origin of the name is debatable, with some suggesting that it stems from the great number of guinea pigs that resided on one of the islands and others claiming that the bigger island is shaped like a guinea pig. In any case, the name Cuicocha has remained.
Laguna de Cuicocha is similar to the more-known Laguna Quilotoa. The crater lake may be found just outside of Otavalo.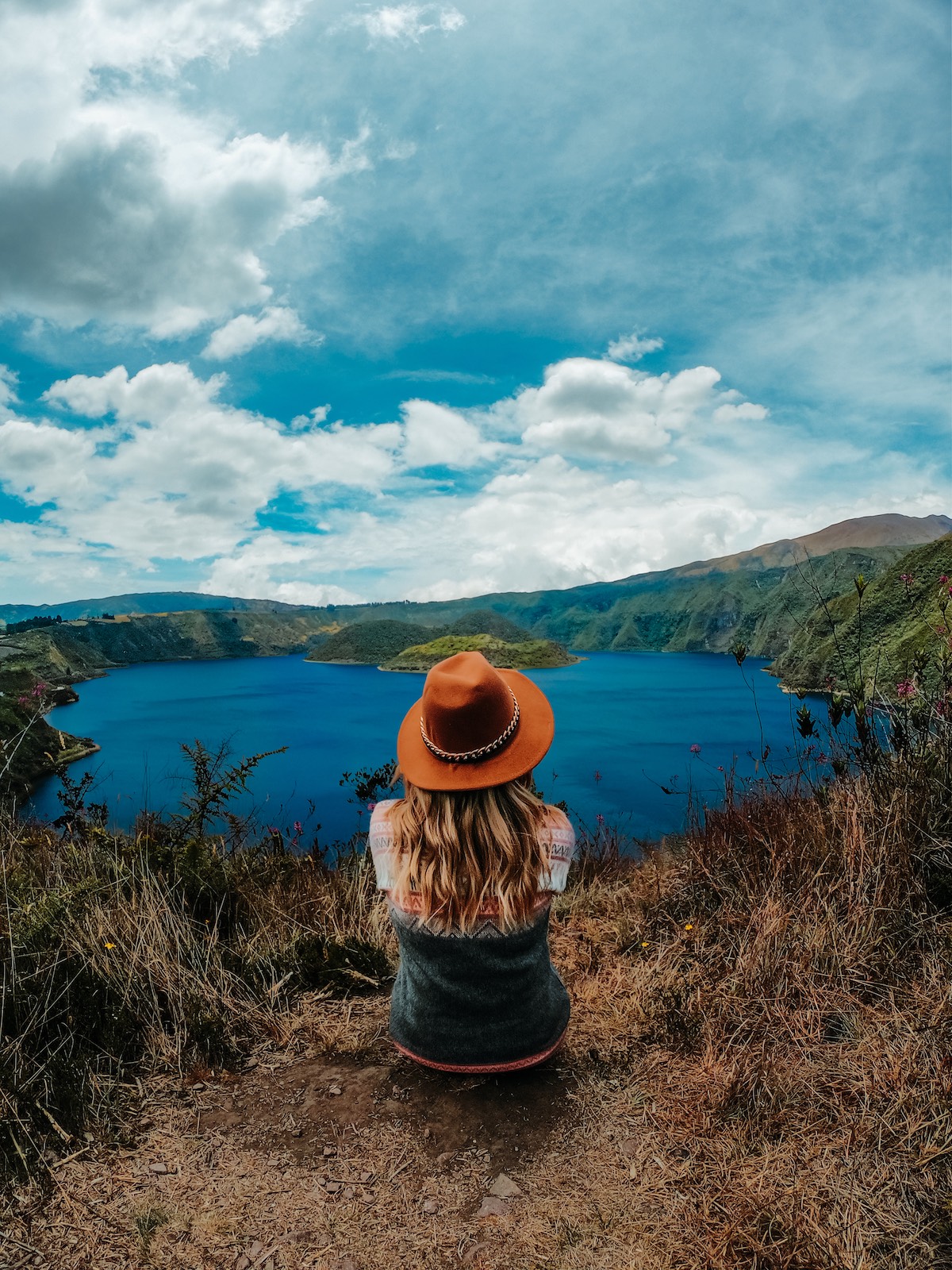 Otavalo is most known for the Otavalo Market, therefore few visitors venture beyond the city limits. Those who aren't into shopping, on the other hand, are in for a treat in Laguna de Cuicocha. The crater lake has a steep ridge, and you may go around it without ever seeing another person.
Laguna de Cuicocha is not that big, yet it is well worth the journey. Here's all you need to know about trekking Laguna de Cuicocha, including recommended hikes, directions, and some travel tips.
Getting to Laguna de Cuicocha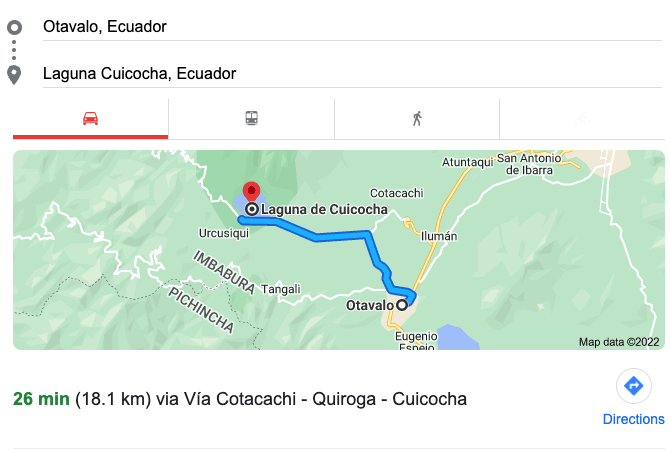 Laguna de Cuicocha is located 107 kilometers from Quito and 25 kilometers from Otavalo. The journey from Otavalo to Cuicocha takes 40 minutes, but the cheapest option is to take the local bus to Cotacachi and then rent a cab to Laguna de Cuicocha. We rented a car, so we drove. Make sure to use this pin to get to the official entrance if you drive! Otherwise, Google Maps will get you to the unofficial points with paid parking.  
First, get to Otavalo's main bus station early and take a bus headed to Cotacachi. They leave rather often, at least two every hour. The bus trip takes around 30 minutes.
Then, simply proceed towards the queue of taxis on the other side of the lovely central plaza of Cotacachi and ask for Laguna Cuicocha – they're all very accustomed to passengers running this route.
To get back, you may either ask a driver to wait for you at the lake (for an extra $10 per hour), or you can ask him to pick you up at a specific time.
Entrance Fee
Although Laguna Cuicocha is located in the Reserva Ecológica Cotacachi-Cayapas, there is now no admission charge, which is fantastic news for all backpackers and budget visitors. Make sure to have your IDs with you to get in.
We merely had to sign in when we arrived at the park's entrance.
Laguna de Cuicocha Route
There are two ways to hike the Laguna Cuicocha, either clockwise or counterclockwise.
Clockwise Route
You'll be dropped off at the trailhead (2km) up the road from the Visitor's Center. The first few miles may be difficult hiking across grassy meadows, but you'll soon reach the lake's rim. From there, it's all sights and a gentle ascent as you circle the lake's rim. After returning to the Visitor's Center, you may take a short stroll to the park gate to wait for outgoing taxis.
Counterclockwise Route
The other route, while providing instant views of the lake, appears to be an interminable climb. Drop off at the Visitor Center and go to the trailhead on the right. After reaching the far side of the lake, you'll enter the grassy meadow for a couple more steep inclines. You will eventually reach a road where you may go down to the Visitor's Center and wait for taxis to leave.
However, you can now only go one way which is the counterclockwise route. We are not sure if the management did this because of the pandemic restrictions. Nonetheless, there is no need to choose a route. Problem solved!
Laguna de Cuicocha Hike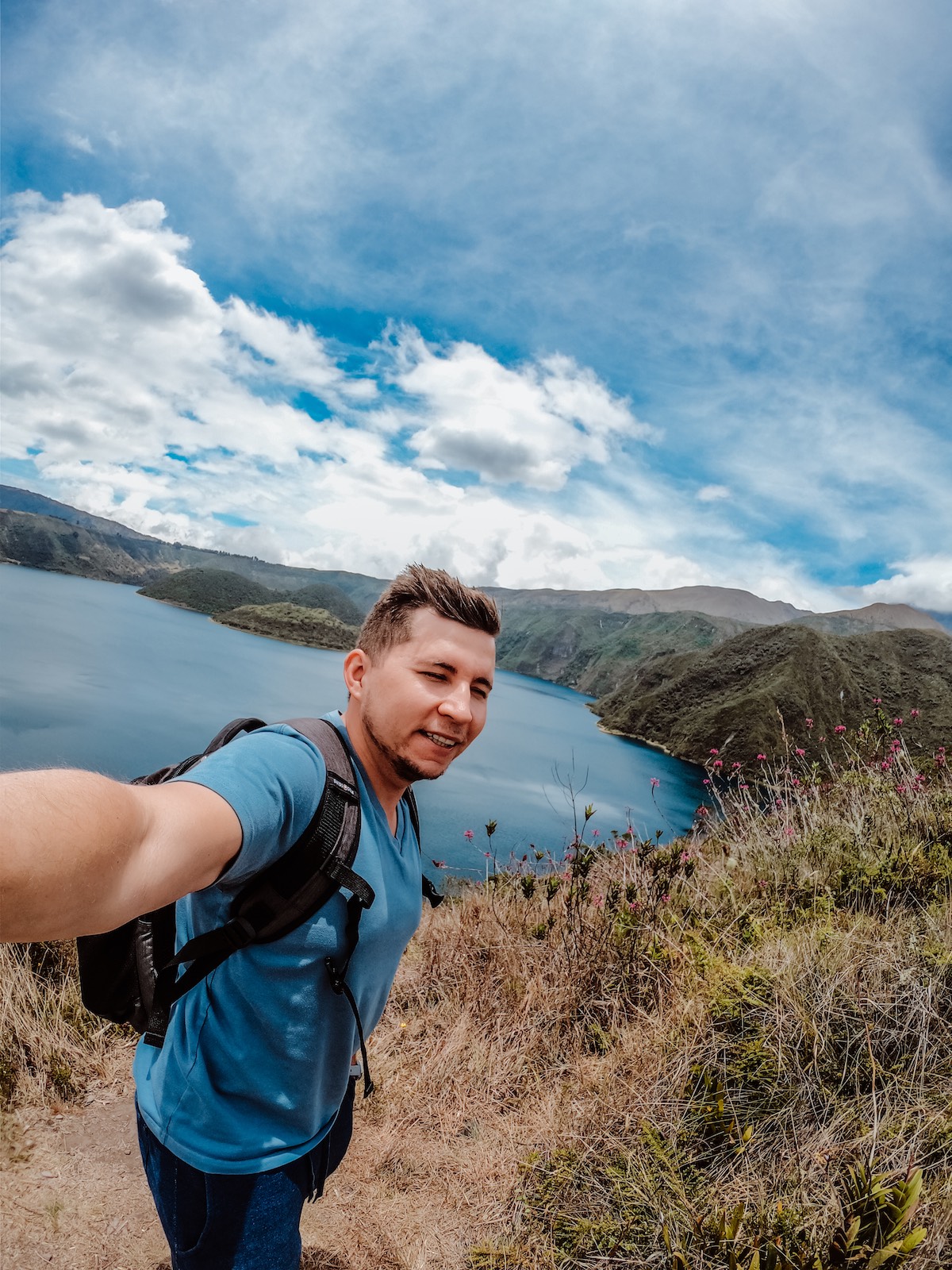 The entire circuit that goes around the crater lake is 14 kilometers long and should take 3 to 5 hours to complete. That's why we're delighted we planned ahead of time and asked the driver to meet us in five hours.
The path begins above 3000 meters and climbs to 3512 meters at its highest point.
It is highly unlikely to get lost once you're on the route. It is a simple path with few technical difficulties.
The most difficult thing for most individuals at this altitude is breathing. A lot of trekking in Ecuador takes place at far higher elevations than this. I would recommend taking ChlorOxygen 1-2 weeks ahead of the trip so it's easier to deal with high altitudes.
If you want to climb any of Ecuador's volcanoes, this is a wonderful place to begin your acclimatization.
Because the trail is a loop, there are as many ups as downs. However, most of the climbing will be done in the first part of the course.
After more than an hour of hiking, you will see a pair of gazebos where you can rest and get some much-needed shade. From this point on, you should consider pulling out your camera. The lake vistas only get better from here on out.
Although you have completed most of the difficult climbs, there are still several steep sections ahead of you but things improve from here.
From here on out, you'll discover a variety of vantage locations for an amazing photo opportunity. There are also a couple of good grassy locations where you may have your picnic while taking in the scenery. In the noon sun, the lake seems considerably bluer than it did before.
The views are beautiful, and if your ride back to town isn't arriving in a few hours, you may take your time and appreciate the scenery even more. Take a deep breath and indulge a bit more in the panoramic views.
You can also go all the way down to the lake and even get a water taxi just for $6 to ride in the lake.
Laguna de Cuicocha Travel Tips
Shops are not present in the vicinity, so carry food and drink with you. Although there is a restaurant on-site, it appears to be a bit drab.

Don't forget your hat and sunscreen – they'll come in handy throughout your Ecuador vacation.

The terrain is not challenging, but excellent walking shoes are required.

To prevent plastic waste, always use refillable water bottles.

Do not litter on the path and return your rubbish to the Visitor's Center upon your descent or back to Otavalo.

Bring enough money and change for the trip to Cuicocha and return.
Bottom Line
Laguna de Cuicocha is a perfect nature escape! If you are in Otavalo and you have some time to spare, visiting this awesome lake is worth a try. Adventurous and nature lover travelers are in for a treat in Laguna de Cuicocha. We've visited Laguna de Cuicocha as a part of our 15-day trip to Ecuador Mainland and you can check this part in my video: