Ecuador is not only geographically diverse but also a wonder when it comes to food. Ecuadorian cuisine is one of the most interesting cuisines in the world.
As you'll see in this introduction to traditional Ecuadorian food, much of the diversity of this equatorial country is reflected in its varied and delectable cuisine.
Locro de Papa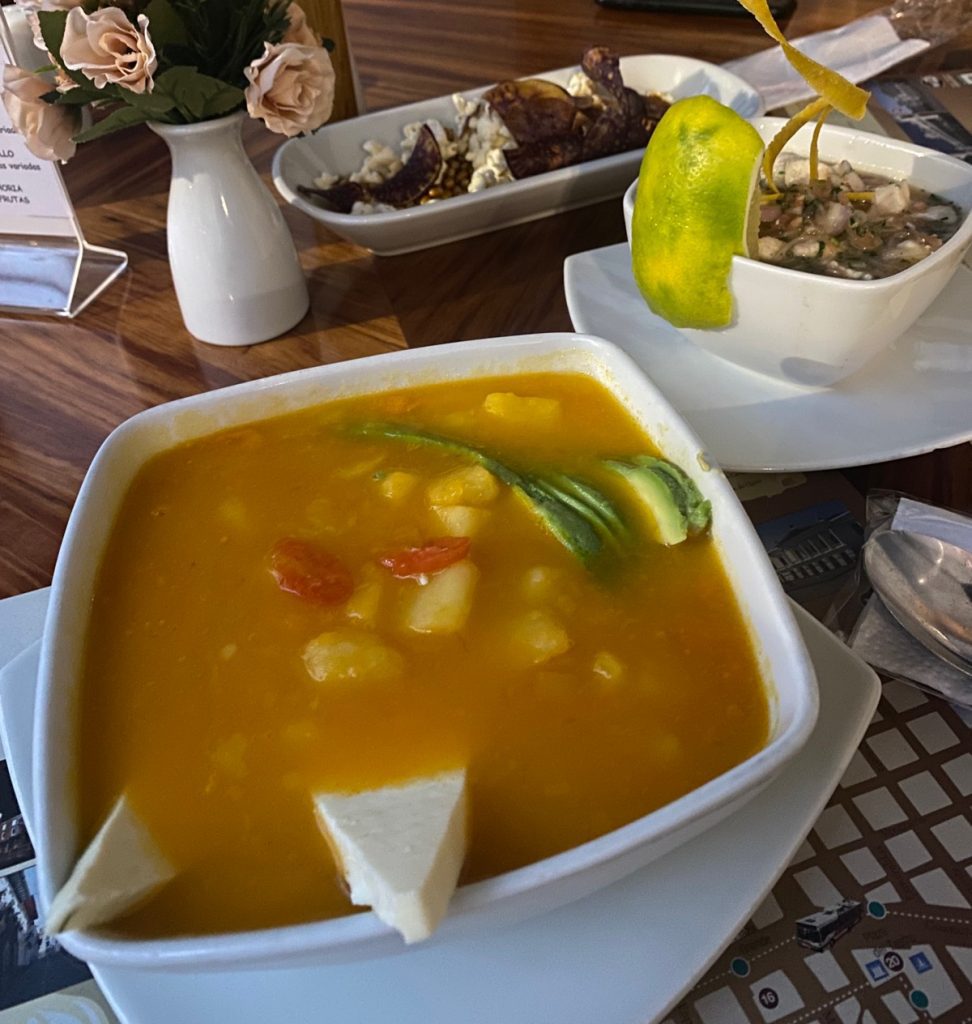 The term "locro" refers to a thick and filling stew enjoyed by residents of South America's Andean region. Locro can be cooked with a variety of ingredients depending on where it originates, but in Ecuador, potato and cheese are the two main ingredients.
The ingredients used to make locro de papa, an Ecuadorian potato soup or stew, include local potatoes, onions, garlic, fresh cheese (queso fresco), milk, and spices. Before adding the cheese, which melts into the hearty soup, the ingredients are boiled and cooked together. They serve it in many Quito restaurants.
First courses in Ecuadorian meals frequently include soups like locro de papa, which are typically accompanied by avocados and aji spicy sauce.
Llapingachos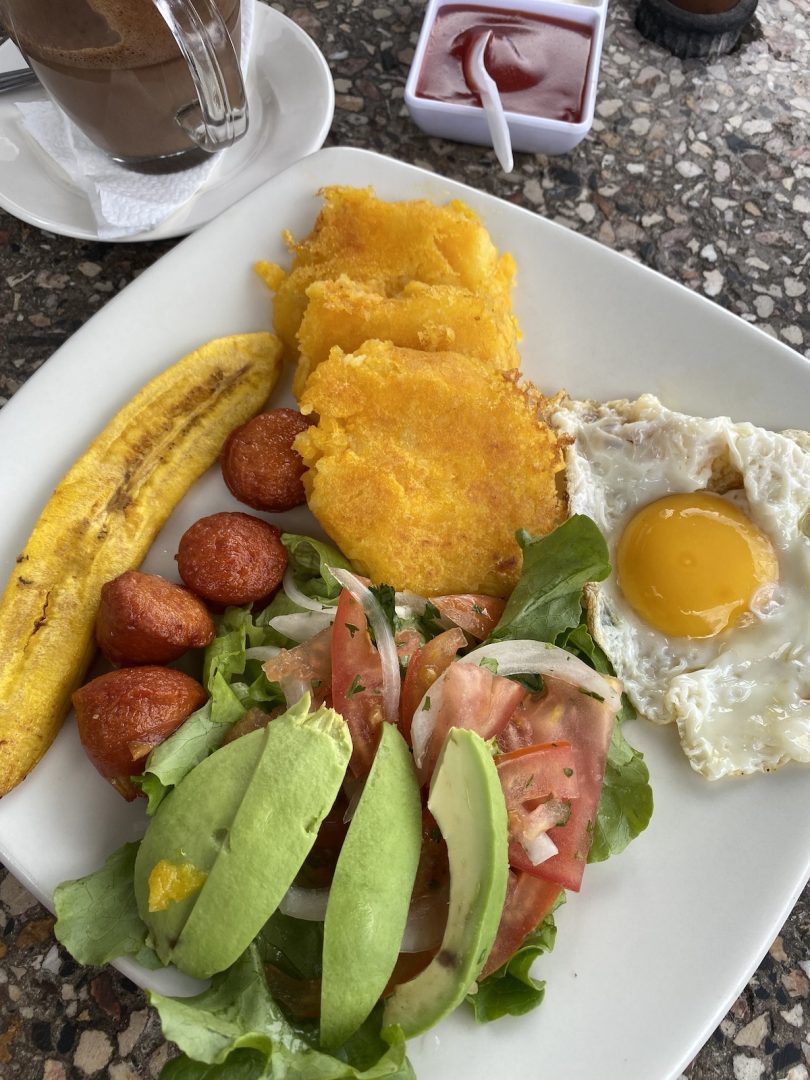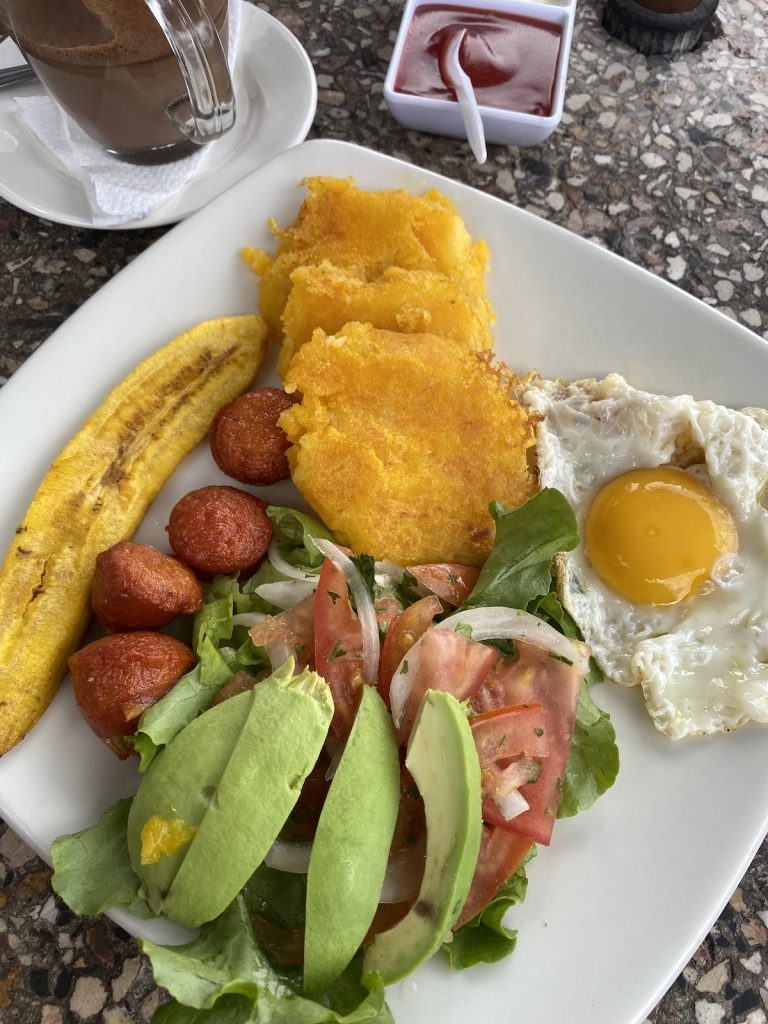 Llapingachos are a superb example of Ecuadorian Highland cuisine that traces back to pre-Hispanic times. The Kichwa term llapina, which means "to crush into a soft and mushy consistency," is the source of the word's name.
Llapingachos are fried potato cakes popular in Ecuador prepared with mashed and boiled potatoes that have been spiced up with onions and other ingredients and filled with cheese. The potato patties are fried on a griddle until the outside is crispy and golden brown and the interior is soft and creamy.
These delectable fried potato cakes are often eaten for breakfast or lunch with diverse side dishes including chorizo sausages, avocados, fried eggs, and salad, and served with salsa de mani (creamy peanut sauce). We tried it while visiting Ciudad Mitad del Mundo (Middle of the World).
Empanadas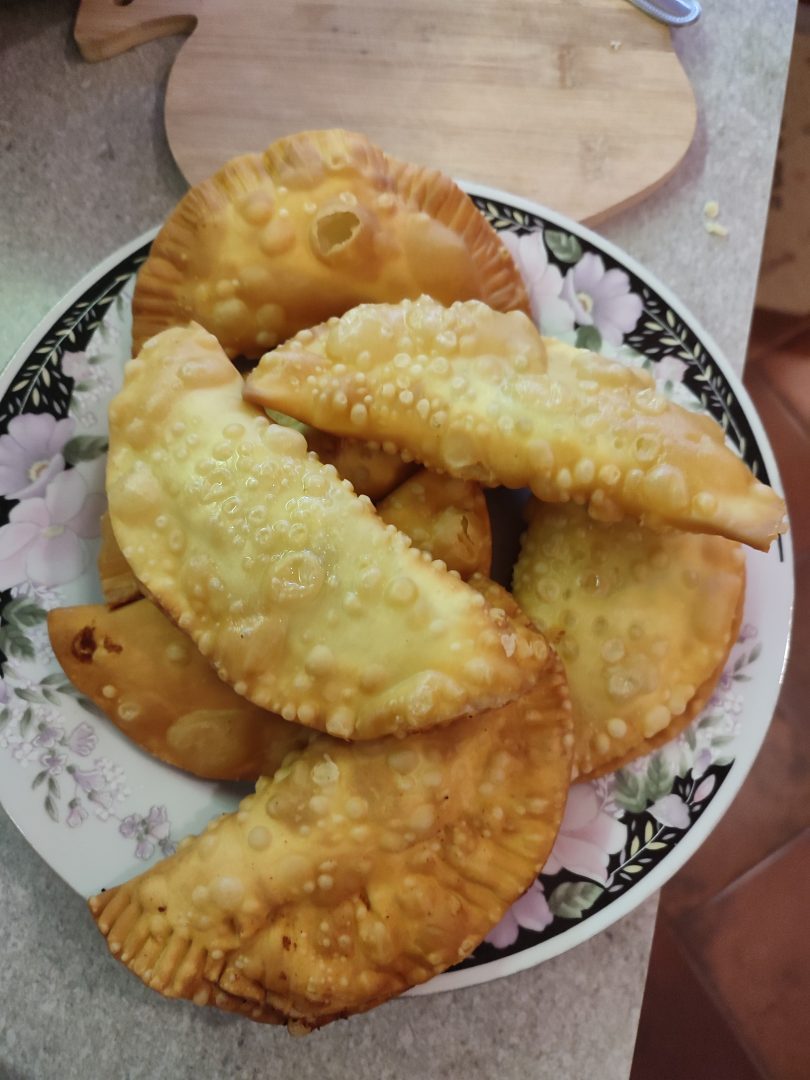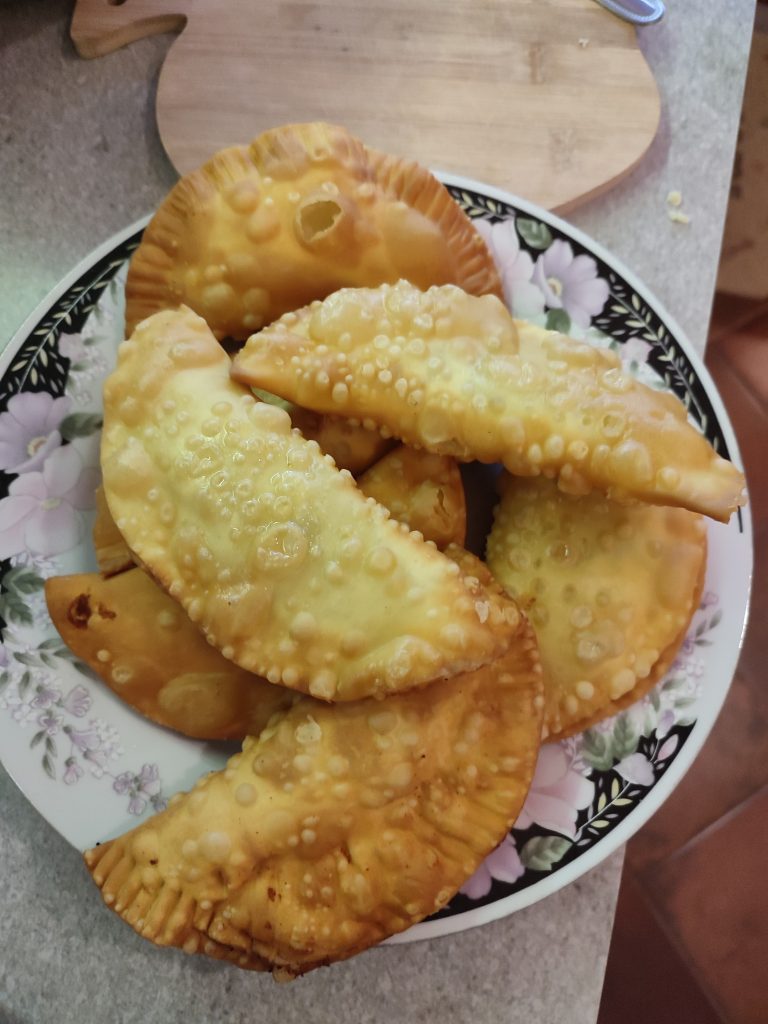 Empanadas are a well-liked and delectable snack or form of street cuisine in Ecuador. Often translated as filled turnovers or hand-held pies, empanadas are stuffed bread or pastries that are baked or fried.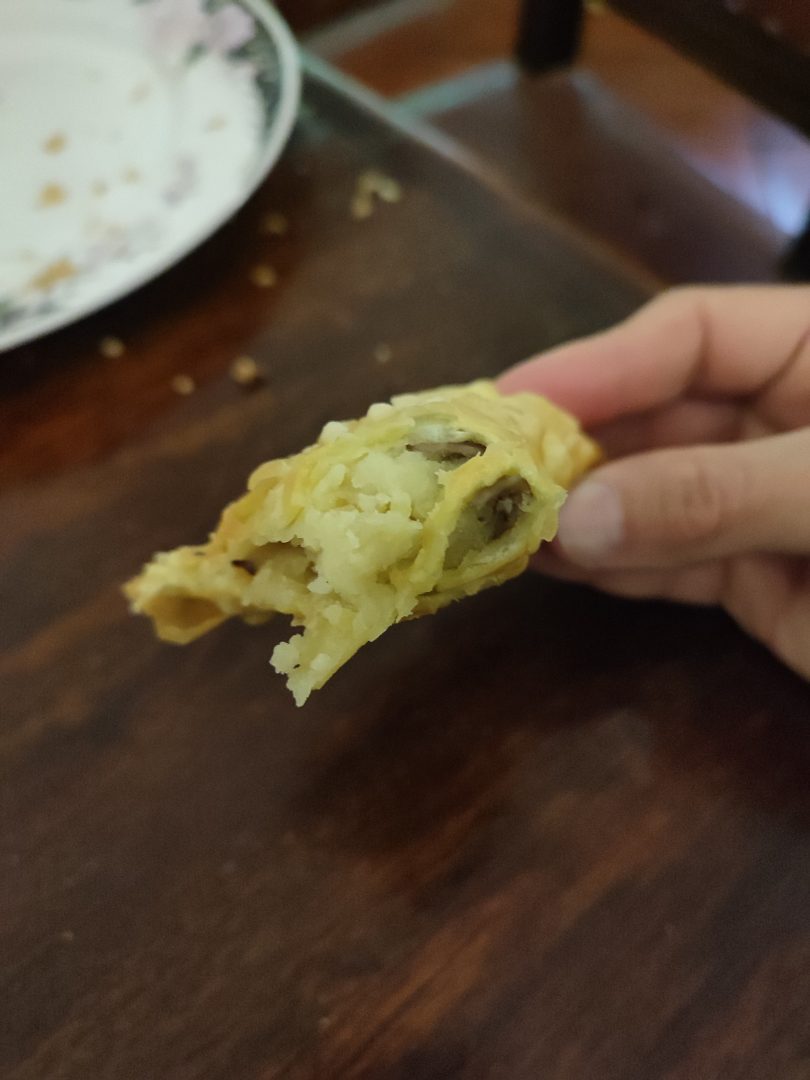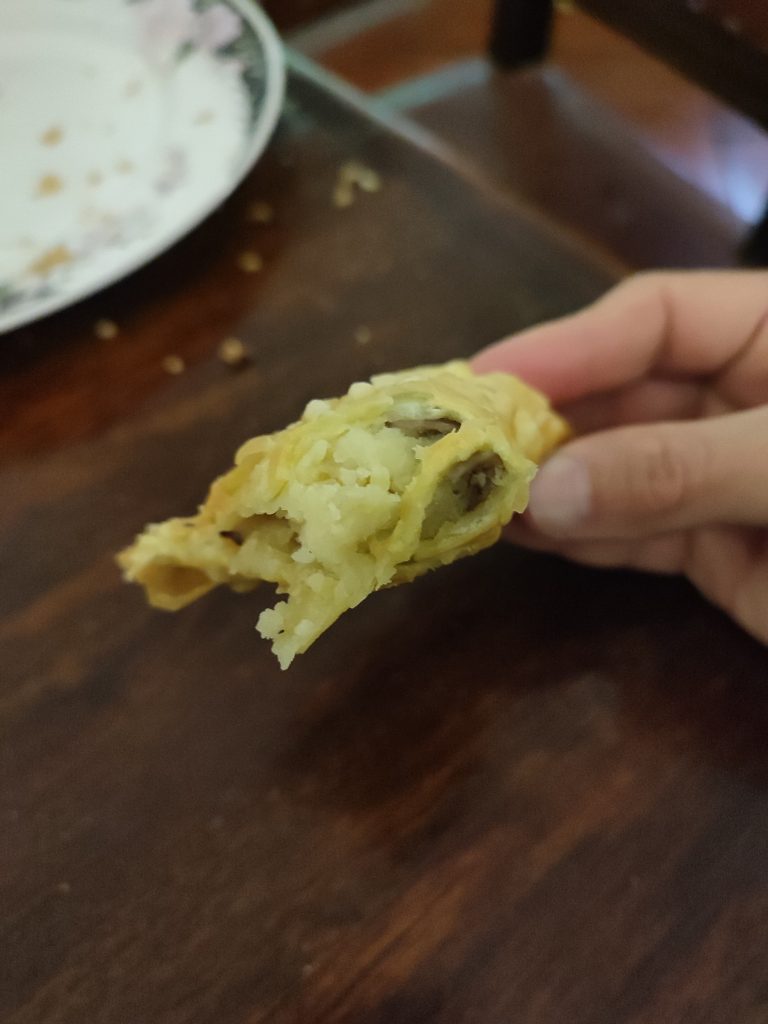 The most traditional Ecuadorian empanadas are called empanadas de viento, or "fried cheese empanadas." They are filled with cheese (and sliced onions, if you choose), cooked until crispy, and served with sugar. These snacks are primarily found on Ecuador's mainland.
Restaurants are now presenting enormous selections that you may share even though they typically fit on an appetizer dish.
Cuy Asado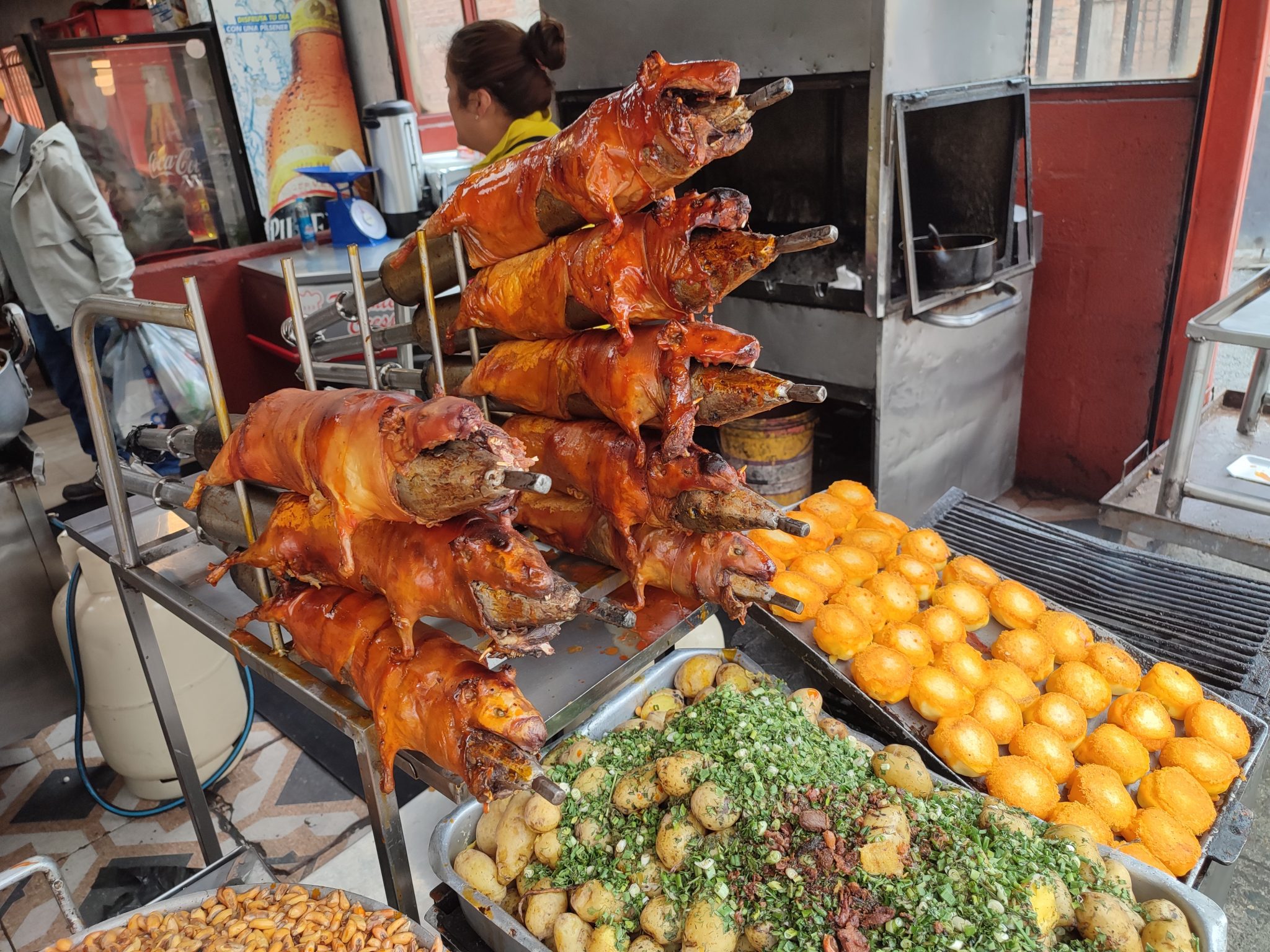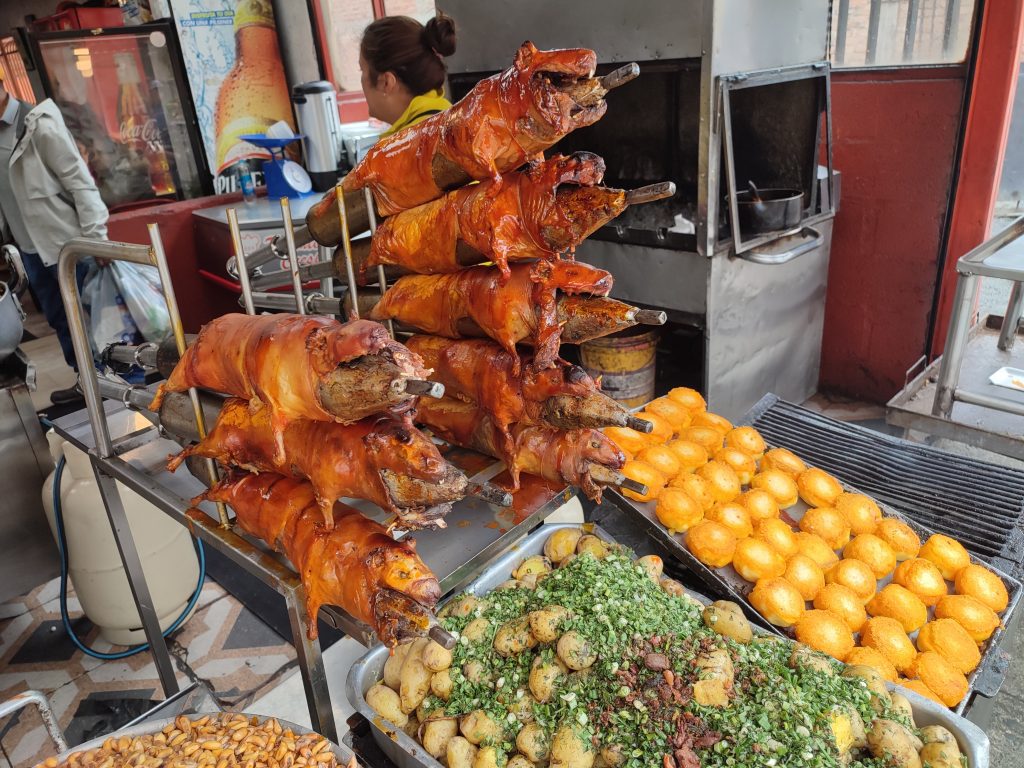 The term "cuy asado" describes roasted guinea pig. Cuy is a well-liked food source in Ecuador and is prepared variously as roast, grilled, or fried.
Although guinea pigs are frequently kept as pets in North America, they are considered livestock in the Andes. They have always been raised for their flesh, which is frequently compared to rabbits.
Despite being one of the more unusual Ecuadorian meals on this list, roasted guinea pig plays a significant role in Ecuadorian cuisine and culture. Like any cultural cuisine, I believe you should sample it to get the whole Ecuadorian experience. The most popular places and markets to try cuy in Ecuador are located in Cuenca.
Patacones (
Fried Plantains)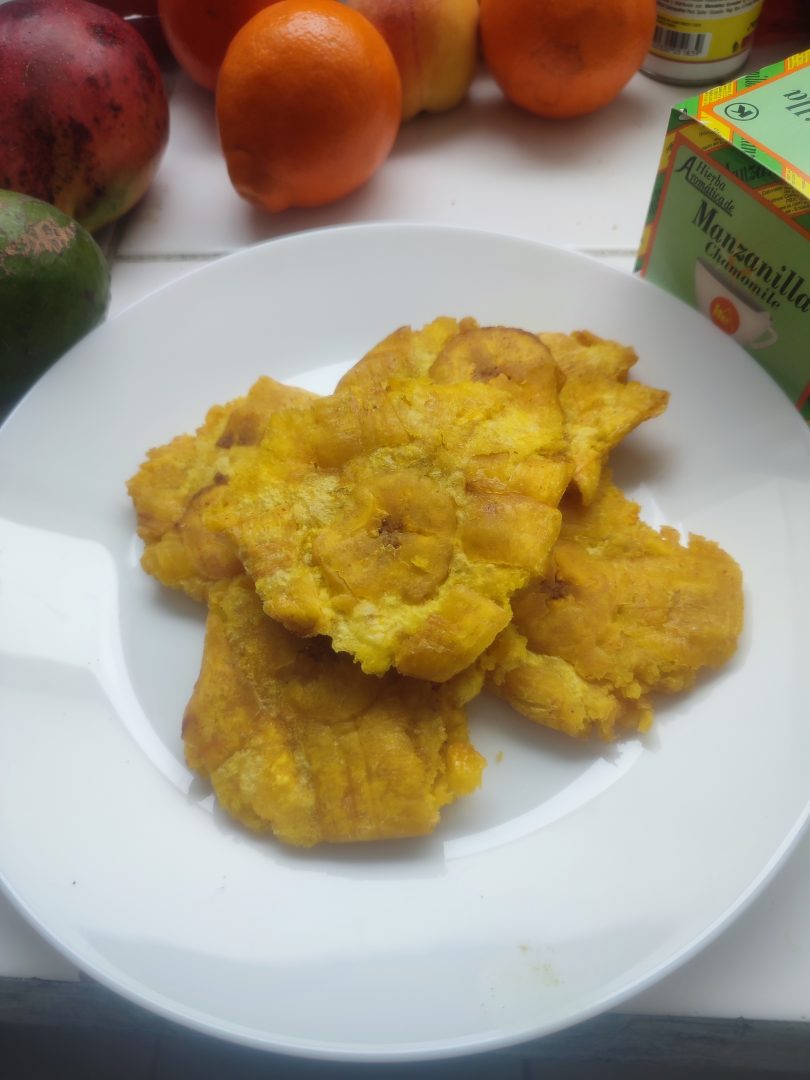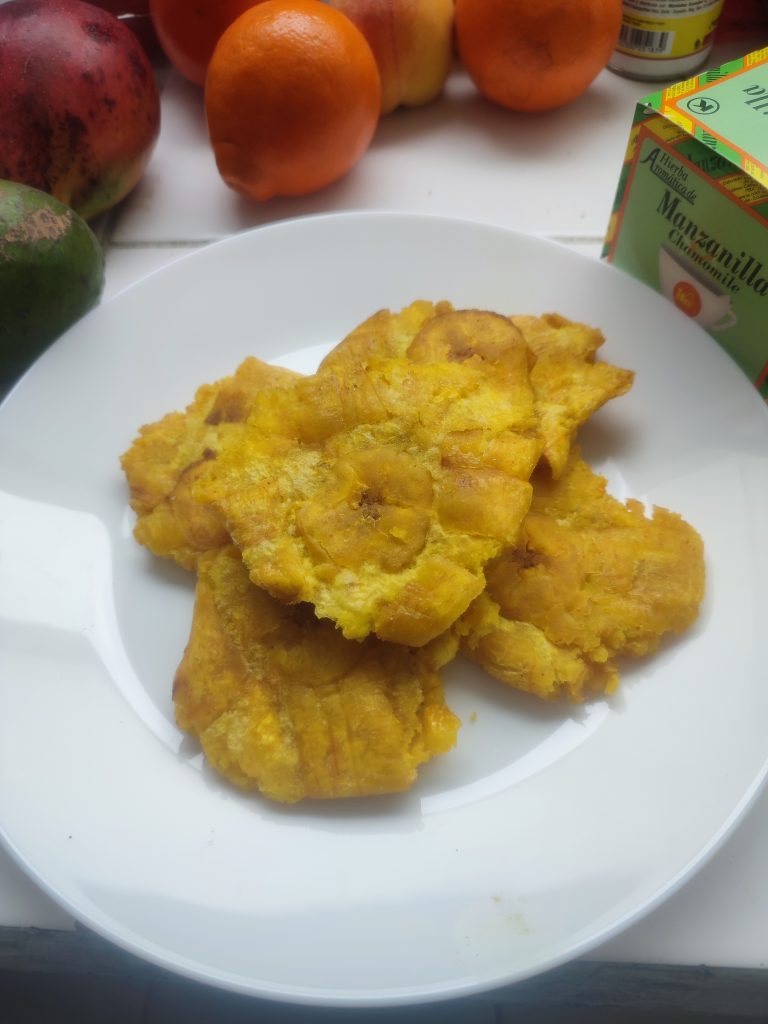 Patacones are fried green plantains chopped into thick slices, then mashed into circles and refried. They're salted and delicious as a side dish or appetizer with your preferred topping sauce. They are golden brown and slightly firm. Patacón, commonly known as tostón, is a popular Latin American and Ecuadorian meal.
For many Ecuadorian main dishes, fried ripe plantains are another essential side dish. Depending on the cuisine, you might have either ripe or green fried plantains (aka patacones or tostones).
Churrasco Ecuatoriano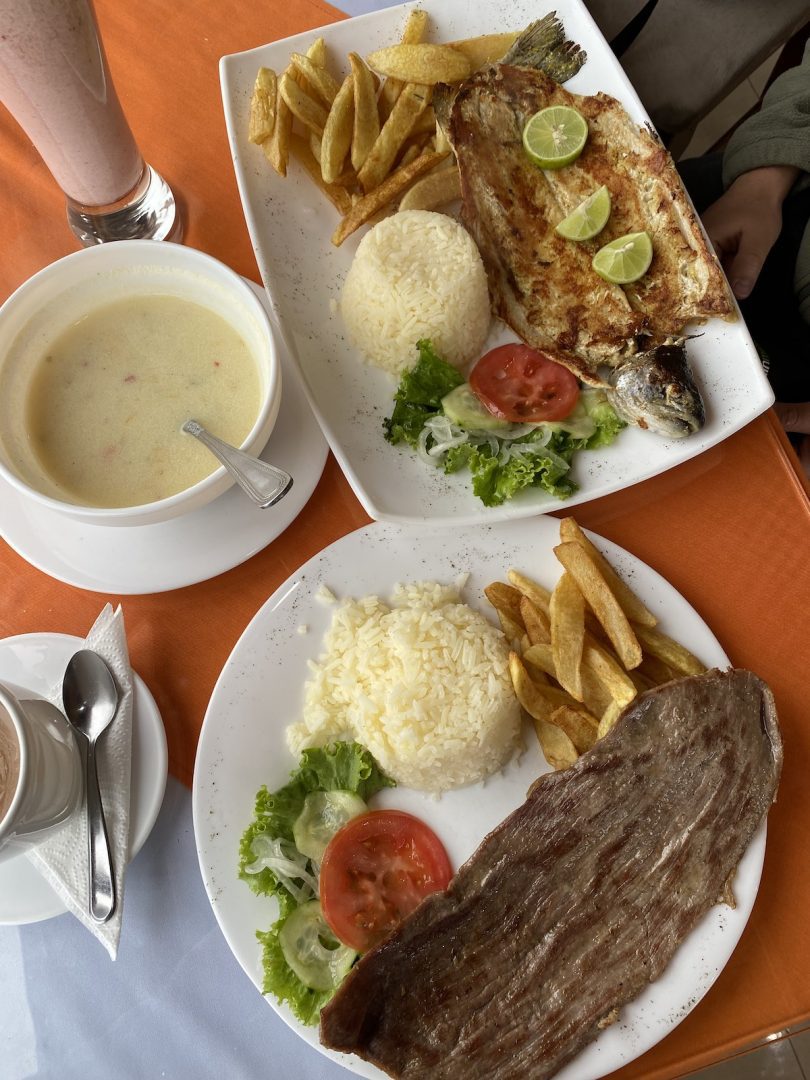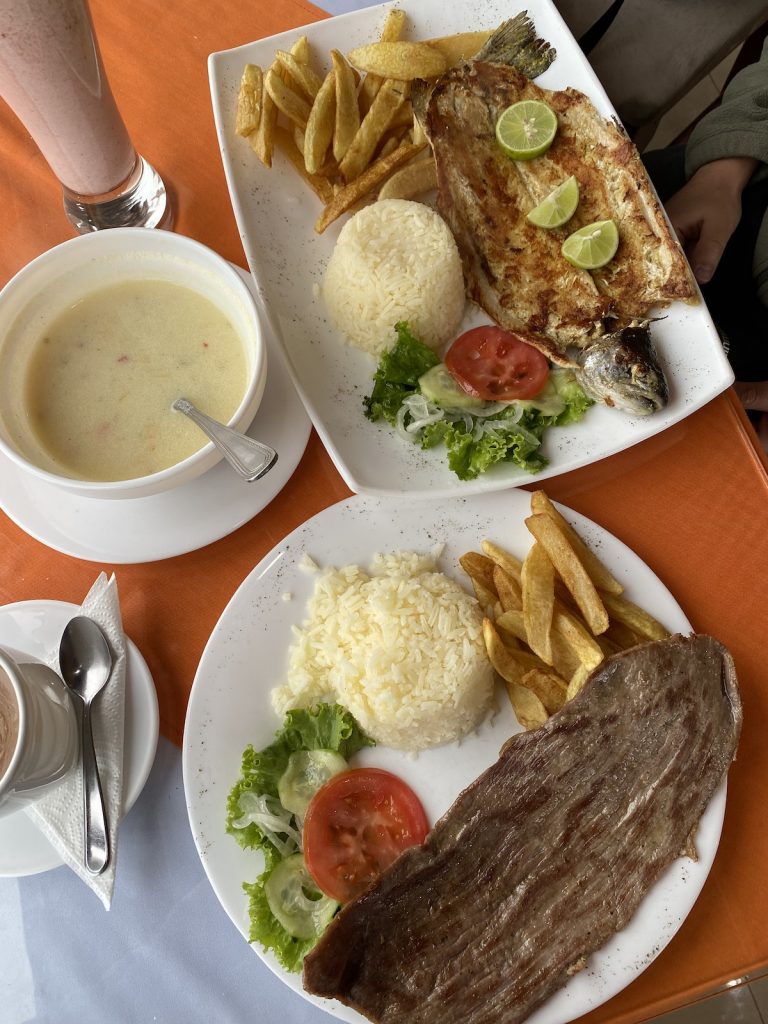 One of the most well-liked foods in Ecuador is churrasco. Churrasco is a popular cuisine from Ecuador made with thin steaks that are either grilled or occasionally fried in a mixture of onions and peppers and topped with a crispy fried egg. It is typically served with rice, French fries, ripe plantains, and salad. We stopped by the local village restaurant after the Quilotoa lake exhausted hike and it was one of the best dishes we tried in Ecuador.
Fish Ceviche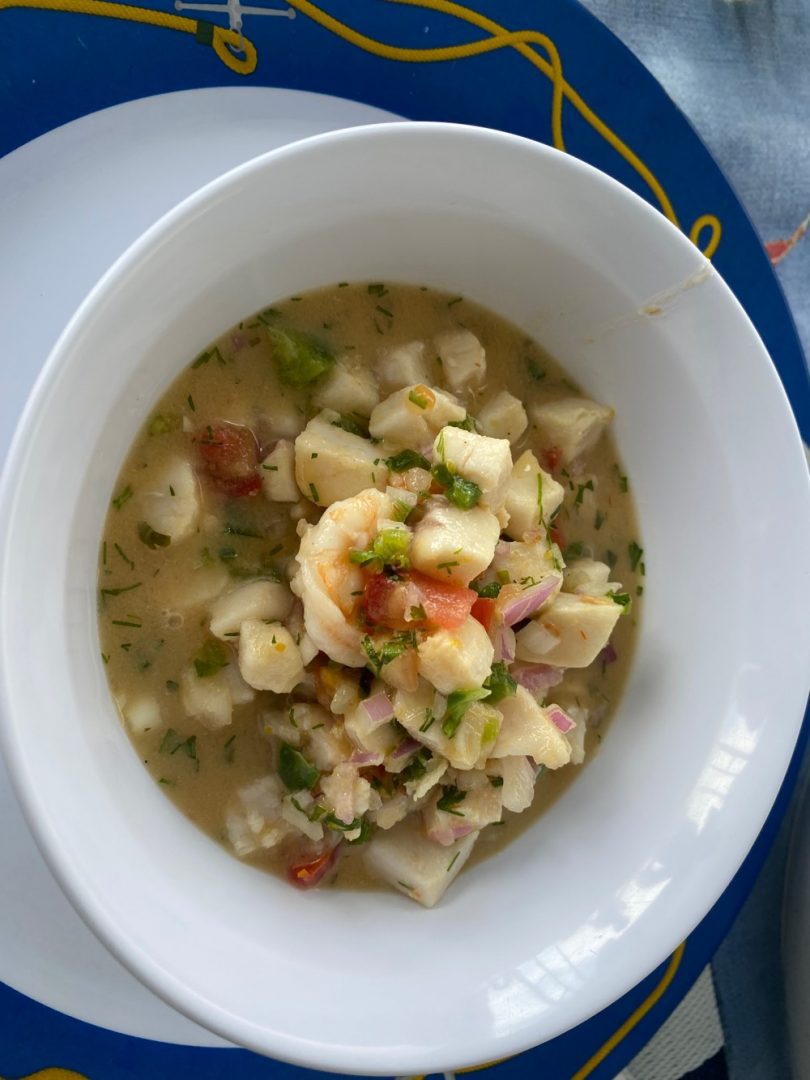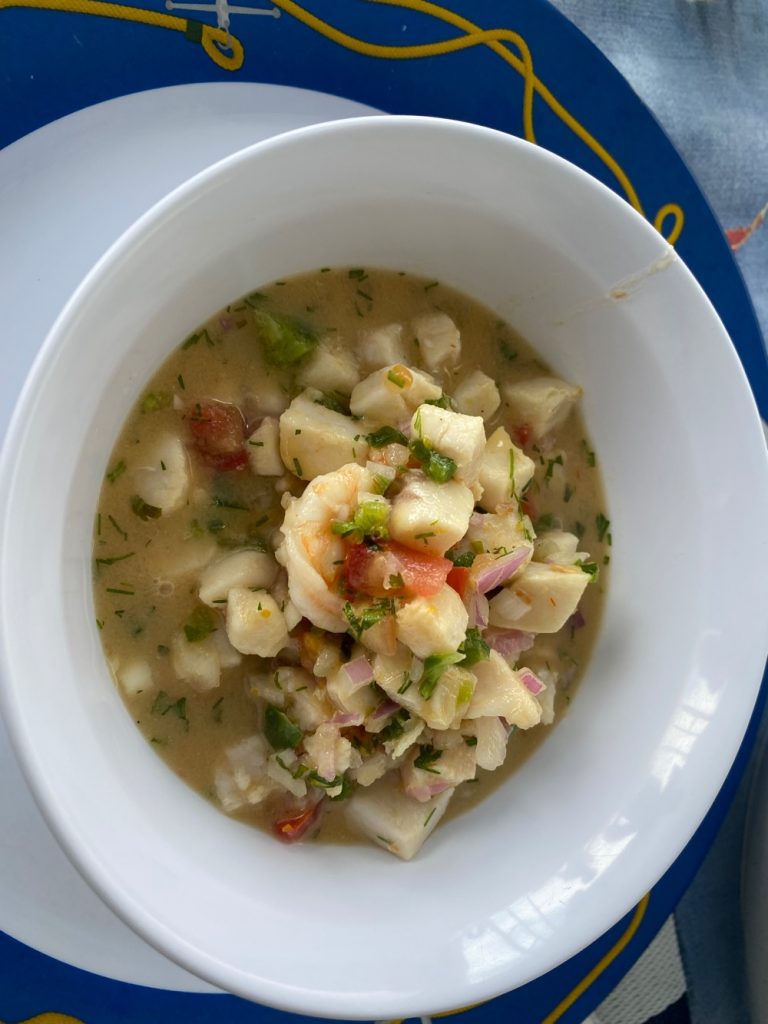 Any species of white fish that is suitable for sashimi-grade curing in a mixture of lime juice, garlic, and hot peppers can be used to make Ecuadorian fish ceviche. Prior to eating, it is blended with cilantro, tomatoes, bell peppers, and red onions that have been marinated in lime after curing.
It's frequently served with hot sauce and a variety of side dishes like fried plantain chips, chifles, and toasted corn nuts.
Fanesca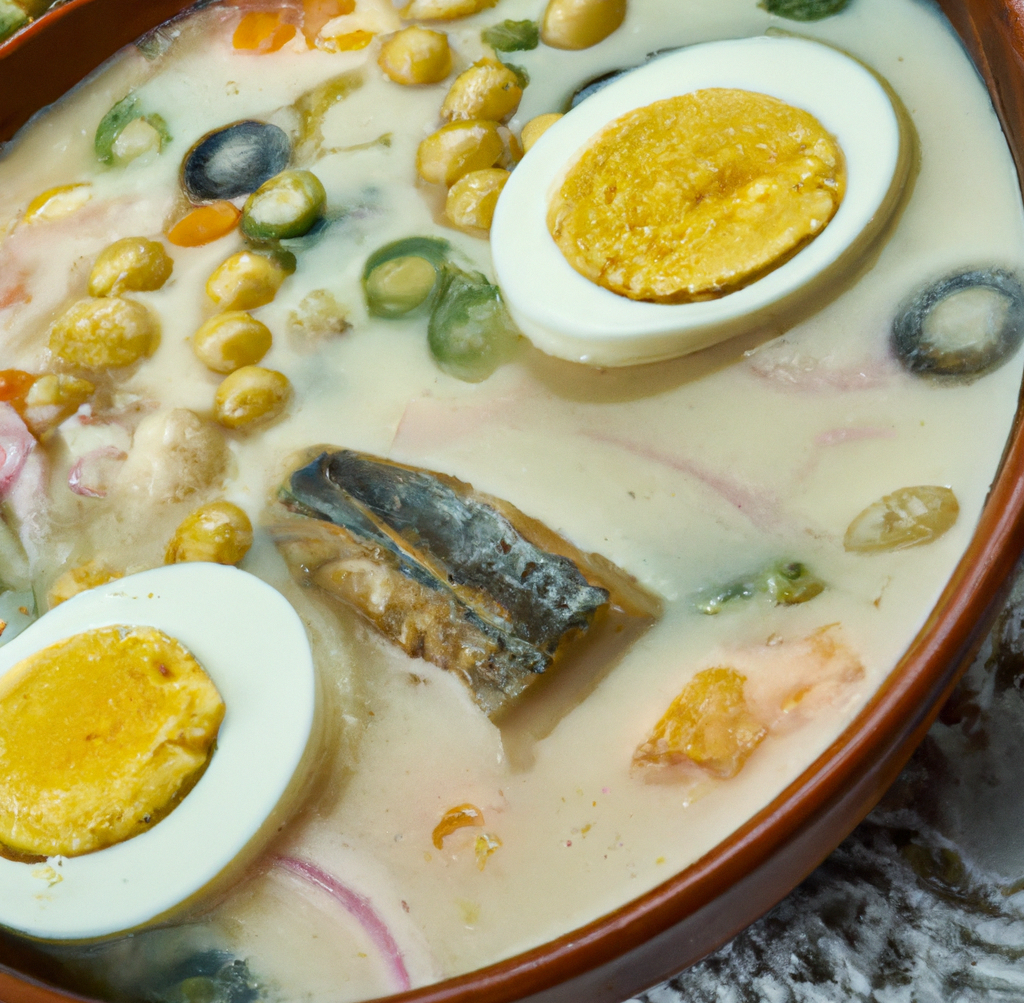 If you travel to Ecuador in March or April, you might be able to sample fanesca. It is an Easter soup created in Ecuador with bacalao (dried and salted fish) and a variety of other ingredients. It is a highly traditional dish served only once a year to commemorate Easter and Lent in Ecuadorian cuisine.
Various ingredients, including bacalao boiled in milk, sambo (figleaf gourd), zapallo (pumpkin), mellocos (Andean potatoes), and twelve various types of beans and grains, are used to make fanesca, a hearty and deeply symbolic soup.
Mote con Chicharron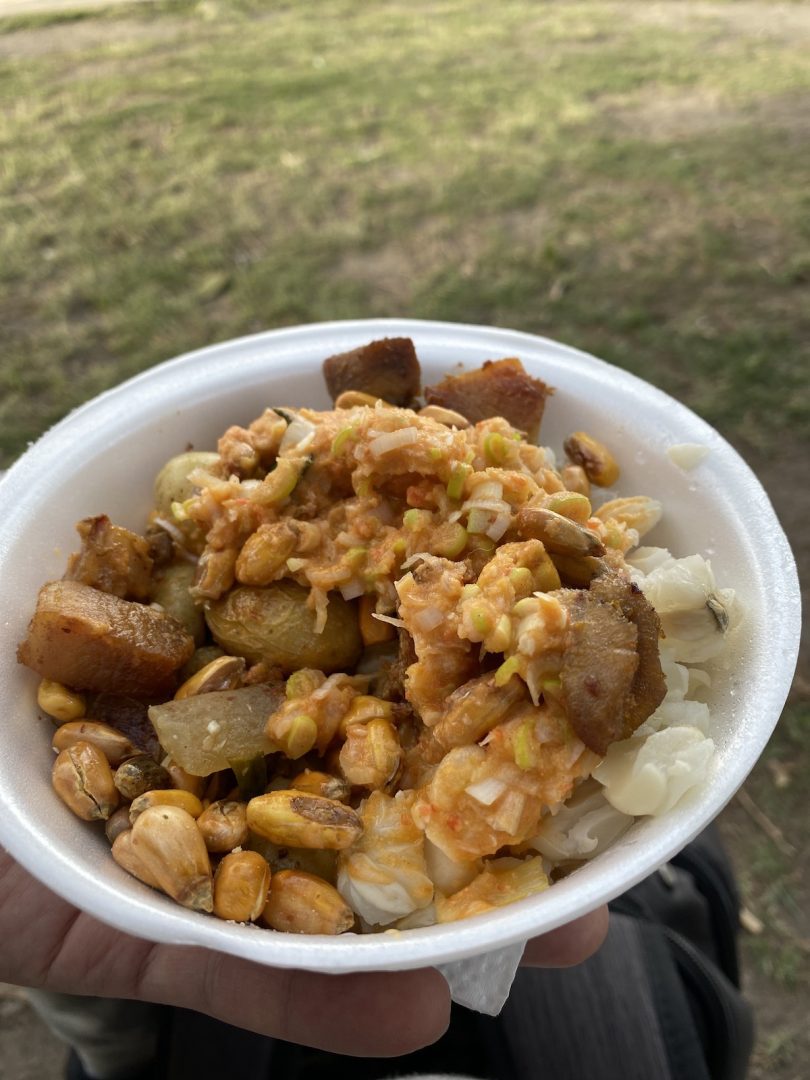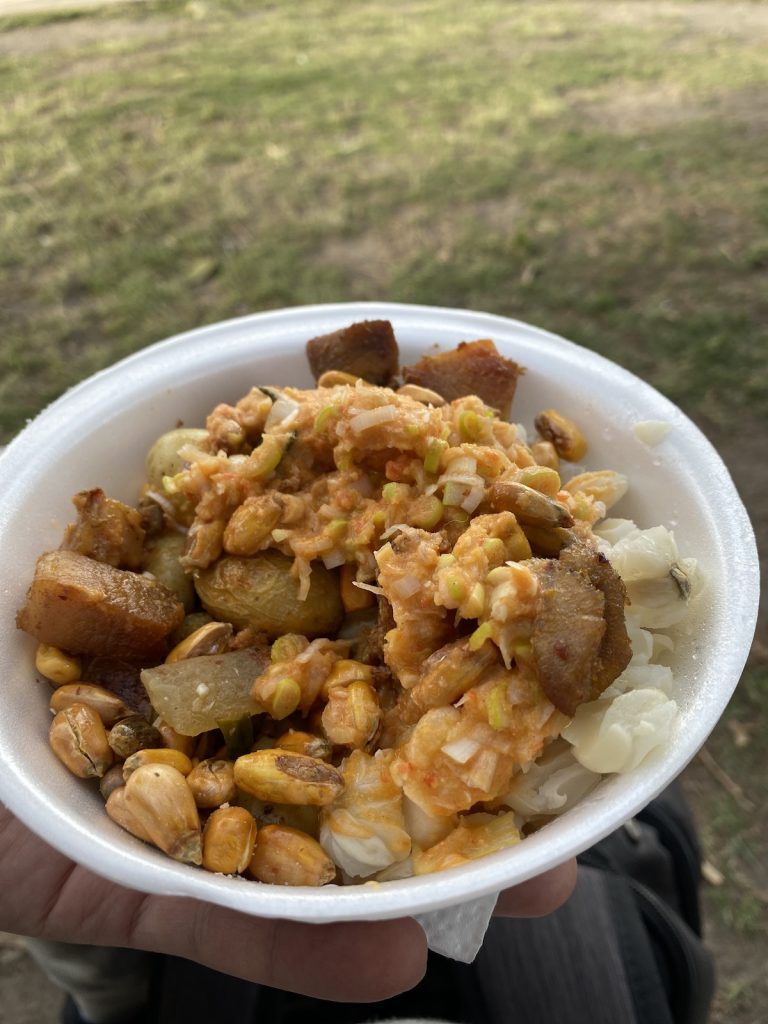 Mote con Chicharron combines the flavors of Mote, which is hominy, and Chicharron, which is fried pork belly.
This affordable traditional Ecuadorian meal is frequently offered in local markets and by street vendors.
Crema de Maiz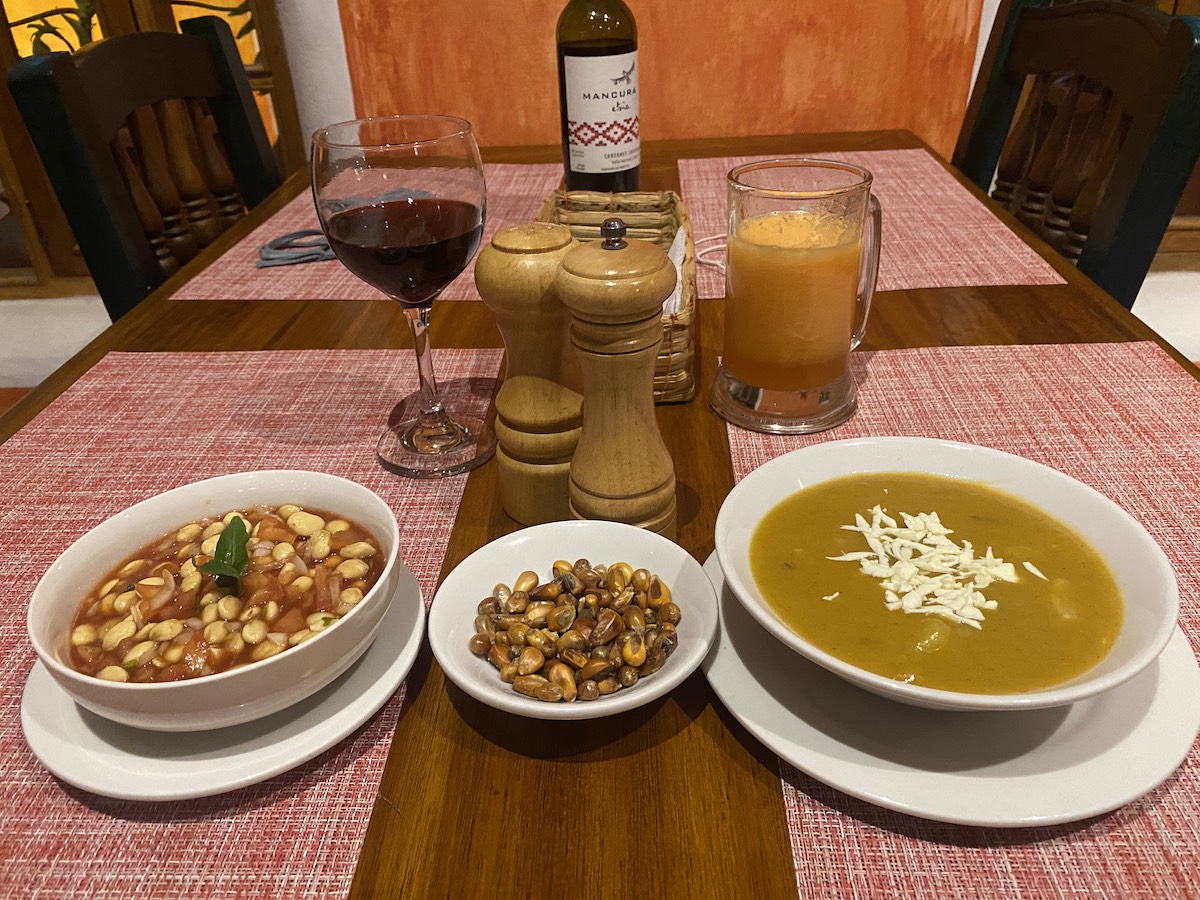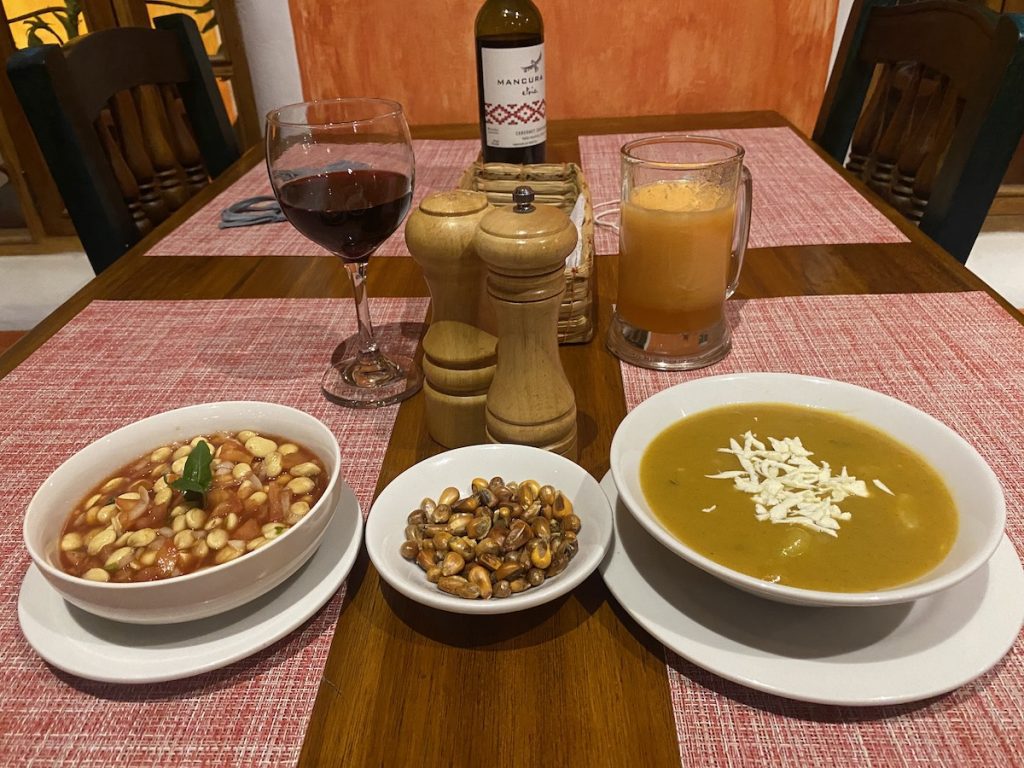 Crema de Maiz (the soup on the right side) is known as cornmeal cereal. It is popular in South American countries such as Puerto Rico and Ecuador. It is commonly served for breakfast and as an appetizer. We tried it while visiting Otavalo.
Corviche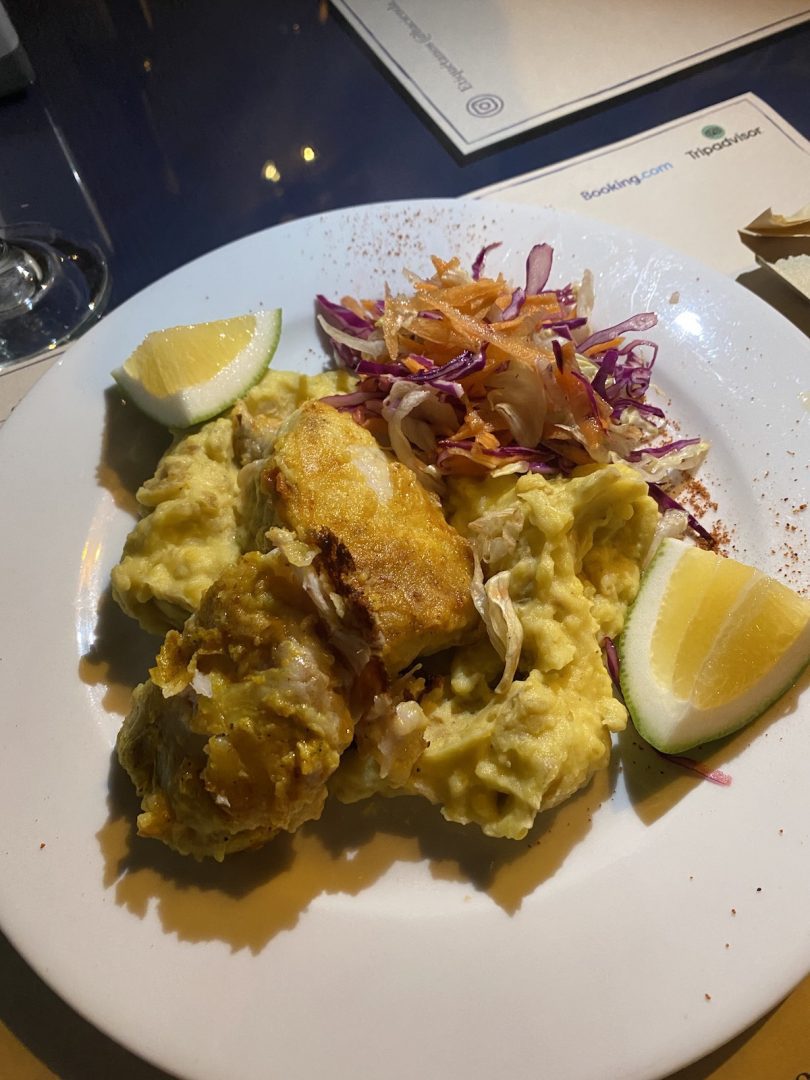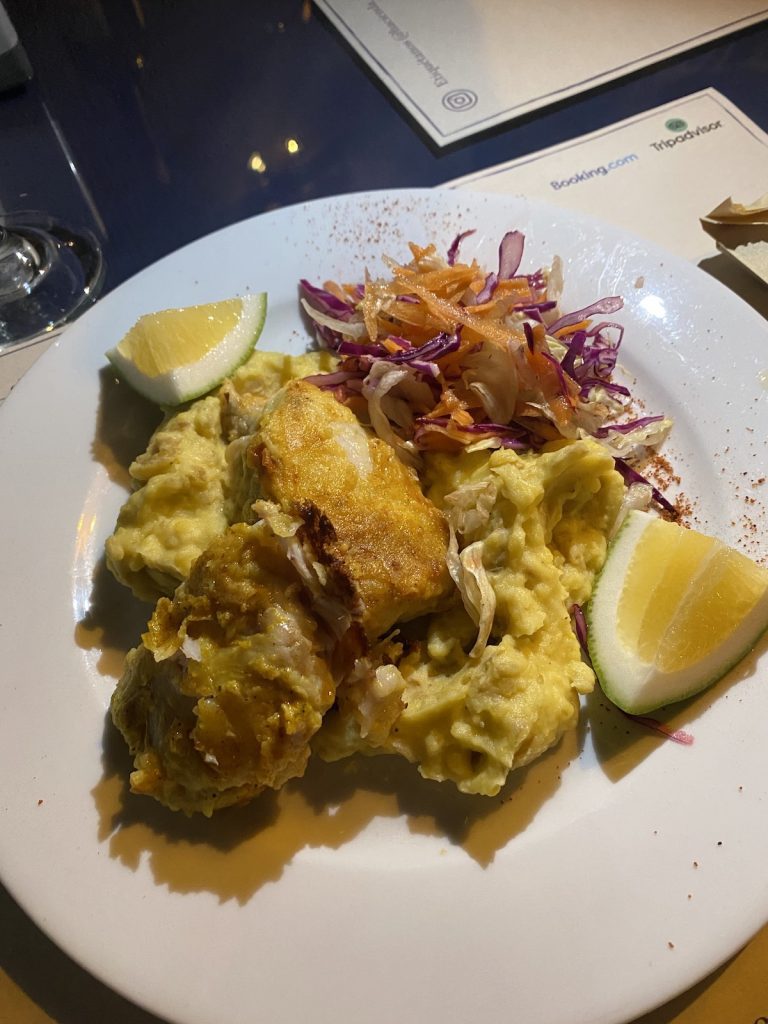 Corviche is a dish composed from mashed green plantain and fish. That combo may not sound particularly tasty, but when done correctly, it is fantastic! Green plantains are grated and then mashed. The mashed potatoes are shaped into balls, and the fish is placed within. If you want to try one I highly recommend doing a custom order from Hacienda El Rejo, the amazing hotel we stayed near Cotopaxi National Park region.
Once the fish is coated in the mashed plantain, it is deep-fried until crispy on the outside. It's mushy on the inside, like mashed potatoes.
Brujo Fish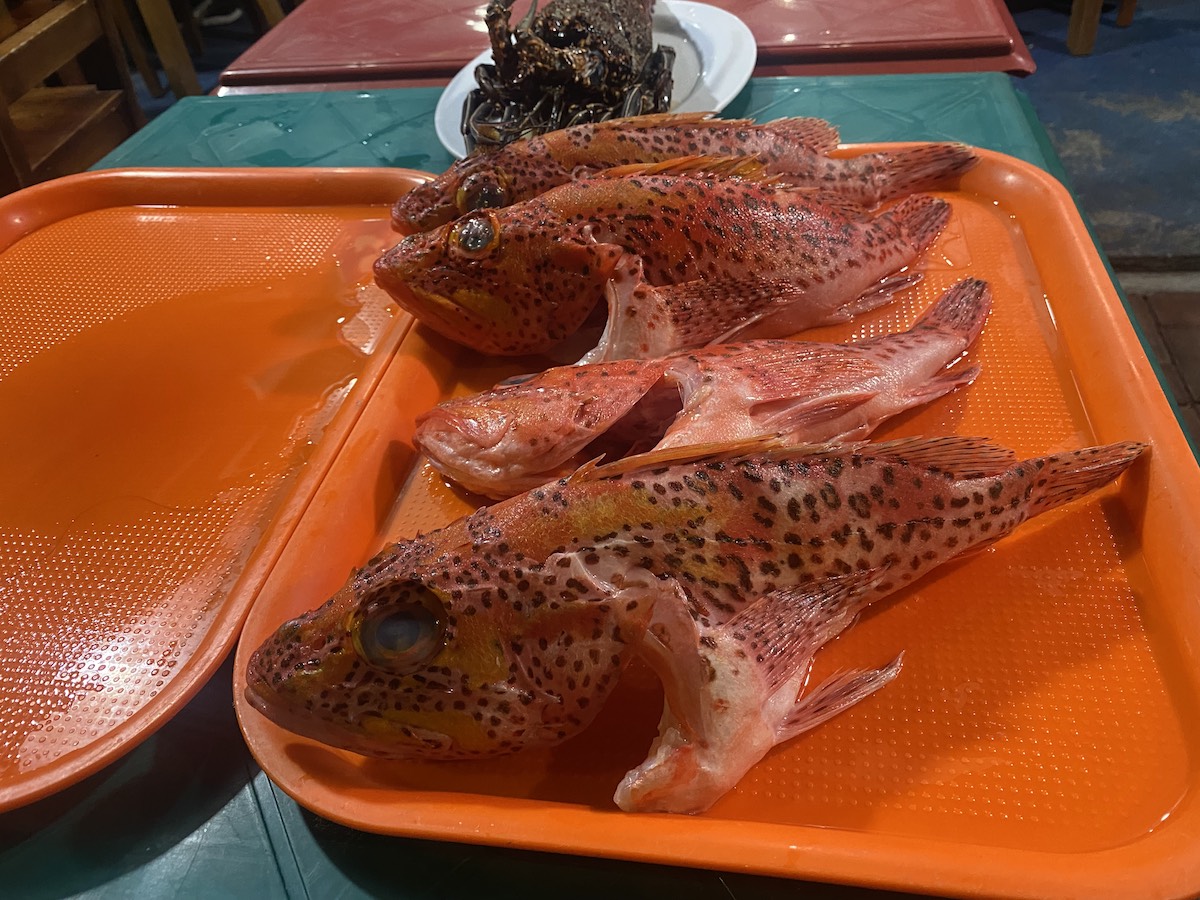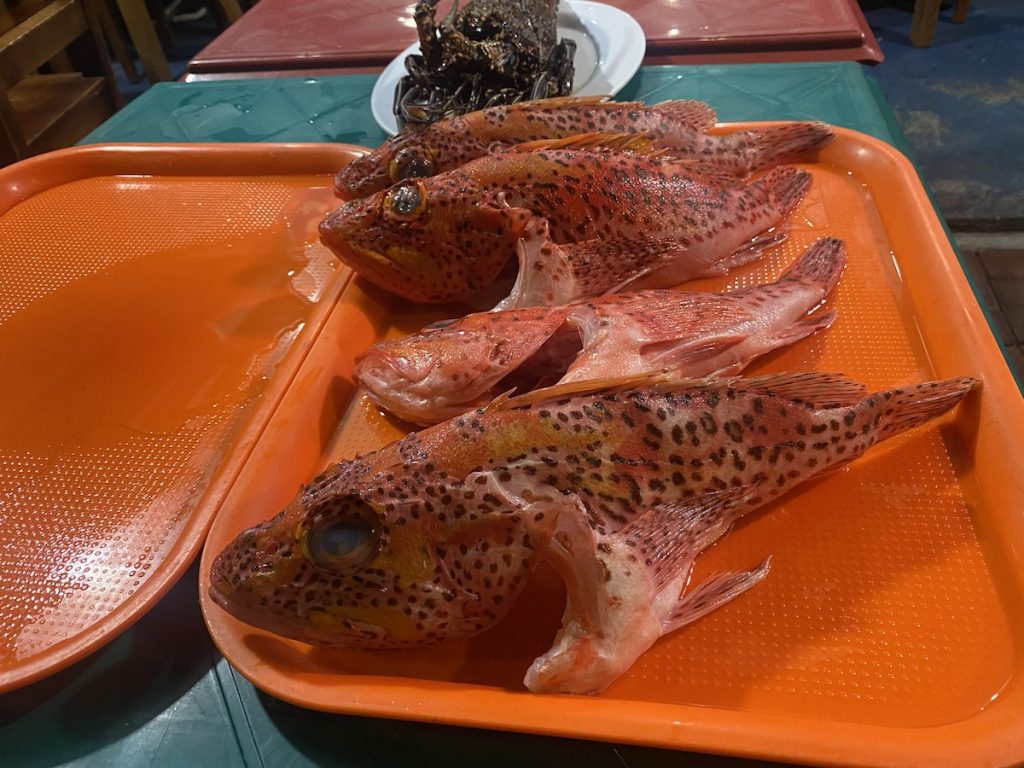 Brujo fish or also called scorpion fish is commonly found in fish markets in Puerto Ayora in Santa Cruz Island, Galapagos.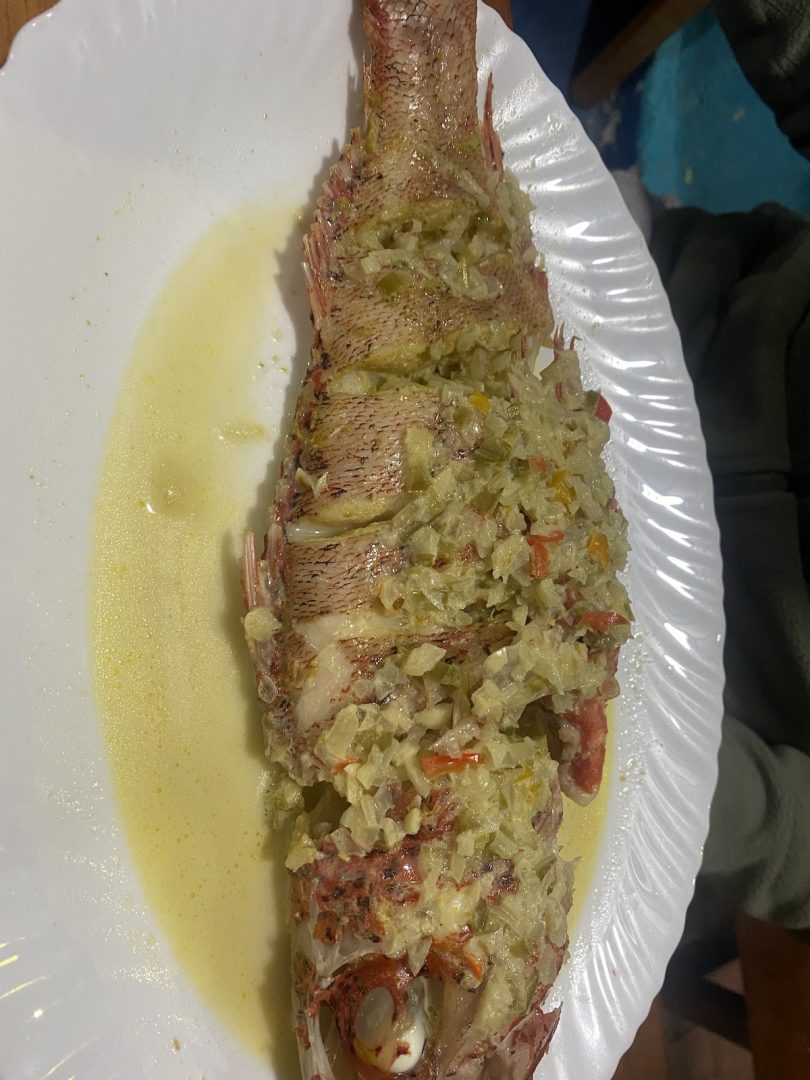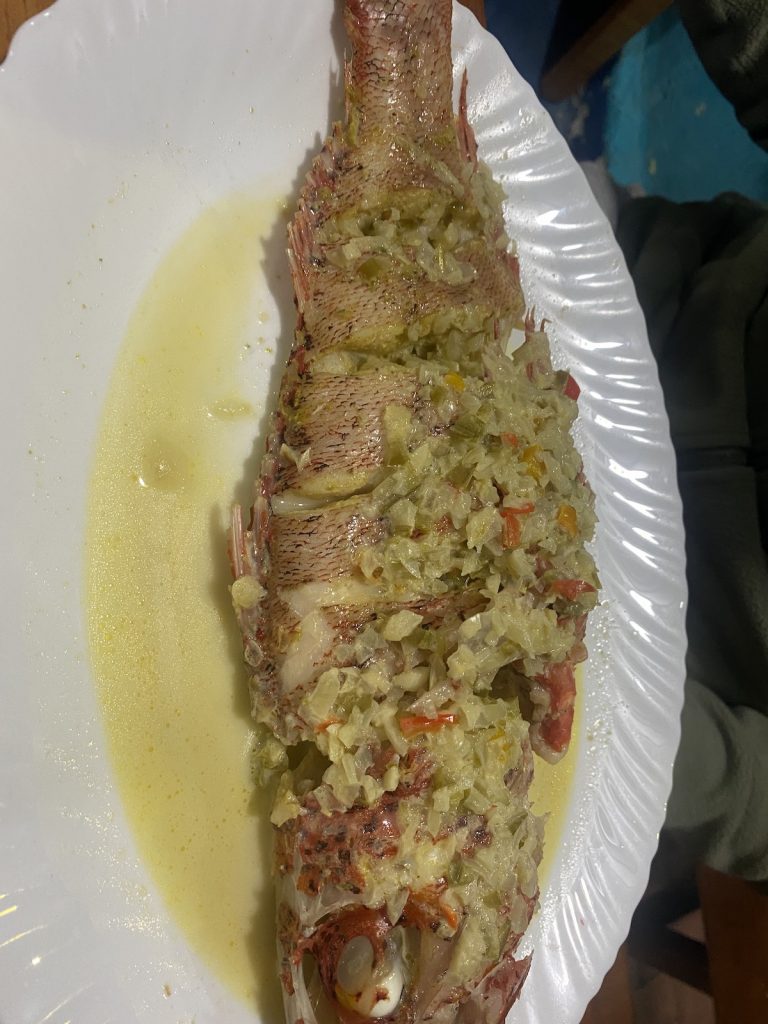 Most restaurants in the area serves grilled brujo fish and it is enjoyed by tourists. You can get a whole brujo fish foor as low as $25 and this can be already shared by three people.
Tigrillo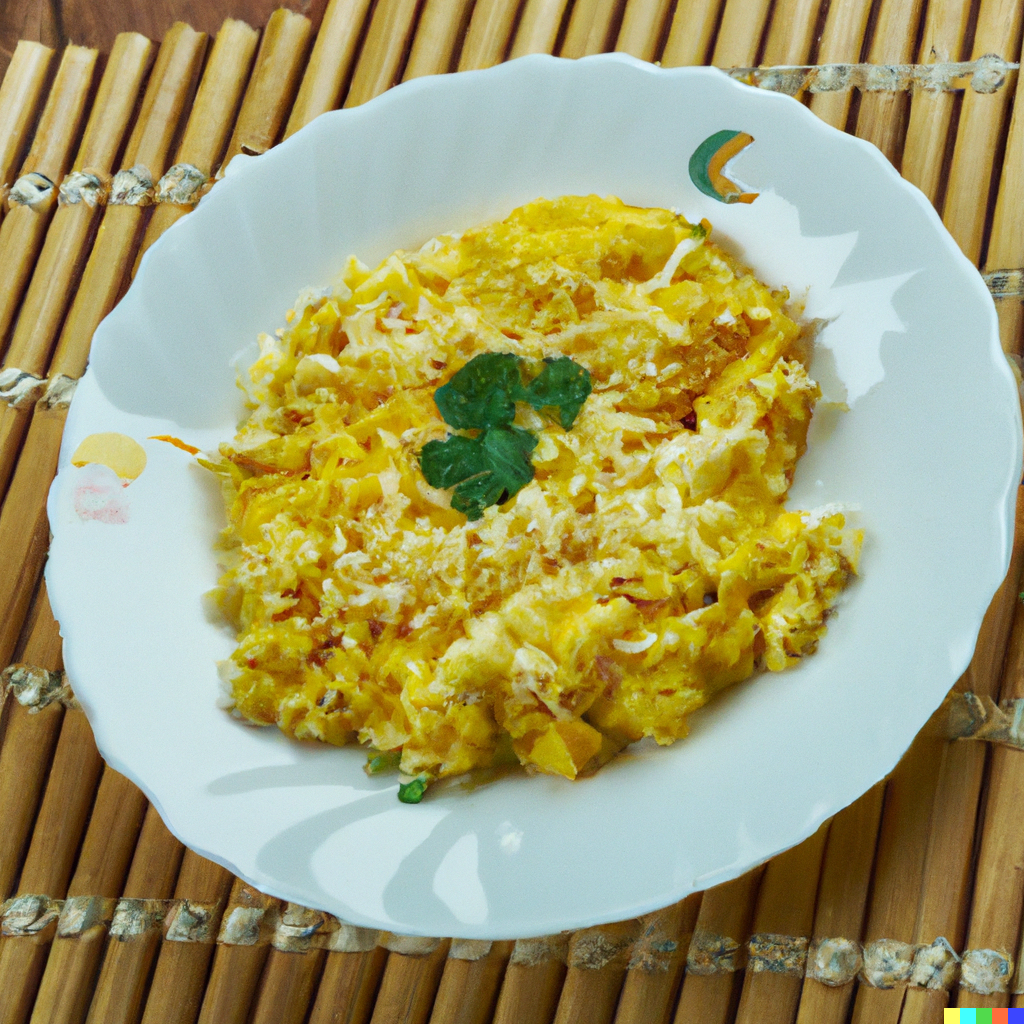 Tigrillo is a fried green plantain scramble with buttery eggs and shredded cheese.
This meal originated in coastal villages in the southern region, such as Zaruma. Although tigrillo is offered in the Andes, breakfast in Andean cities such as Quito or Ibarra is more likely to include oven-baked bread with homemade fruit jam.
Tigrillo is made with chopped green plantains that are cooked twice for the most delectable base. Then. it is combined with sautéed onions, scrambled eggs, and melted queso fresco. It is served with a cup of coffee and a sprinkling of cilantro on top.
Guatita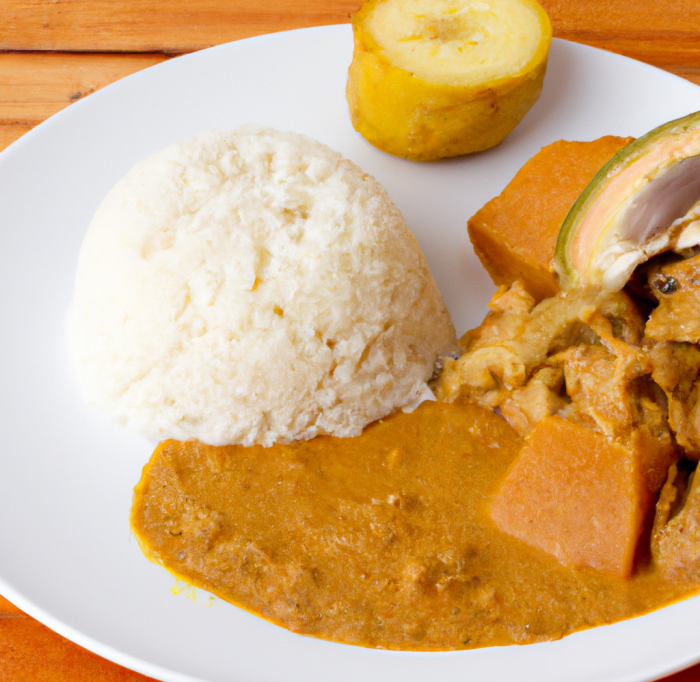 Guatita is an Ecuadorian dish made with tripe in a potato and peanut sauce. The tripe is cooked and then sliced into very little pieces so that the strong distinct flavor does not overpower you, and the flavor combines in with the flavor of the potato peanut sauce.
Guatita tripe stew from Ecuador is served with white rice, curtido or pickled onions, tomato slices, avocado slices, and hot sauce.
Arroz con Camarones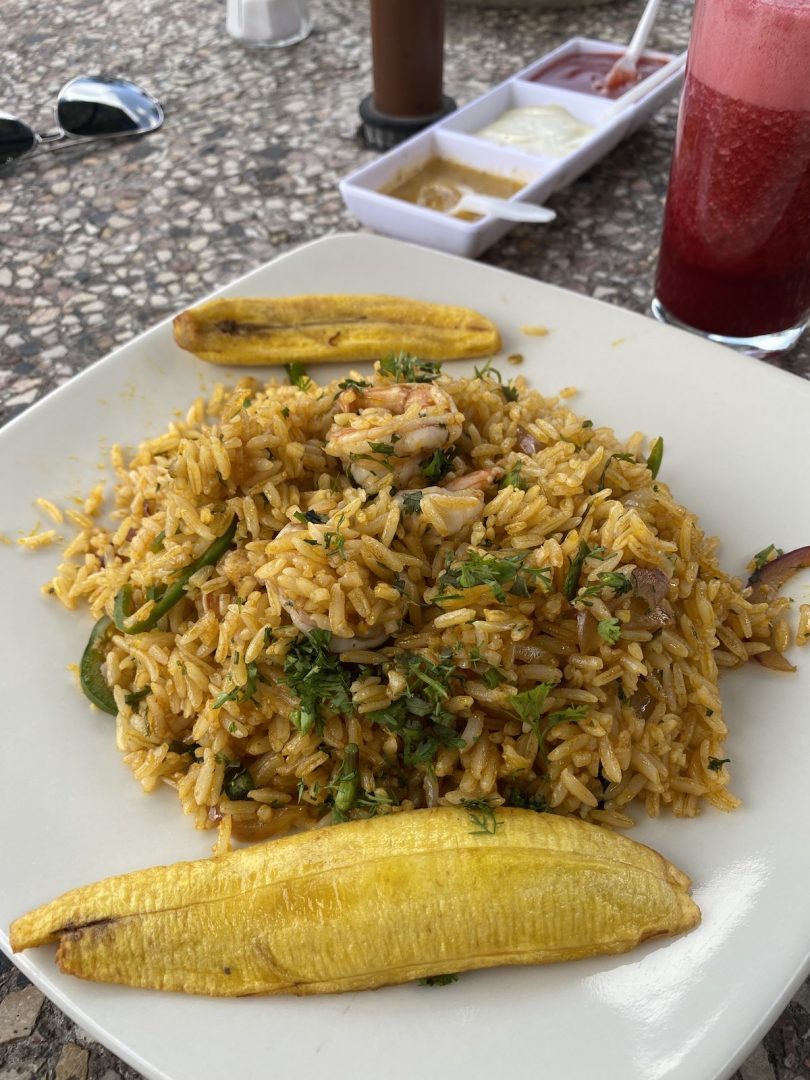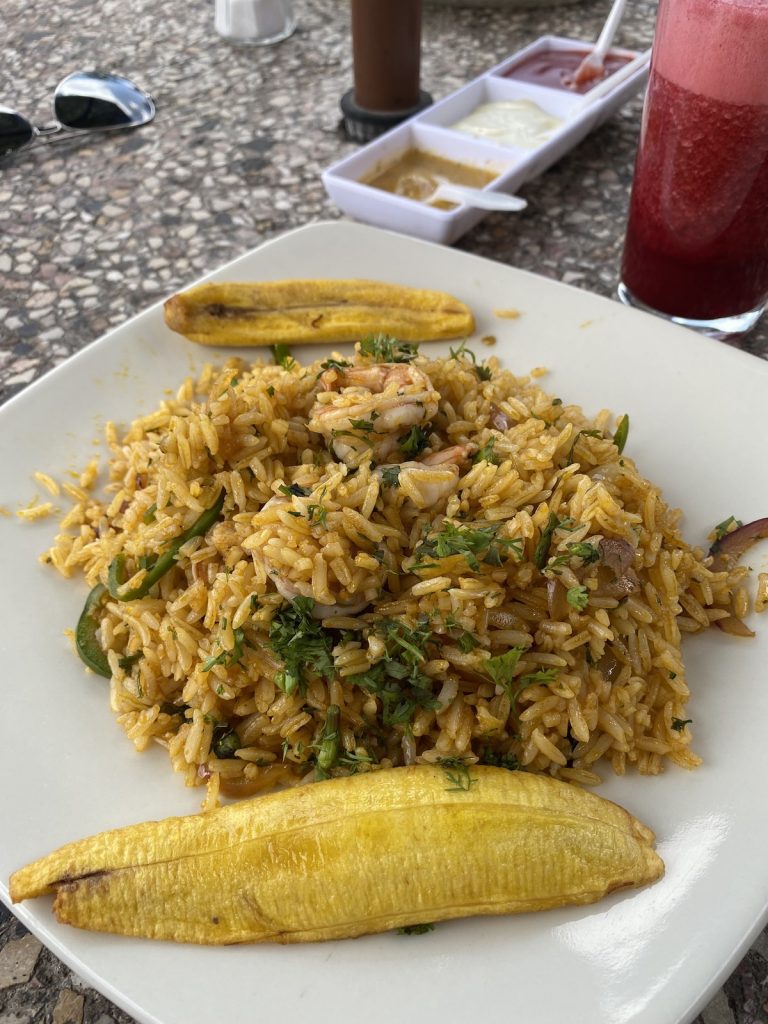 Arroz with camarones literally means "rice with shrimp." This traditional Latin dish is created with excellent shrimp and yellow rice cooked in a handmade shrimp stock. There are various versions of this meal from Cuba, Ecuador, Mexico, Colombia, and other Latin and Caribbean countries.
Hornado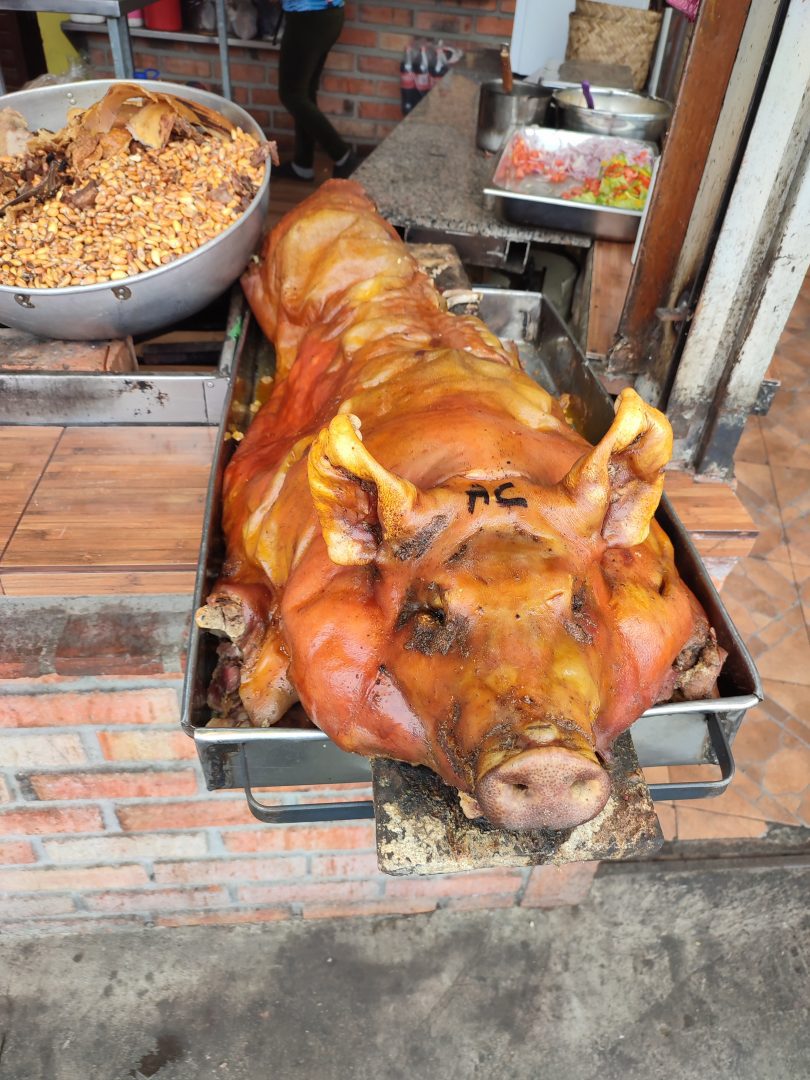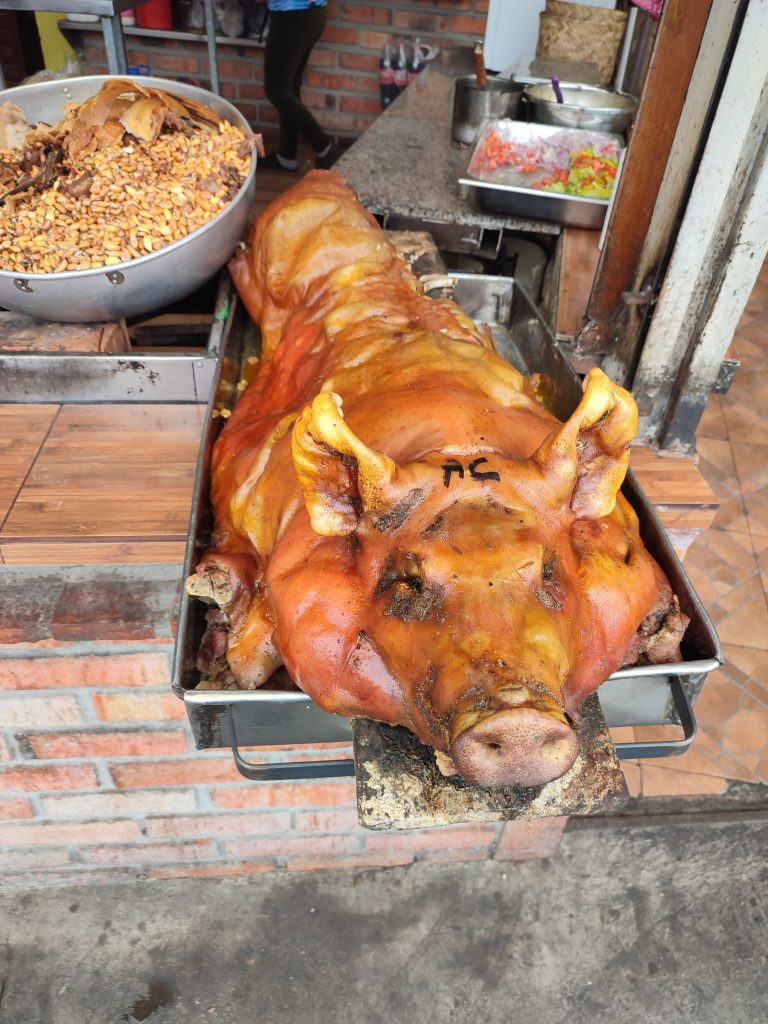 The word "hornado" refers to the roasted pigs in Ecuador. It entails slow-roasting a whole pig over hot coals for several hours, frequently overnight, in a marinade comprised of onions, garlic, cumin, chicha (fermented corn), and annatto.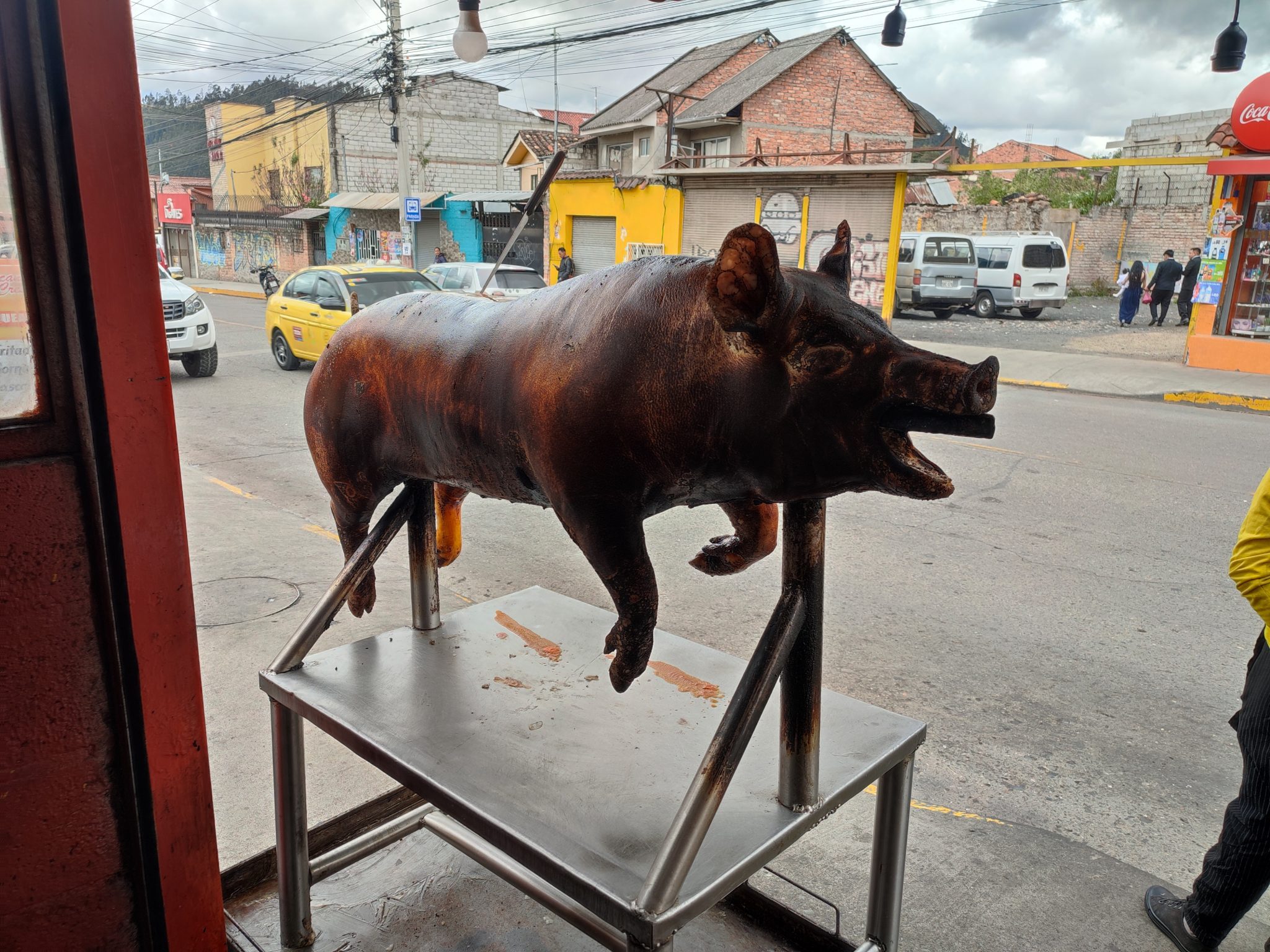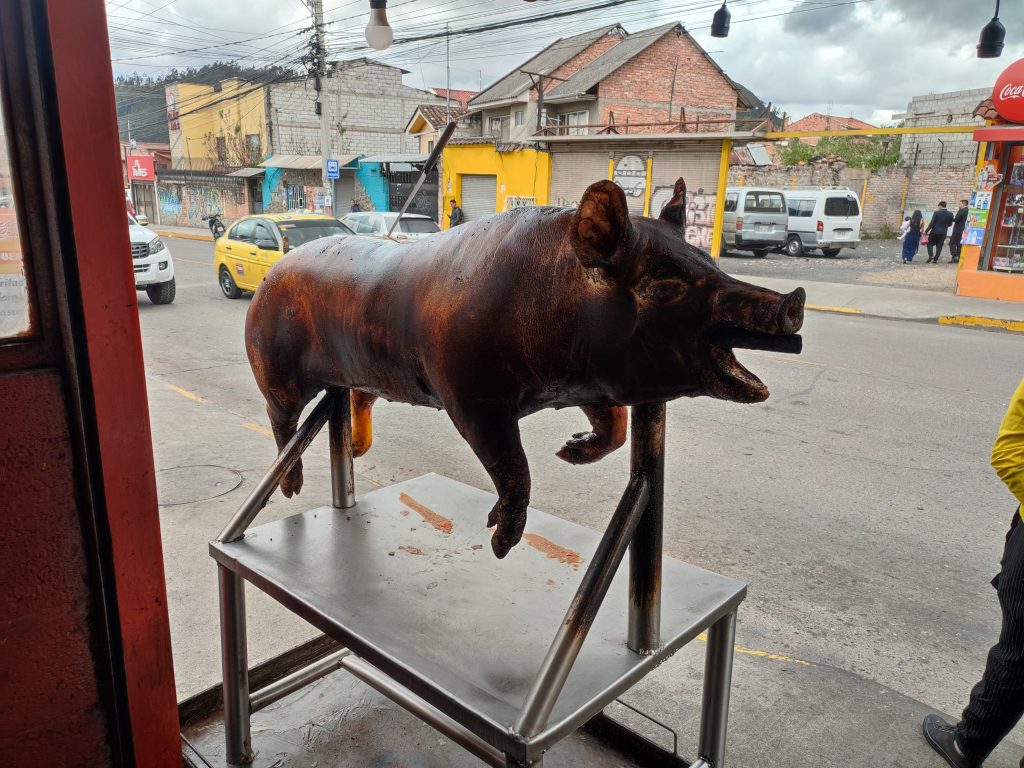 Highland marketplaces frequently offer hornado de chanchos. They may come with different side dishes depending on where you are in Ecuador, but often they are served with llapingachos (fried potato cakes), mote (boiled maize), chicharrones, and some veggies.
Espumilla
Espumilla is a popular Ecuadorian street item. Fruit pulp, commonly guava o guayaba, egg whites, and sugar are used to make these delectable guava meringue cream treats.
Espumillas are offered in ice cream cones and resemble ice cream. Street sellers selling espumillas are frequent at the exits of most Ecuadorian schools. On weekends and holidays, you may also find them outside of fruit markets in many cities, as well as in plazas.
Quinoa Powder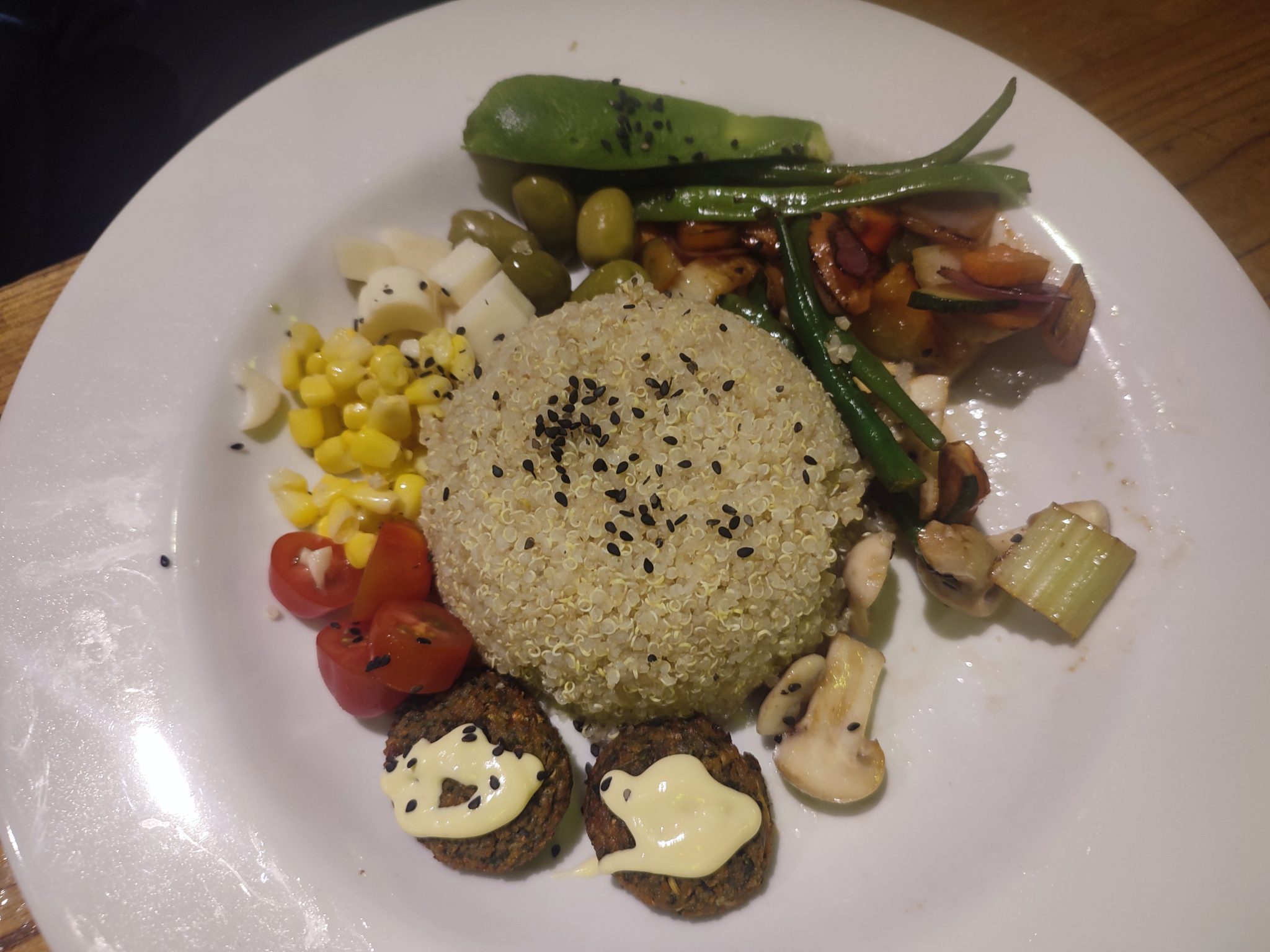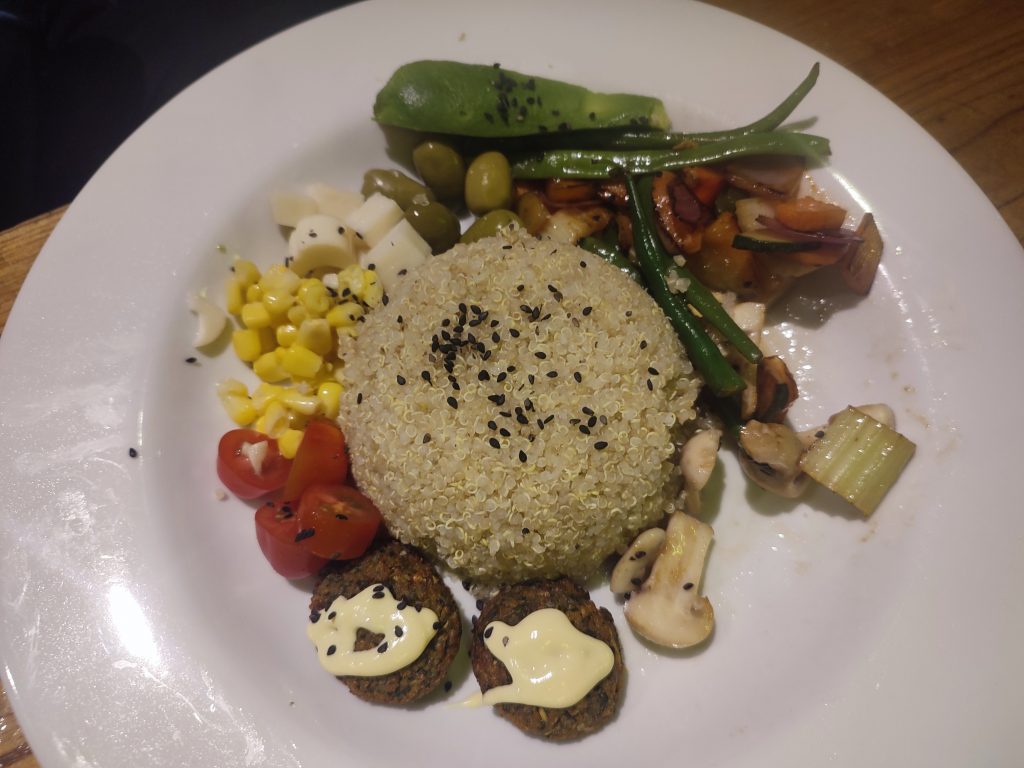 Quinoa is a nutrient-dense gluten-free grain that is native to Ecuador and South America's Andes area. Quinoa's fiber can also aid with cholesterol and blood sugar levels, thus lowering your risk of diabetes and heart disease.
Quinoa flour is quite versatile and can be used in a broad variety of cuisines. It can also be used to make gluten-free toppings and thicken soups and sauces. It is also added to protein smoothies because of its protein-rich content.
Cevichocho Vegano (Vegetarian Ceviche)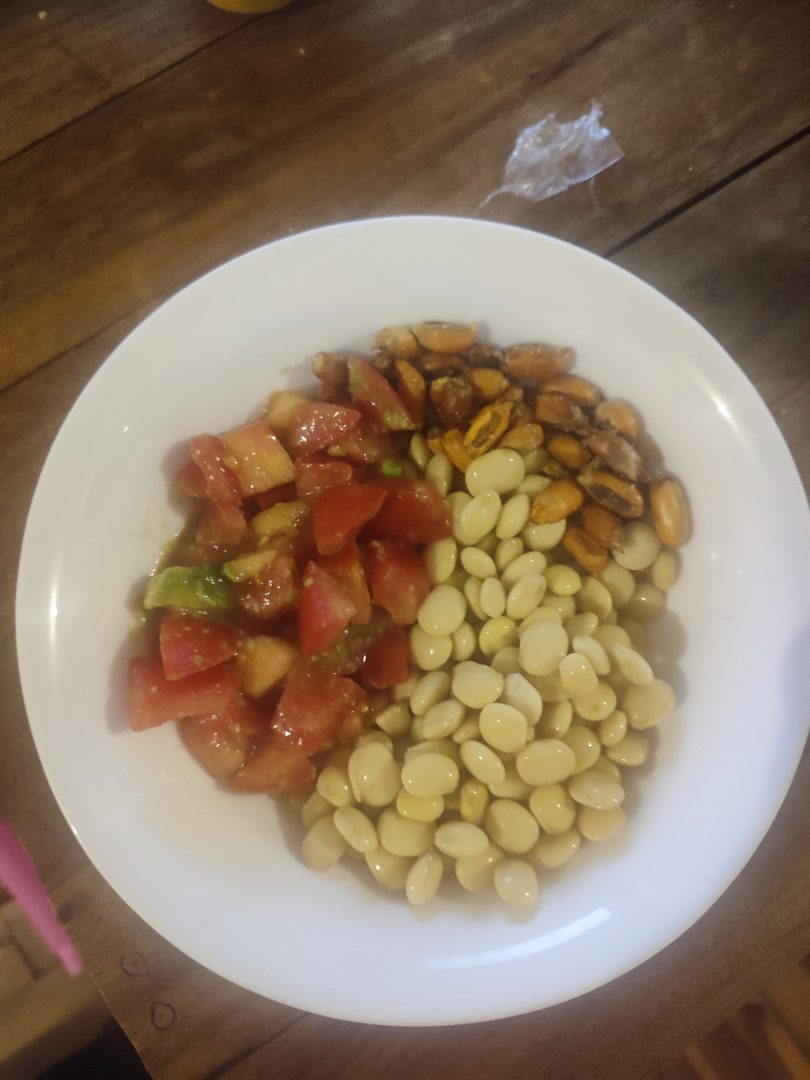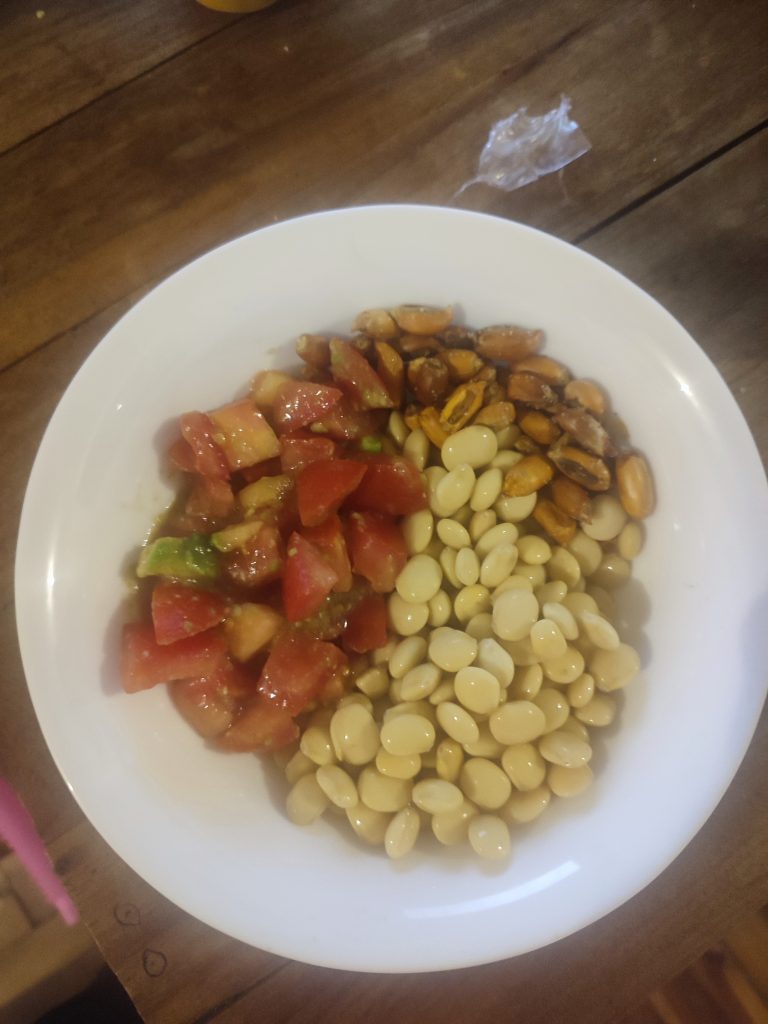 Ceviche de chochos is a vegetarian ceviche cooked with chocho beans (lupini beans), onions, tomatoes, cilantro, limes, oranges, and tomato sauce.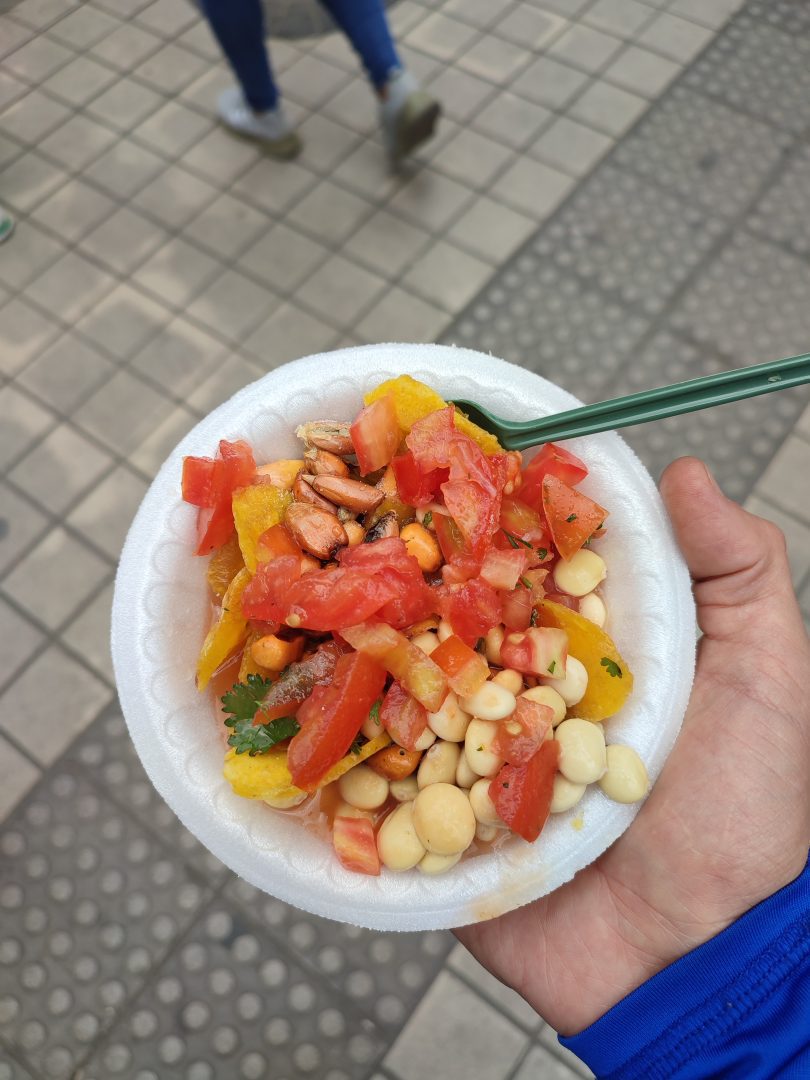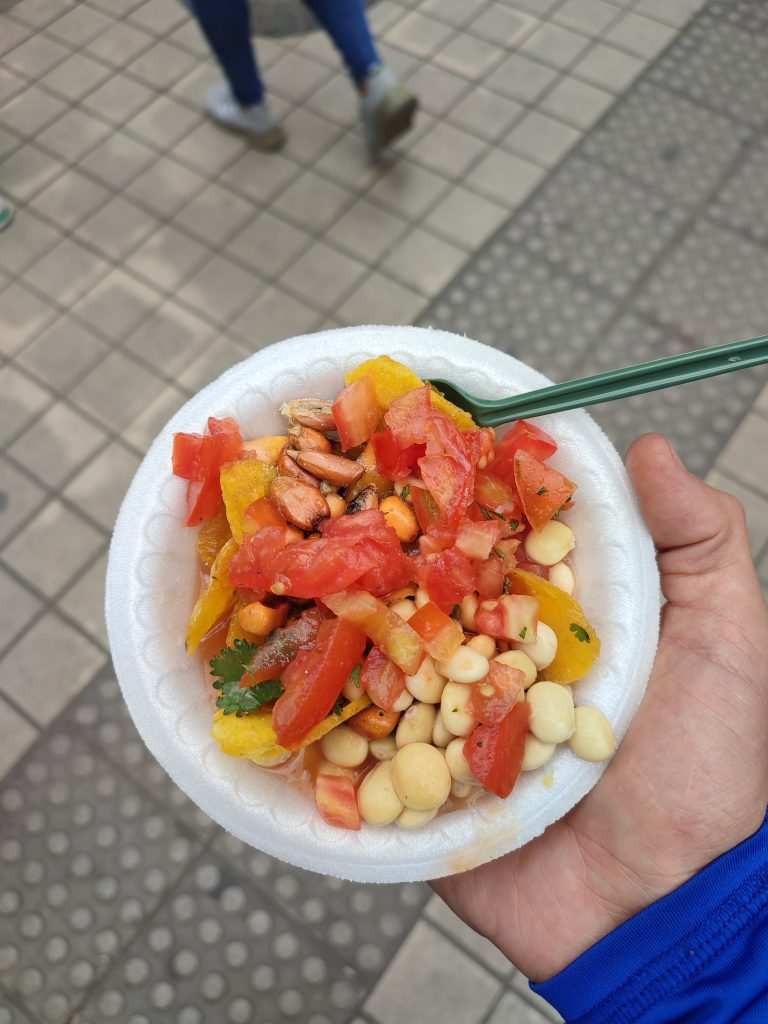 It is commonly paired with maiz tostado, chifles or plantain chips, avocados, and hot sauce.
Arepa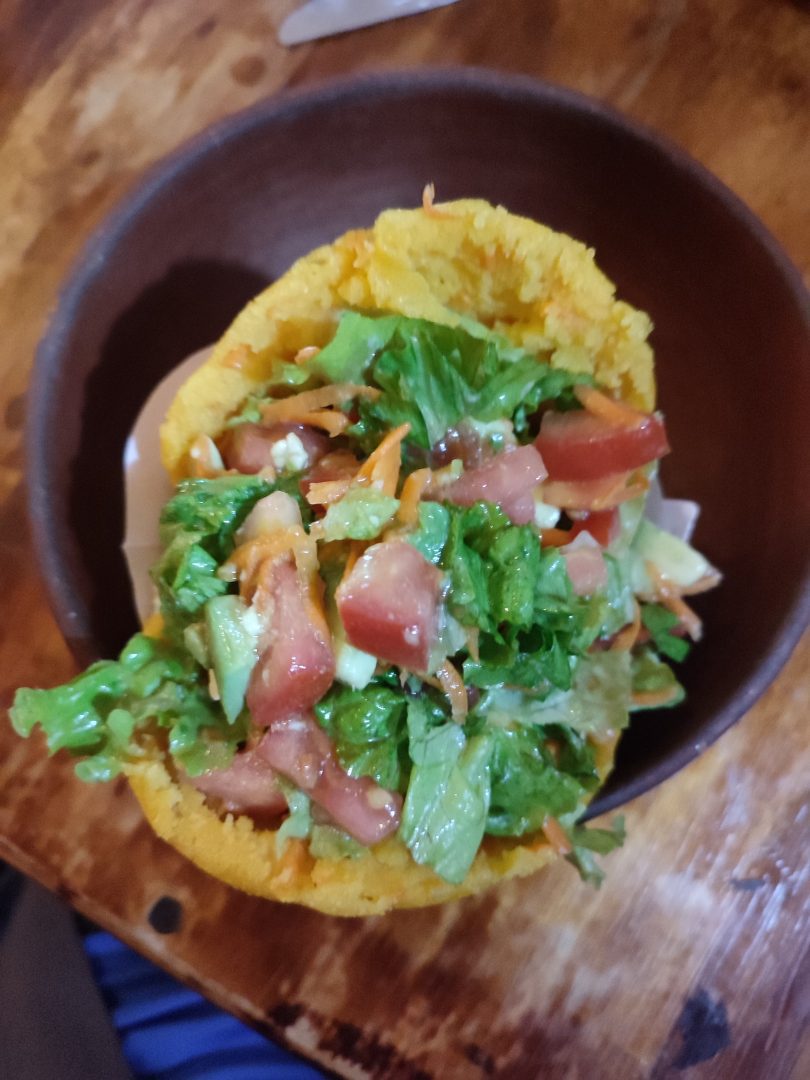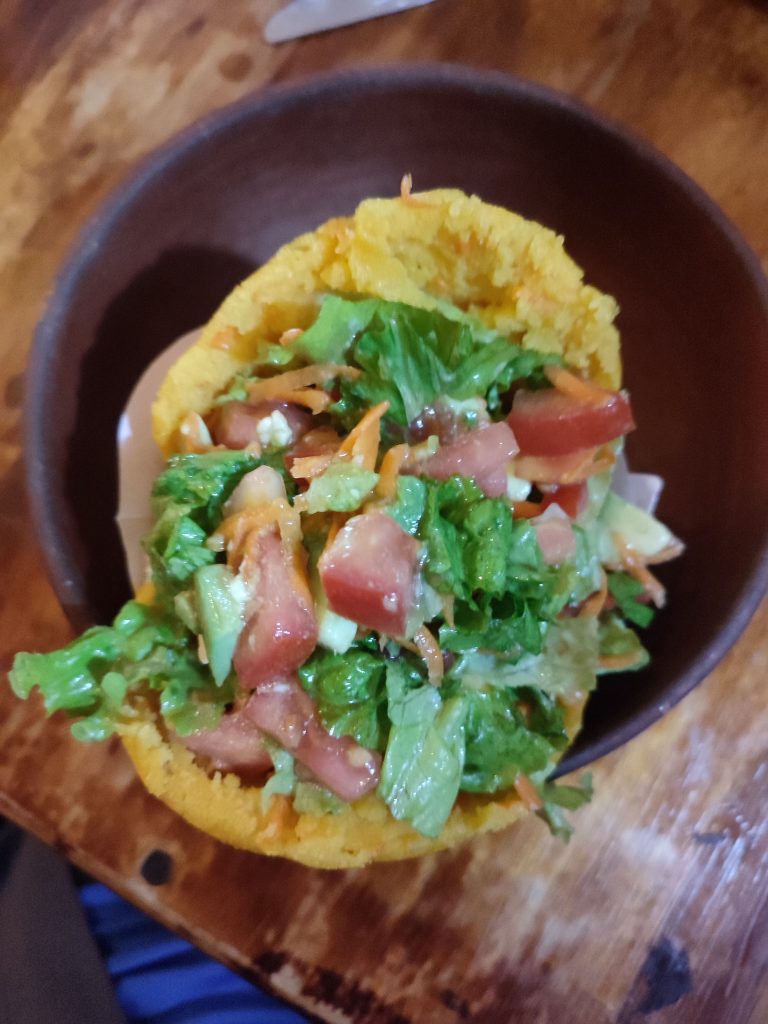 Arepas are packed cornmeal pastries with a crunchy exterior and a fluffy interior. They're usually eaten as a snack or as a side dish to a main course.
Arepas are unleavened (no yeast, baking soda, or baking powder) and typically prepared with precooked cornmeal for that trademark golden color and corn flavor. They are typically prepared on a griddle, but they can also be fried, baked, or boiled.
The filling options vary depending on the region. You can stuff them with meat, eggs, beans, pumpkin, cheese, and other items.
Humitas
Humita is a typical South American cuisine that transcends the Hispanic period. It's an ancient delicacy made with fresh choclo mashed into a paste and wrapped in corn husk before steaming or boiling in water.
In Ecuador, humitas are made with freshly ground maize, onions, garlic, cheese, eggs, and heavy cream. They are similar to tamales, however, they are made using fresh maize rather than masa. They are well-known in Ecuador's Highlands, where they are typically consumed for breakfast or as a mid-day snack with coffee.
Colada Morada
Colada Morada is a purple drink that is made with blackberries, blueberries, and raspberries. It is traditionally served during Day of the Dead celebrations. We tried it in Quito's old town.
Conclusion
Ecuador offers a wide range of options when it comes to food. Each delicacy offers a distinct taste and representation of the region where it came from. Tourists from all over the world also come to Ecuador for food tours.
If you are visiting Ecuador, make sure to not miss the scrumptious food and gastronomy they offer.