San Cristobal Island is unquestionably the crown gem of the Galapagos Islands. It is the second-largest island in terms of population. It offers tourists a variety of activities, particularly for nature enthusiasts.
Here, you may take in the most breathtaking vistas, go surfing and snorkeling in the water, or simply relax on the beach with the sea lions. The Galapagos Islands' official capital is Puerto Baquerizo Moreno, a fishing town in the middle of San Cristobal Island.
San Cristobal Galapagos is an excellent island to include on land trip itineraries, and it is also frequently included in cruise itineraries. The island's relaxed atmosphere and nice residents will make you want to stay longer!
Continue reading to learn all you need to know to plan your trip to San Cristobal Island, Galapagos.
How to Get to San Cristobal Island
San Cristobal is the Galapagos archipelago's easternmost island. To visit, either stay a few nights in Puerto Baquerizo Moreno town and tour local sights during the day or choose a cruise itinerary that includes a stop on the island.
San Cristobal is easily accessible from the mainland of Ecuador since the island has an airport with flights from Guayaquil and Quito by Aerogal, Tame, and LAN.
Regular speed boats are also available to bring tourists to and from Puerto Ayora on Santa Cruz island.
Getting Around San Cristobal Island
There are many taxis available in San Cristobal. The journey from the airport to the major town, Puerto Baquerizo Moreno, takes around five minutes and only costs about a dollar.
The majority of destinations are easily accessible by foot, with a few exceptions better reached by bike. If you want to get up into the mountains or over to Puerto Chino on the other side, you may take a cab or a bike.
Puerto Baquerizo Moreno
Puerto Baquerizo Moreno serves as the administrative center for the Galapagos Islands. The streets of the modest hamlet are dotted with government buildings, restaurants, hotels, and airline offices. Every day, tours and ships arrive and depart from the harbor. A tiny selection of businesses and establishments cater to the needs of the island's thousands of visitors.
What to Do on San Cristobal Island
San Cristobal provides something to suit everyone's tastes and preferences. Paddleboarding, kayaking, snorkeling, hiking, bicycling, surfing, and relaxing on beautiful beaches are just a few of the activities that highlight the natural splendor of San Cristobal Island.
The most popular activity on this island is surfing. San Cristobal surfing is world-class on the coast's huge, windswept beaches, and Puerto Baquerizo Moreno is acquiring a reputation among South Americans as a surfing hotspot.
The waves are at their best at the beginning of the warm-wet season (December – February), when the water temperature is warm enough that no wet suit is necessary. Tongo Reef, west of town, is a great surfing destination, and boards can be rented from most local vacation agencies.
Attractions on San Cristobal Island
There are too many sites to see on San Cristobal Island and we have listed them here for you. 
San Cristobal Galapagos Beaches
Playa Mann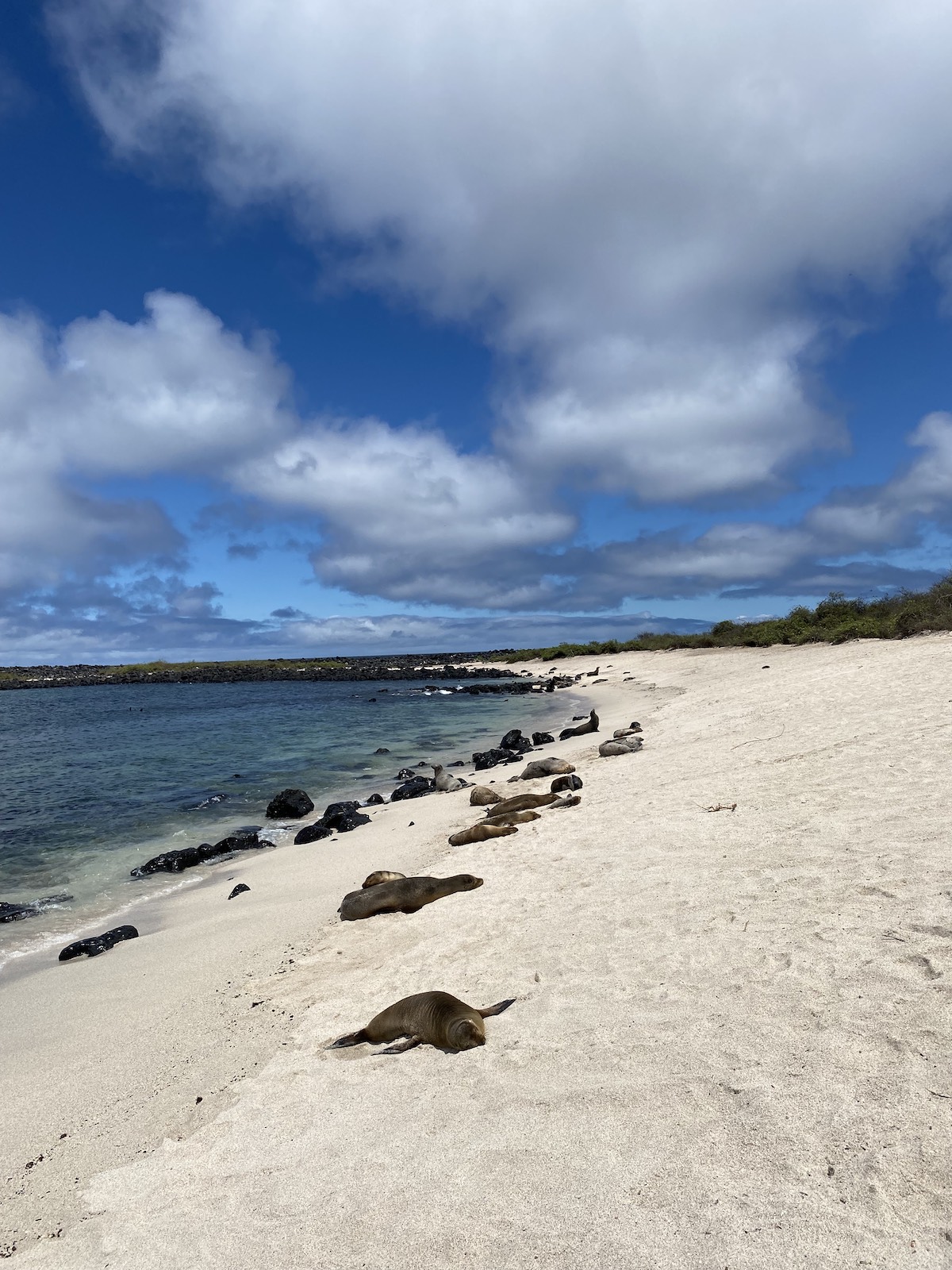 Playa Mann Beach, just a short walk from town, is a favorite area for relaxing and socializing with friendly sea lions. There are times when there are more sea lions than people in this area.
This beach is easily accessible from town due to its proximity to the major road. When you go there, you take the same route as the San Cristobal Interpretation Center.
The journey will take around 20 minutes. This is also an ideal location near Baquerizo Moreno town for viewing the spectacular San Cristobal Galapagos sunsets.
Manglesito Beach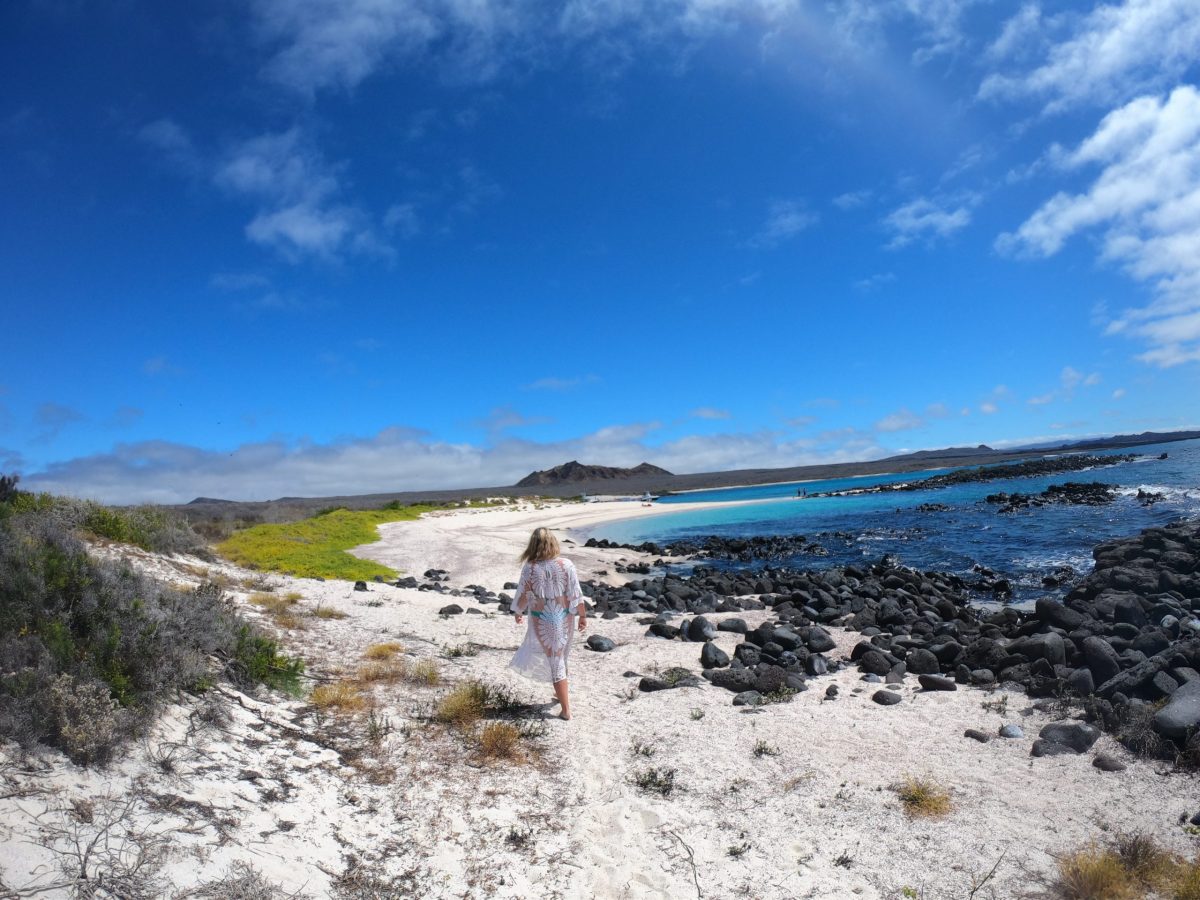 Manglesito Beach on San Cristobal's northern shore is a popular stop on day trips to Kicker Rock. It's a swimming, surfing, and snorkeling beach where sea lions, rays, sea turtles, and sharks swim in shallow waters surrounded by brightly colorful schools of reef fish.
Puerto Chino Beach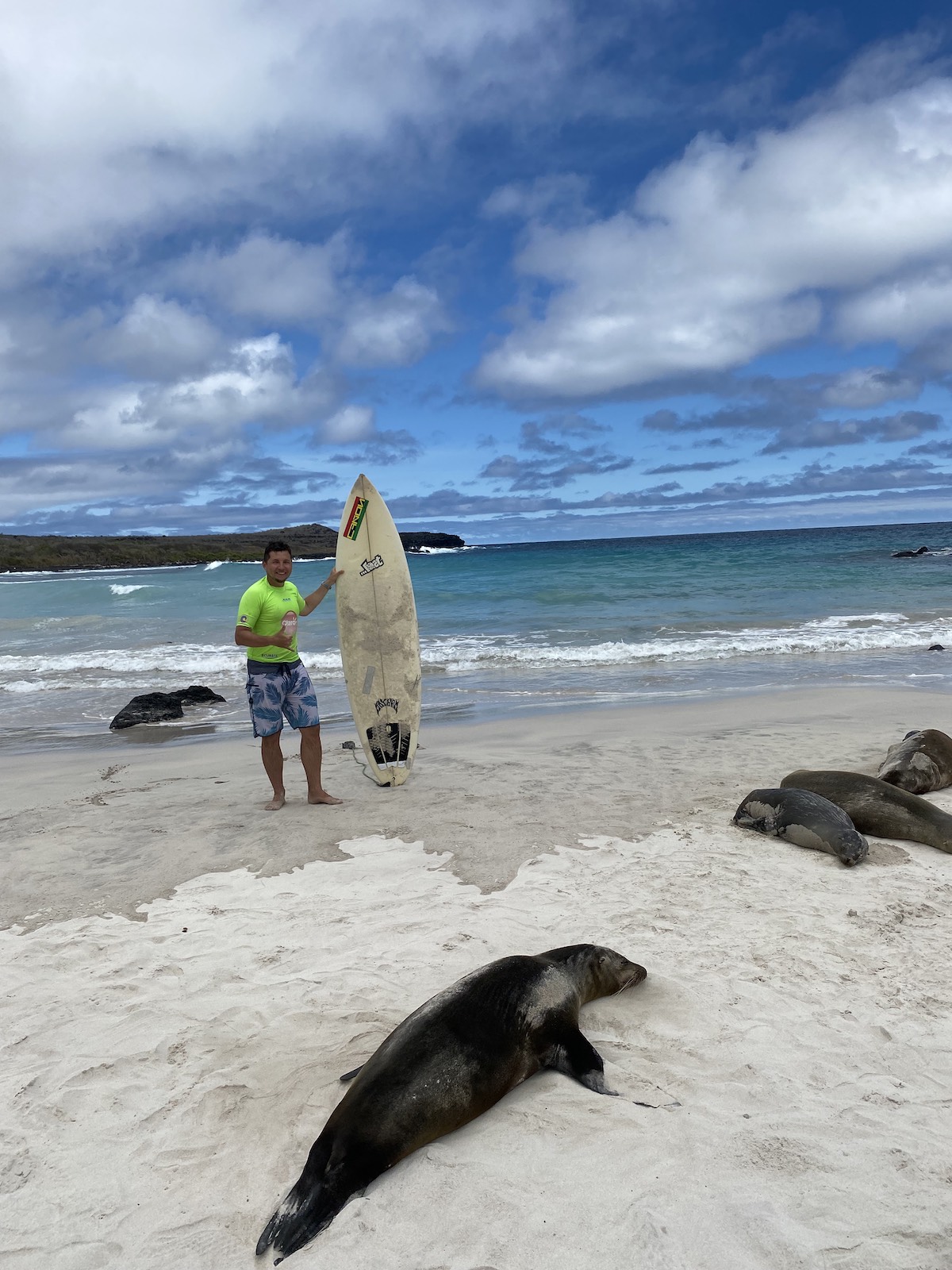 Follow a route through a vast cactus grove to reach the sandy sands of Puerto Chino Beach at the end of the road from El Junco Lagoon. Puerto Chino has San Cristobal's lone beach break, making it a popular destination for surf training for amateurs.
Sea lions, blue-footed boobies, Galapagos finches, mockingbirds, and yellow warblers may all be found in the vicinity. For the greatest views of the beach, follow the narrow cliff trail.
Punta Carola Beach
Punta Carola is a prominent surfing beach in San Cristobal. The waves exceed 10 feet during high tide and have two breaks. The left reef break is ideal for novices, while the right point break is ideal for intermediate and advanced surfers. The beach is accessible by the same circle route that leads to Cerro Tijeretas from town (Frigate Bird Hill).
Puerto Grande
Puerto Grande, located on the northern shore opposite Kicker Rock, is a popular swimming beach that attracts residents on weekends. This beach is accessible by boat or kayak from Puerto Baquerizo Moreno.
Playa Baquerizo
An hour walk on an overgrown trail leads to an off-the-beaten-path beach. The sea lions that congregate on Playa Baquerizo all year are its main draw. To get to Playa Baquerizo, travel out of town to Las Tijeretas, then continue along the cliff before descending down to the beach.
Tongo Reef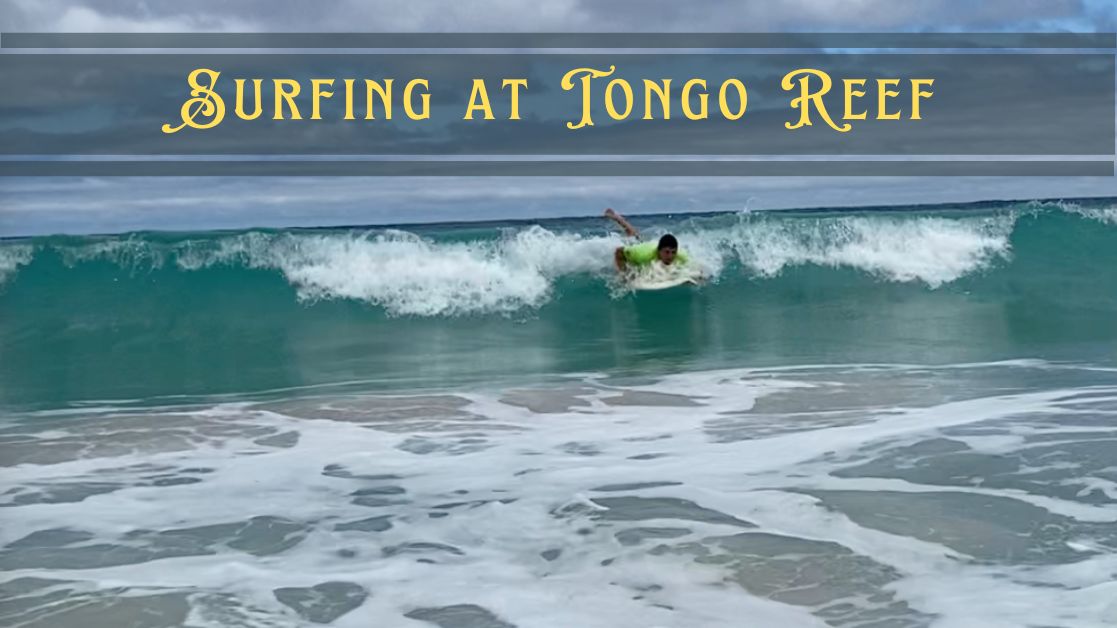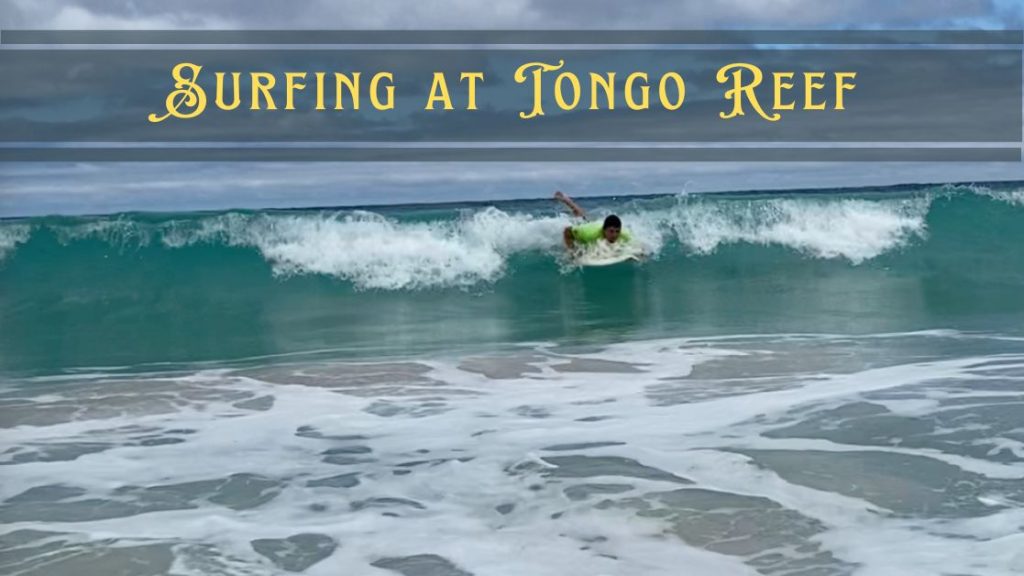 Tongo Reef is ideal for intermediate surfers looking for a challenge. At high tide, the waves may exceed six feet, and there are three take-off zones to get to the break. Bajito and Medio are ideal for beginners and intermediate surfers, while Pico offers the largest waves to challenge specialists.
Ochoa Beach
Ochoa Beach is a horseshoe-shaped bay on San Cristobal's northwestern side, boasting white beaches, volcanic outcrops, and a tranquil lagoon. Among the greatest animals found here are Galapagos sea lions, blue-footed boobies, sally lightfoot crabs, herons, and pelicans. The beach is accessible via private tour or kayak.
San Cristobal Island Day Tours
Tour 360º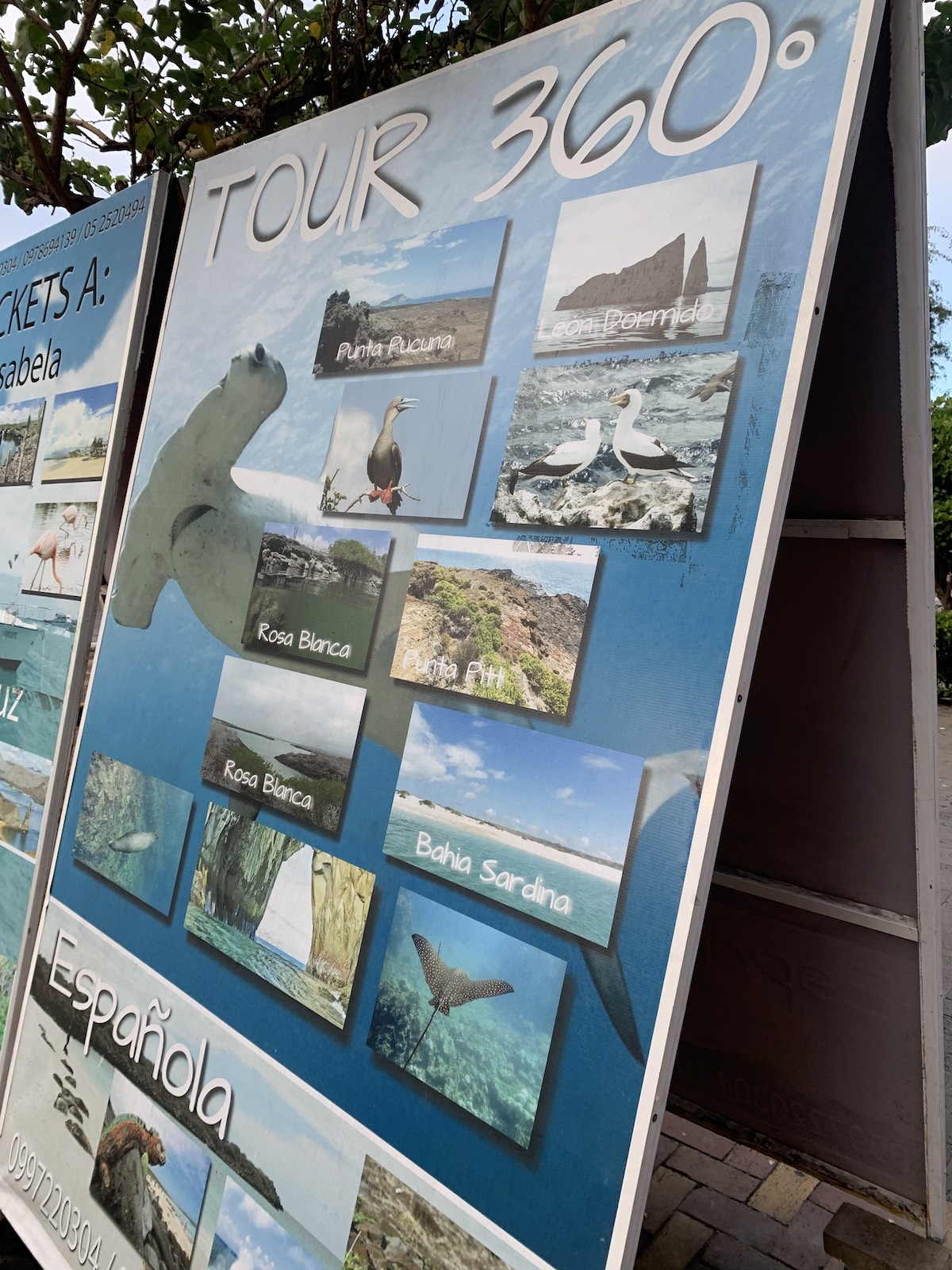 One of my favorite parts of our Galapagos vacation was the 360º tour. As the name indicates, the expedition does a full circle of San Cristobal Island.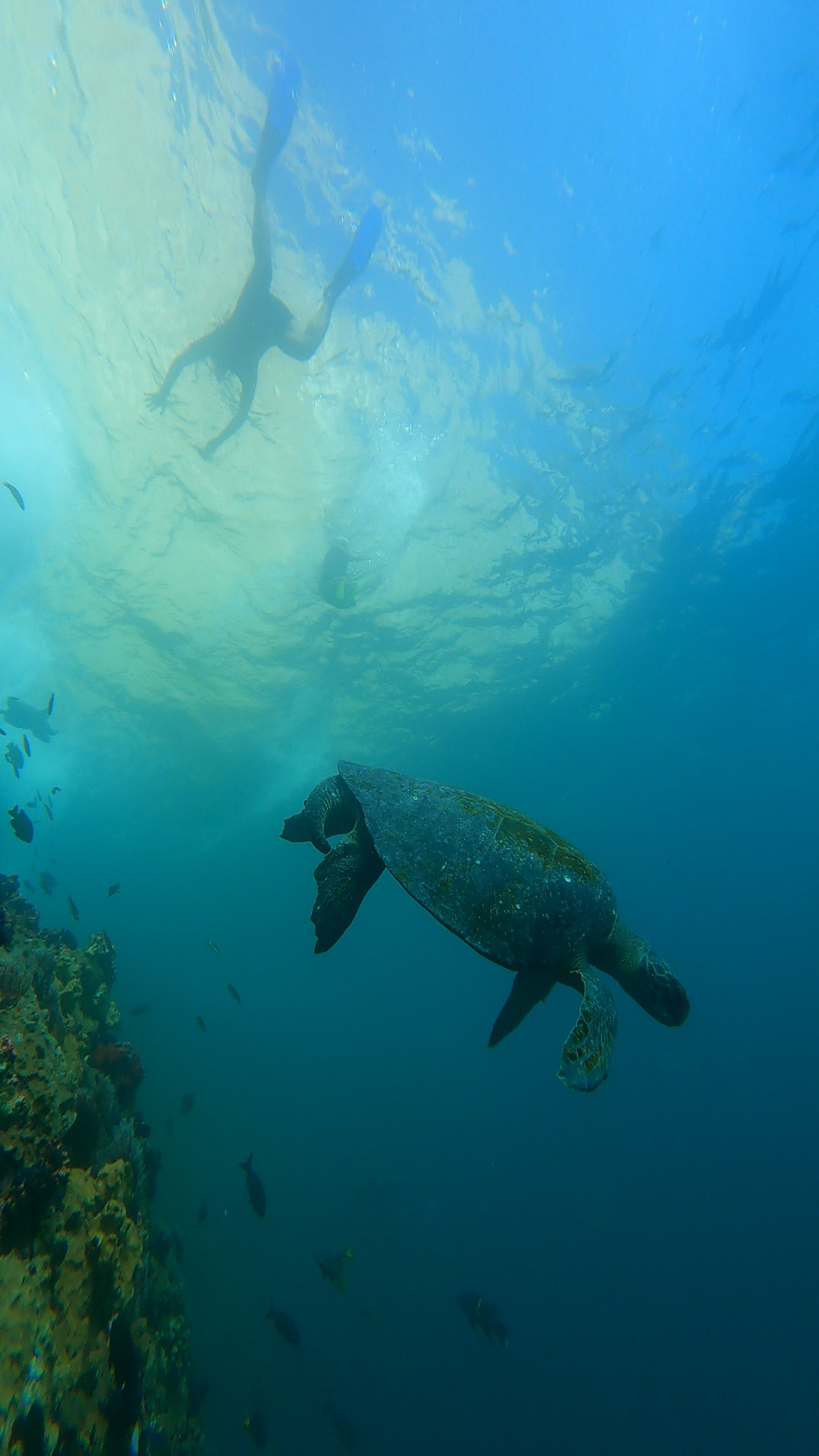 The Tour 360 cruises start early in the morning, having access to the Kicker Rock area before the other day tour boats arrive.  The excursions also feature fishing trips and tours to beaches not accessible by other tour vessels.
Española Island
Española Island is the archipelago's most southerly island and one of the Galapagos' oldest. It is a famous tourist destination due to the presence of waved albatrosses and blue-footed boobies on the island. If you visit the Galapagos Islands between April and December, you will see all of the waved albatrosses nesting, and Española Island will be covered in wonderful, fluffy chicks.
Isla Lobos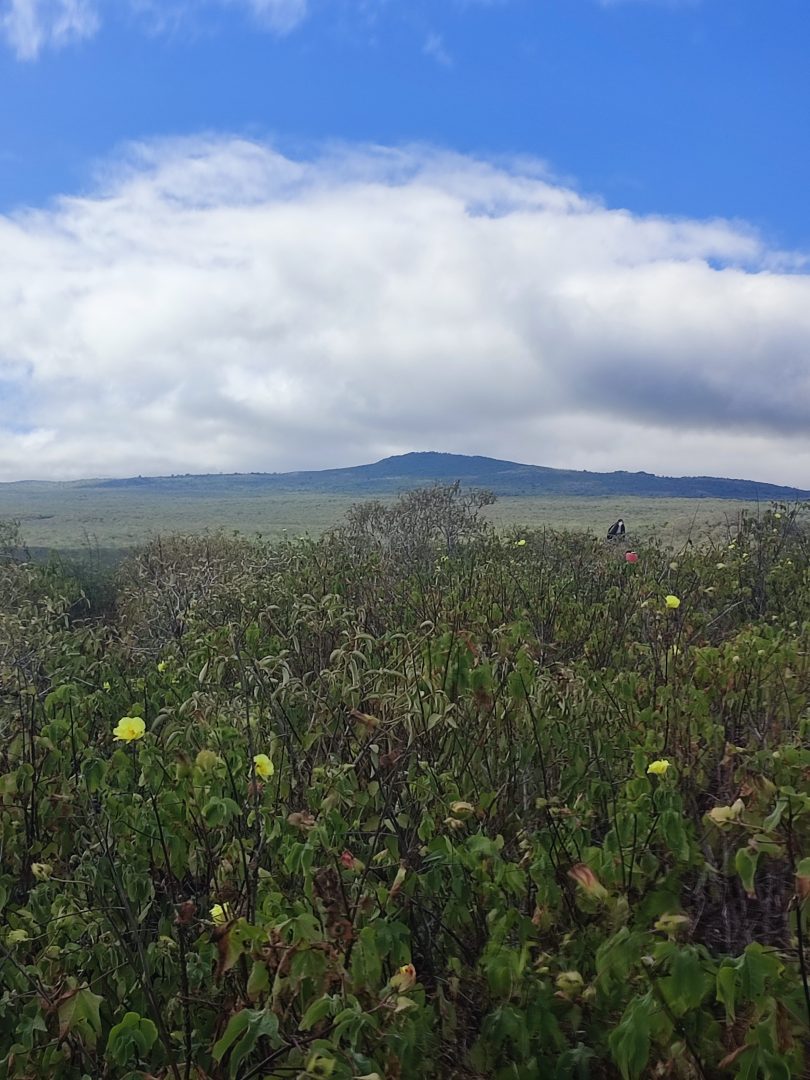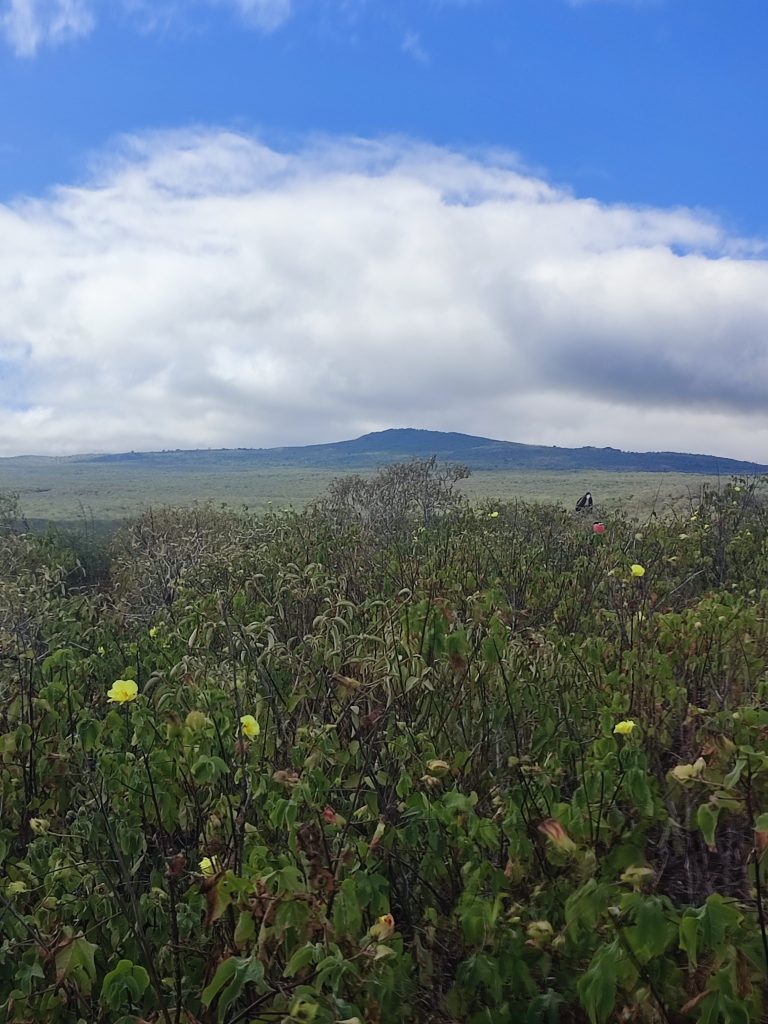 Isla Lobos is a somewhat flat island with a lot of white sand. It is a popular site to visit, despite not being the most spectacular location on tour itineraries. Lobos Island is called after the sea lions that live there, and it is doubtful that you will not spot one of these critters during your stay. The island is so small that it would be better described as an islet.
San Cristobal Coastal Sites
Cerro Brujo (Witch Hill)
Cerro Brujo is a stunning stretch of white sand where sea lions and Sally Lightfoot crabs congregate. The shallow waters near the beach are frequently frequented by Galapagos rays and marine turtles. The name translates as "Witch Hill," alluding to the little cliff overlooking the sea adjacent to the beach. Cerro Brujo is accessible via several Galapagos cruise itineraries.
Punta Pitt (Pitt Point)
Punta Pitt, located on the island's northeast coast, is accessible via organized day tours or cruise itineraries. This is the only location on the archipelago where tourists may observe all three types of Galapagos boobies — red, blue, and nazca – all at once.
La Loberia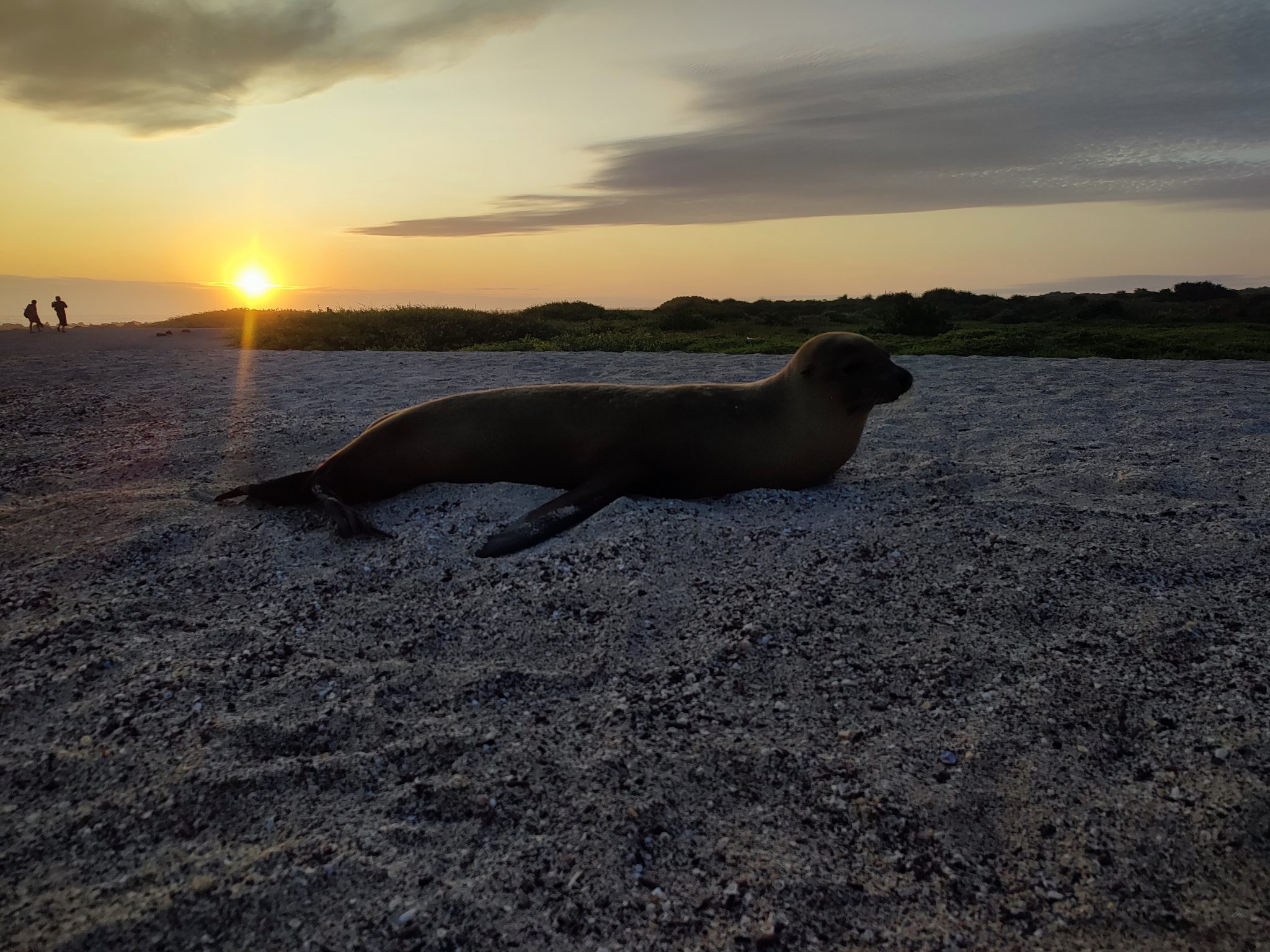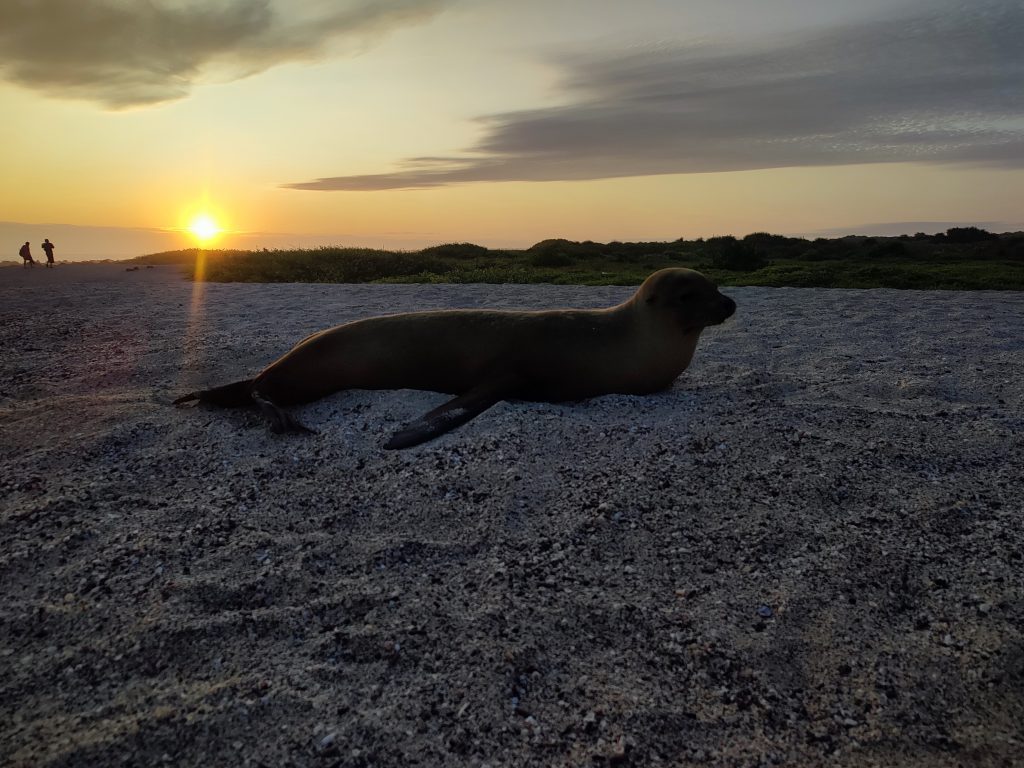 La Loberia, located near Baquerizo Moreno town, is home to a big sea lion colony as well as blue-footed and nazca boobies. There's a short 1km climb, a good beach, and a terrific chance to snorkel with playful sea lions. La Loberia is easily accessible from town and may be visited alone, as part of a day excursion, or as part of a cruise program. At low tide, there is a protected lagoon that is ideal for snorkeling with sea lions and turtles.
San Cristobal Interpretation Center
The San Cristobal Interpretation Center is located to the north of town and is accessible through a boardwalk. The Galapagos National Park requires that all ship passengers visiting San Cristobal spend time at the Interpretation Center.
The educational displays provide context for a tour by chronicling the archipelago's natural and human history. The center's several sections include the volcanic creation of the islands, biological richness, and the early human history of San Cristobal Galapagos.
Cerro Tijeretas (Frigate Bird Hill)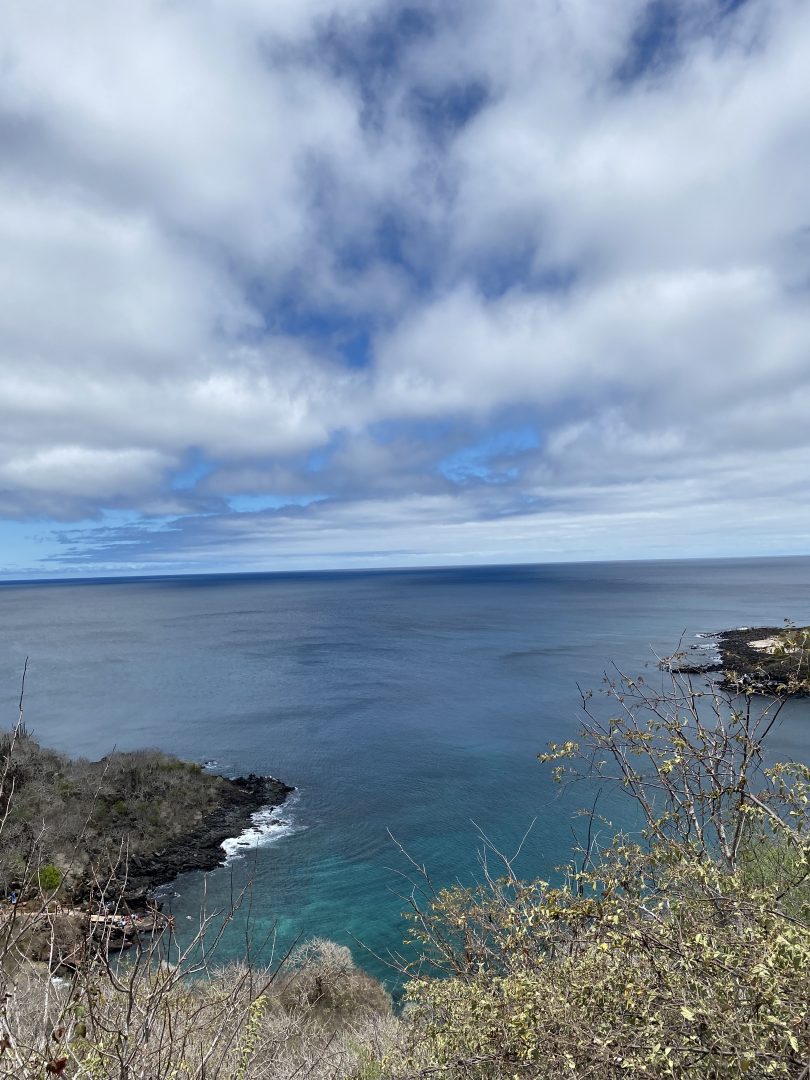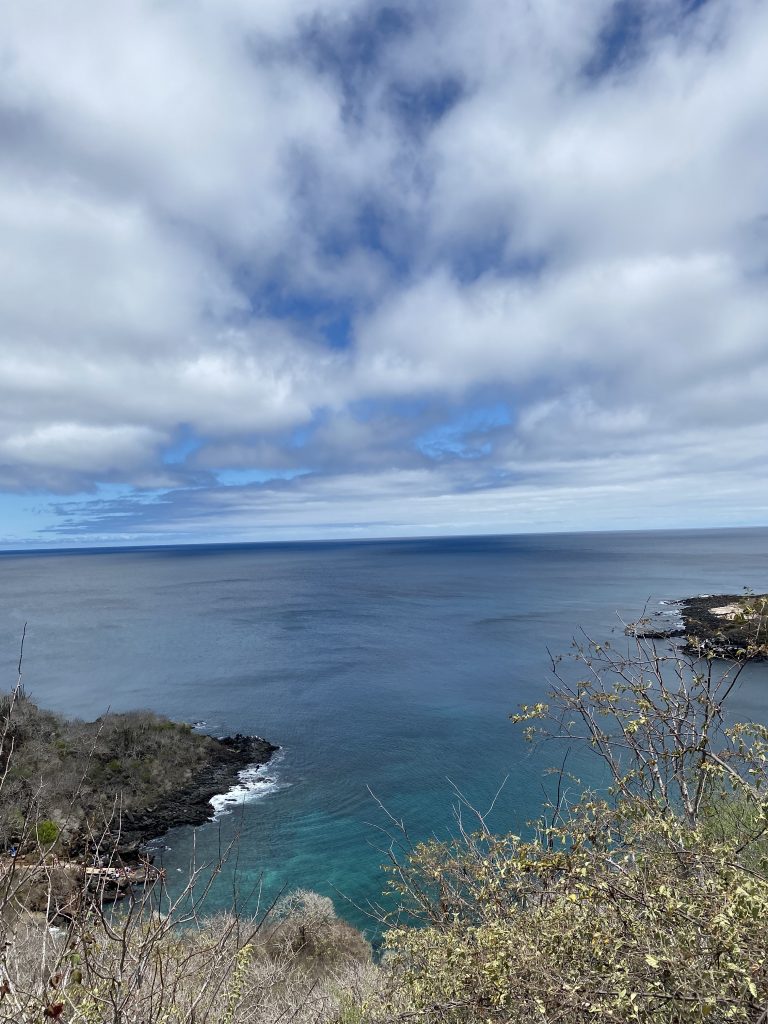 Take the 3.5km circle route up to Cerro Tijeretas from Playa Mann Beach. Visitors are rewarded with panoramic views (from the top lookout point) and the opportunity to watch two separate kinds of Frigate birds – Great and Magnificent Frigates – breeding together. There is also fantastic snorkeling with sea lions in the bay. 
San Cristobal Diving Sites
The Kicker Rock (Leon Dormido)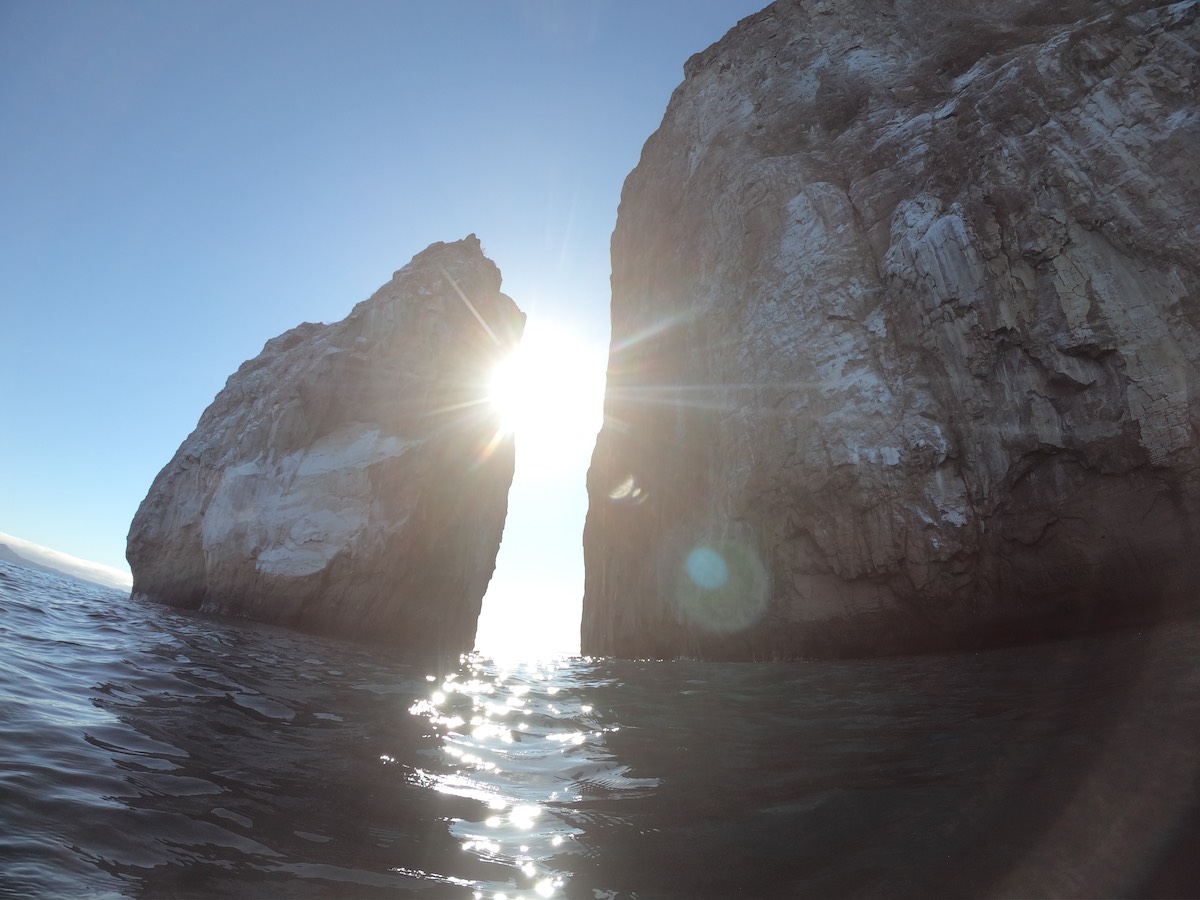 Kicker Rock is a fantastic diving and snorkeling spot in the Galapagos Islands. A little water channel separates two tall volcanic boulders rising from the lake. The channel is a great area to watch sharks, rays, sea lions, and a plethora of colorful reef species.
The chance to encounter Galapagos Hammerhead sharks is without a doubt the top Kicker Rock highlight! Divers can also see Surgeonfish, starfish, angelfish, and other beautiful reef fish.
Five Fingers
Five Fingers is an intermediate reef dive located offshore Wreck Bay in front of Puerto Baquerizo Moreno. The depths reach 18 meters, with white-tipped and Galapagos sharks, sea turtles, rays, and enormous schools of multicolored fish may be seen.
Caragua
Caragua is one of the rare wreck sites in Galapagos seas, including the wreckage of a WWI German cargo ship dating back 100 years. The wreck site is now a vibrant underwater ecosystem, home to stingrays, green sea turtles, sea lions, lobster, octopi, and several fish species.
San Cristobal Highlands
Jacinto Gordillo Tortoise Breeding Center
The Jacinto Gordillo Turtle Breeding Center is one of the island's two tortoise breeding facilities. This center is reached by a one-hour ride across the island from Puerto Baquerizo Moreno. Juvenile tortoises are allowed to roam freely on the reserve's fields, while baby tortoises are kept secure until they are old enough to join the others.
Galapaguera Tortoise Breeding Center (Cerro Colorado)
Galapaguera de Cerro Colorado, about 13 miles southeast of San Cristobal, is the secondary turtle breeding location. On the site's pathways, visitors may see giant tortoises develop from baby hatchlings to adults ready for release into the wild. This facility is less popular than others on the islands due to its secluded setting and distance from town.
El Junco Lake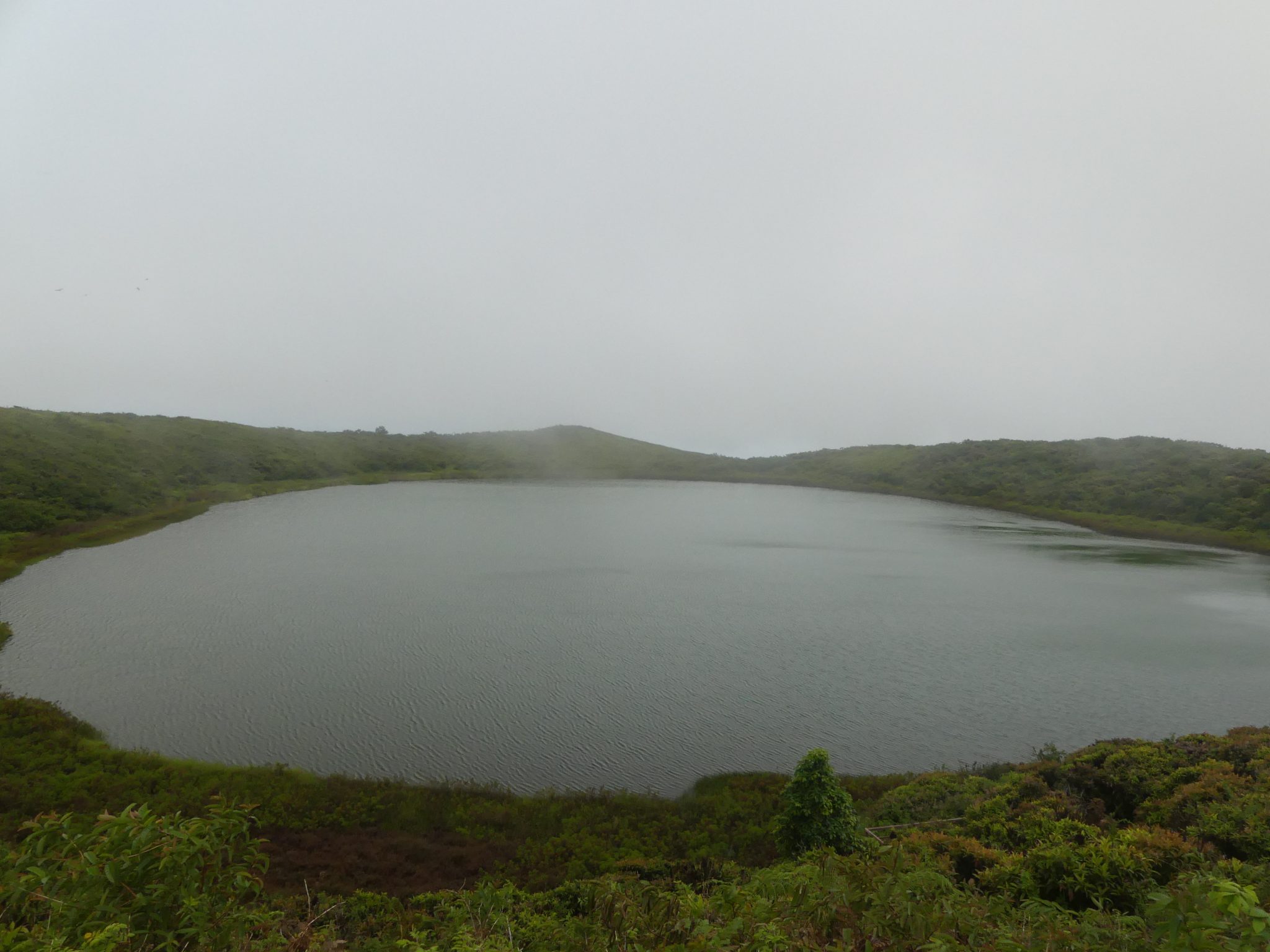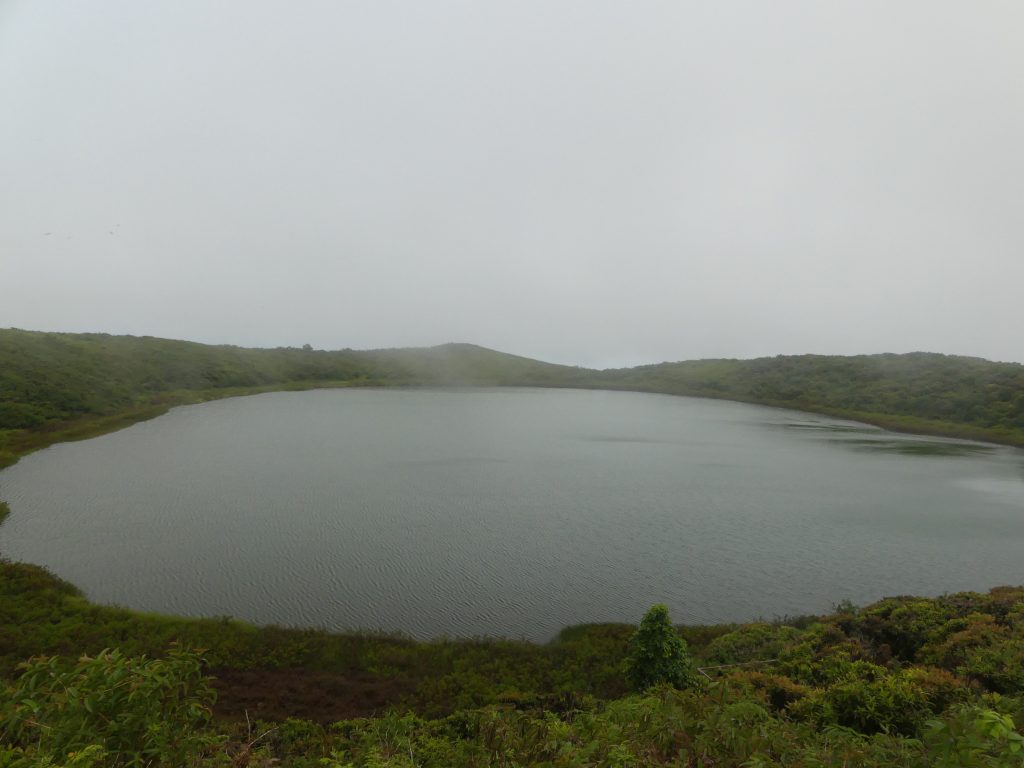 El Junco Lagoon is a crater lake produced by an extinct volcano. The stunning view from the hill above San Cristobal encompasses the entire island, particularly on a clear day. Frigate birds, Mockingbirds, Cattle Egrets, and Galapagos Finches inhabit the lagoon.
El Progresso Town
El Progresso is a peaceful farming community and the ancient San Cristobal settlement. The Casa de Ceibo Treehouse, located near the town's entrance, is popular with kids. It's a wonderful place for lunch, camping, or even sleeping in the treehouse!
There are even more things to do in the Galapagos Islands.
Where to Stay on San Cristobal Island
You'll most likely be staying in Puerto Baquerizo Moreno because it is the main town where everything you need can be found. There are other villages on the island, although they are largely rural communities.
There are various places to stay on San Cristobal Island. We observed that pricing for two-person sharing ranged from about $40 per night to over $150.
Hostal Terito (La Posada Territo)
This is a budget-friendly option. It is conveniently located in central Puerto Baquerizo Moreno. It is only 400 meters away from Playa de Oro and 2 kilometers away from Playa Carola. The average nightly rate in this place is around USD50.
Royal Galápagos Inn
The Royal Galápagos Inn is a charming hotel located approximately 50 meters from San Cristobal's Playa Mann beach. The property's vibrant rooms include tiled flooring, a tiny flat-screen TV, and a closet. They have a lovely beach view and a private bathroom with a shower and toilet. The nightly rate starts at USD30.
Casa Playa Mann
Casa Playa Mann is a good option if you want more luxury-style lodgings situated right on the beach. It is 20 meters from the seashore at San Cristóbal. The nightly fee is $150 and above.
We also included some of these hotels in our rating of the Galapagos hotels.
Where to Eat on San Cristobal Island
Food and drinks are less expensive in San Cristobal than in Santa Cruz Island, although there is less variety. Still, you should be able to get whatever you want here, 
It's crucial to remember that the Galapagos Islands are isolated, and practically everything must be transported in from the mainland, therefore costs here are higher than in mainland Ecuador.
Food costs between USD$10 to $30 every meal, with prices decreasing as you travel further away from the ocean.
We have listed a few places to try in San Cristobal below:
San Jose Parrilladas 
At first glance, you may find the restaurant as not so attractive. I can see why there aren't many visitors dining here. However, it is worth trying as you discover their menu. It's a fantastic outdoor restaurant and I love how they grill seafood here.
Maui Bar and Restaurant
This restaurant is a popular gathering place for both travelers and locals. It provides a relaxing atmosphere that is ideal for winding down after a long day. The menu is mostly seafood-focused, but vegetarian and other cuisine alternatives are available. They also serve unusual drinks created by their friendly bartenders.
El Descanso Marinero
Our tour guide recommended this restaurant, which was definitely worth a try. This restaurant serves hefty main meals prepared on cast iron skillets. My grilled fish was double the size of any other fish dinner I'd eaten in Ecuador, and it tasted fantastic.
Calypso
This is the spot for dessert and pizza. Their ice cream and cake are fantastic and difficult to surpass.
Mary's Cupcakes and Coffee
They don't have an internet presence, like my favorite inexpensive food spots on the island, but they're not hard to locate. It is right on the beach and serves affordable breakfast and coffee.
Muyu
Muyu is a popular dining place for tourists. It is one of the earliest sea and farm-to-table restaurants. Their cuisine is mostly seafood based. Set lunches and specialty tasting menus, as well as breakfasts, are popular options. Although the costs are a touch high, it's still worth it for a special night out.
Bottom Line
San Cristobal Island in Galapagos is not to be missed! Staying on the island for a few days to see the beautiful white-sand beaches, unique upland ecosystem, and spectacular diving locations is highly recommended. With a variety of activities and wildlife to see here, you will surely be delighted in your visit here.
San Cristobal is also the greatest Galapagos base for adventure activities such as stand-up paddle boarding, kayaking, and, of course, surfing. San Cristobal is without a doubt one of the most popular Galapagos islands to visit.