December on the Galápagos Islands signifies two things: Christmas and sea turtles. Baby Galapagos giant tortoises glimpse light for the first time in December, and Galápagos green sea turtles join you on your snorkeling experiences.
December is one of the greatest months to visit the Galapagos, with a perfect combination of mild weather, cultural events, and plentiful wildlife—but it is also one of the busiest. Visitors during this month will see the landscapes come to life following the rains, and if you stay for Christmas or New Year's Eve, you'll have a totally new holiday experience.
Galapagos in December: A Quick Glance
Air temperature: 21-27°C / 70-81°F

Sea temperature: 20-23°C / 70-73°F

Average rainfall: 0.5cm / 1.3in
The weather in December is notable for being a transition time between the colder drier season and the warm rainy season. This implies you may encounter a variety of weather conditions. Expect little rain, since the average monthly rainfall on the islands' highlands in November is 0.5 inches (1.3 cm).
Galapagos in December: Wildlife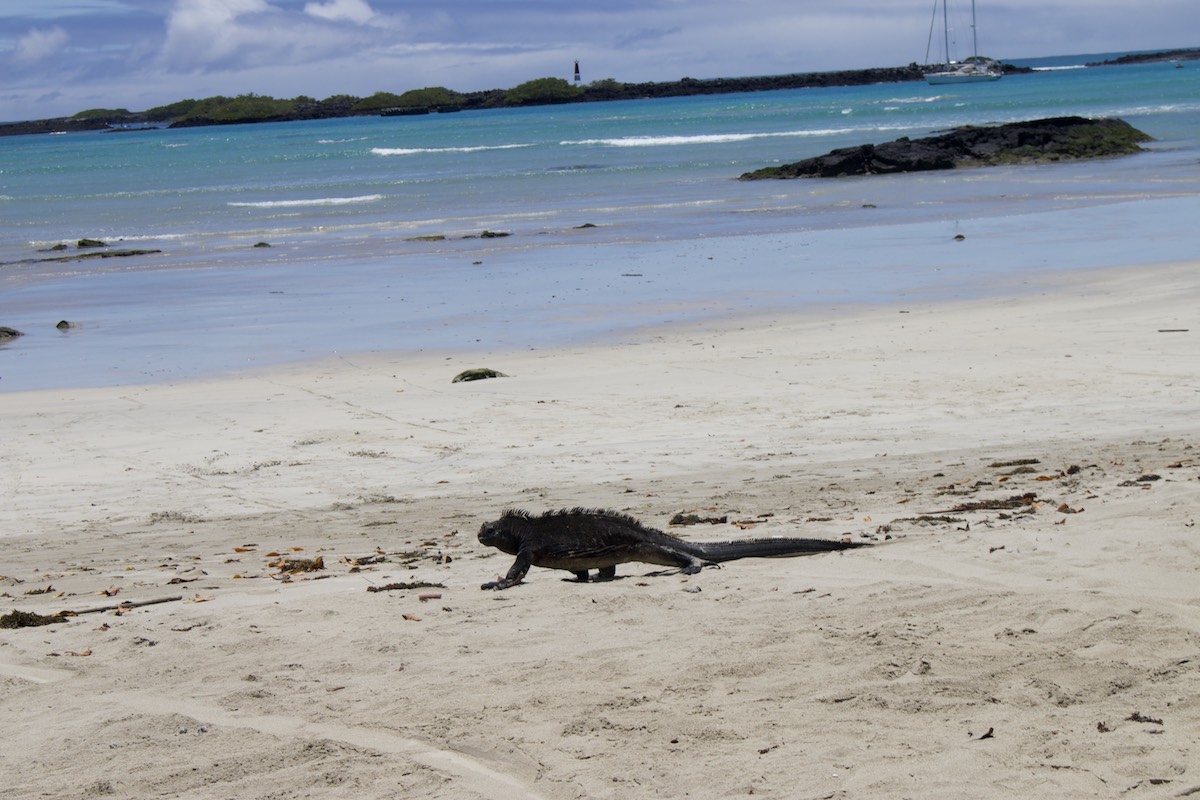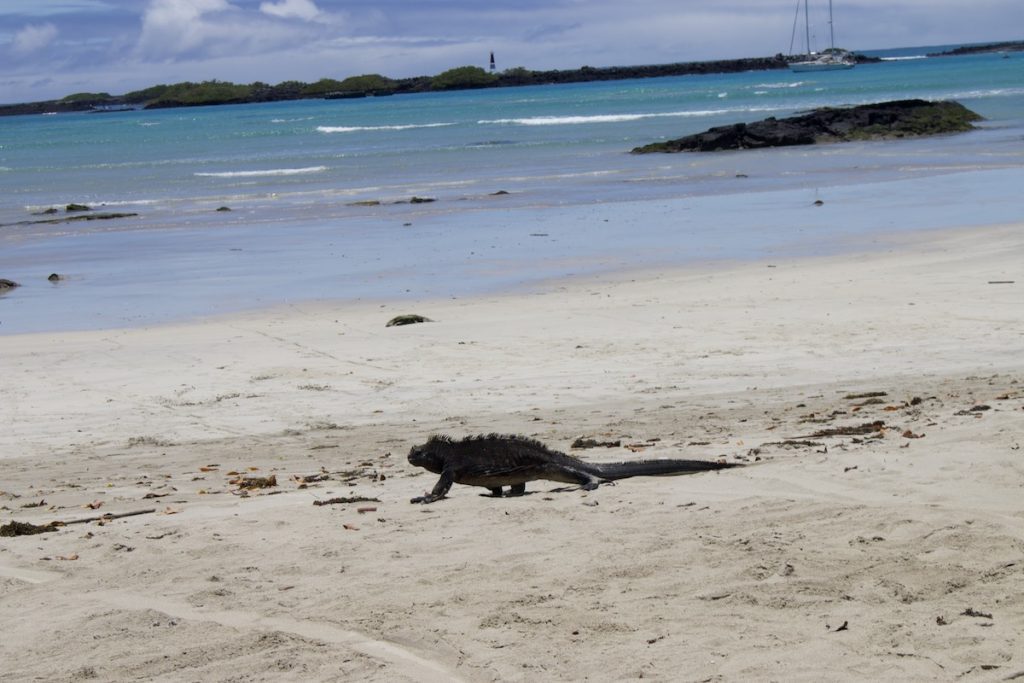 Giant tortoise eggs hatching is an exciting Galapagos Islands feature in December. On Isabela Island, you can be lucky enough to view newborn tortoises. Meanwhile, Galapagos green turtles are also active this month since it is the month when they begin mating.
This month is also the breeding season for marine and terrestrial iguanas. At this time of year, both marine and land iguanas will be hostile and defensive of their area. Marine iguanas are quite vivid this time of year, as they light up to attract a mate.
When it comes to bird life, this is the final month of the year to observe the Waved Albatross on the Galapagos Islands before they leave in December. You could see one in January, but this is a rare occurrence. One of the most exciting aspects of visiting the Galapagos Islands in December is seeing the newborn chicks begin to develop their wing feathers, preparing them to take flight.
With the coming of the first rains, Galapagos land birds such as Darwin's Finches, Short-eared Owls, and Flycatchers become more active, all constructing nests for the breeding season. This activity will continue until January as rain becomes more regular.
Galapagos in December: Tourist Crowds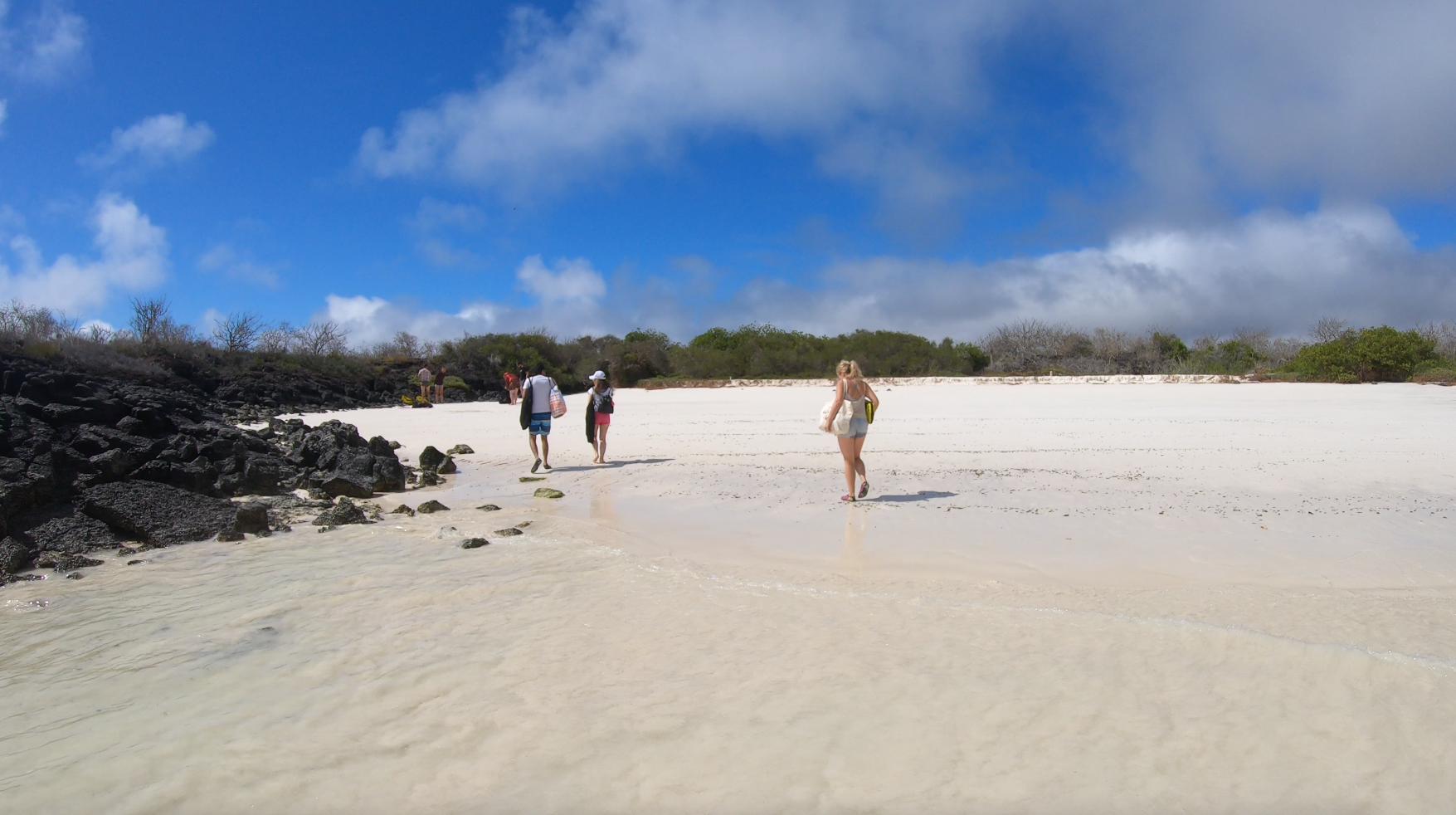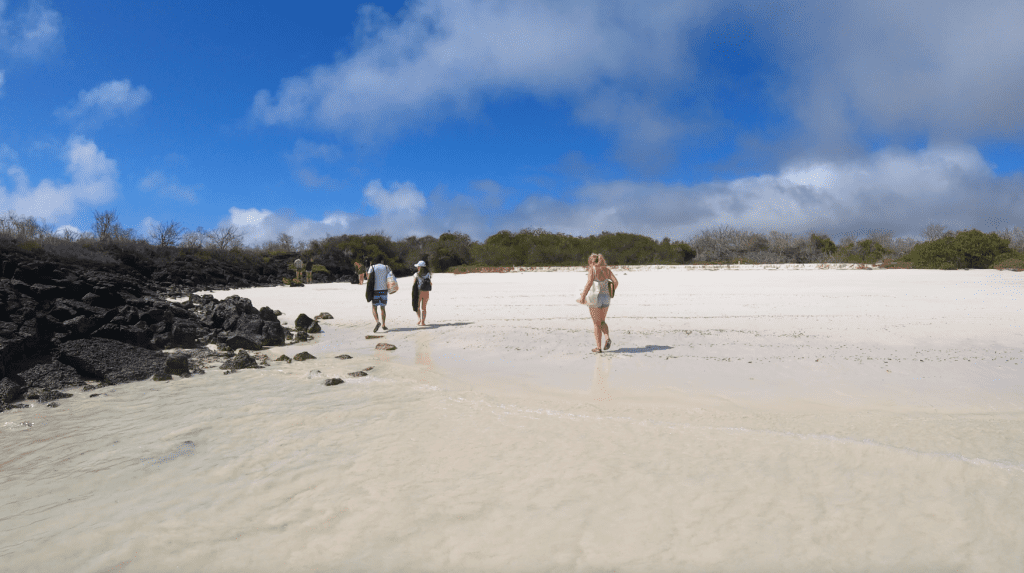 The second peak season on the Galápagos Islands begins in December, and it is typically busy on all of the islands. With the Christmas holidays approaching, you may expect more tourists than in prior months. That implies it will become far more costly, so book your ticket and accommodation many months in advance.
You should also schedule any trips, particularly water-based tours and cruises, ahead of time because demand is considerably higher during the month. Overall, spending Christmas on the islands, surrounded by lively December animals and the environment, is a once-in-a-lifetime experience.
Galapagos in December: Weather
December marks the shift from the dry season to the warmer wet season on Galapagos Islands. The air and water begin to warm. It's an excellent month to explore the islands because the Guarúa season is ended and the evenings are getting milder. There will be little rain and little heat and humidity. Make sure to try the Pinzon Island tour and Bartolome.
Because of this perfect balance, the Galápagos Islands are ideal for a wide range of activities, including snorkeling, hiking, diving, swimming, and sporting adventures. You may have a variety of weather days, which is ideal for water-based activities one day and land-based activities the next. The skies are clear, which is ideal for lounging on the boat deck and spending quality time at the beach.
Galapagos in December: Activities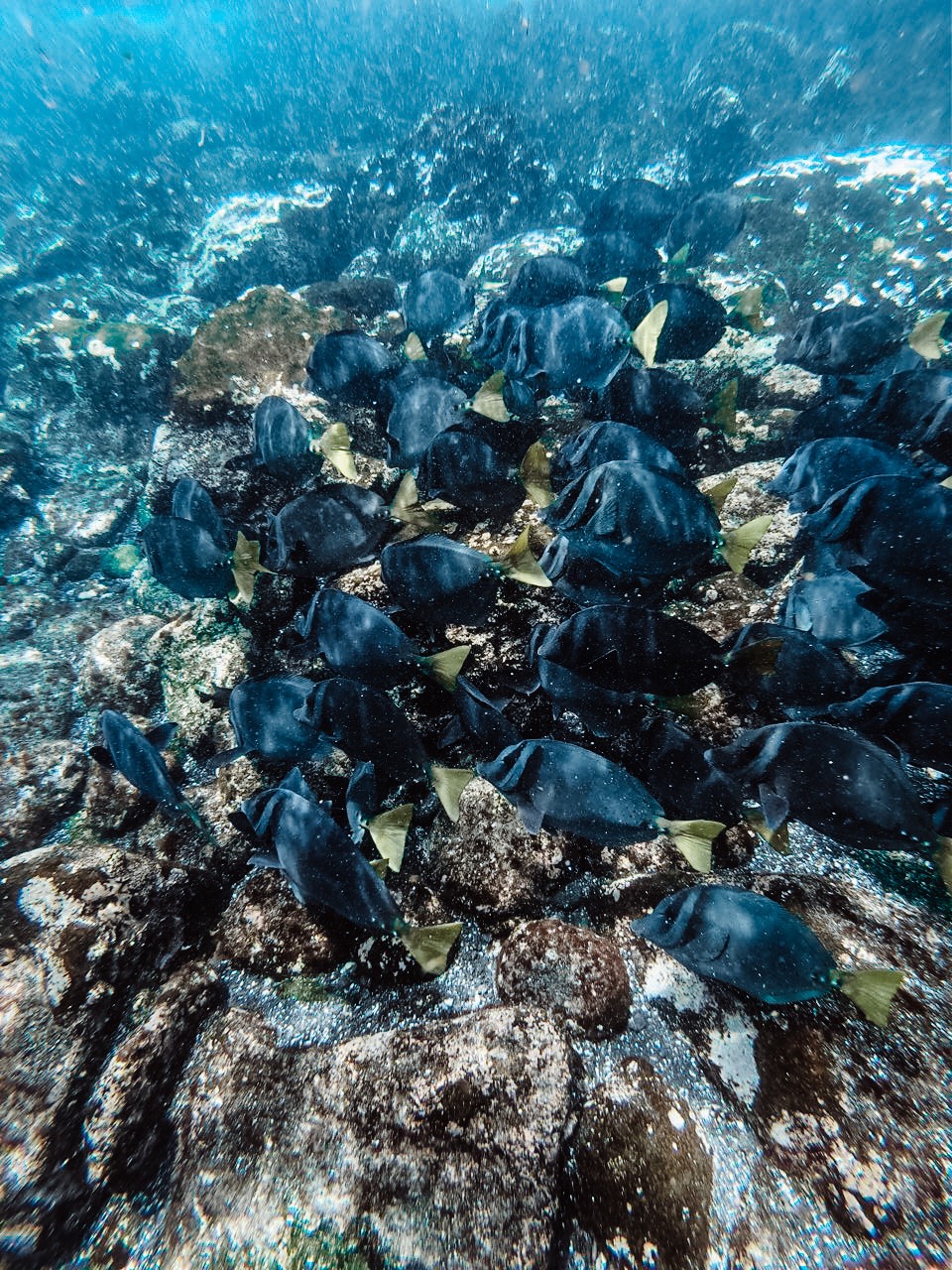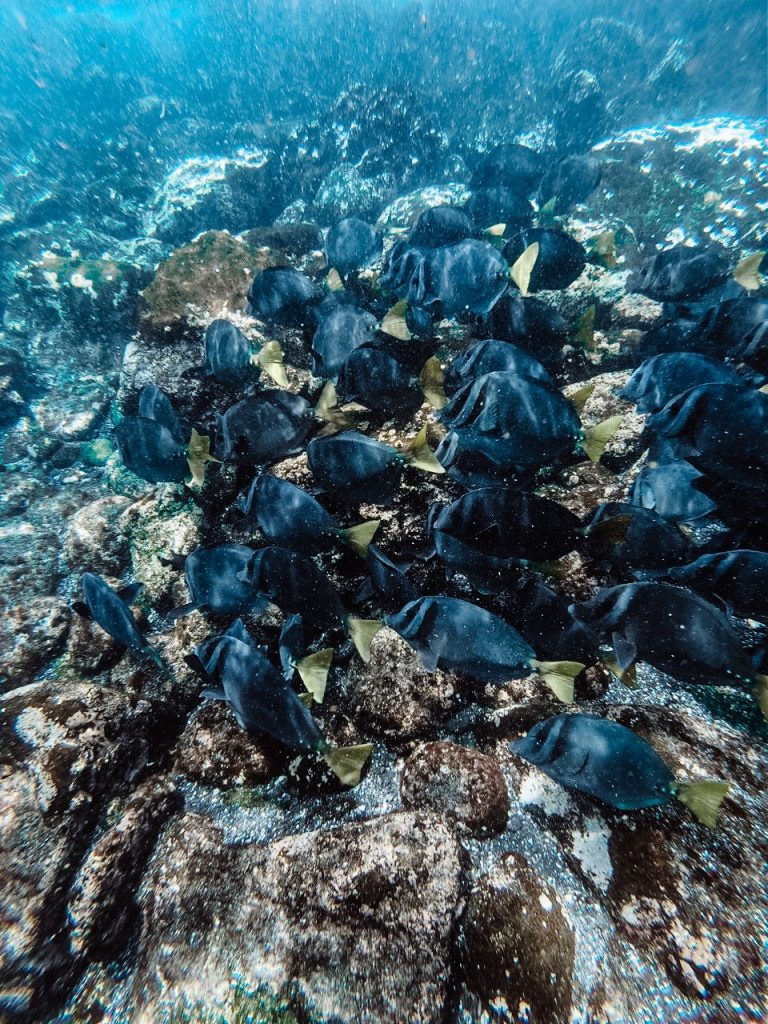 For a variety of reasons, December is an outstanding month for snorkeling and diving in the Galapagos Islands. One explanation is that the water gets cleaner and visibility increases. The seas are also warmer and calmer.
However, it may still be rather cool in the ocean at this time of year, and some may choose to carry a wetsuit if they intend to spend a long time in it. Another reason for nice snorkeling now is that sea lion pups are getting more competitive in the water, and they frequently love playing with snorkelers in the shallow seas. The pups will swim straight up to your face before darting away, making this an unforgettable experience.
Activities in the Galapagos Islands remain mostly unchanged from the previous year. You will get access to all of the Galapagos tourist attractions that your ship stops, as well as the ability to stroll the trails and photograph the wildlife like you can the rest of the year. As the weather heats up in December, it is ideal for beach time and sunbathing on the boat's deck.
Bottom Line
December is a transition month, which makes it an appealing time to travel. The weather is usually dry and pleasant, ideal for outdoor activities. Wildlife is very intriguing, especially if you go to Espanola Island to see the waved albatross colony leave.
If you do want to travel in December, especially between Christmas and New Year's, the best advice we have for you is to book early — these days are sometimes totally filled out up to 6 months in advance! There are so many incredible things to do in the Galapagos in December!