Santa Cruz is the archipelago's second-biggest island, home to the Galapagos' most developed and most significant town, Puerto Ayora.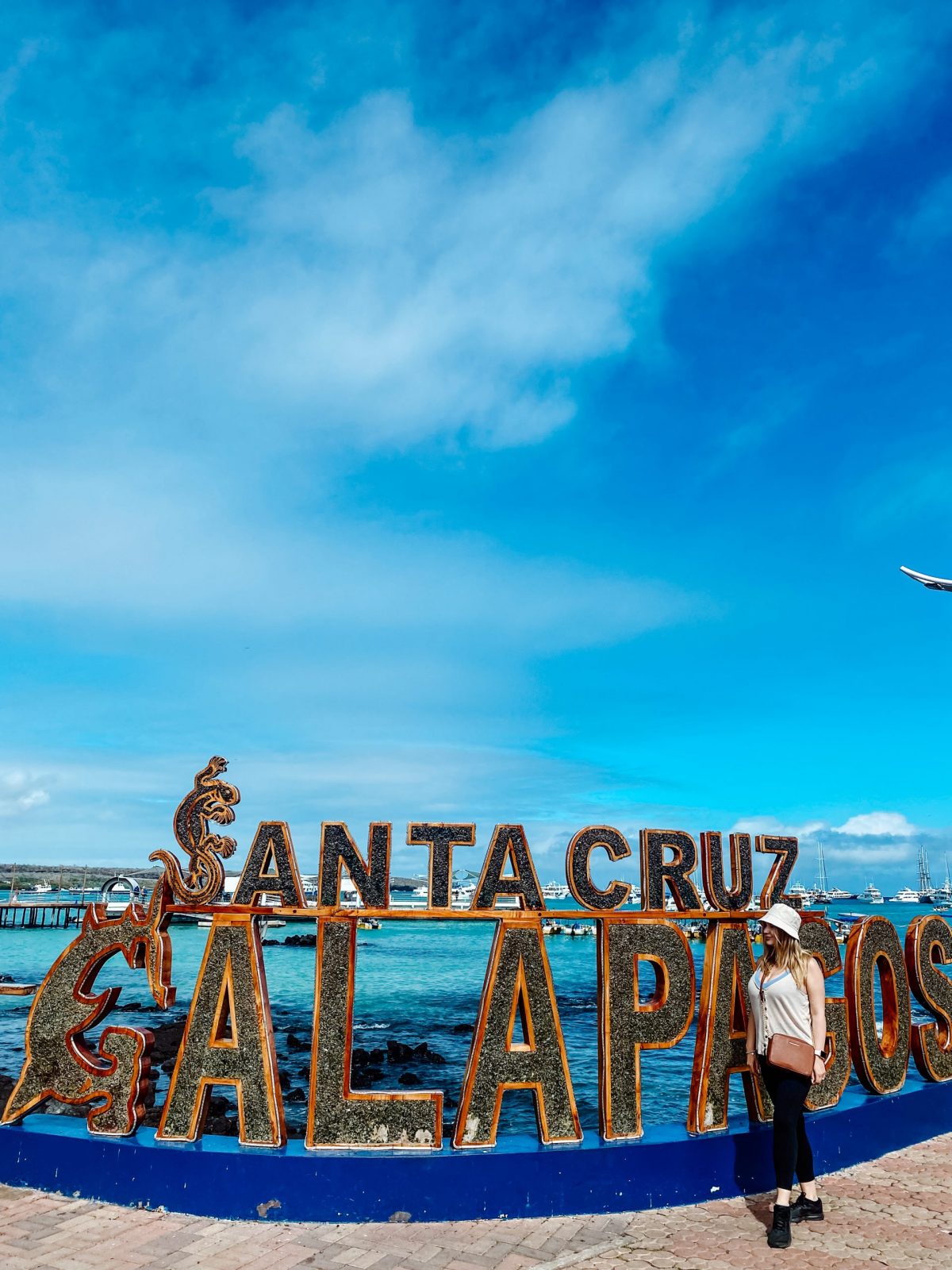 Santa Cruz Island has the largest population density of any Galapagos island, with a total population of 12,000 people. This island features a few tiny communities whose residents mostly engage in agriculture and livestock farming.
Most tourists arrive and go on cruises and excursions from here, but it's also a terrific area to spend a few days exploring on your own. Away from town, the island's breathtaking natural beauties on the coast and in the mountains entice locals and tourists.
In this post, we will share all you need to know to plan your trip to Santa Cruz Galapagos. What wildlife should you be on the lookout for? What activities and tourist attractions are in store? Learn more about this island before your trip!
How to Get to Santa Cruz Island
By Air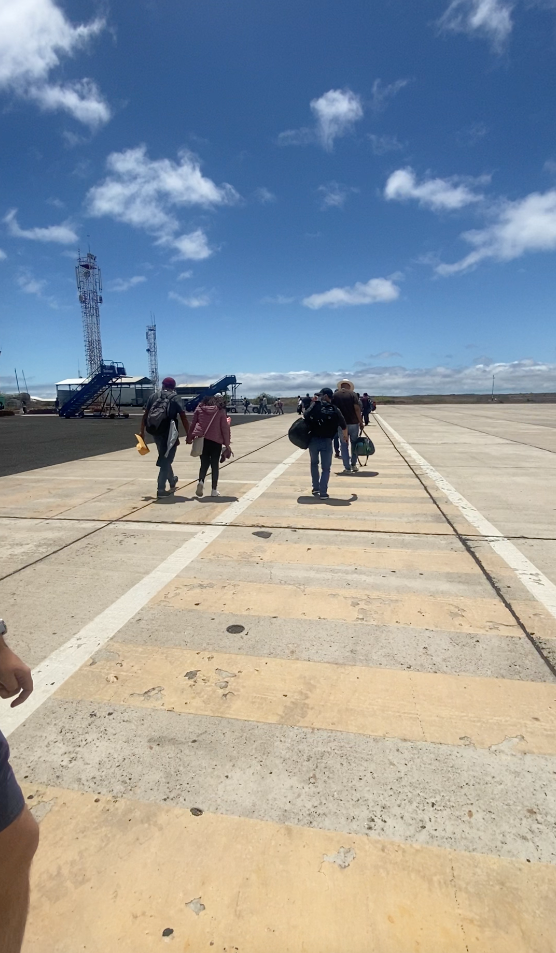 It was our first island to visit, so we had a flight from Guayaquil to Baltra Island. Baltra Island is located very near Santa Cruz island but you will need to do some extra steps.
From the airport, you will need to grab a bus ($5 per person), that will take you to the boat station.
Get a

transfer to a ferry (USD 1 for public boats, USD 2 for private), which will take you directly over the channel to Santa Cruz Island.



Finally, grab a public bus to Puerto Ayora (the main city in Santa Cruz Island) or grab a cab for $25.
When taking a cab, keep in mind that the travel can take anywhere from 35-40 minutes, so if you're flying out of Baltra, allow at least 2 hours to go from Puerto Ayora to the airport.
By Ferry
Taking a ferry from another Galapagos island, such as San Cristobal, is one of the simplest and least expensive options to reach Santa Cruz.
Be aware that these ferries are not the same as regular ferries. They are small boats with limited space that can carry up to 30 passengers. They may be crowded, and the waves may be turbulent, making them inappropriate for anybody who suffers from motion sickness. We talked more about ferry schedules between the island in our big Galapagos Islands Guide.
Things to Do On Santa Cruz Island
Day Tours
Bartolome Island Day Trip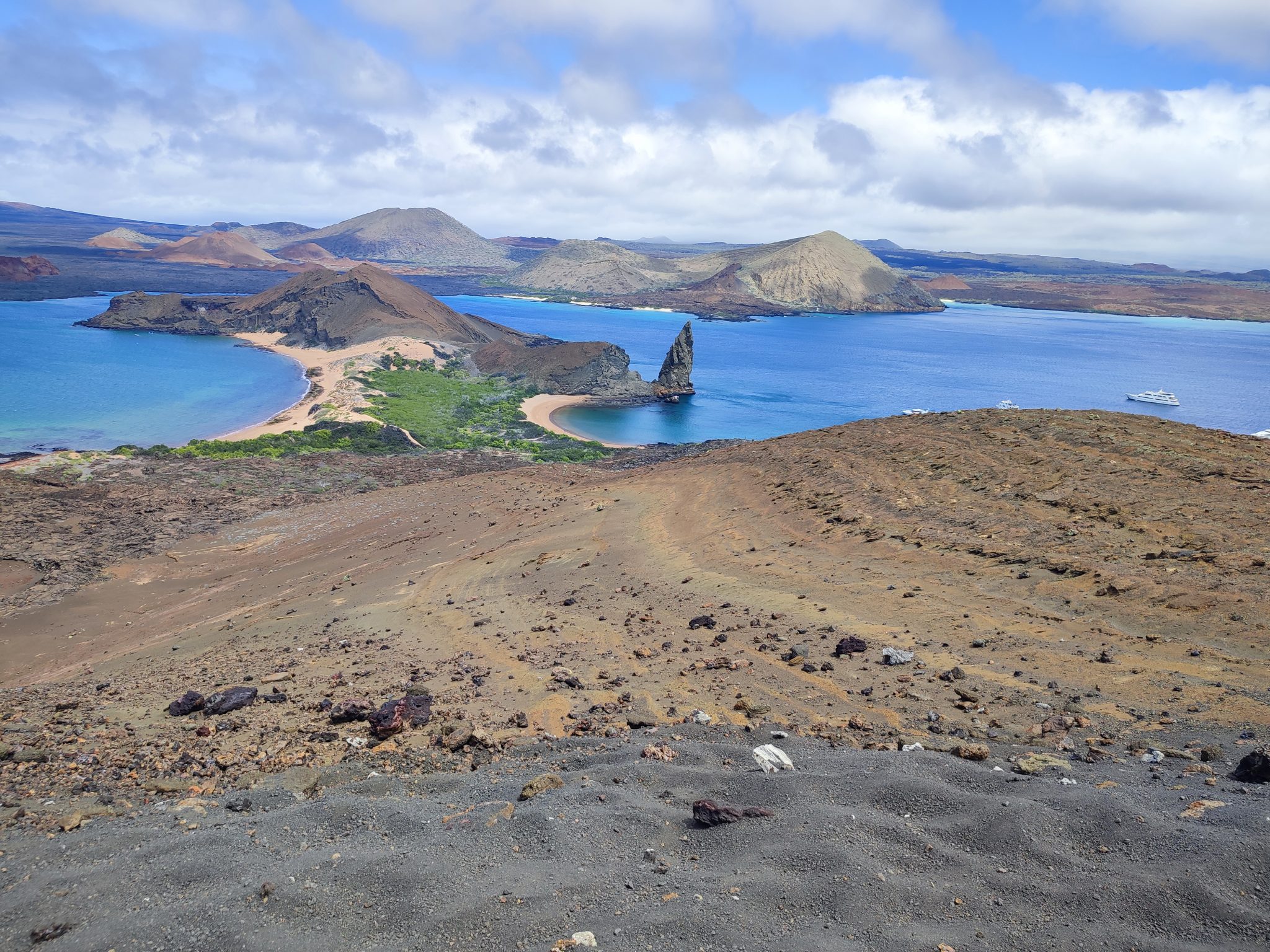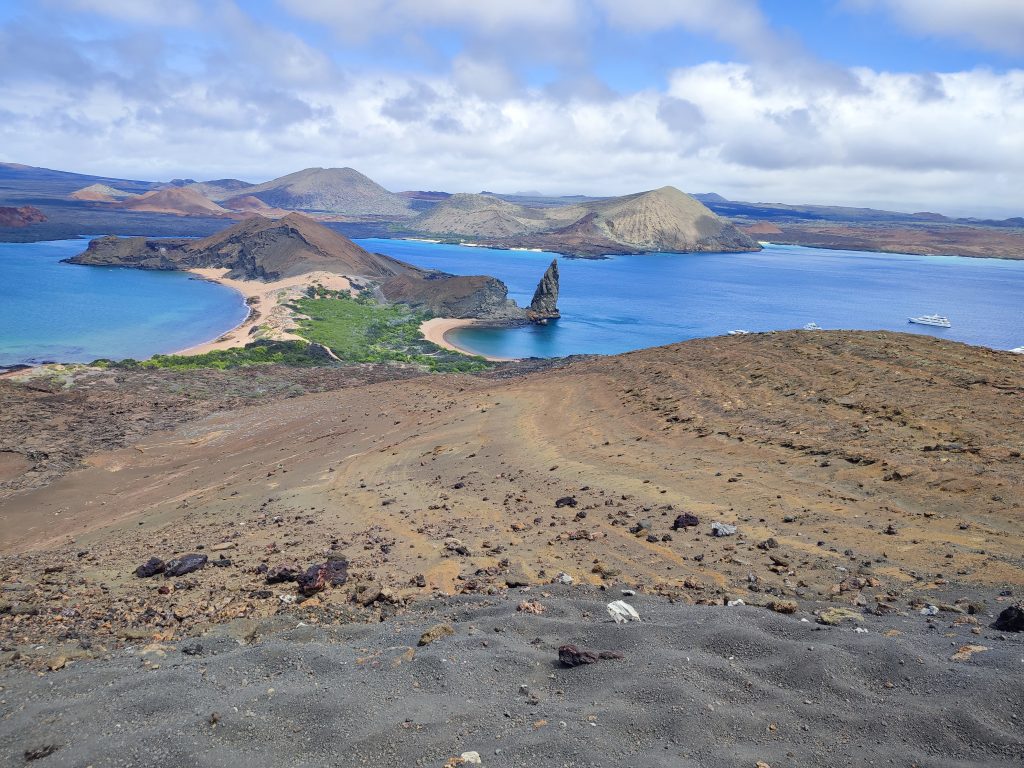 Bartolome Island is a volcanic island off the coast of Santiago Island that is an excellent day excursion. Once there, you may snorkel, swim, and climb some of the greatest Galápagos panoramas. Make sure to get this tour in advance, because Bartolome Island has a limited capacity of tourists to visit per day and it's the most popular tour. We got ours from Viator.
Most travelers say that this island tour is the best. Unfortunately, we weren't able to do this tour because our boat sank a day before our scheduled trip and there are no available tours for the next four days.
We're looking forward to trying this in the future once we return to Galapagos.
Pinzon Island Tour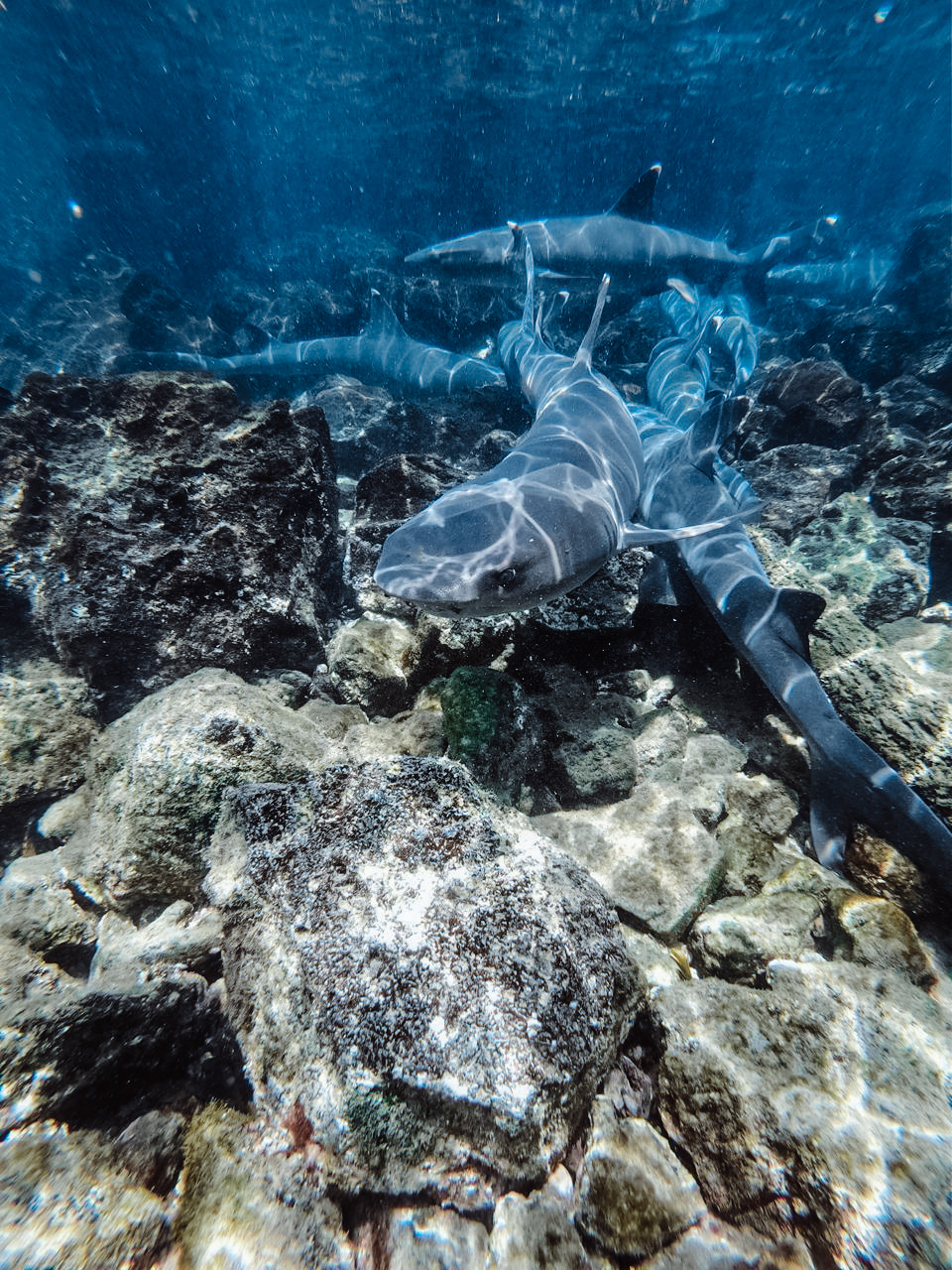 Pinzon Island is a #1 tour on Santa Cruz island if you are into snorkeling. My snorkeling experience on Pinzon Island is the best I had in my life! Galapagos is rich in marine wildlife and you'll surely love to see them in action as we did!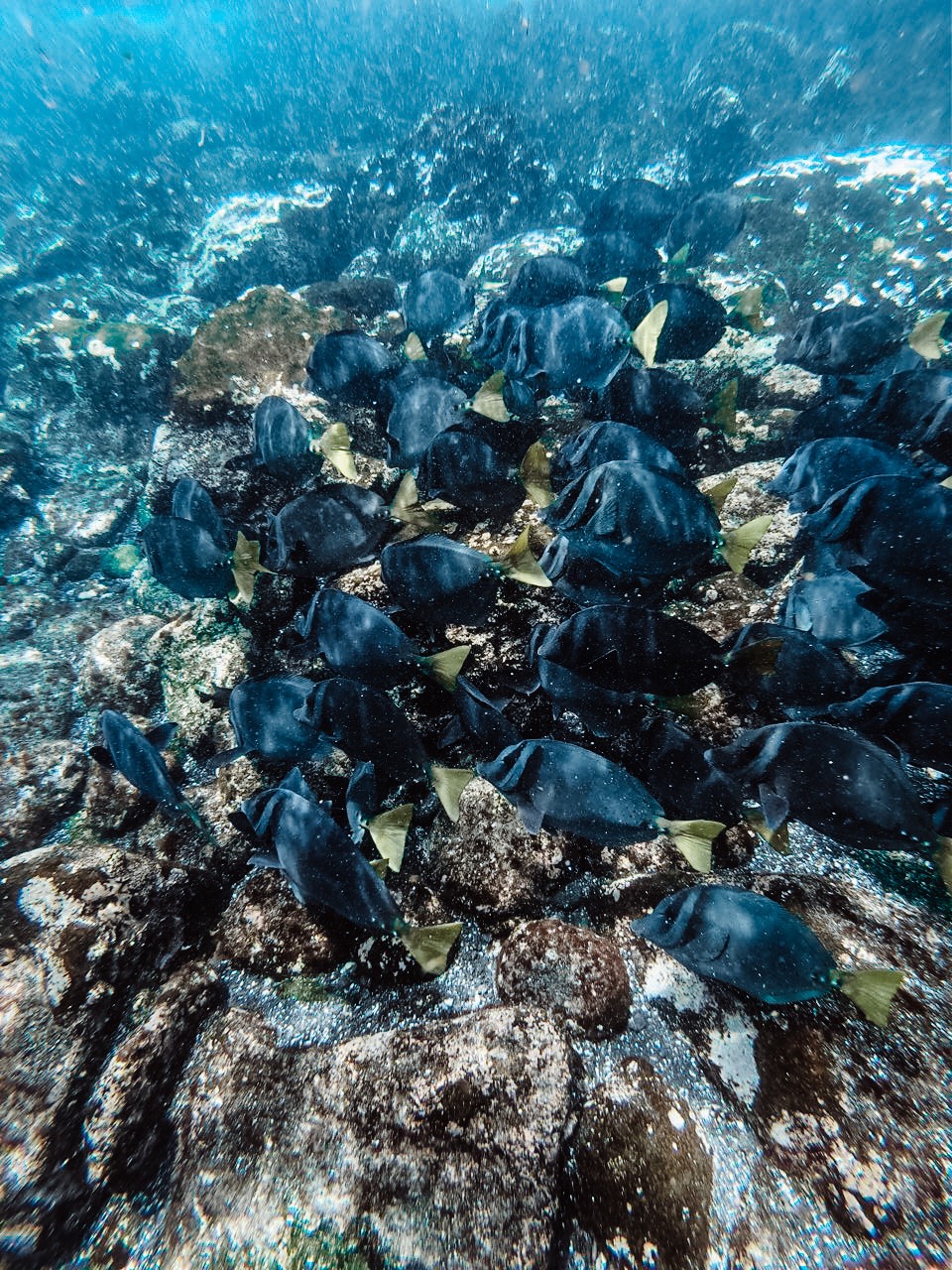 No Name Rock, located south of Pinzón, permits visitors to snorkel or scuba dive around the islet's circumference. Here you may witness hammerhead and Galapagos sharks, as well as other pelagic species like rays and sea turtles.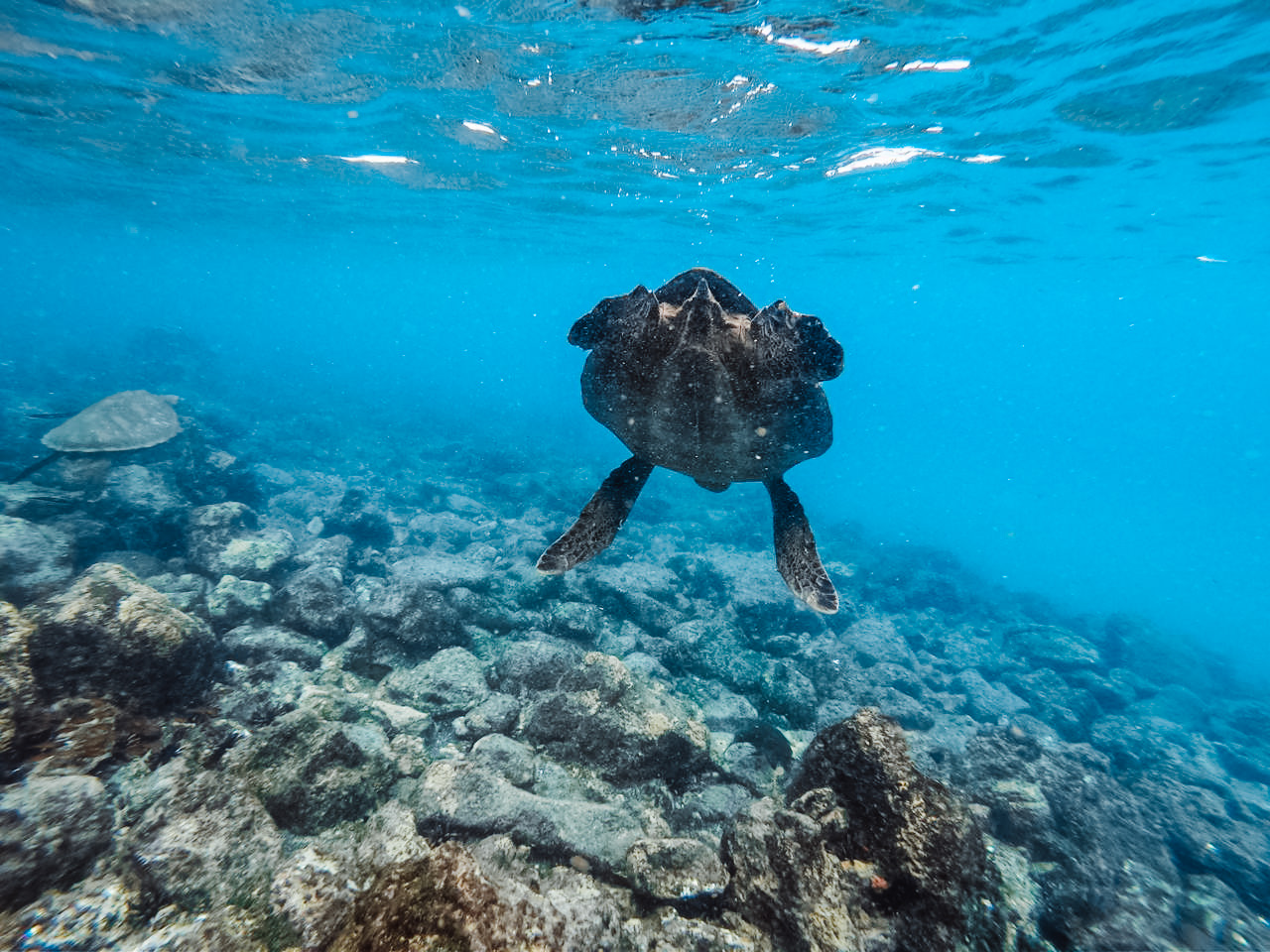 Rocks, low prickly vegetation, and minimal tree growth dominate the island. Pinzón encounters garúa, the thick mist that occurs on the higher islands during the dry season, as it has a higher peak than most of the other drier Galapagos Islands.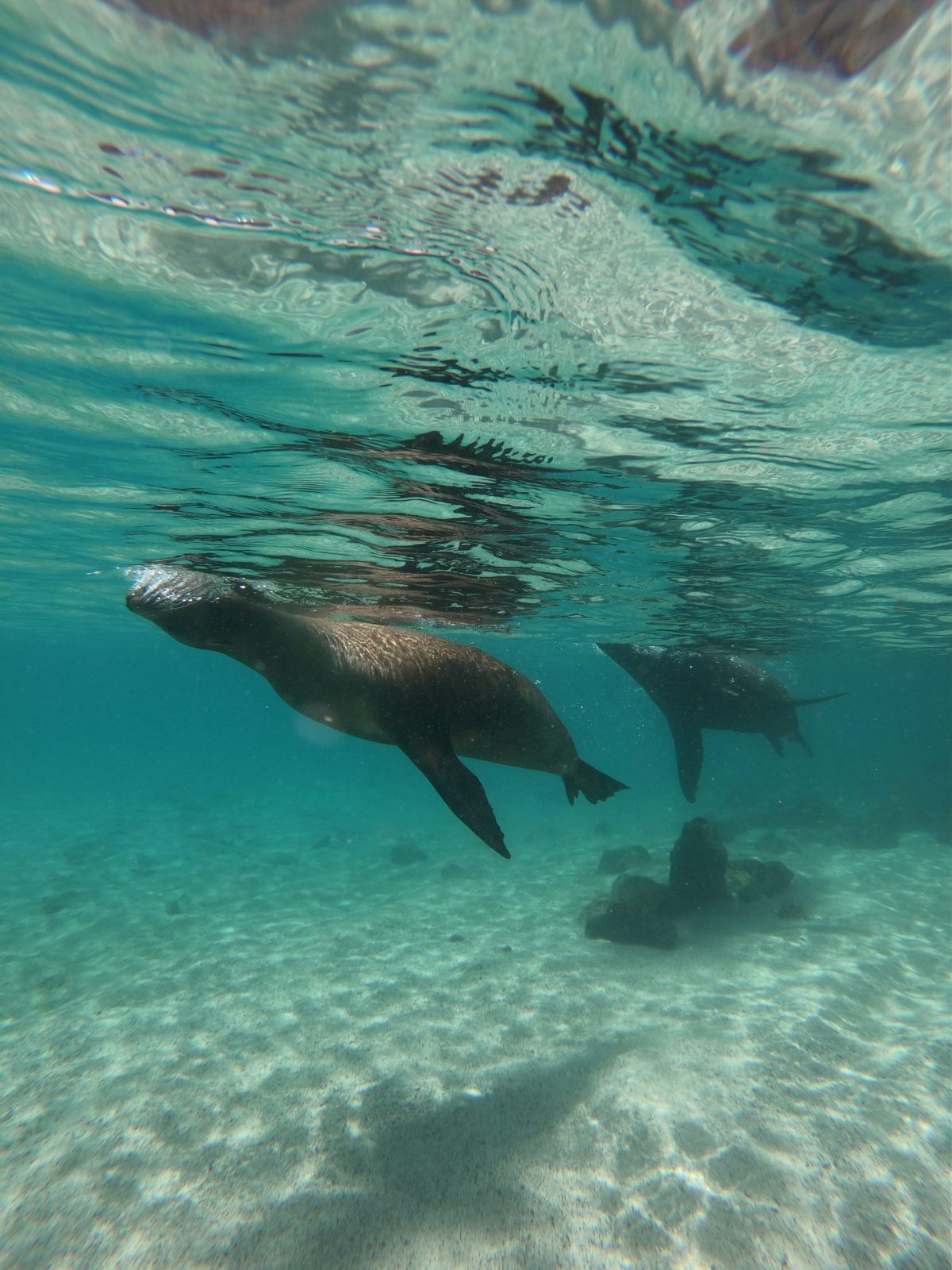 On Pinzón, you may see Darwin's finches, Galapagos doves, vermilion flycatchers, Galapagos snakes, lizards, and giant tortoises.
Floreana Island Tour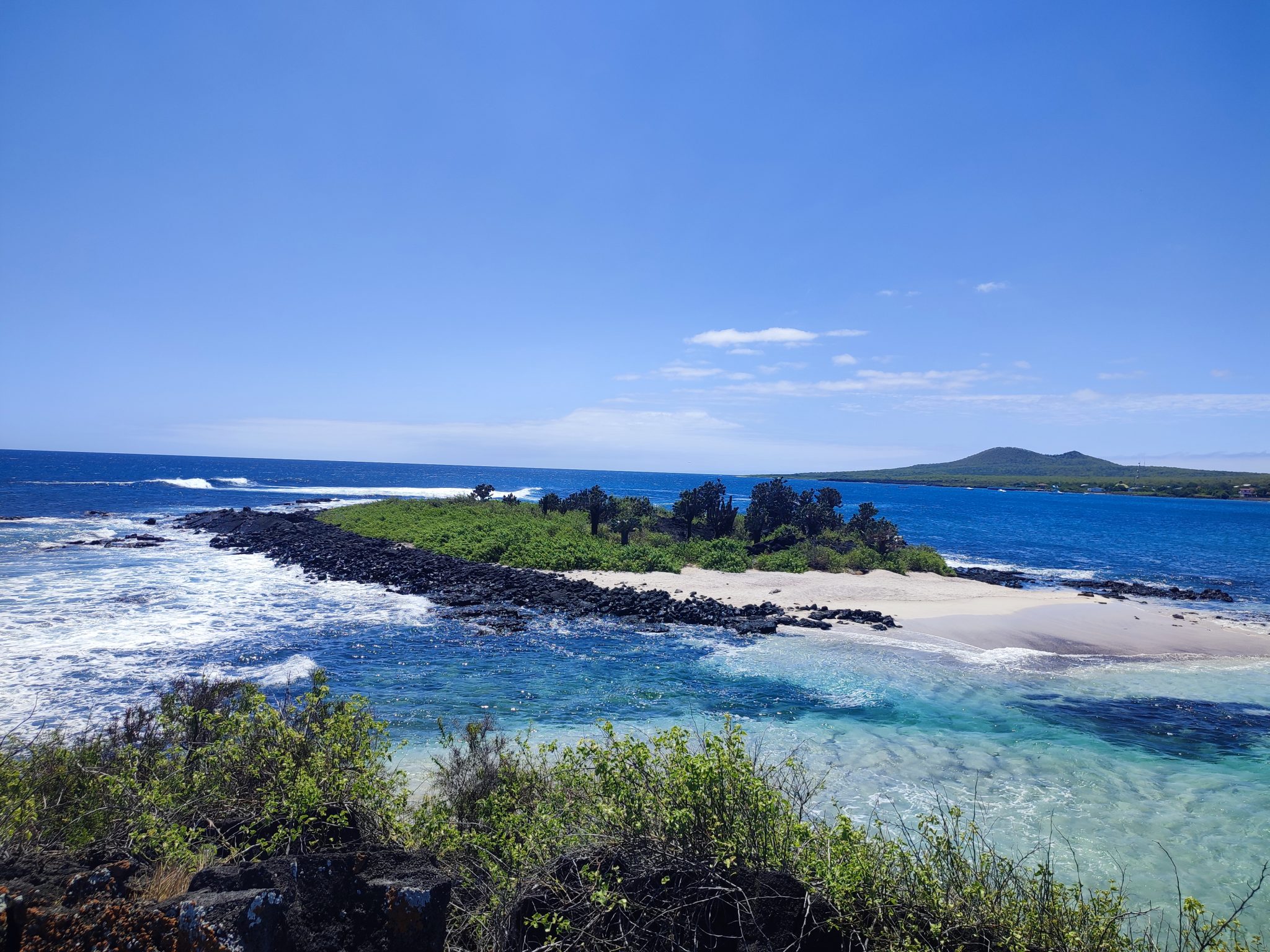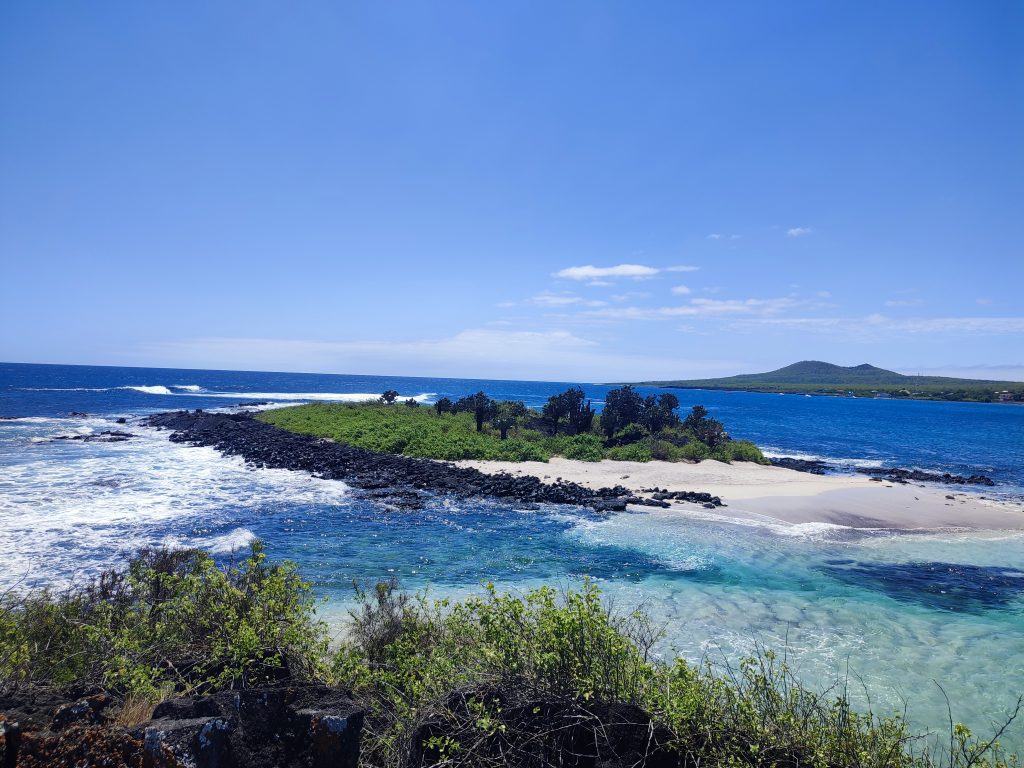 On Floreana island, you can enjoy the view of Cerro Pajas and the Scalesia Forest. You can also see unique species here such as the Medium Tree Finch. It's more of a walking tour.
A short walk near the Asilo de la Paz tourist center allows visitors to view the giant tortoises' reintroduction to this island. If you continue exploring, you will also come upon pirate caverns.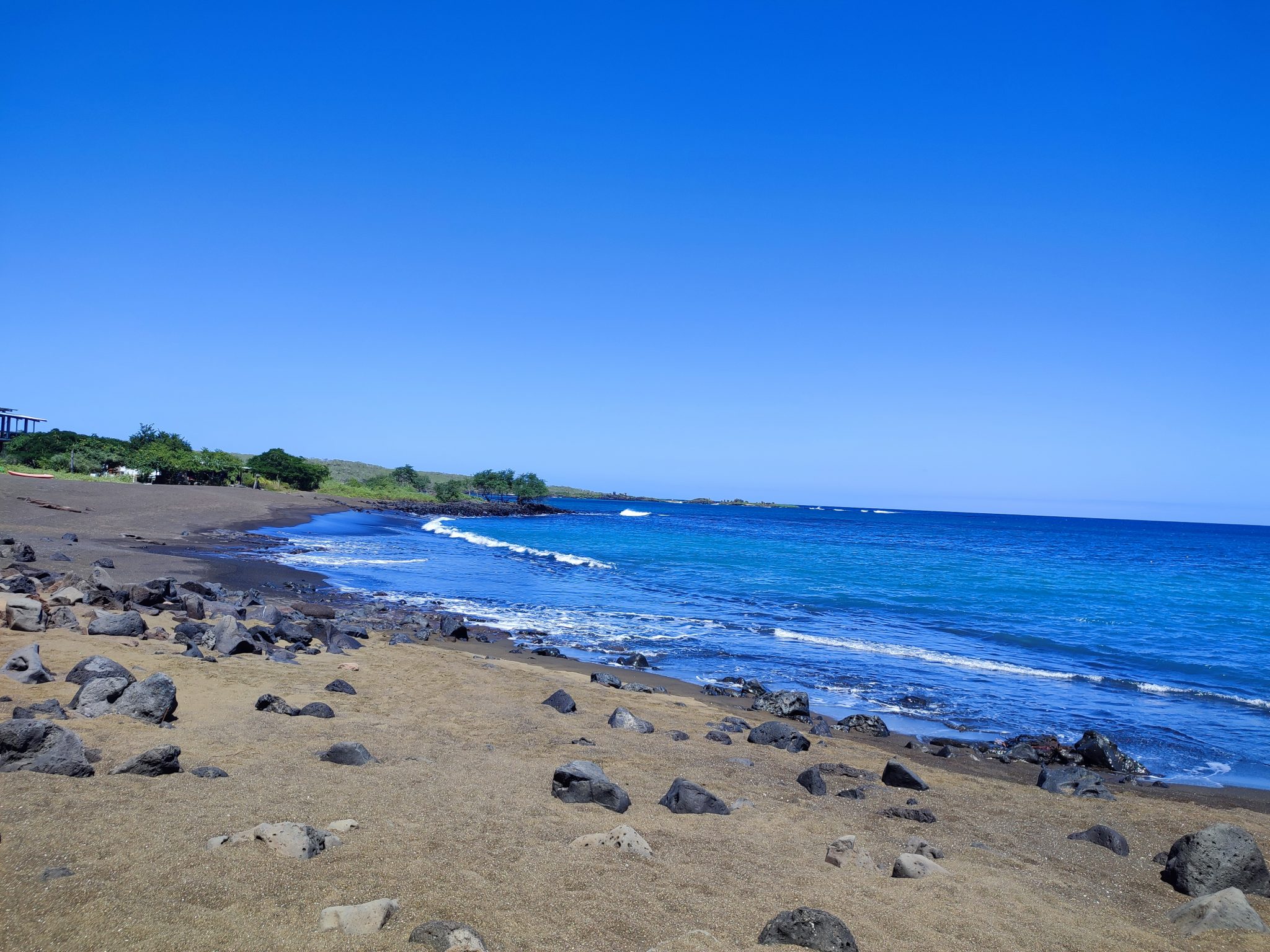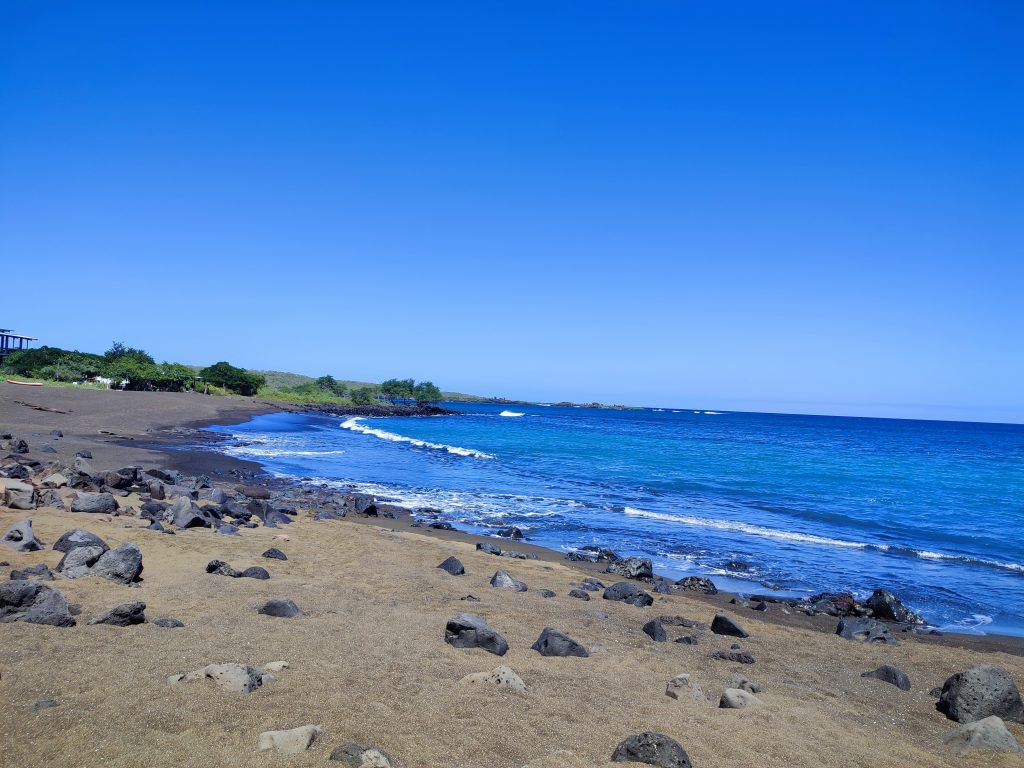 There are four islets to the east and southeast of Floreana which offer excellent opportunities to encounter sea turtles, sea lions, and a wide variety of fish.
Enderby Islet is home to a huge number of sharks. Dinghy trips around Gardner Islet show visitors amazing rock formations and enormous caverns.
Plazas Island Tour
Plazas Islands is made up of two tiny crescent-shaped islands off the east coast of Santa Cruz, North Plaza and South Plaza. South Plaza Island includes a tourist center, while North Plaza is primarily utilized for research and is not available to the public.
South Plaza is one of the smaller islands in the Galapagos archipelago with a visitor center. South Plaza, despite its small size, is home to a varied diversity of species, including red-billed tropicbirds and swallow-tailed gulls. A large population of land and marine iguanas lives on the island.
North Seymour Island Tour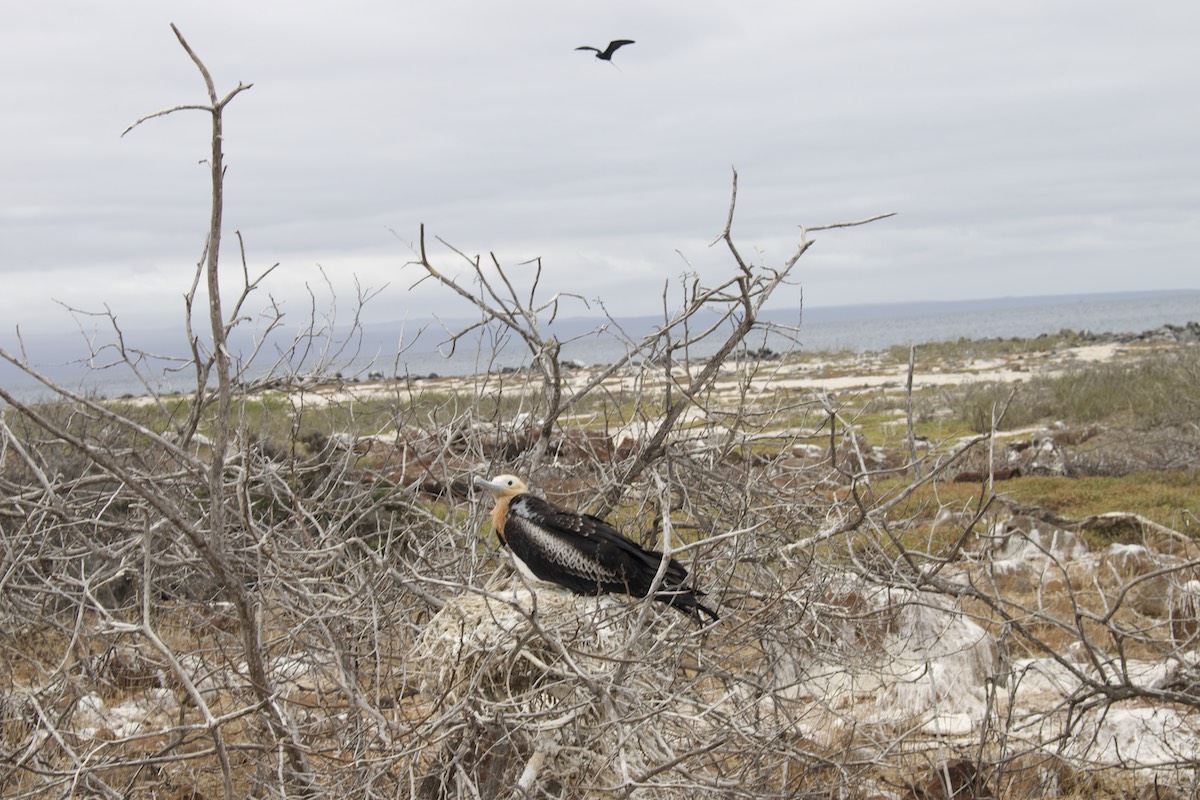 North Seymour is a little island that is an excellent fishing location for marine birds. Many visitors come to this location to see the stunning and wide array of Galapagos birds.
The visit location is very near to a nesting spot for Frigate Birds. One of the pleasures of the trip was witnessing the Blue Footed Boobies' mating dance. There is also a Palo Santo grove on the south bank of Seymour, where birds nest and provide a wonderful perspective of the canal formed by Bartolomé and Seymour.
Santa Fe Island Tour
One of the features of Santa Fe Island is the flora. Optunia Echios, a prickly pear kind, may grow to be quite huge, and the island is thickly populated with them. They are a rare sight, and they are a favorite subject for many photographers.
Another attraction on Santa Fe Island is the possibility of witnessing land iguanas. Only two varieties of land iguanas may be found on this island.
Santa Fe Island Activities include strolling, snorkeling, and diving like they do on many of the other Galapagos Islands. On this island, there are two pathways to walk: one inland and one in a loop along the beach. 
Many tourists to Santa Fe Island enjoy swimming and snorkeling from the cove at Barrington Bay after walking along many paths.
Sombrero Chino Island Tour
The name Sombrero Chino means "Chinese Hat" and it's simple to understand why: this islet off the coast of Santiago is shaped like an old-fashioned Chinaman's hat, a gently sloping cone rising out of the clear Galapagos ocean.
Sombrero Chino Island remains near Santiago Island, with yachts anchoring in the pristine blue strait. The walk ends with a breathtaking vista of a cliff where waves crash into the coastline below.
Sombrero Chino is well-known among seasoned guides as a superb snorkeling location. The water is very quiet, yet deep enough to attract some amazing marine species, such as white-tipped reef sharks, because it is protected by the bigger Santiago Island. Rare Galapagos Penguins may also be seen by lucky snorkelers!
Places to Visit On Santa Cruz Island by Land
Before we list the popular tourist attractions in Santa Cruz, we will briefly describe the tourist hub, Puerto Ayora.
Puerto Ayora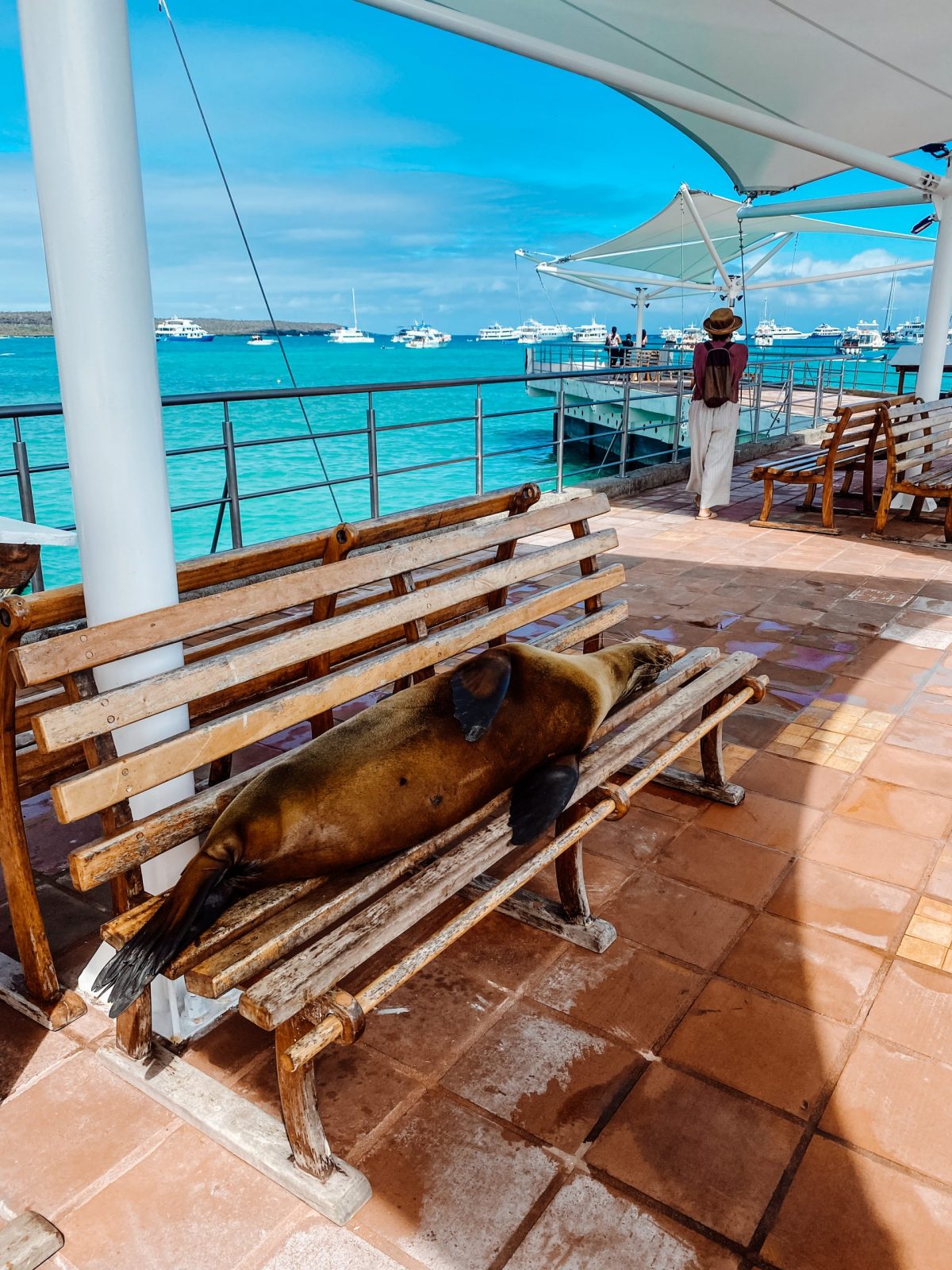 Puerto Ayora is a port town that features a wide range of restaurants, stores, and motels to accommodate visitors of all kinds and sizes. The Galapagos National Park's headquarters and the Charles Darwin Research Station are also located here. These two groups collaborate to safeguard and maintain the islands' natural variety and fauna.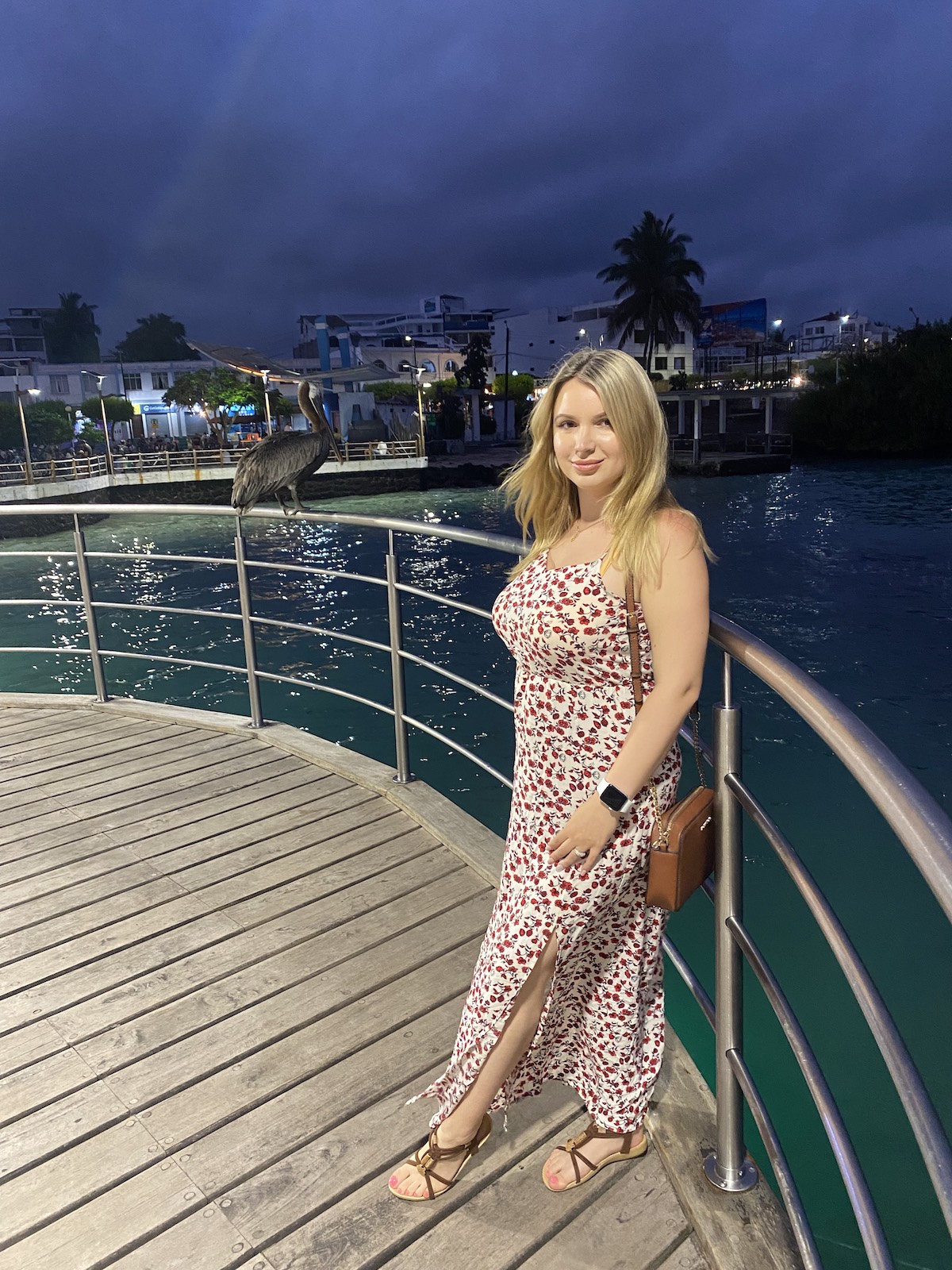 The Santa Cruz Galapagos Airport (GPS) is not situated on Santa Cruz island, but rather on Baltra Island which is in the north of Santa Cruz. The Itabaca canal separates the two islands, which are traversed by a frequent ferry service. Every day, many planes come here from Quito and Guayaquil.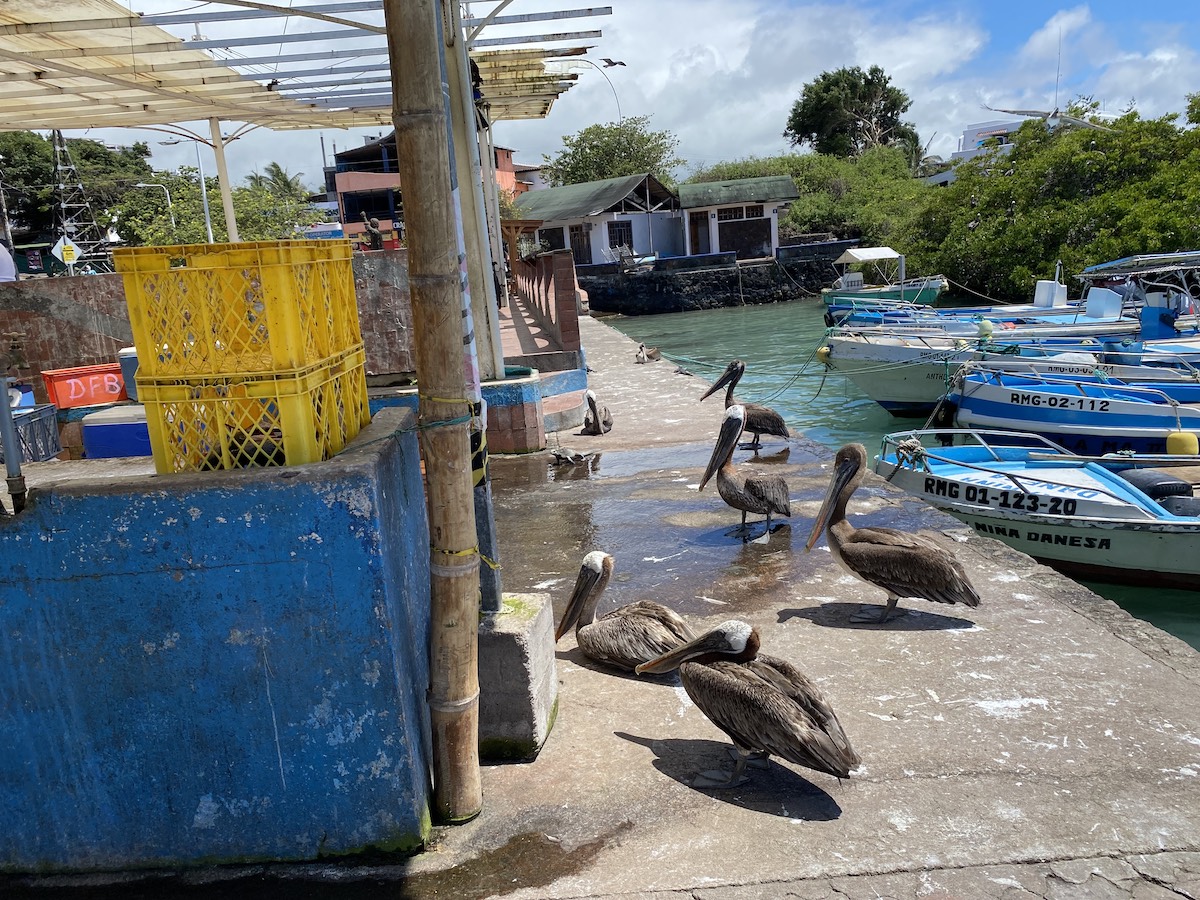 A medical facility, banks with ATMs, local airline offices, a grocery, pharmacy, and even a health spa are available to visitors traveling to Puerto Ayora. 
There are several places you can visit that are close to Puerto Ayora:
The Charles Darwin Research Station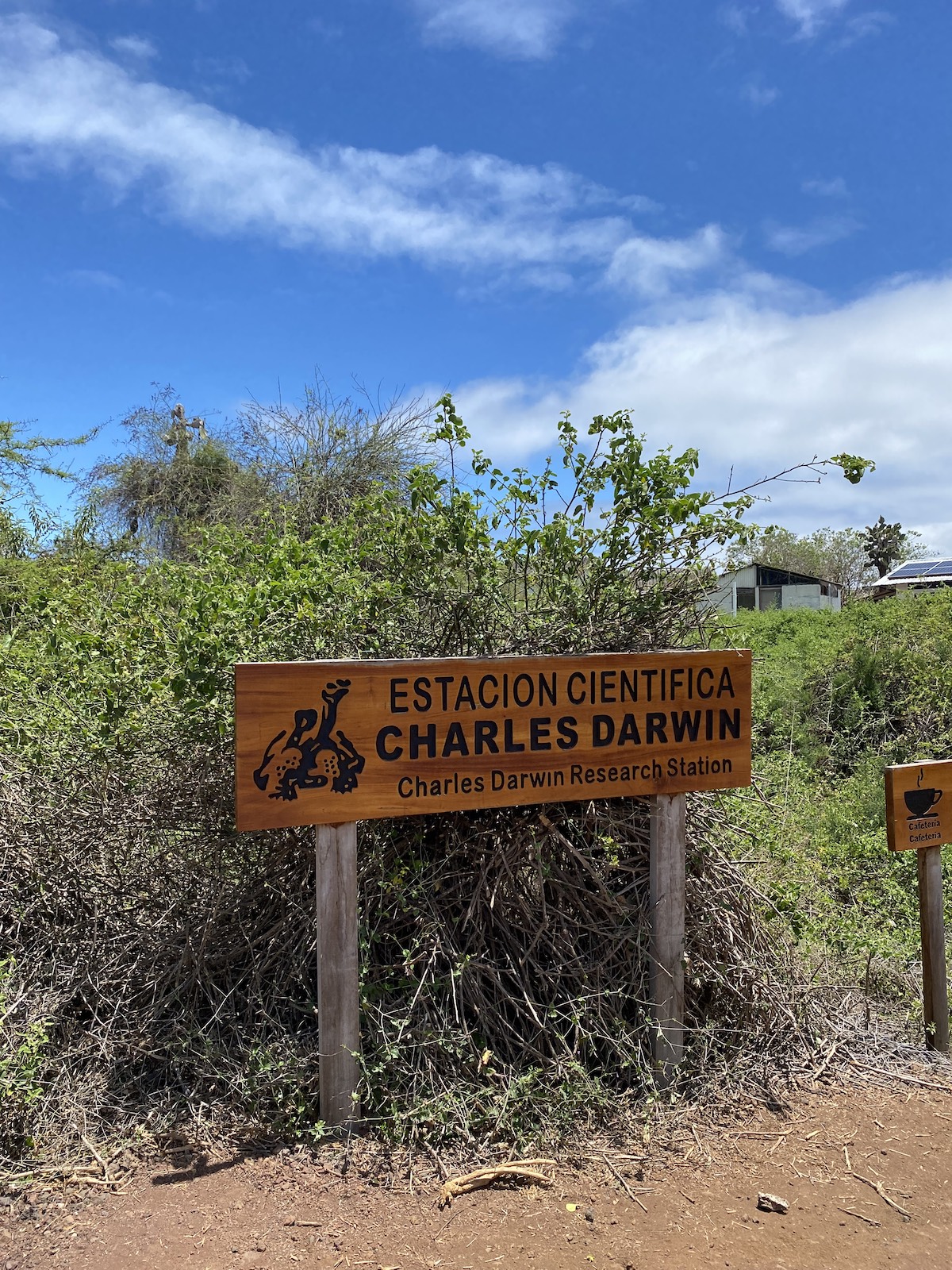 Every year, hundreds of scientists and volunteers visit the Charles Darwin Research Station (CDRS) to conduct essential research on the islands that contributes to the preservation of the islands and their species.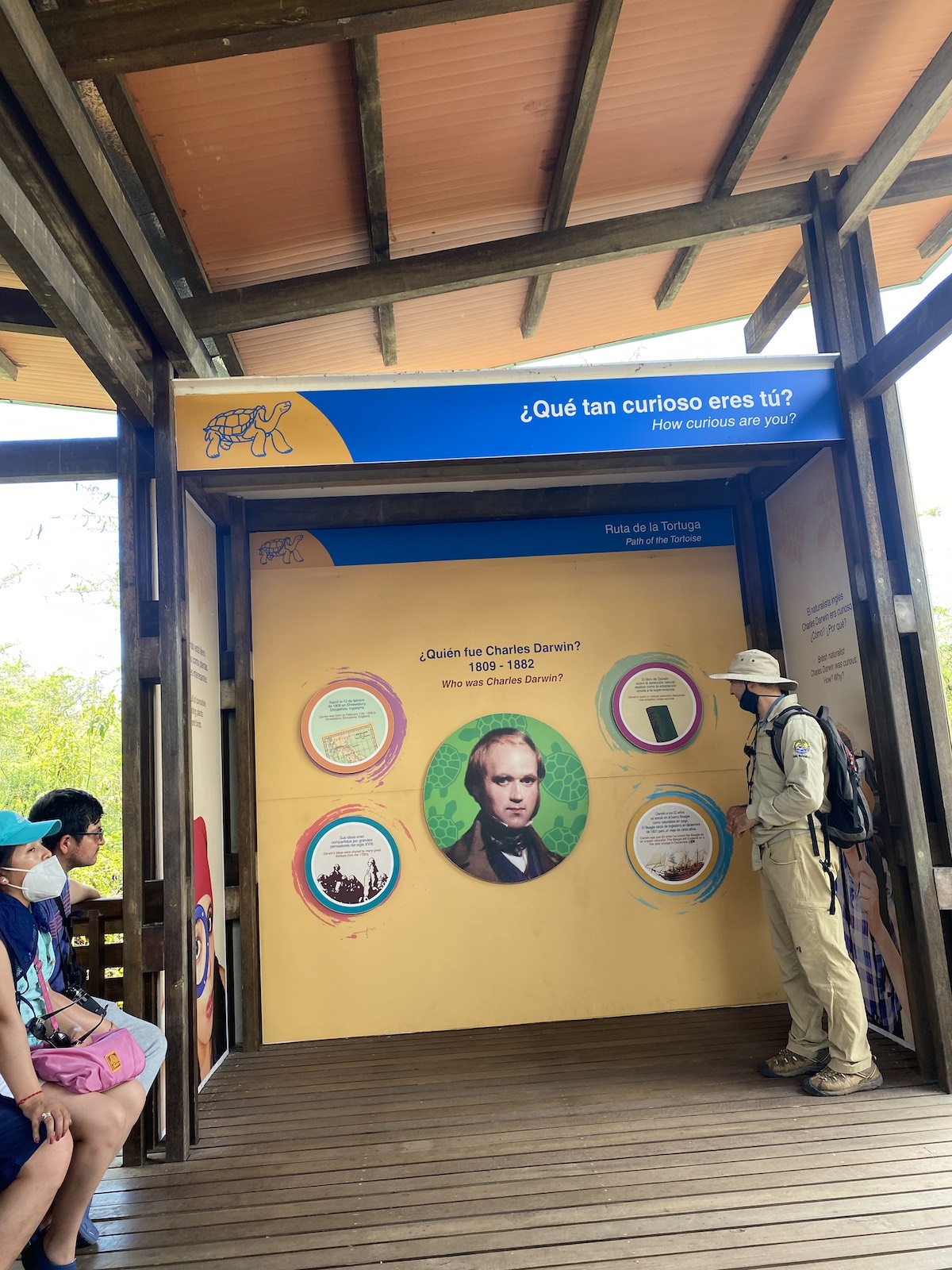 The station, which is only a 15-minute walk from town, also houses the Fausto Llerena tortoise breeding center. A tour of these facilities takes you through the stages of Galapagos tortoise development, from baby hatchling to adult. This center is critical to the giant tortoise's protection and conservation. Honestly, there are better places to check out turtles on the island, so I'd recommend saving your time and money and skipping this station.
Las Grietas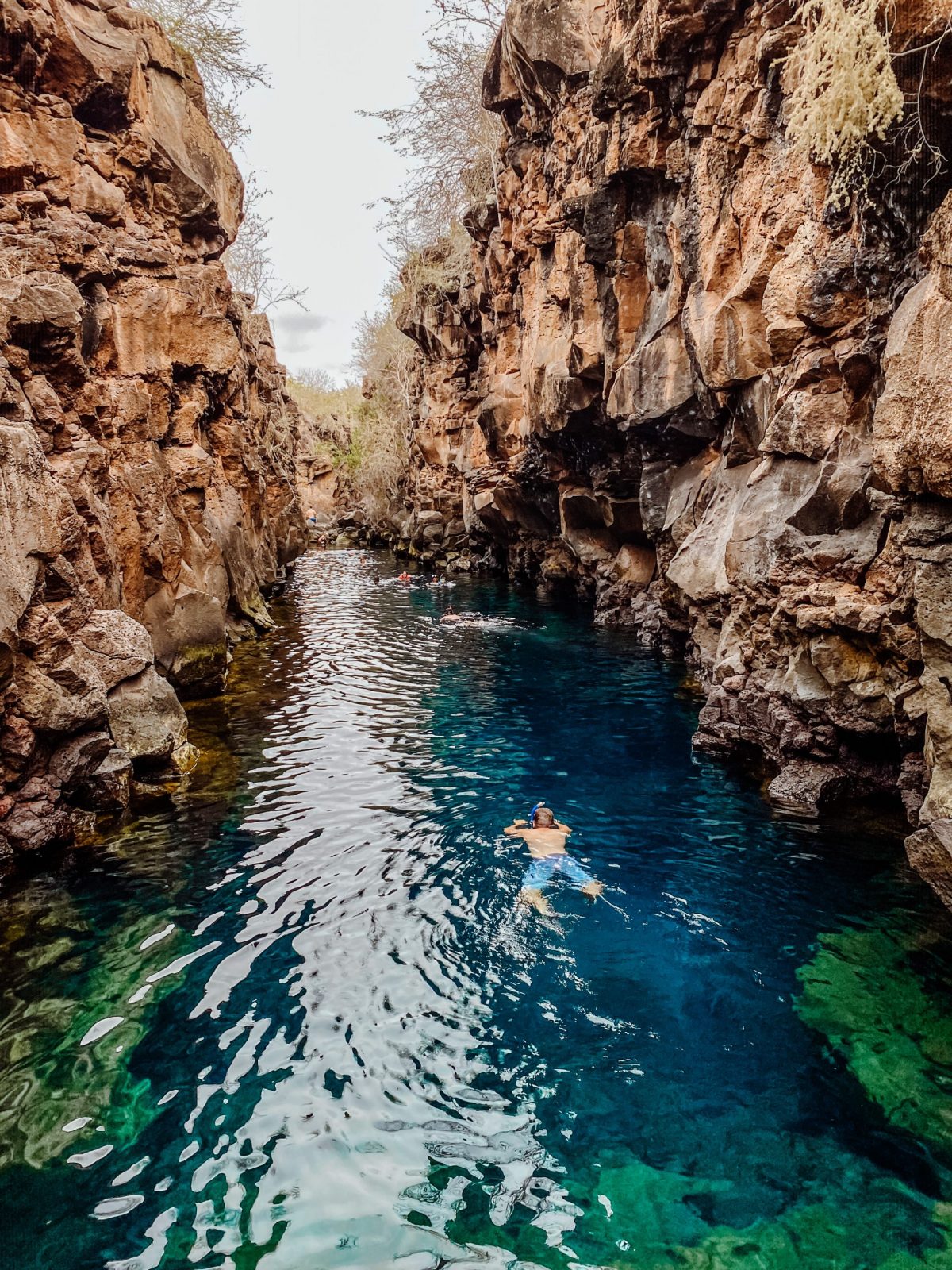 Las Grietas is the nicest swimming hole on Santa Cruz Island and is also fairly near to town. Three crystal clear ponds are nestled between towering volcanic cliffs in a fissure. Locals and tourists alike go here to cool down while taking in the breathtaking sights. Las Grietas is a fantastic place to spend a few pleasant hours swimming, snorkeling, or cliff diving!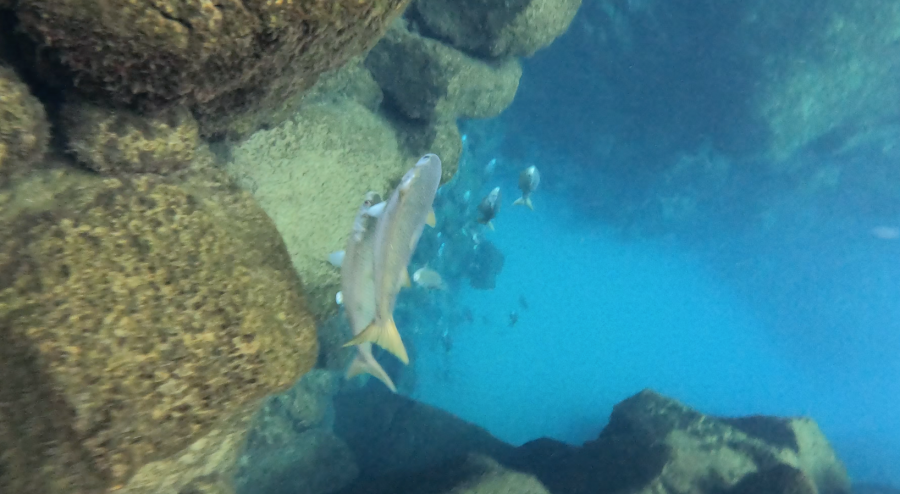 The water in Las Grietas is a combination of seawater entering from one end and freshwater filtering in from the other. Because of the protective walls, the water is crystal clear and quite tranquil, with no current – ideal for a relaxing swim.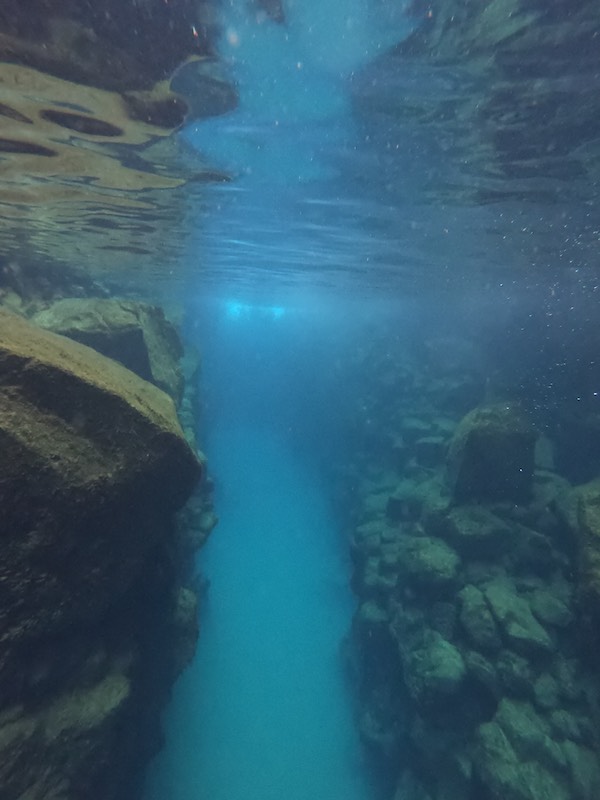 There are also really cool salt mines along the way: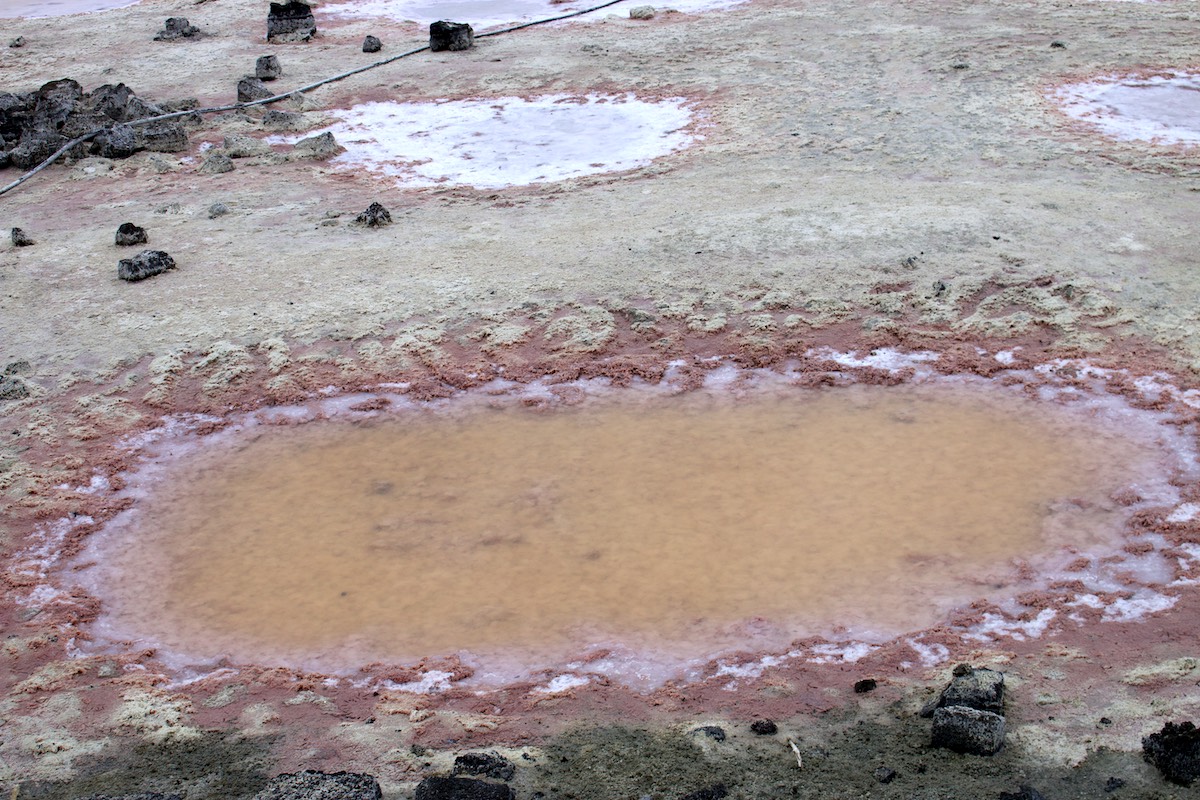 On weekends, Las Grietas is very popular with locals, so get there early to avoid long lines.
Laguna de las Ninfas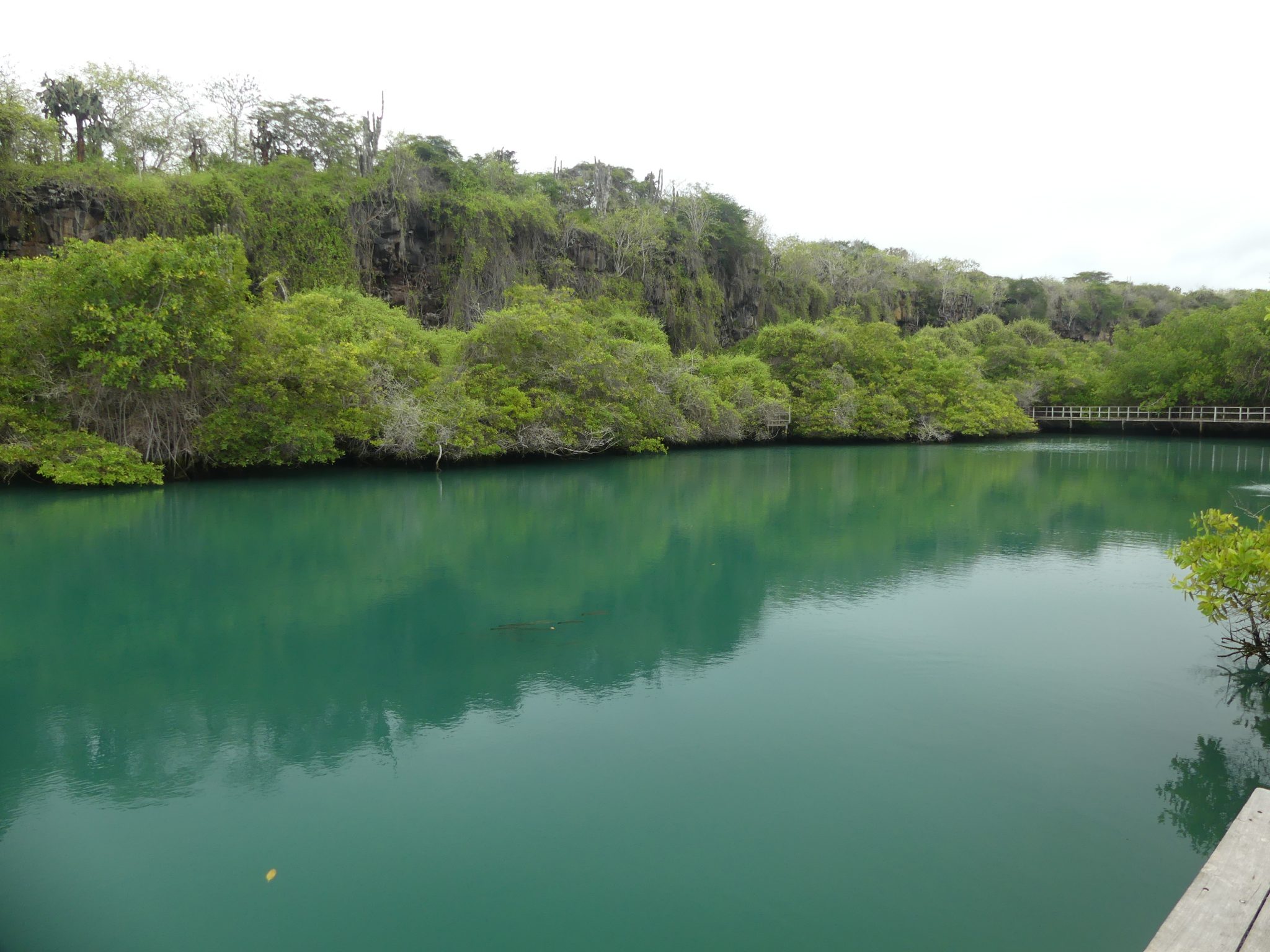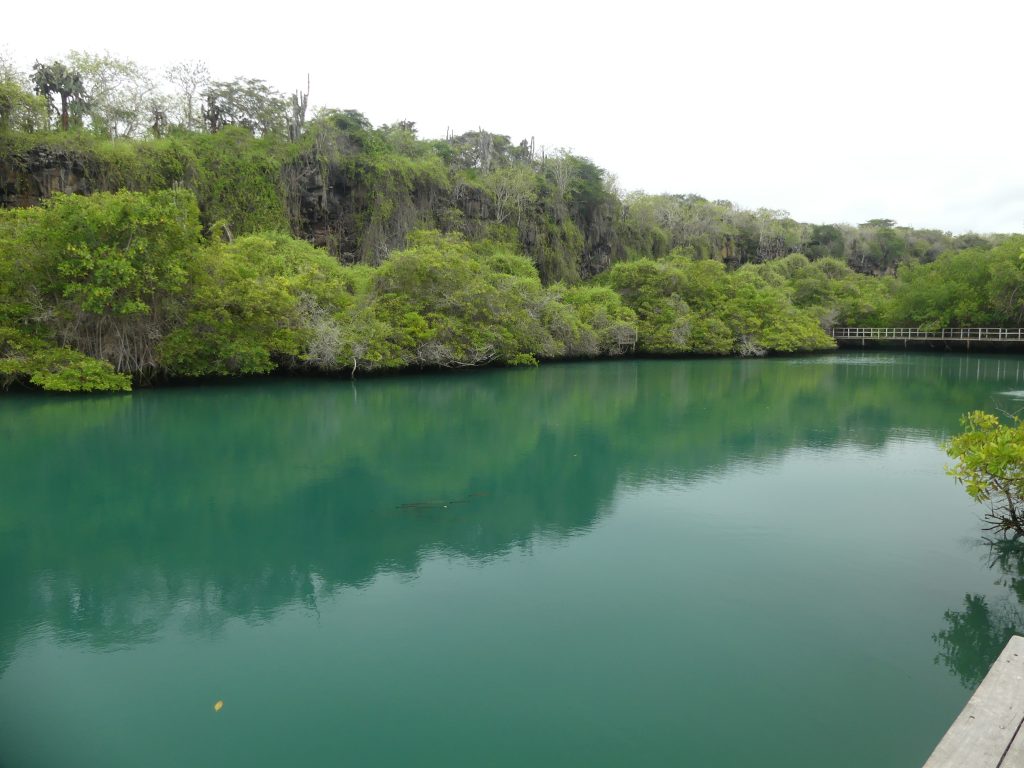 Laguna de las Ninfas or the Nymph's Lagoon is a saltwater lagoon in Puerto Ayora that is driven inland by a short passage of rocks and vegetation. The walkway that surrounds the lagoon winds through mangroves, with each tree kind labeled. There are a handful of walkouts where you may hunt for signs of life in the pristine waters or sit and rest in the peace.
Beaches
Of course, the most fun thing to do on an island is swimming! There are several beaches on Santa Cruz island that you would surely love. All of them boast white sand and pristine waters.
Tortuga Bay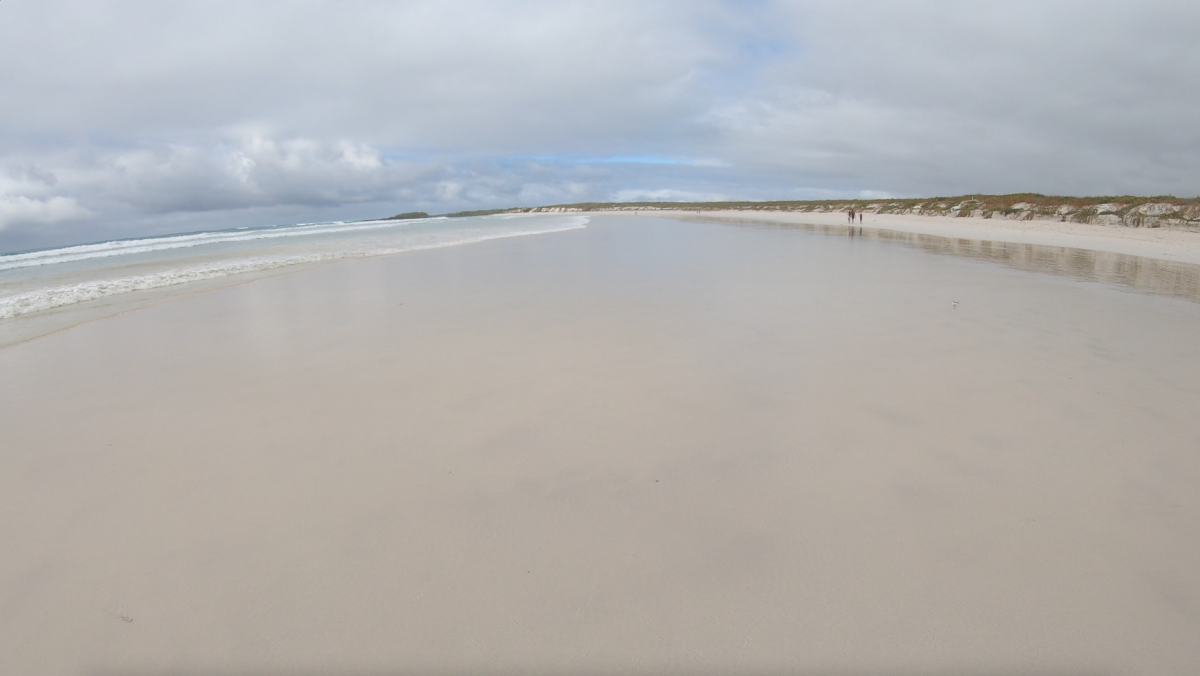 Tortuga Bay garnered its name from the black sea turtles that usually come onto the coast to lay their eggs. Along with the turtles, you can also witness white-tip sharks, iguanas, and flamingos.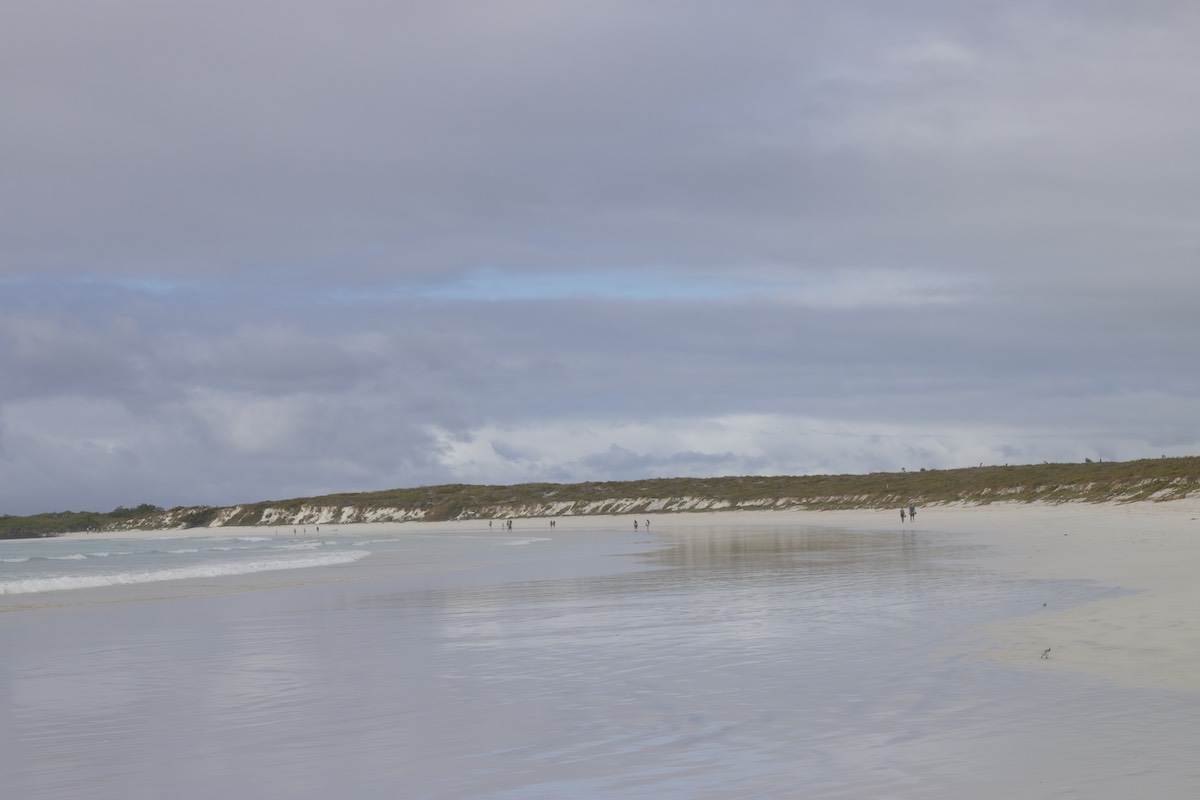 It is an outstanding tropical beach southwest of Puerto Ayora that is listed in the rankings of the world's top beaches. The trailhead is a short walk from town and runs along the coast through mangroves and cactus woodland.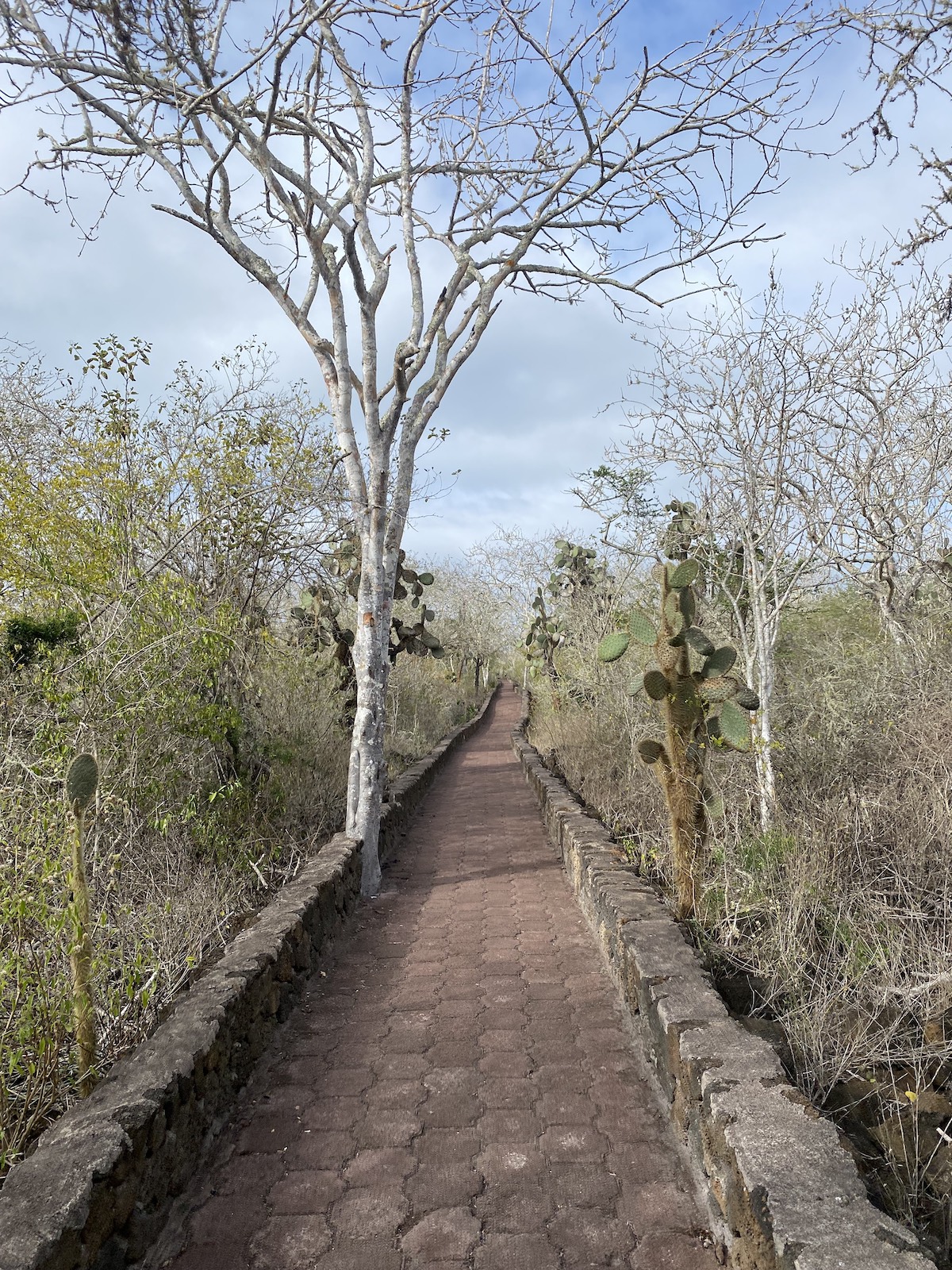 The environment opens out into a tropical paradise after the mile and a half trek, attracting both tourists and wildlife.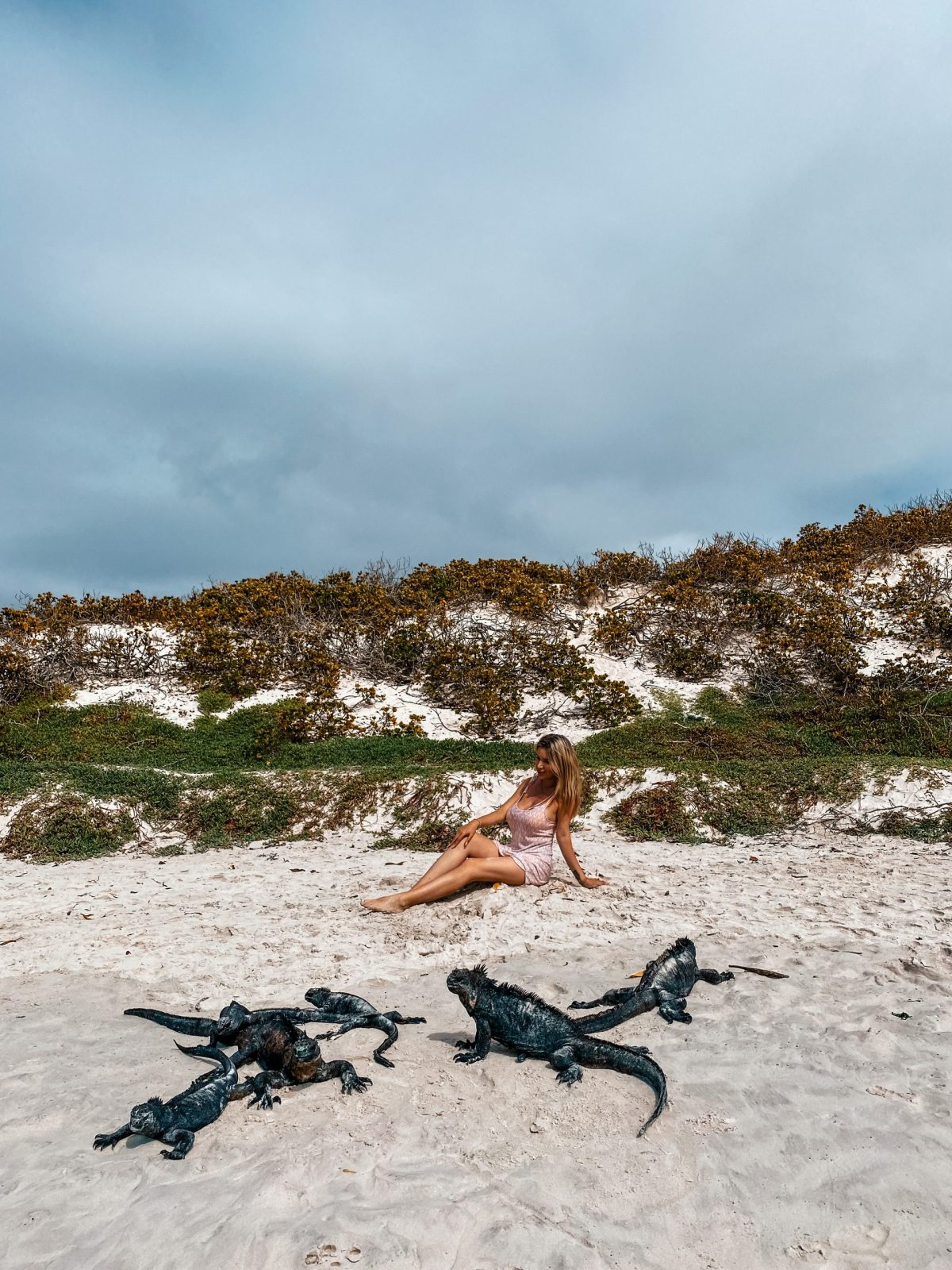 You may walk to Tortuga Bay for approximately an hour by taking the 2.8-kilometer trail. The second alternative is to travel by boat, which departs from Puerto Ayora's harbor. This boat's tickets may be purchased from a booth at the Puerto Ayora harbor. It is important to note that when you board the boat, you will have a limited time until the boat returns to the harbor.
Playa Brava is the first length of white sand, where marine iguanas sun themselves on the warm, soft sand amid the gorgeous blue seas offshore. This is the location to surf, and residents are frequently seen hanging then before the sunsets.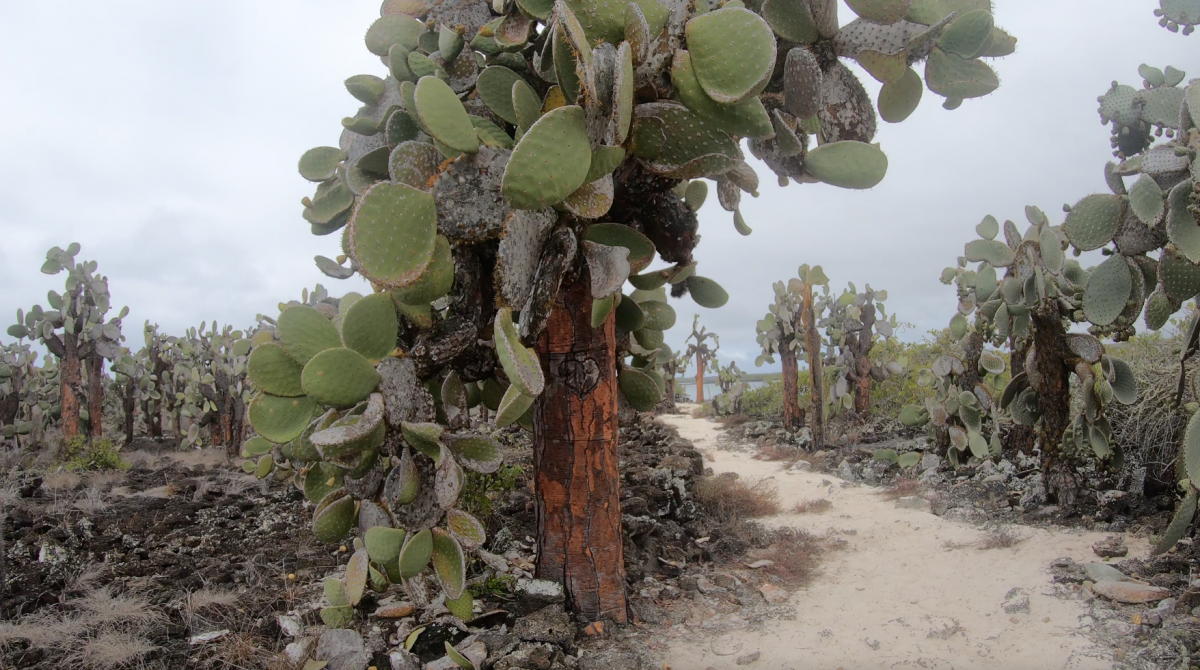 Playa Mansa, a protected lagoon at the end of Playa Brava, is home to a huge colony of marine iguanas. The tranquil waters are perfect for swimming or kayaking, and boats may be rented by the hour.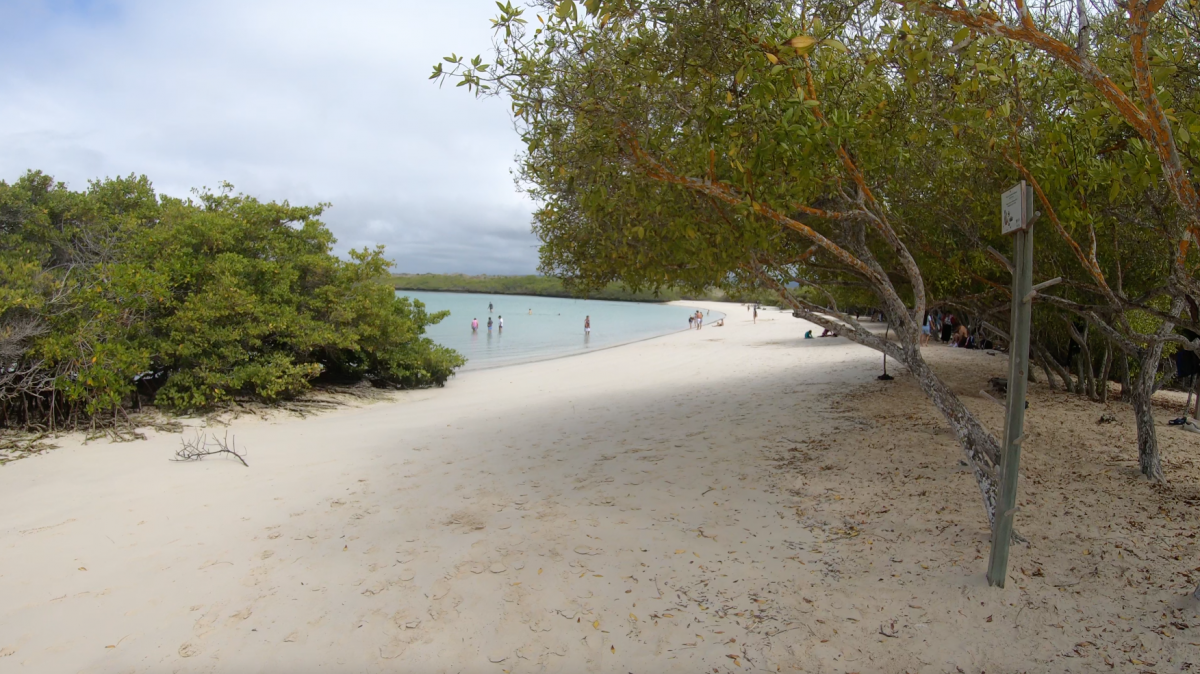 Garrapatero Beach
El Garrapatero, located northeast of Puerto Ayora, is a windswept strip of beach accessed after a 15-minute walk through a tall cactus grove. The road is also lined by manchineel trees, one of the world's most toxic plants. The hazardous trees and their fruit are well labeled, but bear in mind that even touching the sap can cause a serious rash.
Because the trailhead is more than 10 kilometers outside of Puerto Ayora, most visitors either rent a bicycle for the day or take a cab out here. On the good side, you'll frequently have the beach to yourself, especially during the week.
Bachas Beach
Bachas Beach is a popular stopping point for Galapagos cruises and day trips. This little length of the beach has pure white sand and turquoise seas and is an important nesting spot for sea turtles on the islands.
During the nesting season, which lasts from January to June, you may discover turtle footprints on the sand if you visit early in the morning. Watch out for Galapagos National Park signage denoting protected areas.
Las Bachas is a beautiful swimming beach where guests may swim among marine iguanas, sea lions, and reef sharks. Flamingos may be spotted in the surrounding saltwater lagoon behind the beach, while Sally-lightfoot crabs lurk in lava crevasses.
Playa de Los Perros
A short water taxi journey from town takes you to Playa de Los Perros, which is close to Puerto Ayora. Marine iguanas and white-tipped reef sharks may be seen on the little islet and in the adjoining pool.
The crystal clear waters are ideal for snorkeling with beautifully colorful, exotic species, as blue-footed boobies circle overhead looking for their next meal.
Playa de Los Alemanes
Playa de Los Alemanes, on the road to Las Grietas, is a wonderful beach for swimming, snorkeling, surfing, and kayaking. A short water taxi journey across Academy Bay from Puerto Ayora leads to a boardwalk that surrounds the beach.
Dive Sites
Because diving is a popular activity in Galapagos, we have also listed some of the top diving sites on Santa Cruz Island. I have not done any since I am not a big fan of Scuba Diving. 
Guy Fawkes Rocks
Guy Fawkes Rocks is a diving destination comprised of four islands off Santa Cruz's northwest coast. At depths of 80 feet, this location opens into steep coral slopes with caverns where white-tipped reef sharks eat. The region is also frequented by green sea turtles, eagle rays, and sea lions.
Punta Carrión
Punta Carrión is a novice to intermediate dive on Santa Cruz's western coast, with depths of up to 90 feet under the surface Keep a watch out for marbled and eagle rays, sea lions and turtles, white-tipped reef sharks, scorpion fish, beautifully colored reef fish, and the rare hammerhead shark. Dolphins may be sighted in the vicinity during the guara mist season.
Gordon Rocks
One of the popular and top diving spots in the Galapagos Islands is the Gordon Rocks. It is situated just off the eastern coast of Santa Cruz and is recommended for intermediate and advanced divers because of the strong currents. Many white-tipped, Galapagos, and hammerhead sharks live in this submerged, eroded cone of an extinct tuff cone volcano.
Santa Cruz Highlands
You can take a cab for $35 that will get you to three sports: El Chato Tortoise Reserve, Twin Craters, and Lava Tunnels.
El Chato Tortoise Reserve
El Chato Tortoise Reserve is located near the small town of Santa Rosa. La Caseta and Cerro Chato are the two sections of the reserve.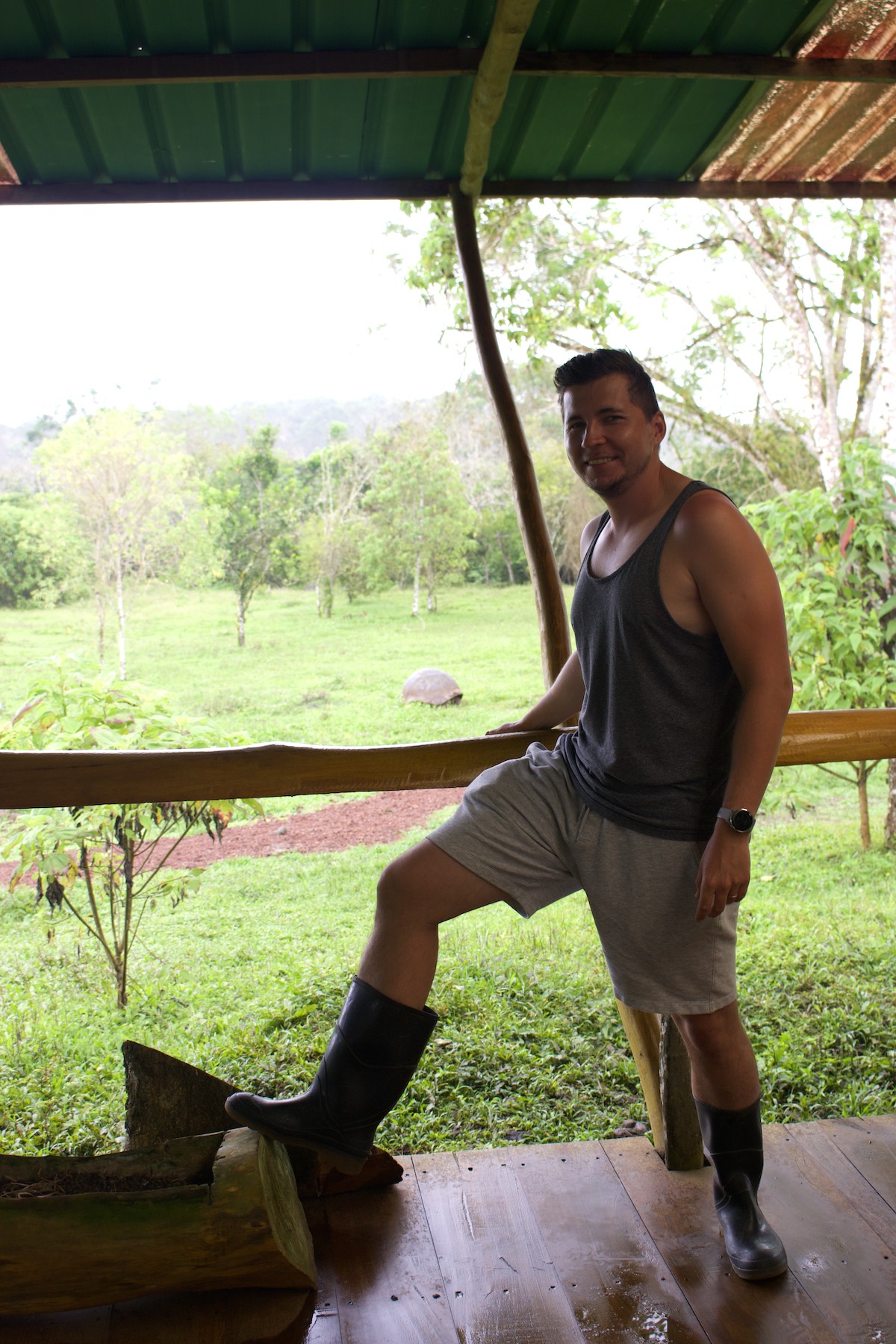 Cerro Chato's trails are clearly designated and the simplest to follow, but La Caseta's overgrown routes are more difficult. The Galapagos National Park rangers who operate in the region occasionally close La Caseta by erecting fences to protect Giant Tortoises from predators such as wild pigs and dogs.
Twin Craters (Los Gemelos)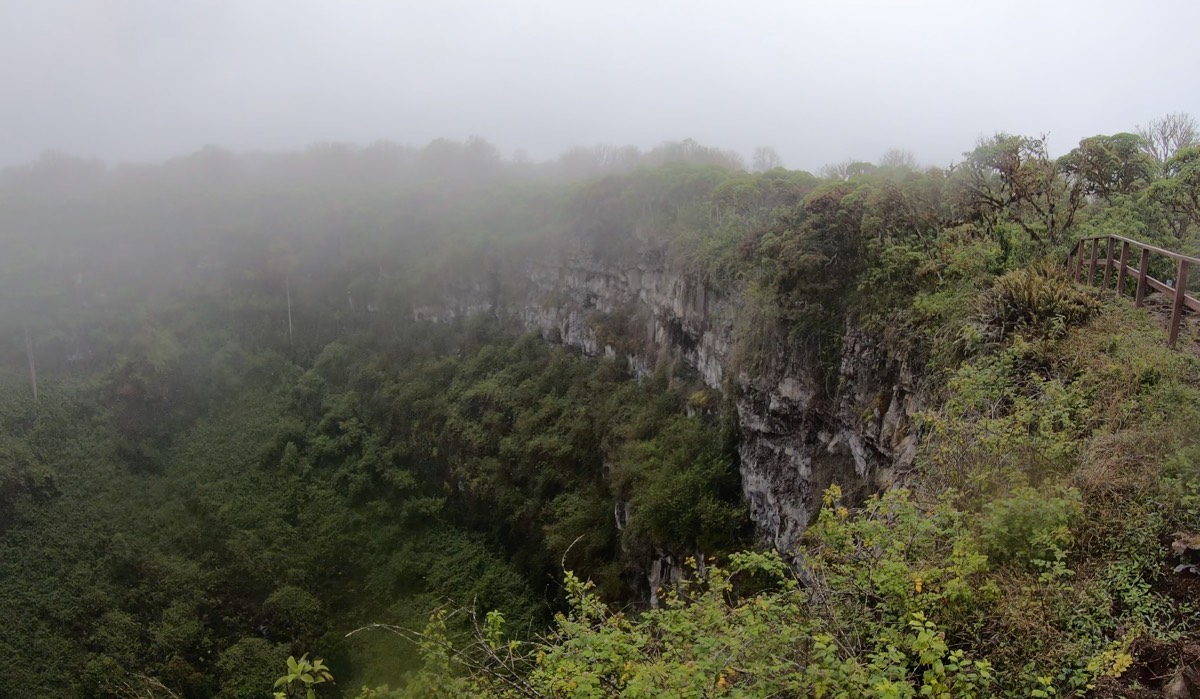 The Twin Craters or Los Gemelos are a pair of huge volcanic chambers with fallen ceilings that have left sinkholes. These spectacular overgrown pit craters are located just before Santa Rosa town and are bordered by Scalesia woodland, which is home to many species of Darwin's finches, Vermilion flycatchers, and short-eared owls.
Trails go around the rims of both craters, beneath a canopy of trees that may reach 65 feet in height. The Galapagos Scalesia tree is unique to the islands, and because of conservationists' efforts, the forest surrounding Los Gemelos is one of the biggest on the islands.
Lava Tunnels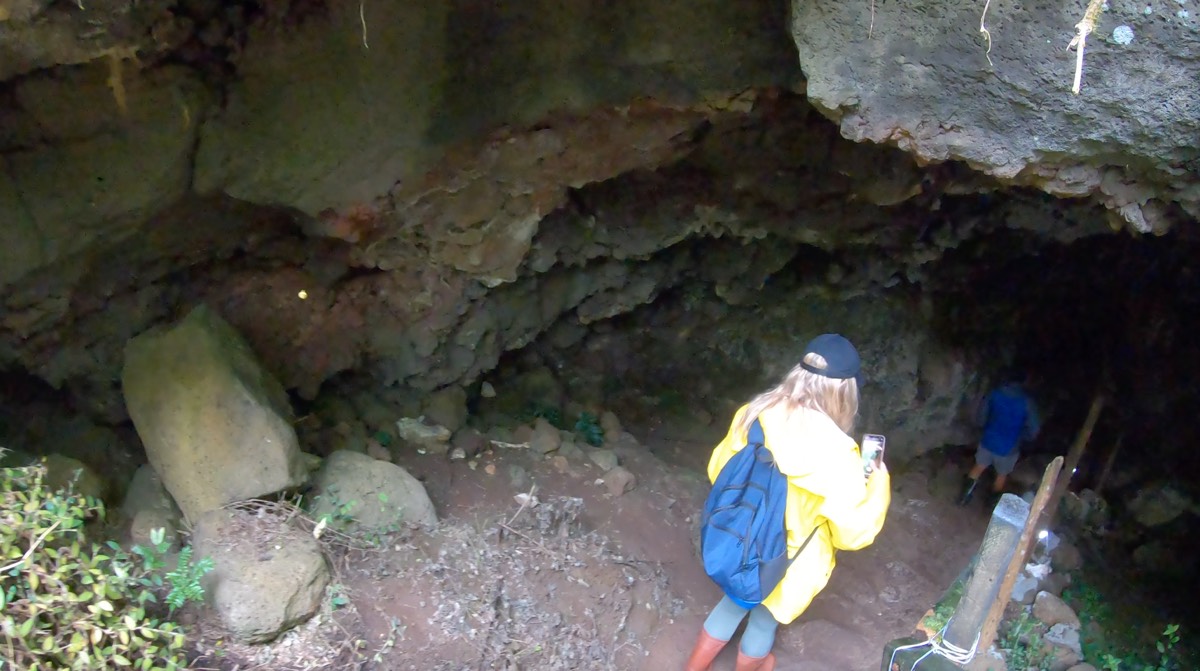 The Santa Cruz highlands has the Galapagos islands' biggest accessible lava tunnels (or lava tubes). These lava tunnels emerge when slow-moving surface lava hardens and faster-moving lava flows beneath, leaving a hollow tube behind after the eruption. The Santa Cruz lava tunnels were constructed over a million years ago, and some of them are large enough to walk inside.
Don't forget to bring a flashlight and step carefully because the tunnel ceilings are weak and some are collapsing due to erosion.
Galapagos Coffee Farms
Several coffee farms, including Lava Java and El Trapiche, are available to the public in Santa Cruz's highlands. Visits take you through the whole coffee growing process, from seedling to finished product. El Trapiche also farms sugar cane, which tourists can see being processed by a centuries-old, mule-powered grinder.
Steve Devine's Butterfly Farm
Steve Devine's Butterfly Farm is located between the cities of Santa Rosa and Bellavista. It is a private farm with hordes of tortoises roaming the enormous estate. The Devines were among the first inhabitants on the island, relocating to Santa Cruz in 1949.
Aside from butterflies, more than twenty species of Galapagos birds, including owls, flycatchers, finches, mockingbirds, and doves, may be seen on their 500-acre site. The farm's restaurant and café are a quiet location to pause for a coffee or tea before continuing to the next site.
Where to Stay on Santa Cruz Island
The main street, Aves Charles, is lined with stores, restaurants, and the harbor. Any hotel in the vicinity is an excellent choice. If the thought of finding the right site in Santa Cruz overwhelms you, we have listed a few options for you.
Galápagos Dreams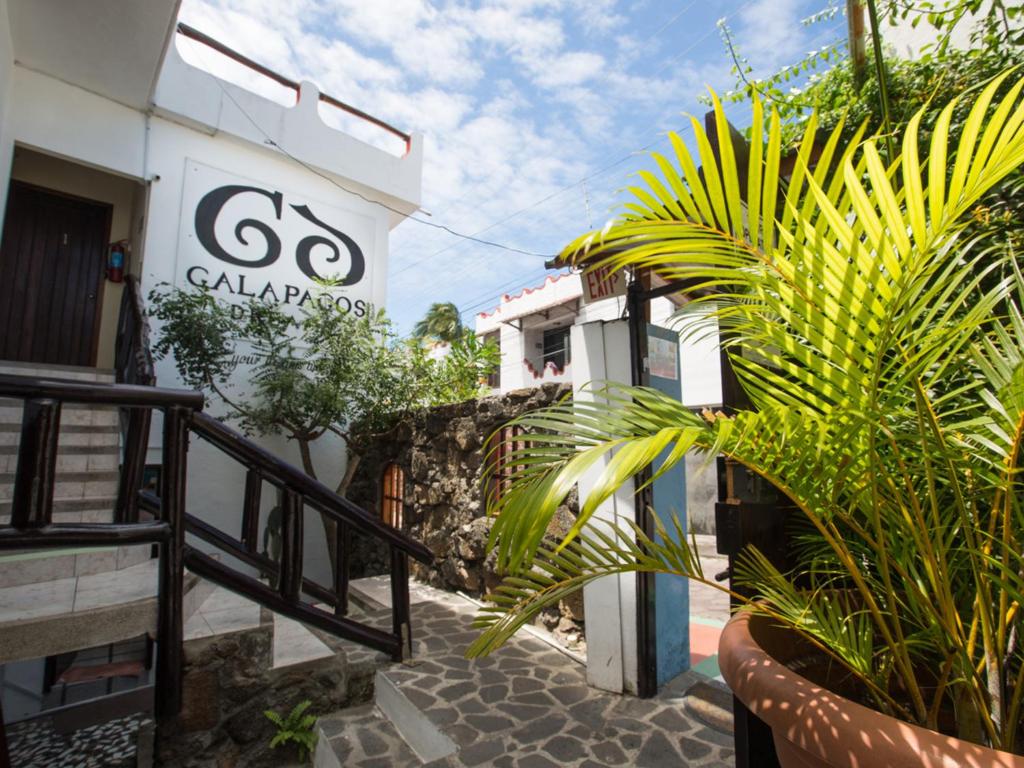 The Galápagos Dreams is a budget-friendly hostel located right in the heart of town. Everything is a walking distance of the place.
Their rate starts at USD50 (check the current price here).
Finch Bay Hotel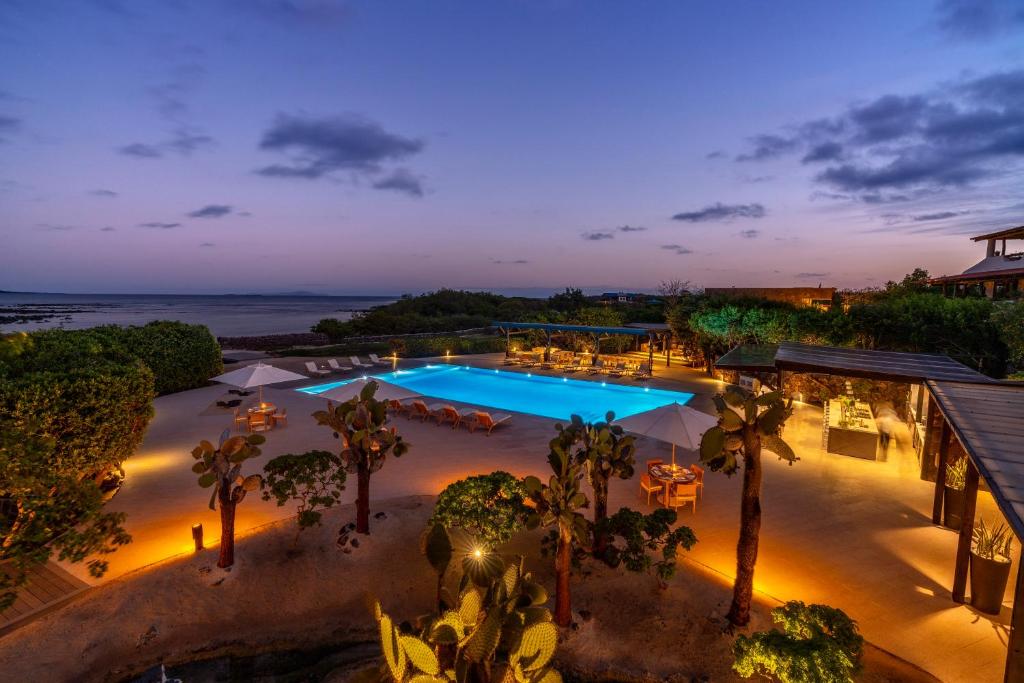 If you're searching for a more upscale and environment-friendly choice, Finch Bay is the place to go. National Geographic named this hotel one of the most distinctive lodges in the world, however, it is not situated in the main town, so you will have to take a water taxi everywhere. Fortunately, the water taxi is included in the price of your stay. 
Rates at Finch Bay are roughly around USD600 above (check the current price here).
We rated this hotel as the best option to stay on the Galapagos Islands.
Hostal Galápagos Morning Glory
If you choose to stay in a hostel, Hostal Galápagos Morning Glory is the finest option. Restaurants, shopping, and beaches are all within a 15-minute walk. In addition, there is free Wi-Fi and a lounge area with hammocks and a TV.
The average nightly rate is around USD60. Check the current price here.
Hotel Ikala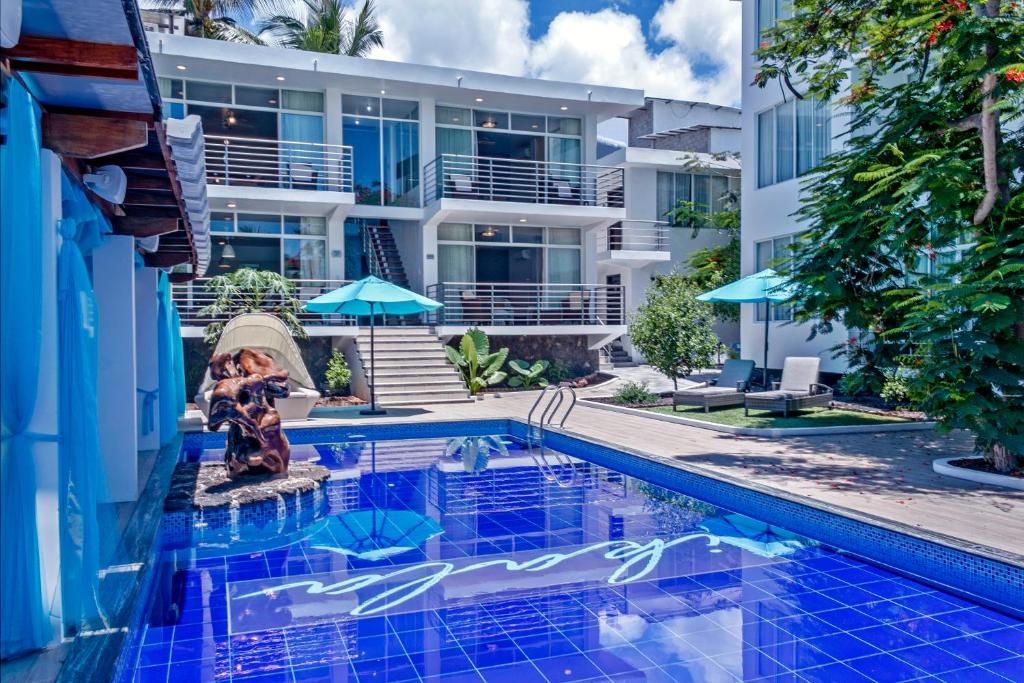 This amazing hotel is right in the middle of everything; all tourist essentials are within walking distance. It also provides nice mid-range accommodations and complimentary bicycles that you may use to travel about.
Their rates start around USD200. Check the current price here.
Where to Dine on Santa Cruz Island
Food is an important aspect of a trip so we made a list of cafés and restaurants that you should try when you are in Santa Cruz.
La Garrapata
Dine at La Garrapata, a local favorite, for a real Galápagos Islands experience. It was one of the island's earliest open-sided and relaxing restaurants, and it serves a variety of seafood specialties.
ANKER
ANKER serves traditional Galápagos cuisine, with tastes inspired by the island's seasonal ingredients. You may have a 5-course dinner or à-la-carte alternatives combined with inexpensive drinks. If you appreciate fish, you'll enjoy their offerings.
Bahia Mar
Bahia Mar, which sits right on the beach, specializes in Ecuadorian cuisine while also providing a variety of international dishes. If you are seeking a unique and magnificent dining experience, nothing beats sitting straight on the water while eating some lobster.
Isla Grill
Isla Grill is the place to go if you want to have a relaxed supper with a variety of cuisine selections. They serve sushi, steak, and vegetarian alternatives at reasonable prices. It's also a fun place to get a drink.
De Sal y Dulce
De Sal y Dulce is an excellent choice for coffee and dessert. If you need a little afternoon delight, coming to this place is worth your time. Try their cappuccino and pair it with their brownies.
1835 Coffee Lab
Coffee and tea lovers will definitely enjoy the 1835 Coffee Lab. This shop is one of my favorite places on the island to have a cup of coffee or tea. Not only do they make a superb cup of coffee, but they also promote and distribute coffee culture in the Galápagos Islands and Ecuador.
Santa Cruz Brewery
Craft beer enthusiasts will like Santa Cruz Brewery. Not only is the beer great, but there are also light food, live music, and activities to enjoy. It's not something you'd expect to find in the Galapagos, but if you are looking for a lively and entertaining night, this place is a great way to end your day!
Bottom Line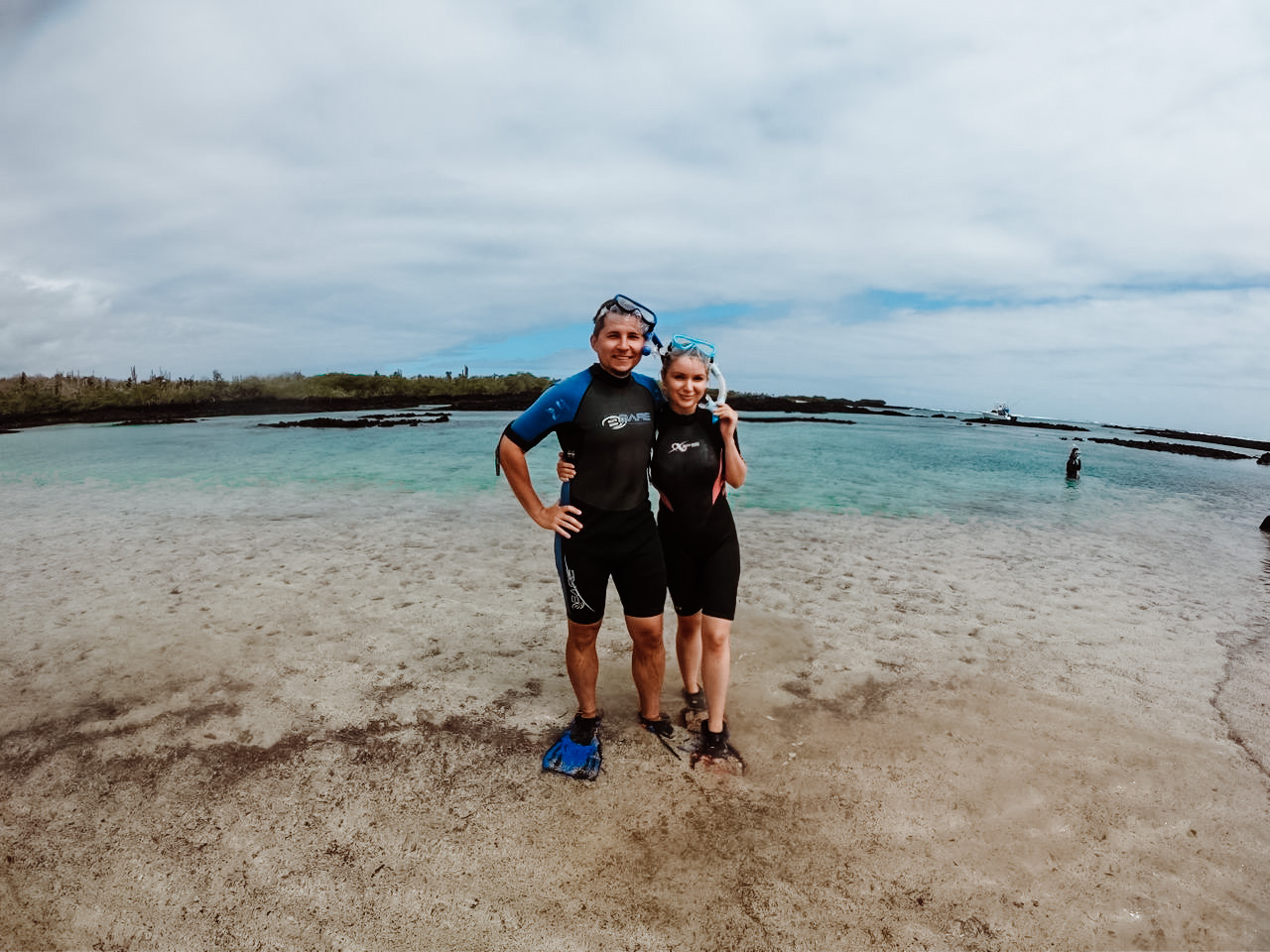 Santa Cruz Galapagos is one of the greatest islands to spend time alone. This island has a wide range of visitor attractions and fauna, as well as a plethora of exciting adventure activities to keep you entertained.
The harbor town of Puerto Ayora is a lively destination to visit for presents and souvenirs, al fresco great dining and beverages, and socializing with the friendly inhabitants.
Many travelers add a few days in Santa Cruz before or after their Galapagos trips, which we also strongly suggest!