Hiking to Cerro Tijeretas, or Frigate Bird Hill, on Isla San Cristobal, Galapagos Islands, is a fantastic free and independent activity to do in the Galapagos. If you have the time, make this part of your itinerary.
Cerro Tijeretas got its name because of the presence of frigate birds in this area. It is one of the few spots in the world where you can see both types of frigate birds breeding in the same colony. Cerro Tijeretas is a short distance from Port Baquerizo Moreno. There are several overlooks where you may take in the breathtaking nature, as well as an inlet where you can go snorkeling.
How to Get to Cerro Tijeretas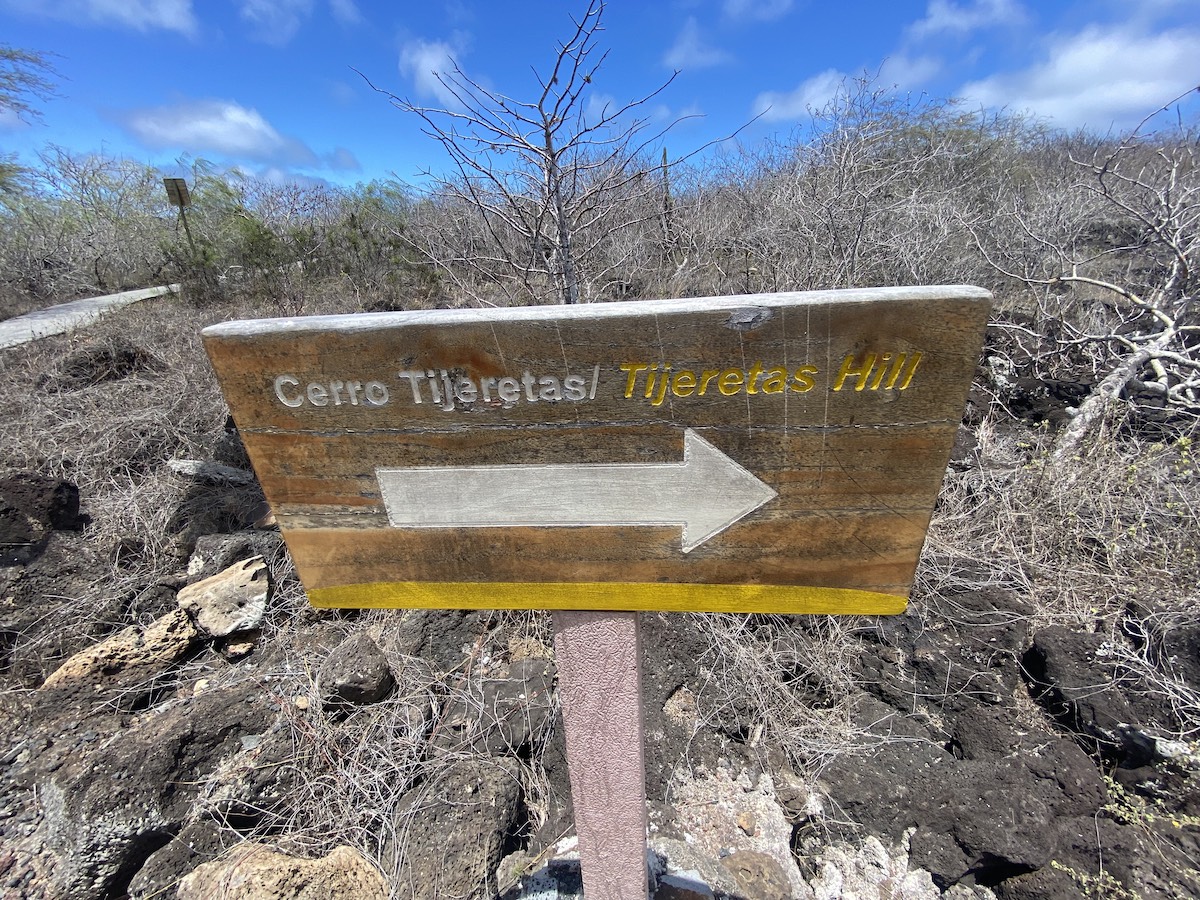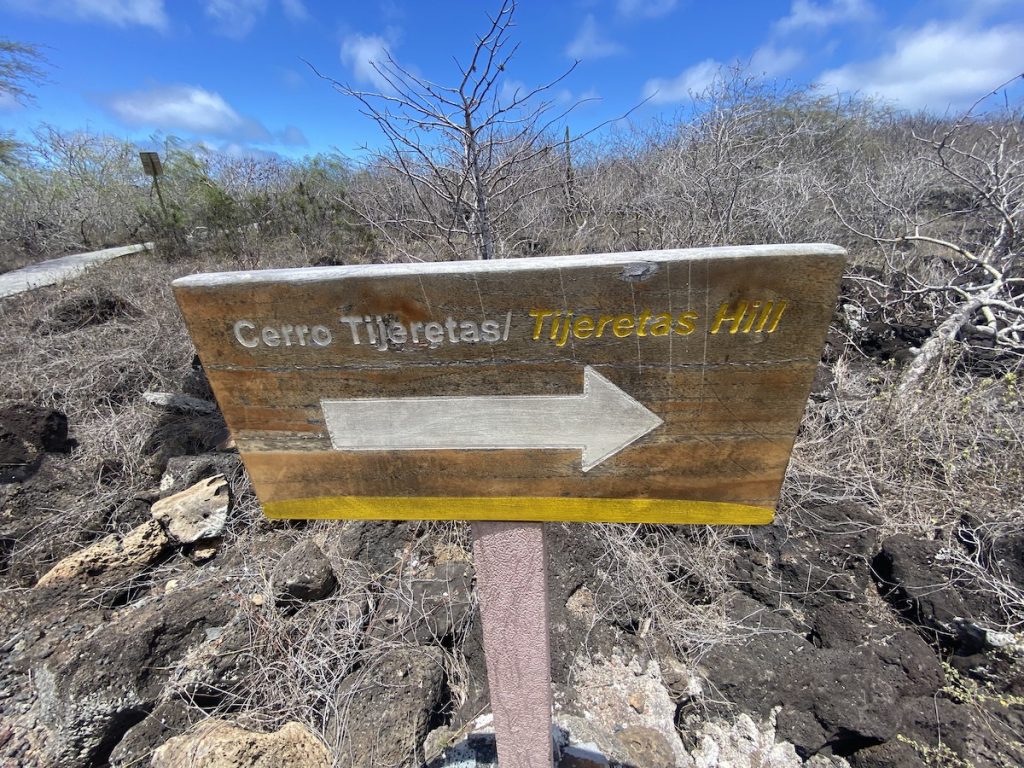 Since Cerro Tijeretas is only a few kilometers away from Port Baquerizo Moreno, you can actually reach the site by foot.
This hike begins at the Charles Darwin Interpretation Centre on the outskirts of Puerto Baquerizo Moreno. Follow the shoreline in town north and the signs to Playa Mann. A path to the right just after the beach leads to the Interpretation Center.
It's a short walk, but a cab to the center will just cost you a dollar or two. 
What to See in Cerro Tijeretas
Charles Darwin Interpretation Center
Allow time to see the explanation center before beginning the hiking route behind the building. Unlike the Charles Darwin Research Station in Santa Cruz, which is primarily concerned with the giant tortoise, this one has a plethora of information on people in the Galapagos.
We learned a lot about the rich human history that these islands have. I had always pictured the Galapagos as a collection of untamed, deserted islands teeming with exotic creatures and nothing else.
Cerro Tijeretas Trail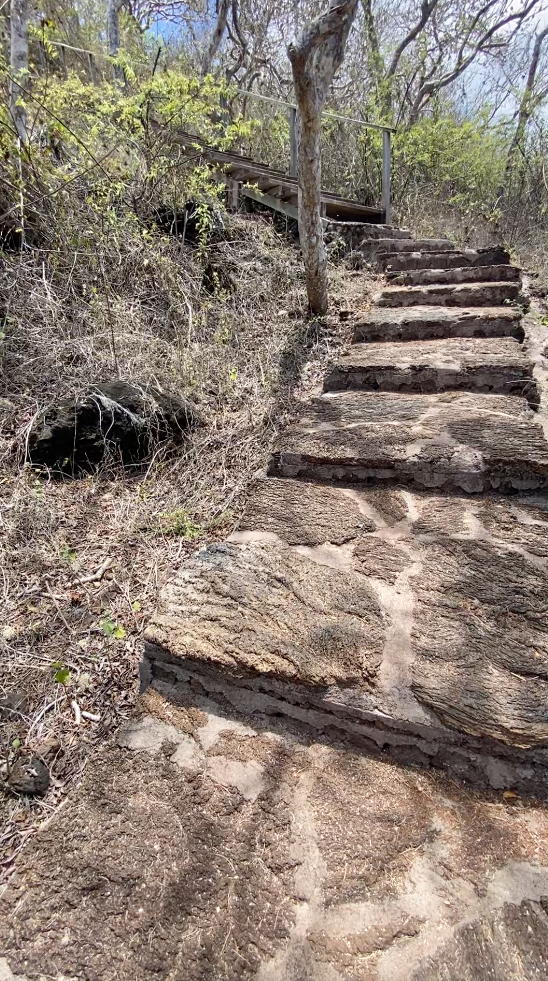 The entire hike is pathed and takes you through a lava and cactus landscape. There is little to no shade and it is hot, so bring a hat, sunscreen, and plenty of water!
There are a few spots in the woods where you can glimpse Puerto Baquerizo Moreno and the sea. Because the path gradually ascends, these are ideal spots to catch your breath and snap a few photos.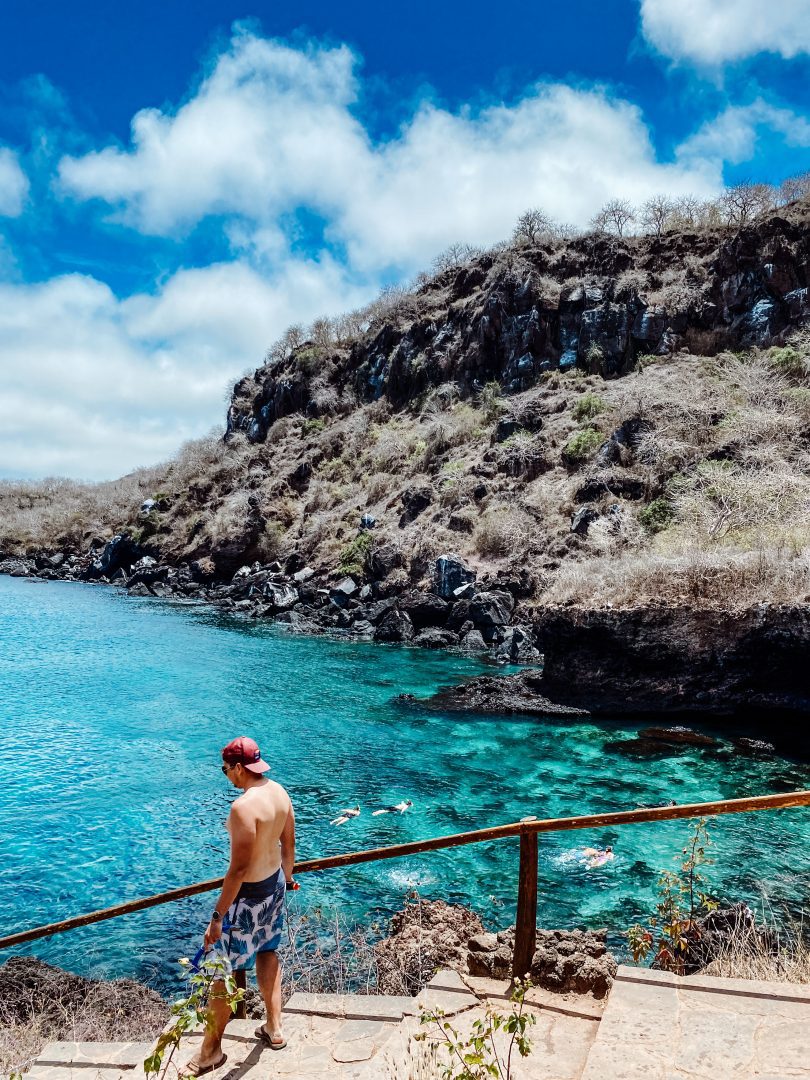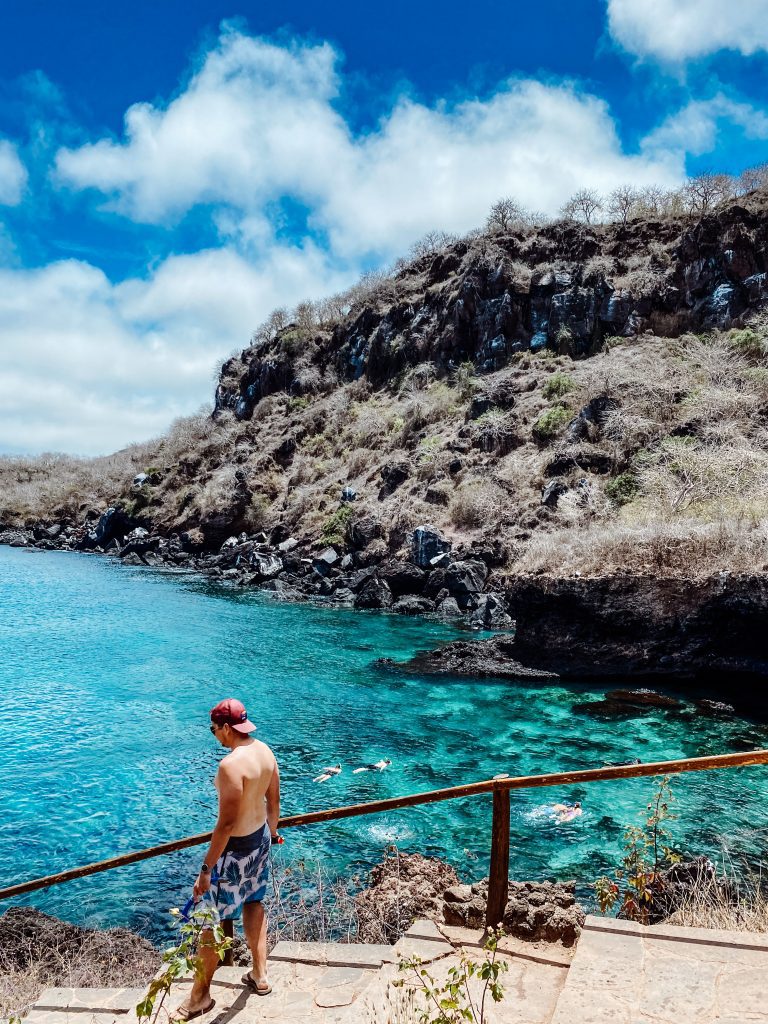 You will encounter a few points in the trail where the route divides. You'll arrive at Playa Carola if you take the trail to the left. We highly suggest paying a visit there, although we propose doing so after the strenuous climb to Frigate Bird Hill. 
The last left split will lead you to Darwin's Cove, which is where we should travel next. But, because we wanted to visit Cerro Tijeretas first, we continued trekking to the route on the right side.
The Scenery at Cerro Tijeretas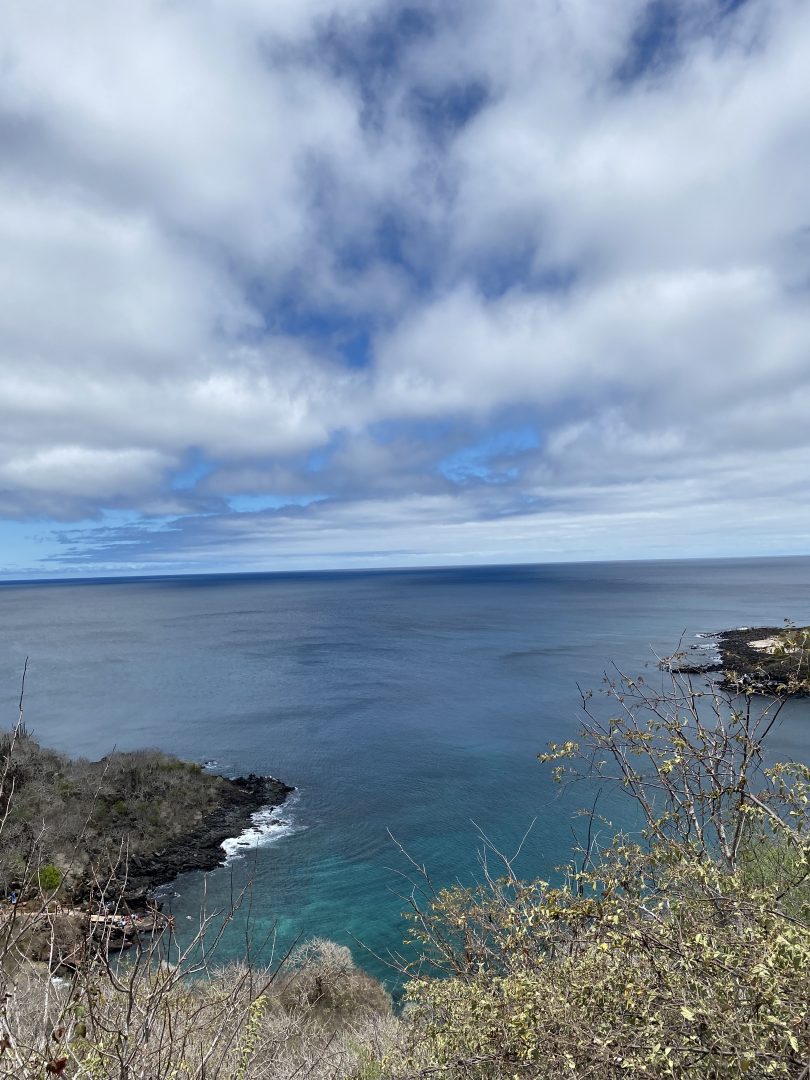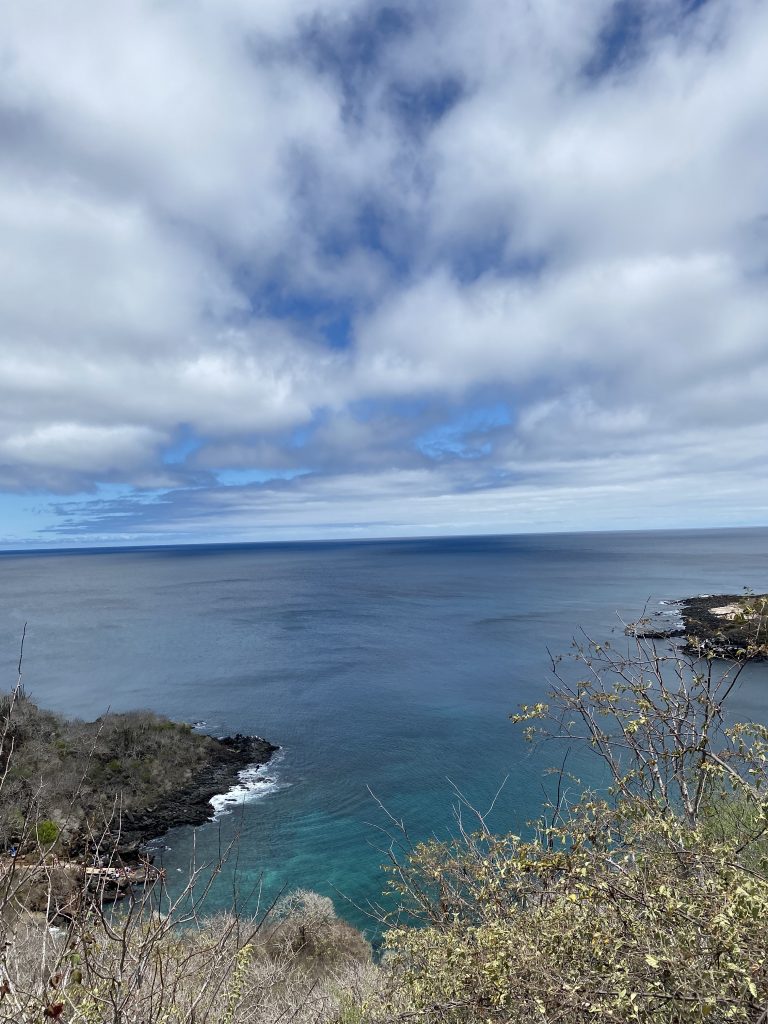 Even if you have no interest in frigate birds, the scenery alone is worth the trip. As you look below, keep an eye out for turtles and sea lions floating around Darwin's Cove. Look out at the water and you'll see enormous swaths of blue with the occasional cruise ship or cargo ship.
From here, you can see the frigate birds and get an idea of their scale.  The trees just below are a popular hangout for the birds, and they may be overrun with them. There will almost certainly be a few babies in them at the right time of year.
Frigate birds aren't the only ones who enjoy nesting on this rocky ledge. We've also seen some blue-footed boobies hanging out in this area.
Going Further?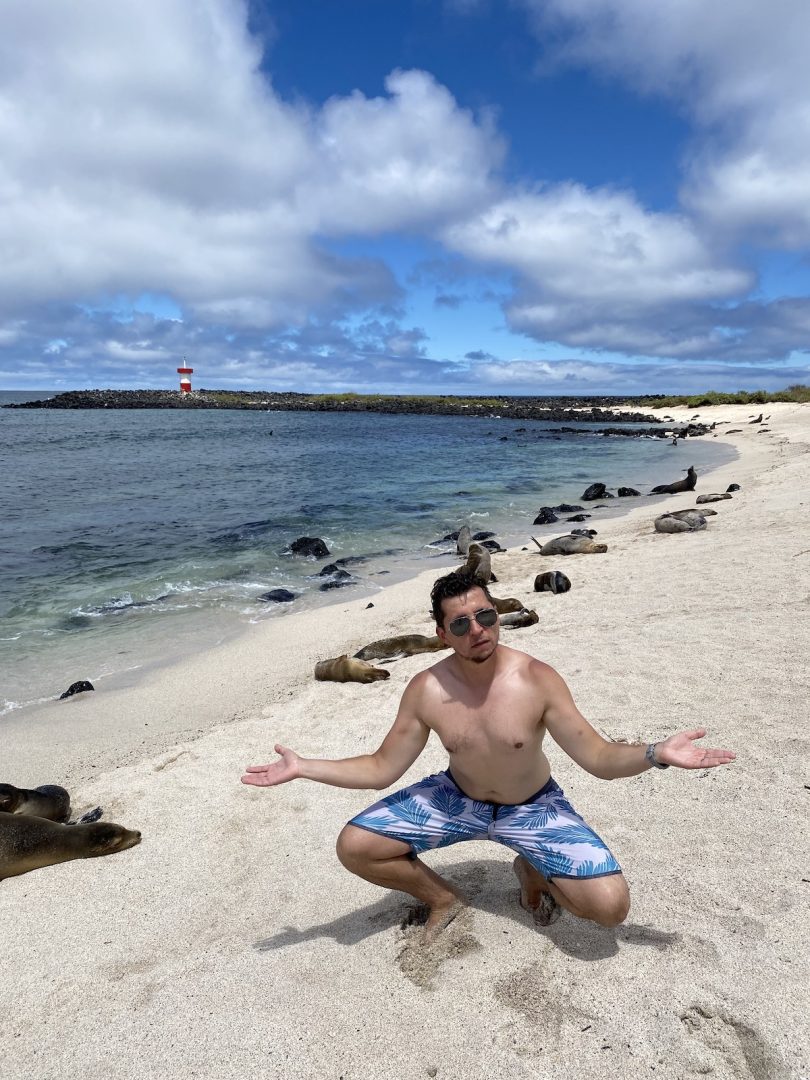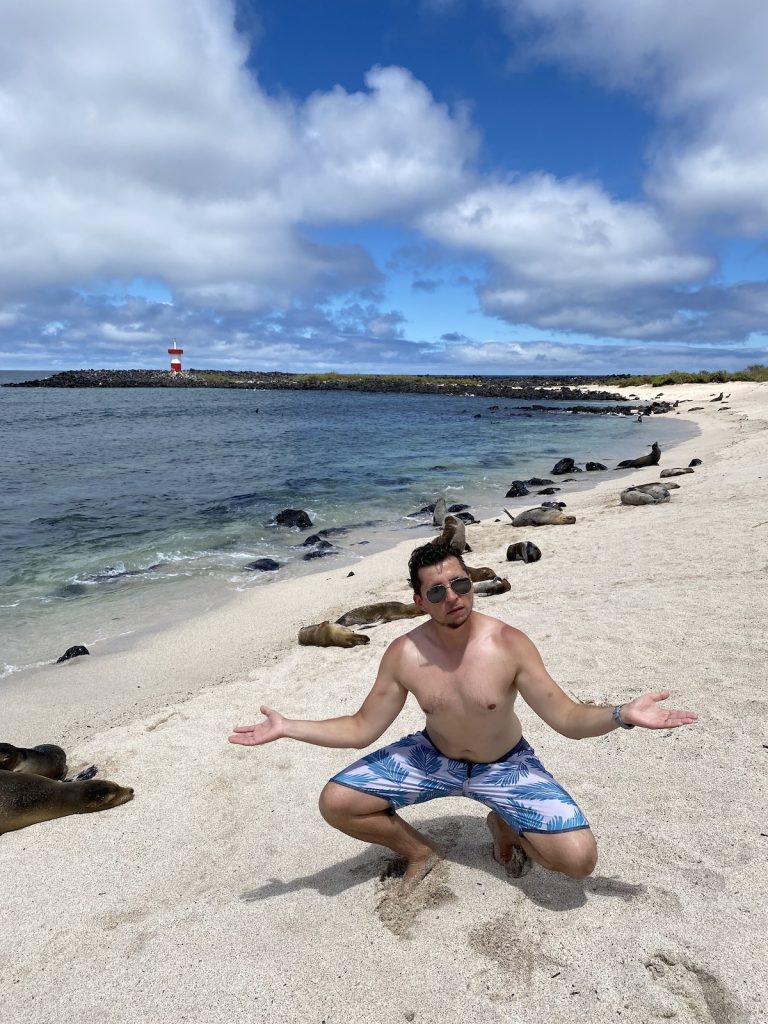 If you still have enough time for the day, carry on from the viewpoint. From here, it's a dirt trail with pebbles and overgrowth in places, so wear appropriate footwear. You'll arrive at Playa Baquerizo 45 minutes later. Except for the marine iguanas and turtles, chances are you won't have to share this beach with anyone.
When you return down the steps, take the other path going to Darwin's Cove. This is a popular free snorkeling location for people. It is also a known swimming location for sea lions, turtles, and iguanas. Just keep an eye on the water before diving in.
Rather than going back, take the sharp right as you exit Darwin's Cove and walk across the headland to Punta Carola. You can snap a few pictures of Darwin's statue and then check out a very enormous Second World War cannon stationed on a lookout. You'll eventually turn right and come to a crescent-shaped beach surrounded by a rocky point.
Bottom Line
Another good place to visit on your free day is the Cerro Tijeretas. Walking on the trail to the viewpoint will connect you back to nature. Bird enthusiasts or not will find the walk fulfilling after enjoying the stunning scenery from Cerro Tijeretas. If you are looking for free activities for your Galapagos trip, do not forget to add this place to your bucket list!