Santa Fe Island is a popular destination for Galapagos travelers. The environment at Santa Fe is breathtaking, with a lovely blue lake bay and giant prickly pear cactus woodlands. Santa Fe Island has the greatest number of indigenous animal species of any Galapagos island. Among the tourism activities offered on the island are trekking, snorkeling, and diving.
The vegetation on the island contributes to its uniqueness. There are palo santo trees, a pear cactus named Optunia Echios, and a bush area. The cactus is especially notable since it is enormous, and there is a dense forest of them on the island. When compared to other Galapagos Islands, the island has a comparatively flat terrain.
How to Get to Santa Fe Island
Santa Fe Island is situated nearby Santa Cruz Island. This is fantastic news for those who picked land-based Galapagos options since it means the island may now be visited on a day trip from Santa Cruz Island. There are no public transportation options for traveling to Santa Fe Island because it is unpopulated and lacks infrastructure.
Day tours to Santa Fe Island are available and they are anticipated to span roughly eight hours— beginning early in the morning with a journey lasting approximately 40 minutes. These excursions often include walking and snorkeling options, as well as lunch and snacks on board the boat. 
Attractions and Activities in Santa Fe
Visitors to Santa Fe Island can participate in a wide range of activities. There is just one visitor site, although there are two trekking paths. Snorkeling and canoeing are additional options in Barrington Bay's calm waters, and there are three dive sites. Continue reading for additional information on each Santa Fe island visitor spot.
Barrington Bay
Barrington Bay Santa Fe is a lovely, sheltered cove with clear blue water. Visitors are greeted by raucous Galapagos sea lions as they unload onto the beach. There are two tourist trails: a short coastal loop along the beach and a longer hike up to the clifftop.
The brief loop allows visitors to get a close-up view of the massive Santa Fe cactus. These are the Galapagos' tallest and thickest prickly pear plants. This is also an excellent location to look for land iguanas.
The second route ascends to the Santa Fe cliffs, where breeding Galapagos seabirds may be seen. The walk is fairly steep, but hikers are rewarded at the summit with spectacular views of the island. On the rock ledges, a variety of marine bird species nest. We saw swallow-tailed gulls, Petrels, boobies, and Frigates, which frequently fly overhead. Look for the lovely red-billed Tropicbird, which has exquisite long tail feathers.
Snorkeling on Santa Fe Island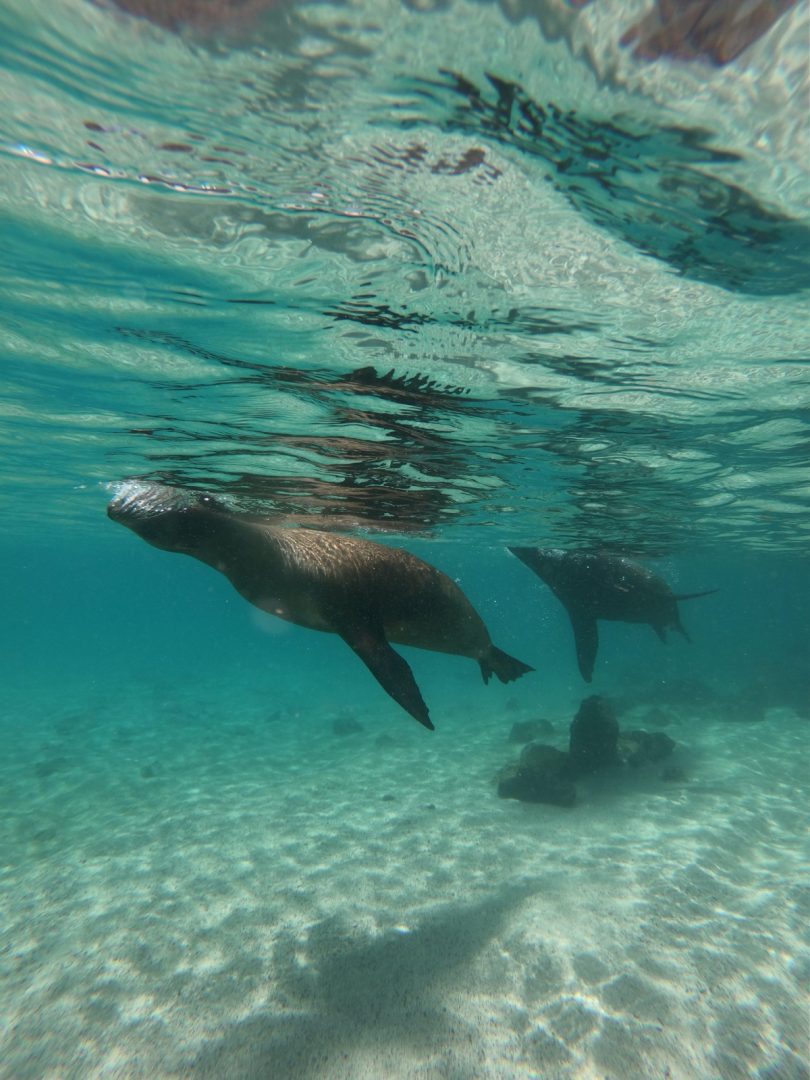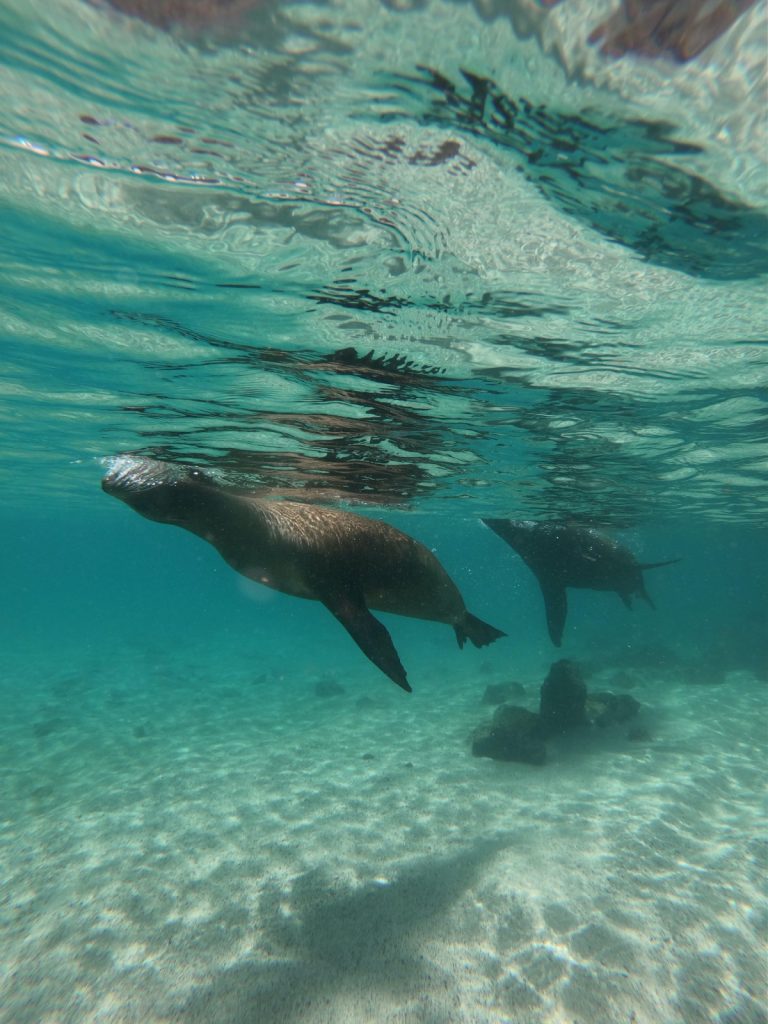 Barrington Bay is also a popular Galapagos snorkeling destination, and one of the finest for snorkeling with playful Galapagos sea lions. These inquisitive critters are frequently interested in humans, so don't be shocked if they swim straight up to you. They swim circles around tourists like joyful toddlers in the sea.
Diving on Santa Fe Island
Day diving trips from Santa Cruz island continue the underwater activity to Santa Fe island. The waters are quiet, making them ideal for beginning or intermediate divers, and visibility is typically excellent. El Fondeador, La Encanada, and Costa Este are the three diving sites in Santa Fe.
Above all the islands in Galapagos, Santa Fe is an incredible site to dive with sea lions! Black striped salemas, stingrays, marbled and mobula rays, white tip reef sharks, marine turtles, and crustaceans such as the Galapagos eel are also occasionally seen. It is also possible to see a Galapagos shark in Costa Este. 
Wildlife on Santa Fe Island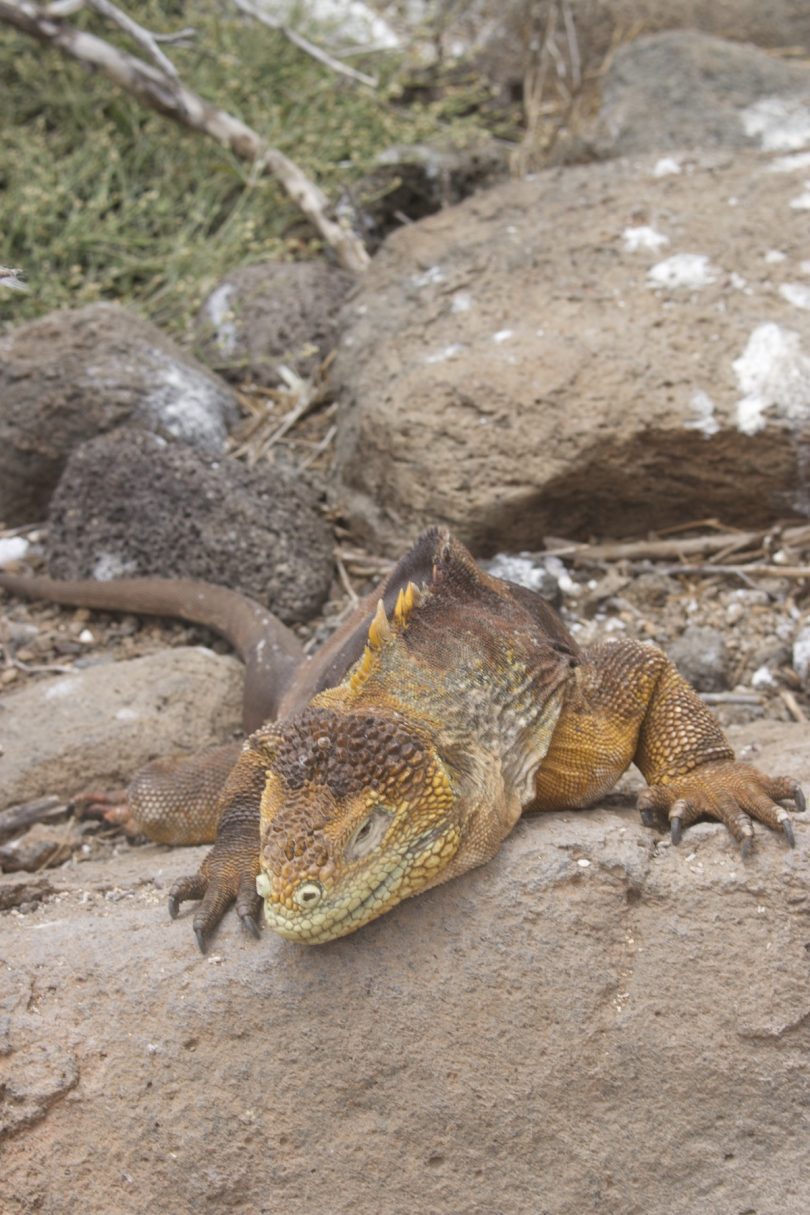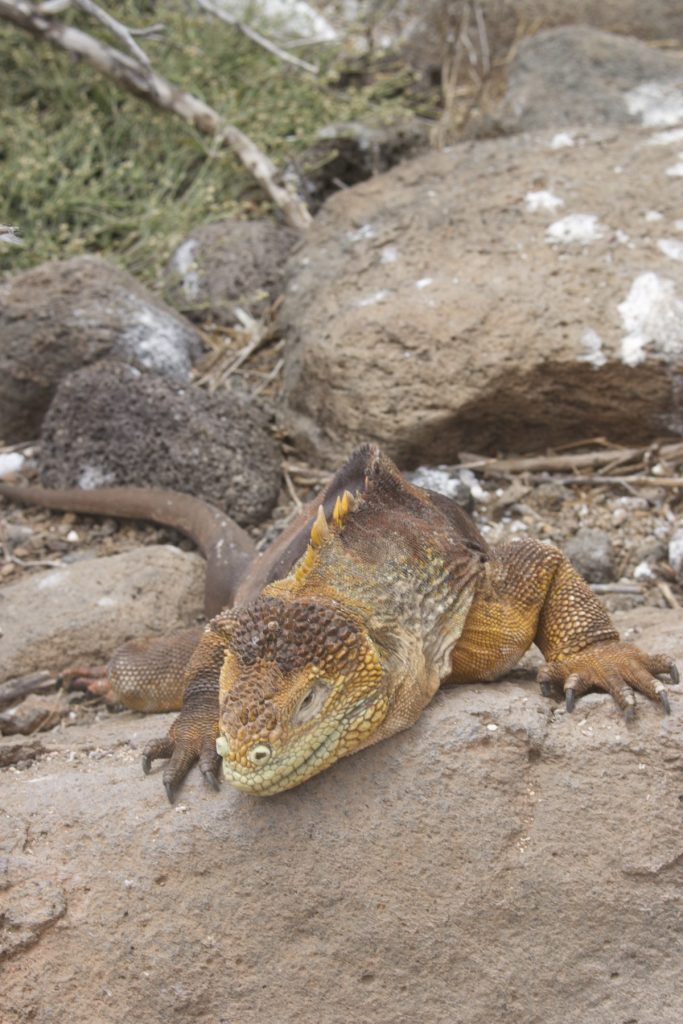 Some of the fauna on Santa Fe Island are endemic such as land iguana and rice rat. However, the island has become home to a plethora of new fauna, so there are lots to see.
Many different varieties of birds may be spotted on the cliffs. Swallow-tailed gulls, shearwater petrels, and red-billed tropicbirds are among what we have seen. Mockingbirds, finches, and the Galapagos hawk are also possible sightings. Lava lizards are also found on Santa Fe Island.
Weather on Santa Fe Island
The weather on Santa Fe Island is the same as it is across the Galapagos Islands. You should expect reasonably warm, if not scorching, weather. During the rainy season, there is occasional rain, like on the other islands, although it seldom lasts all day.
Bottom Line
Santa Fe Galapagos is a spectacular location for all ages. Rare species found nowhere else on the planet reside on a tiny, flat island. Even the prickly pear cactus grow larger on this island than on the others. So, if you have the opportunity, include Santa Fe Island in your Galapagos itinerary for an out-of-the-ordinary experience!