Isabela Island is the biggest and one of the most visited islands in the Galapagos archipelago. It's difficult to surpass the combination of diverse animals and magnificent volcanic scenery on this island. With limited urban growth, this island has a small-town atmosphere with a wild edge, distinguishing it from Santa Cruz and San Cristobal Island.
Isabela's tranquil town and beautiful beach are popular hangouts. Isabela Island also provides guests with the option of visiting on a cruise, a land excursion, or simply by themselves.
If you're visiting the Galapagos Islands, I recommend allocating at least three days to exploring and thoroughly enjoying Isabela Island. I only spend two nights here and how I wish I stayed longer.
In this article, discover what to do on Isabela Island, what to see, how to get there, and anything else you need to know before your exciting trip.
How to Get to Isabela Island
There are several options for traveling to Isabela Island:
By Air
To reach Isabela Island in the Galapagos by air could be a long way. You need to fly from Quito to Guayaquil and then to Baltra Airport (Santa Cruz) or San Cristobal Airport. After that, there are two options for getting to Isabela Island:
Inter-Island Flights
Emetebe and FlyGalapagos are the two airlines that fly between Santa Cruz and San Cristobal to Isabela Island. The cost will be about $150 per person.
Inter-Island Ferries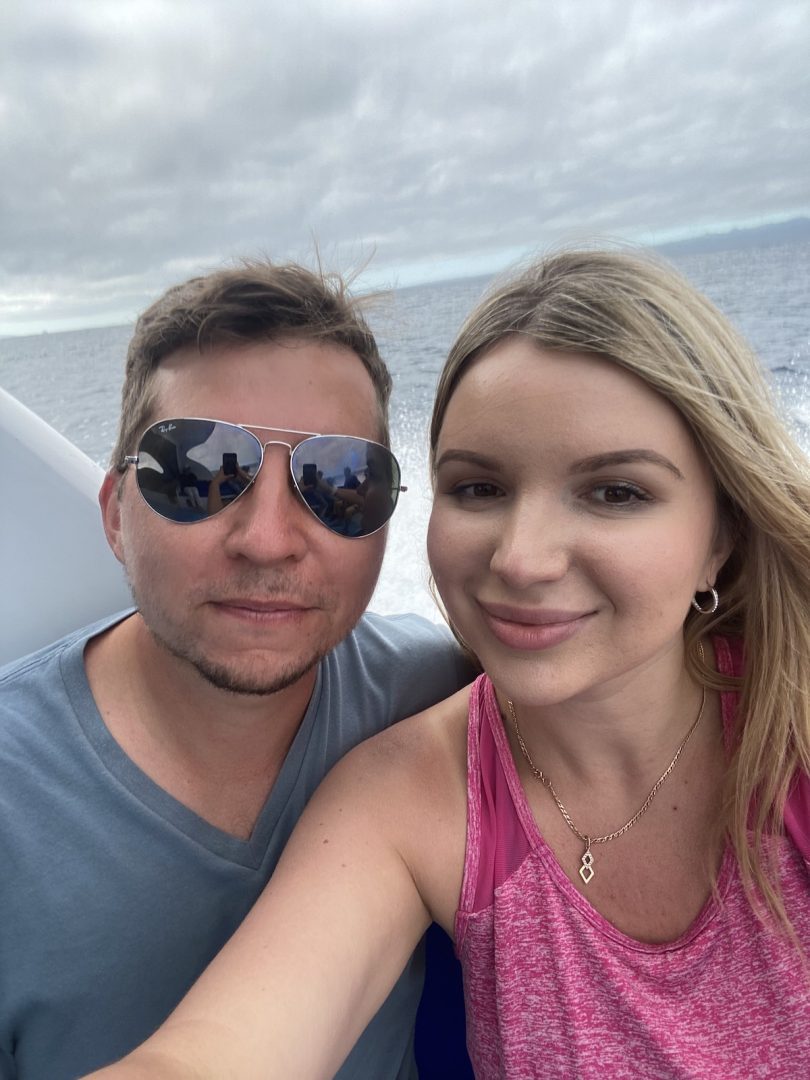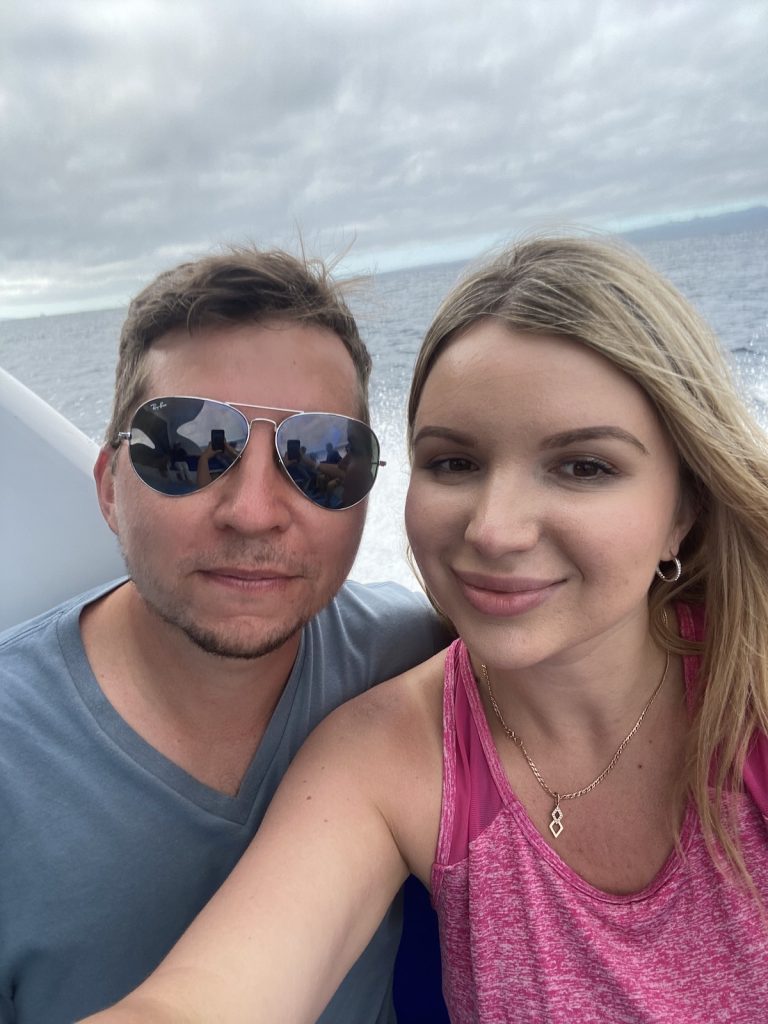 There are also inter-island ferries available which is a more affordable option. However, if you are coming from San Cristobal, there are no direct ferries from there to Isabela island.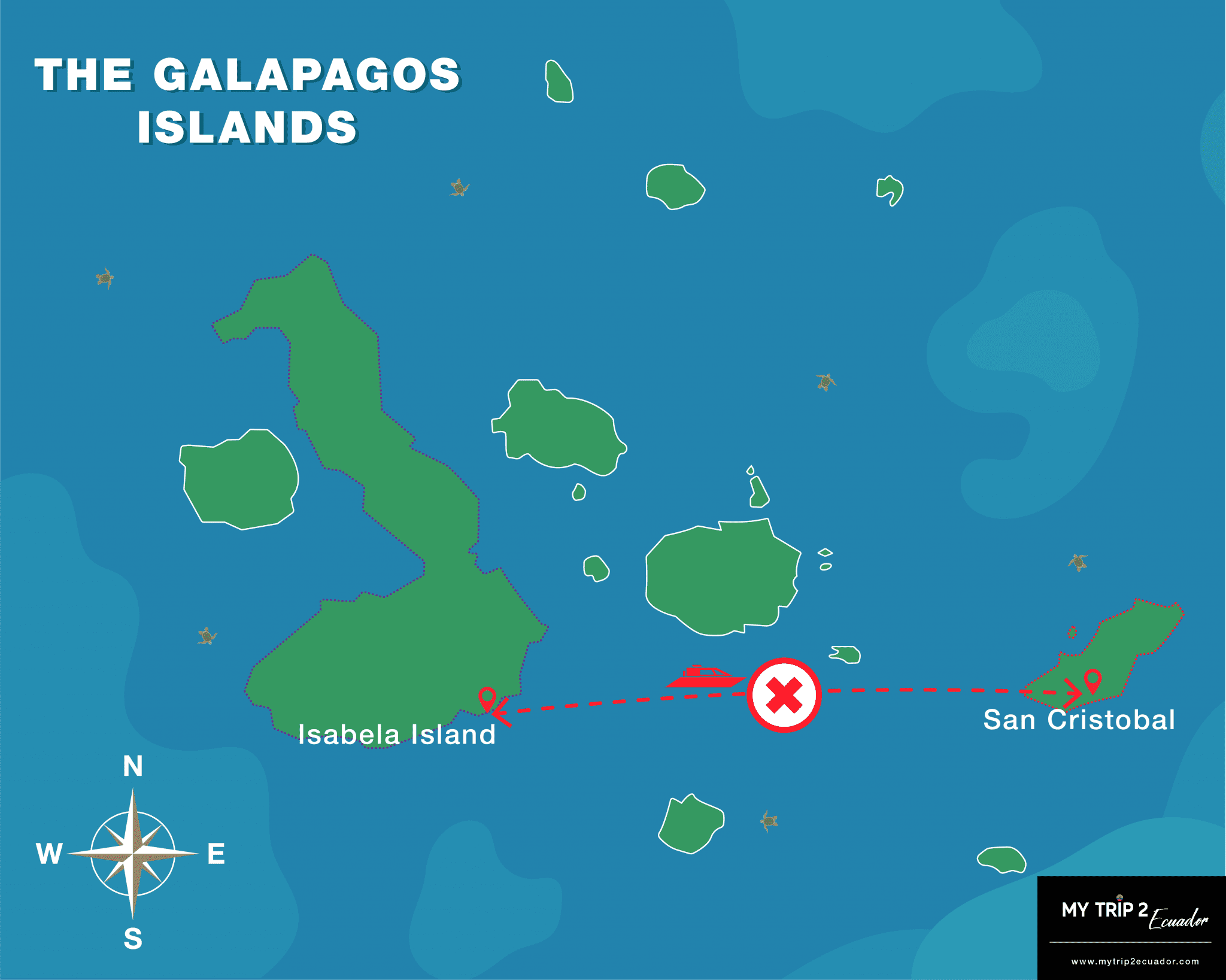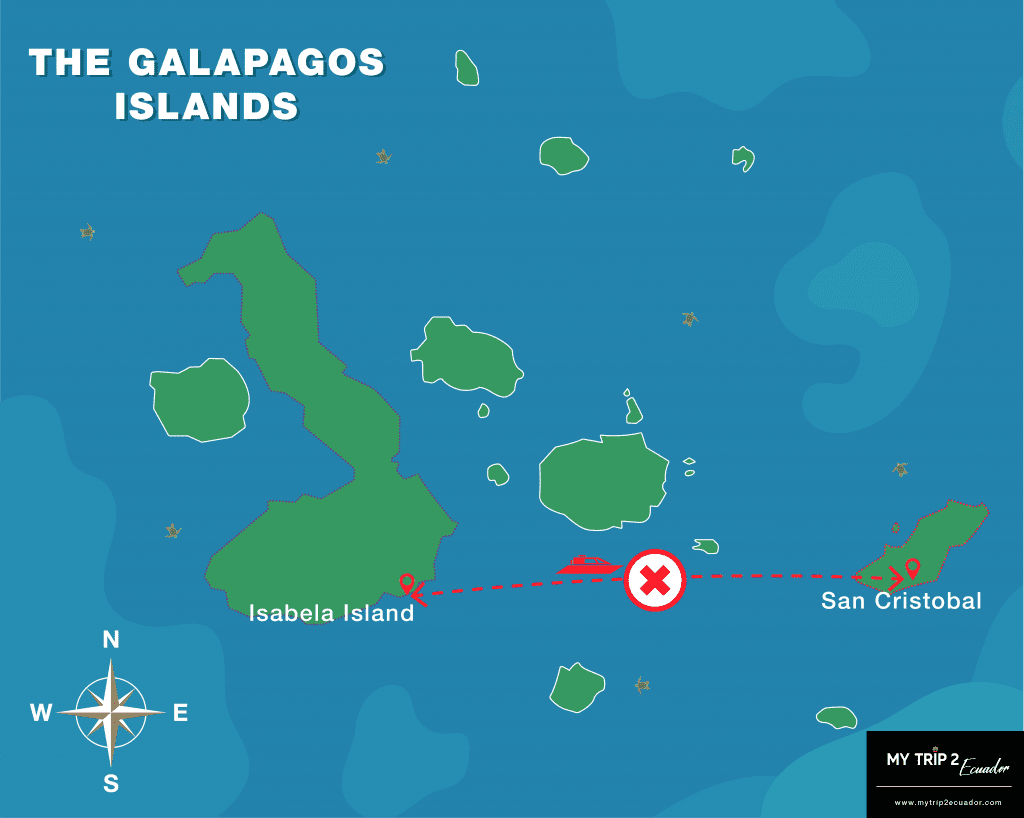 If you prefer to get from San Cristobal to Isabela by ferry, you will need to take two speedboats. You'll take the ferry to Santa Cruz first, and then wait for the ferry to Isabela. This is what we did and paid $25 per person for a boat ride.
By Cruise
A Galapagos Islands cruise is the most typical route to reach Isabela Island. You should be aware that not all Galapagos Islands cruises visit the western islands. So, if you wish to visit Isabela Island, make sure your cruise schedule includes it. The Natural Paradise Galapagos trip and the Infinity Galapagos yacht are two cruises we strongly suggest that include Isabela in their itineraries among others. Keep in mind, they are extremely expensive!
Puerto Villamil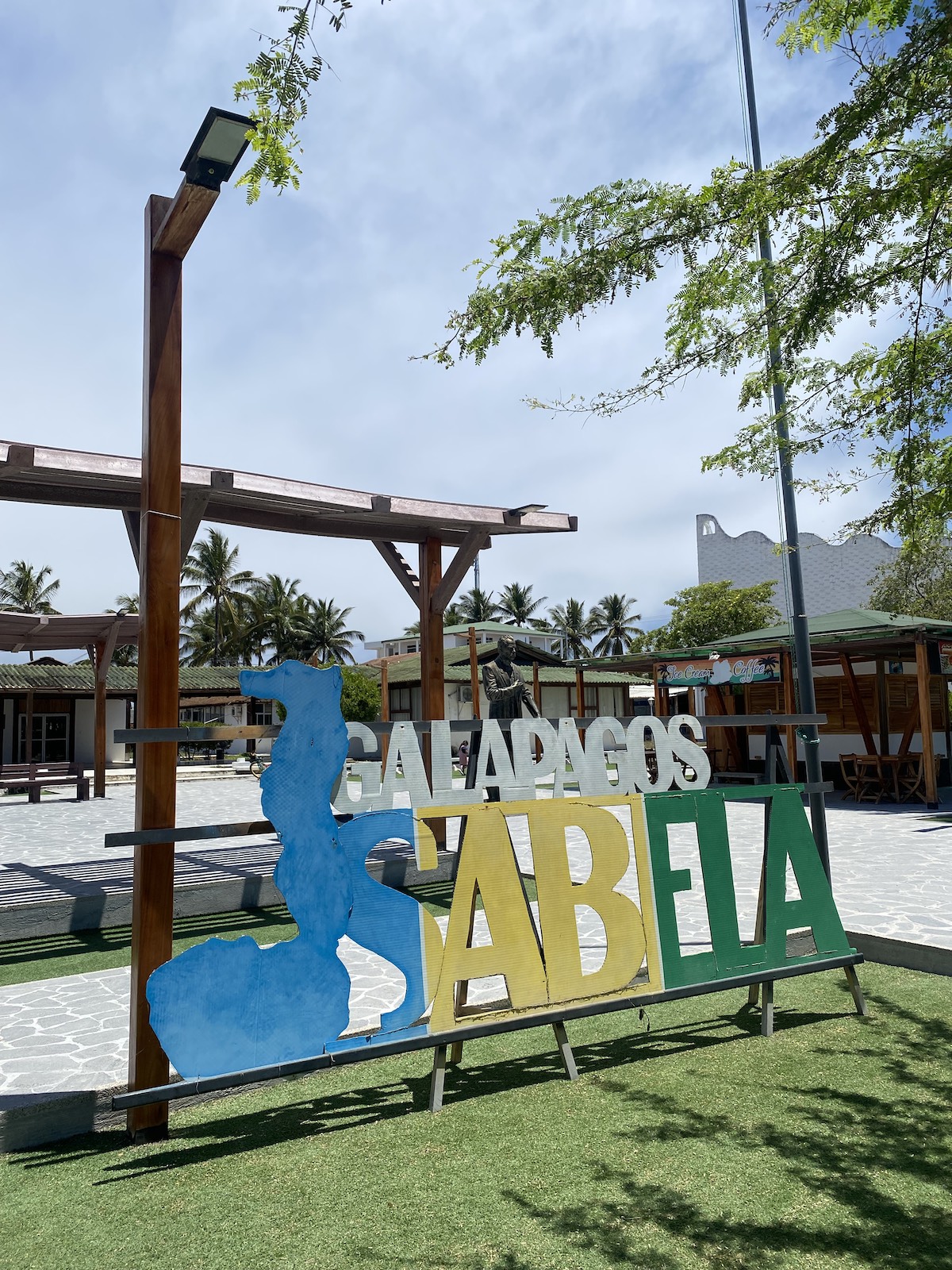 Puerto Villamil is a tranquil harbor town that also serves as a major transport hub. The small, calm town retains its typical fishing port charm and is home to the great bulk of Isabela's human population.
Puerto Villamil is hidden behind a beautiful beach and features a variety of pubs, restaurants, and stores. Villamil has a lovely long beach with picture-perfect tropical palm palms lining the dazzling white coral sand. It serves as the starting point for day trips across the island to fantastic snorkeling spots, islets where penguins frolic and white-tipped sharks repose, and excursions to adjacent islands.
Several saltwater lagoons behind the beach are home to pink flamingos, pintail ducks, and other animals. Various visiting destinations may be reached by foot, minivan, or panga from town.
When you visit the place, take advantage of Isabela's slow internet connectivity to disconnect from society for a few days.
Getting Around Isabela Island
Isabela Island may be explored by foot or by bicycle. On the island, there are very few cars. This makes riding a bicycle an excellent alternative for visitors to Isabela. Tourists may rent bikes from a variety of locations.  
If you are staying in Puerto Villamil, walking to many of the key sites is feasible. If you want to take a tour around the island, you can book a tour and the tour agency will provide transportation for you.
Attractions to Visit on Isabela Island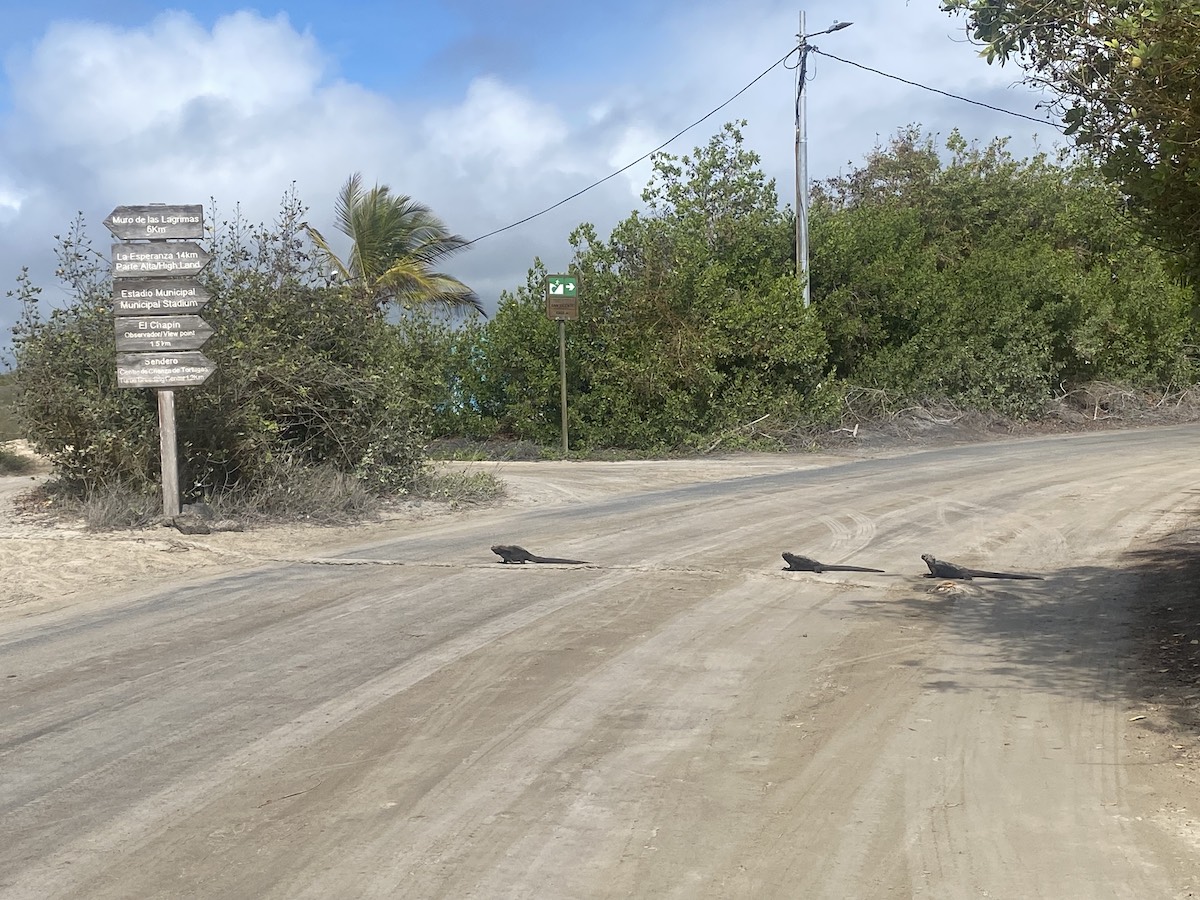 Isabela Island has a plethora of activities and attractions to offer. Kayaking, snorkeling, hiking, cycling, surfing, and relaxing on tropical beaches are just a few of the common activities that you can do on the island.
Isabela Island Land-Based Tours
The most popular destinations are near Puerto Villamil. Below are the sites you can visit if you are planning to tour Isabela via land-based tours.
Concha de Perla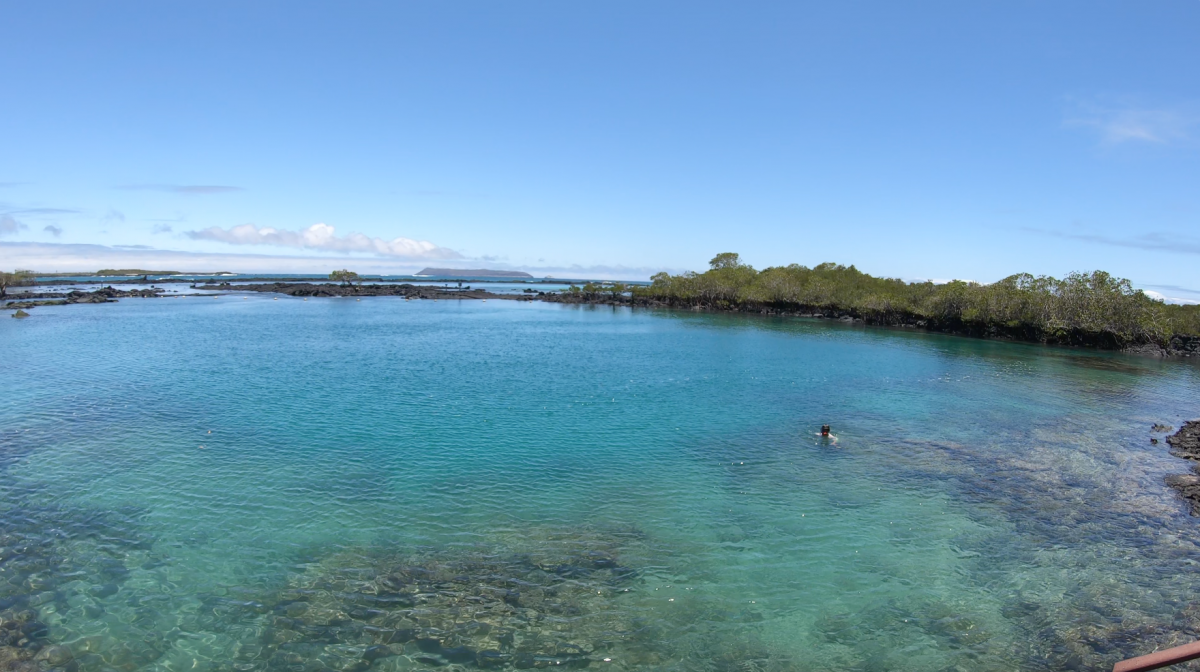 Concha de Perla is a crystalline bay with lovely water and a little golden sand beach. Rent snorkeling equipment in town and dive right in to swim and snorkel with tropical Galapagos fish, lively sea lions, and, if you're lucky, penguins. There is no need for a tour guide here.
Puerto Villamil Beach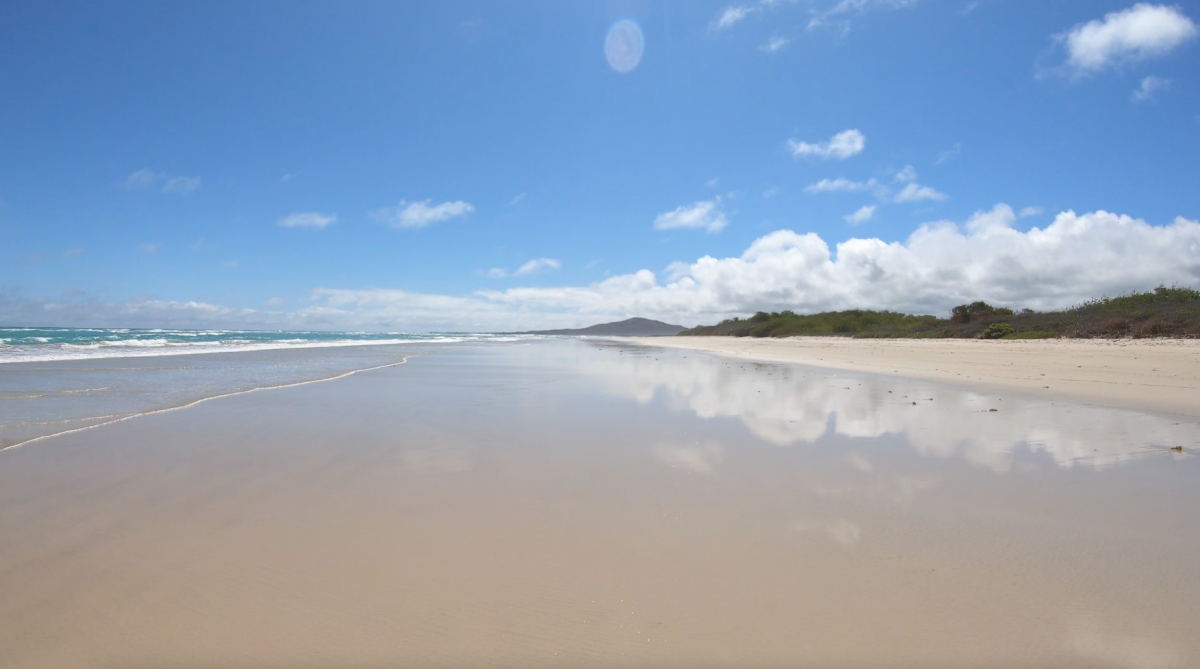 Puerto Villamil Beach is a magnificent stretch of beach in front of Puerto Villamil town in the Galapagos. After a day of traveling, it's a lovely location to swim, relax, or enjoy a sundowner in a hammock at one of the bay's seaside bars. You will find marine iguanas, Sally lightfoot crabs, and blue-footed boobies wandering around in this area.
Isabela Wetlands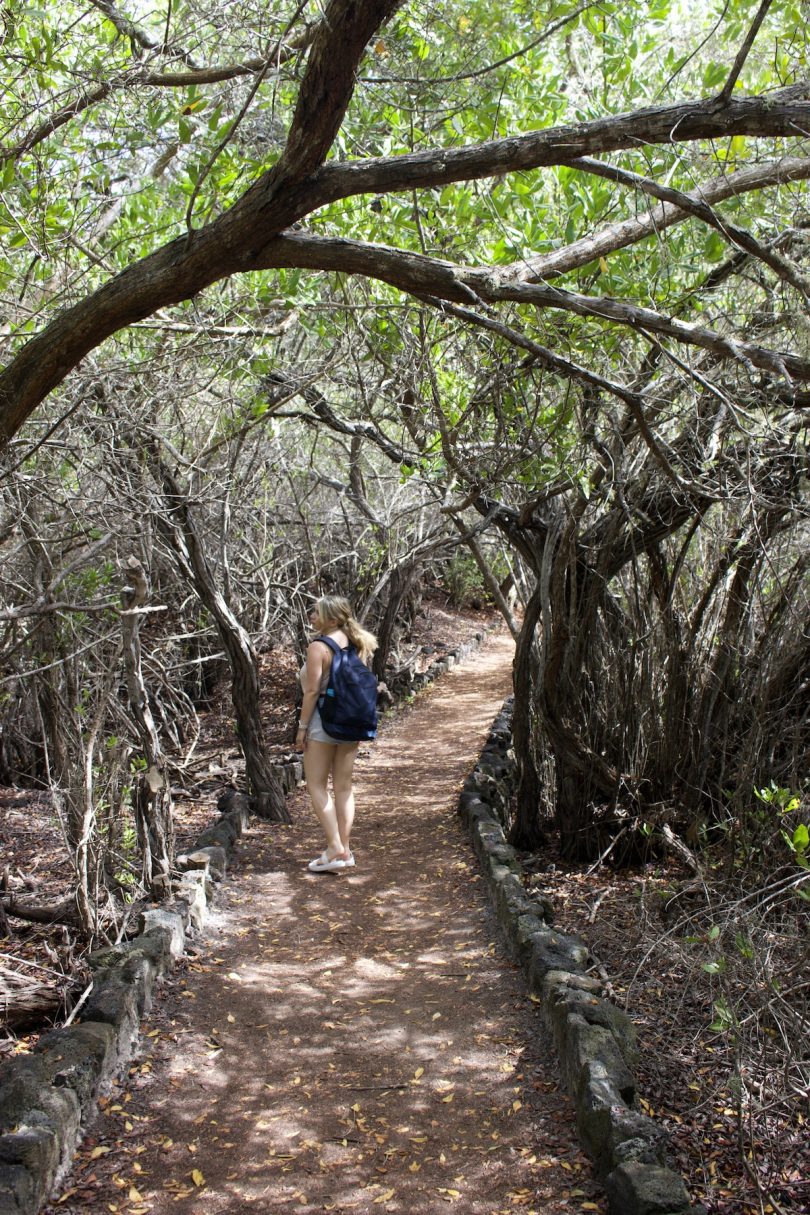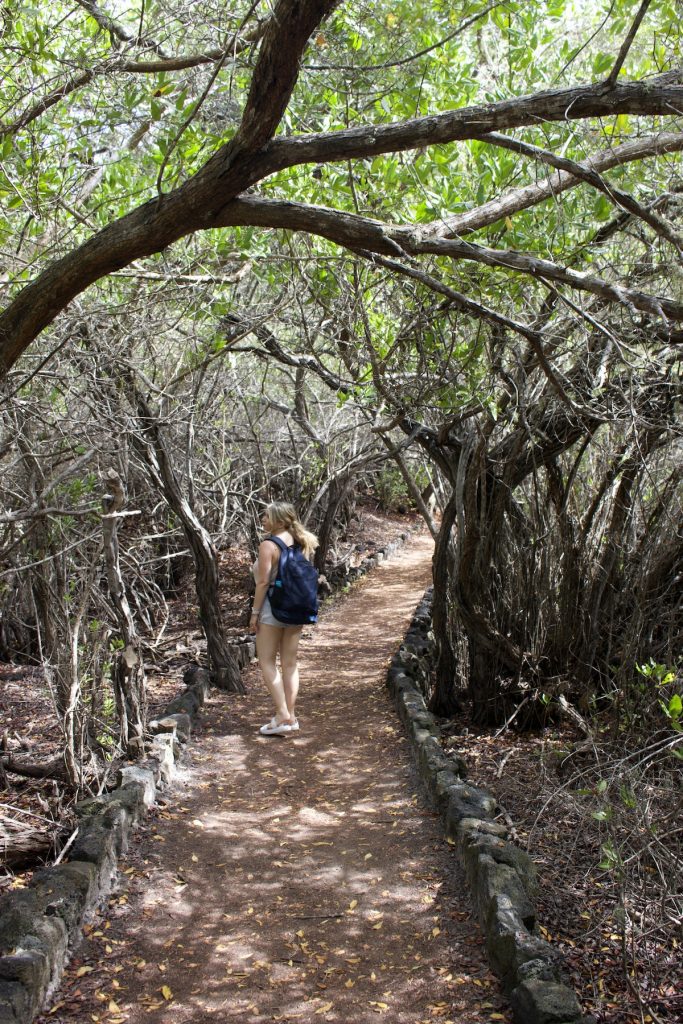 The Isabela Wetlands are located near the far end of the main beach, beginning alongside the Iguana Crossing Hotel. The site is easily explored on foot, thanks to a network of seven boardwalk pathways that travel through lakes, lagoons, mangrove swamps, and viewpoint spots. Look for flamingos, pintail ducks, and other waders.
Flamingo Lagoon (Laguna de Los Flamencos)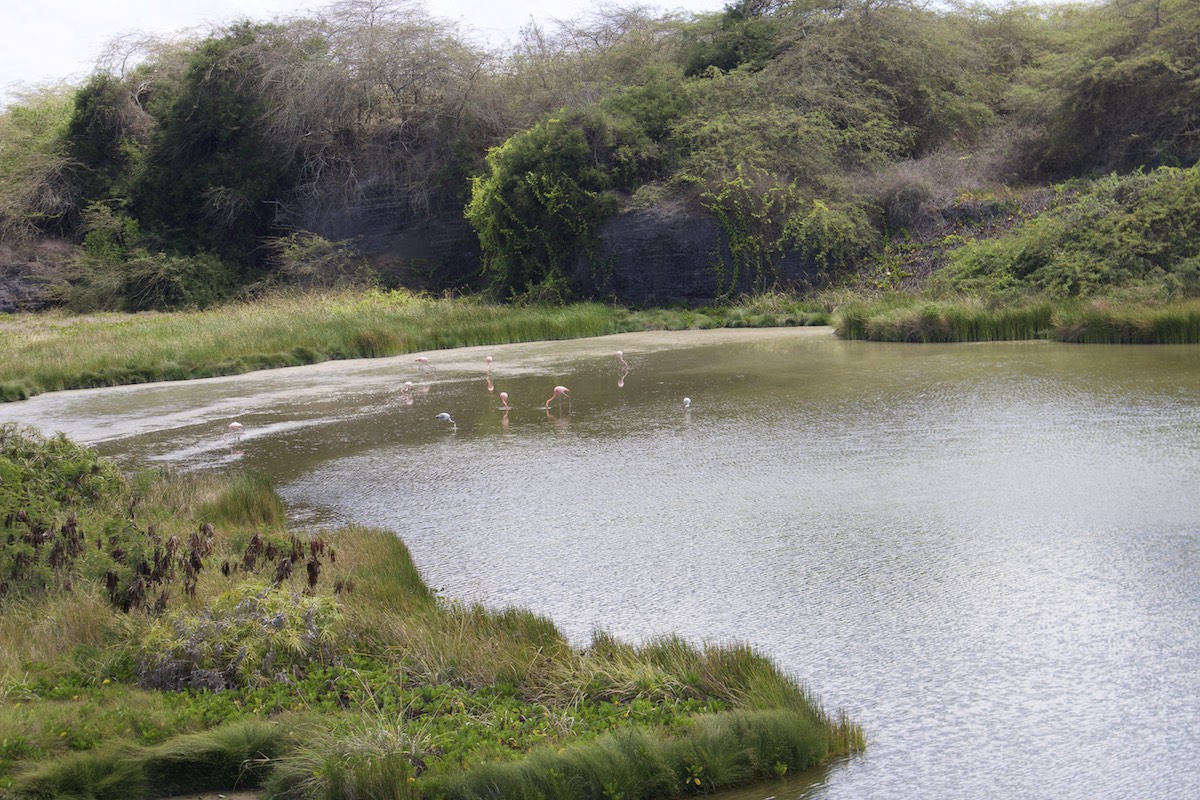 A man-made lagoon of brackish water is located within a short distance west of the main town. The Galapagos flamingos congregate here at Flamingo Lagoon (Laguna de Los Flamencos), combing the water for crustaceans. Occasionally, Galapagos ducks or wader birds can be seen here.
La Playa de Amor (The Love Beach)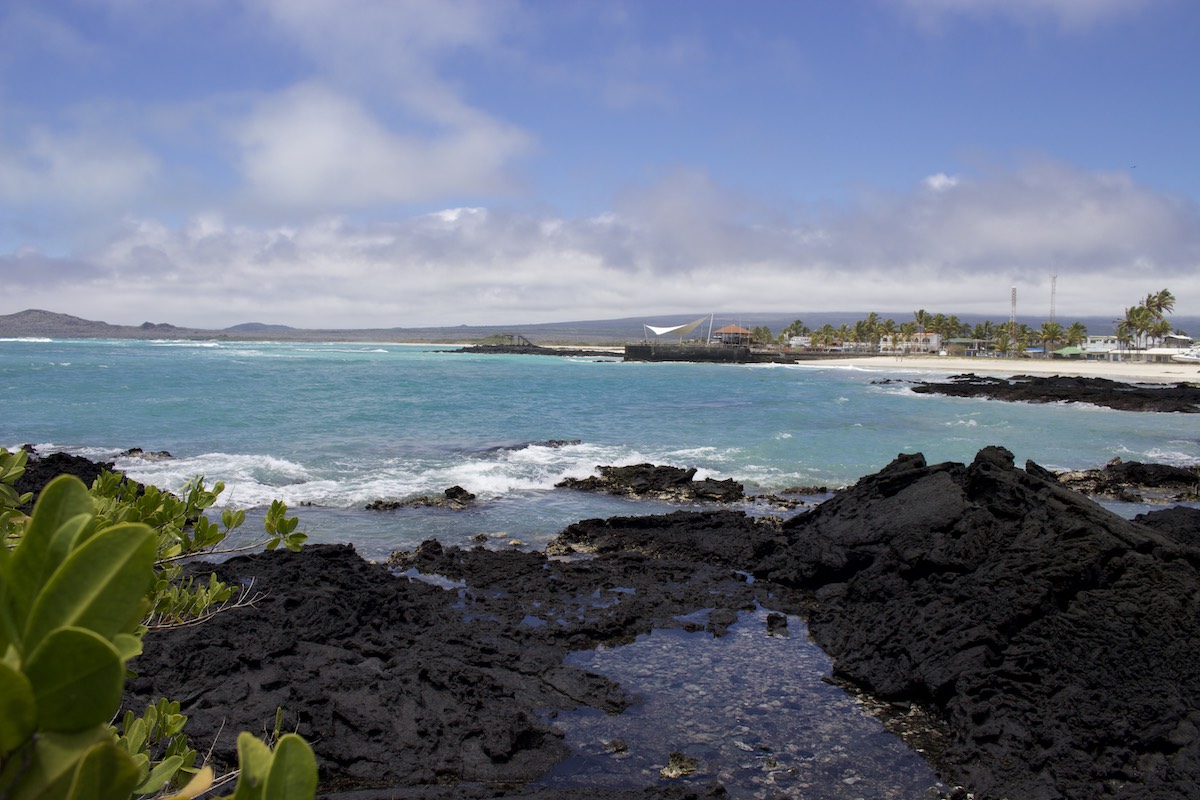 Locals frequently visit La Playa de Amor for swimming and relaxation. There's a tidal pool nearby, as well as a colony of marine iguanas. The beach is also unique as it is made of crushed shells. Sea turtles are frequently seen in this area.
Wall of Tears (Muro de Lagrimas)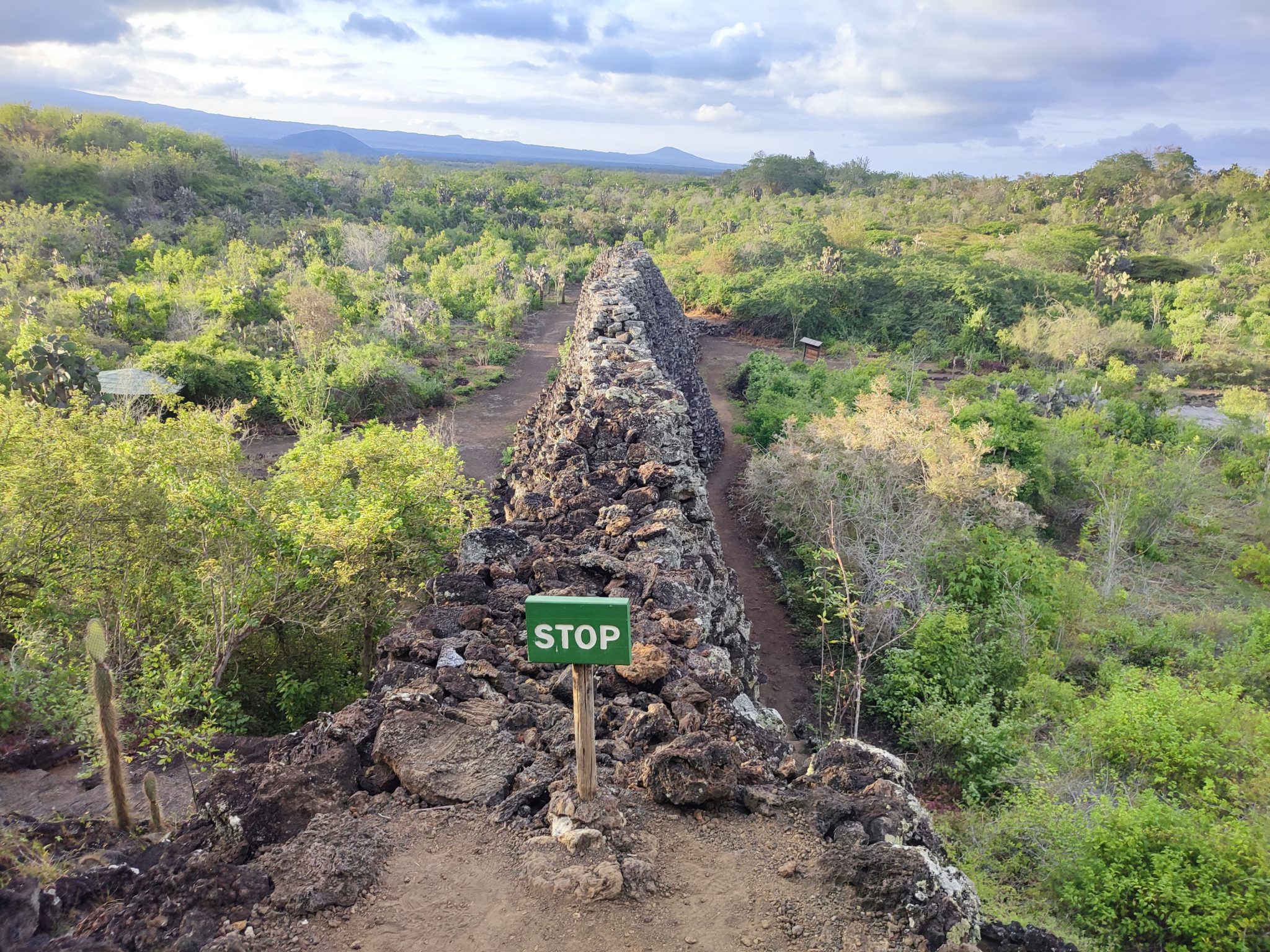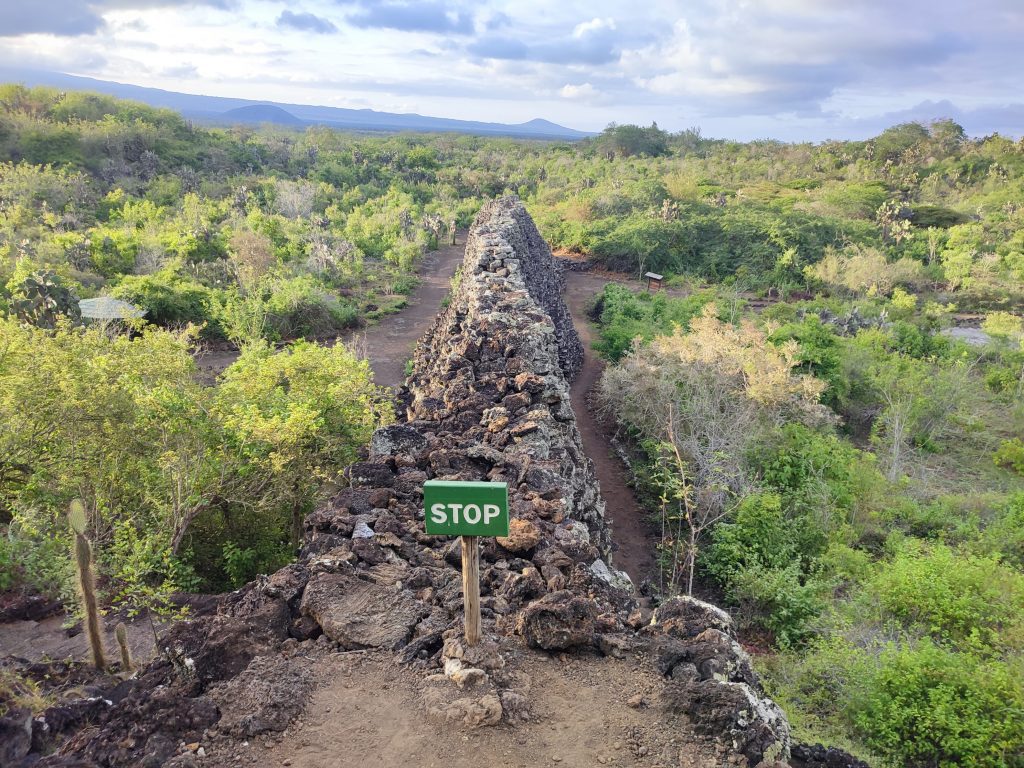 Six kilometers outside of town stands the famed Wall of Tears, a 100m long, 6m tall wall of black lava created by former Isabela prison camp captives. This is a striking reminder of the island's harsh history, and it is said to be haunted. Lava lizards are often seen on this site darting between rocks and plants.
Isabela Tortoise Breeding Center (Arnaldo Tupiza Centro de Crianza)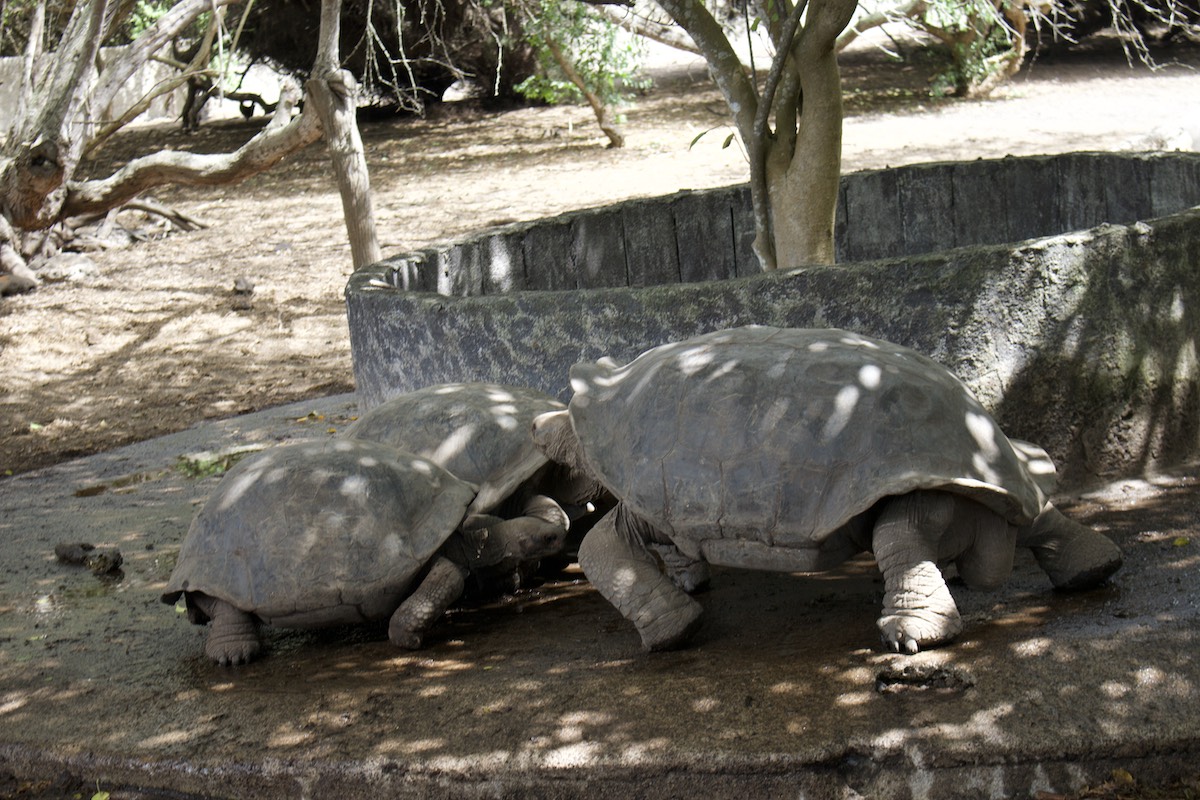 Tortoise Breeding Centers are well-known on the Galapagos Islands, which constitute a natural sanctuary. The Isabela Tortoise Breeding Center is one of Galapagos'  great achievements. Several indigenous Isabela tortoise species are housed here and released back into the wild when they are old enough.
Day Tours From Isabela Island 
Los Tuneles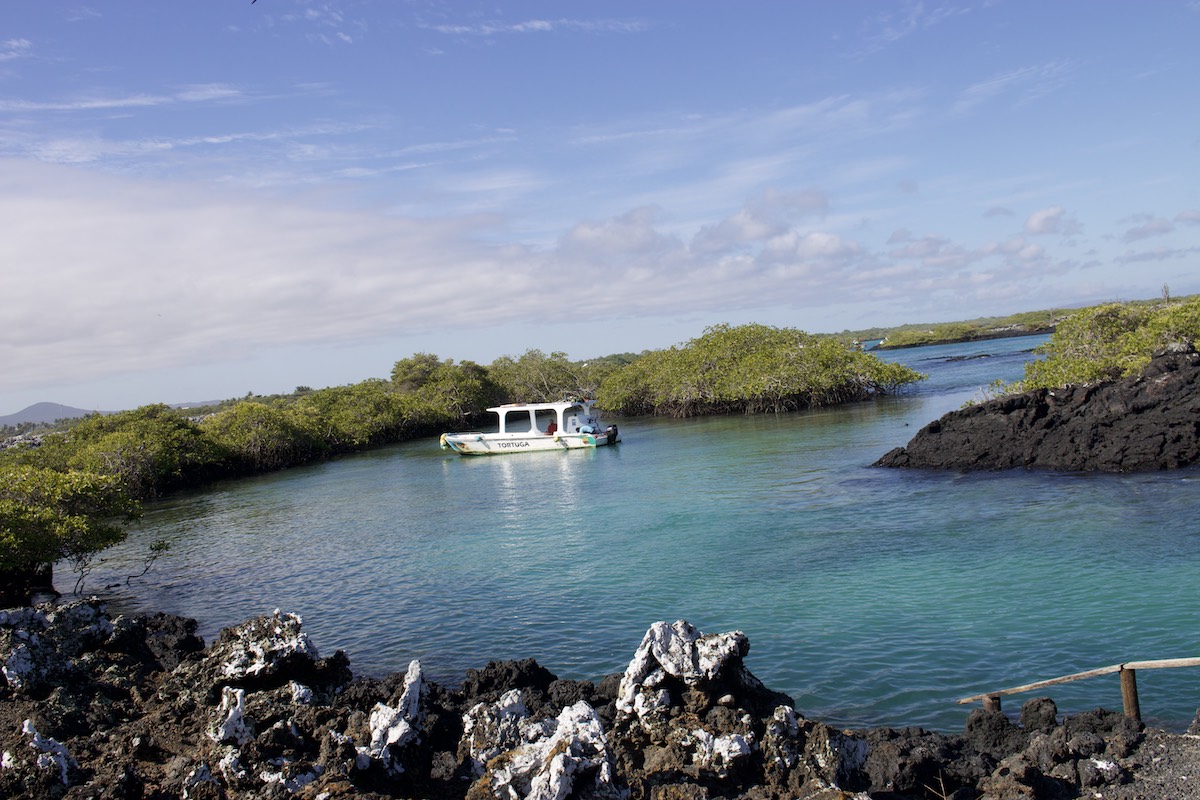 Los Tuneles is one of the best snorkel and dive sites in the Galapagos Islands with a protected maze of ponds and lava bridges. These lava bridges were created when lava spilled into the sea from a nearby volcanic explosion. A plethora of colorful reef fish, decade-old sea turtles, big sea horses, starfish, and whitetip reef sharks consider these volcanic bridges as their refuge.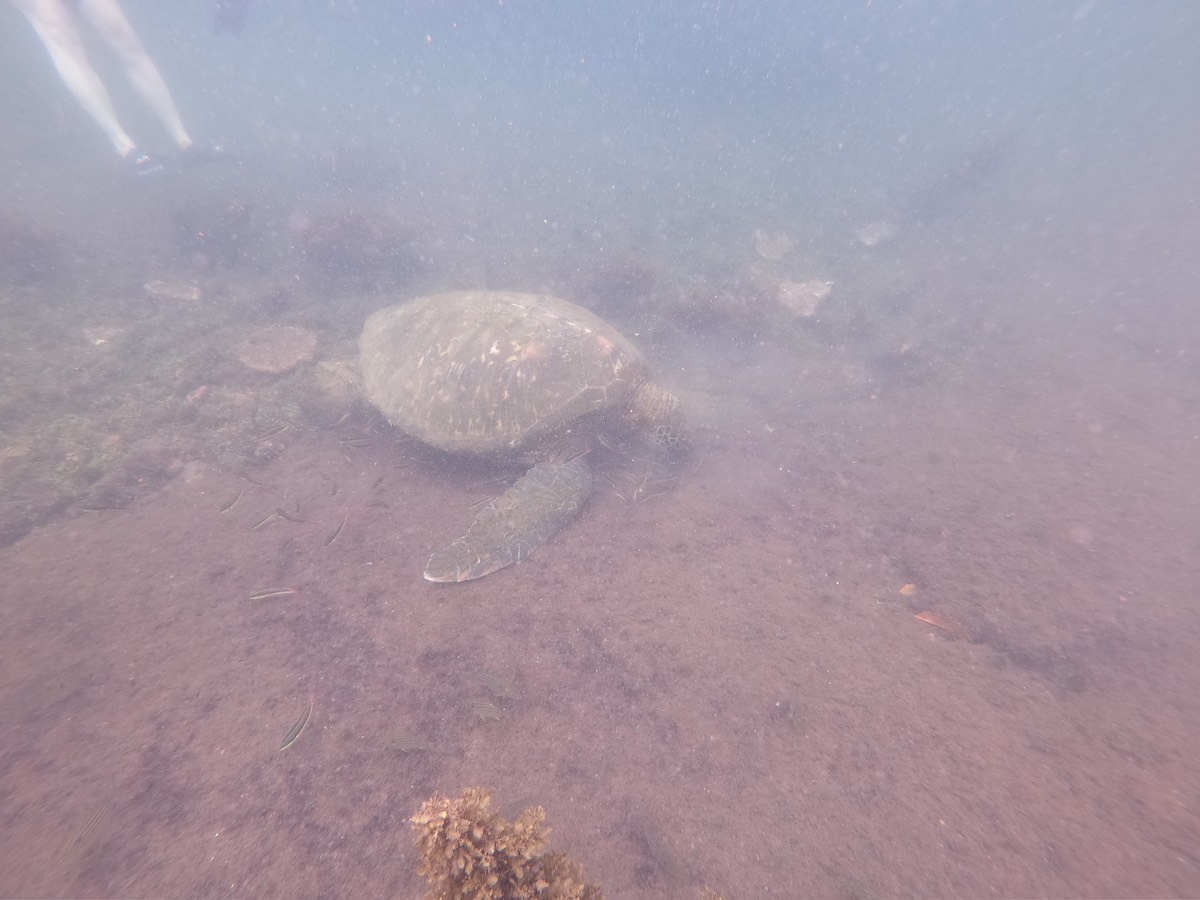 This half-day excursion is not available to cruise ships. You can only access the site through a land tour.
Las Tintoreras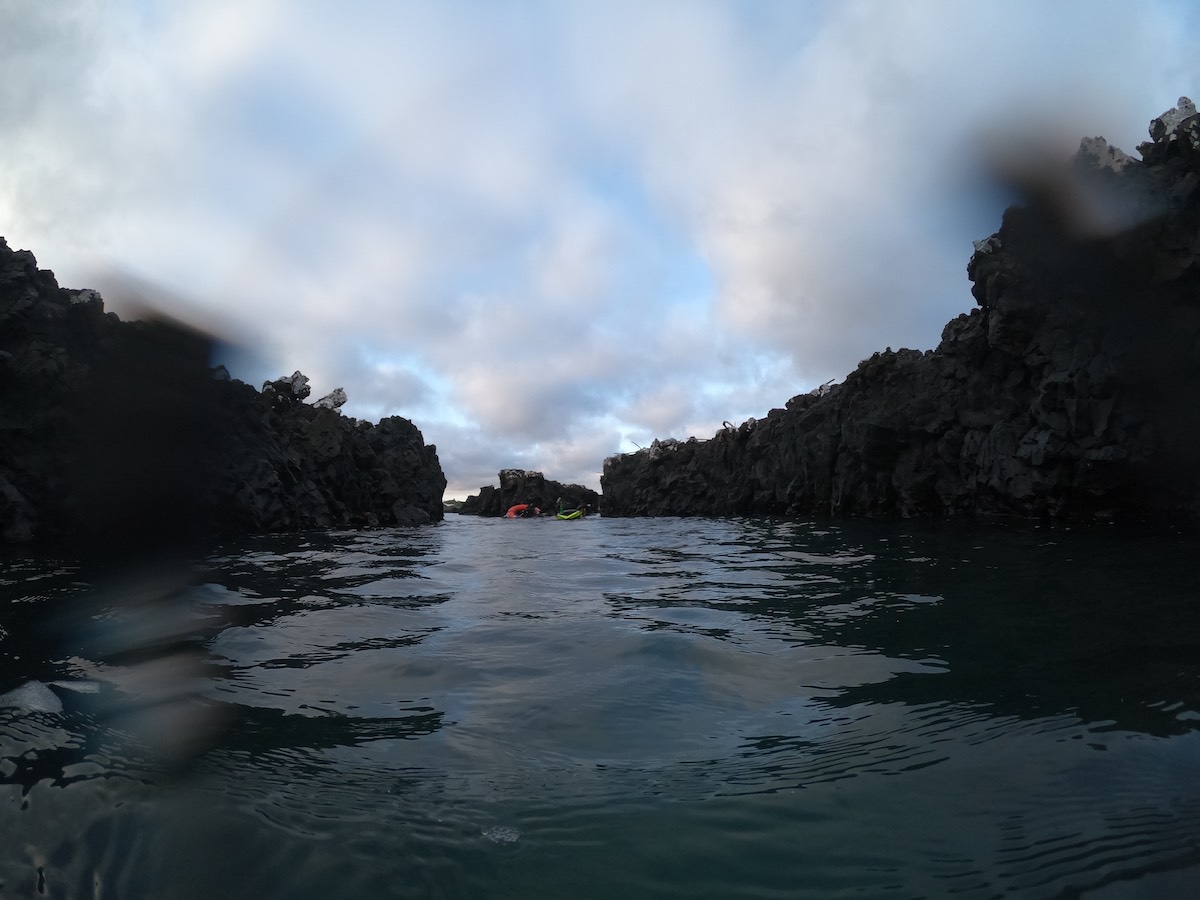 Tintoreras is a small islet that may be reached on a half-day trip from Puerto Villamil. A boat tour around the port traditionally kicks off the Tintoreras tour. If you're lucky, you might be able to view Galapagos penguins and other species in the region.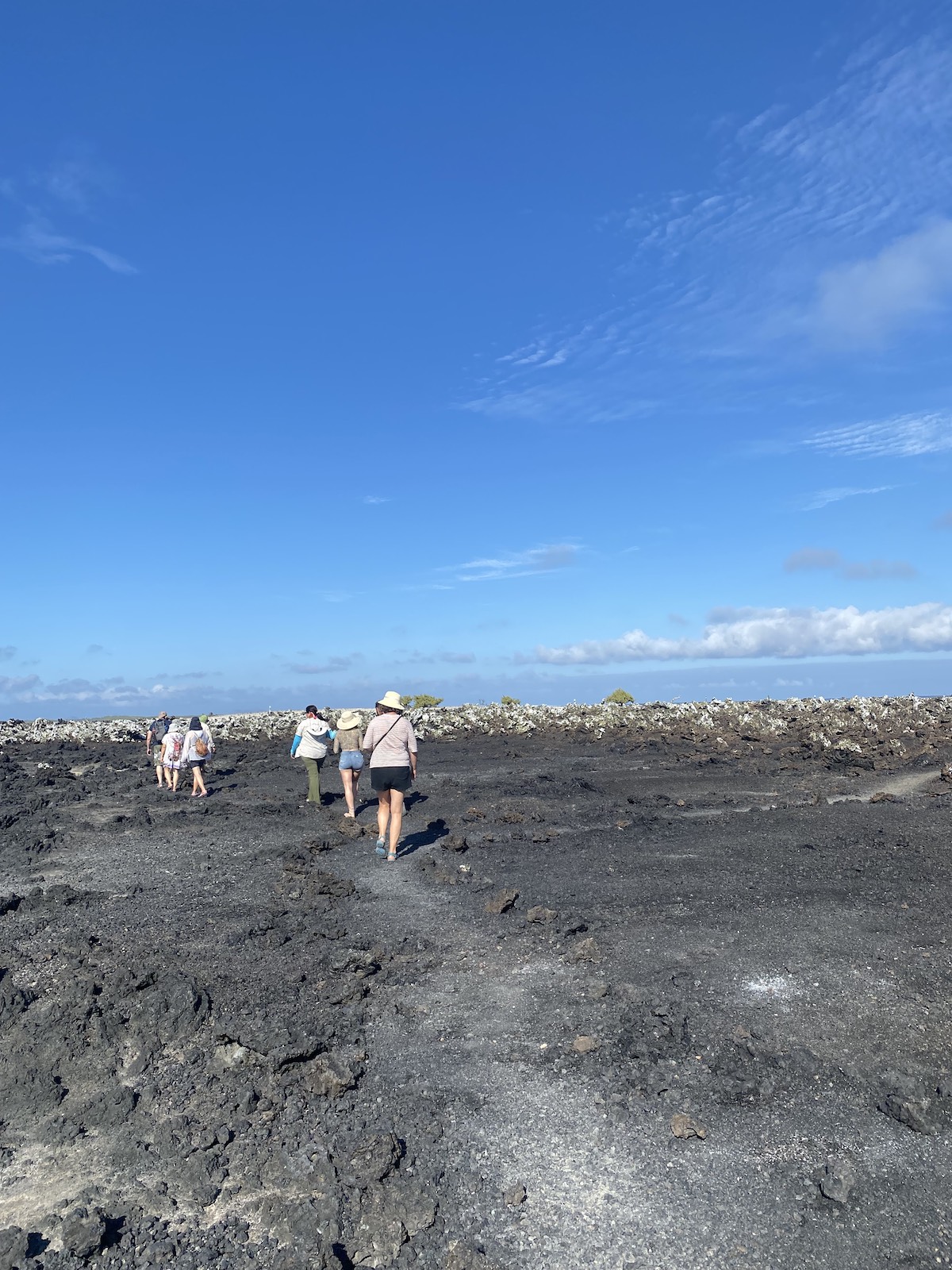 A dry dock landing leads to a circular walkway that passes through a large colony of Marine iguanas before finishing in a lava chasm teeming with Whitetip reef sharks.
Isla Tortuga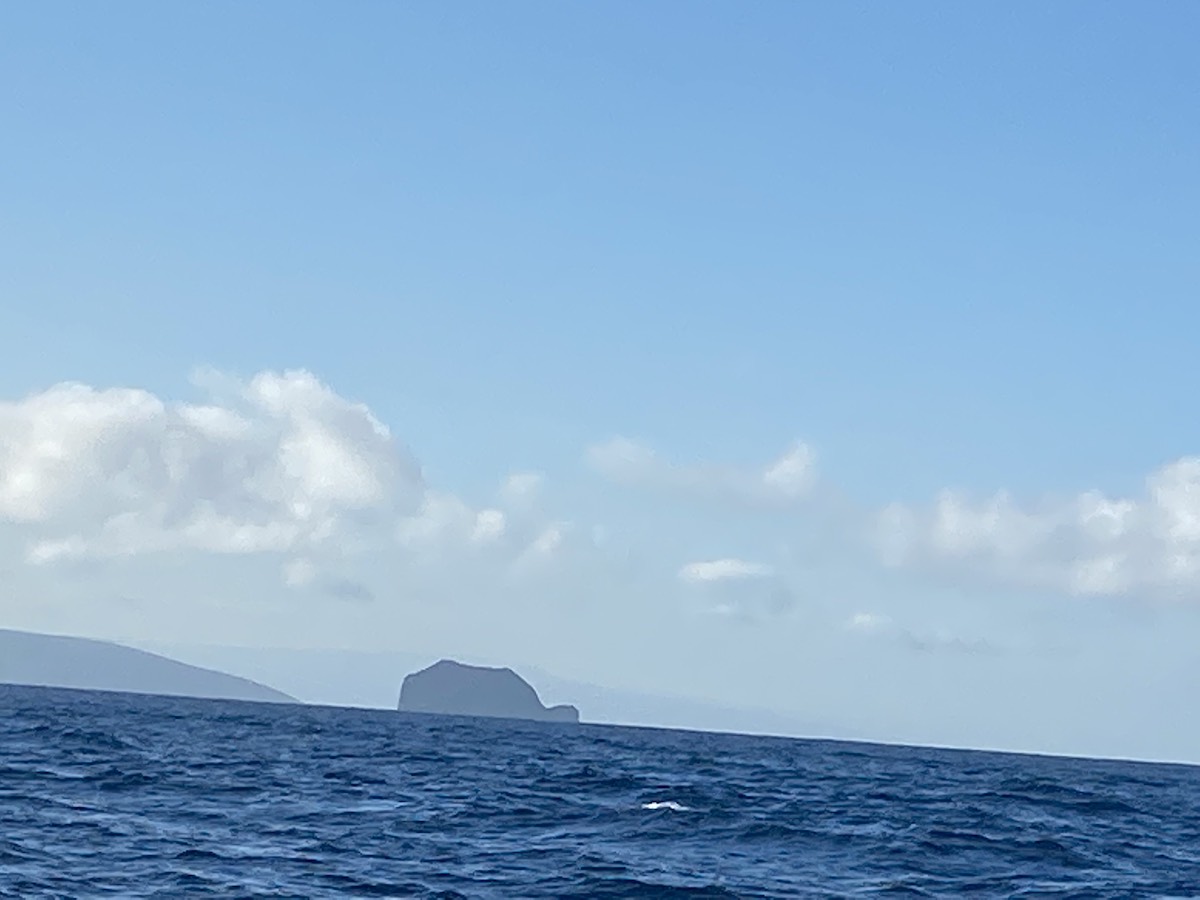 Isla Tortuga is an ancient volcanic crater, with just about half of it above water. It is an important nesting site for Galapagos seabirds. Because of its tortoise-like form, the island is dubbed Isla Tortuga.
Since the island is entirely protected, you will not be allowed to disembark. From the boat, you may watch and take photos of the colonies of seagulls, sea lions, and marine iguanas.
This excursion is ideal if you prefer bird watching or if the Lava Tunnels or volcanic tours do not appeal to you.
Sierra Negra Volcan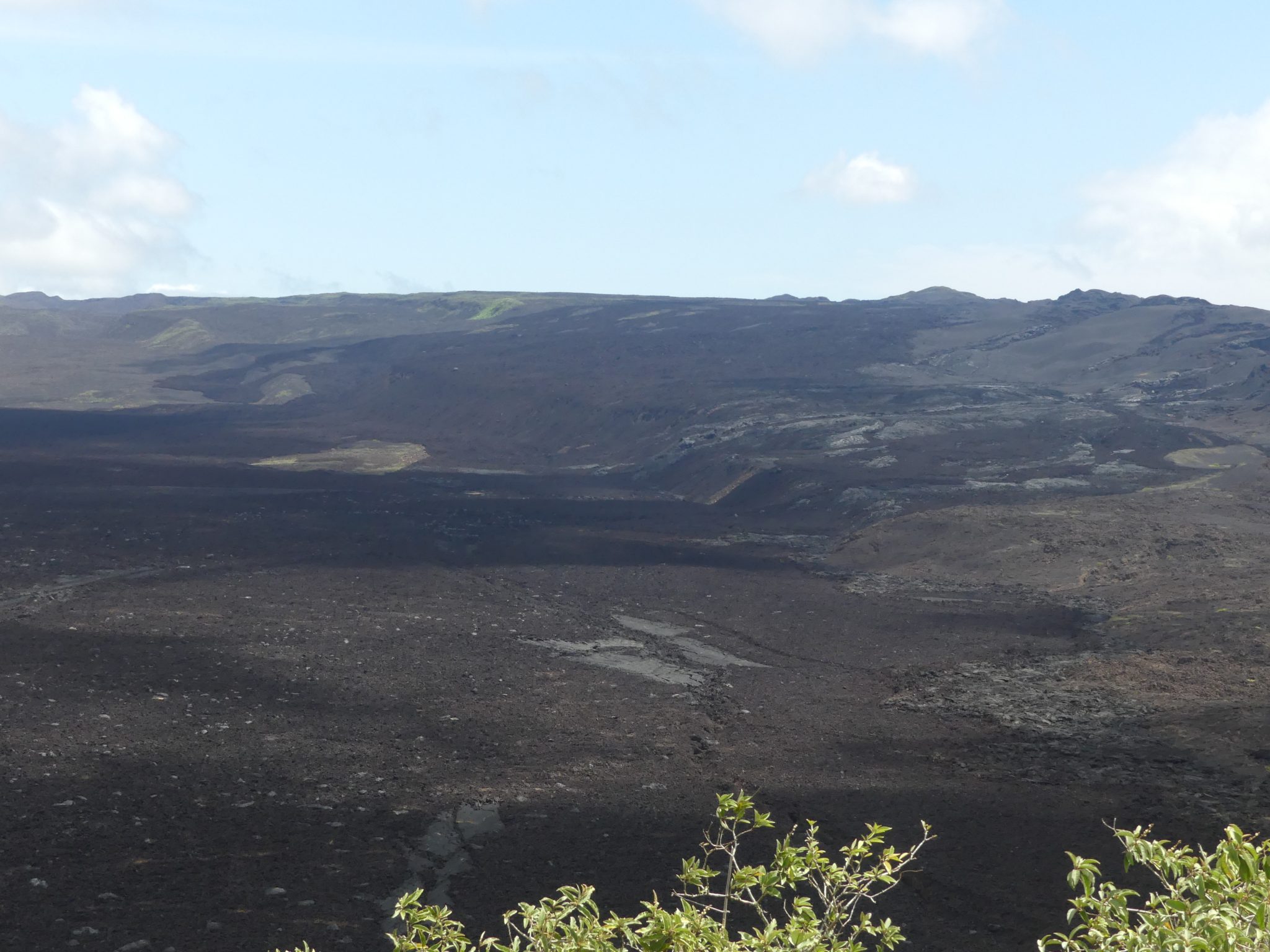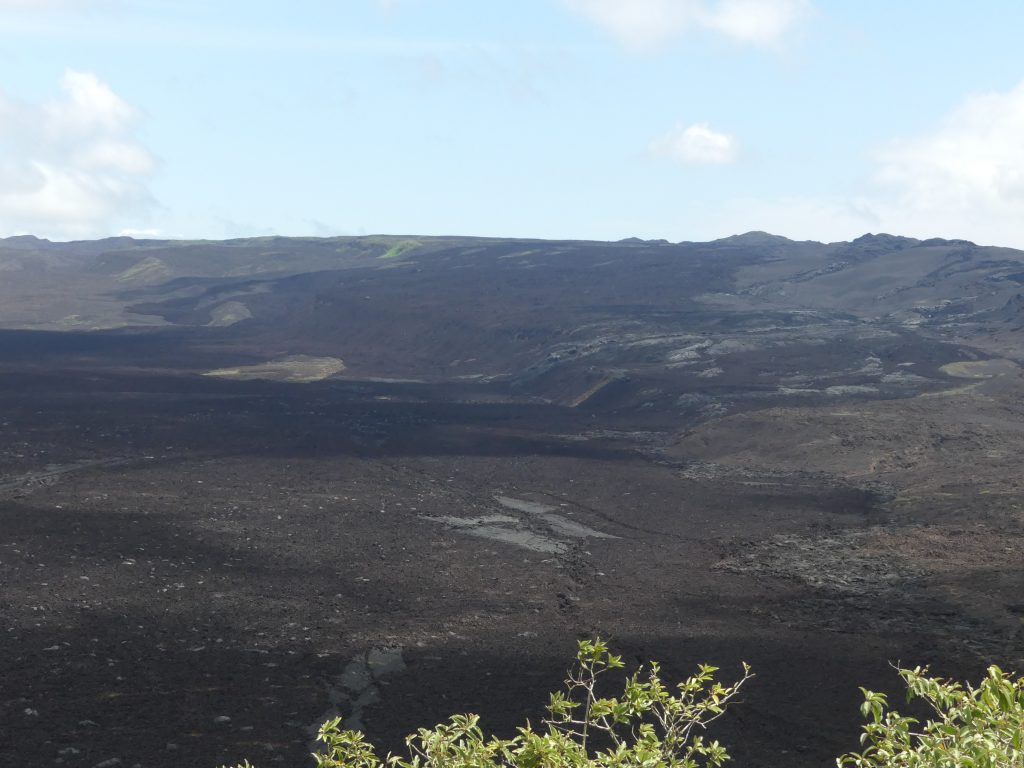 Sierra Negra Volcano features the world's second-biggest crater, measuring seven by nine kilometers. We took a guided day climb to the peak and enjoyed the views into the crater. It was also an opportunity to see a different side of Isabela Island. Before continuing to Volcan Chico, we were delighted with the sights of the iconic lava flows inside the Sierra Negra crater. The terrain immediately transforms into a barren volcanic wasteland, featuring intriguing rock structures such as hornitos (volcanic ovens) and strange moon-like topography.
The journey is a 6km roundtrip with a 200m elevation increase. The Volcan Chico portion can be quite difficult to navigate.
Cruise Tours on Isabela Island
Some yachts include stops at these locations on Isabela Island in their itinerary, which are only accessible by sailing on excursions that depart from Santa Cruz Island.
Tagus Cove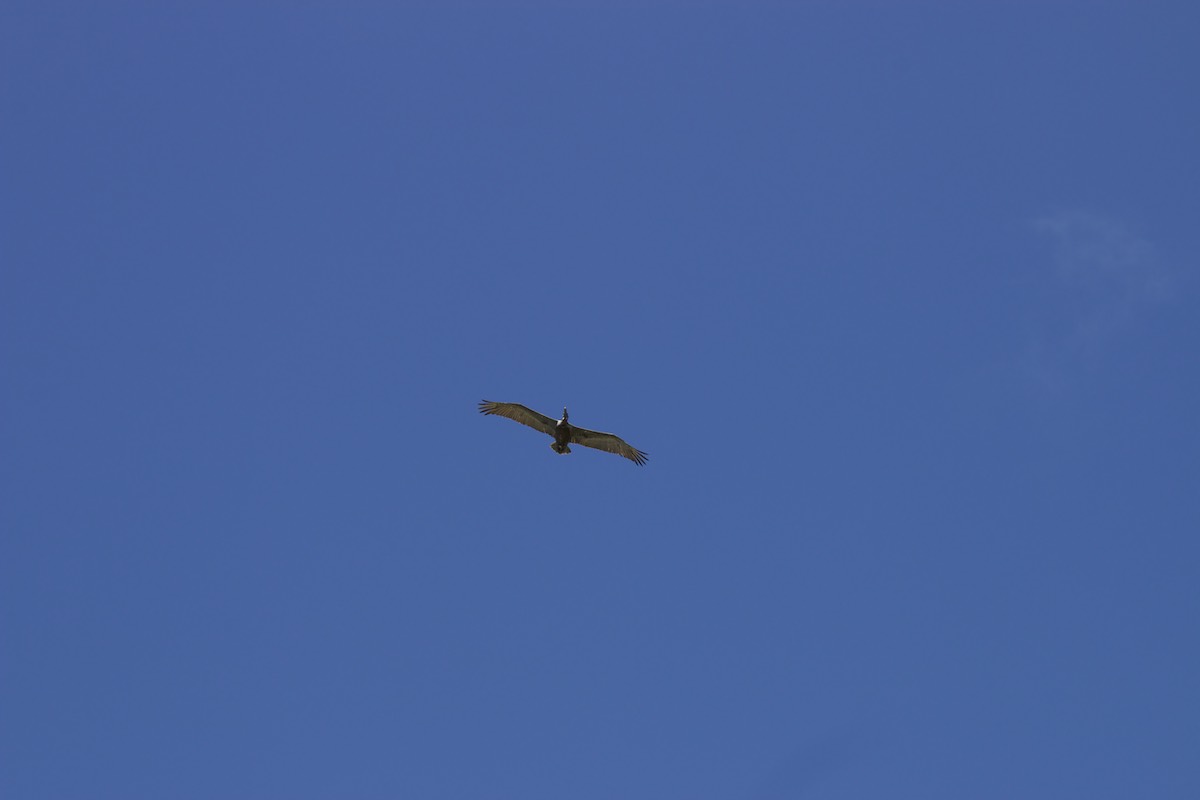 Tagus Cove has long been a popular refuge for whalers and pirates. With calm seas that are hidden from view, the place is an ideal site to anchor. The tourist activities in Tagus Cove will depend on your cruise schedule.
Some yachts take a panga dingy cruise around the cove to watch wildlife. Sightings of Galapagos penguins and Flightless Cormorants, as well as many other marine bird species, are common.
Urbina Bay (Bahia Urbina)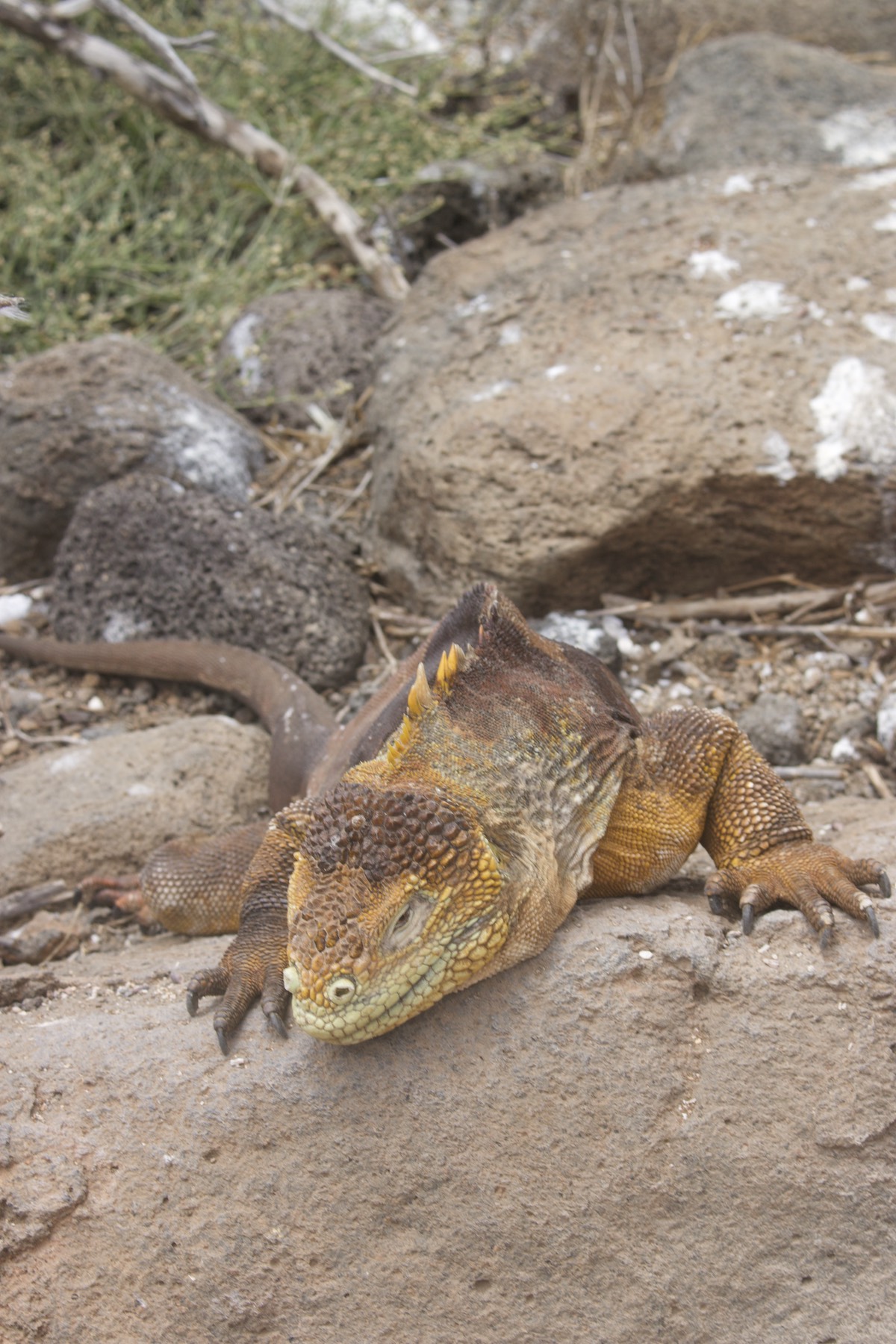 Urbina Bay is one of Isabela's unique locations. Flightless cormorants, pelicans, and marine iguanas inhabit the coastal area. Snorkeling with turtles, rays, and reef fish is also an option for visitors.
The harbor is located at the base of the Alcedo volcano, the top of which can be seen towering above in all its magnificence, and it is home to the Alcedo tortoise species. The location is also home to the biggest Galapagos land iguanas, and Galapagos hawk sightings are regular.
Vicente Roca Point (Punta Vicente Roca)
Vicente Roca Point, located on Isabela's northwest coast, is only accessible by dinghy. It is also known as a great spot for snorkeling. There are two coves where you may see flightless cormorants, a marine iguana colony, storm petrels, blue-footed and Nazca boobies, and Galapagos penguins. Whales and dolphins are drawn here by the year-round cold seas and flourishing undersea eco-system.
Albermarle Point (Punto Albermarle)
The northern tip of Isabela Island is a key breeding site for the Flightless Cormorant, as well as home to the biggest Marine iguanas of the archipelago. Although landing is not permitted, tourists can get up and personal with the animals by riding in a dingy. This location housed a US army radar installation during World War II, which functioned as a key position in the Pacific War.
Elizabeth Bay
If your Galapagos yacht has kayaks on board, you're in luck: Elizabeth Bay offers a fantastic opportunity to paddle up close to some incredible wildlife.
Tourists may also go snorkeling in the waters around the mangrove forest. This is excellent habitat for reef fish, whitetip reef sharks, turtles, and rays (golden and eagle). Dolphins and humpback whales may visit Elizabeth Bay on rare occasions.
Moreno Point
Moreno Point has a wide range of activities for guests to enjoy.
A panga dingy trip around the rocky coastline provides opportunities to see Galapagos penguins and other Galapagos coastal birds. Flamingos, pelicans, numerous types of herons, and other birds may be seen in this region. Tidal pools are also home to a variety of animals, including sally lightfoot crabs, sea turtles, and reef sharks that have gotten trapped until the next high tide.
Dive Sites on Isabela Island
Cape Marshall Dive Site (Cabo Marshall)
Cape Marshal is a 120-foot-deep reef dive located off the northwestern beaches of Isabela. Because of the high currents, Cape Marshall is only suitable for experienced divers.
Some of the marine wildlife that frequent the region include hammerhead and white-tipped reef sharks, rays, schools of barracuda, guineafowl pufferfish, parrotfish, yellowtail surgeonfish, and sea lions. 
Vicente Roca Point Diving
Dive yachts, such as the Galapagos Sky, dock at Vicente Roca on Isabela. This is a wall dive with many nooks and crannies to search for marine life among the coral. Currents are normally not too strong, and visibility is adequate. The big Sun Fish (Mola Mola) is the primary target at Vicente Roca. Frogfish, red-lipped batfish, sea horses, octopus, puffers, and other reef fish can also be found. Penguins, sea lions, and marine birds frequently dive for fish here as well.
Best Time to Visit Isabela Island
Peak Tourist Season
June, July, and August, as well as the 20th of December to the 5th of January, are considered high tourist seasons in the Galapagos.
Low Tourist Season
September is the only month deemed low season. The weather and currents in September aren't favorable as well. It is, however, one of the finest times to watch the wildlife on the islands.
Climatic Seasons
The locals label the months of December through May as beach season. It's always hot and sunny during these months. The rainy season lasts from January to February, and the dry season lasts from June to November. From August through September there is a strong possibility of precipitation and mist.
Where to Stay on Isabela Island
The majority of Isabela Island hotels are in and around Puerto Villamil. Because Isabela Island is further away than San Cristobal or Santa Cruz, the atmosphere is much more relaxed, and this, along with the island's gorgeous beaches, may make for a very nice vacation.
We have listed some lodging recommendations on Isabela island.
Cormorant Beach
Cormorant Beach House is popular for its attractive location and accessibility to renowned restaurants on the island, making it simple to enjoy the finest of Isabela. The hotel is owned by one of the island's oldest families, who prioritize customized and careful attention to their guests.
Their average nightly rate starts at USD160. Check the current price here.
Chez Manany Galapagos Ecolodge
Chez Manany is a family-run lodging located just outside the tranquil village of Puerto Villamil.
The experience they give at their beautifully outfitted, small-scale hotel in the heart of the Galapagos Islands is defined by being close to nature. Their picturesque position near Concha de Perla provides tourists with an intimate experience of Isabela Island life.
Their nightly rate starts at USD180. Check the current price here.
Hostal Villamil 
Hostal Villamil is located in Puerto Villamil, 200 meters from the beach. It has air-conditioned rooms and a garden. The nightly fee starts at USD45 on average. Check the current price here.
Hostal Insular
The beach is about a 4-minute walk away from this accommodation. Only 300 meters from the beach, Hostal Insular in Galapagos provides accommodations with free WiFi and air conditioning. Their nightly rates range from USD24 to USD85. Check the current price here.
Iguana Crossing Boutique Hotel
This property is a beach front hotel in the Galápagos Islands surrounded by exotic nature delivering to visitors a superb lodging for a wonderful and calm stay. Rates are between USD275 to USD400. Check the current price here.
Hotel Coral Blanco
The beach is only a one-minute walk away from this accommodation. Located 50 m from the beach, Hotel Coral Blanco offers tranquil accommodation with complimentary Wi-Fi in Puerto Villamil.
Nightly rates are between USD45 to USD100. Check the current price here.
La Laguna Galapagos Hotel
La Laguna Galapagos Hotel is beautifully placed on Isabela Island, with a view of the Flamingos Lagoon just in front of the hotel. It is also two blocks from the beautiful white sand beach. This property's average nightly rent starts at USD115. Check the current price here.
RELATED: Best Hotels on the Galapagos Islands
Where to Dine on Isabela Island
The expansion of Isabela Island restaurants has kept up with other tourism development, which means that there are both Ecuadorian and foreign restaurants on the island, offering a variety of cuisines to guests.
We have enumerated a few restaurants to try on Isabela island.
Iguana Point
The tastiest food on the short strip is just on the beach near Hotel Albemarle, next to BJs Beach Bar. If you're searching for a typical almuerzo, Iguana Point is a fantastic option for lunch. Later in the day, it's a great place to go for happy hour beverages, such as their famed coco-locos!
Mercado Municipal de Isabela
If you want an empanada or a tiny treat instead of a full dinner, head to the municipal market in the early afternoon. Lunch is a huge deal in the Galapagos, so this is a fun way to spice things up while also saving money. Usually, there are one or two stalls selling empanadas.
Isabela Grill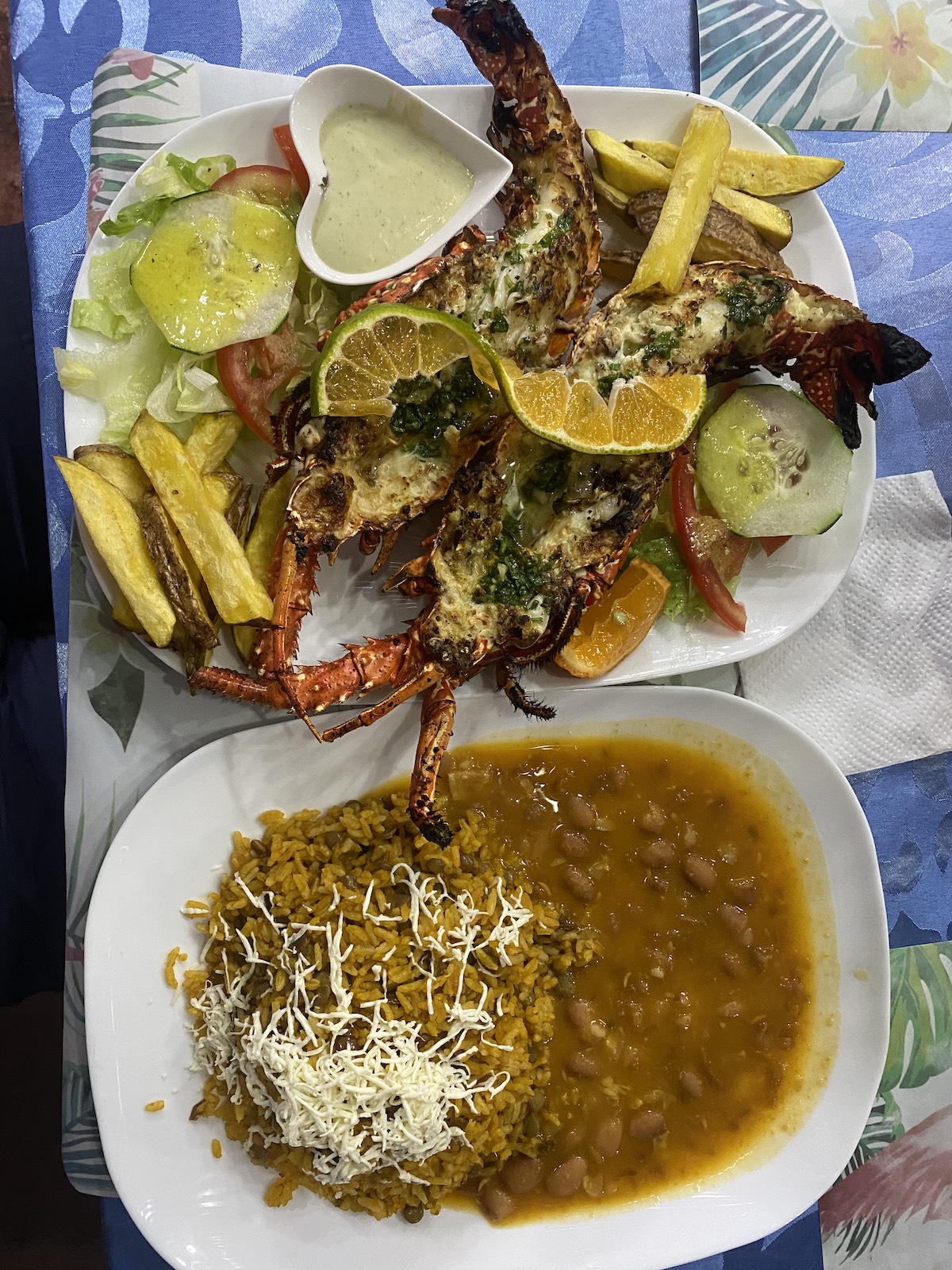 This restaurant, like many others on Isabela, has been there for a long time. This Puerto Villamil choice is hard to beat for a one-of-a-kind BBQ experience in the Galapagos. We highly suggest going in a group so you can take advantage of some larger meal options and enjoy a variety of seafood or other BBQ items.
Coco Surf
Coco Surf is another restaurant that delivers excellent shawarma and wraps. But they also have some more distinctive cuisine. Big bowls of soup, heaping mounds of their signature "crispy rice," spectacular seafood platters, or simple but as delicious shrimp dishes are popular.
El Toque de Melida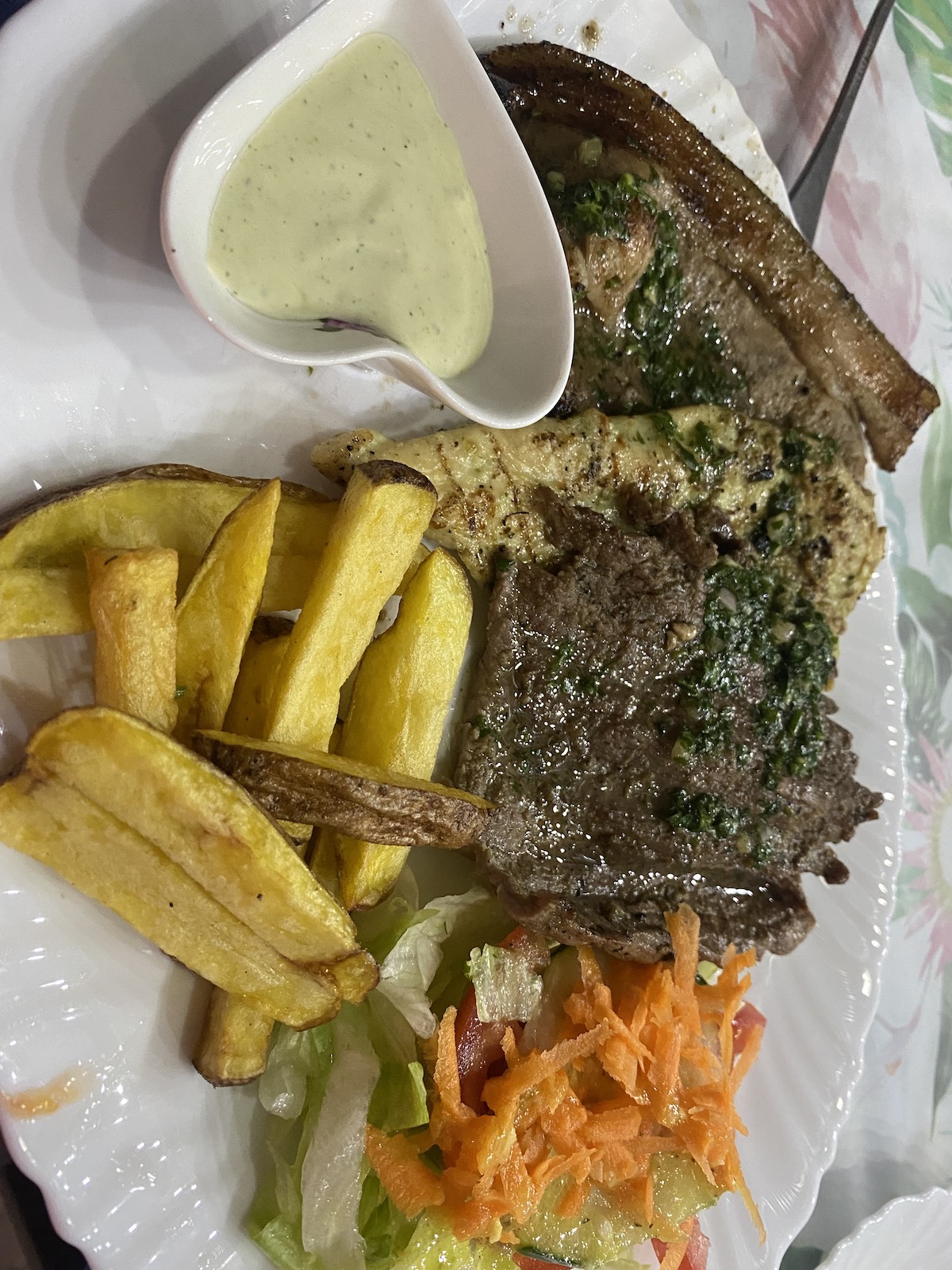 This is a popular lunch location for locals, with occasional travelers. The place is usually crowded! If you're searching for a truly local dining experience while keeping a tight budget, this is the sort of place to explore for affordable food on Isabela Island. When an Almuerzo lunch costs $8 at Isabela Grill, a similar meal may be had for somewhat less at El Toque de Melida. 
Travel Tips
Here is some helpful information you should be aware of before visiting Isabela Island:
Banks and ATMs
Banco del Pacifico ATM may be found in the main park and it accepts international cards. However, it's best to bring lots of cash, because we've met some tourists who were not able to withdraw money.
Cellphone Network
Claro is the cellphone operator with the most coverage on Isabela Island.
Hospitals and Health Centers
There is only one health center which is Hospitales y Centro de Salud on the streets 16 de Marzo and Malecón.
Bottom Line
Isabela island is vast, diversified, and jam-packed with everything a tourist might want. Since the biodiversity of animals on the Galapagos Islands is among the best — divers, snorkelers, and kayakers will be wowed by the spectacular marine life. The volcanic scenery is unique and breathtaking.
Isabela is also a great place to see Galapagos whales and dolphins. Whether you go all out with a cruise loop around the western coast or take a ground excursion to Puerto Villamil, Isabela will not disappoint you!