The Devil's Cauldron, or Pailon del Diablo, is an aptly named waterfall on the Rio Pastaza, a branch of the upper Amazon River Basin. According to legend, the Virgin Mary was discovered at the falls and now protects the residents from volcanic activity.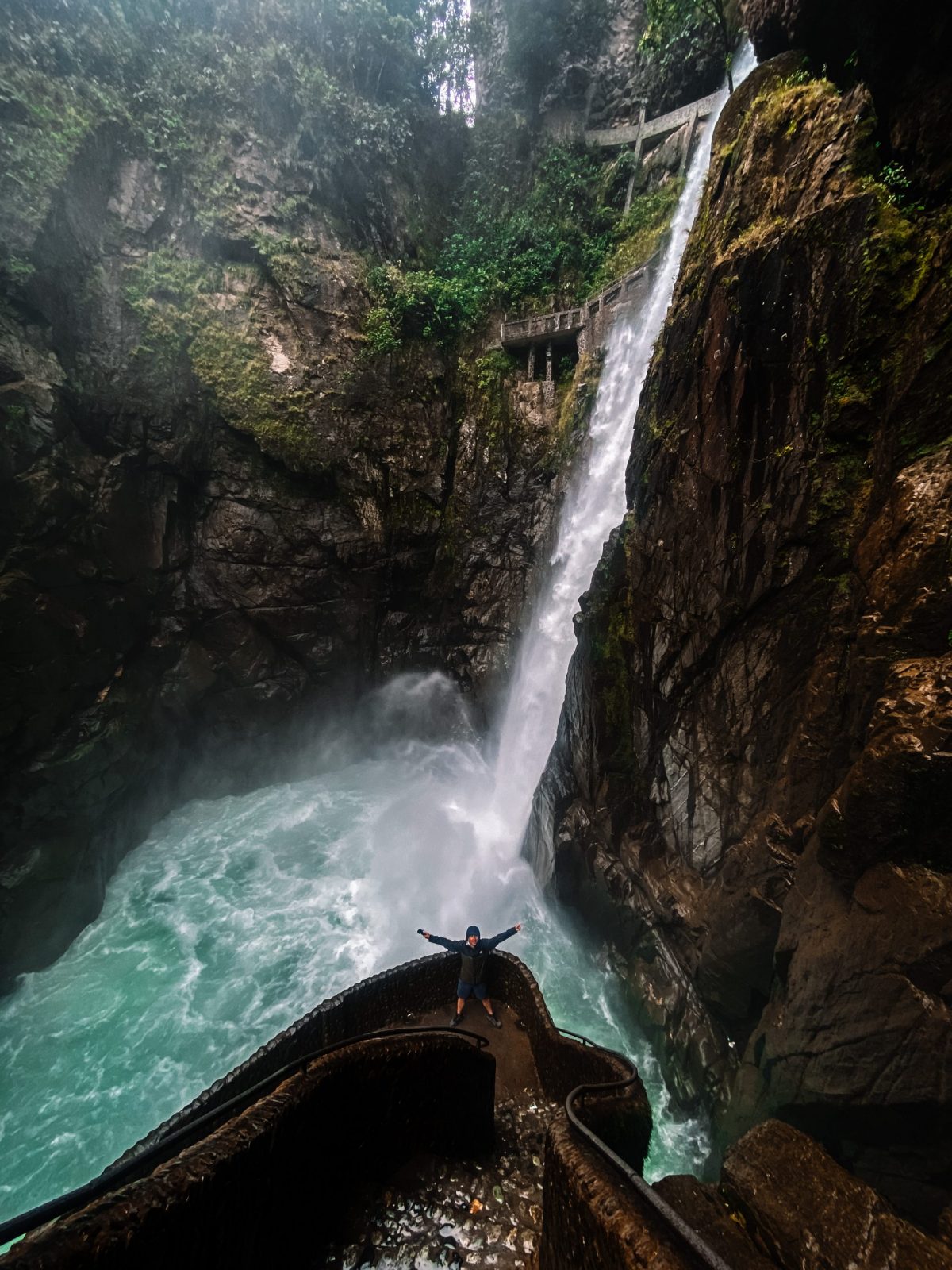 The trail starts in Rio Verde, a little community about 30 minutes from the leisure resort of Baños. This hike's trailhead is conveniently placed at the end of the Ruta de las Cascadas, a famous bicycle route that begins in Baños and follows a succession of stunning cascades for around 17 kilometers to Rio Verde, concluding with the route's most dramatic waterfall, the Pailon del Diablo.
Getting to Pailon del Diablo
Pailon del Diablo is located on the route between Banos and Puyo, and there are different ways to reach there. Here are some options for getting from Baños to Pailon del Diablo:
By Bus
Aside from hiking, using the bus is the most cost-effective way to get to Pailon del Diablo.
Baños has a centrally positioned bus station from which you may get a frequent bus to Puyo.
The bus runs every fifteen to thirty minutes. Just inform the driver where you are headed; Pailon del Diablo is a common drop-off for tourists.
To return to Baños, simply wait beside the main road for the bus returning from Puyo.
By Bike
Pailon del Diablo is one of the main attractions on the Ruta de las Cascadas, which, as the name implies, offers several stops with beautiful waterfall vistas.
The Ruta de las Cascadas is often explored by bike, which is exactly what we did. It is feasible to cycle the entire stretch of road from Baños to Puyo, but we chose to stop the route at the highlight, Pailon del Diablo.
Biking is one of the most popular methods to explore Pailon del Diablo. We highly recommend it since it is a lot of fun and allows you to take in the beauty along the route.
Before hiking to the waterfall, make sure to lock your bike in the parking lot.
By Taxi
Hiring a cab is also an alternative, but it is the most costly option to reach the Devil's Cauldron.
With so many buses running between Baños and Puyo, we don't see why you should pay $10 – $20 for a cab. But if you are short on time, prefer your own comfort, or are traveling with companions to divide the expense, it's comforting to know this alternative is available.
The journey itself is typically not very expensive, but drivers charge a lot for waiting because getting a cab driver in Rio Verde is difficult. Before getting inside the cab, bargain with the driver.
Entrance Fee in Pailon del Diablo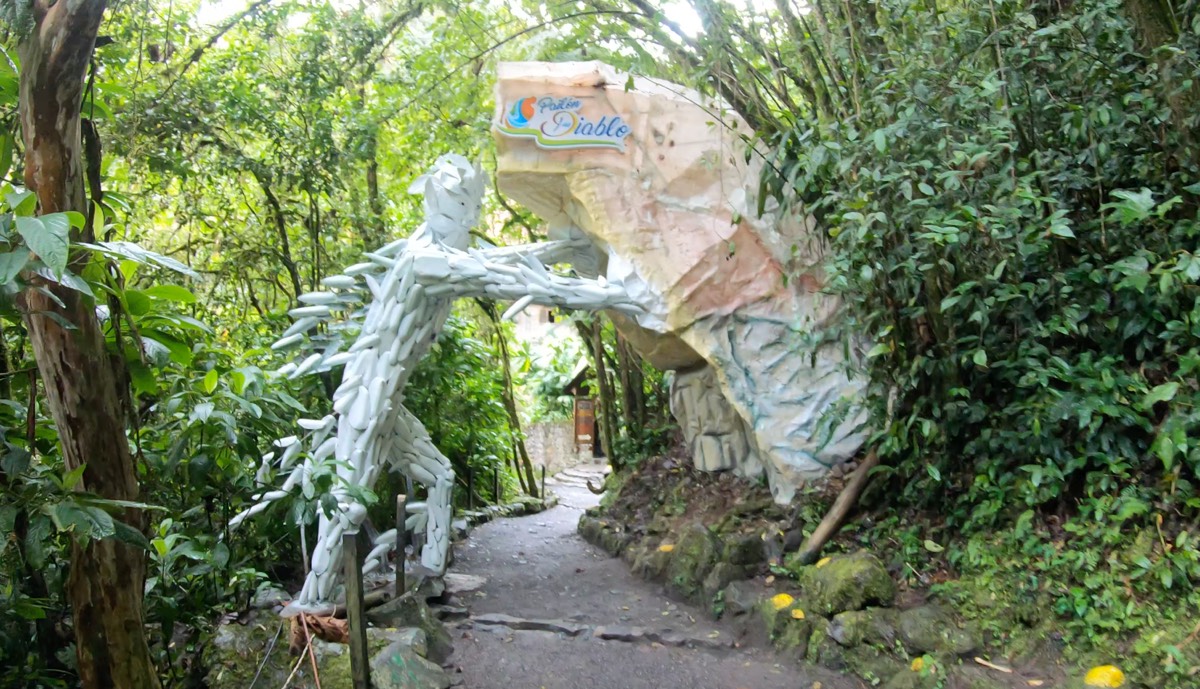 Pailon del Diablo is a waterfall on private land, hence there is an admission fee. The entrance fee is $2 and must be paid at a restaurant on the route leading to the waterfall. Keep in mind, there are two separate entry points that we cover below.
You will not miss it since people working on-site will not allow you to explore the area until you pay this charge.
While there are other natural attractions in Ecuador that have no entrance fee, seeing the Pailon del Diablo for a minimal cost is still worth it.
We enjoyed how well-kept, tidy, and, most importantly, safe the area is. The waterfall location is open daily from 9 a.m. to 6 p.m.
Pailon del Diablo Entry Points
There are two entry points to Pailon del Diablo, but both are near to one other. You may select where you want to enter. The newer road to the viewing platform begins near the soccer field in Rio Verde. You can follow the well-marked route from the field.
This route is significantly shorter than the original; it takes less than fifteen minutes to complete at a leisurely pace; it is not difficult, and you will cross multiple suspension bridges before reaching the viewpoint. However, I would avoid visiting the fall during the weekend, because there are many local tourists as well. Look at that: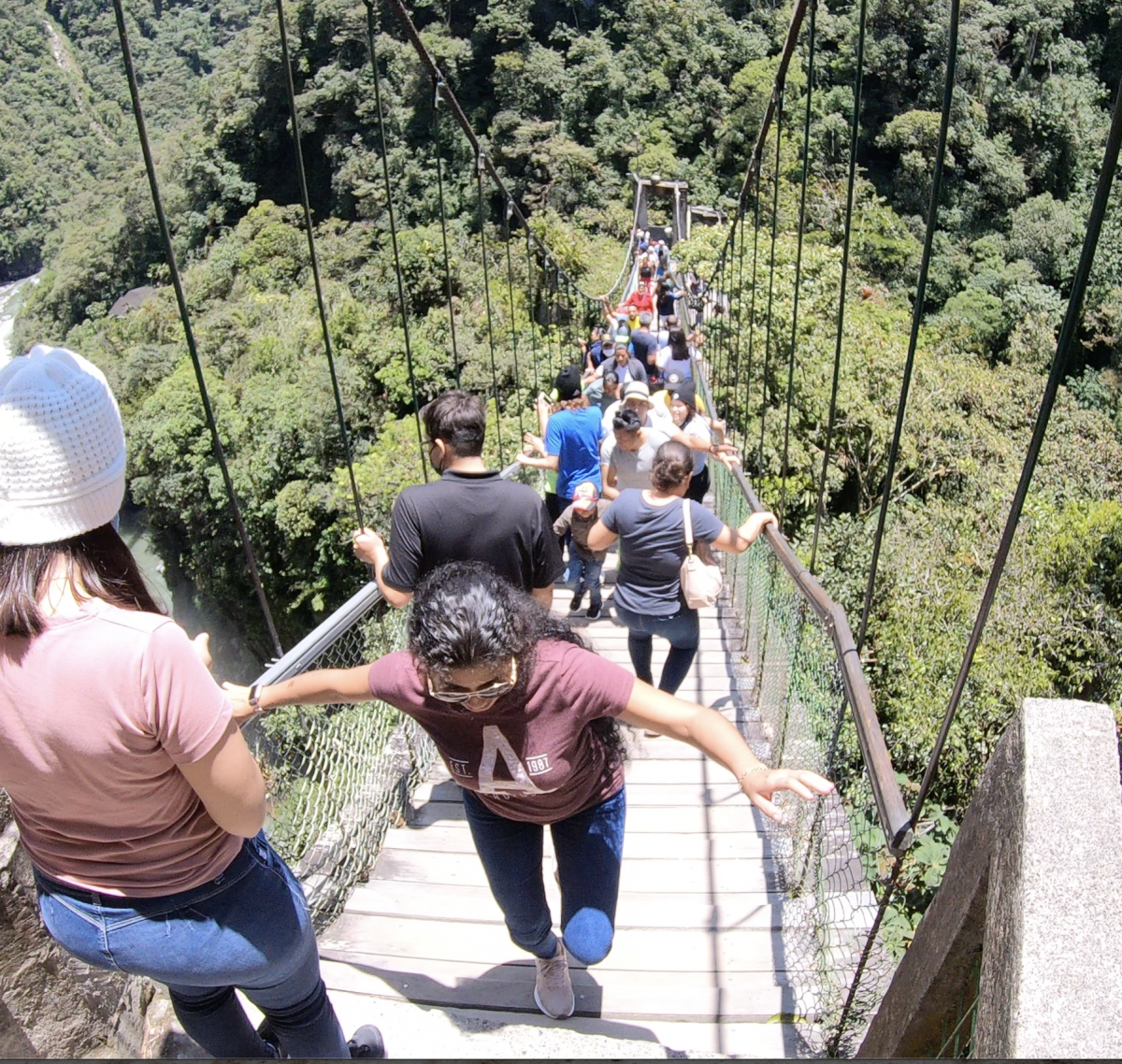 This side of entry has a breathtaking panoramic view of Pailon del Diablo. This entry is perfect for tourists with a shortage of time or those who do not feel like trekking steps up and down.
The older path begins near the parking lot, which is flanked by stalls and restaurants. The route descends for some distance; it takes approximately twenty minutes to reach a restaurant from where the waterfall is only a short distance away.
Even though this track is longer, it takes you through a beautiful forest.
If you have more time and strong knees, we highly recommend this trek since it made us feel more connected to nature.
Exploring Pailon del Diablo
We left our bikes in the parking area and began walking. The well-kept route zigzags through the forest, and we couldn't wait to see the cascade.
When we arrived at the restaurant where we paid for the admission, we had the option of walking across a suspension bridge to a viewpoint or turning right to get closer to the waterfall.
There were few tourists when we came so proceeded right away to the most renowned location: a set of stairs built into the rock from which you can get some of the greatest photos of the cascade. Be careful though since it's also a spot where you could get soaked.
We also traveled a little farther to a location known as La Grieta del Ciela. The path to La Grieta del Ciela is narrow and wet, so be sure to wear a rain poncho.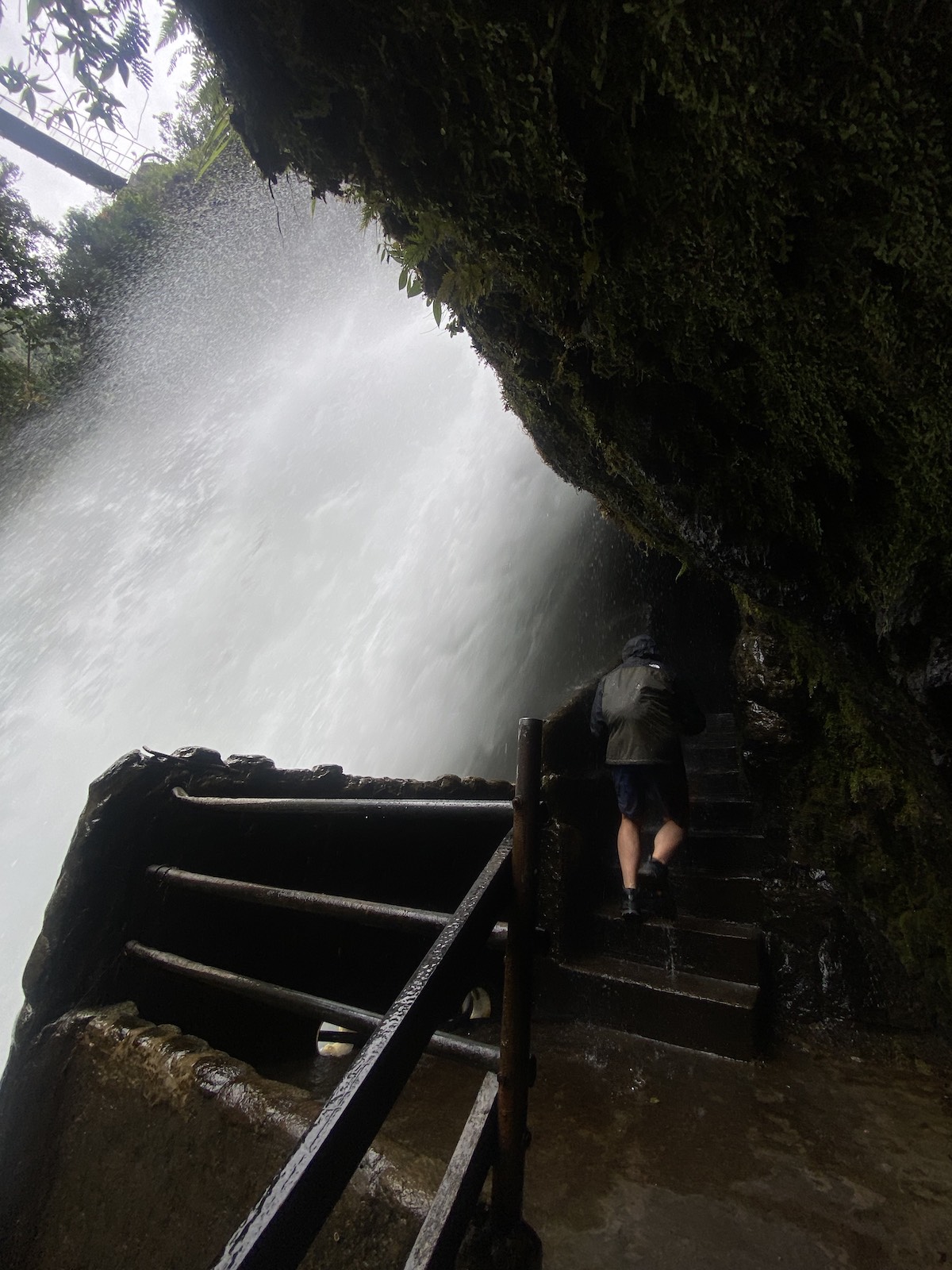 La Grieta is a cool spot, but crawling through it is difficult. This place is not recommended for individuals who cannot tolerate tight places or have terrible knees. A little viewpoint greets you at the cave's exit, which was well worth the effort. Take note that there is a dead-end and that you must return the same way.
After that, we headed back to the restaurant and went across the suspension bridge, which unveils the view of Pailon del Diablo in a distance.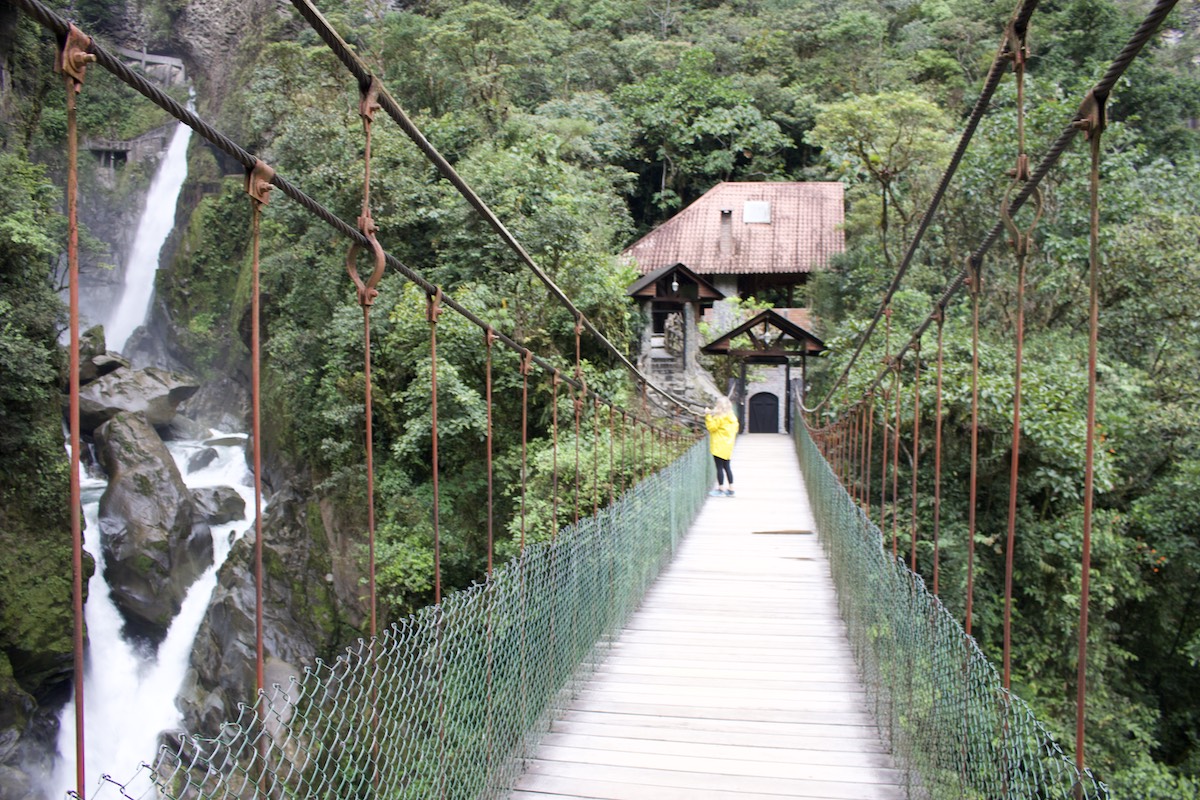 Overall, our trip to Pailon del Diablo was definitely worth the two hours we spent there.
What to Pack
We've included some of the things you should carry with you to Baños / Pailon del Diablo:
Poncho or raincoat. It frequently rains in Baños, so be prepared for some drizzle.

To keep your belongings secure and dry, use a waterproof dry bag.

Bring your sunscreen with you. It is an essential thing that you should have with you everywhere you travel in Ecuador.

There are eateries on-site, but you may also carry snacks in case you feel hungry on the way. A handful of energy bars will come in handy whether you're trekking or biking to the waterfalls.

Bring a refillable water bottle to help the environment by decreasing plastic waste.

Bring just enough cash for your trip to keep your valuables to a minimum.

If you are particular with insects, it is also a good idea to bring an insect repellant with you. Though I have not encountered any insect problems, it is best to be prepared.
Bottom Line
If you're looking for an adventure, consider trekking or bicycling to the Devil's Cauldron or Pailon del Diablo. The waterfalls provide a beautiful picture that will make you love nature even more. The adrenaline rush you'll experience on this daring trip will be well worth it.