When traveling to Galapagos, you will likely first step into Baltra Island, as it houses one of the two airports in the Galapagos archipelago.
In this post, we will share our travel experience in Baltra Island and everything you need to know about the island.
Where Is Baltra Island Located?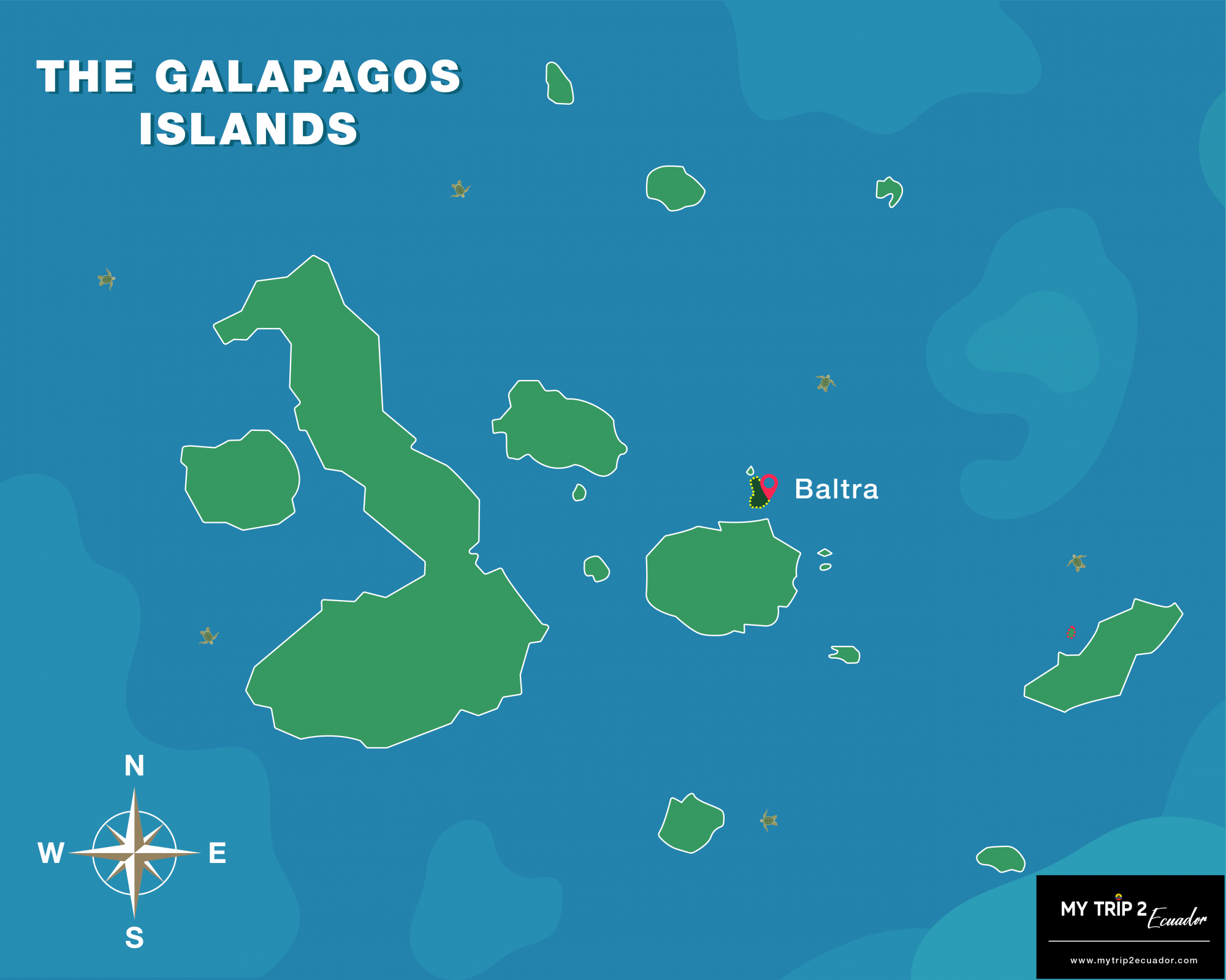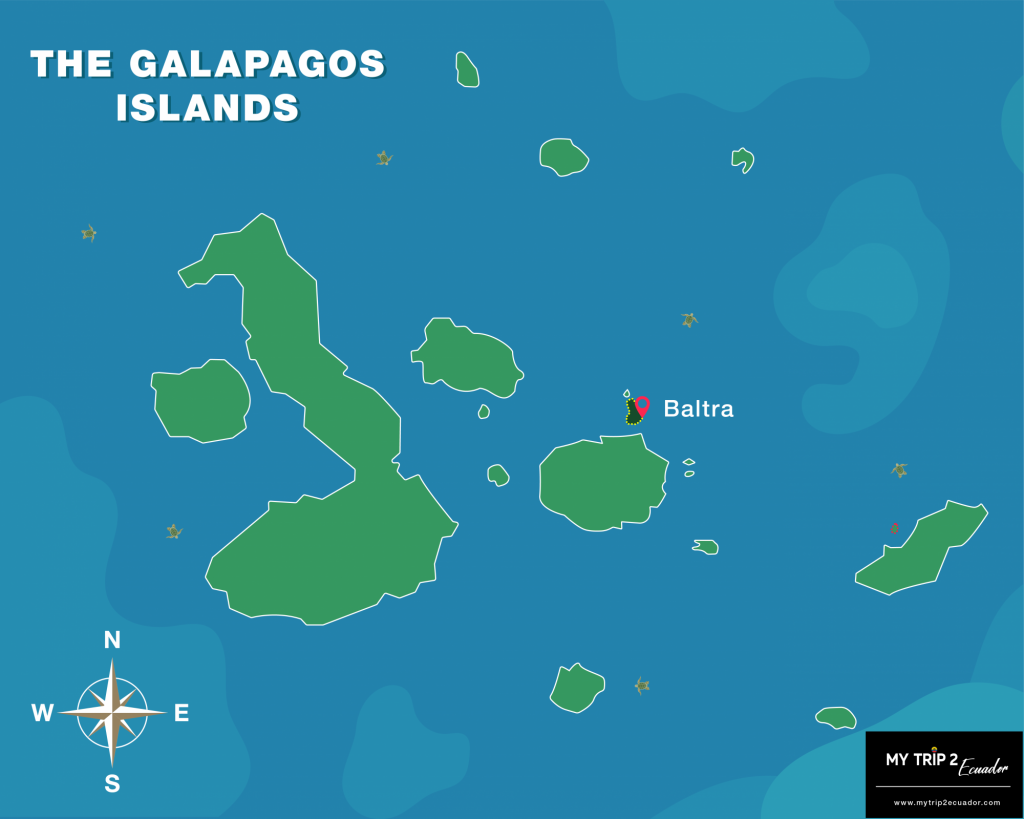 Baltra is conveniently located in the Galapagos archipelago's central region. It is positioned to the north of Santa Cruz island.
Baltra Island Facts
Baltra Island was initially named South Seymour Island in honor of Lord Hugh Seymour, a prominent British Royal Navy officer in the 18th century. 

Unlike most Galapagos Islands, Baltra is not a volcano's crater. It is an "uplifted island," a section of land submerged before volcanic activity on nearby Santa Cruz Island altered the undersea geology.

Baltra is arid, with saltbush, prickly pear cactus, and Palo Santo trees dominating the vegetation on the island.

Franklin Delano Roosevelt visited the Galapagos Islands aboard the USS Houston in the 1930s. The US government was planning to establish a Pacific air base to safeguard the western approach to the Panama Canal.

The military base was built in 1942 and played a significant role during World War II. 

The island is still an official Ecuadorian military base, with Navy and Air Force commands.

Baltra islands' Seymour Airport (GPS) is the first green airport in the world. It serves as one of the primary gateways to the Galapagos archipelago.
How To Get to Baltra Island?
Baltra Island can only be reached by flying into the island's airport from mainland Ecuador or another Galapagos island.
Two airlines are operating daily flights departing from Guayaquil and Quito to Seymour Airport: Avianca and LATAM.
Some flights stop at Guayaquil airport (GYE) before flying into Baltra Island. Since we were not fond of waiting, we took a direct flight from Quito airport (UIO) via Avianca, which took around 2 hours. 
What To Do on Baltra Island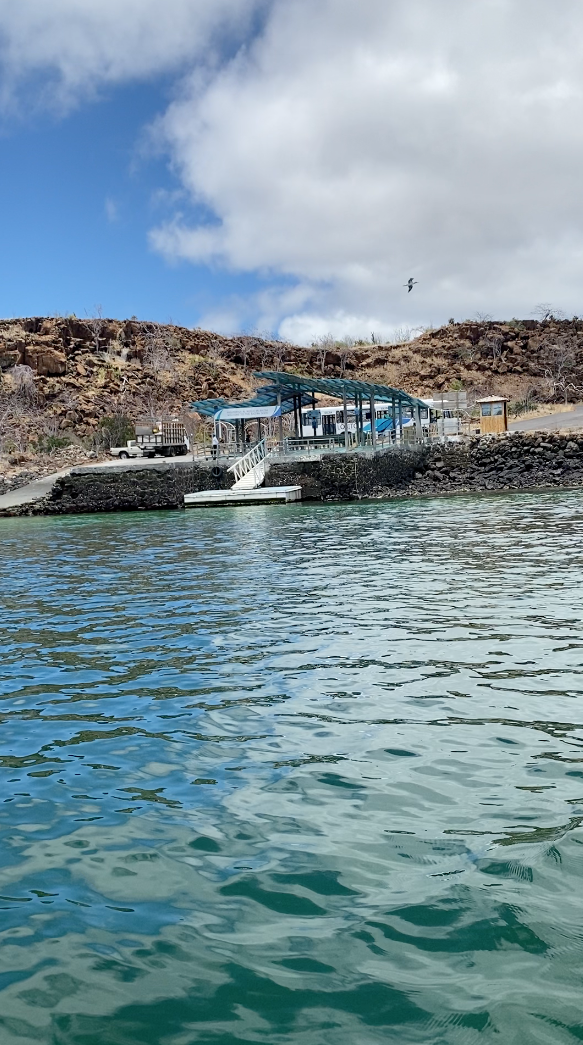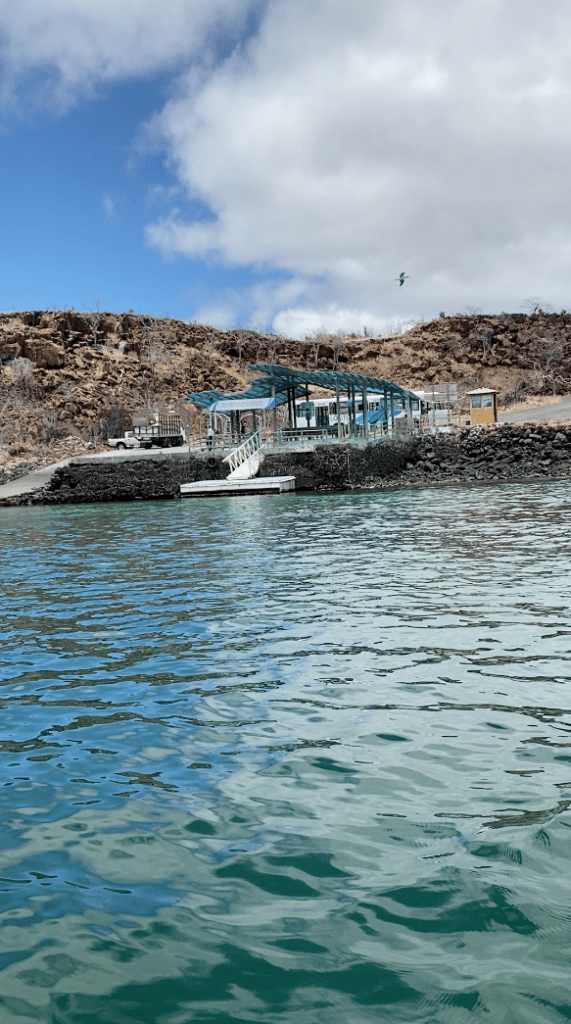 There are no activities to do on Baltra Island. It only serves as a primary point of entry to the Galapagos archipelago. Most tourists coming from Baltra go to Santa Cruz Island, where the tourist hub of Puerto Ayora is located.
We found a small cafe across the airport where we got a dose of caffeine to boost our energy. There are also gift shops where you can buy souvenirs on your way back home.
Where To Stay on Baltra Island?
There are also no hostels or accommodations on Baltra Island. Most lodgings are also stationed in Puerto Ayora, Santa Cruz.
How To Get to Puerto Ayora, Santa Cruz From Baltra Island?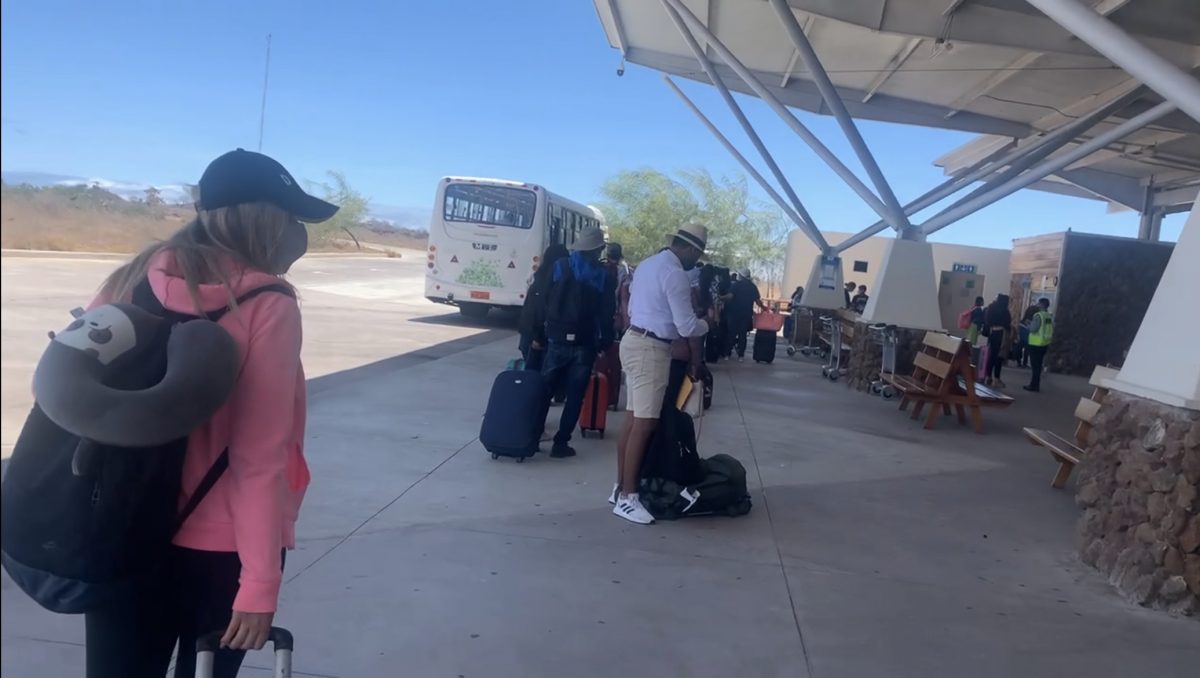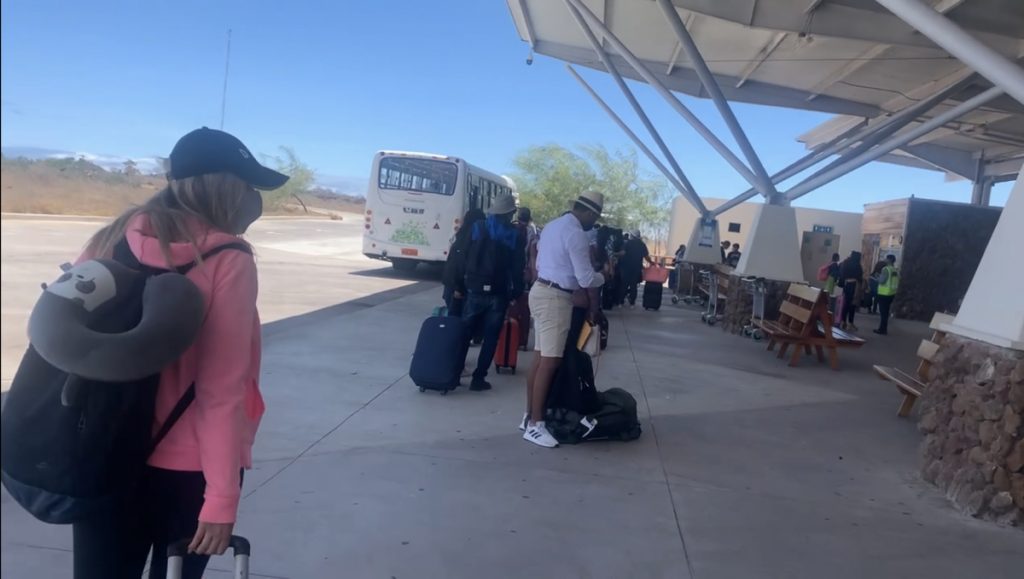 We took the "Lobito" bus to the Itabaca Channel after arriving on Baltra island. The buses run every ten minutes, and because the airport is small, it is not hard to locate them.
A small ticket window across from the departure point is where you will purchase your bus tickets. The bus fare is $5/person. 
The bus ride to Itabaca Channel is only around 10 to 15 minutes short. They use a variety of boats, but the majority of them can hold between 15 and 40 people.
One of the locals directed us to a water taxi, and we paid $1 once we were on board. After only about 5 minutes, we arrived on Santa Cruz Island.
After disembarking the water taxi, we took a bus to Puerto Ayora, where our hostel is located. Puerto Ayora is a bit far south, and the bus ride took around 45 minutes.
If you are not fond of another bus trip, you may also take a taxi to Puerto Ayora. You should note, though, that these are not the usual taxis or cabs that we know. The taxis here are white pickup trucks, usually Toyota HiLux or Nissan Frontier vehicles. 
How To Get Back to Baltra Island From Puerto Ayora?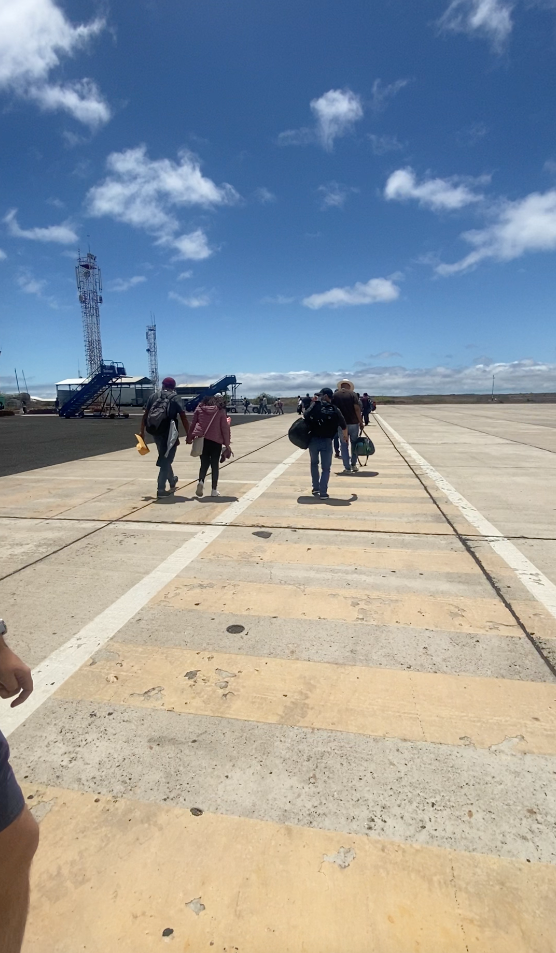 You can hail a taxi or take the bus going to Itabaca Channel. You should be aware of the schedule of the buses, so you better ask around to ensure you will not miss it.
In our case, we opted for the taxi because we were anxious about missing our flight. It costs more than $25, so make sure you have allotted money for it. 
Once we were in Itabaca Channel, we learned that private water taxis are also operating. The one operating during our arrival was government-operated.
So what's the difference? Tickets for privately owned ferries cost $2.
It is essential to consider even the little changes in your itinerary so you can adjust your money allocation, particularly if you are on a budget.
When we disembarked at the other side of the channel, we took the bus going to the airport terminal. The cost was still the same when we arrived, which was $5.
Why We Chose Baltra Island as Point of Entry to the Galapagos
As you may already know, there are two airports in Galapagos Islands, one in Baltra and one in San Cristobal Island.
Based on our research before our trip, arriving in Baltra is more tedious and costly. Traveling from the airport to the accommodation in Santa Cruz will take more time and cost. 
However, because San Cristobal is located further east of the archipelago, traveling to Isabela can be a hassle. You have to take two ferries which will take most of your time. 
Depending on your itinerary, you can choose which airport is more suitable for you. Consider your travel costs, time, and convenience to determine which one you should pick as your gateway to the Galapagos Islands.
Conclusion
Your first steps on Baltra Island are the beginning of a thrilling Galapagos journey ahead! Although there are no tourist sites on this island, the trip to Santa Cruz Island is fascinating. There may also be some exciting wildlife encounters along the way.
Keep your eyes wandering as you can also get sightings of the ruins of US Air Force history and the uniqueness of Balta Island's structure.