Baños is a picturesque town in Ecuador renowned for its breathtaking landscapes, captivating waterfalls, and, most notably, its rejuvenating hot springs.
Baños translated as "baths" in English, derives its name from the abundant thermal springs that have shaped its identity throughout centuries.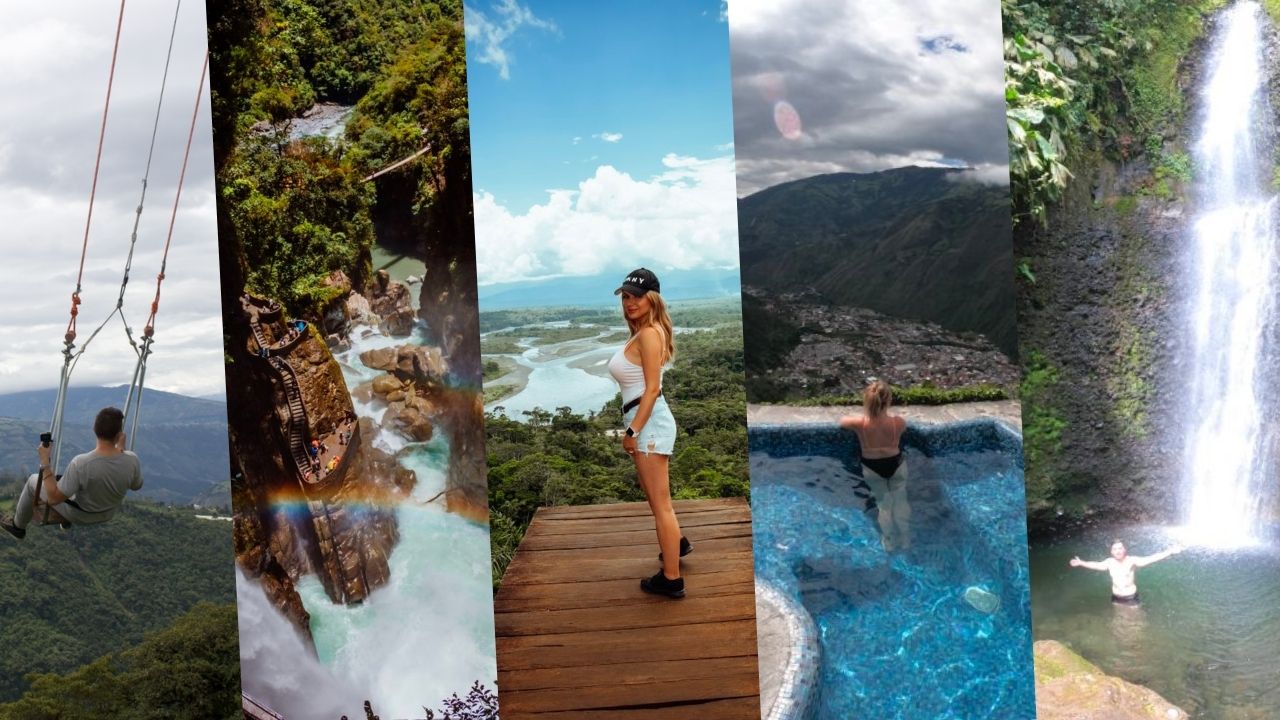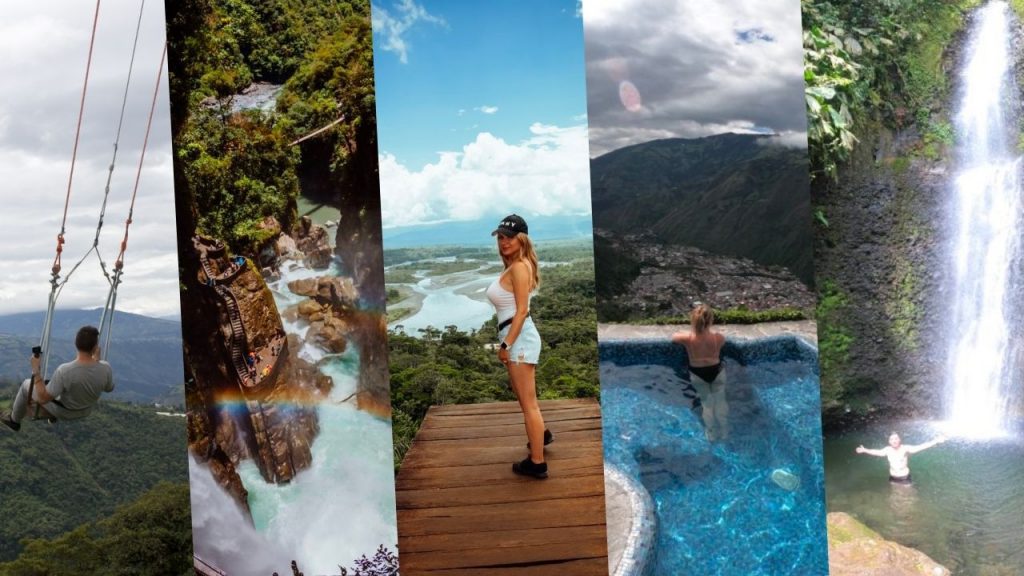 With a backdrop of majestic mountains, cascading waterfalls, and lush greenery, Baños' hot springs create an ethereal atmosphere that soothes the mind, body, and soul. The therapeutic properties of these geothermal waters have long been revered by indigenous communities and visitors alike, making Baños a special place of relaxation, healing, and spiritual renewal.
The town boasts an array of hot springs, each with its unique character and ambiance. From rustic open-air pools nestled in the heart of nature to modern spa resorts that pamper guests with luxurious amenities, Baños caters to all tastes and desires.
In this article, I will share our relaxing getaway in a few hot springs in Baños. You can also check my article on the best things to do in Baños, Ecuador.
Healing Waters
There is a belief among many that the waters of Baños possess remarkable healing powers, attributed either to the rich minerals derived from volcanic springs or to the intercession of the Virgin Mary.
These thermal pools owe their warmth to Tungurahua Volcano, known as the "Throat of Fire." The underground magma tunnels of Tungurahua extend beneath the city, imparting their heat to the water, creating an extraordinary natural phenomenon.
For thousands of years, people have used hot springs or thermal baths to help relieve pain. Natural hot springs contain minerals that are good for the body. When you soak in these waters, the minerals make your body feel lighter and more buoyant.
This buoyancy can help your joints move more easily without pressure or weight. Many people with arthritis or sports injuries find that soaking in hot springs helps reduce their pain. After a nice soak, people often feel less stressed and sleep better.
Hot Spring Options in Baños
There are several choices available in Baños for enjoying thermal baths. We have highlighted a few of the fantastic options below.
Luna Volcan Adventure Spa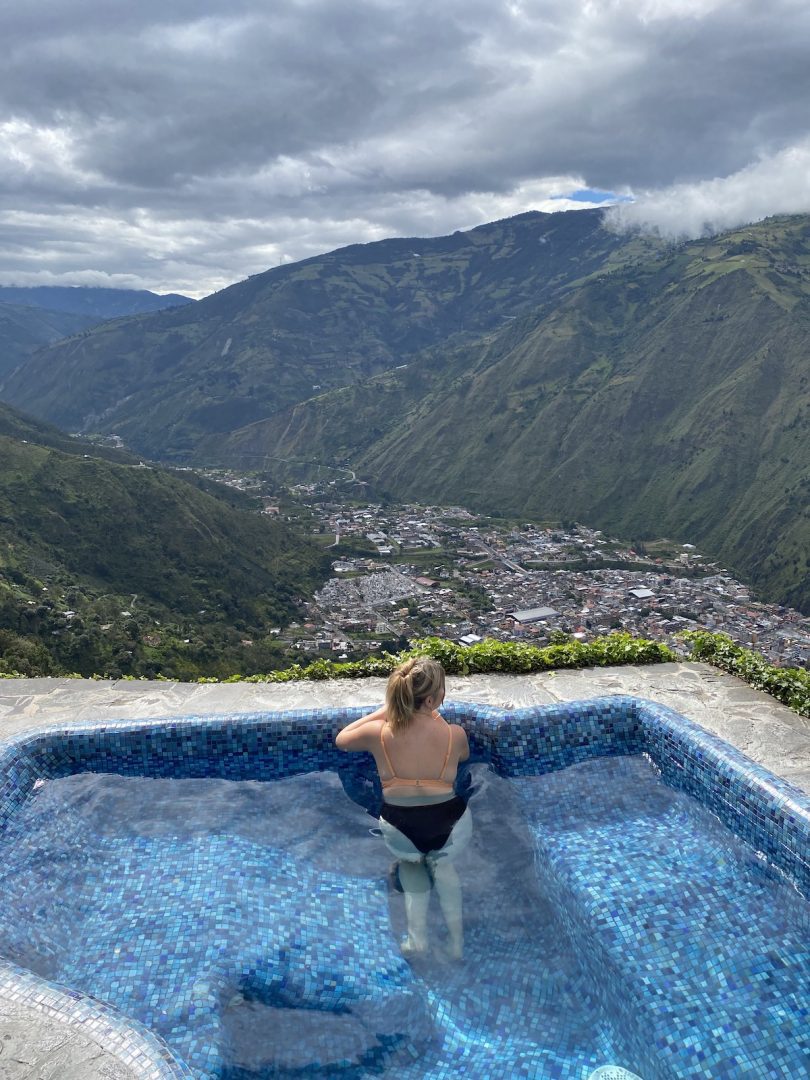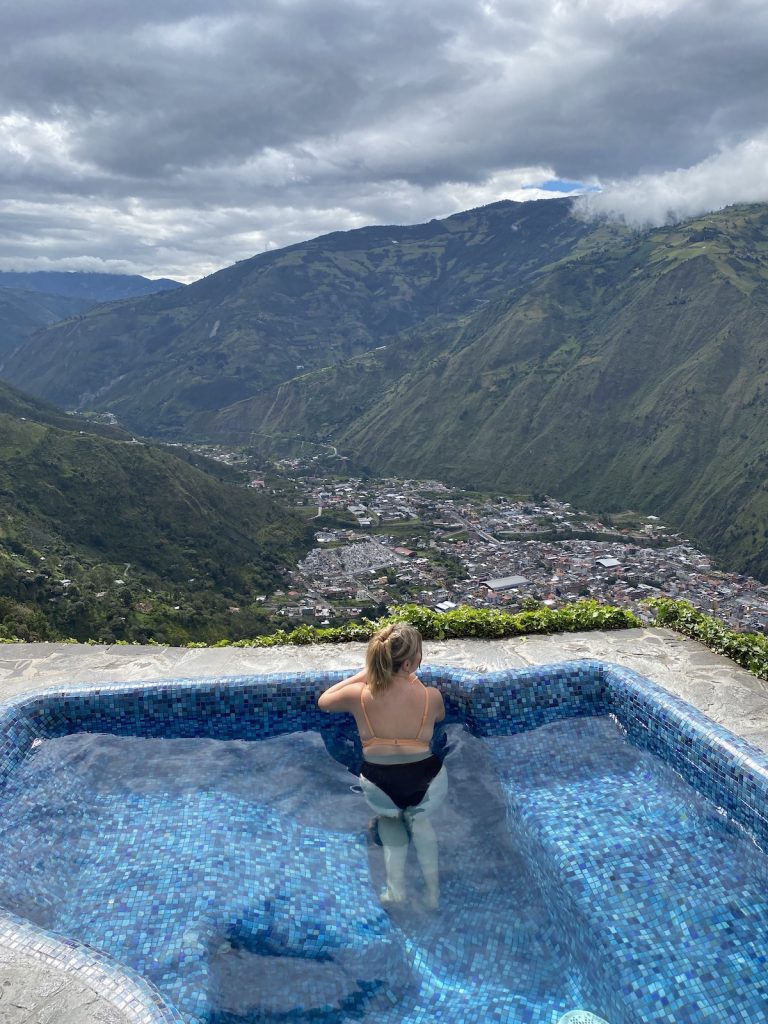 Luna Volcan offers the most luxurious thermal baths in Banos. It is an adventure spa that we chose to visit for a delightful bathing experience. Luna Volcan provides a five-star setting for enjoying the hot springs.
There are four pools and a jacuzzi filled with warm volcanic water. Situated high up on the mountain, the breathtaking views of the Tungurahua volcano and the city below are unmatched.
Luna Volcan provides guests with a beautiful dressing room, shower facilities, towels, and a locker with a key to secure their belongings.
What we enjoyed most was the panoramic views of the national park and the town of Banos. The mountains were stunning in their many colors of green. Because we were at such a great elevation, the clouds seemed like fluffy cotton balls drifting by.
On the day of our visit, the weather was absolutely perfect. We arrived around 5 pm, allowing us just over an hour to bask in the breathtaking daytime scenery before the city lights started to illuminate.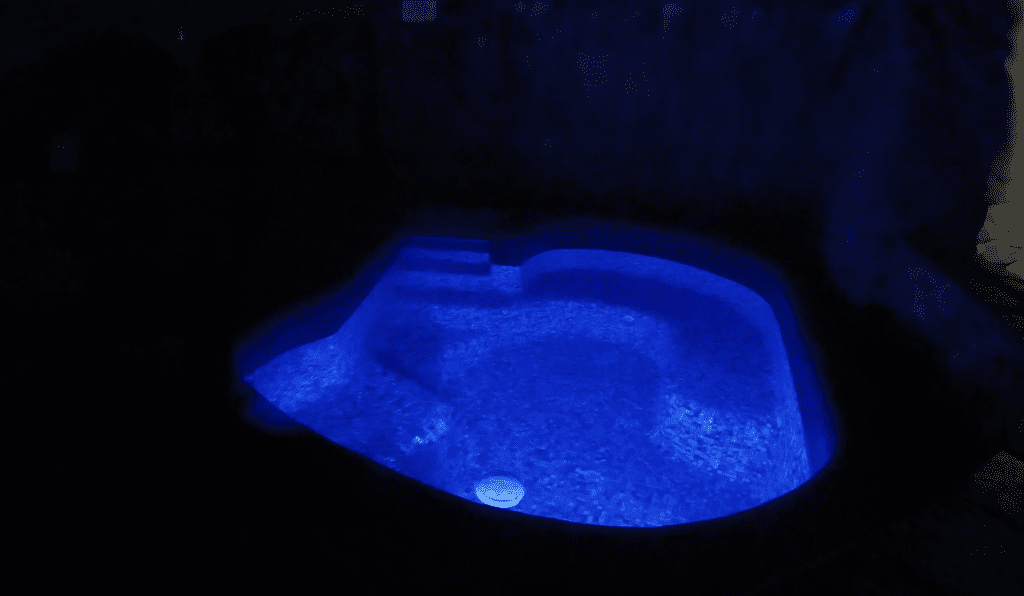 As the sun descended, we witnessed a captivating sunset over the city while the mountains transitioned from a vibrant light green to a serene darkness. Due to its off-season, we were lucky to have our own private bath, amplifying the sense of exclusivity.
From the pool, we observed the gradual illumination of the surrounding area as lights twinkled and came to life, creating a mesmerizing display of colors. Our experience at Luna Volcan was priceless, making every penny spent worthwhile.
It's truly challenging to describe the awe-inspiring vistas visible from the baths. It's an experience that must be witnessed firsthand.
Balneario El Salado
El Salado thermal springs is an affordable hot spring choice yet an unforgettable experience. The entrance fee is $3 per person, and if you need a swim cap, you can rent one for $1 each. 
El Salado's hot pools are unique, drawing people for hours. I was readily absorbed as I moved from one pool to the next throughout the day. One pool stands out due to its high heat, which makes staying underwater for more than 10 minutes difficult.
On the other hand, there is a freezing cold pool reminiscent of a refreshing ice bath. Additionally, there are multiple pools with pleasant and warm temperatures, perfect for children to enjoy.
The contrasting feelings of changing water temperatures produce a delightful experience that is difficult to describe. It was a pleasant experience, and we also got to meet locals in the area.
Termas de la Virgen
Termas de la Virgen is a hot spring complex in Baños de Agua Santa, Ecuador. It is situated beneath the Virgin's Hair waterfall, giving it its name. Nearby, there is also a beautiful church.
The pools at Termas de la Virgen have different temperatures, ranging from cold to warm, with one reaching a hot temperature of 118°F (42°C). These hot springs offer the benefit of being centrally located and provide a breathtaking view of the waterfall, which majestically overlooks the area.
Our experience in Termas de la Virgen is almost the same as El Salado. It's an affordable option and provides an opportunity to meet locals and other tourists. However, I must confess that these hot springs are not my top choice in town. The place tends to be crowded, particularly on weekends and appears a bit run-down. 
Piscinas Sta. Ana
What sets Santa Ana Pools apart is their significantly lesser crowd compared to the other options. If you are in Baños during the weekend, I highly recommend choosing Santa Ana Pools. They are only open from Friday to Sunday until 5 pm and can be reached by a 15-minute bus or taxi ride. The journey is absolutely worthwhile as these hot springs are the best in town.
The pools are nestled within a lovely garden, allowing you to immerse yourself in the therapeutic essence of the volcano while enjoying the sights and sounds of birds and the refreshing breeze. 
Along with a large hot pool, there are several smaller ones that give you a comfortable, private jacuzzi-like experience. During our stay, we occupied one of the smaller pools for hours while engaging in conversations.
What To Bring At The Hot Springs
Here is a list of items you must remember to pack before going to the hot springs.
Water to stay hydrated

Bathing suit

Towel

Snacks if you plan on staying for a few hours or more

Sandals for the showers

Cash for entrance fee and swim cap rental

Extra money for purchasing water or snacks on-site
Conclusion
Baños, Ecuador, is a true haven for hot springs enthusiasts. The rich mineral content in the waters of Baños' hot springs offers physical benefits and a sense of tranquility and relaxation. 
Soaking in warm waters while surrounded by breathtaking scenery and the calming sounds of tumbling waterfalls is an experience that feeds both the body and the soul.
So, if you happen to be in Baños, don't miss the chance to visit the hot springs to relax and rejuvenate.
The hot springs of Baños are waiting to offer you an unforgettable experience that will leave you with lasting memories and a sense of well-being.