Located 170 kilometers away from the more tourist-famous town of Cuenca, is the small mountain town Alausi. A tranquil, tight-knit community is how I would describe Alausi in a few words. This town has colorful old houses surrounded by the Andes mountains. Alausi is titled a Pueblo Magico in 2019, which was recognized by Ecuador's Ministry of Tourism. Pueblo Magico is a government program promoting tourism for small towns in Ecuador that constitutes Ecuadorian culture and heritage. It was one of the cities we passed by during our 15-day self-drive trip on Ecuador Mainland.
Tourists normally just pass by Alausi to experience the popular Devil's Nose Train (which does not operate anymore) but if you stay in town for a bit longer, you will discover that there are more places to see.
Things to do in Alausi, Ecuador
Devil's Nose Train
UPDATE: Unfortunately, the company went bankrupt and the train is not operating anymore.
Ecuador has a great railway system and the Devil's Nose, or Nariz del Diablo to locals, is the most renowned stretch of train track in the country. It gained its nickname because of the numerous worker deaths and the inherent complexity of construction which is placed on the mountainside known as "the Condors Aerie".
Originally, you can take this railway from Guayaquil all the way to Quito. But as time passed by and extreme calamities, nearly all of the train sections had fallen into disuse by the 1990s. Despite this, the Devil's Nose remained open due to the large number of visitors who came to ride it. Today, it connects Alausi and Simbabe stations.
The Devil's Nose train ride is a spine-chilling trip down the rocky slopes of the Andes through some of Ecuador's most breathtaking scenery. The path winds through rocky ravines, along raging rivers, dense cloud forests, and around mountains.
The train used to operate every day at 8 a.m. and 11 a.m., except for Mondays. The entire train adventure lasted 2.5 hours, including a 15-minute stop at the viewpoint and an hour at Sibambe Station. I really hope they will re-open it soon. This is how it was:
Alausí Train Station
Alausi Train station is a spectacle which can be seen from the viewpoint 'Rest of the Devil'. Aside from being able to enjoy the wonderful and charming landscape, this train station also offers a tourist experience that includes participating in the daily lives of community members, working on farms, and sharing the legends of their ancestors and cultural practices. There are also other activities you can do like horseback riding and farm visits.
Stroll Around The Colorful Neighborhood of Alausi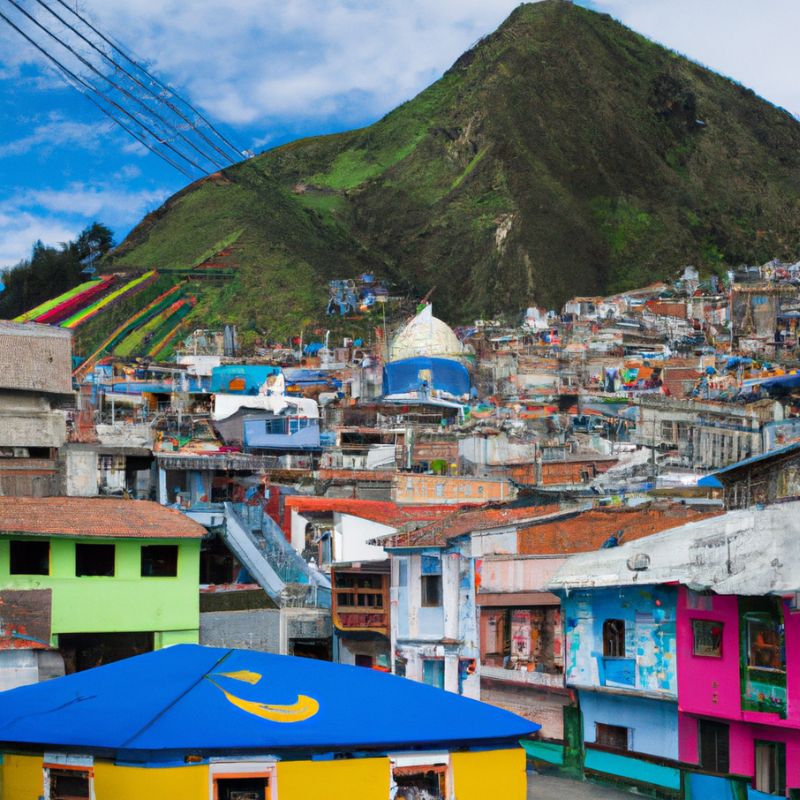 Small towns are very interesting to explore. You will always find something intriguing when you stroll around. Here are some sights we have seen around the magical town of Alausi:
Plaza Bolivar         
It is where you will find a golden bust statue of Simon Bolivar, a Venezuelan who played a major role in liberating nations from Spanish colonization.
Parque 13 de Noviembre
In the middle of Parque 13 De Noviembre, there is a monument commemorating the town's independence which they named Monumento La Libertad.
Plazoleta Guayaquil
A landmark sign of Alausi is situated in Plazoleta Guayaquil where most tourists usually take photos.
Enjoy The Views in San Pedro Mirador
After climbing 160 steps to reach the top of San Pedro Mirador, you will find a huge statue of San Pedro overlooking the town. From afar, it seems like San Pedro is watching over the town of Alausi. The viewpoint has beautiful mountain scenery that is surely breathtaking.
Explore The Ozogoche Lakes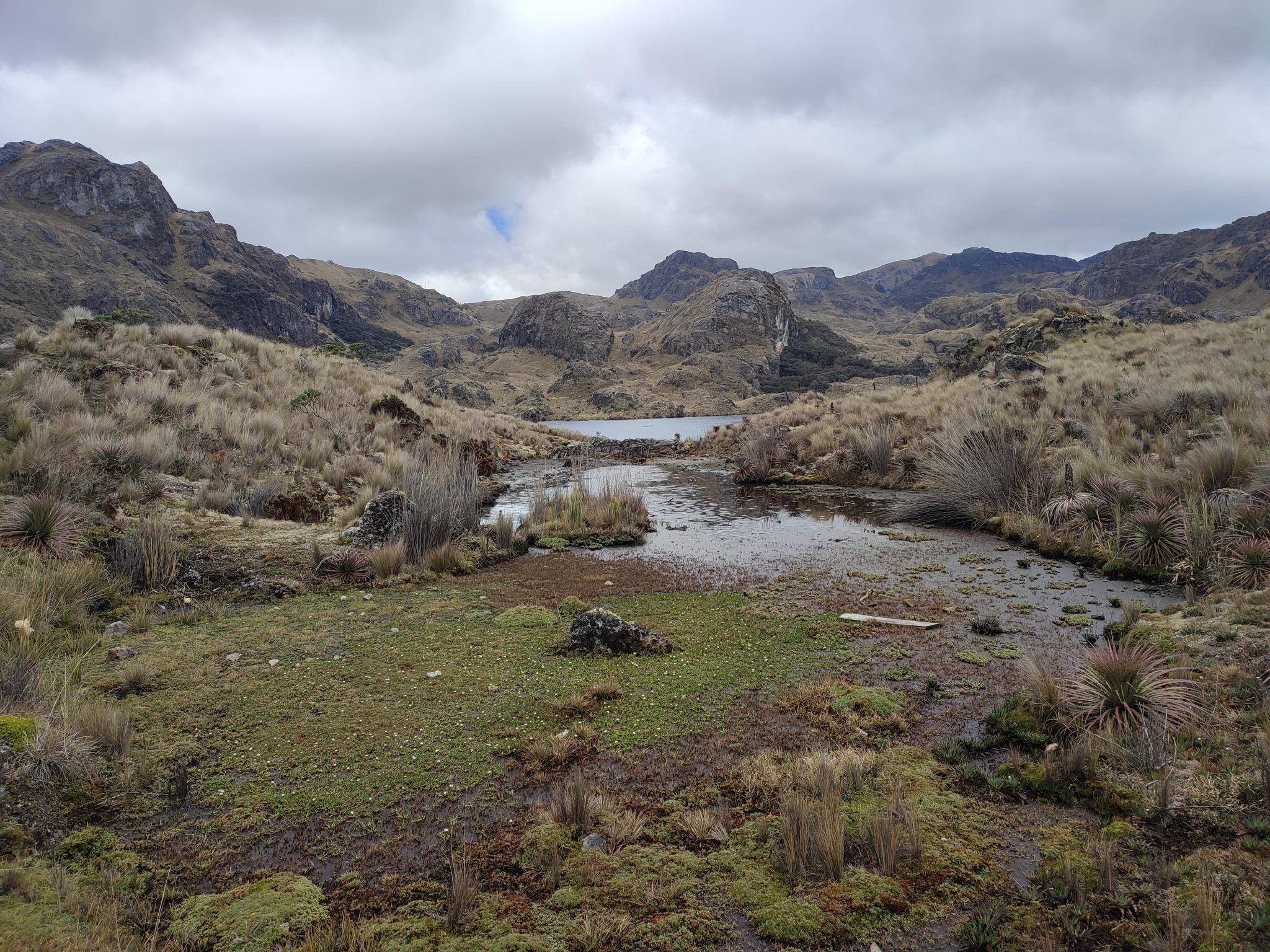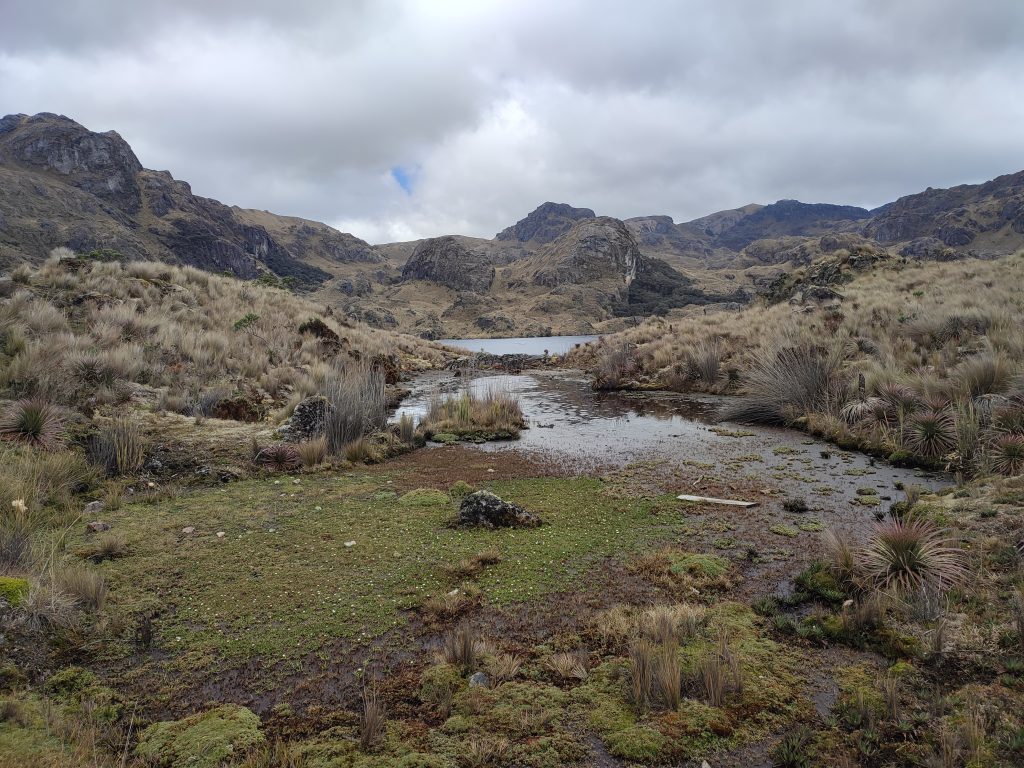 Ozogoche Lakes is located within the Sangay National Park which is an hour and a half drive away from Alausi. The panoramic views are beautiful and the serene setting is worth the visit. Locals say there is a plethora of migrating Plover birds that flock in the area between the months of September and October to look for warmer places as the winter season approaches.
Getting to Ozogoche Lakes is a bit complex due to limited transportation. Nevertheless, most hotels are offering tours in this area so you can ask for assistance from where you are staying to book one for you.
What To Eat In Alausi, Ecuador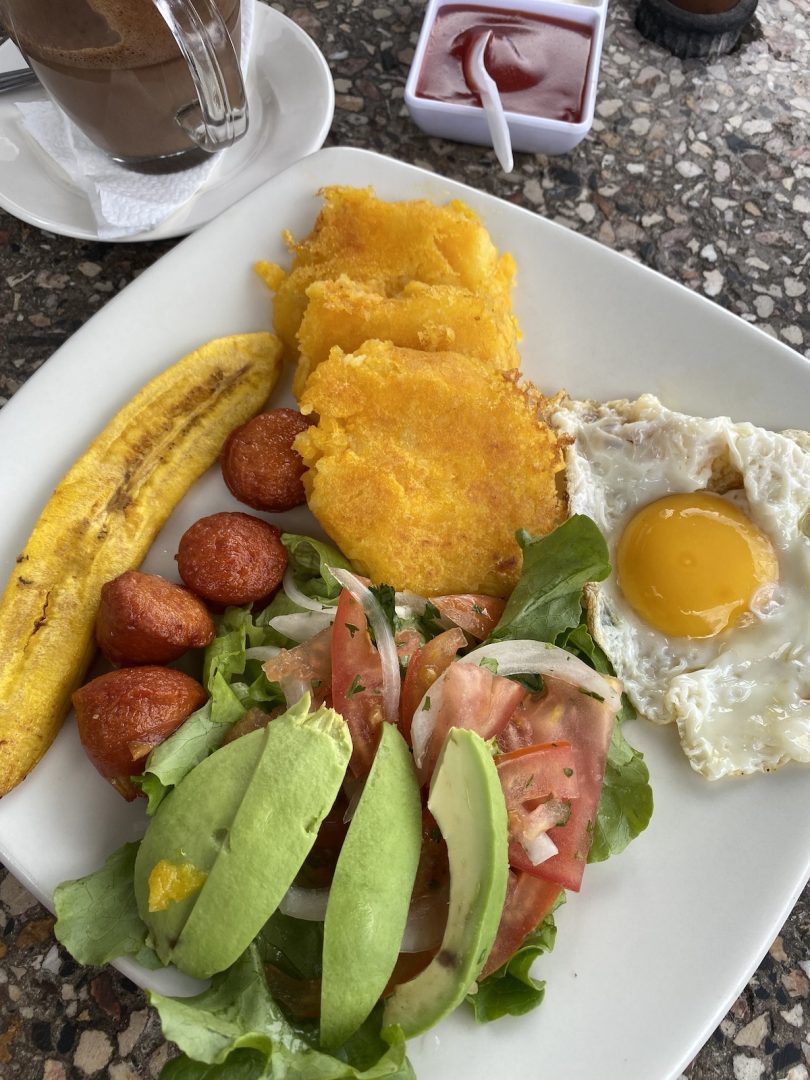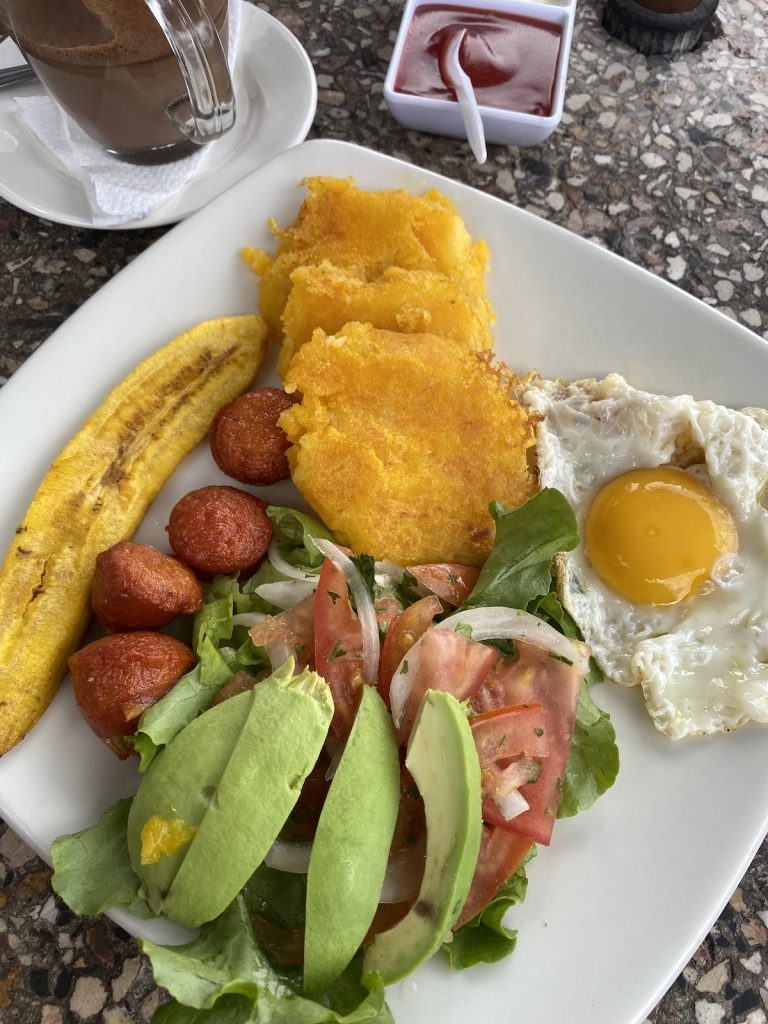 It is advisable to set your Alausi tour somewhere on the weekend as there is a market every Sunday that spreads all over the town. You can find a lot of crops, handicrafts, and of course, Ecuadorian street foods.
Typical street foods like llapingachos are also sold in the streets of Alausi. They also have cuy or roasted guinea pig, which they usually serve with potatoes dipped in peanut sauce and salad as a side dish.
Something that we tried here first is the dish called wadding. It is made with a cow belly and cooked with a special sauce. The meat is served in square cuts drizzled with peanut sauce and usually comes with potatoes or rice.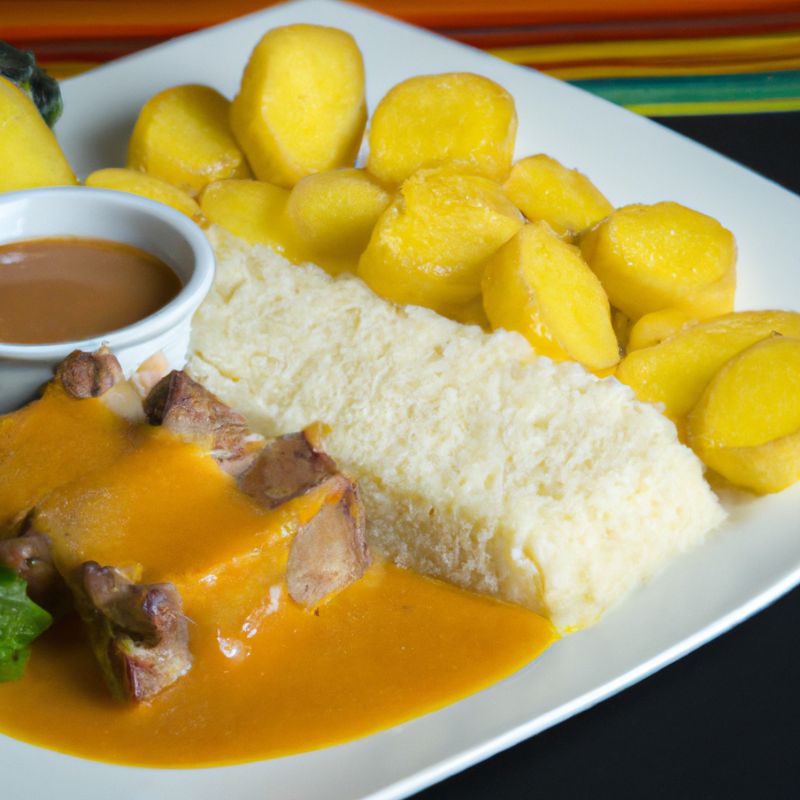 Where To Stay In Alausi, Ecuador
Hotels
Hotel Europa
Hotel Europa offers free wi-fi in all areas of the hotel. It also features express check-in and check-out, a 24-hour front desk, and luggage storage facilities. Their nightly rate usually starts at USD25.
Hotel El Molino
Hotel El Molino is just a minute walk away from Alausi Main Square. The property is pet-friendly and features free wi-fi and breakfast. A double room usually costs USD80 per night.
Hosteria Pircapamba
This property features a garden and free wi-fi access. It also offers airport shuttles and tour arrangements. A single room with one single bed is normally priced at USD20 per night (check the latest price here) with breakfast.
Hostels
Community Hostel Alausi
Community Hostel Alausi is a top choice hostel among backpackers. They offer free access to the internet and parking. It also features a shared lounge. Dorm beds are usually priced starting at USD10 per night.
AirBnBs
The Balcony Train Guest House Alausi
This Devil's Nose-themed guest house has three bedrooms with three beds and two baths and has wi-fi access. Their rate is affordable with rates starting at USD25 per night.
Alpaca Permaculture Farm Stay
Try something different like a farm stay experience in this guest house that is a 10-minute walk away from Alausi. Enjoy the breathtaking views of the mountains and valleys surrounding the area. The nightly rate in this stunning lodge with one bedroom and one bath is around USD20 per night.
How To Get To Alausi, Ecuador
By Air
For foreign travelers, the closest international airport to Alausi is the Jose Joaquin de Olmedo International Airport which is in Guayaquil. It is approximately 167 kilometers from Alausi.
By Bus
The town of Alausi is accessible from most large cities in Ecuador. Several bus companies operate direct trips to this small town.
From Cuenca
The trip from Cuenca to Alausi takes around four hours. Cuenca buses operate direct trips to Alausi on a regular basis. The cost is about $10.
From Baños
If you are coming from Baños, head to Cuenca first via bus and from there, take the bus with a direct trip to Alausi. The ride is about 3.5 hours and the cost is $10.
From Guayaquil
The bus journey from Guayaquil to Alausi is around three hours. You can either take a direct trip or take the route to Duran, and from here take a bus to Bucay. Upon reaching Bucay, you can take another bus to reach Alausi. The cost is about $15.
From Quito
The easiest way to go to Alausi from Quito is to hop on a bus directly traveling to Alausi. If you have a different plan or itinerary, you can also head to Riobamba first, then ride a bus to Alausi. Direct bus trips to Alausi are more frequent in Riobamba. This trip would take you around seven hours. The cost is about $20.
Transport in Alausi, Ecuador
Transportation in Alausi is mainly taxis and buses just like in any other city in Ecuador. If you are going to remote places from the town, like Ozogoche Lakes, it is better to ask for help from your accommodation so they can assist you.
Alausi's Altitude, Climate, and Weather
Alausi sits 2,285 meters above sea level, and just like in other high altitude cities, make sure that you have acclimatized first especially if you are coming from places with lower altitude. I would recommend taking ChlorOxygen 1-2 weeks ahead of the trip so it's easier to deal with high altitudes.
Alausi has a cooler climate compared to other cities and towns we have visited in Ecuador. If you are planning to visit Alausi, be sure to pack additional layers of clothing such as light jackets and long-sleeved shirts. Packing a rain jacket and compact umbrella is also a must since unexpected rainfall is very common in mountain-surrounded towns.
The best months to visit Alausi are between January and February as the summer season is ending.
Safety Tips in Alausi, Ecuador
Generally, Alausi is a safe place to travel. The locals are nice and helpful and there are no incidents of thefts or pickpocketing that we heard of. We were able to go around the town and the surrounding attractions without much worry. But as a reminder, do not be too complacent and always take precautions wherever you go.
Conclusion
Alausi wouldn't be named as one of Pueblos Magico for nothing. The town is magical as it is. Aside from the fantastic sceneries that you would definitely love, the town also depicts rich Ecuadorian history. If you are into exploring beautiful, underrated towns, then coming to Alausi must be definitely on your list.