Wolf Island is an uninhabited Galapagos archipelago outlying island. The islands are extinct volcano summits and are small.
Wolf Islands is well-known for having some of the top dive spots in the Galapagos archipelago. It is one of the best spots on the planet to dive for world-class, jaw-dropping underwater activity.
Darwin and Wolf Islands draw many divers yearly due to the spectacular underwater scenery.
While we did not personally go to Wolf Island since the diving spots here are for advanced divers, we have gathered information about the island and created a comprehensive guide for you.
Where is Wolf Island Located?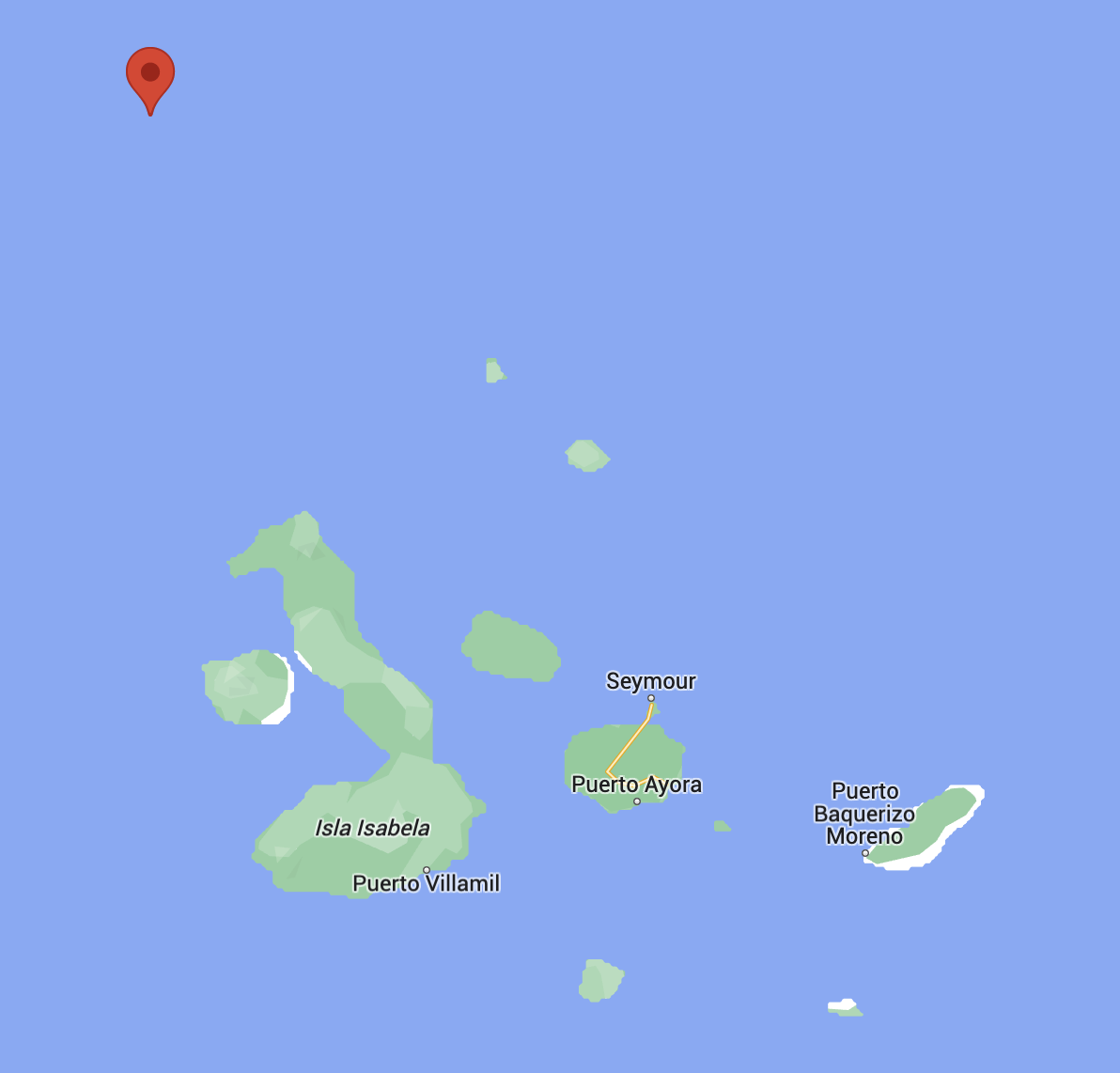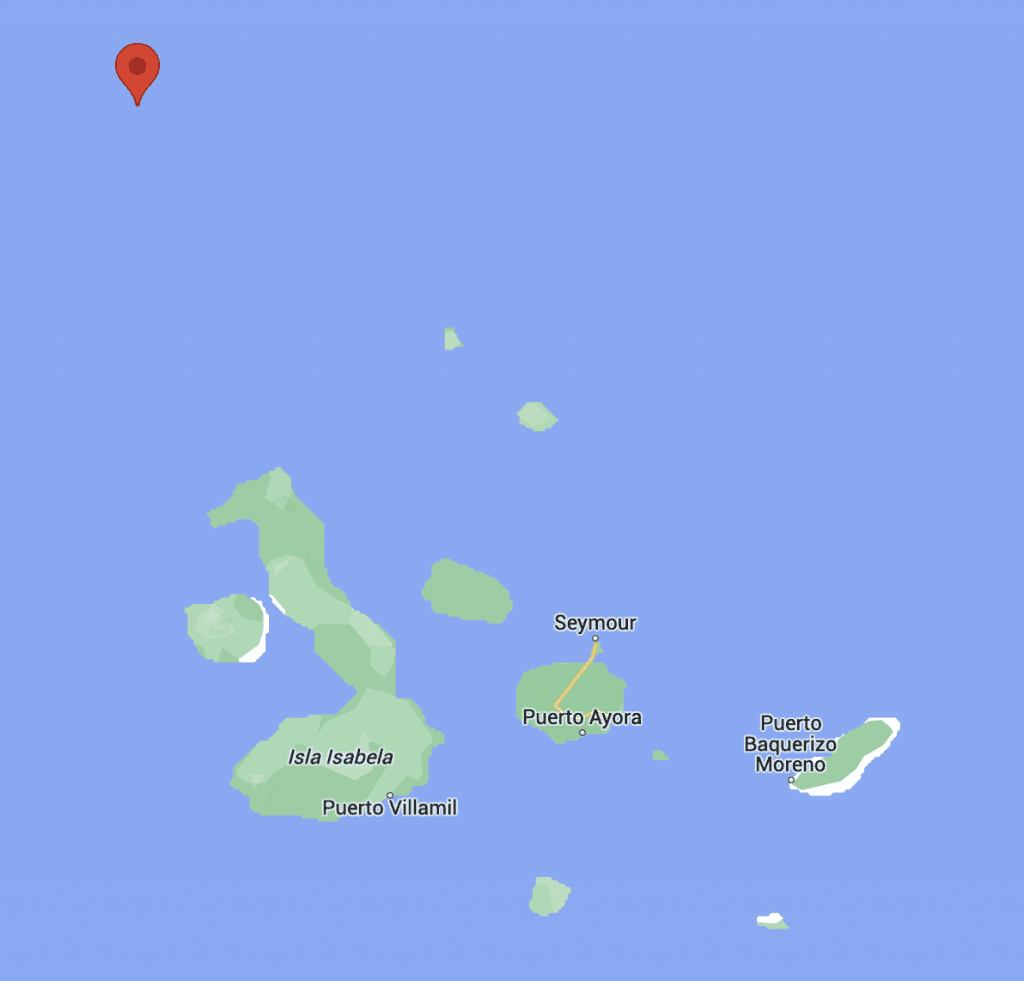 Wolf Island is located in the northernmost remote part of the Galapagos archipelago. It is close to Darwin Island.
How to Get to Wolf Island?
Darwin and Wolf Islands are the most challenging islands to reach in Galapagos due to their remote location. Because regular cruises do not go this far, the only opportunity to see these islands is on a live-aboard scuba cruise.
There are dedicated dive itineraries for Wolf and Darwin Islands. Specialist dive yachts operate trips to the islands with a naturalist dive guide. 
You should note that diving at Wolf and Darwin Islands requires expertise to navigate the strong currents.
Wolf Island History
Wolf Island is formed by the peak of an extinct undersea volcano that emerged from the ocean floor. It is surrounded by various dive sites, including volcanic shelves, cliffs, and underwater caves. These sites are all home to a diverse range of marine life.
Wolf Island was named after the German geologist Franz Theodor Wolf, who spent many years studying the geology of the Galapagos Islands.
Wolf Island's Marine Life
Wolf Islands' is rich in breathtaking marine life. The cold currents attract plenty of sharks, whales, and other fascinating water species.
It is said that Galapagos sharks, white-tipped sharks, the great spotted whale shark, and even hammerhead sharks can be seen here. You may also encounter several kinds of rays and sea turtles in the waters of Wolf Island.
Because of the distant location, these waters are especially prone to illegal fishing. To preserve marine life, the Galapagos National Park Authority established a floating station on Wolf Island in 2008 to help patrol and protect this vital maritime location.
Wolf Island Dive Sites
Wolf Island has no landing sites, but it compensates with a diverse array of fantastic dive locations.
Shark Bay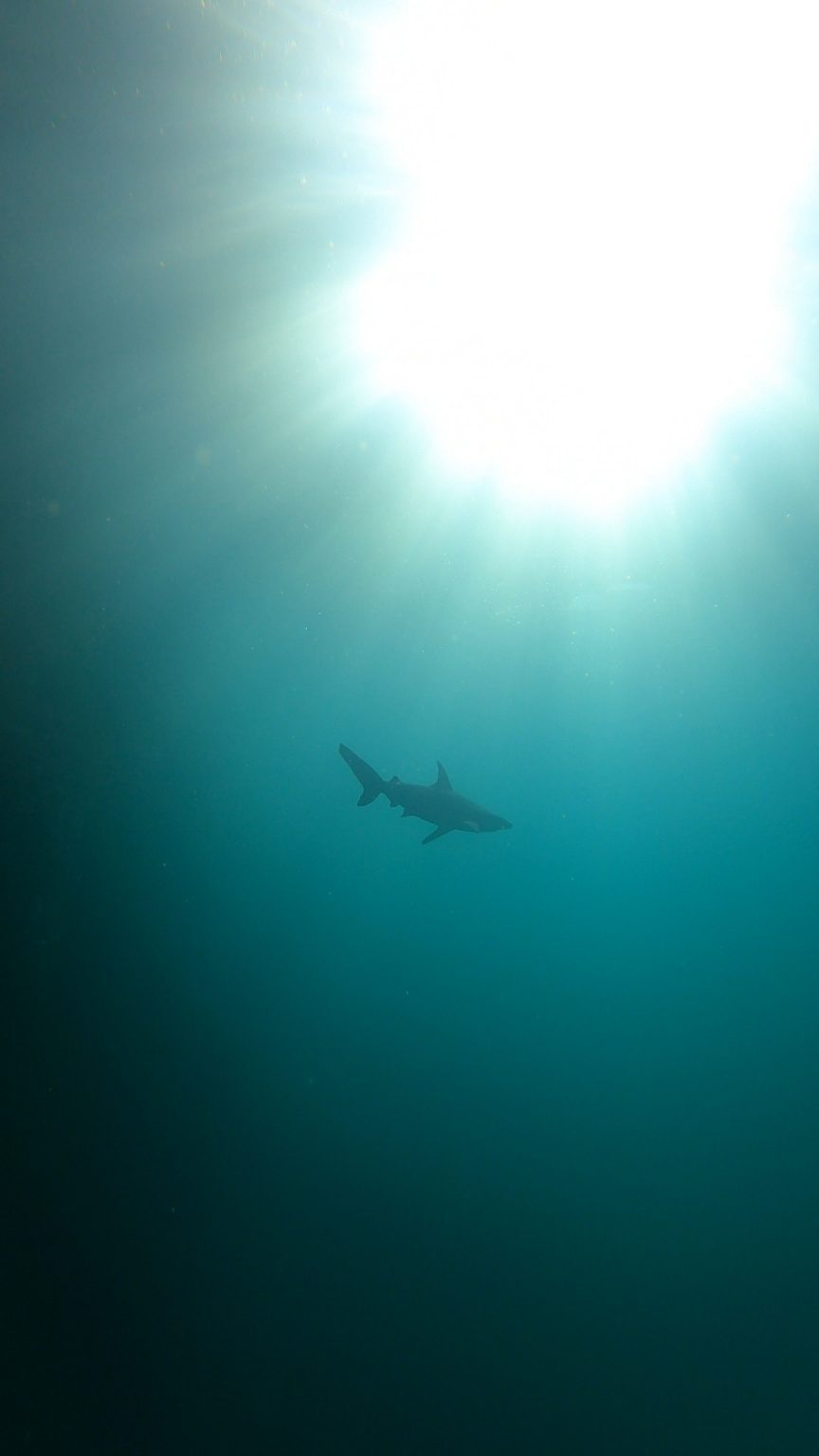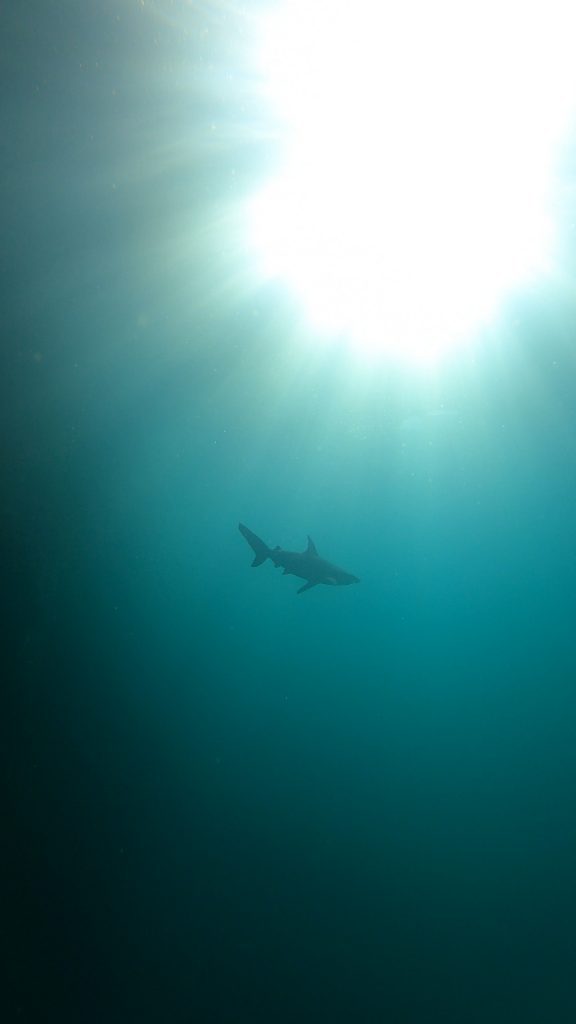 Shark Bay is a popular area to spot big schools of Scalloped Hammerheads and Silky and Galapagos sharks.  
Because the water currents are strong here, divers should seek out the haven of underwater rocks to relax and observe the unfolding events. 
Dolphins, Galapagos sea lions, eels, rays, Green sea turtles, and enormous schools of multicolored fish are among the other marine animals frequently traveling through Shark Bay.
The Pinnacle
Considered one of the most tricky dive sites in the Galapagos, The Pinnacle poses a challenge for divers due to strong and unpredictable water currents known as 'the washing machine.'
However, those who take on this drift dive are rewarded with breathtaking views of underwater caves and are likely to spot magnificent creatures such as marble rays and different species of reef sharks.
El Derrumbre
El Derrumbe is a well-known dive spot located on the southeast side of Wolf Island. Its name means "landslide" in English, indicating a steep slope covered in rocks and pebbles.
Divers often encounter many hammerhead and Galapagos sharks, while the occasional whale shark can also be spotted passing by.
The Anchorage
Wolf Island's Anchorage is a well-known site for night diving. The depths here drop to 70 feet, and the current usually is mild. You can see sharks who frequently feed at dusk. Yet, the odd-looking Red-lipped Batfish is a must-see in this location. 
North Islet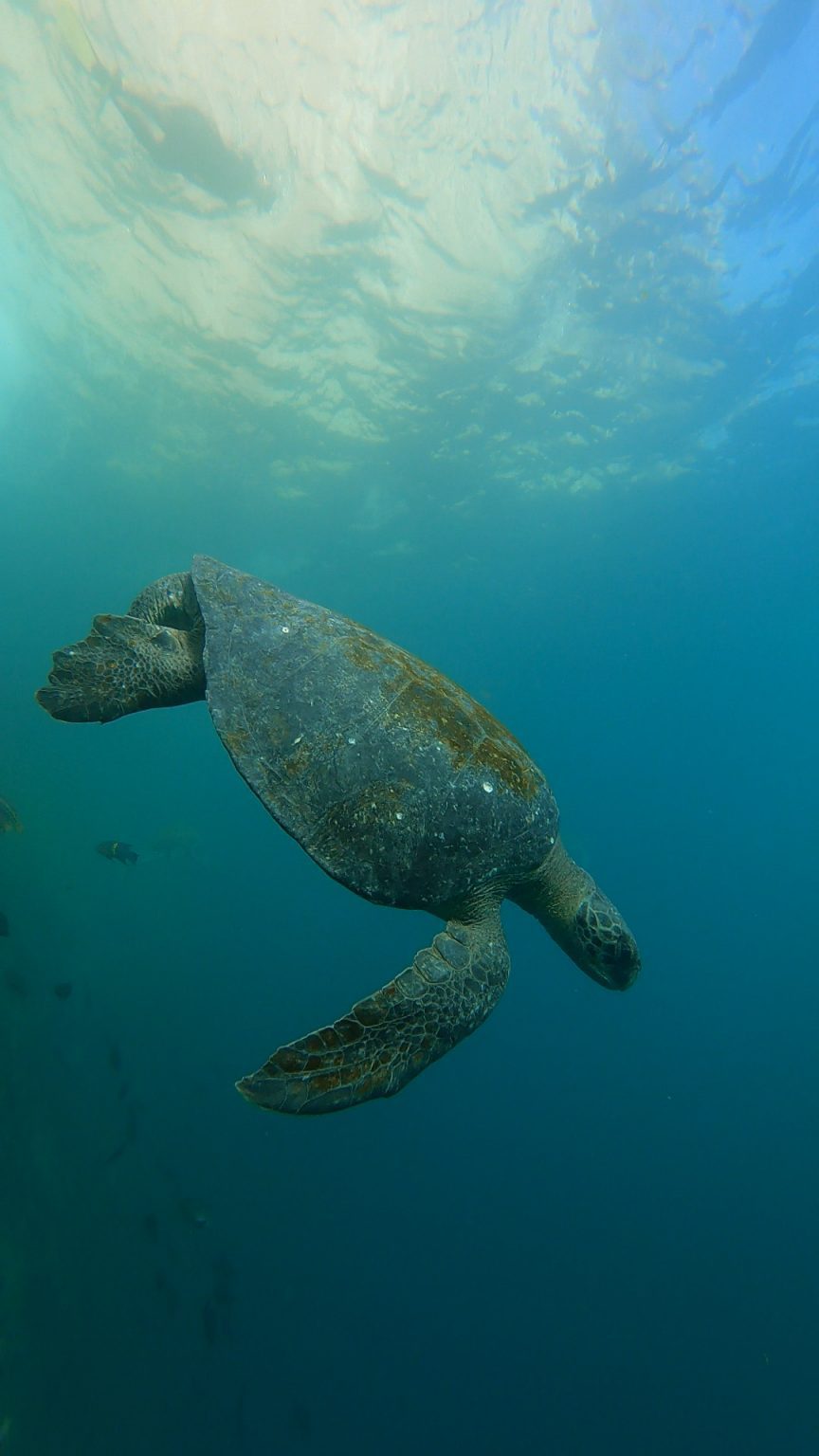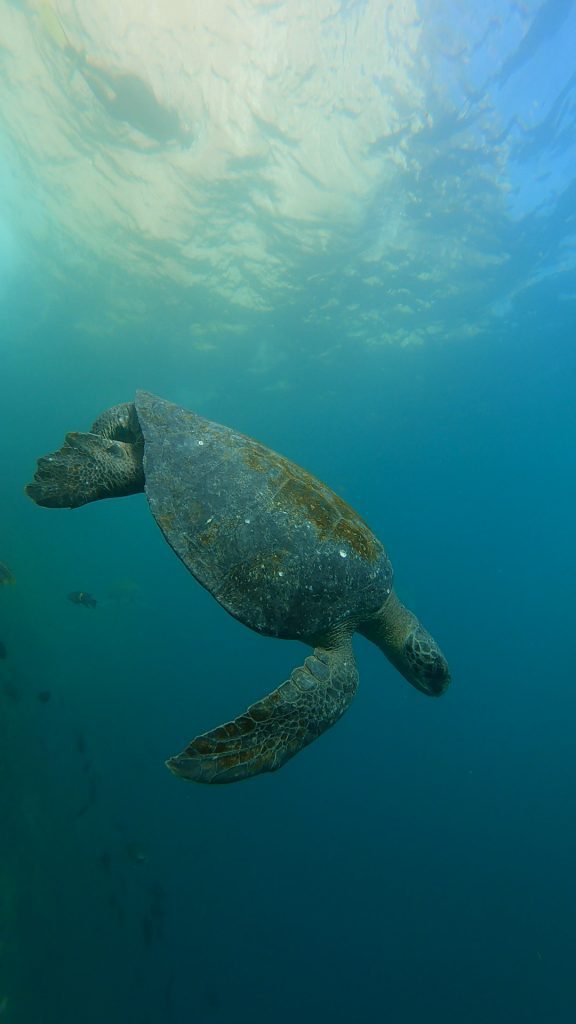 North Islet, also called The Banana, is a wall dive with various rock formations such as caverns, tunnels, and a pinnacle.
This dive spot is famous for sightings of hammerhead sharks, sea turtles, and sea lions, which are the area's highlights despite the moderate to strong currents.
The Elephant
The Elephant is a diving spot between the southwest of Wolf Island and Elephant Rock. 
This channel dive is known for the frequent presence of hundreds of hammerhead sharks and other sea creatures such as sea turtles, lobsters, colossal tuna fish, and various kinds of reef fish.
When Should You Visit Wolf Island?
Depending on your weather preference, you can visit Wolf Island any time of the year. Timing is a crucial factor to consider while planning your trip.
The Cool and Dry season in the Galapagos Islands lasts from June to November. During these months, the cold Humboldt current from Antarctica dominates, flooding the Galapagos seas with rich nutrients.
Whale sharks and other shark species flock during this season to partake in this feast. However, the downside to this time of year is that the water is colder, and the currents are stronger, making diving more challenging to navigate the seas.
The months between December to May have warmer weather, while rain is possible. The variety of marine species will be slightly reduced during these months, although there is still much to see.
The Galapagos high season is from June to September and December to January. During certain months, you should book well in advance.
Conclusion
If you are planning to travel to Galapagos Islands and you are into diving, then Wolf Island is a paradise for divers. If you are into scuba diving, the dive sites around Wolf Island will not fail you.
The island offers many world-class underwater sites, which you will surely enjoy. Make sure to include this on your Galapagos bucket list for a once-in-a-lifetime experience!