Baños is a renowned picturesque town with awe-inspiring natural beauty. Within this enchanting destination lies a captivating adventure that beckons travelers —the Baños Waterfall Route, also known as Ruta de las Cascadas.
Baños, often called the "Gateway to the Amazon," is a charming town embraced by the majestic Andes Mountains. Its strategic location, blessed with abundant water sources, has created the Baños Waterfall Route — a beautiful trail showcasing the region's great natural wonders. From towering waterfalls plunging into emerald pools to breathtaking landscapes that will leave you speechless, this route promises an adventure of a lifetime.
In this article, we will share our memorable experience in biking at Ruta de las Cascadas but keep in mind there are more things to do in Banos.
Ruta de las Cascadas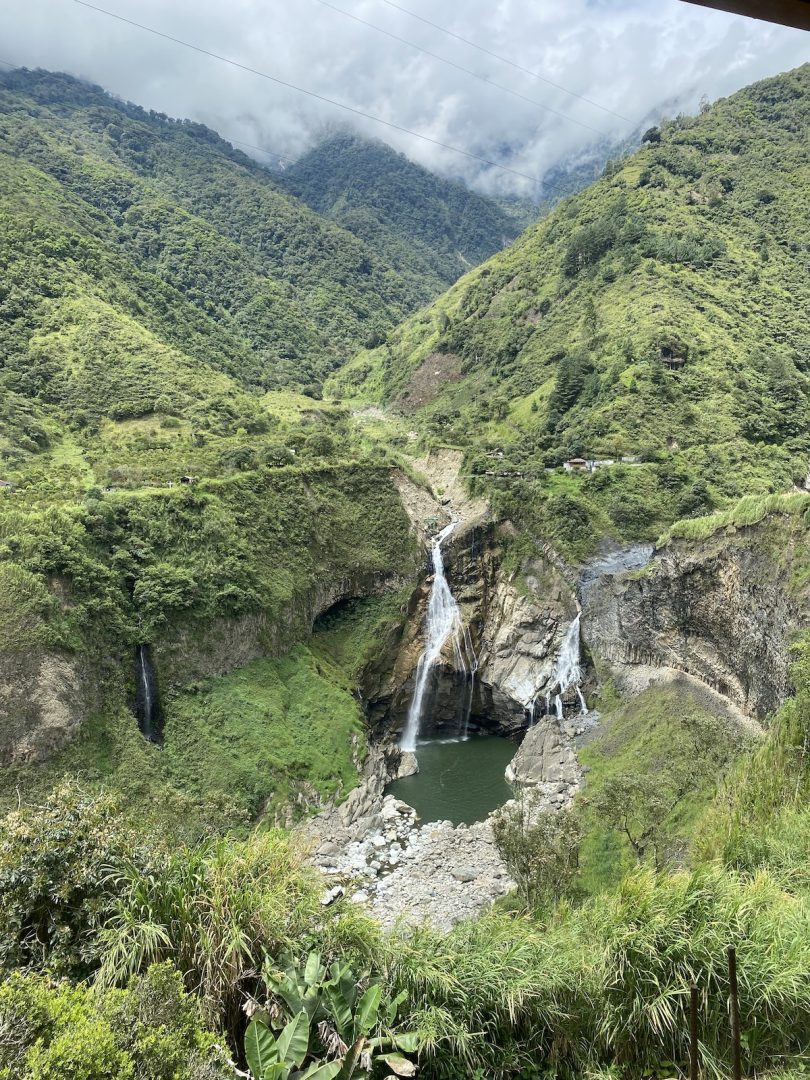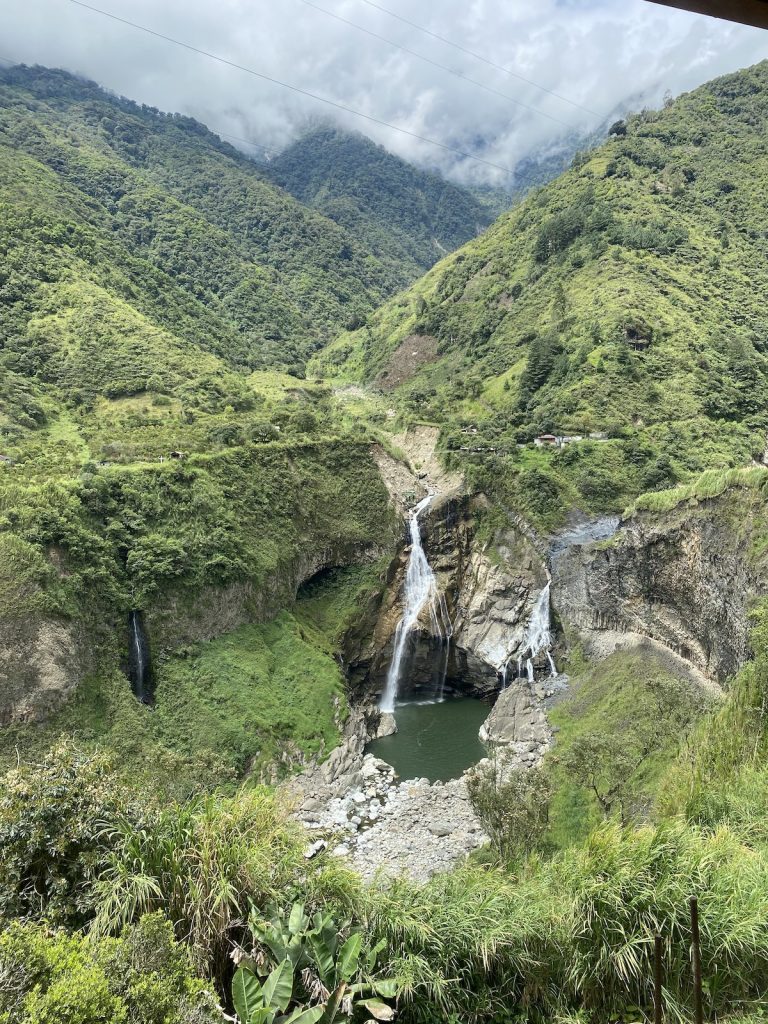 The Baños waterfalls can be found east of Baños along the Pastaza River and its smaller tributaries, creating a convenient and unmistakable waterfall route. Known as Ruta de las Cascadas, this 25km cycling route leads from Baños to Puyo, passing numerous waterfalls, ziplines, cable cars, swings, and even a bungee jump.
While the official route covers a 61km highway, realistically, only the first half can be completed in a day of cycling. One great advantage of this route is that it primarily descends from Baños, making it suitable for cyclists of all fitness levels. 
Renting a Bike or Car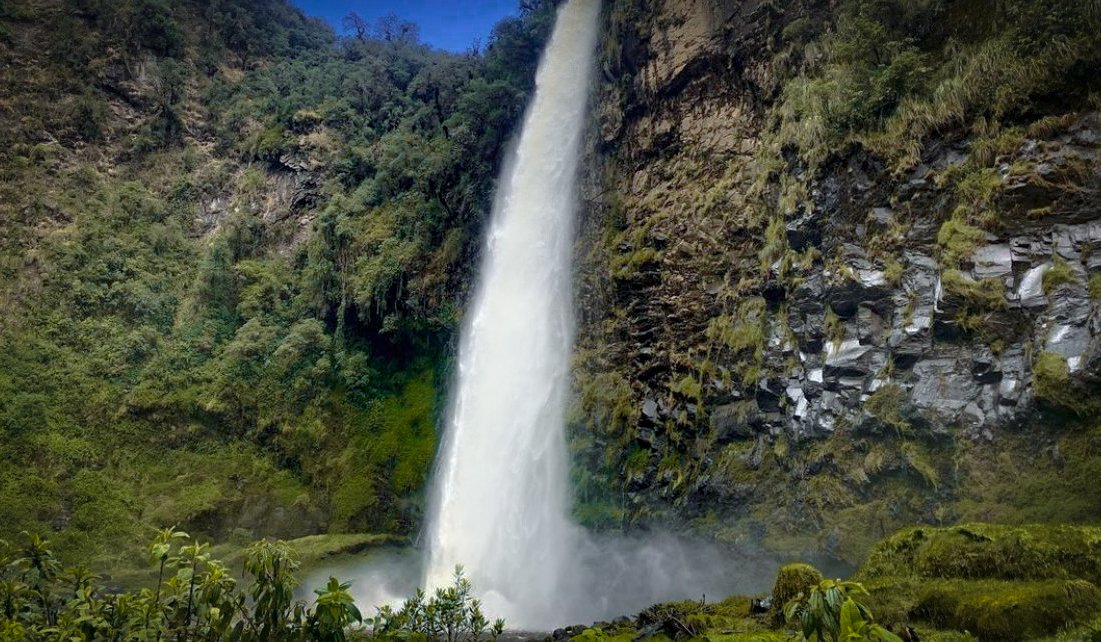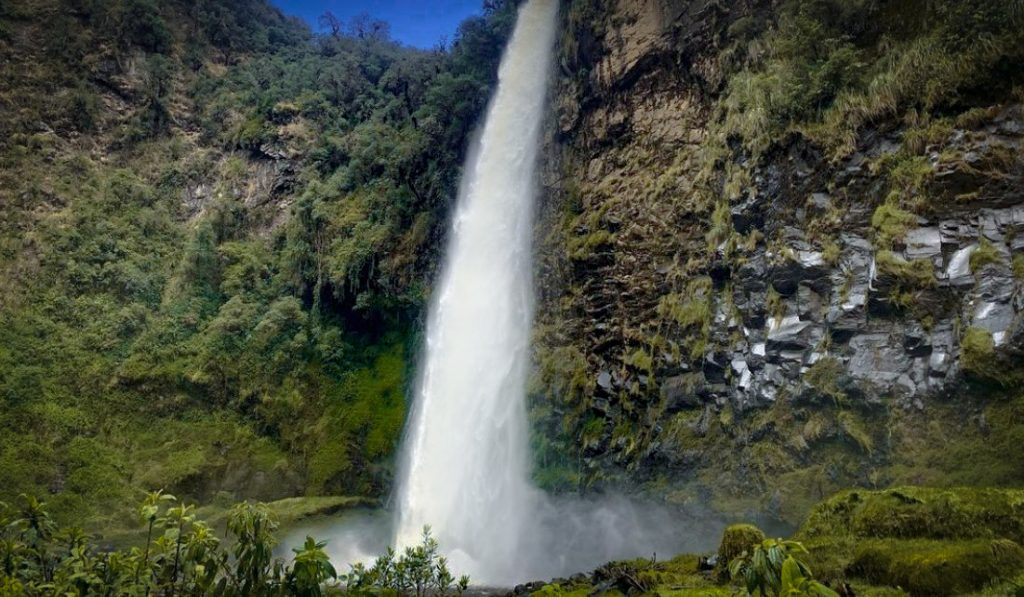 We walked out to the main road in the town center of Baños, and there was no shortage of shops where you could rent a bike. The rent per day is often posted on the door, so we recommend choosing a shop with the price openly displayed.
Make sure to get a helmet and check the bike thoroughly before leaving town, as you'll want excellent brakes for this ride. As previously mentioned, you'll be able to catch a shuttle back to Baños from Paílón del Diablo or Cascada Rocío Machay at the end of the day, and this doesn't need to be reserved in advance.
After choosing a bike, we were asked to show a form of identification before leaving. This is simply meant as a theft prevention method, as many of the shops have experienced a spate of bike robberies in the past and are naturally seeking to avoid that.
The shop also provided us with a lock, a tire patch kit, and a compact handheld pump, neatly packed in a convenient drawstring bag that can be worn as a backpack.
Lastly, remember to ask for or take a paper map of the route to provide you with a basic understanding of the path and directions. Although the road is quite simple to follow, having a map on hand is always a good idea.
Our Adventure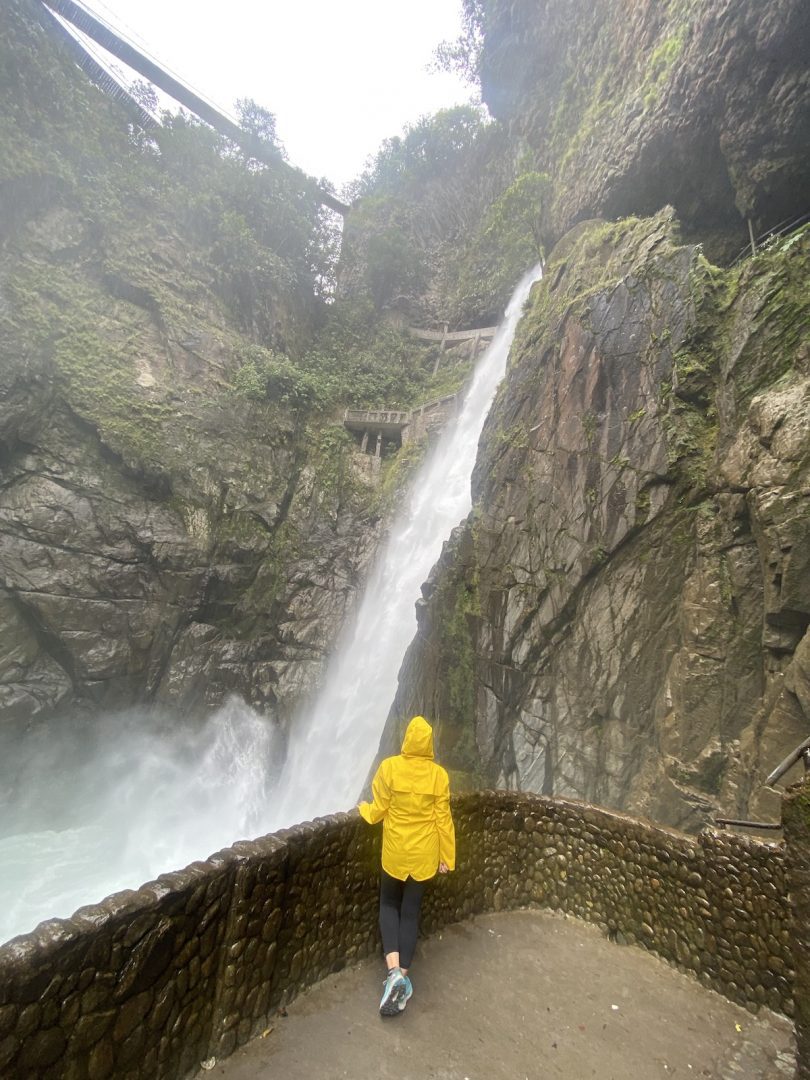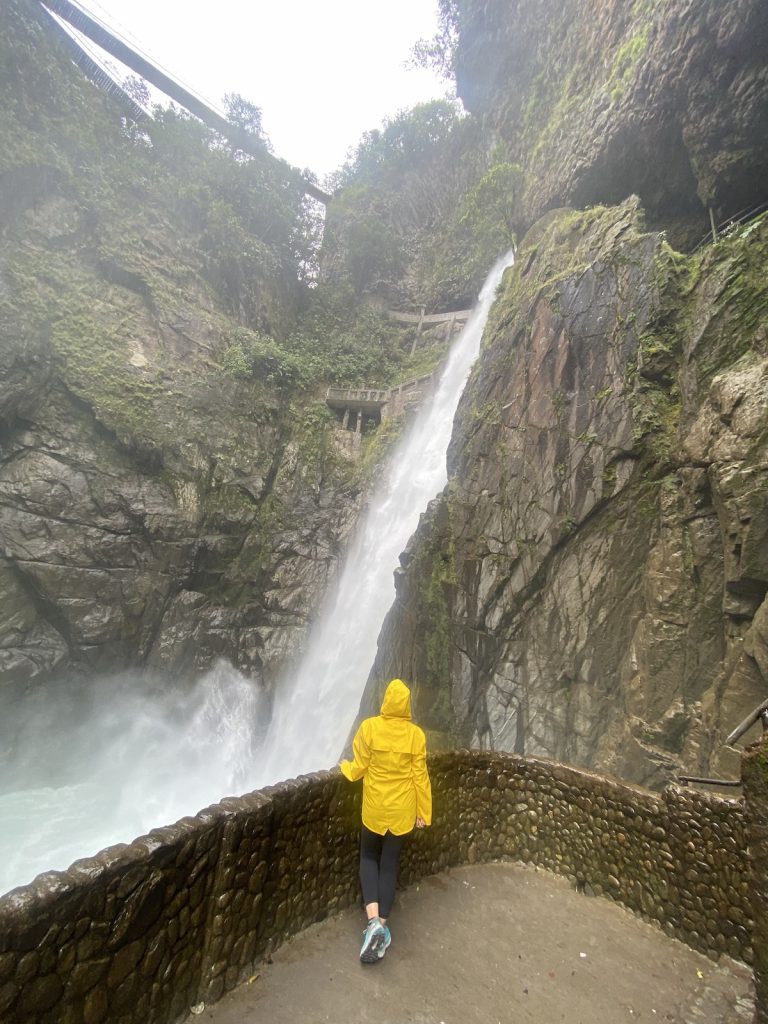 The Waterfall Route from Baños is an incredible adventure that I highly recommend dedicating an entire day to explore fully. It's best to start early in the morning to allow ample time to visit each waterfall, engage in thrilling adventure activities, and admire the awe-inspiring scenery without feeling rushed.
Our journey began at 9 am, and we returned around 6 pm, making it a truly fulfilling day. I wouldn't have wanted any less time than that to appreciate all the route offers!
We started our bike ride by leaving the town center and heading east on the main road. The starting point was a bit tricky as we biked on a busy highway. It was a challenge to navigate at first, but the rest of the route was relatively easy in terms of terrain.
While most people choose to cycle only 18km from Baños to the remarkable Paílón del Diablo, the standout waterfall along the route, we recommend considering finishing your journey at Cascada Rocío Machay instead, if time permits.
This location offers the ideal opportunity for a refreshing swim, which can be both a luxurious and necessary experience, considering the humidity and the accumulation of sweat and grime after a 20km+ bike ride.
Main Waterfalls on Ruta de las Cascadas
The waterfalls route features six main waterfalls spread across five different sites.
Starting with the closest to Baños, we have Cascadas Ulba and Silencio, located close to each other. Moving forward, we come across Cascada Agoyan and Cascada Manto de la Novia, both easily visible from the road.
Finally, the route leads to the renowned Pailón del Diablo Waterfall and awe-inspiring Cascada El Rocio Machay, the latter being the ideal spot for a refreshing swim along the way.
Cascada Agoyan
Situated directly on the Pastaza River, this exquisite twin waterfall captivates with its breathtaking beauty. However, the true highlight lies in the exhilarating cable car ride that takes you above the cascades.
The opportunity to experience a thrilling zipline adventure soaring over the waterfalls makes it even more exciting. You can ride however you want —seated, batman-style (upside down), or Superman-style (face down).
Manto de la Novia
This 40-meter-tall, thin, veil-like waterfall is best seen up close. Its name is translated as Bride's Veil Waterfall because its water flow looks like a bride's veil.
You have the option to park your bike or car on the roadside and take a 10-minute walk down to the waterfall via the suspension bridge. Alternatively, you can ride on the small cable car that passes over the falls. However, please note that even if you choose the cable car, you will still need to walk down to reach the waterfall.
Pailon del Diablo
The Pailón del Diablo Waterfall is situated in the town of Rio Verde, where you can also find restaurants, cafes, and shops. It's worth noting that two separate entrances to access the falls provide a different experience. The paths from each entrance do not intersect, and crossing between them within the fall area is not possible.
To reach the higher viewing platform adorned with the iconic stairs, perfect for capturing stunning photos, I recommend taking the first entrance upon arriving from Baños. This entrance, known as the New Entrance, can be found just before the yellow-sided bridge. Simply follow the path along the small river, and you'll arrive at the ticket office.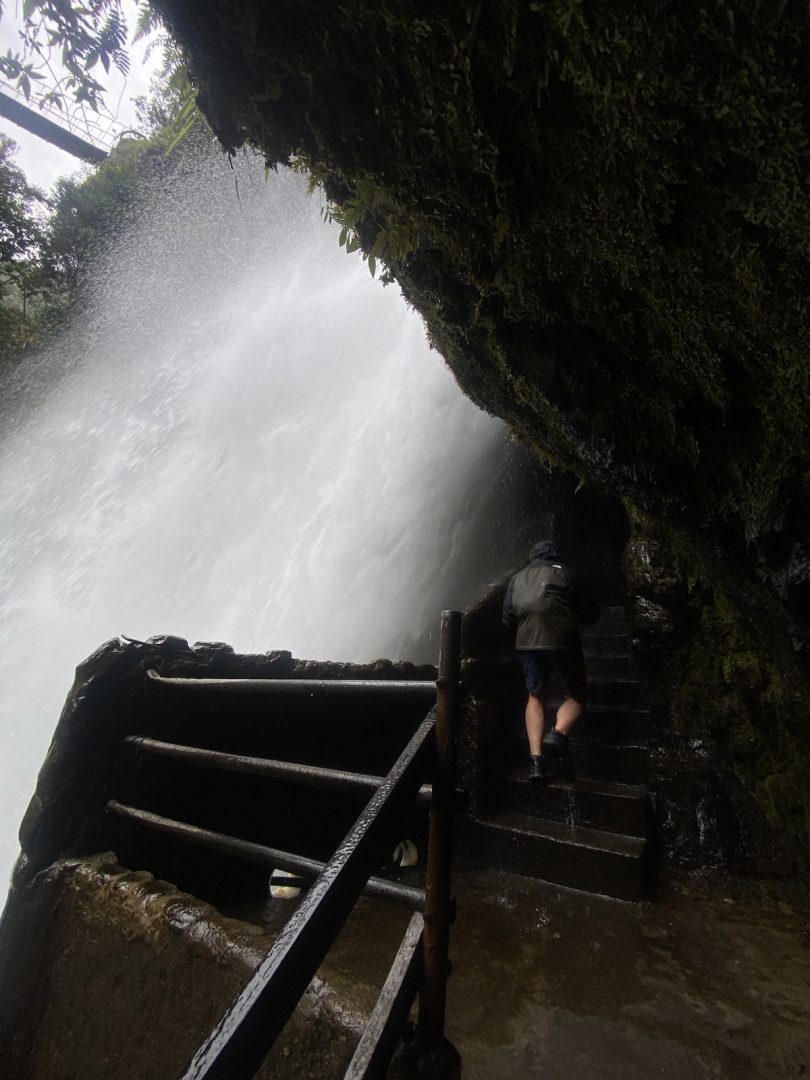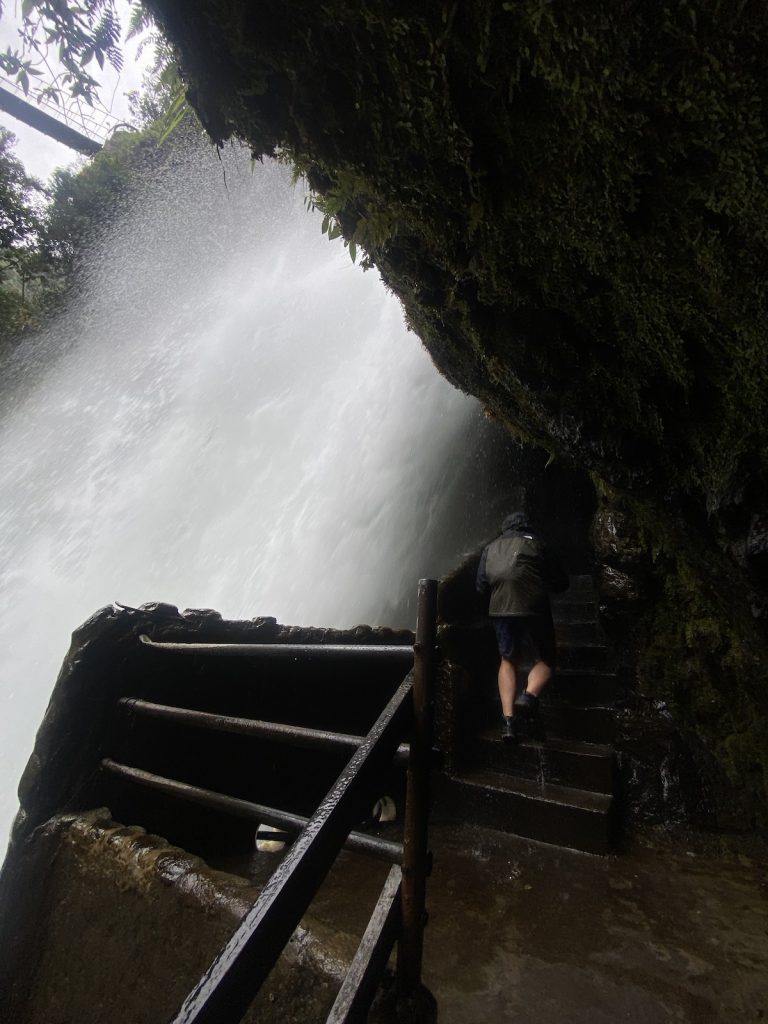 If you want to have the opportunity to walk behind the waterfall, you'll need to use the second and original entrance. This entrance is located across the yellow-sided bridge on the right-hand side of the town.
Cascada Rocío Machay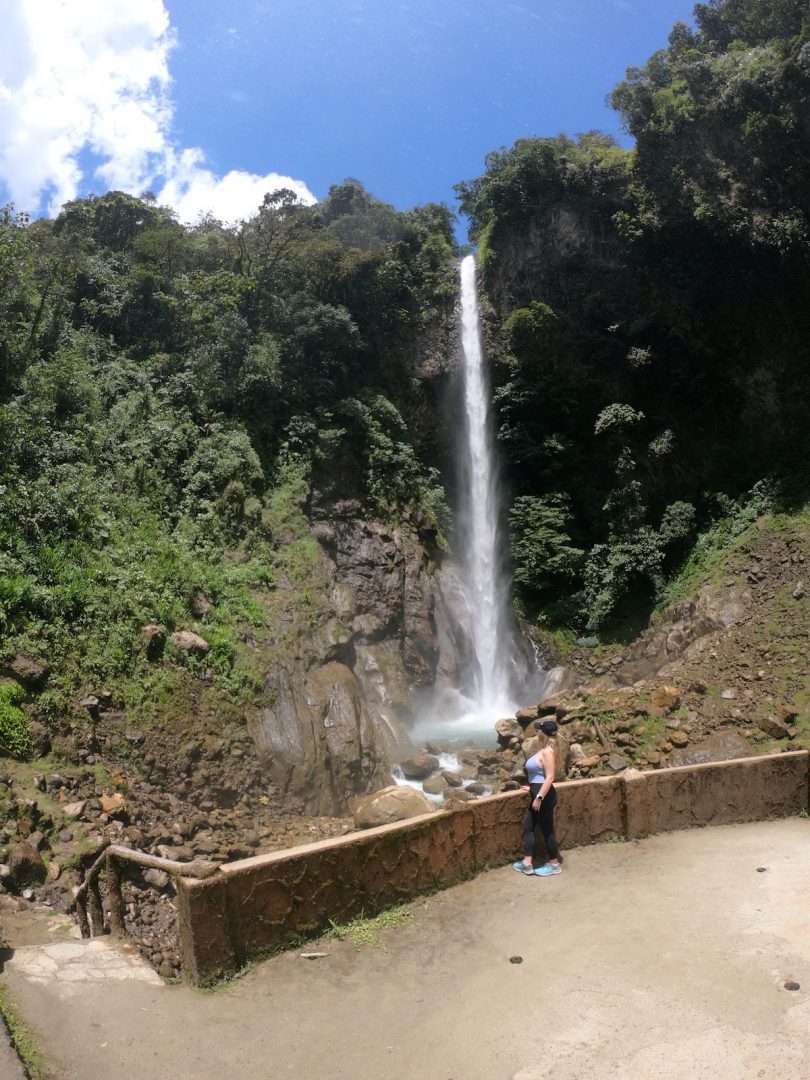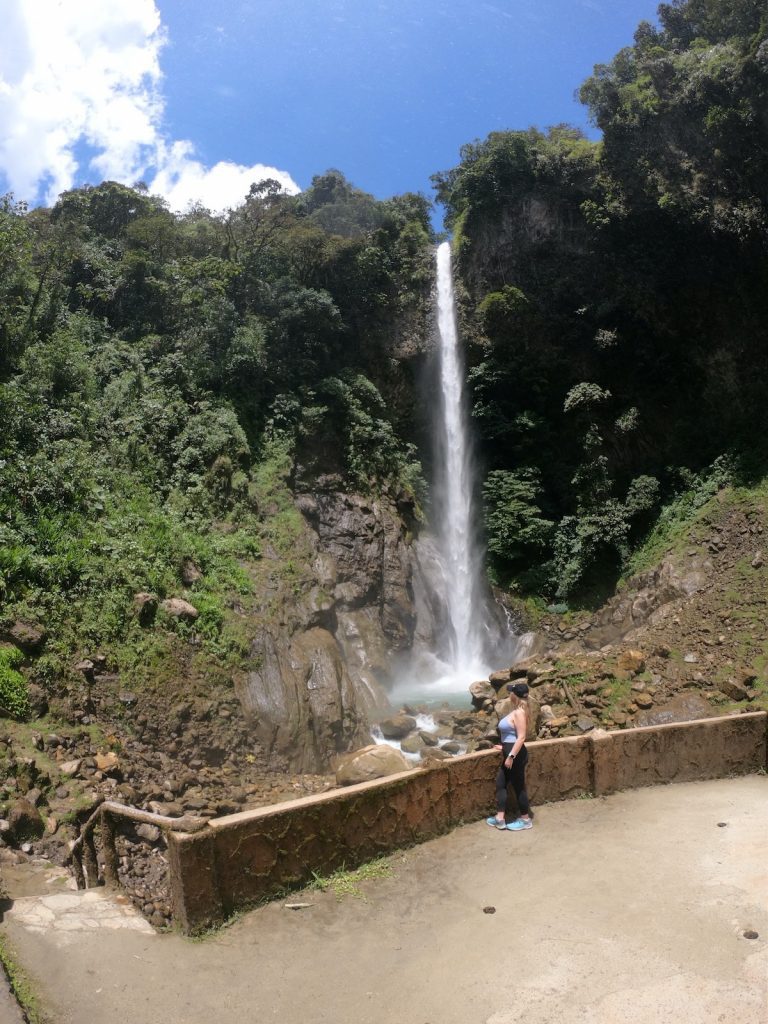 Cascada Rocío MachayMost visitors tend to conclude their day at El Paílón del Diablo. Still, a short 15-minute drive down the road leads you to Cascada Rocío Machay (also known as Cascada del Rocío or Cascada Machay on some maps).
This stop stands out as one of the few places along the route where swimming is permitted, and personally, it became my favorite spot due to its relative solitude.
There is a designated bike rack just off the road where you can securely lock your bikes. From there, a pleasant walk of around 15 minutes awaits you, following wooden stairs and swing bridges leading you to the waterfall.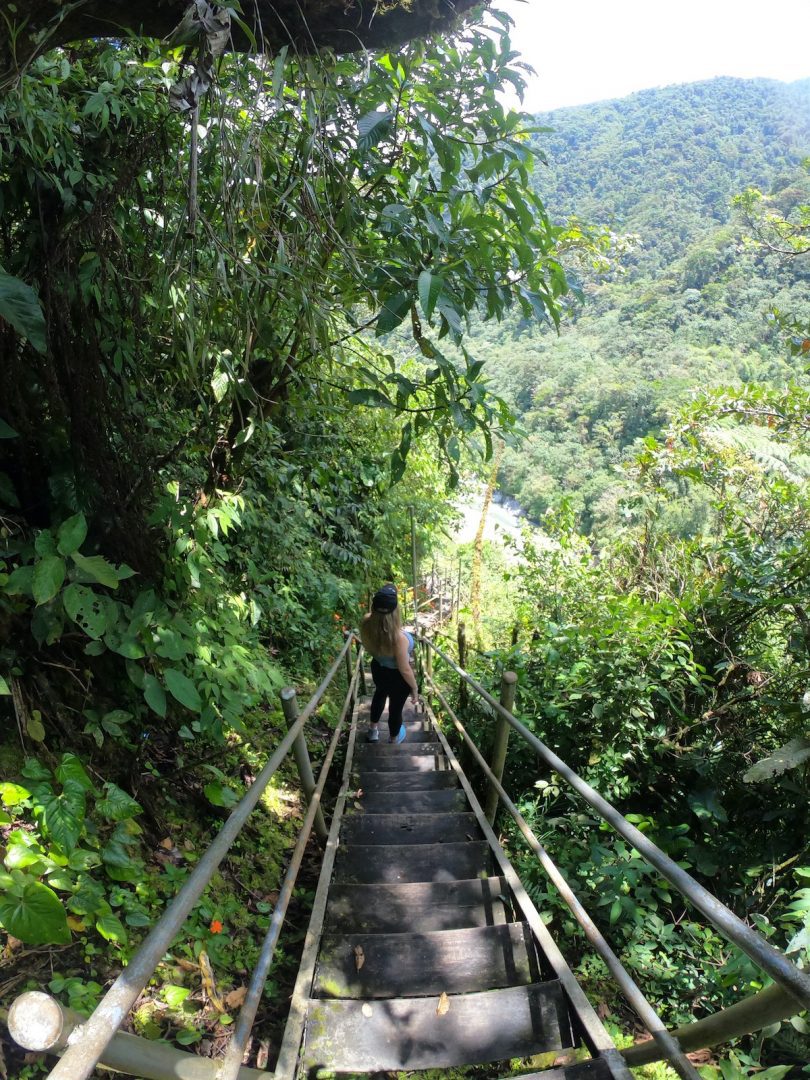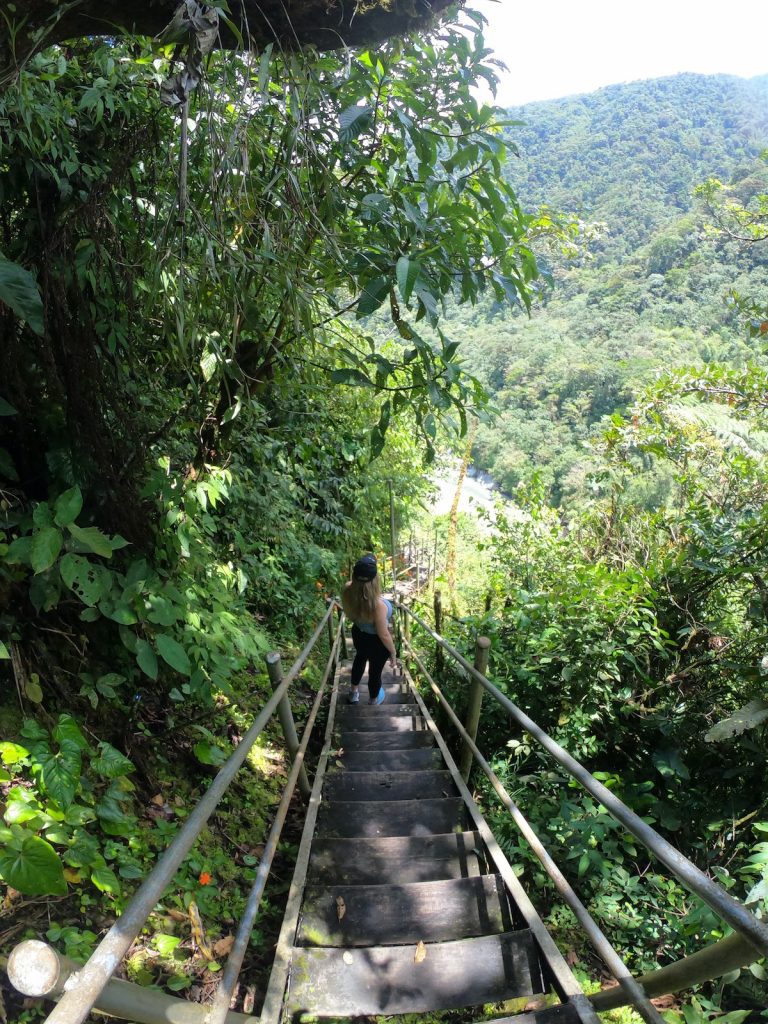 For the best swimming spots, venture towards the river, where you'll discover safer pools, reducing the risk of being carried away by the current.
Climbing back up to the bikes may be slightly slower due to the steep hillside, but the effort is gratifying. Typically, you can catch a shuttle back to Baños directly from this location. 
However, if there are not many people around or it's getting late, you can cycle back to El Paílón del Diablo, where significantly more shuttles operate due to the larger crowds.
Cascada Ulba and Cascada Silencio
To access these two waterfalls, you will need to venture 150 meters away from the main road onto a side street named Calle Juan Montalvo. As you approach the village of Ulba, you'll notice a prominent advertising board for the waterfalls at the turning.
Once you arrive, securely lock your bikes at the entrance and take a 10-minute walk to Cascada Ulba. Although the trail to the waterfall may not be clearly marked, you can easily follow the well-trodden path. Keep in mind that the ground may be muddy, and you can expect a significant amount of spray from the waterfall.
You can also find Cascada Silencio in this area. To reach this waterfall, follow the smaller river upstream, which you would have crossed to reach Cascada Ulba.
However, it's important to note that reaching Cascada Silencio may be challenging or even impossible during periods of heavy rainfall due to the submerged path.
Other Waterfalls on Ruta de las Cascadas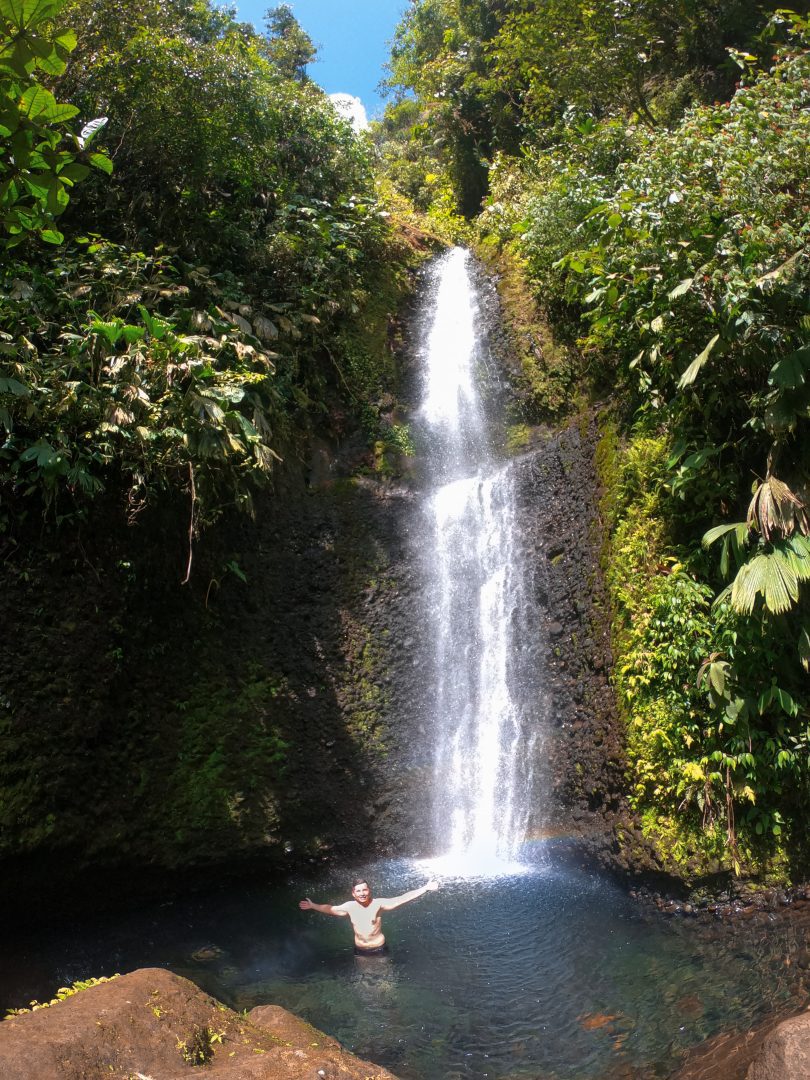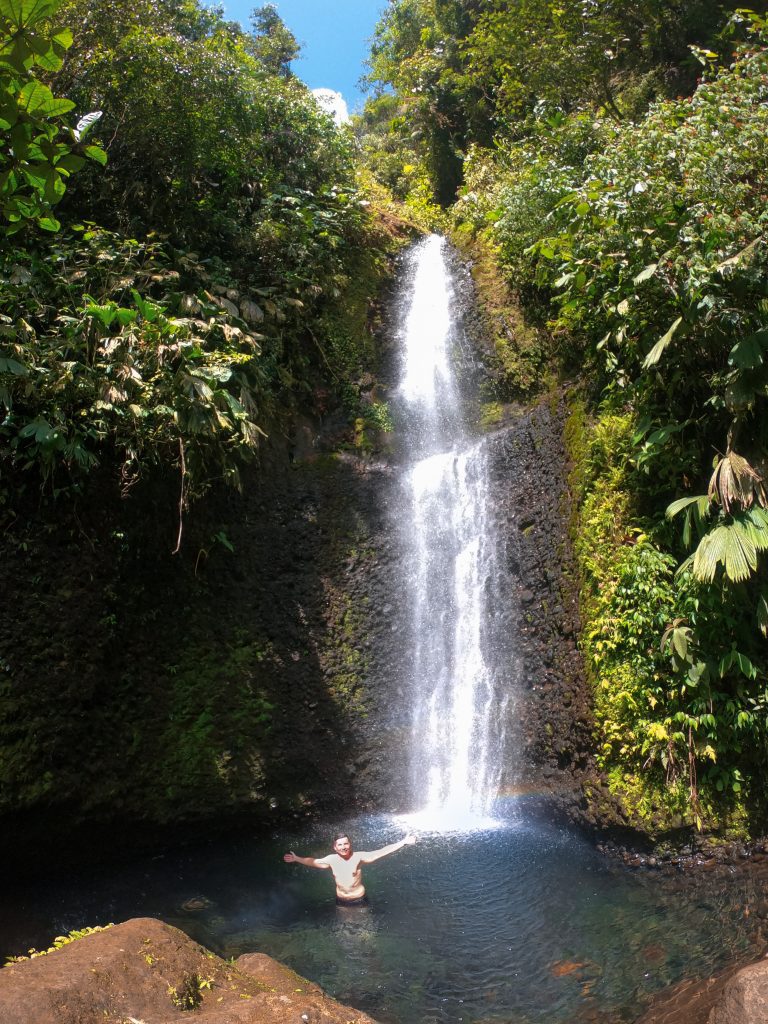 In addition to the prominent waterfalls along the route, several other falls are worth noting. Some of these waterfalls are smaller and can be spotted along the way, while others may require a slight detour to reach.
These waterfalls include:
Puerto del Cielo Waterfall (located on the Pastaza River)

Cascadas Rio Blanco

Cascadas San Jorge

Duende Waterfall (found in the same town as Pailón del Diablo)

Cascada de San Francisco
Returning to Baños Town
You'll be pleased to know that the return trip to Baños is more convenient. For a fee of just USD 2.50, you and your bike can hop on an open-backed truck that will transport you back to the city.
These trucks can be found near the second entrance of Pailón del Diablo waterfall, situated east of the yellow bridge. If you have cycled to Cascada el Rocio Machay or Cascada de San Francisco, you will need to cycle back to the Diablo waterfall to catch the ride.
The open-backed trucks depart once a group of 5 people is assembled. However, if you wish to leave immediately, you have the option to pay extra to fill the remaining seats.
Conclusion
The Baños Waterfall Route (Ruta de las Cascadas) offers a breathtaking journey through stunning waterfalls, adventure activities, and awe-inspiring scenery. Biking through this fantastic waterfall route is a must-do for nature enthusiasts and adventure seekers.
I highly recommend adding this exhilarating excursion to your Ecuador itinerary for an unforgettable experience in nature.