The Galapagos Islands are truly a unique place, and it's hard to believe such regions still exist in the world. Untouchable and well-protected nature, marine and land wildlife, and almost empty beaches that look more like paradise than somewhere on earth are all features of these amazing islands – but it's an area where a person is simply a guest.
While it sounds like these are some of the most incredible reasons to visit the Galapagos Islands, there are many things to consider before coming and deciding whether this unique region fits your travel expectations: the logistics, freedom of exploration, and destinations available, as well as so much more.
I will tell you how it really is, without exaggeration, based on my own personal experiences.
In order to help you determine whether you want to travel to the Galapagos, I will cover the following crucial points:
How to get to the Galapagos Islands and why it's important
Logistics of getting between the islands
Options to explore the Galapagos (cruises vs. island hopping)
Our routes, the destinations we visited, and what can go wrong
How to get to the Galapagos Islands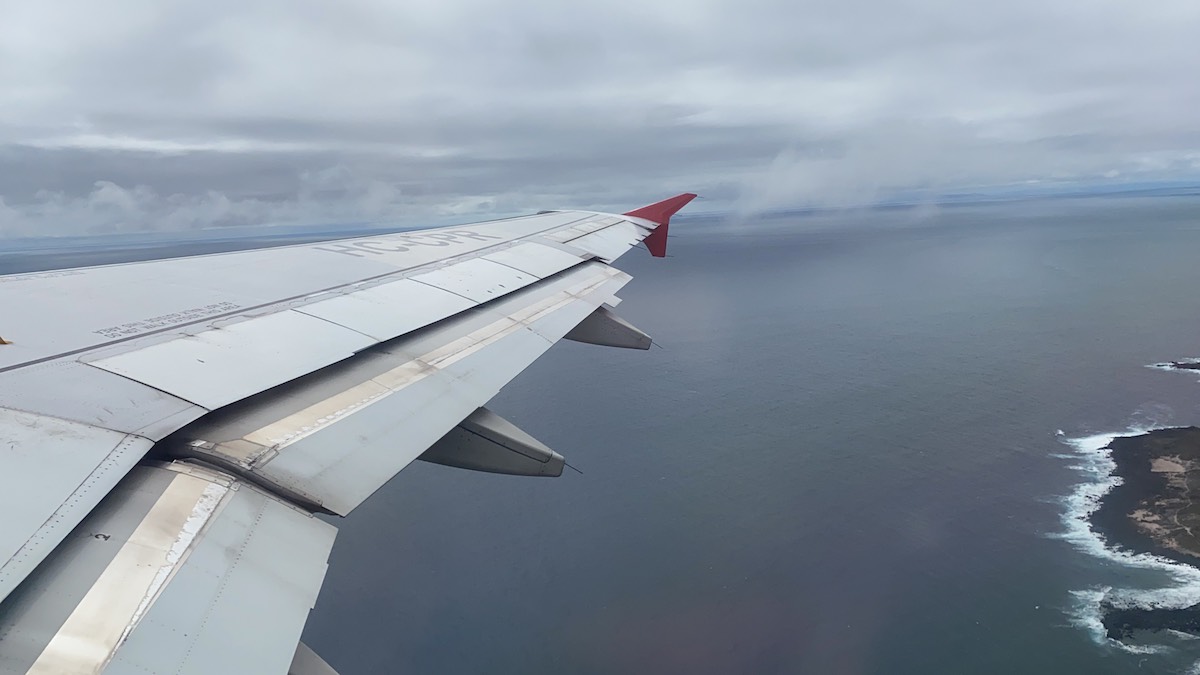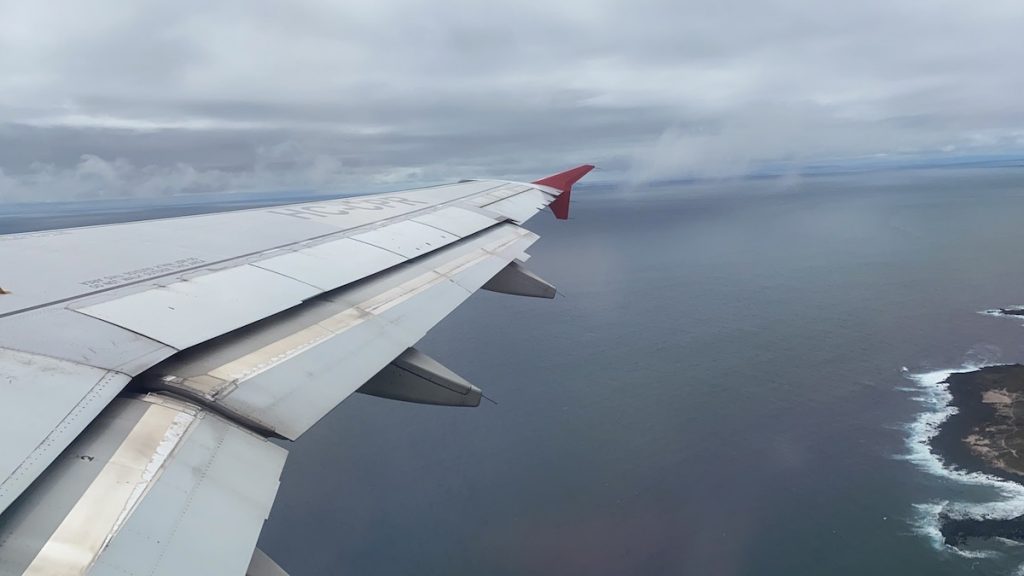 At this point, you might be wondering, what could be simpler than getting to the Galapagos Islands, and why is this worth covering? However, it's extremely important, and I've met a few people who really spoiled their trips due to making several mistakes at this point.
The Galapagos Islands include 18 main islands, three smaller islands, and 107 rocks and islets. However, you can stay and live on three of them: San Cristobal, Santa Cruz, and Isabela Island.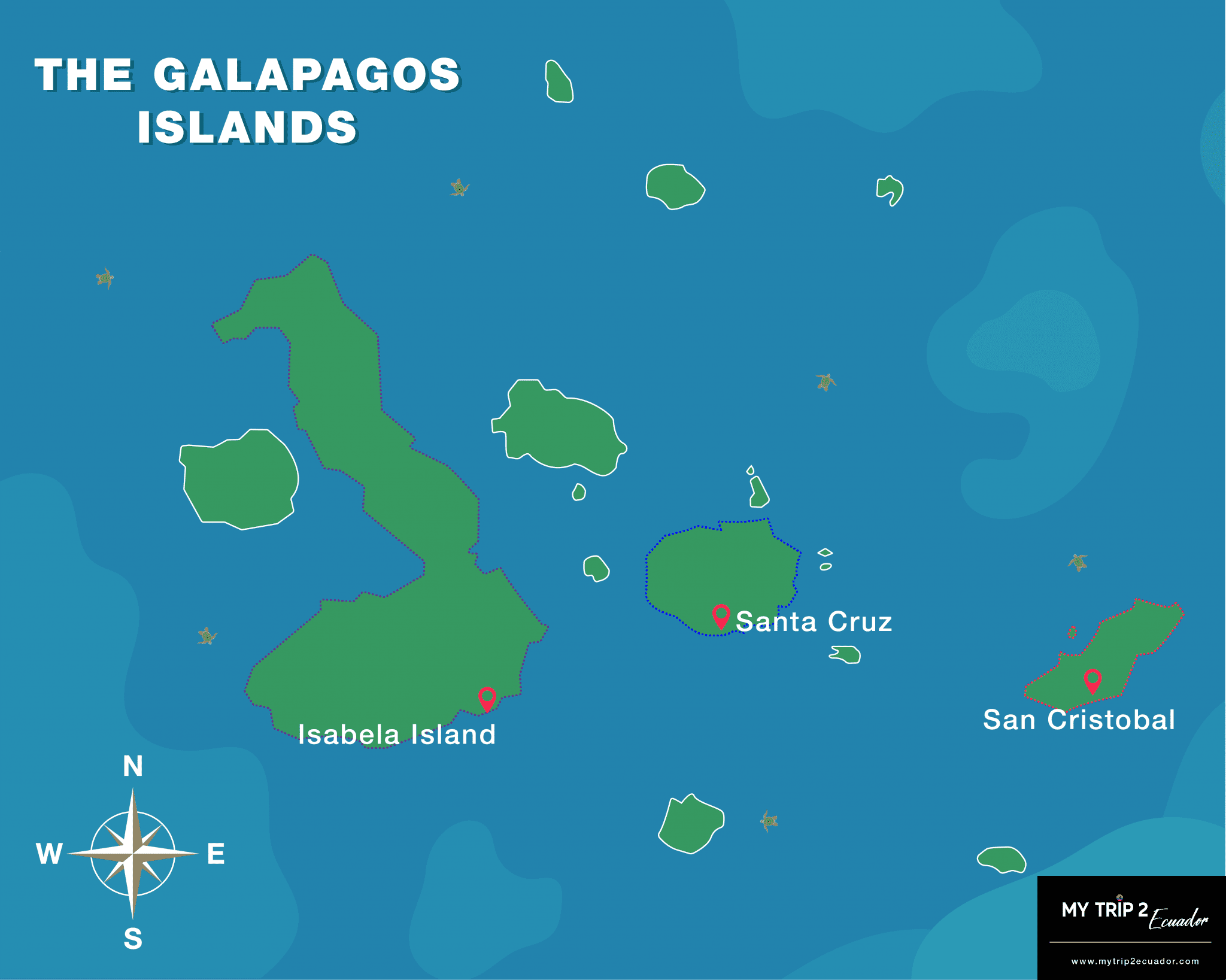 Technically, there is also a limited number of options available on Floreana Island, but the majority of tourists stay on these three islands only.
Ok, here, we figured that there are three islands you can live and stay on, so if you only buy tickets to one of them, it's not a big deal. However, the airports are located on two islands only: San Cristobal and Baltra Island.
What the hell is Baltra Island???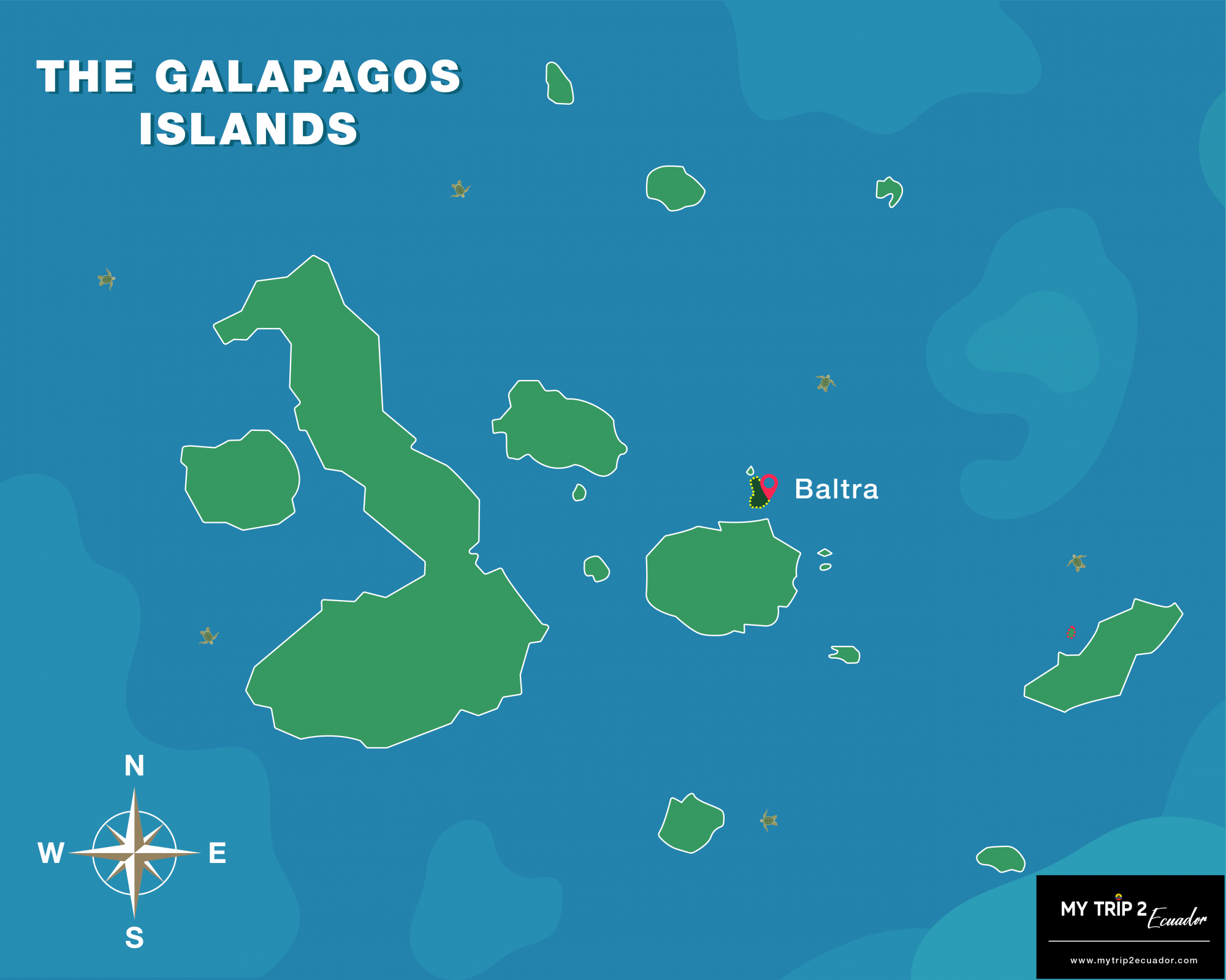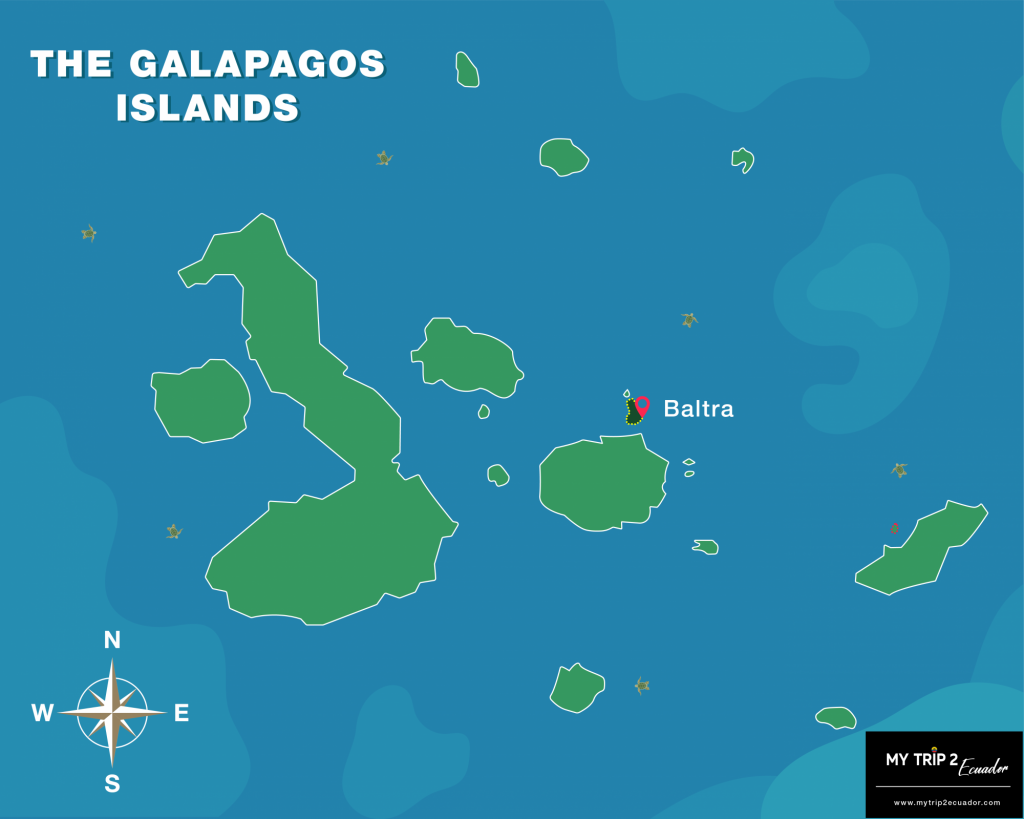 Well, it's a very small island right by Santa Cruz Island. In order to get to your stay at Santa Cruz Island, you will need to:
1. Take a bus to the pier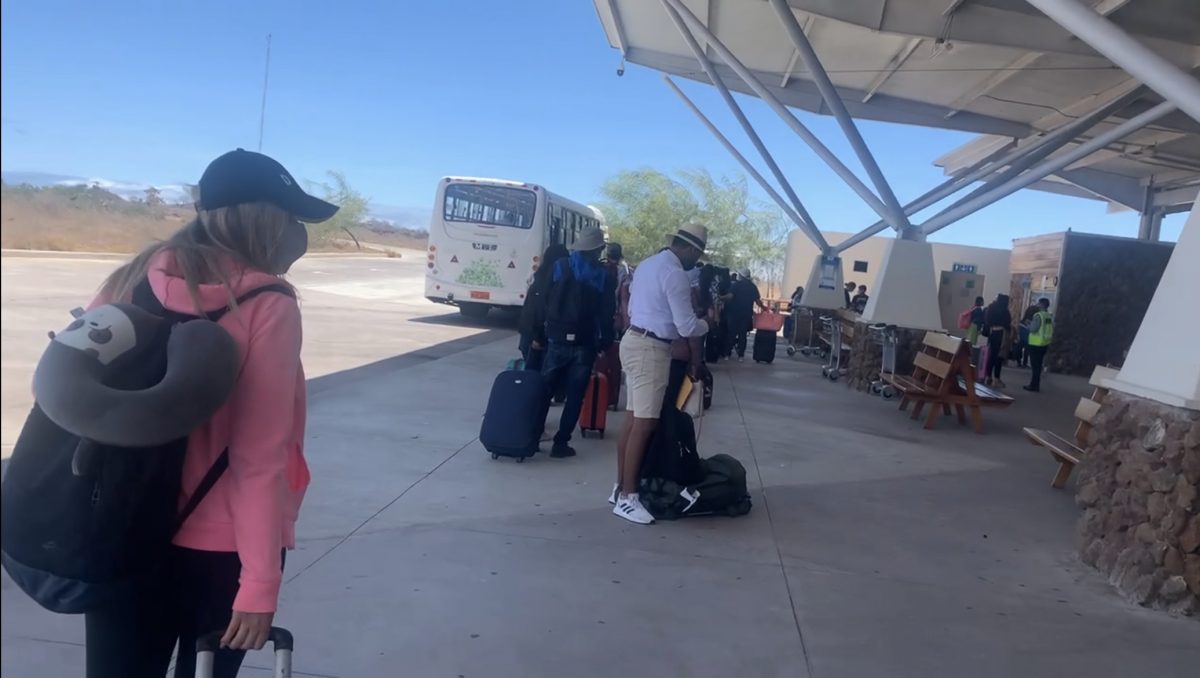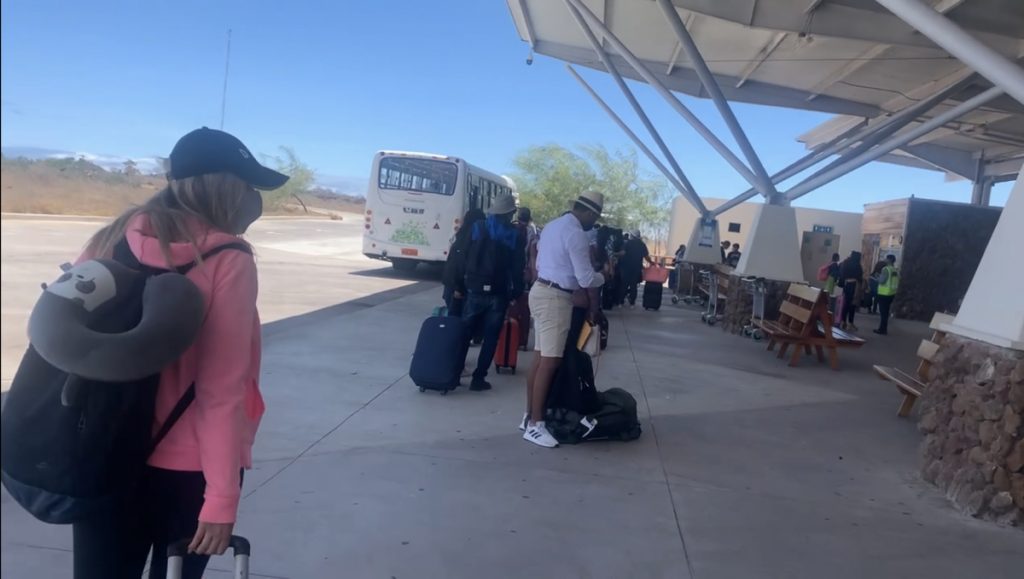 2. Get a boat from the pier to Santa Cruz Island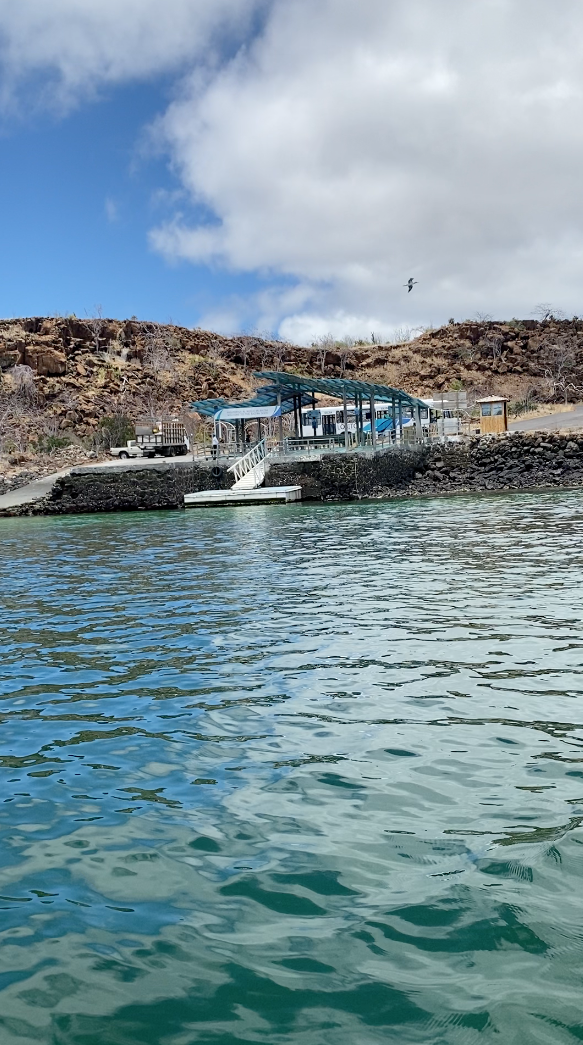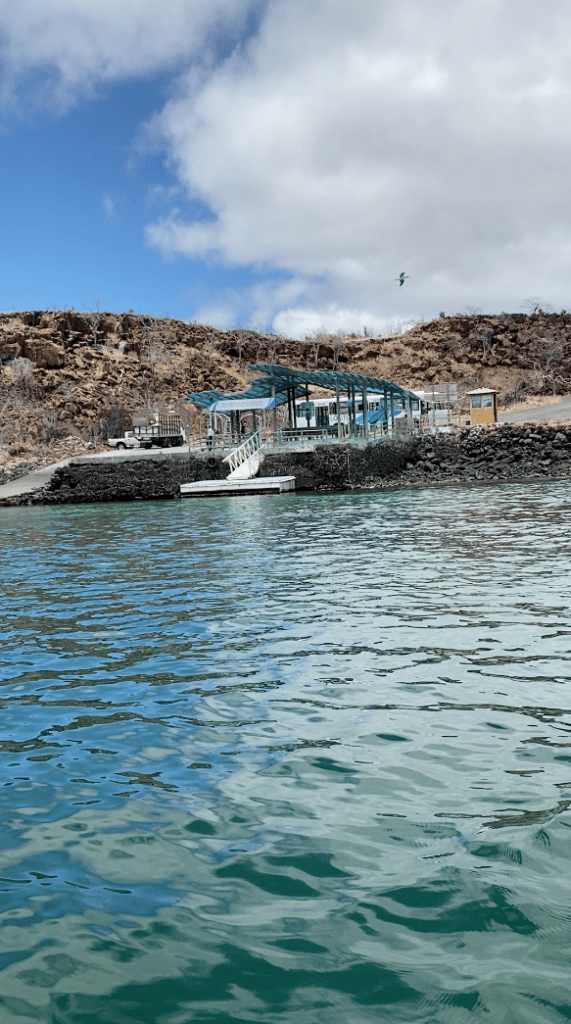 3. Get a cab for $25 or a bus for $5 to Puerto Ayora city (a 45 min ride)
As for San Cristobal, it's way easier, because the airport is only 6 minutes away from the city.
So then, you're probably thinking: "I just need to get tickets to San Cristobal, problem solved!"
Logistics Between the Islands
This point now leads us to a second important thing: the logistics of getting between the islands. It's crucial to have a clear route plan if you do island hopping (it's way more budgeted way to explore the islands than a cruise).
Let me quickly explain how this works with a few graphics.
Once again, we have three islands where we can stay: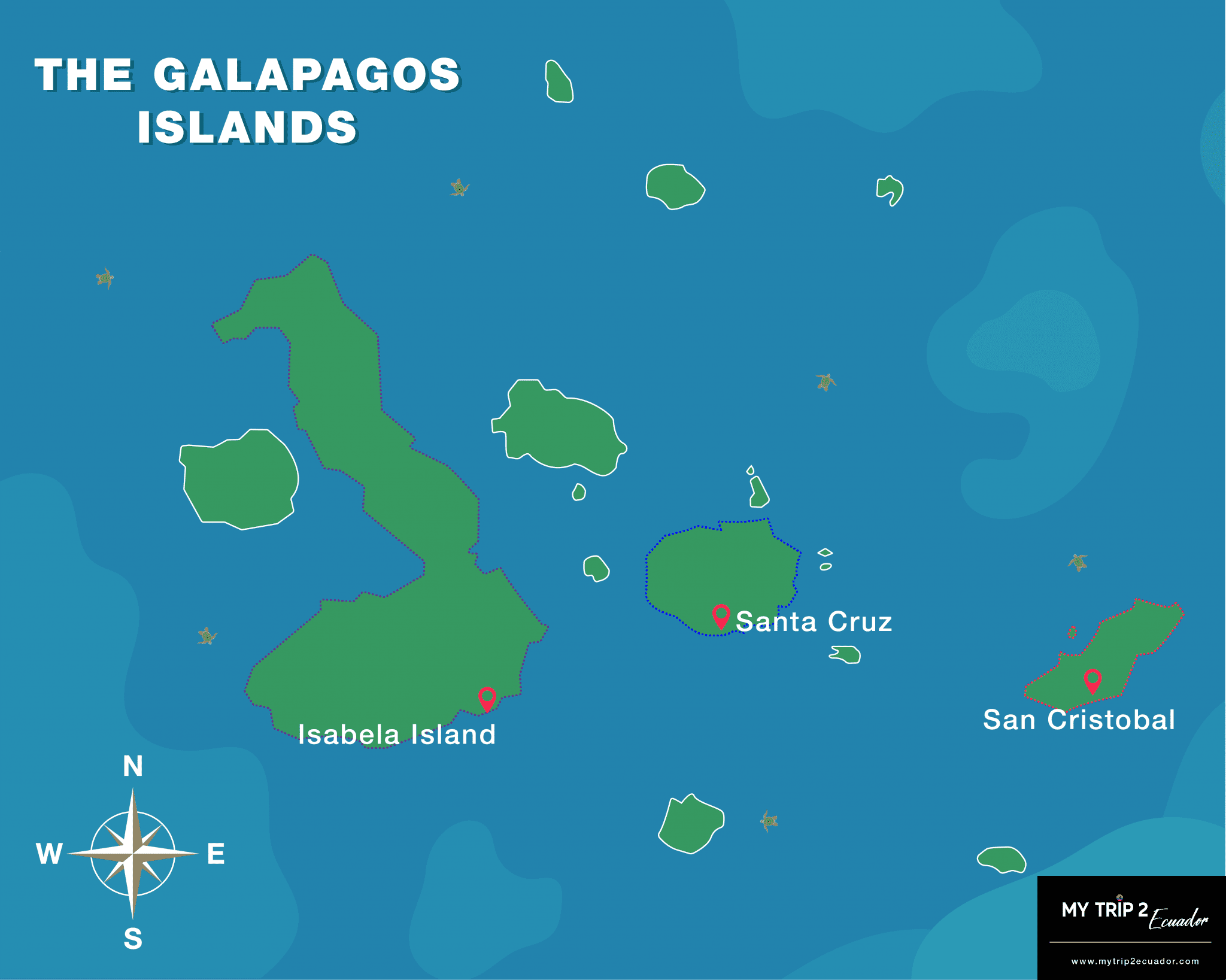 Airports are located at Baltra Island (near Santa Cruz Island) and San Cristobal Island. As such, if you want to visit Isabel Island, make sure to plan your route wisely.
The boat departs twice a day at about 7 am and 2 pm, and the routes are:
San Cristobal Island – Santa Cruz Island (and vice versa)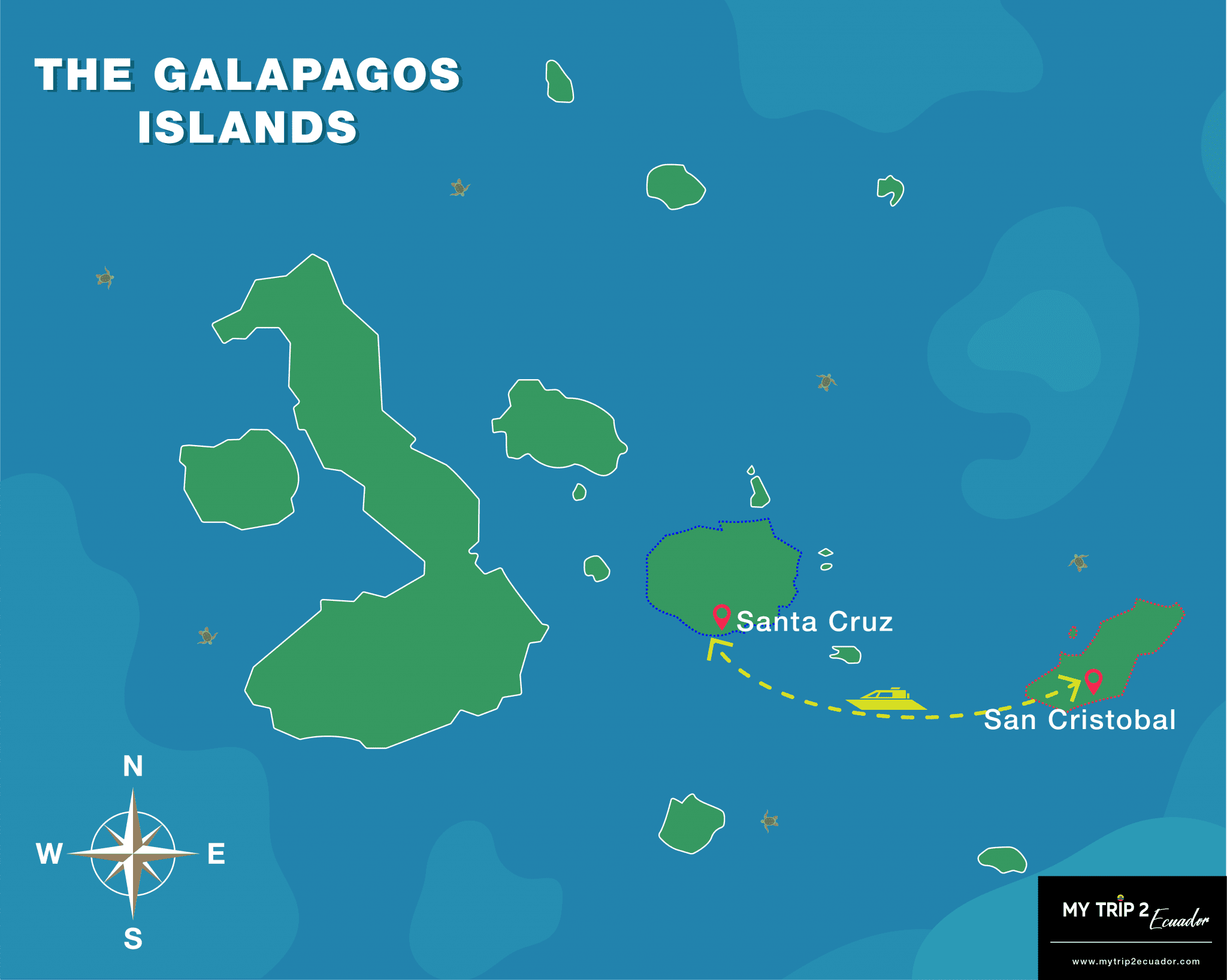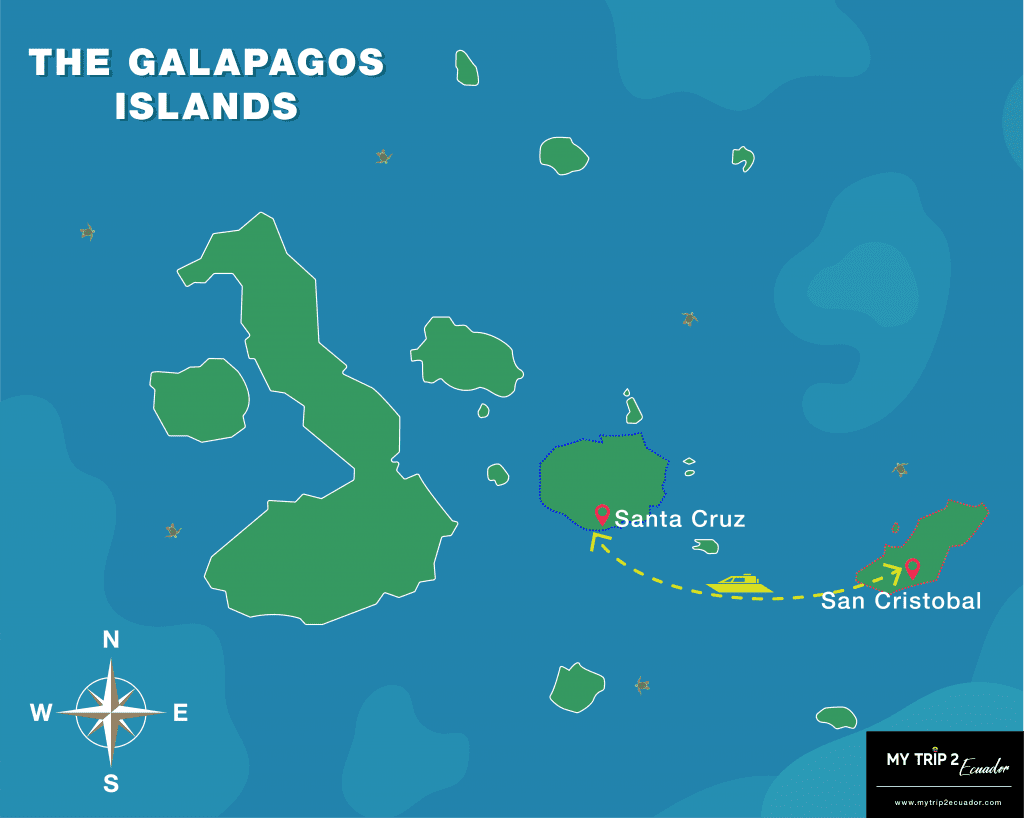 Santa Cruz Island and Isabella Island (and vice versa)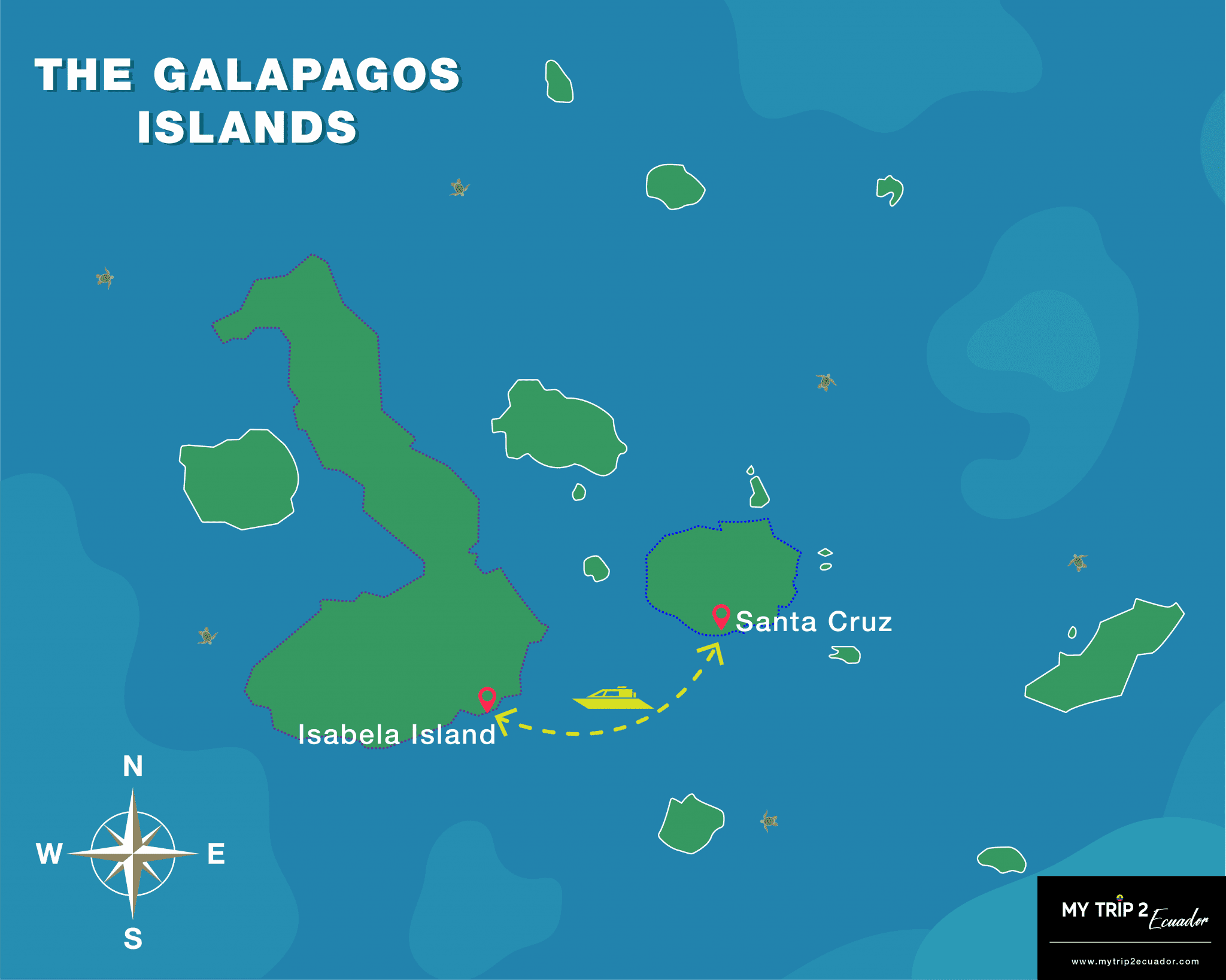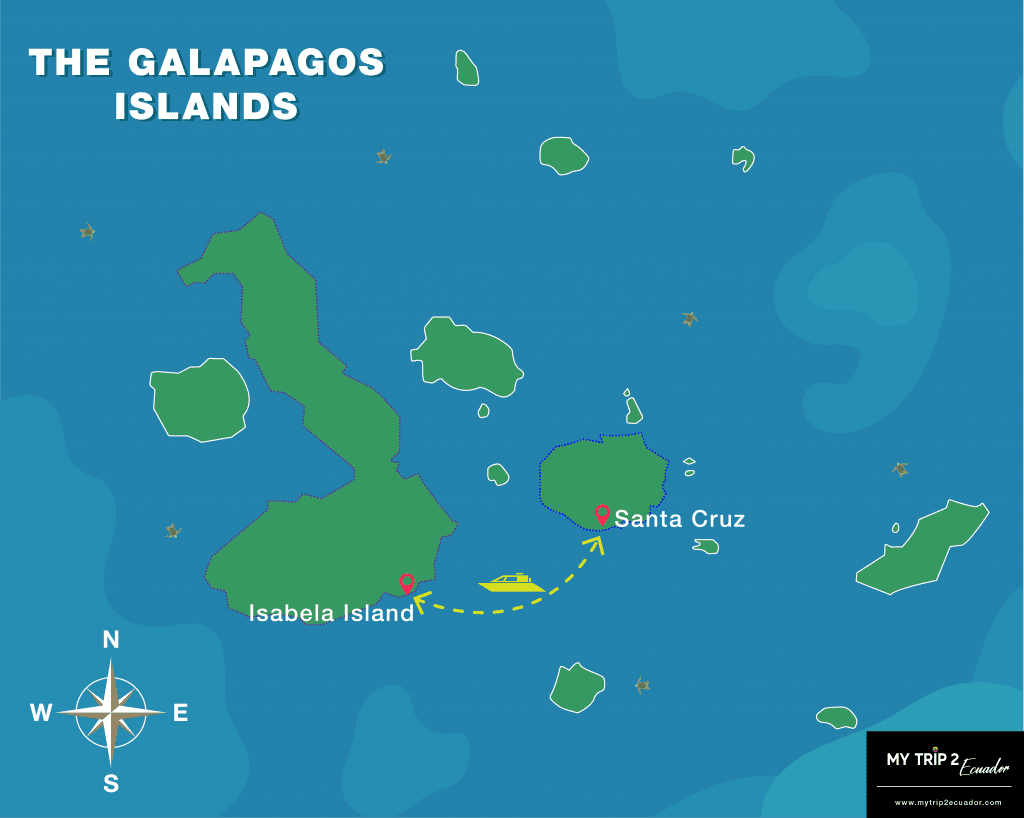 Each ride is about a 2.5-hour speed boat ride which is not quite enjoyable. I'll cover it later.
Keep in mind that there is no direct boat from Isabella Island to San Cristobal. In order to get all the way from Isabella Island to San Cristobal (and vice versa), you will hence need to take two rides.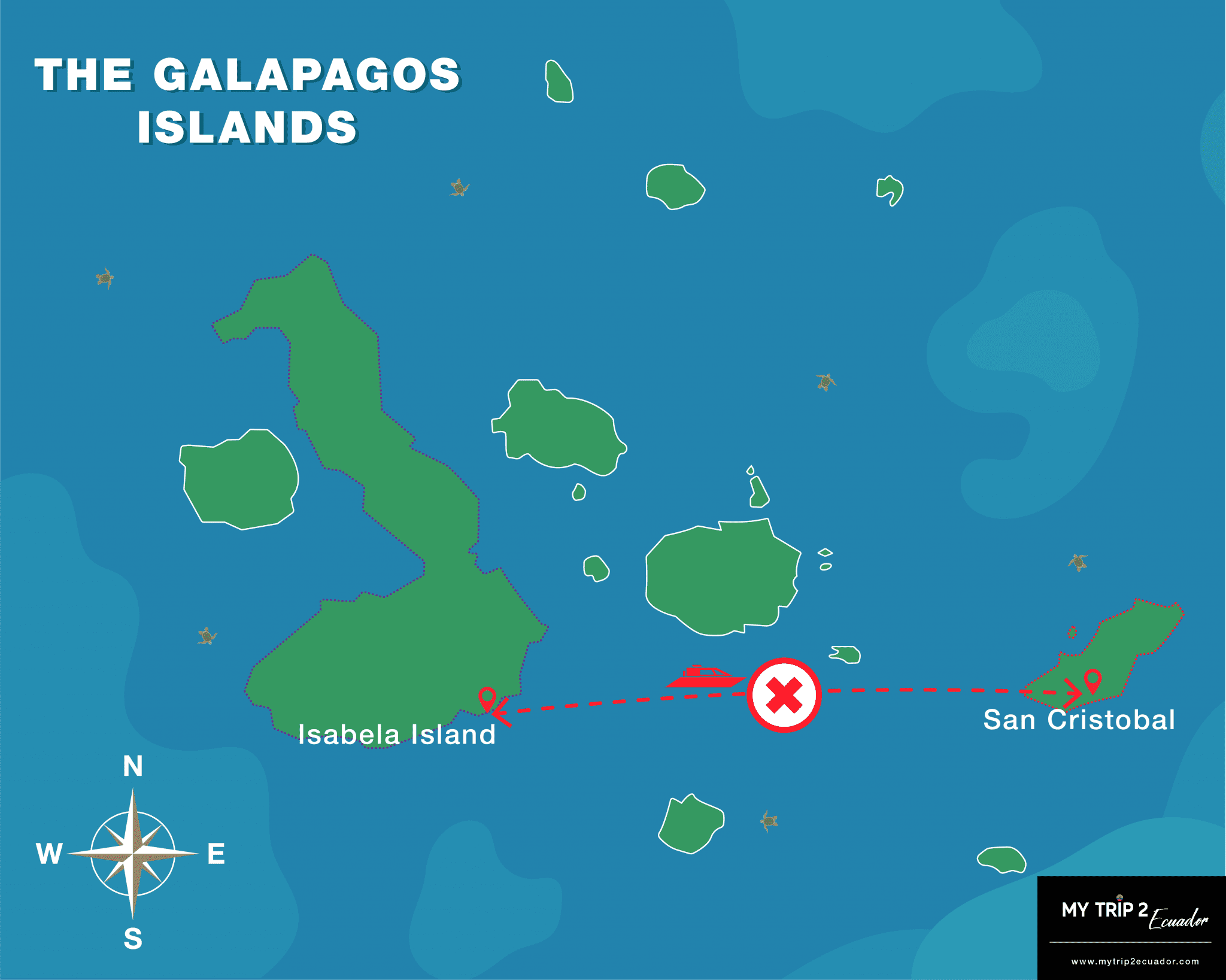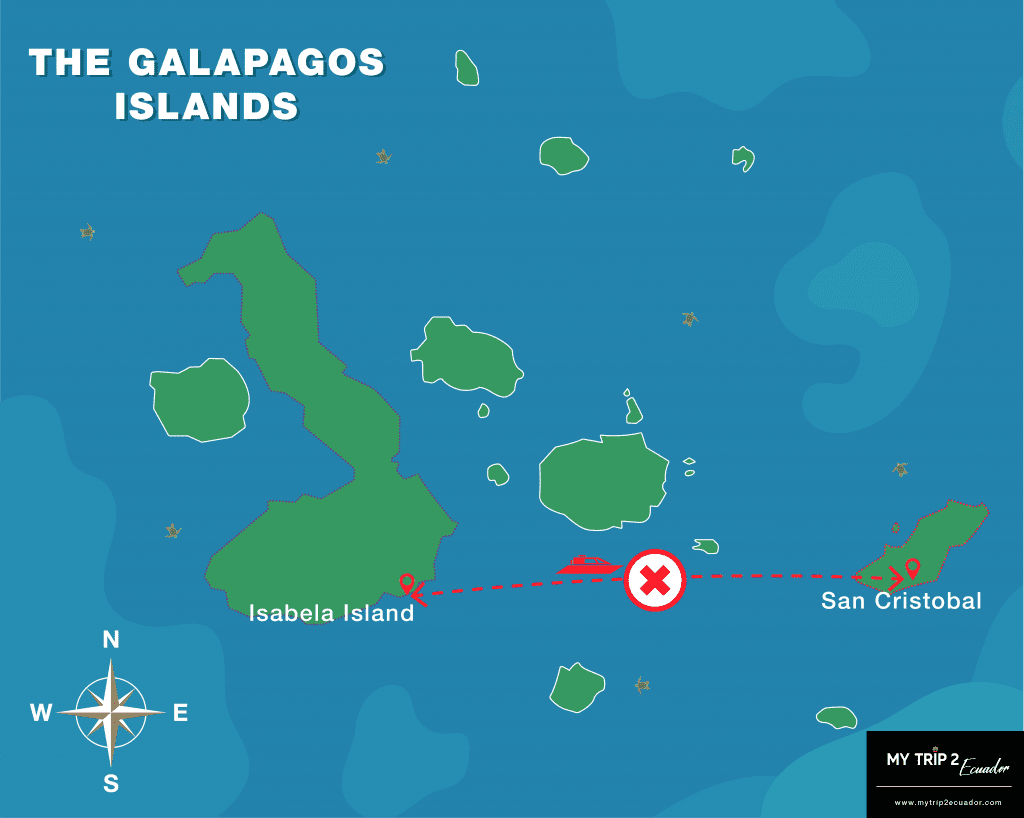 The first ride would be to Santa Cruz at 7 am, and the next one runs at 2:30 pm to San Cristobal. But you almost certainly won't want to just lose a whole day on the Galapagos like this!
There is a cheat, though, since you can take a local plane between two islands, and the flight is only 45 mins.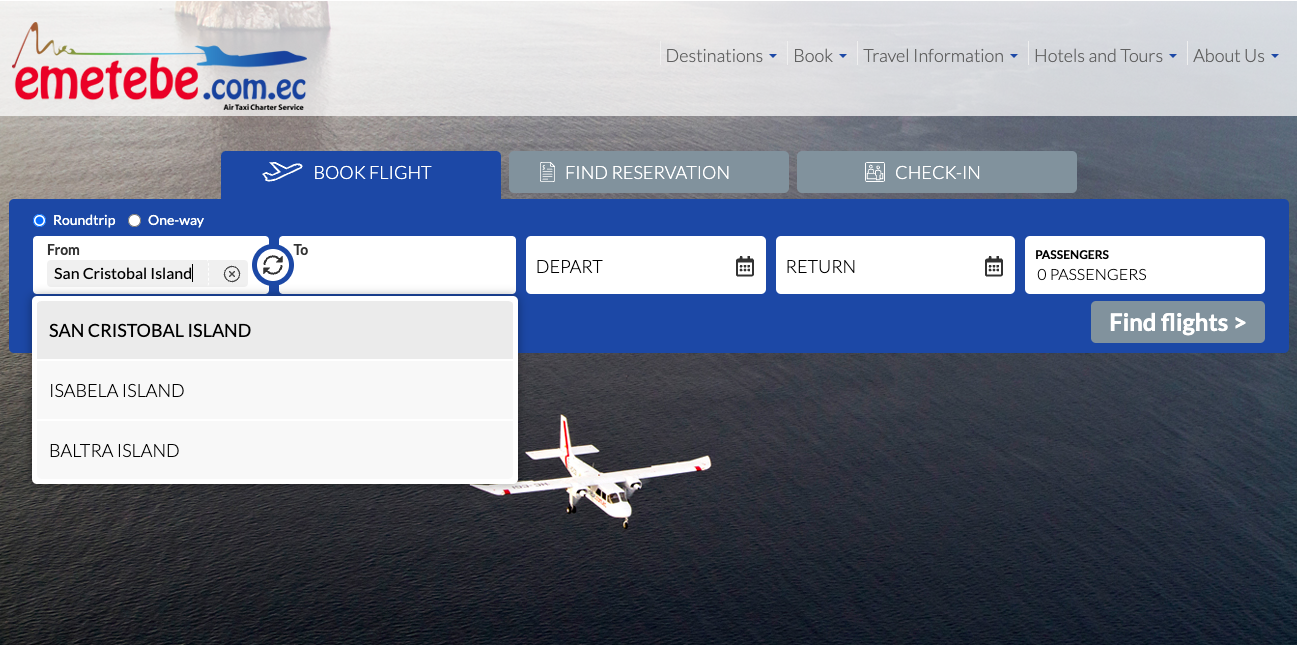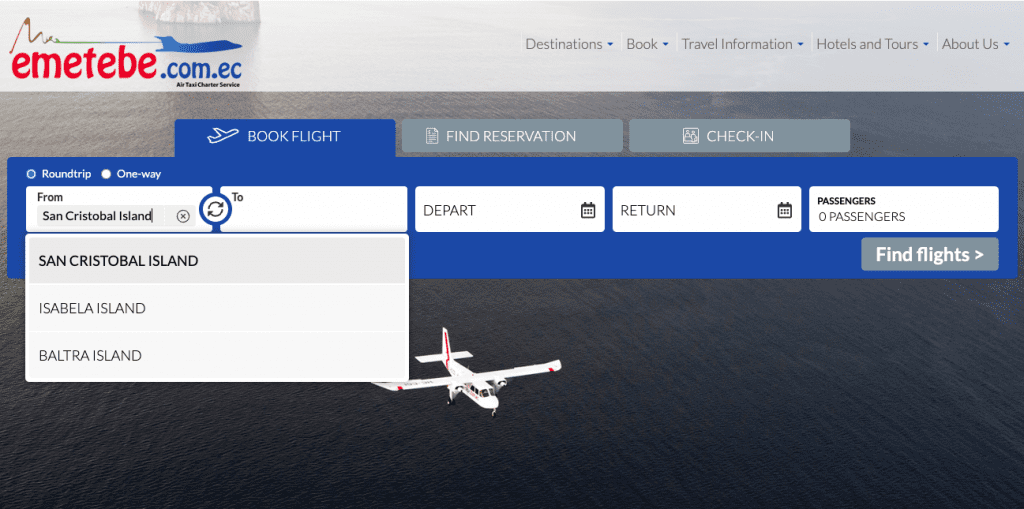 However, it's not a regular flight, and the cost is about $150-200 per person compared to $25 on the boat. Every time I passed their office on the islands, it was closed, but you can also book this online to make sure you get a trip.
We met quite a few people who messed up when it came to planning their route, and they basically lost an entire day on the Galapagos Islands. We even met one couple who even missed their flight back!
But island hopping is only one way to explore the Galapagos Islands, however! There's another option: to take a cruise! Every single person who explored the Galapagos by cruise would say, "it's the only way to see the islands!" My wife and I have never been on a cruise trip, which is why we decided it might be a perfect opportunity to see the Galapagos Islands and try a new type of travel. But then… we so the pricing and got shocked. Low-class cruises started from $3500 per person for 4-5 nights.
Going on a Galapagos cruise was completely out of our budget, so we decided to focus on the island hopping route instead. But if you dream of taking a cruise trip on the Galapagos Islands, I have great news for you: there's such a thing as Last Minute Cruise in Galapagos, and it's extremely common.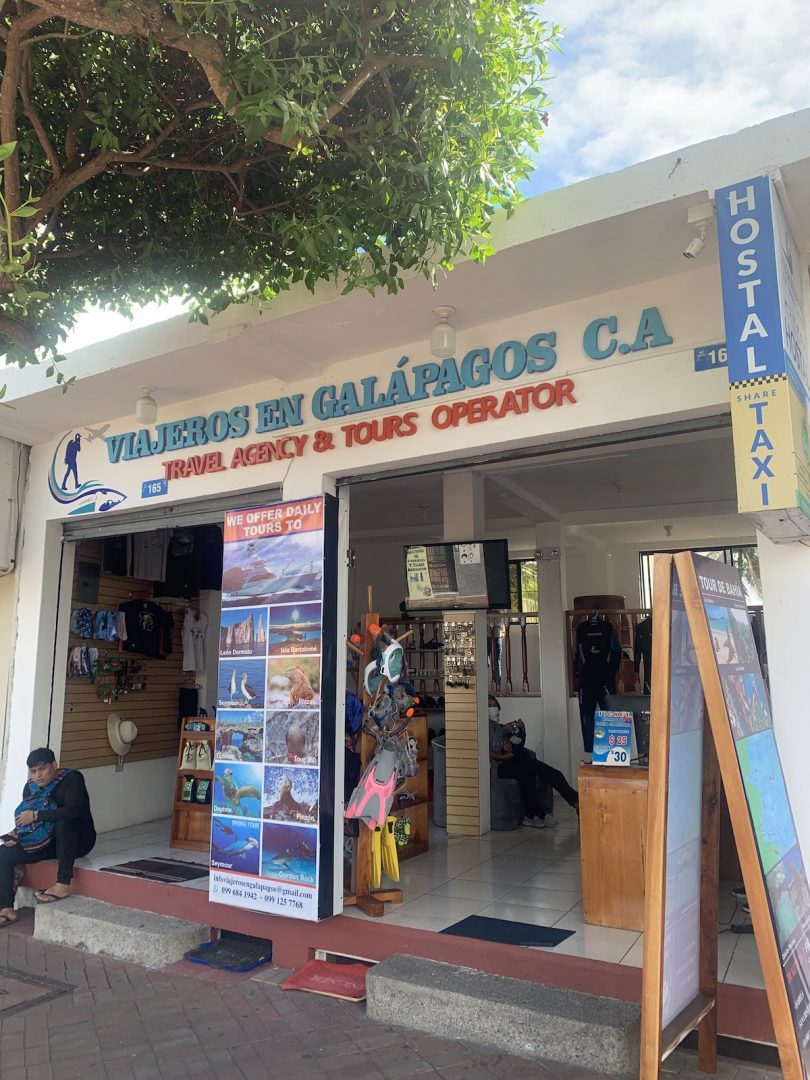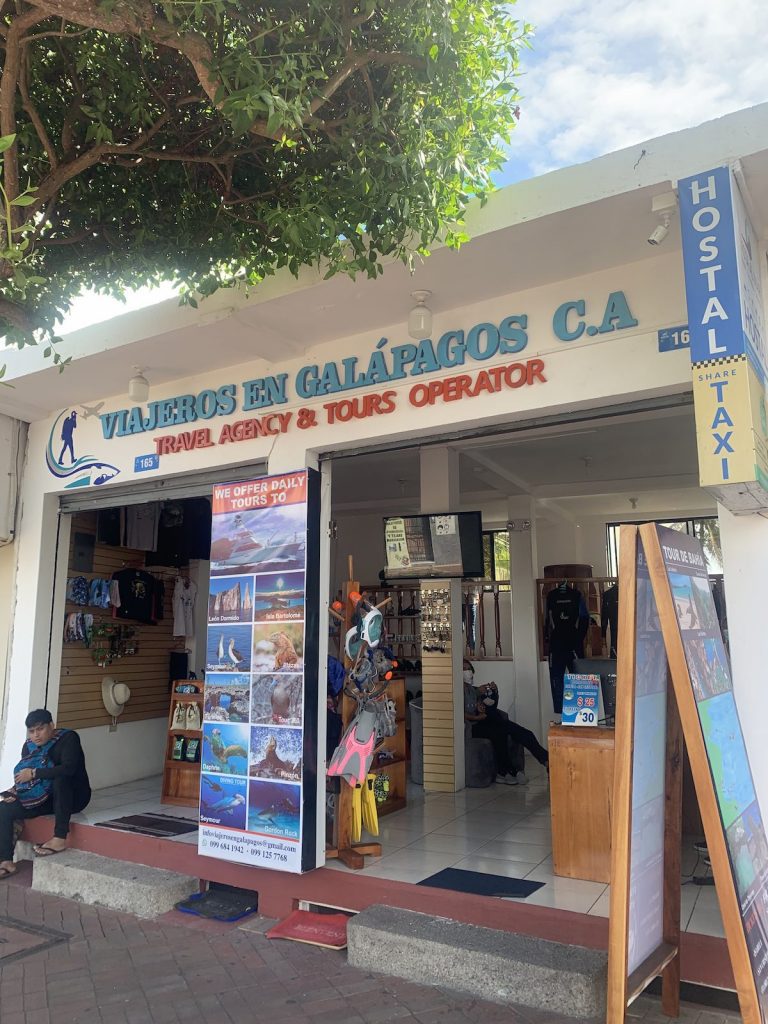 Every agency we stopped at to buy tours asked us whether we wanted a last-minute cruise, and the deals were insane compared to online. For example, one particular cruise we considered for four days and three nights normally costs only $3990 per person. The Last Minute Deal was only $900 per person! We're talking about 75% off the original online price here, and there were so many different offers. Of course, the final price would depend on the class of the cruise, the number of nights, and the route you take.
So, we had second thoughts, and we highly considered booking a Last Minute Cruise while on the islands, so we decided to ask for feedback from as many people as possible, e.g., people who tried to sell the cruise, people who tried to sell island hopping tours instead of cruise, locals and even tourists who mixed both island hopping and cruising while on the island.
Cruise vs. Island Hopping Galapagos
Cruise
Island Hopping
Pros
●      No need to plan your route

●      More remote islands available that are not in a land based tour

●      More places to see within the limited time range

●      Potentially a better option for families

●      Cheaper

●      You manage your time and what to do

●      Cell phones and internet reception are much more accessible

Cons
●      Expensive

●      No internet & cell phone reception

●      Some people get bored after a few days (about half of people stay on the ship and don't explore new places)

●      No freedom

●      No scuba diving option

●      Need time to plan your route carefully

●      Complicated logistics

●      Time wasting to move between islands (check-in/out) and a 2.5-hour boat ride)

●      Limited places to see (but more than good enough for a two-week trip)

●      Some things may go wrong due to the potentially poor customer service on the islands
After all, this is entirely down to personal choice. Apparently, if your goal is to explore and see as many places as you can, taking a cruise and exploring the islands is way better.
Our main concern was budget and freedom of moving, but as you can see, you can get things much cheaper on the island. As such, eventually, we decided to stick to island hopping since we had our route fully planned already and had figured out the logistics between the islands. However, we were unable to cancel the hotels we booked, so if you are about to hunt for a Last Minute Cruise, be sure to book fully refundable hotels just in case something goes awry!
Ok, finally, we can start looking at our route.
Day 1: Arriving at Baltra Island, getting to Santa Cruz Island, and Buying Tours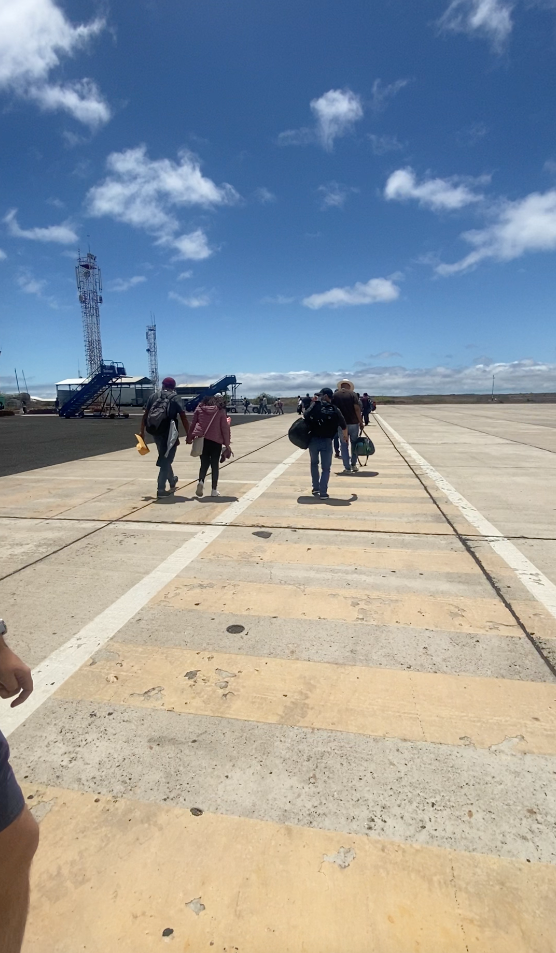 Your journey to the Galapagos starts on Ecuador's mainland at either the Quito or Guayaquil airports, which are the only two airports that serve the Galapagos Islands directly. The environment on the Galapagos Islands is very protected, so there will be extra steps to take in order to get you on the plane.
Before dropping your bags off, you will need:
Fill out the migration forms and pay for them ($20 per person paid in cash)
Complete an extra security bag check to ensure you're not bringing any prohibited items to the Galapagos Islands.
When arriving on the Galapagos Islands, you will also need to pay an entrance fee of $100 per person.
We landed on Baltra Island, and we needed to get to Puerto Ayora town on Santa Cruz Island. As such, after getting our luggage, we had to wait for a bus that would take us to the boat pier, which cost us $5 per person.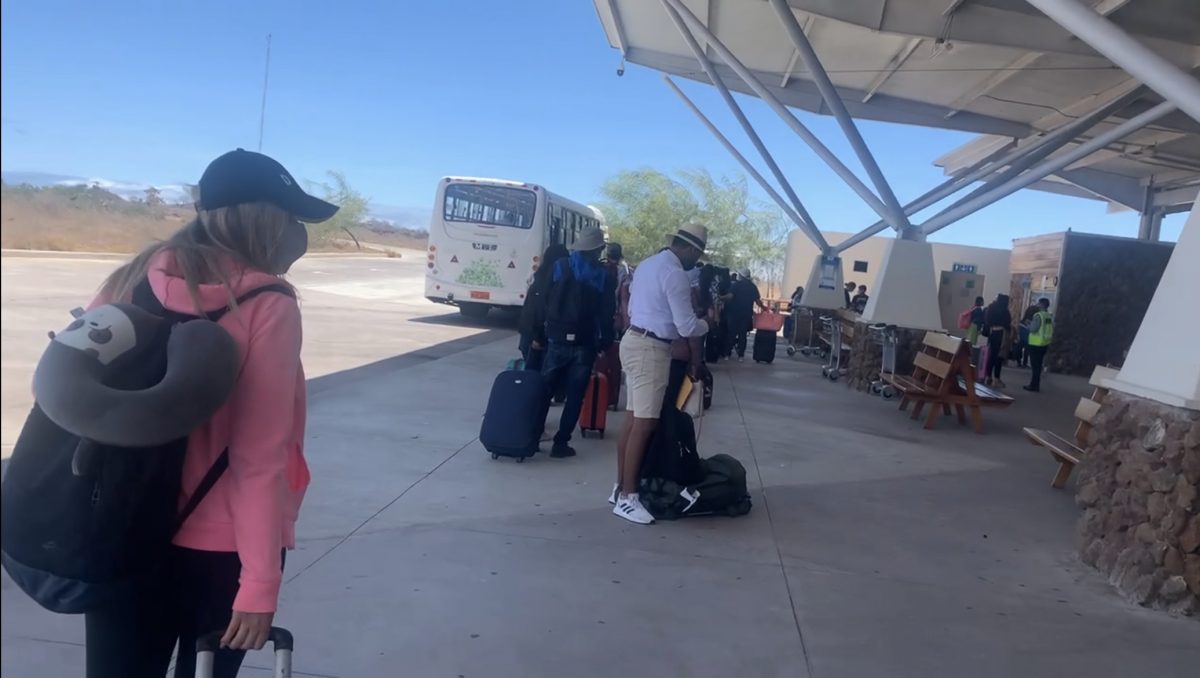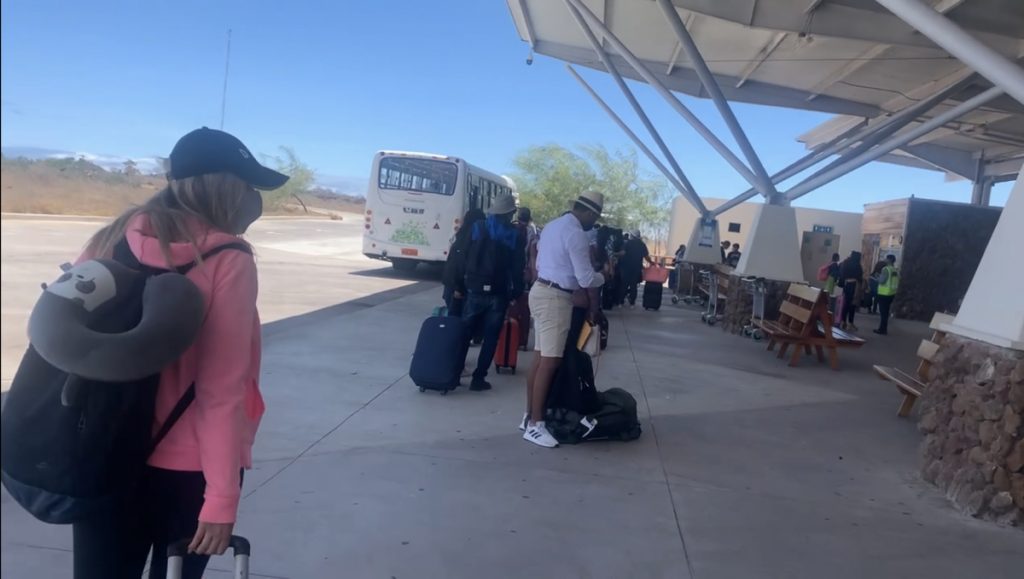 After this, it's just a short ride on the boat to get to Santa Cruz Island. Finally, you can grab a bus for $5 or take a cab for $25 to get to Puerto Ayora. We decided to grab a cab, and the total ride took about 45 mins.
After checking into our hotel that gave us an unreasonably huge room (not that we minded, though), we grabbed a cab downtown (about a 5 min ride). By the way, all the cabs in the city cost $1, and there is no availability to rent a car.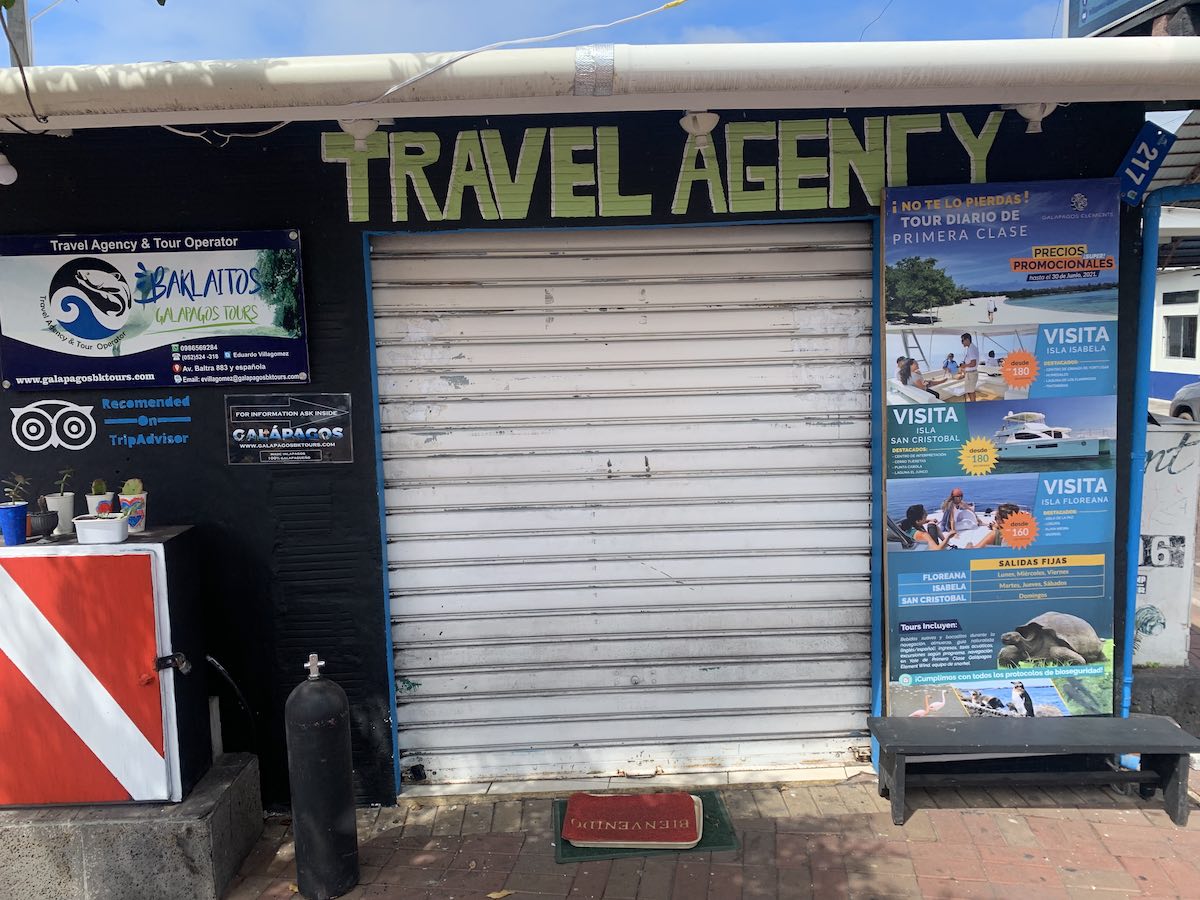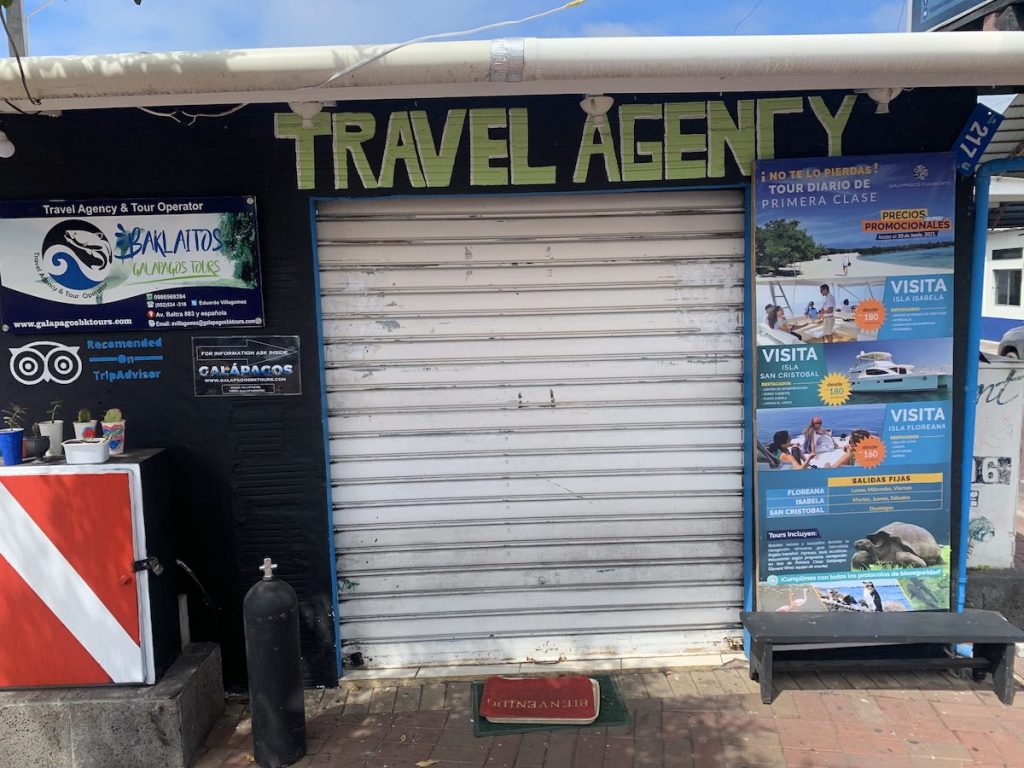 We needed to book all of the tours we wanted and boats to other islands to visit. Even though you can book everything online in advance, it will probably be around 20-40% cheaper if you do it on the island directly. For example, a Pinzon Island tour costs $140+ online per person. We got it for just $90 per person – a $50 saving! Plus, you will find many agencies who can help with this, and most people speak English very well locally. We picked one randomly to buy all of our tours through to get the best discount available, and they offered a great service. However, I definitely DO NOT recommend this agency (LeverTrans) – you'll see why a little later.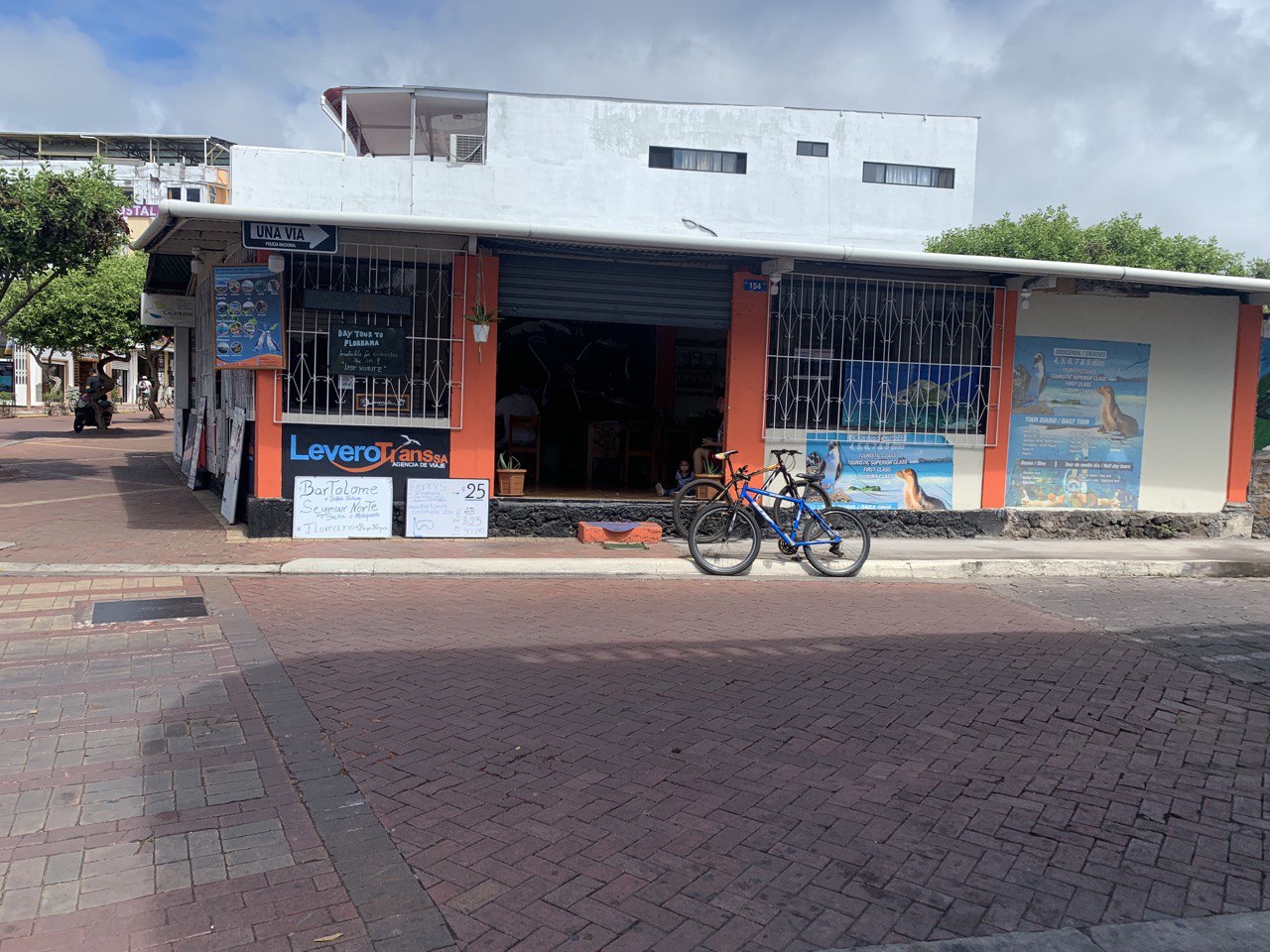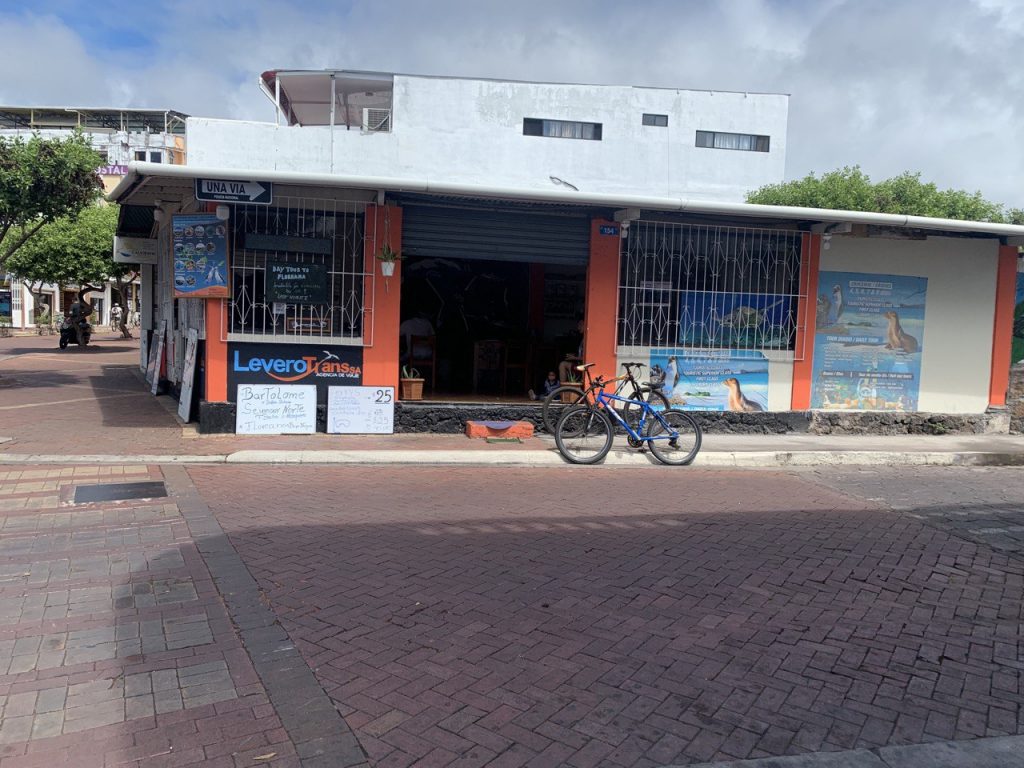 The level of service on the islands is generally quite low, and most people are chill and not responsible enough. As such, here's a valuable tip: ask for the WhatsApp number of the person you booked your tour with and the number of the agency specifically so you always have someone to contact. One day before your tour, clarify with the person that everything is booked and they added your names. It will be a reminder for them.
After getting all the tours, we wanted to visit the Charles Darwin station, but it was only twenty minutes until closing time.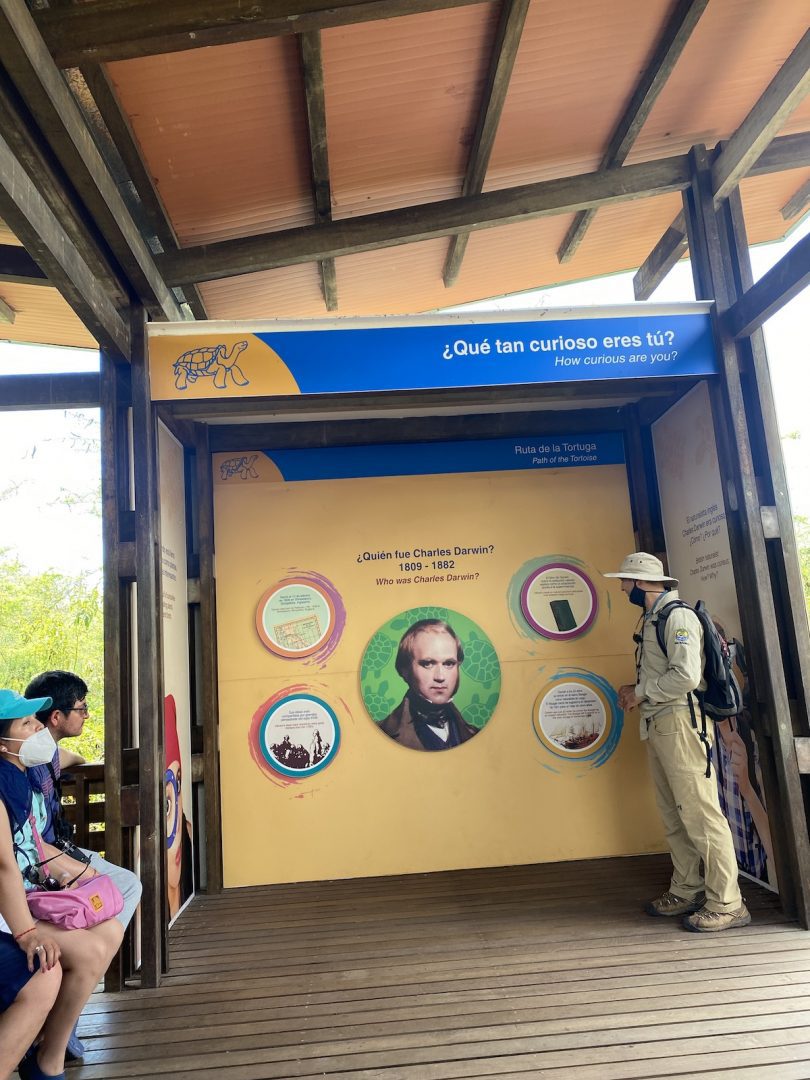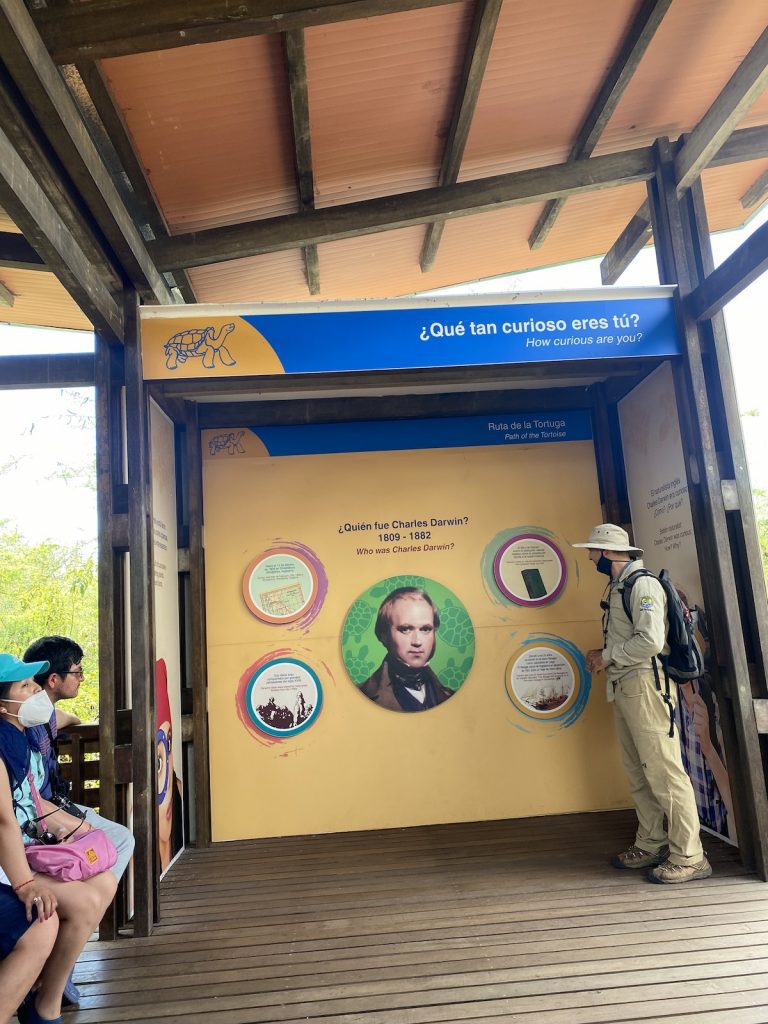 You'll need to walk there with a guide and pay $20, so we decided to pass on that instead. As such, we simply went for a walk around the island and were shocked by wildlife. Sea lions, albatrosses, iguanas – they're the ones who own these lands, not the people.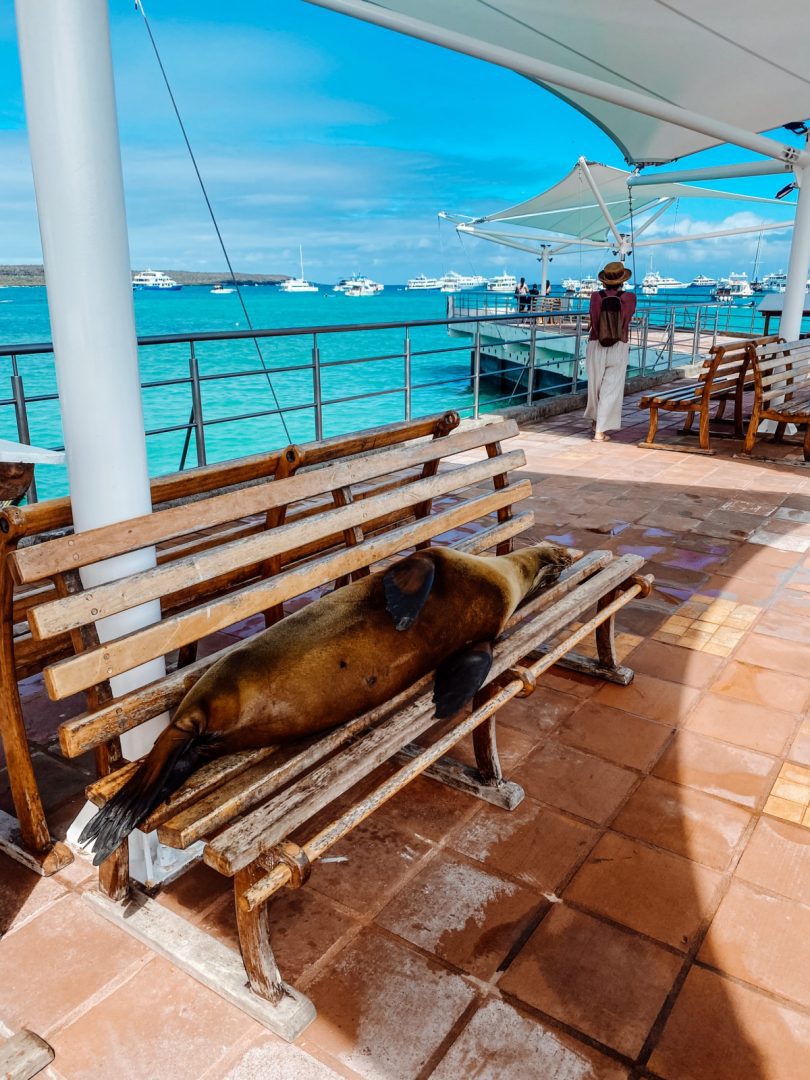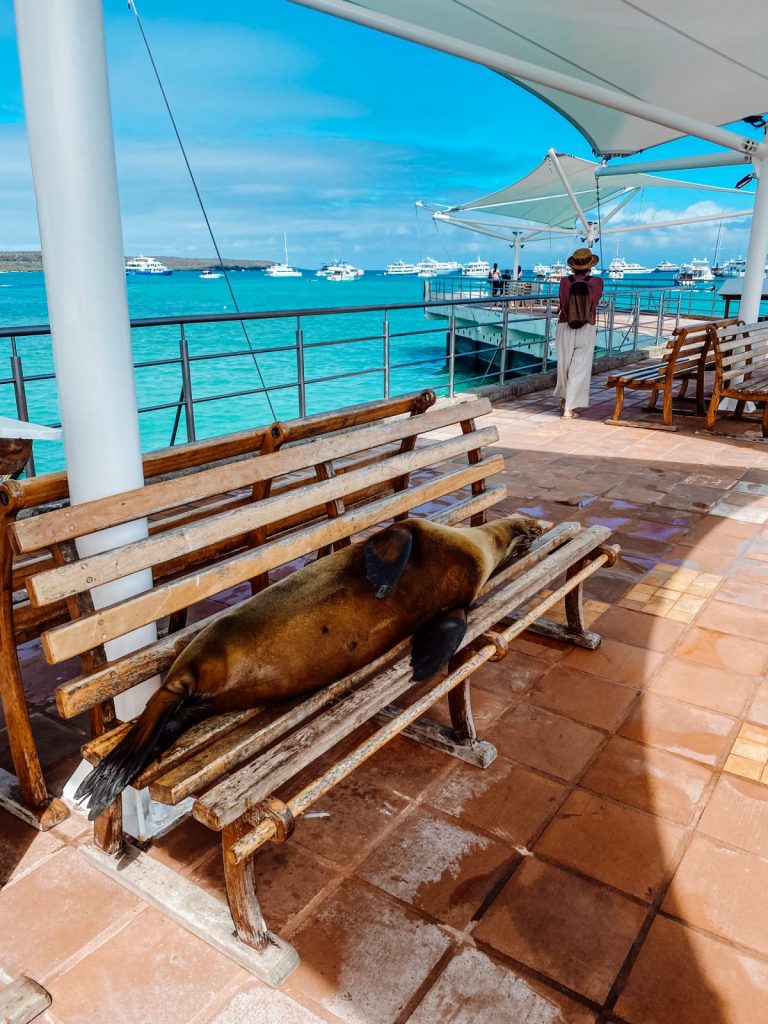 In fact, many of the wild creatures aren't even fazed by humans, which means that you can simply chill in the middle of the street or on the benches with them close by. However, you should always keep in mind that you can't disturb them and should always stay at least two meters away. Otherwise, you can be fined.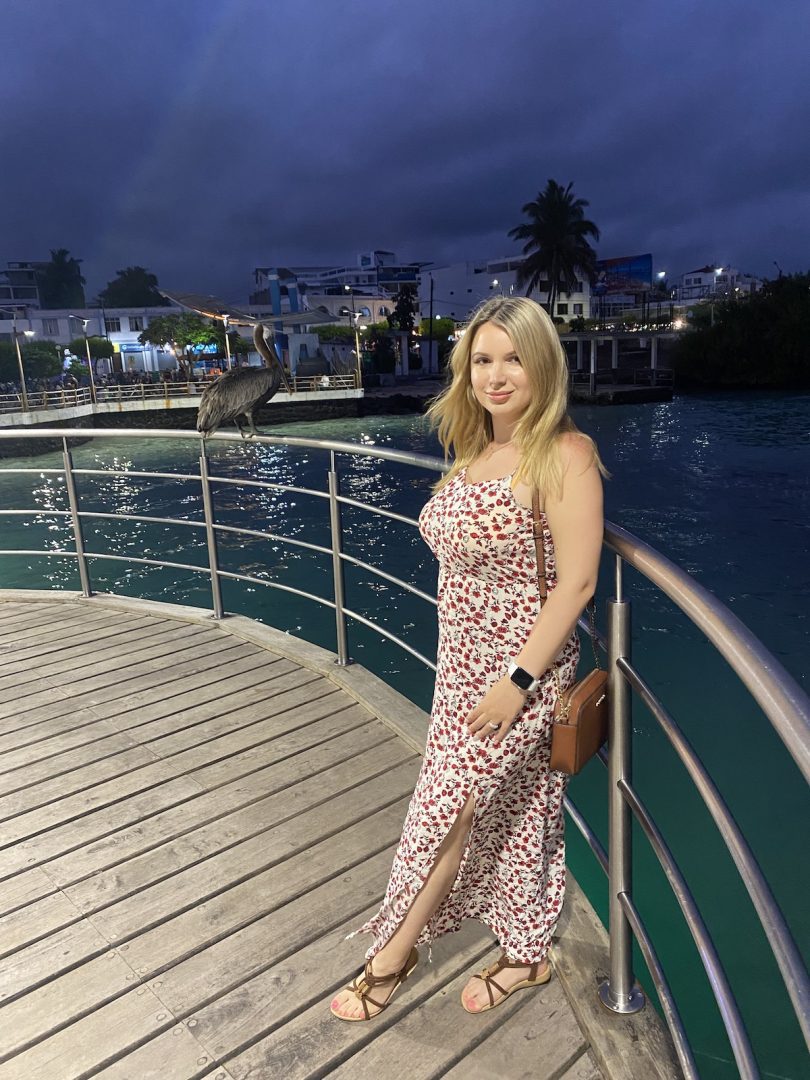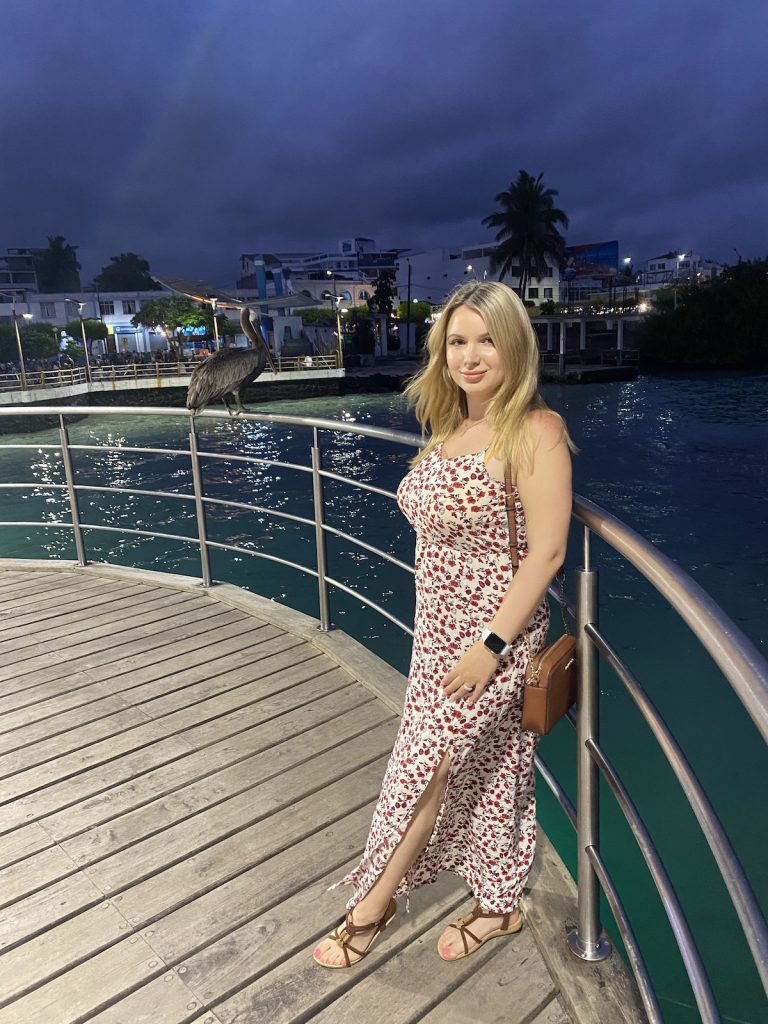 Santa Cruz Island is usually the noisiest and busiest of the islands; as a result, it can become quite crowded and expensive. With this in mind, I would personally rate it as the worst one to stay out of three.
In the evening, it was time to find somewhere for dinner, and we were shocked at the pricing compared to the mainland of Ecuador. Everything was triple priced, so we chose dinner for $30 with only the cheapest menu items. Later on, we found several cheaper and more delicious places that we will share.
Day 2: Tortuga Beach, Lagoon Snorkeling, and a Boat Ride From Santa Cruz to Isabella Island
We started our morning with breakfast at the hotel; then, we headed to the beautiful Tortuga beach.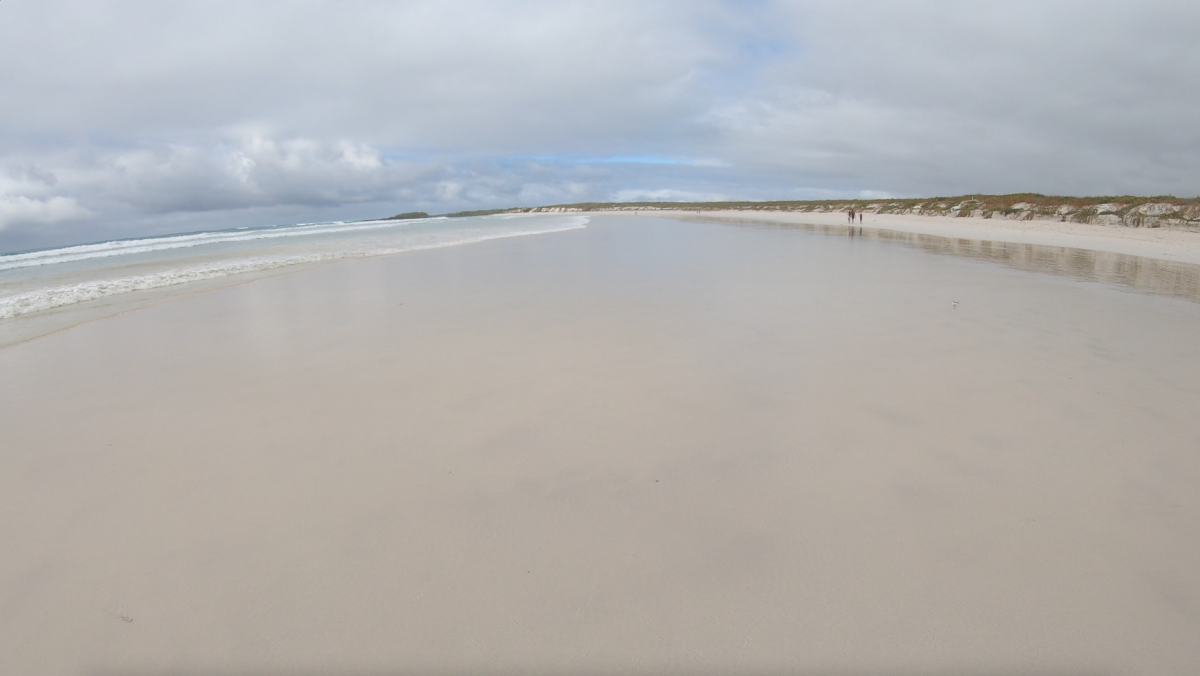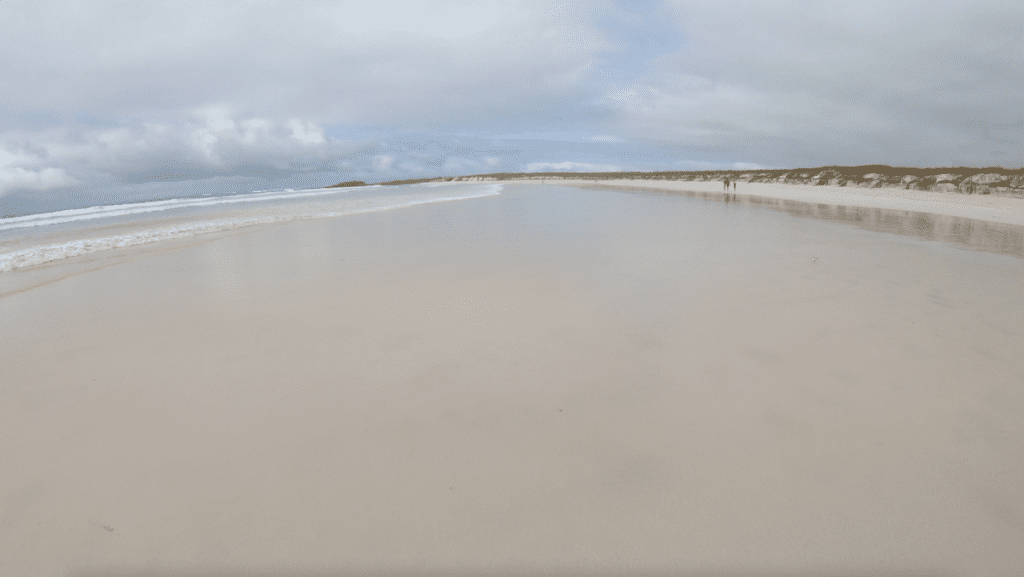 We decided to go in the morning, so it wasn't quite so crowded. It was so worth it. We took a cab and needed to hike for about 30 mins, which was simply beautiful and picturesque, with cactuses, plants, birds, a stunning pathway, and finally, a wild beach with turquoise water.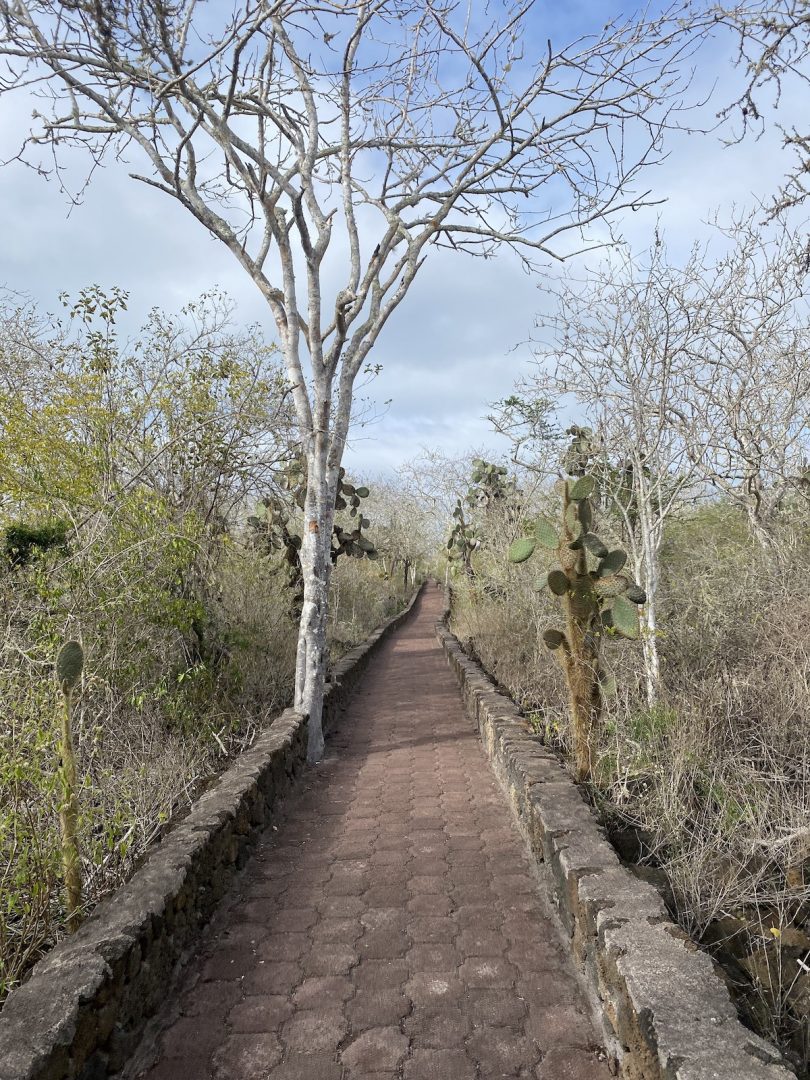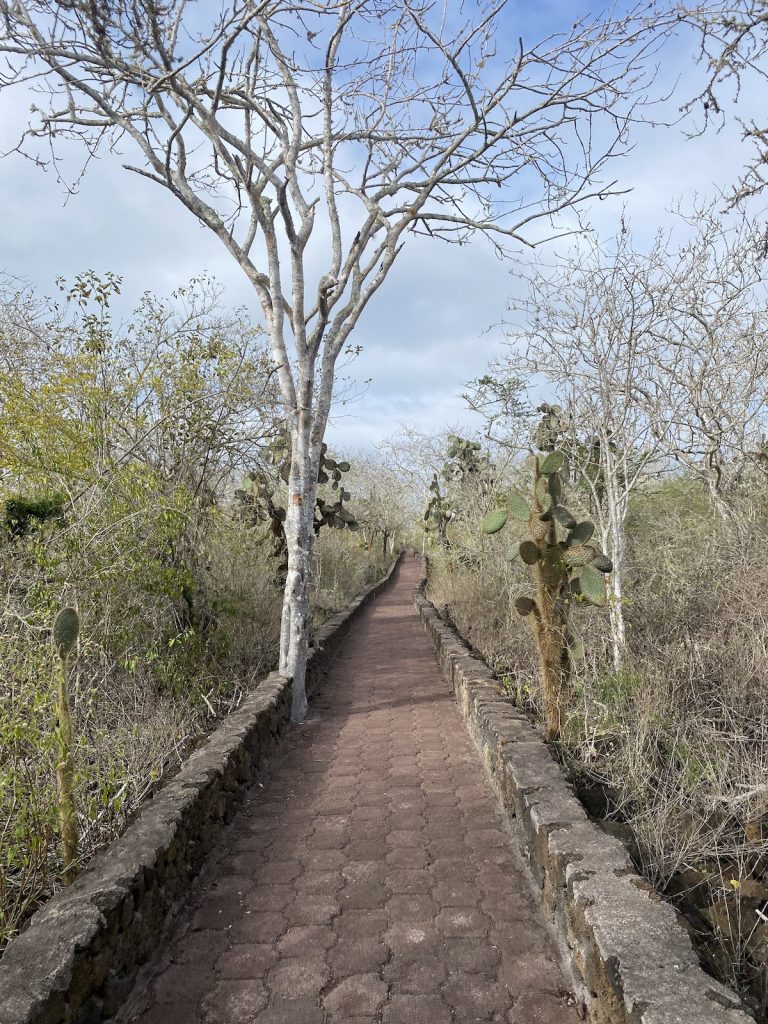 I am an ocean-craving person, so I had a mini-orgasm and enjoyed every second on the beach. Just look at that. Untouchable nature by the sea and without any crowds – you don't see it that often these days, although some of the locals were surfing on the beach.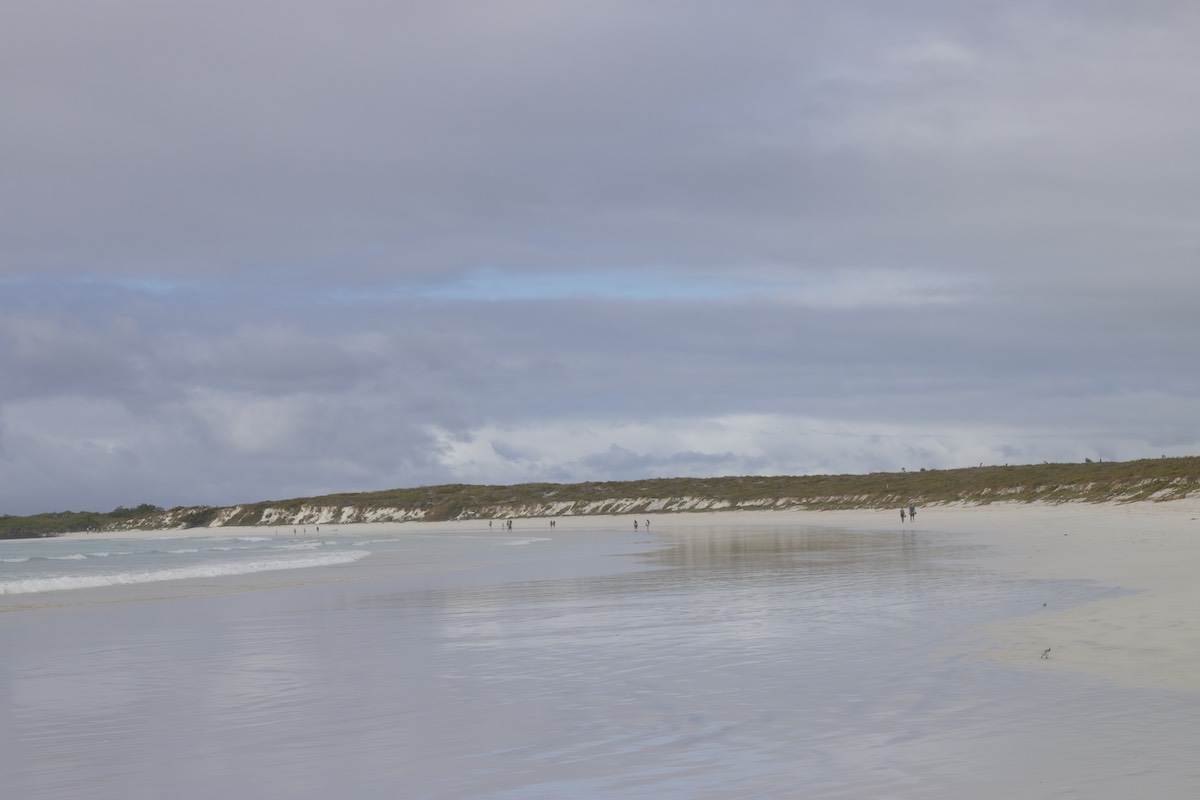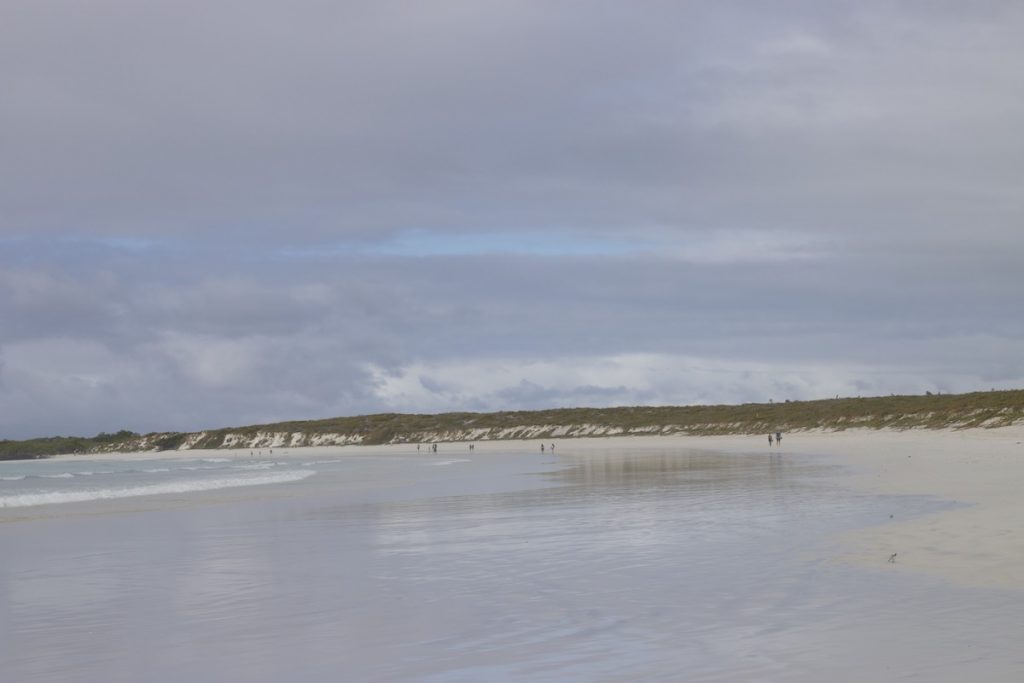 We had a beach walk and saw numerous land iguanas and even more unique plants.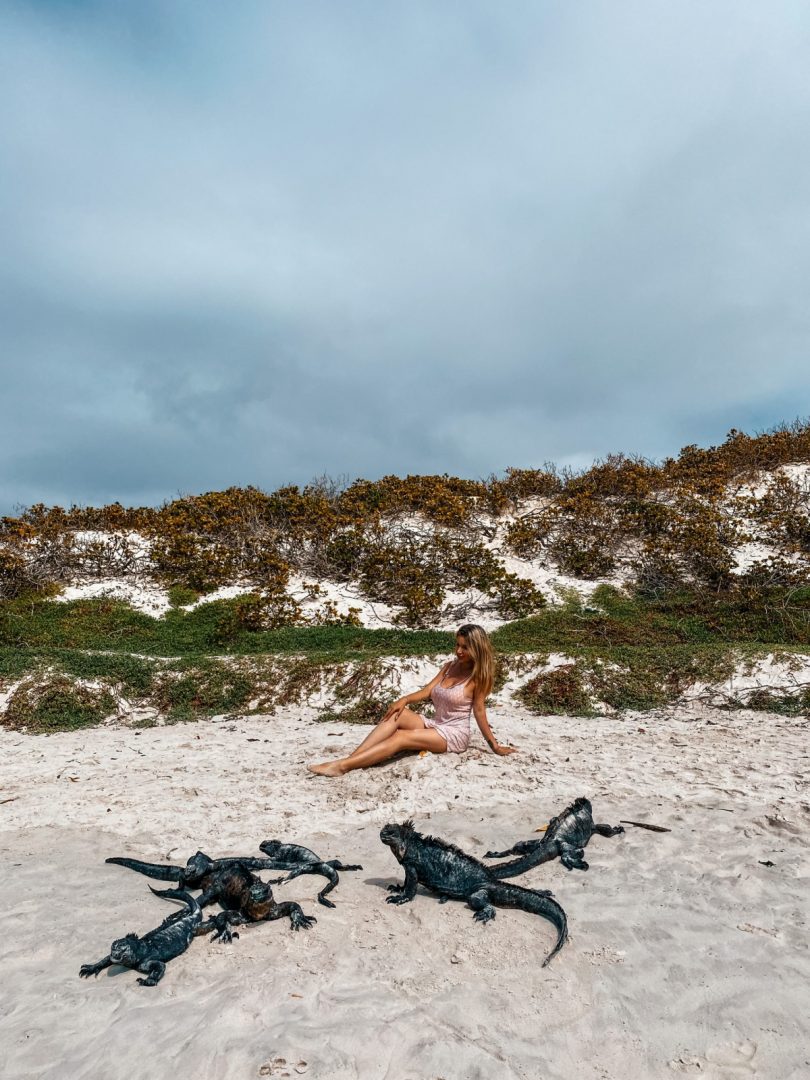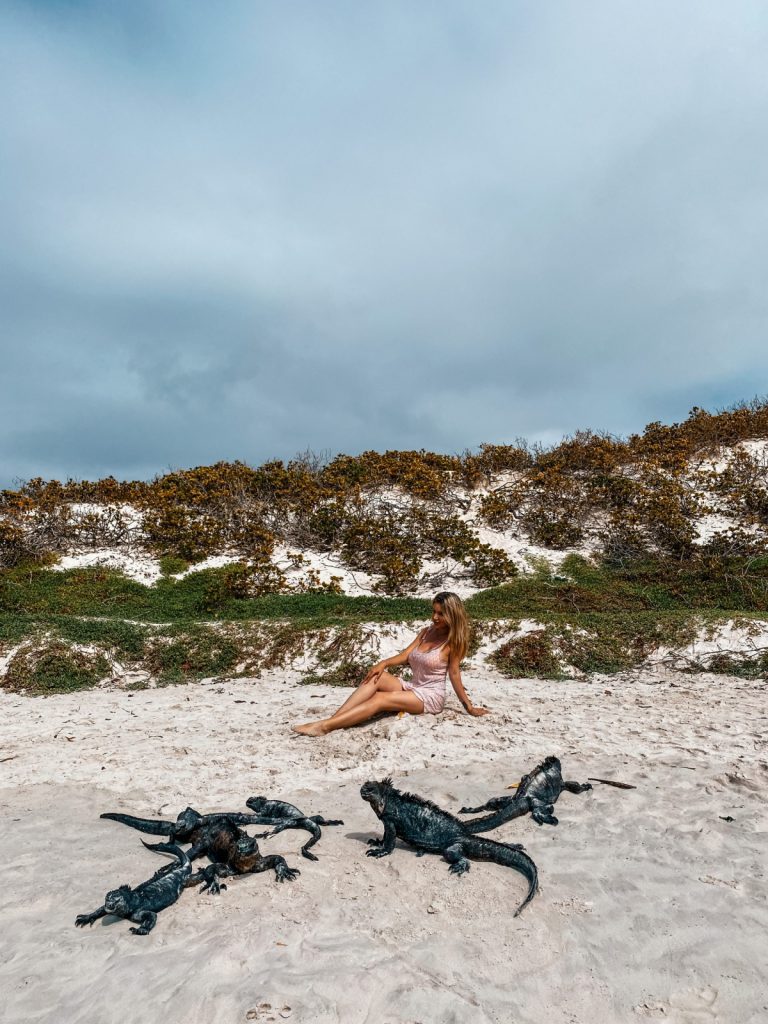 You can go swimming on Tortuga beach, but be careful: there are strong currents and waves. As such, many people go to Tortuga Laguna for swimming and snorkeling. The snorkeling session was so-so, but much more was still to come.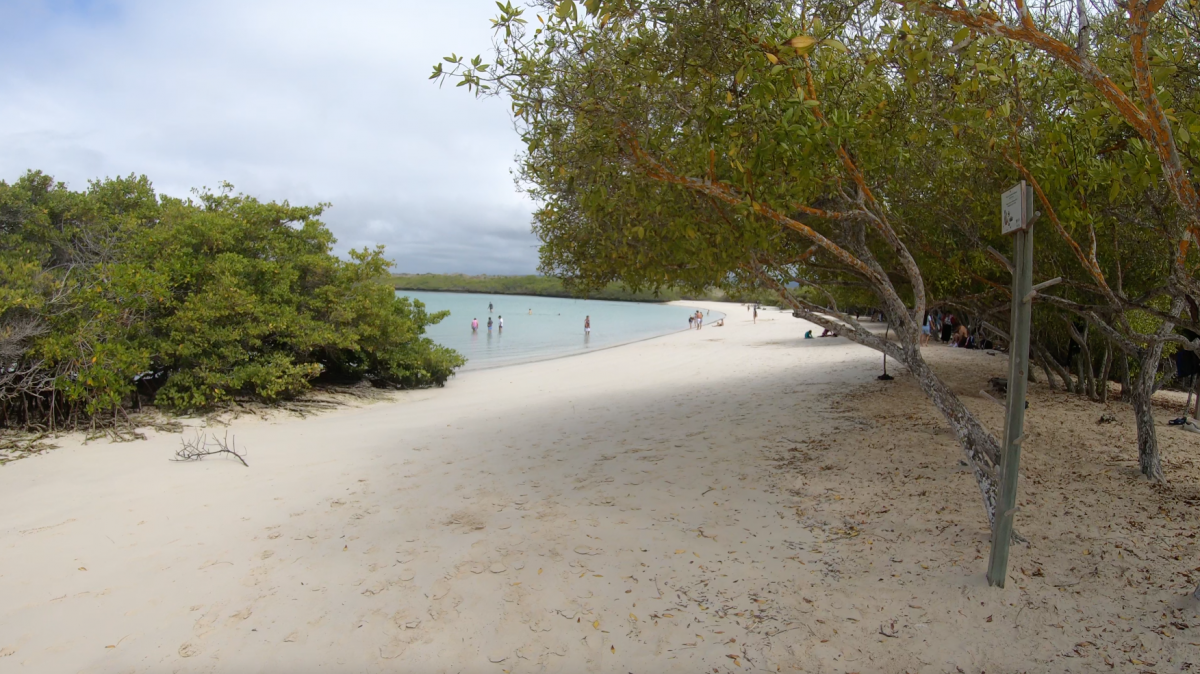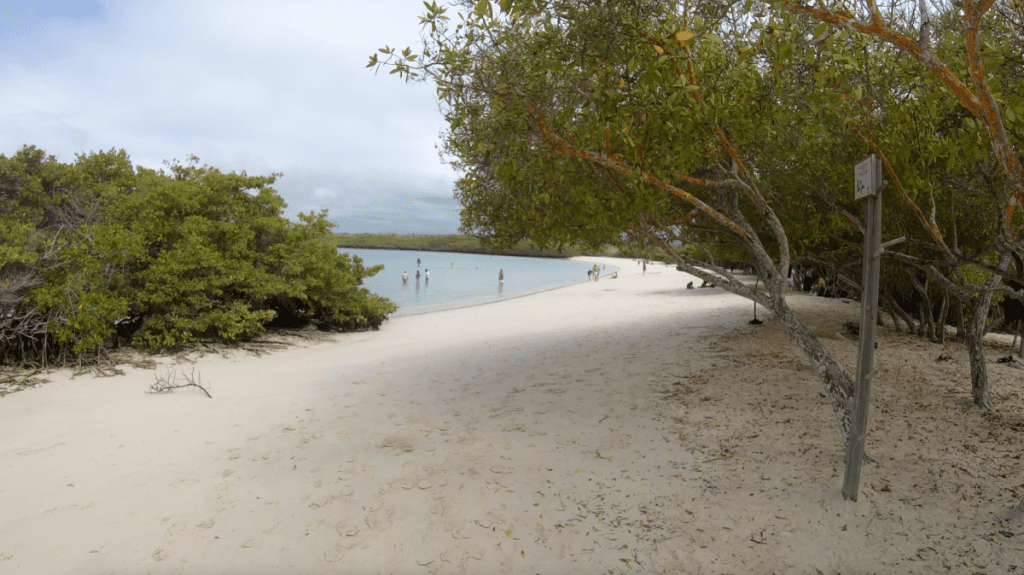 Later, we had to get back to the hotel and grab our things since we were about to catch a speed boat ride to Isabela Island.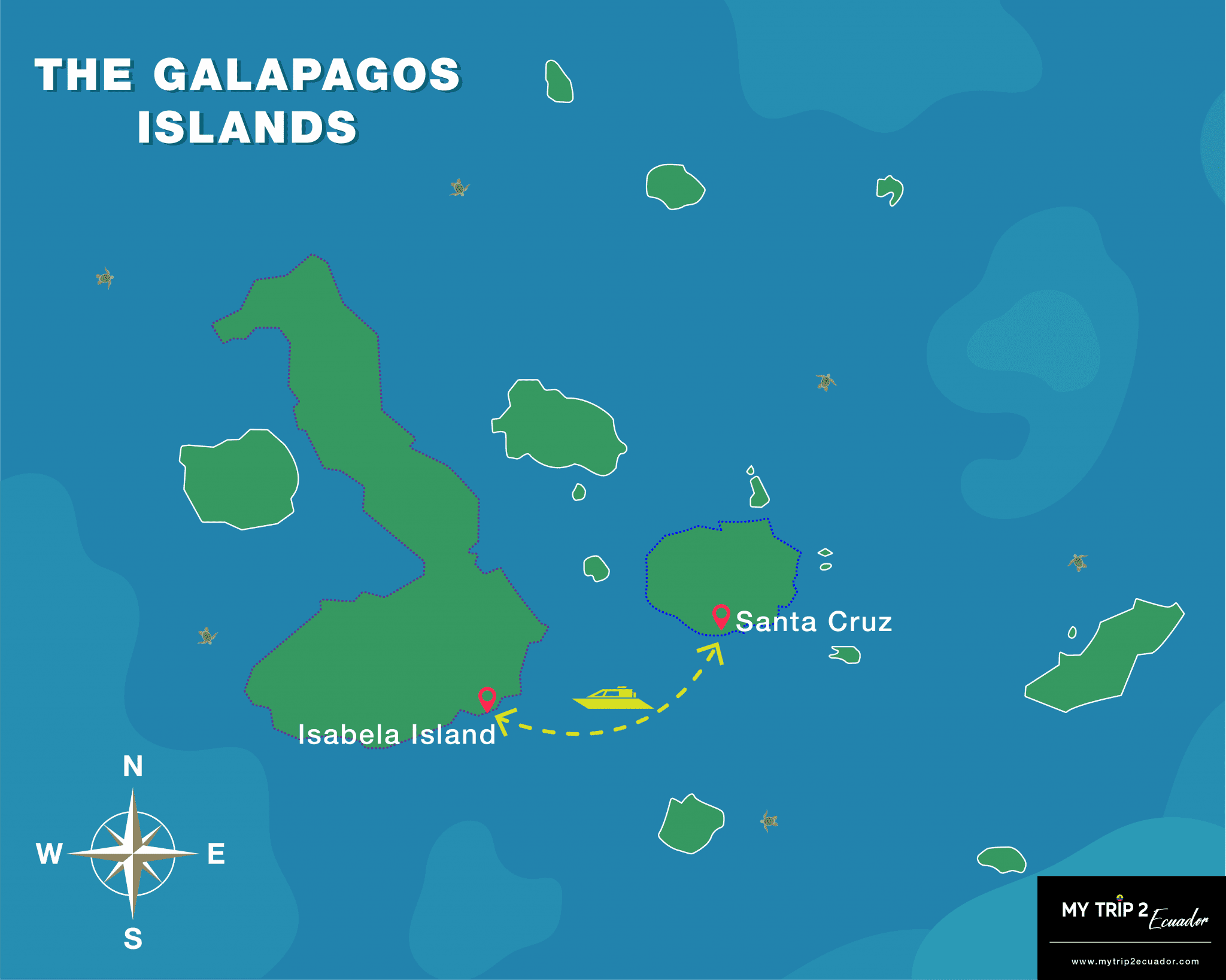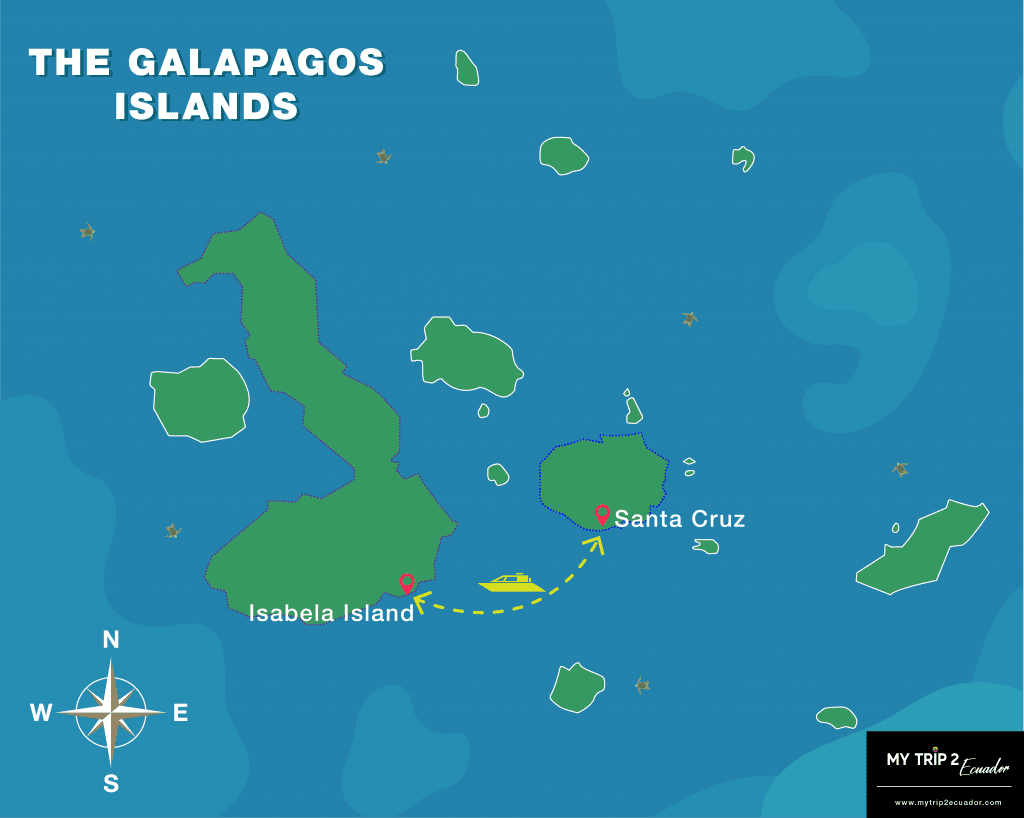 The cost is $25 per person + $3 for water tax that takes you to the boat +  you have to pay a $2 import fee per person on Isabela. We withdrew lots of cash because we were told there are no ATMs on Isabela Island, but we found one and it worked for my Canadian card but I saw some people were unable to use it. So, make sure to have enough cash when you are going to Isabela island.
Let me tell you: the whole process is definitely a downturn. You should arrive at the pier by 2pm, where you'll be able to find your boat, check in, wait in the security bag check-in line, and finally, wait for the water taxi to arrive.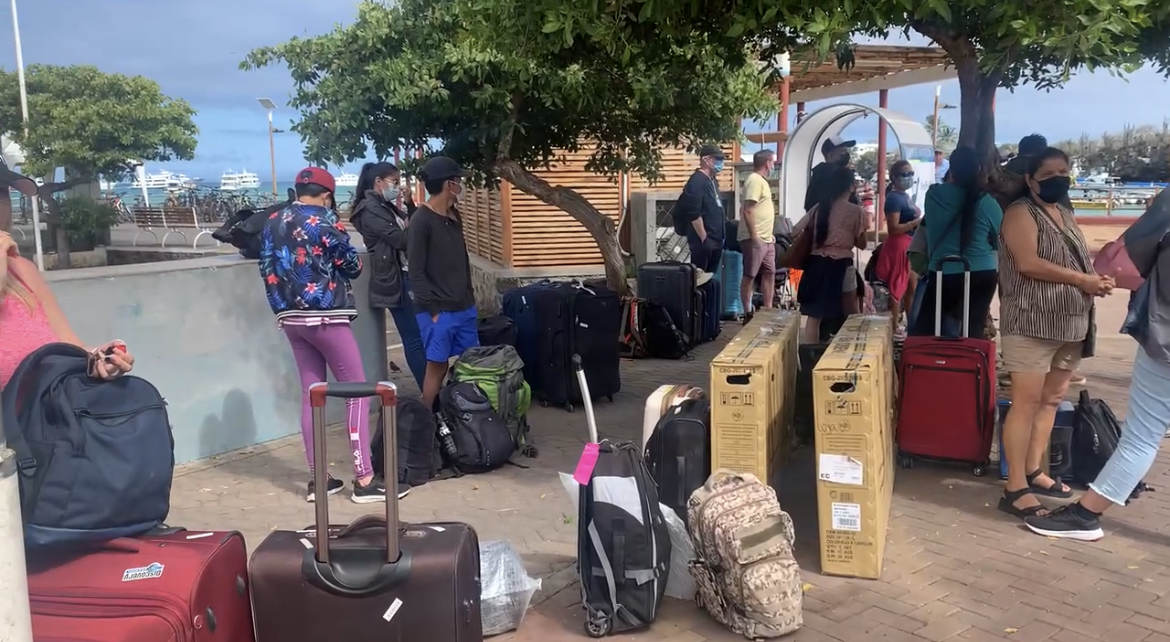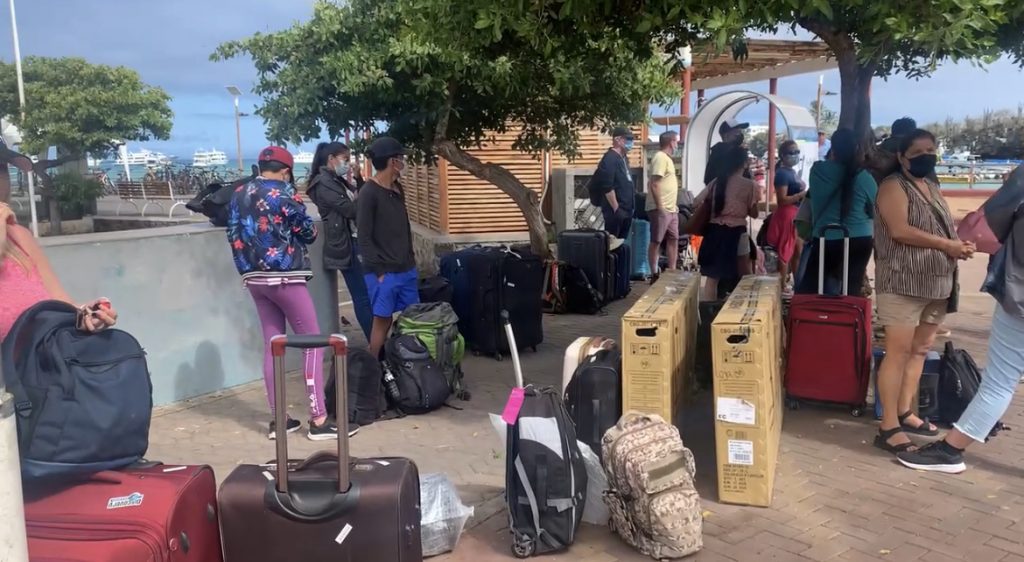 Then, it's a 2.5-hour ride on a speed boat, but it's worth considering that this can be quite uncomfortable for people with motion sickness. Make sure to grab travel pills if this is the case because we saw quite a few people throwing up non-stop (not overly pleasant for them or us!). As such, the ride is not overly enjoyable unless you are an ocean freak like me.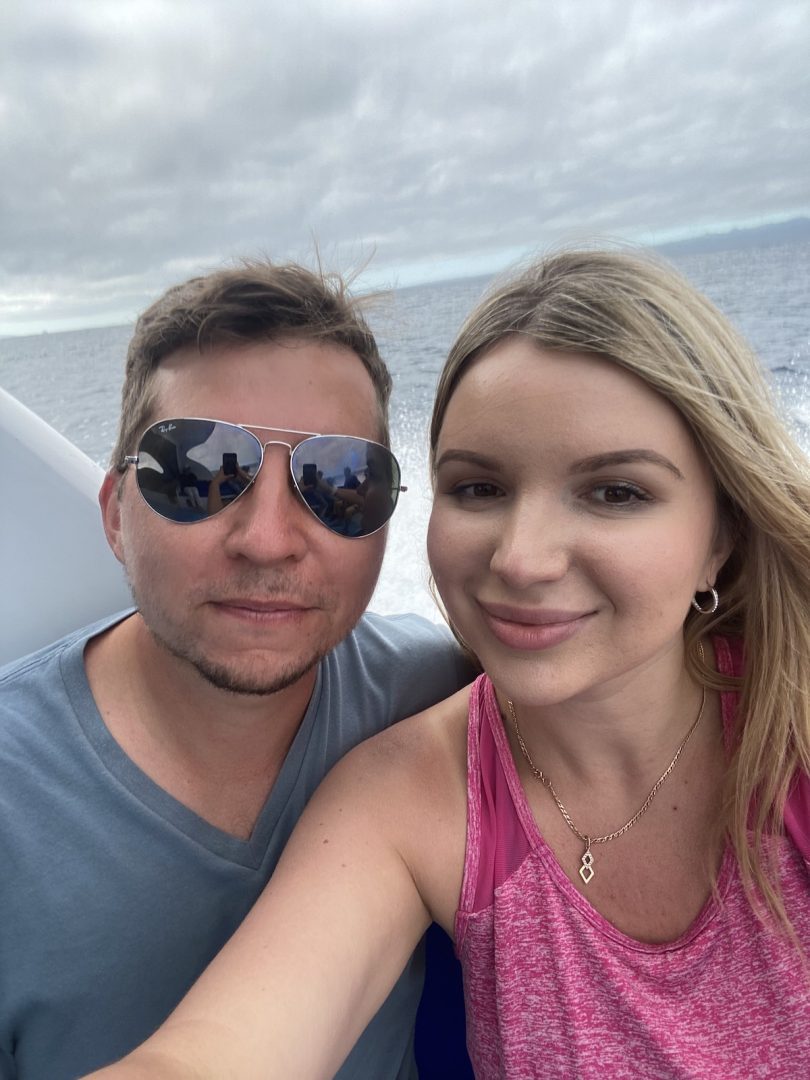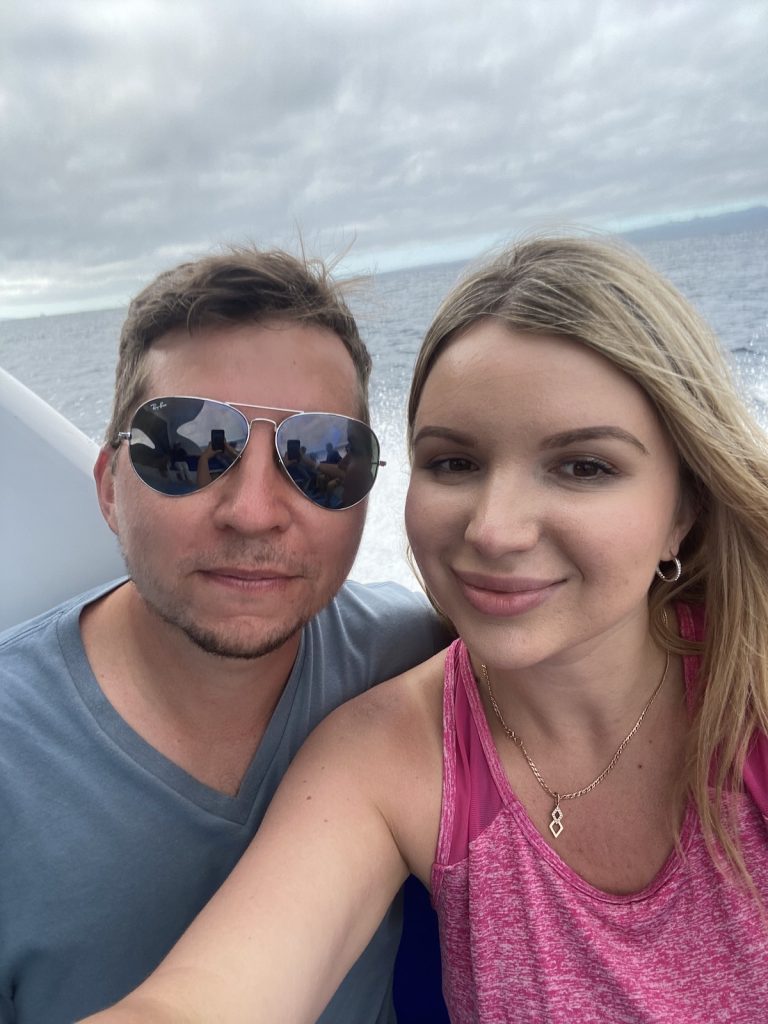 Once you've arrived, you'll need to pay an import fee, and then you are free to head onto the island. The whole process might take 4-4.5 hours, so you'll lose around half a day during this time.
When we arrived at Isabela, we asked a local guy for recommendations about good spots for dinner and found this street grill cafe which was quite good. The dinner cost us $25.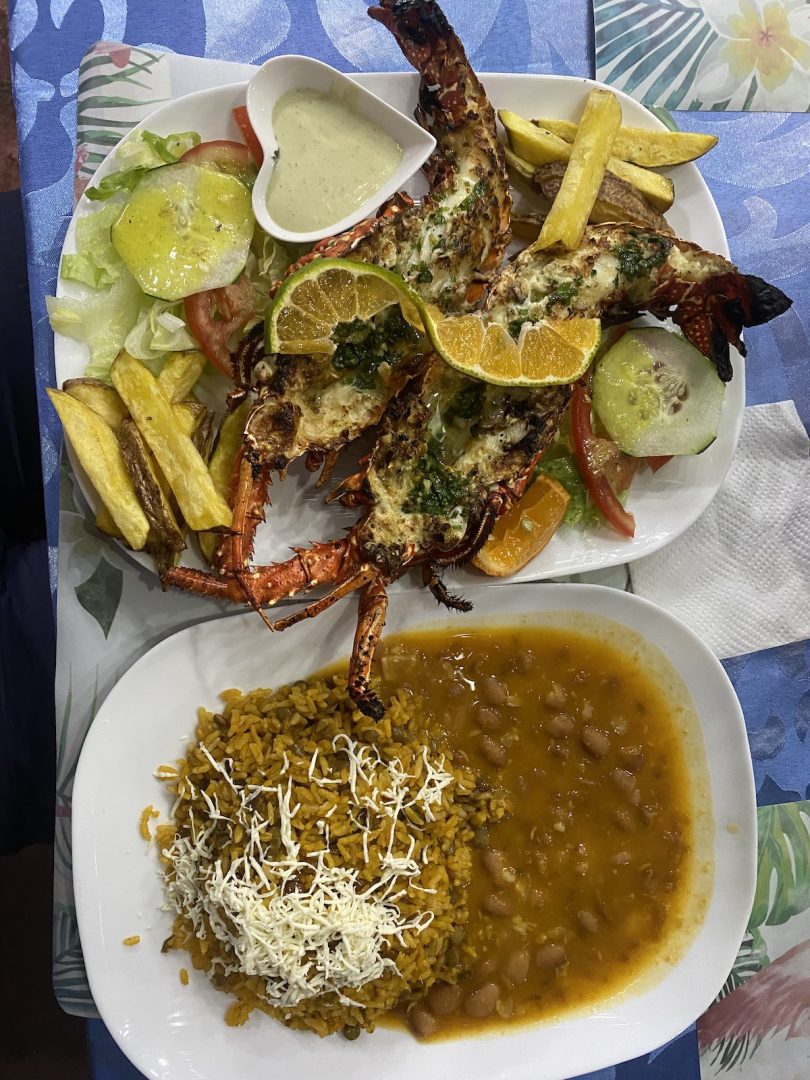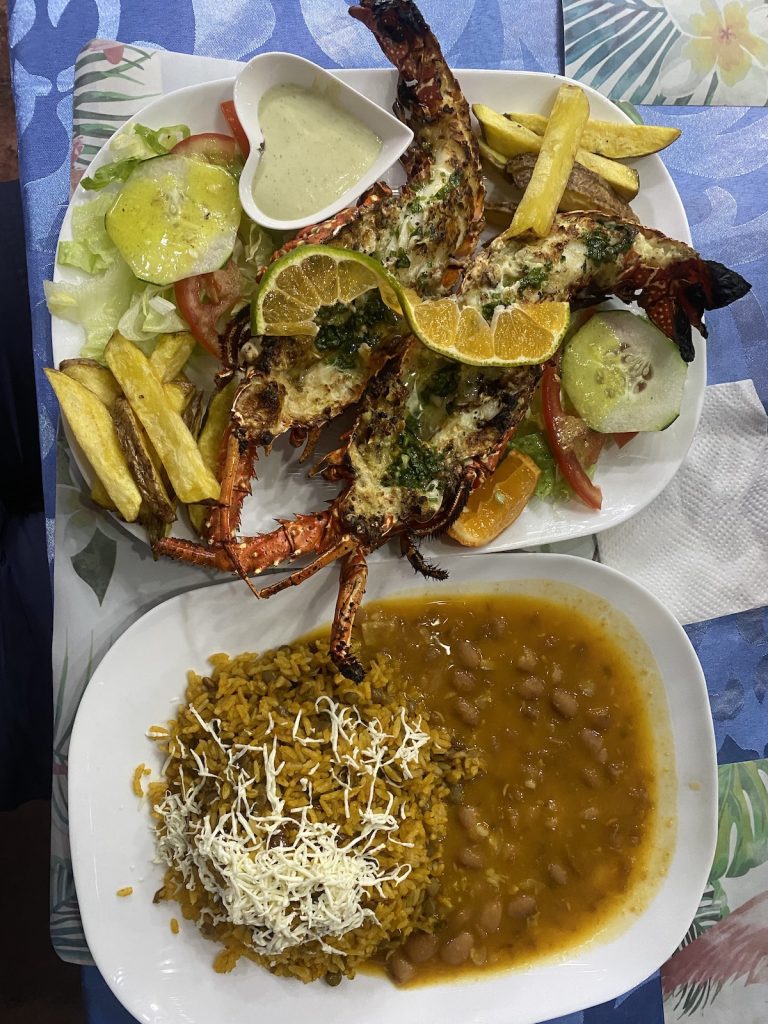 Finally, it was time for a sleep and to head on with the first tour.
Day 3: Los Tonelles tour, Tintoretas tour (Isabela Island)
We had an early tour to Los Tuneles or Cabo Rosa this morning at 7am. It was a half-day tour, and usually, the driver picks you up from the hotel. However, since it was 7:15am, and no one had picked us up, we had to contact the hotel staff for help, since we could not contact the agency. The agency we bought tours from appeared to have given the wrong names and addresses. Once again, we'd never recommend these guys to anyone looking to buy tours: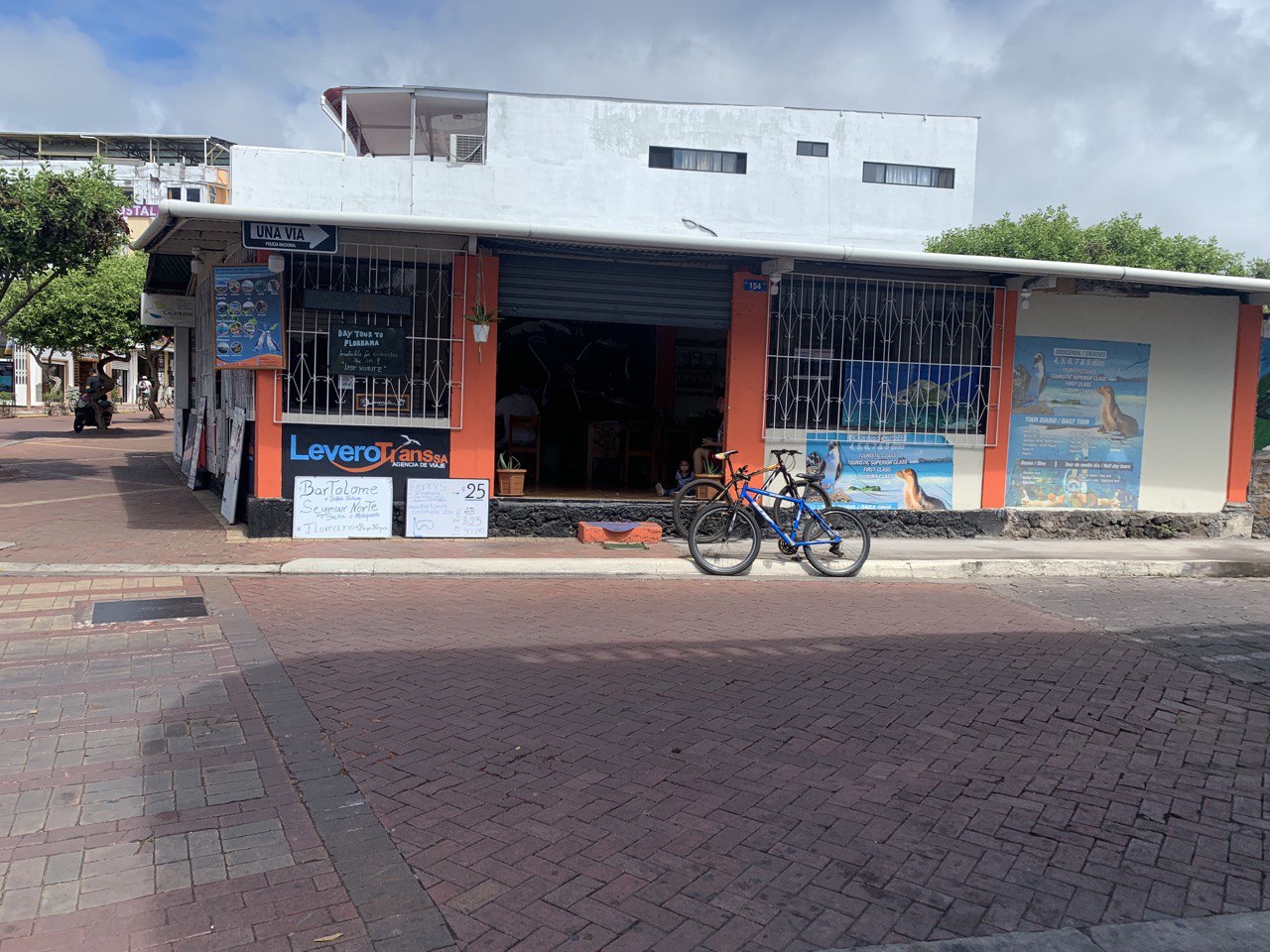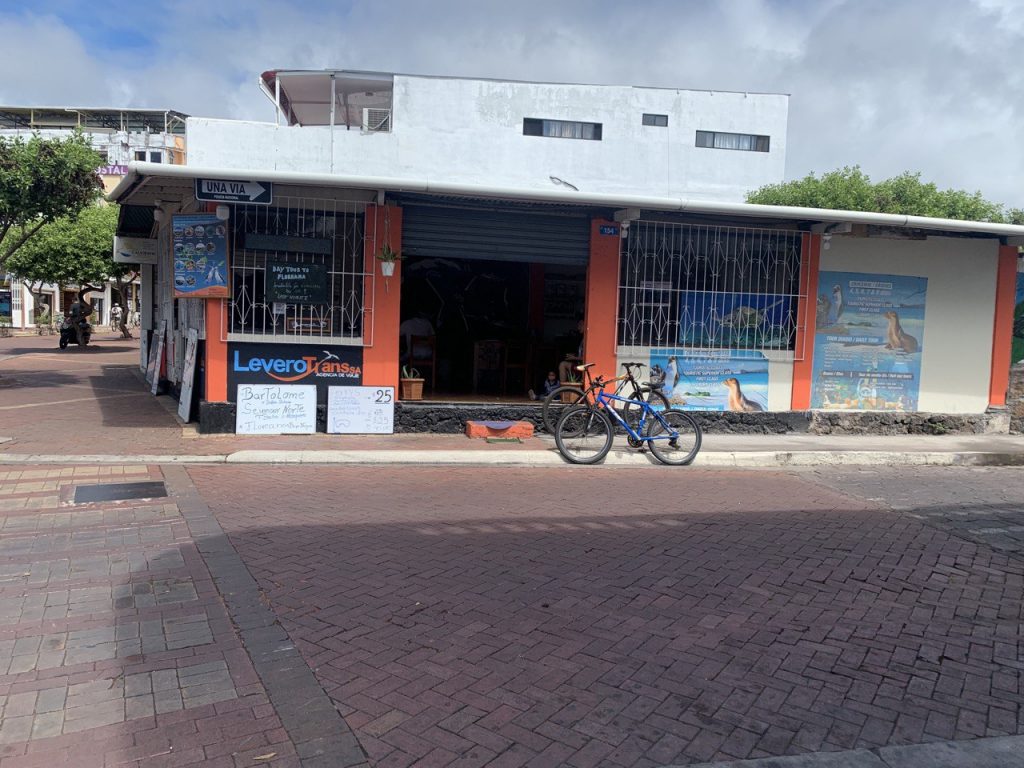 Eventually, we were picked up at 7:30am, and I guess the whole group had to wait for us. It was a 30-minute boat ride to the destination, but the weather was cloudy and a little bit stormy; our boat was even thinking about turning around, but eventually, we arrived at the destination: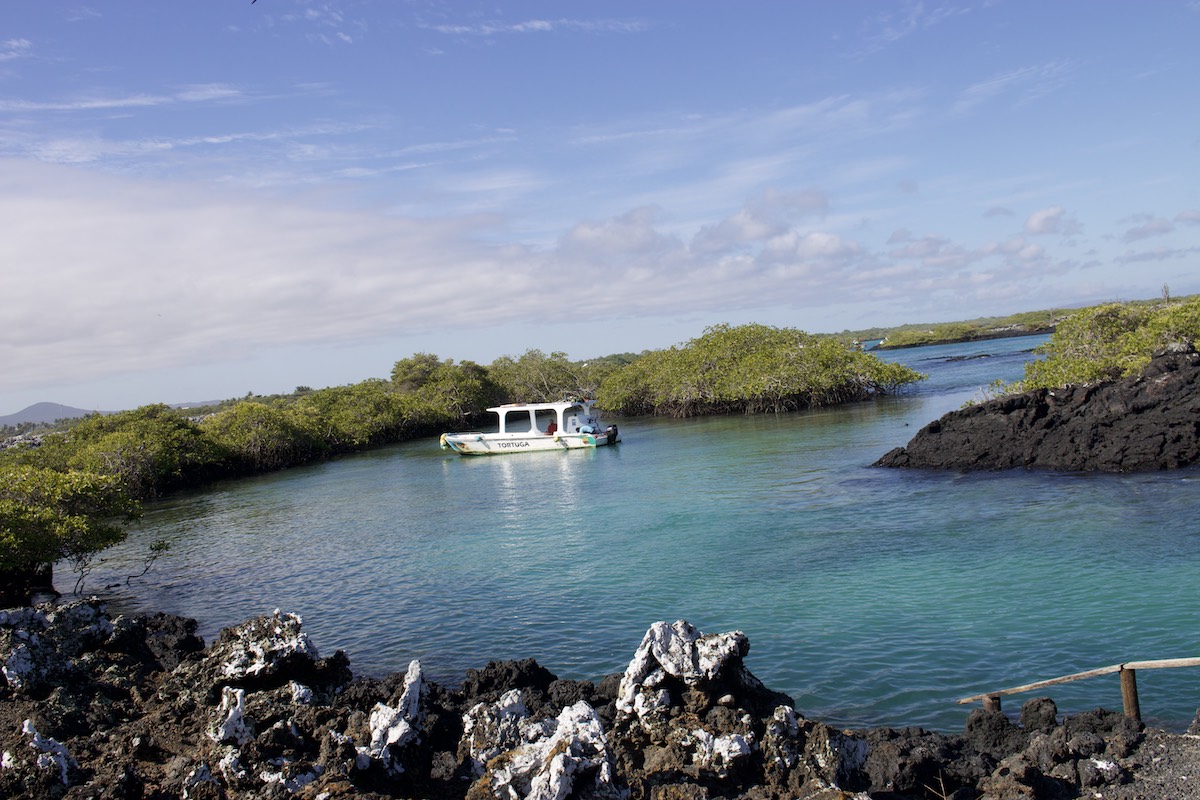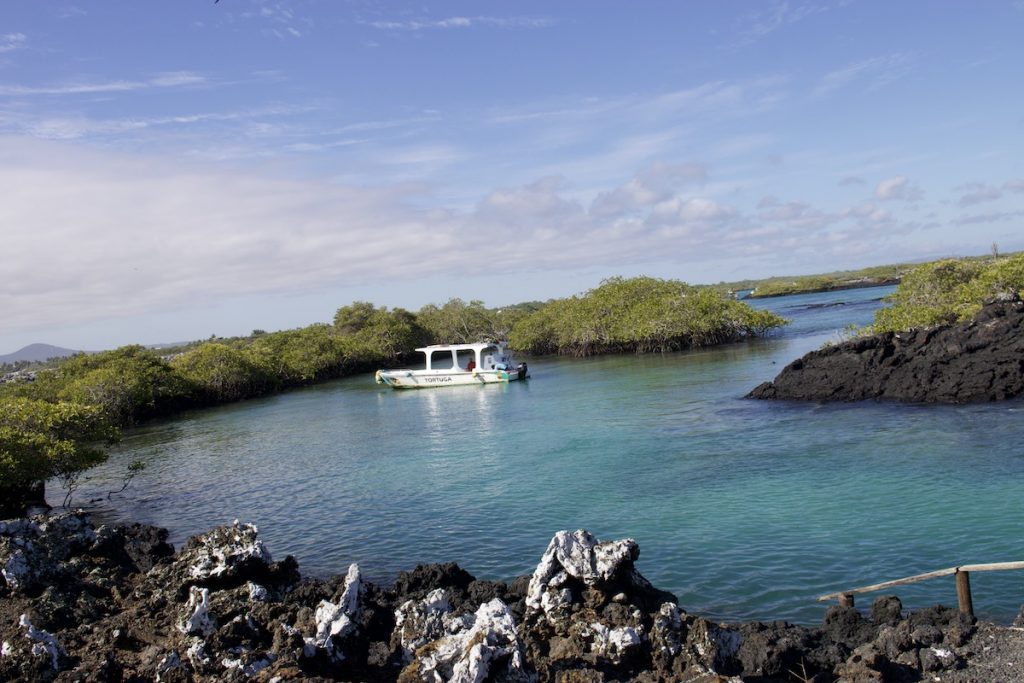 Cabo Rosa was formed by lava platforms that crashed into the sea, resulting in hundreds of lava tunnels and bridges both above and below the ocean. We started with the snorkeling, and it was such a unique experience to swim around lava tunnels; I was absolutely amazed to get the chance to see all of the Galapagos' marine life.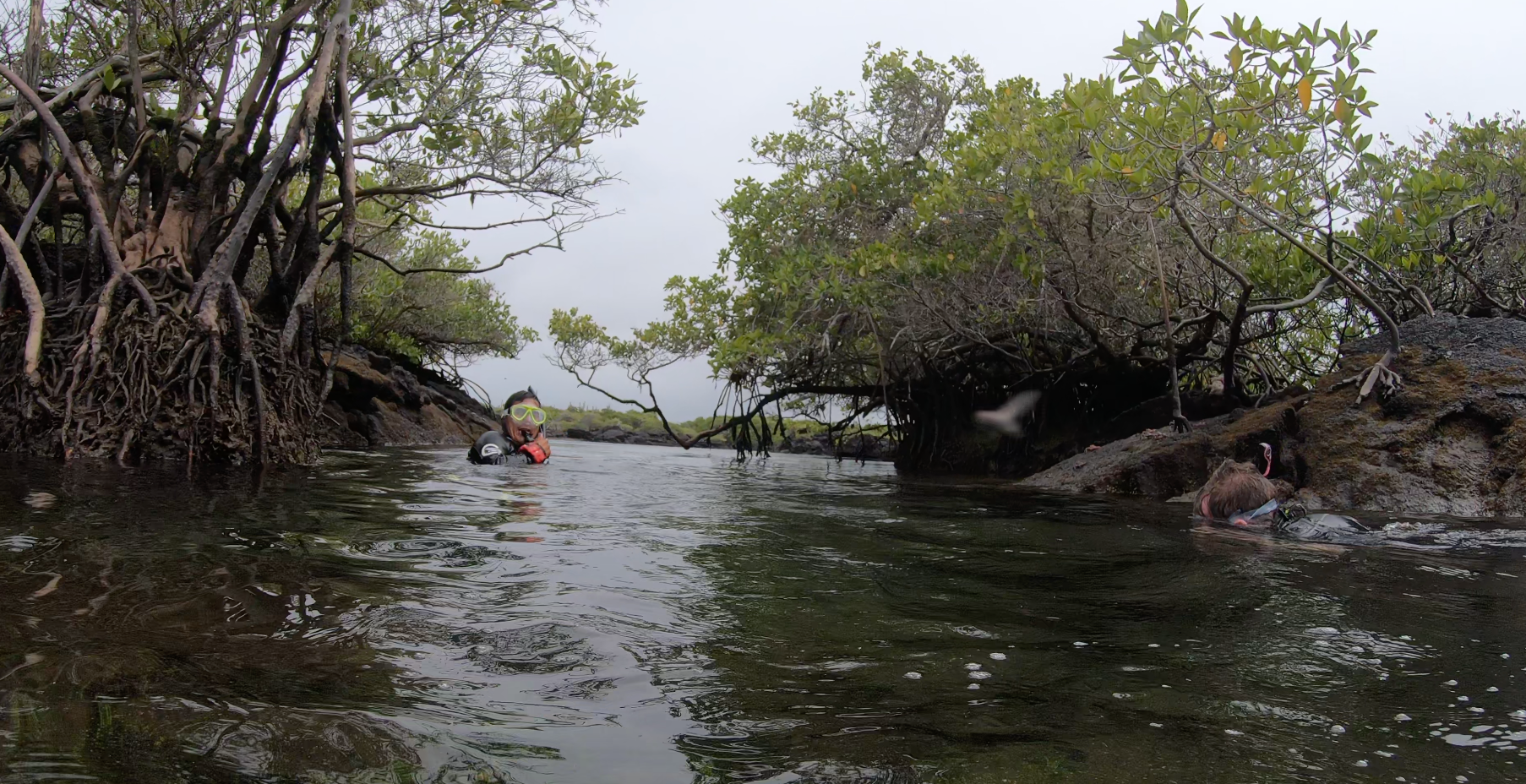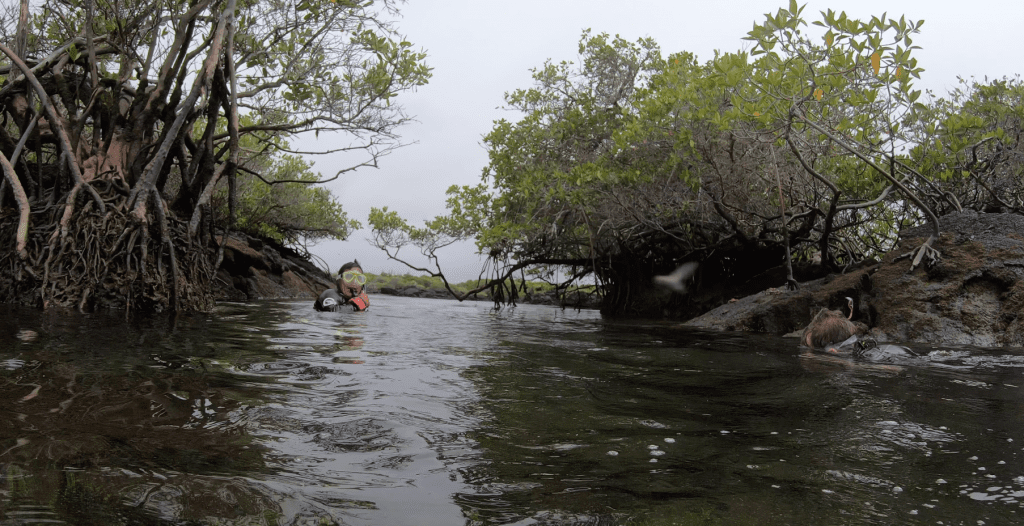 The combination of these formations and the marine life was outstanding. We could spot turtles, sharks, different types of fish, and even seahorses!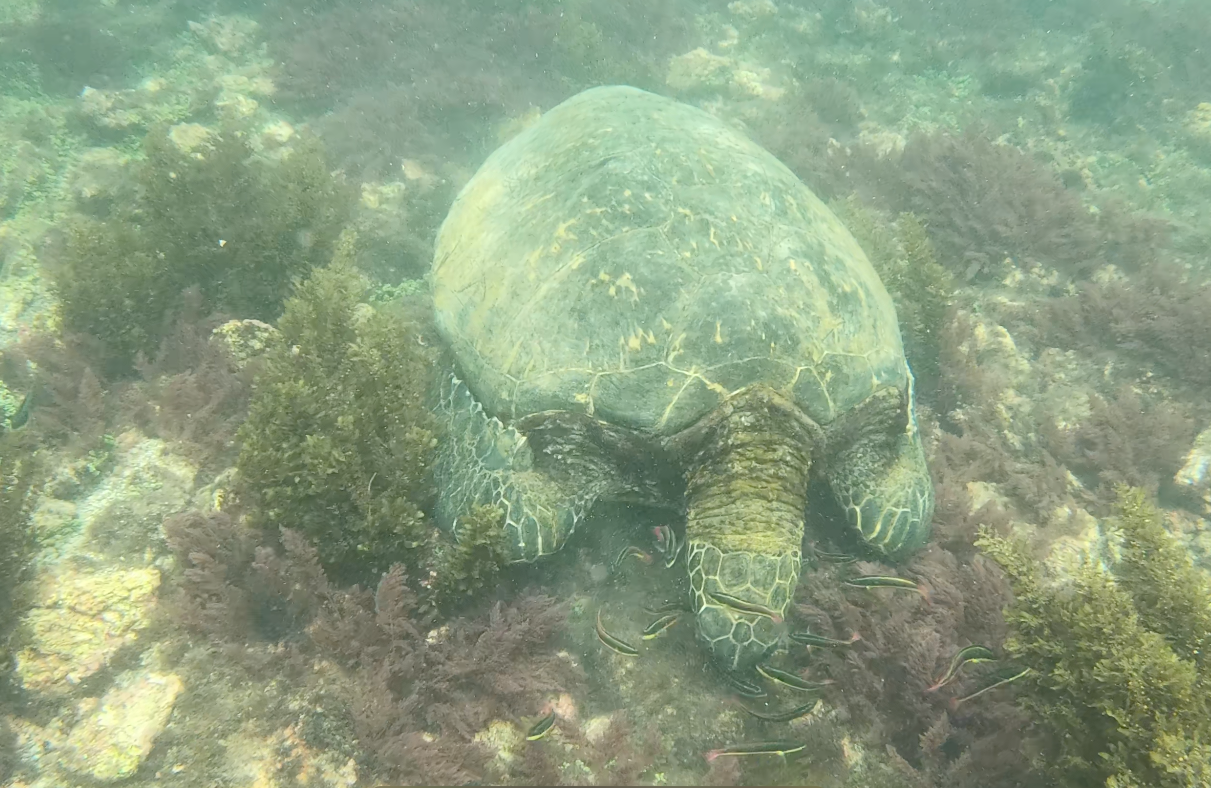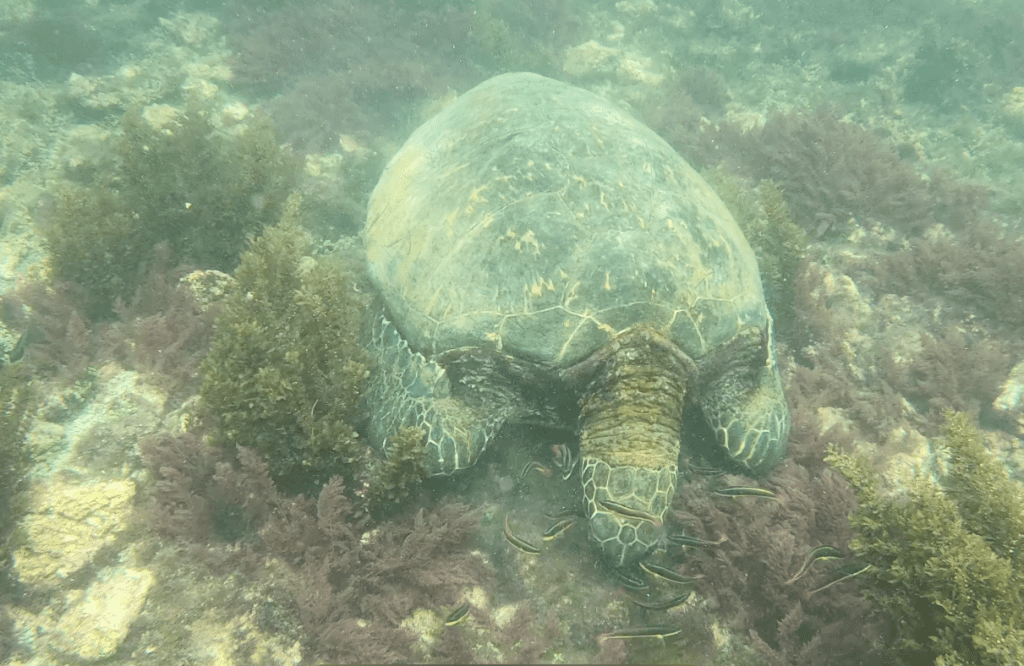 I've never even seen seahorses and sharks that close, so my euphoric level was near the top.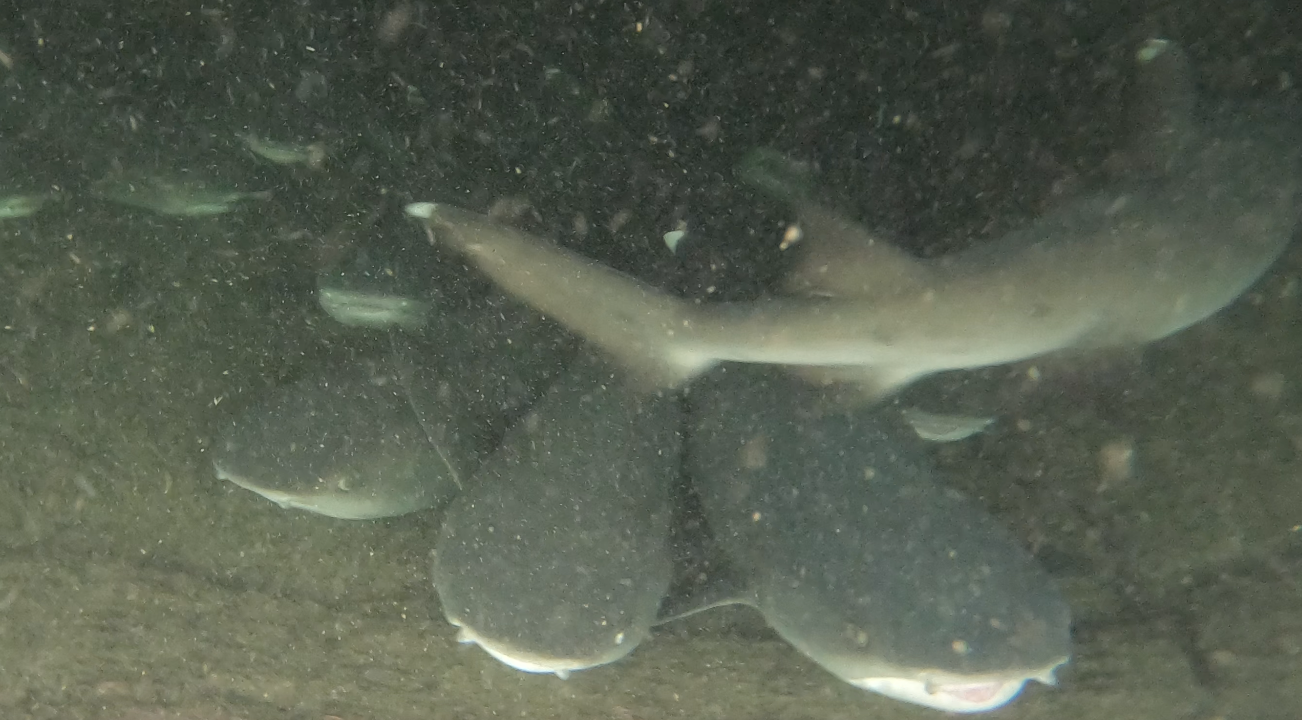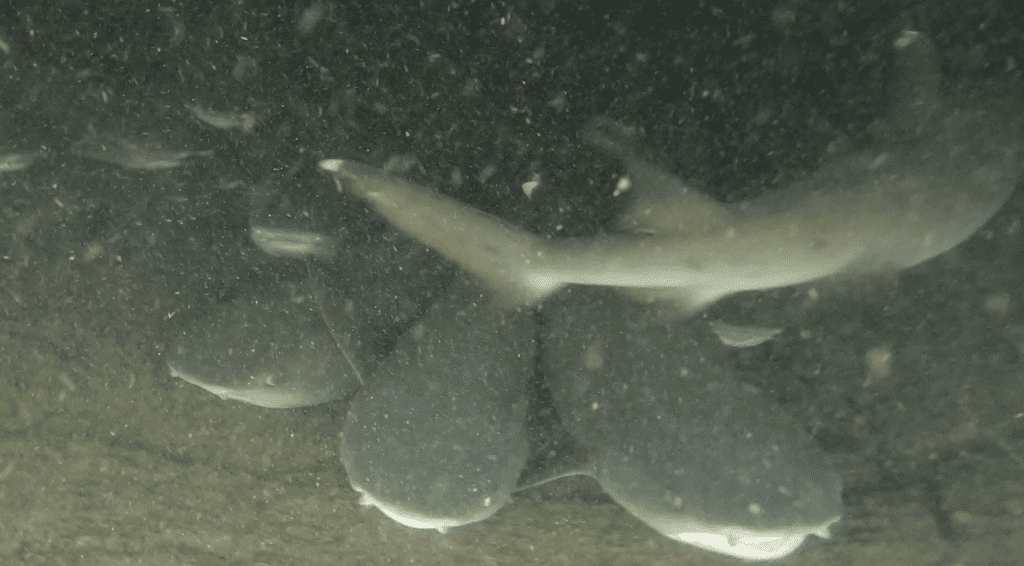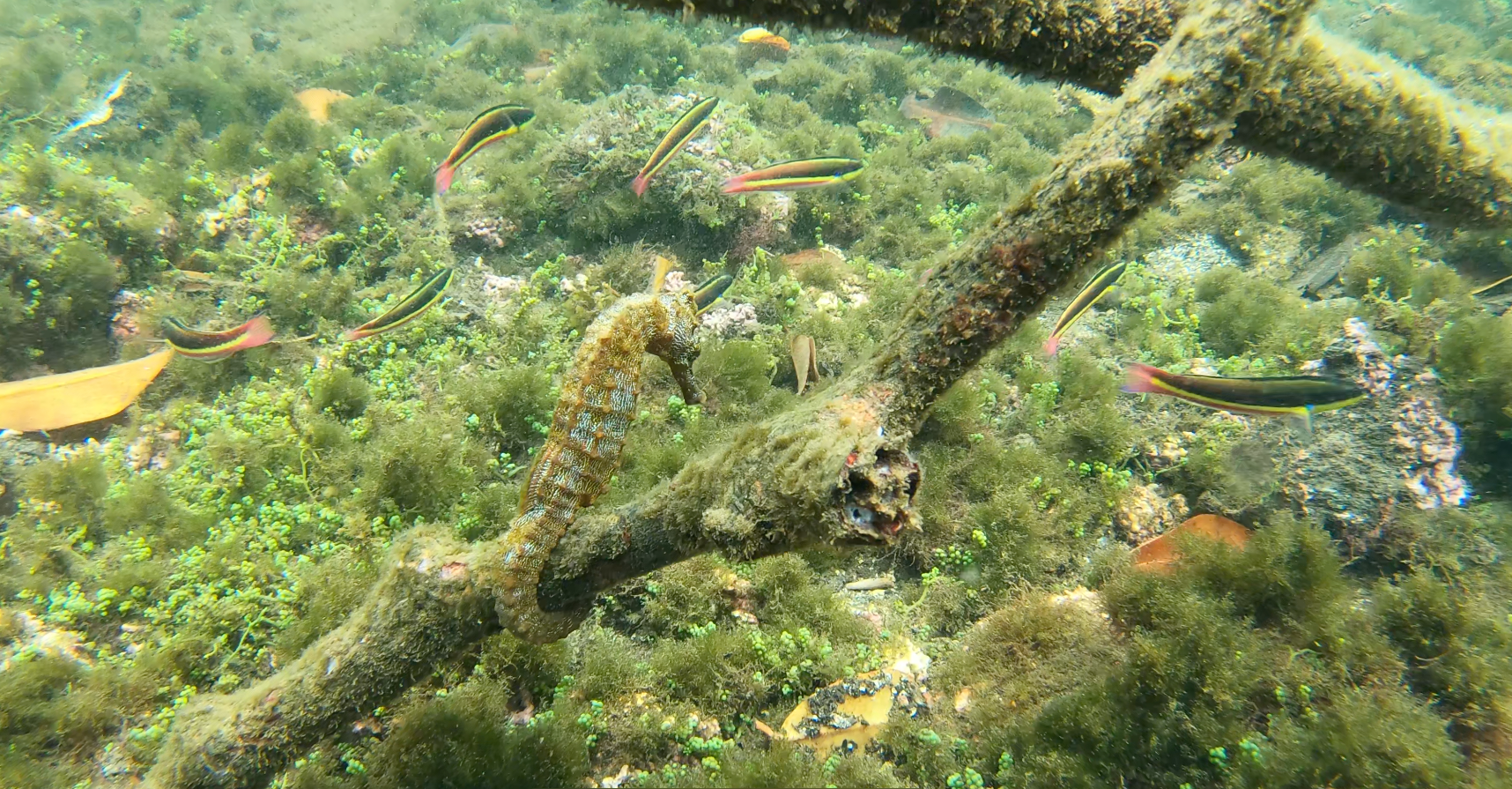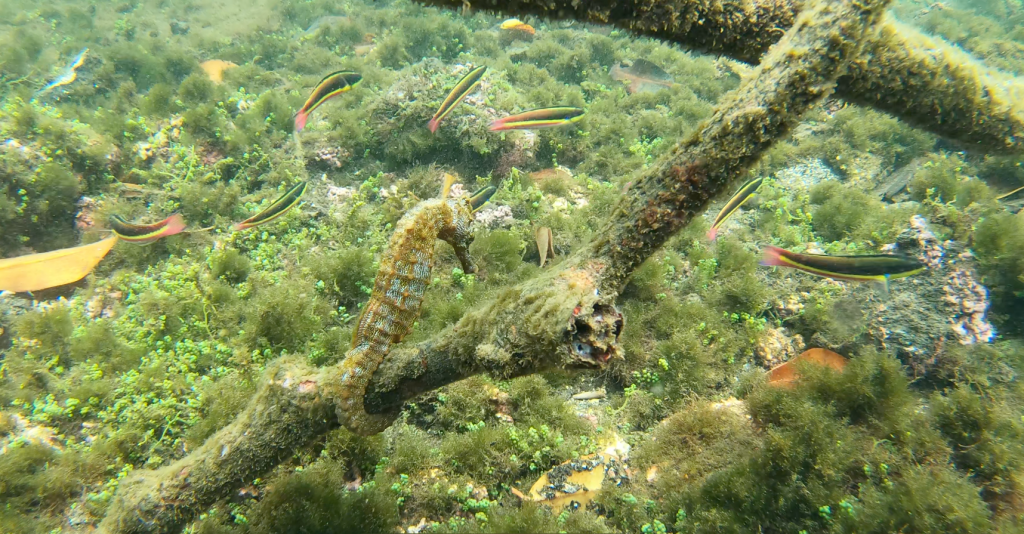 The second part of the tour was riding on the boat between the tunnels. We also did a little hike where the guide gave us a huge amount of fascinating information about the formations. I am not going to give out any spoilers here, as I think you deserve a chance to experience this yourself! It was an amazing walk around the formation with almost no people. You genuinely feel the energy and wilderness of the place.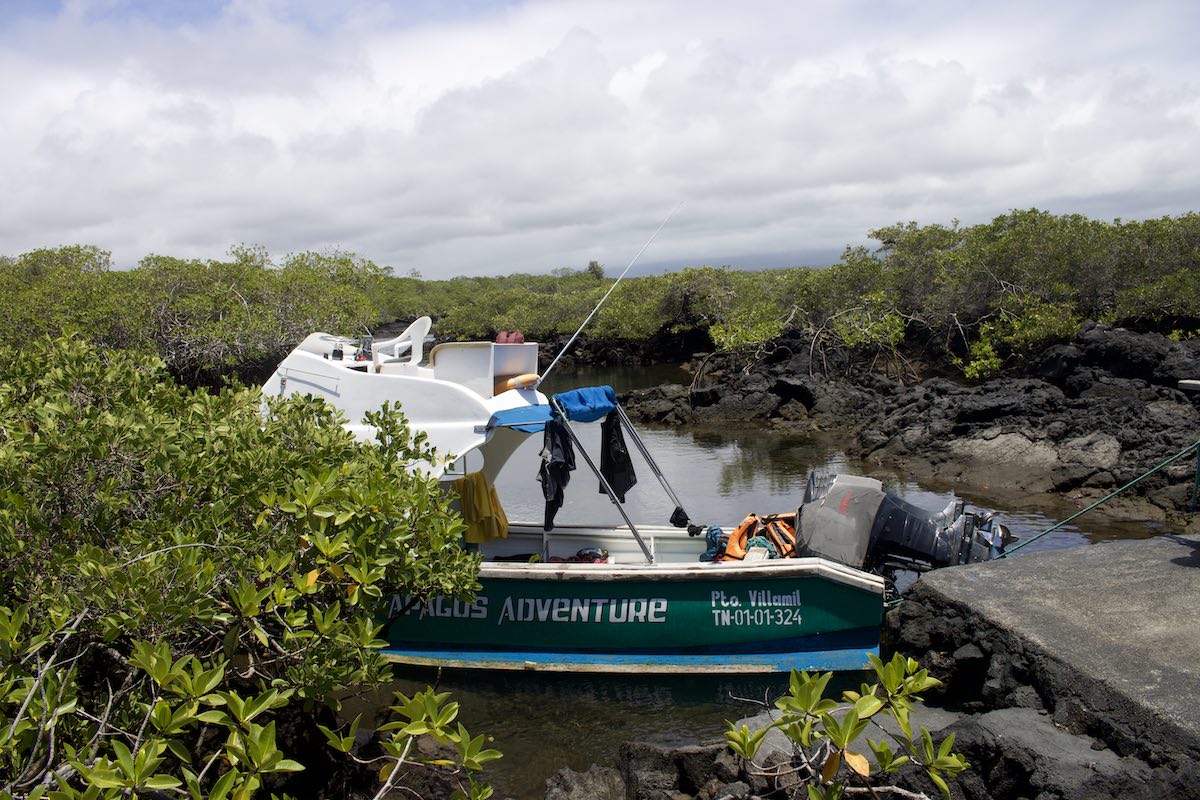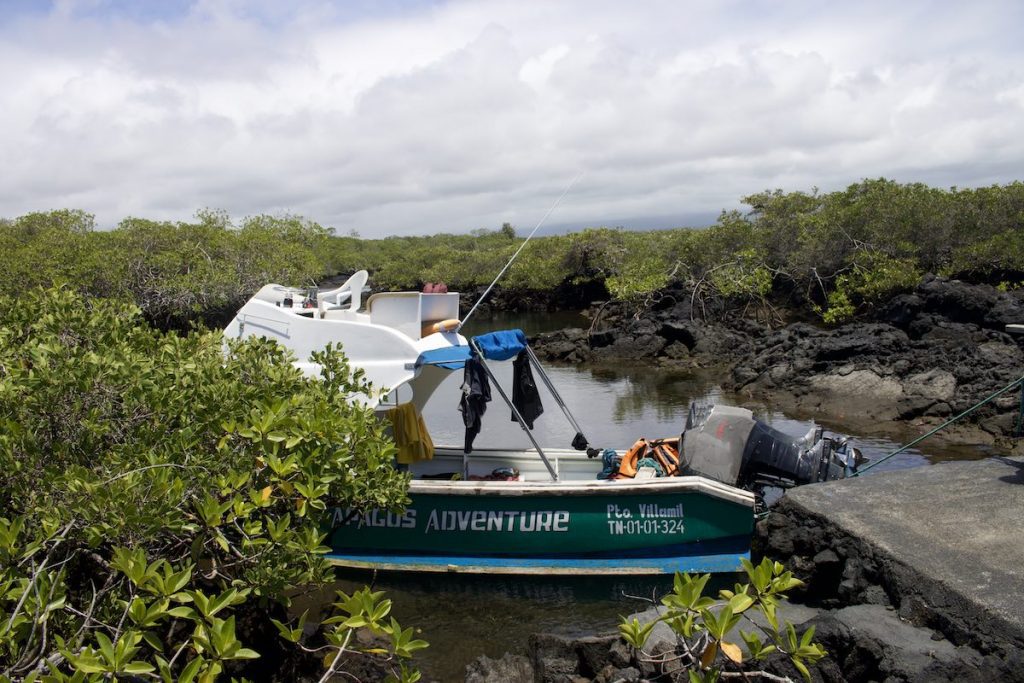 We had lunch, rode a boat through the tunnels, and spotted some of the amazing Galapagos penguins.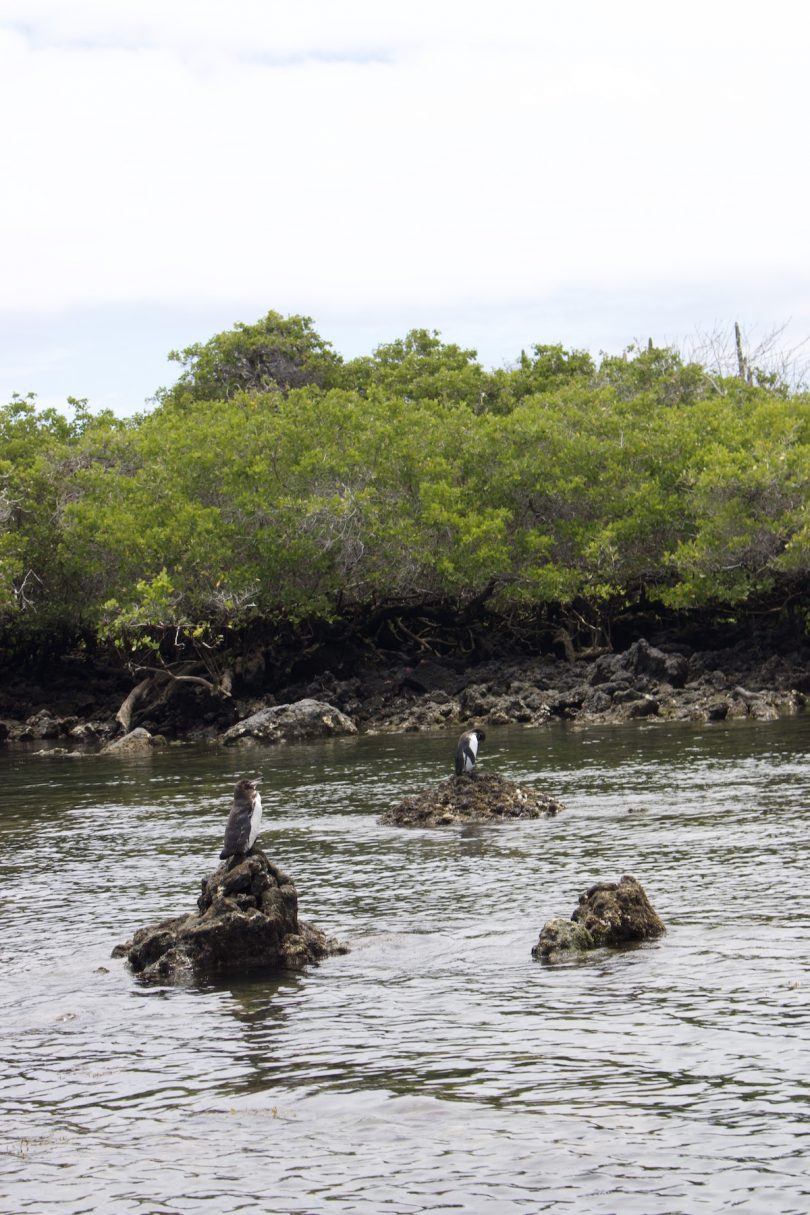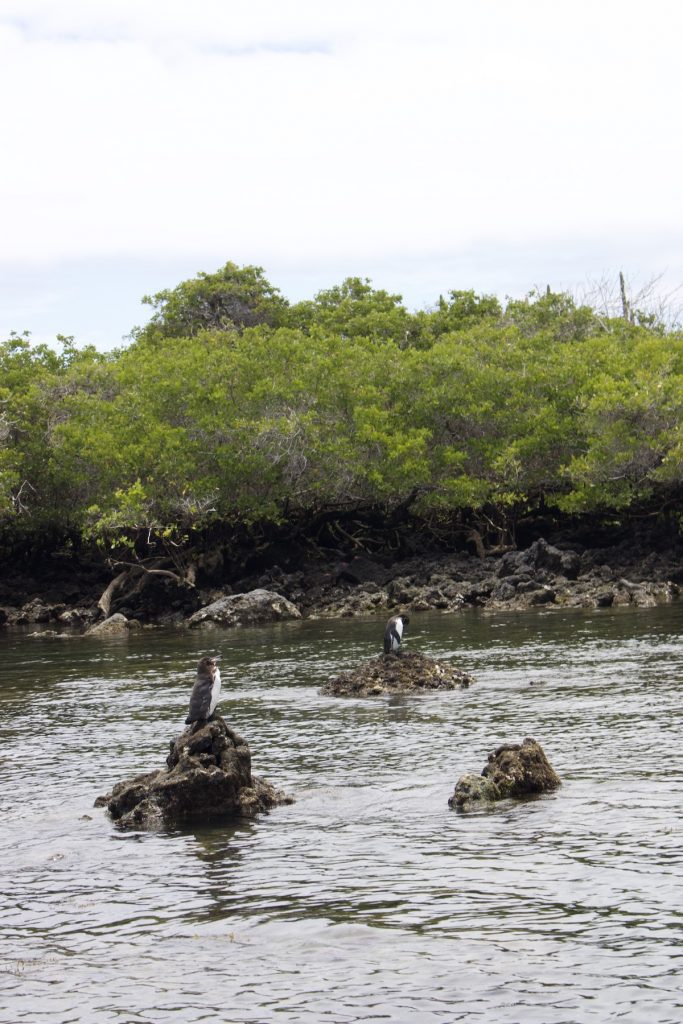 There's so much marine life around these islands, many of which I'd never seen before in my life! At the end of the tour, there was also one more spot of snorkeling with pretty much the same incredible marine life and lava tunnels.
The second part of the day was Tintoreras tour, and the best part was going through this little inlet where we could sport so many sharks chilling at the bottom.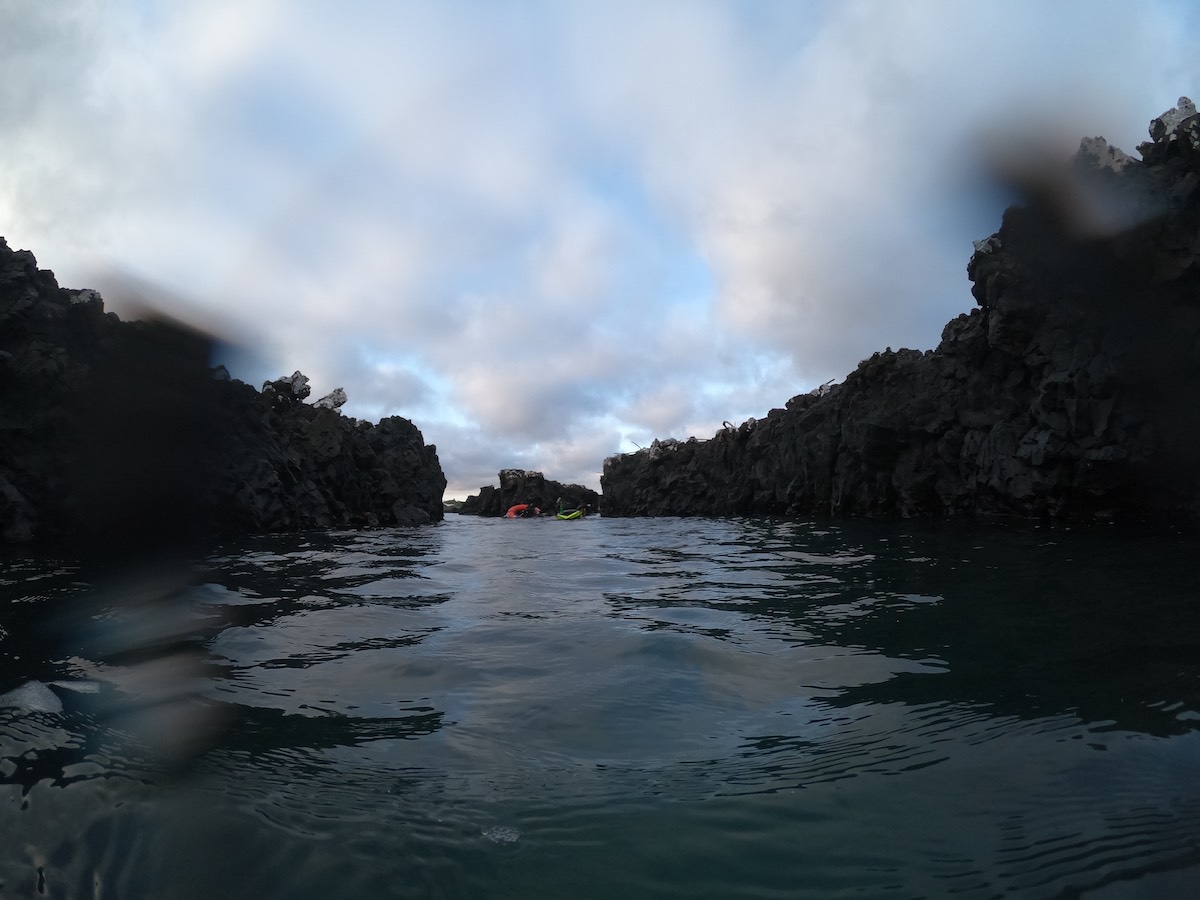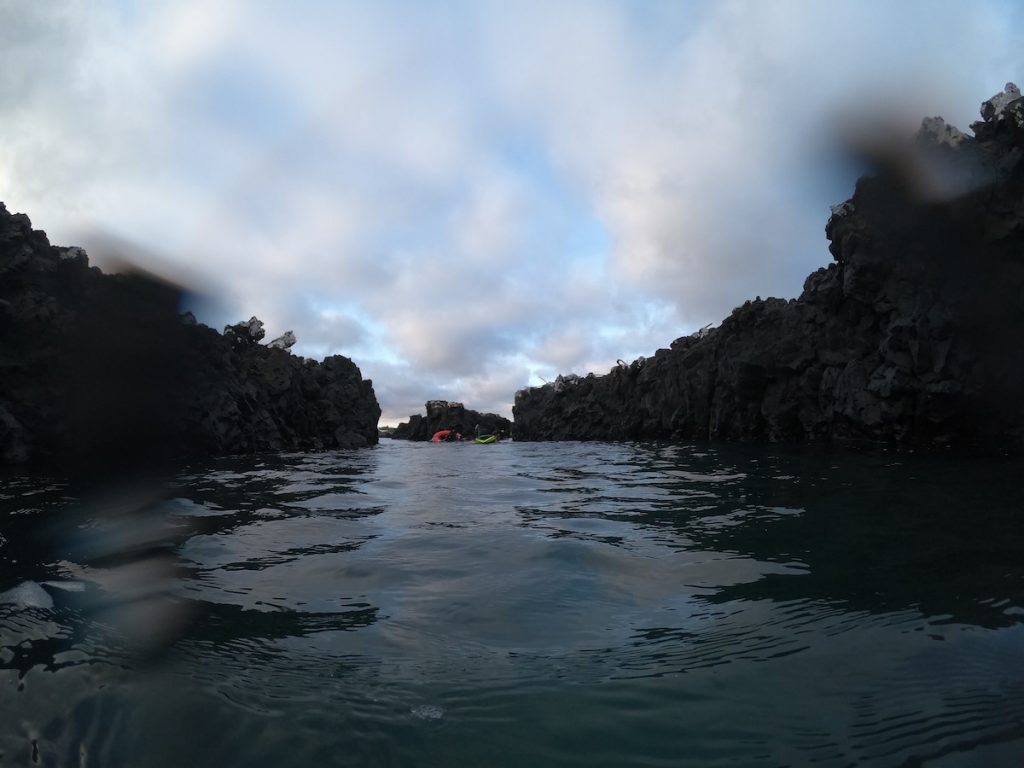 This was also a great place to see Galapagos penguins, which nest in this location depending on the season. Sea turtles, rays, sea lions, and white tip sharks are frequently seen in the Tintoreras seas. The walk on lava forms was stunning as well: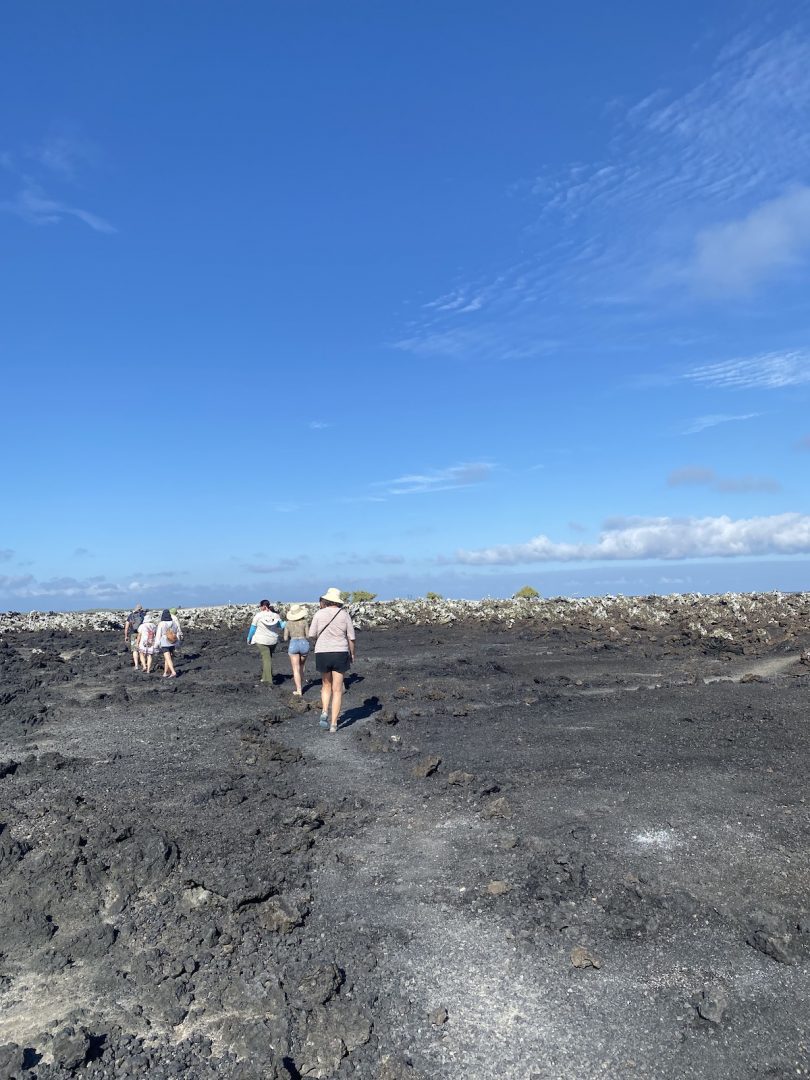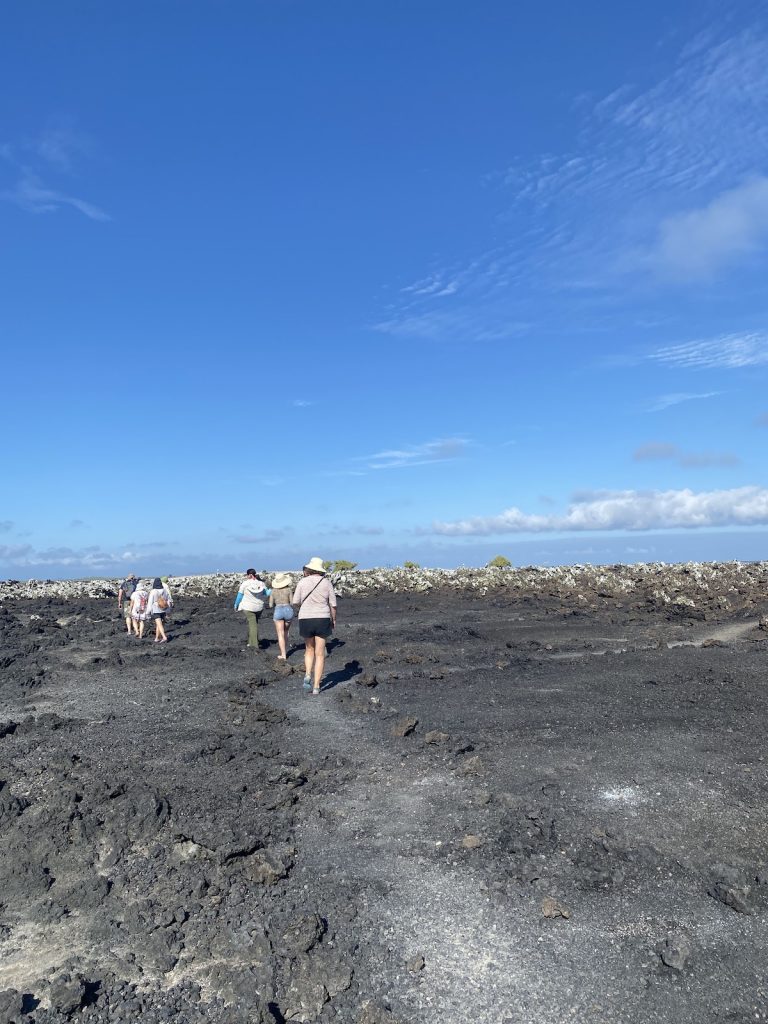 At the end, we had an amazing dinner at a street food cafe owned by Galapagos resident Don Carleone.
Day 4: Exploring Isabela Island and boat to Santa Cruz
I really regretted my decision to stay on Isabela Island for only two nights. When you check general feedback online, most people say it's the worst Island on the Galapagos, but I loved it so much.
Anyways, our boat back to Santa Cruz was at 3pm, so we had a bunch of time to explore the island in the meantime. We started our day by following a 3km trail through the Galapagos forest, seeing numerous stunning lagoons on the way, as well as a turtle breeding center and a flamingo lagoon, where we had the chance to take in the beauty of pink flamingos in the wild.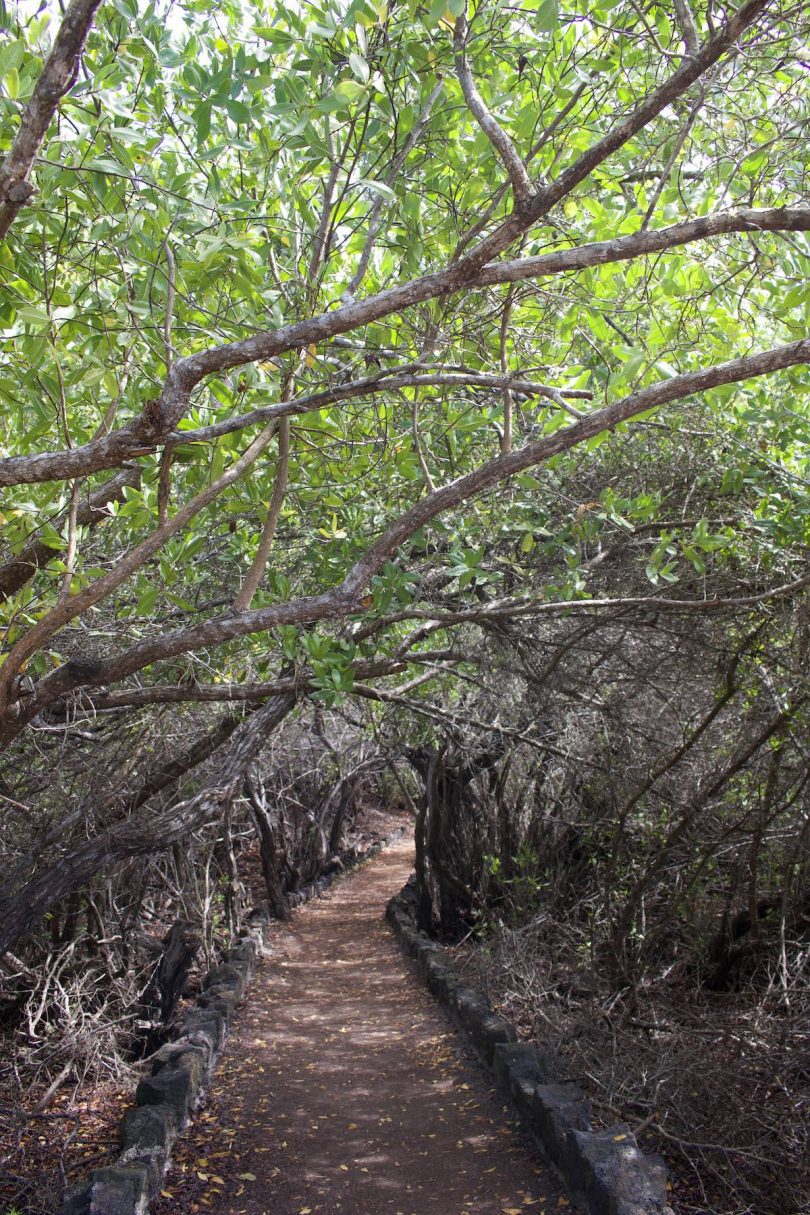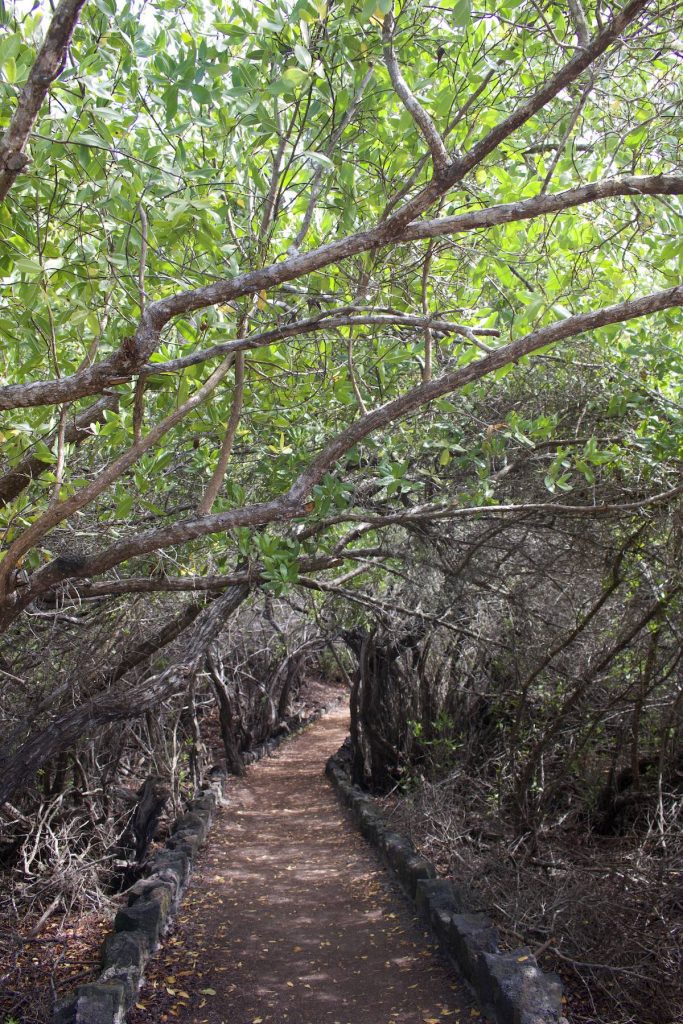 The hike was so scenic and beautiful, and we were the only people the whole way once more.
We also stopped by the turtle breeding center on the way to see the famous Giant Galapagos turtles in the Centro de Crianza Tortugas Gigantes Arnaldo Tupiza Chamaidan.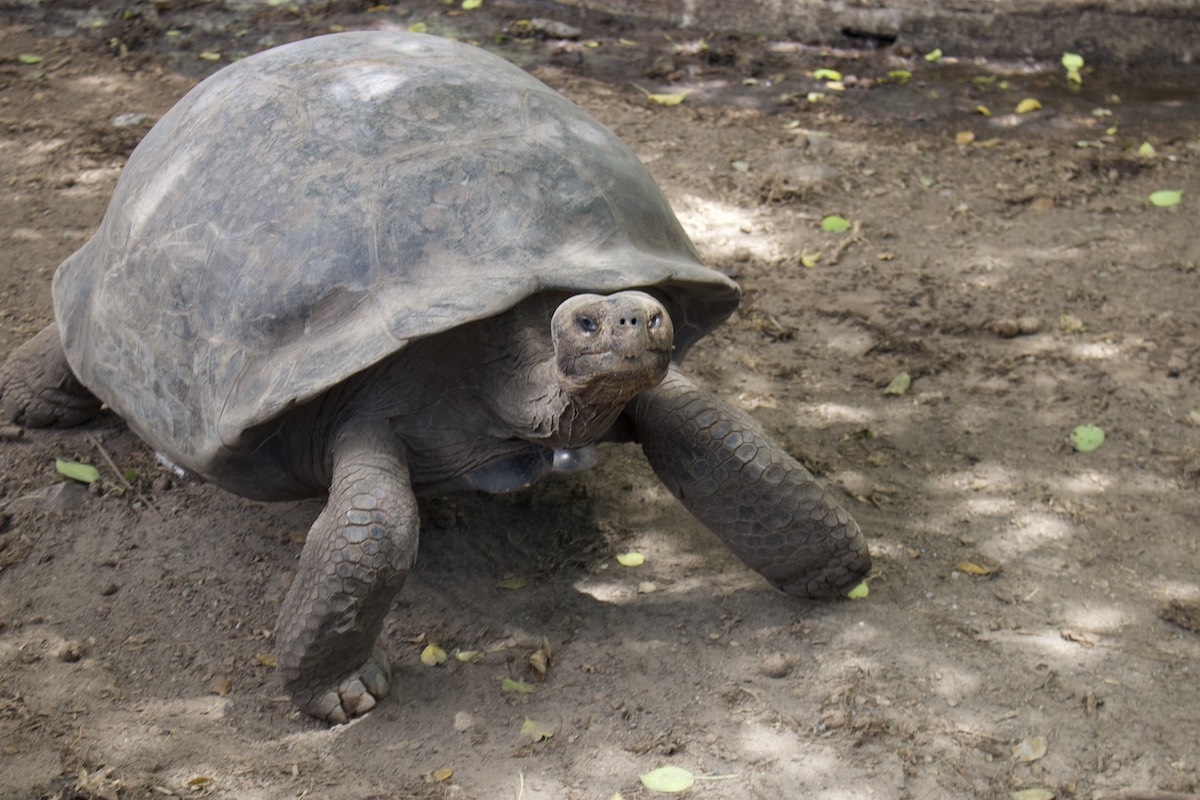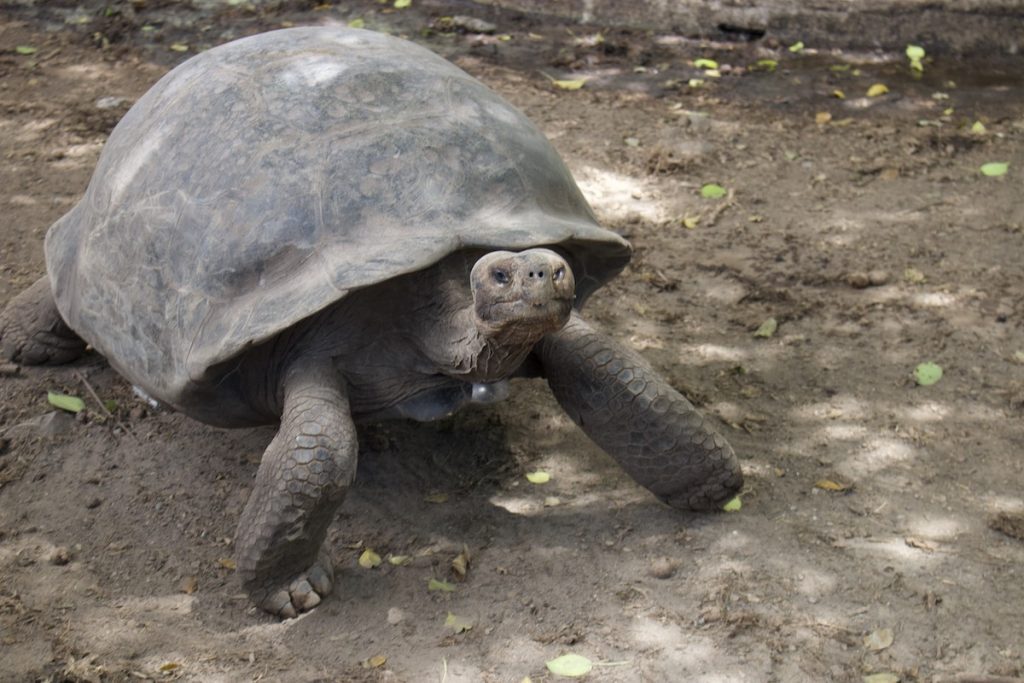 We paid $10 per person to get in, which was definitely worthwhile. The breeding center is dedicated to raising and sustaining the population of the endangered Cerro Palomo tortoises, which include only four male and two female tortoises. More than 300 more giant tortoises also are cared for at the center, which you can see during your tour. However, the turtles can only be seen over the fence, so there are perhaps better places to check these gorgeous creatures out – but educating ourselves was still massively interesting.
Eventually, we reached our destination: the Flamingo Lagoon.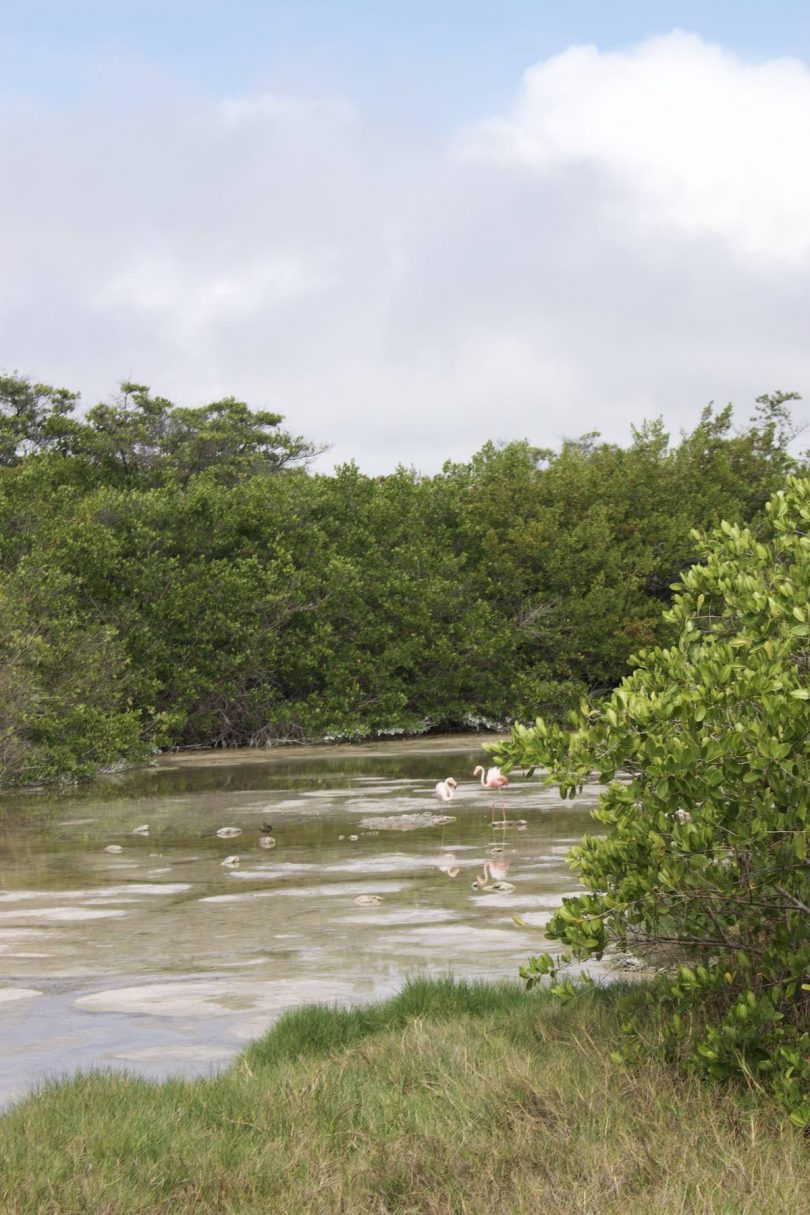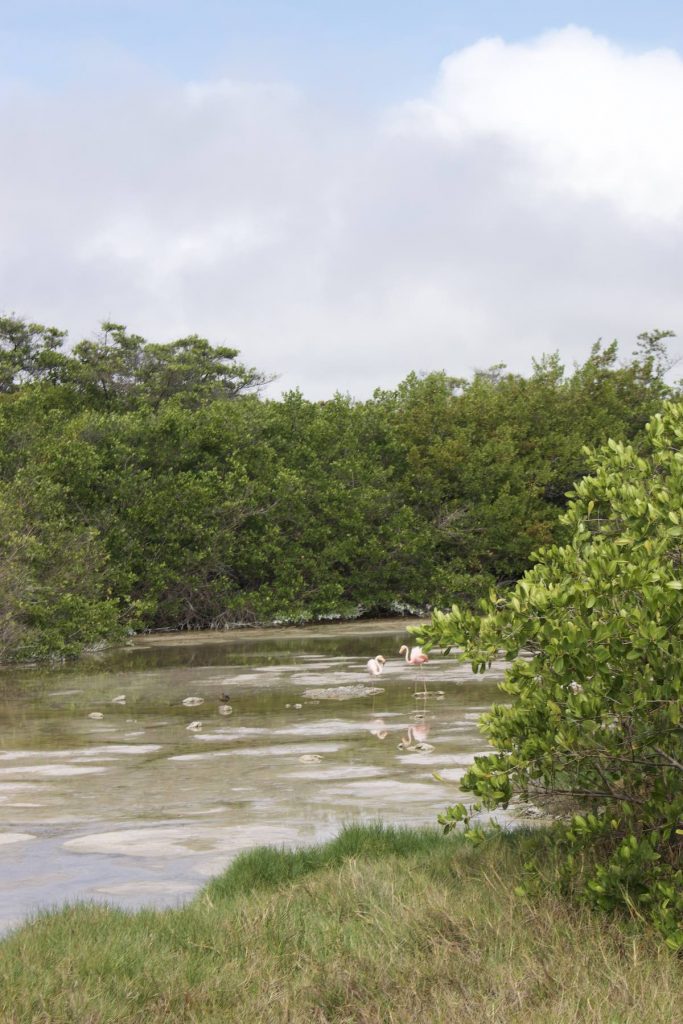 In the middle of the day, we had lunch and walked around the city center. It's quite wild and unique as well, which we really enjoyed.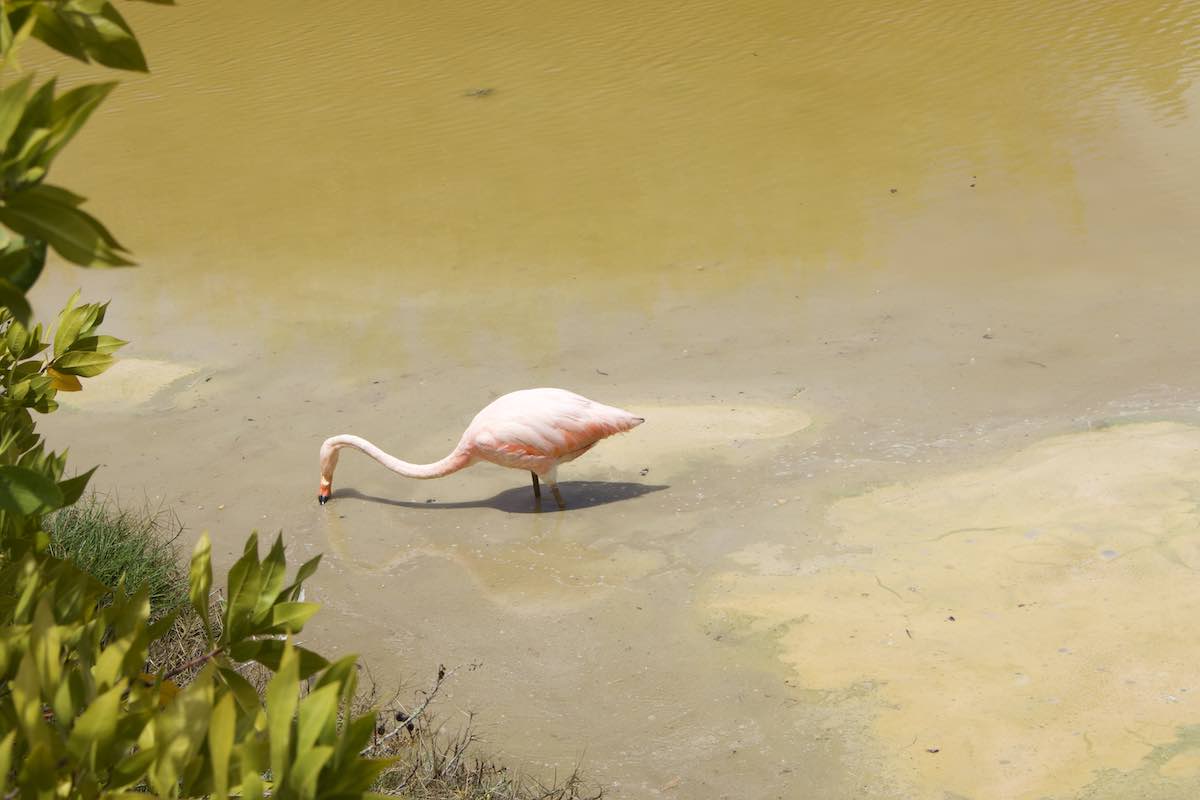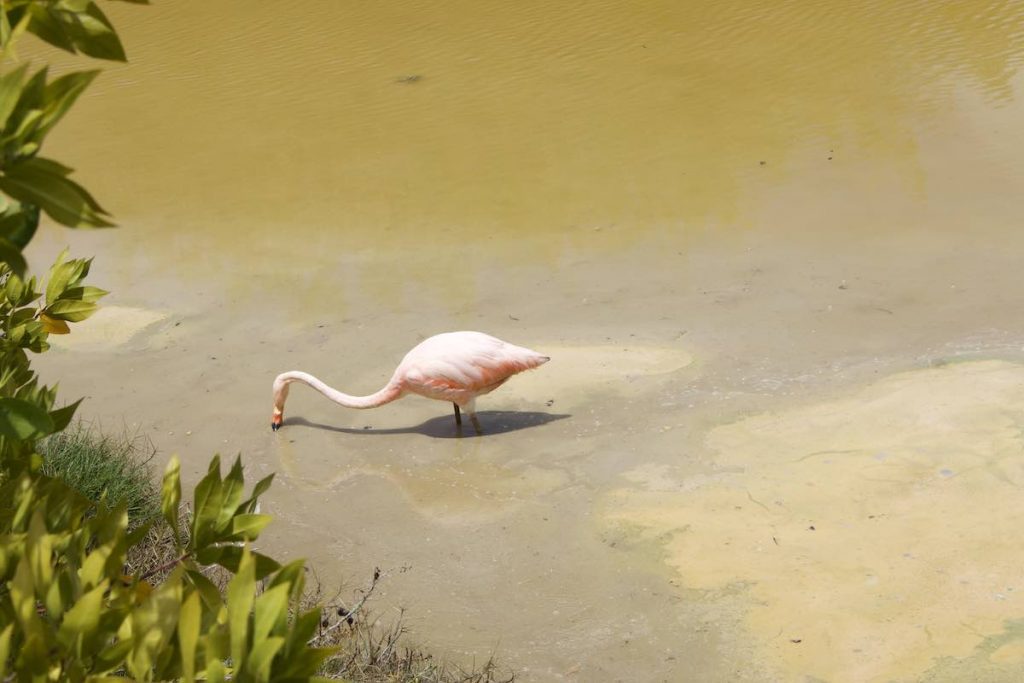 At the end of the day, we just chilled at Puerto Villamil's Main Beach. It's a huuuuge wild beach with warm water, and as we walked and swam, walked and swam, we were still the only people. It was magnificent, and it's a blessing that such isolated places still exist on our planet.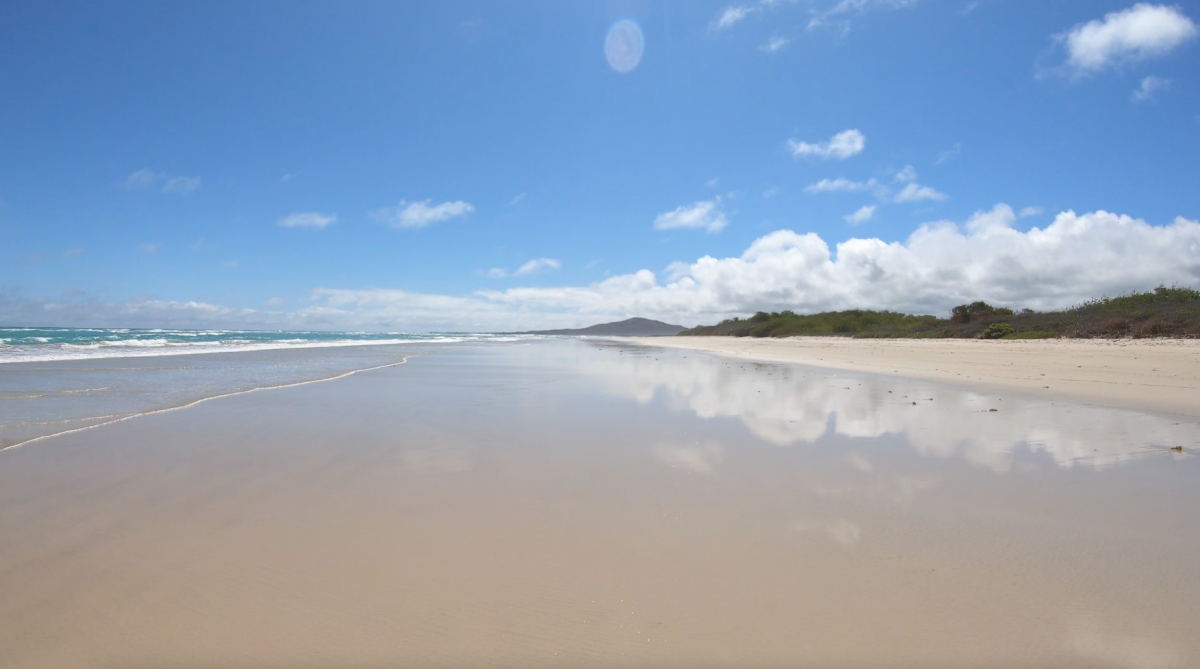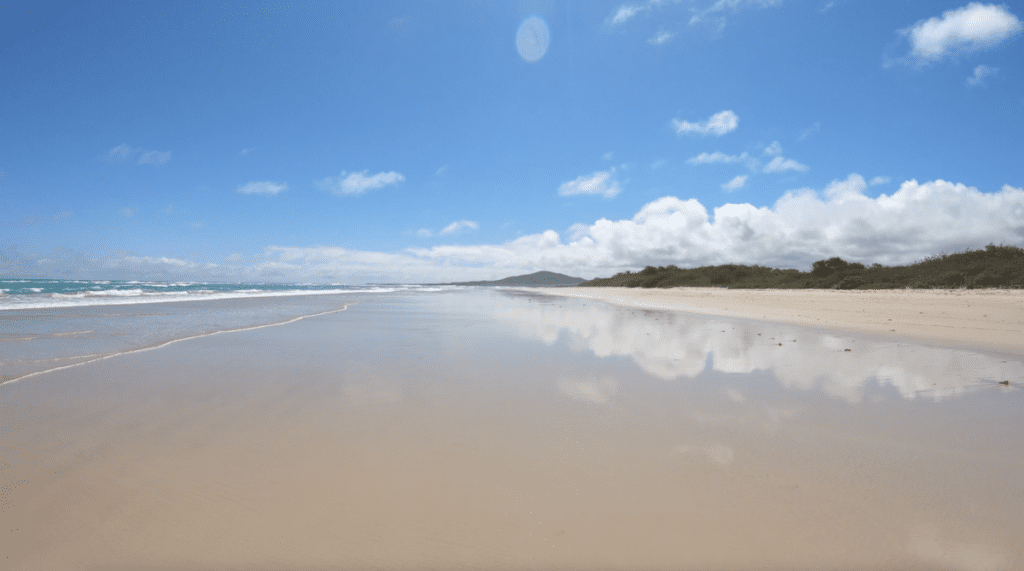 We arrived at the boat station a little earlier to check out another popular place – the Concha Perla, which is great for snorkeling.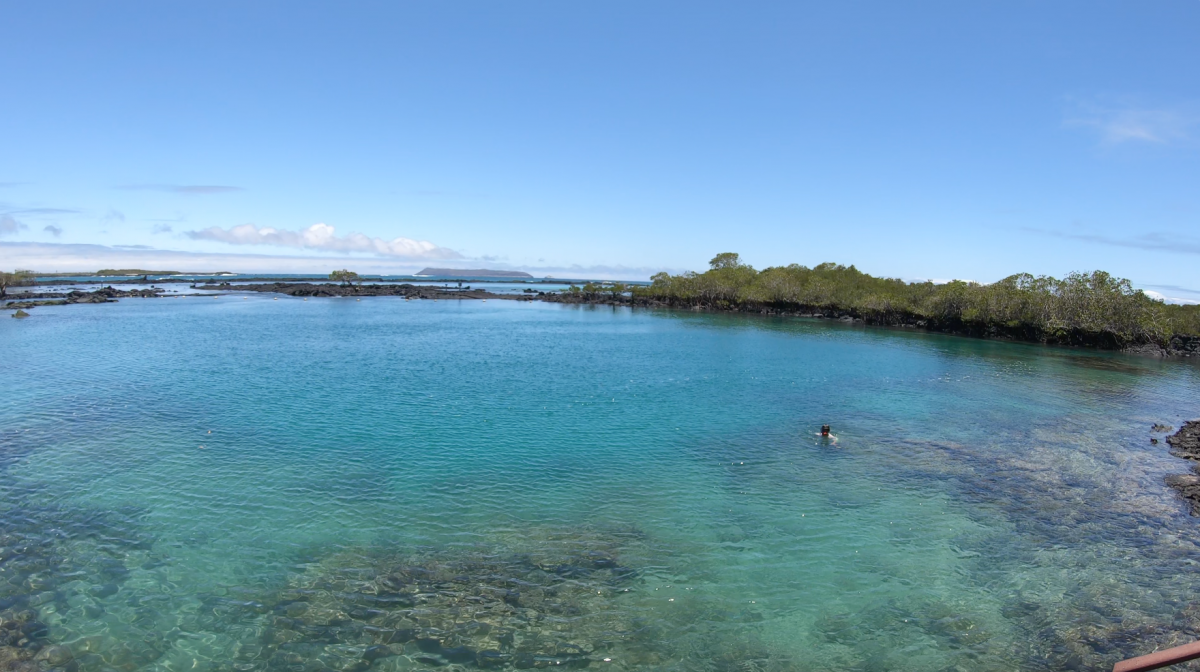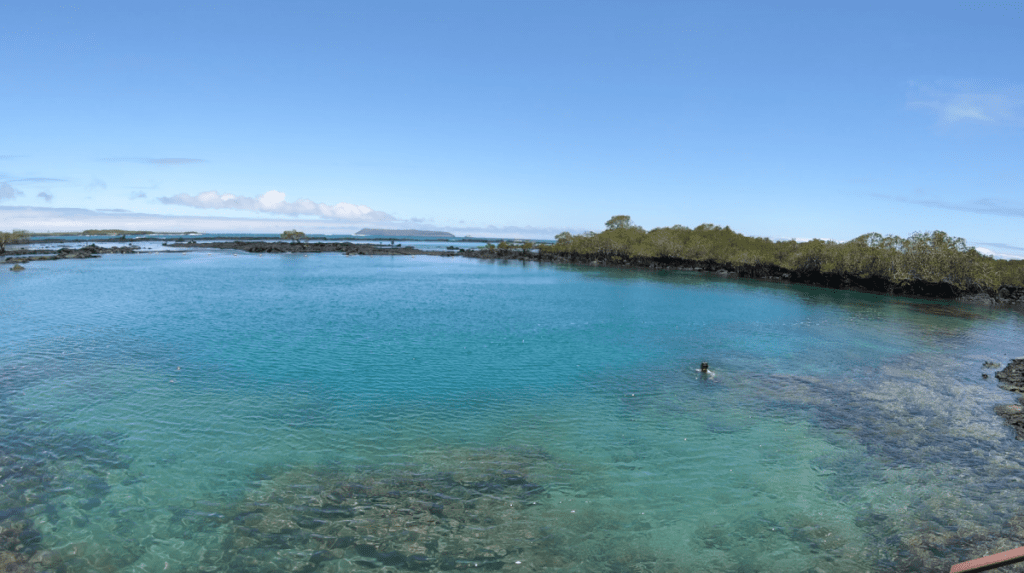 You can explore freely here without needing a guide. We didn't actually do it, but many recommended it; so if you have time and snorkeling expertise, you can just walk down here and enjoy swimming and snorkeling. Green Pacific Turtles (Galapagos turtles), Marble Stingrays, Galapagos Penguins, Tropical Fish, Sea Lions, and even young sharks are possible if you're lucky.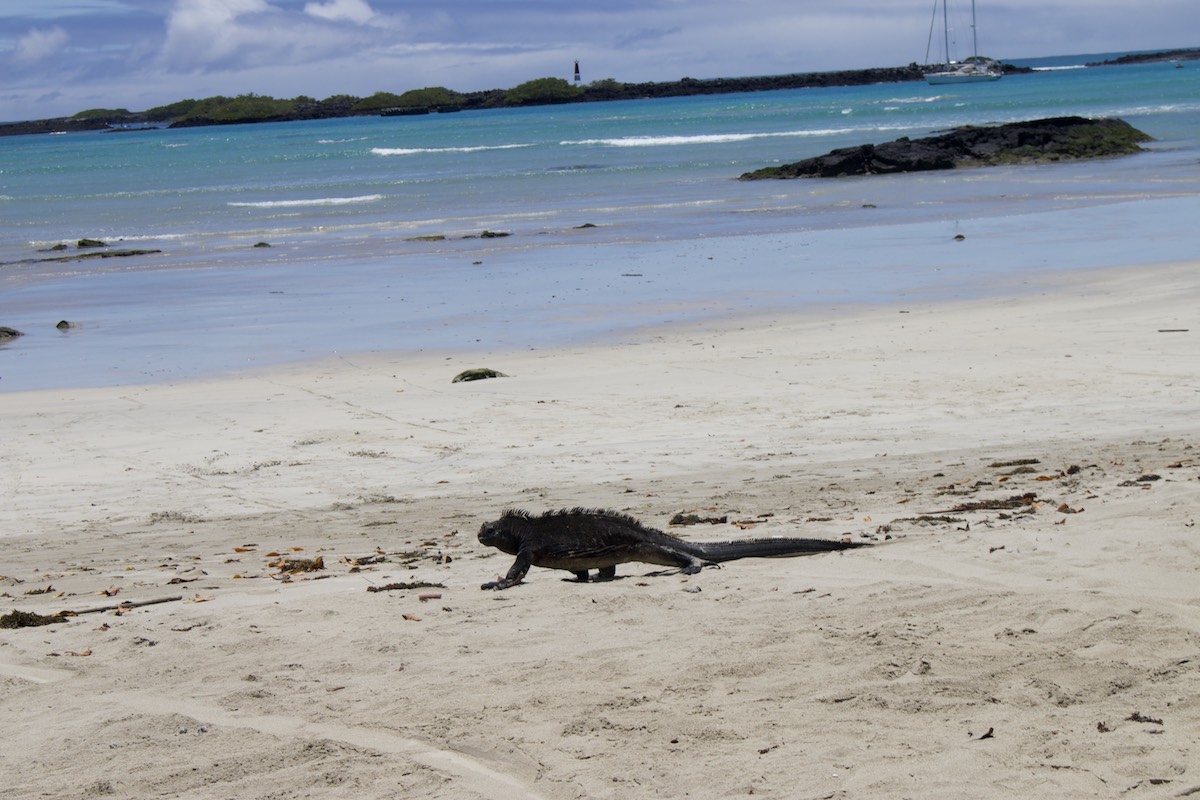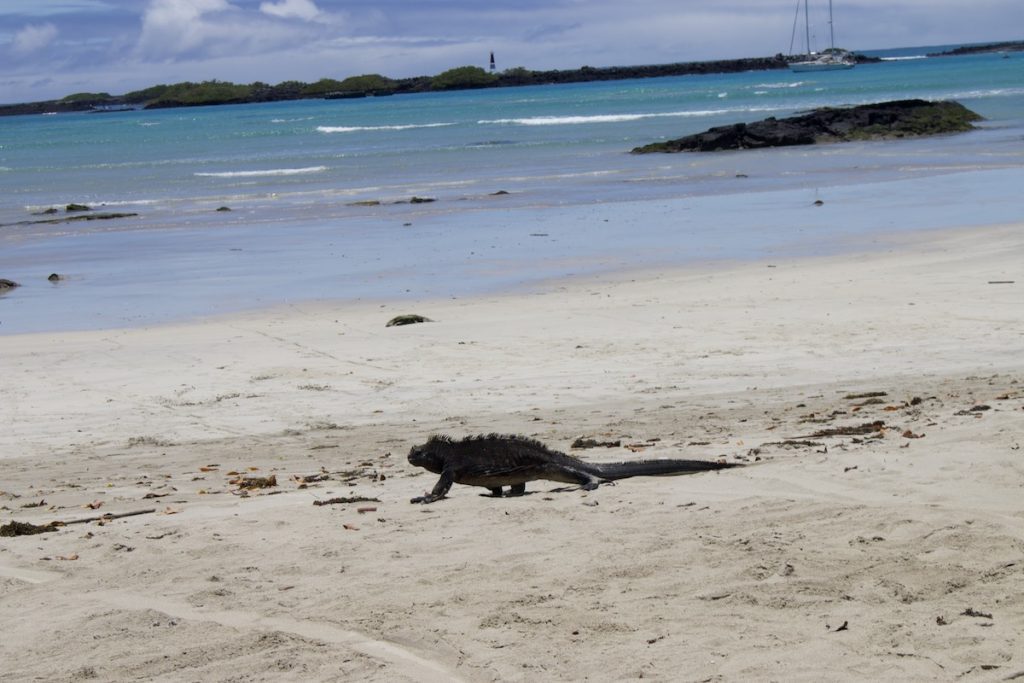 There are also countless more places to see on Isabela Island. One of the most popular is the Sierra Negra Volcano, but we skipped it since we saw several volcanoes on the Ecuador Mainland already.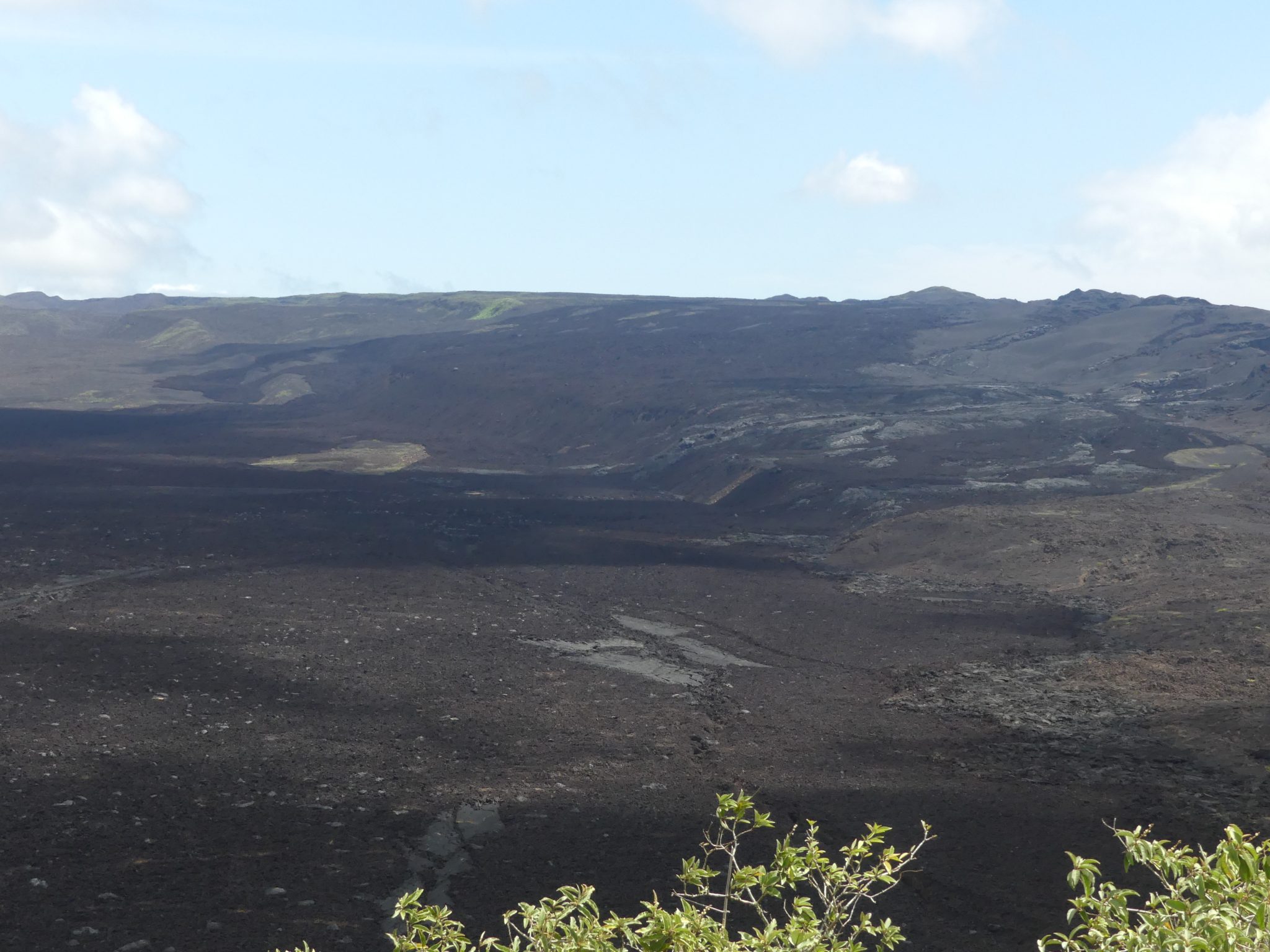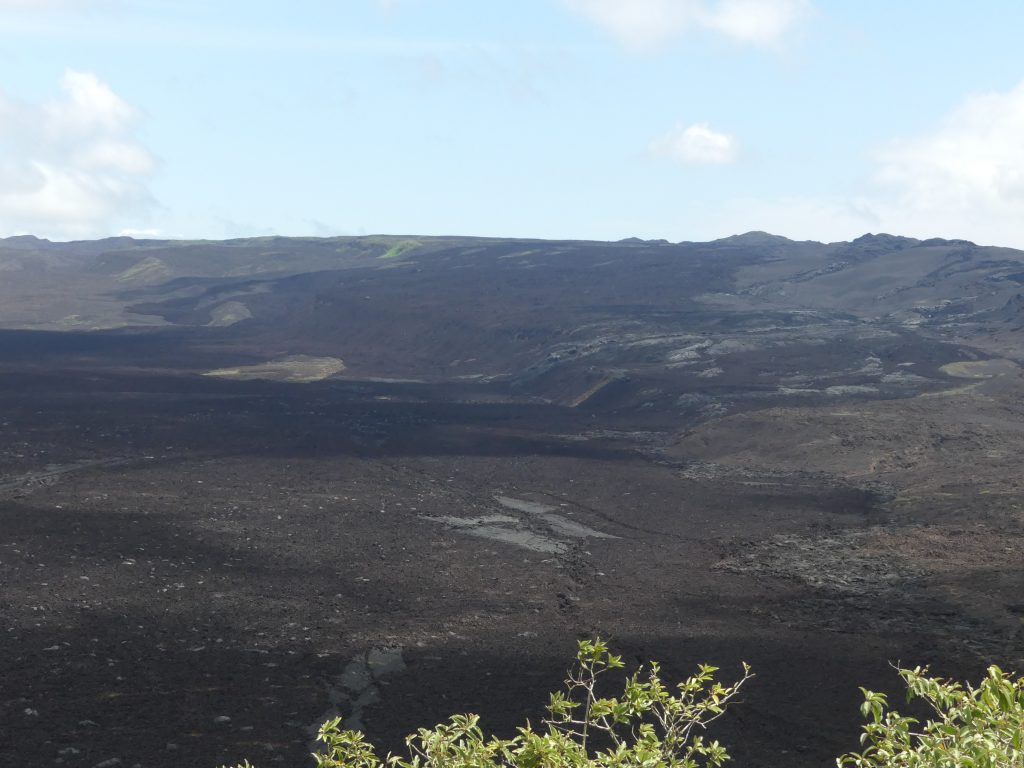 There is also the Route to the Wall of Tears, where you can do a scenic hike and spot the stunning Galapagos turtles in the wild.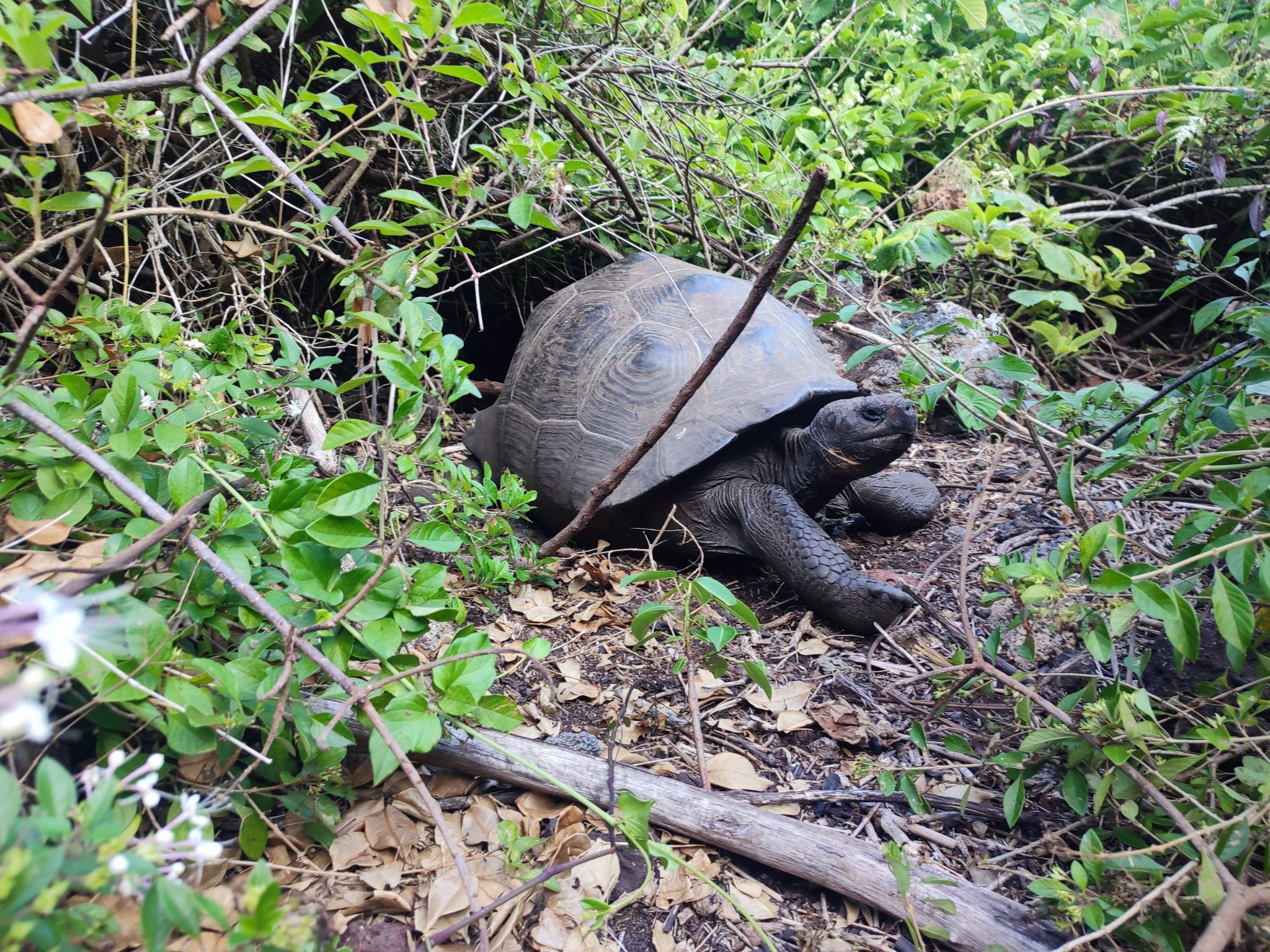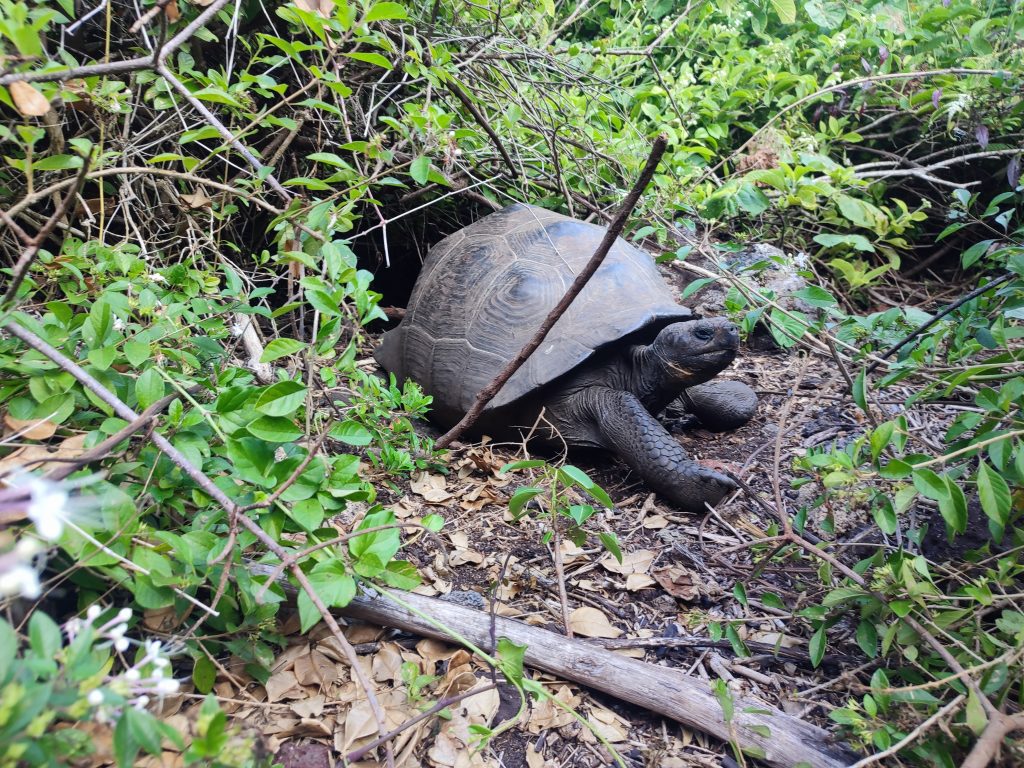 You could also take a bike.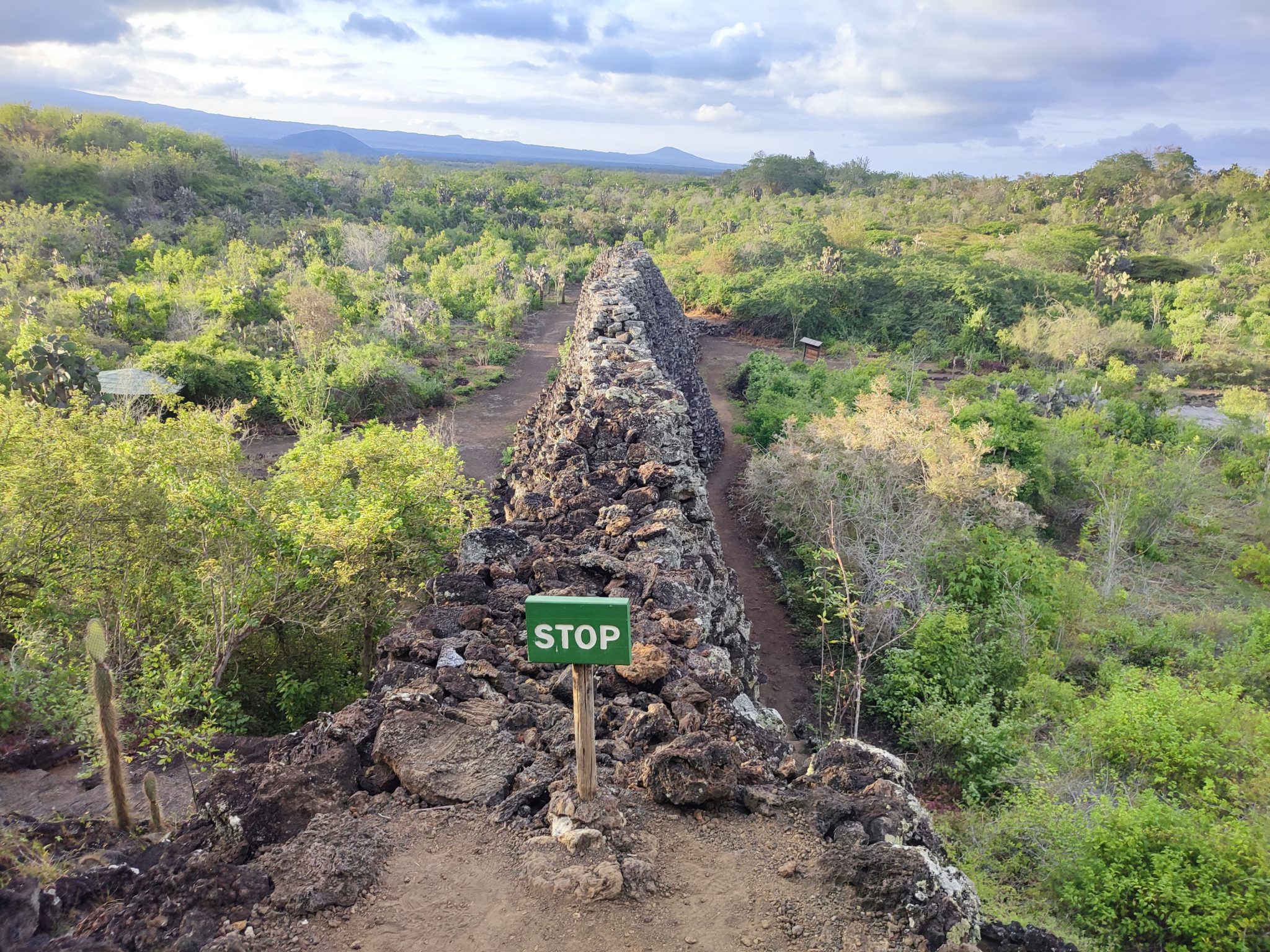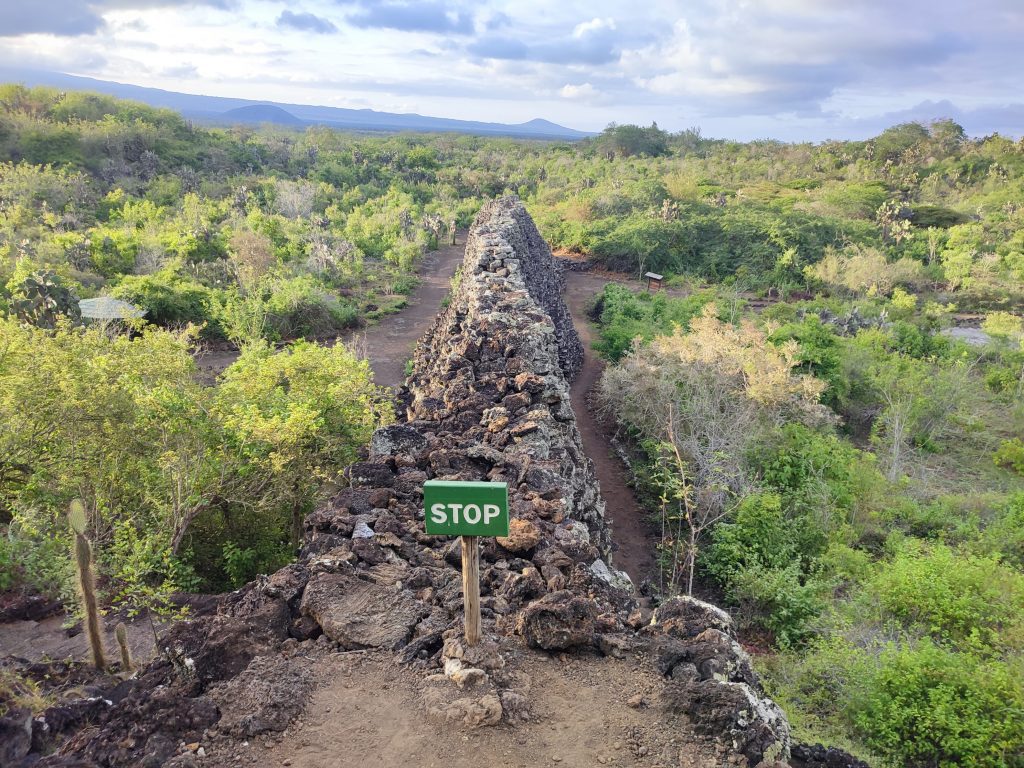 I covered several other places to visit on Isabela in my article on the website.
Finally, it was time to take a boat to Santa Cruz, and guess what? There was no one booked under our names! As such, the registration booth said that we couldn't go, but one of the local captains took us on board – but we needed to present ourselves to a security guide under different names. It was weird, but eventually, we boarded the boat and finished our 2.5-hour trip to Santa Cruz, where we checked in at the same hotel, and enjoyed dinner in the cheaper region.
Day 5: Turtle Ranch, Las Grietas (from Santa Cruz Island)
We woke early in the morning and asked the hotel to get a taxi for an event that was so-called "the Highlands of Santa Cruz," which included visiting the Twin Craters, seeing the turtle ranch (where you can walk by the turtles), and visiting the region's lava tunnels and caves. The cost was $35 for a taxi.
The Twin Craters are opposite each other on both sides of the road.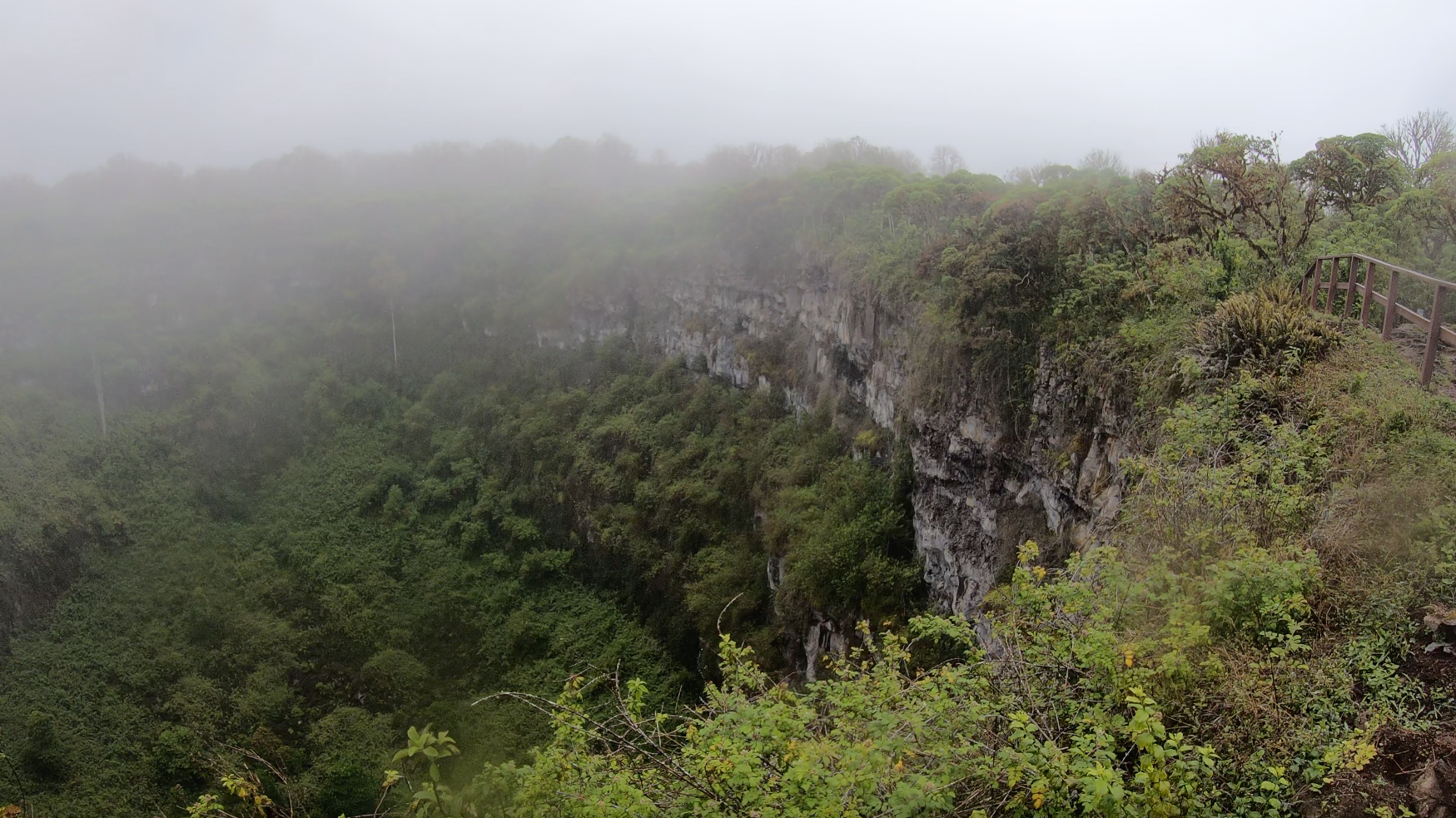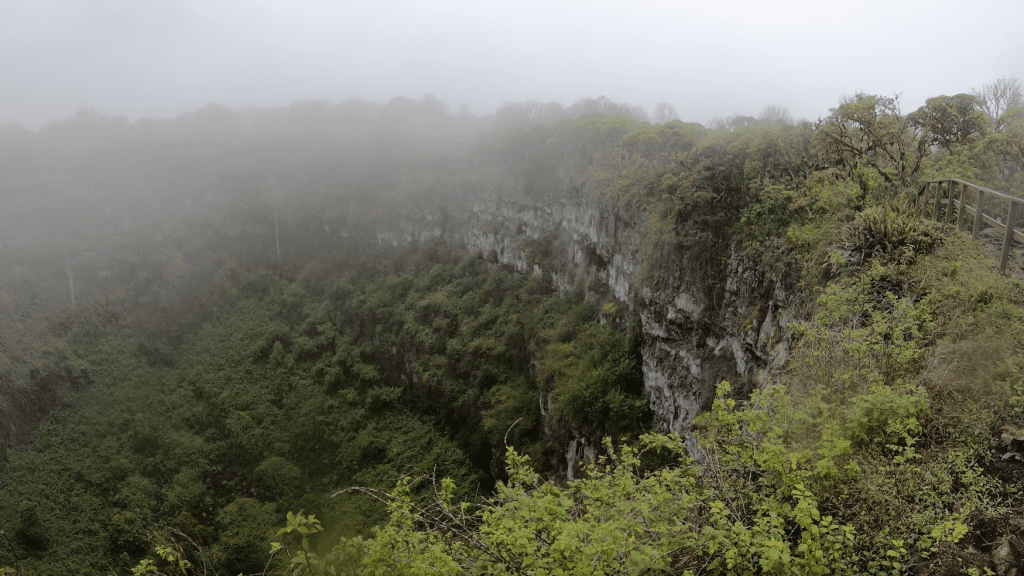 These formations were created by the collapse of surface material in underground fissures and chambers.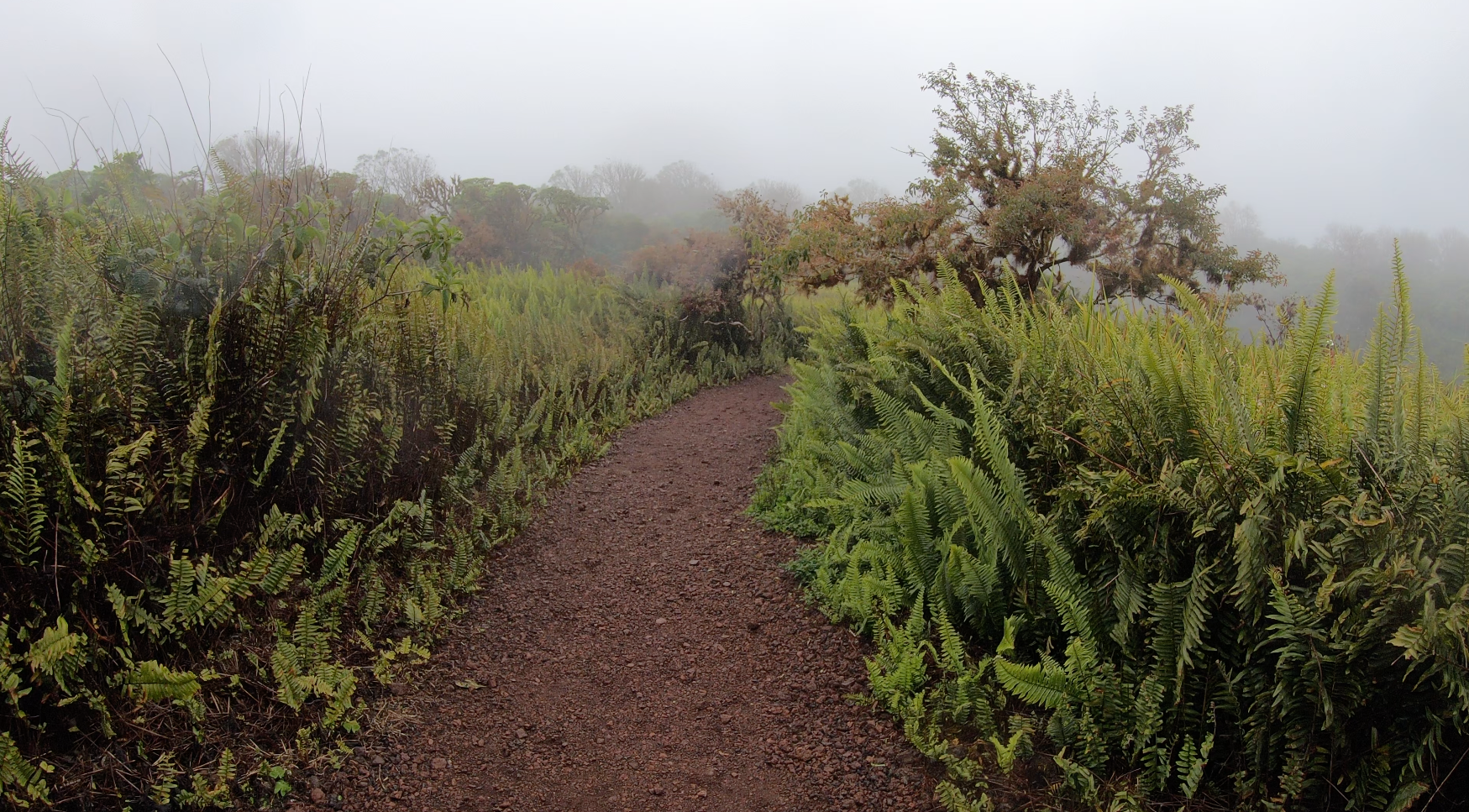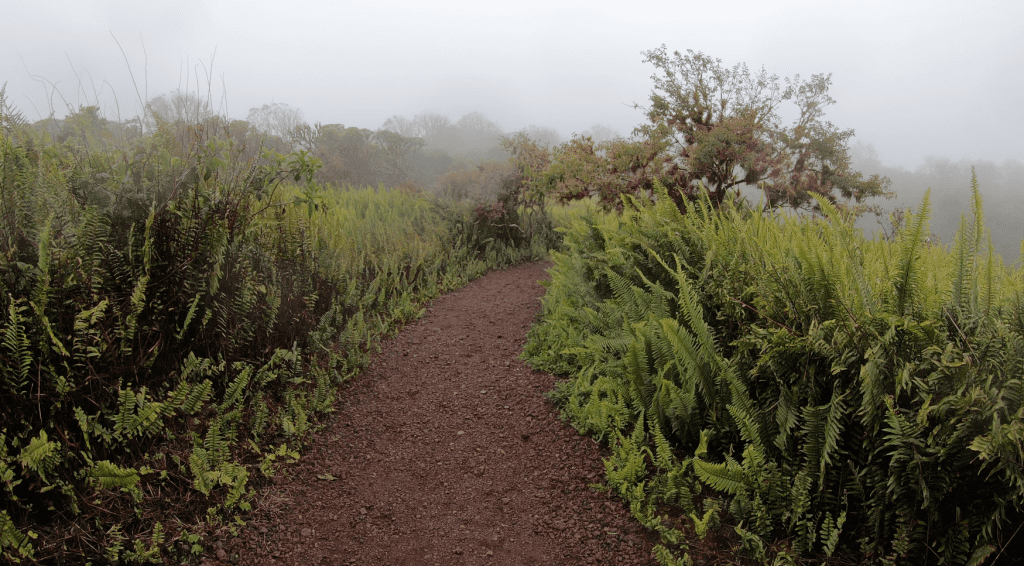 I can't say we weren't massively impressed with the views, but it simply looks stunning from the top.
Next on our stop was the turtle ranch, and it's definitely worth visiting.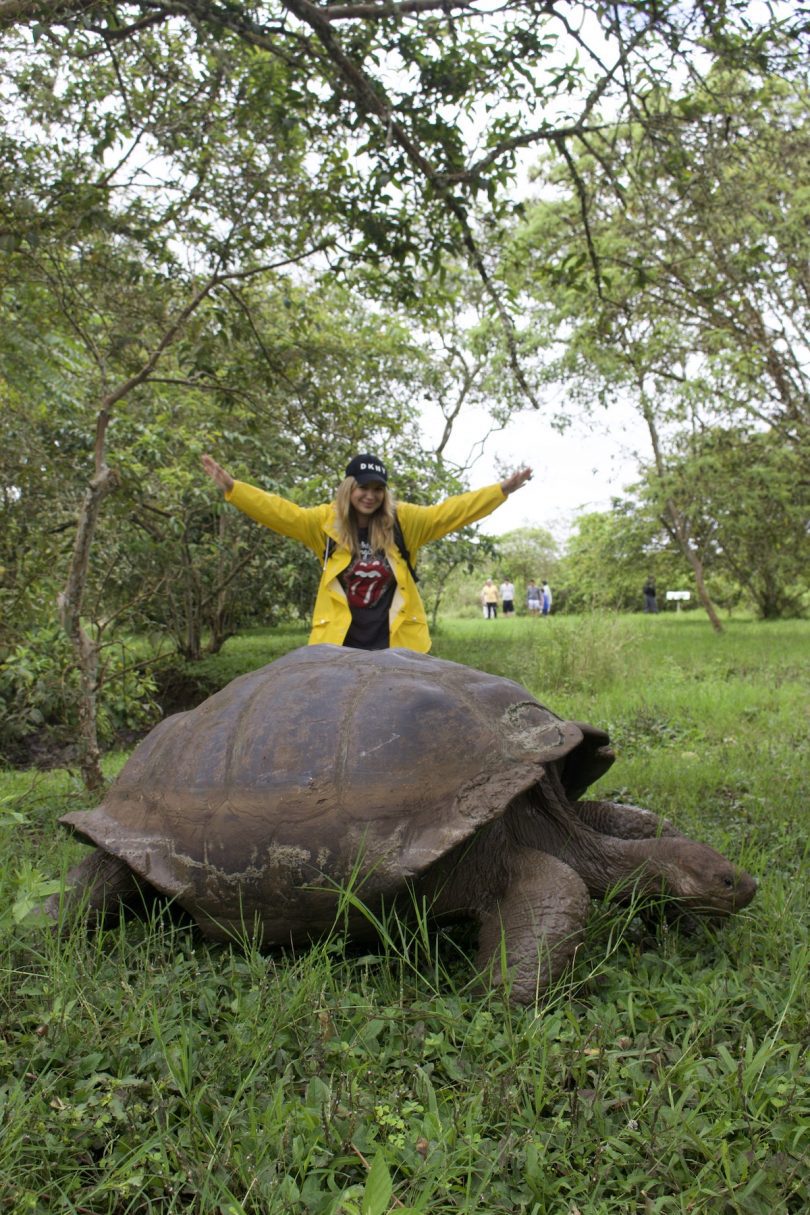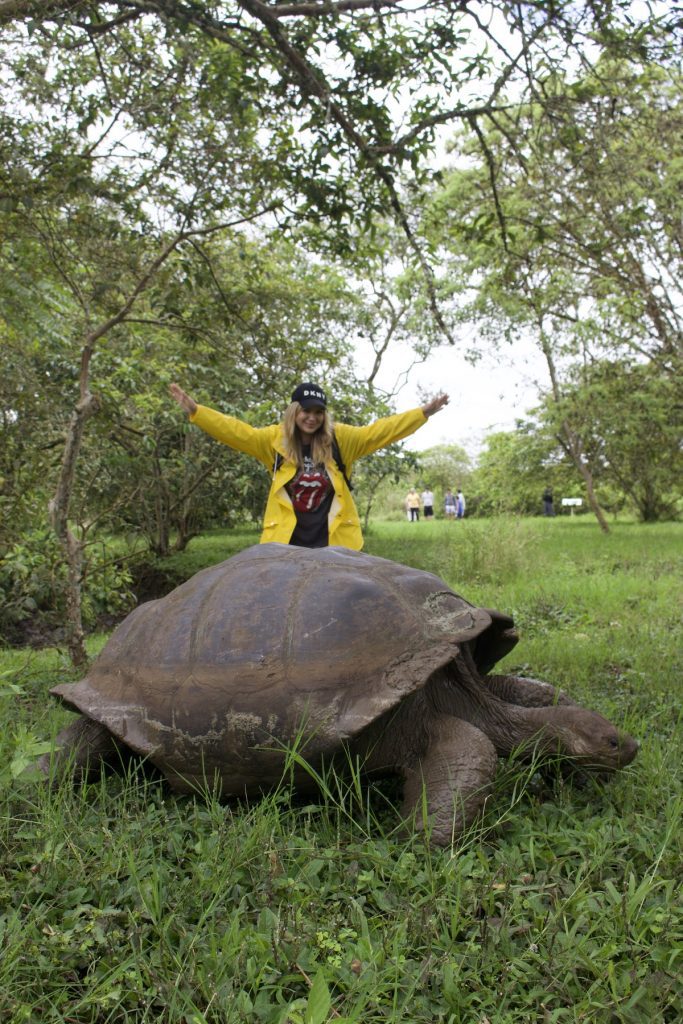 The entrance fee is $5 per person, and it's about 30 minutes to take the tour to walk around the ranch and meet the turtles.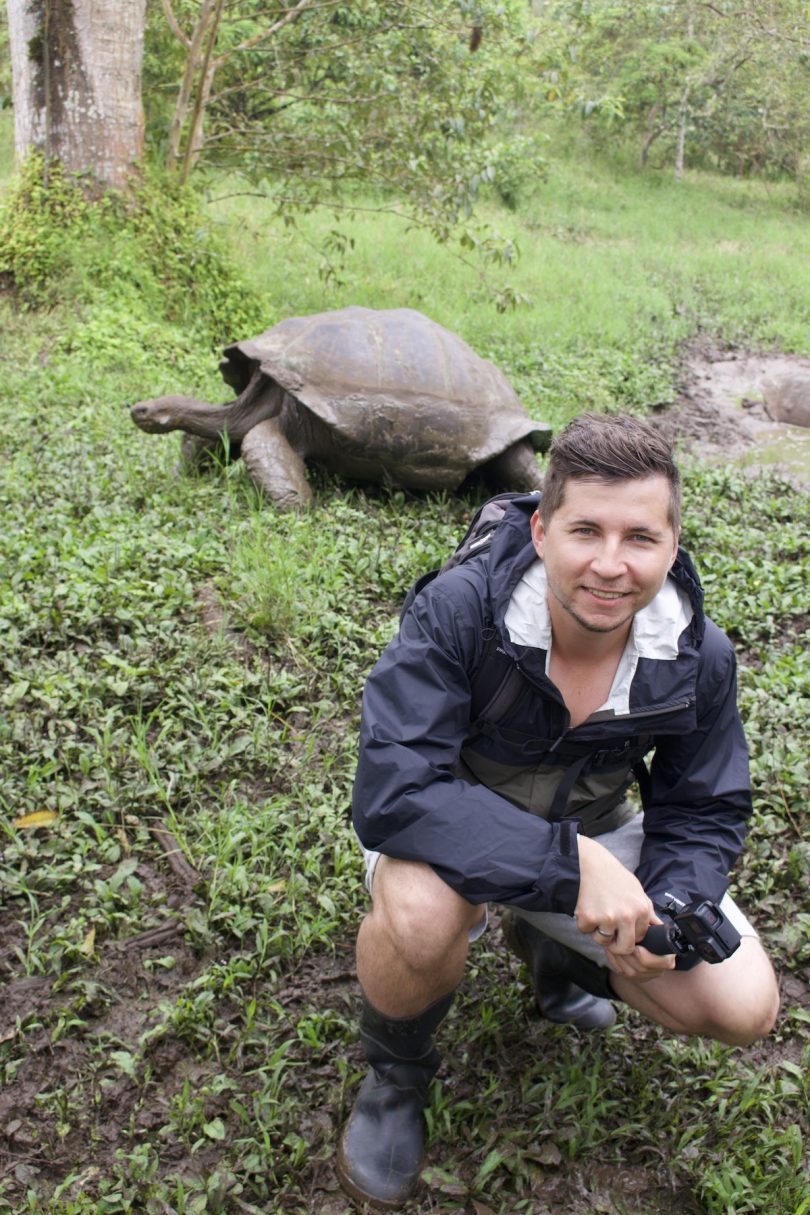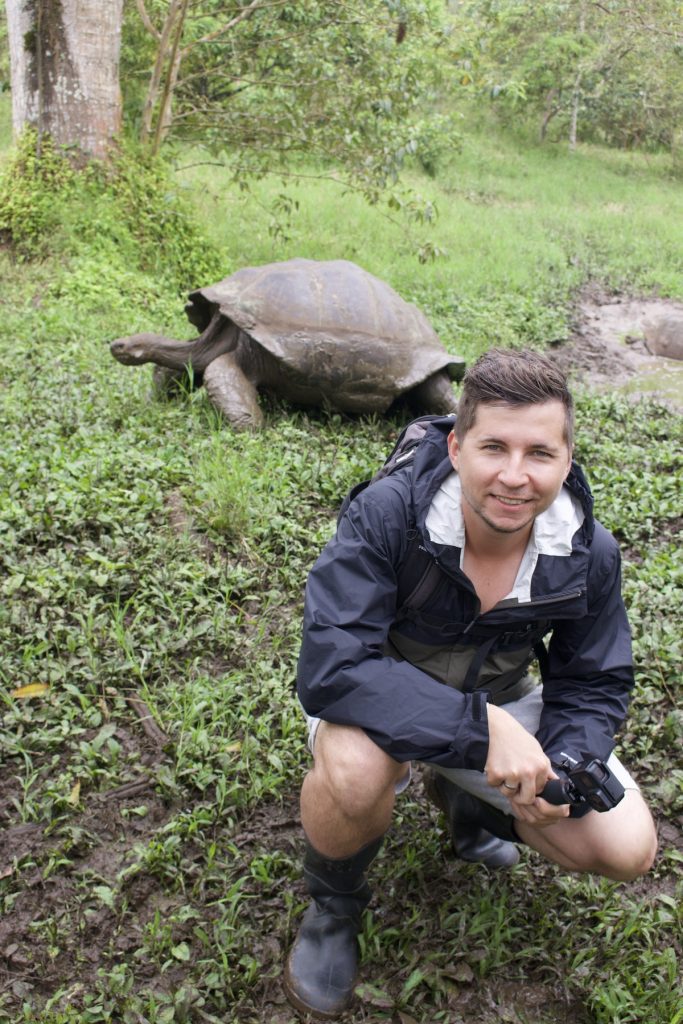 Volunteers do the tour on the ranch, but you can tip them (as we did because it was an amazing experience). Look at the turtles and see how huge they are; some of them are as old as 150 years!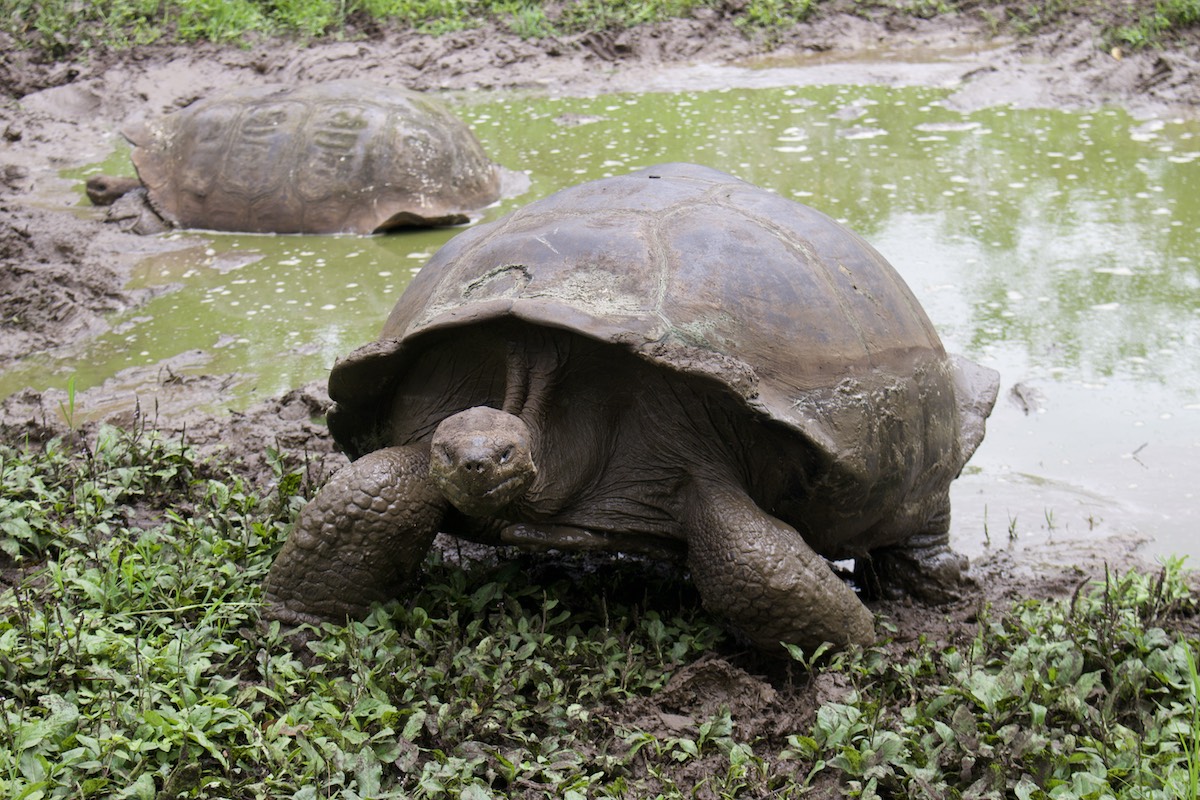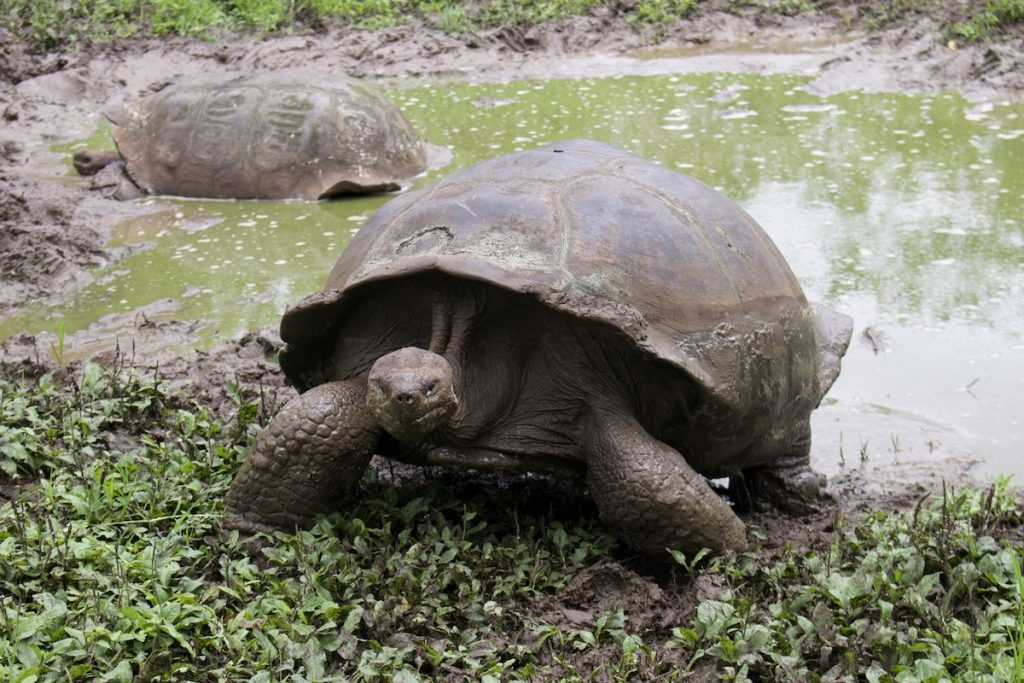 Finally, you could walk through the lava tunnels, which was quite an impressive tour.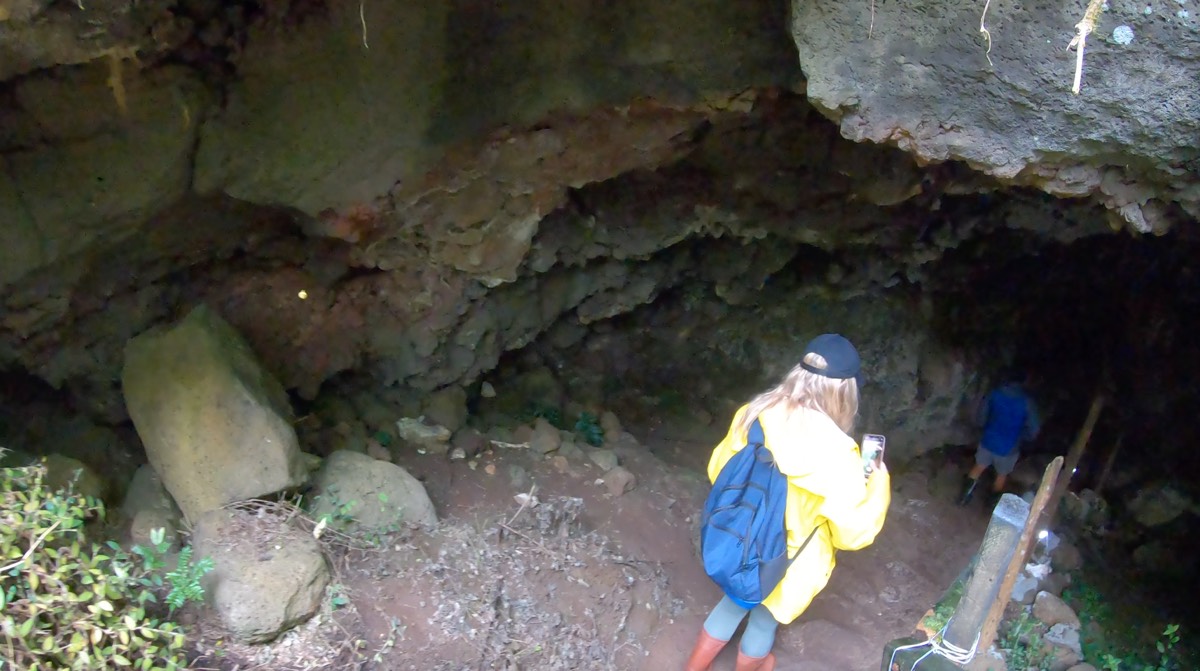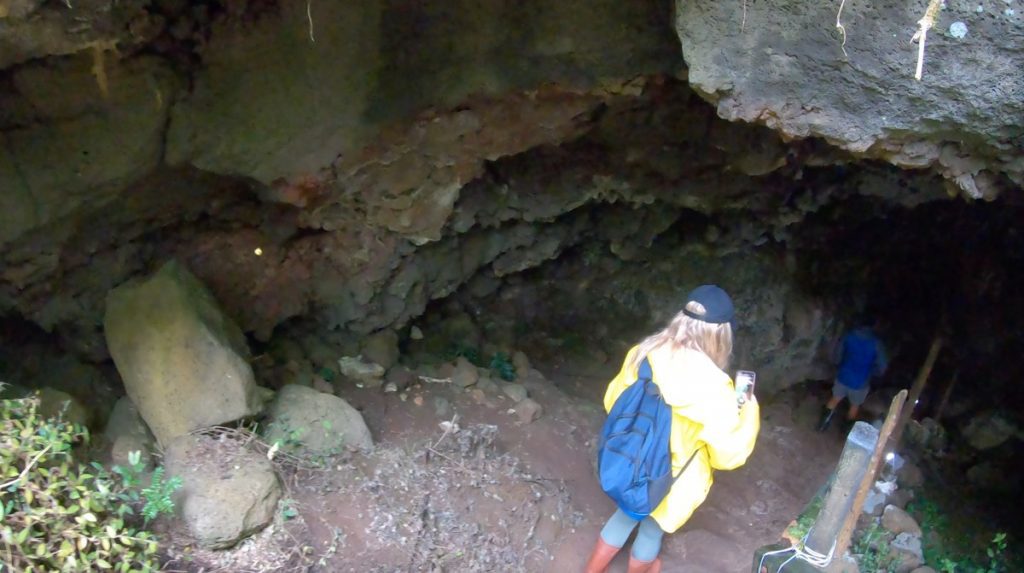 I highly recommend visiting this!
When back in the hotel, we had lunch and decided to visit another place nearby – Las Grietas. In order to get there, you'll need to grab a water taxi from the main pier for $0.50 that delivers you to another part of Santa Cruz island.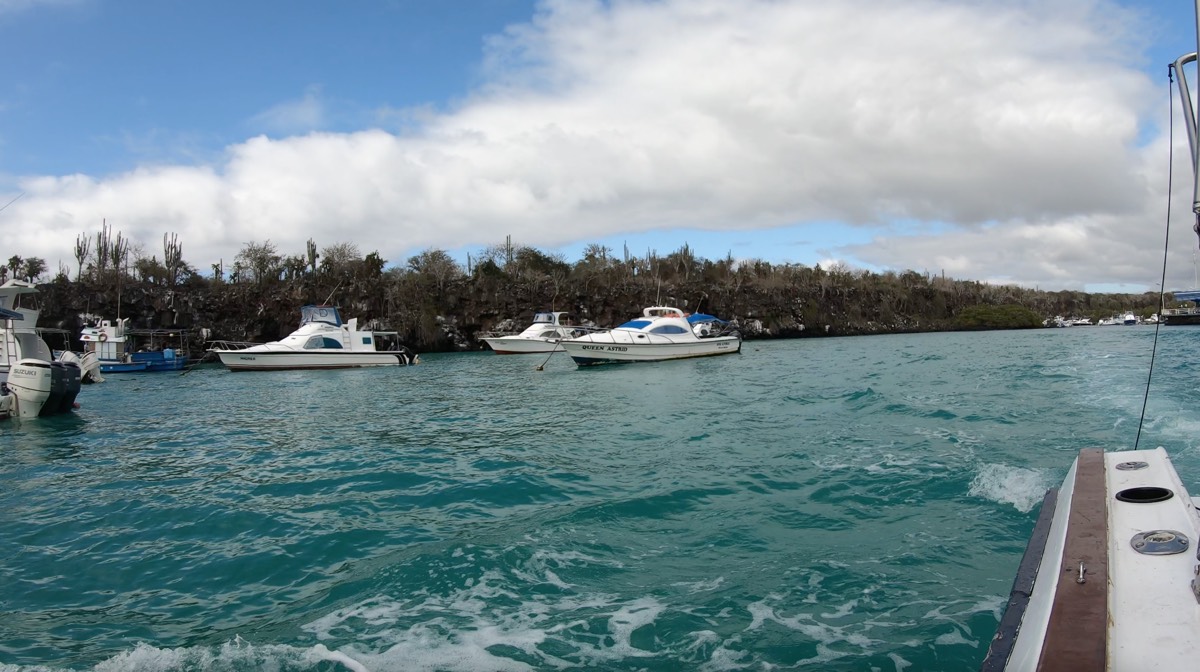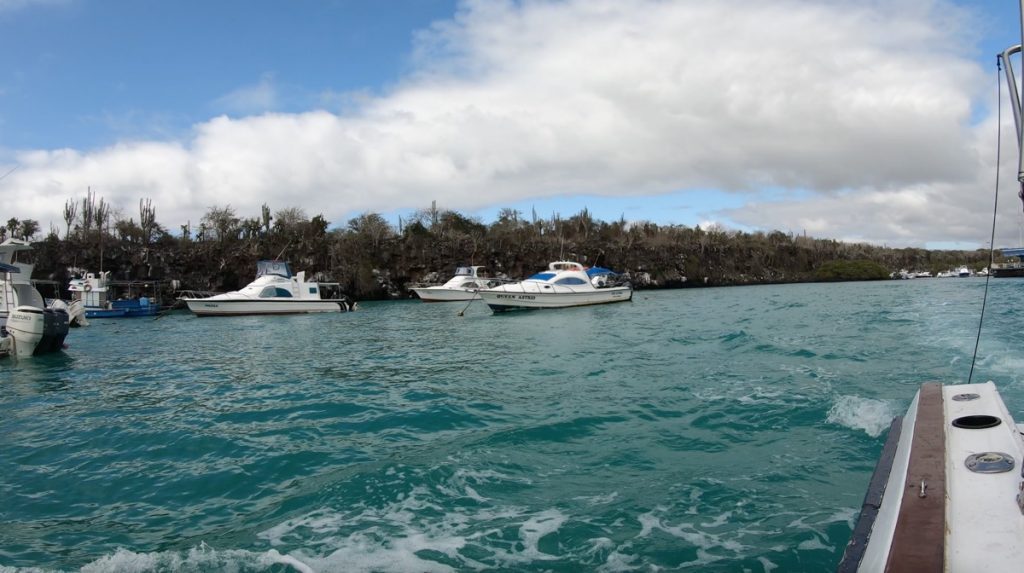 In order to get to the Las Grietas, you'll need to get a guide for $10 per person.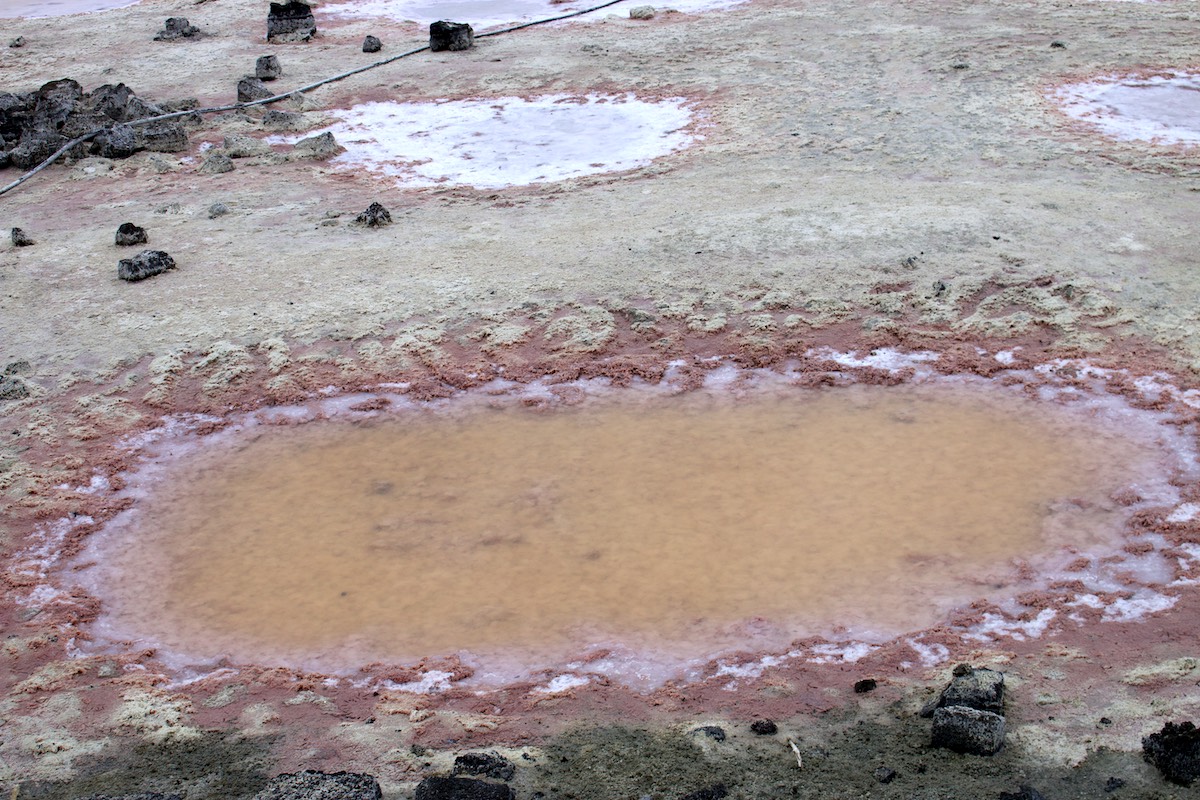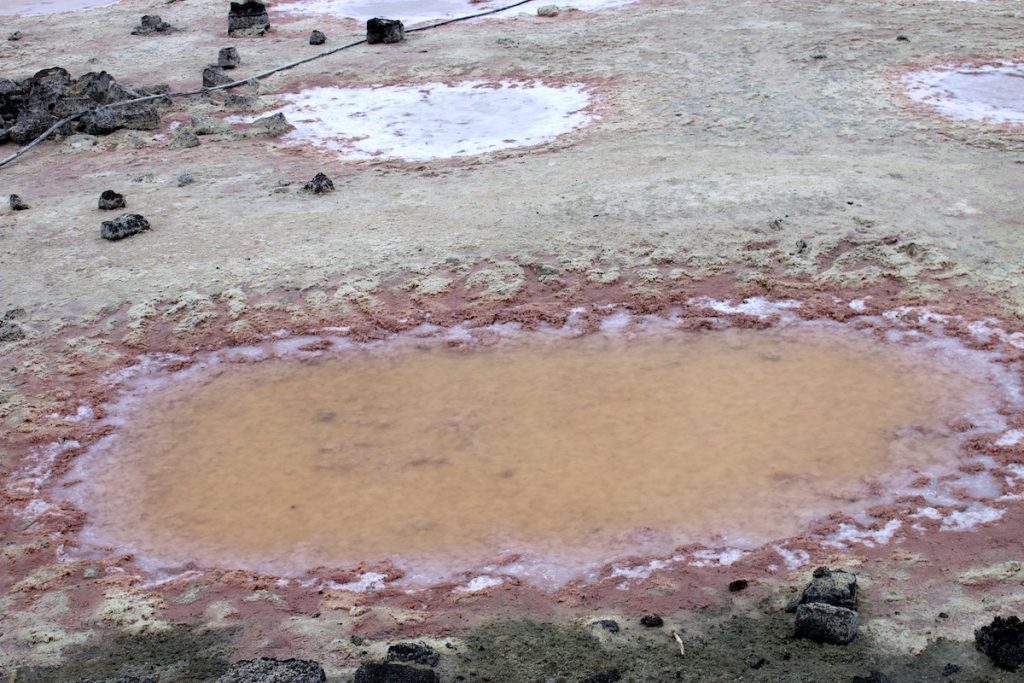 Las Grietas is reached along a walkway and path from the hotel through a mangrove and opuntia cactus-filled landscape, passing by old salt mines. It's so pink and such a cool, unusual sight to see.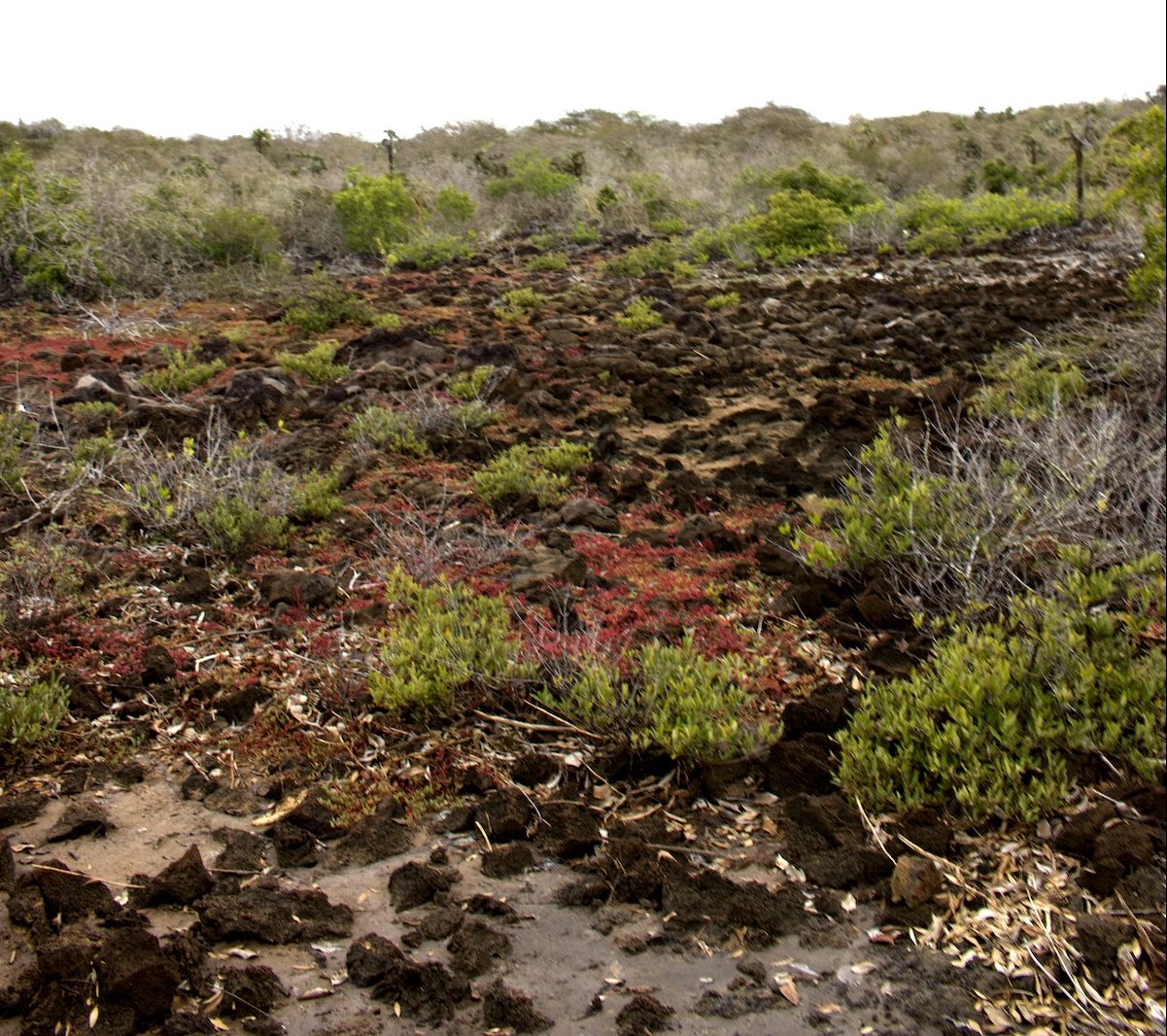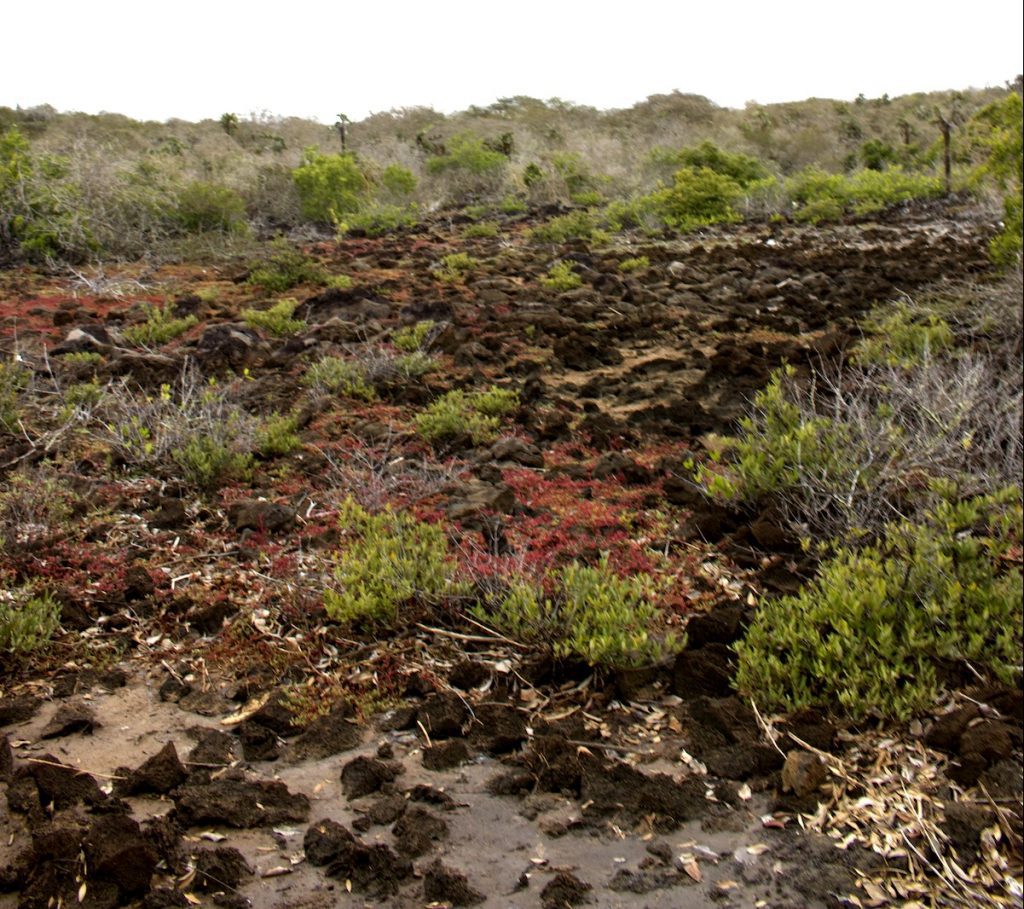 We finally reached Las Grietas, and the place was truly so beautiful. The water is crystal clear, and we massively enjoyed swimming there.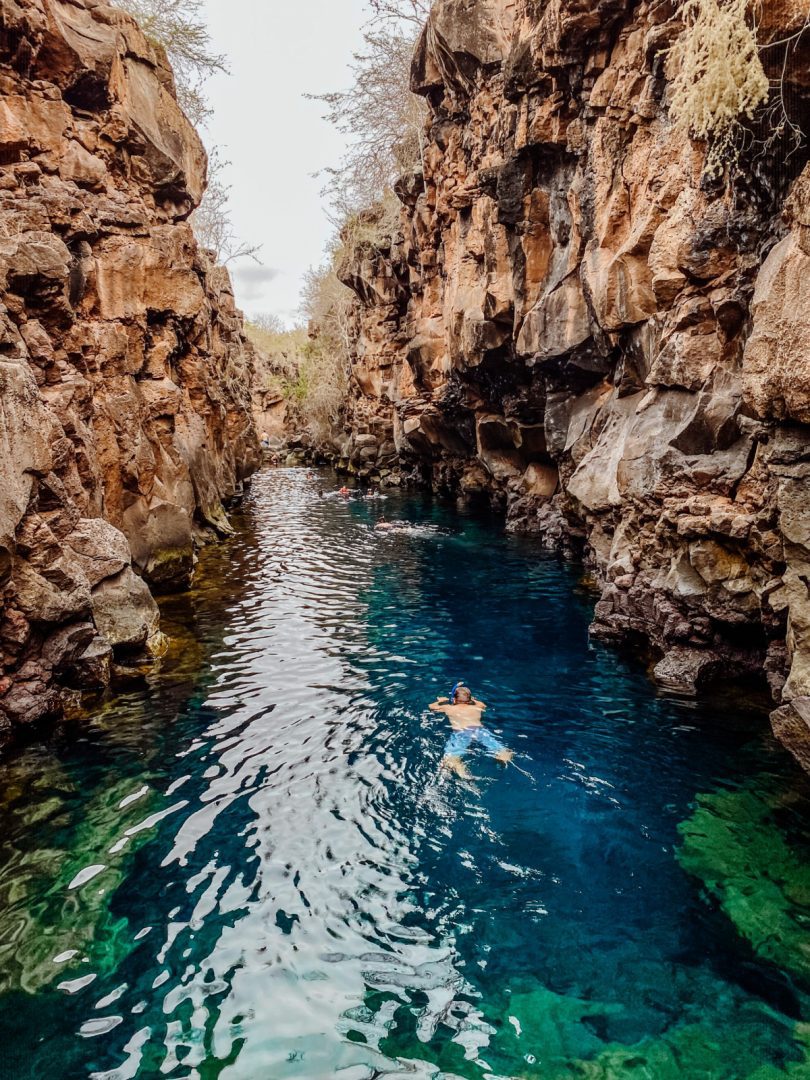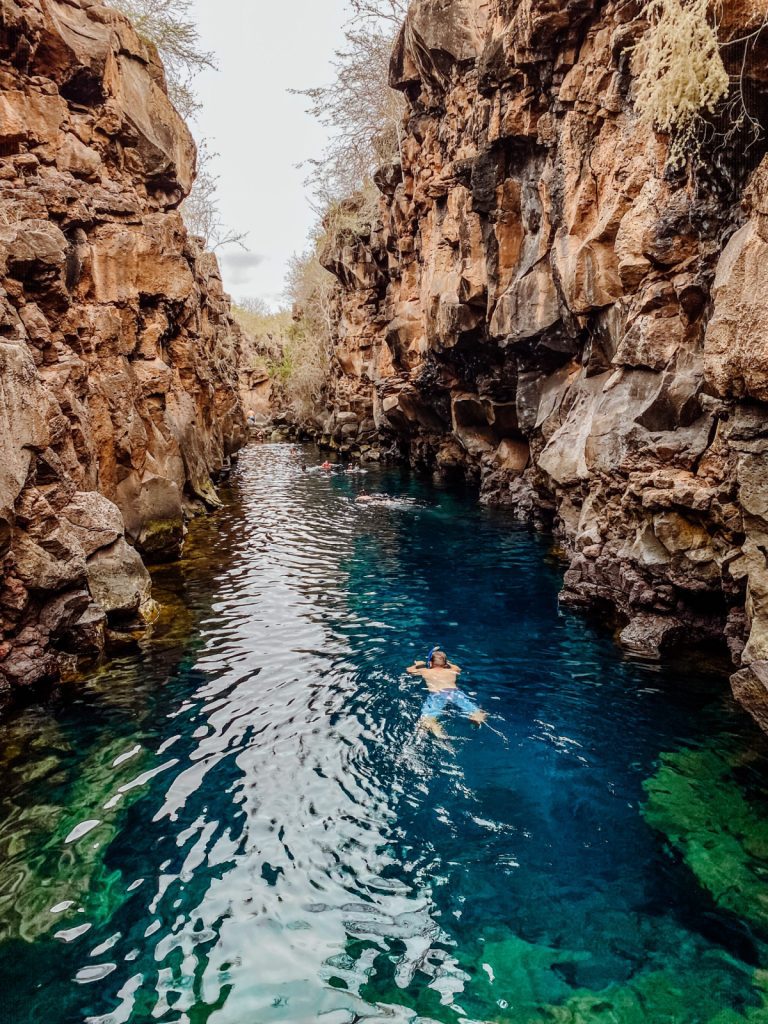 Three crystal blue lakes are nestled in a crevice between steep volcanic walls in a gorgeous landscape. I was able to spot a few fish species but nothing crazy. Locals and visitors alike come here to cool down while taking in the breathtaking sights. Las Grietas is a great place to spend a few pleasant hours swimming, snorkeling, or cliff diving.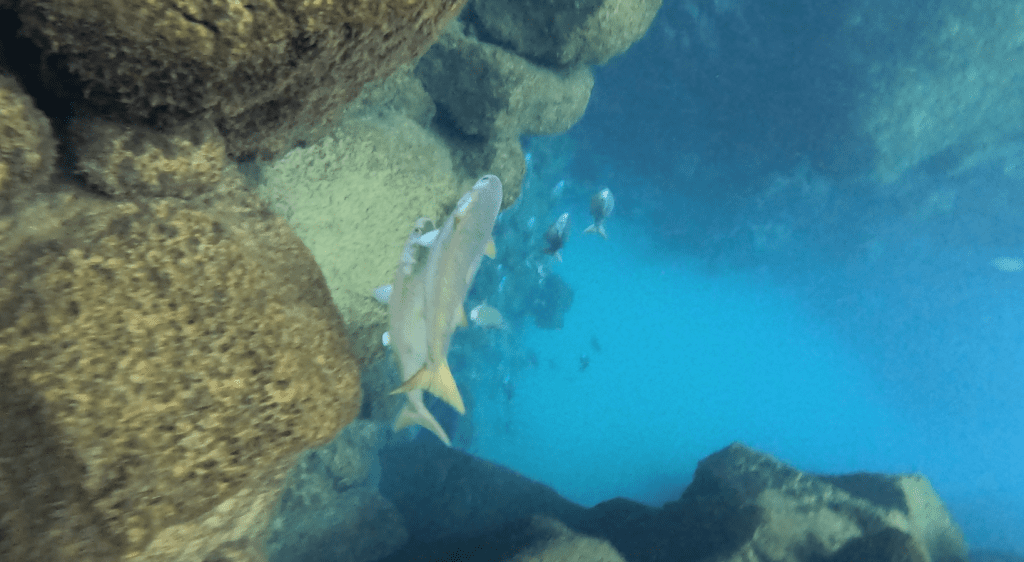 At dinner, we tried a popular local fish: Brujo.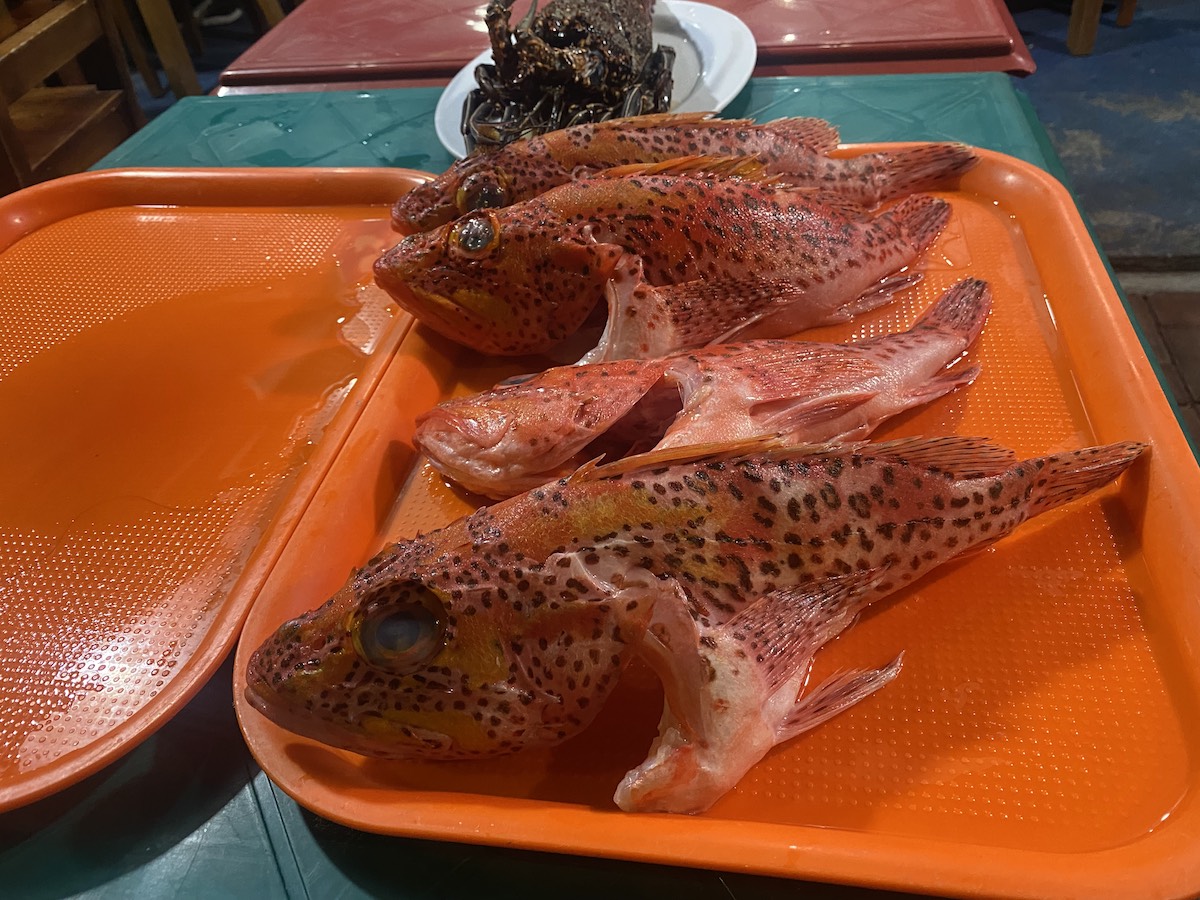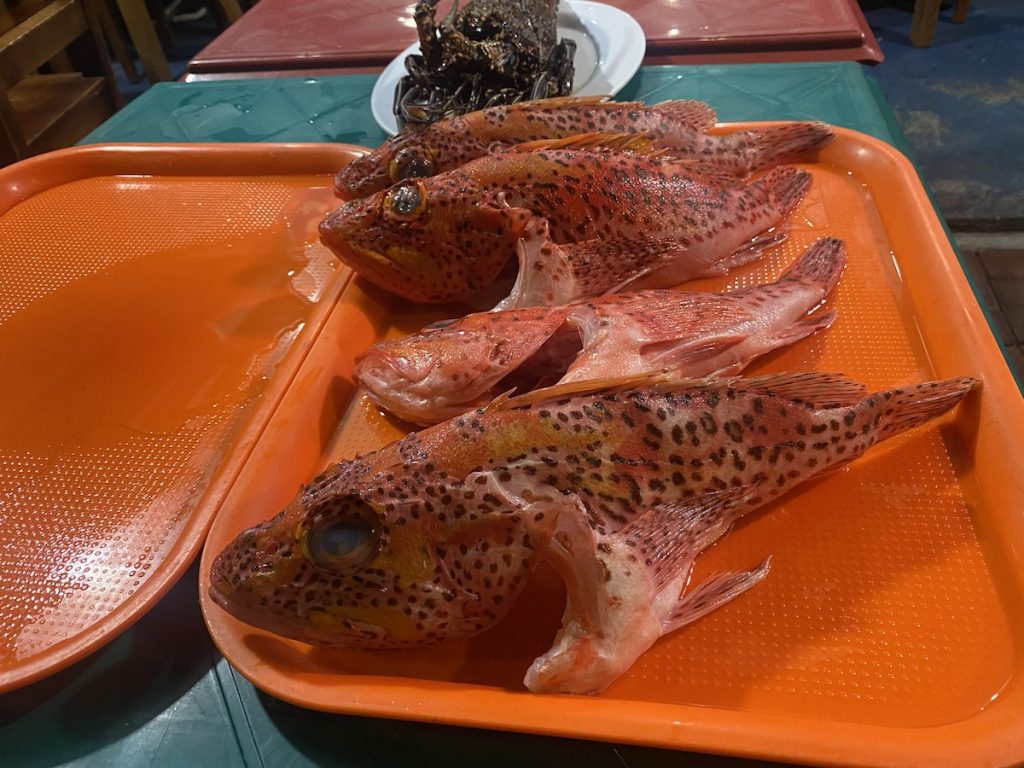 I recommend you try it as well, as it was quite good, and the portion is more than big enough for two people!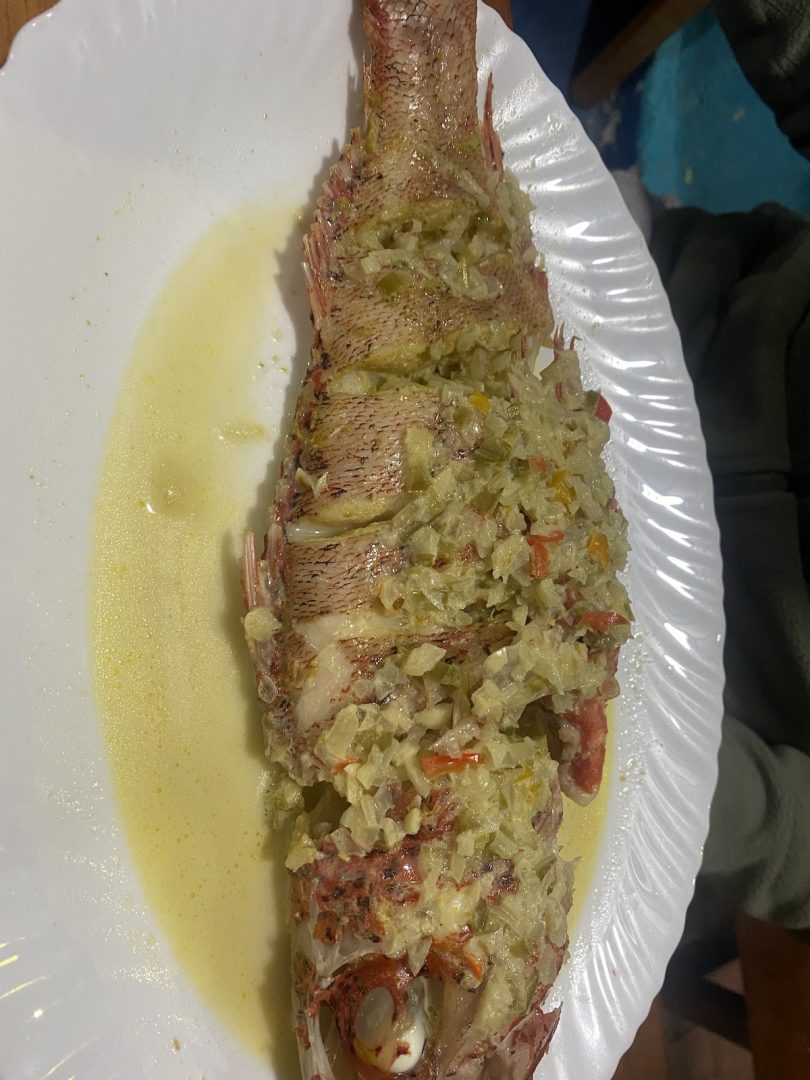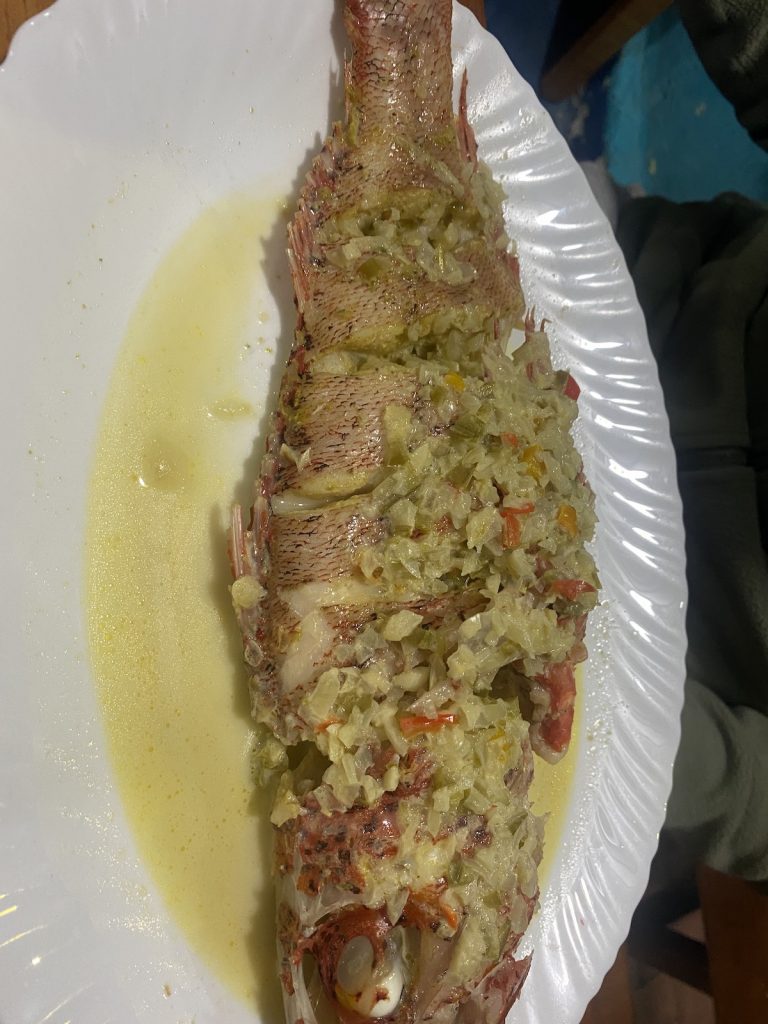 Day 6: Barlolome Island, Pinzon Island(from Santa Cruz Island)
This was the day I was looking forward to the most since we booked our trip to Ecuador. We bought a tour to Bartolome island, which features on almost every Galapagos Islands ad or brochure.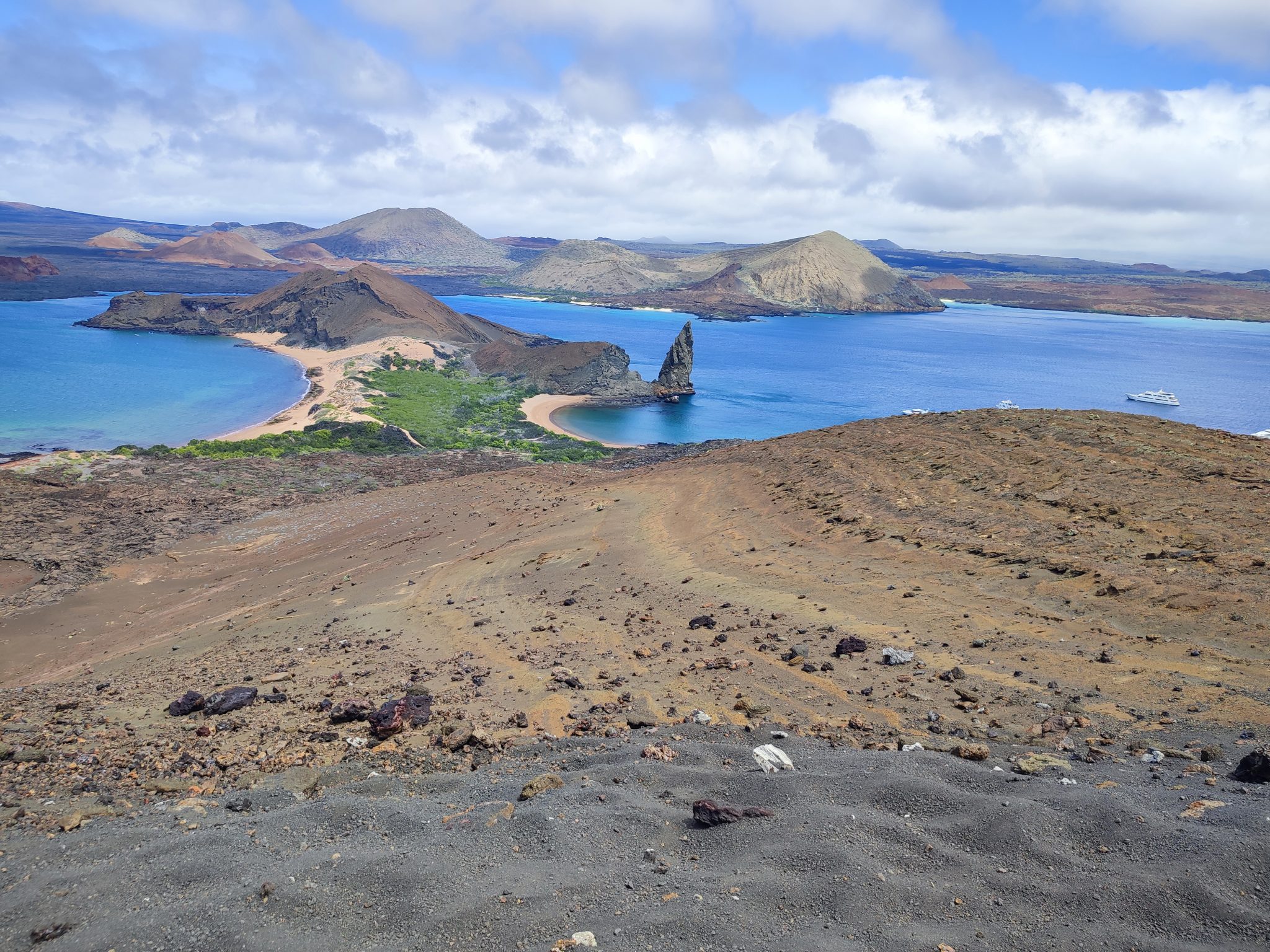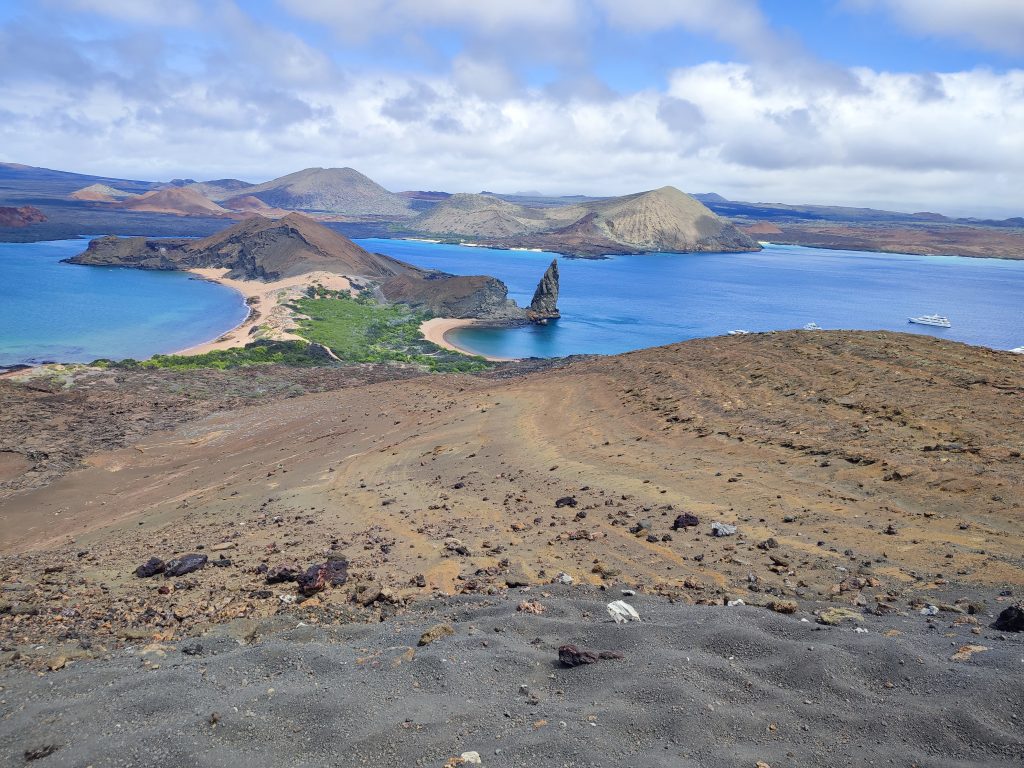 The unreal landscape is mesmerizing, along with the incredible snorkeling opportunities, but our tour got canceled at the last minute.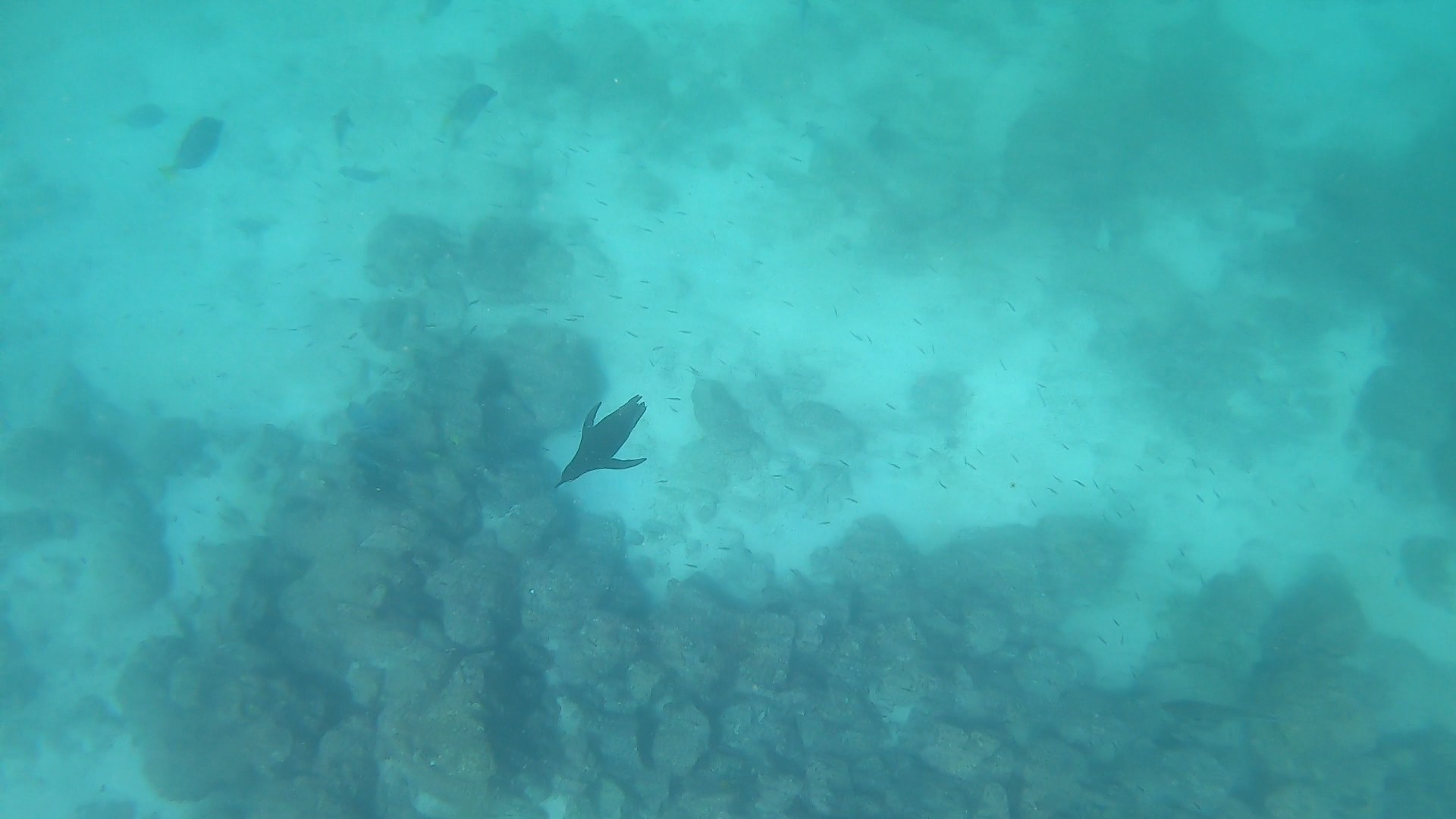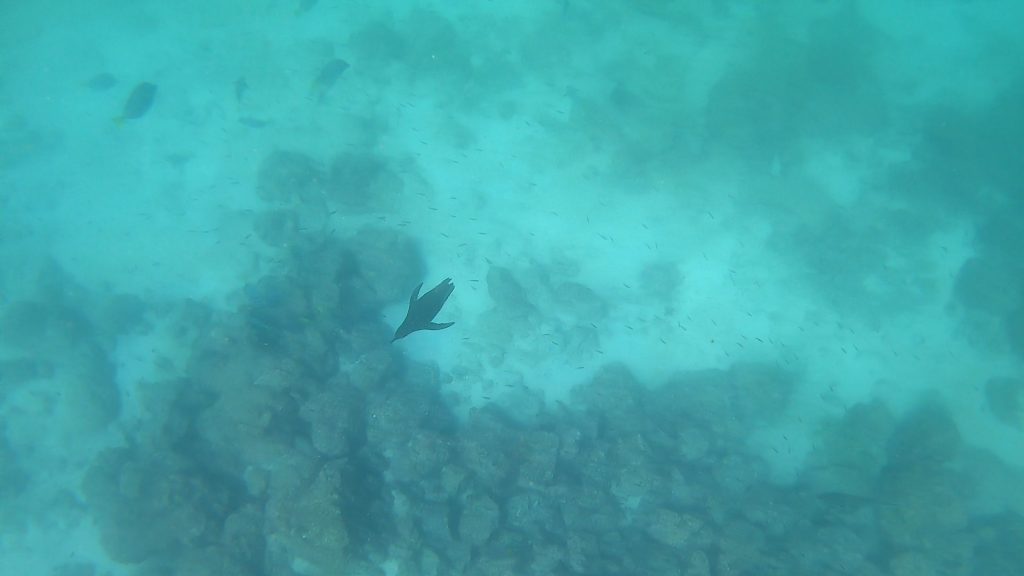 The boat we were supposed to ride had sunk two days prior to the tour, and this supposedly "amazing" agency did not let us know. Well, they eventually did return the money on the last day. But, since it was the most popular tour on the Galapagos, there sadly wasn't any space available for the next four days. By that time, it would've been our last day on the Galapagos on the different island (San Cristobal Island), and it doesn't offer such a tour because it's too far.
I was extremely disappointed and mad, but my wife calmed me down pretty fast by saying, "c'mon, it's the Galapagos. Let's check out another tour; there are so many things to see." And it's true.
During our Los Tuneles tour, we met up with an explorer who had been going to the Galapagos Islands every six months for work. He highly recommended Pinzon Island, saying that it was the best snorkeling experience of his life. So did we, and because it was booked with "Last Minute," we got a discount and got the tour only for $90 per person.
OMG! It was the most amazing snorkeling experience in my life, and perhaps my favorite tour on any of the Galapagos Islands. We didn't even have a full group, but I don't know why the place is so underrated.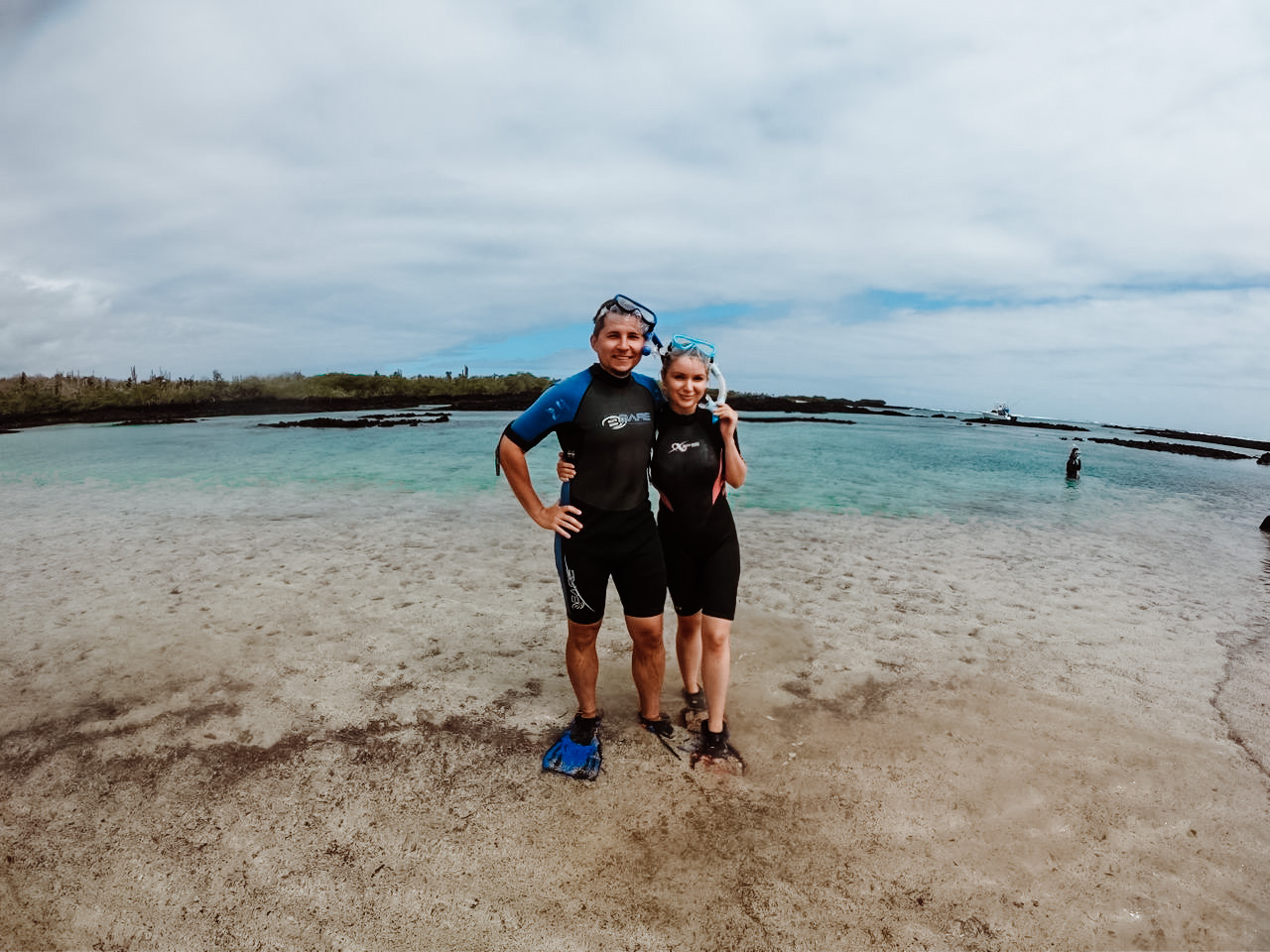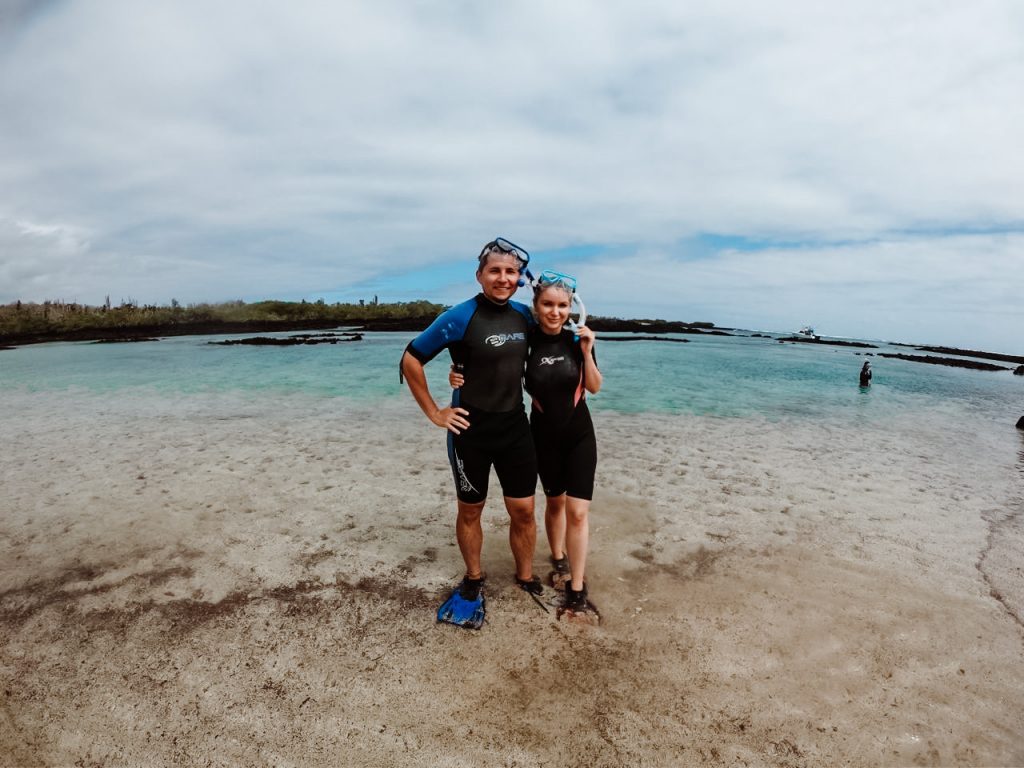 On the way to Pinzon, our captain caught a fresh fish to make ceviche after, and then the snorkeling experience began.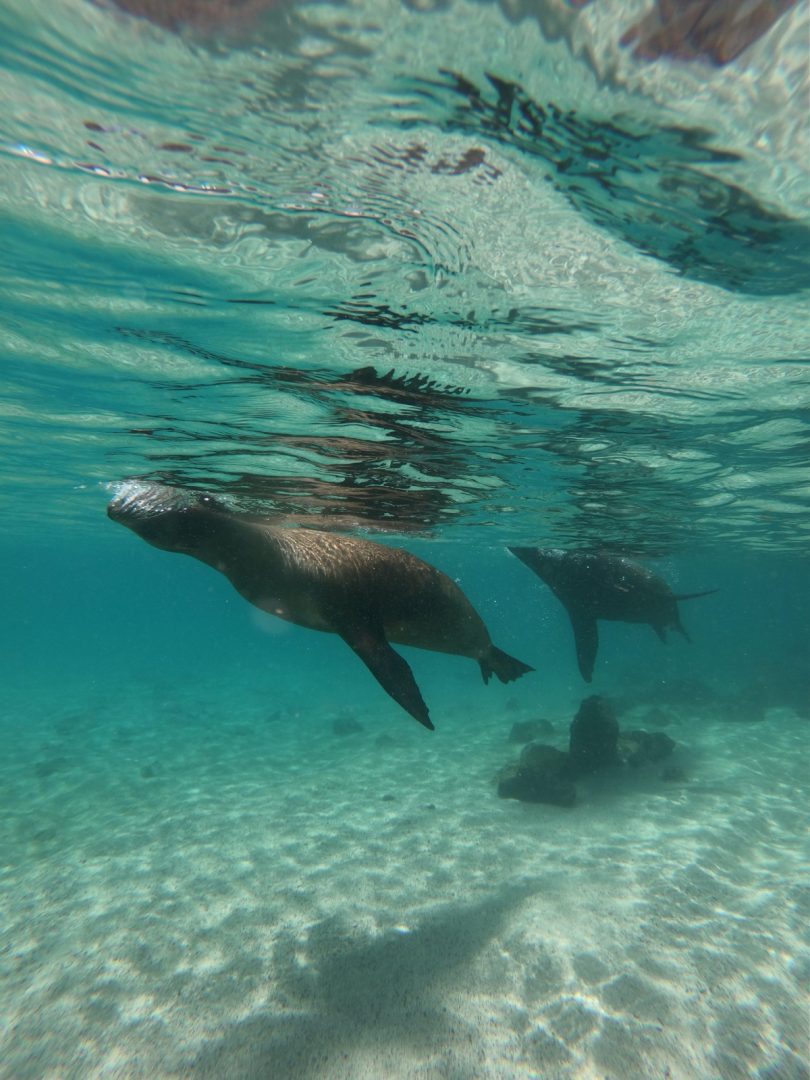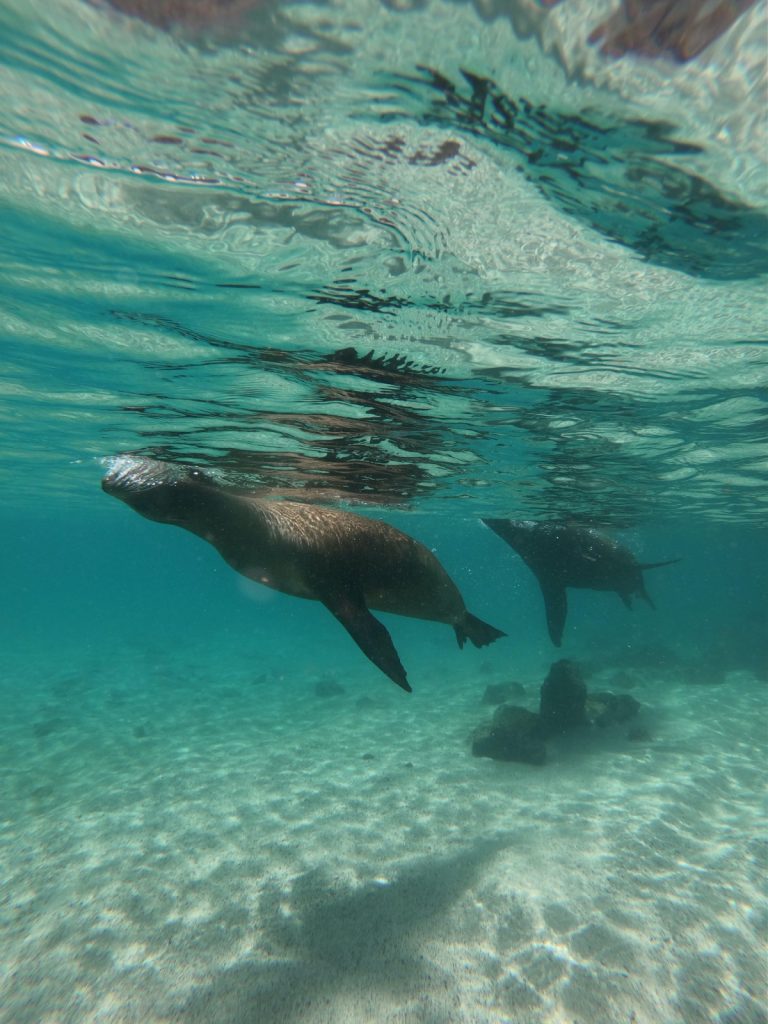 If you love snorkeling, I highly recommend taking this tour, as the water is so crystal clear, and there is so much marine life up close.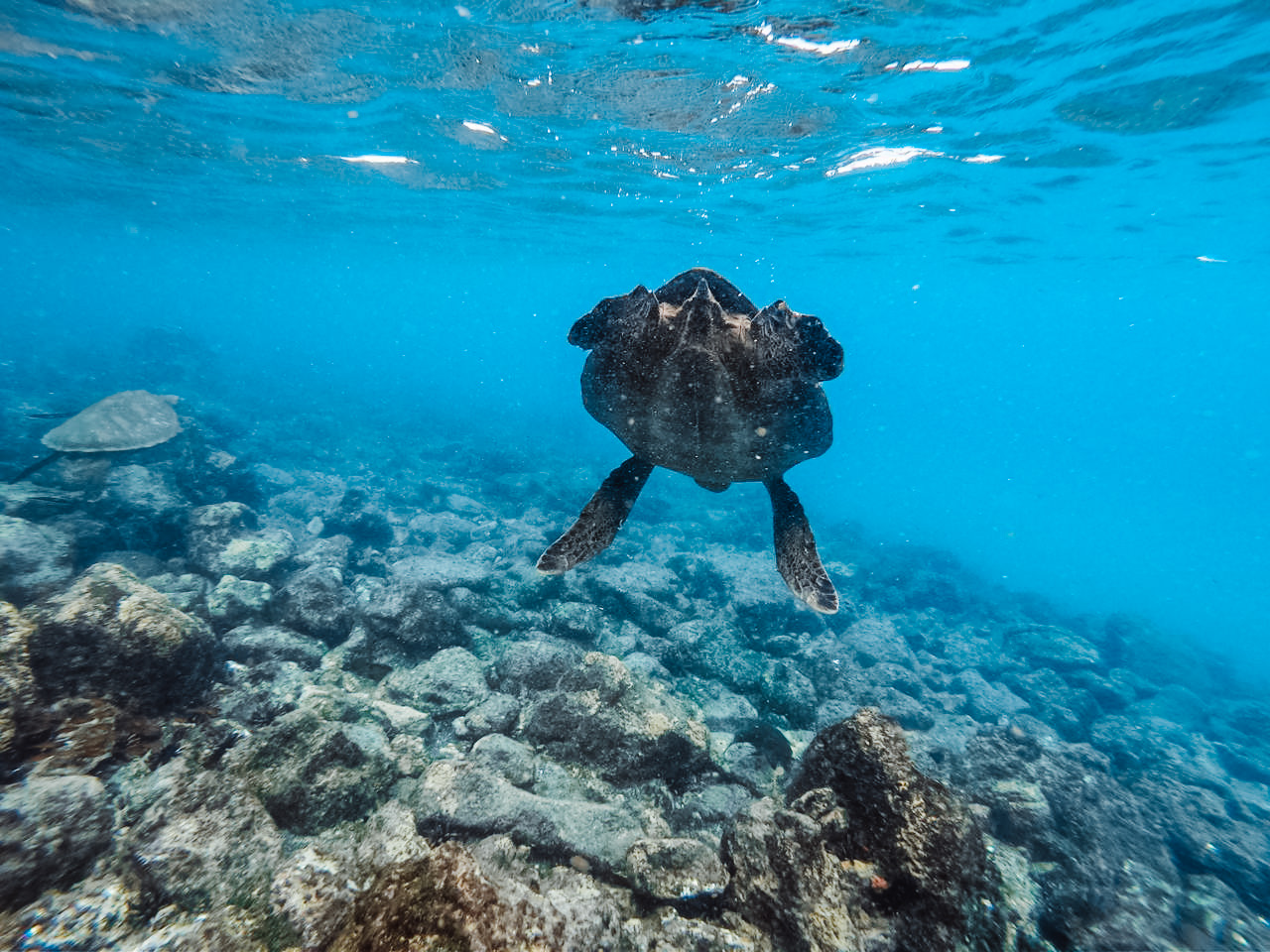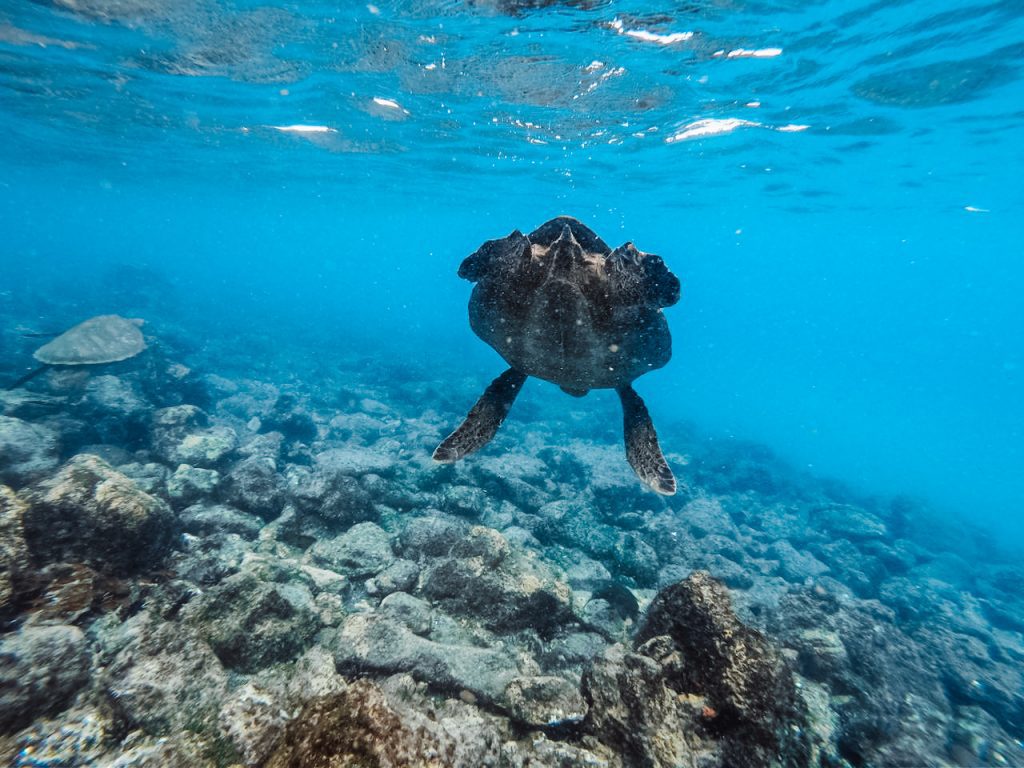 It was amazing: turtles, sharks, playing around with sea lions, and so many fish making amazing formations in the gorgeous turquoise waters around the island.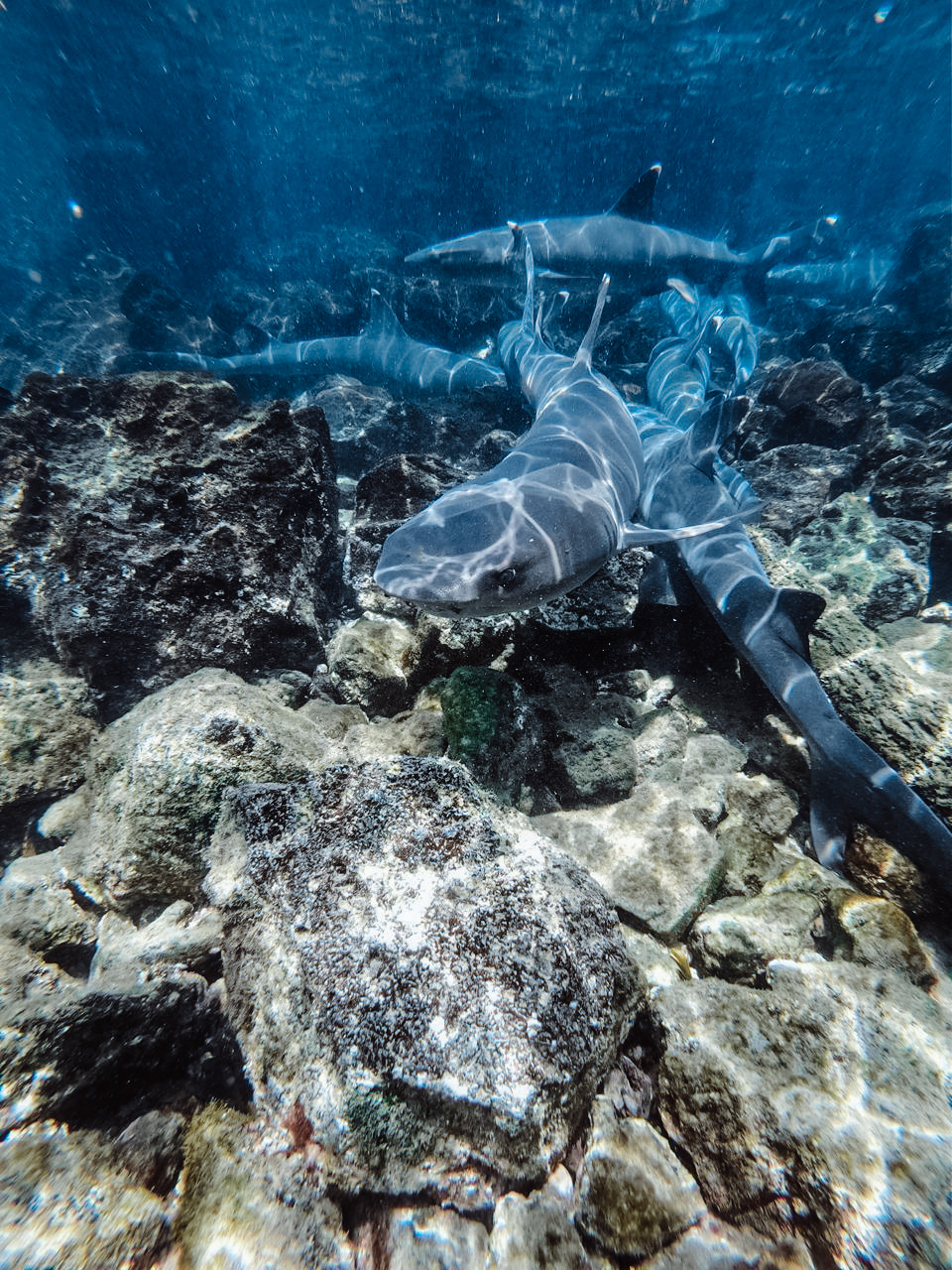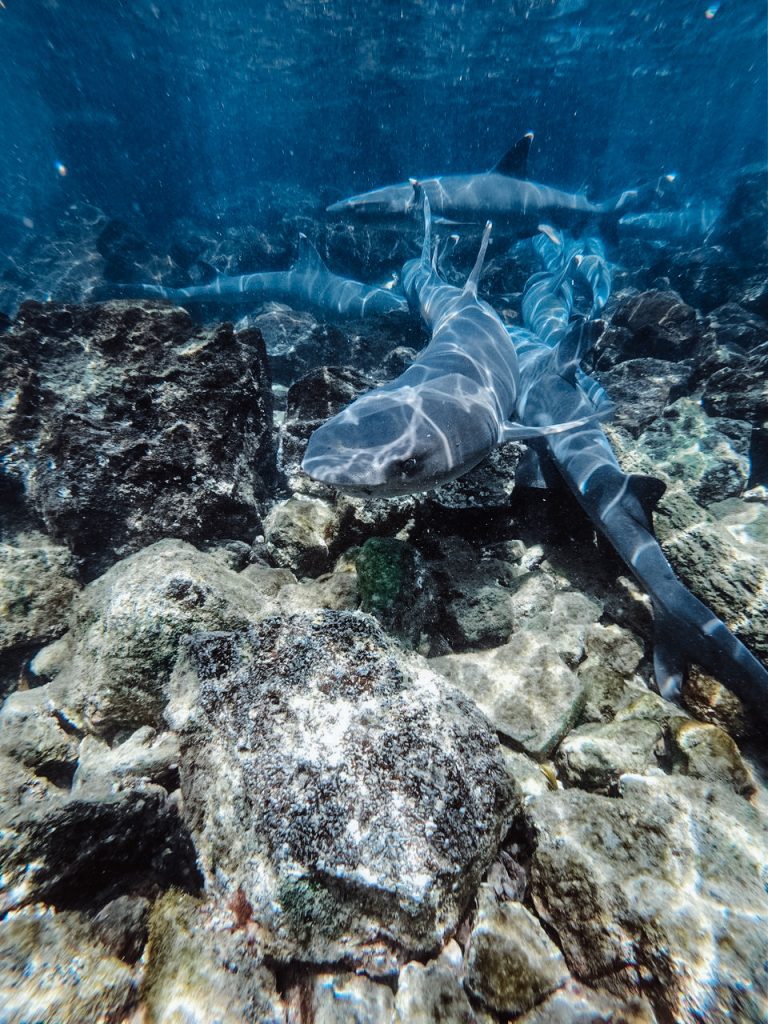 There is also a brief walking section included to spot iguanas, but 95% of the tour is all about snorkeling, so try to keep this in mind. We had the most amazing fresh ceviche for lunch, as well.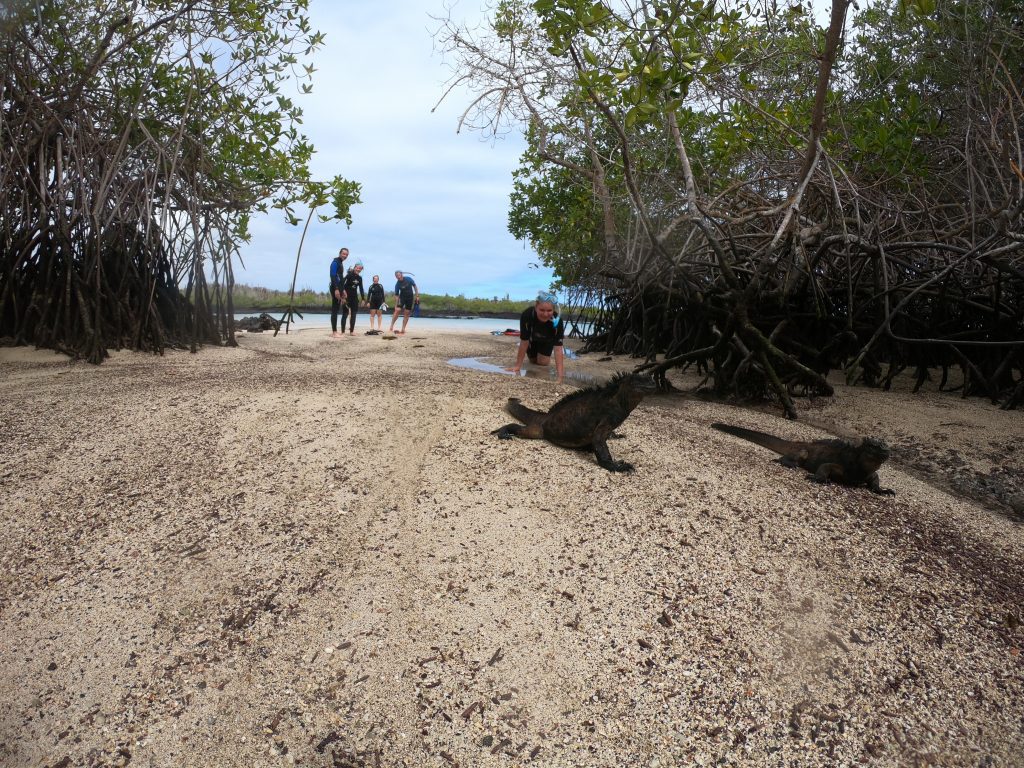 We were so happy with the tour, and the Galapagos have so much to offer indeed.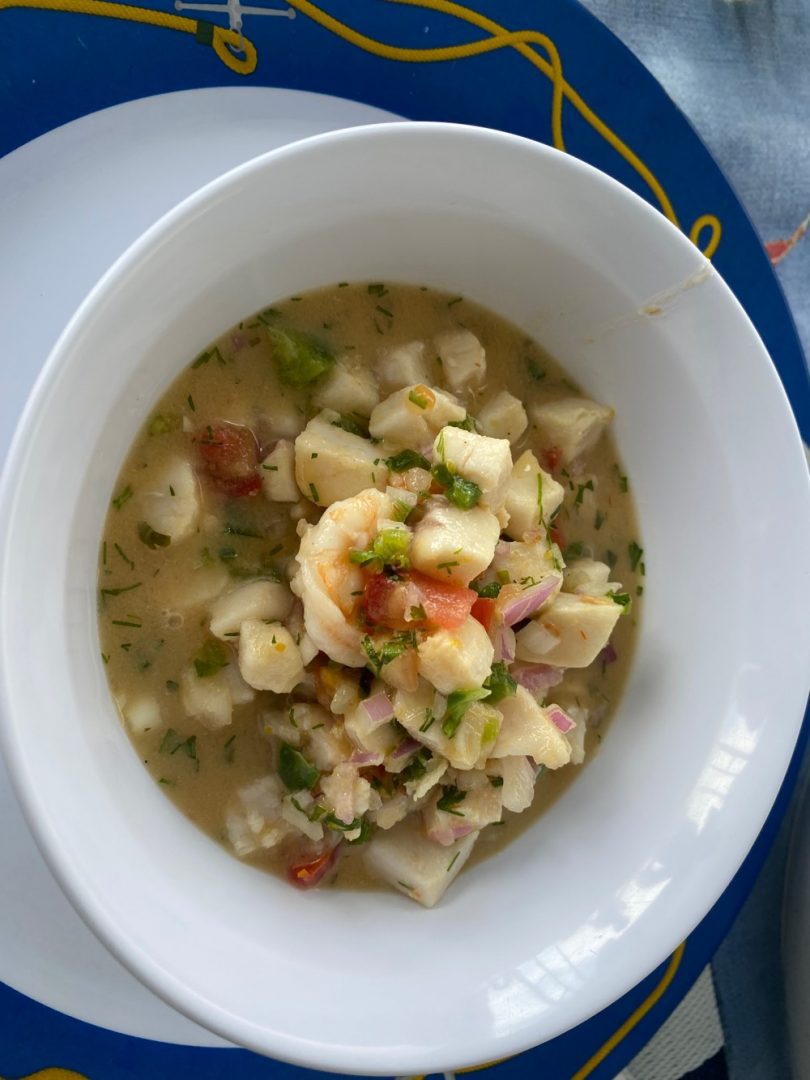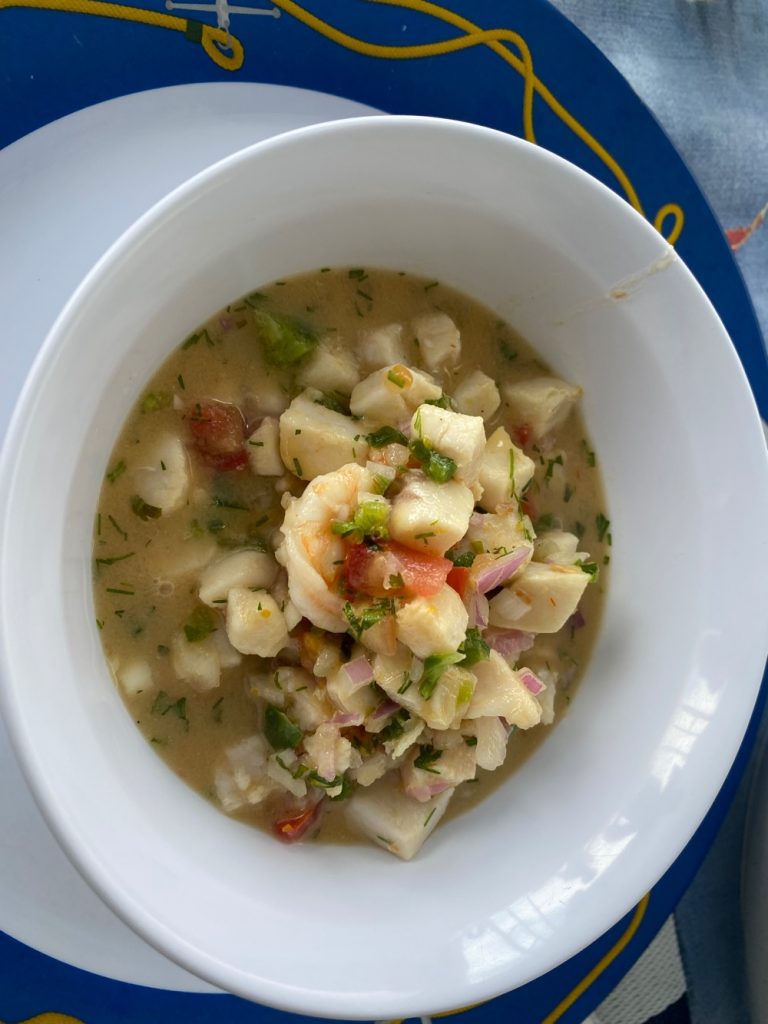 Even though we did not visit the hot spot of the Galapagos, we were never disappointed, but just as another reminder – don't use the same agency as we did when booking your tour: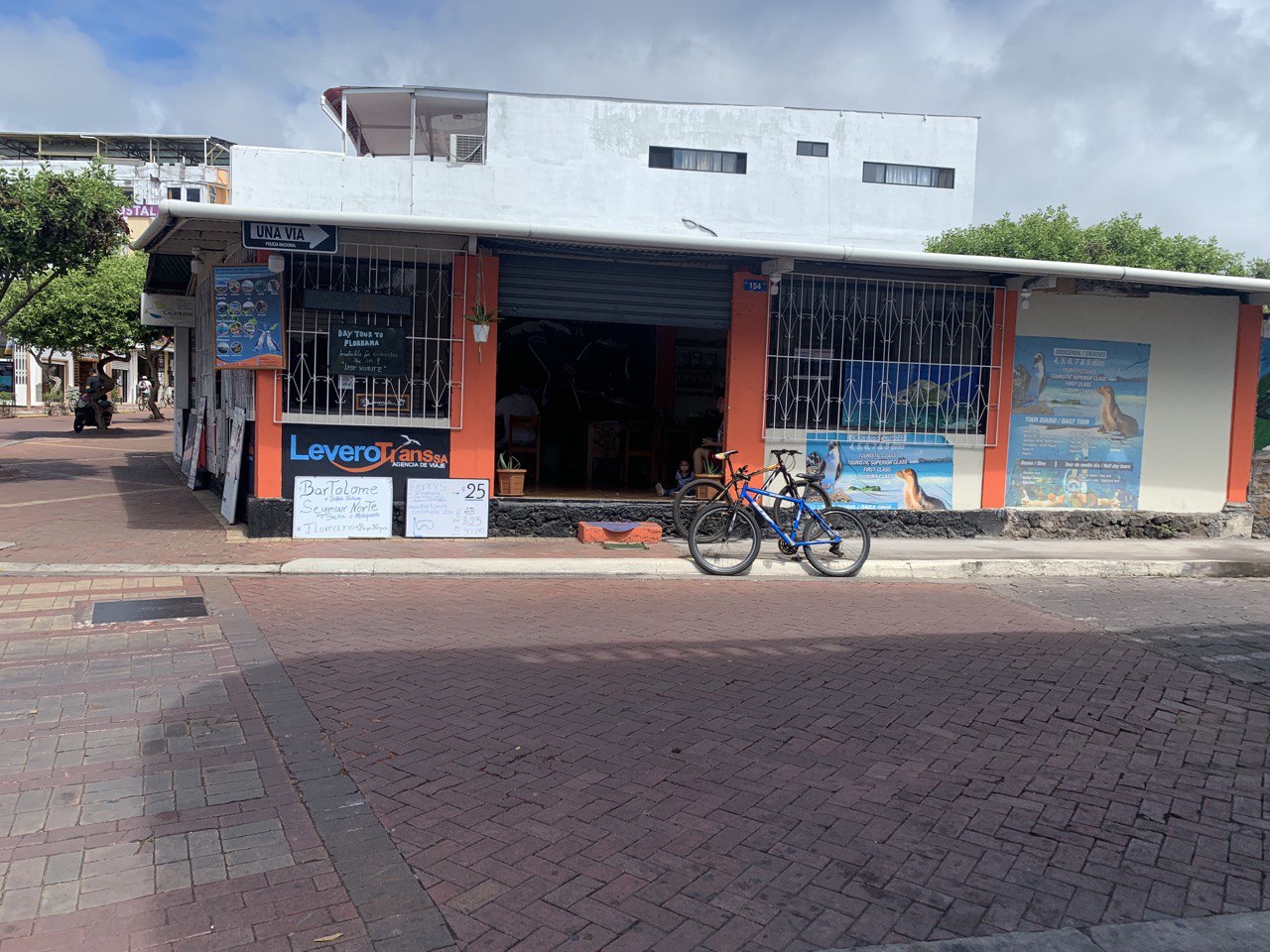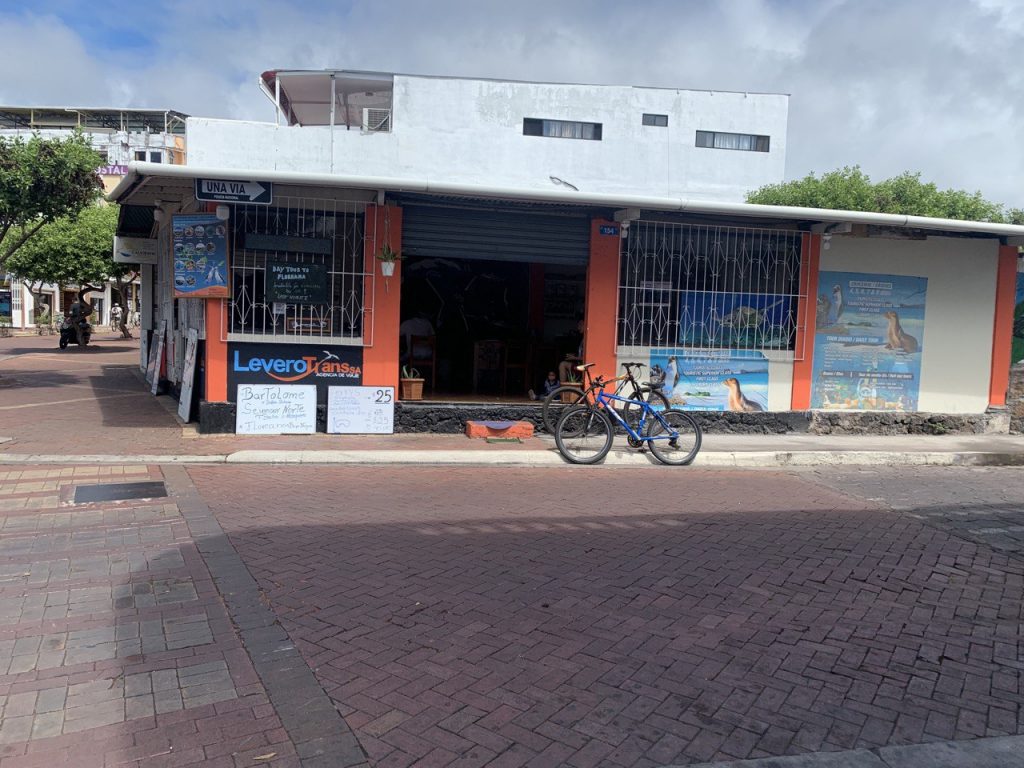 I canceled everything else with them and booked the next tours through another agency that screwed us up just once. I guess it's a Galapagos thing; the people are so chill and not always responsible, so keep this in mind!
Day 6: North Seymour Island Tour (from Santa Cruz Island)
The next day we took probably the best bird-watching tour – North Seymour Island, where you can spot most of the bird species of Galapagos like Blue Footed Boobies and Frigate Species.
The tour starts pretty early at about 7am, and there is a 45 min ride all the way to Baltra Island where you take a boat and then another hour to the islands. When you get off, you'll see these iconic birds all the way.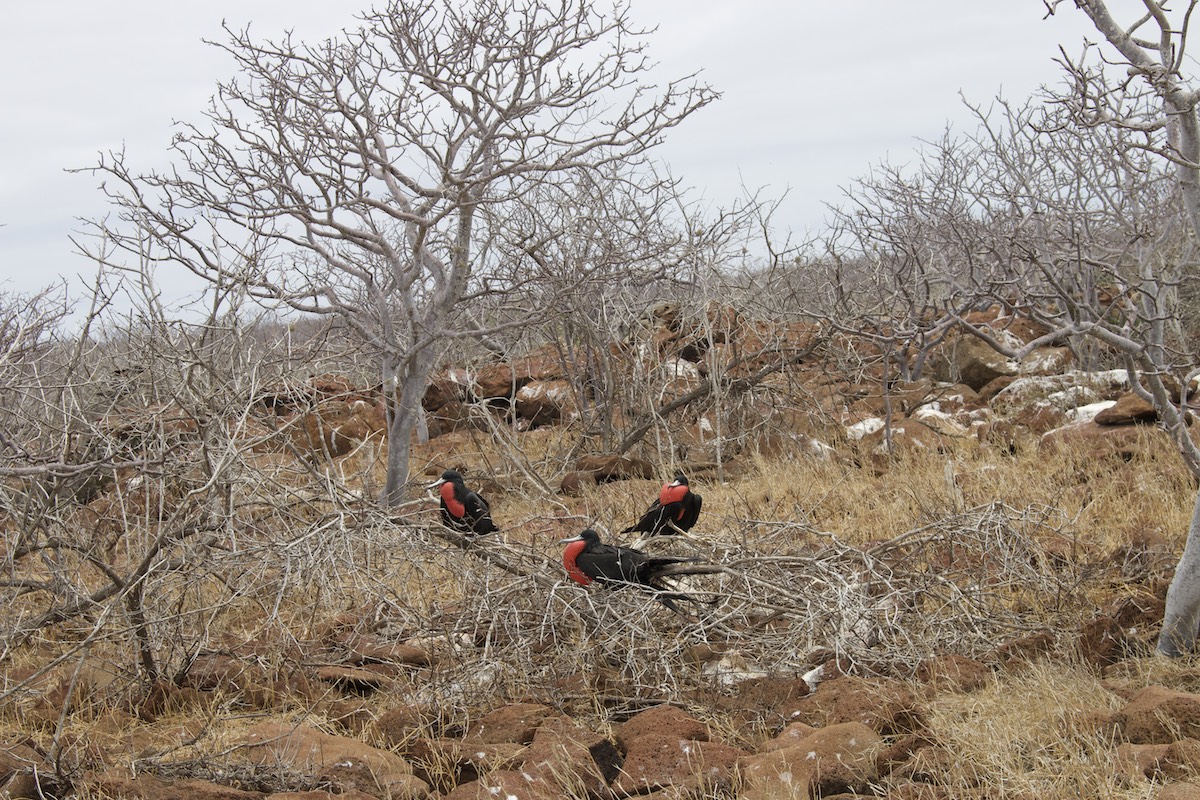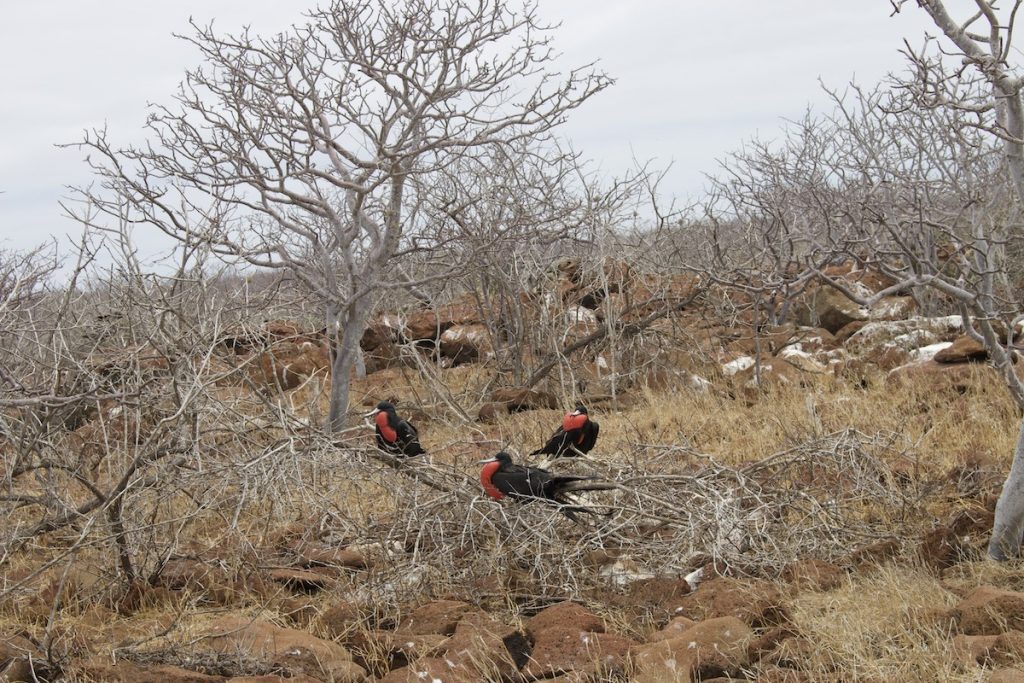 The island landscape is unreal, of course, just like everything else on the Galapagos.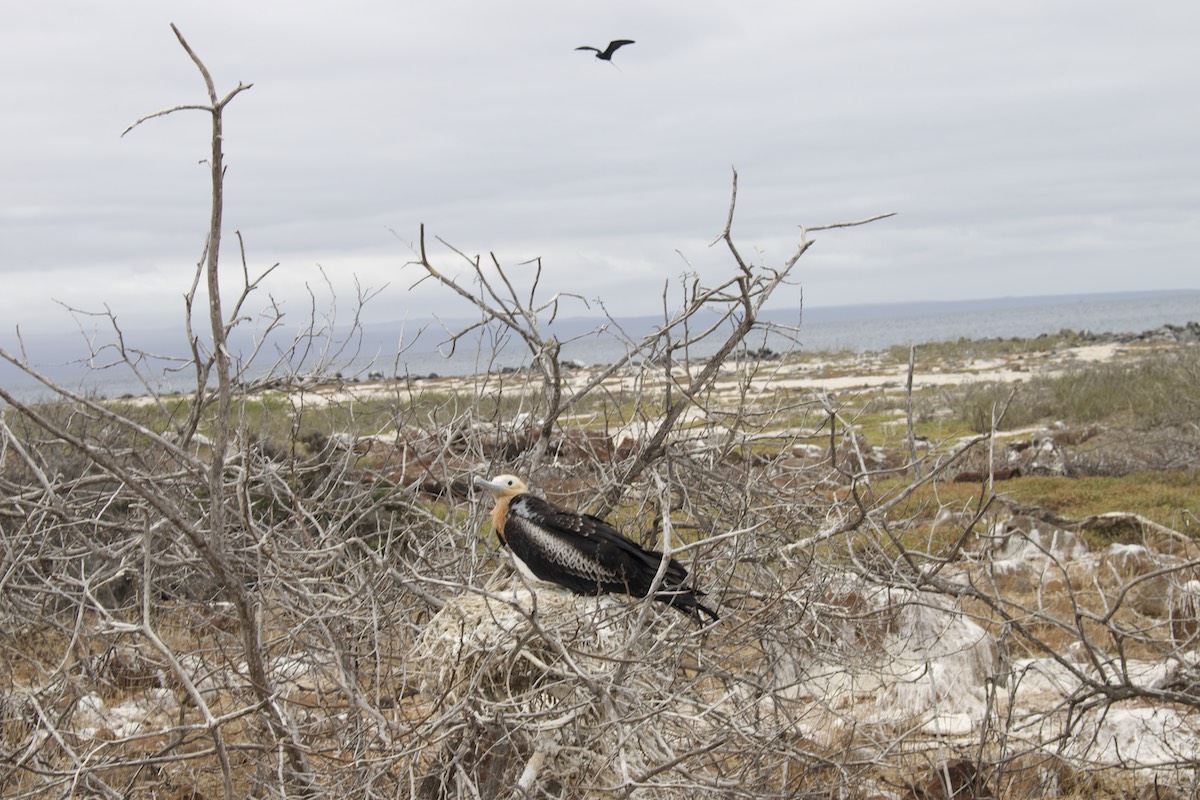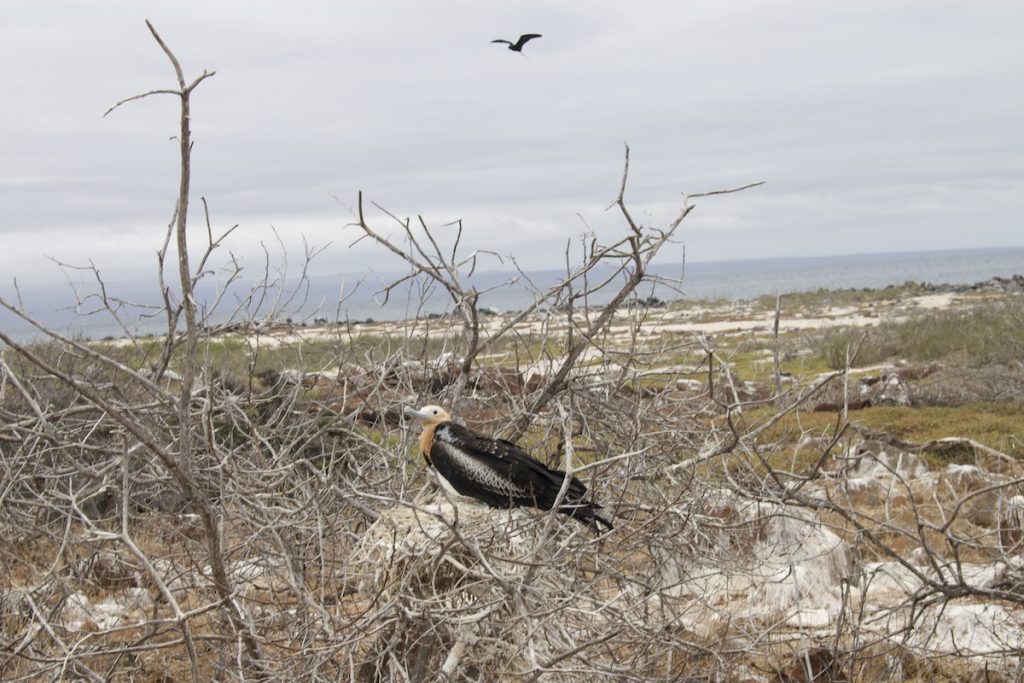 The main goal was to see famous Galapagos blue-footed boobies, and we did. They are so cute.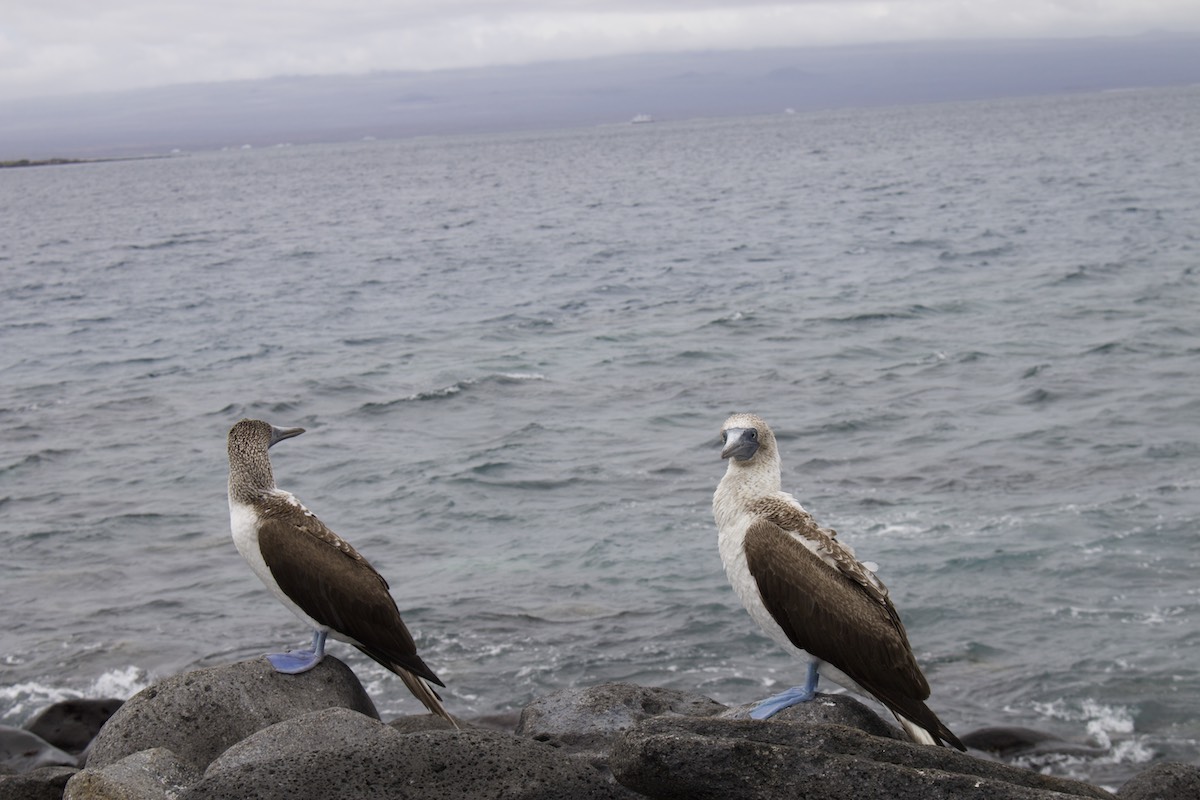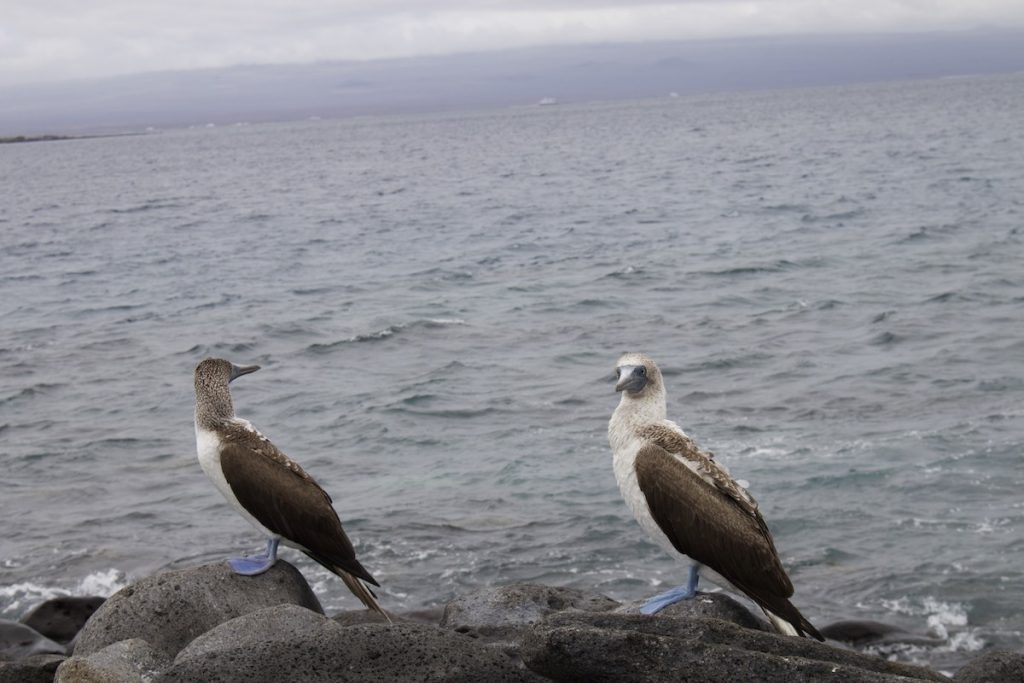 The second part of the tour was snorkeling, although this seemed somewhat mediocre compared to what we had experienced before. On the way back, however, we were able to spot turtles in a mating action, which was quite unique to see.
I'd recommend visiting Seymour Island, too, to see all the bird species. But, overall, the price was quite high: $145 per person.
Day 7: Boat from Santa Cruz Island to San Cristobal Island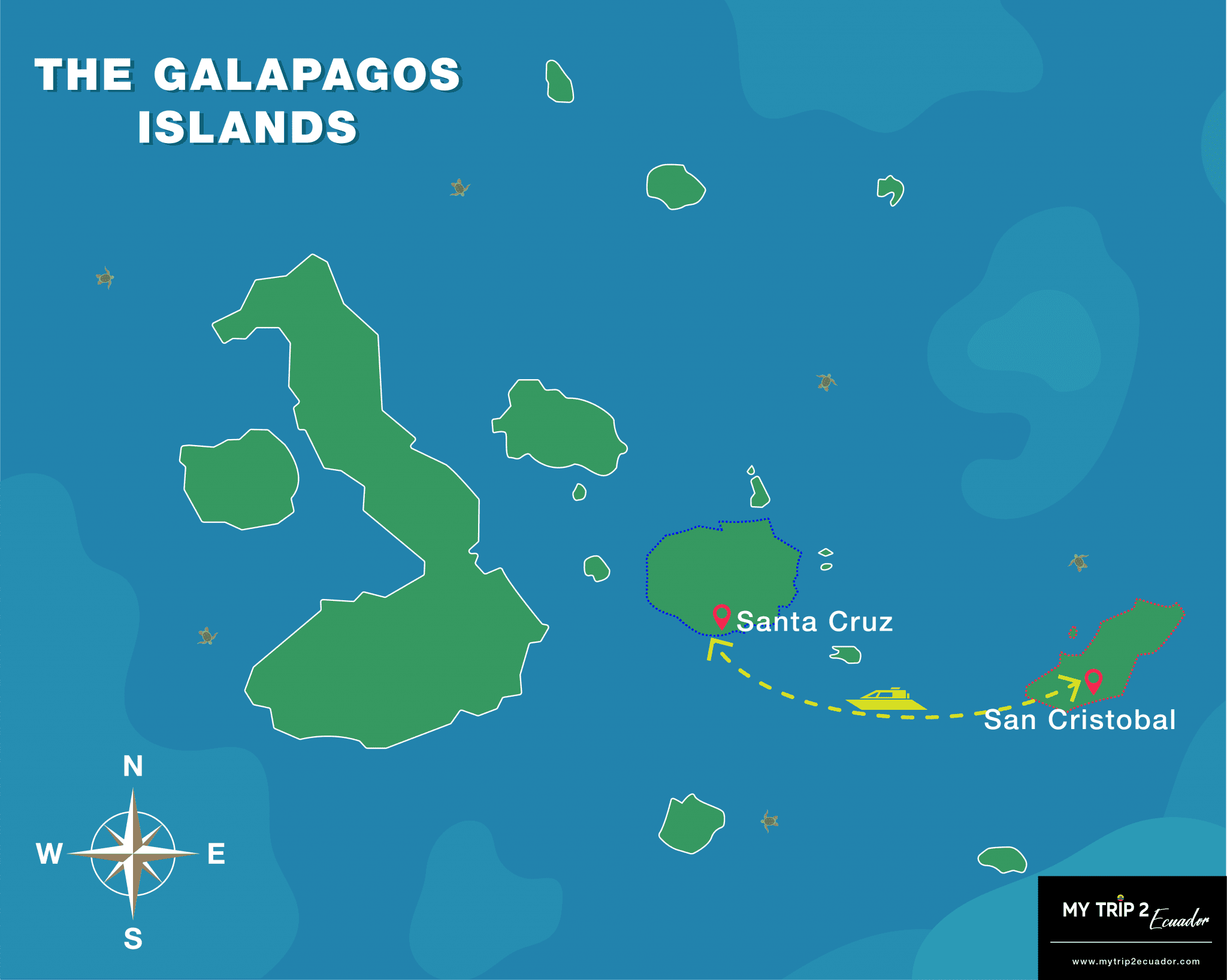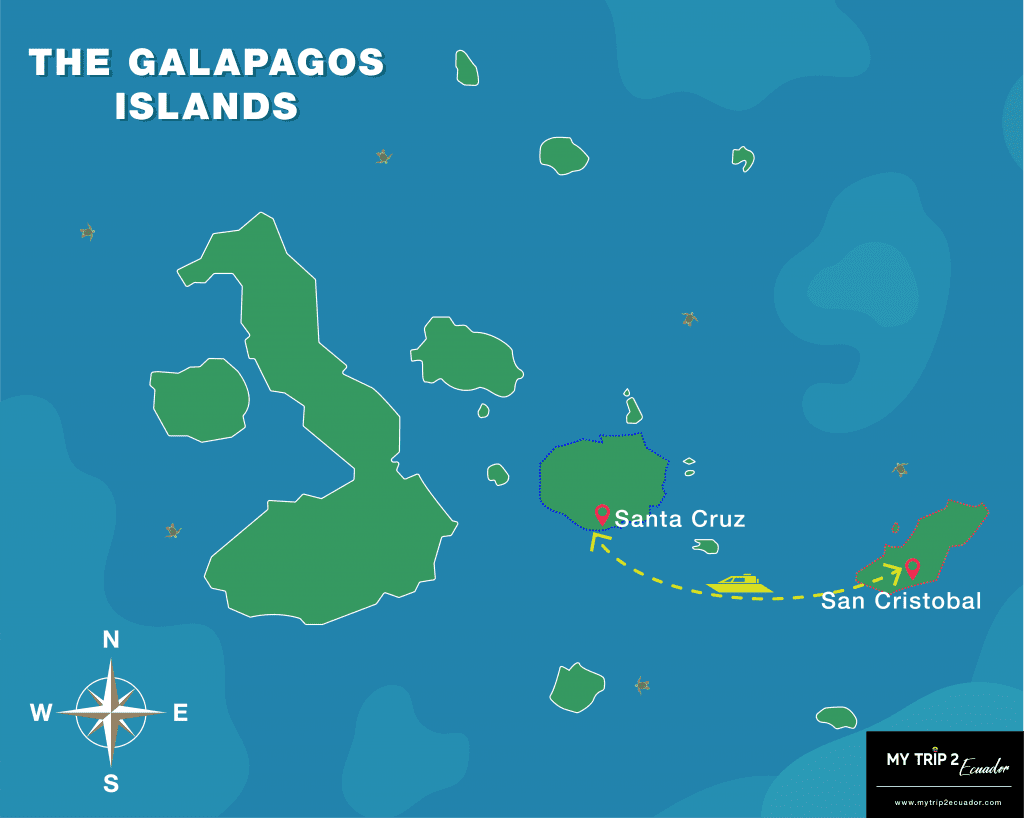 This was probably our worst day on the Galapagos, so I'll keep it pretty short. It was a day of departure to San Cristobal Island at 3pm, so we decided to go to the Charles Darwin station (we paid $20 for this because you need a guide), which is close to a boat pier.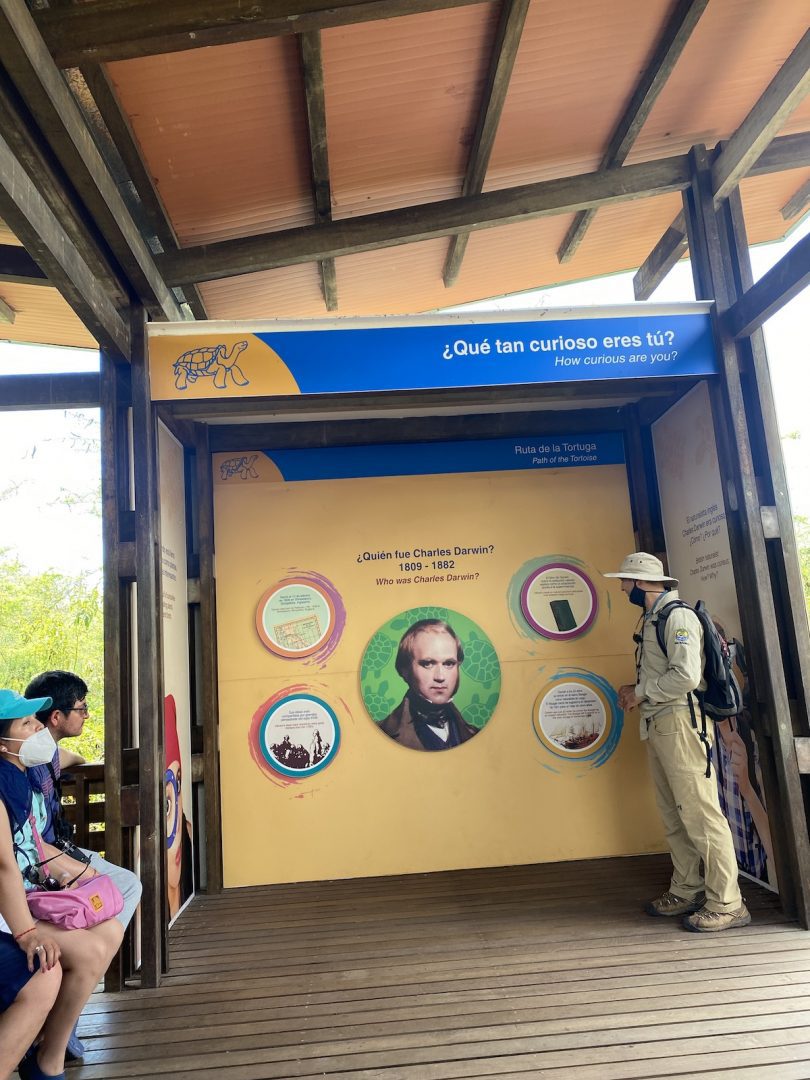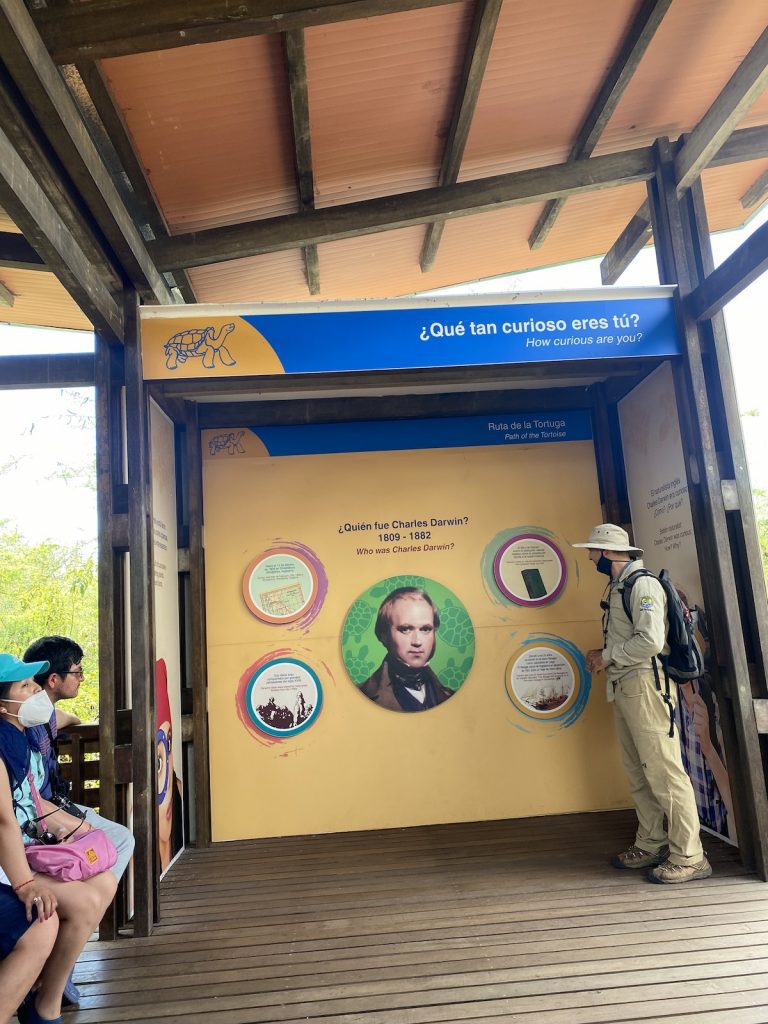 It's a museum along with a specialist turtle breeding center. To cut a long story short, though, it probably wasn't worth it, and there are better places to visit.
Next, it was time to take a boat, and guess what? None of our names were showing again, but this time, the agency was in touch with me and so at least they tried to help us. Eventually, we took a very last boat with a captain who did not speak English. The boat was full of seafood and had only a few people on board, so I can't help but think it wasn't even for tourists. The boast was slower than usual, shaking all the way with the smell of seafood.
Right in the middle of the open ocean, the engine broke down, so we found ourselves unable to move for about 25 minutes, and the boat wobbled dramatically from left to right with the waves.
We arrived at San Cristobal one hour later, and when checking in for the hotel, there was no one working at the reception; as such, we had to spend another half hour finding the person. When we eventually found them, we learned that there were no rooms available, and our room was taken! It took another 30 minutes for the staff to figure everything out, and we were given a deluxe room for the night. Still, the only deluxe part about it was the size of the room (which we really did not care about anyway).
It was 10pm by this point, so we went to the city center to grab a quick bite to eat. There was a performance on at this point, so we enjoyed walking at night. It was time to sleep well after such a stressful day. So far from what we'd come to expect from the Galapagos Islands.
Day 8: Exploring San Cristobal Island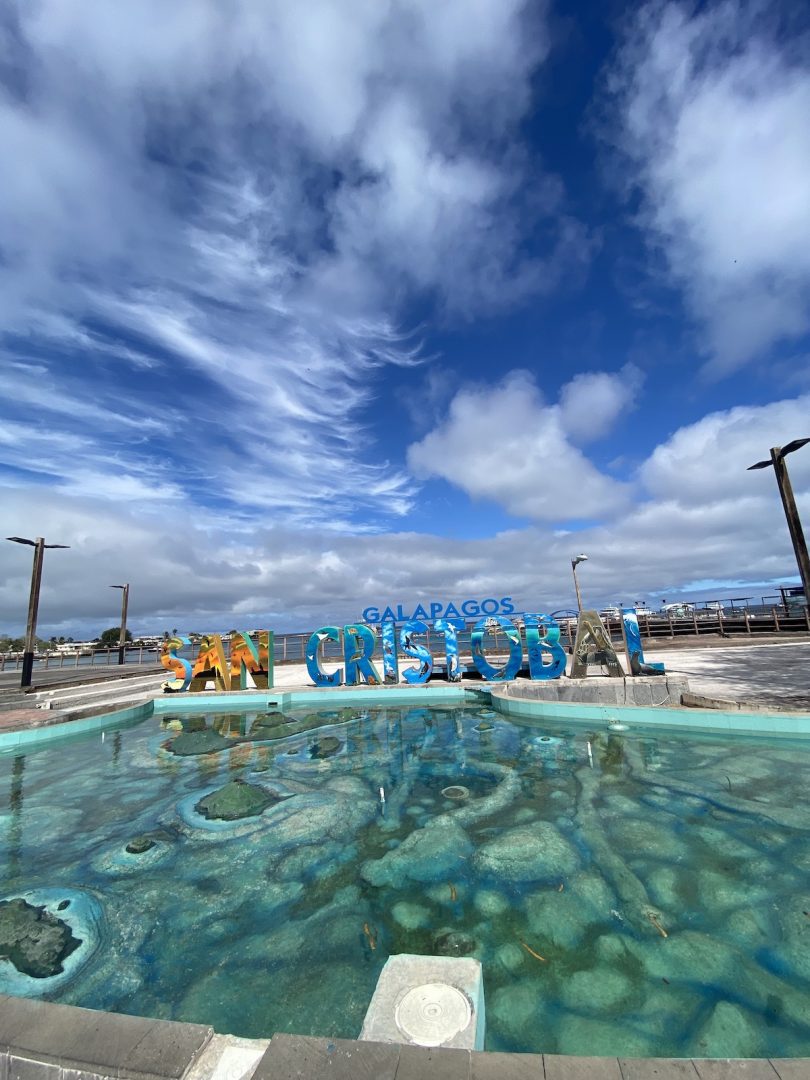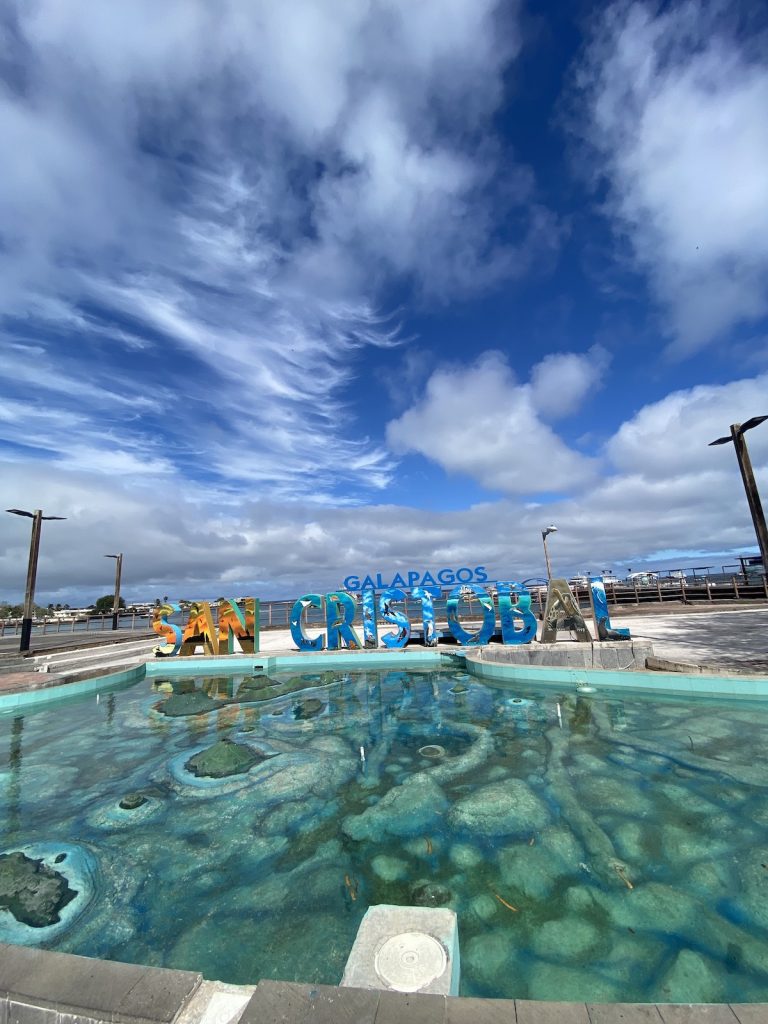 San Cristobal is an island with some of the best wildlife anywhere in the world! The sea lions were all around when we visited, and there were tons of them!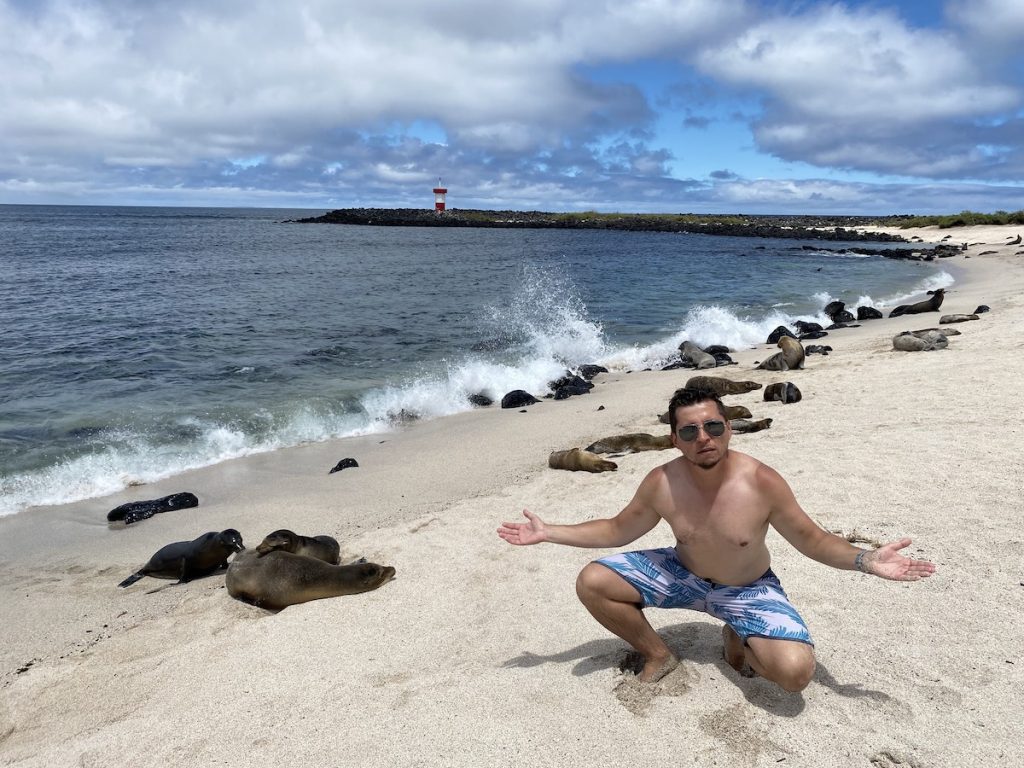 They look so cute, but the smell… Well, let's just say that it was unique, shall we? Still, some people seemed to find it overwhelmingly stinky. Luckily, it didn't particularly bother me, and I really loved the sounds that the sea lions made while we were there.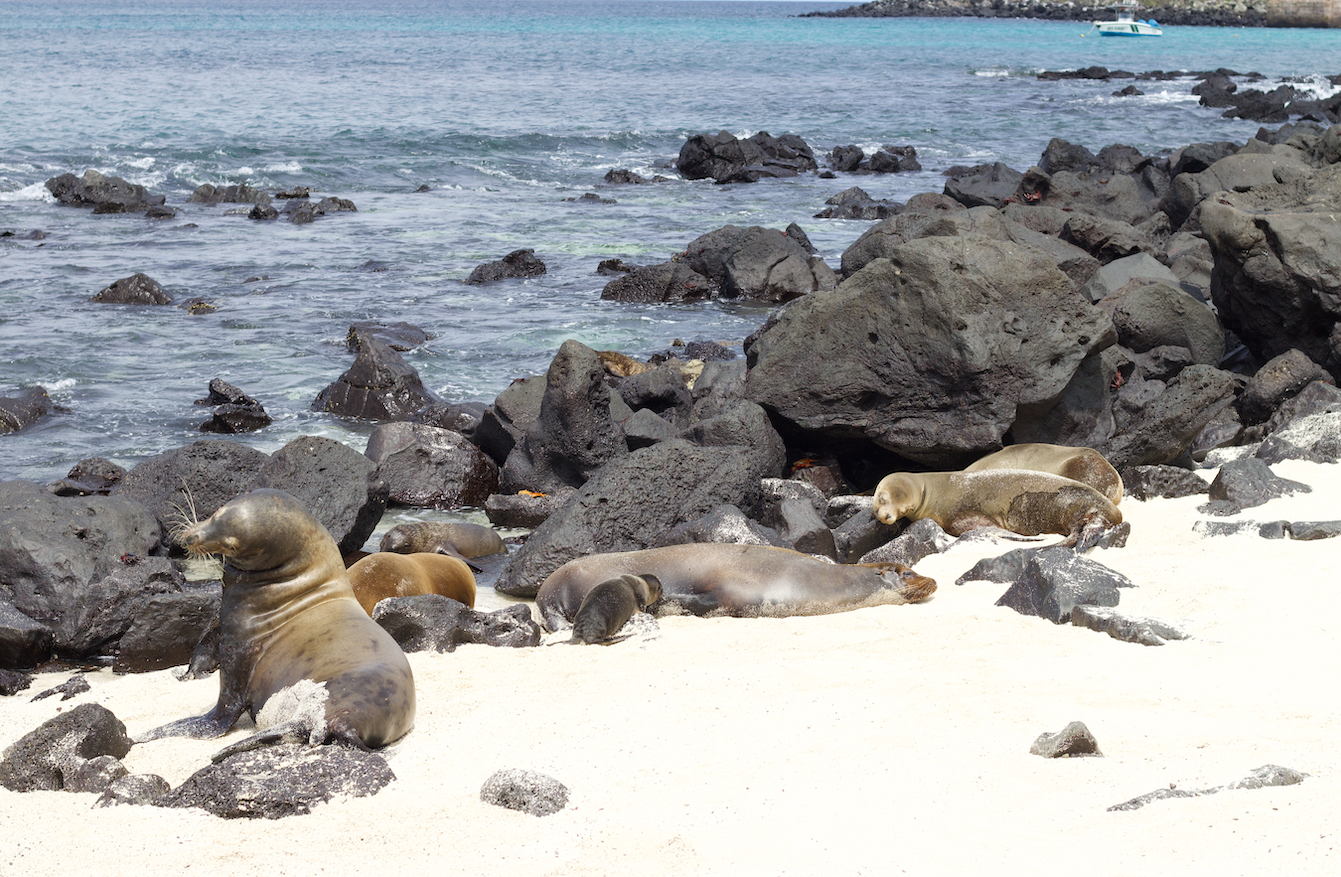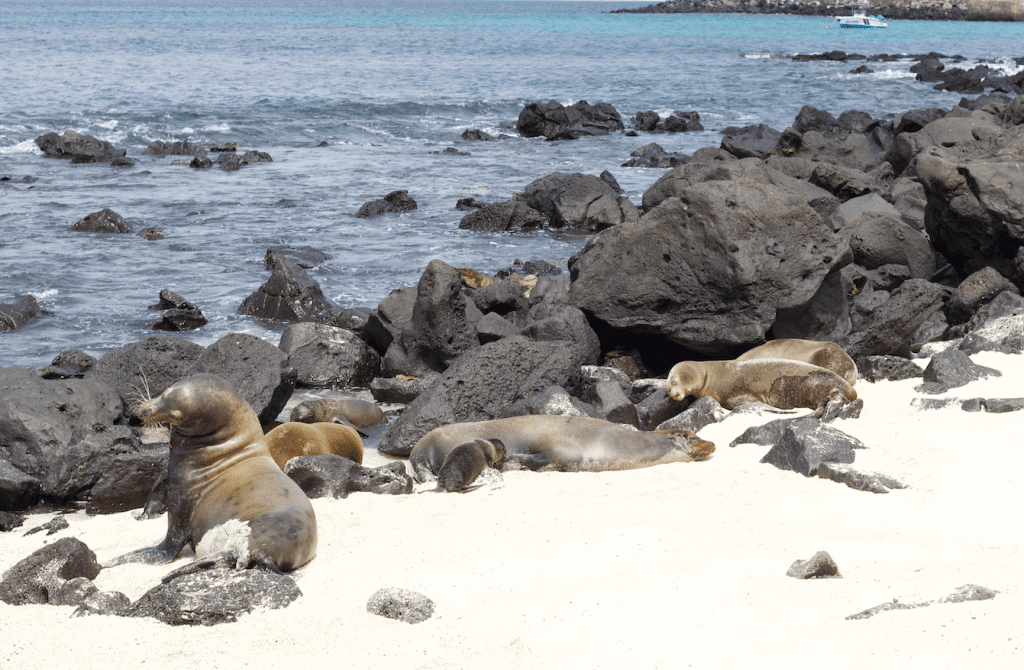 We first walked through the city center and then visited a few of the island's beaches, such as Playa Oro and Playa Mann.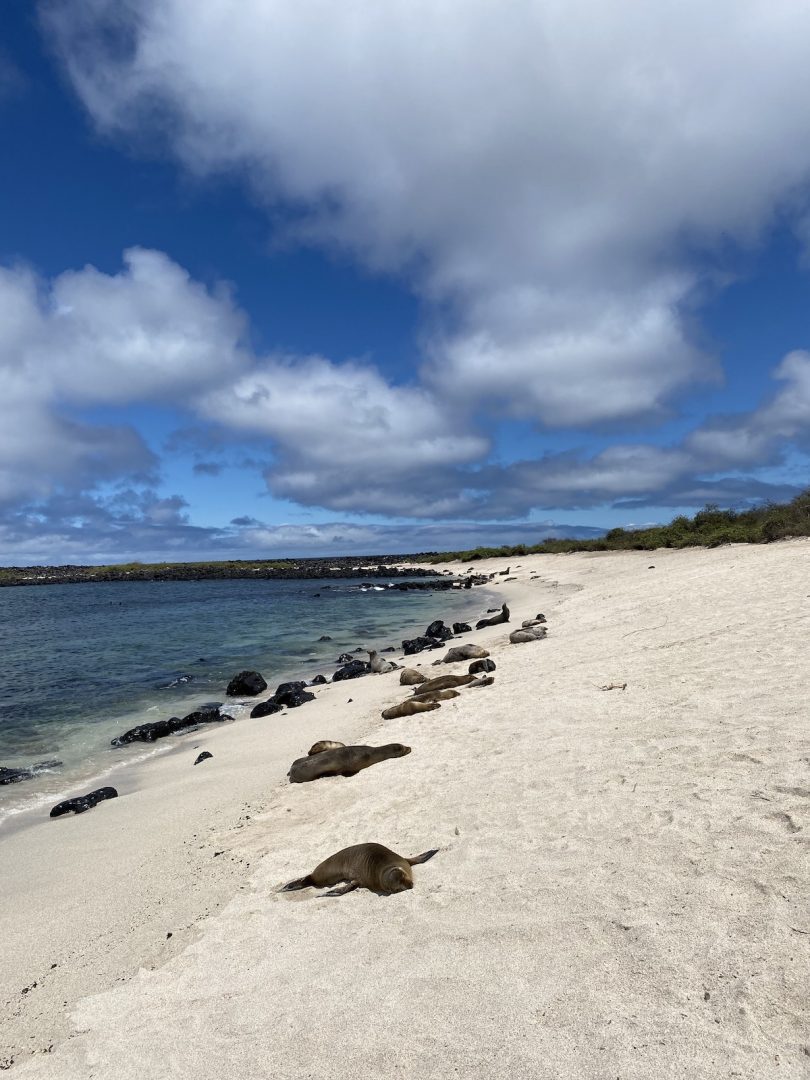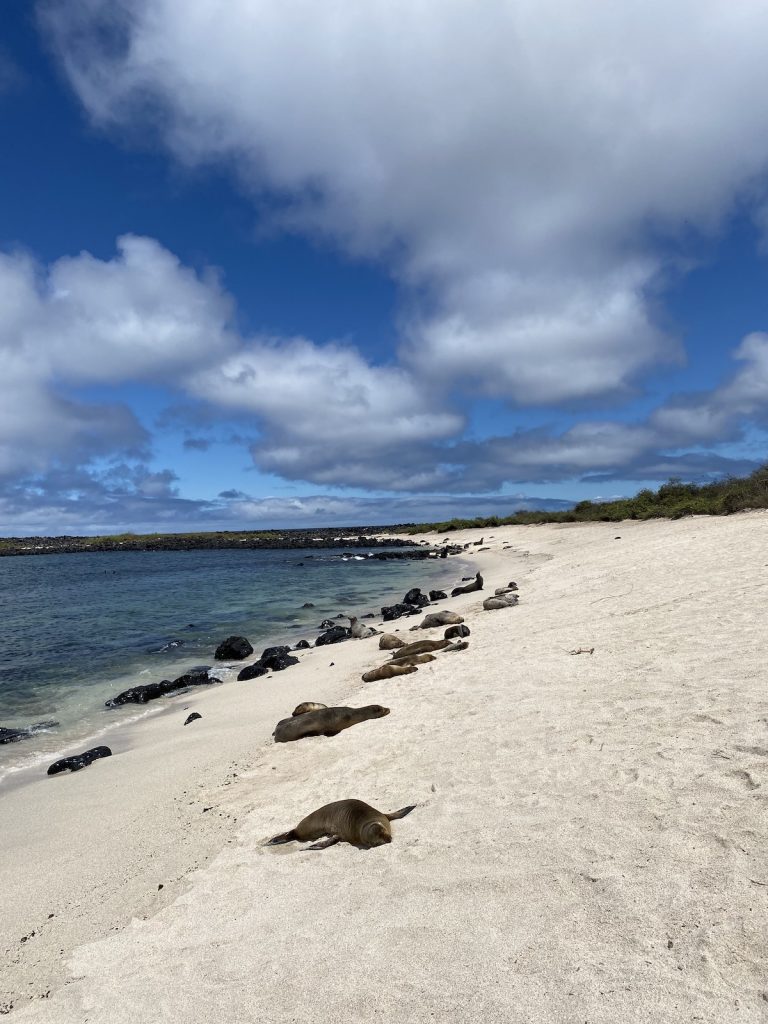 This allowed us to chill with the amazing sea lions; then, we walked to the hiking area, which also offered a few great viewpoints and an amazing snorkeling area.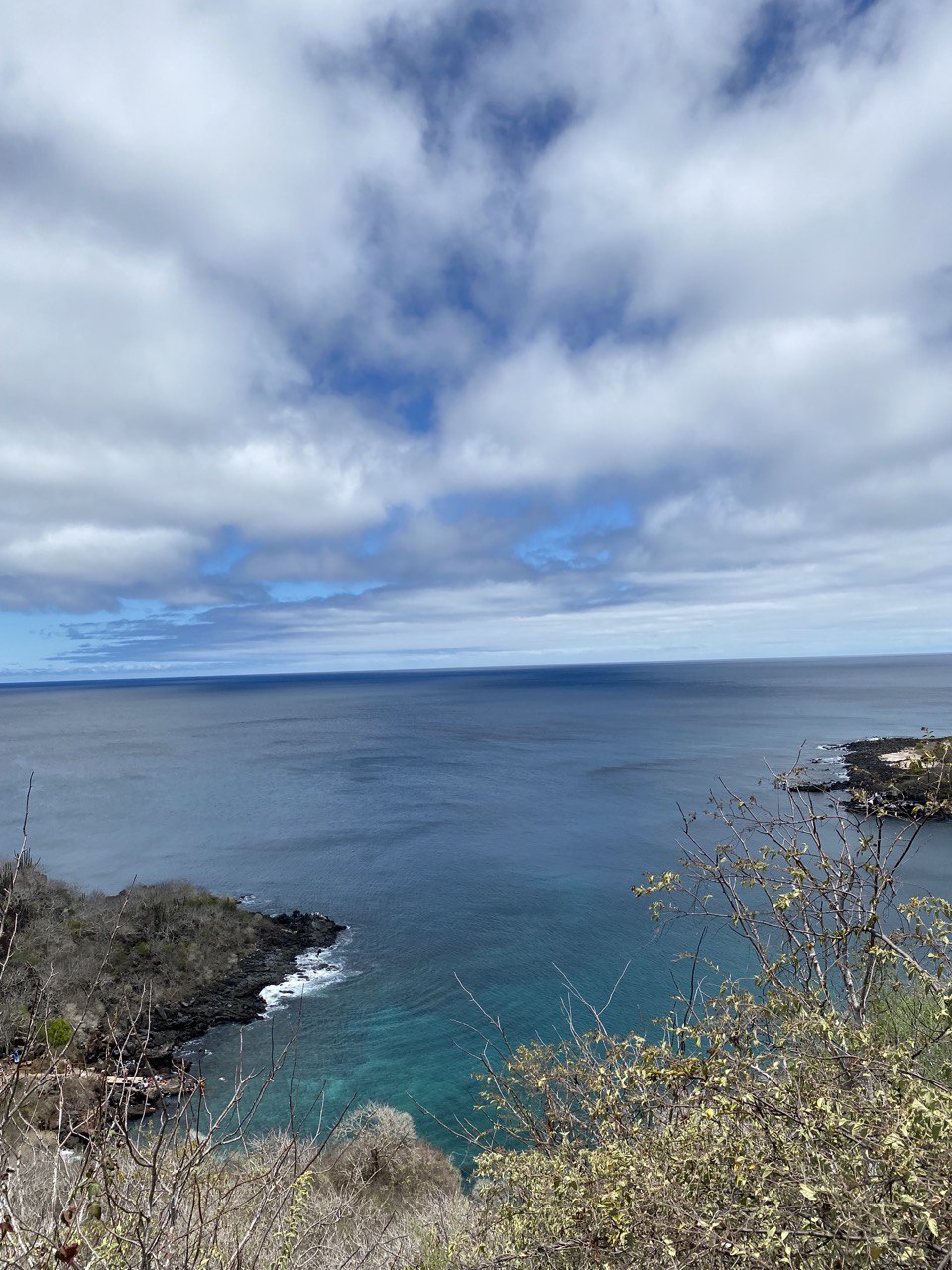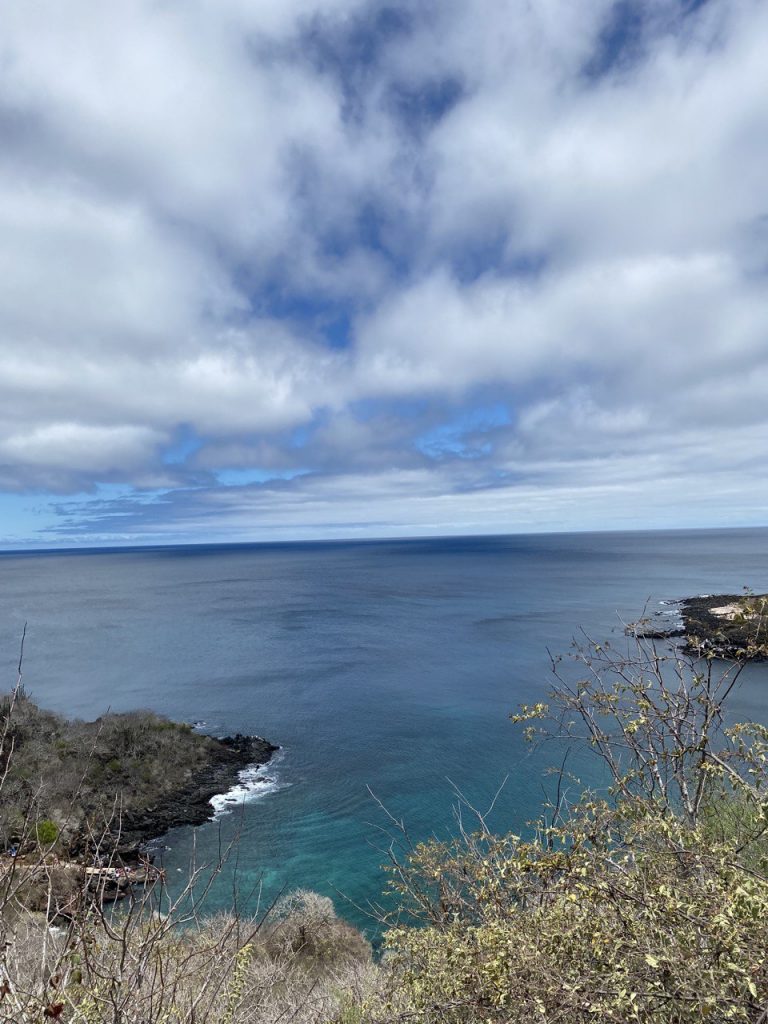 There are two similar viewpoints locally called Cerro Tijeretas and Punta Carola.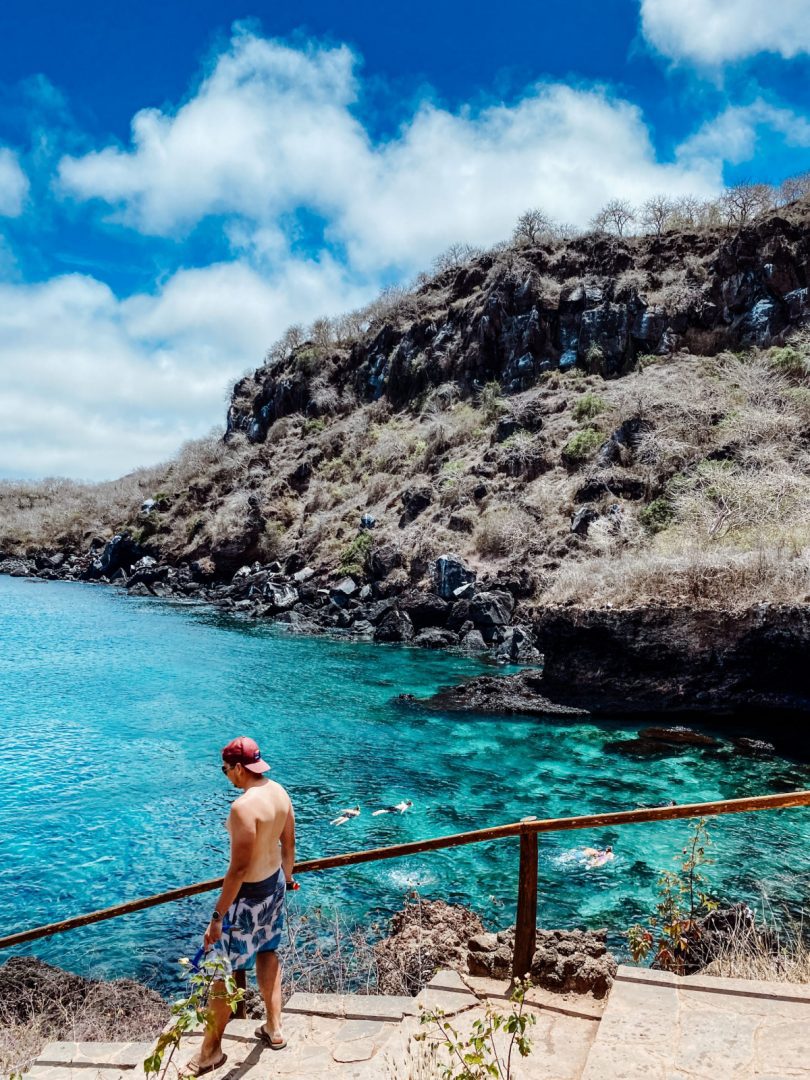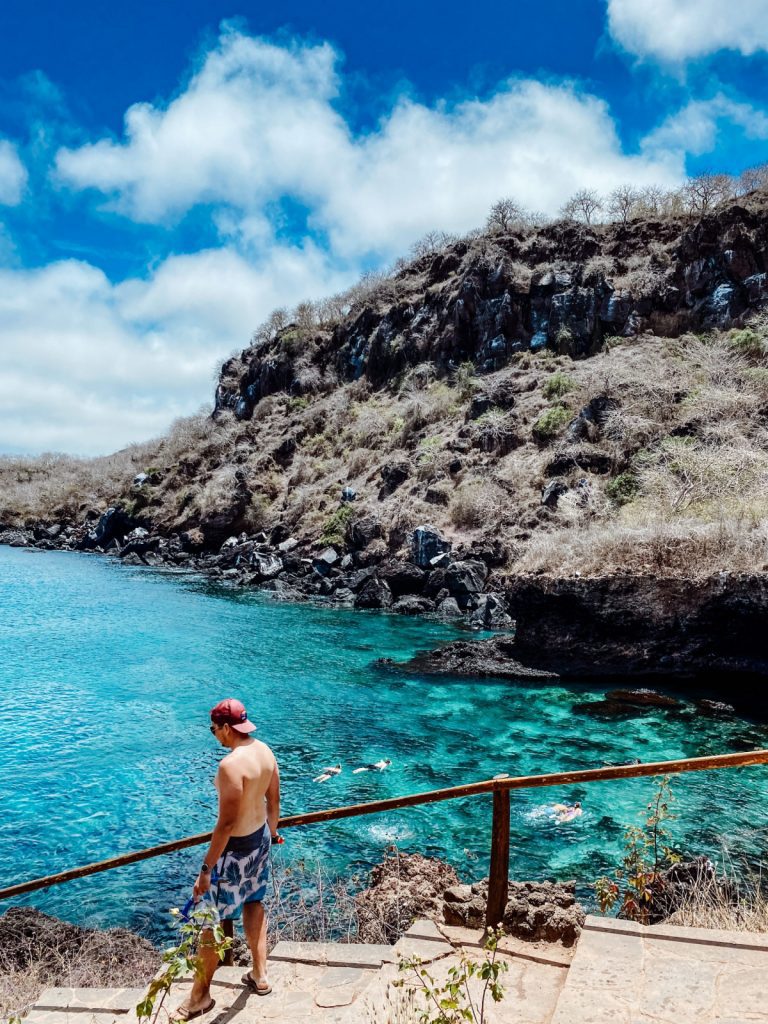 After making the most of these stunning viewpoints, we went all the way down for yet more snorkeling to Playa Tijeretas. It's quite a decent lagoon with numerous turtles and some extremely playful sea lions!
Day 9: Puerto Chino Beach (San Cristobal Island)
I really wanted to surf while at the Galapagos, so I asked a local surfer for some good spots. Most of the spots are for experienced surfers only e.g Tongo Reef, unfortunately, but he recommended I should visit a small local beach for beginners named Puerto Chino. I tried Tongo Reef and it was a little extreme for my surfing level.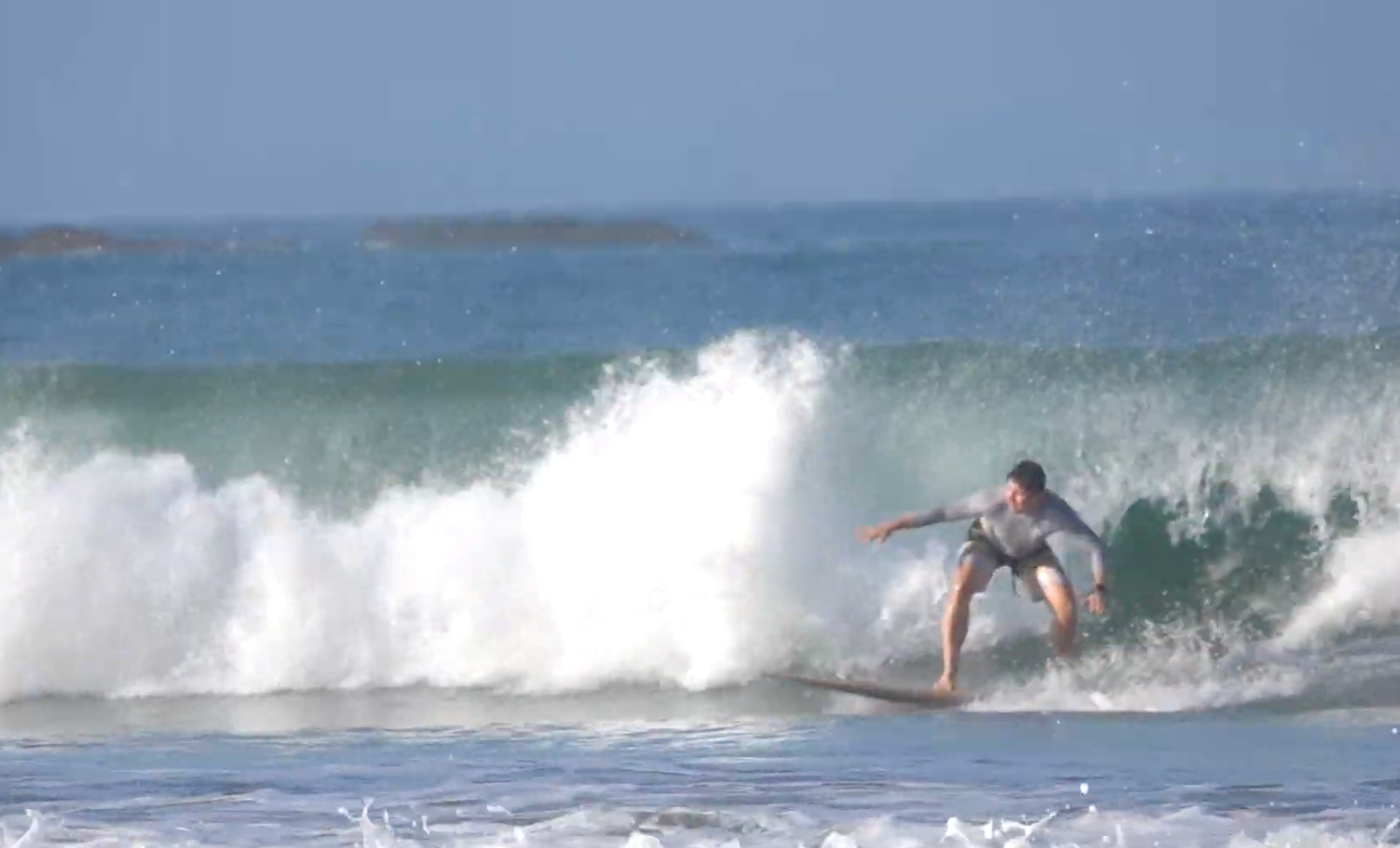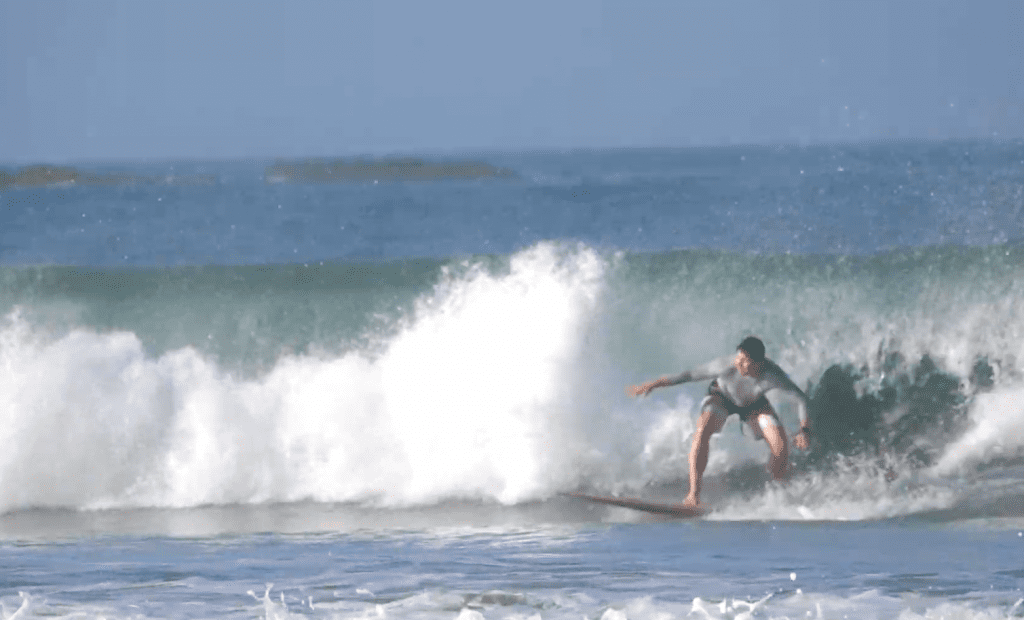 So we headed to Puerto Chino Beach.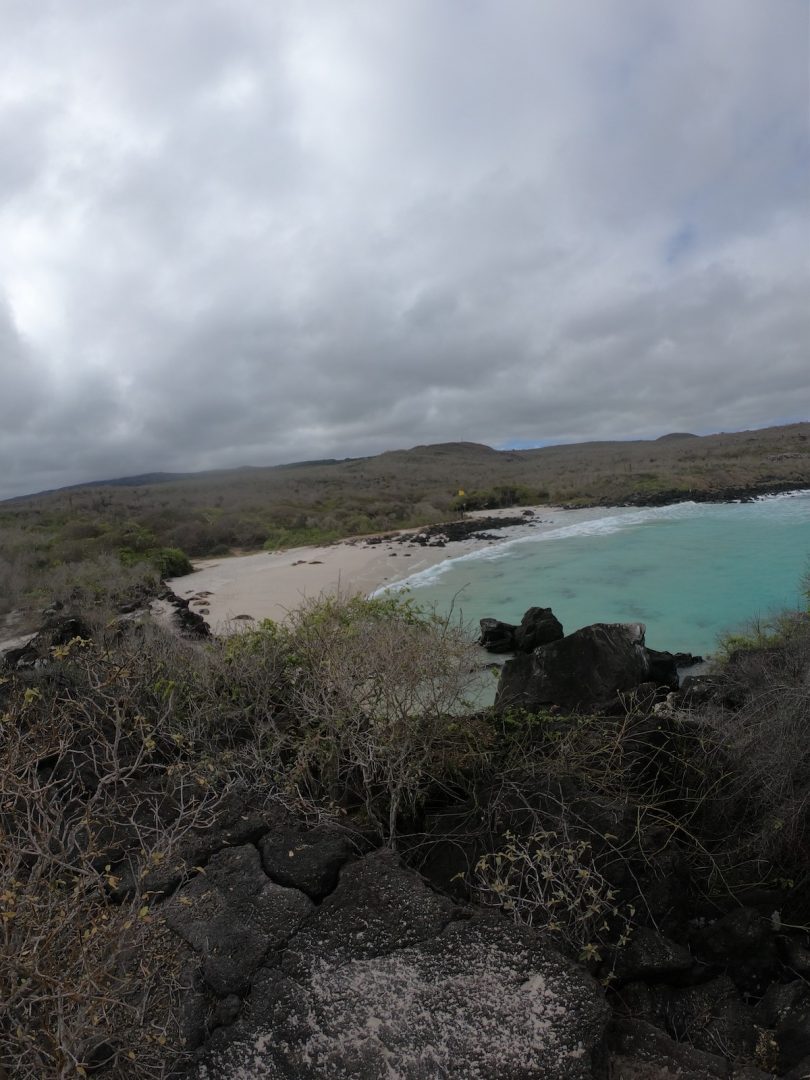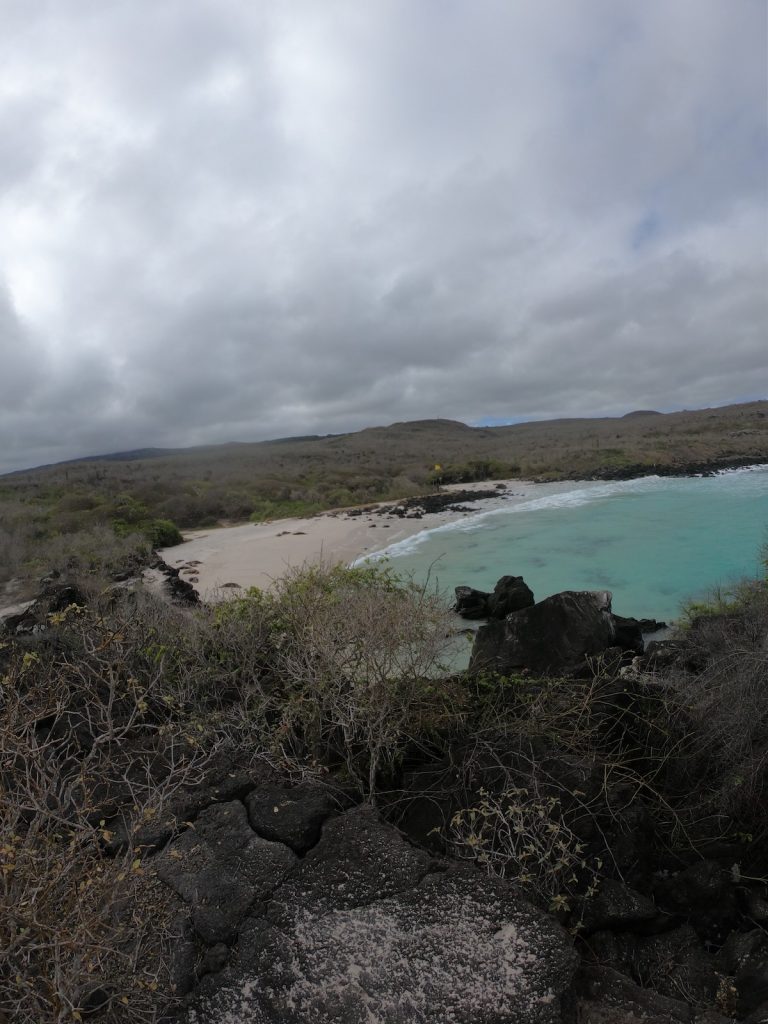 We spent the whole day surfing and chilling with the sea lions, and once again, we were the only people on the beach for the entire day!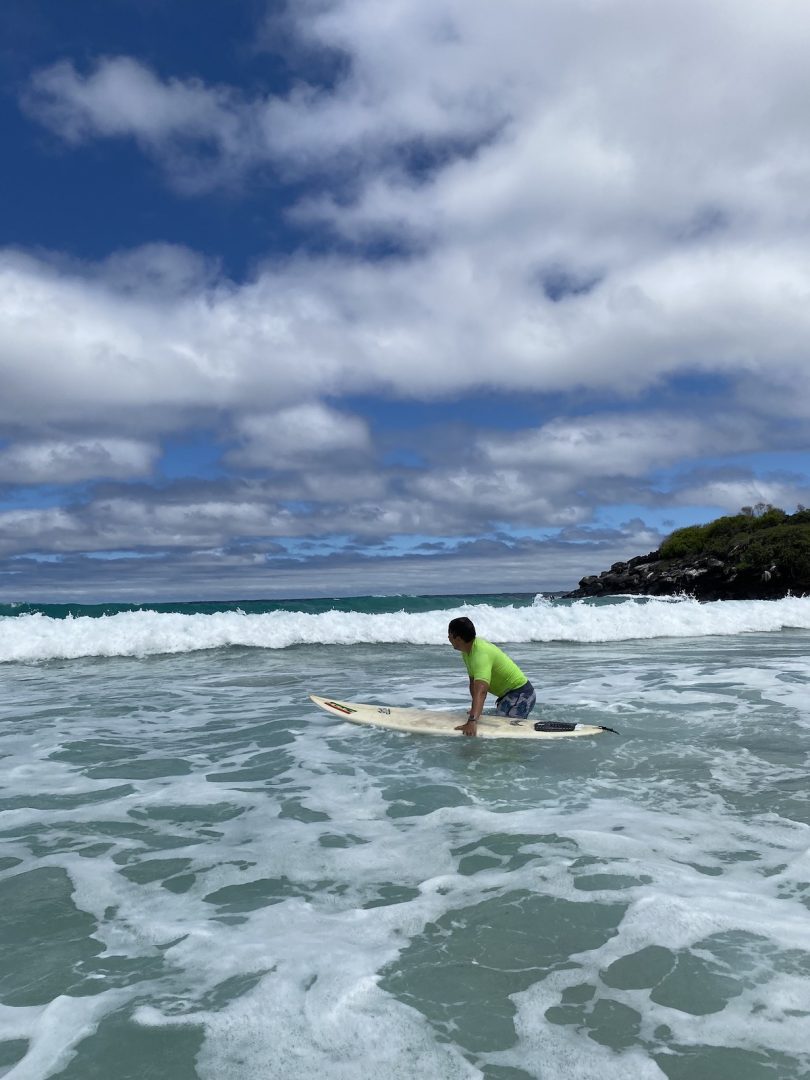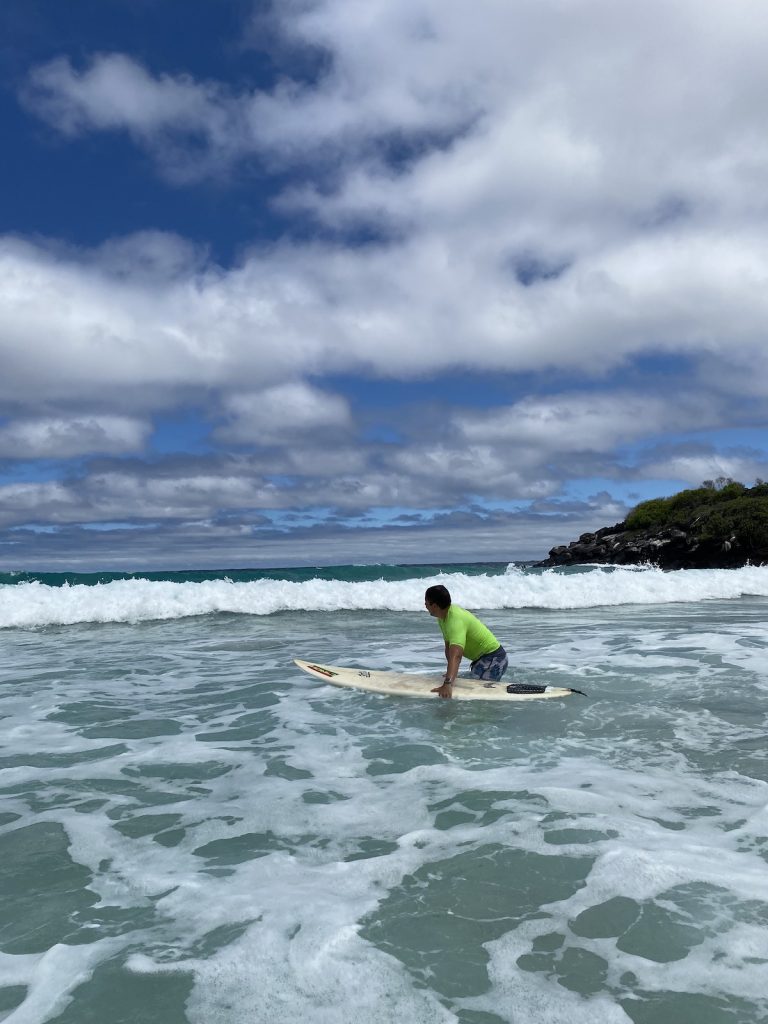 You need to hire a taxi to drive you there for $30 because it's located on another part of the island – it's not easy to get to. After parking, there is a twenty-minute hike, and the sea lions decide whether they allow you to get to the beach.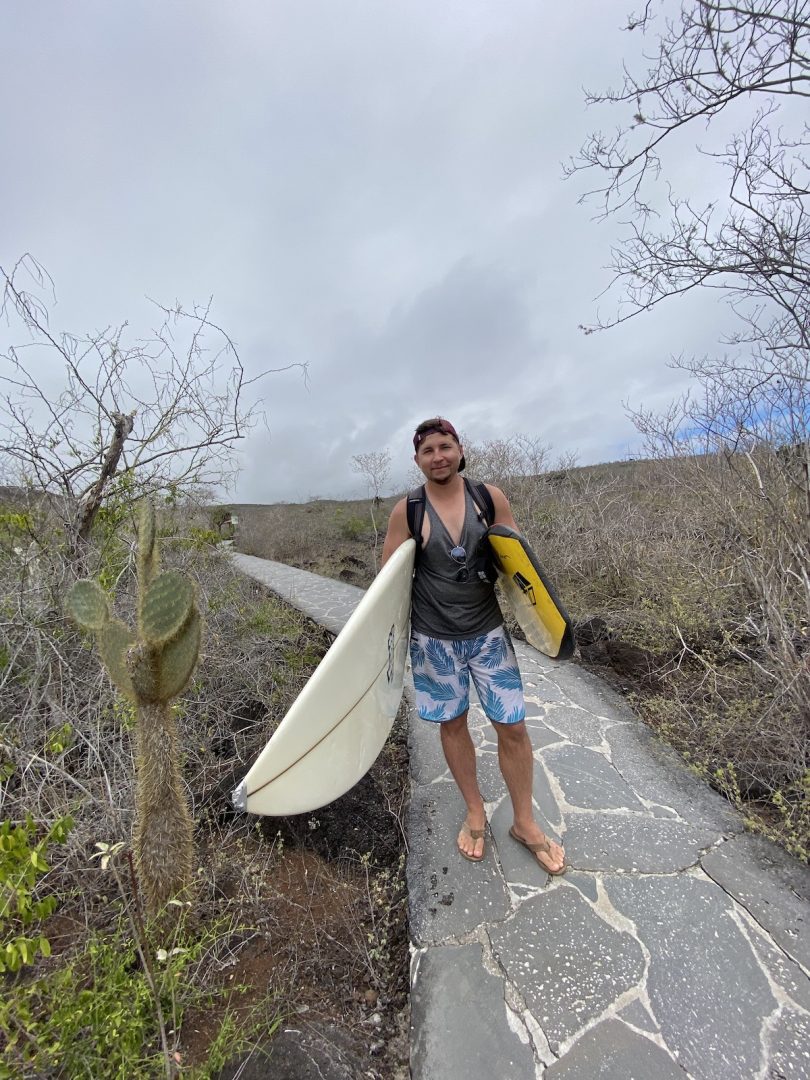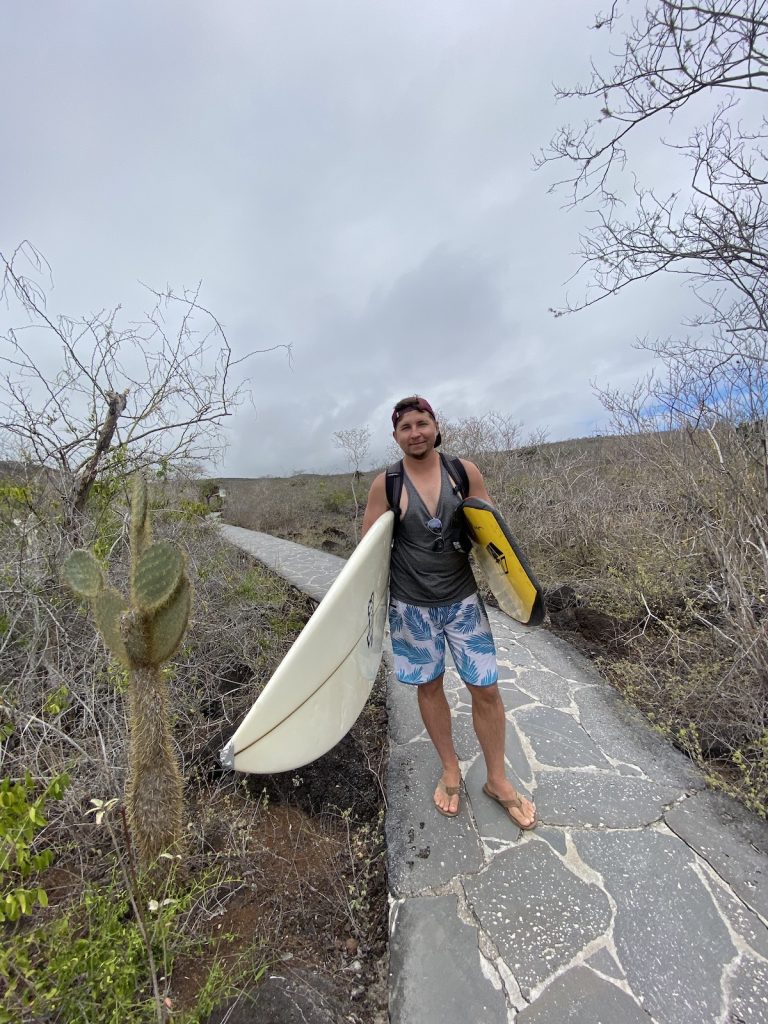 Luckily, they did with us.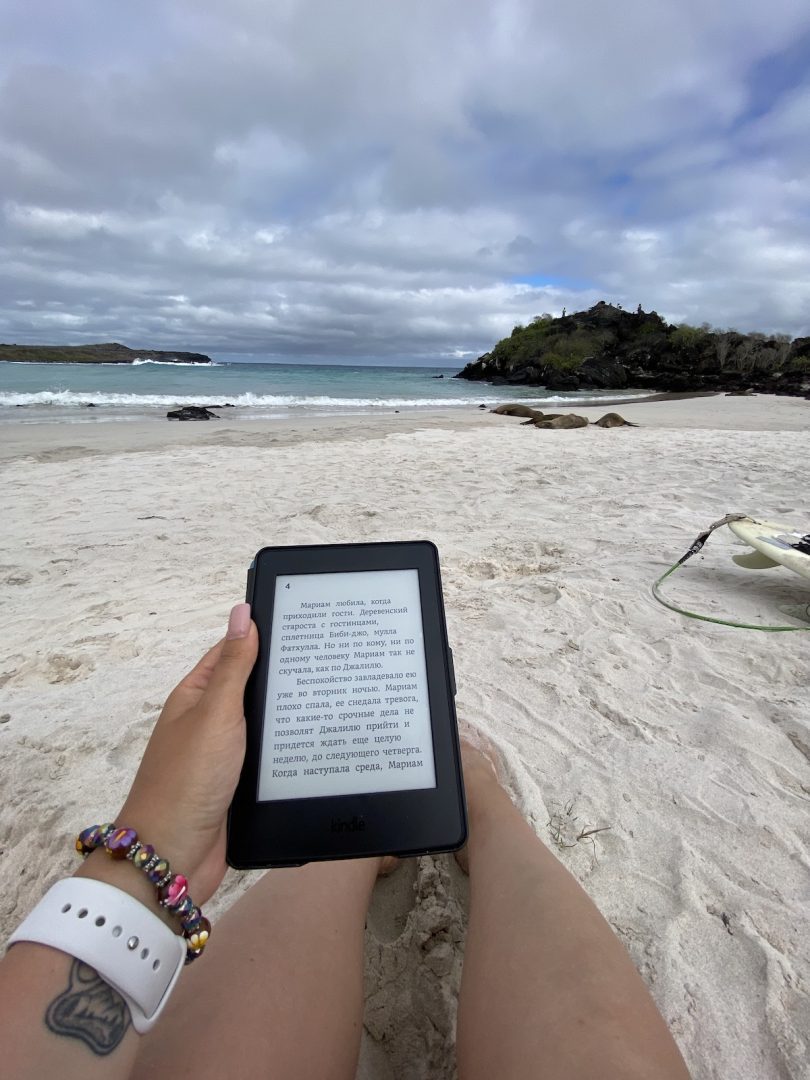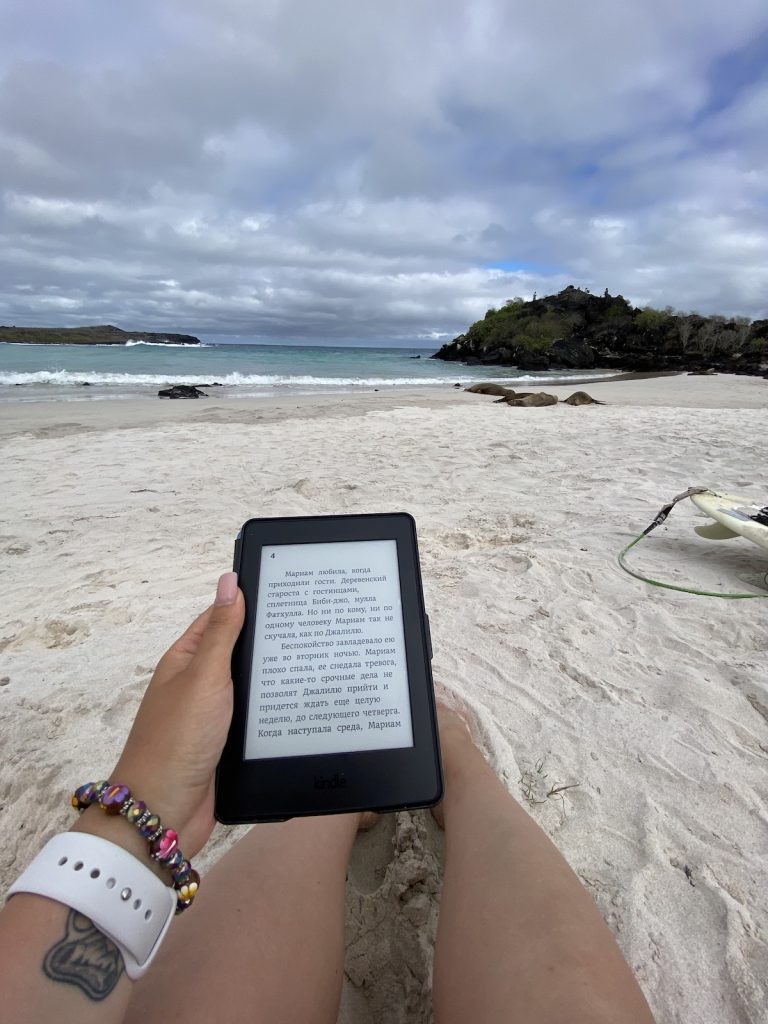 The beach is small and scenic, the water was so warm and it was amazing to chill with sea lions. One of them even licked my wife's toes, and she thought that it was me at first! Haha. We even surfed with them!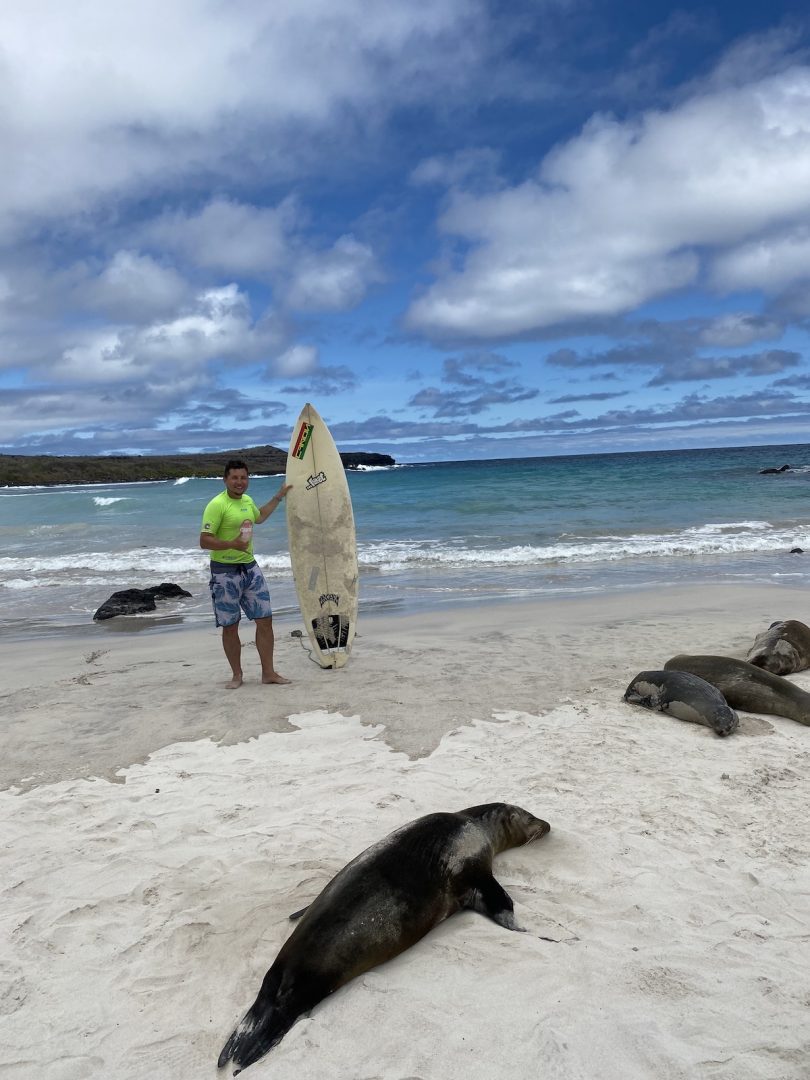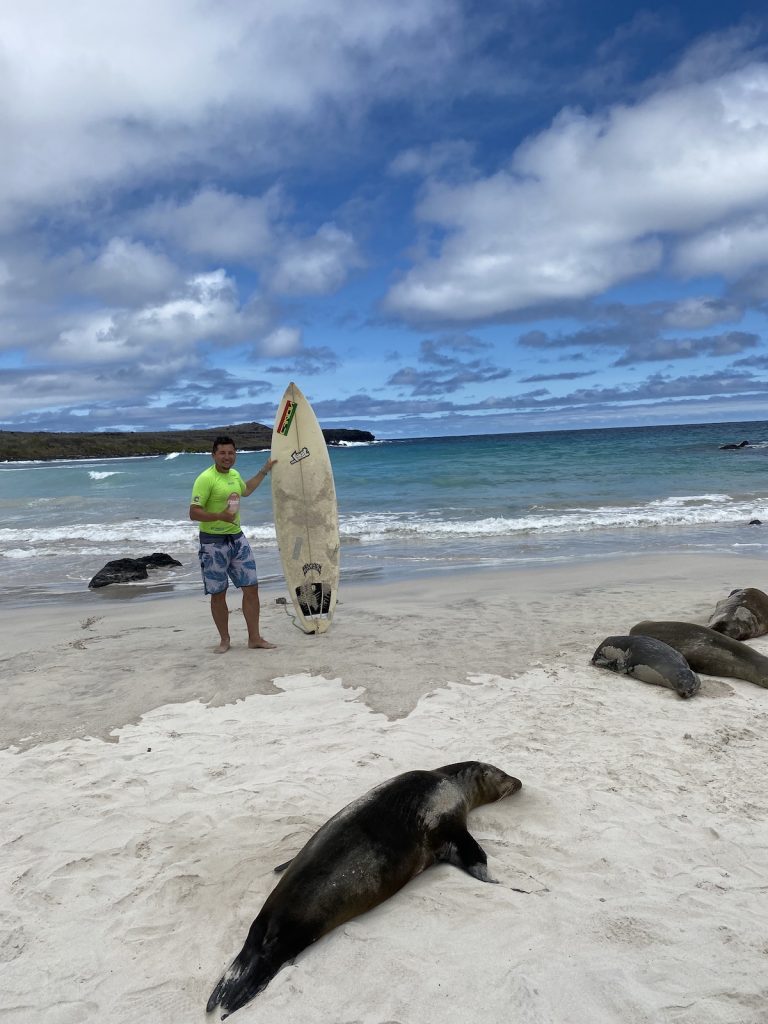 It was such a lovely, chill day, just us and the wild beach that we highly enjoyed.
Day 10: Tour 360 (San Cristobal Island)
On the last day, we took the most popular tour in San Cristobal, which was called "Tour 360." The tour included a few stops on the way, depending on the season, including the massively popular stop at the Kicker Rock. Basically, it's a tour that includes a little bit of everything: hiking, bird watching, chilling at the beach, and even deep water snorkeling, where you can spot hammerhead sharks.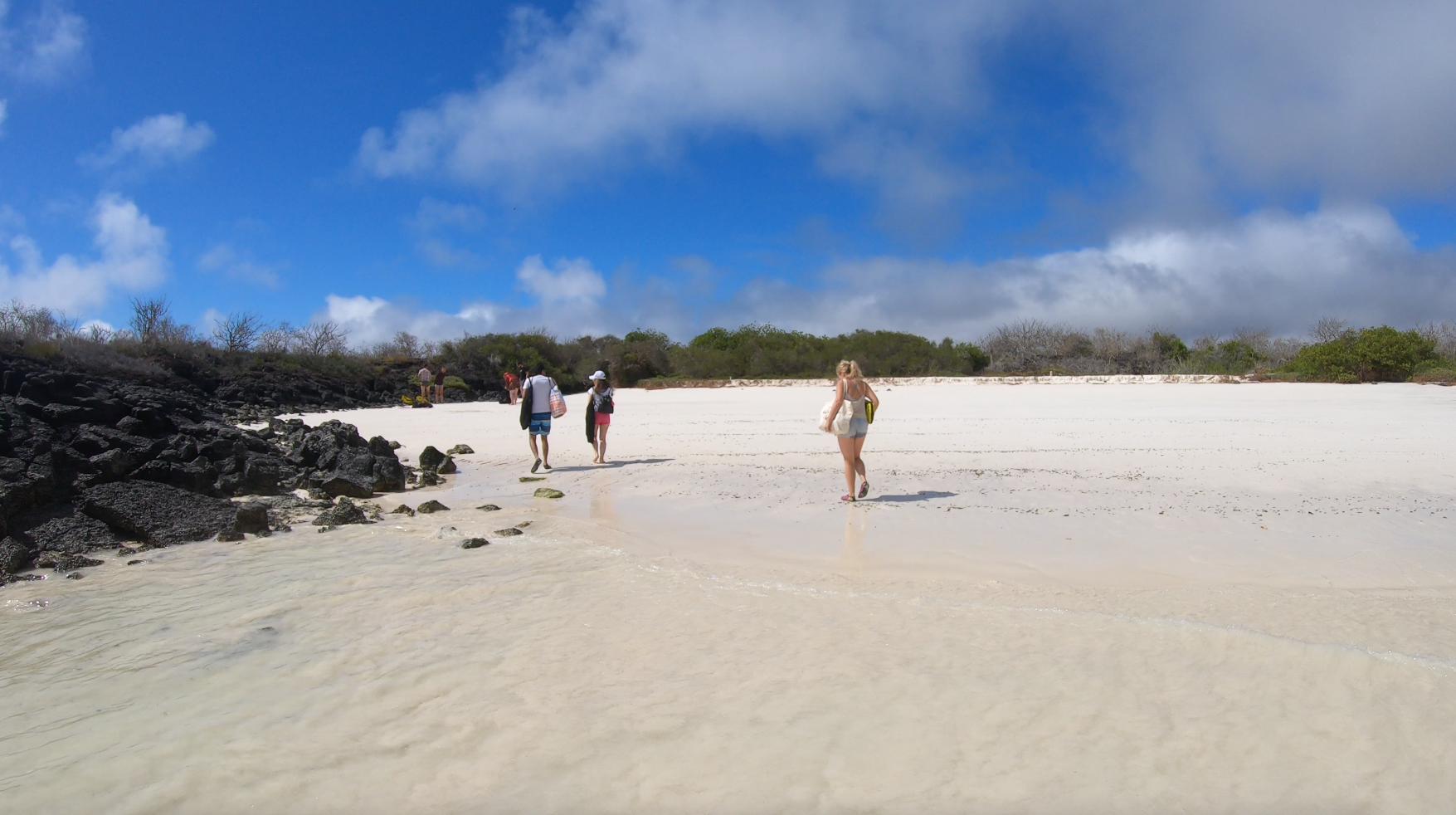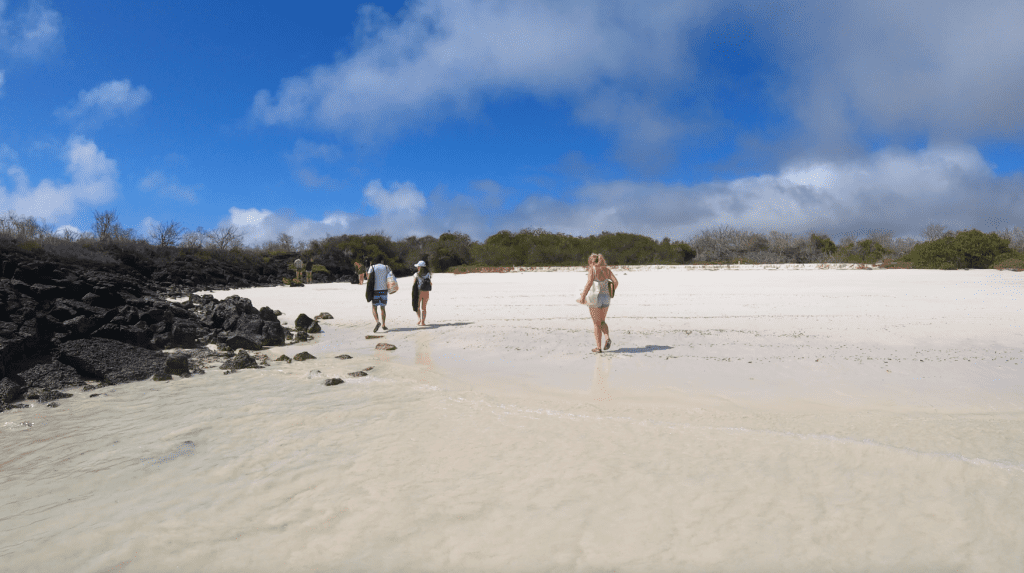 Our tour started by visiting Punta Pitt, where we spotted a few bird species, including blue footed boobies. Then, we headed to Bahía Sardina for snorkeling.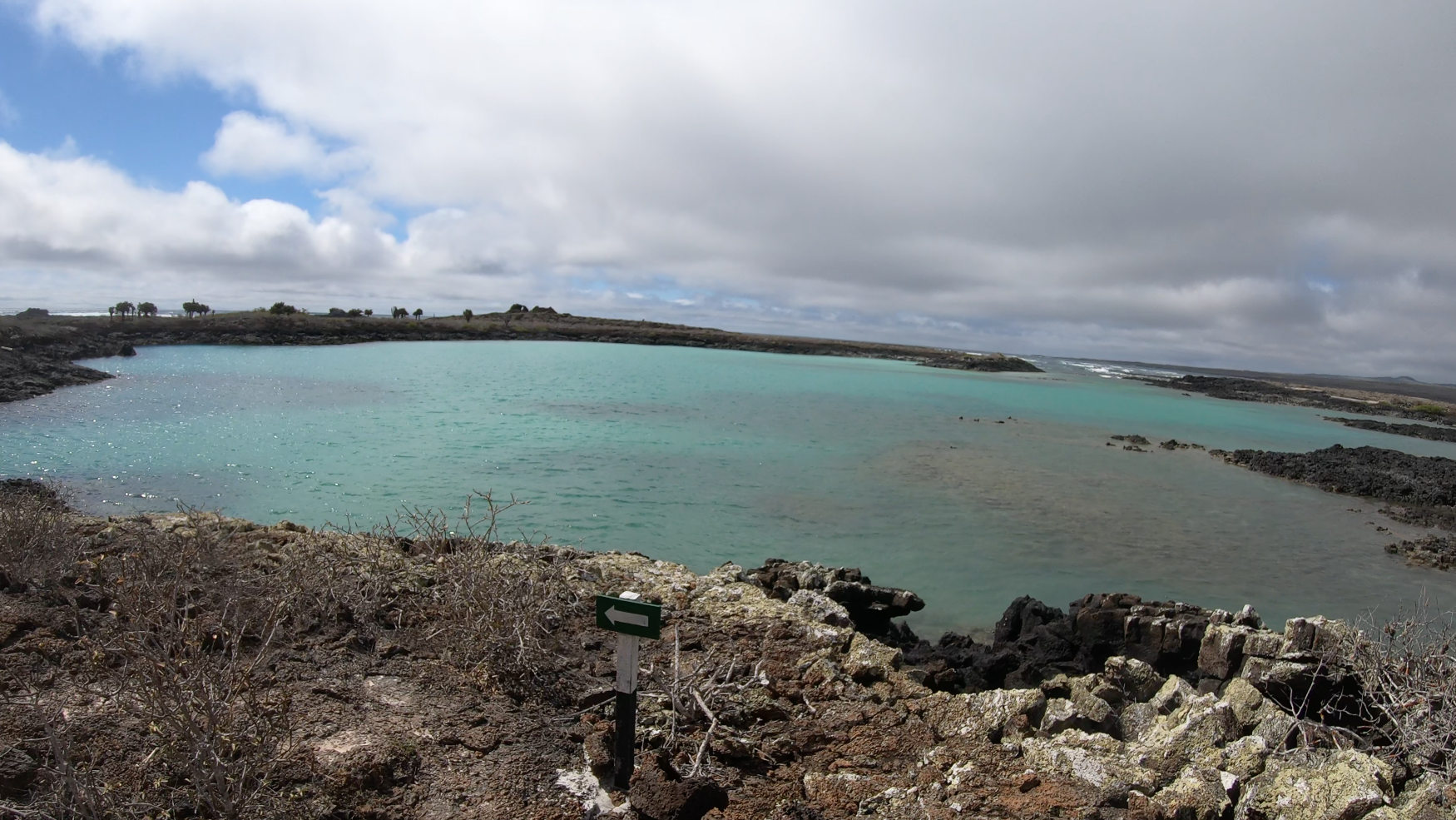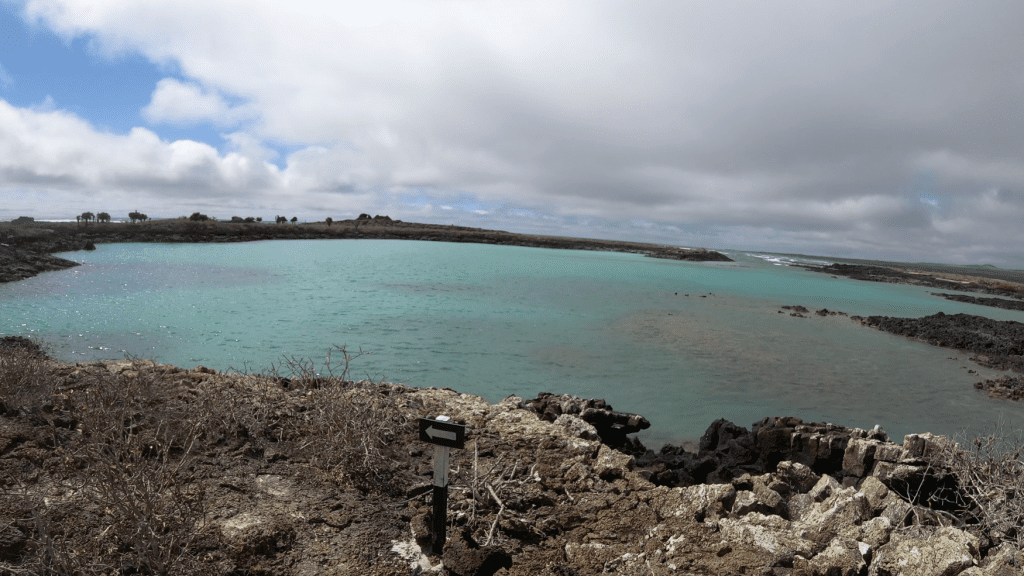 The water was not really clear, but it gave me the chance to see some stunning Galapagos rays. I'd never seen them in the wild before.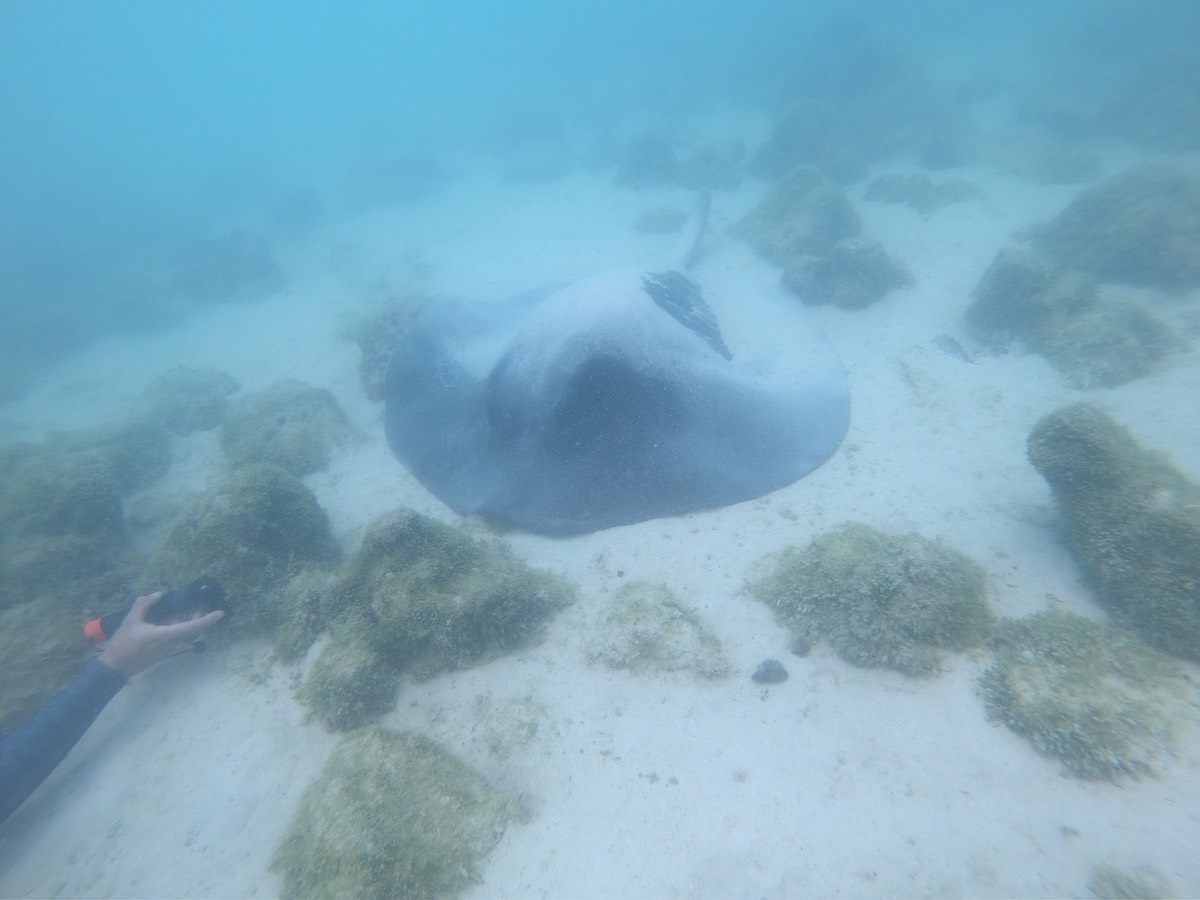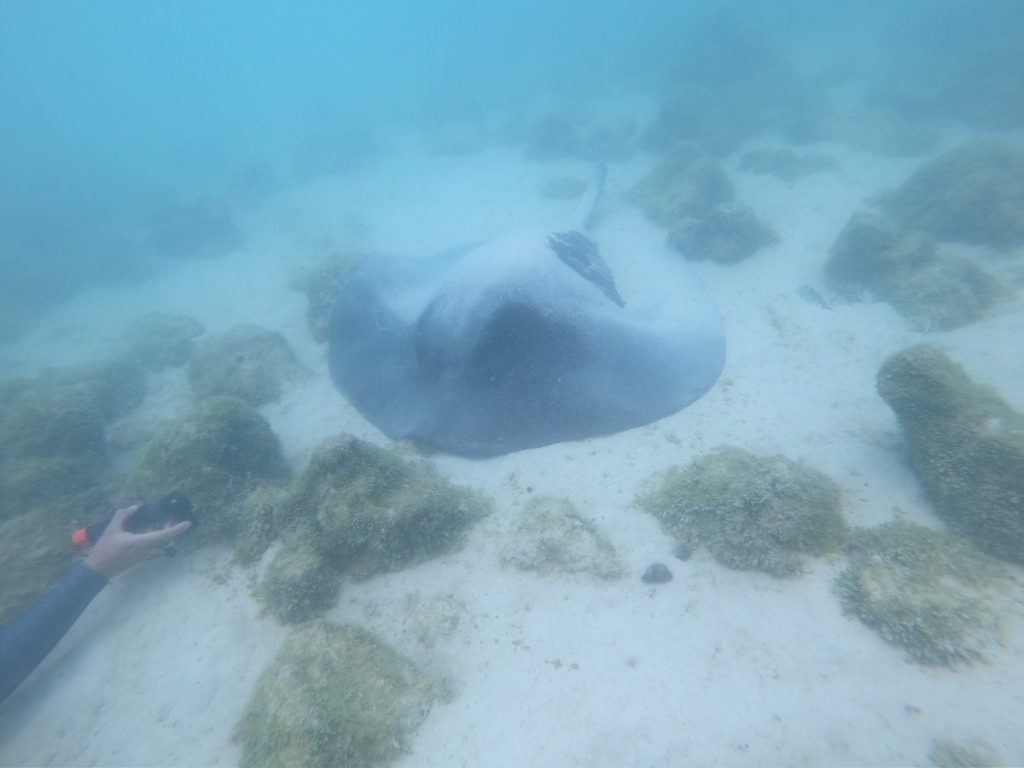 We also had the chance to see sharks, turtles, and all the amazing creatures we were already used to around the Galapagos Islands.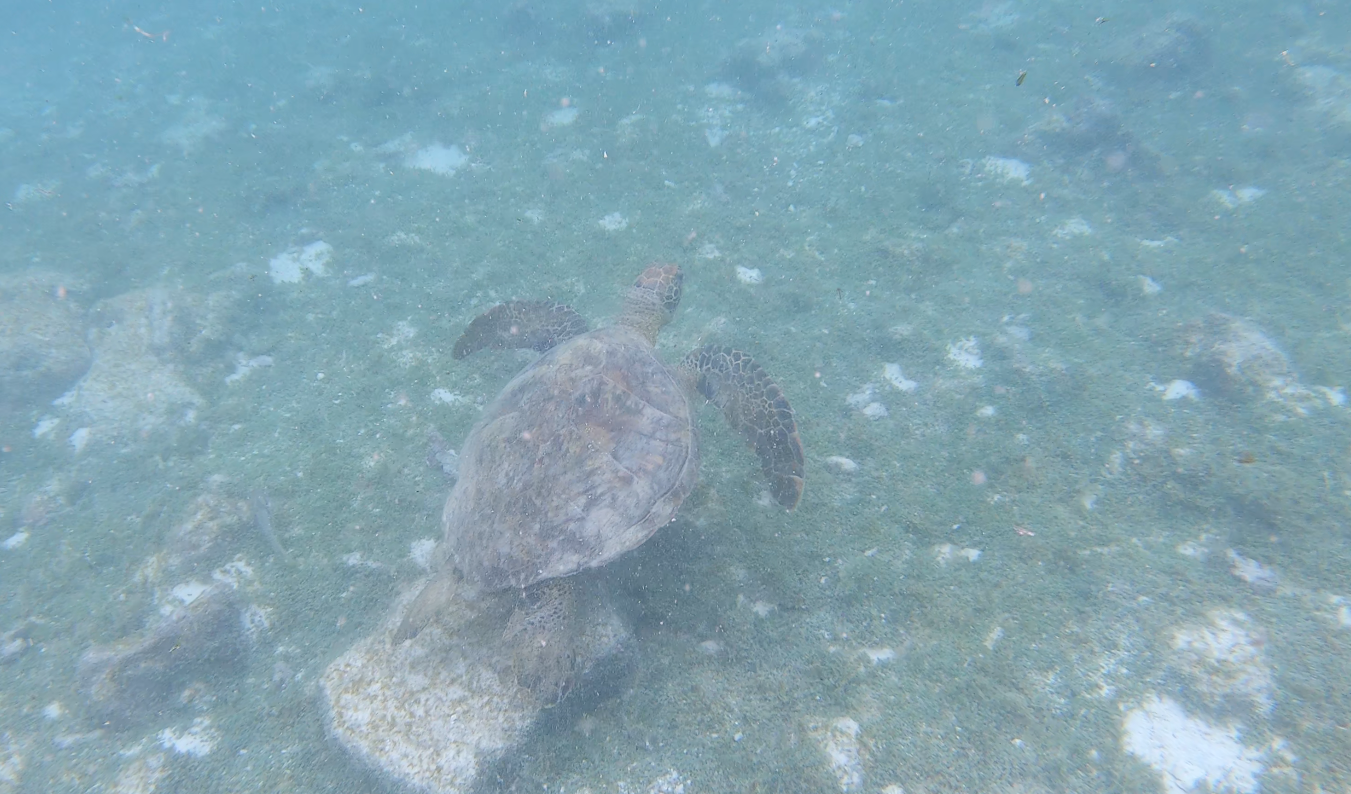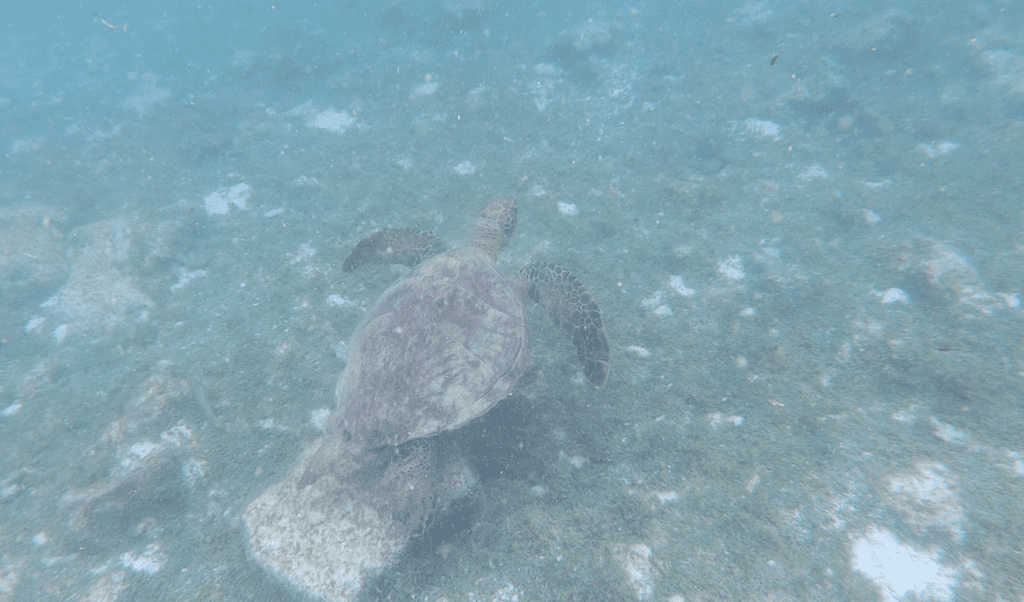 After that, we chilled at Cerro Brujo with some simply stunning photo opportunities – it was such a nice landscape and place.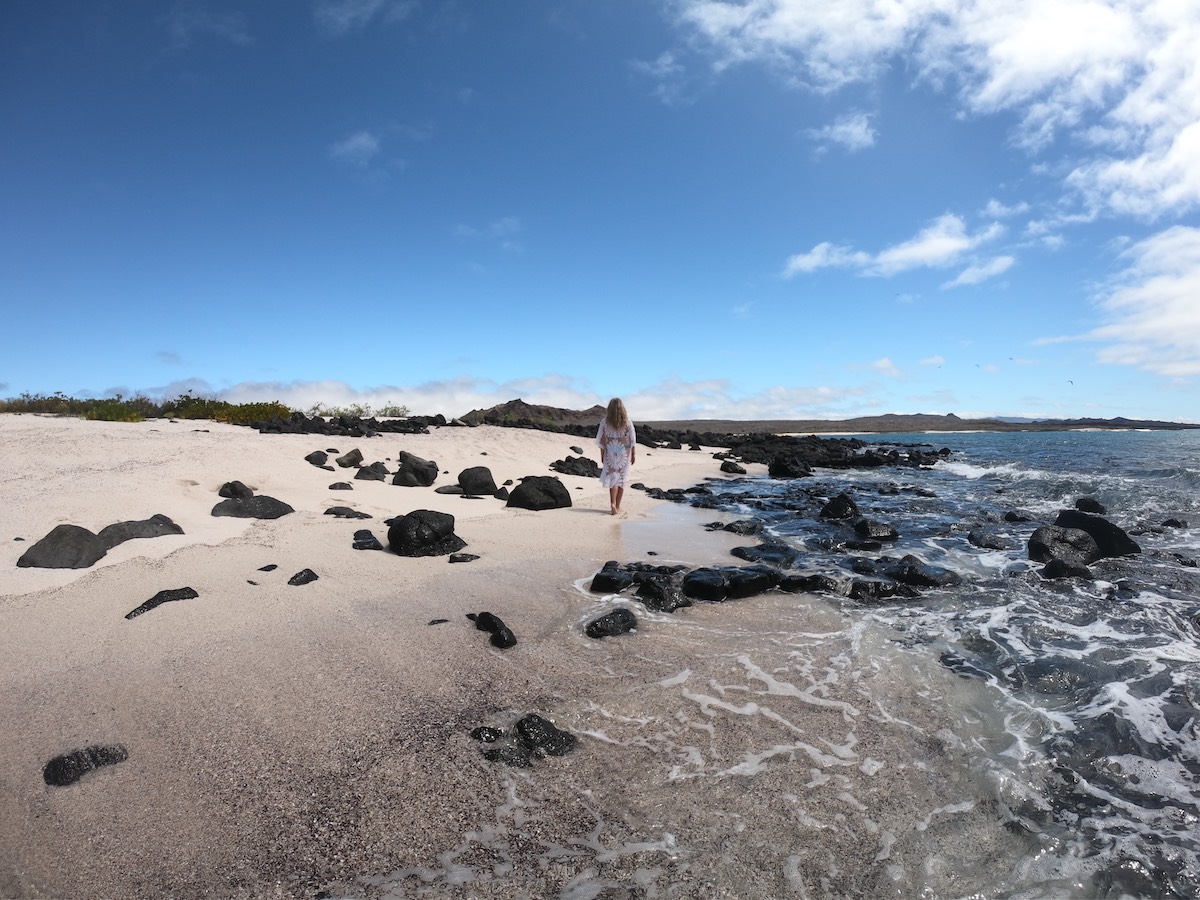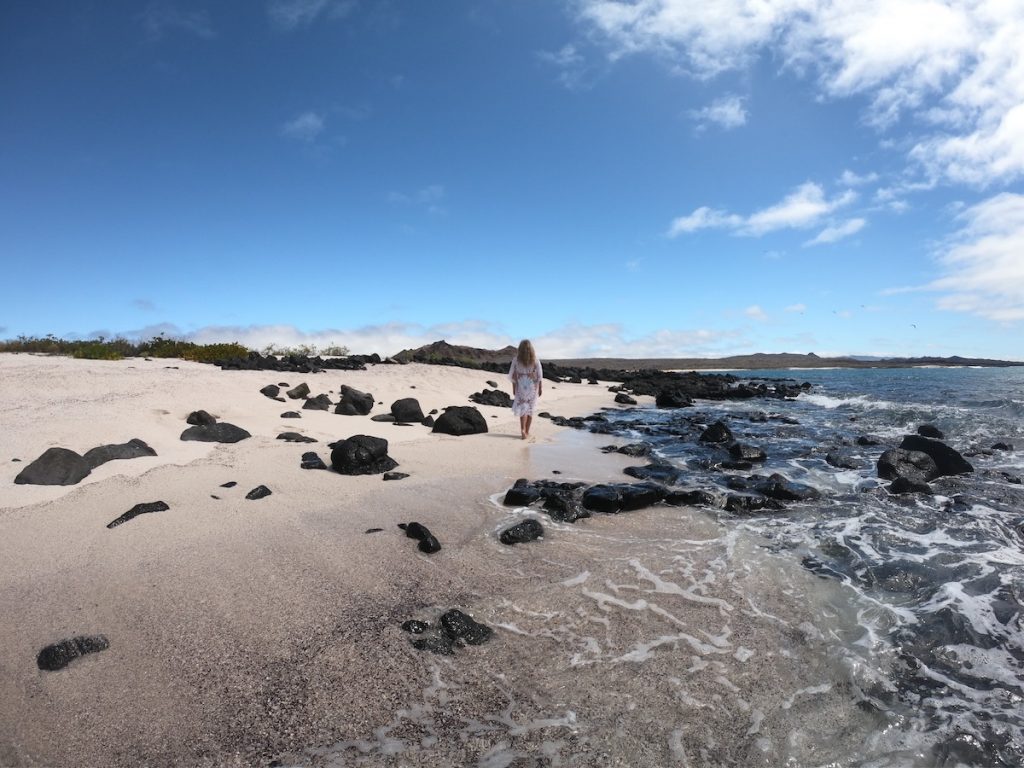 Finally, one of the top snorkeling destinations was absolutely Kicker Rock.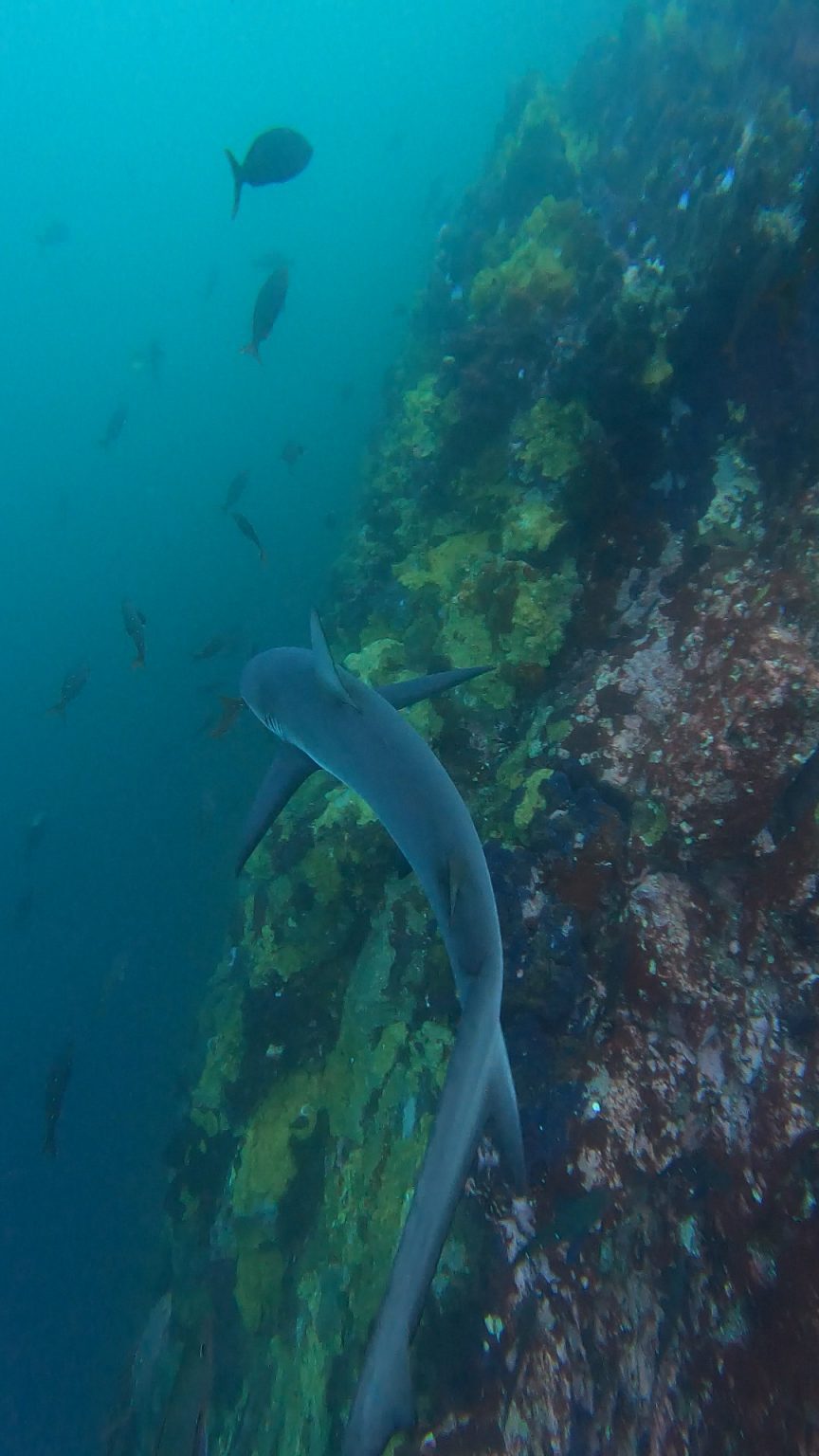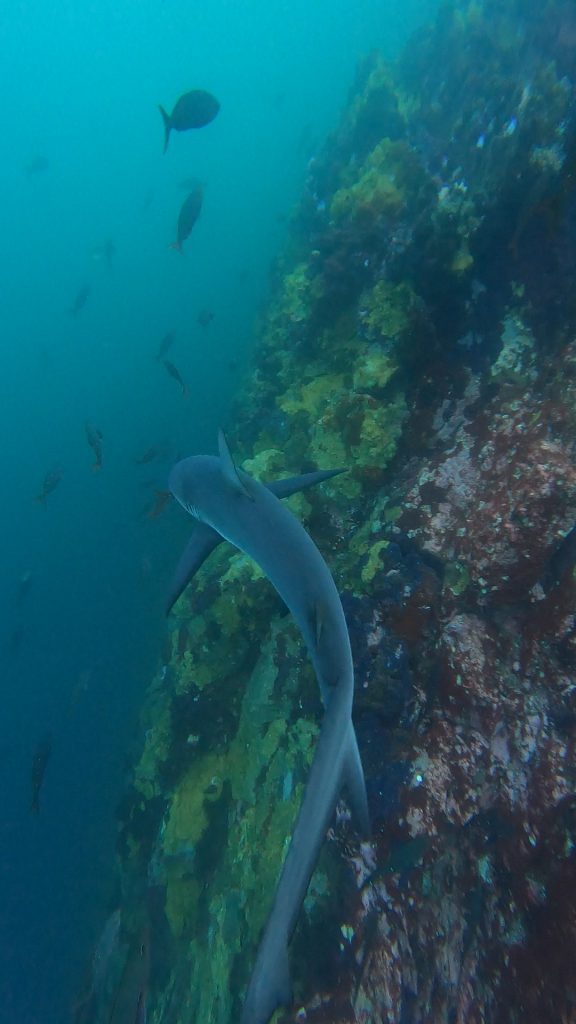 It's a vertical tuff cone formation that rises over 153 meters above the water.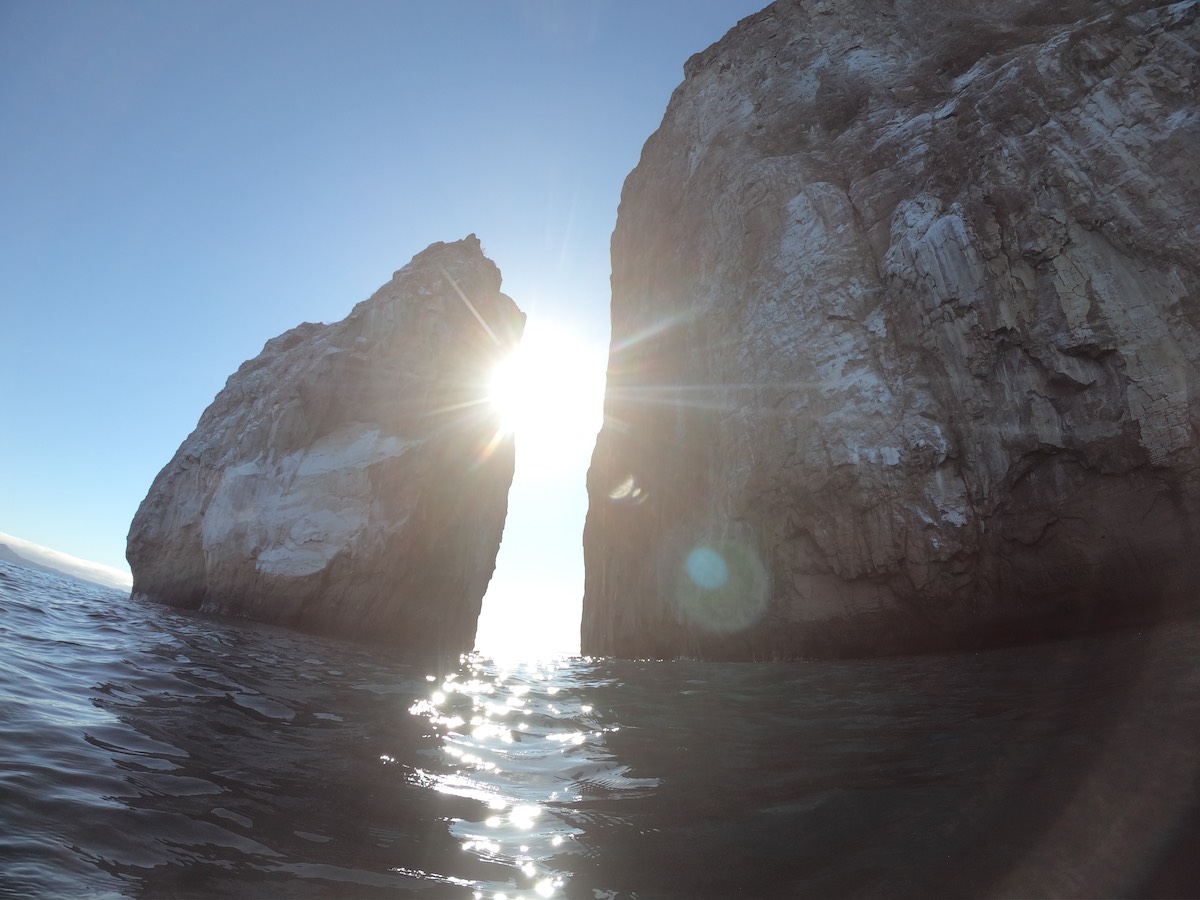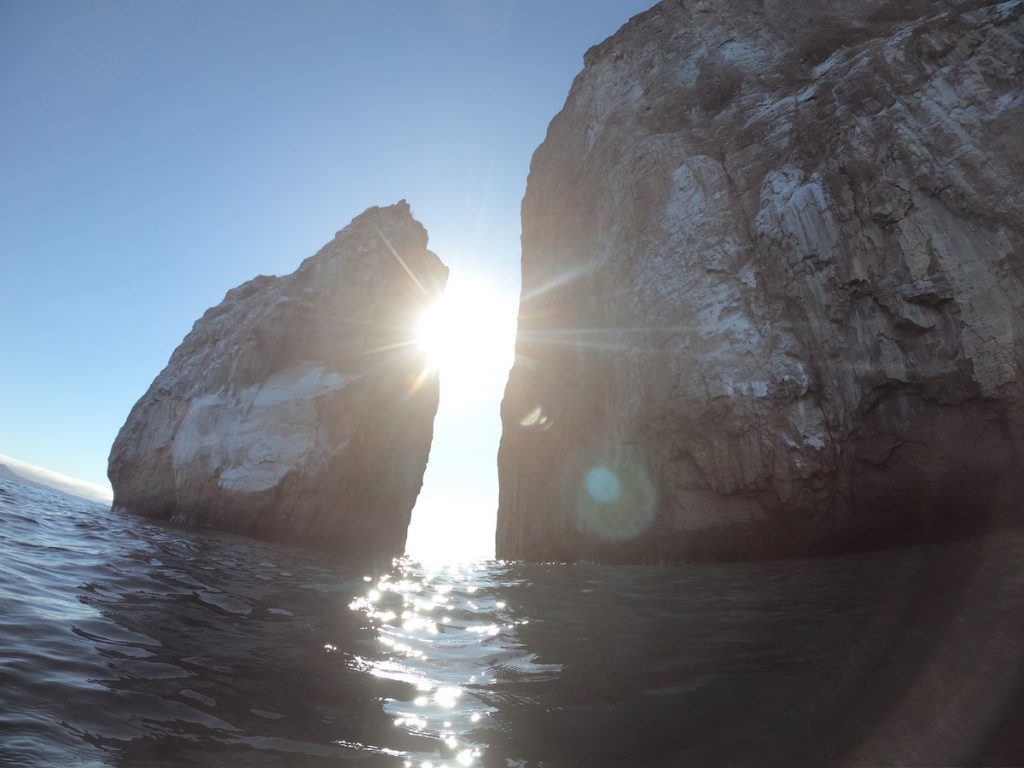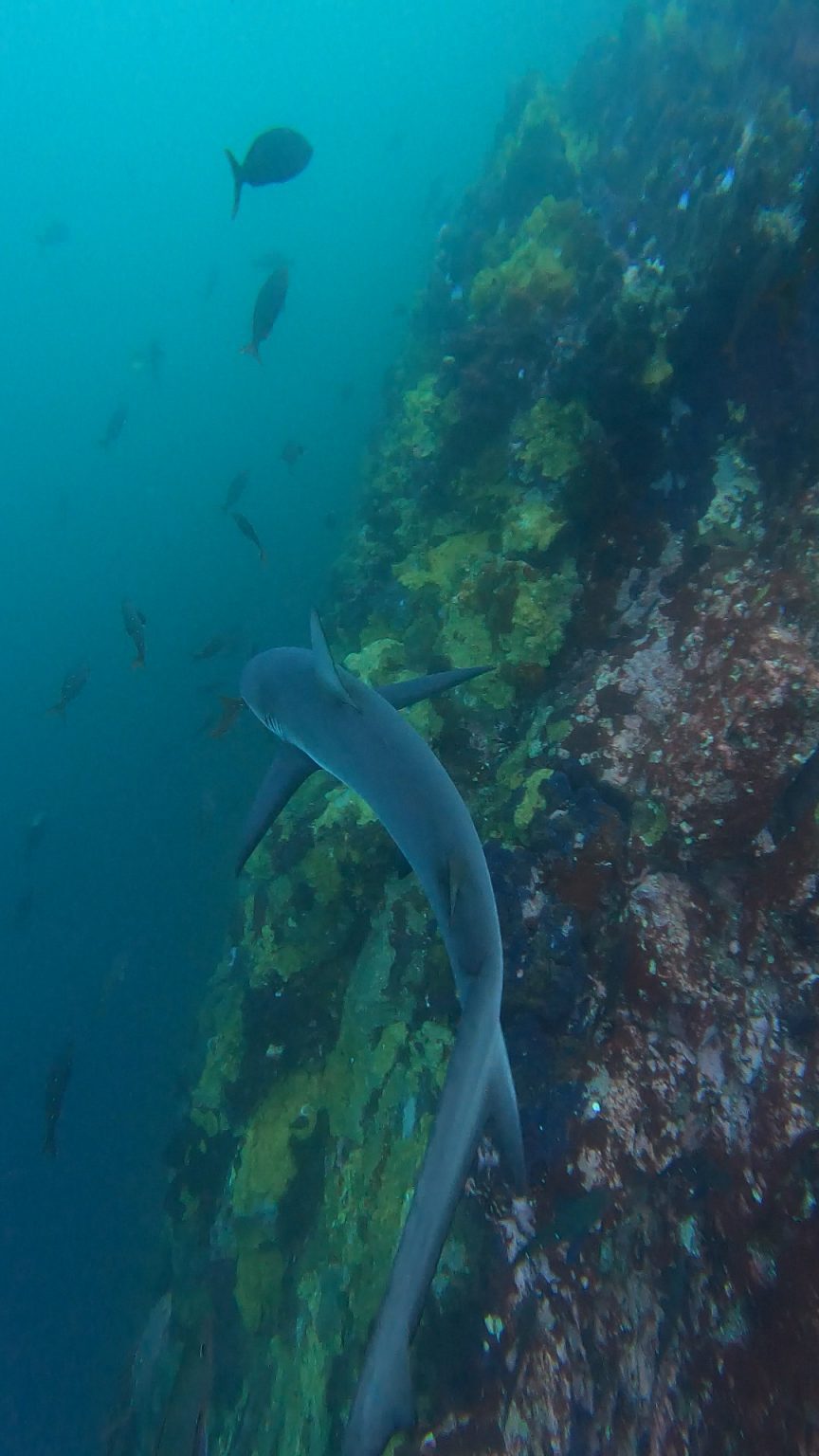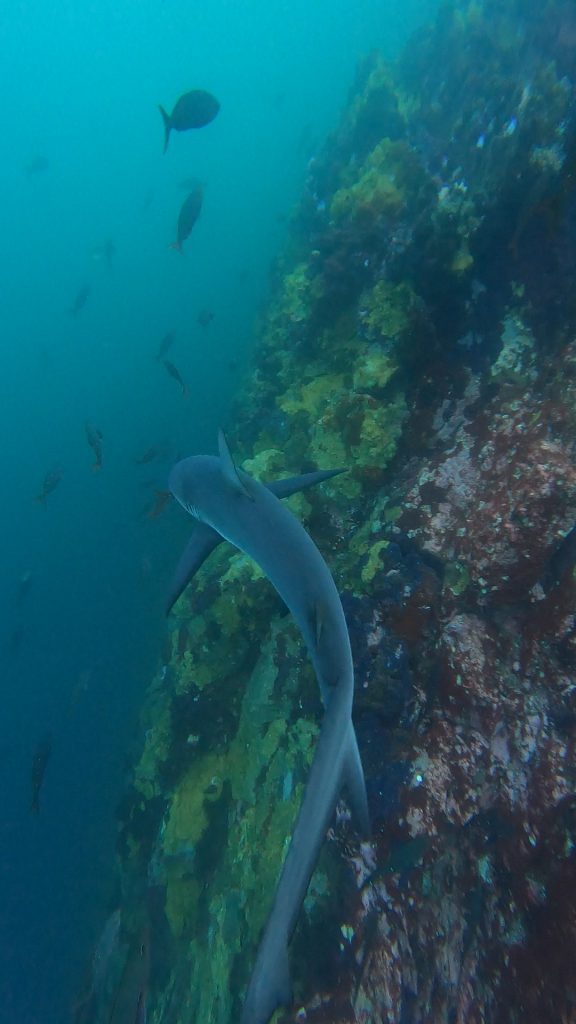 Sea turtles, marine iguanas, rays, Galapagos sharks, tropical fish, and, with a little luck, hammerhead sharks can all be seen while snorkeling around Kicker Rock.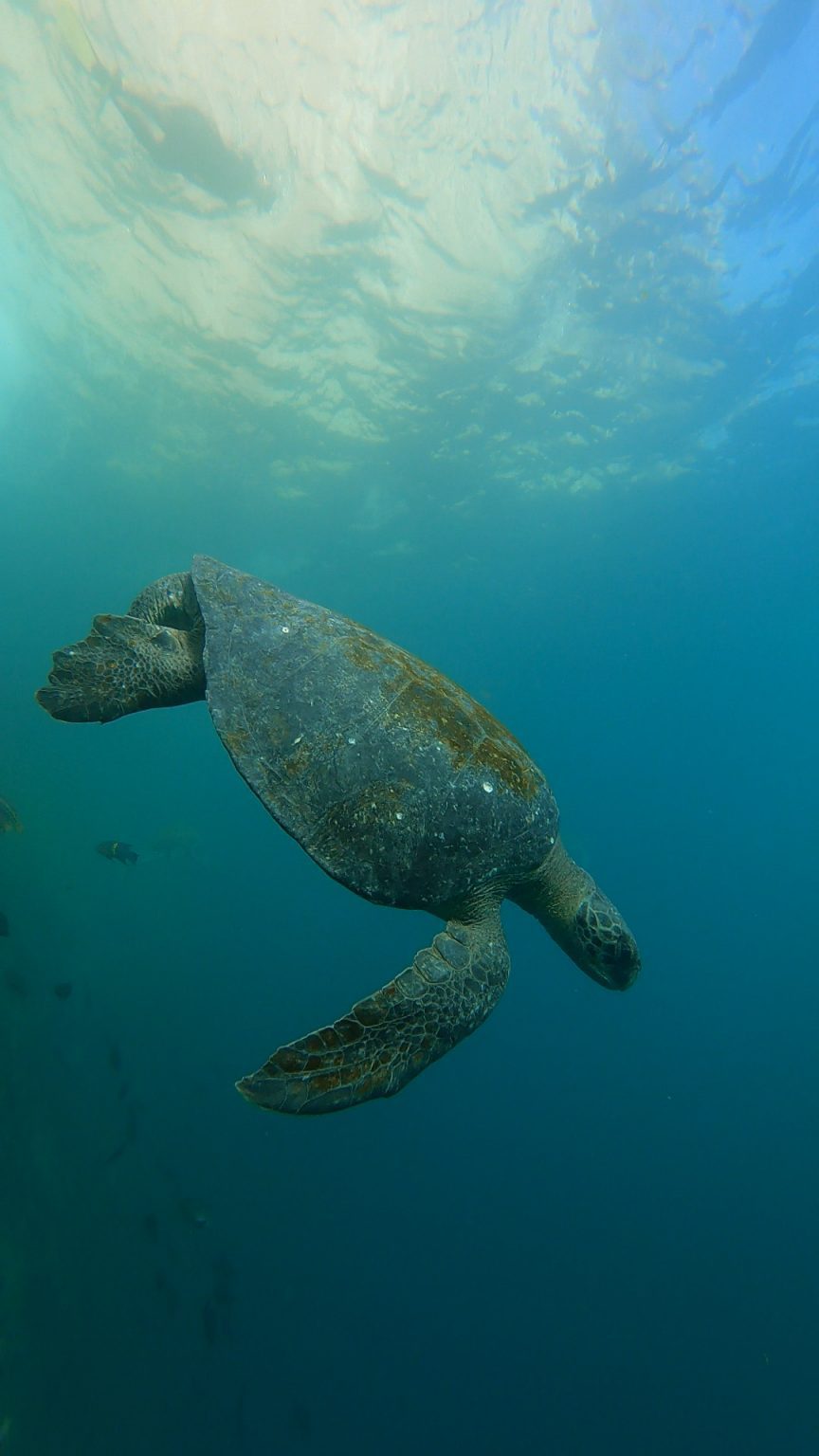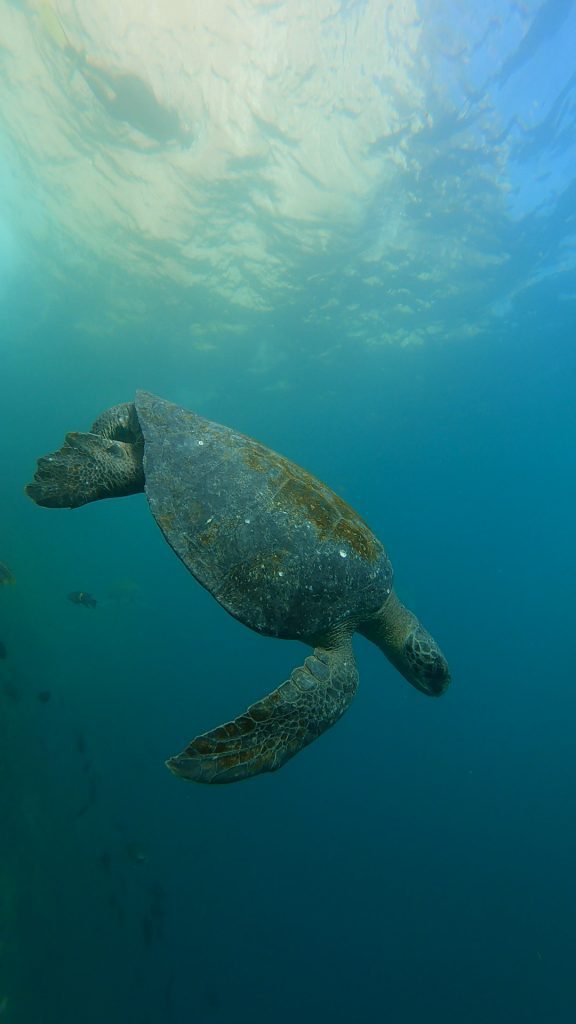 Plus, the underwater view was unique because of the massive depth, and the water was almost crystal clear.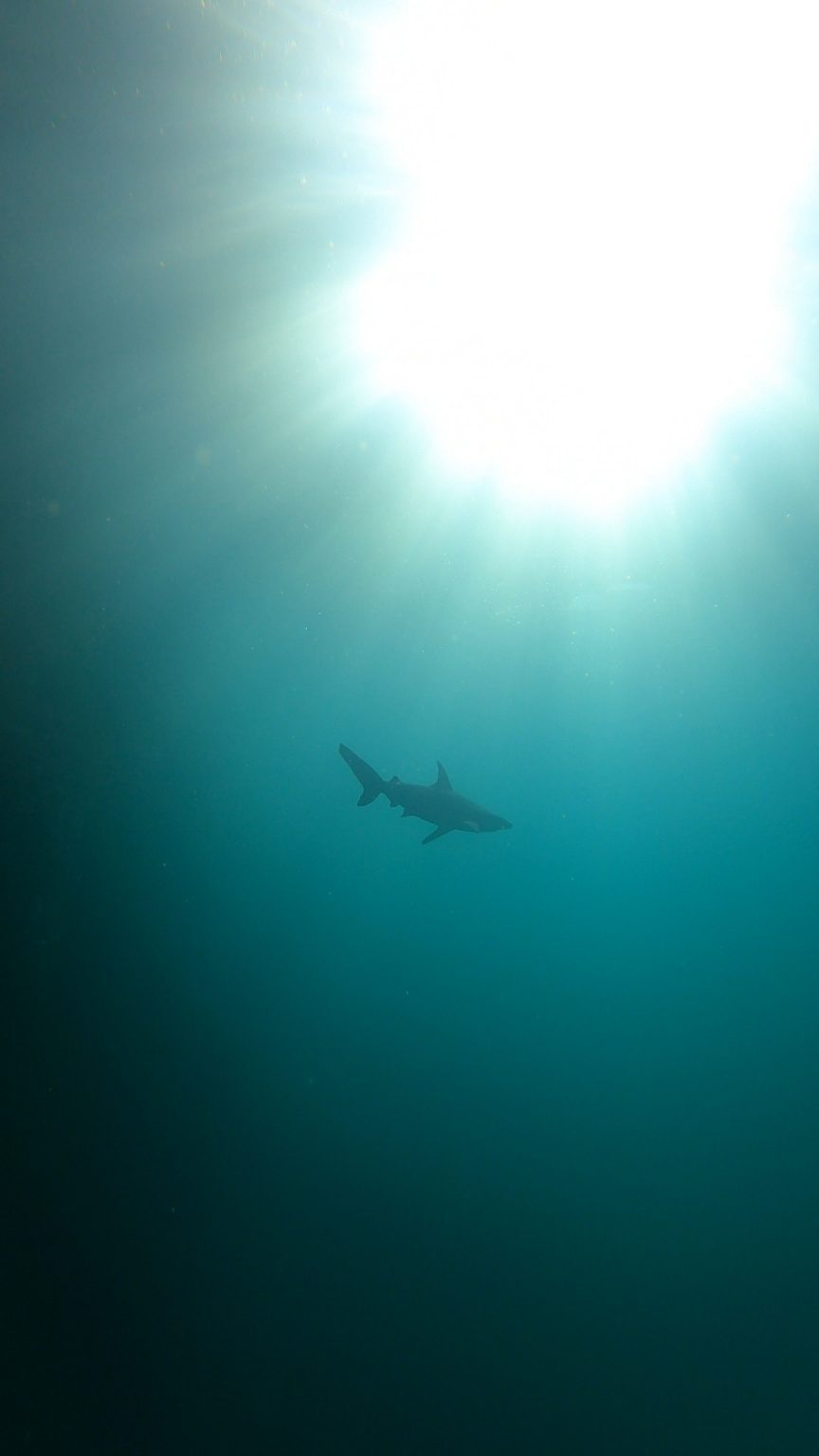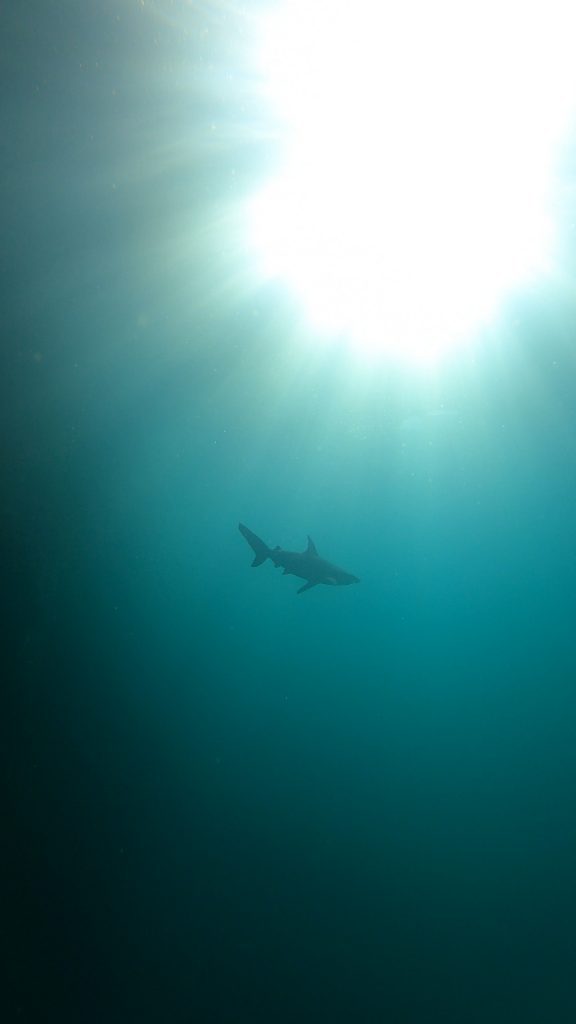 It's a must-have tour of San Cristobal to see everything all at once.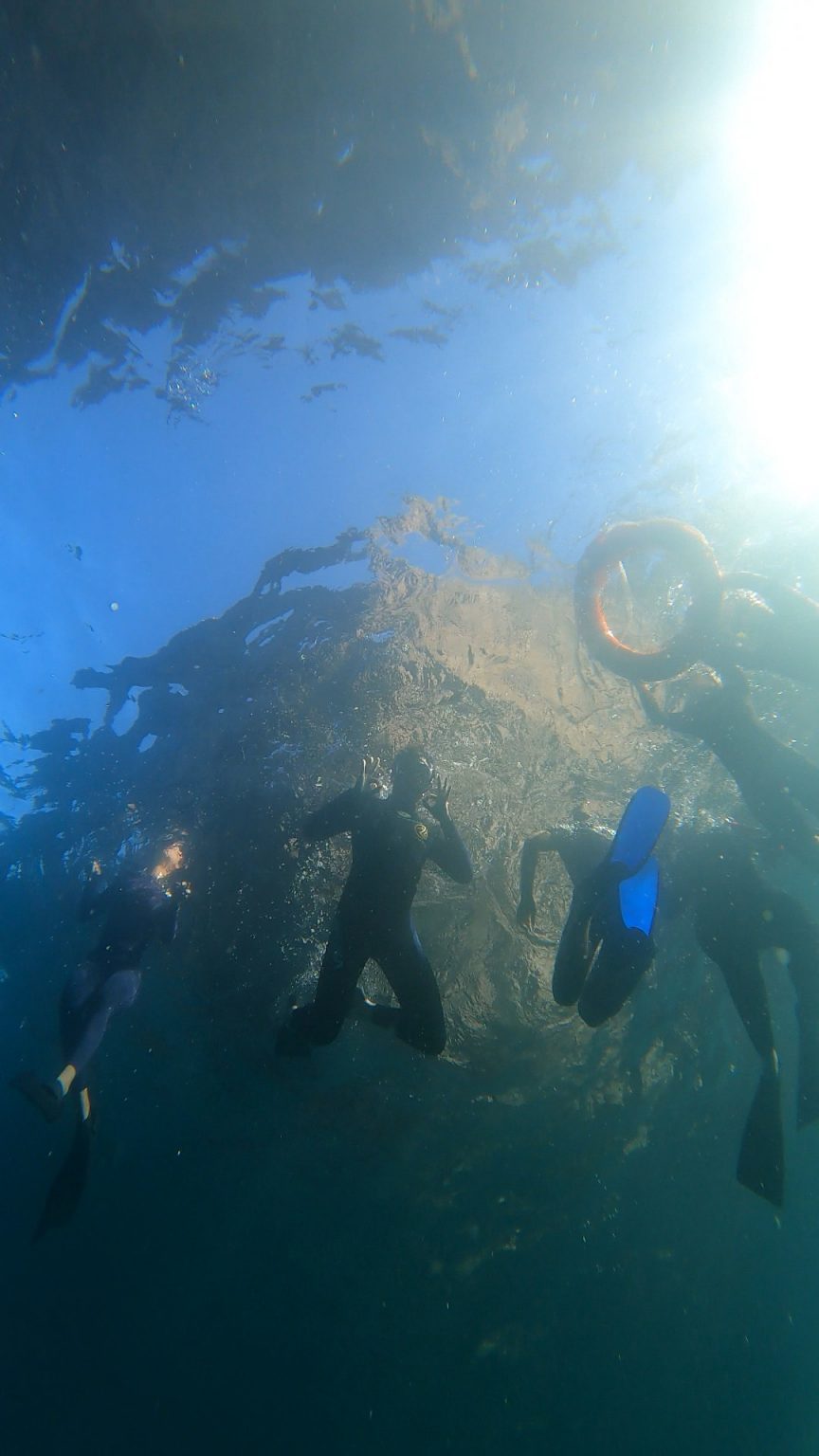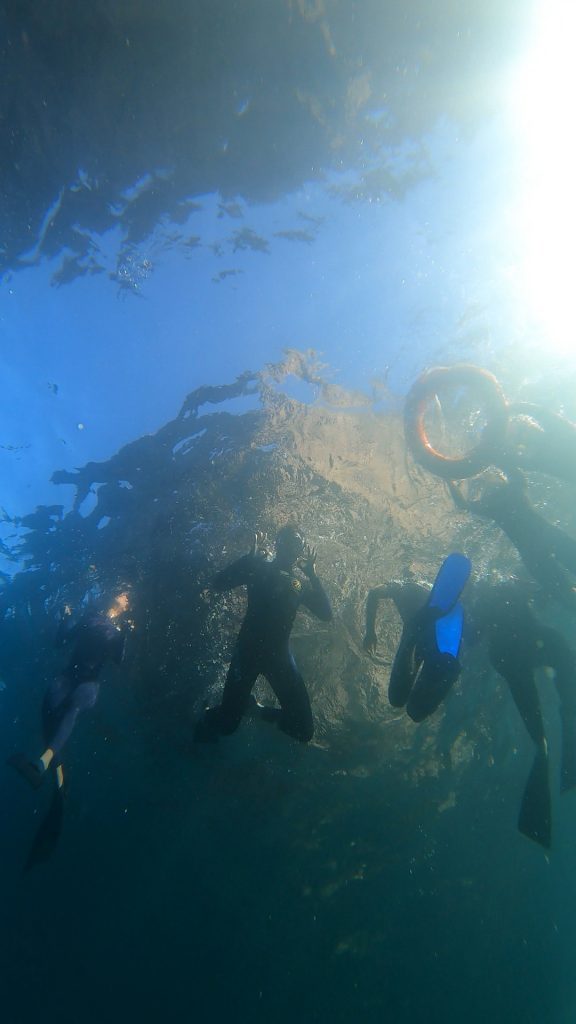 It was our last day in the Galapagos, but there is still a bunch of new places and things to see around San Cristobal, such as Española Island, Punta Pitt Tour, Isla Lobos, and so on.
Bottom Line
The stunning Galapagos Islands are truly one-of-a-kind destinations indeed. These islands have so much to offer, and this is one of these rare places where the wildlife owns the islands, not the people. We enjoyed all of the amazing wildlife and beaches where we were able to chill alone at most times. As such, these islands are great options for all kinds of travelers, from those who like active trips to those who just want to chill and recharge on paradise beaches with wildlife all around. I'd recommend doing both.
If you found this article helpful, I would massively appreciate it if you buy me a coffee or simply use affiliate links from my website to support me more personally.
Check our road trip video throughout Ecuador's mainland as well!