There are variations in how Christmas is spent in each region of Ecuador. While Santa Claus may not play a large role in Ecuadorians' holiday celebrations, the majority of Christmas celebrations in Ecuador feature grandiose festivities.
Ecuadorians hold pageants and parades. They also create handmade nativity sets, and you should also get to know their cheeky take on eggnog. These are only some of the traditions of celebrating Christmas in Ecuador.
Read on to discover more about how the most wonderful time of the year is celebrated in Ecuador.
Christmas Decorations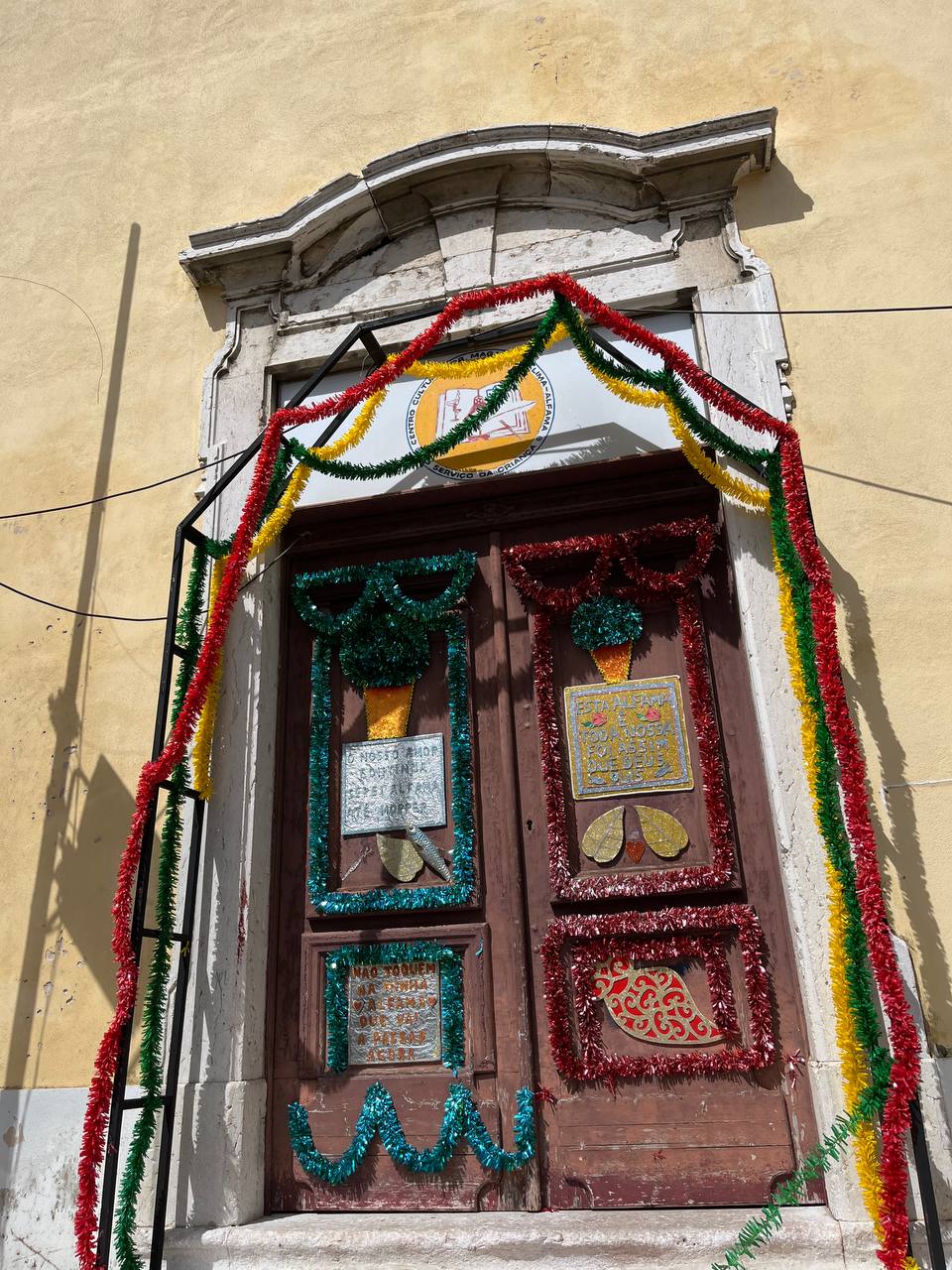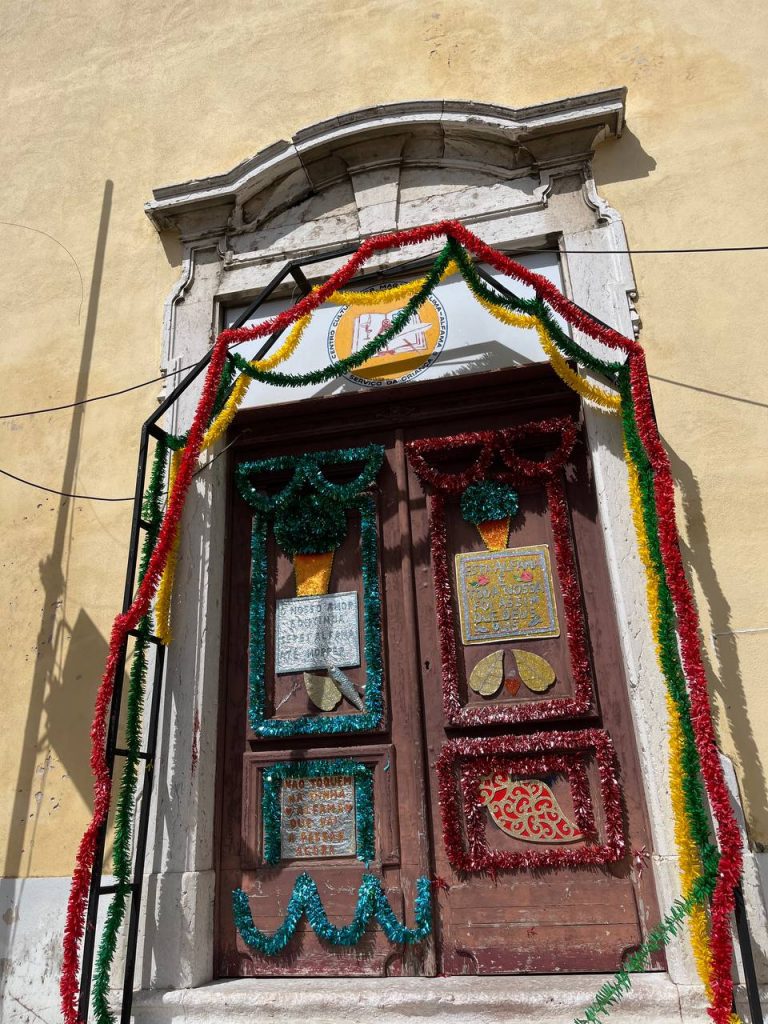 Like many South American nations, Ecuadorians make pesebres, or nativity scenes, by hand as their primary holiday decoration. Ecuadorian nativity scenes can be incredibly detailed, with tiny figurines of people, animals, and houses. The Holy Family and the Christ Child in the manger are shown in every nativity scene in Ecuador.
In recent years, Ecuador has also acquired the tradition of decorating a Christmas tree in the town square. Small towns and villages regularly compete to have the tallest tree.
Ecuadorian Christmas Traditions
In Ecuador, Christmas Day and Christmas Eve are primarily family gatherings, however, there are several public events in every town and city including big ones like Quito and Guayaquil. Given that Catholicism is the faith that is most generally embraced in the nation, Christmas is a big occasion and a lot of fun for travelers of all religious backgrounds.
Novenas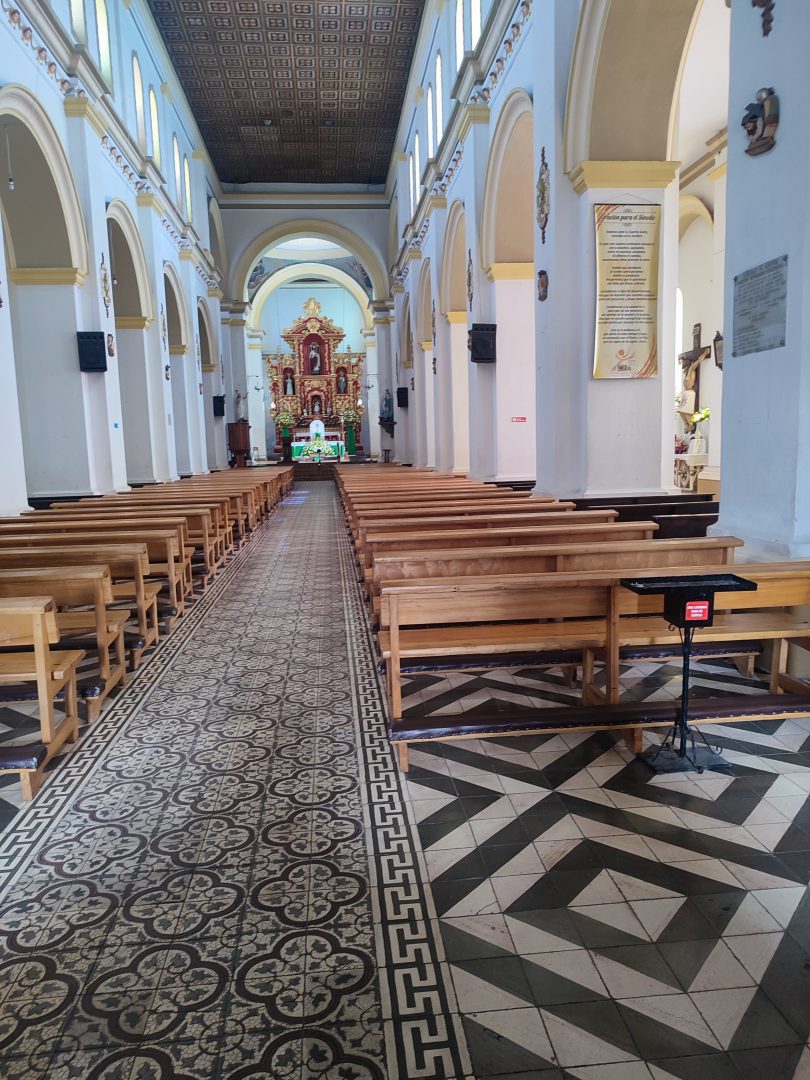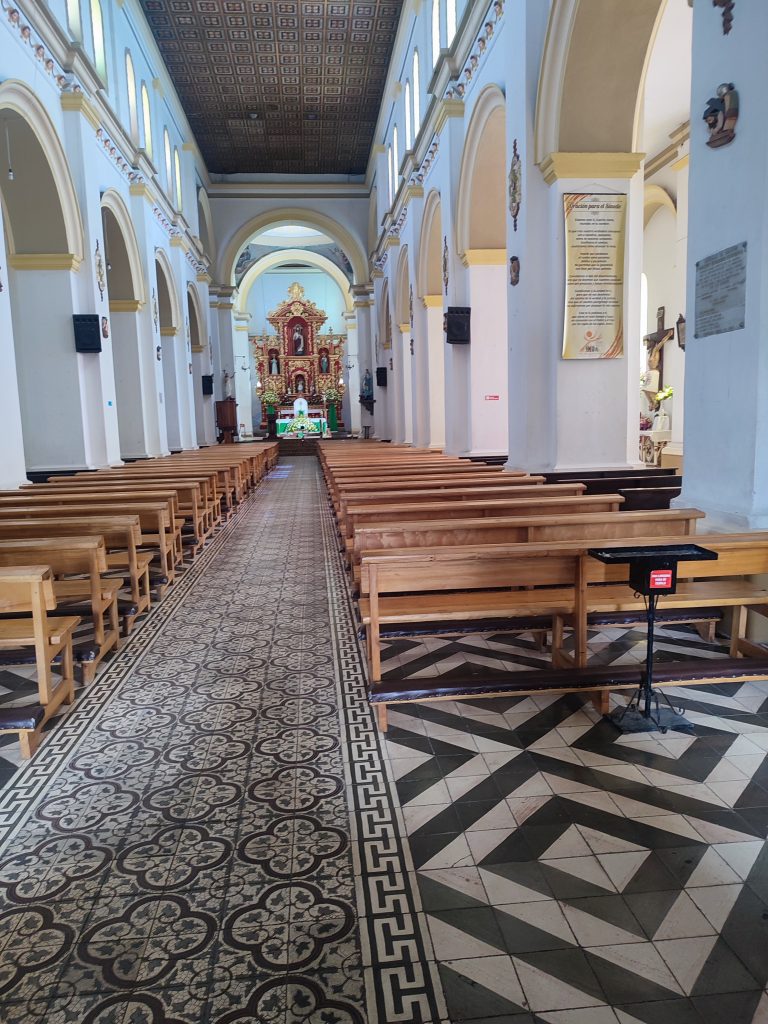 The novena, a Christmas custom, ushers in Ecuador's holiday season on December 16.
The nine days leading up to the birth of Jesus Christ are referred to as the novena. Every night stands for one of the months that Mary carried Jesus.
The Three Wise Men, Mary, and Joseph are honored for their efforts in seeking refuge before the birth of Jesus through the novena.
Families and neighbors gather to pray for the sick and the destitute while singing villancicos.
Pesebres or Nativity Scene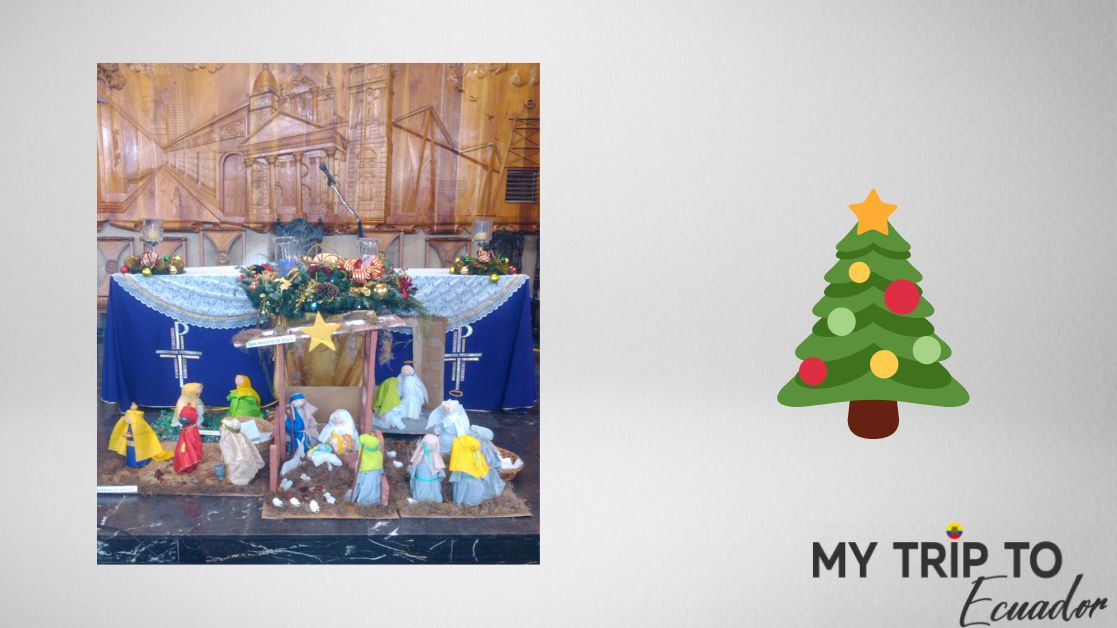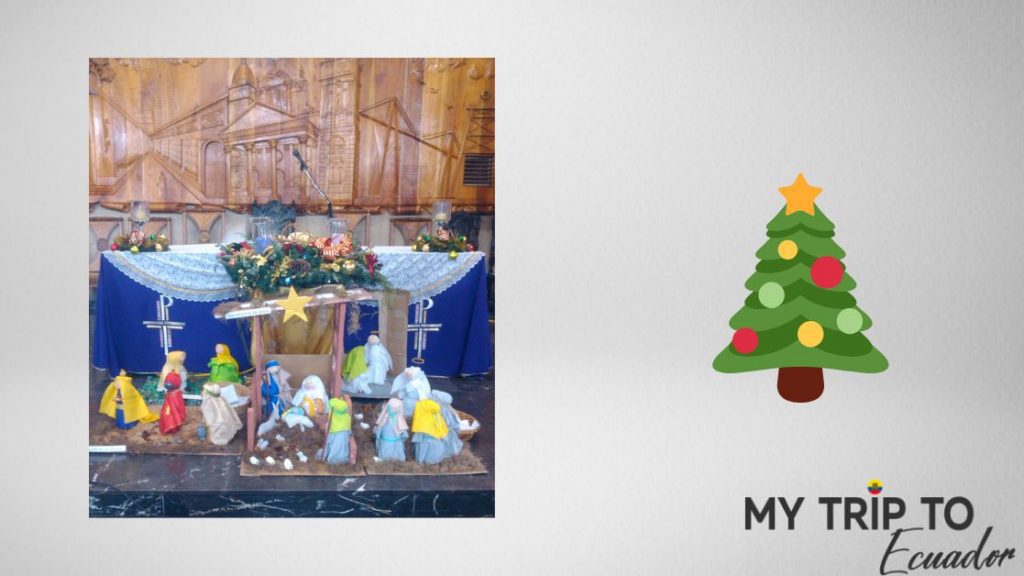 The nativity or pesebre, a portrayal of Christ's birth, is an integral feature of any Ecuadorian household during Christmas. However, it is not the same as what you would typically see in other countries.
The usual scenery of Mother Mary and Joseph in a straw-covered barn can be seen.  The Three Wise Men and various agricultural animals, including sheep, cows, and llamas, are also shown on the stable's exterior.
In Ecuador, however, the infant Jesus does not show up in his crib until midnight on Christmas Eve.
This family custom is also carried out on a bigger scale, with city-wide competitions for the greatest nativity scene.
The Passage Of The Traveling Child
El Pase del Nio (Passage Of The Traveling Child) is a traditional Christmas pageant that takes place between mid-December and Christmas Eve. It is a procession of baby Jesus figurines representing the trip that pregnant Mary and Joseph traveled on their route to Bethlehem.
This lovely festival began in the early 1960s when a statue of baby Jesus was carried to Rome to obtain Pope's blessings. When the statue was returned to Ecuador, a voice from the audience yelled, "The traveler has returned!". The figure was immediately dubbed the Niño Viajero or Child Traveler.
The parade involves a lot of music, singing, and dancing to commemorate Jesus' birth. While this occurs in communities throughout Ecuador, it is more common in the Andes.
Every year on December 24th, the biggest procession in Latin America takes place in the city of Cuenca in Ecuador.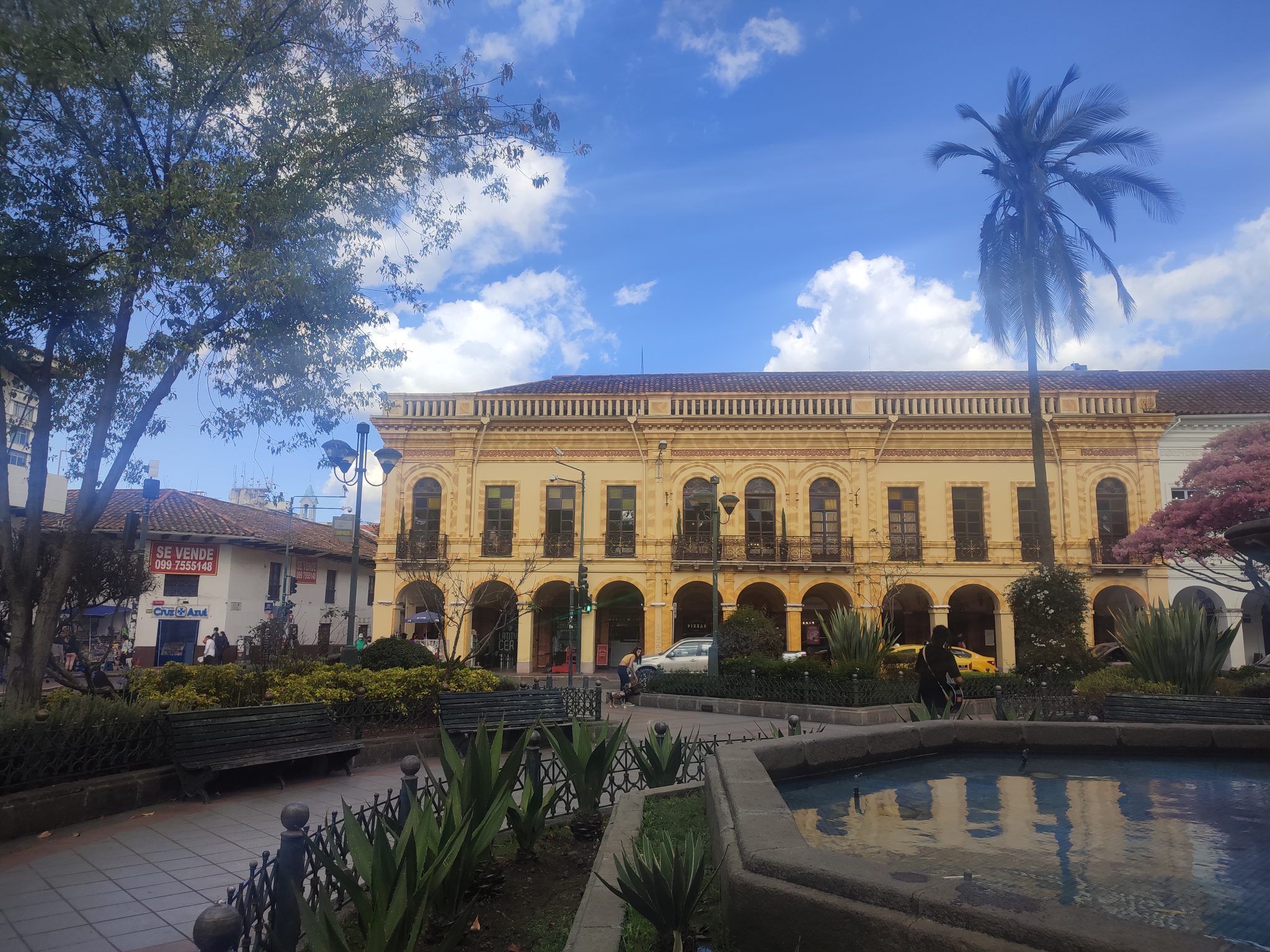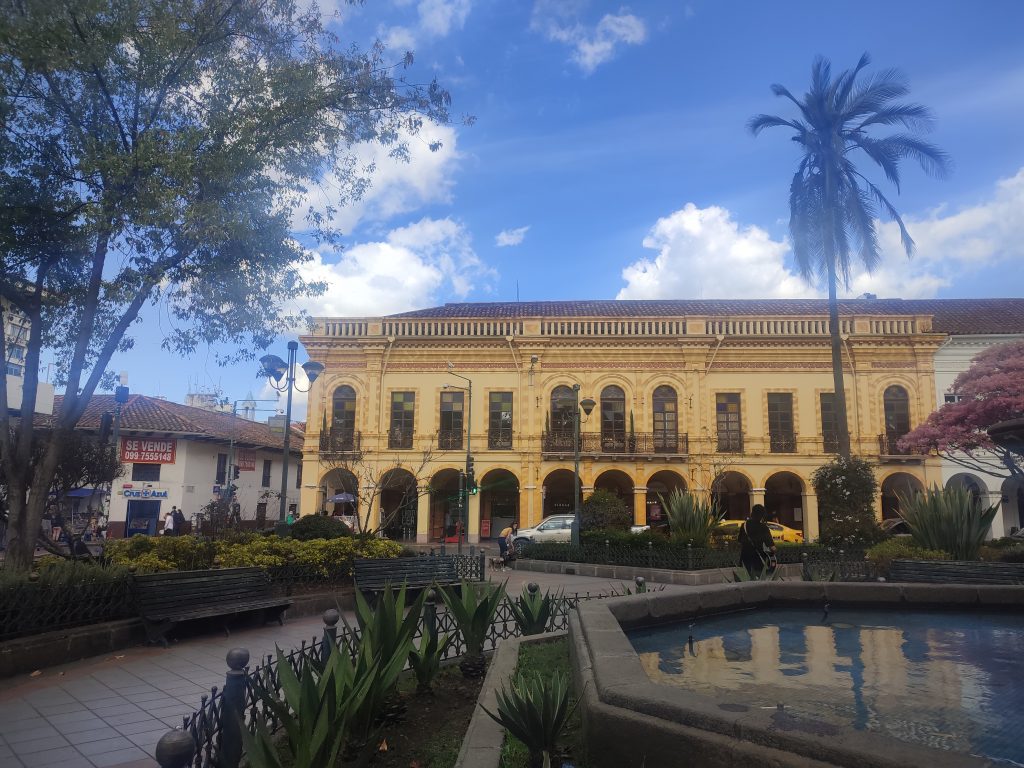 The parade begins in the morning and lasts until late in the afternoon. You definitely want to see the major event, which is the infant or El Nio being taken to the Cathedral de la Inmaculada. It's a fantastic combination of traditional Catholic floats and indigenous Quichua songs and dancing.
Baile de Cintas is a dance that appears very similar to a Maypole dance, with Tucuman dancers bouncing around the pole weaving ribbons.
Noche Buena
Christmas Eve, or Nochebuena (translated as "good night"), is an essential component of the Ecuadorian Christmas ritual.
It is a day when the entire family gathers, exchanges gifts, and enjoys a feast.
Cena de Nochebuena, or Christmas Eve meal, typically consists of turkey, roast ham or chicken, salads, potatoes, rice, desserts, and copious amounts of wine.
In some regions, there is a special Christmas rice that is sweeter than the usual white rice given.
Farmers and townspeople in the Andean region still celebrate Christmas by attending church and eating a simple feast of roasted pig, or cuy with corn and grains on Christmas Eve.
Ecuadorians attend mass after their large holiday dinner. Ecuadorians flock in vast numbers to attend the Misa de Gallo (rooster mass) at midnight on December 24.
Christmas lists for wanted gifts may be placed in old shoes and laid at the side of family members' mattresses before the mass or upon returning home.
In the morning, Papa Noel, or Santa Claus may arrive with a new pair of shoes in addition to the gifts on the list.
6 Must-Try Christmas Foods in Ecuador
Hornado de Chancho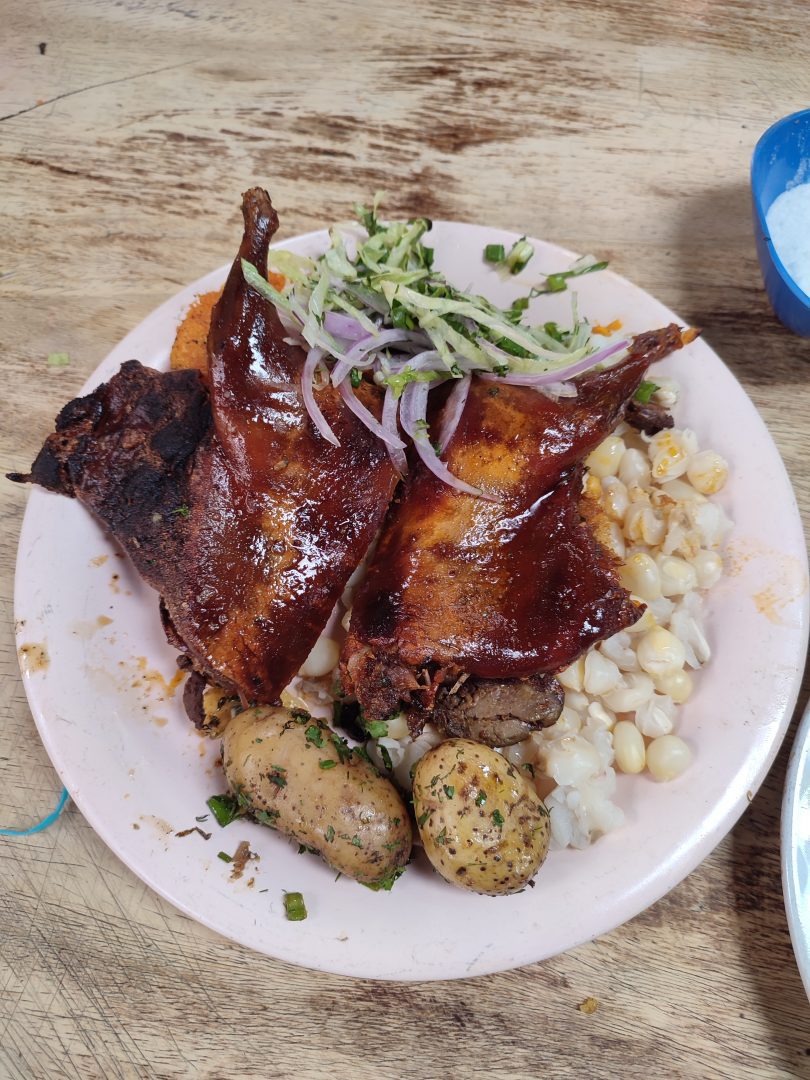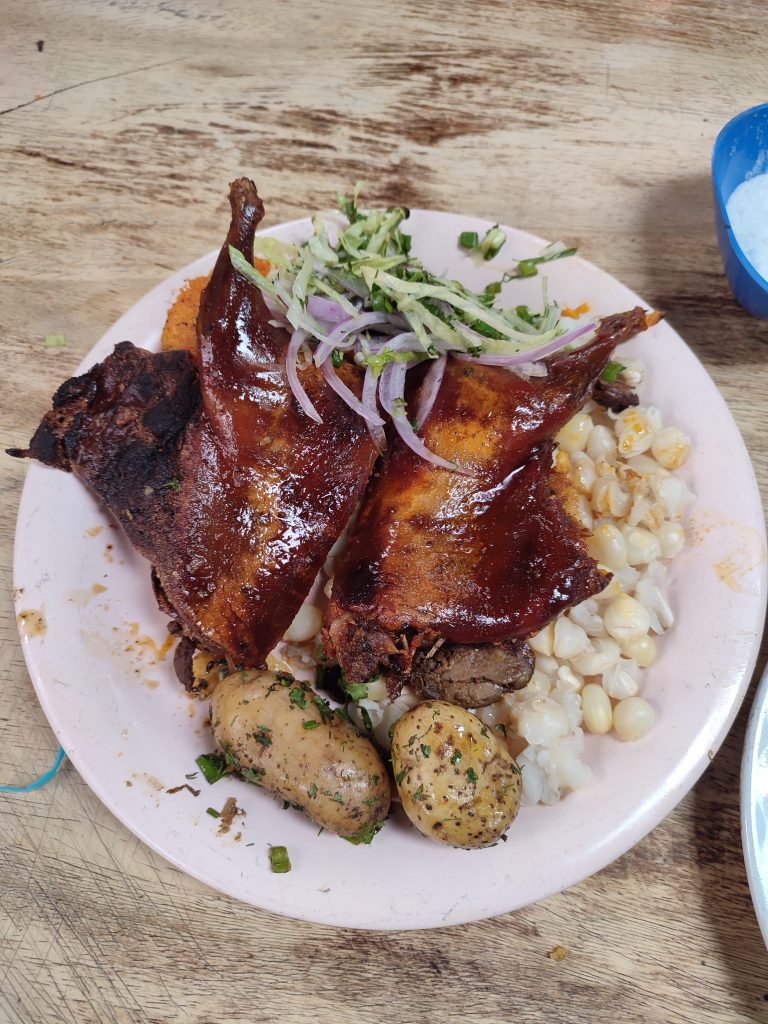 Roasted pork leg is a famous Ecuadorian meal that is frequently served at Christmas.
Slow roasting the pork leg in spices, chicha, and lard in an outdoor clay oven is the traditional method. However, while cooking at home, you can frequently replace beer with chicha and butter for lard.
Roasted Guinea Pig (Cuy)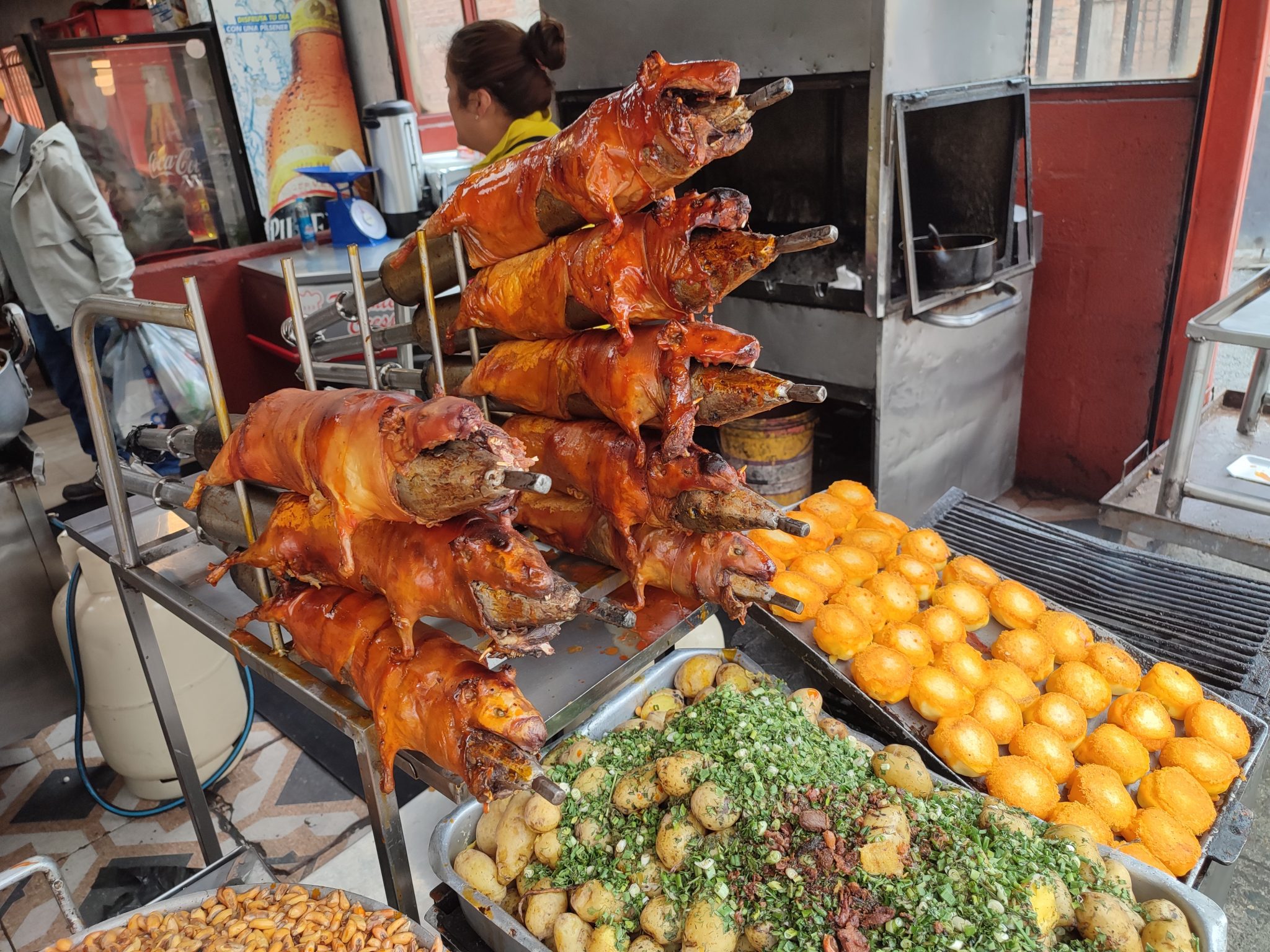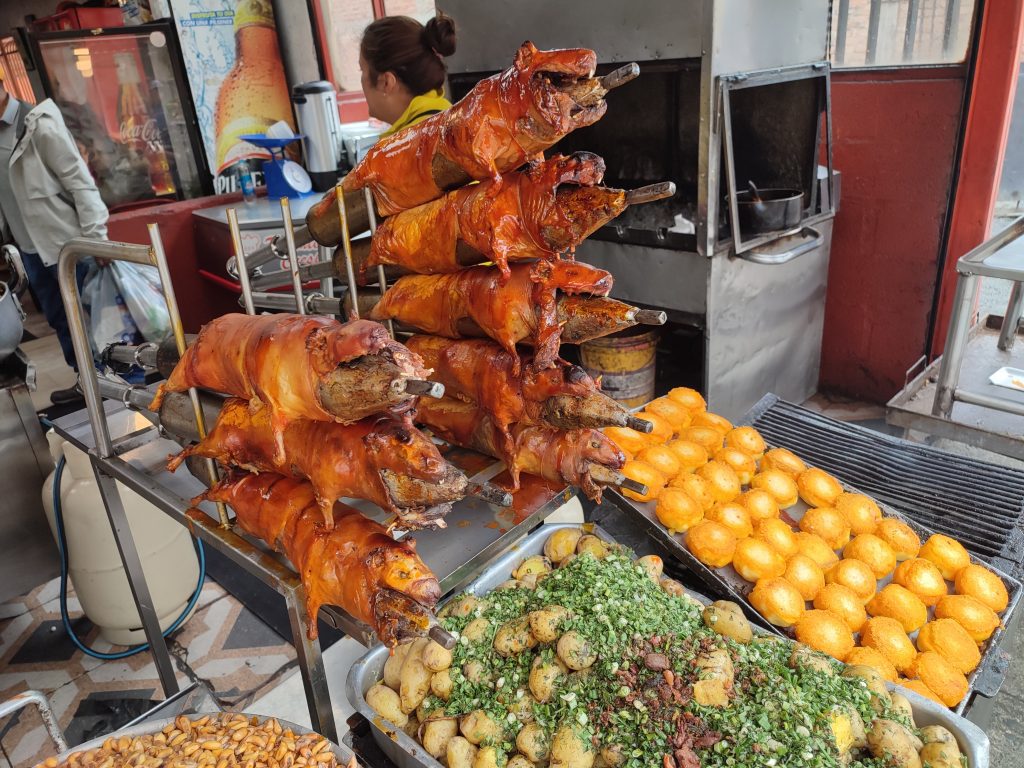 Christmas Eve meal is fairly basic in Ecuador's mountainous regions. It is made out of corn, grains, and guinea pig meat, which is plentiful in their region.
Pavo al Horno
A more recent practice in Ecuador is serving roast turkey, also known as Pavo navideo or Christmas Turkey, on the table. Ecuadorians living in America brought it over to the country.
Pernil
Pernil is a slow-roasted, delicate pork loin dish that is similar to poc chuc in Mexico. In Ecuador, it is considered a must-have Christmas ritual.
Orange juice, onions, garlic, annatto paste, cloves, cinnamon, cumin, and cane sugar are used to marinate it.
The marinade is similar to that used to make hornado, but the cloves and cinnamon add a unique flavor.
Canelazo
Canelazo frequently makes an appearance at Ecuadorian events, particularly around Christmas.
Aguardiente, an alcoholic beverage made from sugarcane, is combined with sugar, water, and cinnamon. It is served hot and has a holiday vibe similar to hot toddies or mulled wine.
Rompope
Rompope is Ecuador's version of alcoholic eggnog. It is comparable to Crema de Vie in Cuba and is also offered in Mexico.
Christmas Day in Ecuador
Christmas Day in Ecuador, often known as La Navidad, is less crowded than Christmas Eve. Since most people spend Christmas Day at home with their families, it might be a relatively calm day on Christmas Day itself. 
Typically, after a late night of revelry on Noche Buena, people sleep in. A smaller family celebration with food, drinks, and, more music and dancing is typically held in the afternoon.
One notable exception to this is that Ecuadorians start building their customary, incredibly complex effigies later on Christmas Day. These dolls are usually fairly huge and filled with explosives and straw. They are constructed between Christmas and New Year's Eve. Given their size, finding them being constructed outdoors is not difficult.
Conclusion
A good opportunity to learn about a different culture's traditions and perhaps even pick up a few new ones for yourself is to travel during the Christmas season. There are so many things to do in Ecuador at Christmas.
Additionally, you might need to make some adjustments to your vacation plans to take into account regional holidays or to follow local cultural practices.
Ecuador is a wonderful nation, and the holiday season is perhaps the ideal time to travel there with the whole family! Check our guide about traveling in Ecuador.