Driving in Ecuador was a great experience for me. You should not worry about traffic since Ecuador is not a very populated country, and most of it is rural. I highly recommend booking it via Expedia rather than directly from the office so you have all confirmations and also I'd recommend going with Enterprise because they give unlimited kilometers. 
However, driving in major cities, such as Quito and Guayaquil, can be a little bit challenging but nothing major. Both cities are very different, but both can be dangerous to drive in after dark.
It is best to ask the rental companies for their advice on what to do if you have to drive at night. Some local drivers sometimes ignore traffic lights and rarely use turning. 
I expected driving in Ecuador to be way more challenging than it was, you can check driving parts in my big Ecuador's travel guide video:
What is Driving Like in Ecuador?
Ecuador has improved many of its major highways in the past few years. This improvement help make the roads safer, but they don't change the bigger picture.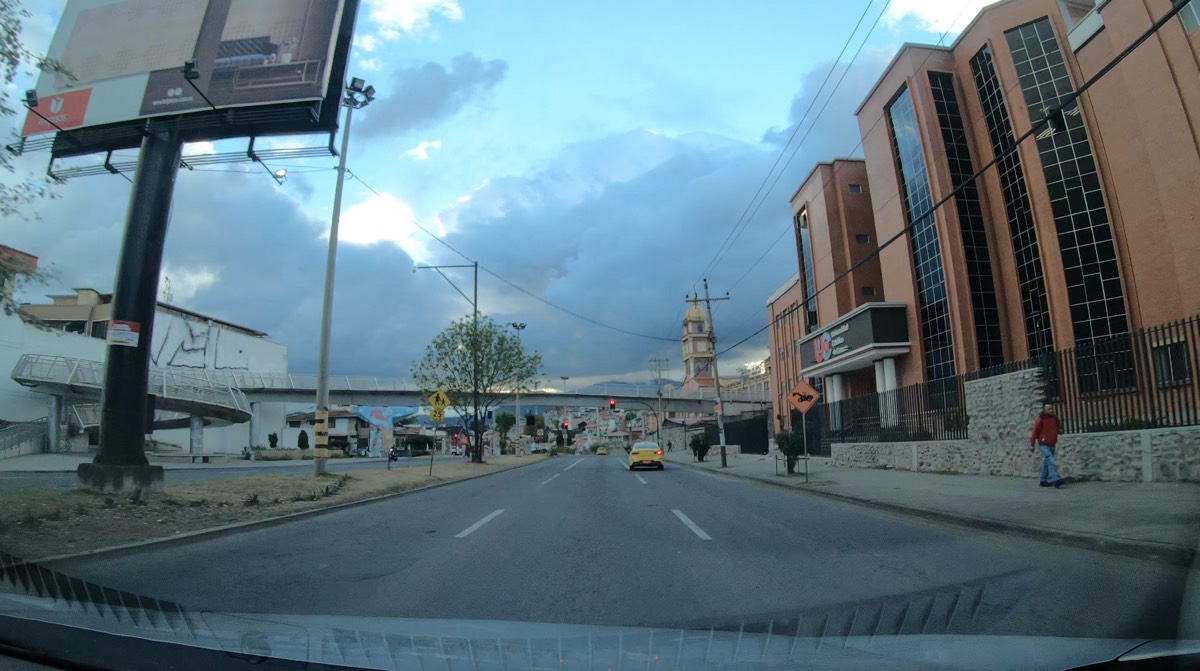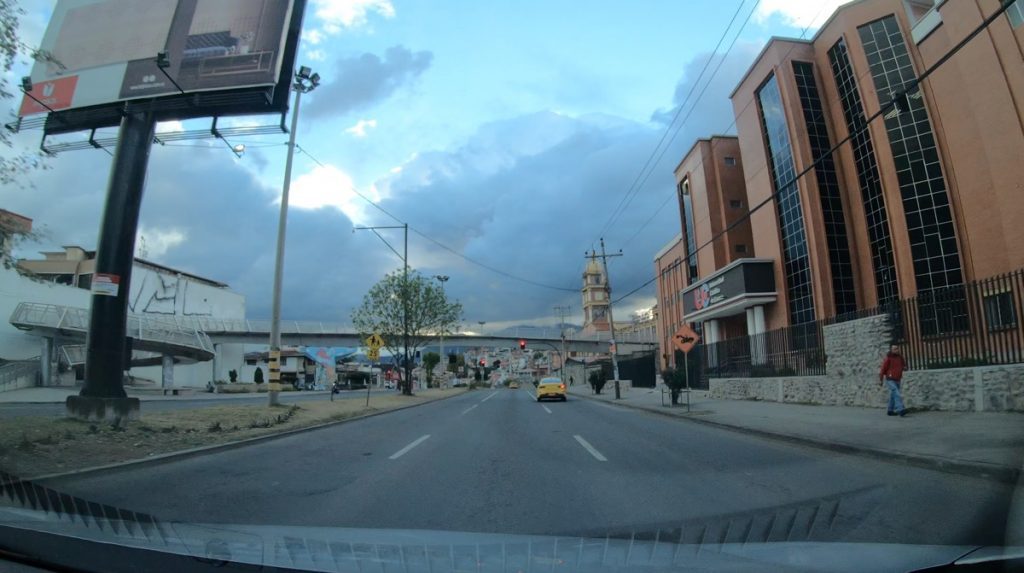 I decided to have my first day on the road on a Sunday morning. It's my chance to get the lay of the land, experience traffic signs in a foreign language, and have a feeling for the differences in standard driving practices. I didn't experience light traffic during that time, probably because it was a Sunday morning.
For a first-time driver in Ecuador, like me, I recommend driving on a Sunday morning and taking advantage of the quieter conditions.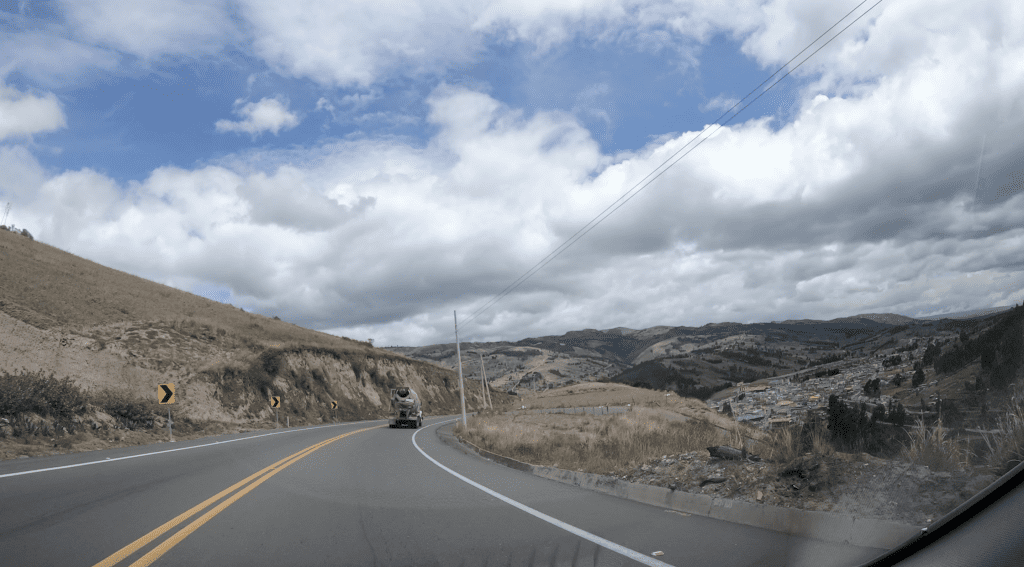 Using a GPS application is also helpful for navigating the land better. I highly recommend using Waze or Maps.me instead of Google maps since these two apps are way more optimized for driving in Ecuador. Although, it can be tricky when driving in rural areas where the signal gets weaker.
If you only drive in the city, you'll miss out on a critical driving feature in Ecuador. Explore Ecuador and make the most out of it while you're there. Always remember that defensive driving will keep you safe on the highway.
Is it Dangerous to Drive in Ecuador?
Road conditions in Ecuador can be generally unpredictable in most areas. Although roads and highways were greatly improved, road travel throughout Ecuador can still be dangerous, especially at night.
Some roads are unpaved, especially in national parks, e.g. Cotopaxi National Park.
Some drivers still bypass in a hazardous aggressive manner in curves without a visual field. And no matter what vehicle I'm up to, I consider the Ecuadorian driving style as aggressive. But of course, I won't miss this chance to explore Ecuador. Just be extra careful and extra attentive when driving.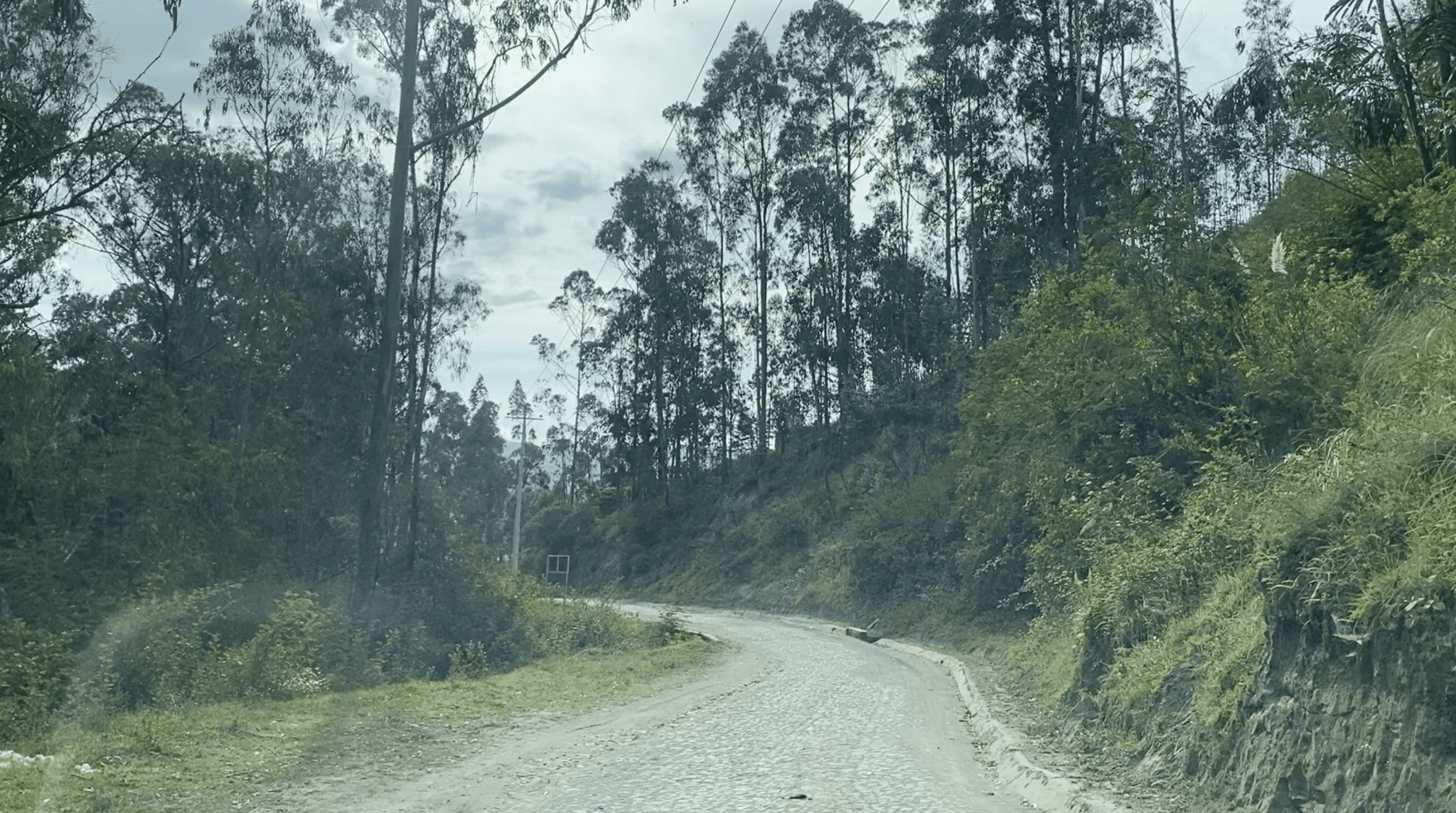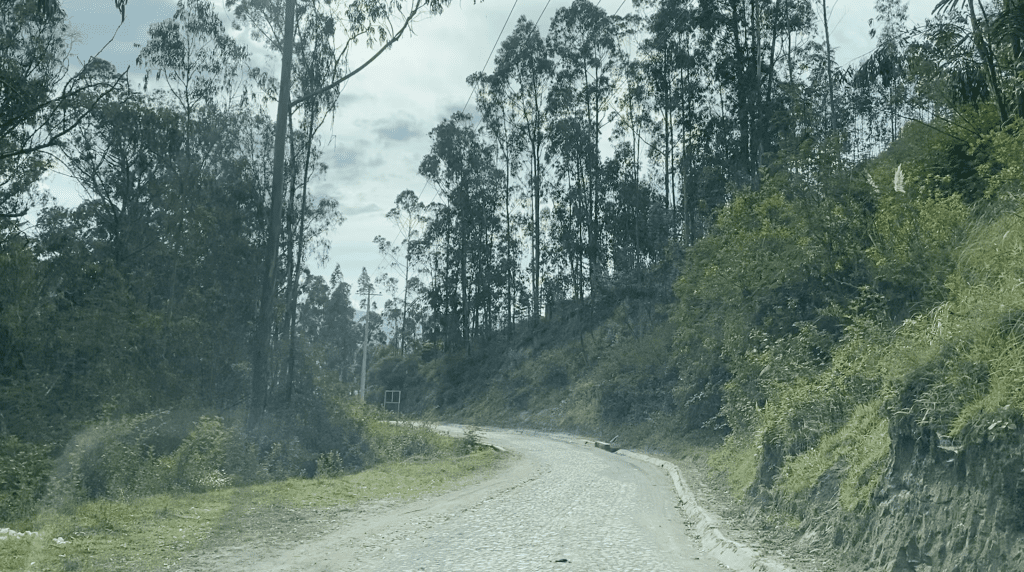 Since Ecuador is a compact country, getting around is easy. We drove all the way from Otavalo to Guayaquil. My longest drive was from Banos to Cuenca (about 350 km) which took us more than 7 hours. Seven hours went by so fast because we enjoyed the beauty of Ecuador.
While driving, I witnessed that not all traffic signs are created equal. For instance, stop signs in some neighborhoods were ignored. It's like no one will ever stop unless a vehicle coming up the hill has a left turn signal. It would be best to be extra attentive in situations like this.
Driving Laws in Ecuador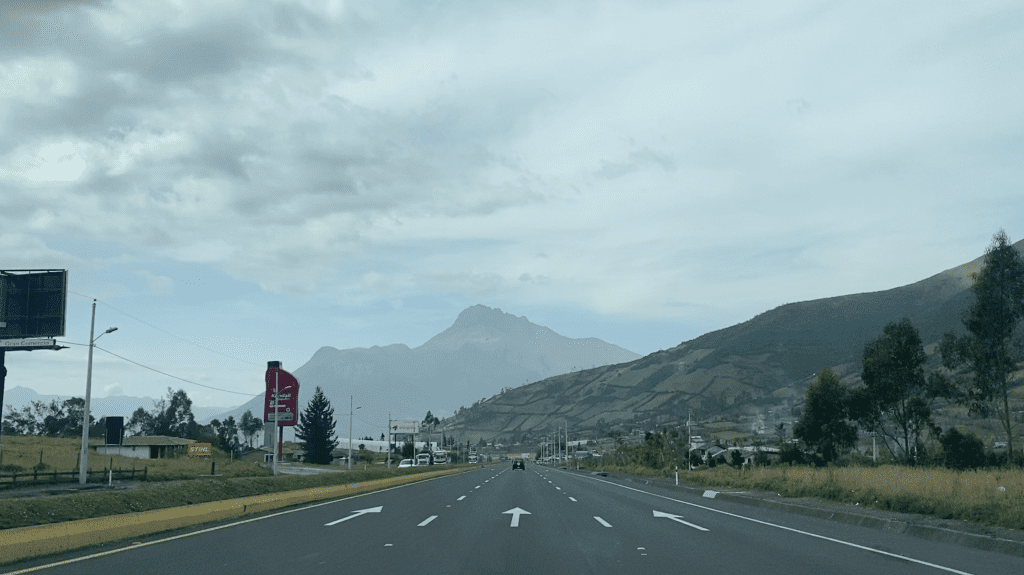 Any foreign visitor who wishes to drive in Ecuador should have an international driver's license. Remember always to wear seatbelts while driving.
In urban areas, the maximum speed limit is 50 km/h (30 mph). A driver driving above 60 km/h (37 mph) may result in applicable penalties.
On perimeter roads, the maximum speed limit is 90 km/h (55 mph). Driving with speed from 90 km/h (55 mph) to 120 km/h (75 mph) is an infraction. 
On straight roads, the maximum speed limit is 100 km/h (60 mph). Driving with speeds between 90 km/h (55 mph) and 135 km/h (84 mph) is a violation and is punishable. 
On curvy roads, the maximum speed limit is 60 km/h (37 mph). Driving with speeds from 60 km/h (37 mph) to 75 km/h (45 mph) is punishable.
Wearing a helmet is mandatory for motorcycle drivers.
Drinking and driving are not totally prohibited. You can drive as long as your blood-alcohol level is less than 0.03%. Better yet, don't drink and drive.
Tips When Driving in Ecuador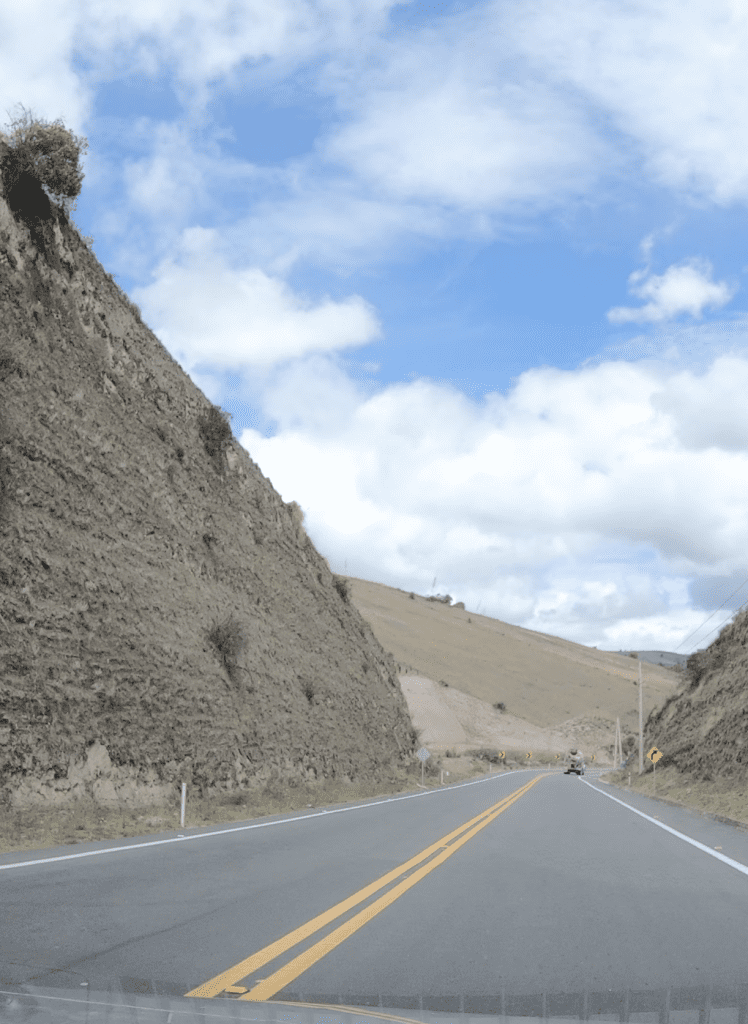 We never know what will happen when we are driving. We may encounter good drivers or aggressive drivers. So we must be prepared while driving.
Driving in the beautiful places in Ecuador, I carefully watched people changing lanes, buses that quickly moved, and very speedy trucks. I am paying close attention to my surroundings because I am driving in a foreign land. Of course, we don't want to have any accidents, especially since we are not in our homeland.
I suggest not driving at night for your safety. Be calm, and focus on driving because you are in a different country with different rules and regulations. Be extra careful if you can't avoid driving during nighttime. 
While GPS apps benefit your trip, driving in rural areas can result in weak signals. In this instance, you will have issues using your GPS. It is also essential to learn a few basic Spanish phrases to communicate with locals in case you need to ask them for directions.
Since police checks and roadblocks happen, ensure you have your registration documents, valid driver's license, and passport. Be consistently prepared so that you won't ruin your vacation. 
Conclusion
Wherever you are driving, keep your focus and attention on the road. Stay calm and fill your mind with all the positivity you need.
Driving in a foreign place is challenging. Some drivers in Ecuador are aggressive, and we have to adjust accordingly. Nonetheless, driving in Ecuador is a fantastic experience for me. 
Remember to follow driving rules and regulations in the country. I recommend doing your research before driving to a different country.
If you decide to rent a car, make sure to do it in advance. I highly recommend booking it via Expedia rather than directly from the office so you have all confirmations and also I'd recommend going with Enterprise because they give unlimited kilometers.